Looking for quintessential rustic cabin feels, a retreat in nature, and both relaxation and adventure in one? Then look no further than the picturesque views and adventures by renting one of these secluded cabins in Maryland!
With lakes, rivers, beaches, forests, wineries, boating, and more, it has so much to offer. These unique and secluded cabins in Maryland are perfect for any type of staycation you're looking for and will have you feeling so at home any time of year. 
Also, be sure to read my guides on Romantic Cabins in Maryland for more amazing stays in the area!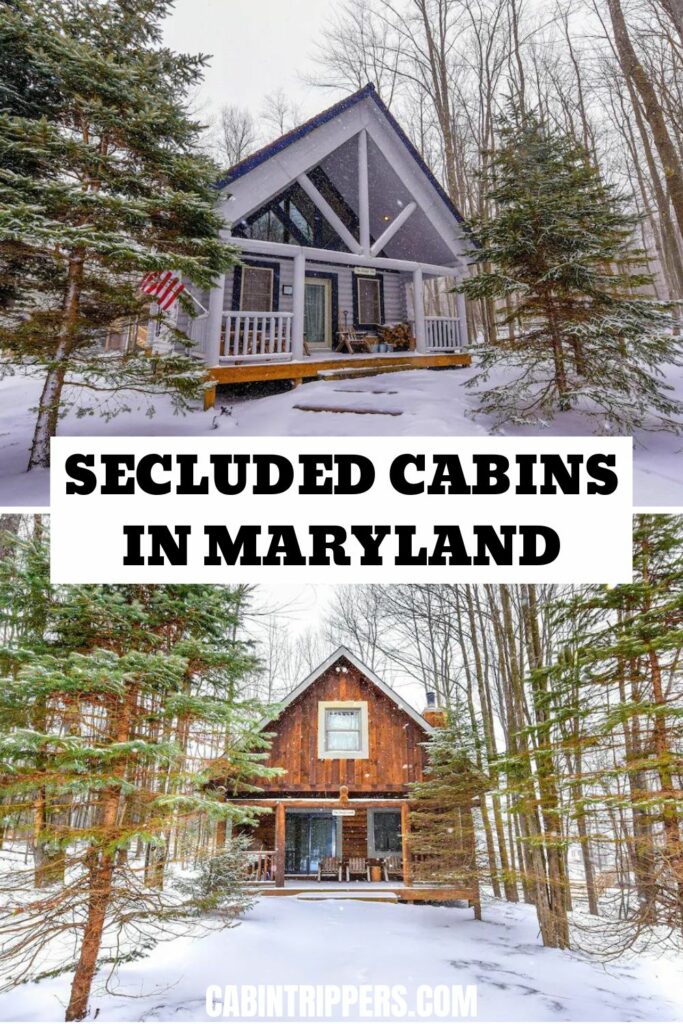 ---
Grizzly Den Secluded Cabin
Location: Thayerville, Maryland
Price: $148+ per night
The Grizzly Den cabin previously known as "The Whitetail" is a picturesque white washed cabin in the woods. It's a perfect spot to gather with friends, family, or a romantic getaway. The 2 bedroom log cabin can sleep 6 people.
One bedroom is downstairs while the other is upstairs in the loft with another couch hangout area.  With access to the lake tucked in between the trees, it's a perfect nature escape in both winter or summer. With an inviting front porch to relax on, a cozy living room, stocked kitchen, dining area, stone fireplace, private hot tub, and wood decor and homey vibes, it's an ideal spot for a cabin retreat.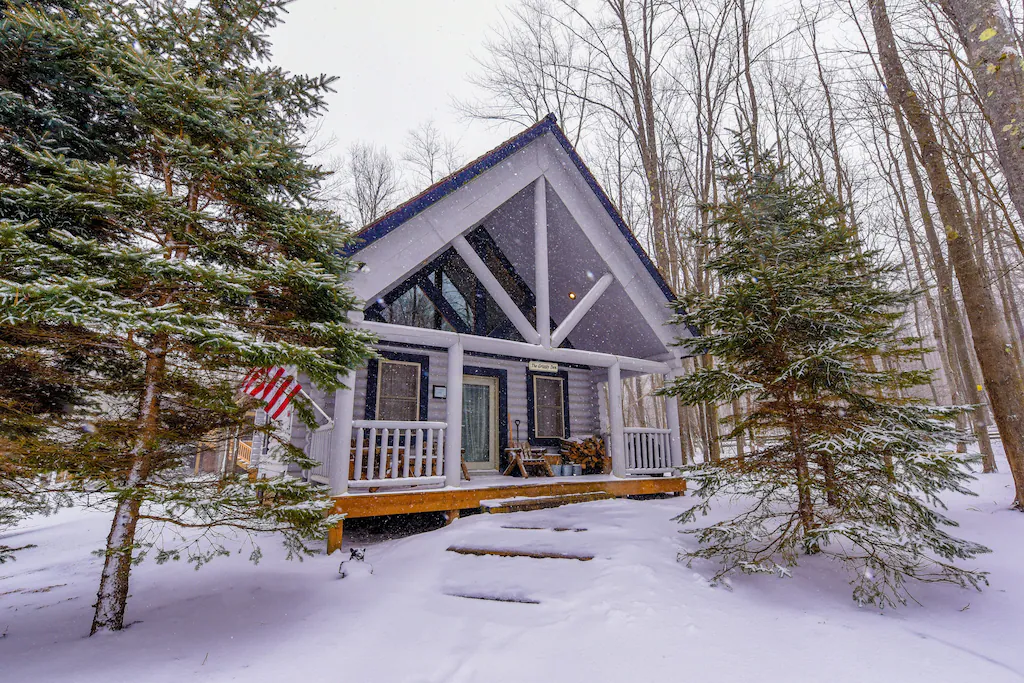 ---
Secluded Cabin in the heart of Middletown
Location: Middletown, Maryland
Price: $145+ per night
This quaint, cozy, and rustic 1 bedroom cabin in the center of Middletown, Maryland is the perfect place to stay if you're looking for adventure or a quiet escape. Nearby the city center as well as hiking trails and ski resorts, it's location is unbeatable. The home was built in the 1890s and has been restored while still keeping it's charming feel. With a fireplace, wooden walls, and antique furnishings it feels like a walk back in time.
However it still has a modern day feeling of comfort with a queen size memory foam bed, quality linens, plush pillows and towels, a leather sofa, and a fully stocked kitchen. Rocking chairs outside the cabin make for a perfect place to enjoy the neighborhood or read a book. A huge yard and barbecue make for a great place to gather with friends or family.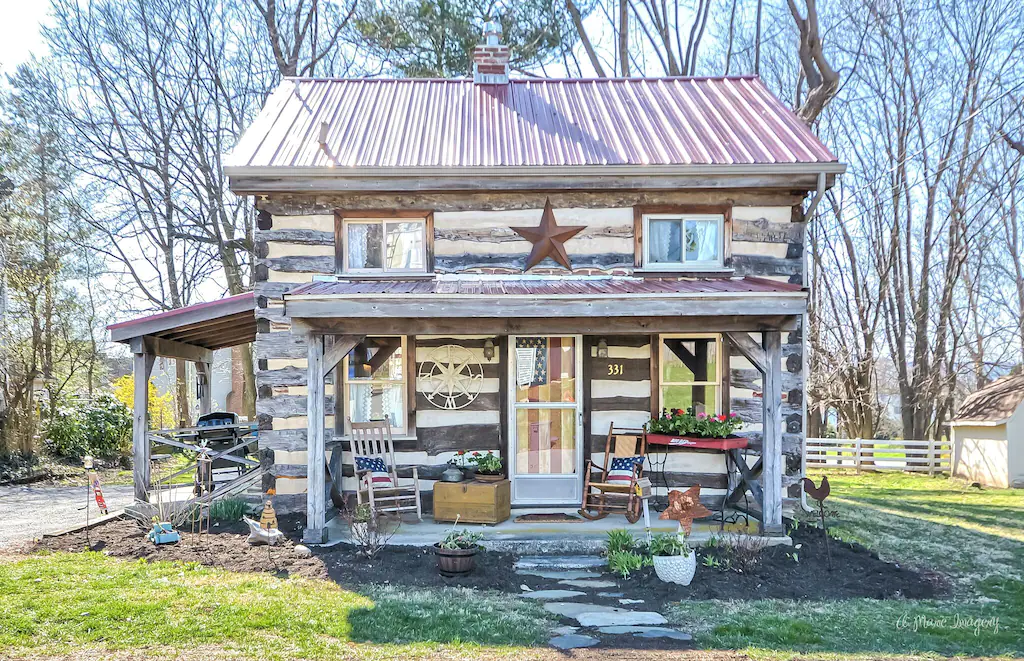 ---
The Love Shack Cabin
Location: Thayerville, Maryland
Price: $200+ per night
Located in Deep Creek Lake's quaint Yellowstone Village, this cabin in the woods is the perfect retreat for couples or small family getaways. The inviting and warm ambiance gives this 2 bedroom home an extra cozy feel. With a hot but, stone fireplace, porch, modern appliances and chic decor, it truly feels like a home away from home. The first floor has plenty of comfortable seating, a wall mounted flat screen TV, and renovated kitchen with quartz counters. A beautiful master bedroom with another TV and elegant bathroom as well as a second bedroom with a cozy daybed and trundle for reading or playing are also on the first floor.
The second floor loft up the stairs has a bonus room with a bean bag hangout area and another queen bed, great for games or more sleeping space. Complete with laundry and dryer, air conditioning, heat and stone fireplaces, a 6 person hot tub, flat screen TV with all of your viewing pleasures, an outdoor fire pit, it really has everything to provide a pleasurable stay. It's also located only a short distance from state parks perfect for walking, hiking, biking, boating, golfing, fishing, and more.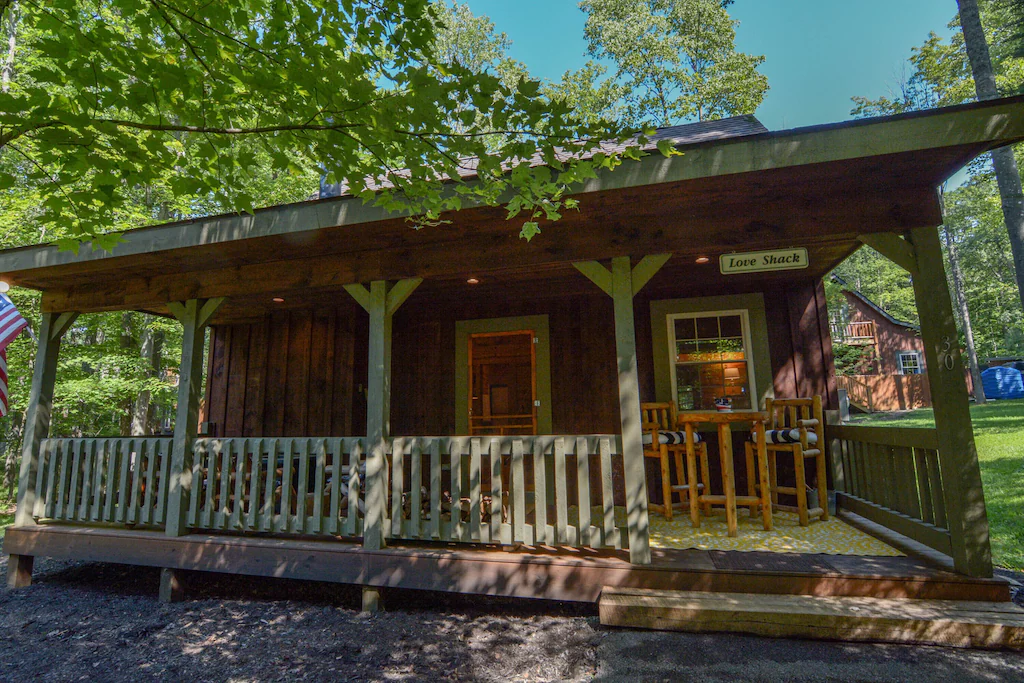 ---
"Ginger" The Tiny Zen House at Tiny Haven
Location: Knoxville, Maryland
Price: $292+ per night
https://www.airbnb.com/rooms/38894107
"Ginger," in Tiny Haven is a beautiful tiny house that sits on 10 acres of retired farmland. With 200 sq feet, the house has everything needed including a full kitchen, bathroom, living area, outdoor area, and a fire pit. It's luxury, style, and minimalist all in one. The bedroom is lofted with a queen temperpedic bed under a skylight to star gaze from bed.
There is also a twin daybed for sleeping or hanging out with pillows and extra bedding. The bathroom consists of a shower and eco-friendly composting toilet. Temperature controlled, it has an option for heat or AC as well as a fan and electric fireplace. As there is no WiFi on site and poor signal, it makes for a beautiful place to disconnect from the digital world and reconnect with each other and nature. Nestled near the Potomac River and hiking, rafting, kayaking, and more, it's a perfect outdoor lover's paradise! As it's a tiny house, it's ideal for 2 people looking to getaway and enjoy each other's company.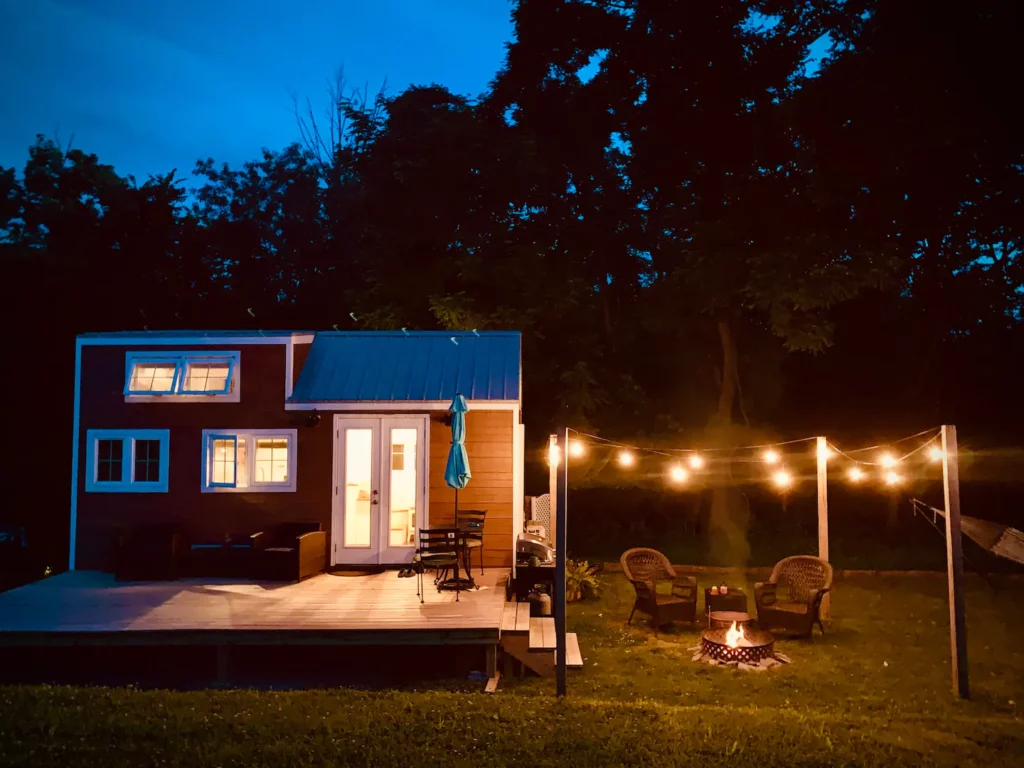 ---
Private Cabin with Hot Tub
Location: Garrett County, Maryland
Price: $114+ per night
This two bedroom private log cabin near deep creek is the perfect spot for a family vacation. With scenic hikes on nearby trails and whitewater rafting down the river, there are plenty of outdoor adventures to be had.
The private hot tub is the perfect place to wind down at the end of the day and the patio table, a wonderful place to enjoy a meal amongst the trees and flowing water. The nature-inspired interior decor of wood detailing gives the cabin a warm and inviting feel. With plenty of natural light and space to hang out, your stay is sure to feel cozy and homey!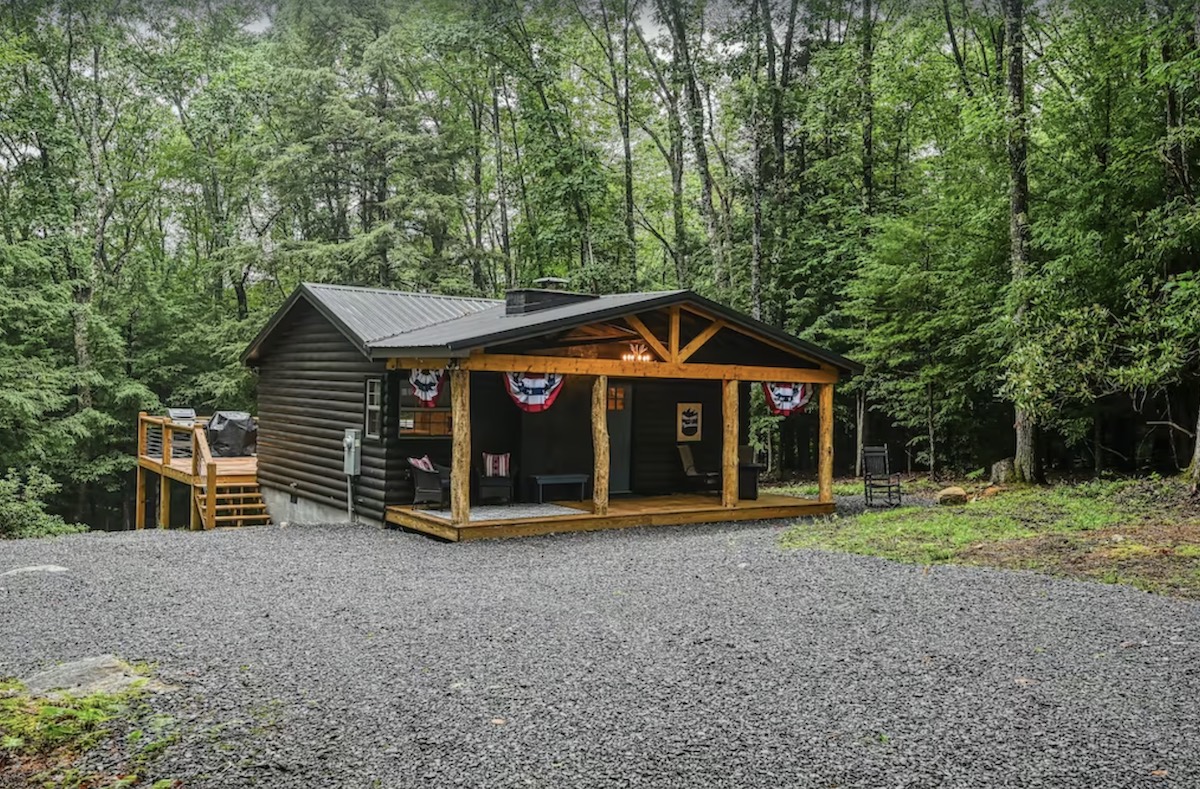 ---
The Deep Creek Cabin Rental
Location: Oakland, Maryland
Price: $234+ per night
The Deep Creek traditional log cabin is the quintessential cabin in the woods. It can sleep 4 people comfortably with 2 bedrooms each with a king bed and 2 bathrooms. The cozy and quaint two story cabin is perfect for a romantic getaway or a family adventure. With its modern amenities, it has everything needed to help guests feel at home.
French doors open up into the modern kitchen, a dining room with a stone fireplace and high ceiling make for a comfortable place to hang out and play games, and the spiral staircase leads to a second story fun area great for kids. Outside lies a hot tub on a private deck under the trees and access to the lake!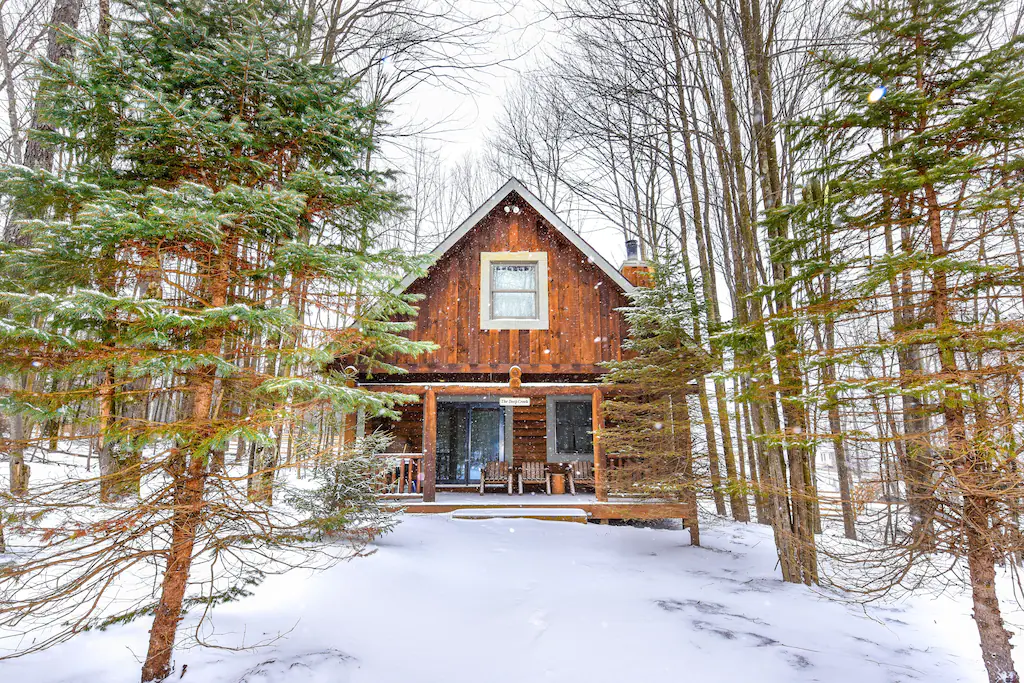 ---
Sunny Streams Mountaintop Cabin
Location: Washington County, Maryland
Price: $400+ per night
https://www.vrbo.com/9575998ha
Sunny Streams Mountaintop Cabin is an absolutely stunning log cabin in the hills of Washington Country. Full of natural light from the large A frame windows and wooden decor, it feels warm and almost whimsical inside.
The back deck has stunning views of the sunset looking over the woodland or guests can soak up the views from the outdoor hot tub! Secluded on 3+ acres of private land, this cabin is perfect for those looking to retreat into the serenity of nature. With multiple jet baths inside, a fire pit outside, an indoor fireplace, beautiful furnishings throughout, and plenty of outdoor space to enjoy, this cabin is set up for rest and relaxation.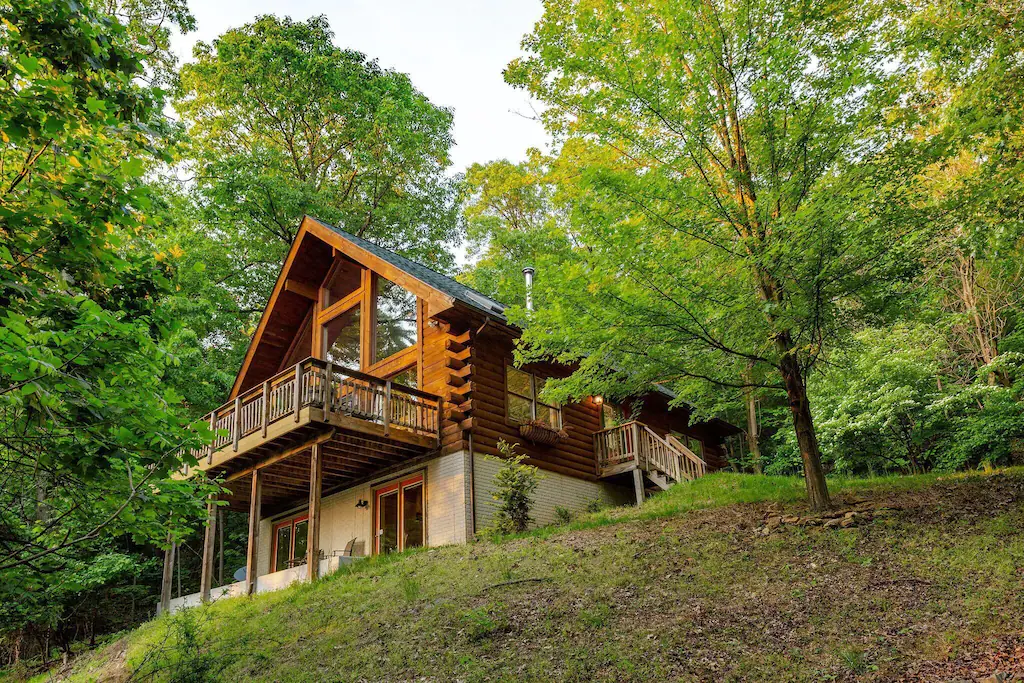 ---
The Original Hob
Location: Oakland, Maryland
Price: $145+ per night
https://www.airbnb.com/rooms/19326090
The Original Hob is an extra special tiny home as it's located overlooking a creek and 7 waterfalls on its back porch! Nestled close to multiple state parks it's a perfect place to retreat in nature and away from city life as you sleep to the sound of the creek.
The common space is shared with another listing from the owners so it's a great place to bring a group or family, or meet new people. The outdoor area is extra inviting with a hammock and swings, outdoor shower, outdoor fireplace, and of course, the creek. They even supply water chairs! With no Wifi at the house, it's an ideal spot to disconnect and enjoy time in nature and with loved ones.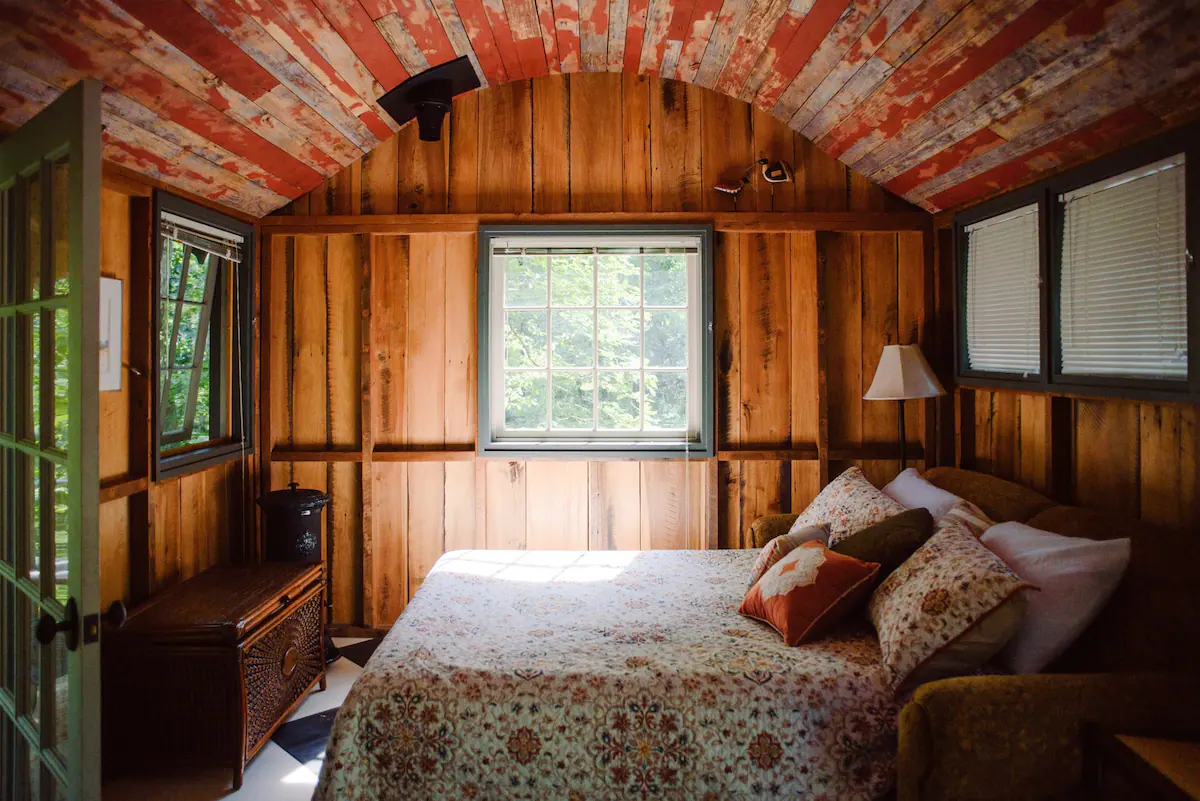 ---
Waterfront Cabin on the Chesapeake with Hot Tub
Location: Northeast, Maryland
Price: $395+ per night
https://www.airbnb.com/rooms/7073837
This spectacular 3 bedroom cabin is an incredible spot for a family or friend reunion. Its biggest selling point is its endless waterfront views from the entire home. It sits atop a bluff with its front yard providing a 180 degree view of the Chesapeake Bay. For those into fishing, crabbing, sailing, and other water sports, this cabin is a must. It's also great for bird watchers as there are often bald eagles and osprey flying by.
The cabin has two bedrooms and a loft with queen beds, a living room, and a dining room, all with views of the water. It has a full kitchen, full bath, a water viewing sitting area, and a flat screen TV and stereo system to provide proper entertainment. Outside is full of amenities for an enjoyable stay including a deck with a hot tub and grill, outside shower, fish cleaning station, stone patio, outside dining area, picnic table, and bluff side seating to enjoy the sunset. Within footsteps of the cabin is a sandy bottom swimming area, pier, and community beach just a short walk away.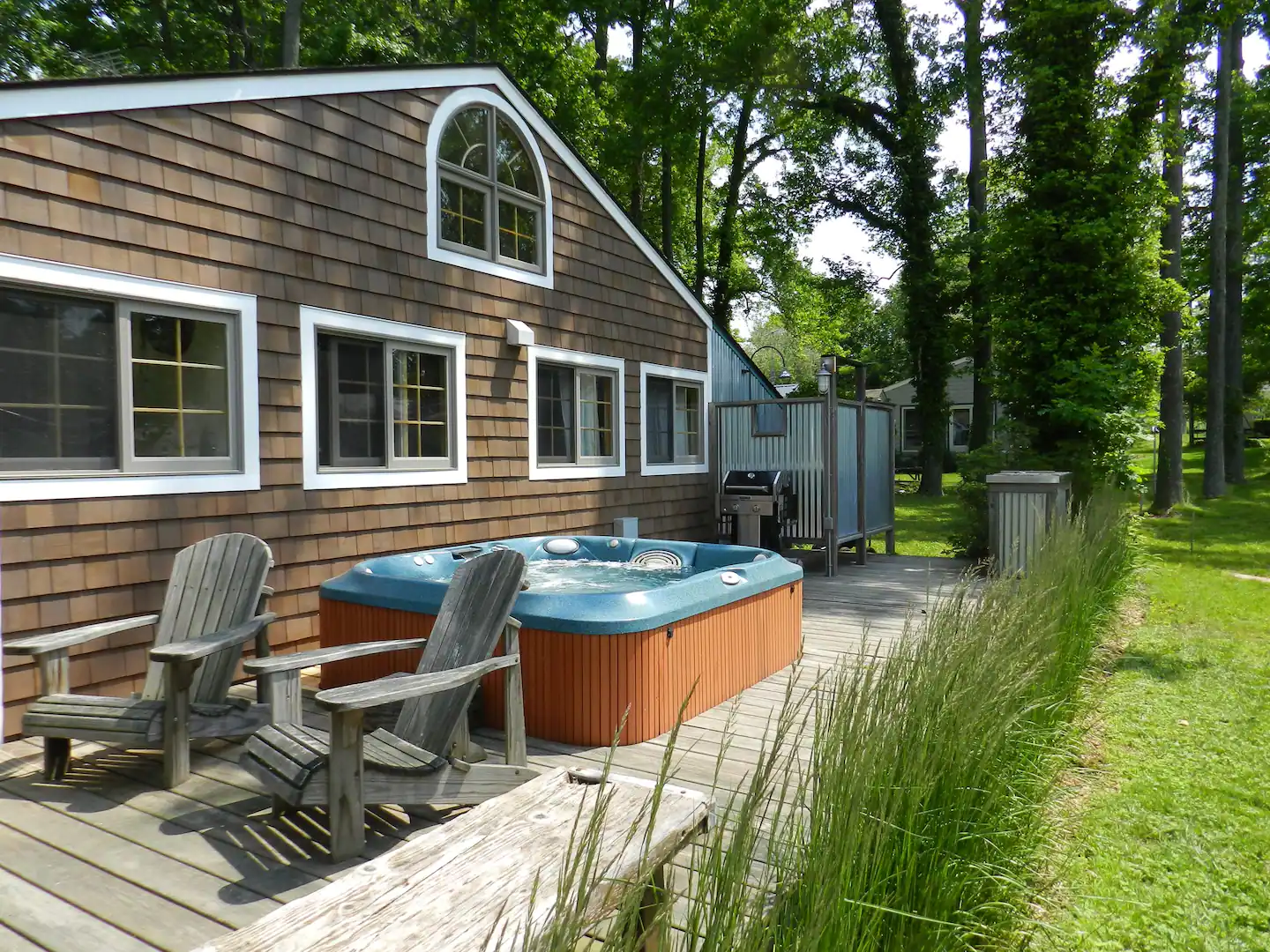 ---
Golden A-Frame Chalet with Hot Tub
Location: Swanton, Maryland
Price: $241+ per night
https://www.airbnb.com/rooms/42070439
The Golden A-Frame Chalet is situated at the end of a private road in the Sky Valley community where guests will feel joyfully secluded. With renovated modern amenities and appliances, including a brand new, outdoor hot tub, the house feels comfortable and homey, while still maintaining its rustic charm. With black and white interior mixed with wood decor, the A-frame feels chic and fresh.
The three bedrooms and two baths can fit 8 guests in this charming space. The hanging chairs, game room, large deck with jacuzzi, and upstairs loft give guests plenty of opportunities to relax and enjoy. Plus, the cabin has lake access as well!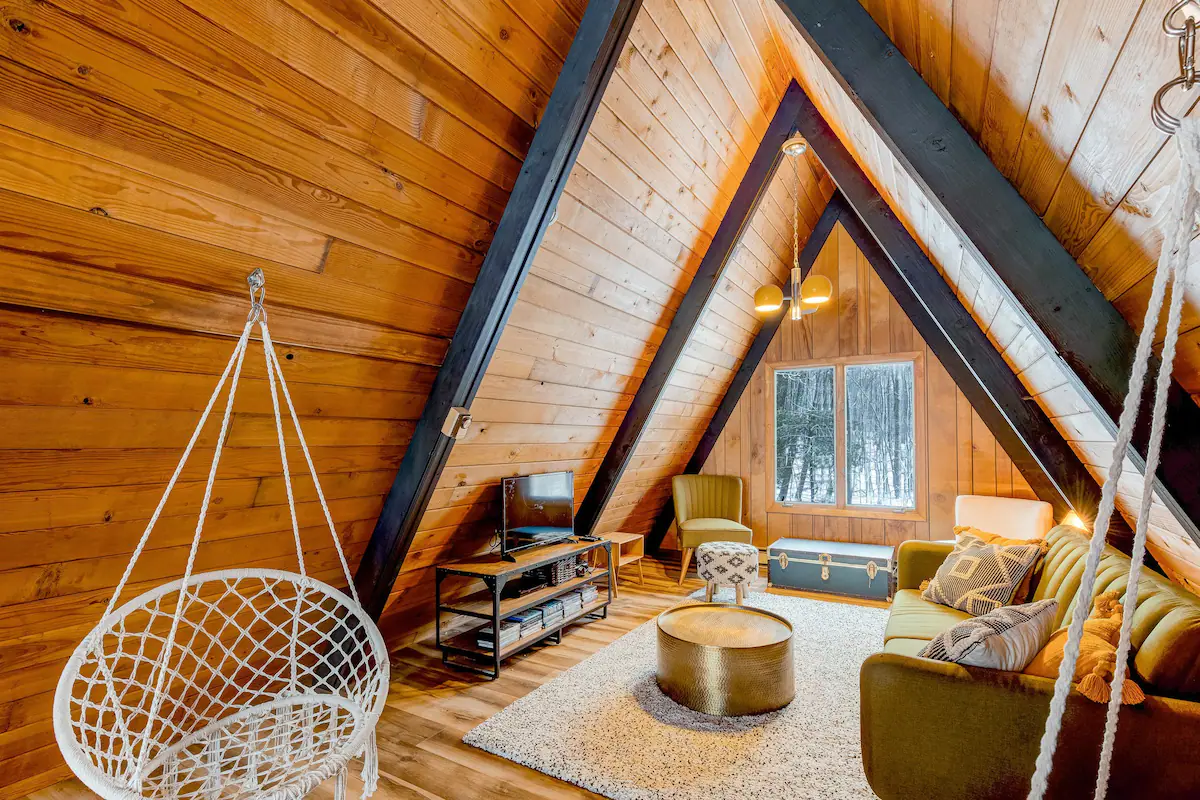 ---
Wigwam Secluded Log Cabin Lodge 
Location: Goldsboro, Maryland
Price: $96+ per night
https://www.airbnb.com/rooms/54159315
Wigwam Lodge is a beautiful wood cabin located in a pine and hardwood forest with plenty of privacy. Named after the Native American people of this land, the gorgeous home is surrounded by forest views from inside and out.
The 1500 square foot hand built log-home was built for those craving solitude and peace. The deck provides a beautiful space to take in the sights and sounds of nature. The interior design is warm, tasteful, and thoughtfully curated to make guests feel like they're being fully taken care of. There is even a claw foot tub with special amenities, as if it's a spa getaway! Guests are sure to enjoy their stay at this stunning hide-a-way lodge experience.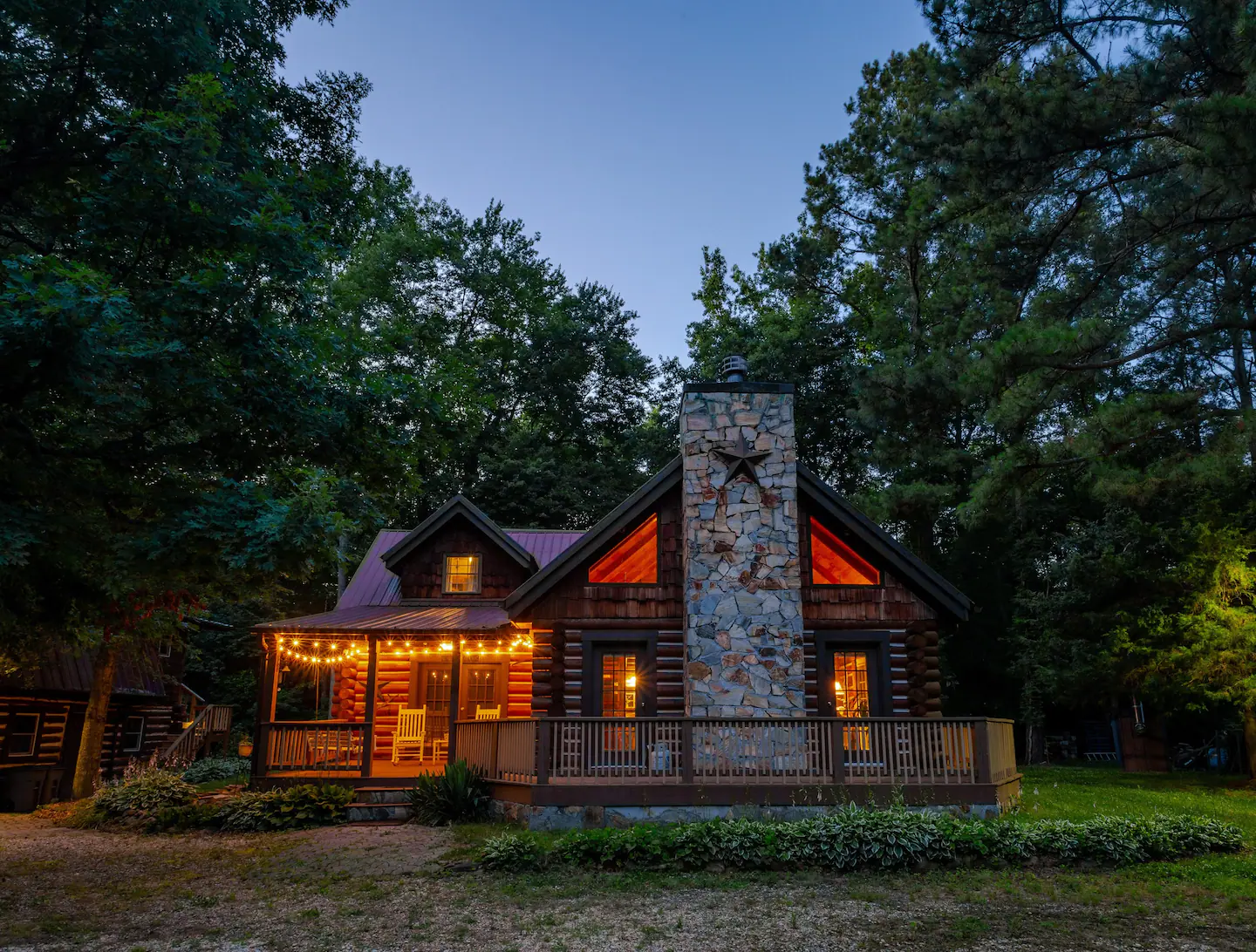 ---
Urban Cottage
Location: Fort Washington, Maryland
Price: $199+ per night
https://www.airbnb.com/rooms/13925828
This cute and cozy urban cottage is gorgeous any time of year. With a lounge on the private back deck overlooking private forestland, it feels like a true urban escape. Up to 4 guests can enjoy this nicely designed home. With mostly white and wood interior, the home feels very bright and light. There is also a steam house and personal wood-burning stove for guests to enjoy in the colder months. A perfect place to retreat and relax.