Looking for the coolest and best cabin Rentals in Missouri? Well, you've come to the right place, as I've put together this guide to 15 incredible places to stay that are guaranteed to impress!
From charming riverfront cabins, luxury cabins with hot tubs in secluded forests, and tucked away romantic retreats – our list of Missouri Cabins has a little something for everyone! No matter what your travel style or budget, I guarantee you'll find the right cabin that'll be perfect for a weekend getaway with loved ones or even a solo adventure for some rest and relaxation while connecting with Mother Nature.
Also, be sure to read my guide on the Coolest Cabins in Nebraska if you're looking to road-trip a bit for more incredible cabin getaways!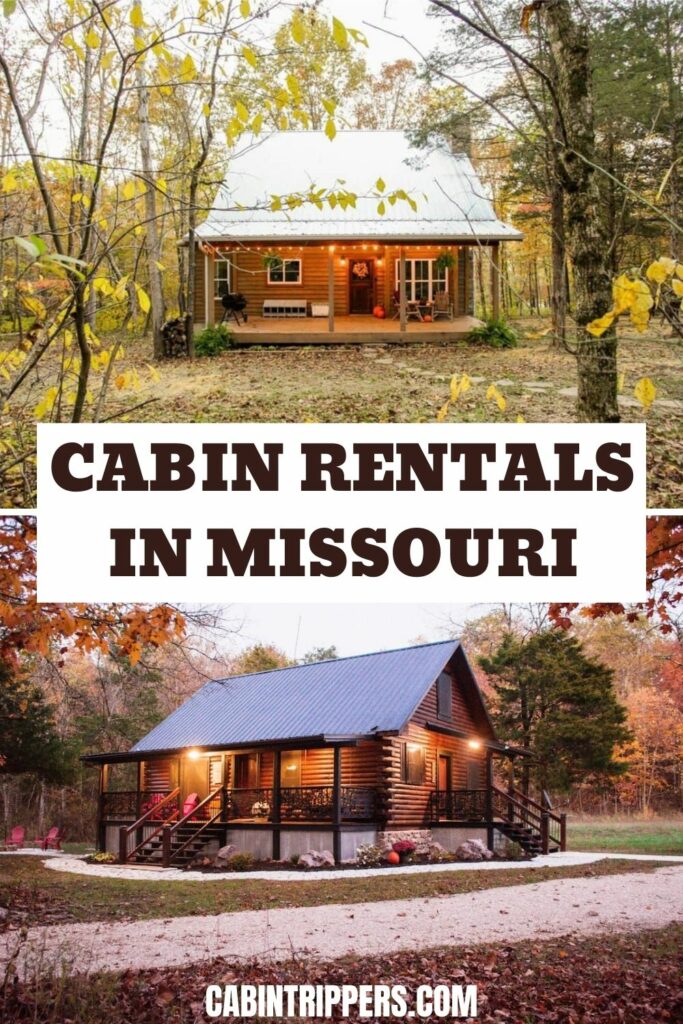 ---
1. Private River Frontage – Beautiful Cabin with Amazing Views
Price: $160+ per night
Where: Crawford County, Missouri
Nestled right against the Meramec River, this stone cabin with an enclosed porch area is calling your name! Take the family, your partner, friends, or even yourself for a tranquil getaway amongst the trees. You can bring your own kayak or canoe and make use of the surrounding river and other natural features, or take some time to yourself and spread out in the updated and modern interior. This property is a slice of authentic Americana located in the heart of Missouri!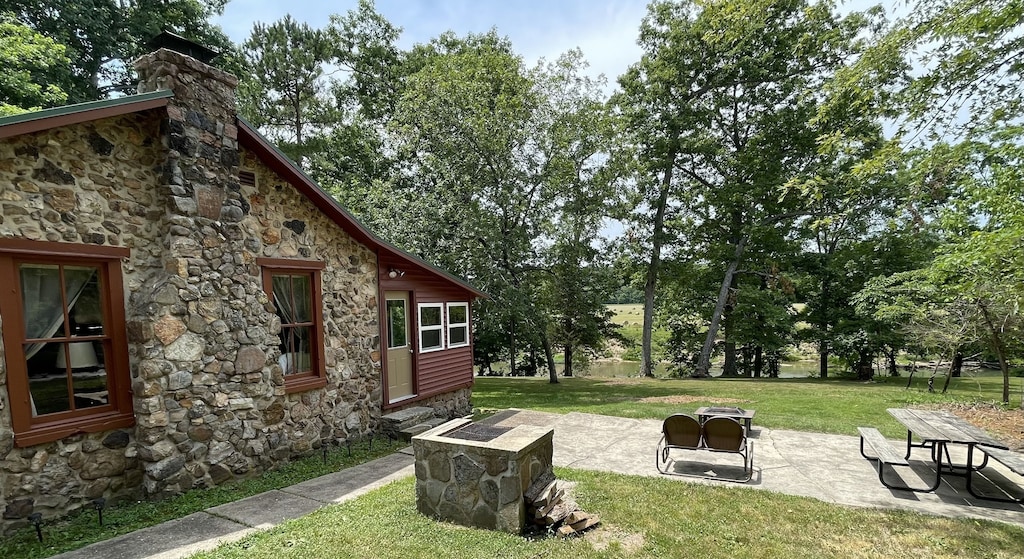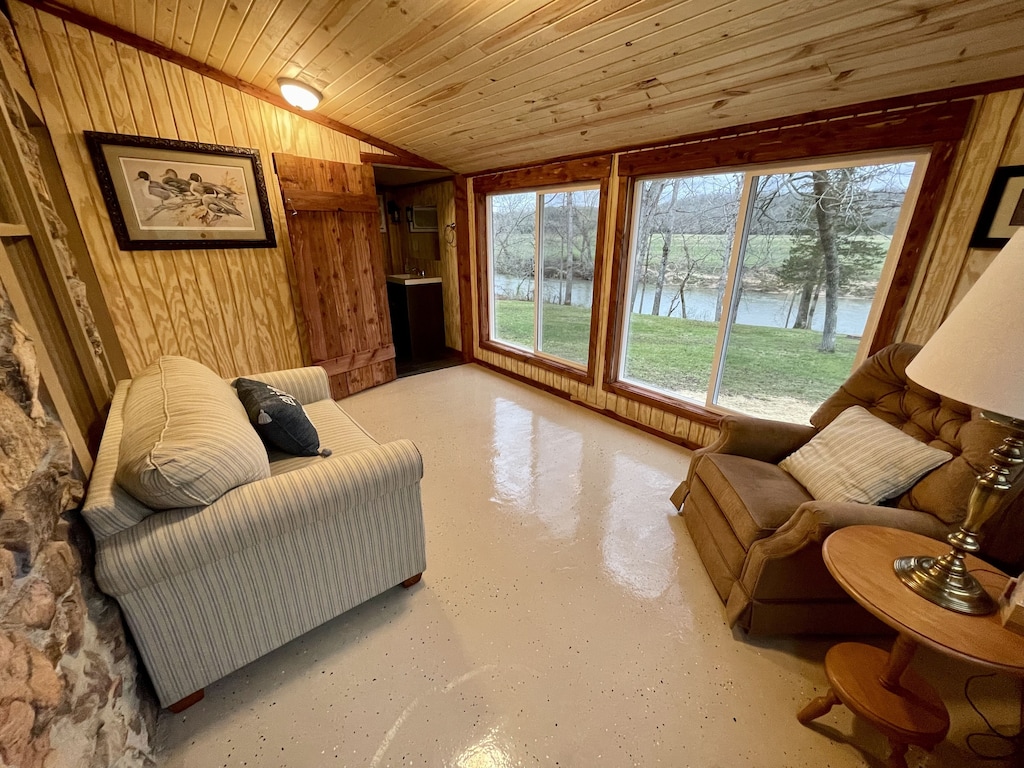 ---
2. Country Log Cabin
Price: $135+ per night
Where: High Hill, Montgomery County, Missouri
This cabin is just as pretty as the surrounding land, which features a pond for fishing, blooming wild flowers, the owners' horses, and wildlife native to the area! Take in a book, a good cup of tea, and some peace and quiet. Or, stroll around the property and surrounding areas' trails and find yourself at one of the local diners for a bite to eat and some conversation with the friendly locals. Just 20 minutes from historic Hermann, Missouri, this property sleeps up to four and has ample space inside to relax and recharge.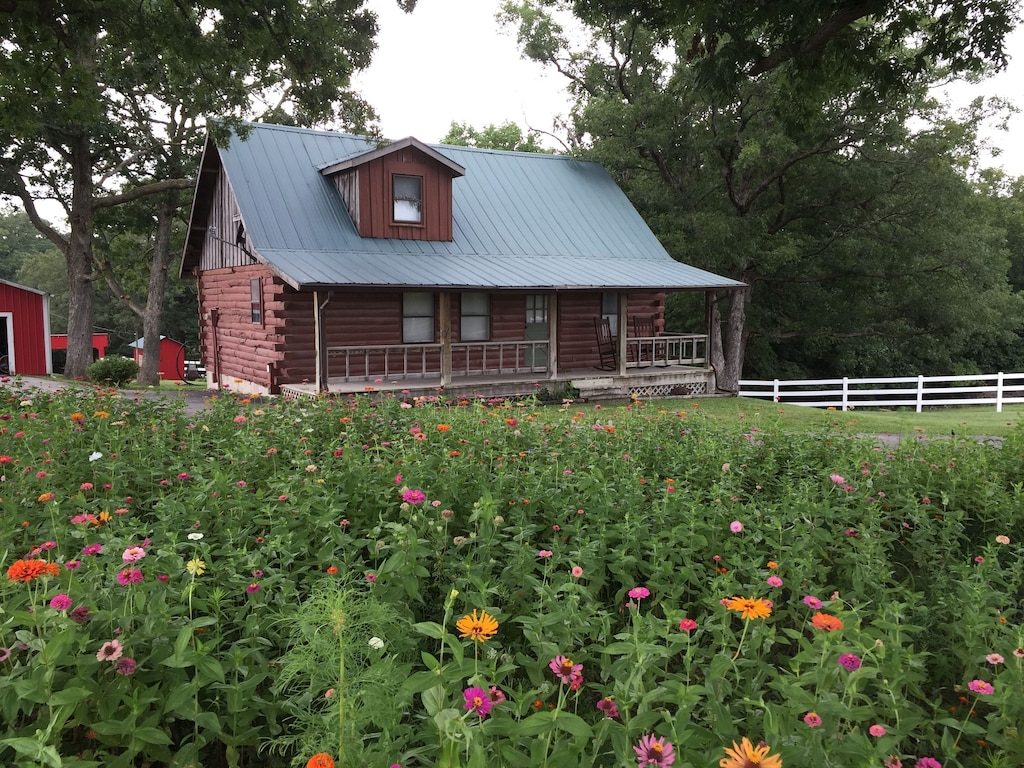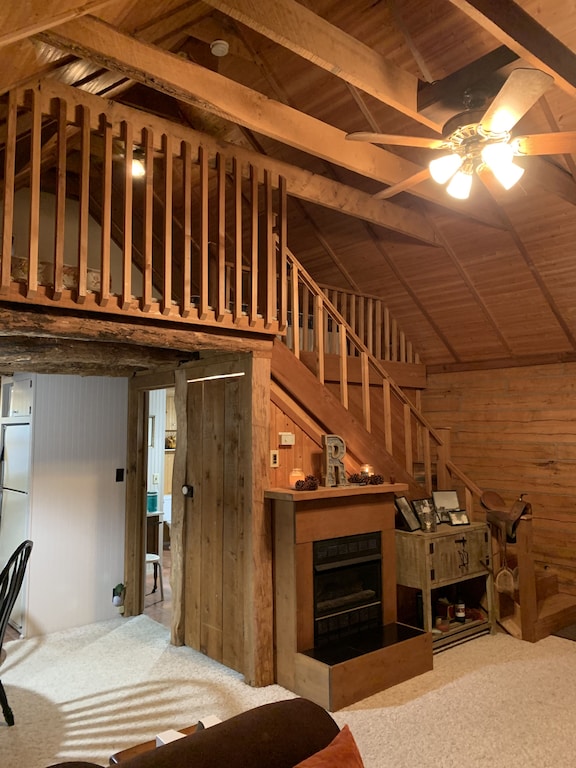 ---
3. Jack's Log Cabin
Price: $120+ per night
Where: Steelville, Crawford County, Missouri
Rocking chairs on the porch overlooking the valley? A private hot tub? Fire pit, fully equipped kitchen, modern interior, and WiFi/Roku/satellite TV? Jack's Log Cabin is a little gem tucked away in Crawford County, Missouri, and it truly has it all! You're near enough to various towns for any needs, have plenty to do in and around the cabin itself in terms of rest and experiencing nature, and you can even check out the nearby outdoor outfitters for any kayaking, canoeing, or similar interest. The owners has thought of every detail in designing this space, and you'll enjoy every minute of your stay.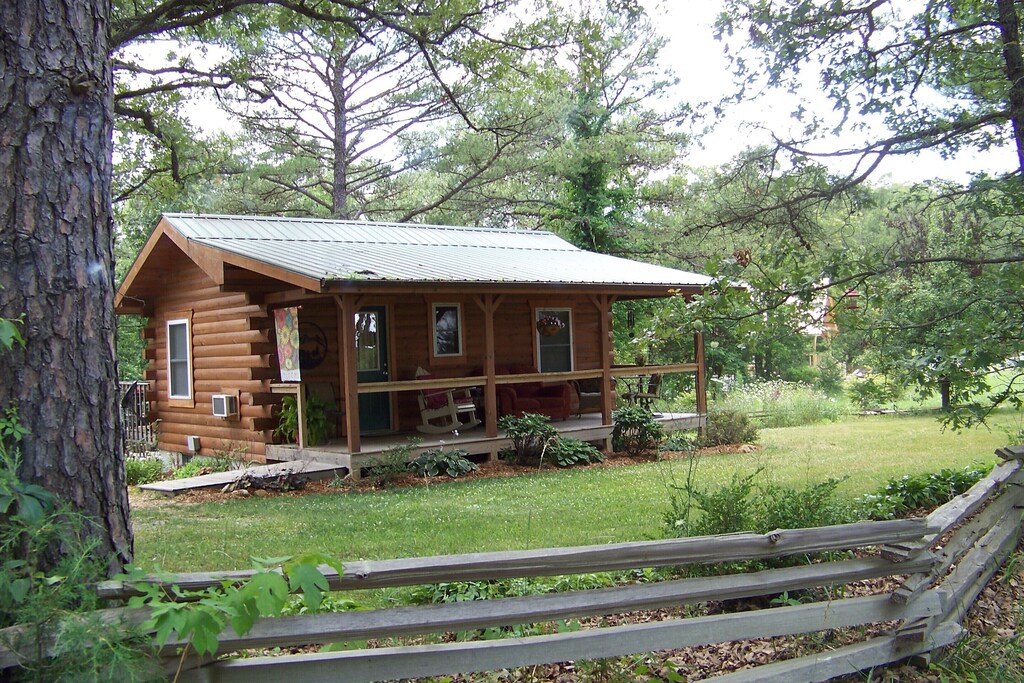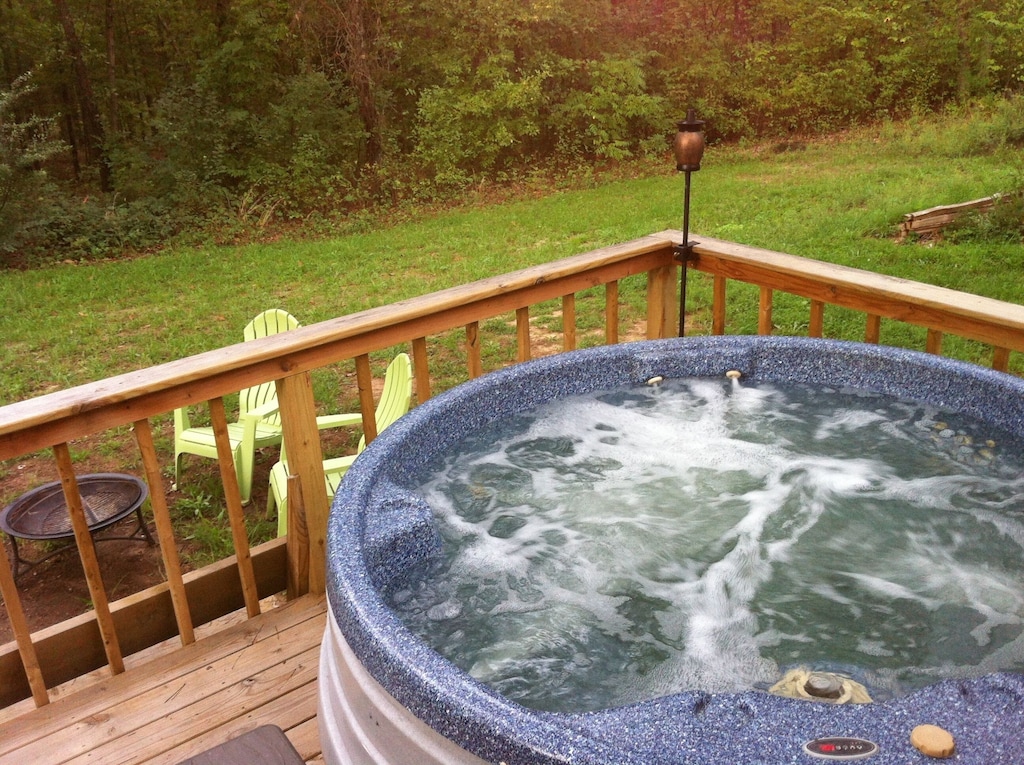 ---
4. Riverfront Dam House
Price: $364+ per night
Where: Noel, Missouri
https://www.airbnb.com/rooms/32223283
If too much togetherness drives you and your family crazy, Noel offers the perfect vacation solution–five Riverfront Dam houses, each with its own lawn, nestled on a rolling hill. These cabins keep families together without driving them crazy.
That's because they all share a central lawn–you can still watch the kids play while relaxing in your very own hot tub. It features four bedrooms, two full bathrooms, and one-half bath and offers a one-car garage with a ramp that can accommodate most vehicles.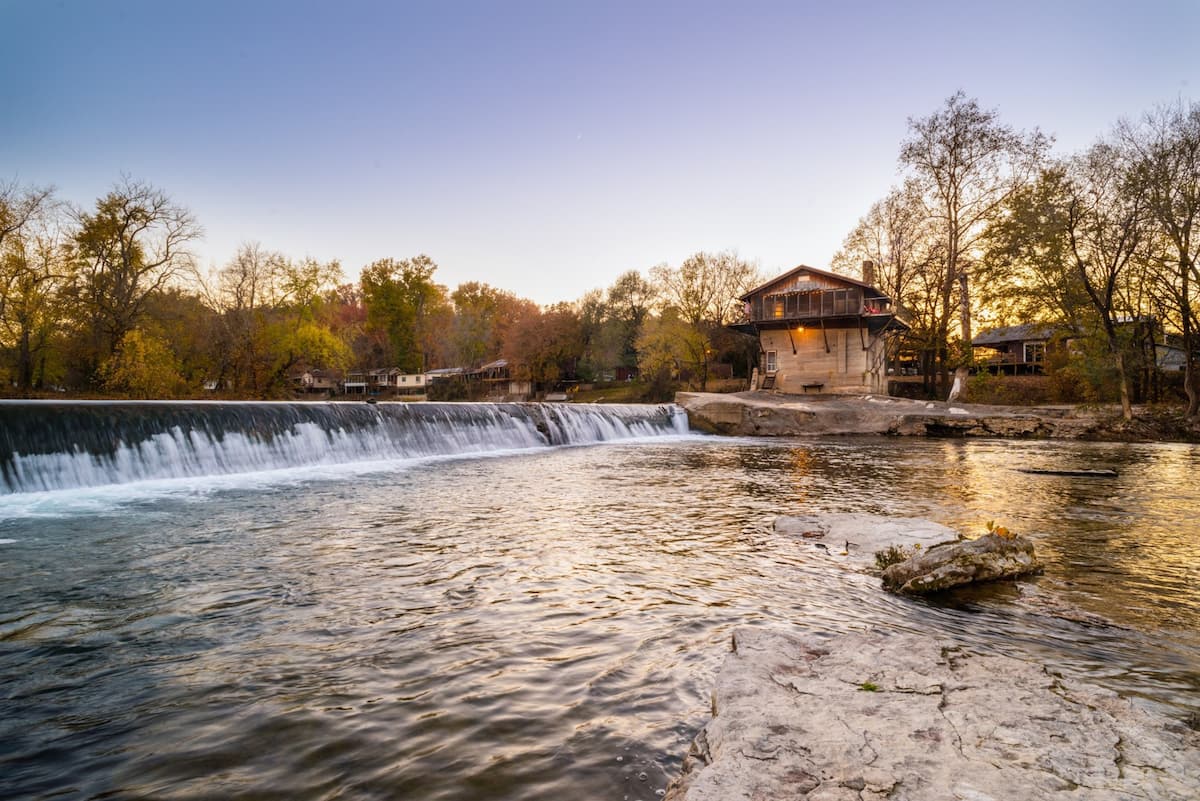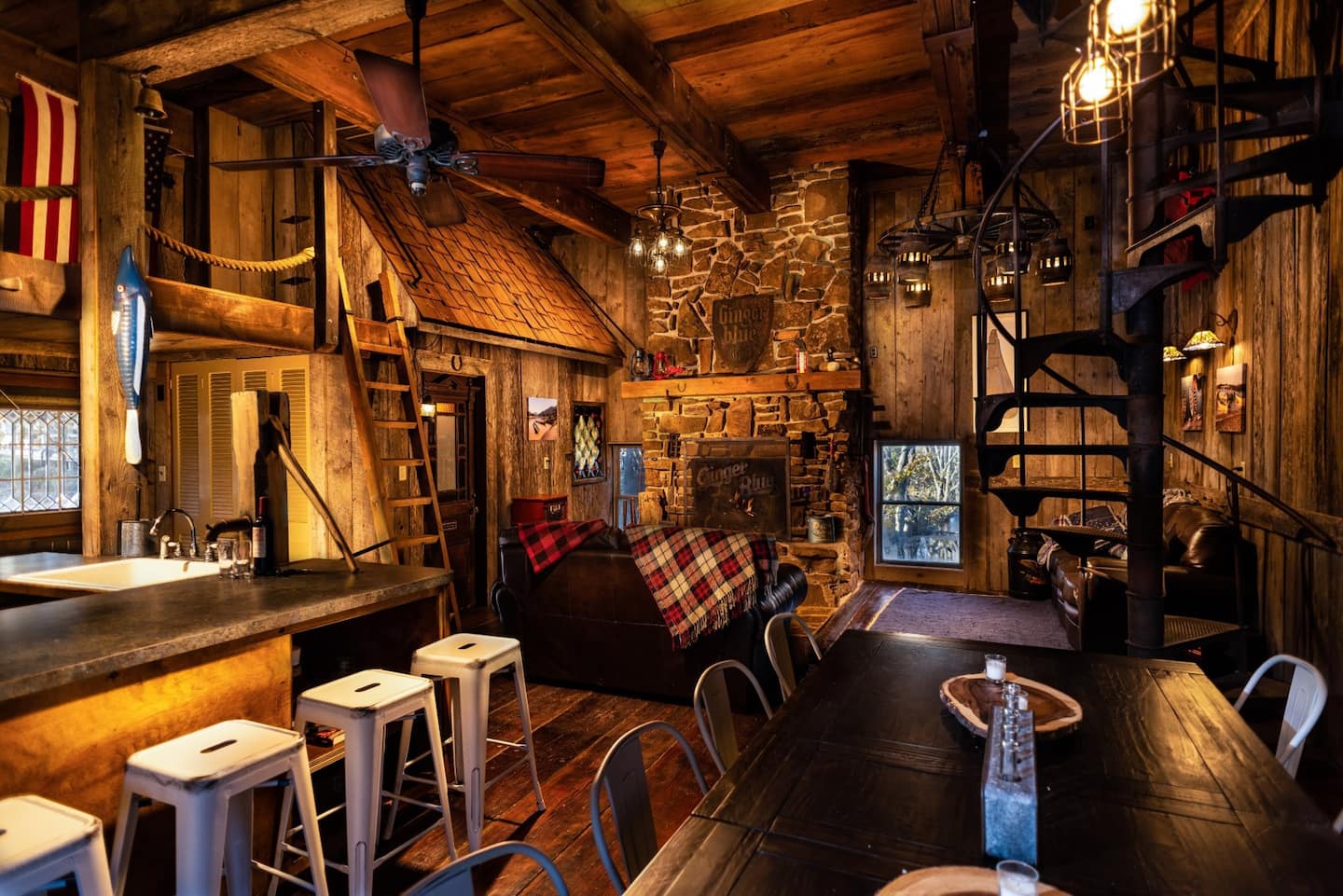 ---
5. The Old Swiss Village – Lake View
Price: $92+ per night
Where: Osage Beach, Missouri
https://www.airbnb.com/rooms/27234364 
The Old Swiss Village is one of the Coolest Cabins Rentals in Missouri! Perched upon a wooded hilltop, enjoy breathtaking views of peaceful Lake Waukomis and spend your days relaxing on their expansive deck!
Anyone who has ever tried to rent a vacation cabin knows that it can be stressful and that when you are finally able to cross it off your "to-do" list, it is time to relax and let yourself unwind. It has one bedroom that has one bed and one bath.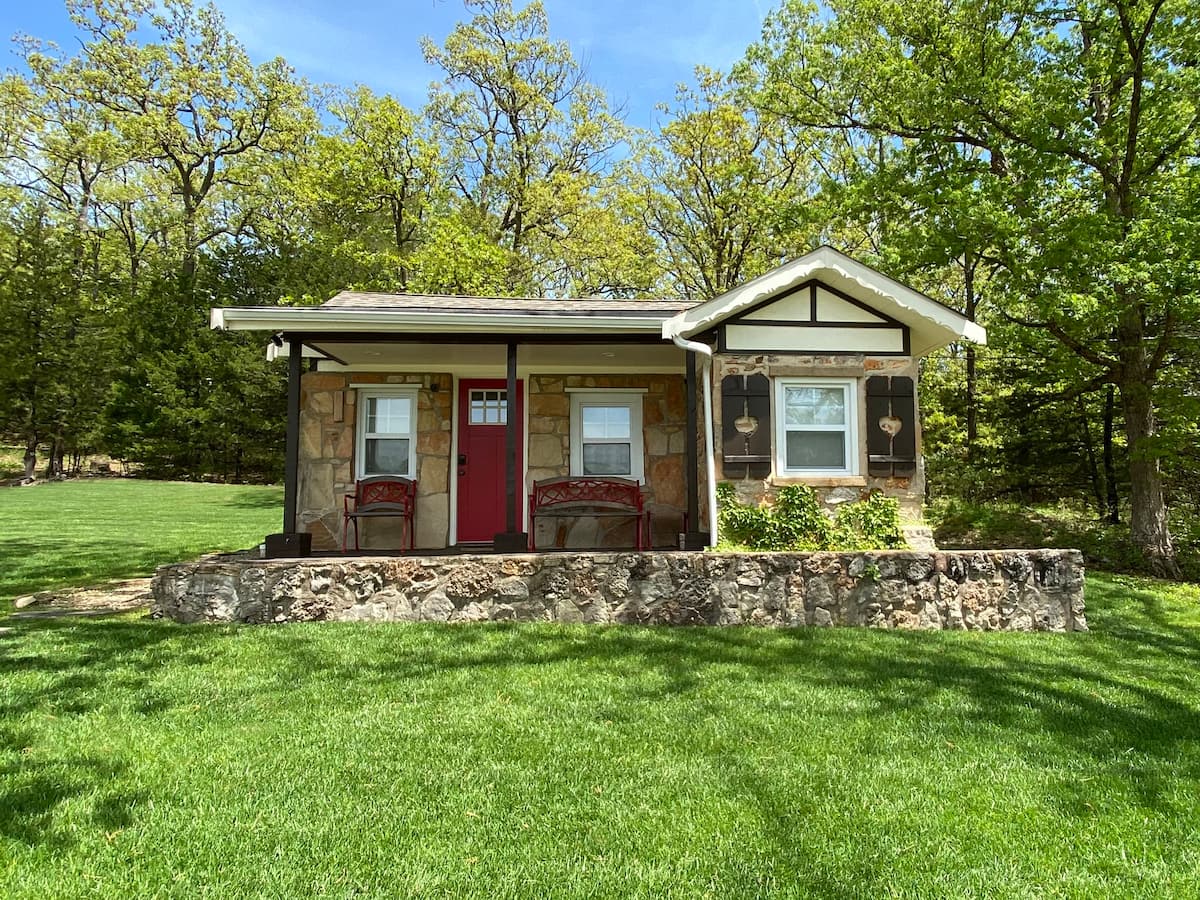 ---
6. Secluded Cabin in Missouri with Hot Tub
Price: $192+ per night
Where: Branson, Missouri,
https://www.vrbo.com/4224512ha
Tall Pines Sanctuary is a gorgeous 40-acre private sanctuary with a home that sleeps 12 people and two private bunk rooms. It's located just 30 minutes from historic Jefferson City, in the heart of the Missouri Wine Trail. Spend your days hiking, swimming, or playing pool on our apartment-sized game table. Come back to the house for some quality time in the hot tub before retreating to your cozy room.
After you've had your fill of being indoors, venture out into our treehouse lined 40 acres and explore nature at its finest. Each of our rental cabins is situated on 40 acres of woodland with hiking trails. Enjoy a game of pool and darts, or relax in a hot tub at the end of the day for some peace and quiet. Our cabins vary greatly in size and comfort, from a small Bunk Room to the Home, which is perfect for large family gatherings.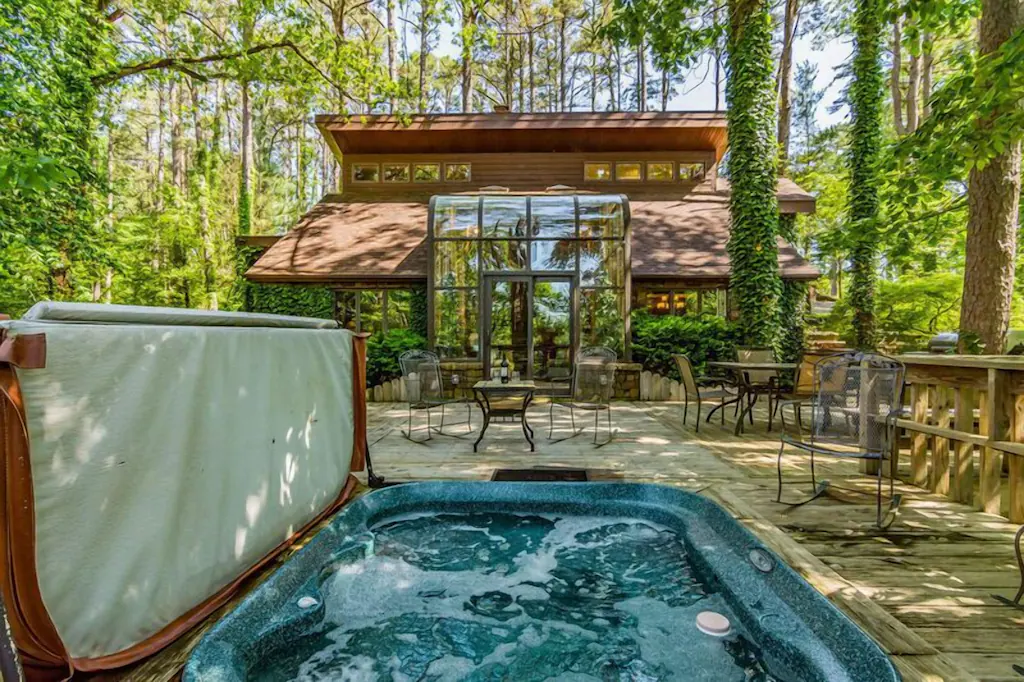 ---
7. Prairie Hollow Hideaway Cabin
Price: $138+ per night
Where: Eminence, Missouri
https://www.airbnb.com/rooms/39335694 
Prairie Hollow Hideaway is a cabin rental located in Eminence, Missouri, and is just 17 miles from ilson's Creek National Battlefield entrance.
There are three bedrooms with king-sized beds and a queen sleeper sofa in the living room (all rooms have TVs). The hideaway has a wraparound porch, indoor Jacuzzi tub, full modern kitchen, and laundry facilities.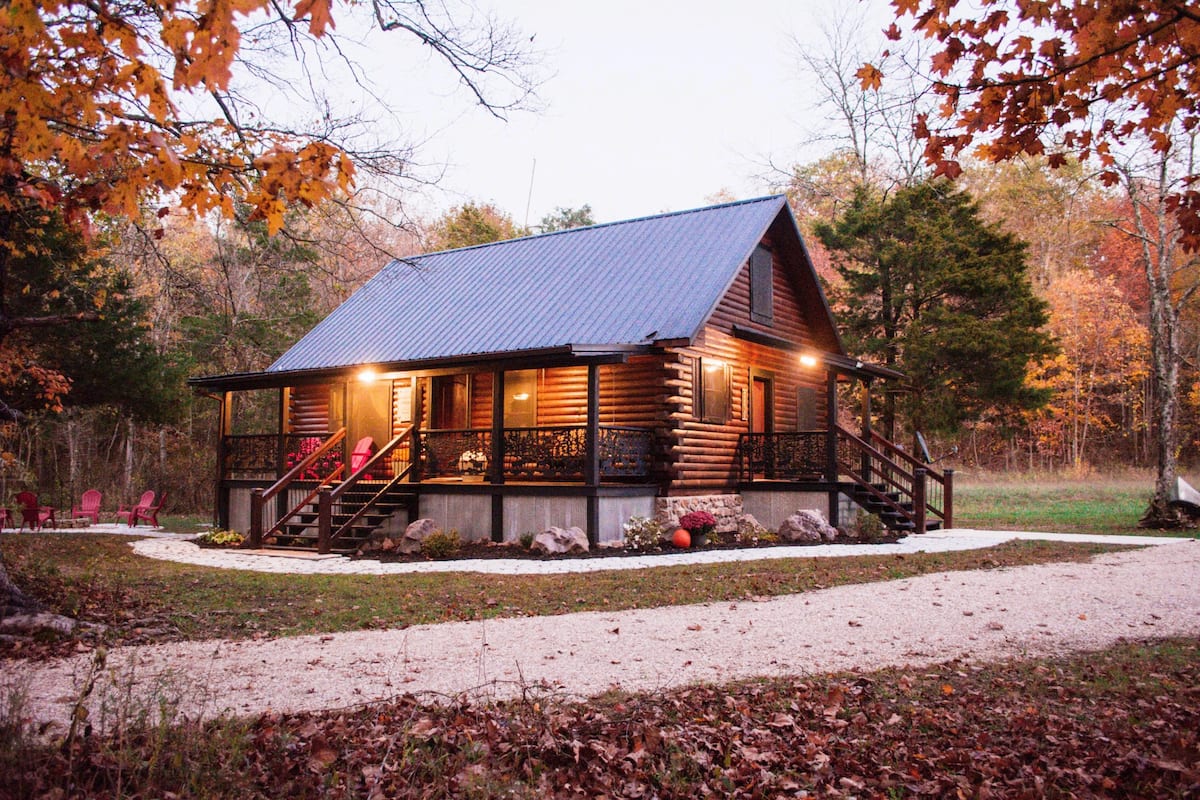 ---
8. Secluded Lake Front Cabin in Branson
Price: $153+ per night
Where:  Branson, Missouri
https://www.vrbo.com/4439898ha
We have the perfect home away from home, located on a private 5-acre lake and 25 miles from both Branson and Eureka Springs. A perfect weekend getaway for couples or families of four, our Secluded Lake Front Cabin is just what you need to relax after a fun-filled day at Silver Dollar City or the shows on 76 Country Music Boulevard. Located on the shores of Table Rock Lake, 2.5 miles from Silver Dollar City theme park and 15 minutes from the famed Branson entertainment district, this vacation rental in Branson is a great choice for every traveler. Whether you are planning a family reunion or a romantic weekend getaway, our two-bedroom cabin is well appointed with all the amenities you'd want.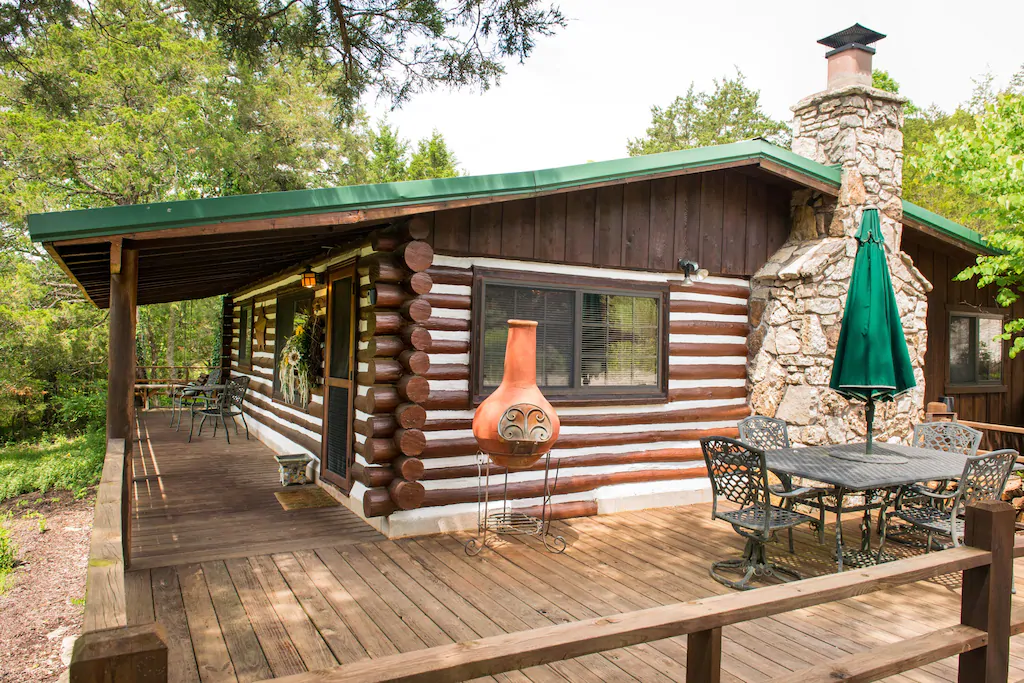 ---
9. Hawks Ridge Cabin
Price: $200+ per night
Where: Saint James, Missouri
https://www.airbnb.com/rooms/34066116 
Come and enjoy a restful mountain retreat in the quaint town of Saint James, Missouri. Located just one mile away from Blanchard Springs Caverns, Hawks Ridge Cabin provides a unique experience for those looking to unplug and relax while enjoying the Ozarks' natural beauty.
Hawks Ridge Cabin is located on 300 acres of forested property and is fully equipped with a queen-size bed, sleeper sofa, full kitchen with dishwasher, microwave, stove, oven and grill, bathroom with shower/tub, TV/VCR/DVD player with satellite service, screened porch overlooking the forested property with charcoal grill (charcoal not provided), wildlife pond stocked with bass for fishing and picnic table for outdoor dining.
The cabin has an electric fireplace that provides ambiance on those chilly autumn nights. Hawks Ridge Cabin allows our guests to enjoy the outdoors and get away from the fast-paced life.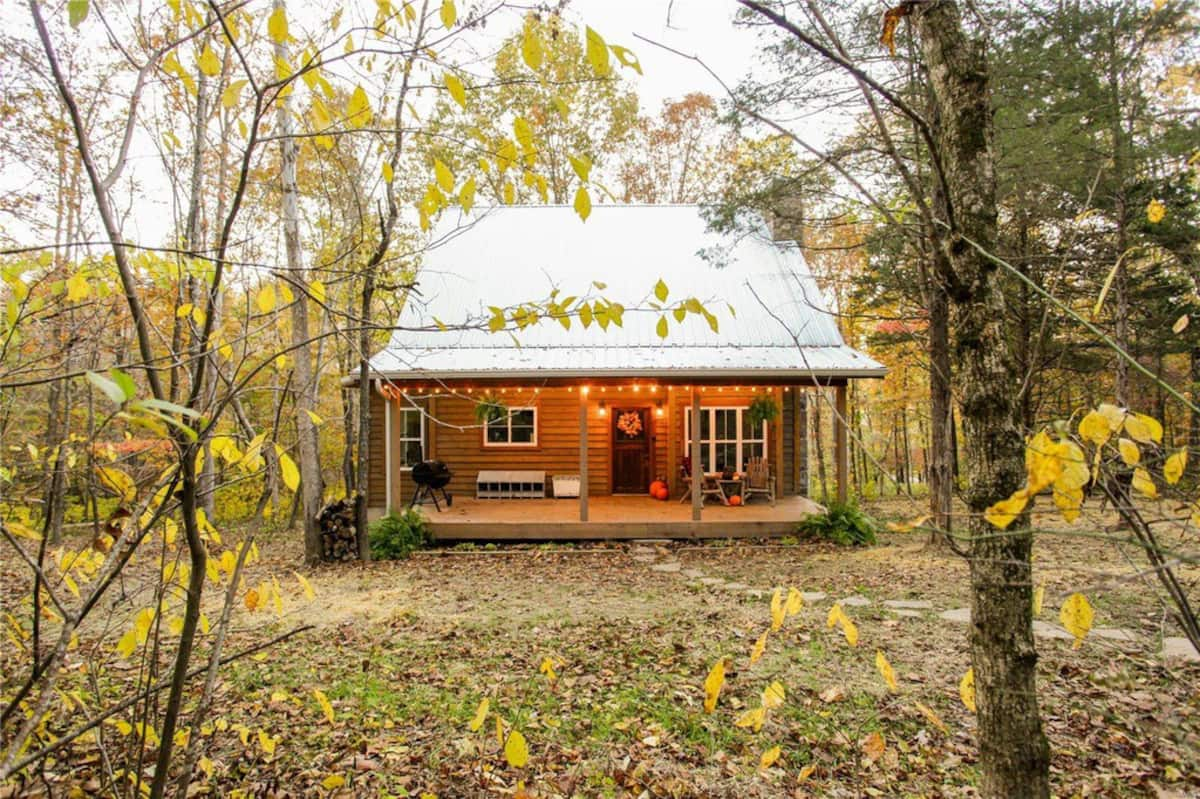 ---
10. 3-Bedroom Cabin Getaway
Price: $148+ per night
Where: Marceline, Missouri
https://www.vrbo.com/4472703ha
Marceline is quickly becoming a sought-after tourist location for events such as the Pageant of the Masters, the Municipal Band concerts, and for families and couples who want to get away for a weekend.
Marceline is within a short driving distance from larger cities such as St. Louis and Kansas City, Mo. If you plan on visiting the Lake of the Ozarks or the Kansas City area, this 3 bedroom lodge is perfect for families and couples looking for a place to stay. Although it was built in 2003, it has been updated with new furnishings making this quaint lodge modernized and inviting. All you will need to bring is your food and clothing.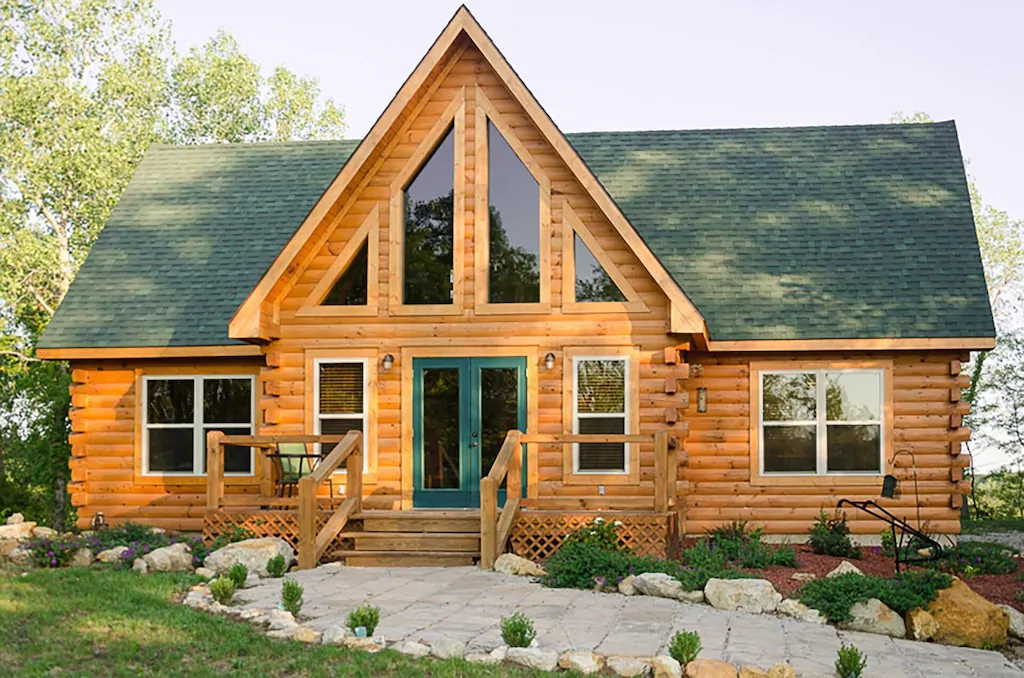 ---
11. 3-Bedroom Hawk's Ridge Cabin
Price: $175+ per night
Where:  Steelville, Missouri
Welcome to Hawk's Ridge Cabins in Osage Township, Missouri. Our cabins are log cabin style with 3 bedrooms, 2 baths, a full kitchen, and laundry facilities. All of our cabins have central air conditioning and heating, wireless internet, and a telephone.
\You can relax by the fireplace, grill out or just sit back watching TV. Our property is a quiet setting where families and friends can enjoy each other's company without being disturbed.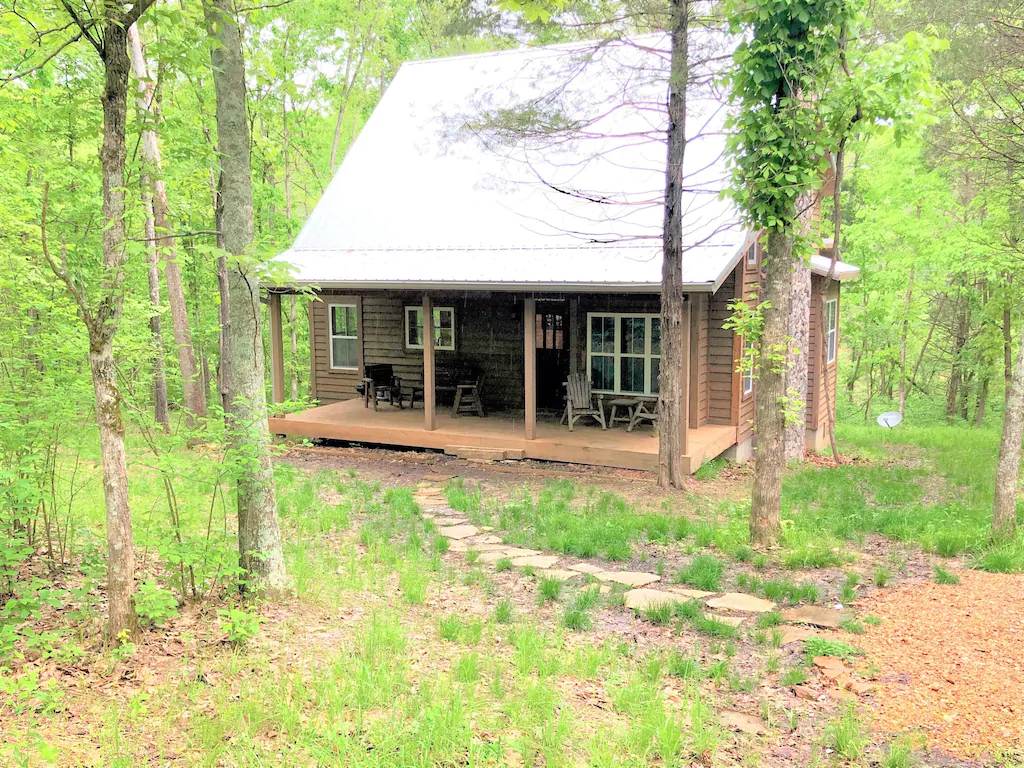 ---
12. The Cabin at Rock Canyon
Price: $205+ per night
Where: Branson, Missouri
https://www.airbnb.com/rooms/35515226 
The Cabin at Rock Canyon is an ideal getaway for those who want a taste of the rugged beauty and down-home hospitality of Branson. This quaint cabin offers a rustic touch with its wood-burning fireplace, wooden accents, and comfortable furnishings. Located right in paradise, this serene setting provides lots of privacy yet is conveniently located close to all of the excitement and entertainment that Branson has to offer. Cabin Rentals in Missouri will make your stay unforgettable with a private hot tub and grill on site.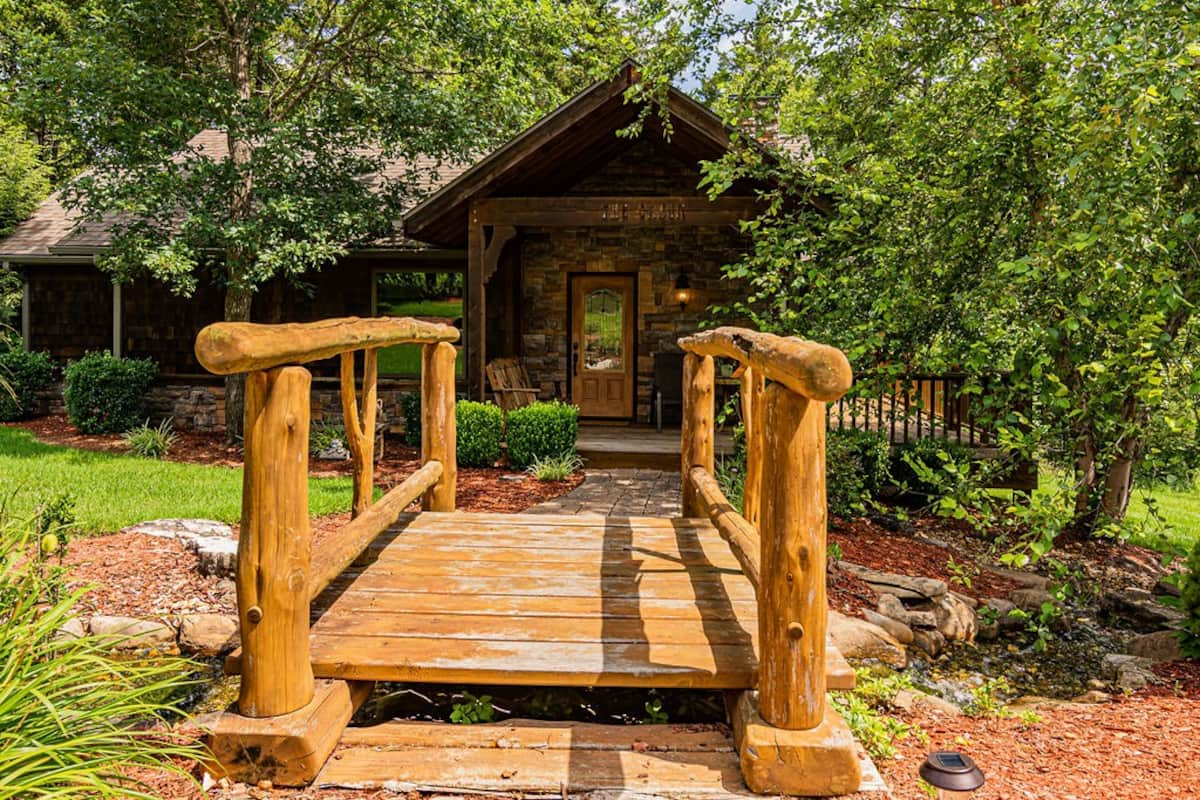 ---
13. Private Couple's Retreat, Modern and Luxurious
Place: $198+ per night
Where: Aldrich, Missouri
https://www.airbnb.com/rooms/35181833
The scenic beauty and an abundance of privacy await you at this unique cabin rental in Aldrich, MO. This secluded rental is just minutes from the hiking trails and recreation at the Lake of the Ozarks State Park.
On-site amenities include a private hot tub and a flat-screen TV with premium cable channels. Enjoy top-notch privacy in this modern and luxurious cabin that features beautiful wood beams and floor-to-ceiling windows that overlook lush forested hills.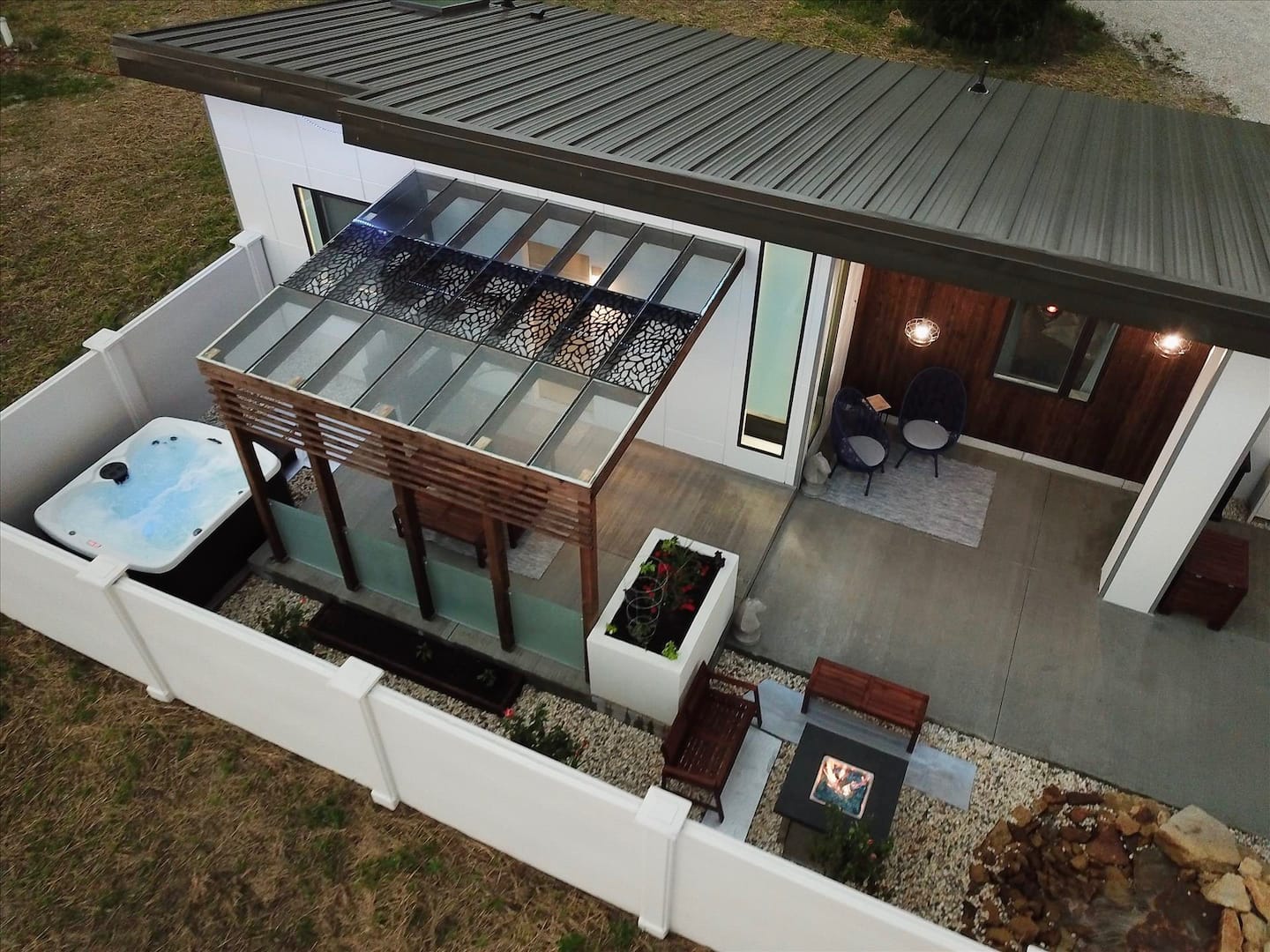 ---
14. Remote Cabin on 30 Acres with Dock and Private Lake – Macks Creek
Price: $359+ per night
Where: Macks Creek, Missouri
https://www.airbnb.com/rooms/29880697 
Come enjoy a beautiful Missouri Cabin on scenic Macks Creek. Our remote cabin is located just outside the town of Macks Creek along a quiet county road with miles of gravel and dirt roads winding their way among the hills and woods of this rural area in the northern part of New Madrid County.
The secluded location is ideal for watching wildlife, star-gazing, canoeing, kayaking, fishing, building campfires, and relaxing while enjoying the best weekend getaway possible.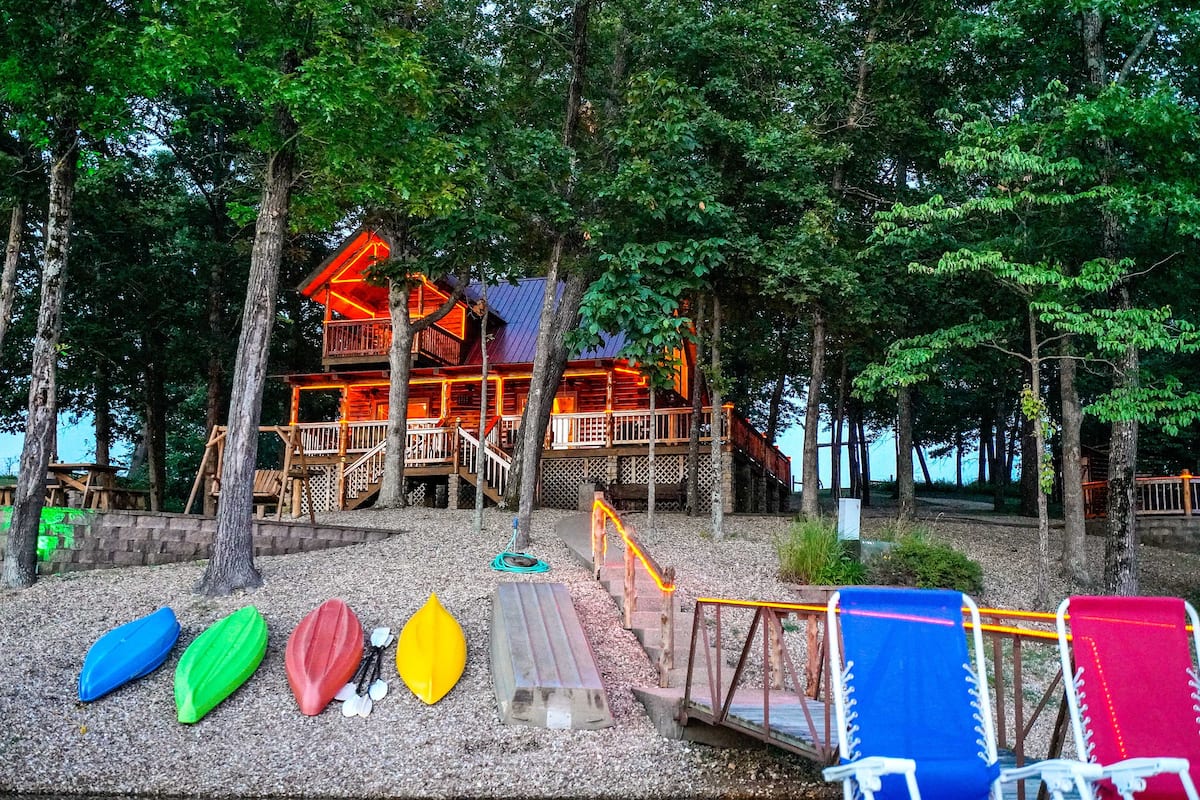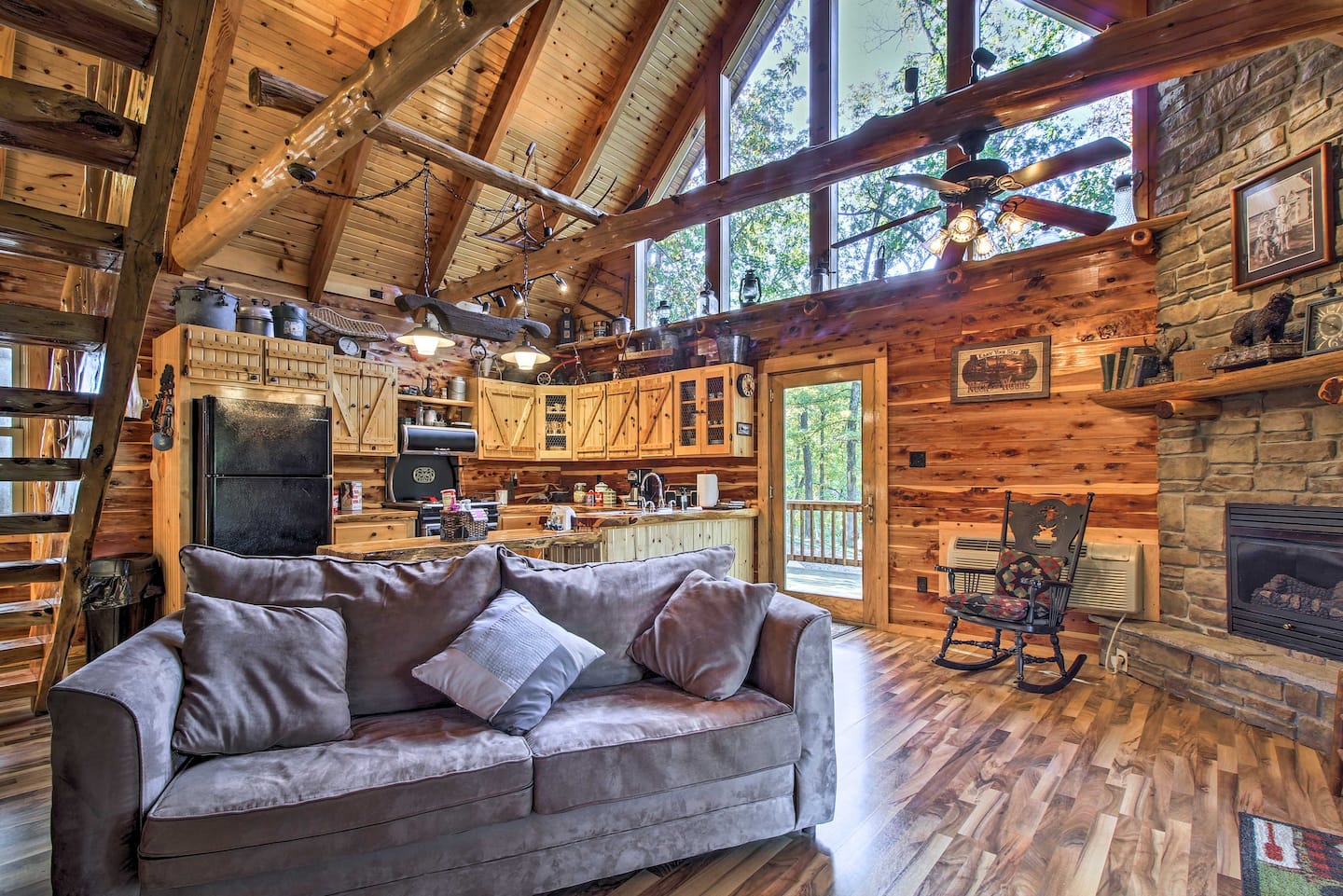 ---
15. Wildwood Cabin on Table Rock Lake
Price: $157+ per night
Where: Shell Knob, Missouri,
https://www.airbnb.com/rooms/34386492 
Wildwood Cabin on Table Rock Lake – Shell Knob, MO offers two bedrooms, (1-King, 1-Queen), two full baths, and can sleep six comfortably. This cabin resides deep within the woods of Wildwood Resort near Branson. The peacefulness of the surroundings will allow you to relax and enjoy your vacation in privacy. Sit down at the four-person picnic table and dine outside as you listen to the sounds of nature. Just minutes from Branson, enjoy the beauty and majesty of Table Rock Lake in Shell Knob.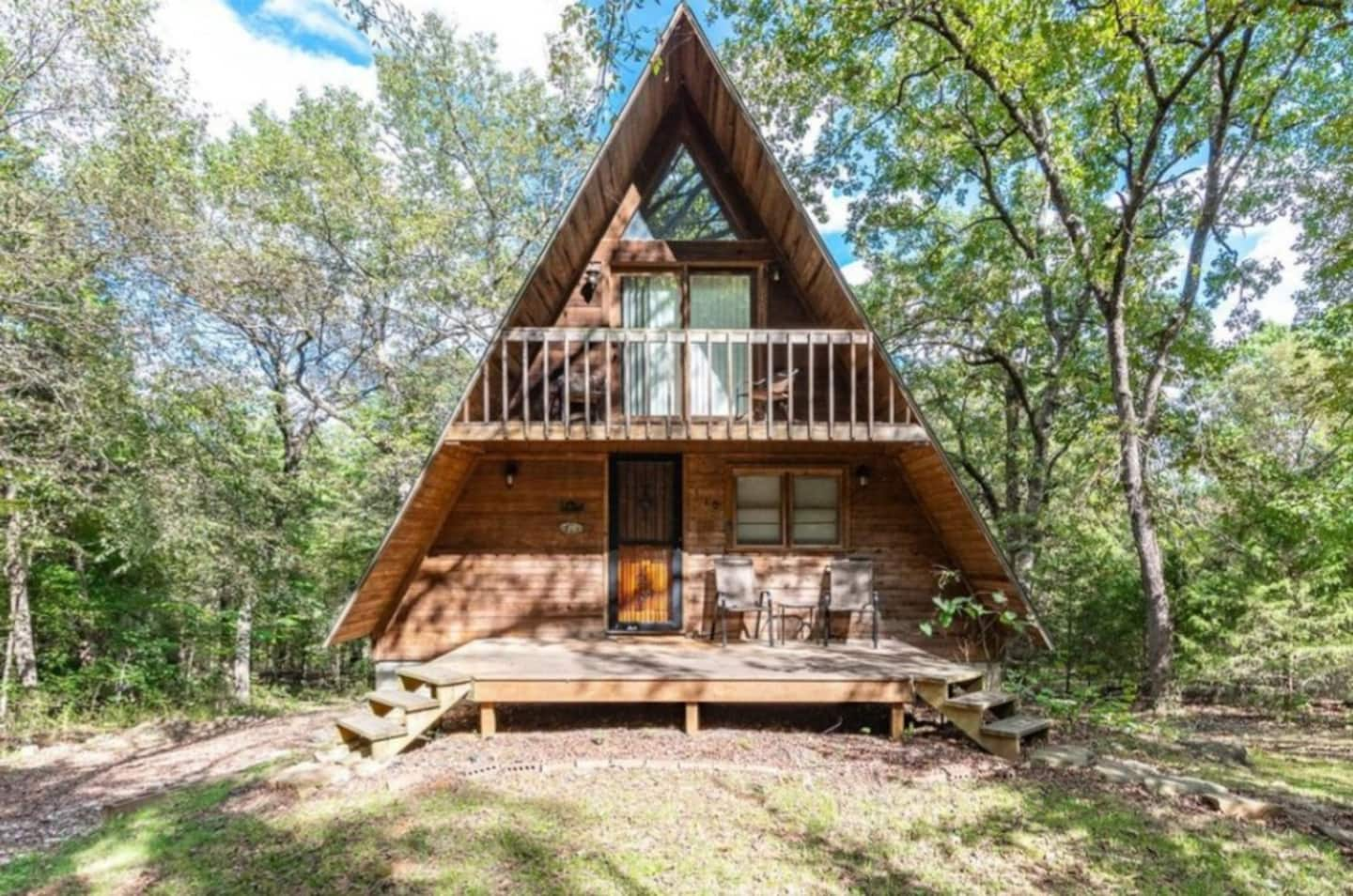 ---