Planning a getaway for two and looking for the best Romantic Cabins in Colorado with Hot Tubs to rent in 2022? Well, you've come to the right place, as I've compiled this array of incredible cabin rentals that are ideal for a romantic getaway! 
A remote cabin is simply the perfect way to rekindle the romance, especially in Colorado – relax in a steamy hot tub outside your honeymoon cabin or roast s'mores next to the fireplace during your romantic escape!  So, keep scrolling to learn about the top 13 romantic cabin rentals in Colorado that will not only leave you restful but also rekindle the romance!
Also, be sure to read my guide on the best A-Frame Cabins in Colorado & Cabin Rentals in Utah for more epic accommodation in the area!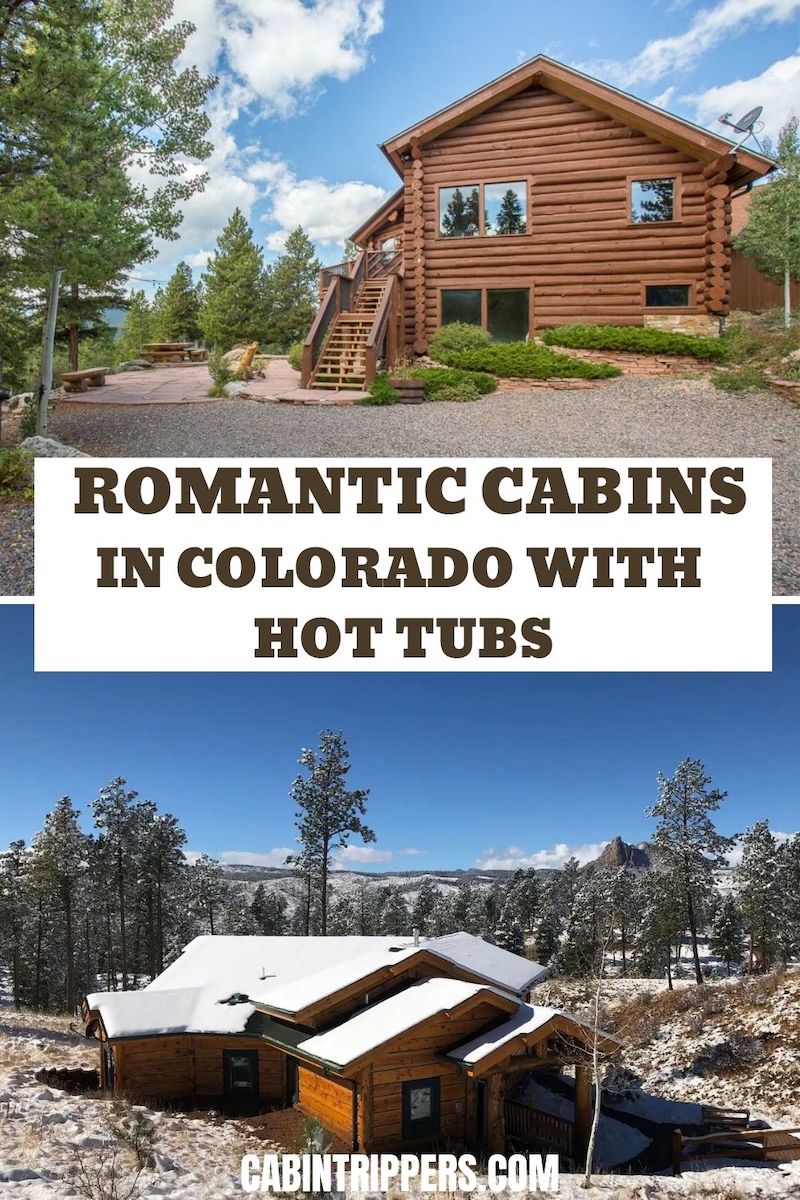 ---
Modern & Luxury Cabin in Black Hawk
Location: Boulder, Colorado, United States of America
Price: $593+ per night
https://www.vrbo.com/4934910ha
Are you looking for a romantic getaway in a secluded yet luxurious location? If so, this gorgeous, modern and romantic cabin in Colorado is an ideal place for you to enjoy time with your special one. The cabin is located in the mountains just west of Boulder, offering access to skiing, hiking, biking, fishing, and rock climbing, as well as quaint, small-town shops. The romantic hot tub will allow you to create unforgettable memories in a stunning location. 
You can enjoy a romantic walk along the creek and around the reservoir, set against the impressive backdrop. You can also explore the buzzing scene downtown with your partner. The cabin has two bedrooms, one with a king bed and the queen bed. The tranquillity and secluded setting of this cabin on the River make it an excellent getaway from the everyday stresses of life.
View Photos, Read Reviews & Check Availability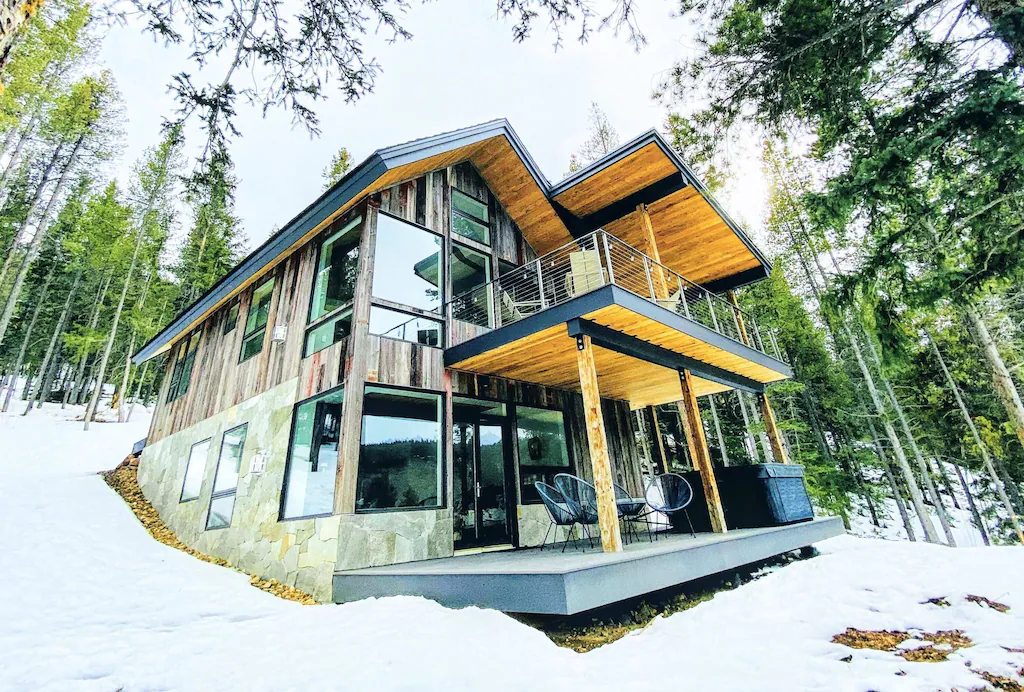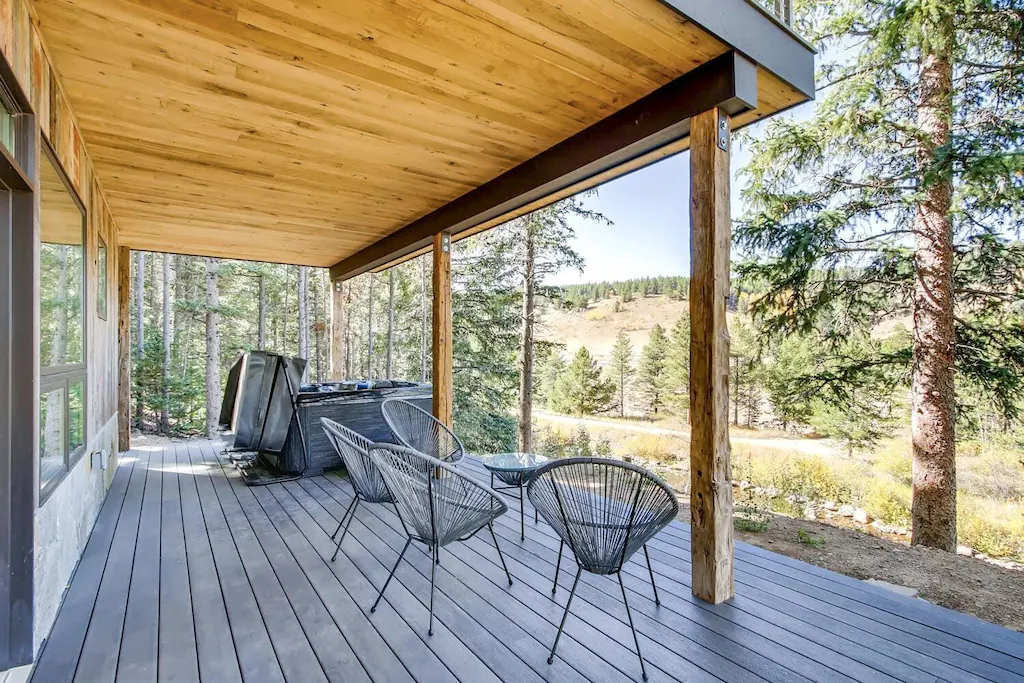 ---
Forested Hideaway Remote Cabin
Location: Colorado
Price: $168+ per night
This beautiful mountain hideaway sits on 2 acres of tall pines and aspens. The picturesque park-like setting of this cabin with evergreens and aspens will give you a sense of privacy. However, it is within 2 miles of Highway 24 and 2 more miles from groceries, restaurants, and gas stations. There is also an open meadow behind the property where you can play kickball in the summer and go sledding in the winter. With so many local attractions, this cabin makes the perfect romantic getaway in Colorado!
This cozy cabin features three bedrooms (in case you are planning a group couples retreat), one bath, a six-person lighted hot tub, wood stove, kitchen, and dining room. Additionally, you have unlimited internet access, DIRECTV, Blu-ray players, DVD players, and board games to enjoy with your loved one.
View Photos, Read Reviews & Check Availability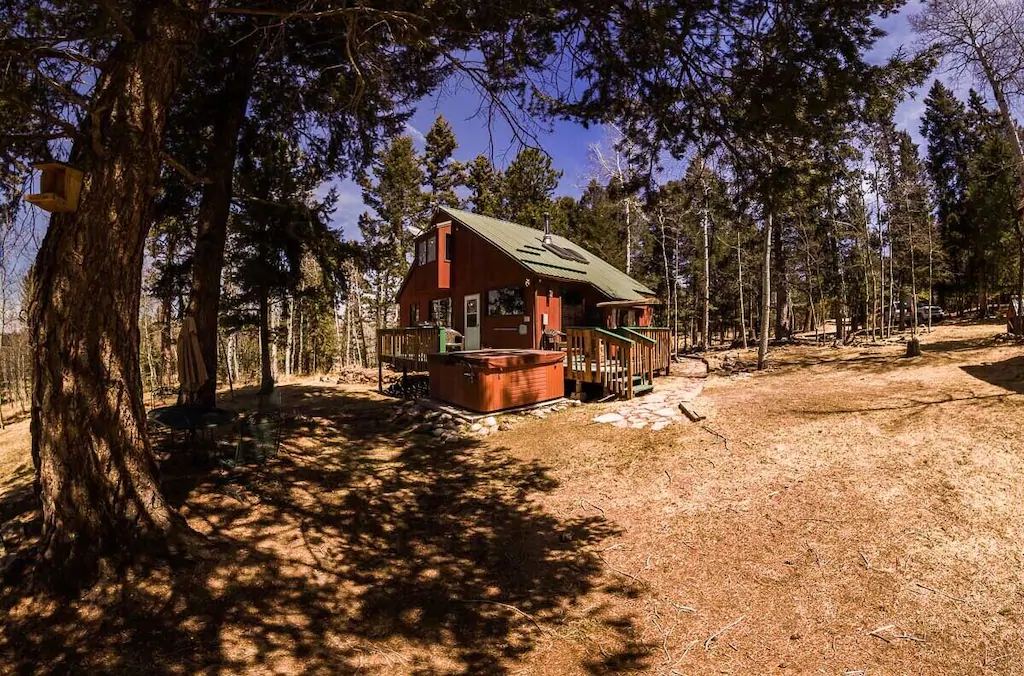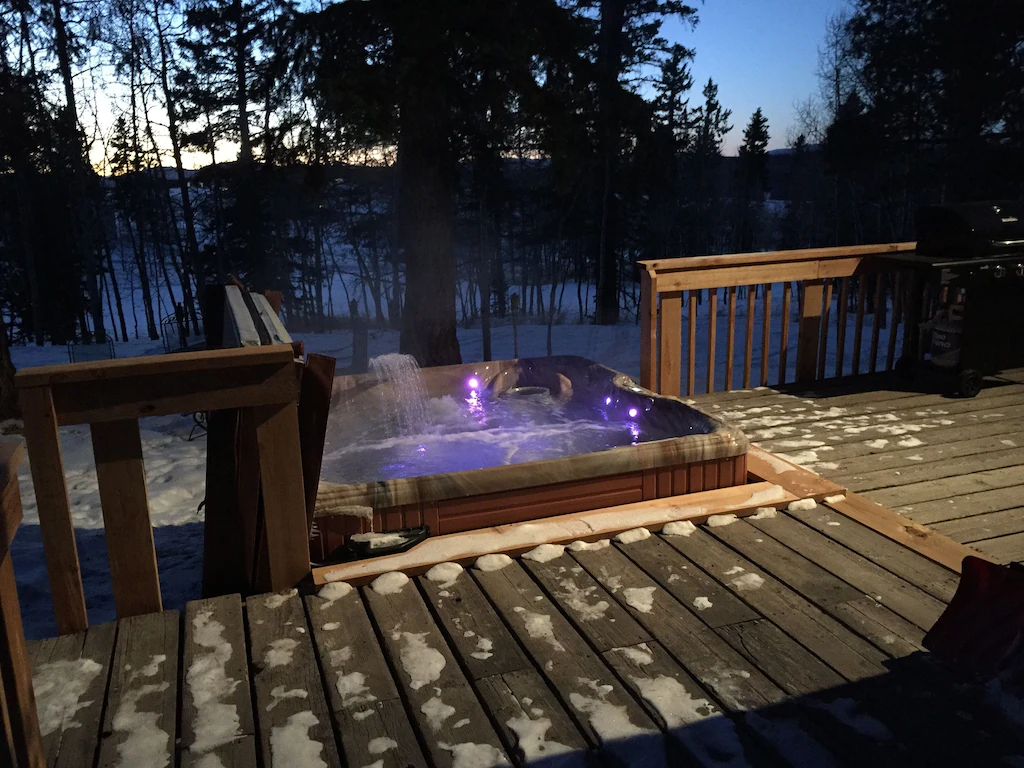 ---
Mountain Dream Cabin with Hot Tub
Location: Cripple Creek, Colorado
Price: $195+ per night
Located 45 miles west of Colorado Springs, near Cripple Creek, this lovely two-bedroom cabin provides both privacy and comfort. The 3 level Mountain Dream cabin bestows a magnificent view of the nearby mountain range. There is a six-person hot tub on the large wraparound deck which is perfect for enjoying an evening soak while taking in the view of the area or relaxing under the stars.
A short drive from the cabin takes you to the Cripple Creek historic district. You'll find restaurants, casinos, and attractions, such as the Cripple Creek & Victor Narrow Gauge Railroad or the Mollie Kathleen Gold Mine in the historic district. Additionally, you can enjoy Arkansas river rafting, hiking national forests, and skiing nearby.
View Photos, Read Reviews & Check Availability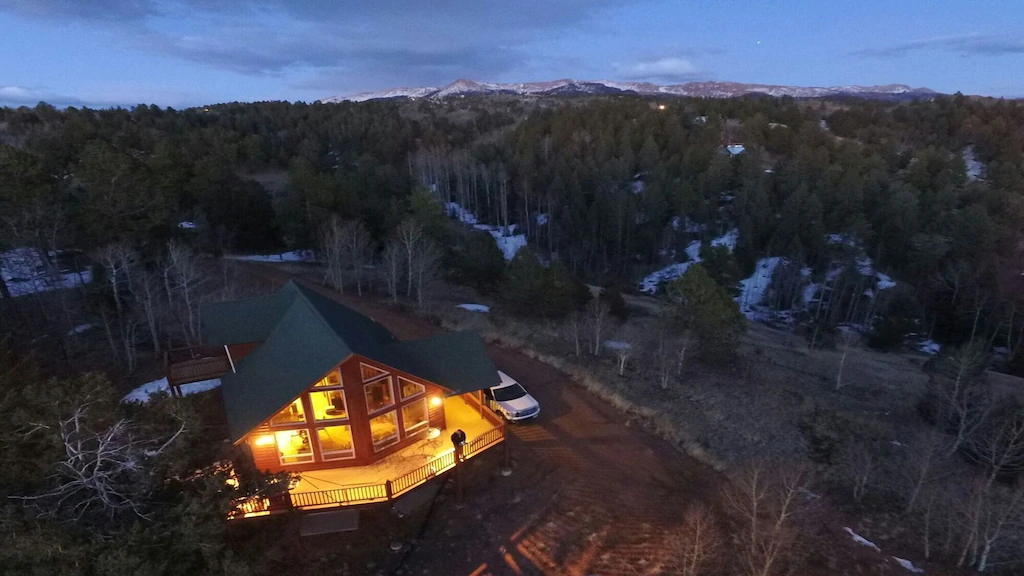 ---
Peaceful Cabin Getaway with Panoramic Views
Location: Rio Grande County, Colorado
Price: $265+ per night
https://www.vrbo.com/9371650ha
This luxurious vacation rental is a fantastic getaway in the Rio Grande National Forest for friends and family. There is a soothing ambience at this 2-bedroom, 2-bathroom romantic cabin, complete with an award-winning water feature with 28 lighted falls that surround a stone patio and hot tub. If you're looking for adventure, you can go sand surfing at Great Sand Dunes National Park or hiking scenic trails nearby.
The cabin can accommodate up to 8 guests – although it's also dreamy for just two. You can relax in the hot springs in Pagosa Springs. Furthermore, there is an indoor fireplace perfect for candlelight dinners.
View Photos, Read Reviews & Check Availability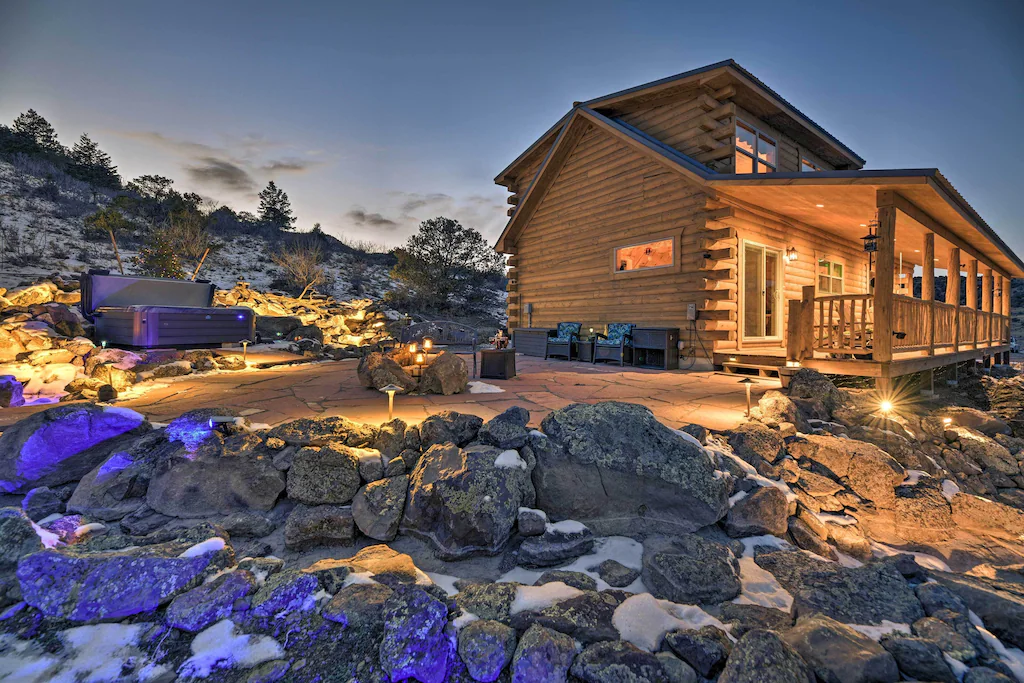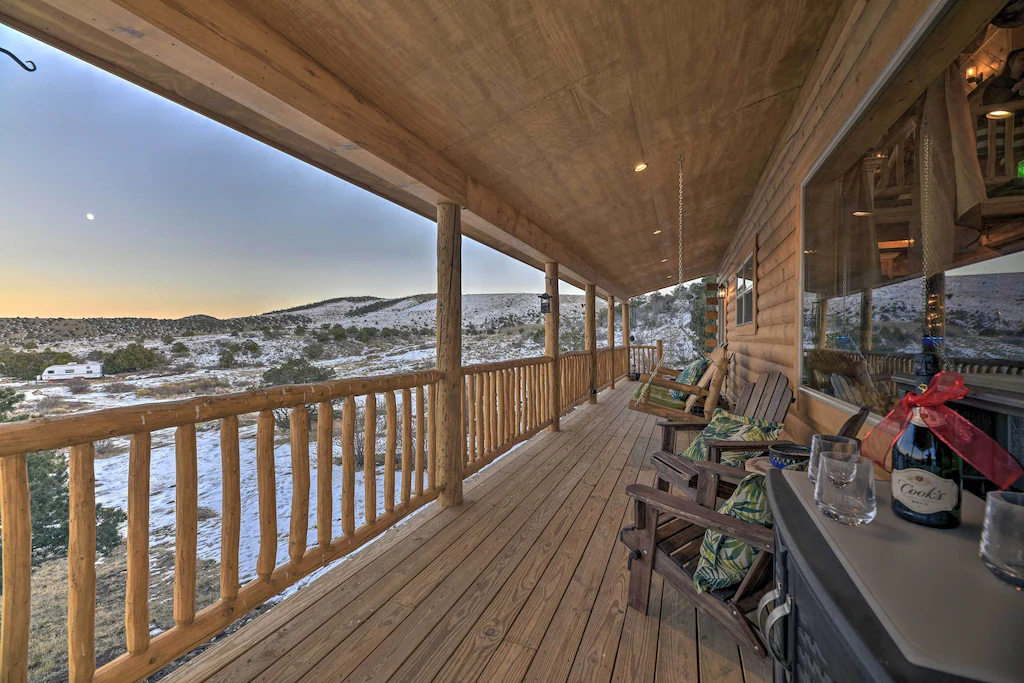 ---
Romantic Log Cabin with Hot Tub
Location: Fairplay, Colorado
Price: $250+ per night
This charming log cabin in Colorado offers stunning views of the snow-capped mountains while surrounded by a magnificent aspen and spruce forest. In the forest-surrounded hot tub, you can relax in complete privacy. There is also a fireplace on the large deck where you can gaze at the stars.
The cabin sleeps four people, as it has three bedrooms and one bathroom. The fully equipped kitchen comes with new appliances, granite tiles, and a wood island, allowing you to prepare gourmet meals. Sledding is also possible right outside your cabin door because the cabin features a sledding hill. Additionally, you can also explore the two acres of a wooded area or walk a short distance to National Forest trails.
View Photos, Read Reviews & Check Availability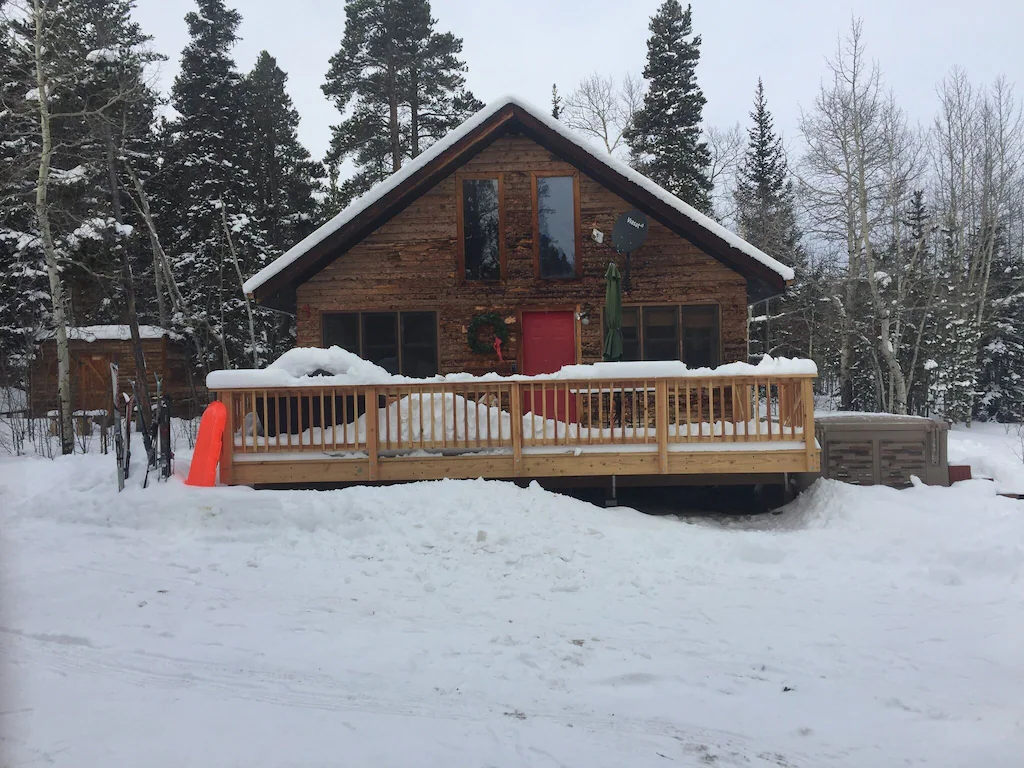 ---
Aspen Valley Hideaway
Location: Rainbow Valley, Colorado
Price: $170+ per night
https://www.vrbo.com/7898977ha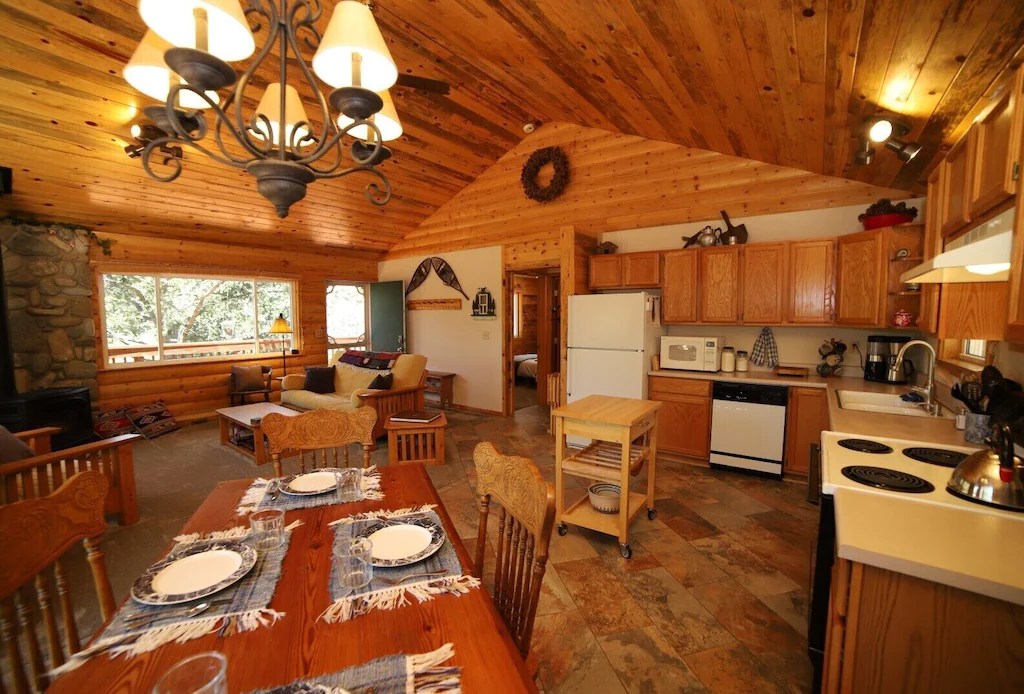 This Hideaway certainly delivers on the name, making it one of our favourite romantic cabins in Colorado. Set in the Rainbow Valley, you have plenty of outdoor activities moments away in Cripple Creek and the Mueller State Park. You can also easily use this cabin as a base to explore Colorado Springs.
The fenced garden of the cabin offers plenty of space to relax outside and that all-important hot tub. Inside, the cozy decoration and welcoming warmth of the wooden touches will more than make you feel at home throughout your romantic getaway. Expect a wonderful night's rest on the king bed, well away from the noise and light pollution.
With a well-equipped kitchen, self-catering and getting away from it all is very much possible here. A coffee maker awaits for your morning wake-up call, alongside many other thoughtful facilities, such as laundry detergent, humidifier and space heater, so you can be sure of a cozy stay whenever you visit.
View Photos, Read Reviews & Check Availability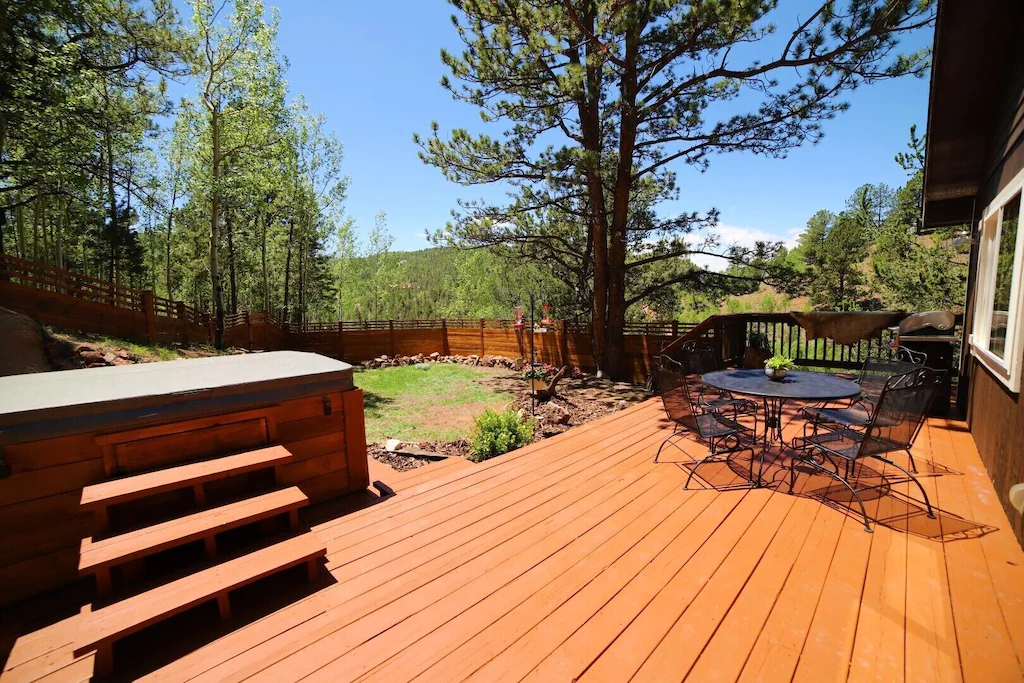 ---
Beyul Retreat
Location: Meredith, Colorado
Price: $114+ per night
https://www.booking.com/hotel/us/beyul-retreat-at-diamond-j-lodge.en-gb.html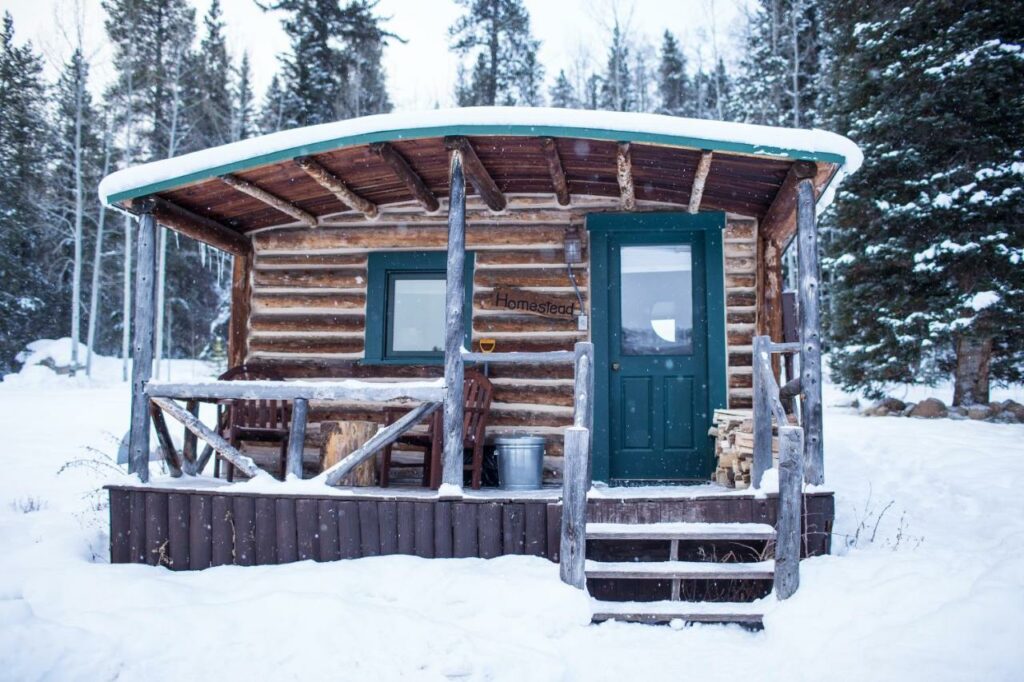 With one, two or three-bedroom cabins available, Beyul Retreat is perfect for a romantic couples escape in Colorado, especially if you have a few friends you wish to join you. In summer, the individual cabins are surrounded by verdant greens and spring flowers, and the winter brings plenty of snow – a 4WD will be required to access the retreat during winter.
Inside the cabins you'll find a rustic-chic decoration – dark wooden slats and panels are decorated with mountain style artefacts, while the roaring open fireplace is perfect for a winter evening together. Outside, beyond your garden and BBQ for the summer months, skiing or hiking await, depending on the season you visit.
View Photos, Read Reviews & Check Availability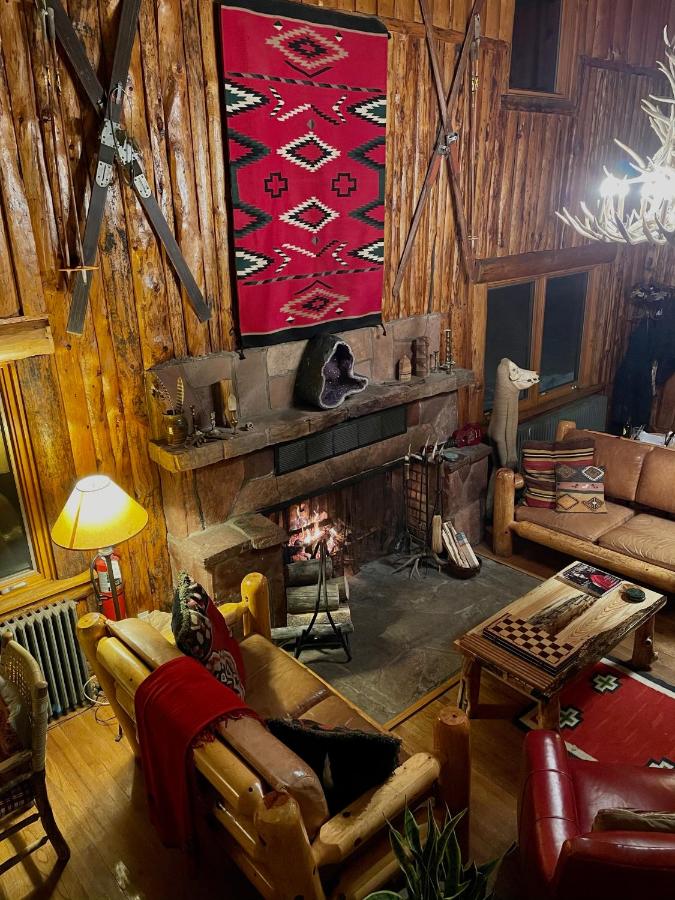 ---
Frosty Peaks
Location: Snowmass Village, Colorado
Price: $2607+ per night
https://www.plumguide.com/homes/32035/frosty-peaks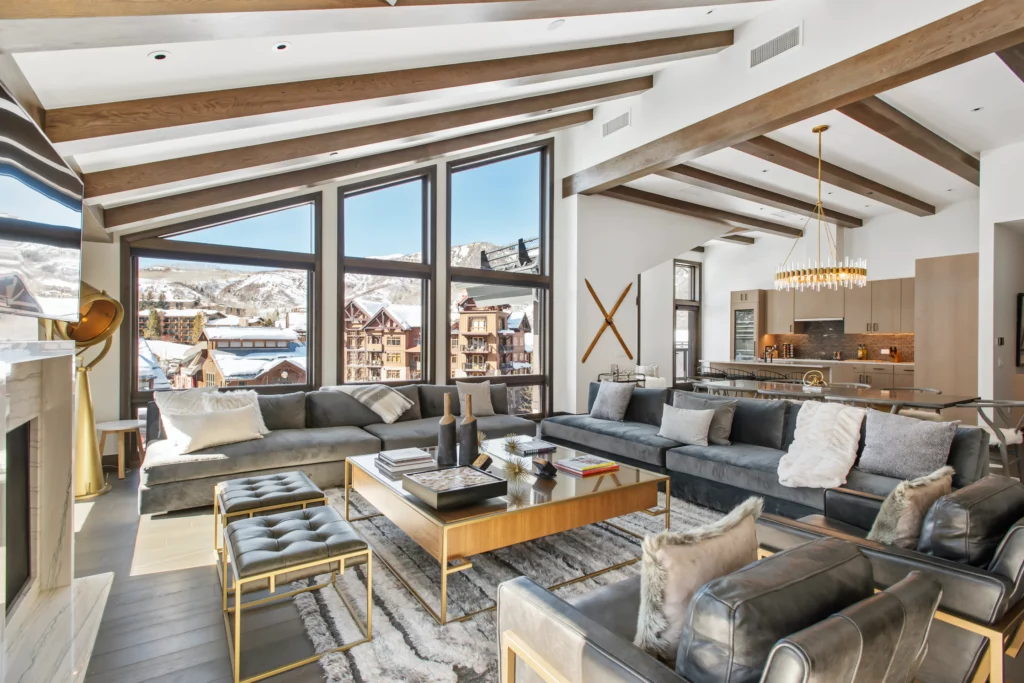 If you're seeking absolute luxury, and a ski in-ski out romantic cabin-style stay in Colorado, then the stunning Frosty Peaks lodge resort is calling your name!
Slightly different from the rest of our recommendations, this bougie and designer penthouse isn't actually a private cabin, but the top floor of a high-end and premium lodge. However, with the slanted wooden beams, and dreamy ski-resort views from the wide windows, when in your room you will retain that cabin-stay charm. The bonus, of course, is that you have all the luxurious amenities of the resort just downstairs – including the services you would expect from a resort-style stay.
The hot tub is dreamy, as are the bathtubs looking out on the mountains – and don't forget to take a dip in the outdoor heated pool. While the penthouse comes fully equipped with a kitchen for preparing your own meals, the restaurants and bars on-site are a welcome addition and provide something a little different from the rest of our romantic Colorado cabin suggestions!
View Photos, Read Reviews & Check Availability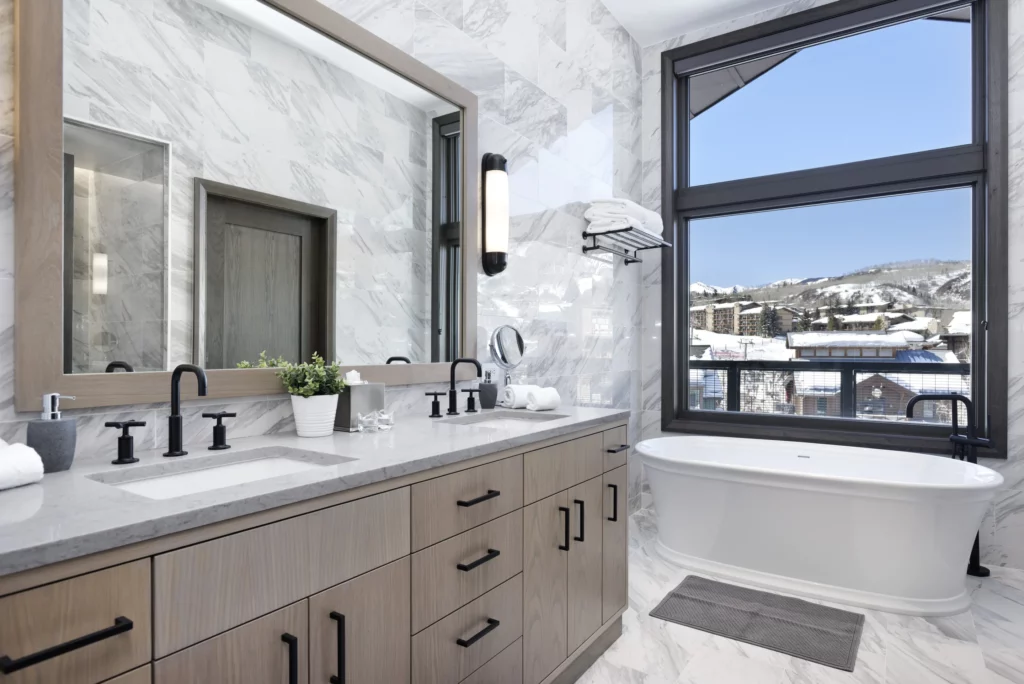 ---
Secluded Mountain Cabin
Location: Black Hawk, Colorado
Price: $528+ per night
https://www.airbnb.com/rooms/20137755
This romantic Colorado log cabin sits on 54 acres of pristine mountain view wilderness. The lodge is ideal for couples looking for adventure. This Colorado Mountain "Couple's Retreat" is only 45 minutes from Denver! You'll be surprised that you can have such a magnificent primary bedroom and a spacious mountain view kitchen, plus a full-size theatre with sexy sconce lighting and mountain views all wrapped up together. Furthermore, you can soak in the hot tub (indoor or outdoor) or relax in a hammock.
The cabin is ideal for a romantic getaway for two – perfect for elopements, honeymoons, anniversaries, engagements, or simply a romantic weekend away.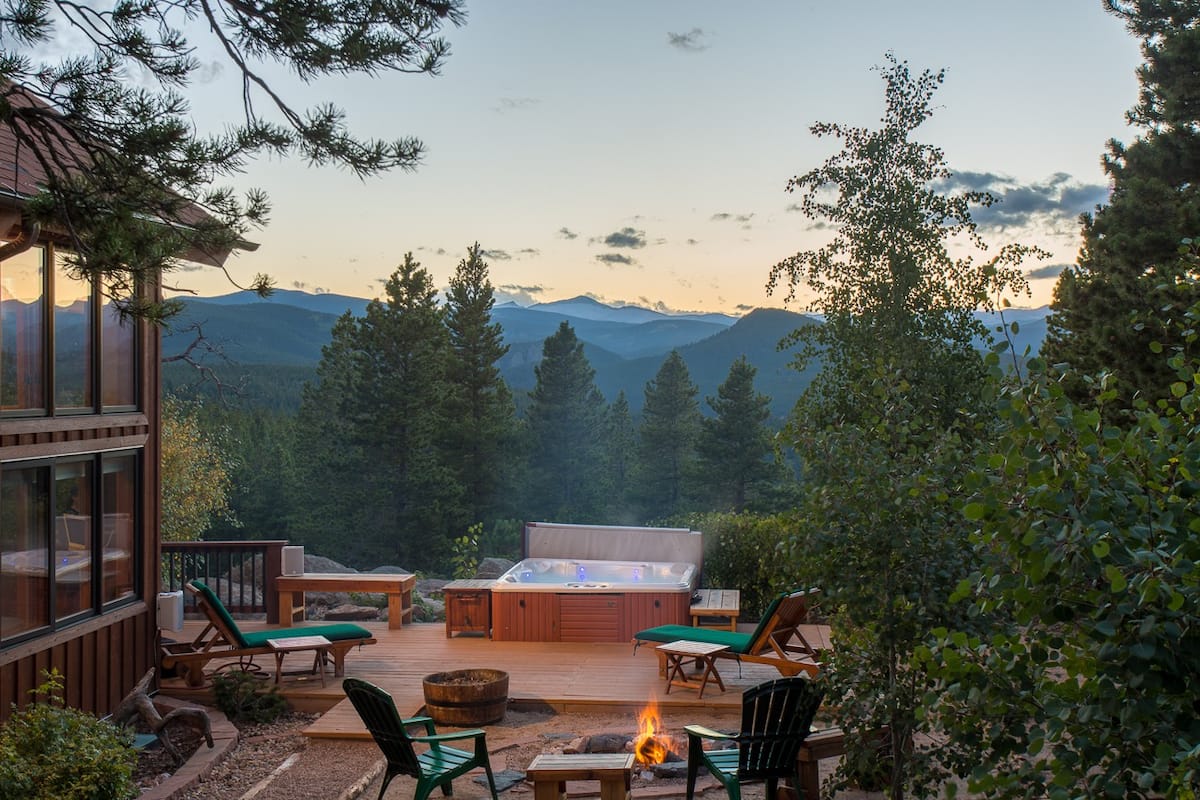 ---
Paradise Ridge Cozy Cabin
Location: Pagosa Springs, Colorado
Price: $203+ per night
https://www.airbnb.com/rooms/42565064
Paradise Ridge is the perfect destination for those who want to escape the hustle and bustle of city life but still be close enough to enjoy it. There are hummingbirds aplenty in the forest adjacent to Paradise Ridge Cabin. There is a private, cozy hot tub at the house to unwind after a long day of activities. A fire pit is available at the retreat so you can sit with your loved ones and reminisce.
The cabin can host up to 3 guests comfortably. From the cottage, you can see the mountain peaks in the distance. You can also hike the National Forest right from your doorstep as much as you like.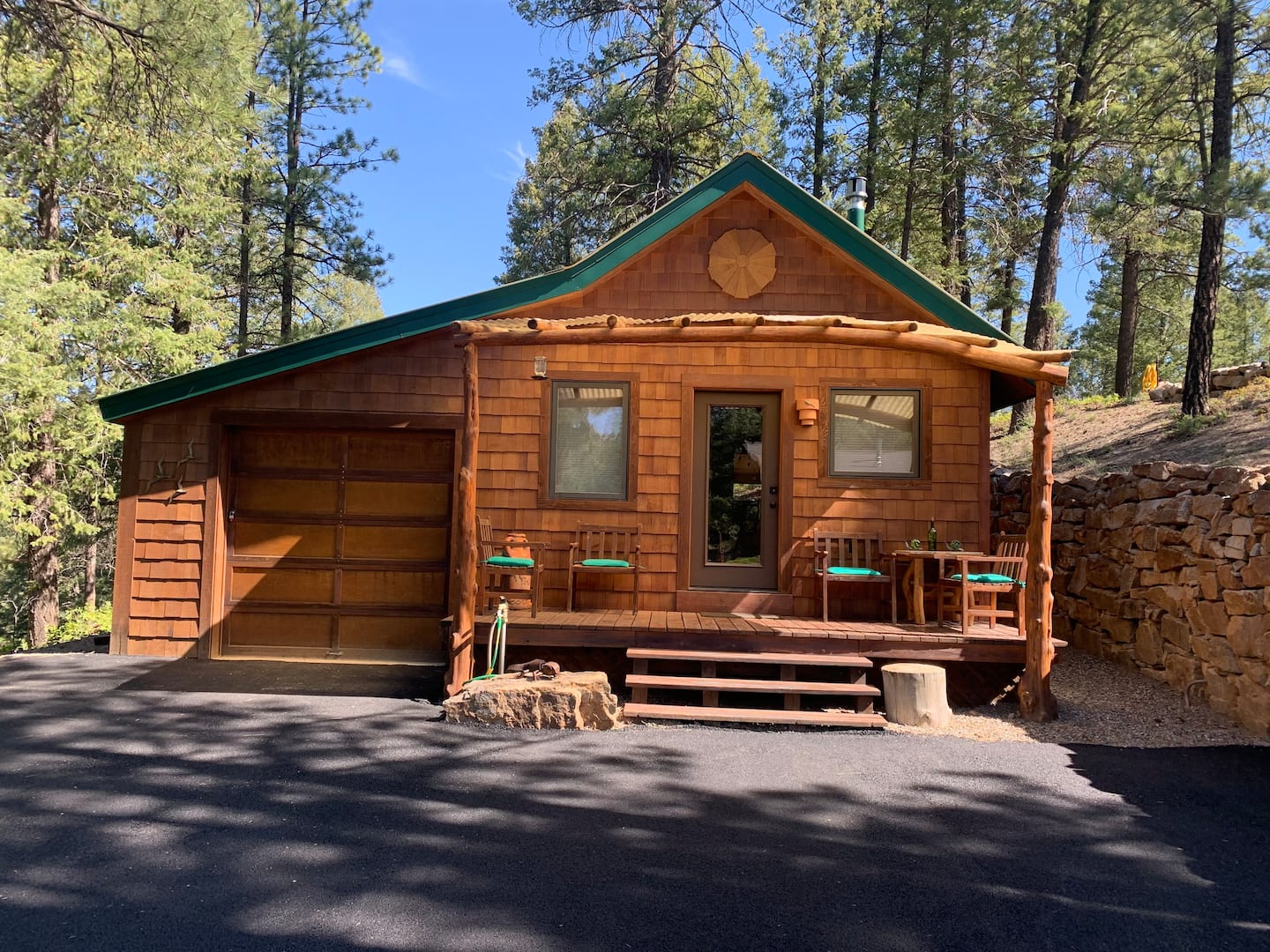 ---
Private Mountain Cabin with 360 Views & Hot Tub
Location: Guffey, Colorado
Price: $129+ per night
https://www.airbnb.com/rooms/34207320
This cabin has a serene setting with stunning views. It is perfect for anyone seeking quiet retreats or seeking a romantic getaway. A stroll through the woods will lead you to a meadow dotted with deep chimes nestled among pines and aspens. Further, the private, two-person hot tub will soothe you after a long day. A comfy loveseat swing bench offers a scenic view of the Collegiate Peaks. In addition, you can walk the river stone labyrinth and set your intentions.
The cabin accommodates two guests – making it the perfect romantic cabin in Colorado. There are many outdoor activities to enjoy at this quiet cabin, including hiking, biking, and fishing.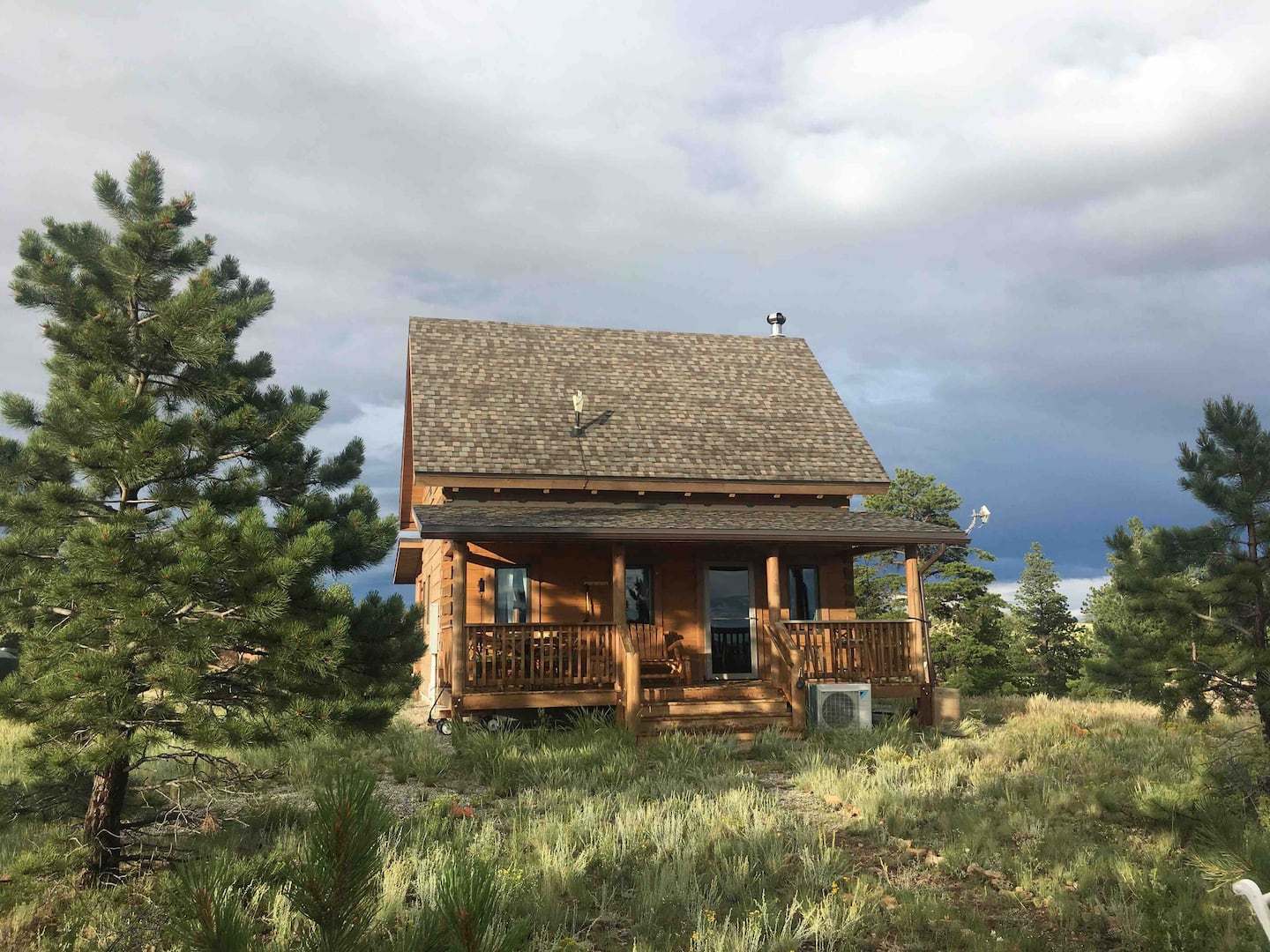 ---
Moose Haven Cabin
Location: Walden, Colorado
Price: $102+ per night
http://www.airbnb.com/rooms/16321163
Take a trip to Walden if you need some alone time with your loved one. The Moose Haven lies in the Rocky Mountains along the Park Range at 9000 feet. You will enjoy the wilderness that surrounds the Routt National Forest in this small, cozy cabin with two bedrooms, three beds, and a kitchen. There is also a hand-built fire where you can join your partner and enjoy a little break from technology.
Your pets are welcome at the cabin, so bring them along. The house can host up to five guests – ideal if you are two couples wanting a getaway together.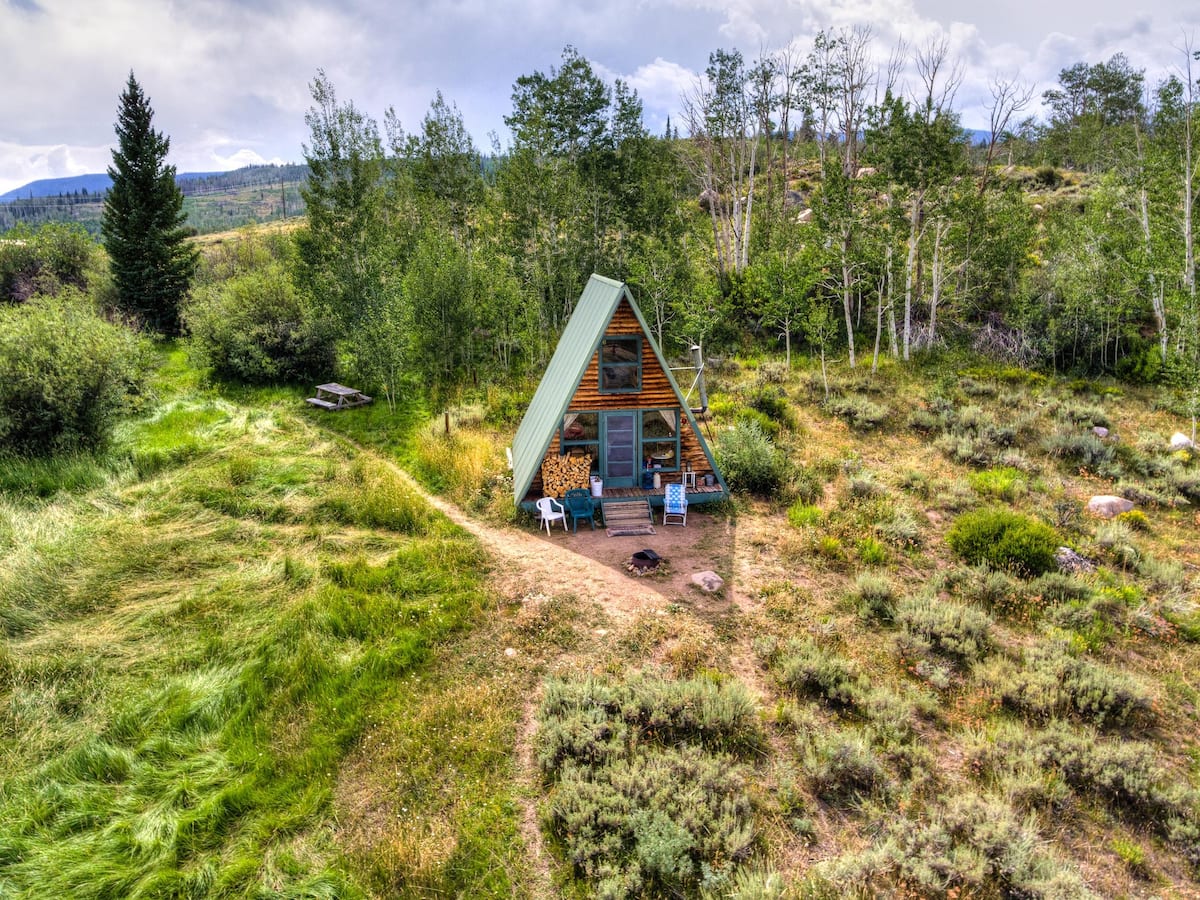 ---
Bear Den Cabin
Location: Woodland Park, Colorado
Price: $265+ per night
https://www.airbnb.com/rooms/43414753
The one-bedroom cabin on a 160-acre mountain ranch is ideal for adults only. At Bear Den Cabin, you'll find modern luxury coupled with rustic charm. The landscape will add to your morning beauty and provide a perfect ambience for you to unwind and relax. There is also a Jacuzzi tub, a hot tub, and an oversize shower where you can relax with your loved one.
It has everything that a romantic getaway could ask for in terms of amenities. So, for a romantic escape, the cabin offers a charming setting for you to rekindle the romance.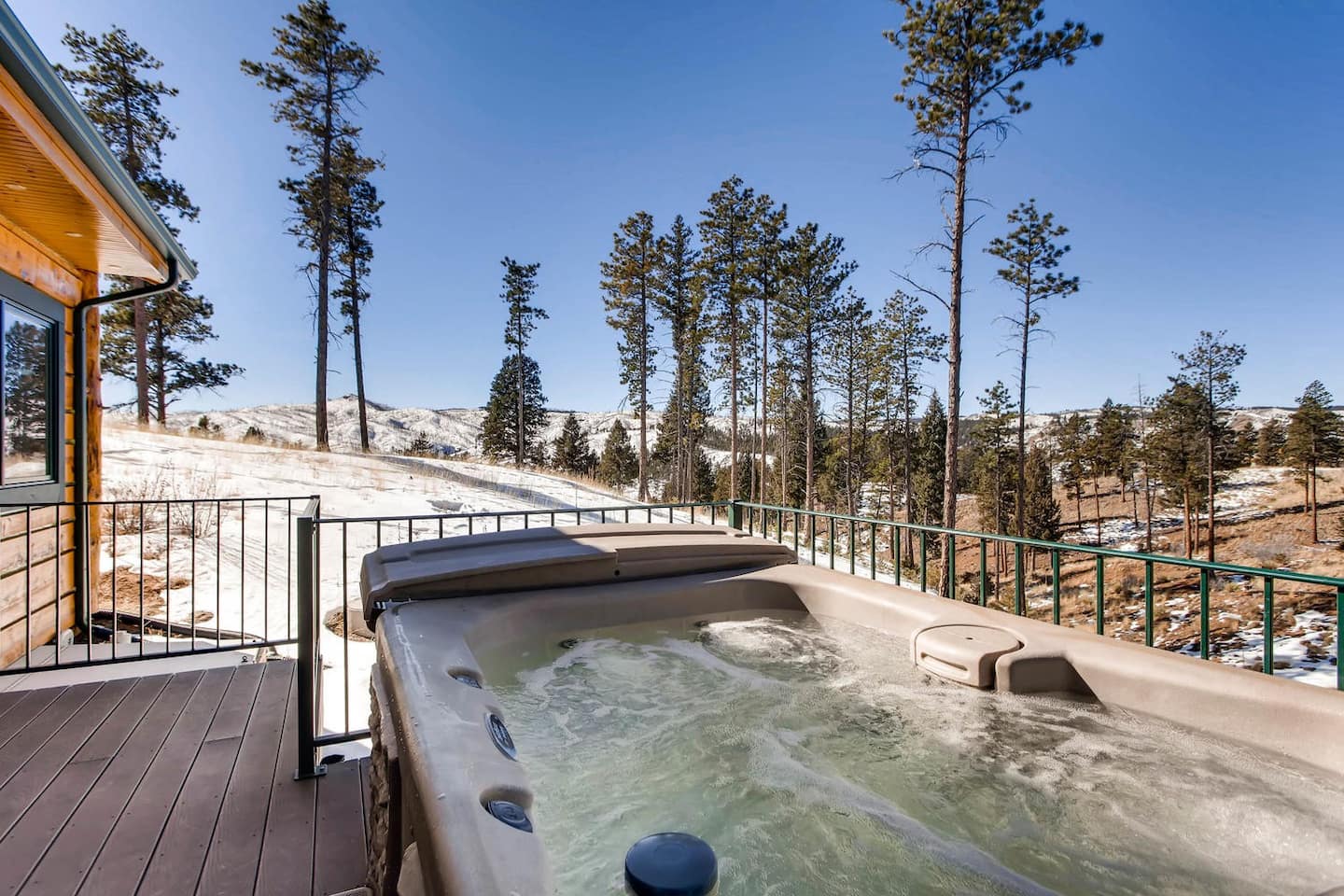 ---
There's nothing quite like a secluded cabin getaway when you need a break. From our list of top Colorado cabins, you can pick your favorite to relive your romance and create lasting memories with your partner.