Michigan has one of the longest freshwater shorelines in the world, along with several romantic retreats that are perfect for a romantic getaway. A glamping vacation to Michigan is sure to be an exotic experience with all its outdoor recreation and beautiful destinations, especially if you choose one of these romantic cabins in Michigan with hot tubs for your trip!
With so many options, you'll find something for everyone, from lakeside cabins with kayaking to cozy getaways tucked away deep in the forest, all with hot tubs, because a romantic getaway wouldn't be complete without some relaxation. So, if you're planning your honeymoon, an anniversary, or just a fun getaway, here are top romantic Michigan cabins with hot tubs for couples.
Don't miss our other guides on Cabins in and around Michigan, such as the 12 Coolest Cabin Rentals in Michigan or these 12 Romantic Cabins In Wisconsin with Hot Tubs for more amazing rentals and trip inspiration!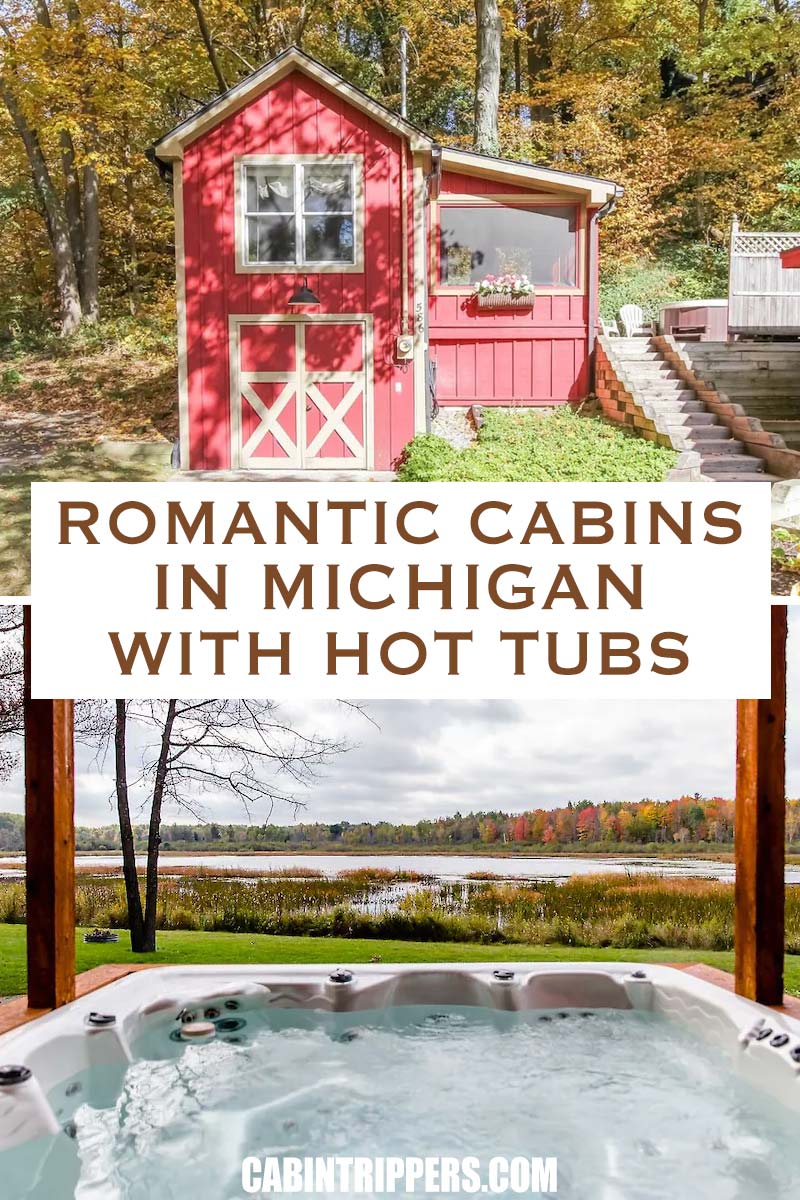 ---
Cozy, Romantic, Secluded, Year-Round Cabin Rental With A Hot Tub!
Location: Munising, Michigan, United States
Price: $235+ per night
https://www.vrbo.com/7166633ha
This cabin is perfect for a quiet getaway or a place to start your next big adventure with a big yard complete with a hot tub gazebo and a fire pit. The lodge is just 20 minutes from the national lakeshore, and there are all sorts of local attractions to keep you entertained.
Secluded in the heart of Hiawatha National Forest, the cabin is 1,500 square feet and has two bedrooms and one bath. After a long day of activities, you can enjoy the outdoor hot tub in the evening. Featuring luxury linens, a fully stocked kitchen, and a cozy fireplace, this home offers couples a romantic stay.
View Photos, Read Reviews & Check Availability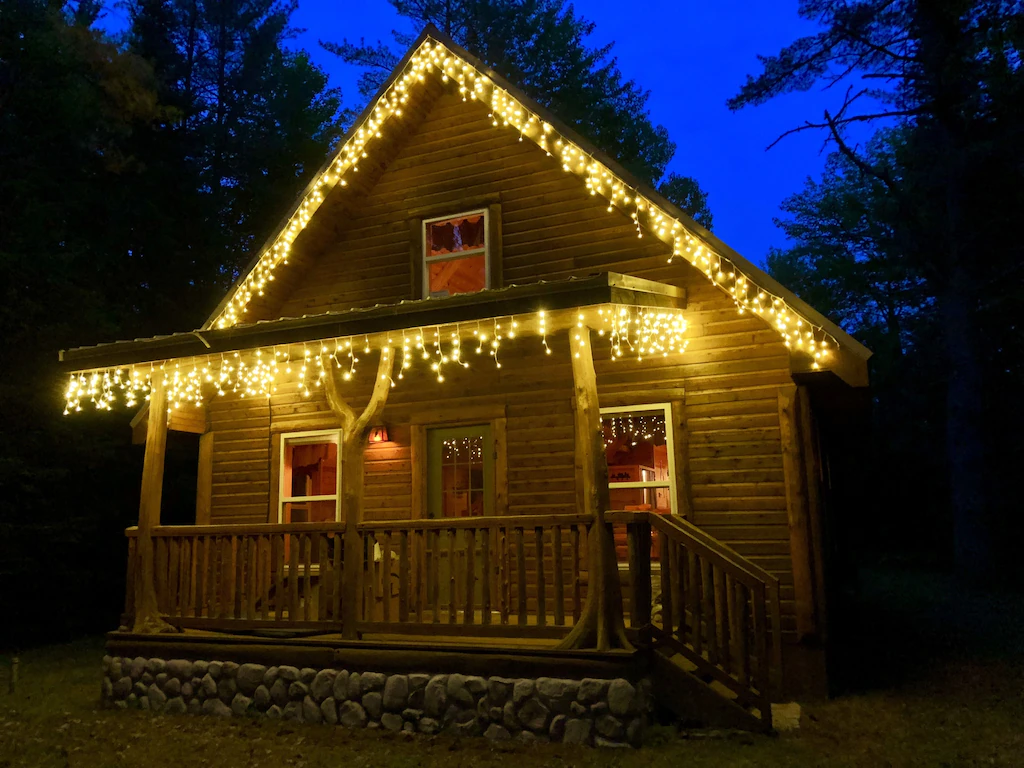 ---
The Oriole – Studio Cottage, Sleeps 2
Location: Saugatuck, Michigan, United States
Price: $133+ per night
The Oriole Cottage provides guests with all the amenities for an excellent weekend getaway. It has a small space but has everything you need, such as a kitchenette, queen-sized bed, a TV with a DVD player, and cable. It offers a screened porch, deck chairs, and a gas grill, making it a perfect getaway for couples.
You can see a portion of Lake Kalamazoo from this cabin. You can also soak in the outdoor hot tub all year round. Getting to all the downtown galleries, shops, and restaurants is easy with your partner because you're only three blocks away. Additionally, two bikes are available here for your use.
View Photos, Read Reviews & Check Availability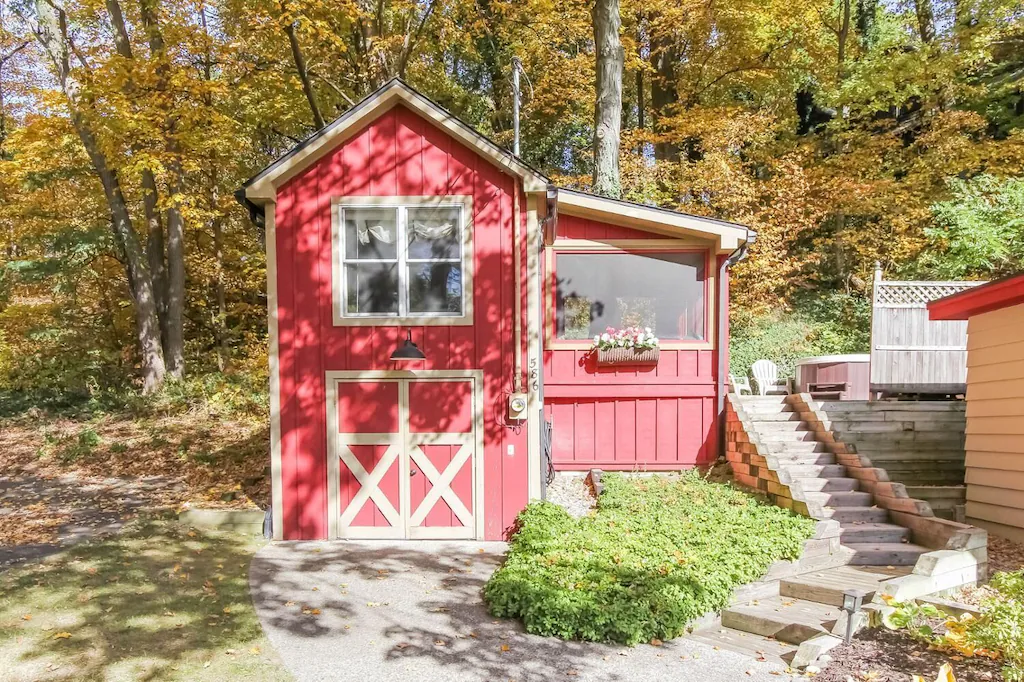 ---
Luxury Lake Cottage at Meemo's Farm
Location: Michigan, United States of America
Price: $350+ per night
It is a beautiful two-bedroom lodge nestled in woodlands overlooking a private lake. With its unique design, the luxury accommodation of this romantic holiday cottage combines every comfort with a holiday feel.
Featuring wooden floors, large open-plan living spaces, and adorable bedrooms and bathrooms, The Lake Cottage is ideal for a secluded getaway. The dining room opens up to the large verandah and your hot tub. The Lake Cottage also offers a fantastic outdoor fireplace overlooking a picturesque private lake, where you might spot swans, eagles, or deer that come out for a walk.
View Photos, Read Reviews & Check Availability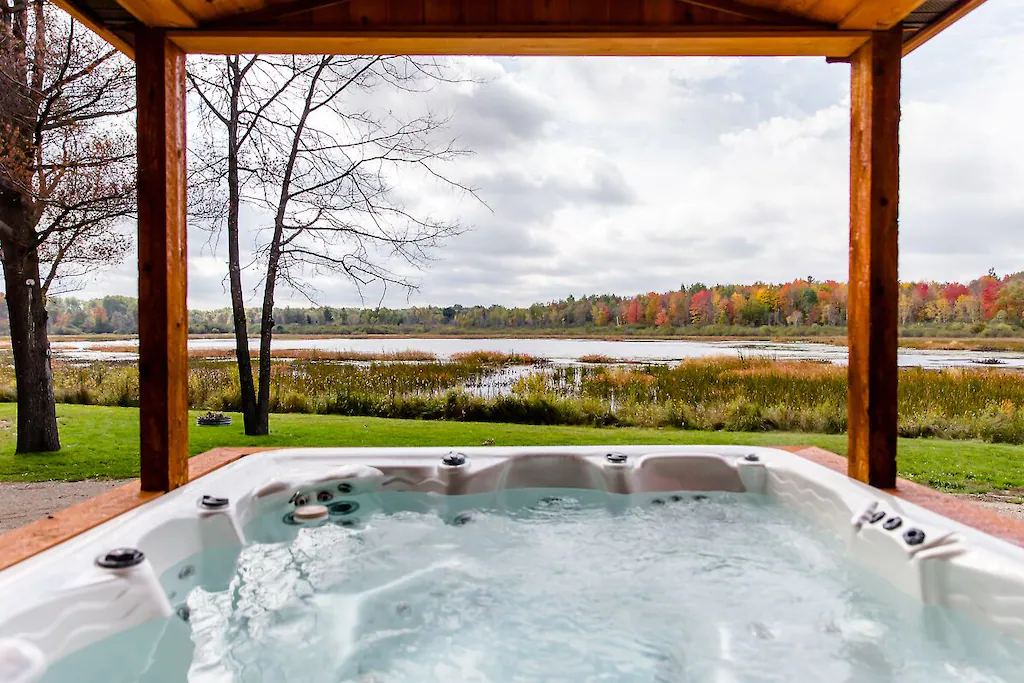 ---
Perfect for Two! A little hideaway in the woods. Tiny Cabin / Romantic Getaway
Location: Sawyer, Michigan, United States
Price: $214+ per night
Better Homes and Gardens magazine described this cottage as one of the cutest getaways ever when it featured a few years ago. The exquisite cottage measuring 720 square feet is available for a honeymoon.
In the 1920s, the house served as a grape pickers' shack. It was renovated into an exotic rental home with a hot tub. The property is one acre, and you'll get to enjoy the most beautiful sunsets. Discover the beaches, art galleries, restaurants, and shops of Harbor County, Michigan, with your partner and get a lifetime of happiness.
View Photos, Read Reviews & Check Availability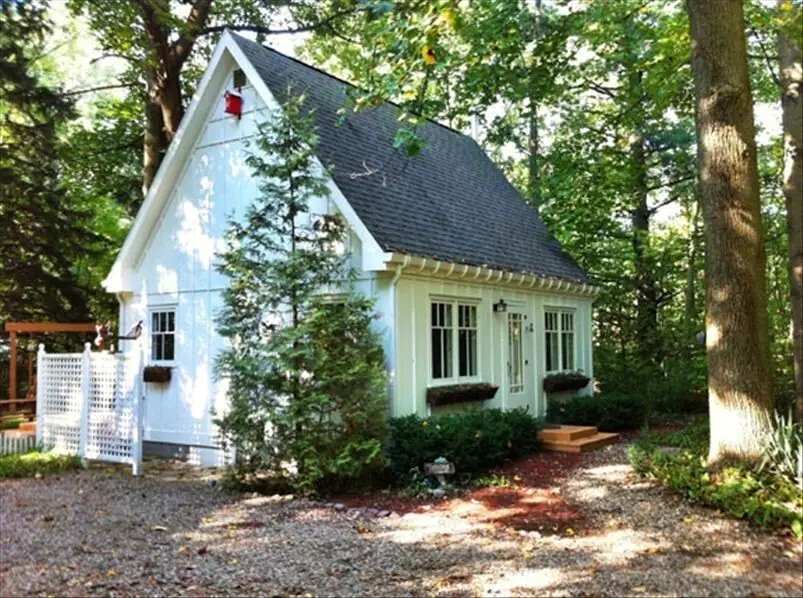 ---
Sunrise Sunsation Lakeshore Cottage w/outdoor hot tub on Mullett Lake! Kayaks!
Location: Mullett Lake, Michigan, United States of America
Price: $184+ per night
The 800-square-foot cabin is a secluded rental for couples who want to vacation by the lake. With this cozy Mullett Lake cabin with an outdoor hot tub, you can relax and enjoy Michigan in its purest form while leaving your worries behind.
Mullett Lake is only 3.5 feet away from the house. This knotty pine-decorated home has a kitchen, fireplace, and a master bedroom with a queen-sized bed. You can bring your boat to the private dock since the lake has around 17 species of fish. In addition, there is a 62-mile trail behind the cabin where you can walk, bike, and snowmobile.
View Photos, Read Reviews & Check Availability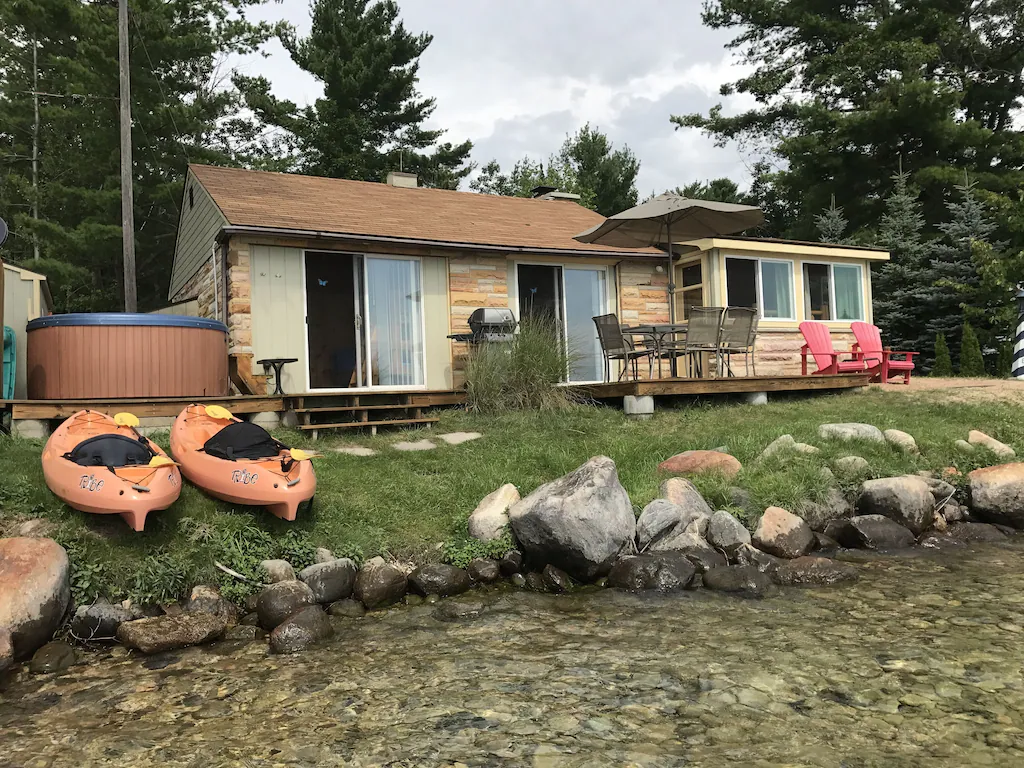 ---
2-Bedroom Cabin with Indoor Hot Tub
Location: Grayling, Michigan, United States
Price: $154+ per night
https://www.vrbo.com/3534483ha
This two-bedroom cabin is in an ideal location for a couples getaway. It is located less than 1 mile from the famous Gates Lodge, a tradition up north since 1945. A golfer's dream, it's only 10 minutes away from Forest Dunes golf club.
It also has a newly renovated and fully equipped living room and a Jacuzzi tub that is perfect for a romantic evening indoors. The kitchen comes with a dishwasher, microwave, and oven. The area offers a lot of hunting, fishing, and snowmobiling activities during the winter months.
View Photos, Read Reviews & Check Availability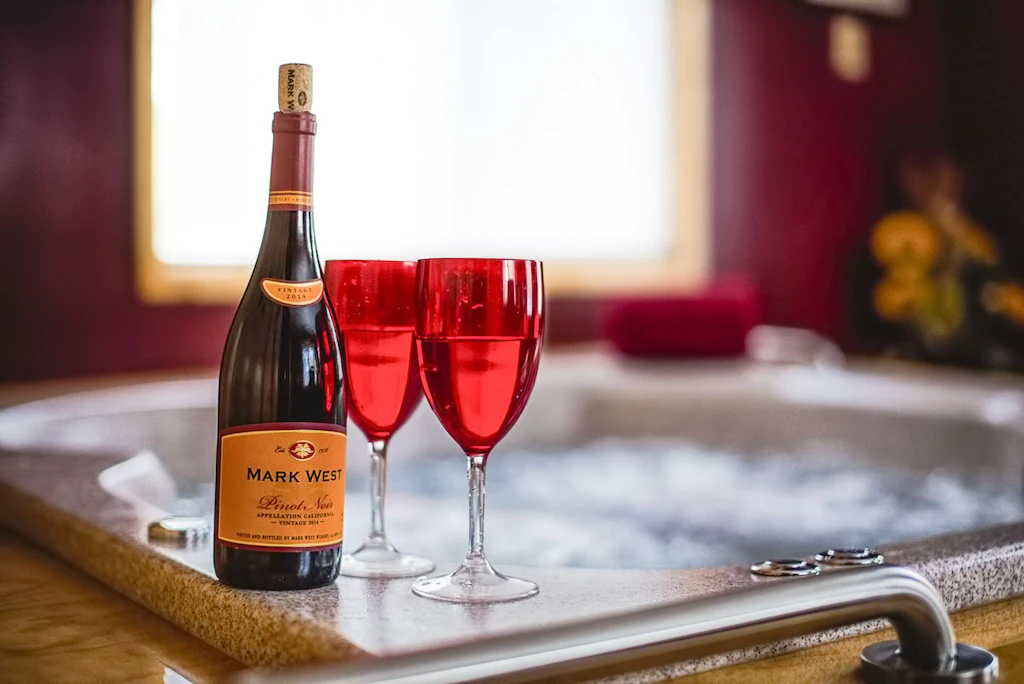 ---
Little Log cabin on the Big Muskegon River
Location: Big Rapids, Michigan, United States
Price: $137+ per night
https://www.airbnb.com/rooms/43398359
A simple yet fascinating experience awaits you in this charming cabin with two bedrooms and 1.5 baths that dates back to the 1940s. Here, you can view geese, ospreys, and bald eagles on the river.
You can enjoy a relaxing soak in the hot tub that overlooks the view during the winter. You can also participate in several activities such as kayaking, fishing, and playing on the sandbar. The house, yard, and river are open to guests. Moreover, there are four kayaks and a paddleboat to use.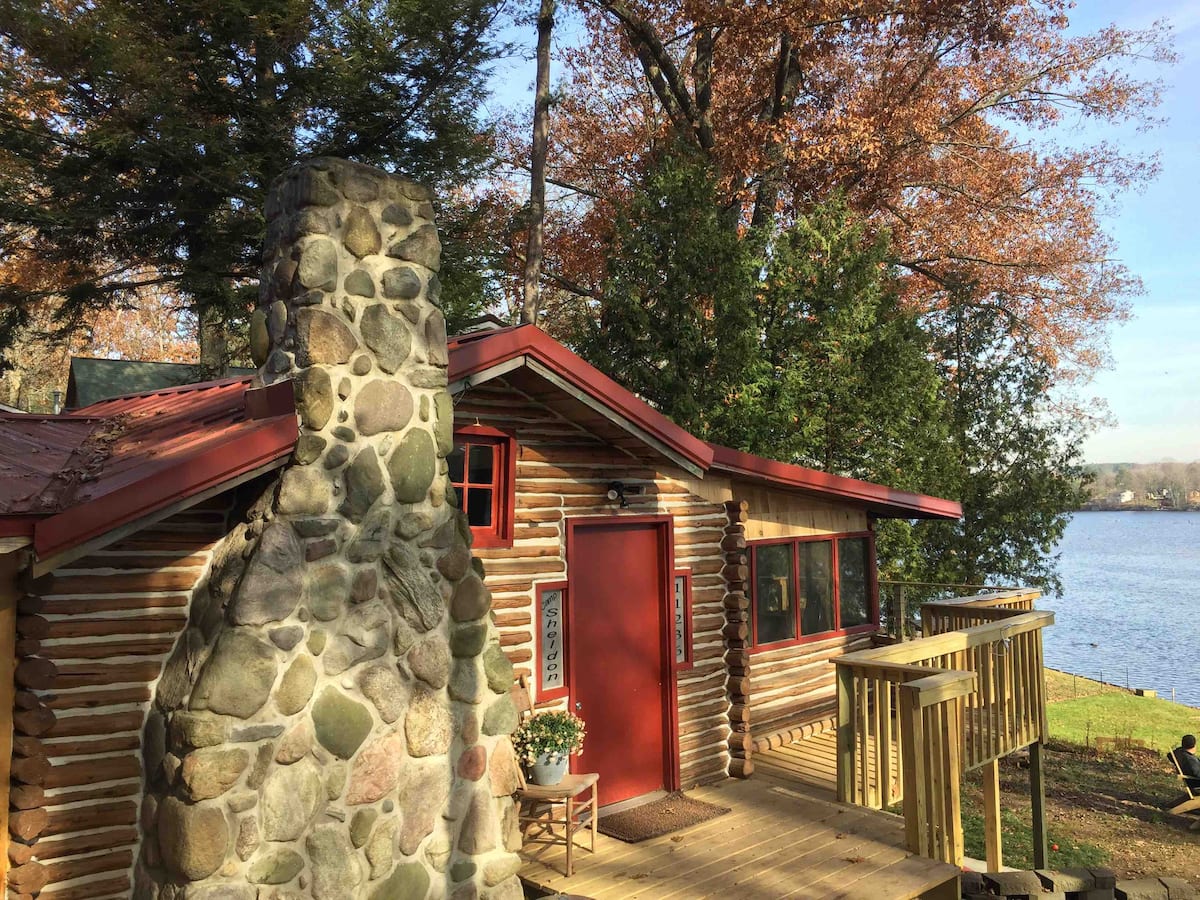 ---
Tall Haus at Rocky Top Farms (dog friendly)
Location: Ellsworth, Michigan, United States
Price: $203+ per night
https://www.airbnb.com/rooms/875572
Custom-built and in the middle of a cherry orchard, this second-story cabin has enormous windows that let in plenty of natural light. You have access to a hot tub and a large deck outside. It also has a basic kitchenette equipped with essential amenities.
Tall Haus is very comfortable and accommodating for couples looking for a quiet and fun time together. The beaches of Torch Lake and outdoor recreation are both available near here. Additionally, the orchards and woods surrounding this vast property offer hiking and biking trails.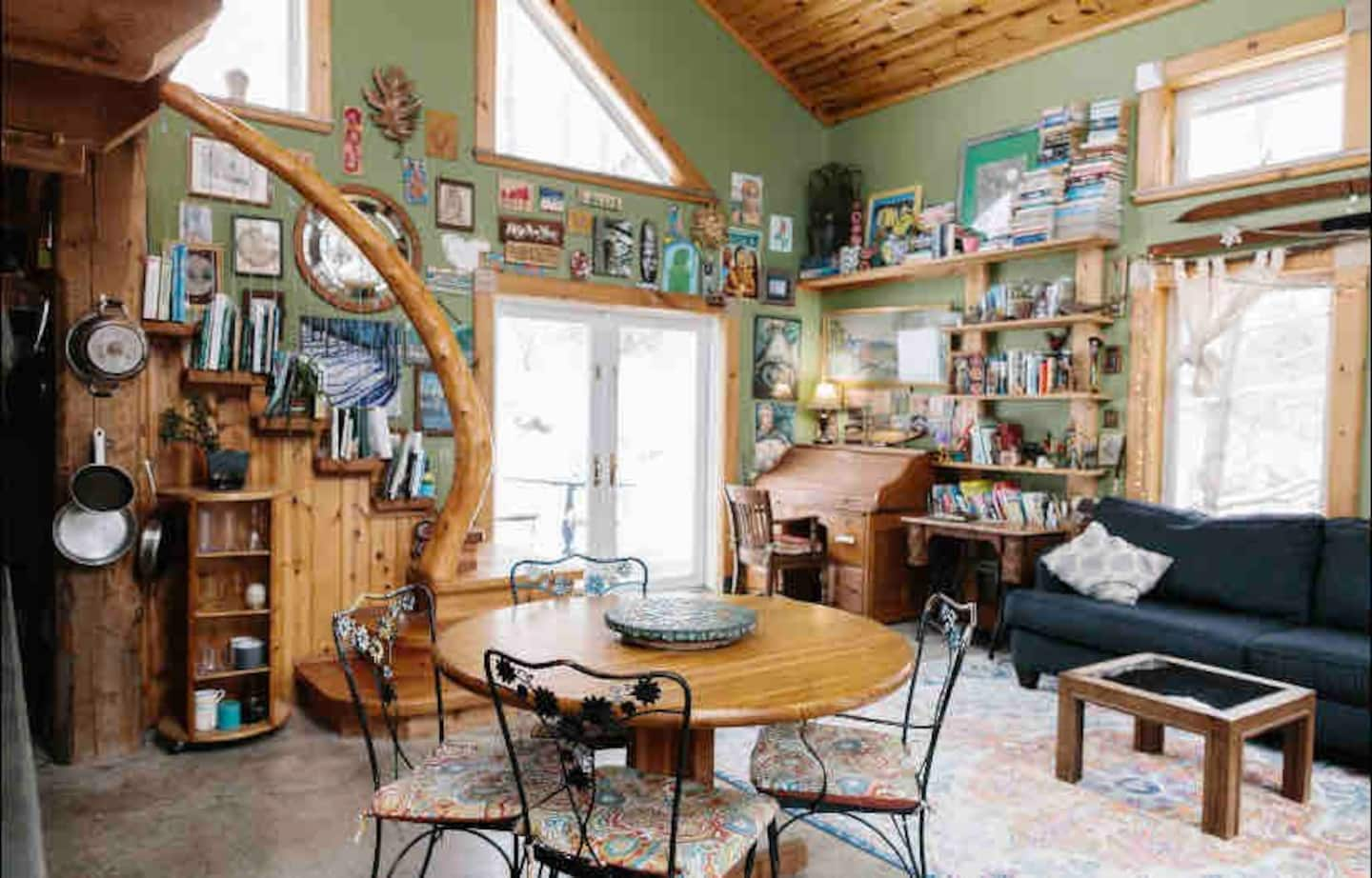 ---
Tiny house living on Lake Fenton
Location: Fenton, Michigan, United States
Price: $162+ per night
https://www.airbnb.com/rooms/43188526
This Michigan tiny cabin rental with one bedroom and one bathroom is a good option for couples. You'll also find a hot tub on the porch of this rental with a lake view. A private entrance leads to the lake.
The home includes all the necessities for your weekend stay, including a kitchen, bathroom toiletries, private patio, lounge chairs, and kayaks. Rental bikes are available here, so it's super fun to ride through downtown on two wheels. Furthermore, the tiny home is fully accessible to you. However, the homeowners and guests of the boat rental share the driveway and yard.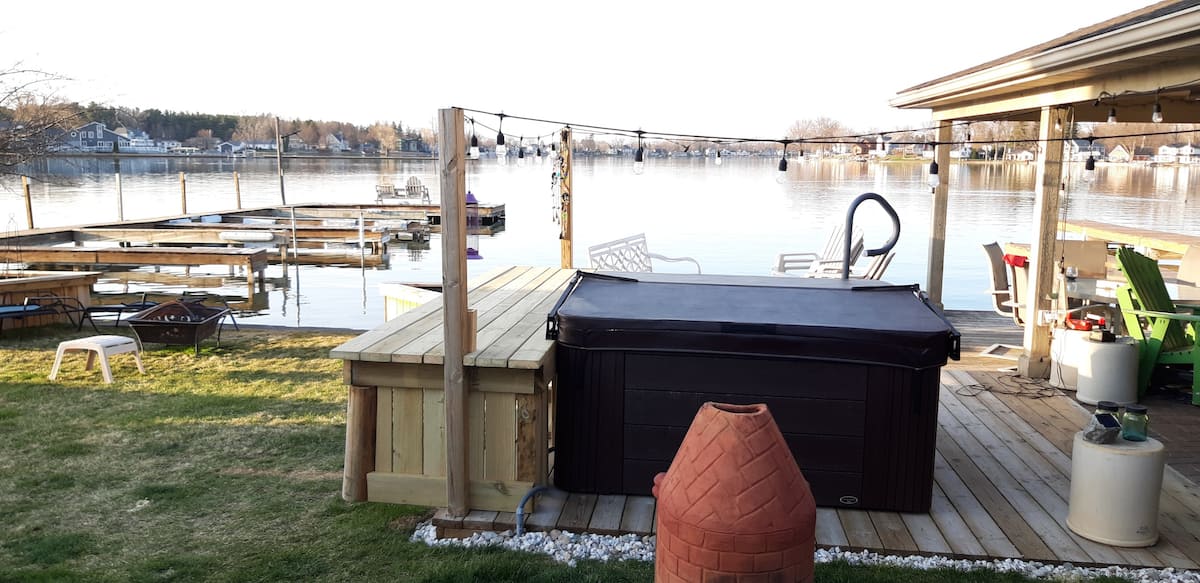 ---
Ellis Lake Resort – Pine Log Cabin – Interlochen
Location: Grawn, Michigan, United States
Price: $105+ per night
https://www.airbnb.com/rooms/31957447
Pine log cabin welcomes you to a rustic space full of charisma and traditional log cabin features. The Pine comes with a combination living room, kitchen, bedroom, and a separate bathroom with a shower. Pine log is a lovely place to stay with your partner, especially if you like to be in nature together.
The property is quiet and quaint. A hot tub sits under the stars at night in the woods, just beneath the pine trees.  The hot tub is the perfect place to unwind after a long day of adventure. You can take a walk along the waterfront on Ellis Lake, snuggle up by the fire, and prepare meals in the kitchenette.
The beautiful landscape of Michigan draws millions of couples from all over the world every year. Michigan has several great cabins that are perfect for couples looking to relax and reconnect in a romantic setting without distractions. Furthermore, the cabin rentals in Michigan are often luxurious, private, secluded, and come with access to hot tubs. Consider renting an isolated, romantic cabin in Michigan for an unforgettable romantic getaway in the great outdoors.