You'll be spoilt for choice when looking for the best cabin rentals in Iowa. These cabins can offer the peace and quiet that most hotels cannot. Tucked away from busy roads and highways, they offer tranquility for a relaxing Iowa holiday.
Iowa is a beautiful state home to scenic rolling hills, dense forests, and world-class hiking trails, making it one of the best destinations for outdoor adventures in the US. The state boasts incredible natural wonders like nothing you can ever expect.
Given the many exciting things to discover in the state, make the most of your visit by spending a few days at a cozy cabin rental in Iowa. Whether traveling with the family or on a romantic getaway, sleeping in these cabins while surrounded by nature ensures a peaceful night with easy access to fun outdoor adventures.
If you want to know what other choices you have when booking an Iowa cabin rental, then refer to this list. We have scoured the Internet to look for these properties, which we believe are the most epic.
Also, be sure to read my guides on Cabin Rentals in Minnesota, Cabin Rentals in Nebraska, and Cabin Rentals in Missouri for more cabin getaways in the future!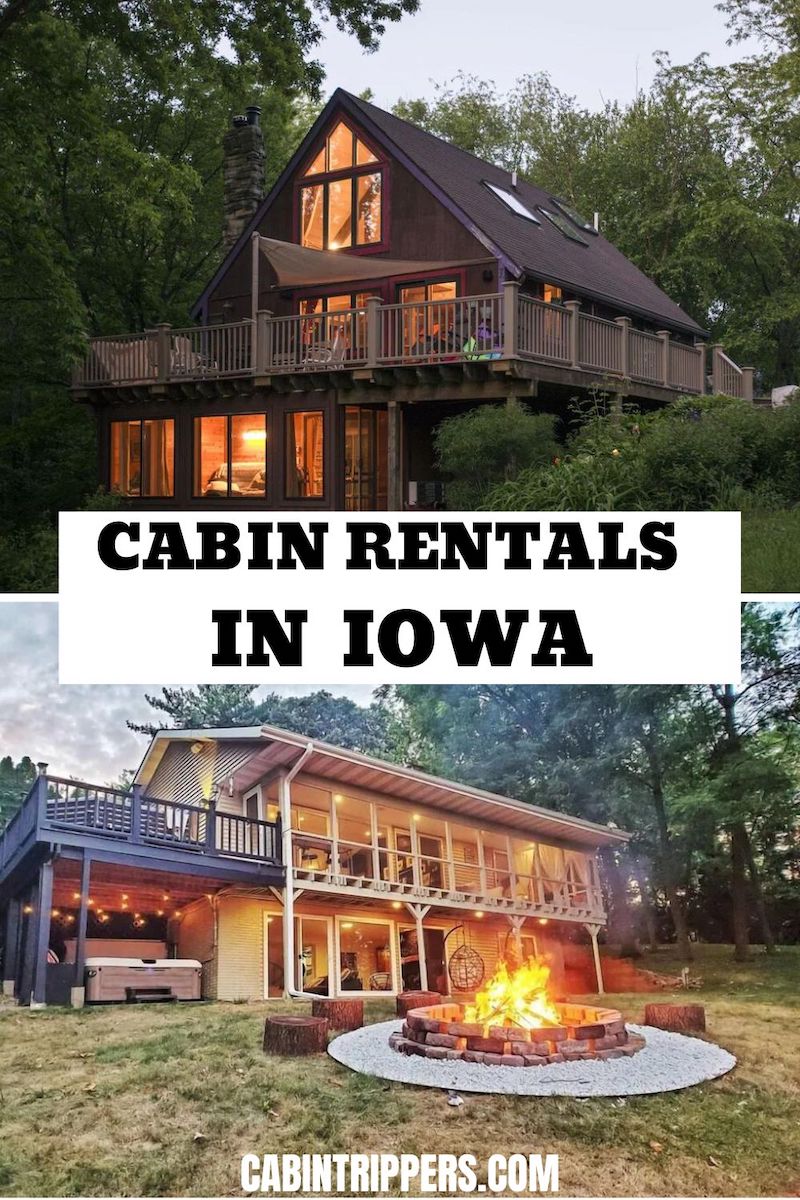 ---
Spacious Cabin Overlooking a Scenic Valley
Where: Winneshiek County, Iowa
Price: $285+ per night
With three bedrooms to sleep eight guests, this spacious cabin is perfect for groups of families and friends. It is beautifully decorated with a majestic Eagle theme and comes with central air conditioning and heating for added comfort. There's also a living room, kitchen, and a large deck with rocking chairs where you can relax and enjoy the scenic nature views. 
Tucked away in the woods and overlooking a scenic valley, this spacious cabin can guarantee a relaxing stay. Between relaxing and chilling out at its large deck, you can hike on the trails that will take you through the woods. You can also go fishing or hunting and have a picnic in its spacious yard. Nearby attractions include the Laura Ingalls Wilder Museum in Burr Oak, Fort Atkinson Preserve/Fort, and Bily Clocks Museum.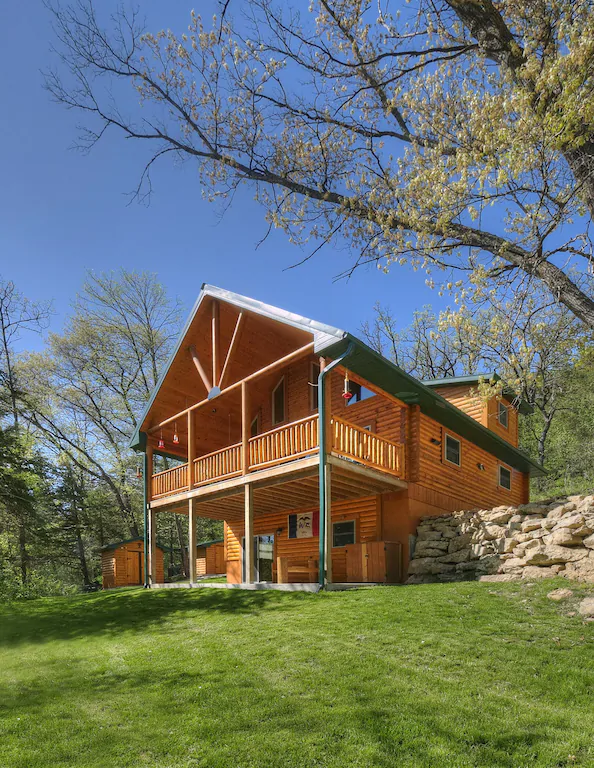 ---
Modern Frank Lloyd Wright-Inspired Cabin
Where: Bellevue, Iowa
Price: $260+ per night
https://www.airbnb.com/rooms/47842966
If you're a big fan of the famous American architect Frank Lloyd Wright, you will love staying at this uniquely designed cabin. It's so beautiful that we consider it the Overall Best Iowa Cabin Rental. The property has earned a 5-star rating from Airbnb guests since they love the property's design and the peaceful surroundings. 
Equipped with a cozy bedroom to sleep 2 guests, this is ideal for couples on a romantic getaway in Iowa. It has a dedicated kitchen and all the appliances and amenities for a comfortable stay. The place is very secluded, and you'll be about a mile away from the nearest township.
---
5-Bedroom Cabin on the Big Sioux River
Where: Lyon County, Iowa
Price: $410+ per night
If you're looking for Iowa cabin rentals that can accommodate big groups, this 5-bedroom cabin would be perfect. It can sleep up to ten guests and comes with everything you need, from comfy beds to modern amenities. Aside from the bedrooms, it has a kitchen, living room, and a spacious deck, giving you plenty of spaces to hang out and spend quality time with everyone.
One of the highlights of this spacious home is the magnificent views of its surrounding. It's overlooking a beautiful river valley, and you can even catch a glimpse of Sioux Falls. The property can also host events, such as weddings, team buildings, and family reunions.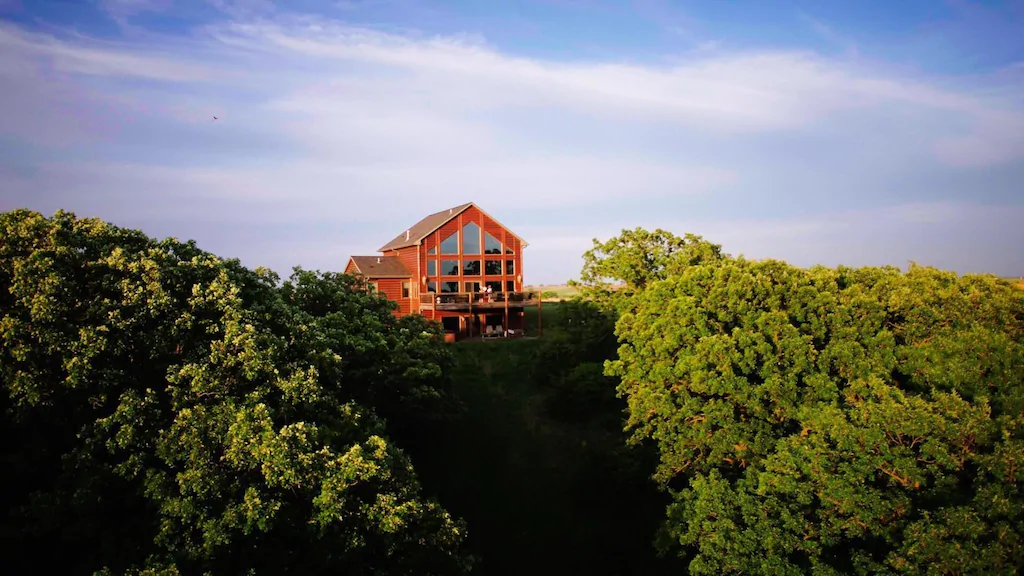 ---
Tiny Home Cabin with a Big River View
Where: Bellevue, Iowa
Price: $148+ per night
https://www.airbnb.com/rooms/45240004
This tiny home with a big river view is our choice for the most romantic Iowa cabin rental because what can be more romantic than sleeping in a cozy tiny home beside a beautiful river? The property might be small, but it has all the comforts and amenities of a typical home, including AC and heating to keep you comfortable throughout your stay. 
It has a comfortable queen-sized bed for 2. There's also a pull-out sofa, which means you can invite a couple of friends over if you wish. You can have a picnic by the river or go for a stroll to enjoy the picturesque surroundings. The best part is that this property is pet-friendly, so feel free to bring your furry friends!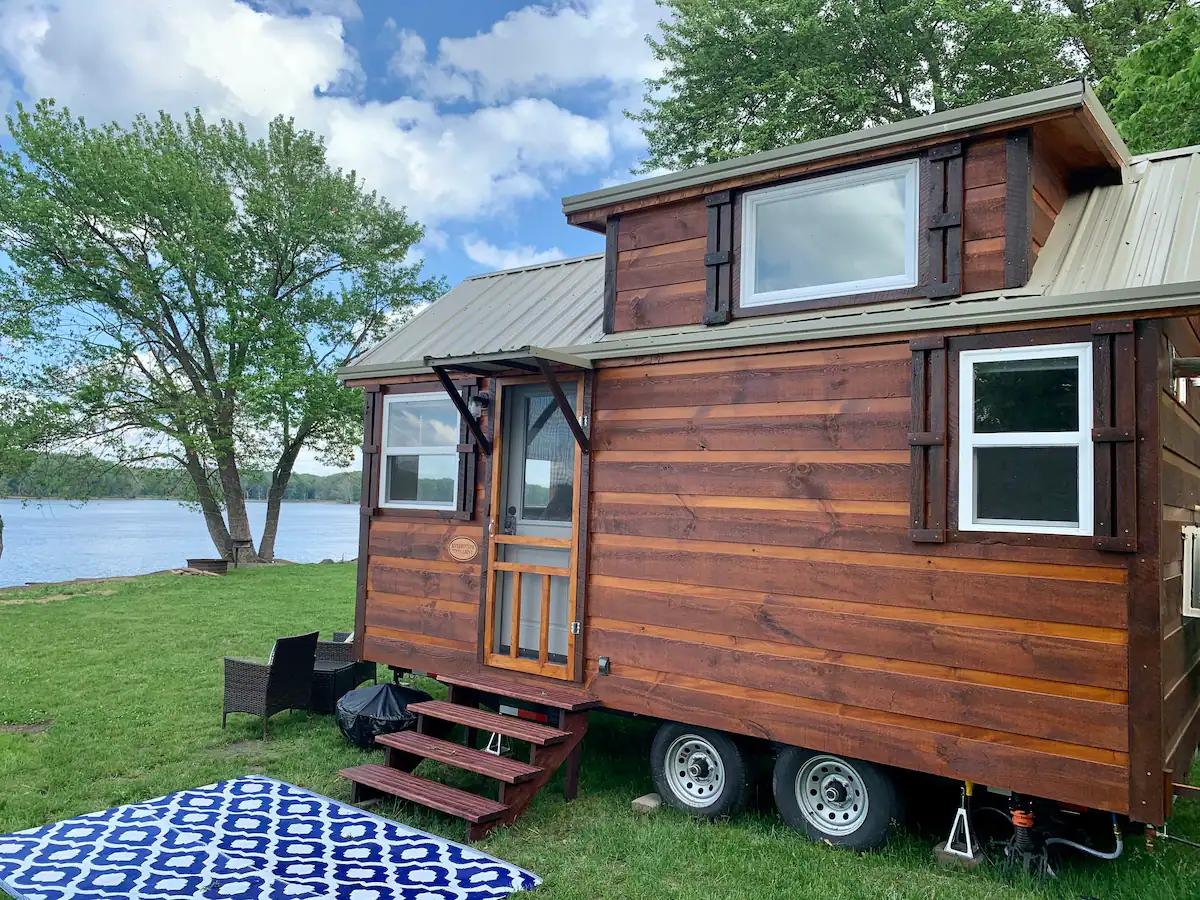 ---
CR Station Train Caboose Cabin
Where: Decorah, Iowa
Price: $147+ per night
https://www.airbnb.com/rooms/15408900
We believe this caboose-inspired cabin rental is the most unique cabin rental in Iowa. This cozy and charming rental has all the amenities you need for a comfortable stay. It has a mini kitchen equipped with a microwave, refrigerator, etc., and comfy beds to sleep 4 guests. 
The property is a restored train caboose and still has the original conductor's chairs and handrails, offering a truly unique experience. You can use the kitchen to prepare your food. There's also a hot shower, but only a 6-gallon of hot water is available due to the limited space.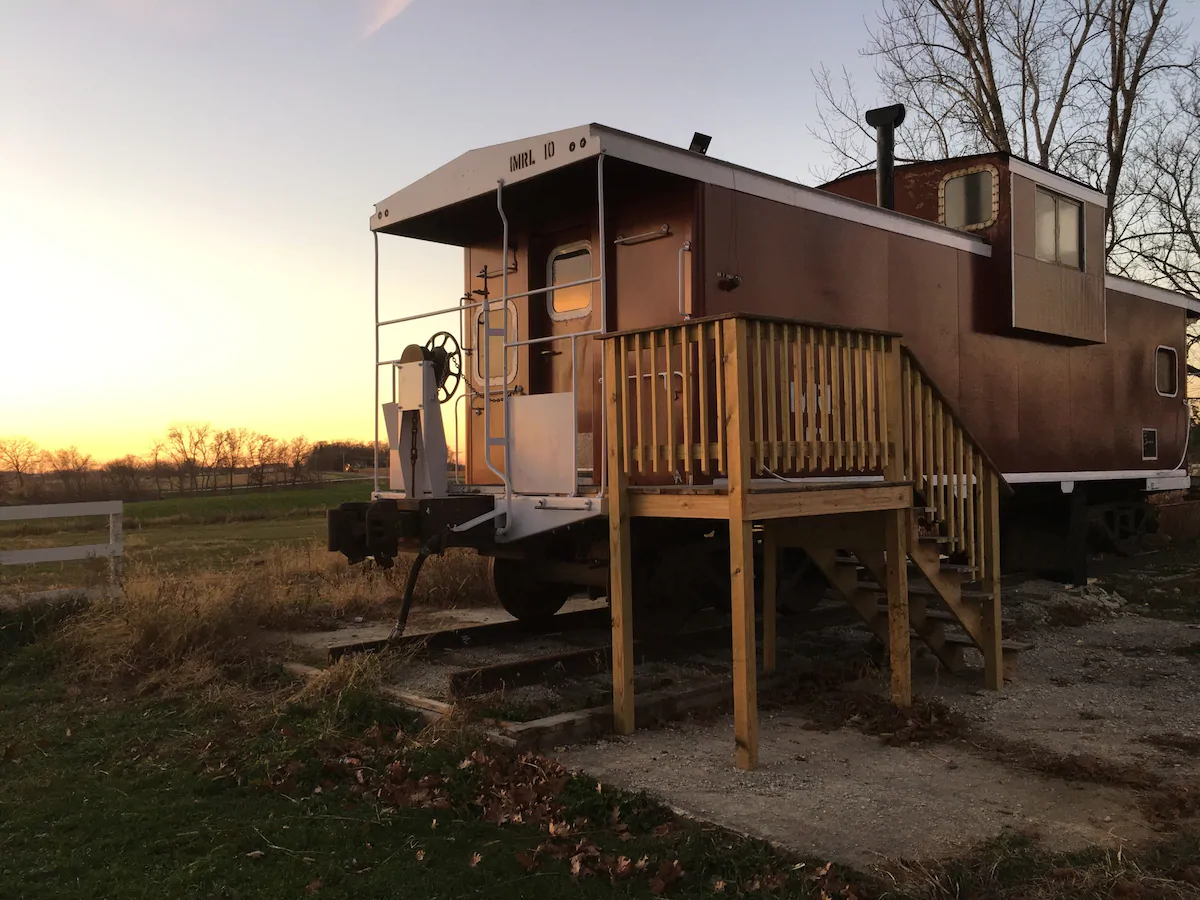 ---
3-Bedroom Log Cabin in a Beautiful Valley
Where: Winneshiek County, Iowa
Price: $333+ per night
With three bedrooms and five beds, this log cabin in a beautiful valley is perfect for families and groups of friends. Surrounded by serene nature with beautiful old oak trees and numerous flower beds, it's an ideal escape for relaxing and spending quality time with your loved ones. 
Aside from offering guests peace and tranquility, the property also gives guests access to various outdoor activities, such as hiking, fishing, kayaking, paddle boarding, and more. There's also a variety of wildlife on the property, such as turkeys, deer, fox, and geese, so it's an ideal place for wildlife lovers.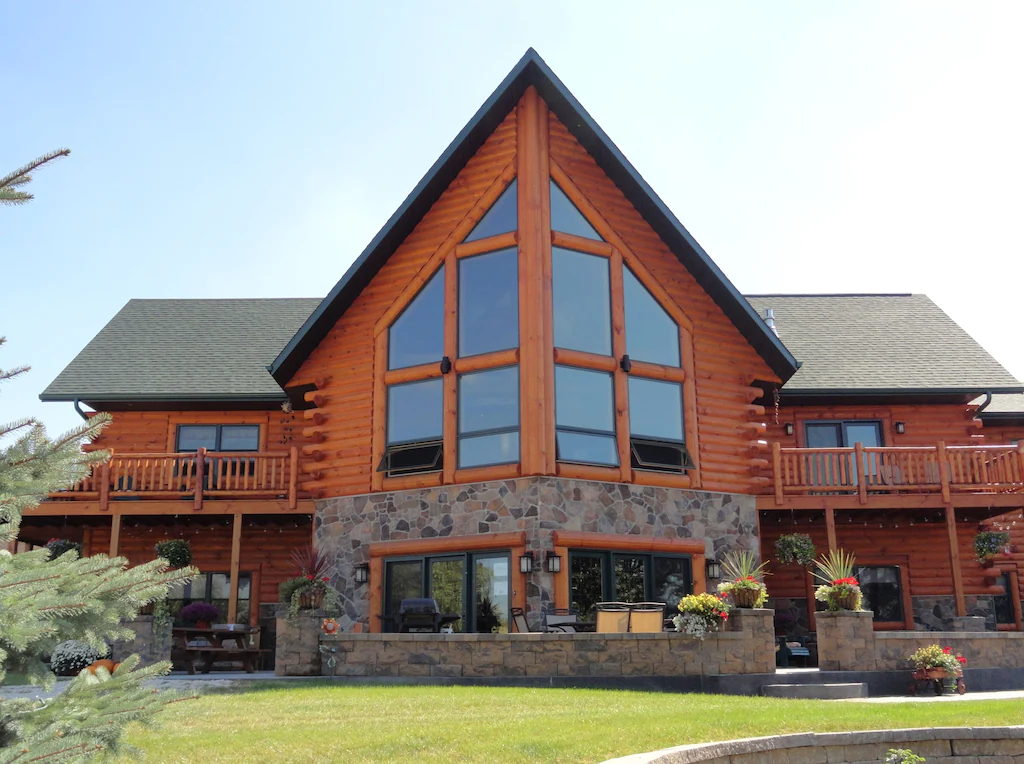 ---
Luxury Waterfront Cabin
Where: Johnson County, Iowa
Price: $402+ per night
As the Best Luxury Cabin Rental in Iowa, this charming waterfront cabin exudes a luxury vibe, complete with a hot tub and private dock. This 2-bedroom rental can sleep eight guests, perfect for families. It has two full bathrooms, a kitchen, and a patio, where you can hang out and enjoy the waterfront views. 
If you want to spend your holiday in Iowa taking up as many activities, this property is where you should stay. It got its own private dock allowing you to enjoy kayaking or boating. You can also go standup paddle boarding and other water sports. There are also public beaches within 5 mins from the property, giving you plenty of things to do during your stay.
---
Private 10-acre Family-friendly Cabin with Zipline
Where: Allamakee County, Iowa
Price: $247+ per night
https://www.vrbo.com/7556345ha
We consider this 3-bedroom cabin the best family-friendly Iowa cabin rental because it has all the amenities that families would look for in a holiday rental. For one, it's spacious enough to accommodate families of 8. Also, it offers tons of activities to entertain kids of all ages, including a brand new zipline! It also has playgrounds, sandboxes, and outdoor toys.
If you choose to stay indoors, you'll have plenty of fun things to do. You can take advantage of the TVs to watch your favorite movies or play board games. If you prefer to explore the outdoors, wander around the nearby areas, and watch out for deer roaming around! With a 10-acre of private land to explore, you are guaranteed to have a great time in this cabin rental.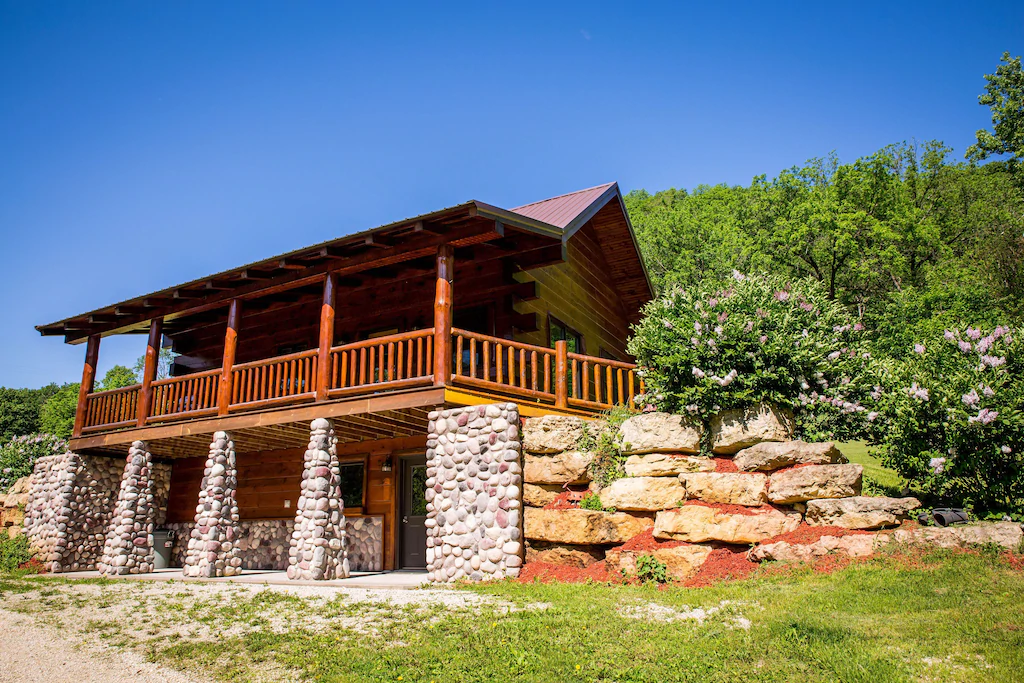 ---
Secluded Cabin Near River Ridge ATV Trails
Where: Jackson County, Iowa
Price: $266+ per night
https://www.vrbo.com/4996329ha
This secluded cabin rental in Jackson County is spacious enough to accommodate ten guests. It has a spacious bedroom with five beds, 1.5 baths, a kitchen, and a patio. Offering all the comforts of home, it is perfect for large families, especially those who love adventures.
Aside from the scenic hiking trails, the property has ATV trails, making it a true haven for adventurers. You can also go fishing in the pond or enjoy frisbee golf. After a day full of activities, gather at the patio to relax or fire up the grill to cook barbecues!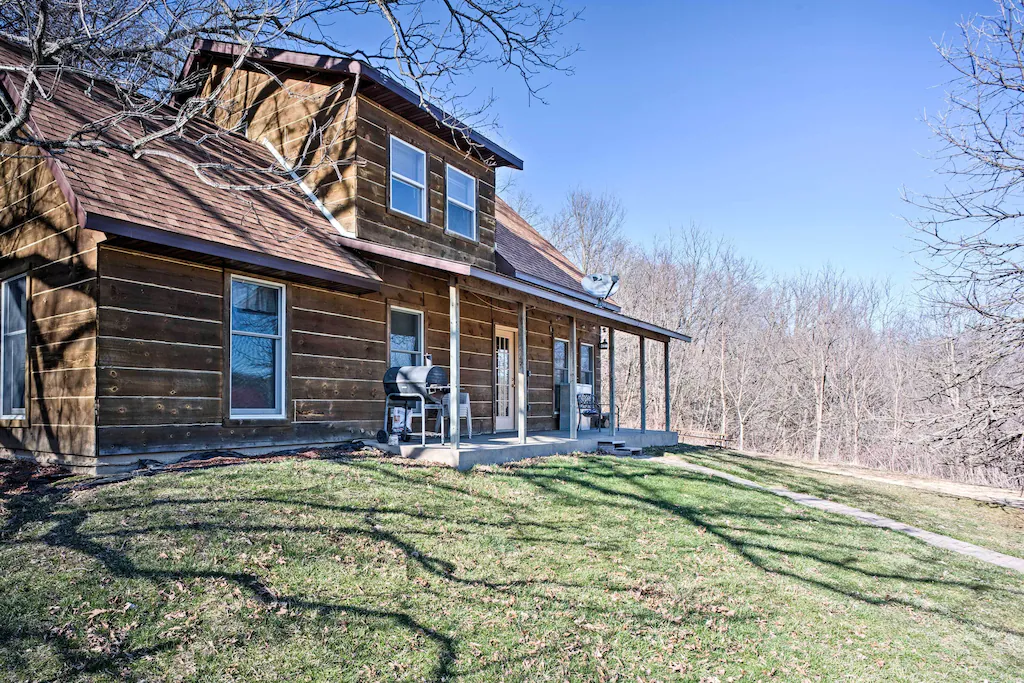 ---
Hidden Hollow Cabin Getaway
Where: McGregor, Iowa
Price: $230+ per night
https://www.airbnb.com/rooms/22049750
Ideal for family gatherings and romantic getaways, this 3-bedroom cabin rental in Iowa lies in a small valley of woodland and prairie, with a truly serene atmosphere. It can accommodate up to 6 guests and has everything you would expect in a comfortable home, including a well-equipped kitchen and a patio surrounded by incredible nature views.
While this cabin is suited for relaxation, guests looking for outdoor adventures will not be disappointed. There's a pond where you can enjoy kayaking and other water sports. Those who love to hike will find scenic trails that wind through the lush forest.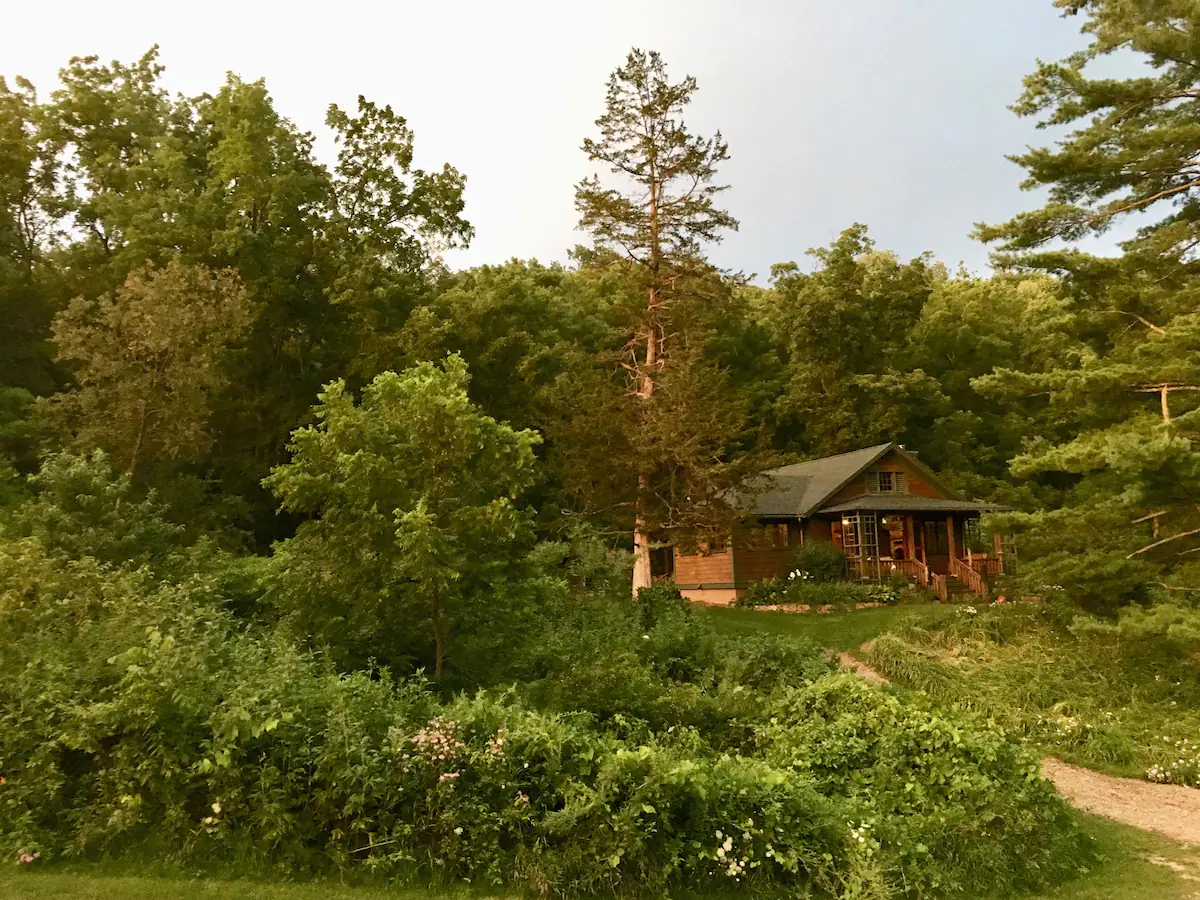 ---
Hill Top House with the Most Perfect View
Where: Decorah, Iowa
Price: $215+ per night
https://www.airbnb.com/rooms/49501354
If views are your number one priority when looking for a cabin rental property, check out this gorgeous 3-bedroom cabin in Decorah. It's perched on a hill about 0.5 miles from the Upper Iowa River. The property can sleep up to eight guests and has two bathrooms, a cozy loft, and a dreamy porch.
As one of the best Iowa cabin rentals, this property is one of the most sought-after properties on Airbnb, so better book it as early as possible. It's perfect for the summer season, but if you come here in winter, you should take a 4-wheel drive.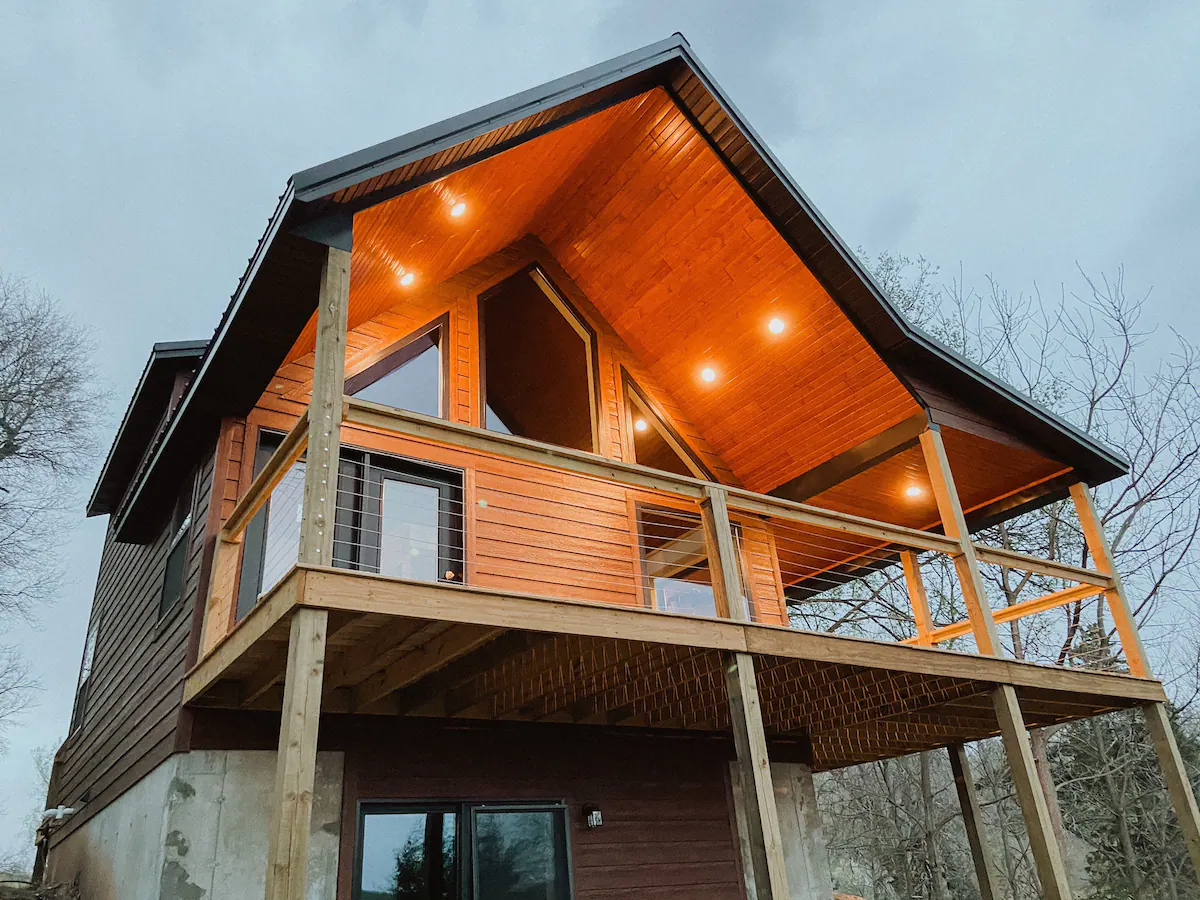 ---
3-Bedroom Cabin in Lake MacBride State Park
Where: Johnson County, Iowa
Price: $390+ per night
This 3-Bedroom Cabin in Lake MacBride State Park is another property we recommend for those looking for a family-friendly cabin in Iowa. Aside from its three bedrooms, it has a family room and a sleeping loft with comfy beds. All in all, this cabin can sleep fifteen guests!
The cabin looks beautiful on the outside as it is on the inside. It features original beams and flooring salvaged from an 1800 church. But another great thing about this property is that it allows you to enjoy numerous family-friendly activities. Aside from hiking, you can also go snowmobiling or cross-country skiing.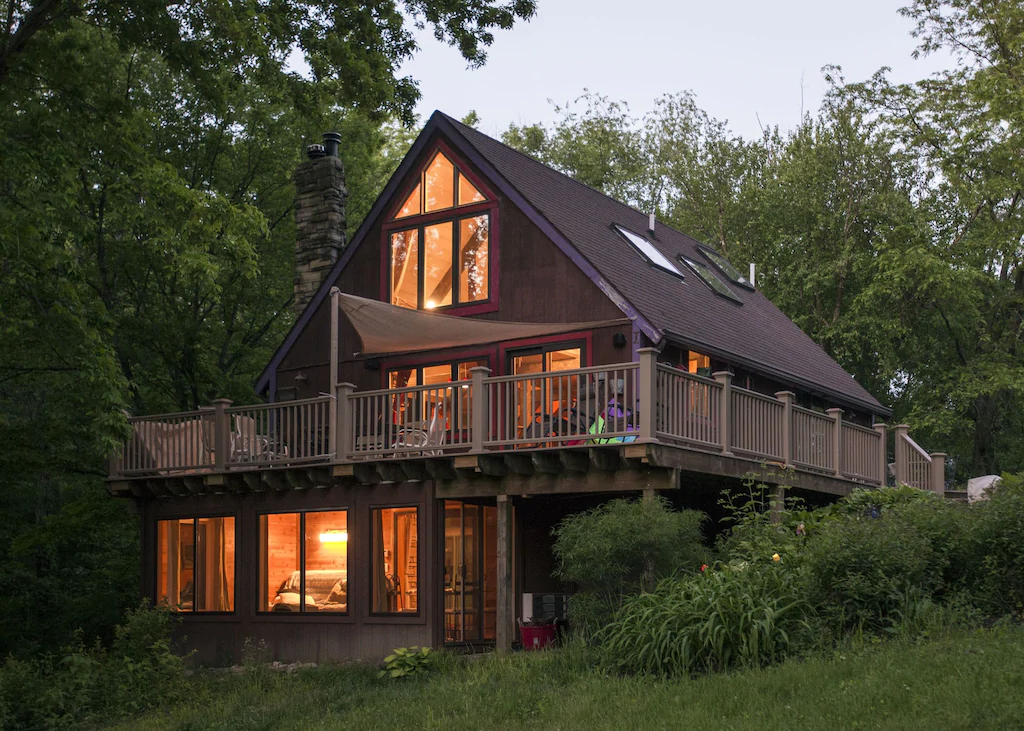 ---
Buck Run Log Cabin
Where: Anita, Iowa 
Price: $438+ per night
This elegant family vacation rental is another option for families looking for a relaxing stay in Iowa. It has four bedrooms and two bathrooms and is spacious enough to accommodate ten guests. The living room has a sofa and flat-screen TV, perfect for relaxation. There's also a fully equipped kitchen with a stove, microwave, and refrigerator. 
Outside, the cabin featured a wraparound deck on both levels opening to the magnificent views of a pond just a few meters from the front door. At night, gather around to take advantage of the outdoor grill and the fire pit.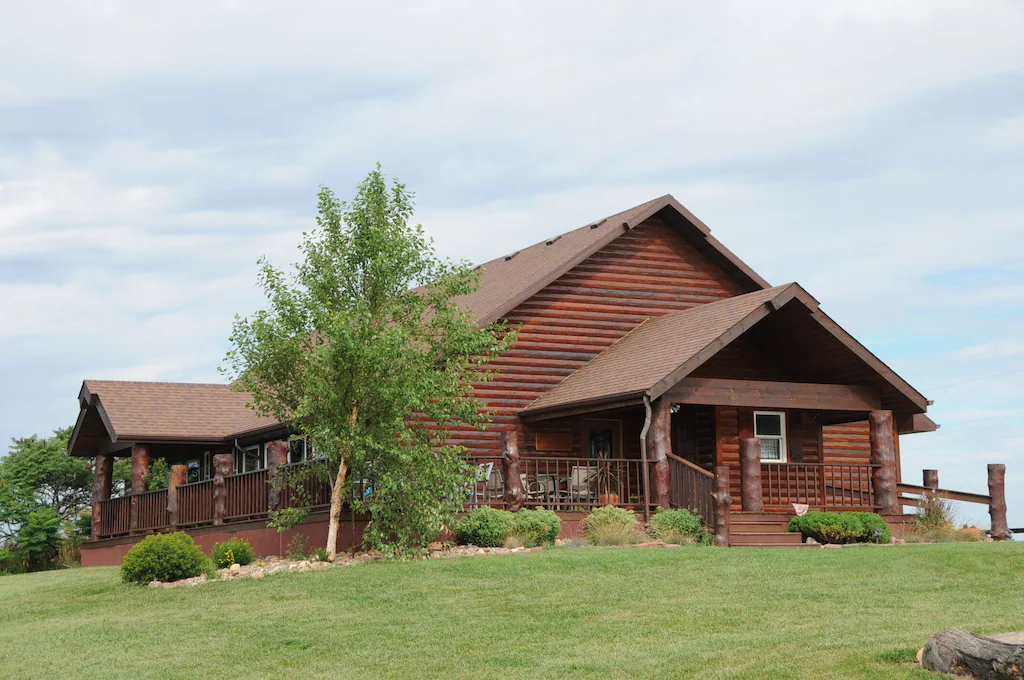 ---
Bright Clear Lake Getaway
Where: Clear Lake, Iowa
Price: $244+ per night
https://www.booking.com/hotel/us/bright-clear-lake-getaway-4-blocks-to-dtwn.en-gb.html
When going on a holiday to Clear Lake, stay at this gorgeous cabin equipped with three bedrooms that can sleep nine guests. It has everything you need for a relaxing stay. Aside from the bedrooms, the property comes with a flat-screen TV, a fully equipped kitchen with microwave and fridge, and everything else you would expect in a typical home.
What's great about this Iowa cabin rental is that it's only four blocks away from the downtown area. Mason City is only 15 km away, while Northwood is 37 km away.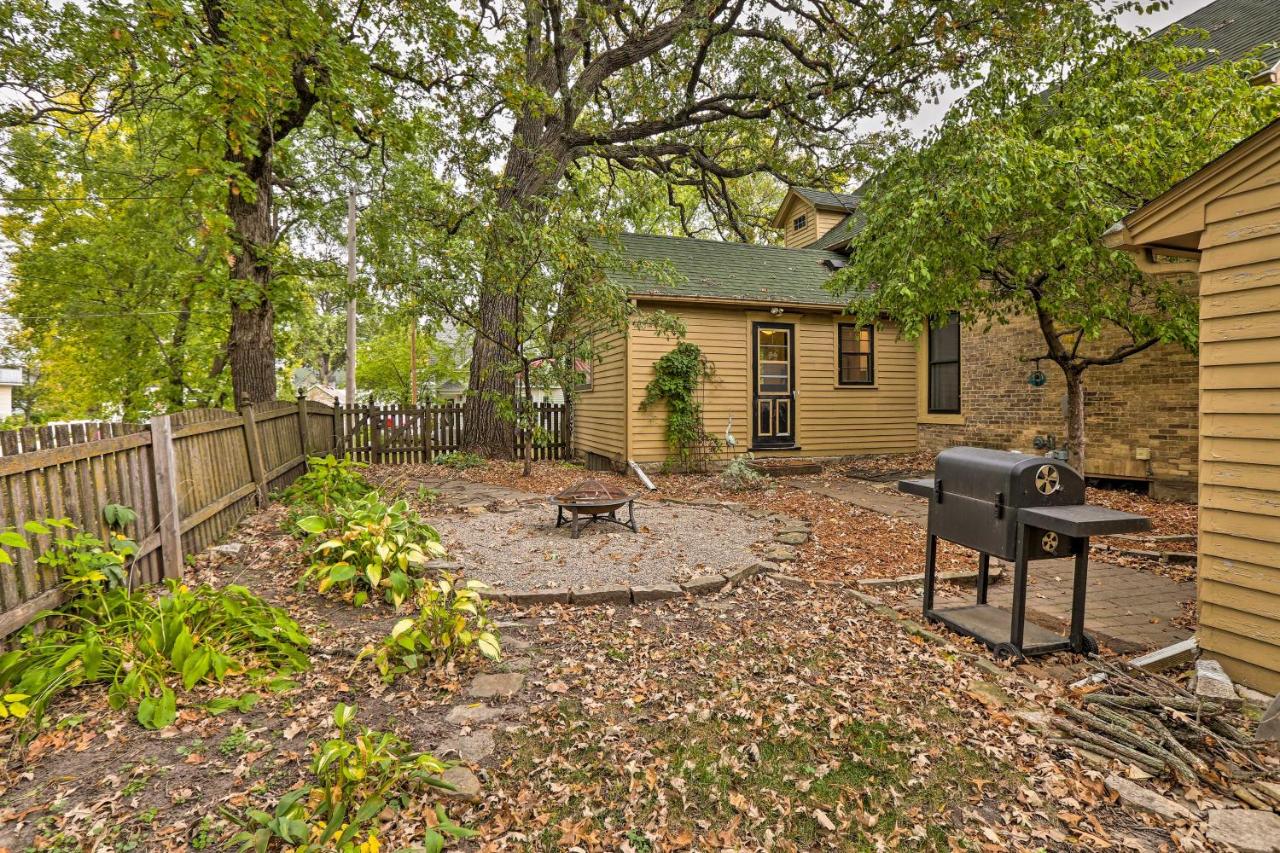 ---
North Liberty Lake Hideaway
Where: North Liberty, Iowa
Price: $298+ per night
https://www.booking.com/hotel/us/north-liberty-house-on-coralville-lake-near-dock.en-gb.html
You will love hanging out on the spacious deck of this gorgeous cabin in North Liberty Lake, surrounded by stunning lakeside views. It has four bedrooms and can sleep 16 guests (12 adults and 4 kids). There's also a well-equipped kitchen, living room, and a spacious deck. 
With its strategic location, staying at this cabin rental means you'll have easy access to the famous tourist spots in Iowa. It's only 20 km from North Liberty Lake Hideaway and only 8 miles to Iowa City.