Cabin Rentals in Wisconsin are one of the best ways to discover its diverse landscapes and rustic beauty. Blessed with more than 15,000 inland lakes, charming hills, waterfalls, and picturesque beaches, Wisconsin is an ideal destination for nature enthusiasts looking to escape the daily grind and enjoy a wide variety of outdoor activities like hiking, mountain biking, and fishing.
From Lake Superior and Lake Michigan to the Big Manitou Falls and the Cave of the Mounds, this Midwestern state is home to many breathtaking natural wonders created by Mother Nature. 
See the 360-acre spring-fed lake at Devil's Lake State Park, discover the red-brown sandstone sea caves on Apostle Islands, or spend the weekend exploring the beautiful Door County and its lighthouses, harbors, and historic villages.
Also, be sure to read my guides on Romantic Cabins in Wisconsin & Treehouse Cabins in Wisconsin for more epic stays in the state!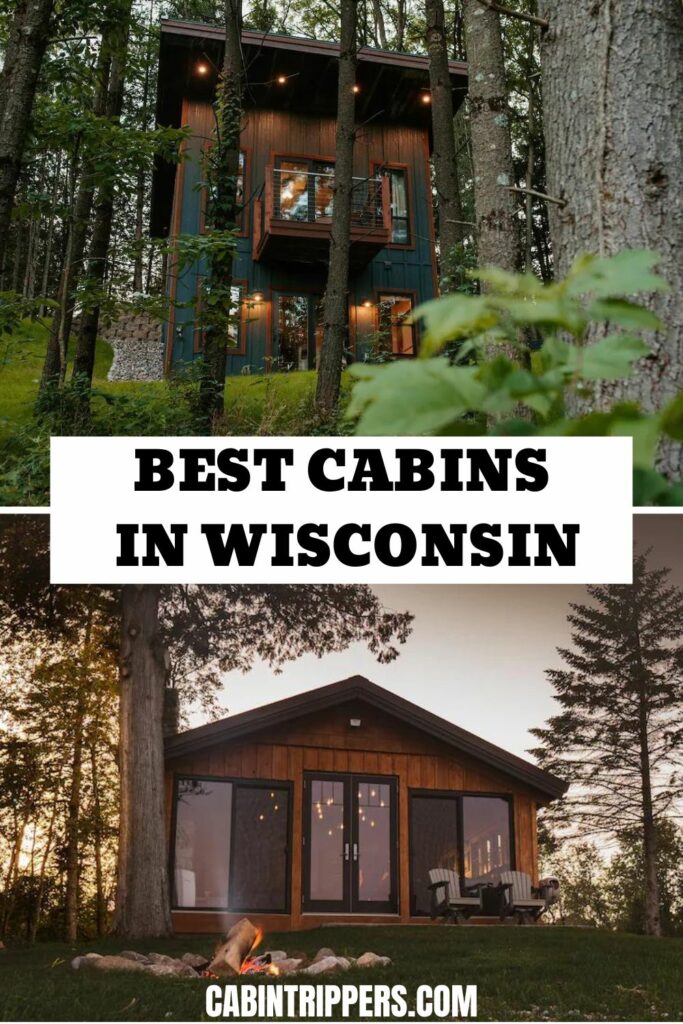 ---
Cabins in Wisconsin Breakdown
Before we dig deeper into the full list, here is a quick breakdown of the best cabin rentals in Wisconsin split into different categories.
The most romantic cabin rental in Wisconsin: Cozy Cabin in the heart of Hayward
The most fairytale cabin rental in Wisconsin: Peace of Beach 
The most authentic cabin rental in Wisconsin: Wisconsin Treehouse Getaway
The most rustic cabin rental in Wisconsin: Rustic Personal Retreat Cabin, "Sunset"
The most luxury cabin rental in Wisconsin: Curriers Lakeview Lodge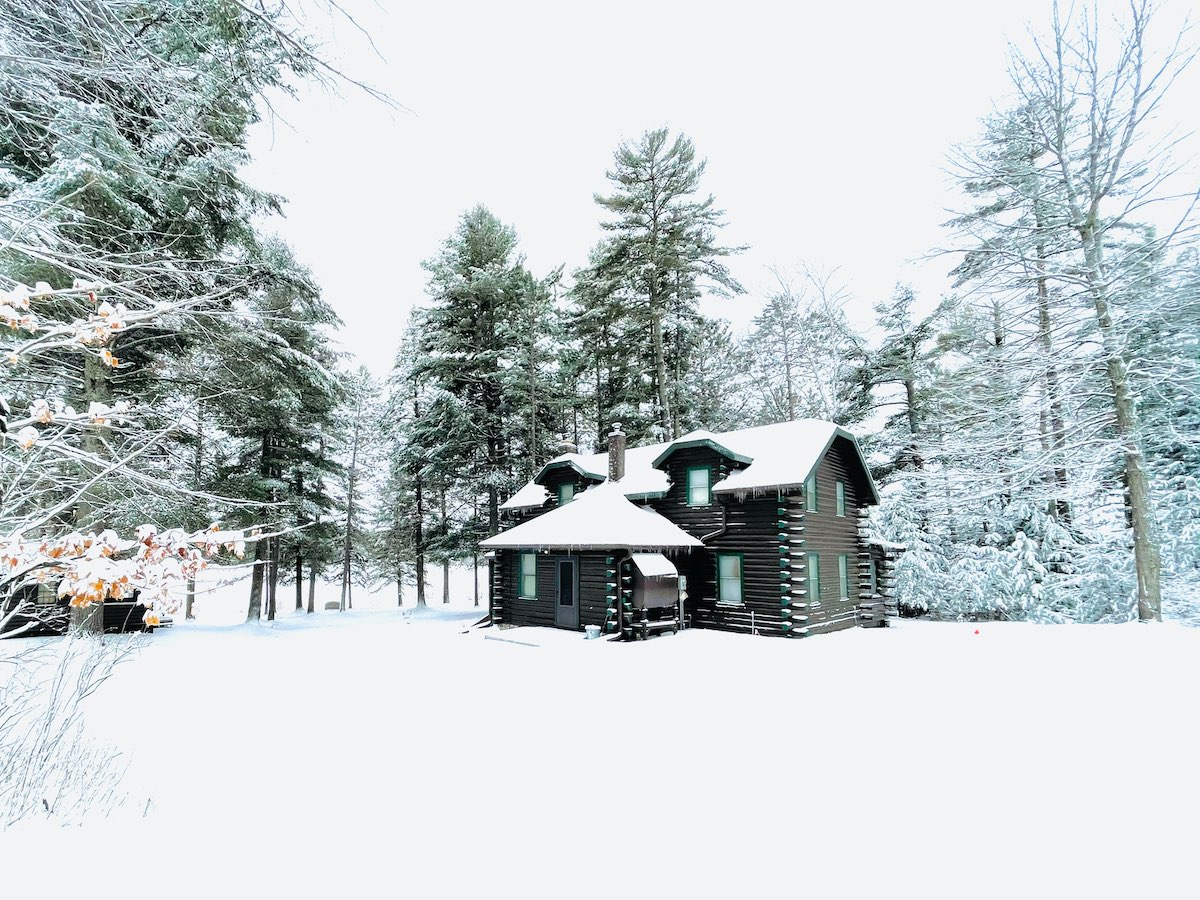 ---
12 Best Cabin Rentals in Wisconsin
Whether you are looking for a rustic cabin, a luxury cottage with comforts like hot tubs and full kitchens, or a secluded treehouse for a romantic weekend getaway with that special someone, these Wisconsin cabin rentals will help you recharge your batteries and reconnect with nature.
---
Authentic German Log Cabin in Hayward
Location: Hayward, Wisconsin
Price: $106+ per night
https://www.vrbo.com/7264104ha
Nestled in a secluded wood area, Mike and Nora's authentic German log cabin is an ideal place to stay for a memorable vacation in the Hayward area. You will be just a short walk away from the city beach and downtown Hayward where you will find many restaurants, bars, and coffee shops. For a slice of delicious pizza in downtown Hayward, go to Coops!
Surrounded by nature, the studio-sized log cabin offers a 1 room studio size space with a small kitchenette, dining area, a comfortable bed, a futon, and a Smart TV and DVD player. The bathroom is spacious and fitted with a toilet and shower.
Step outside to find an outdoor patio with a new deck equipped with patio furniture and a propane grill for BBQ. The forest views from the patio are simply breathtaking.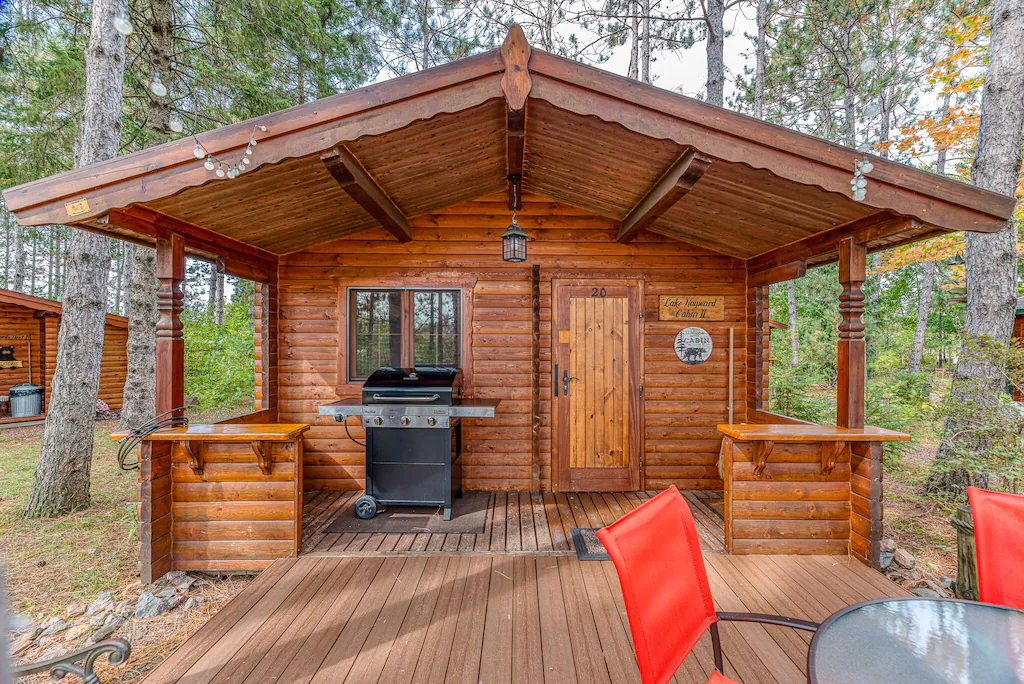 ---
Lakefront Hazelhurst Cabin
Location: Hazelhurst, Wisconsin
Price: $268+ per night
https://www.vrbo.com/9476158ha
If you are searching for a luxury lakefront cabin with 4 bedrooms and 3 bathrooms, book your stay at the charming Lakefront Hazelhurst Cabin. The property is set in a picturesque green field and offers magnificent views of Silver Lake from the back deck.
This gorgeous cabin itself looks spectacular in every way and is equipped with top-notch amenities. Guests have access to 2 full kitchens, a fireplace, and a beautiful outdoor space which includes a screened porch with a deluxe grill and outdoor refrigerator, an expansive deck, and a private dock with comfy chairs.   
For entertainment, there are board games and even a large pool table. Whether you wish to enjoy water activities on the lake like fishing and kayaking, prepare BBQ, or visit nearby tourist attractions including  Wildwood Wildlife Park and Nature Center and Minocqua Winter Park, there is plenty to look forward to when staying at the Lakefront Hazelhurst Cabin.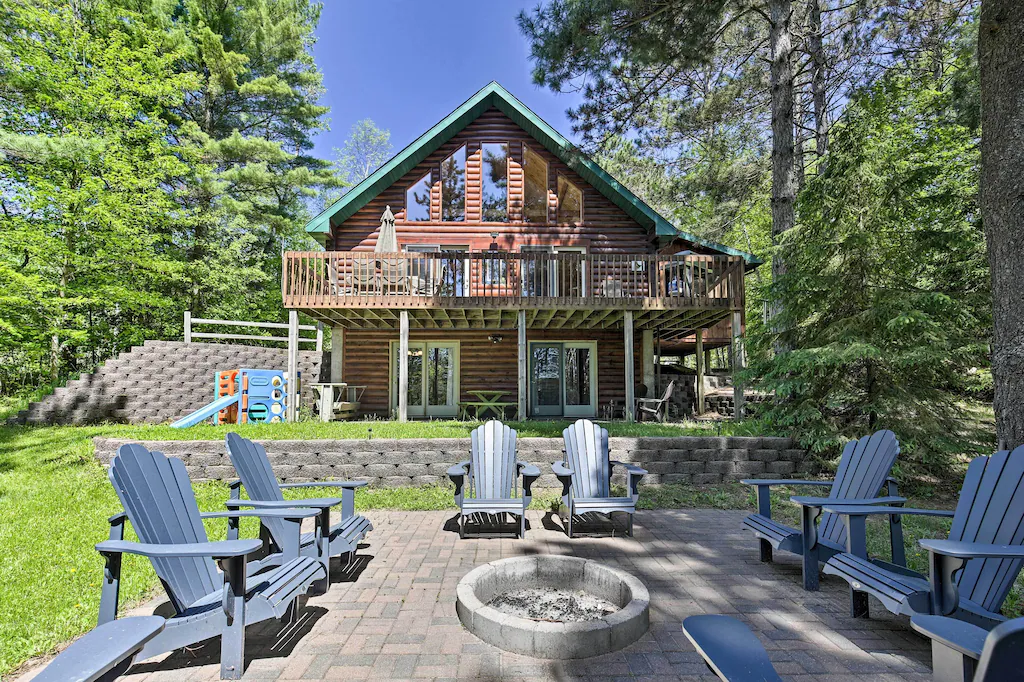 ---
Peace of Beach Cabin
Location: Door County, Wisconsin
Price: $356+ per night
https://www.vrbo.com/7189649ha
Have you ever dreamed about waking up right next to a beautiful lake? Spend a few days at Peace of Beach, a 2 bedroom cottage with a lovely stone fireplace located on the shores of Lake Michigan in Sturgeon Bay. Guests say how the views of the lake from the big windows are so beautiful and soothing.
The pine cottage is fully equipped for your stay. It has a huge fireplace to keep you warm, a full kitchen where you can prep meals, and a spacious living space with comfy couches and recliners. For a good night's sleep, there are blackout curtains and fans in both rooms.
Looking for things to do here? The lake is ideal for activities like fishing, sailing, kayaking, and even windsurfing. Door County is home to many cool attractions including state parks, lighthouses, beaches, wineries, and hiking trails. We should also mention that Piece of Beach is a pet-friendly property, so you can bring your dog along.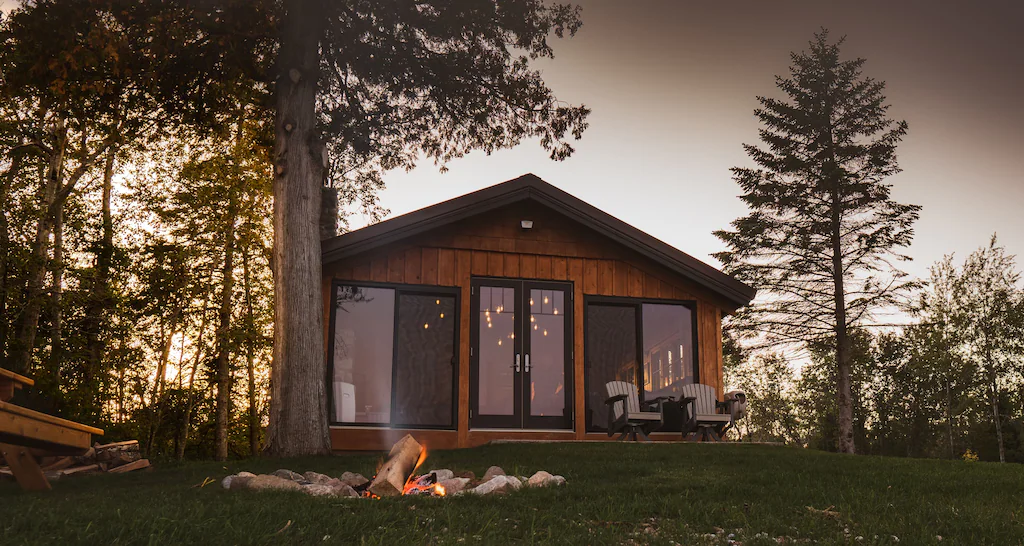 ---
Secluded Hilltop Cabin 
Location: Adams County, Wisconsin
Price: $420 + per night
This secluded cabin sits on the top of a hill in Adams County and offers private access to a beautiful beach. With 3 bedrooms, the cabin is ideal for groups of friends and families on vacation in Wisconsin. The cabin easily fits 18 people, making it a perfect spot for a big family gathering.
Indoor activities are plentiful here and include everything from day drinking in your own private basement bar to watching the latest shows on Hulu and grilling meats and veggies in the full kitchen. Are you in the mood for some entertainment? Check out the game room with a pool table and air hockey.
Expect to find plenty of amenities outside, like sun chairs on the beach, an open fire grill, and a lovely pond where you can unwind in summer.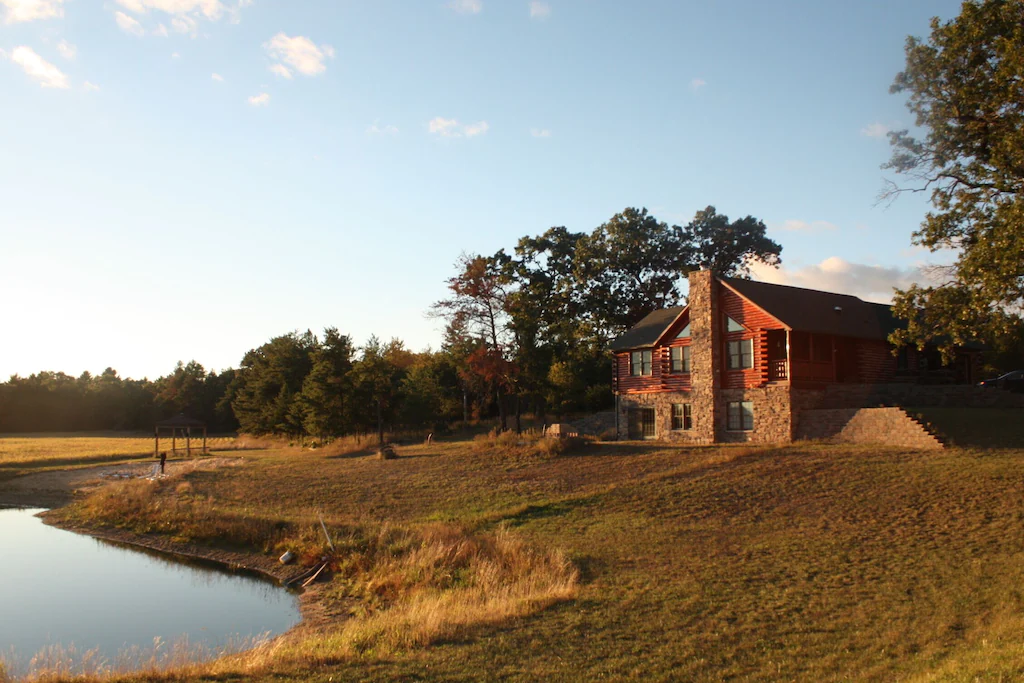 ---
Lakefront Mercer Cabin
Location: Iron County, Wisconsin
Price: $188 + per night
https://www.vrbo.com/4739509ha
Tucked away on a quiet lake in Iron County in Wisconsin, the Lakefront Mercer Cabin dates back to the 19th century. Yes, this cabin was originally built way back in 1880 and served as a mess hall for a logging camp. Nowadays, this wonderful cabin still has that rustic charm, but it also boasts hardwood floors and wooden beams.
This historic vacation rental cabin in Mercer has 2 spacious lofts and easily fits 8 guests. Amenities include a fully-equipped kitchen, wood-burning stove, bathroom, and a large front porch with spectacular lake views and a firepit in the backyard.
The property offers a canoe and kayak that you can take out on the lake. Guests can also lounge on the lawn or enjoy hiking at the nearby Winman Trails. Stumbling upon a hawk or a fox here is quite common.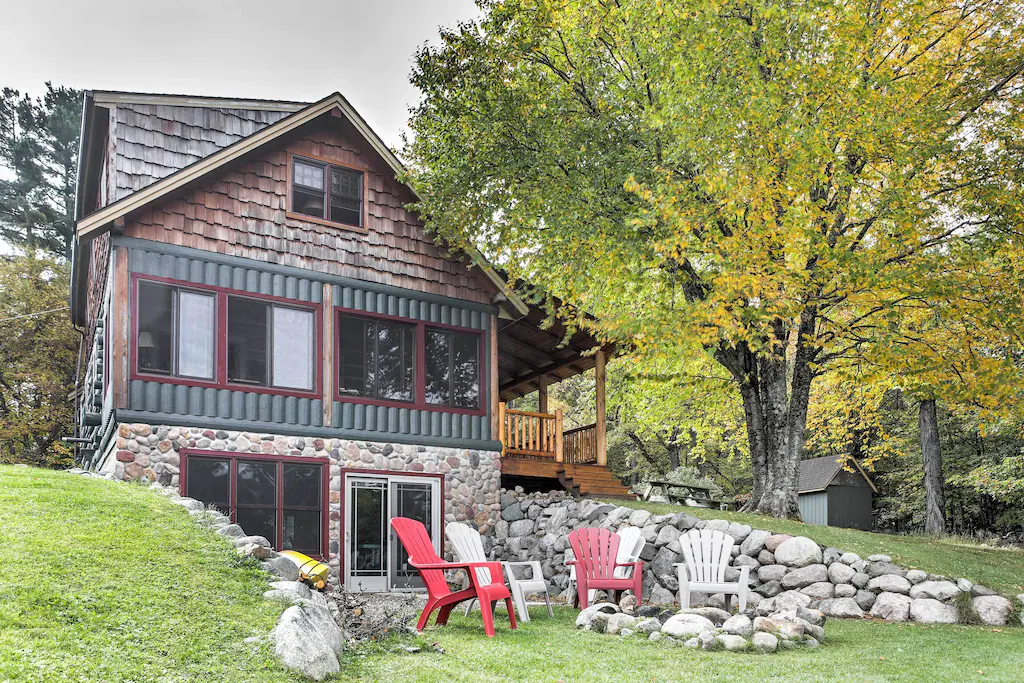 ---
Cozy Cabin in the heart of Hayward
Location: Hayward, Wisconsin
Price: $109+ per night
Not many cabins in Wisconsin are as picturesque as this community of 8 cozy cabins in the heart of Hayward. Surrounded by trees, these magical cabins with shared/common spaces are ideal for couples on vacation in Wisconsin. The good news is that the cabins don't face each other, so you'll get to have some privacy.
The cabins are fitted with comfy beds, a kitchenette area with Keurig coffee maker, small fridge, sink, and a microwave. Bathrooms come with essentials like bath towels, conditioners, and shampoo. You can also use the outdoor grill for BBQ.
Guests love the beautiful egg chair swings and say how the evening twinkle lights under the pine trees look like something from a fairytale.  Downtown Hayward where you will find cafes, shops, and restaurant is just a half mile away. There are also a few hiking and skiing trails nearby.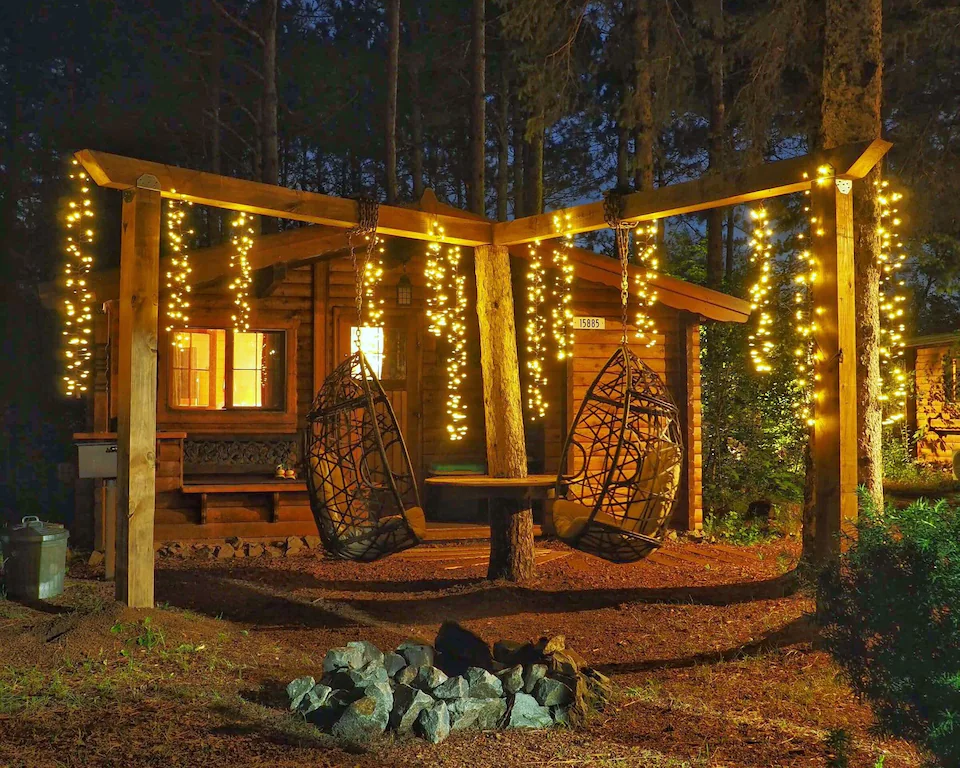 ---
Sunset Cabin —  Rustic Personal Retreat
Location: South Range, Wisconsin
Price: $80+ per night
Next on our list of the best and coolest cabin rentals in Wisconsin is the lovely Sunset Retreat Cabin in South Range. Located just a short drive from Duluth in the middle of the woods, this little cottage is a perfect spot for couples who wish to spend a weekend at a remote place and decompress from work and busy city life.
The 1-bedroom cottage itself looks cute with rustic décor, a comfy bed, a small kitchenette, and a work desk. You will be staying a short walk from the private beach of Lake Superior and close to a few hiking trails.
During the summer season, guests can swim in the nearby Amnicon River or enjoy water activities like river canoeing and boating. Bird lovers will be pleased to hear that the area is home to a 500-acre migratory bird research area.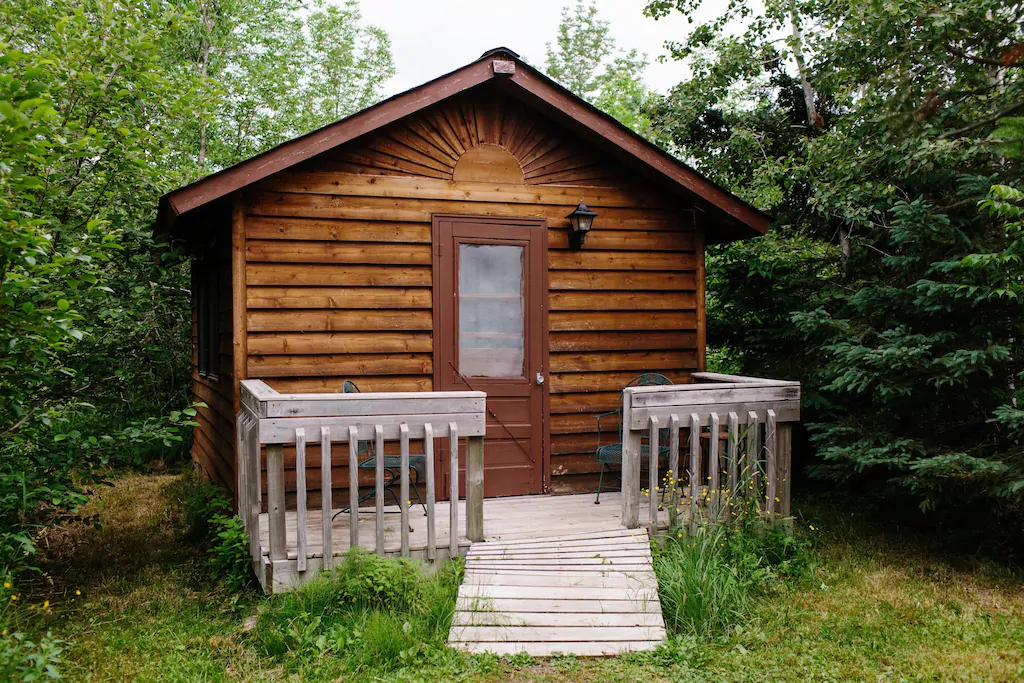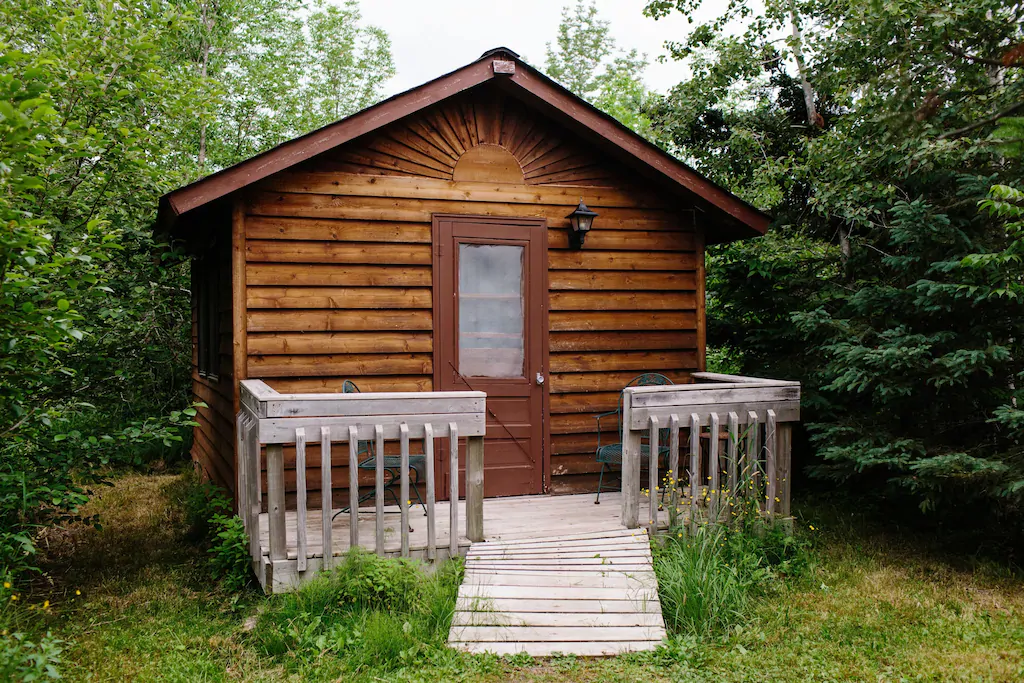 ---
Curriers Lakeview Lodge
Location: Rice Lake, Wisconsin
Price: $130+ per night
https://www.booking.com/hotel/us/curriers-lakeview-lodge.en-gb.html
Nestled between a picturesque lake and trees, Curriers Lakeview Lodge is a luxurious property located on the east Shore of Rice Lake. With dozens of accommodation options to choose from, this lodge resort offers a private beach area with sports activities like kayaking and canoeing, snowmobiling on the lake in the winter, a children's playground, and BBQ facilities. Fishing is also good right in front of the resort.
You will find lounge chairs on the lakefront with a fire pit and large swinging porch chairs around it. The rooms are charming and comfortable with rustic décor. We should mention that each room is uniquely themed and fitted with a comfortable bed, TV, microwave, dining area, and refrigerator.
Not-to-be-missed is the resort's coffee room where you can enjoy local fair trade coffee and fresh pastries from the famous Simply Cake Couture.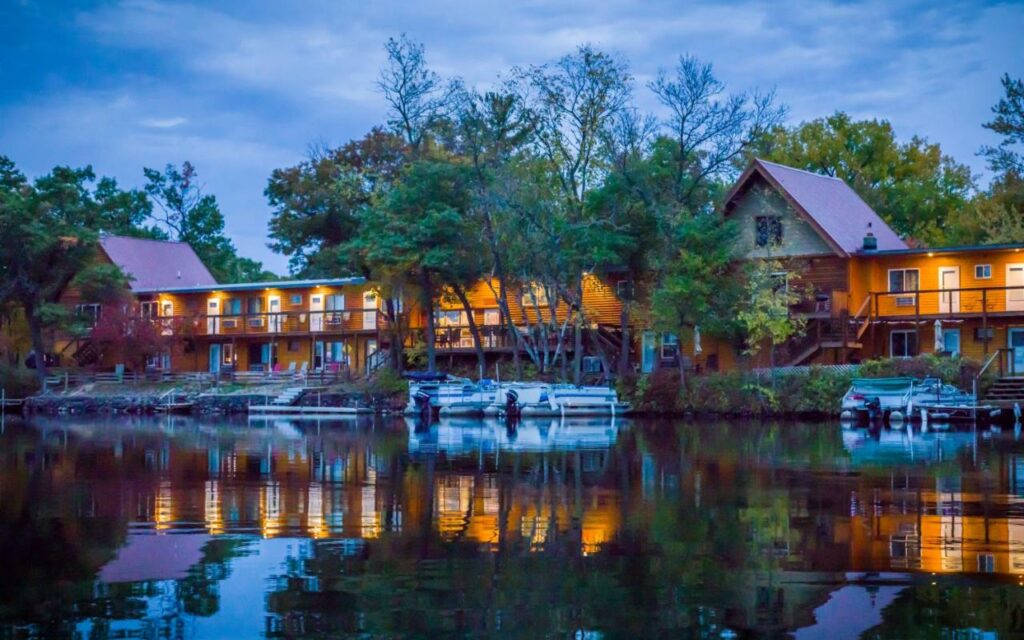 ---
Wood River Retreat: Private Cabin Above the River
Location: Grantsburg, Wisconsin
Price: $170 + per night
https://www.airbnb.com/rooms/10455226?
Located deep in the woods, Doug's Wood River Retreat is a modern 2-bedroom cabin that accommodates up to 4 guests. Expect to find many convenient amenities such as Wi-Fi, a Smart TV, central heating, as well as a free-standing wood-fired sauna and a high-quality stereo system with Bluetooth streaming.
Guests can prepare meals in the fully-equipped kitchen with brand-new stainless-steel appliances, get some work done with reliable high-speed Wi-Fi, and chill on the large screen wooden deck with a breakfast table and Adirondack chairs made from recycled plastic. Step inside the large master bedroom to find a luxurious queen bed, an adjustable ceiling fan, and some storage space.
Go for a stroll to the lovely Wood River or enjoy some of the nearby hiking trails. The Twin Cities are just an hour away.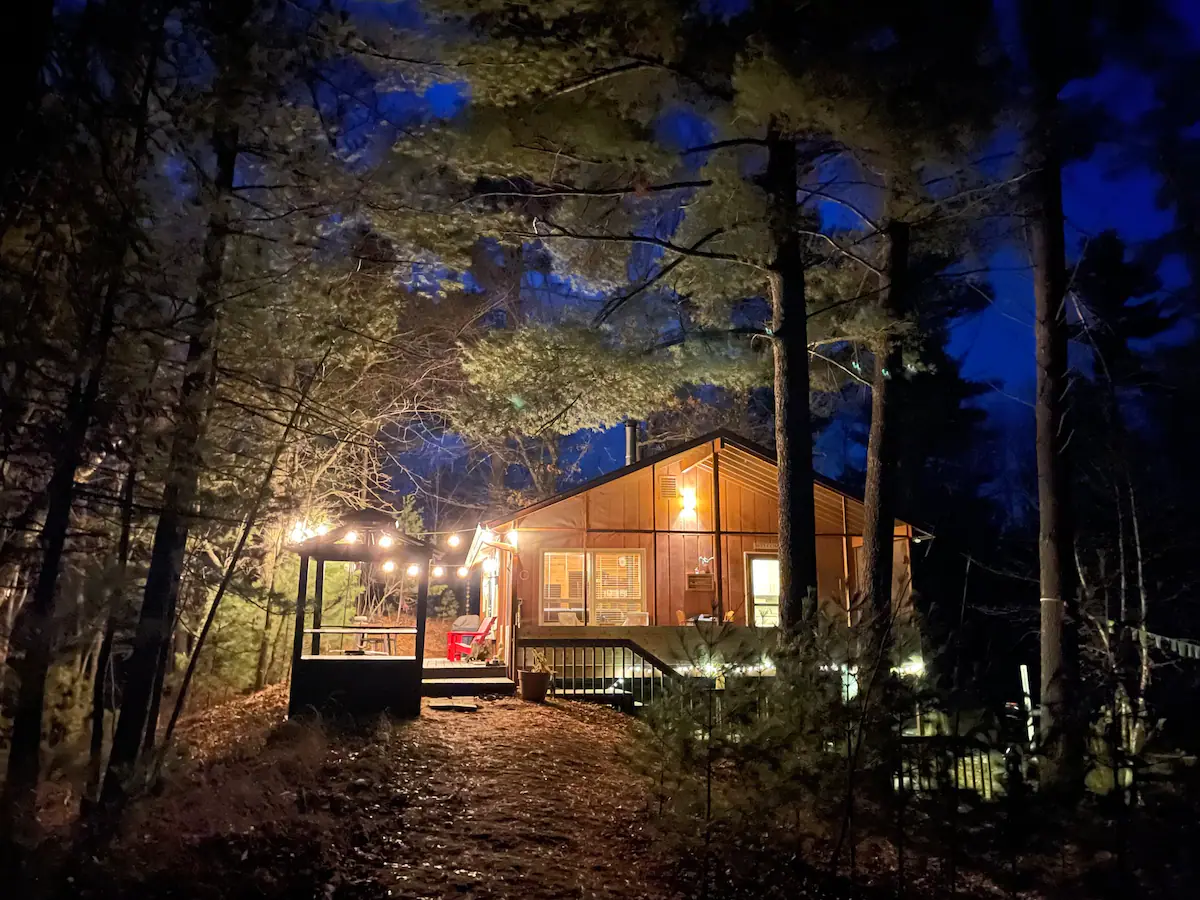 ---
Off-Grid Cabin Getaway
Location: Fall Creek, Wisconsin
Price: $154 + per night
https://www.airbnb.com/rooms/28937731?
The Off-Grid Inn is one of the most romantic and picturesque properties on our list of the coolest and best cabins in Wisconsin. Situated on a remote piece of land deep in the woods, this tiny place with large glass windows fits 2 people and has everything needed for a couple's getaway in Wisconsin's Fall Creek.
Inside Duff's cabin, guests will find a kitchen with a small fridge and a coffee maker, a comfy queen bed, board games to keep you entertained, and an air conditioner/heater. You can also have a bonfire and eat outside at the picnic table.
The property offers a secluded location, yet it is still close enough to Eau Claire where you will find many coffee shops and restaurants.  There are a lot of good hiking trails and waterfalls nearby worth checking out.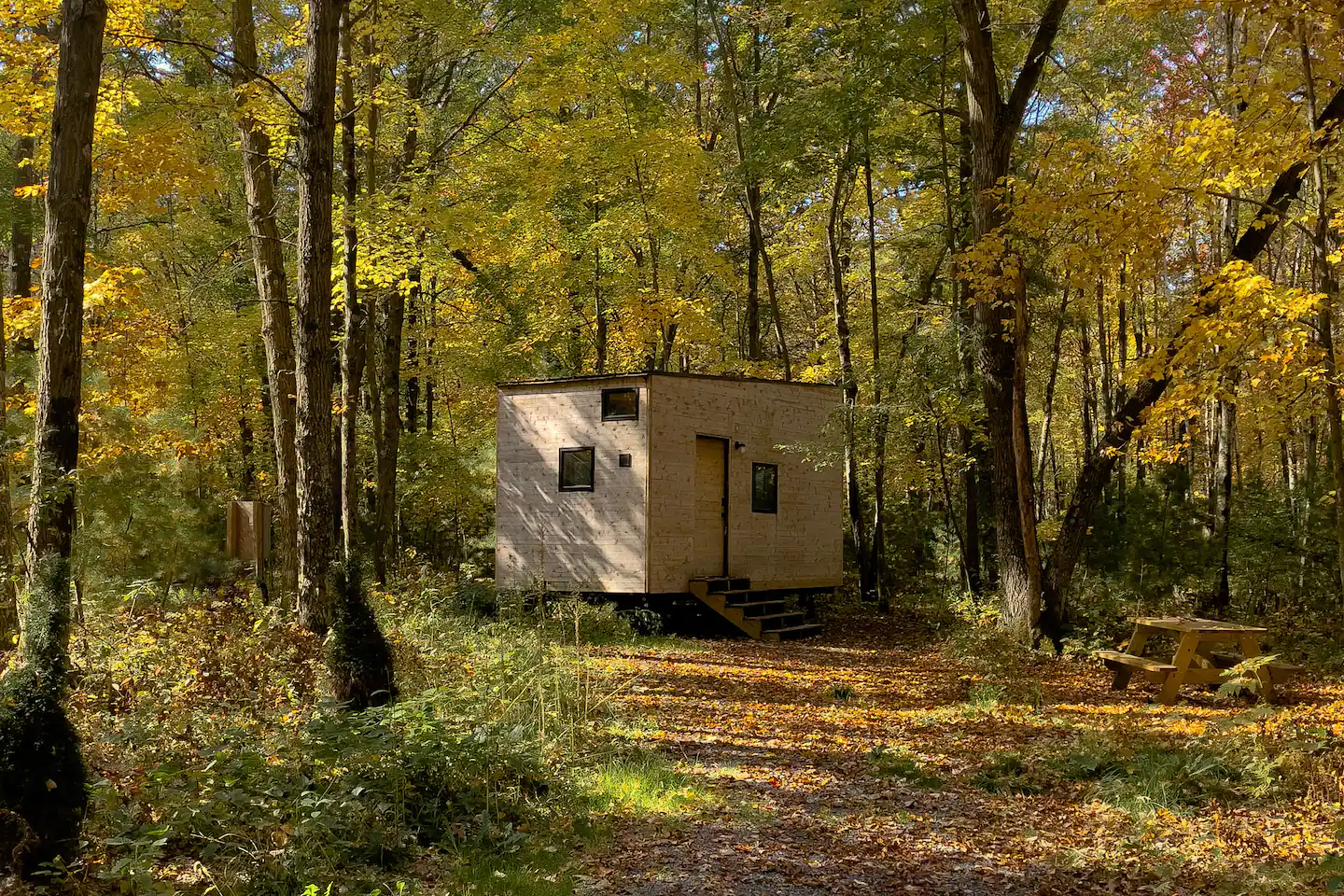 ---
Wisconsin Treehouse Cabin Getaway
Location: Racine, Wisconsin
Price: $127+ per night
https://www.airbnb.com/rooms/19927158?
Named as one of the top 10 secluded Airbnb's in the Chicago area by Timeout Magazine, the Wisconsin Treehouse Getaway is probably the cutest property on this list. With mesmerizing views of the creek and woods, the cabin is fitted with modern amenities and offers complimentary homemade chai and a glass of bubbly upon arrival.
If you wish to spend your days on a screened-in gazebo with a large dining table for 8 with spectacular views of the creek, take a nap on the deck with outdoor sofas, or just watch Netflix in the large and comfortable area, there is plenty to look forward to when staying at this award-winning cabin.
Wisconsin Treehouse Getaway is located just 3 miles from some of the best Lake Michigan beaches and just a short drive from popular attractions like the Racine Art Museum, Racine Zoo, and Wind Point Lighthouse.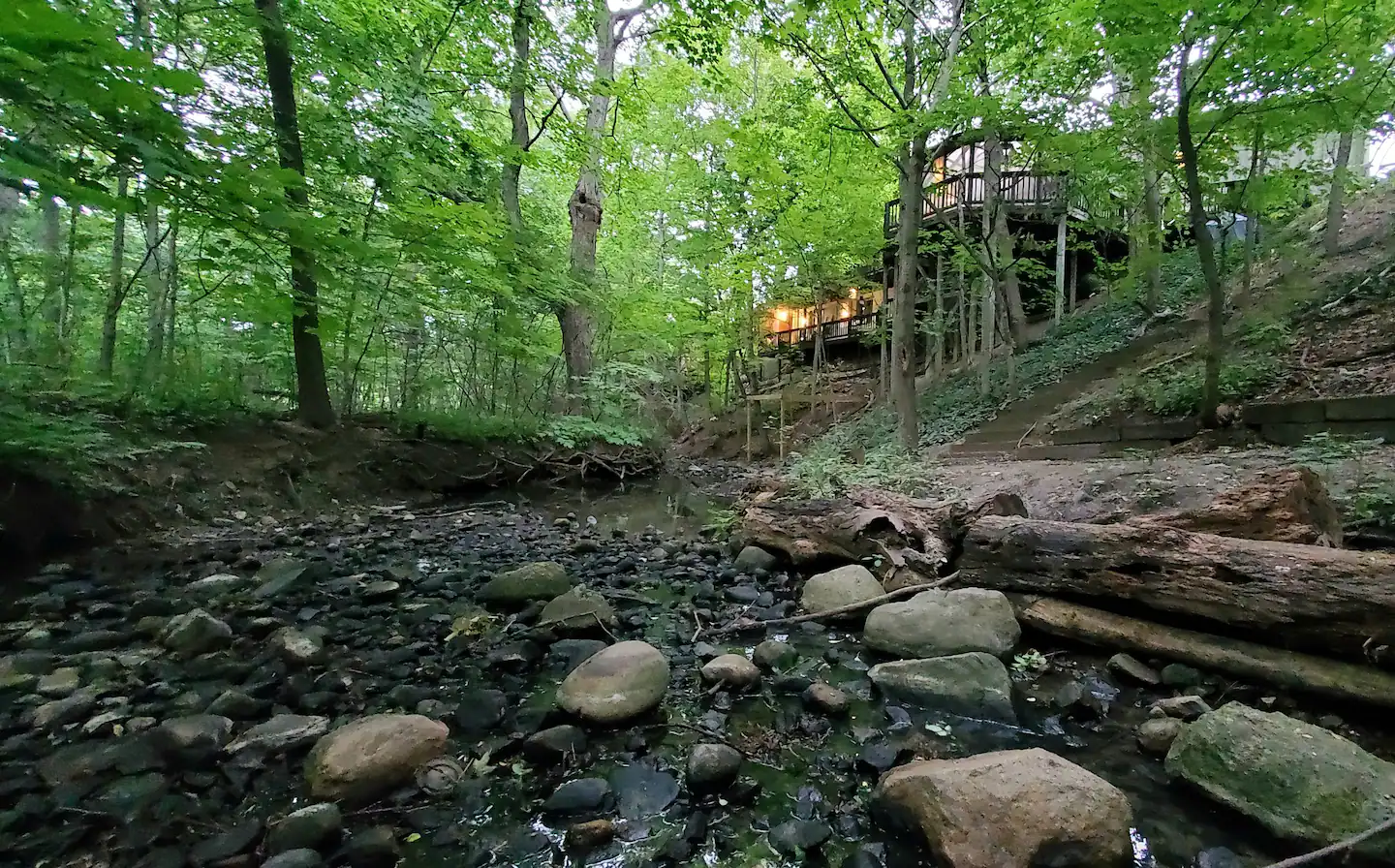 ---
The Water Villa at Mill Creek Cabins
Location: Richland Center, Wisconsin
Price: $193 per night
https://www.airbnb.com/rooms/50568903?
Welcome to Tammy's Water Villa, a gorgeous cabin with a relaxing and quiet ambiance. This cozy 2-story cabin accommodates 2 people and offers breathtaking views of the countryside.
 This place is very romantic for a weekend getaway. It is also a perfect spot to not do much and get away from it all, but still, be close enough to some good hiking trails.
On the main floor, you will find a small seating area, fireplace, balcony, and a comfy king bed. The full kitchen is equipped with everything needed to prepare delicious meals. There is also a bathroom with a shower and complimentary toiletries.