Planning a New England getaway and searching for the best cabin rentals in Vermont? Well, you've come to the right place, as I've put together this amazing guide to the coolest and most unique Cabins in Vermont that are guaranteed to impress!
If the words enchanted, whimsical, nature enthusiast, or adventure speak to you, then exploring Vermont is a must. From the distinct and colorful seasons to the variety of nature to explore and the exquisite local food spots to dine at, Vermont has it all. It's indeed a place for nature lovers and the more minimalist traveler looking to watch their footprint and stick to the basics while still living in style.
With its lakes, waterfalls, forests, and farmland, Vermont offers a wide variety of terrain to explore during your stay. From treehouses to farms and mansions to hobbit homes, it has all types of unique accommodation options to keep you cozy and comfortable during your stay.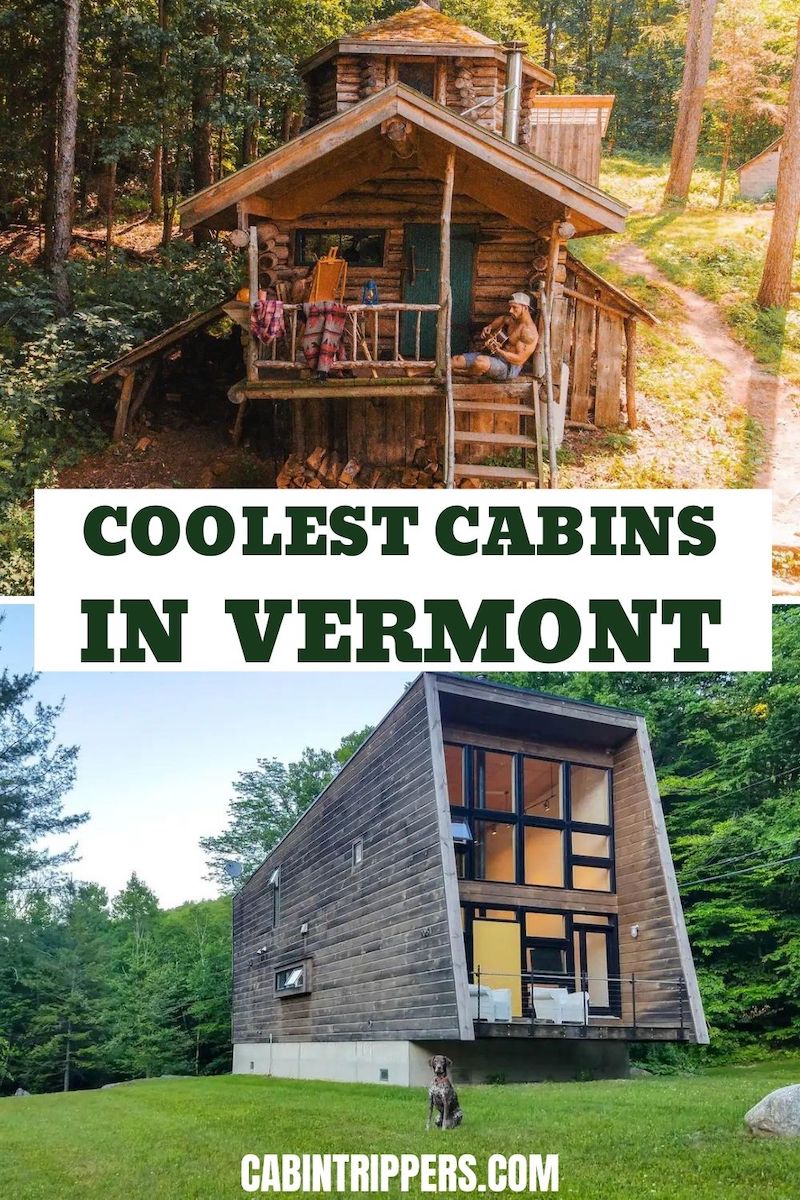 ---
Off the Grid Glamping Cabin in the Green Mountains
Location: West Bolton, Vermont
Price: $145+ per night
https://www.airbnb.com/rooms/14093180
Secluded in the forests of the green mountains, this cozy cabin is a perfect place to relax and unwind. For the adventure seekers out there it is a hidden gem! Surrounded by 20 acres of land with hiking trails, rock climbing, swimming holes, kayaking, mountain biking, skiing and snowboarding, the options are endless. The off the grid tiny house has a solar heated outdoor shower, outhouse toilet, propane and wood stove, and a simple kitchen set up.
It's true glamping with no electricity or wifi, only heat from the wood stove or fire, spring water for drinking, and a loft bed. It is minimal and rustic yet cozy and comforting for the adventurous souls. For those looking to spend time offline in nature and still have a comfortable bed and roof over their head, this environmentally friendly treehouse home is the spot.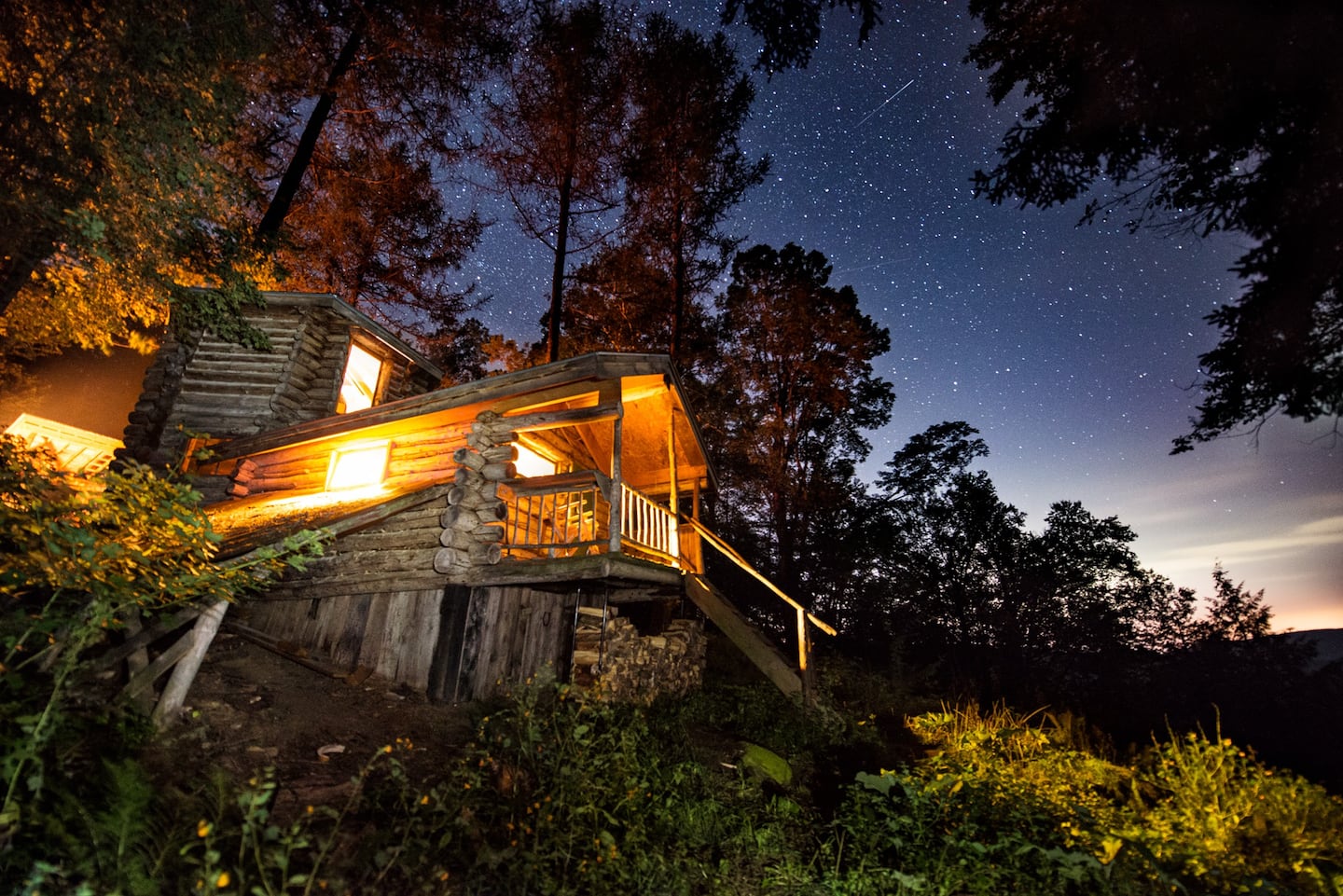 ---
The Hill – Hobbitish Fantasy 
Location: Middletown Springs, Vermont
Price: $350+ per night
https://www.airbnb.com/rooms/23446690
"The Hill" is an incredibly enchanted Hobbiton inspired cottage in Middletown Springs. Located on 12 green acres of land, the 1100 sq ft home was built in 2018 and is one of the most unique properties around. The earth-sheltered, fantasy home filled with antiques and timeless touches is designed to transport you to another world. It combines old-world charm with modern conveniences and is surrounded by stunning views of the surrounding valley, most spectacular seen from atop the earthen roof. It's beyond picturesque and uniquely creative and homey.
The master bed nook has a queen bed and a claw foot tub. The second room has a Murphy bed and full bath. The garden has another claw foot tub to stargaze in as well as an outdoor shower and fire-pit. The cottage does have wifi although it's recommended to spend time here digital detoxing with board games, archery, bocce, swimming in the spring-fed pond, and more. Embrace the whimsical nature of this ever so charming and unique home on your next stay in Vermont.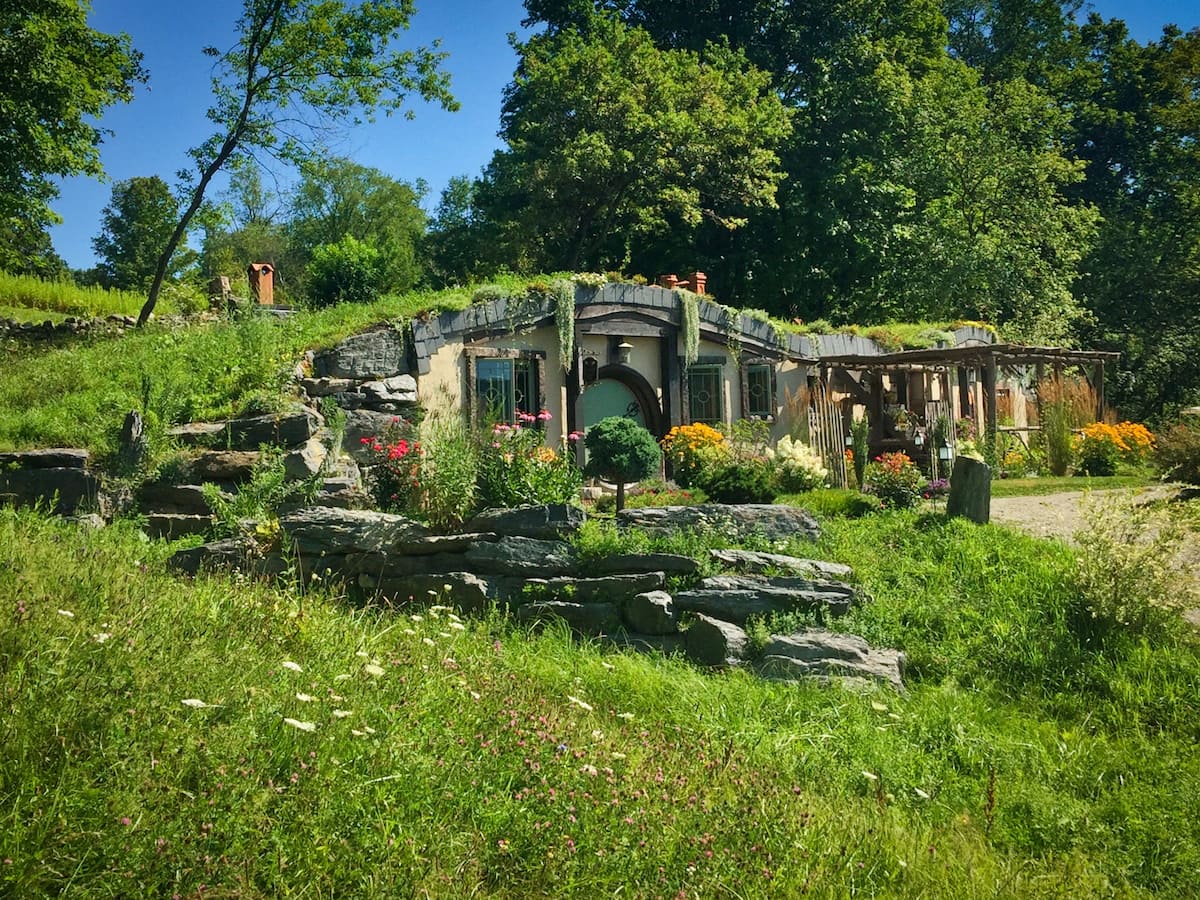 ---
Beautiful and Unique Vermont Cabin with views
Location: Warren, Vermont
Price: $676+ per night
https://www.airbnb.com/rooms/27246011
This private, secluded, and incredibly designed lodge amongst the trees is the perfect place for a gathering or reunion. Nestled atop 8 acres of land in Warren, Vermont, this large wood cabin has everything needed for a home away from home and more. A fully stocked kitchen, furnished deck, and stunning treetop and mountain views make the home extra special. Enjoy Nordic skiing in the winter or fishing and waterfalls in the summer. The huge cabin can sleep up to 10 people with 8 beds and 4 baths.
With all wooden interior, modern decor and furnishings, views of surrounding trees from inside the whole house, spacious rooms, plentiful hangout space, desks for working, a full kitchen, outdoor seating, and a beautiful front lawn, this secluded home in the woods has everything needed for an enjoyable and relaxing stay where guests really feel at home.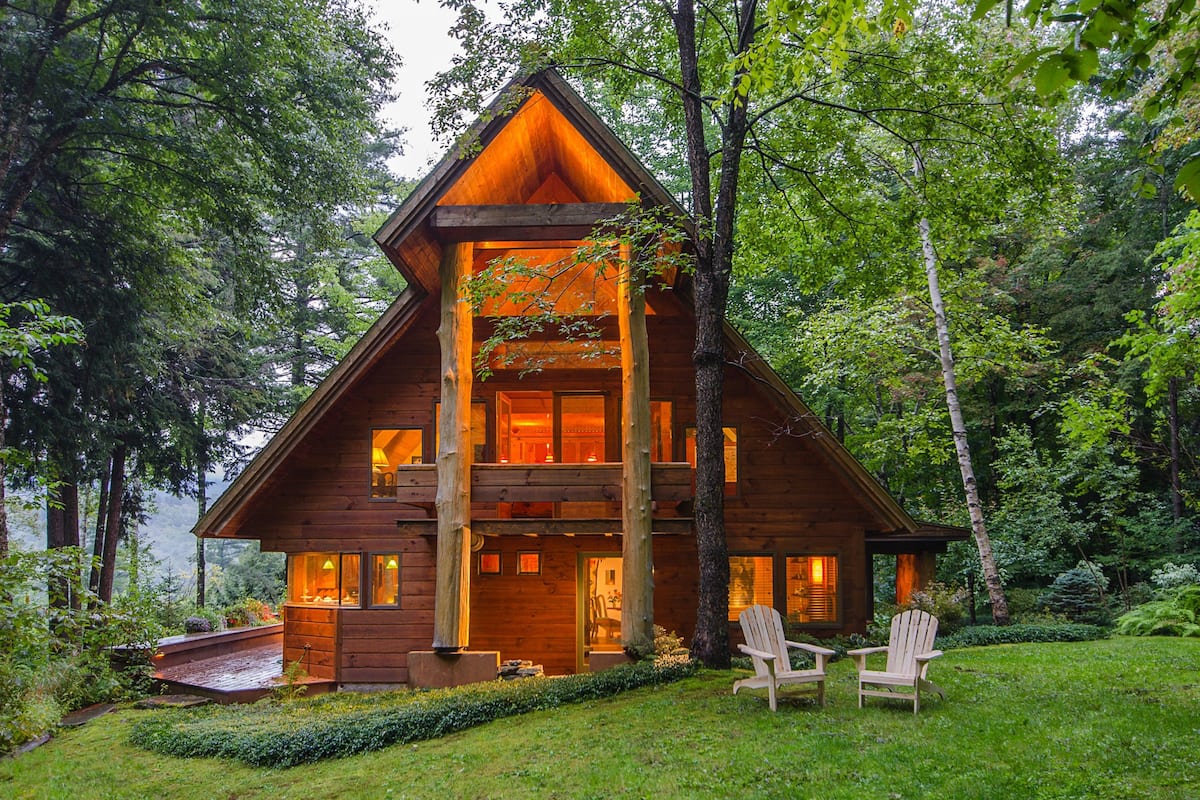 ---
Green Mountain Luxury Cabin With Hot Hot Tub
Location: Jamaica, Vermont
Price: $421+ per night
https://www.airbnb.com/rooms/20514403
This uniquely designed contemporary house in the Green Mountain National forest is a must see. For those looking for privacy and modern luxury, this is the spot. With a large open kitchen, dining and living room, wood stove, heated concrete floors, spectacular mountain views, and a sauna, it has everything needed to feel cozy and comfortable in the mountains in both winter and summer.
Outside offers a deck, fire pit, and jacuzzi. Inside offers a range of entertainment for those cold winter days with Wifi, Xbox, Blu-Ray, and darts! Don't miss this unique stay in the woods!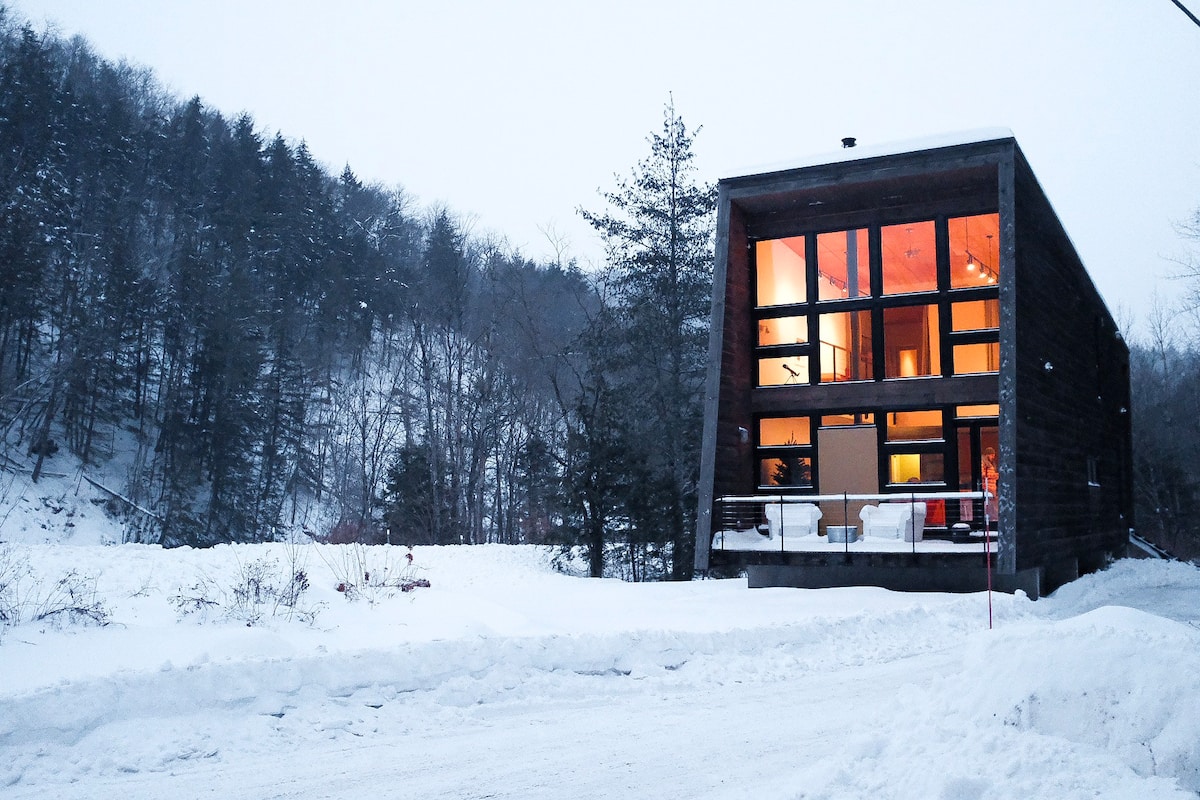 ---
Vermont Treehouse Cabin at Bliss Ridge Farm
Location: Moretown, Vermont
Price: $375+ per night
https://www.airbnb.com/rooms/44915530
This Dr. Seuss-inspired luxury treehouse surrounded by acres of wilderness and built within and around living trees, is sure to take your breath away. With panoramic views of national forest, it is truly secluded. The treehouse is situated atop a farm's hay fields and is the perfect place to relax and reset with peace and quiet. With hiking trails available from the front steps, a spring-fed pond for swimming, and farm events nearby, it's an adventure enthusiast's dream.
The house can sleep 7 guests with a queen bed, fold-out sofa, lofted double bed and twin. It has a kitchen, living room, patio with a hammock, composting toilet, and outdoor shower. An extra special offering is the supply of fresh, spring water for drinking! The owners are big environmentalists and it's clear from the way they've designed this treehouse. Staying here will undoubtedly leave you feeling inspired, creative, and more connected.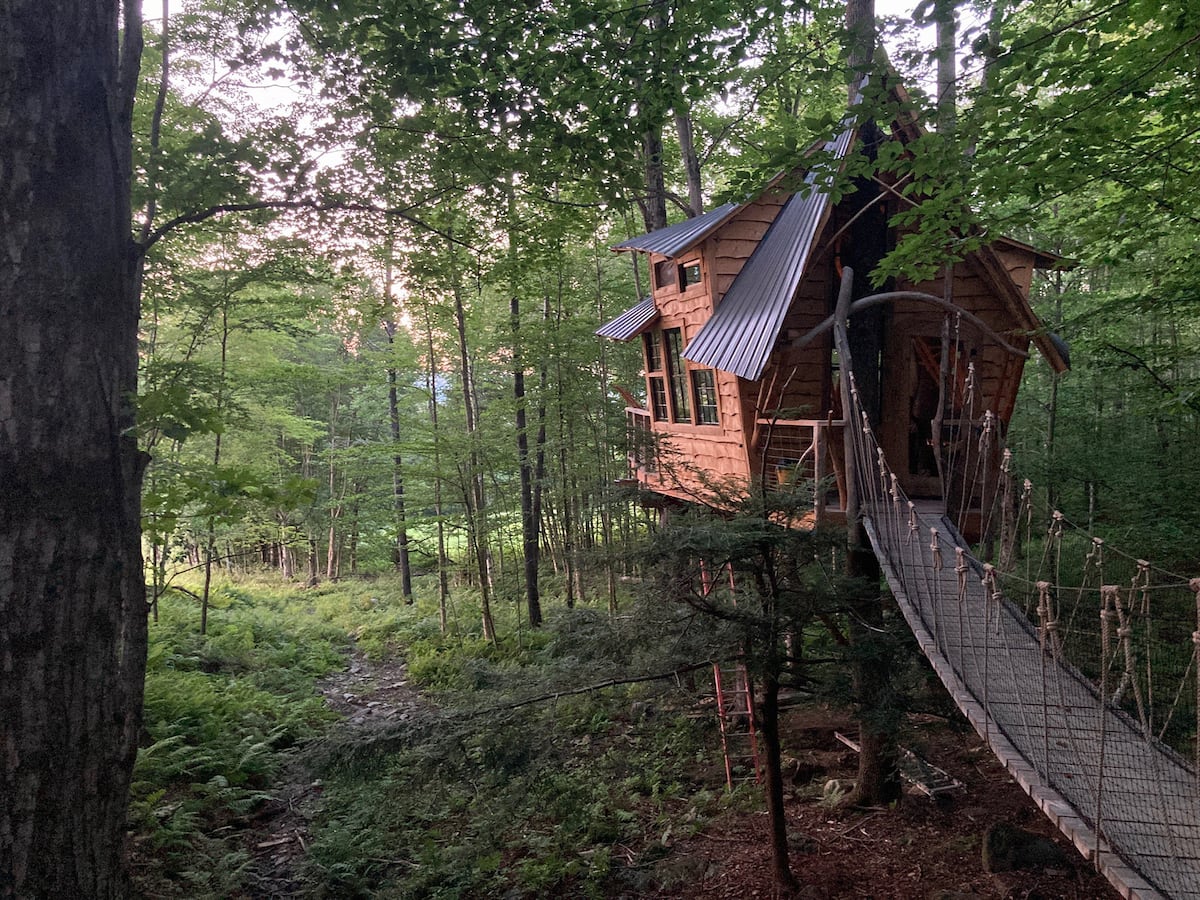 ---
Waldhaus Modern Forest Home
Location: Moretown, Vermont
Price: $207+ per night
https://www.airbnb.com/rooms/21237067
This modern yet cozy home in the woods is sure to impress. With it's chic interior design, ample natural light, and surrounding mountain views through its many windows, it's a peaceful and inviting place to spend your time. With a living room, dining room, and open kitchen, it has ample space to hang out. With two bedrooms and 3 baths, the house can comfortably sleep 4 people.
Each bedroom is furnished with a beautiful homemade barn door for that extra special touch. The larger room has a queen size memory foam bed and the smaller room a set of twin bunk beds. The loft offers another hang out space with a futon sofa and TV. A wonderful place to enjoy the outdoors in style.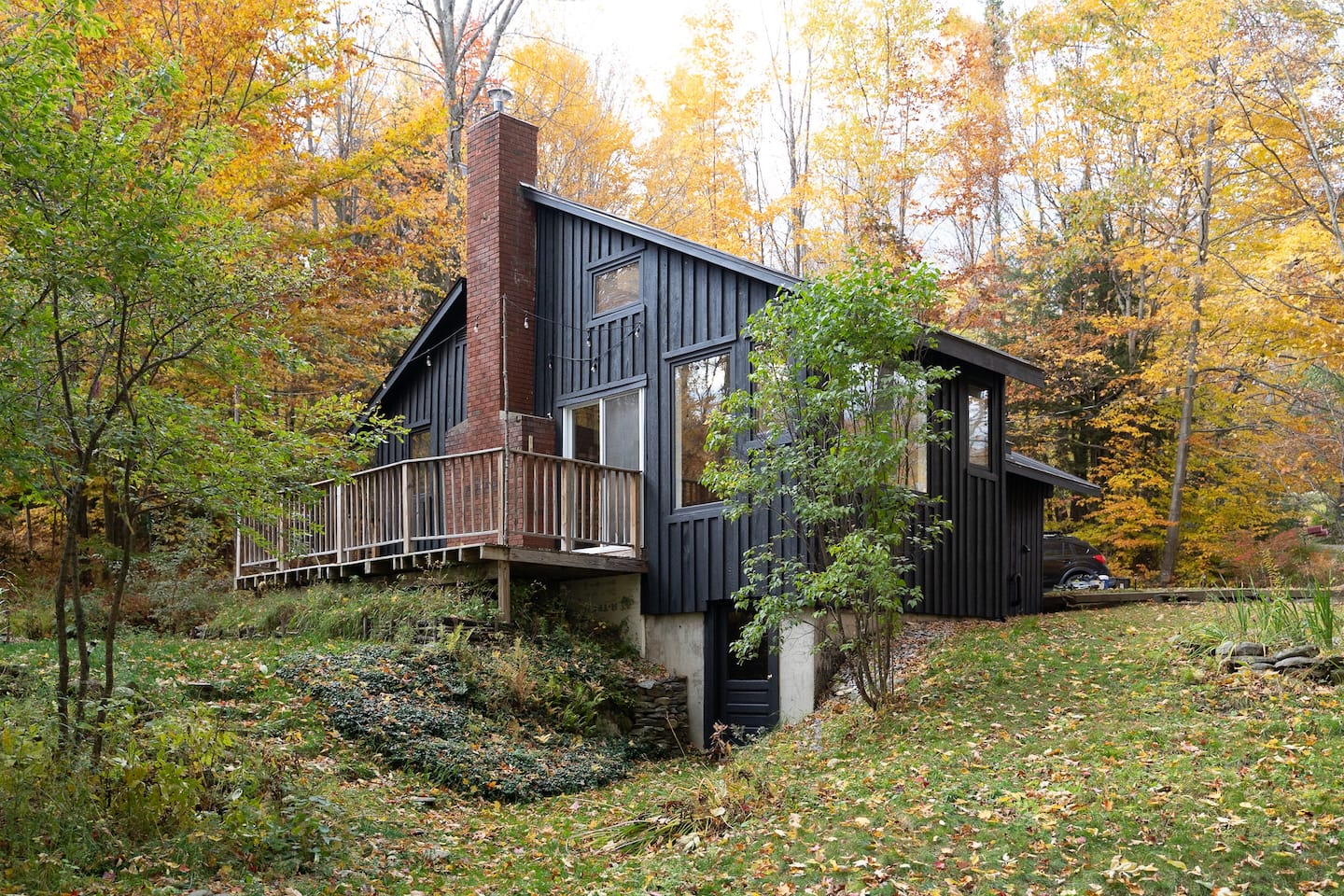 ---
Mad River Valley Chalet
Location: Fayston, Vermont
Price: $390+ per night
https://www.airbnb.com/rooms/37059030
Stars Hollow Chalet is an A-Frame Chalet-style home ideal for a romantic getaway, family and friend reunion, or a staycation with its fast internet. It's located on the Fayston/Waitsfield intersection close to downtown. The outdoor area is perfect for gatherings with its picturesque string lights, picnic tables, and mountain views. The entrance is practically curated with a ski room at the entrance.
The house is beautifully and artfully designed with velvet and leather couches, Moroccan pillows, colorful rugs, plants, fairy lights and more to give an eclectic yet warm feel. The living room is great for hanging out, reading, or playing games on the large table. The scenic kitchen upstairs makes for an enjoyable way to cook dinner while gazing over the mountains and the naturally lit bedrooms are great for stargazing with their skylights.
The whole house is designed by local artists and artisans giving it an extra special feel. The modern amenities like high speed internet, wireless chargers, and sound machines make staying here extra easeful. Nearby to some of the best farm-to-table restaurants in the state and different swimming holes and beaches, there is plenty to do and explore nearby.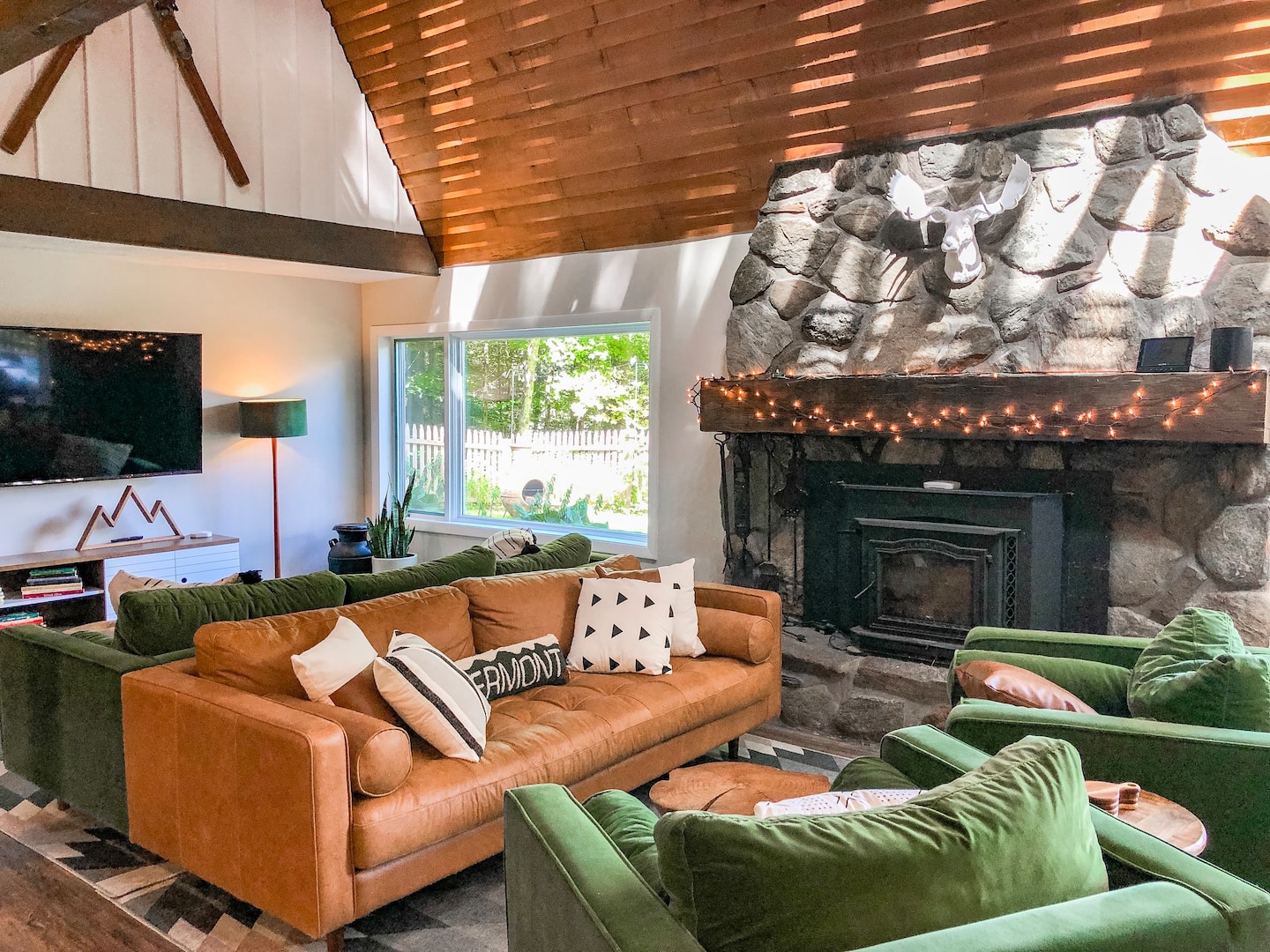 ---
The Canopy House – Vermont A-Frame Cabin
Location: Stowe, Vermont
Price: $697+ per night
https://www.airbnb.com/rooms/plus/26353196
The newly built Canopy House is a Pinterest board come to life! Located in Stowe, Vermont, this rustic and chic house is a one of a kind place to stay with family or friends. With three bedrooms and 5 baths, the quintessential home can sleep 8 guests. The wood interior and decor, ample natural light, and house plants give the home comfy cozy mountain vibes.
With a stocked kitchen, dining room, and two living rooms, there is plenty of space to be in solitude or with the group. Extra comfort can be found watching the 50" TV with sound system next to the fire. The deck outside makes for a great hang out area with a barbecue, table, 6 person hot tub and incredible star gazing.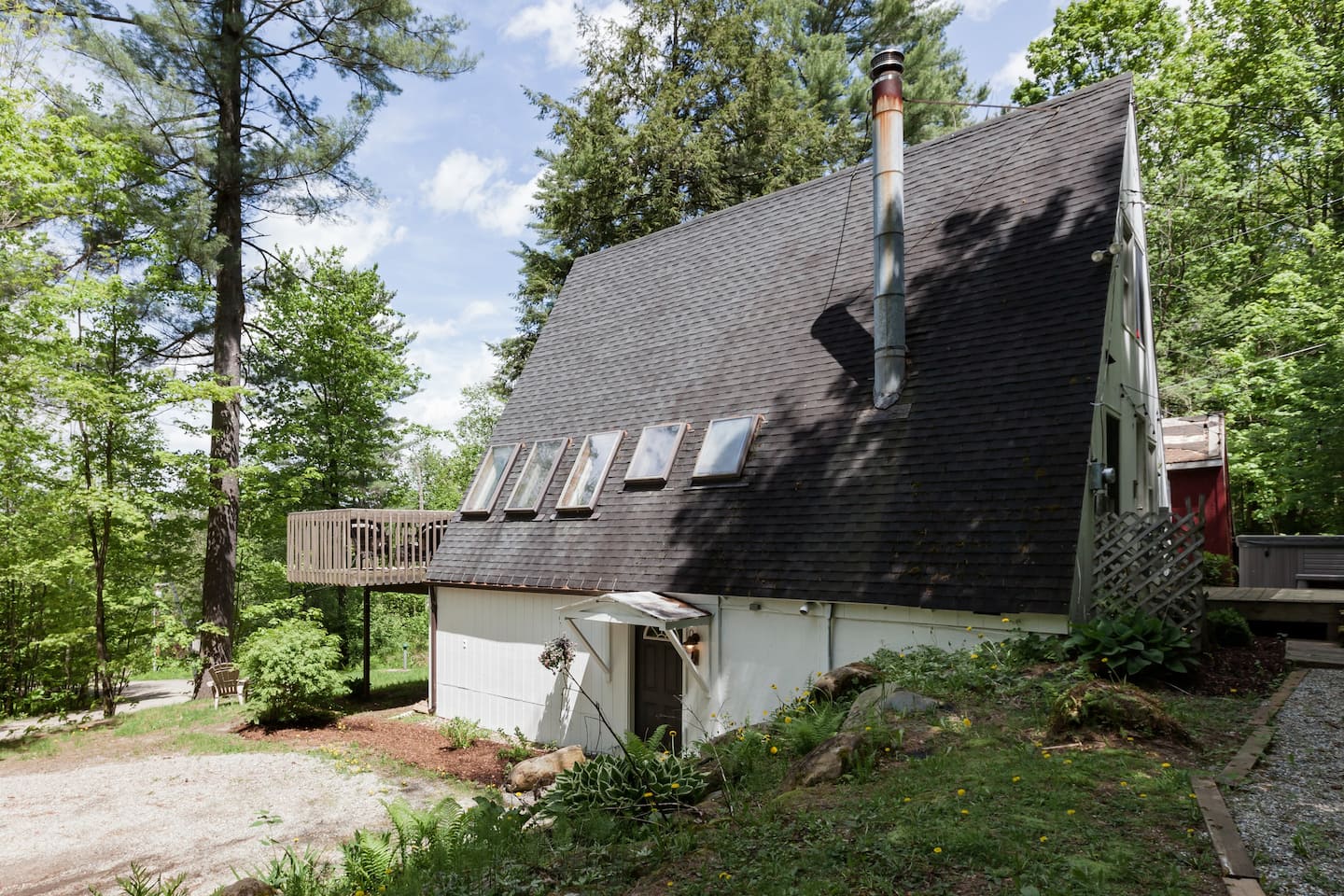 ---
Stunning Barn and Silo near Stowe
Location: Morristown, Vermont
Price: $941+ per night
https://www.airbnb.com/rooms/20524559
This converted barn home is a one-of-a-kind property located in the green mountains atop 265 privately owned acres. The home is made of hand-hewn timber and has an attached silo with more sleeping areas perfect for families. The open concept master bedroom offers stunning views of the surrounding land and has a bathroom with a claw foot tub and shower. Above the master is a room with two double beds that oversee the living area below. The open dining and kitchen area surrounds a big stone fireplace.
There is also a laundry room, heated garage, flatscreen cable TV, and heated floors to make the stay super comfortable. The 4 story silo makes this property extra unique. The first floor has a bedroom and half bath, second floor a second bathroom with two large showers, the third floor another room, and the fourth floor two bunk beds under a domed ceiling. It is almost something out of a fairytale book! Outside the barn there is another fireplace and stone patio, and just through the woods nearby is a treehouse with two rooms. During the winter, the large fields on the property are perfect for snowshoeing or cross country skiing, and in the summer the pond down the hill is great for swimming. There is no shortage of fun or adventure at this stunning barn home!