Looking for the coolest and BEST A-Frame Cabin rentals in Colorado? Well, you've come to the right place, as I've compiled this incredible guide to 9 unbelievable properties on Airbnb & VRBO that would be perfect for a unique getaway!
With its stunning natural landscape amongst the Rocky Mountains, Colorado is a nature enthusiast's dream. To enjoy some of this pristine beauty and wildlife all year round, staying in a rustic yet comfortable A-Frame secluded in nature is a no brainer.
Cozy up by a fire or hot tub after a day in the snow, stargaze at the milky way, go fishing off your front porch, or hike your way through National forests and end a day of adventure in one of these incredible and thoughtfully designed cabins. If you're looking for a staycation, adventure, complete relaxation or all of the above, these Colorado's A-Frames have you covered.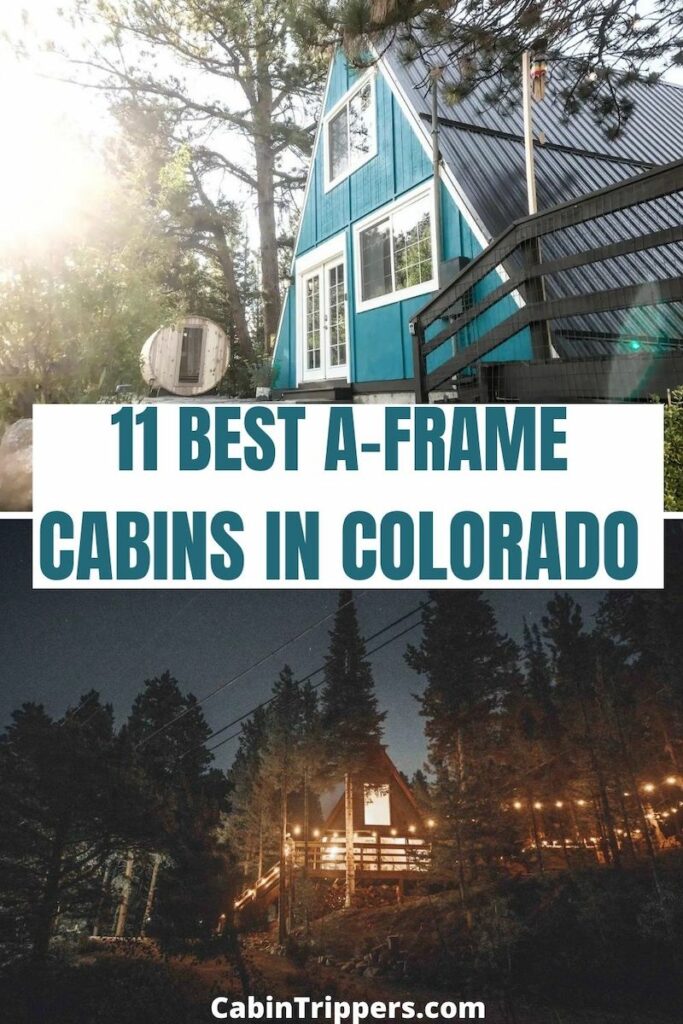 ---
Cozy A-Frame Cabin in Grand Lake
Location: Grand Lake, Colorado
Price: $250+ per night
This 1800 sq foot cabin is hard to beat with its spectacular views of Columbine Lake and the Never Summer Mountain Range. Its private and quiet location give it extra appeal. Situated near the entrance to Rocky Mountain National Park, less than 4 miles to Grand Lake, a couple hours from Denver its location is pretty unbeatable.
Its wrap around deck is one of the best spots on the property as the panoramic views and wildlife passing by are incredible. Winter time provides access to snowmobiling, cross country skiing, tubing, and snowshoeing! While during the summer, guests can partake in kayaking, paddle boarding, renting a boat, hiking, fishing, horseback riding, or golf. Talk about activities! If serenity and peace is what guests are looking for, they can surely find that here as well. With 2 bedrooms and 1 bath, the house can sleep 5 people. 
View Photos, Read Reviews & Check Availability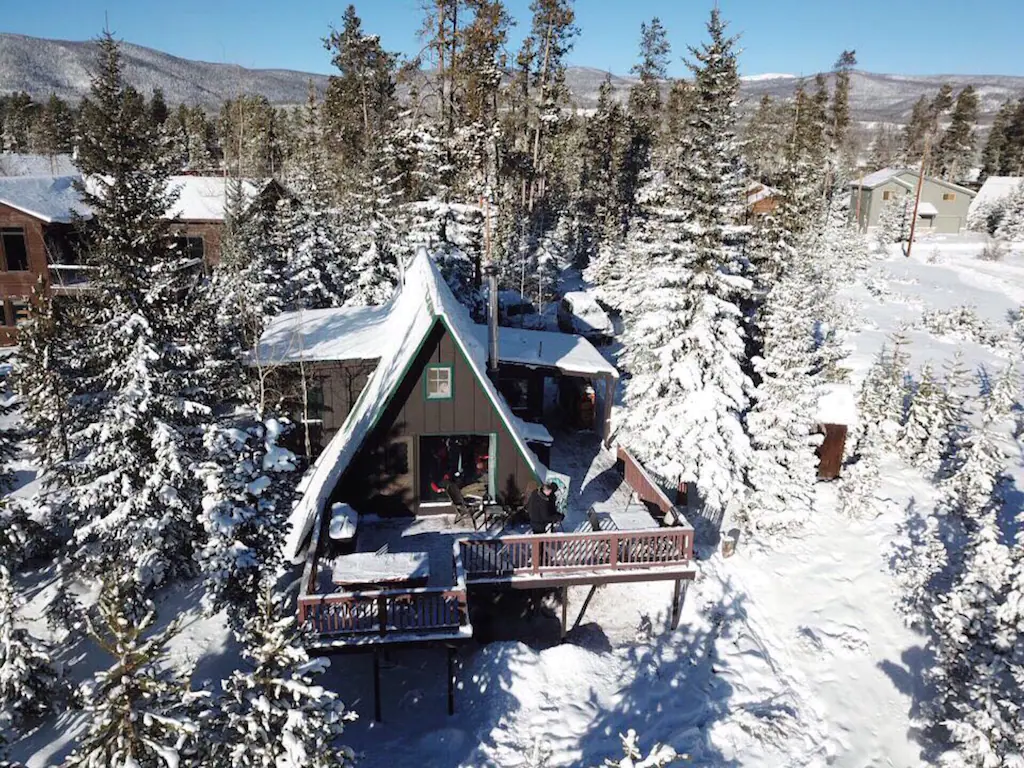 ---
A-Frame Cabin on The Blue River
Location: Silverthorne, Colorado
Price: $291+ per night
This A-Frame cabin, Riverside Drive 165, is privately situated amongst the trees along the Blue River. It has easy access to Silverthorne town while still being a proper remote getaway in nature. It's only 25 minutes to Breckenride, 20 minutes from a few different ski resorts, has easy access to the Raven Golf Course, and fly fishing access at its front steps. No matter what time of year, the nearby activities are endless!
With 2 bedrooms and 1 bath, it can comfortably sleep 4 people. The wooden floors and ceiling give a typical cozy and warm cabin feel. With a full kitchen, large living area, wood fireplace, and kitchen bar it has everything needed for a relaxing time away from city life. The outdoor area has a large deck facing the river, gas grill, seats, and a picnic table. 
View Photos, Read Reviews & Check Availability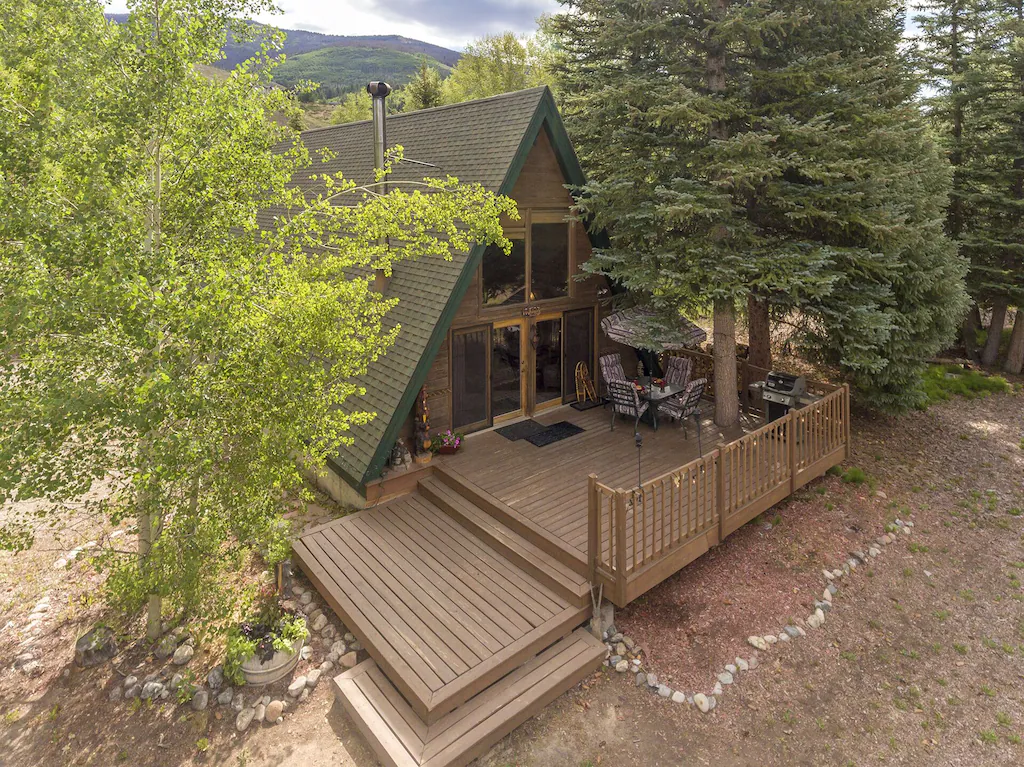 ---
High Point Hideaway 
Location: Breckenridge, Colorado
Price: $441+ per night
https://www.airbnb.com/rooms/25736385
High Point Hideaway offers a rustic yet chic getaway in the mountains of Breckenridge, Colorado. It's modern decor offers a feeling of comfort and relaxation. A wonderful place to relax in style. Quartz countertops and a spiral staircase make the space extra unique. Wi-Fi and streaming TV is available to those who need to stay connected. Outside the home tucked away within the forest is a private hot tub.
A washer and dryer, heater and air conditioning make the cabin feel like a true home away from home. Every detail has been thought about in this cabin from the wooden interior, clay mugs, and all around eye catching interior design. With 3 bedrooms and 1 bath it can sleep 6 guests.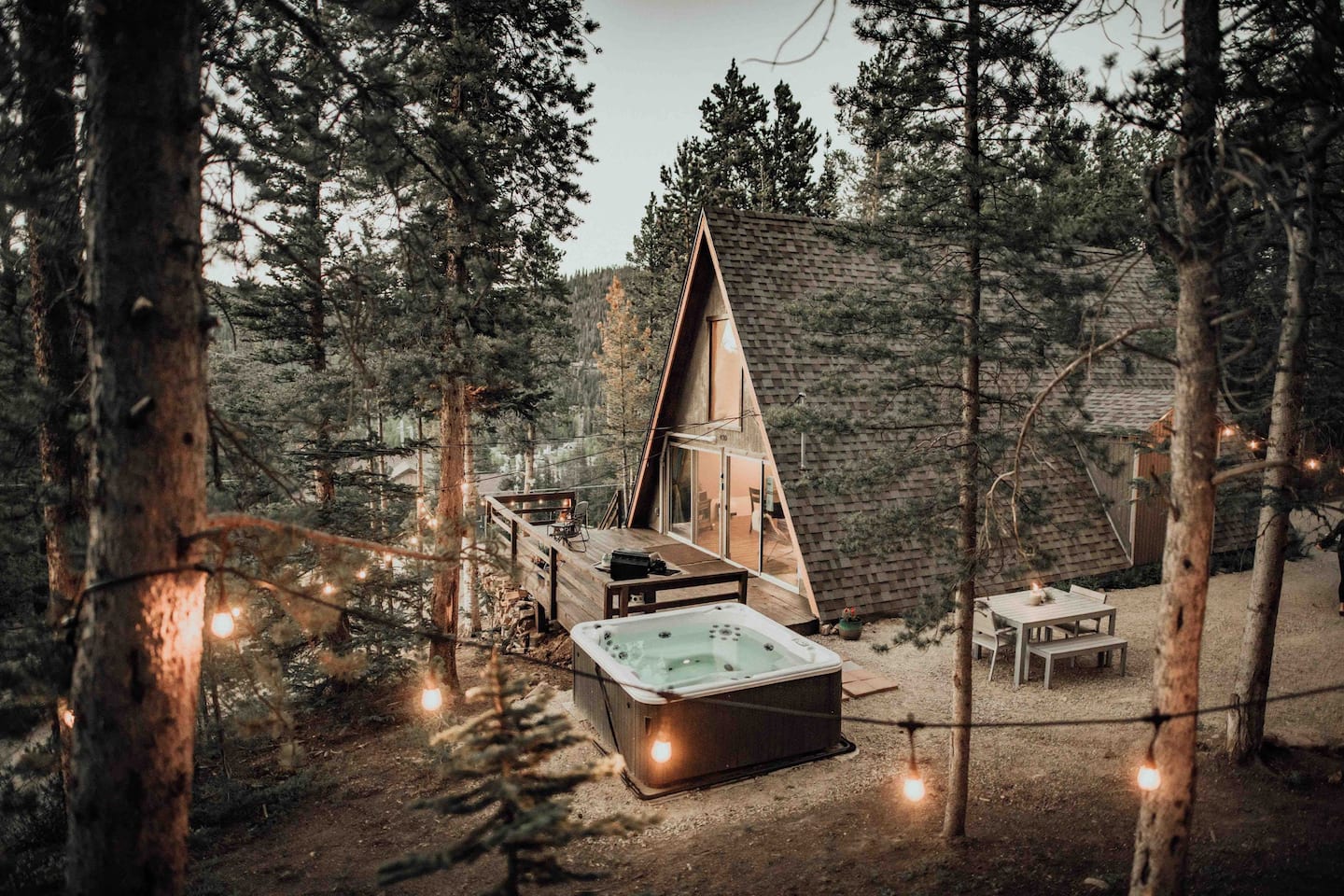 ---
The Hygge Chalet and Sauna 
Location: Grant, Colorado
Price: $230+ per night
https://www.airbnb.com/rooms/15132413
The Hygge Chalet is a must for anyone visiting the Rocky Mountains. Set at 9,000ft of elevation with 3.5 wooded acres only an hour from Denver, 40 min from Red Rocks, an hour and a half from Boulder, and an hour from multiple ski resorts, it's location is hard to beat. The cabin is inspired by hygge, the Danish word for coziness, well-being, and simple pleasures. The chalet is equipped with an outdoor steam sauna, 2 decks, comfortable beds, an indoor fireplace, and immaculate views all around. Perfect for any time of year, it's close to all sorts of outdoor activities including a private trail from the property into the National Forest! Enjoy the provided books, board games, iPad, and bluetooth speakers while hanging with friends or family. 
The cabin is 1400sq feet with an open floor plan and includes a full kitchen of granite countertops, a steel oven, and all cooking essentials. The owners even provide an organic hot drink bar of coffee, tea, and hot chocolate! Plus robes and slippers! With 2 bedrooms and 1 bath, the chalet can fit 4 guests. Both beds are memory foam queens and the bathroom has a walk-in shower with many included toiletries. The barrel steam sauna makes the chalet a one of a kind stay. It's a traditional Finnish sauna that works by pouring water onto heated rocks. The outdoor area is also cozy and comfortable with its fairy lights, picnic table, gas grill, hammocks, and Adirondack chairs. Enjoy the milky way from one of the 2 decks around the cabin. This chalet is definitely the ideal place to reset, rejuvenate, and relax with every detail intentionally curated for such an experience.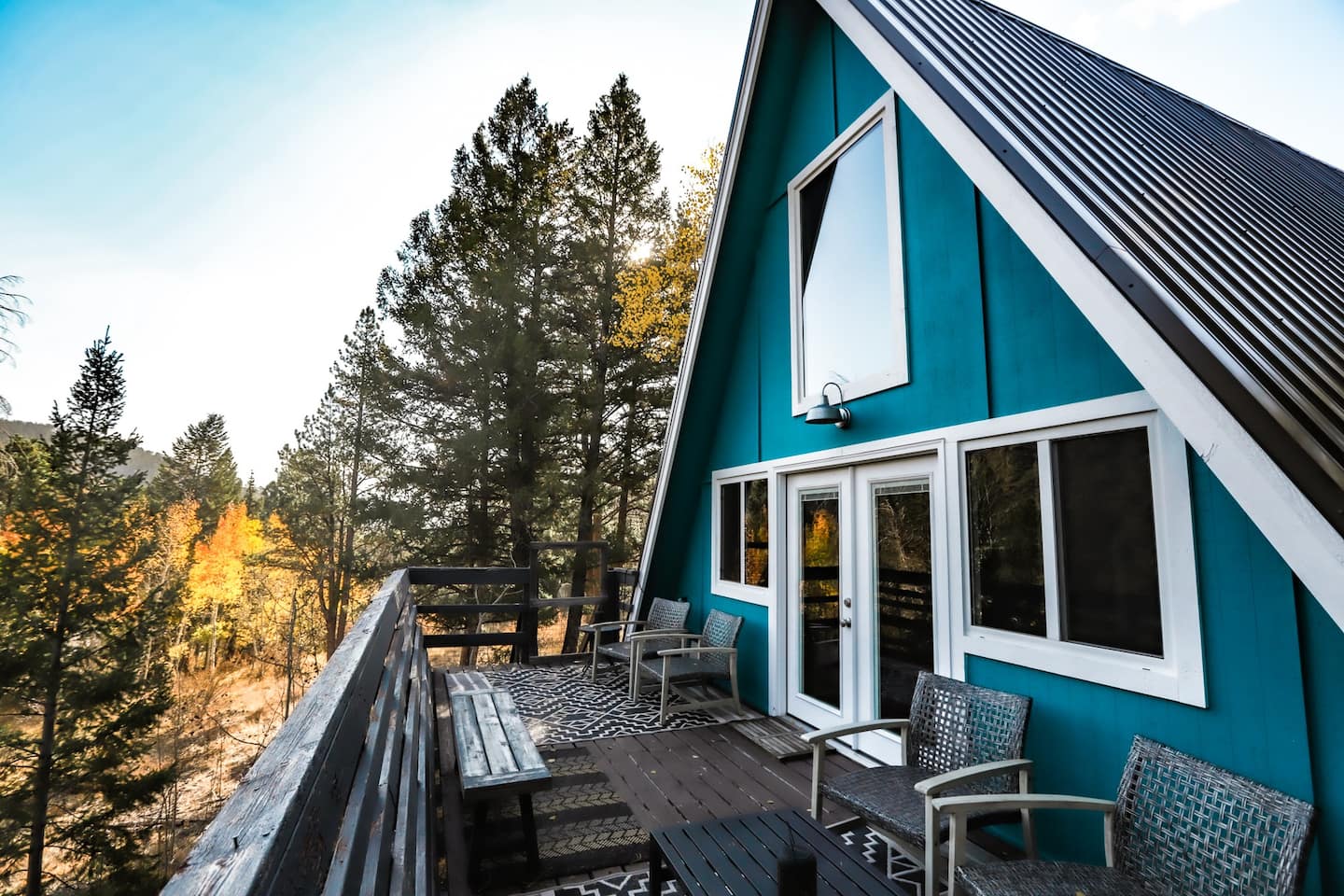 ---
A-Frame with Cedar Hot Tub and Fireplace
Location: Bailey, Colorado
Price: $216+ per night
https://www.airbnb.com/rooms/44906508
This newly renovated A-Frame cabin only 60 minutes from Denver is thoughtfully designed to help guests escape city life. The cabin has been designed with a modern yet vintage style feel.  Surrounded by ponderosa pines and friendly deer, it provides a true escape in nature.
With 2 bedrooms upstairs, the property can sleep 4 guests. Downstairs provides a fully stocked kitchen, open living room, gas fireplace, TV room, and bathroom. Outside, the cedar hot tub is a perfect place for stargazing! For the adventure enthusiast this cabin has everything covered.
With nearby scenic hikes, a fishing lake, and disc golf course, there is no shortage of activities to do and the owners also provide recommendations and basic gear for adventures. For entertainment at the cabin, there is a cozy deck, horseshoes, picnic table, puzzles, books, Wi-Fi and games. The owners also do their best to conserve energy by offering eco-friendly toiletries, LED lights, and more.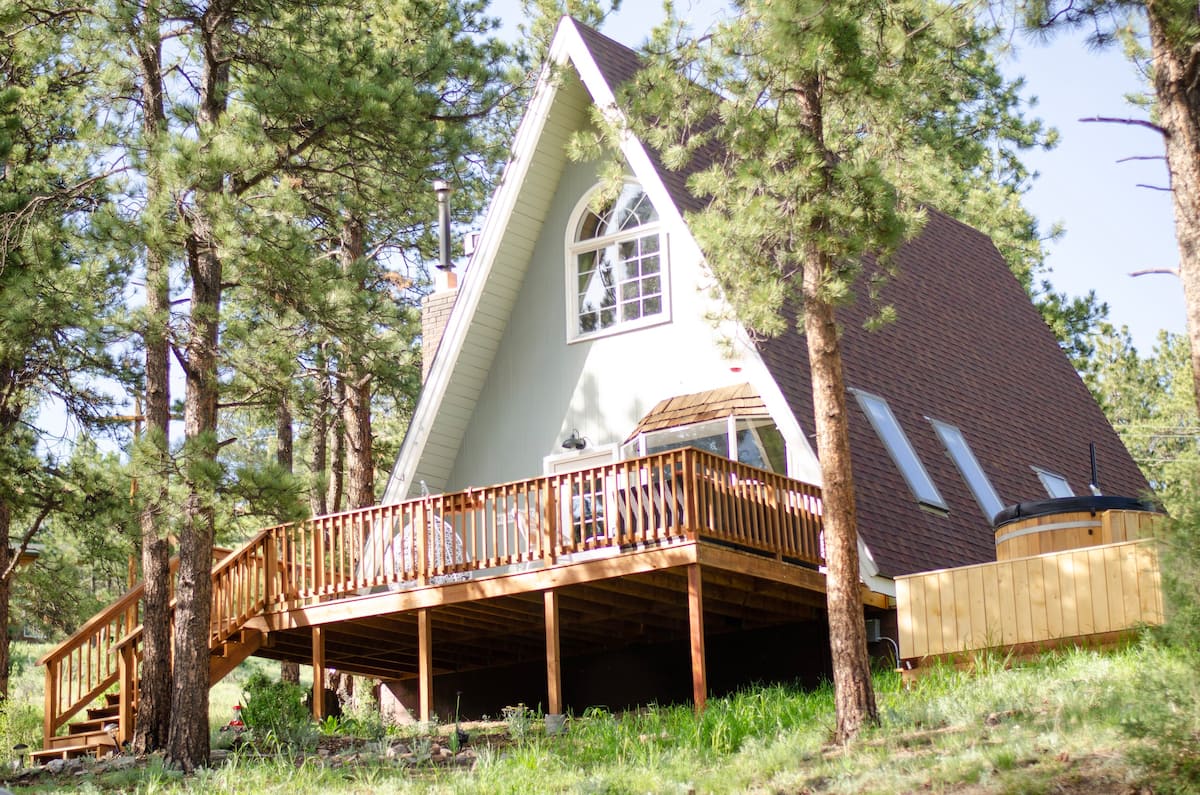 ---
Classic Colorado A-Frame on the creek
Location: Grand Lake, Colorado
Price: $250+ per night
https://www.airbnb.com/rooms/30312005
This classic A-Frame is so charming! With white and wooden walls, it feels spacious and homey. Ideal for families or groups of friends, the cabin has 4 bedrooms, 2 bathrooms, and can sleep 12 guests. The first floor is made up of the living room, dining space and kitchen. Large decks off the front and back of the house make for plenty outdoor hang time.
After a day of adventuring, relax and take in the views and listen to the sound of the creek in the adirondack chairs by the portable fire pit. With plenty of space and even a basement, this A-Frame is especially appealing for those with kids. It is located only a mile from Grand Lake town and plenty of recreational activities for those who want to get out and about.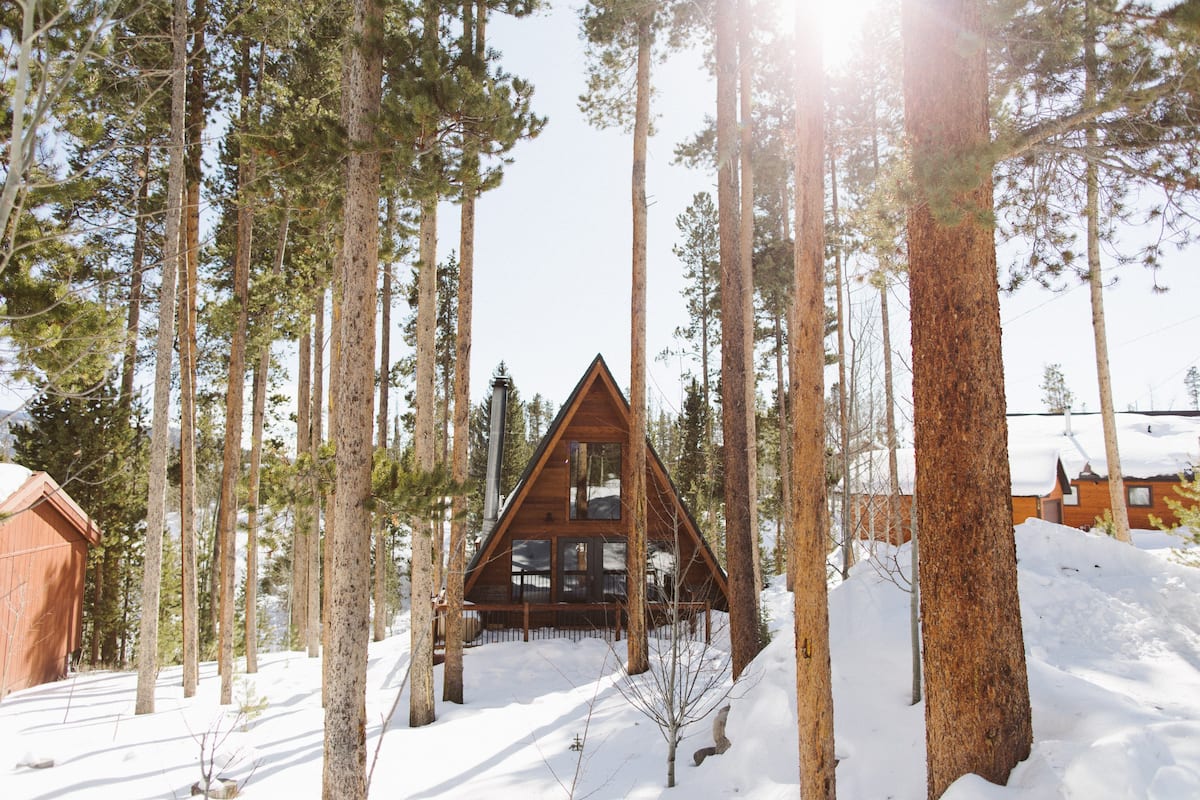 ---
A-Frame Cabin with Panoramic Views
Location: Jefferson, Colorado
Price: $216+ per night
https://www.airbnb.com/rooms/45435470
Sitting atop a 3 acre property with no neighbors in sight, this Triangle House is perfect for those looking for solitude. Located an hour and a half from Denver, this charming and rustic A-Frame is an ideal spot to relax and soak up the beauty of the mountains.
With stunning panoramic views through the large windows, this quaint cabin is a reminder of the vastness of the natural world. With a fully stocked kitchen, renovated bathroom, spacious lounge area, upstairs loft bedroom, sleeper sofa, and back patio, this cabin is a perfect retreat space for couples. Both beds are comfortable memory foam to ensure restful nights.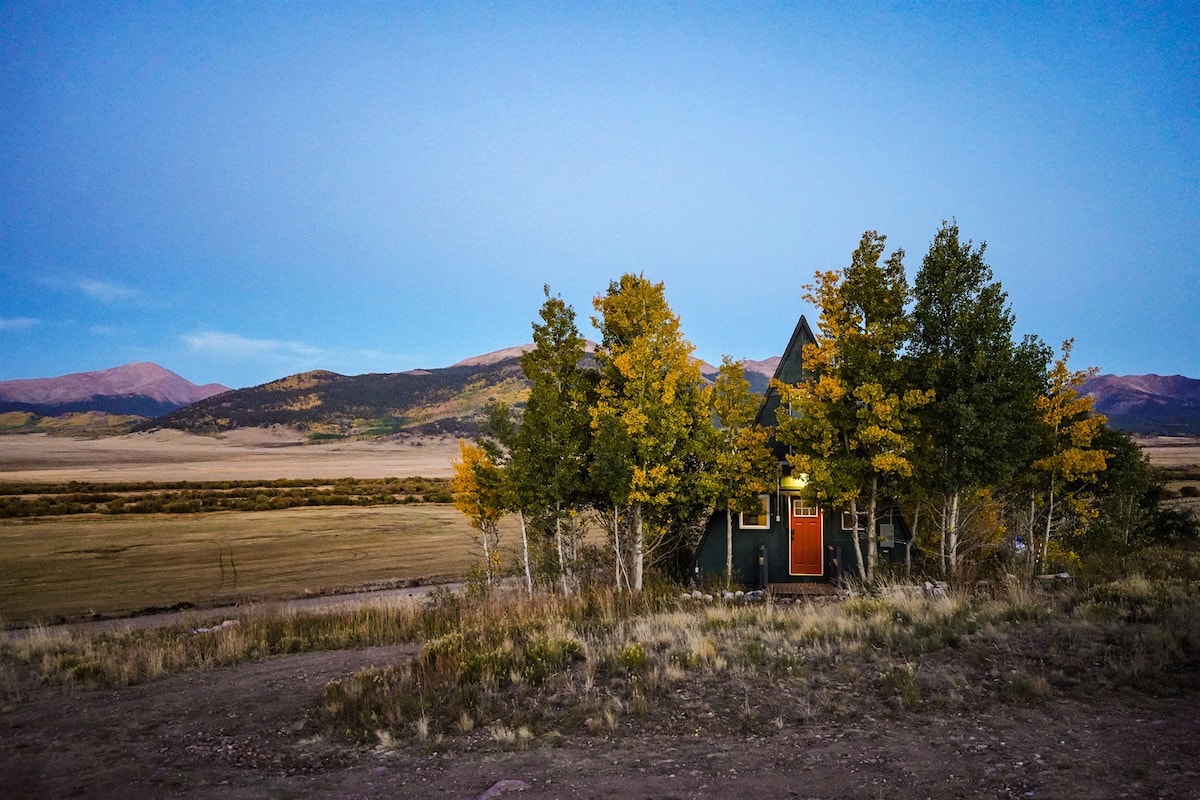 ---
Spacious Alpine A-Frame
Location: Summit County, Colorado
Price: $500+ per night
https://www.vrbo.com/vacation-rental/p1107112
This giant A-Frame just north of Breckenridge is an incredible house for a reunion or family gathering as it can sleep 14 people! Its modern design, colorful artwork, white interior, and spaciousness give it a comfortable, easy living feel. The many windows around the property offer plentiful light and beautiful views of surrounding mountains and forest.
With a hot tob, spacious deck, surround-sound, wine bar, and multiple living areas, guests will have no trouble enjoying their stay here. Located far enough away to avoid crowds but only a short drive from ski resorts, Fun Parks, and other activities, it's a combination of serenity and convenience. The house has 5 bedrooms with 2 king beds, 2 queen beds, and 2 bunk beds, 3.5 baths, a loft, 2 living rooms, washer and dryer, indoor fireplace, open kitchen, wrap around patio and a garage. 
View Photos, Read Reviews & Check Availability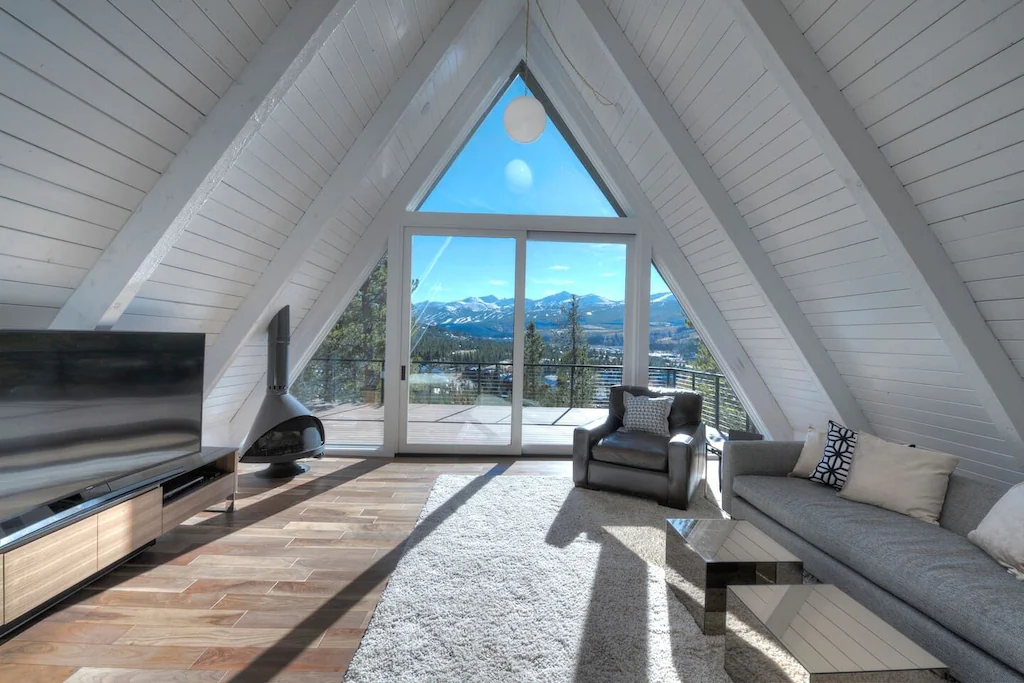 ---
A-Frame Cabin with Mountain Views
Location: Teller County, Colorado
Price: $124+ per night
https://www.vrbo.com/4750848ha
This charming 1300 sq foot A-Frame cabin is perfectly tucked away in the forest outside of Cripple Creek. Although it's a 1 bedroom, 1 bath it can fit 4 to 7 guests with 3 beds and a futon. The surrounding mountain views are unparalleled.
It is a true cabin in the woods. With privacy and a secluded feeling perfect for relaxing, it is still only 4 minutes from Cripple Creek town and a short drive to Mueller State Park and Even Mile State Park for some of Colorado's best hiking. It's also close to the Colorado Wildlife Center and Florissant Fossil Beds National Monument for those interested in other activities.  
The large deck makes for a great place to start the morning and the living room with a flat-screen TV and wood burning stove is a cozy and inviting place to lounge in the evenings. The kitchen is fully equipped for home cooked meals with spots to enjoy meals inside or out.
View Photos, Read Reviews & Check Availability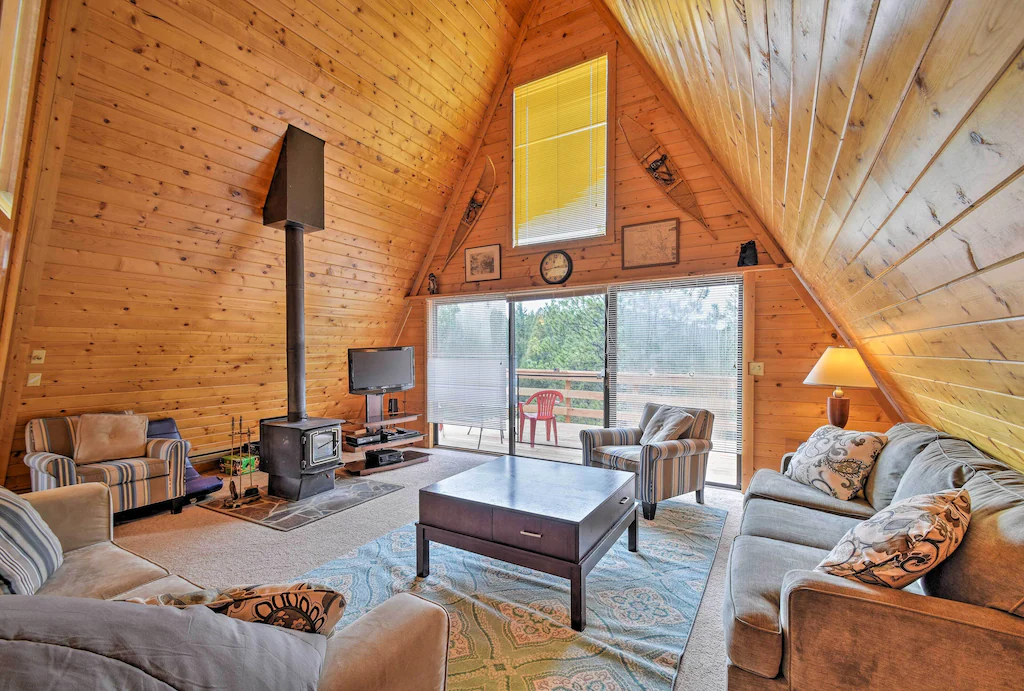 ---
Thanks so much for reading! Did you find the perfect A-Frame cabin for your upcoming trip? Let me know!
Share this article with your Colorado cabin crew!