Experience a peaceful heaven on earth retreat when you visit one of the incredible secluded cabins in West Virginia, because the roads leading to this Mountain State will bring you a little closer to heaven – West Virginia.
With its Blue Ridge Mountains, lush green forests, rushing waters and cascading waterfalls, it's the perfect playgrounds for hiking, camping, caving, rock climbing, whitewater rafting, boating, and fishing. Apart from the beautiful landscapes and natural wonders waiting to be explored, West Virginia can also give you a lovely vacation. It is full of great bars, restaurants, museums and galleries, and even festivals. Indeed, this beautiful place lives up to its motto "Wild and Wonderful." 
John Denver is right, West Virginia is "almost heaven". Experience this beautiful state's splendor while staying in a cabin that offers a blend of nature and comfort at the same time. I have found 15 secluded cabins that will serve as your home and complete your entire vacation in West Virginia. 
Also, be sure to read my guides on the Coolest Cabin Rentals in West Virginia, Secluded Cabins in Virginia, and Romantic Cabins in Hocking Hills For Two for more amazing cabin accommodation in the area!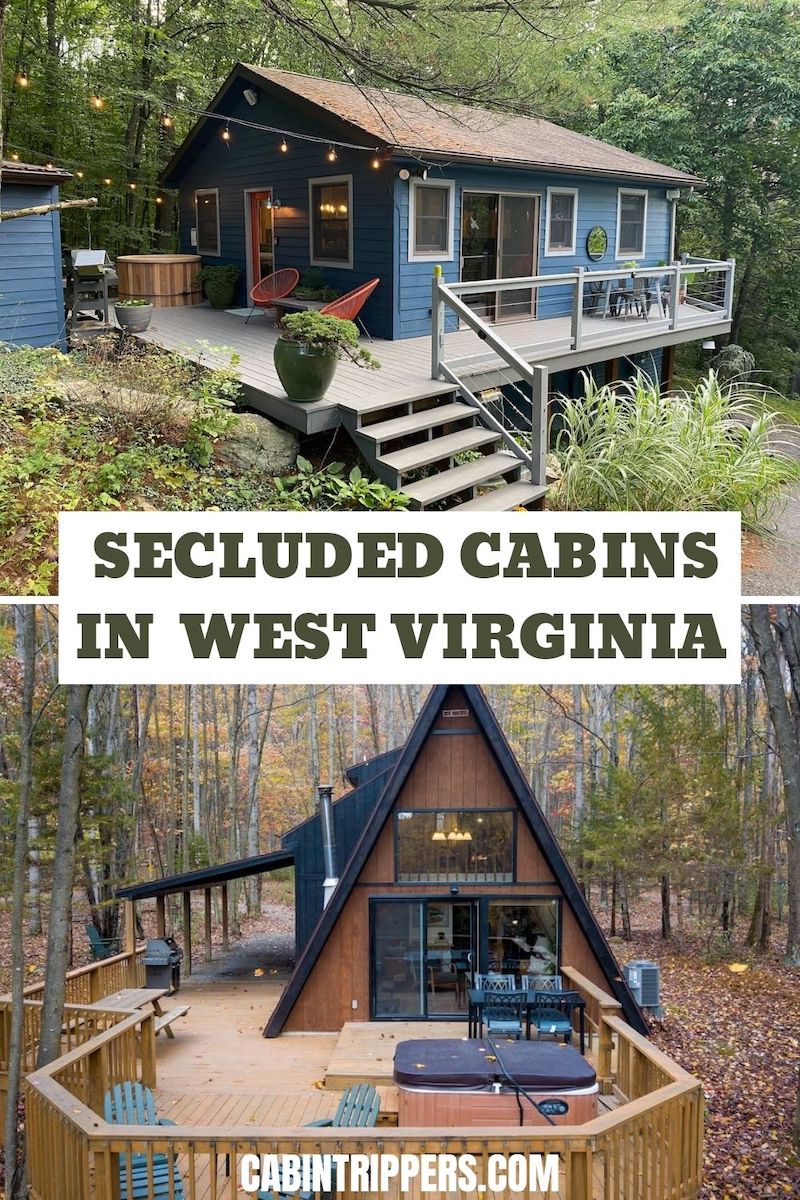 ---
Dreamtime Modern A-Frame Cabin with Hot tub
Location: Berkeley Springs, West Virginia
Price: $241+ per night
https://www.airbnb.com/rooms/53114961 
Share this luxurious A-frame cabin with your best couple and go on a romantic adventure. The expansive windows in Dreamtime allow you to appreciate it all – from the outside you can see how beautiful the entire cabin is decorated, while from the inside you can see the breathtaking surroundings. It is located in a secluded area in Berkeley Springs but allows guests easy access to nearby trails and attractions like Berkeley Springs Brewing Co. and Cold Run Valley Winery, as well as Great Cacapon State Park. 
Dreamtime cabin features 2 bedrooms,  a well-equipped kitchen with stainless steel appliances, quartz countertops, and coffee machine for your everyday coffee fix. On colder days, you can gather around the wood fireplace while enjoying each other's company. Soothe your muscles in the outdoor hot tub after a full day of exploring.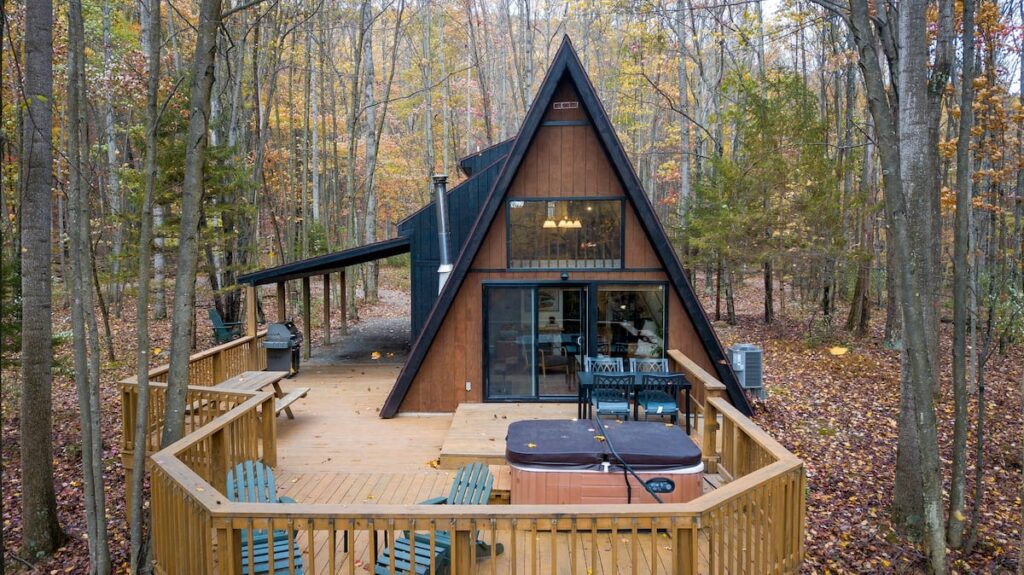 ---
Santi's Lost Stream Secluded A-Frame Cabin
Location: Wardensville, West Virginia
Price: $153+ per night
There are plenty of rental cabins in West Virginia to choose from, and Santi's Lost Stream is one of the most exceptional retreats you can book for your visit. Nestled in the wooded hillsides of George Washington National Forest, this A-frame cabin escape is the perfect base to enjoy all the area has to offer from fishing, to hiking, to cycling, and more.
Santi's Lost Stream features 3 bedrooms (all are provided with comfortable beds) that are elegantly rustic and decorated with some vintage pieces, a well-equipped kitchen, a spacious living/dining area that leads out onto a large deck nestled among the treetops. While this cabin is the perfect place to fully unplug and unwind, guests have access to WiFi, as well as a large screen LG smart TV with access to Netflix, Hulu, and more.
View Photos, Read Reviews & Check Availability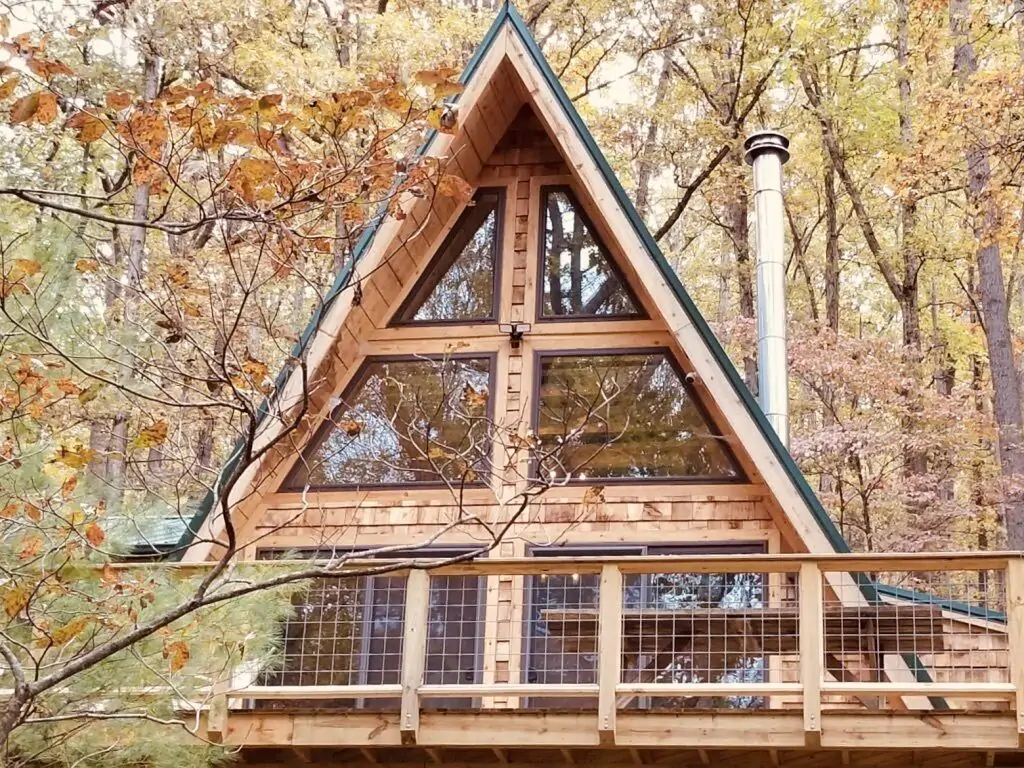 ---
Charming Glamping Experience in the West Virginia Mountains
Location: Riverton, West Virginia
Price: $113+ per night
Dreaming of camping, the luxurious way? Glamping is so much better! Somewhere in Riverton, West Virginia, this charming cabin offers a glamping experience.
From the porch, you have a view of the woodlands; the picnic area has tables, firepit, and outdoor griller. Inside the studio cabin, it is furnished with a comfortable queen bed, a kitchen and dining, and a full bath. It also features electric heat and AC. Spend your days exploring attractions like Spruce Knob, Seneca Rocks, and Dolly Sods. 
View Photos, Read Reviews & Check Availability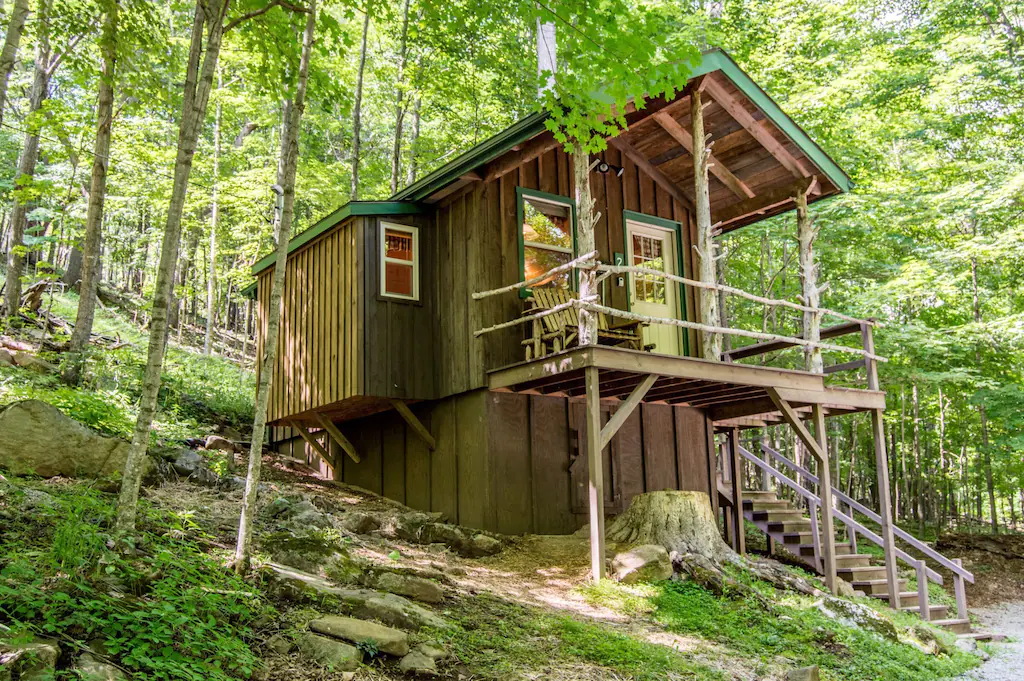 ---
Lake View Chalet in Alpine Lake Resort
Location: Alpine Lake, West Virginia
Price: $228+ per night
https://www.vrbo.com/7051291ha
Spend a fun holiday with family and friends in this chalet-style home located in Alpine Lake, West Virginia. Here, you can enjoy activities like swimming, a boat ride, the beach, a picnic pavilion, a 18-hole golf course, tennis court, cross country skiing and fishing. 
With three bedrooms, 2 full bath and half bath, Lakefront can comfortably accommodate and sleep 8 guests. Lakefront also features luxurious amenities including a massage chair, heated toilet seats and bidets, easy-to-use smart TV. The views are best enjoyed from your own private cedar tub. At the end of the day, guests can gather around the firepit while making smores. 
View Photos, Read Reviews & Check Availability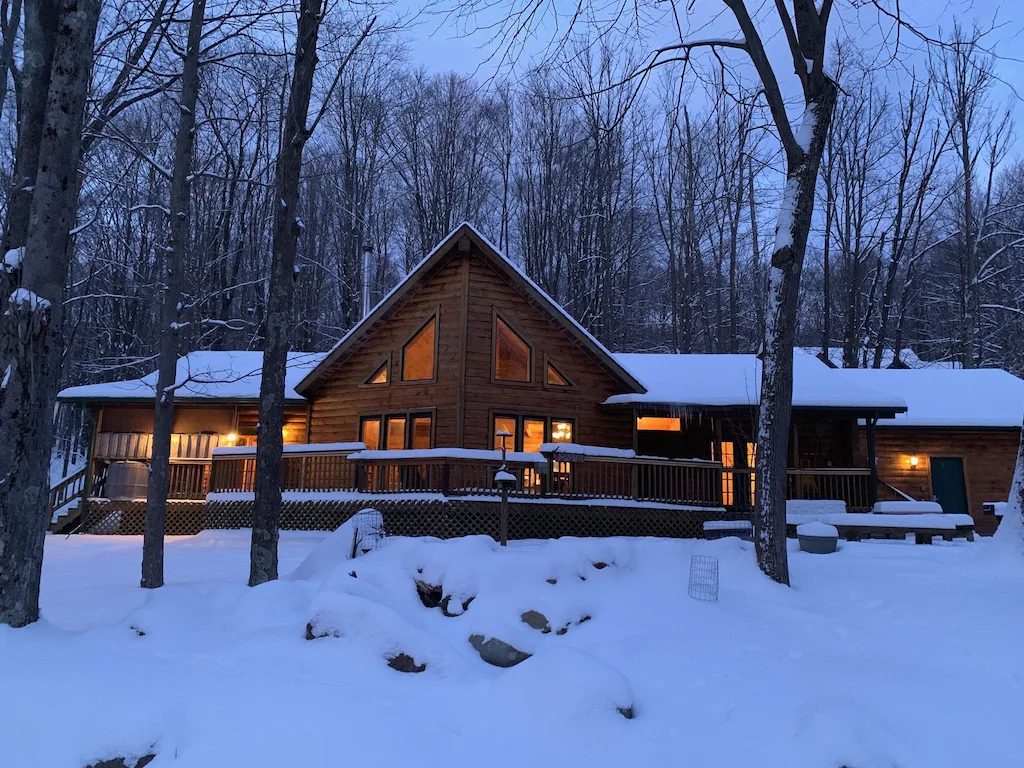 ---
'Hooah' Cabin Retreat
Location: St. George, West Virginia
Price: $156+ per night
https://www.vrbo.com/9508319ha
Immerse yourself in the natural beauty of West Virginia when you stay in "Hooah" Cabin Retreat. 
Inside, there's room for six to sleep with a full bed, twin bunk bed (and sleeper sofa in the living room). Hooah Cabin comes with a flat-screen TV w/ Netflix, DVD player, books, central heating, ceiling fans, roll-in shower w/ grab rails, bathroom essentials. The kitchen is well equipped and features a drip coffee maker, Crock-Pot, dishware/flatware, full knife set, hot water pot, microwave, toaster. Whether you're seeking rest or play, this spacious retreat will provide a wonderful vacation experience for you, your family and friends.
View Photos, Read Reviews & Check Availability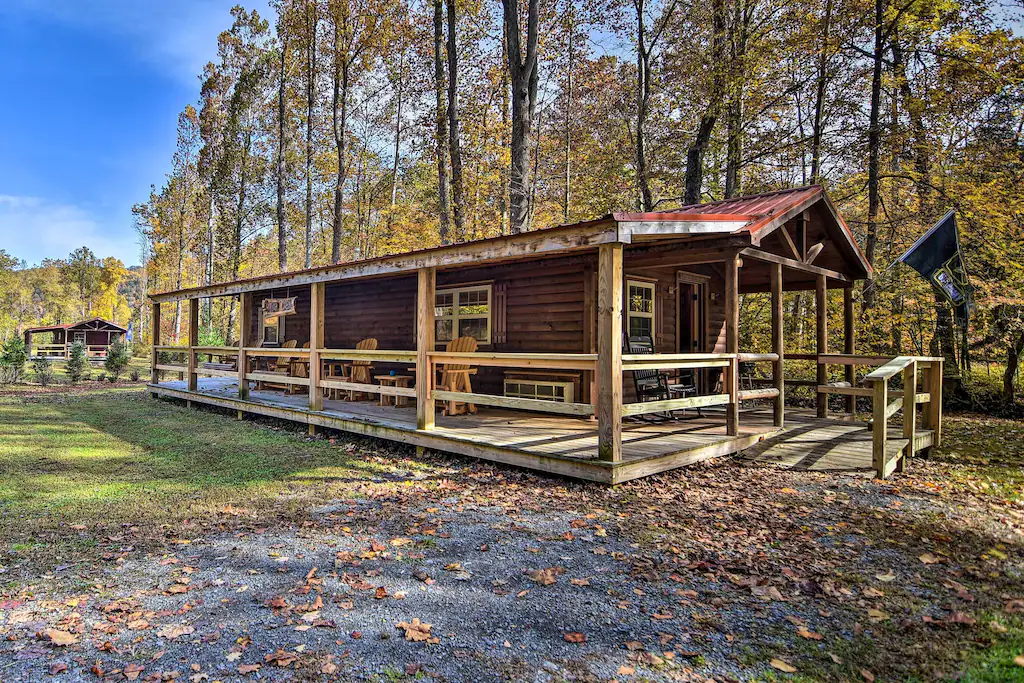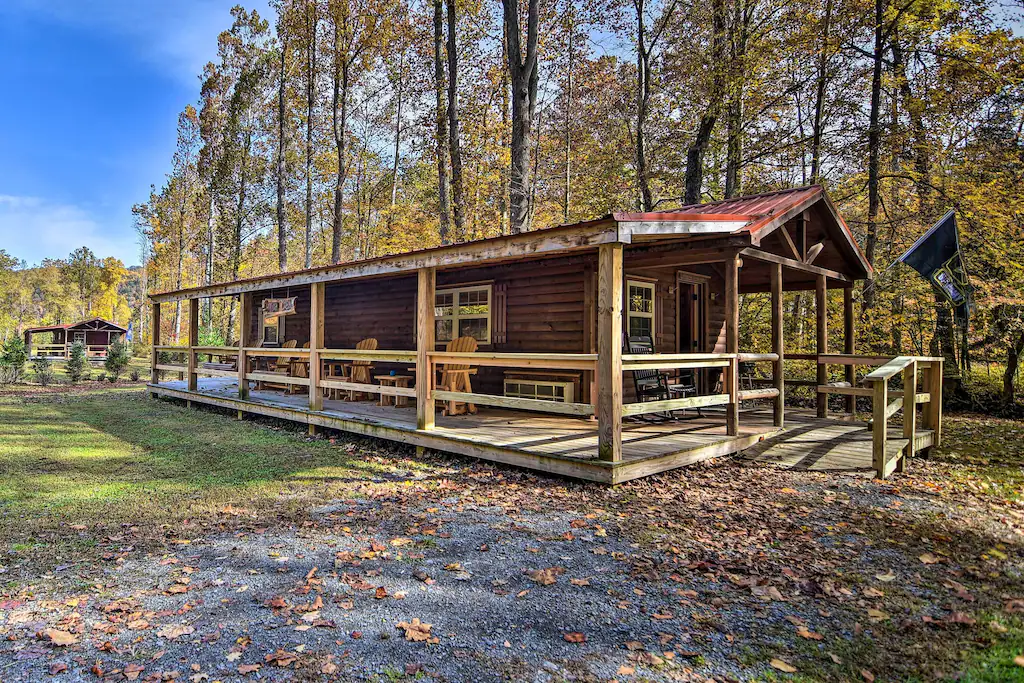 ---
Homey Alpine Lake Chalet Getaway
Location: Terra Alta, West Virginia
Price: $327+ per night
https://www.vrbo.com/9290886ha
This mountainside chalet is ideal for families or friends traveling together. Located in Alpine Lake Resort, Terra Verde Chalet provides comforts of a home and access to different outdoor adventures without going out of the resort. 
The space itself features five bedrooms (with 3 queen beds, 3 sets of twin bed, and a full bunk bed), four full bathrooms, an open floor plan indoor living and kitchen with island seating. Guests have access to the community amenities: lodge w/ fitness center & indoor pool, golf course, cross-country skiing & snowshoeing trails, sledding hills. 
View Photos, Read Reviews & Check Availability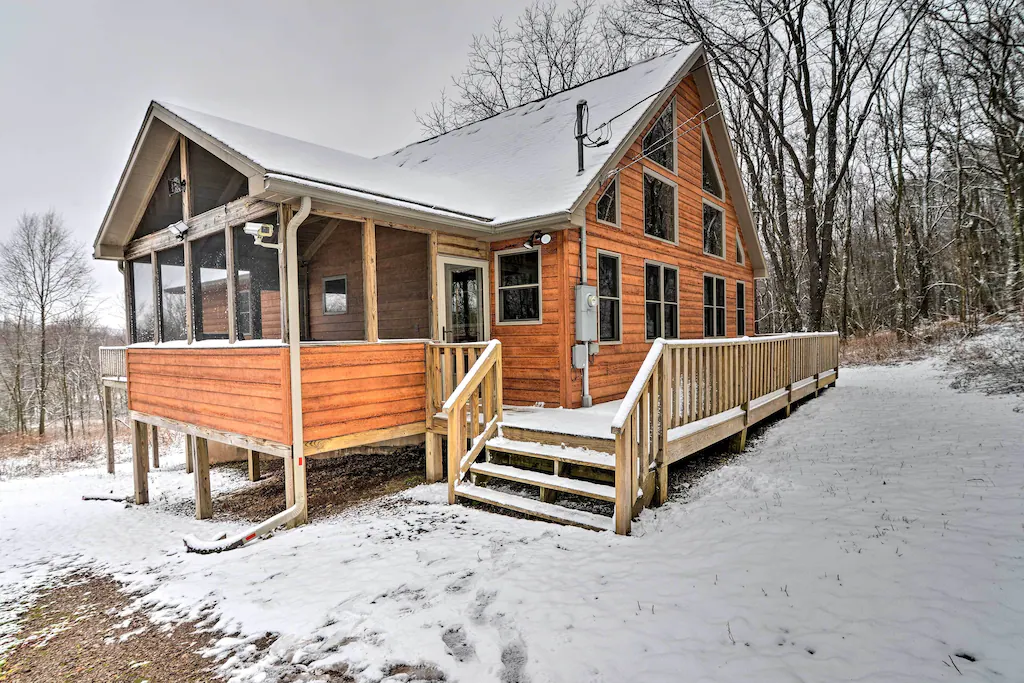 ---
Cozy 'Anchors Away' Secluded Cabin Hideaway
Location: St. George, West Virginia
Price: $174+ per night
https://www.vrbo.com/9508321ha
Anchors Away is the perfect destination for families and friends looking to enjoy the great outdoors. Experience activities like hiking through Blackwater Falls State Park or fishing off Scotts Ford Fishing Pier, or just soaking in the scenic views at Lindy Point. 
The cathedral ceilings and rustic decor completes the cabin's character. Anchors Away both have indoor and outdoor living. Indoor living features a one bedroom and a sleeper sofa, a full bath, kitchen and dining. Outside, there is a wraparound deck that offers nature views, large yard w/ picnic table & fire pit. 
View Photos, Read Reviews & Check Availability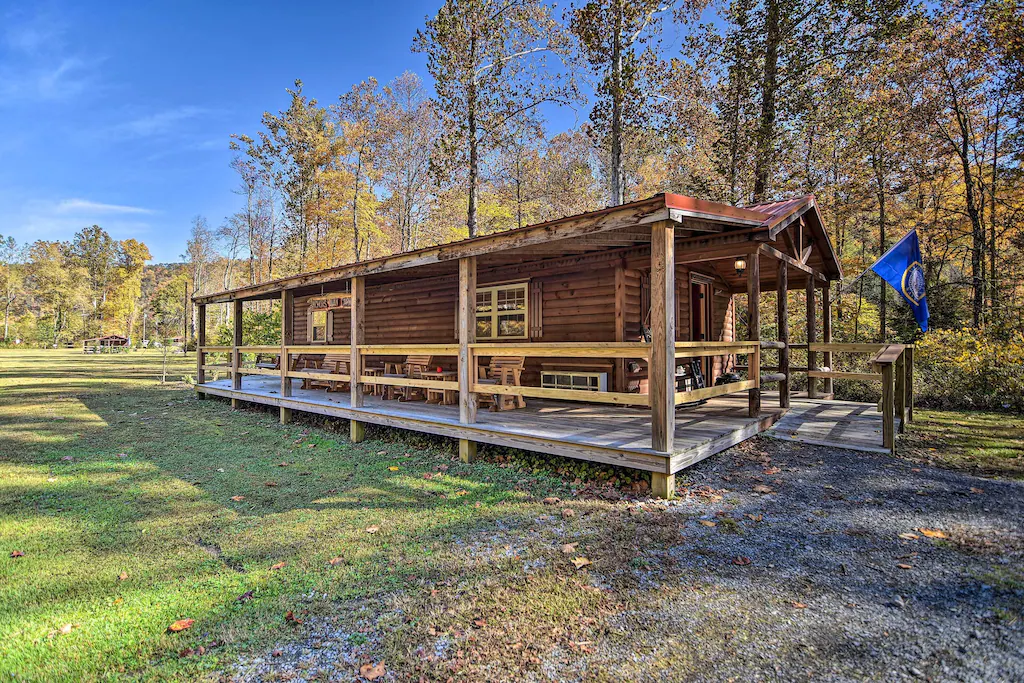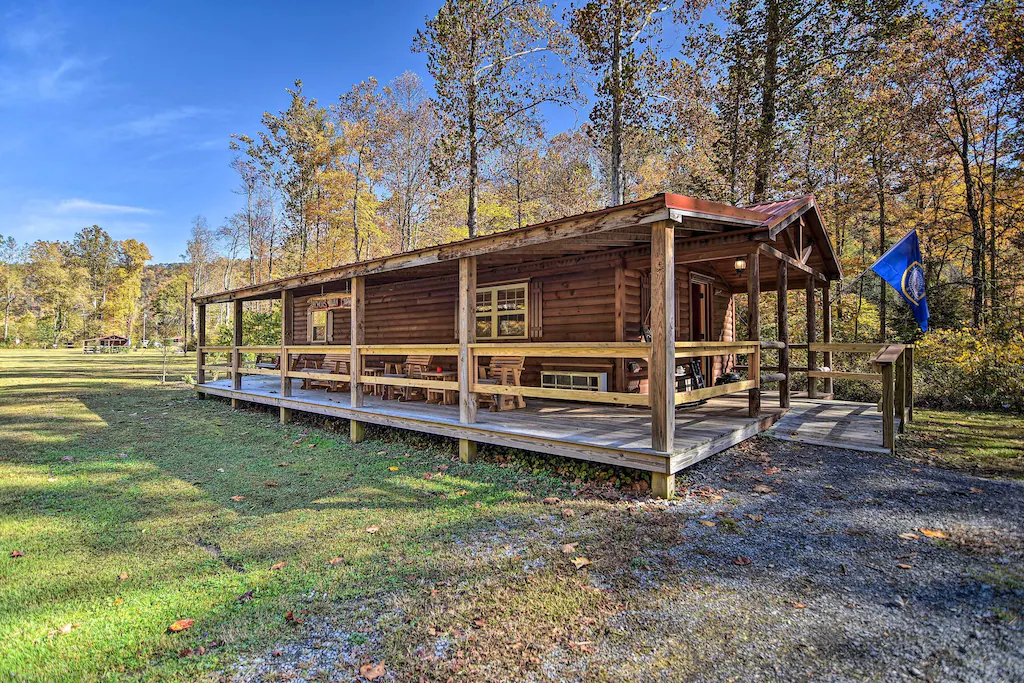 ---
Lost River Modern Secluded Cabin Retreat
Location: Lost City, West Virginia
Price: $260+ per night
https://www.airbnb.com/rooms/14217 
Previously featured in Dwell Magazine, you'd never know from this modern prefab cabin that it is actually a treehouse. Set in scenic Lost River, West Virginia, LRM offers space for 6 guests (including a bunk room for kids) and plenty of amenities for all ages.
The spacious deck offers guests views of the woods in different seasons; it also features a walk-out basement, 2 bedrooms with queen beds, 2 bathrooms, a living space and a media room. Watch the stars from the Dutch hot tub, enjoy a BBQ party on the back deck or sink into the plush couch while getting warm from the fireplace.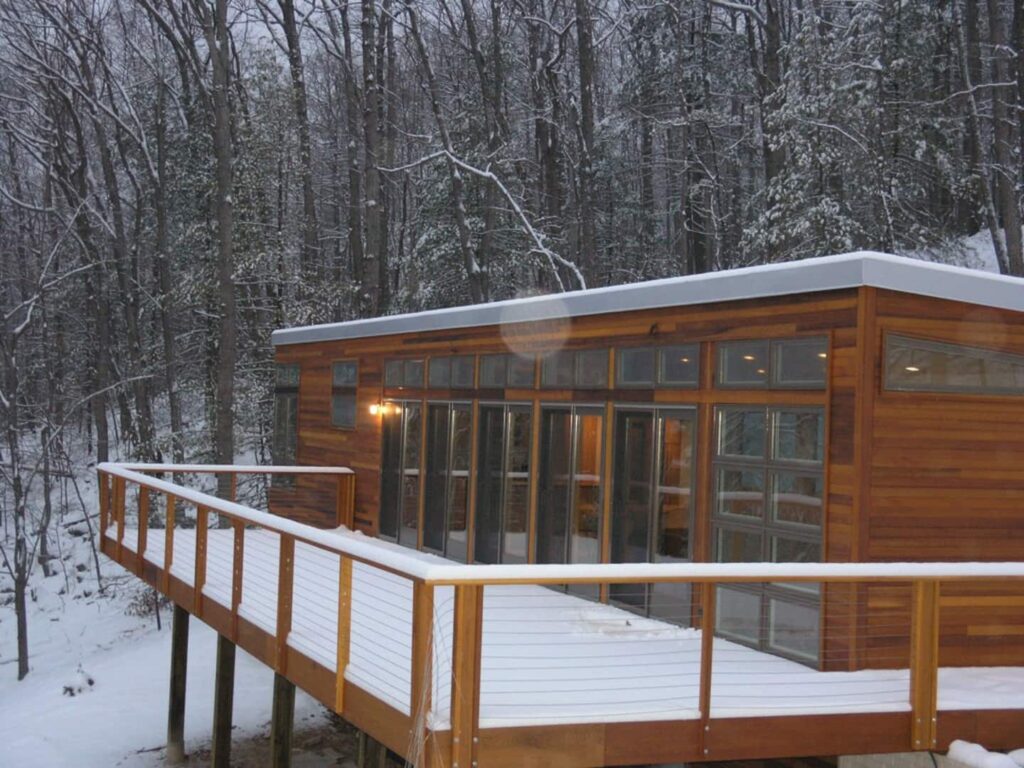 ---
Rivers Edge Relaxing Secluded Log Cabin
Location: Marlinton, West Virginia
Price: $155+ per night
https://www.airbnb.com/rooms/43498623 
This log cabin built in the river's edge promises beautiful views of the Greenbrier River. It provides a special atmosphere for a small family looking to spend a fun getaway in West Virginia. The cabin sleeps 6 guests, with one queen bed on the main floor and two twin beds in the loft area. The cozy front porch is an ideal spot to wind down during the evenings, while the large concrete pad located directly under the cabin is set up for outdoor entertainment. Located just a few miles from Snowshoe, guests can spend the day skiing and come back to a warm and homey cabin.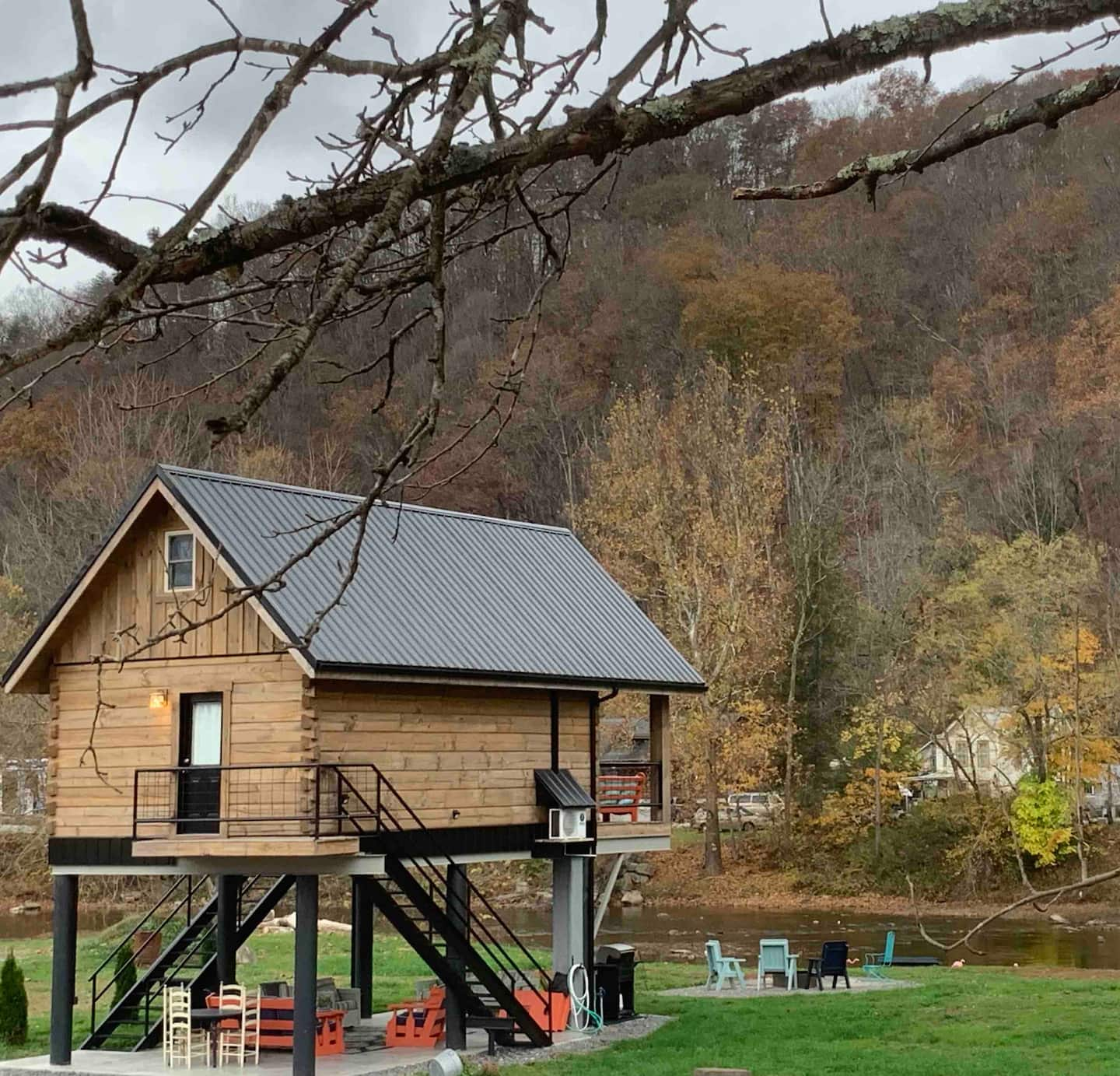 ---
Lost River Blackbird A-Frame Secluded Cabin
Location: Wardensville, West Virginia
Price: $299+ per night
https://www.airbnb.com/rooms/38094862 
Lost River Blackbird is undoubtedly one of the favorite Airbnb's in West Virginia. It has earned a 5-star rating and more than a hundred reviews from guests. This A-frame cabin offers you a "family retreat from the city". You can easily prepare meals in the fully equipped kitchen. Gather around the dining room table for quality time, then hang out in front of the fireplace in the living room. From the deck, you'll find a small café table with seating for four, as well as the six-person hot tub,  and an amazing view of the woodlands.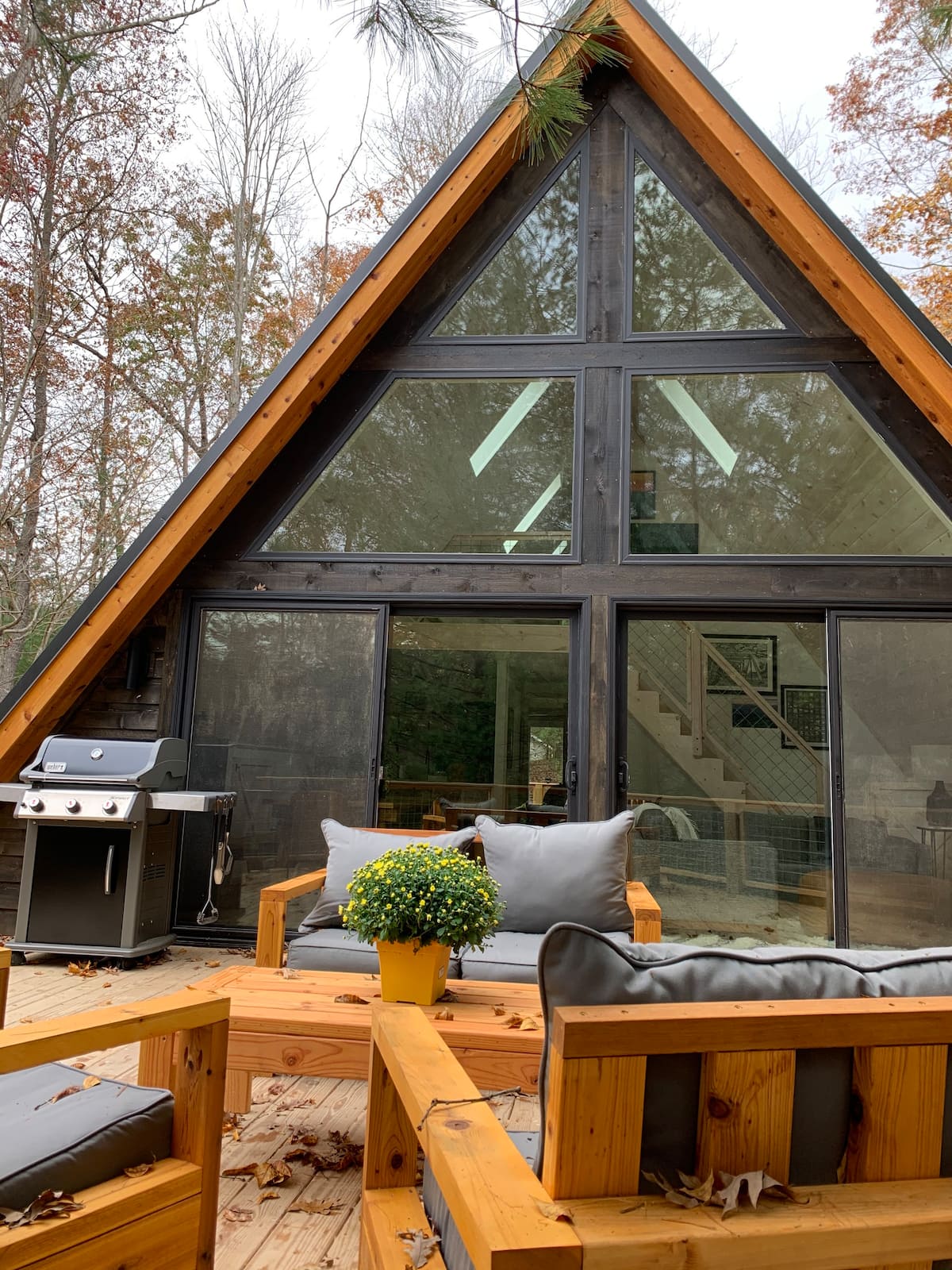 ---
King Cabin Secluded Getaway with Hot Tub
Location: Davis, West Virginia
Price: $232+ per night
https://www.airbnb.com/rooms/21309824 
For a romantic getaway, stay at King Cabin – a luxurious log cabin located in the Potomac Highlands in West Virginia. It is built with a goal to provide couples the perfect place to unwind, relax, and fall in love all over again. 
A well-equipped kitchen, a charcoal grill,  a flat screen TV, washer & dryer, WiFi all among King Cabin's amenities. With features such as an outdoor hot tub, selection of romantic CD's, a cozy gas log fireplace, and luxurious bed linens, you would not want to go out. If you decide to explore, King Cabin is five minutes from skiing at Canaan Valley State Park, Timberline Resort and Whitegrass.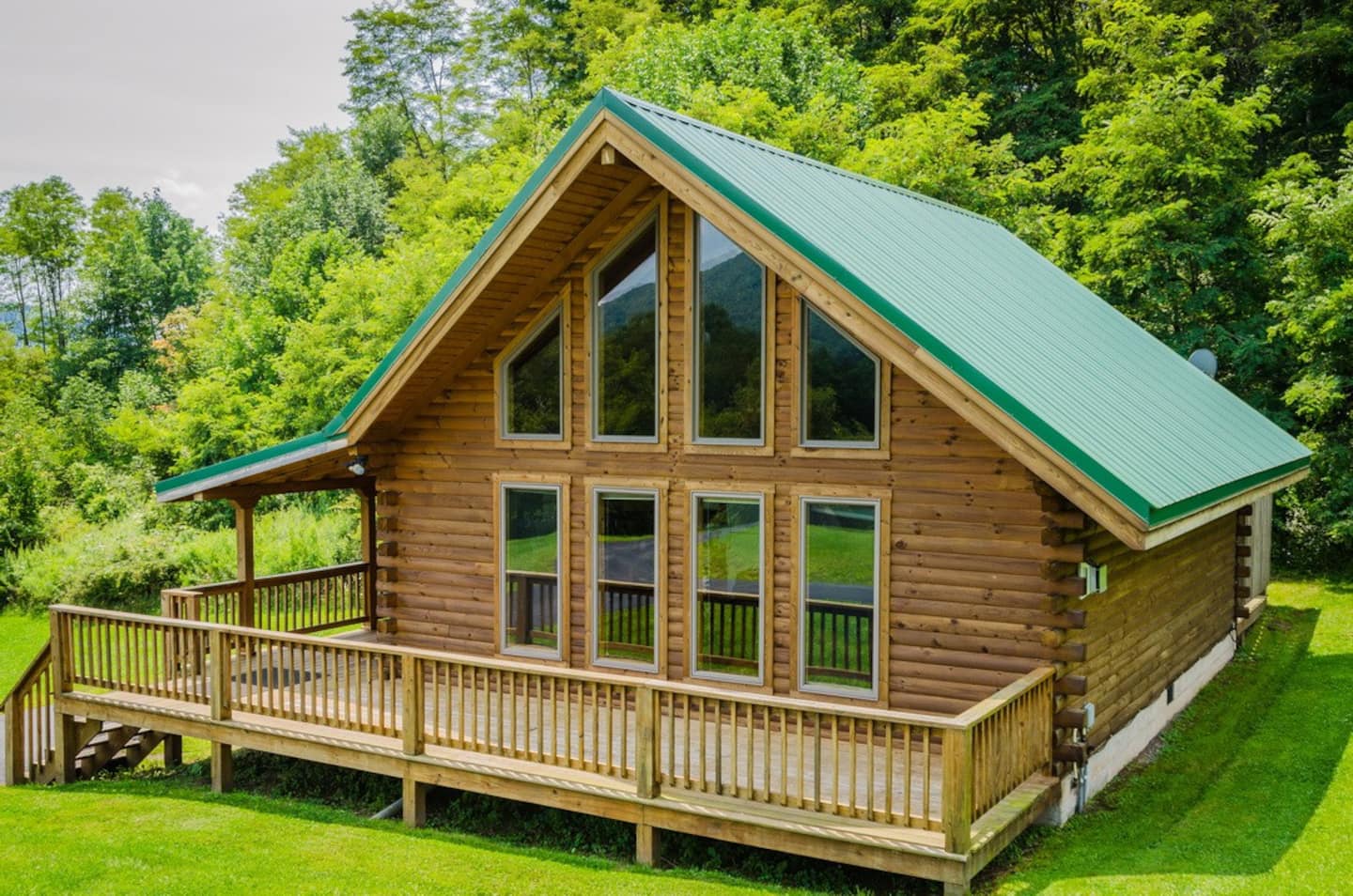 ---
The Davis Loft
Location: Davis, West Virginia
Price: $120+ per night
https://www.airbnb.com/rooms/49658172 
The Davis Loft is built with inspiration from mid century architecture and then filled with modern touches. This loft is nestled in the heart of one of the most beautiful mountain landscapes in West Virginia, meaning there are opportunities to access attractions like Blackwater Falls State Park, Davis town, and experience activities like hiking and skiing. 
The house itself is an architectural treat: openable skylight, "crows nest" above the bed (reached by ladder) and decorated with beautiful, local West Virginia art. It highlights amenities including two TVs, Wi-Fi throughout, full-sized fridge, outdoor patio with warm string lights, gated sitting area in the sun, full-size shower and pull-out table to use with barstools.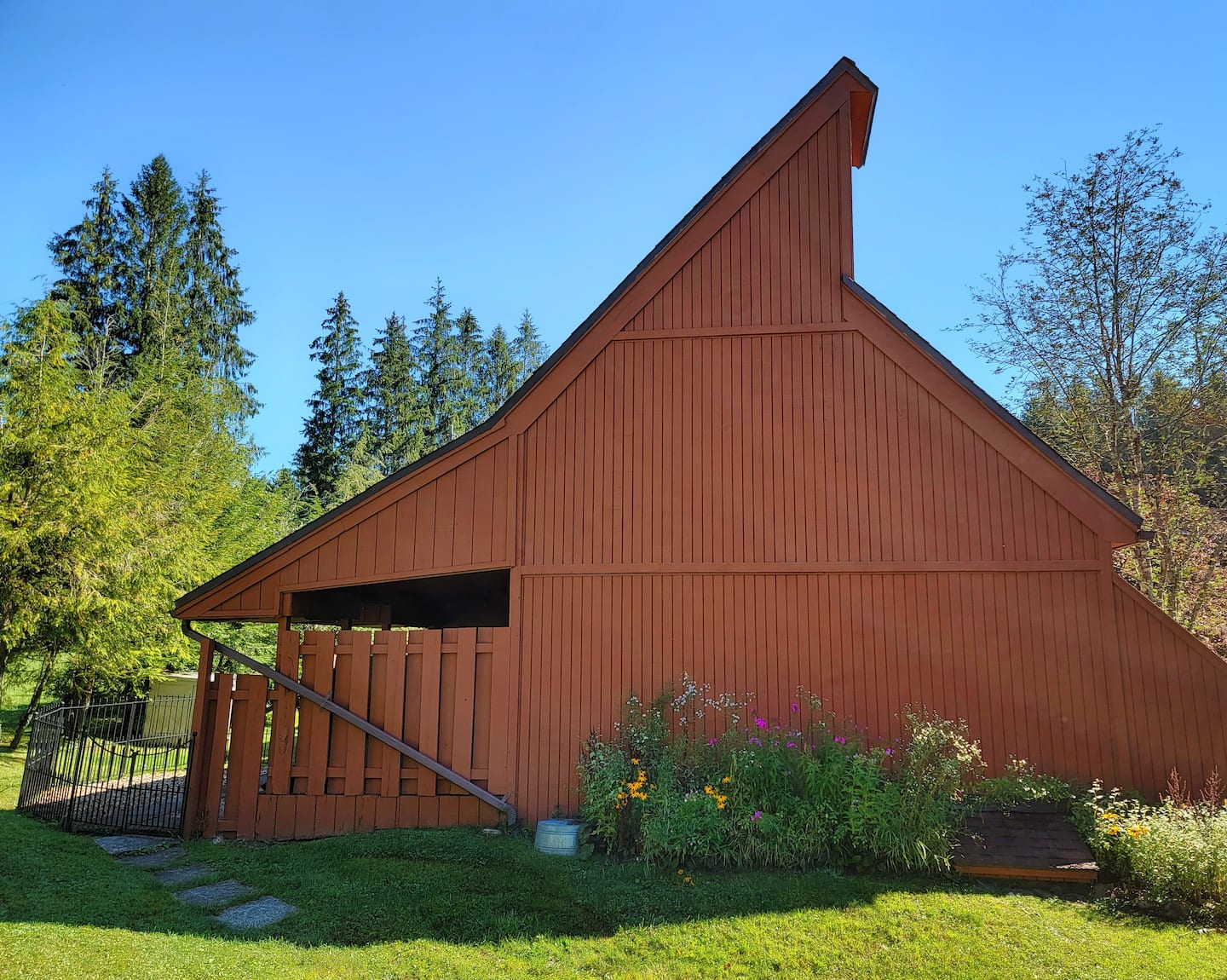 ---
Hideaway Cabin in the Woods – Lost River
Location: Lost City, West Virginia
Price: $214+ per night
https://www.airbnb.com/rooms/15833058 
Hideaway offers both luxurious relaxation and outdoor escapades. This is the perfect base for exploring the beauty, charm and adventure of the West Virginian mountains and countryside. 
The Hideaway is an A-frame cabin with one bedroom and a loft (the perfect place to cuddle up to with a book or watch a movie and provides additional sleeping). You'll love being able to make meals in the fully equipped kitchen and eat them together at the dining room table. After enjoying the many outdoor activities, celebrate a good day and enjoy sunset drinks at the deck. This cabin is built for all-season visits, with air-conditioning for the summer and a gas fireplace for fall and winter.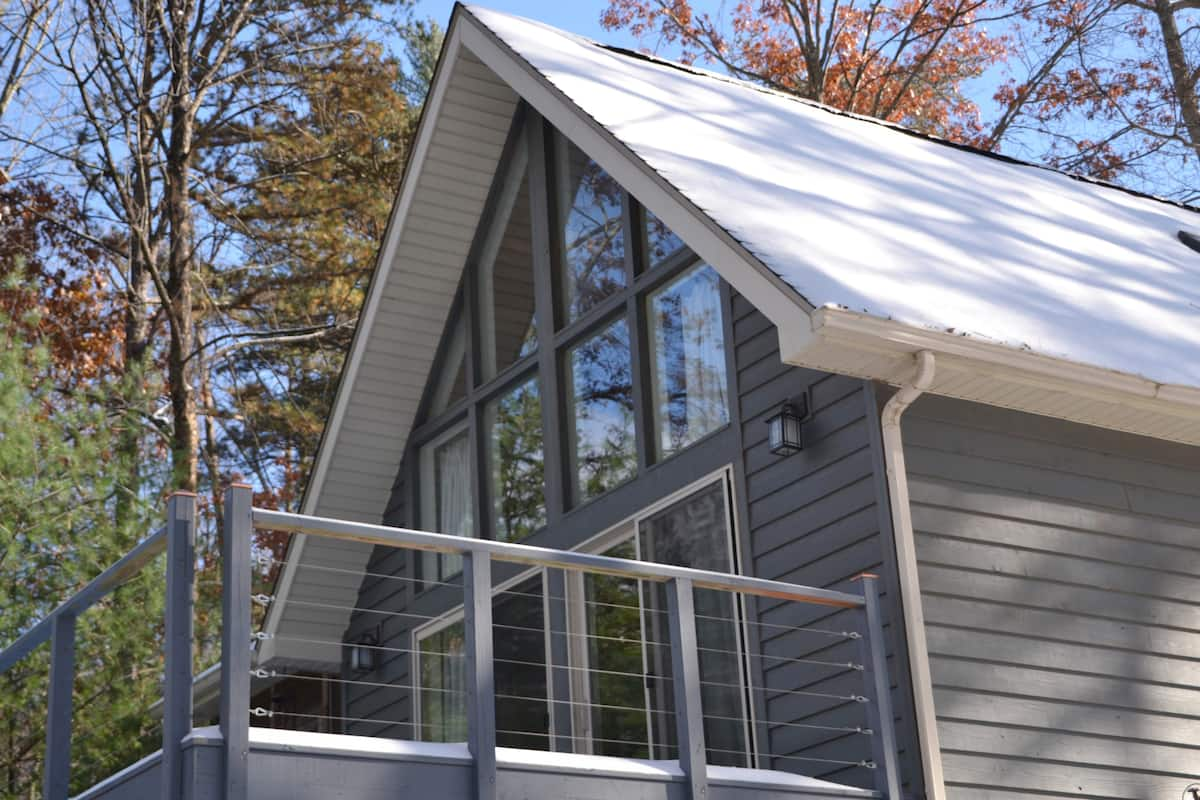 ---
Locust Hill Cabin
Location: Marlinton, West Virginia
Price: $125+ per night
https://www.airbnb.com/rooms/22101456 
This private cabin set on the property of Locust Hill Inn and Restaurant offers an intimate and secluded space on your trip to Marlinton, WV. Locust Hill Cabin has its own parking, entrance, and keys. It features 2 bedrooms that sleep 5 guests (a private bedroom with queen-size bed and another with 3 single beds. Spend your days here exploring twenty acres of land and enjoying activities like kayaking/canoeing, fishing or biking. Then in the evenings, return to the cabin to relax in the six-person hot tub on the deck.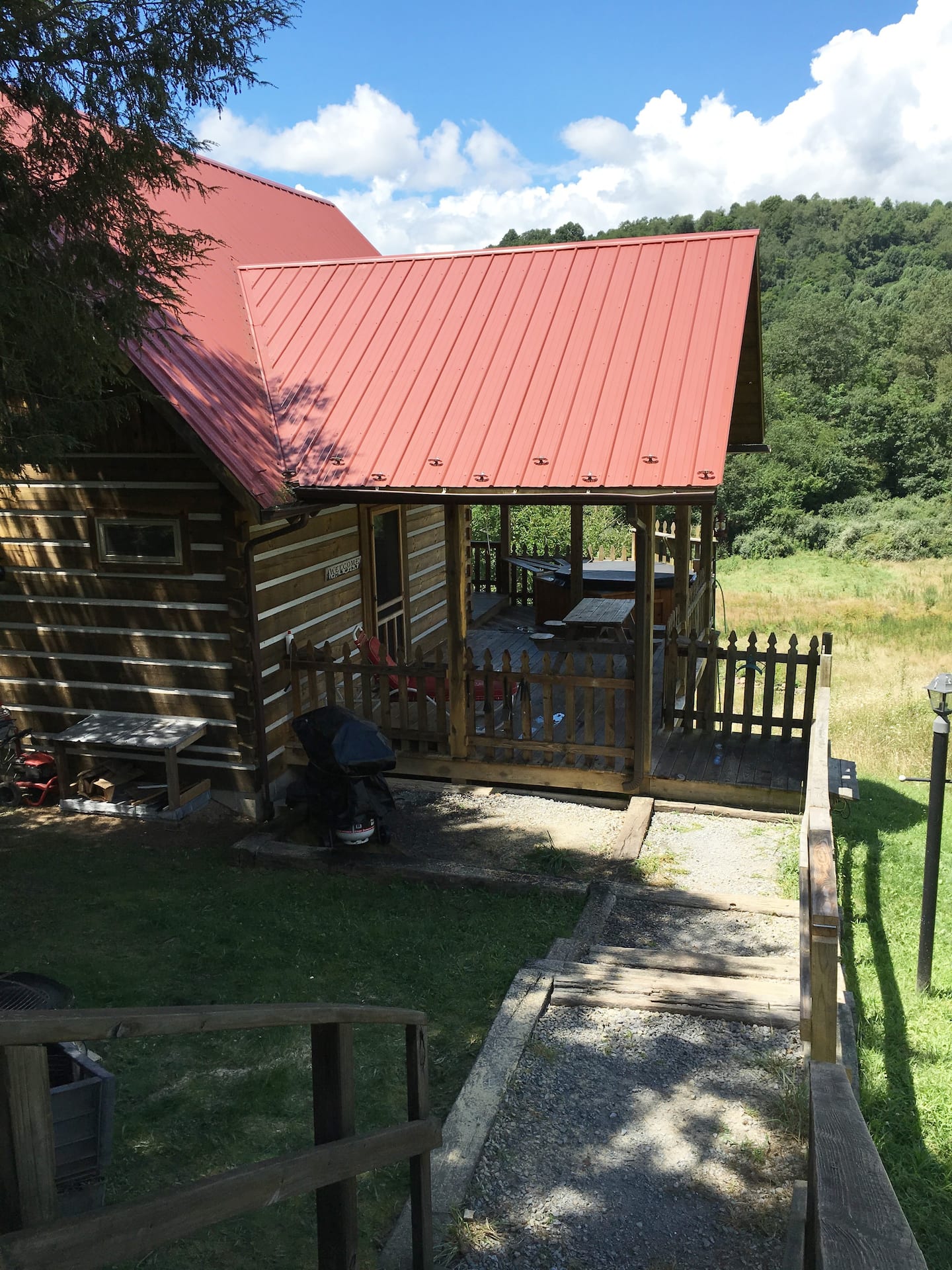 ---
The Cabin at Camp Potomac Peak
Location: Berkeley Springs, West Virginia
Price: $175+ per night
https://www.airbnb.com/rooms/45522879 
Disconnect and find a peaceful refuge at The Cabin in Camp Potomac Peak. The Cabin is nestled in a camping destination just outside Berkeley Springs, WV. Here, guests can completely unplug and enjoy its natural surroundings. 
It features everything you need for a weekend away  – one private bedroom with a queen bed, open floor plan that features the kitchen, dining area, and living room, and wrap-around deck that provides great hang out space. Other modern features: electric mid century modern fireplace, smokeless fire pit, a hot tub, outdoor TV and music system, and a propane grill. You are also welcome to bring your pet!