The state of Arizona is a scenic destination with a wide range of natural wonders to explore. Couples celebrating a honeymoon, anniversary, birthday, or other happy event might like to head to the state for a unique secluded trip, and there's no better place to stay than one of these incredible Romantic Cabins in Arizona with Hot Tubs!
A mix of captivating atmosphere and beautiful landscapes is the ideal recipe for making lasting memories. Check out the following top 12 secluded and romantic cabins with hot tubs in Arizona, USA, for an unforgettable stay.
And don't forget to explore our guides to other nearby cabin escapes, such as the 12 Coolest Cabin Rentals in Arizona and Best A-Frame Cabins in California.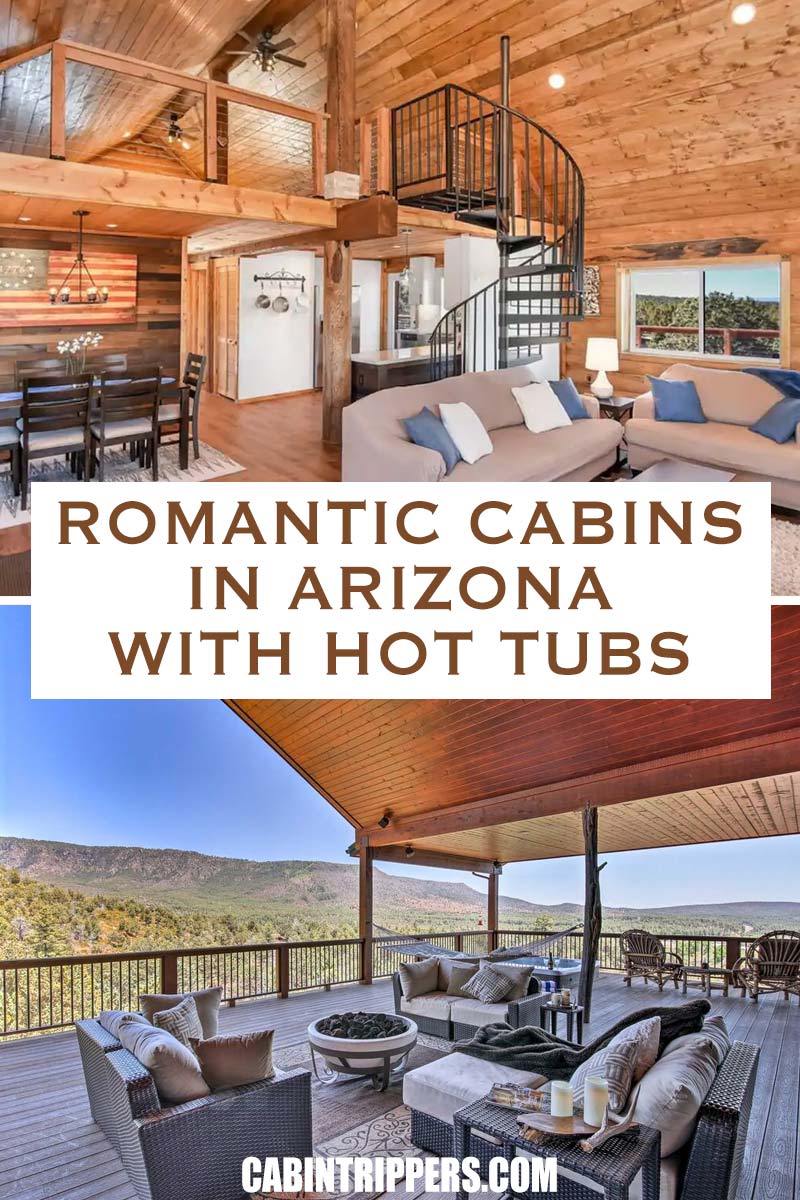 ---
1. Overgaard Cabin w/ Hot Tub, Fire Pit & Deck!
Location: Hever-Overgaard, Arizona
Price: $149+ per night
This amazing A-frame is well located with an endless array of outdoor activities, local festivals, bars, restaurants, shops, and more for you and your loved one to explore and enjoy! Even better, the property itself is nothing short of incredible. You'll love this spacious interior, providing the perfect space (and lots of it) to spend time alone. The amenities and appliances are all modern and updated, and outside you'll find a fire pit and hot tub as well as huge deck to enjoy each others' company and revel in the relaxing atmosphere.
Take a short day trip to local lakes, mountains, and other attractions, or spend your holiday holed up and cozy in the interior of this fantastic find. You won't regret your stay at this romantic Arizona A-frame cabin with hot tub!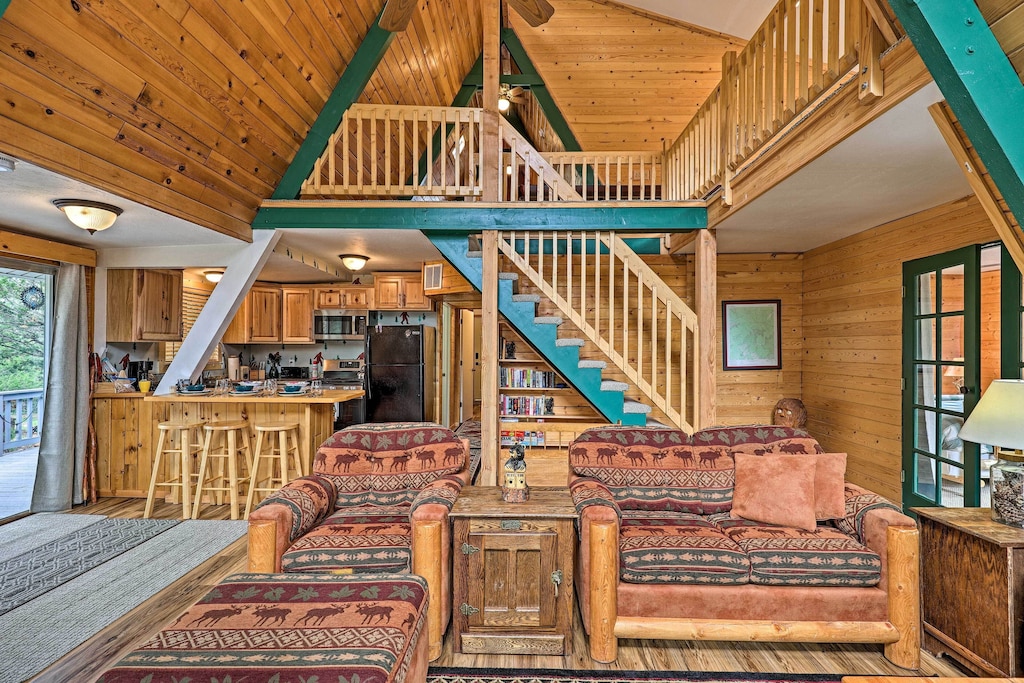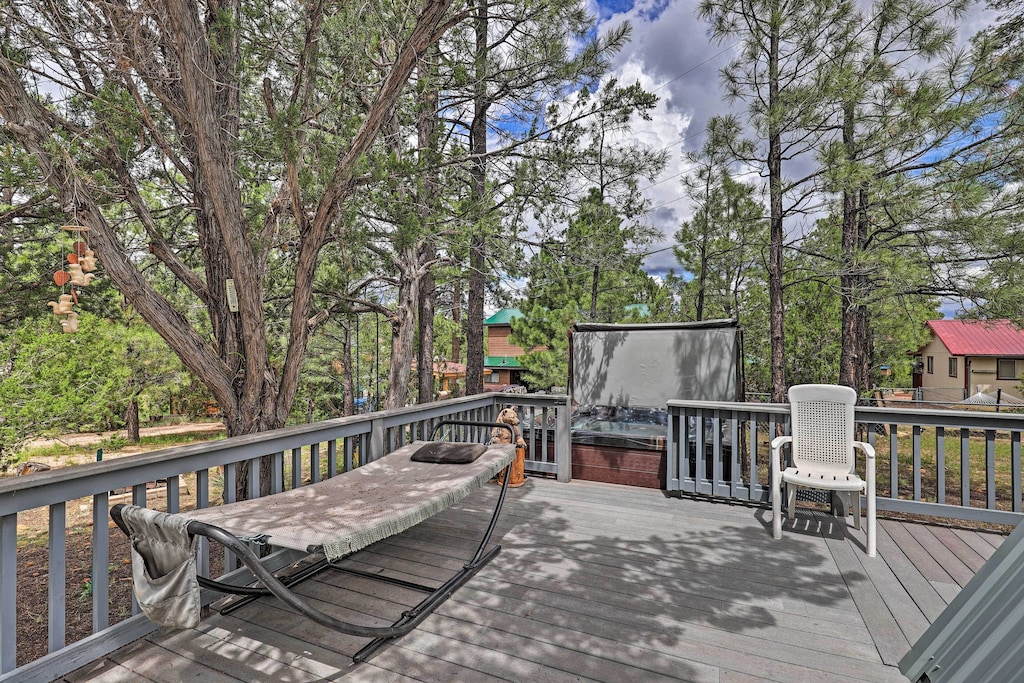 ---
2. Cozy Cabin Near Trailhead
Location: Pine, Arizona
Price: $162+ per night
Whatever the occasion is, this cute and cozy rental in Pine, Arizona, is perfect for you and your partner to spend a few days with nothing to do but make new memories with one another. From the inviting outdoor seating areas and fire pit to the modern and newly renovated interior, perhaps the only thing better than this cabin itself is its proximity to the best that Arizona has to offer! Explore the outdoors or plan out the perfect evening in for two lovebirds looking to get away from it all.
You and your partner were destined for this romantic Arizona cabin for two!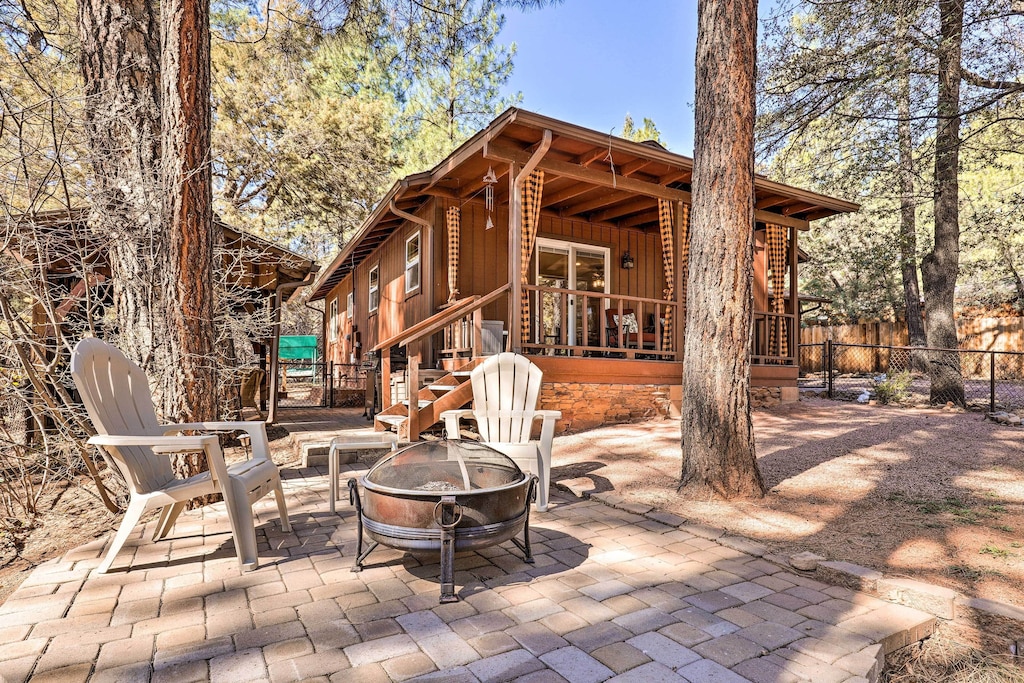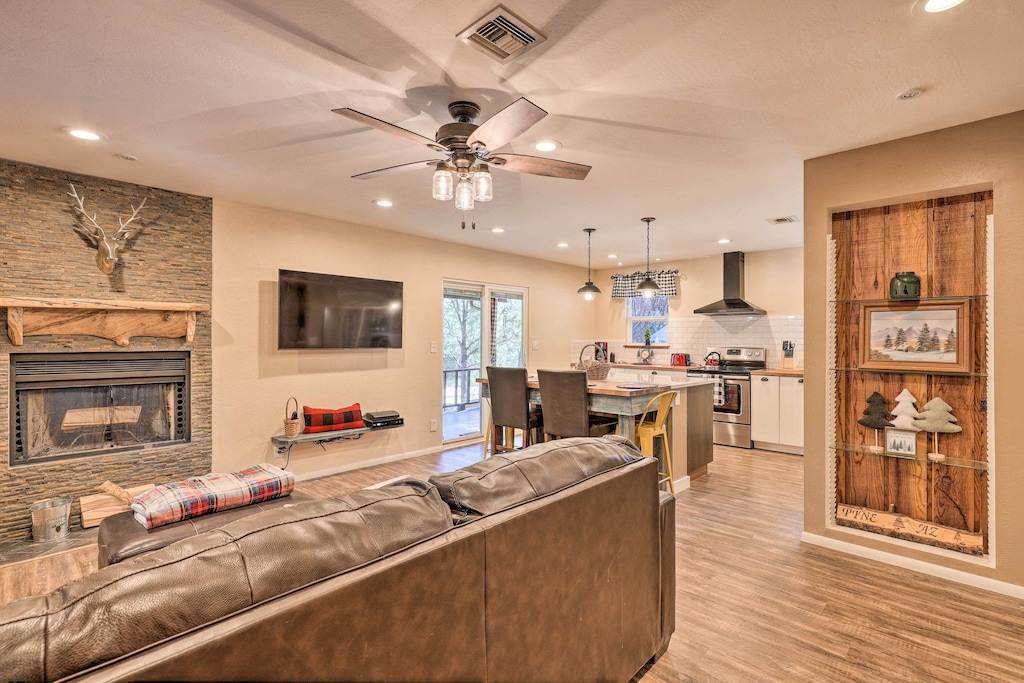 ---
3. Romantic Arizona Log Cabin
Location: Pinetop-Lakeside, Arizona
Price: $188+ per night
Perfectly paired with its natural surroundings, this cabin was made for romantic retreats! You'll find a fireplace, hot tub, cozy and inviting interior, as well as luxuriously large shower and huge comfy beds. Enjoy some alone time out in the Arizona wilderness and pass the time in perfect harmony with your partner. You'll love the rustic themes which are complemented by contemporary elements merging style and comfort.
The cabin is located near to anything you might need during your stay, including entertainment and eateries! Don't pass on the change to rent this romantic Arizona couples cabin.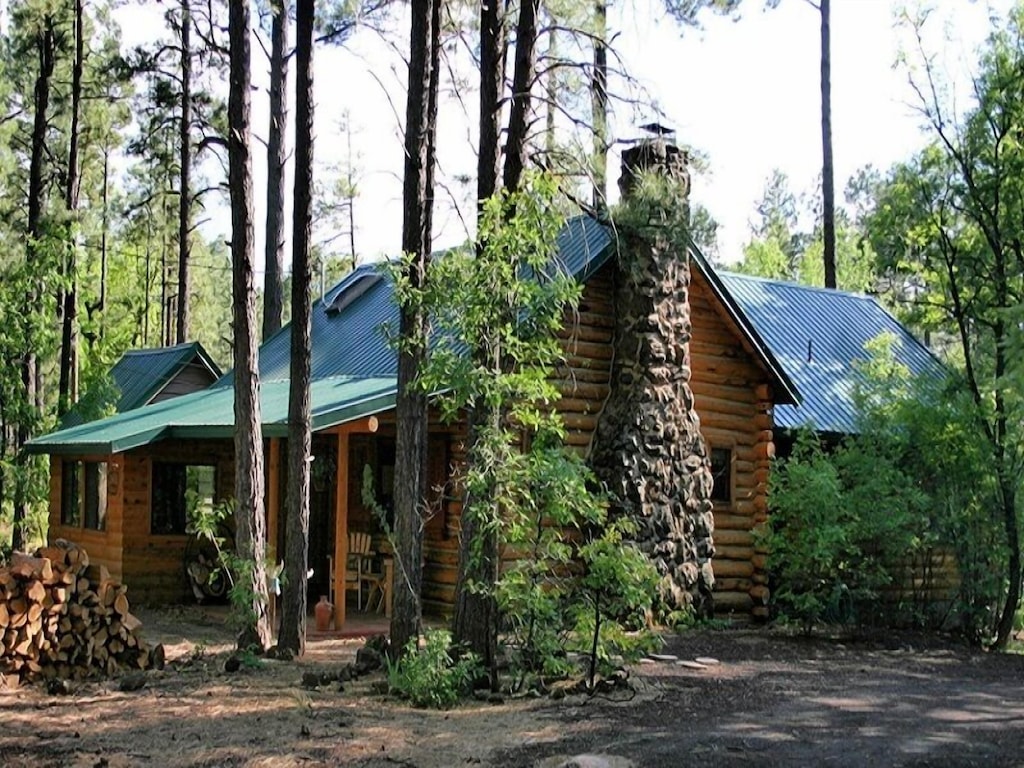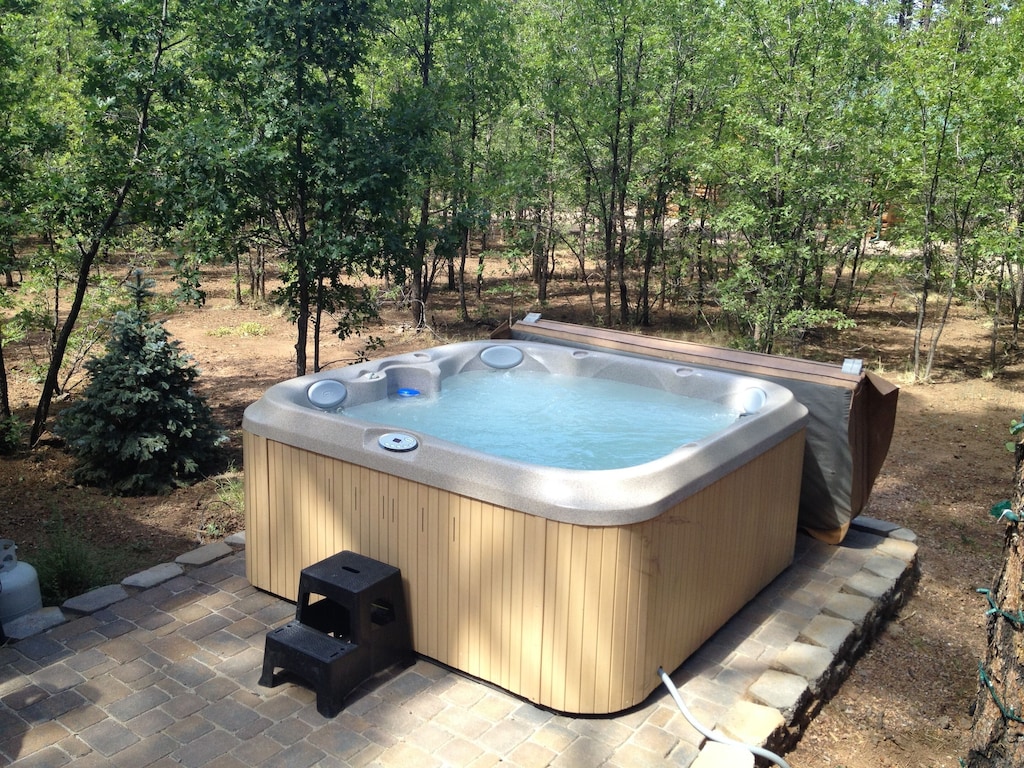 ---
4. Log Cabin Luxury Retreat with Hot Tub for Romantic Escape or Family Get-Away
Location: Pinetop-Lakeside, Arizona
Price: $210+ per night
This 7200 feet high White Mountain Chalet offers the best of simplicity throughout the year. Mountain Chelate lies near the Pinetop Country Club and Apache-Sitgreaves National Forest. You can enjoy fishing, boating, picnicking, hiking, and mountain biking on over 65 lakes and streams. It is possible to see elk, pronghorn antelope, and wild turkeys while driving in the mornings or late afternoons.
The Chalet style consists of three bedrooms, two bathrooms, kitchen, deck & hot tub. Get outdoors and enjoy fall's beautiful colors.  Enjoy a stroll along a lakeshore, plan an adventure, or just relax at home.
View Photos, Read Reviews & Check Availability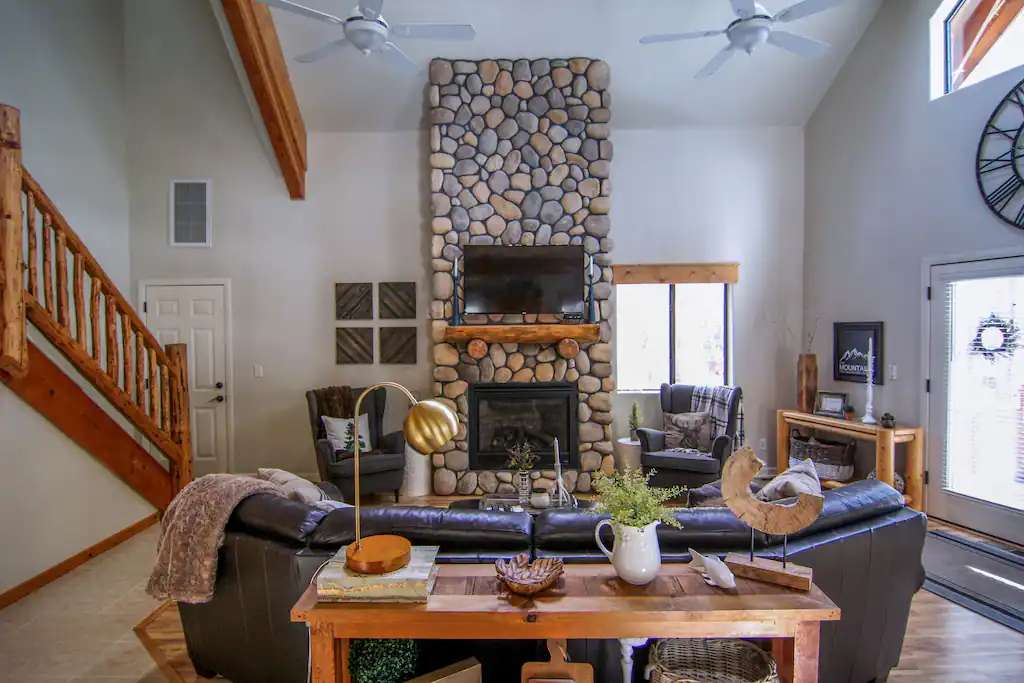 ---
5. Tranquil, Well-Appointed Cabin Retreat with Hot Tub
Location: Sedona, Arizona
Price: $375+ per night
In Sedona, Coffee Pot Cottage is a beautiful, rustic 1,000-square-foot property located on the exclusive Soldiers Pass Road. You can relax in the hot tub or on the secluded patios of the fully-enclosed, south-facing backyard. Enjoy the surrounding views of Coffee Pot Rock, Thunder Mountain, SugarLoaf Mountain, Brin's Mesa, Tea Pot, Shark Fin, Munds Mountain, and many more.
You will find a bright, cozy, clean, modern living space inside the house, featuring a high-end kitchen and living room. Further, the cottage is the perfect base camp for day hikes and mountain biking.
View Photos, Read Reviews & Check Availability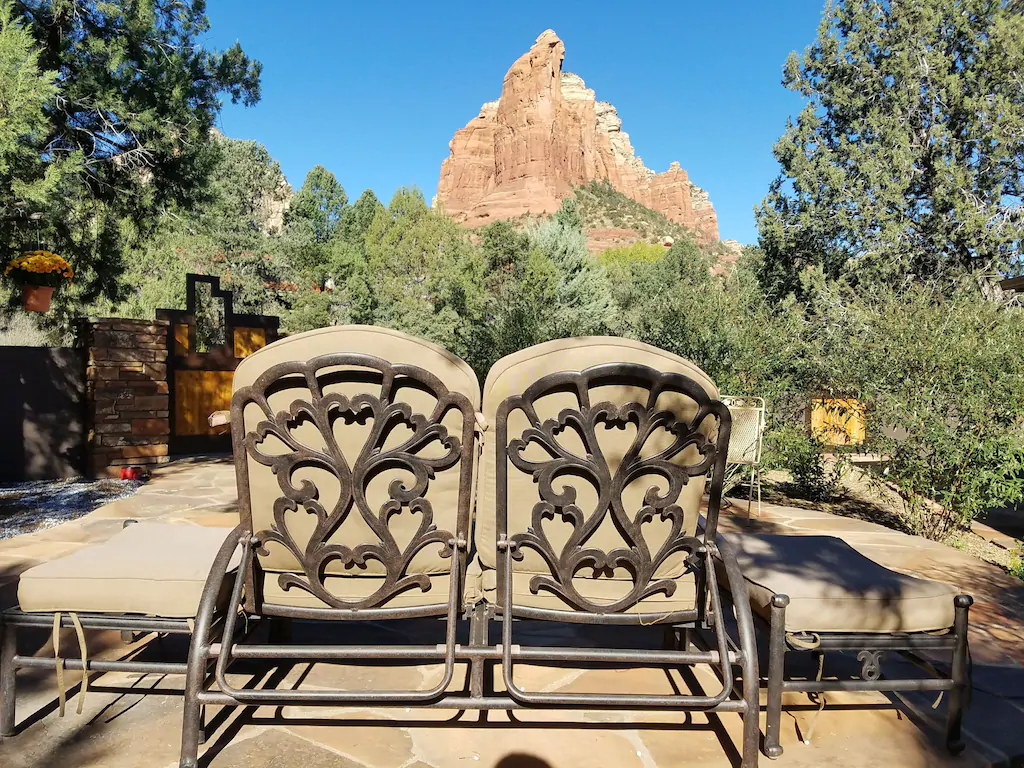 ---
6. The Bear's Den of Flagstaff
Location: Flagstaff, Arizona
Price: $212+ per night
The Bear's Den is a new log cabin surrounded by pine trees. Located right in the middle of everything, it sits just outside Flagstaff. The loft area has a king-sized bed and a full-size bed, with a beautiful view of Pumphouse Wash just outside the window.
You will find a kitchen, a living room with a fireplace, a bathroom, and a second bedroom on the main floor. Additionally, there is a deck and a hot tub. The hot tub accommodates nine people, complete with LED lighting, a waterfall, and a foot massage. The hot tub features 76 jets, including a foot massager on the bottom center.
View Photos, Read Reviews & Check Availability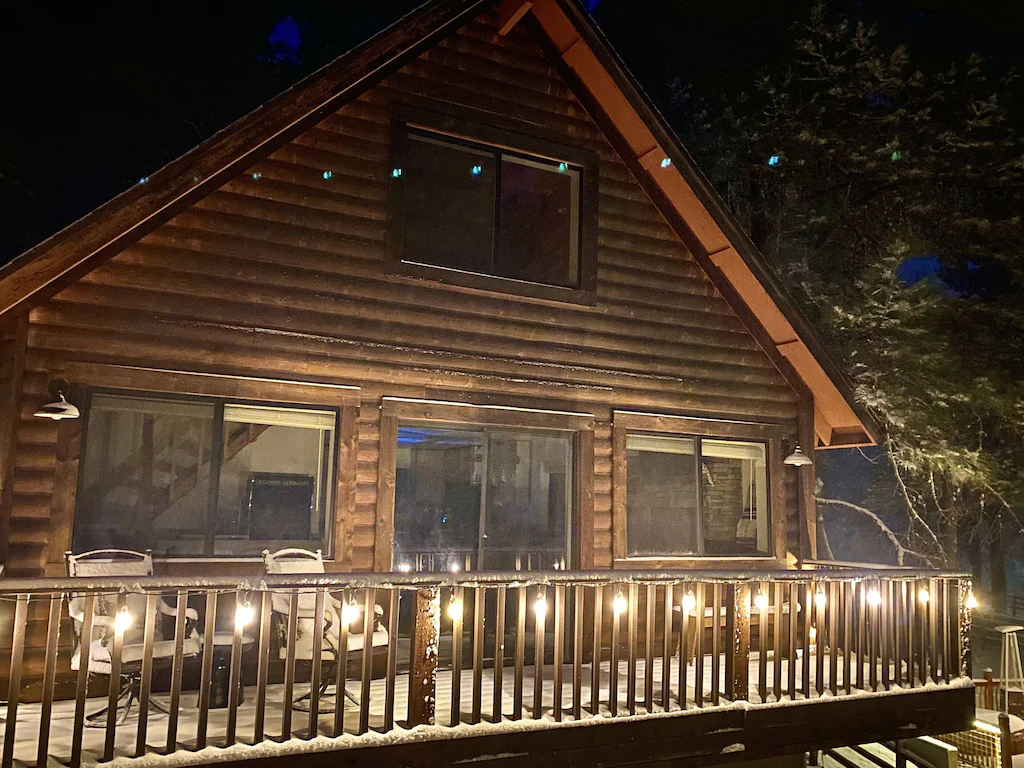 ---
7. Wheel House Getaway Cabin
Location: Williams, Arizona
Price: $199+ per night
https://www.vrbo.com/9336508ha
Unwind and Relax with a Cozy High-End Cabin that has everything you will need to have a wonderful trip to the Grand Canyon. The master bedroom comes with a private bathroom to ensure privacy.
Williams is a small town close to the Grand Canyon, Sedona, Jerome, and other nearby attractions. Spend some time relaxing in the hot tub at night, watching the stars, and then warming up next to the fireplace. The cabin features two bedrooms, two bathrooms, and a fully equipped kitchen. It accommodates up to six people.
View Photos, Read Reviews & Check Availability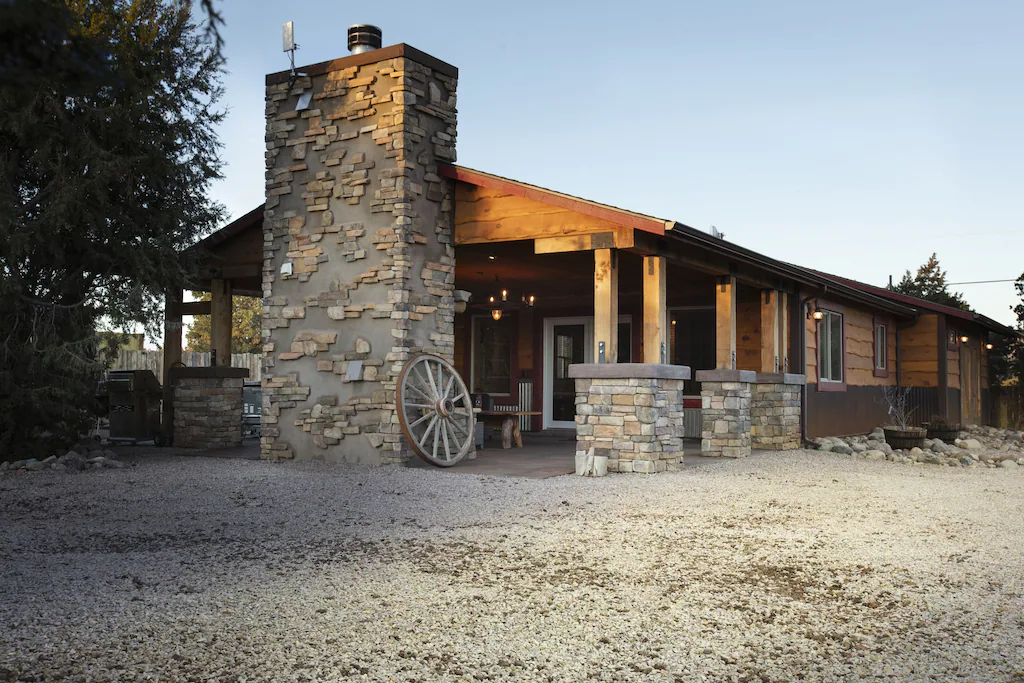 ---
8. Sunset Ridge Log Cabin with hot tub
Location: Williams, Arizona
Price: $361+ per night
https://www.airbnb.com/rooms/40070749
This cabin is only 2 miles from Highway 64 down a gravel/dirt road. The large open loft has two queen beds to accommodate four adults. There are two bedrooms downstairs that sleep two adults each.
The outdoor area includes a large deck with a hot tub, picnic table, propane BBQ grill, and propane fire pit. Spend a relaxing evening in the hot tub or around the campfire, eating smores and watching the sunset. The foodstuffs provided include salt, pepper, cooking oil, in addition to a variety of condiments. Moreover, guests have access to the entire property.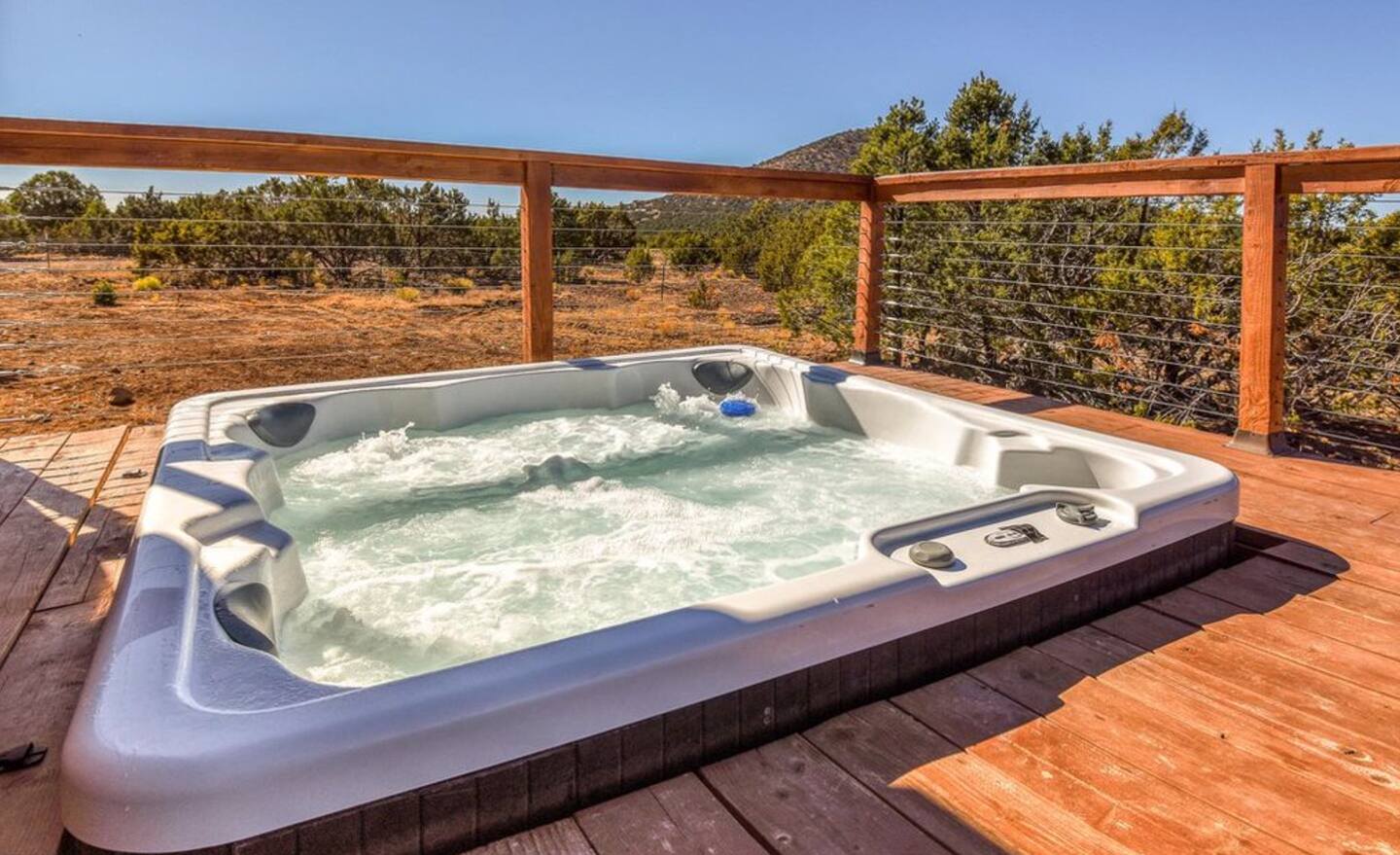 ---
9. Cozy cabin with a fireplace and hot tub on the deck
Location: Overgaard, Arizona
Price: $180+ per night
https://www.airbnb.com/rooms/32291923
Located in Overgaard, a picturesque little town, is a two-bedroom, one-bath cabin ideal for a romantic getaway. The backyard of this timberland retreat features a spacious deck with a BBQ grill and hot tub.
The cabin sleeps six people. It has a fully-equipped kitchen, a fireplace with a double-sided design, and a sofa bed to add comfort. Couples can enjoy total privacy in the hot tub tucked away from the bedroom and surrounded by trees. This cabin is within walking distance of restaurants, shopping, and sports clubs.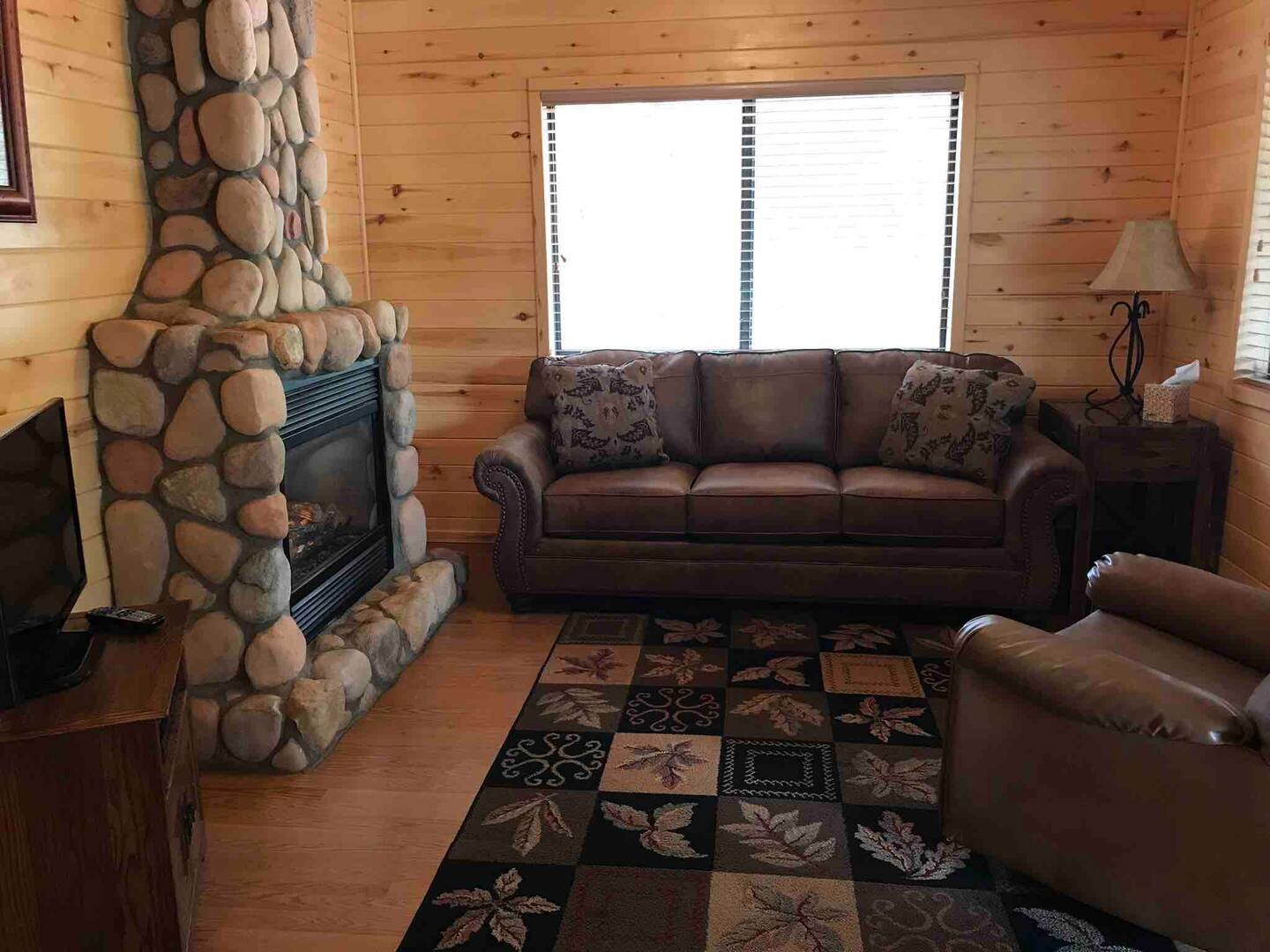 ---
10. 'AZ Rim Retreat' in Pine w/Deck, Hot Tub & Views
Location: Pine, Arizona
Price: $404+ per night
https://www.airbnb.com/rooms/25945302
AZ Rim Retreat offers breathtaking views that you've never seen before. Ruin Hill can be seen from the picturesque deck of this well-appointed three-bedroom, two-bath vacation rental cabin. In the Christmas Tree Room, you will find a queen bed, in the Elk Room, a king bed, and the Christmas Bear Room, a full-sized.
The cabin includes a fully-equipped kitchen, and outdoor amenities include a fire pit, hammock, a gas grill, and a hot tub. A mile from this cabin is Pine Trailhead, where you can explore and pick berries or dine with locals in town. You can enjoy even more natural beauty at Tonto Natural Bridge State Park, just 15 minutes away.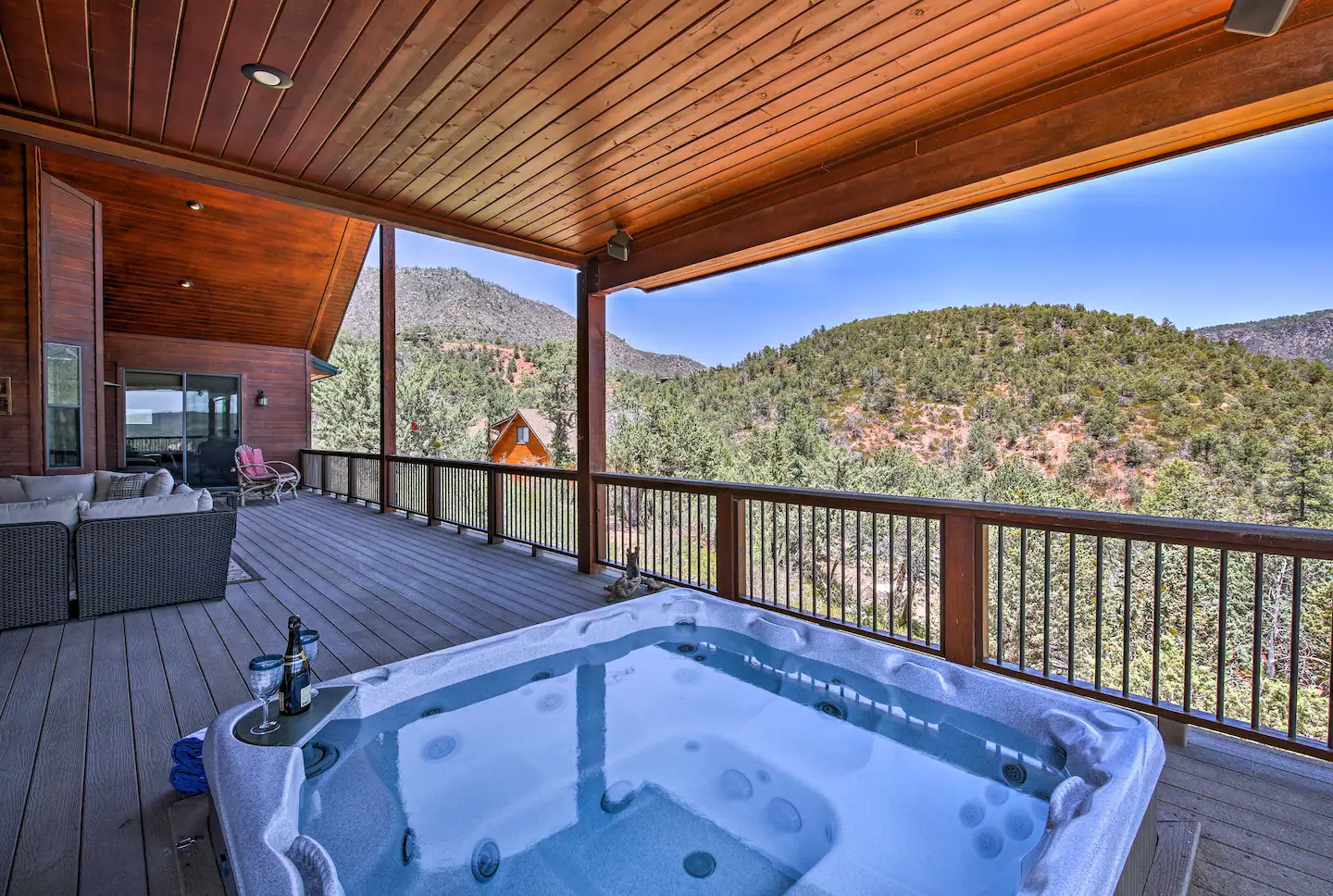 ---
11. Lazy Bear Cabin- with hot tub!
Location: Flagstaff, Arizona
Price: $214+ per night
https://www.airbnb.com/rooms/31472105
Relax and unwind at this cozy cabin set among Ponderosa pine trees in a serene and peaceful setting. This charming 2-bedroom cabin includes a private hot tub for relaxing in the woods. The 7000 feet elevation and mild temperatures will welcome you upon your arrival.
 You'll be only ten minutes away from downtown, but you'll still feel miles from it all because of the picturesque and homey setting. Near the cabin are numerous trailheads for great hikes. After an exciting day exploring Northern Arizona, you can relax in the brand new hot tub. A wood stove will provide a warm and cozy atmosphere throughout the winter months. Also, guests have complete private access to their cabin.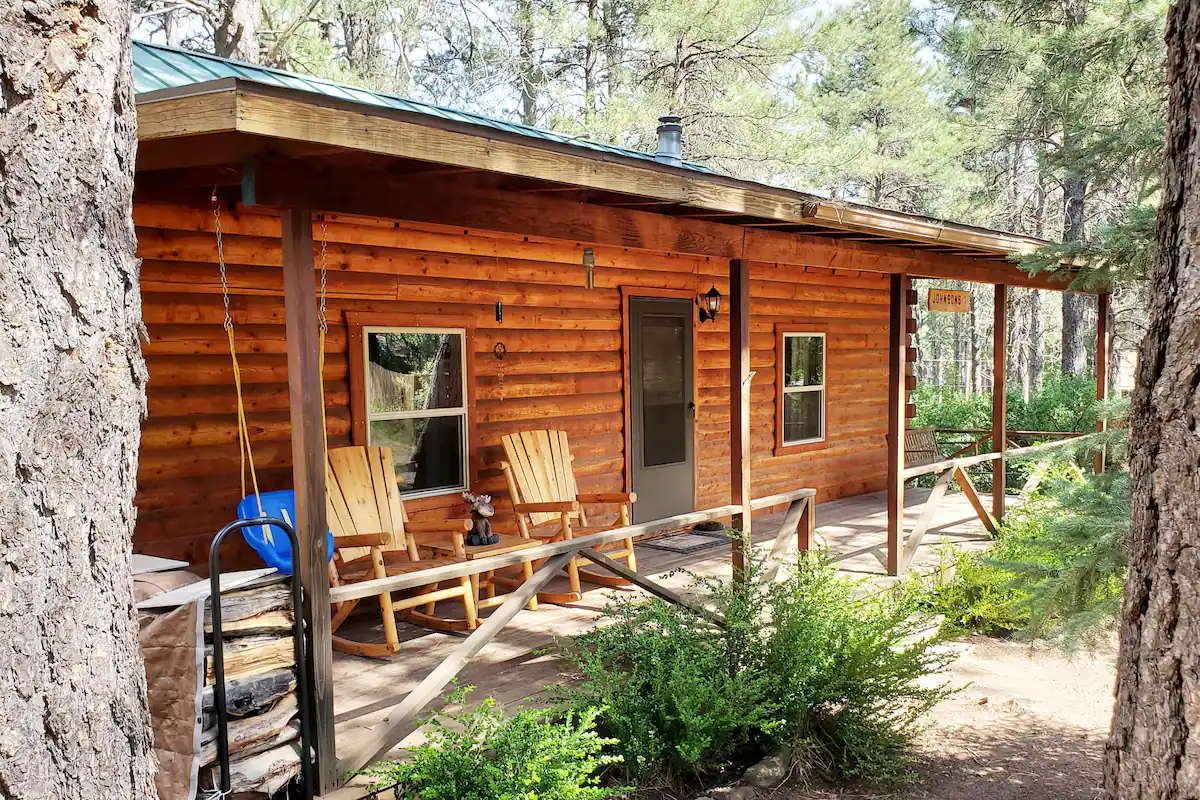 ---
12. Log Cabin Getaway with Jacuzzi
Location: Pine, Arizona
Price: $129+ per night
https://www.airbnb.com/rooms/6461771
The cabin is an older structure with outdated carpet in a beautiful pine forest. Take a soak in the Jacuzzi under the thousands of stars on the large deck at night. The cabin is close to restaurants and the town store, so it's in an ideal place.
While you grill outside, it's possible to observe wildlife frolicking through the wooded landscape. The cabin accommodations sleep up to six people, and the cabin offers amenities such as a fireplace with a wood-burning stove, free internet, and a window air conditioner. During your stay, you'll have access to the entire cabin.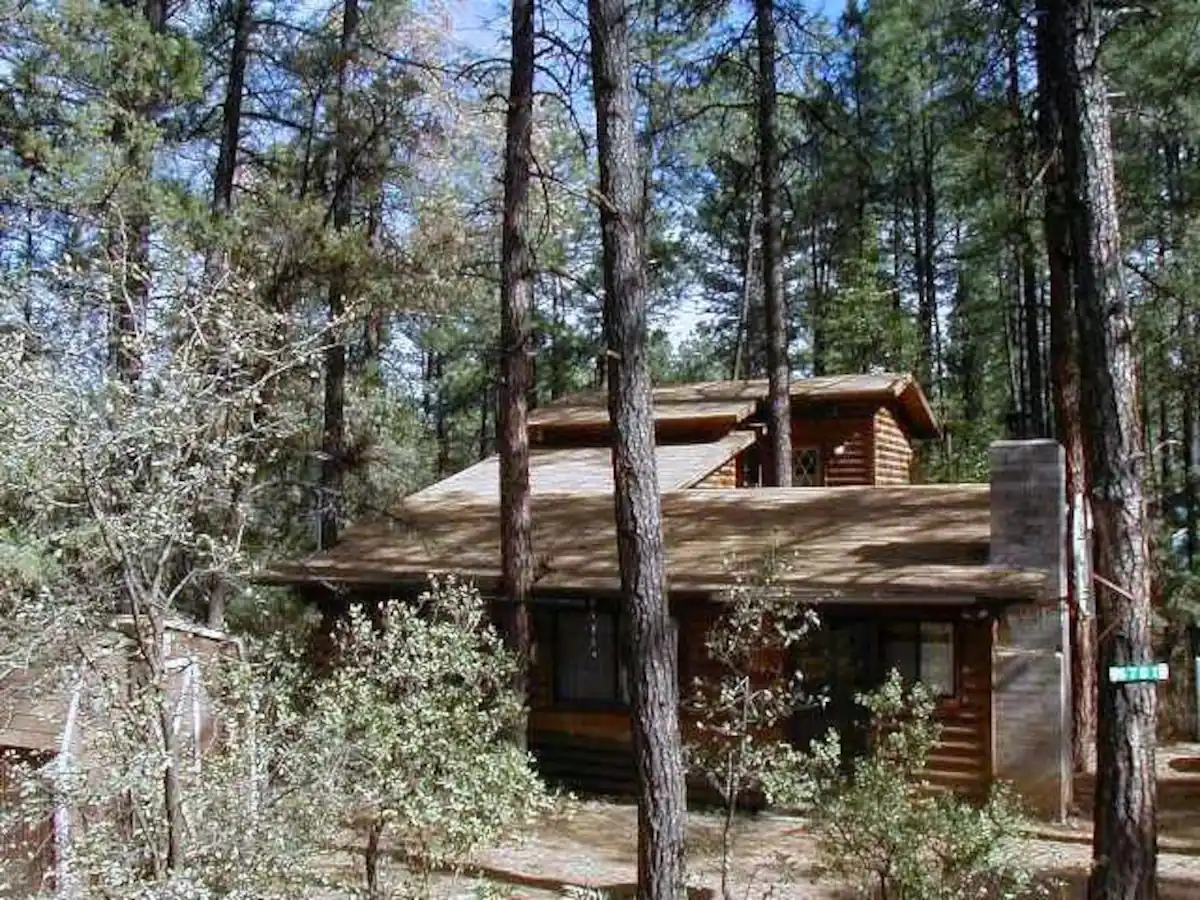 ---
Airbnb and Vrbo offer a variety of romantic accommodations for couples, including hot tubs, remote locations, and secluded settings with private views of nature. These top ten romantic cabin rentals in Arizona offer the right environment for a couple's getaway.