Whether you're planning a romantic staycation, an adventurous holiday, or just a weekend to relax and recharge, a cabin with a hot tub is just what you need. If Oregon is your intended destination, then one of these delightful romantic cabins in Oregon with hot tubs are a perfect choice. Outdoor adventures are abound in Oregon, from kayaking to mountain biking and much more.
Keep scrolling down to discover the top 12 romantic cabins in Oregon to enlighten your romantic side!
Also, be sure to read our other epic guides to the best 12 Incredible A-Frame Cabins in Oregon For a Unique Getaway and the Top 12 Coolest Cabin Rentals in Idaho!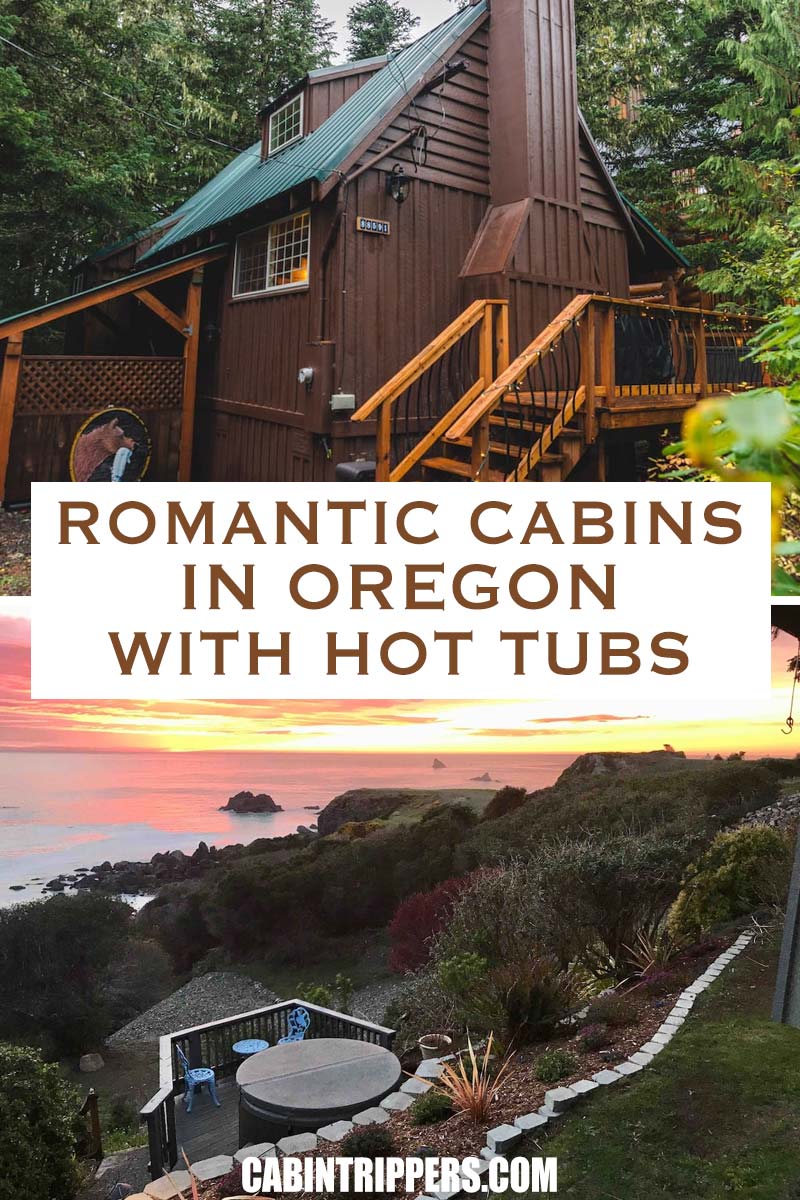 ---
1. Instaworthy Wildlife Haven
Location: Coos County, Oregon
Price: $188+ per night
This charming wilderness chalet its on 10 acres of private land nestled agains Tenmile Lake — truly a perfect ten in all categories! The interior is immaculately modernized and you're sure to love the inviting open loft floor plan. You'll be just minutes away from downtown should you want to venture out and explore the shops, the hiking trails, the lake, or otherwise.
I'm sure you're already dreaming of cozying up with your partner under the stars, in the hot tub, or beneath a pile of soft warm blankets next to the fire pit or up in the loft. This romantic Oregon cabin with hot tub is a dream!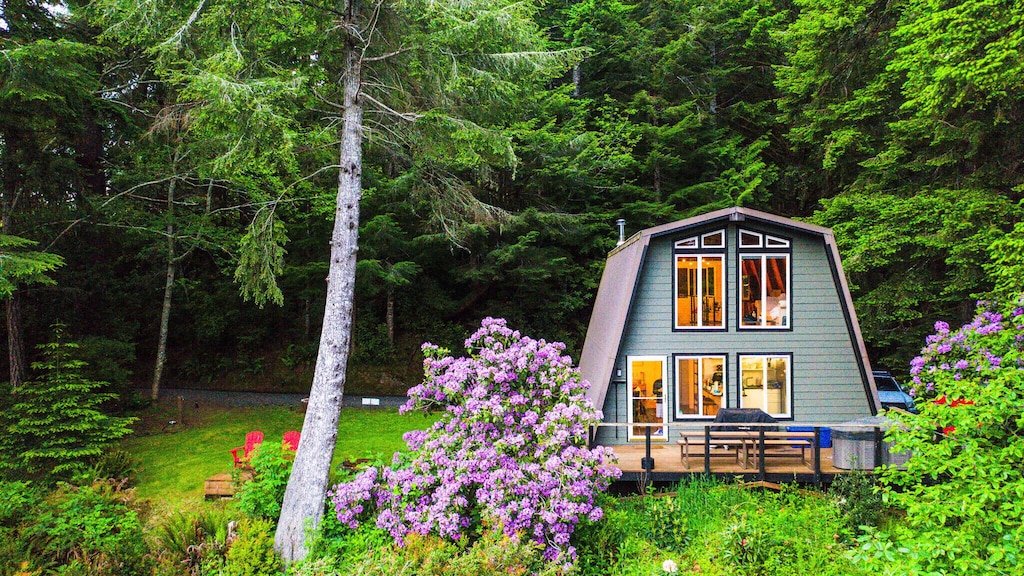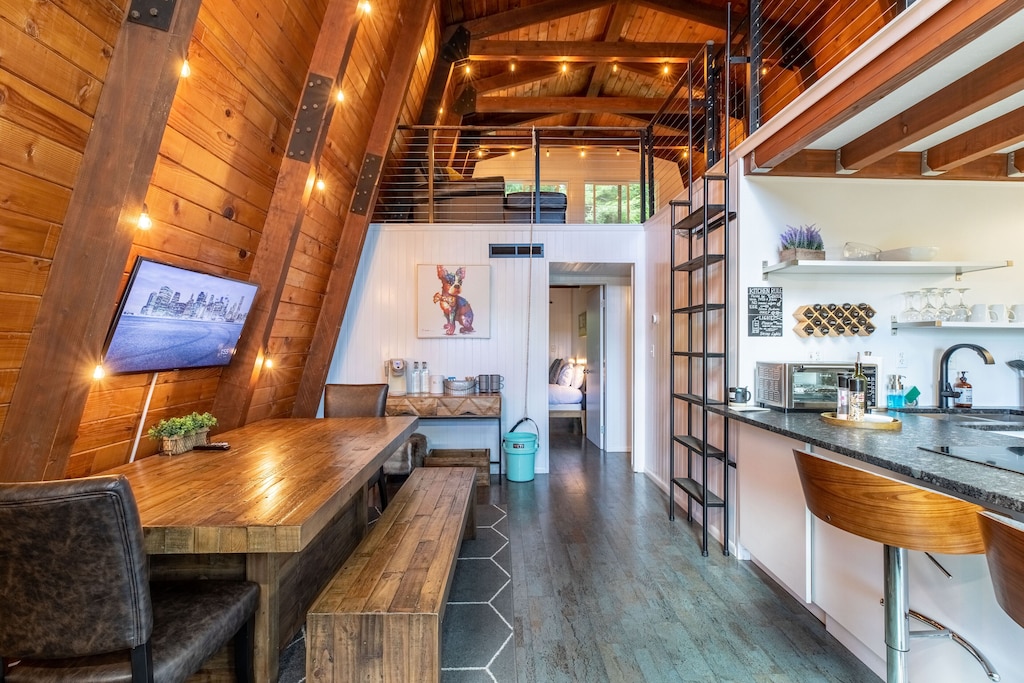 ---
2. Charming Cottage Two Blocks from the Beach
Location: Tillamook County, Oregon
Price: $159+ per night
This cozy cottage is just a couple of minutes away from the Pacific Ocean! You can see magnificent Twin Rocks from the rental itself, and its location gives quick access to impressive Oregonian beaches, deep sea fishing, hiking trails, and all that this area of the country has to offer. You'll be near to any necessities in town, but just a short walk from taking in an undisturbed sun rise, sunset, or simply a day at the beach.
The cabin itself has high speed WiFi, Apple TV, a stereo system, fully equipped kitchen, and any other modern amenities you can think of. Best of all, the hot tub out back is tucked away behind a privacy fence and just waiting for you, your partner, and a weekend full of romantic memories to last a lifetime!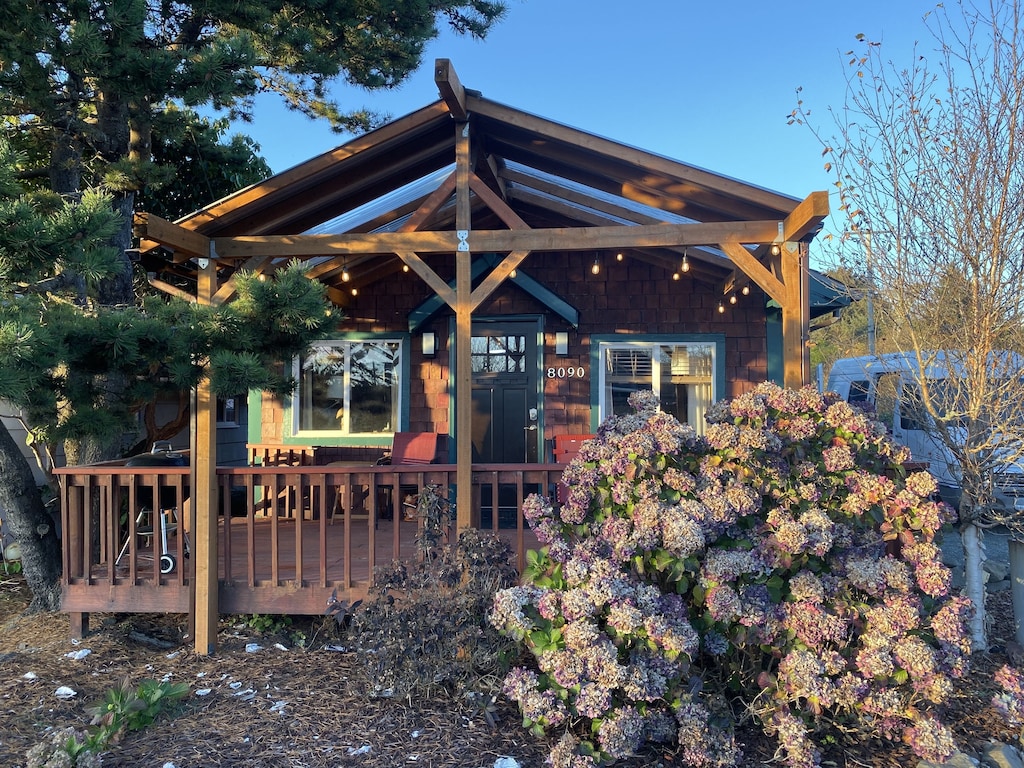 ---
3. Romantic Luxury Cabin
Location: Bend, Oregon
Price: $325+ per night
Romantic Luxury Cabin is the perfect getaway for couples looking for secluded privacy and a romantic setting. The Deschutes National Forest surrounds the cabin. The surrounding area offers a variety of outdoor activities with hiking trails, bicycle paths, x-country ski trails, and snowshoeing just steps from your door. As a bonus, you can explore Tumalo Lake by kayak, canoe, and paddleboard or perfect your fishing cast with catch-and-release trout fishing.
The hillside cabin has two bedrooms and two bathrooms, sleeping up to five people. Moreover, the hot tub on the deck offers breathtaking views of the lake and forest – making it the perfect place to relax after a long day of adventure.
View Photos, Read Reviews & Check Availability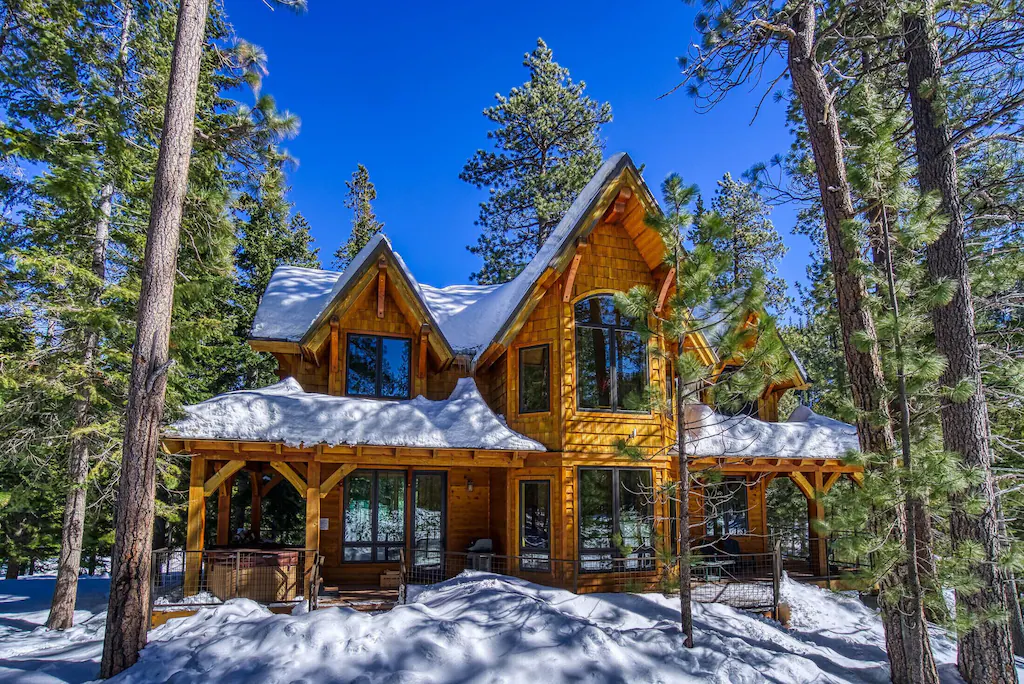 ---
4. Central Oregon Cabin
Location: Prineville, Oregon
The Central Oregon Cabin offers incredible views of the Prineville Reservoir, volcanic rocks, and mountains as far as the eye can see. Take a look at eagles, hawks, deer, and other wildlife from your front porch in the morning. Nighttime stargazing with your partner will enchant you with the beauty of the stars, planets, and Milky Way Galaxy.
The cottage is a fantastic getaway for couples and families. It accommodates eight guests. Also, you can play horseshoes with a regulation-sized court, pool with a slate table, darts, swing, and make use of the BBQ grill and seasonal fire pit. Spend a relaxing night in the private hot tub just off the porch. With the star-studded sky as your backdrop, you will feel in total tranquillity.
View Photos, Read Reviews & Check Availability
---
5. Pine Hollow Cabin
Location: Pine Hollow, Oregon
Price: $185+ per night
Pine Hollow Cabin combines rustic luxury with modern comfort. You will enjoy the scenic landscape in your mornings, and the tranquil atmosphere will make you relax and unwind. The hot tub is a great place to relax with your loved one. This gem is the best place to make memories all year long.
For instance, you can zip line, bungee jump, race on Malibu racetrack, or try the Alpine slide at the Ski Bowl adventure park during the SUMMER. Similarly, You can play dress-up from a closet full of goodies, read books, solve puzzles, or watch Disney classics in the WINTER. Moreover, the Deschutes river and recreation area are 20 minutes away, offering excellent white water rafting.
View Photos, Read Reviews & Check Availability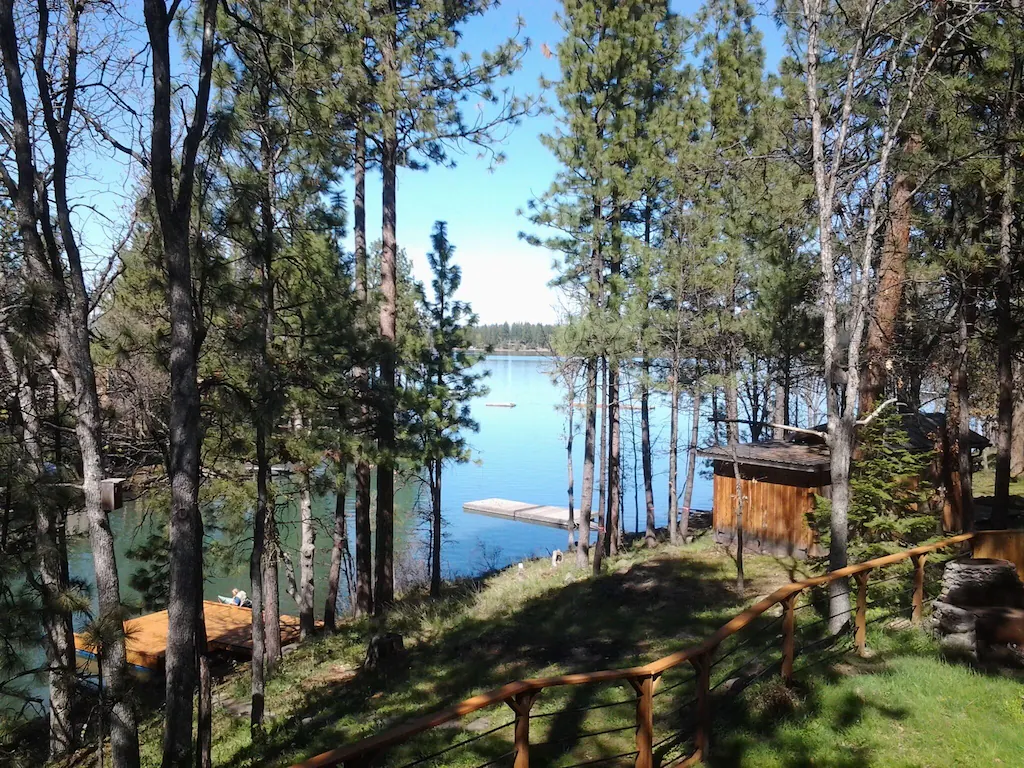 ---
6. Wildlife Haven Cabin
Location: Lakeside, Oregon
Price: $337+ per night
Want to create a lifetime memory? Experience the peace and tranquility of this renovated two-story chalet located on 10 acres with lake views in the hills of Lakeside. You get your own private 10 acres of beautiful Oregon Forest just minutes from downtown, on a hillside overlooking "Tenmile Lake."
This property has two bedrooms, a bathroom, and a kitchen on the main floor. In the loft, you'll find a large sectional with a trundle bed and a large L-shaped sectional. There is no shortage of things to do in the mountains, like hiking, stargazing, or building a bonfire. Or perhaps just snuggling up in the cozy loft and watching Netflix.
View Photos, Read Reviews & Check Availability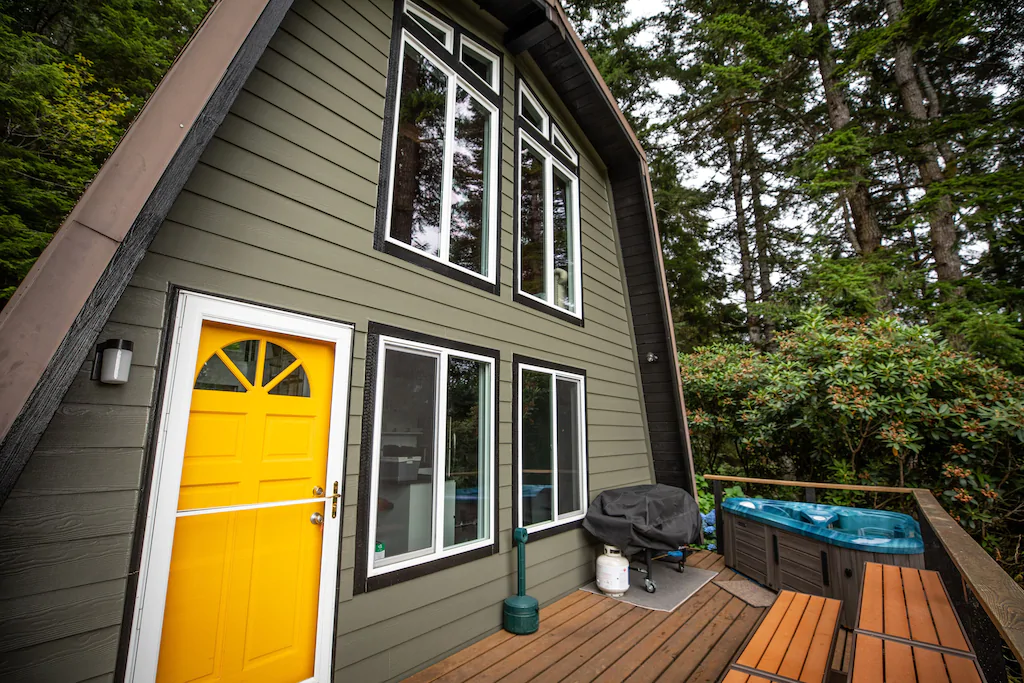 ---
7. Family Cabin
Location: Black Butte Ranch, Oregon
Price: $205+ per night
The cabin is perfect for couples and family gatherings all year long. Spending time on the deck in a quiet street surrounded by tall pine trees is a picturesque experience. You can enjoy your favorite summer meals while watching the deer pass by almost every day.
There are three bedrooms and two bathrooms in the lodge, making it suitable for eight people. A short walk will lead you to the tennis courts and pool at Paulina springs. Additionally, you can ride a bike or drive to Glaze Meadow Lakeside Pool and Bistro in minutes.
View Photos, Read Reviews & Check Availability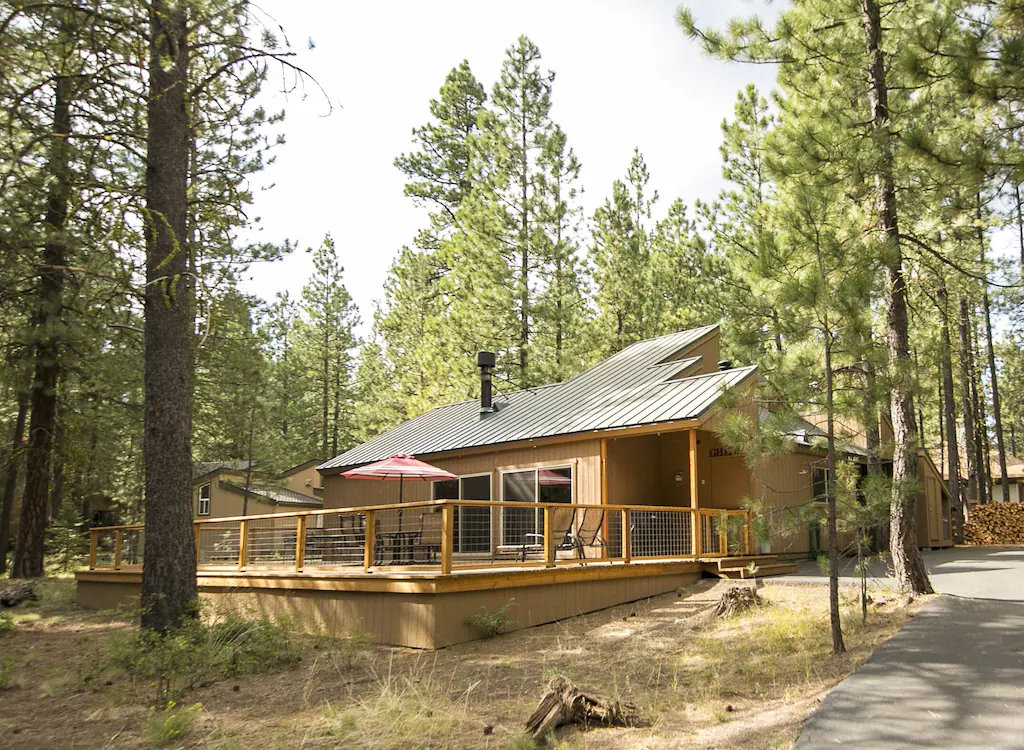 ---
8. Wonderful Cabin with Hot Tub & Fireplace in Govi
Location: Government Camp, Oregon
Price: $319+ per night
https://www.airbnb.com/rooms/11187635
The coziest and cutest cabin sits in the village government camp. It is a true gem in a superb location. The lodge is just a short walk to the historic Government Camp, restaurants, stores, and the Ski Bowl Adventure Park. Have you spent a long day in the mountains? Relax afterward in the heated hot tub after a day of taking in the sights.
The cabin can accommodate up to 4 guests. A fireplace is also available indoors, where you can enjoy romantic candlelight dinners.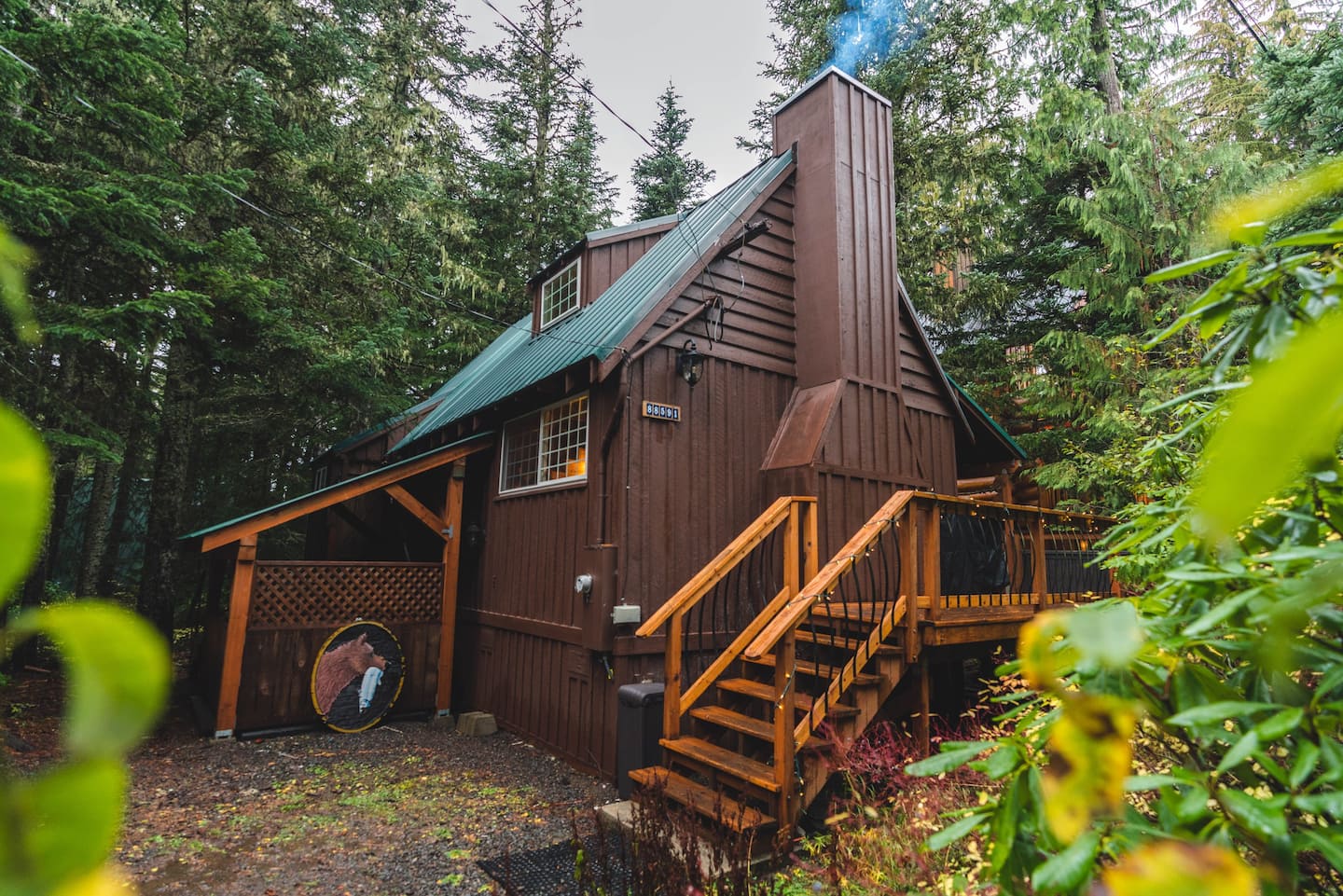 ---
9. Vintage Cabin
Location: Brookings, Oregon
Price: 175+ per night
https://www.airbnb.com/rooms/37682118
The Vintage cabin offers a panoramic view of one of the most spectacular areas of the Oregon Coast. You can watch wildlife on Goat Island and migrating sea life. A hot tub is available at the cabin for you and your partner to relax and create great memories. The property is just a short drive to restaurants and shopping. It is well off the highway, so you hear nothing but the sounds of the ocean along the Oregon coast.
The cabin can accommodate up to 2 guests as it has one bedroom and one bath. Additionally, you will have your area with free parking and a private entrance.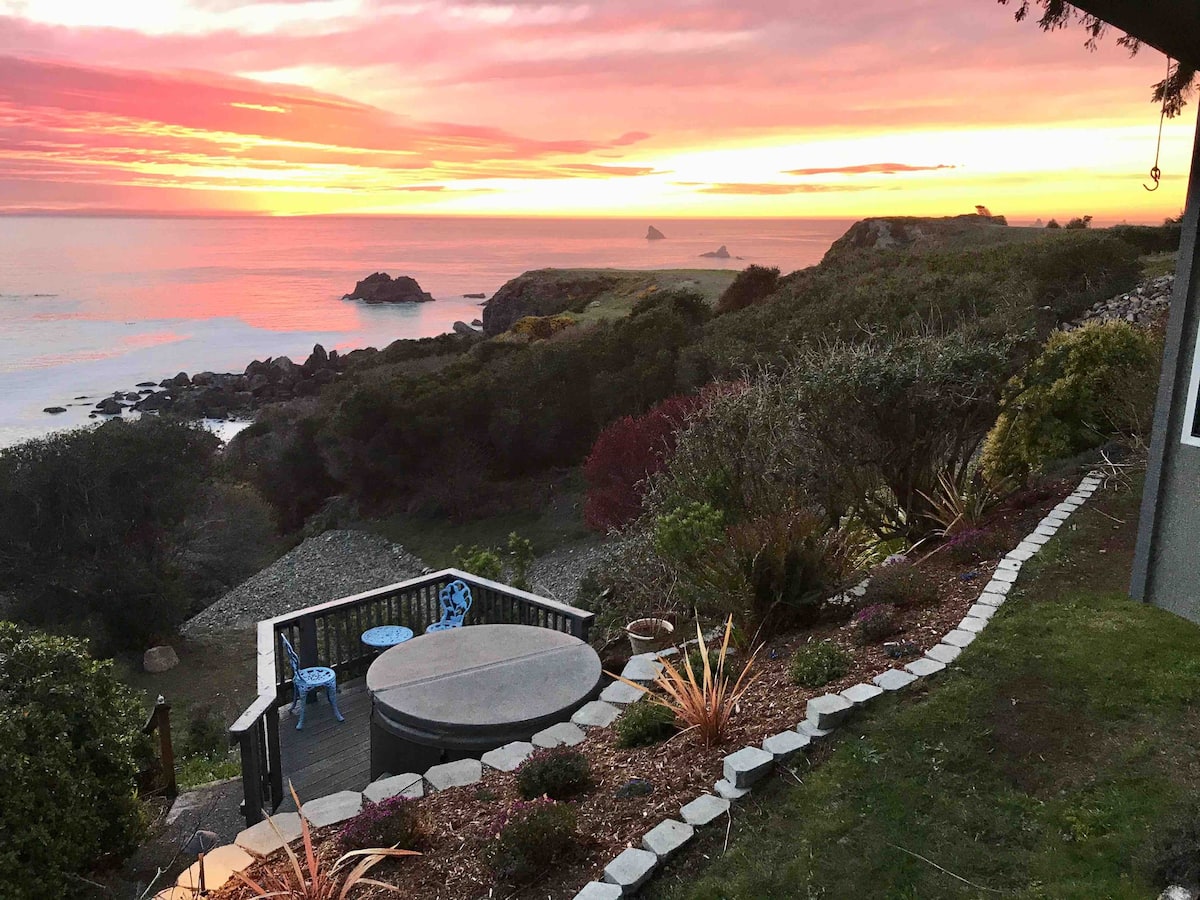 ---
10. Oregon Coast Oceanfront Cabin With Hot Tub
Location: Manzanita, Oregon
Price: $441+ per night
https://www.airbnb.com/rooms/17077091
Located on the North Coast of Oregon, this oceanfront cabin sits on over an acre of property, 200 feet above the waves. The property offers magnificent views of the North Coast. This romantic getaway is perfect for couples. A short walk or bike ride will take you to Manzanita and the beach. You can often see Eagles soaring above the property. Deer will also pass by early in the morning.
Also, you can enjoy all the amenities such as a refrigerator, microwave, toaster, coffee maker, and blender in the cabin. You can prepare your delicious meals and spend time with your partner.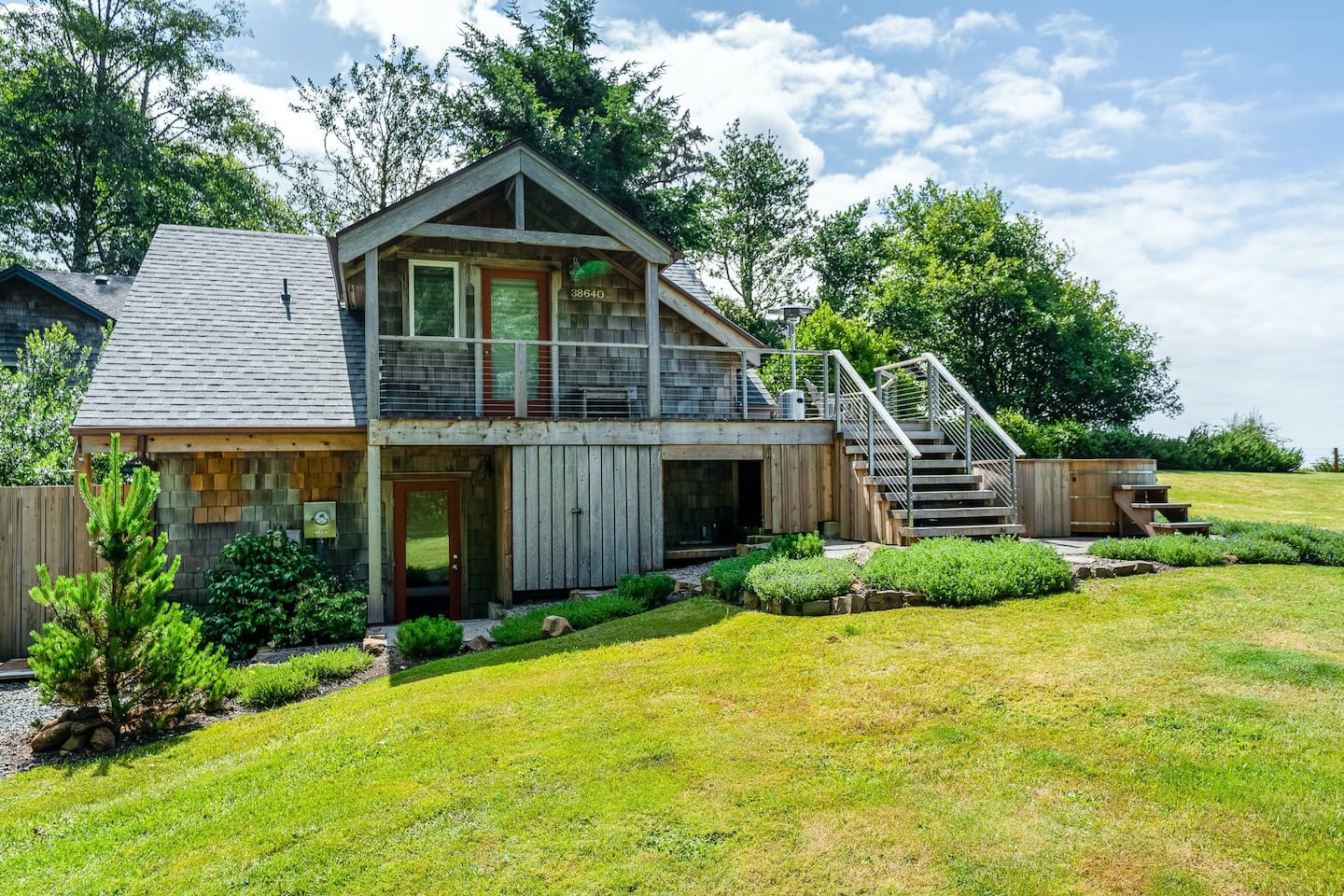 ---
---
---
---
---
11. Little Deschutes Cabin
Location: La Pine, Oregon
Price: $135+ per night
https://www.airbnb.com/rooms/21409058
Located just a few steps away from the Little Deschutes River, this log cabin offers the best of both worlds. Take advantage of the outdoor deck for coffee and breakfast, or curl up by the fireplace during winter storms. There are many outdoor activities to enjoy year-round in this location, including skiing, swimming, and fishing. There is also a golf course where you can have a memorable time with your loved one.
The cabin can accommodate up to 6 people. You can enjoy the night sky while gazing at stars from the hot tub, or you can enjoy a romantic walk along the river on the 5-acre property with your partner.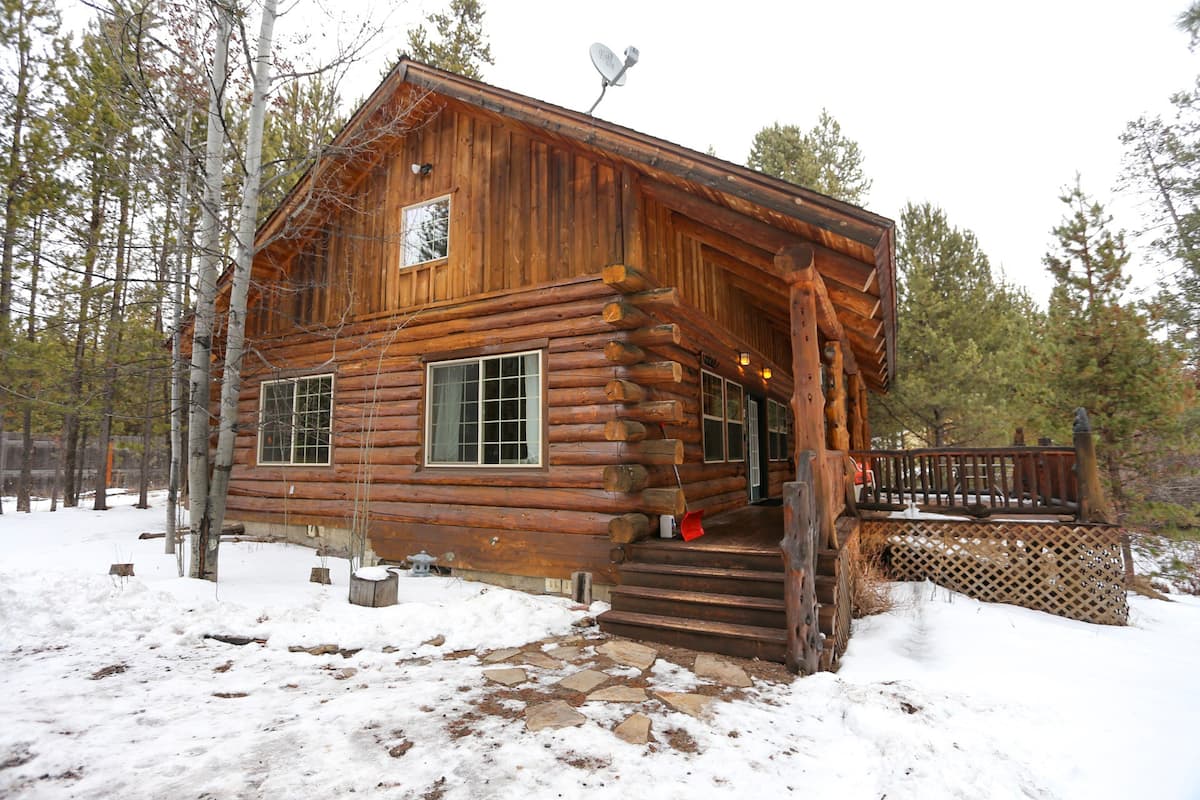 ---
12. Mountain Cabin
Location: Rhododendron, Oregon
Price: $322+ per night
https://www.airbnb.com/rooms/50853175
Mountain A-frame cabin has four unique levels with two lofted sleeping areas that make it an ideal mountain retreat for couples, solo travelers, or family. This luxurious cabin sits near hiking trails, mountain biking, fishing, and skiing in the heart of Rhododendron. This cozy cabin has everything you need for a pleasant trip to Mount Hood. Mountain A-frame offers several amenities, including games, Smart TVs, fireplaces, fire pits, a private hot tub, and fast WiFi.
The cabin accommodates four guests. You can walk to the Zig Zag River, Skyway BBQ, and several mountain biking trails from the chalet. Further, just 15 minutes drive will take you to the ski slopes.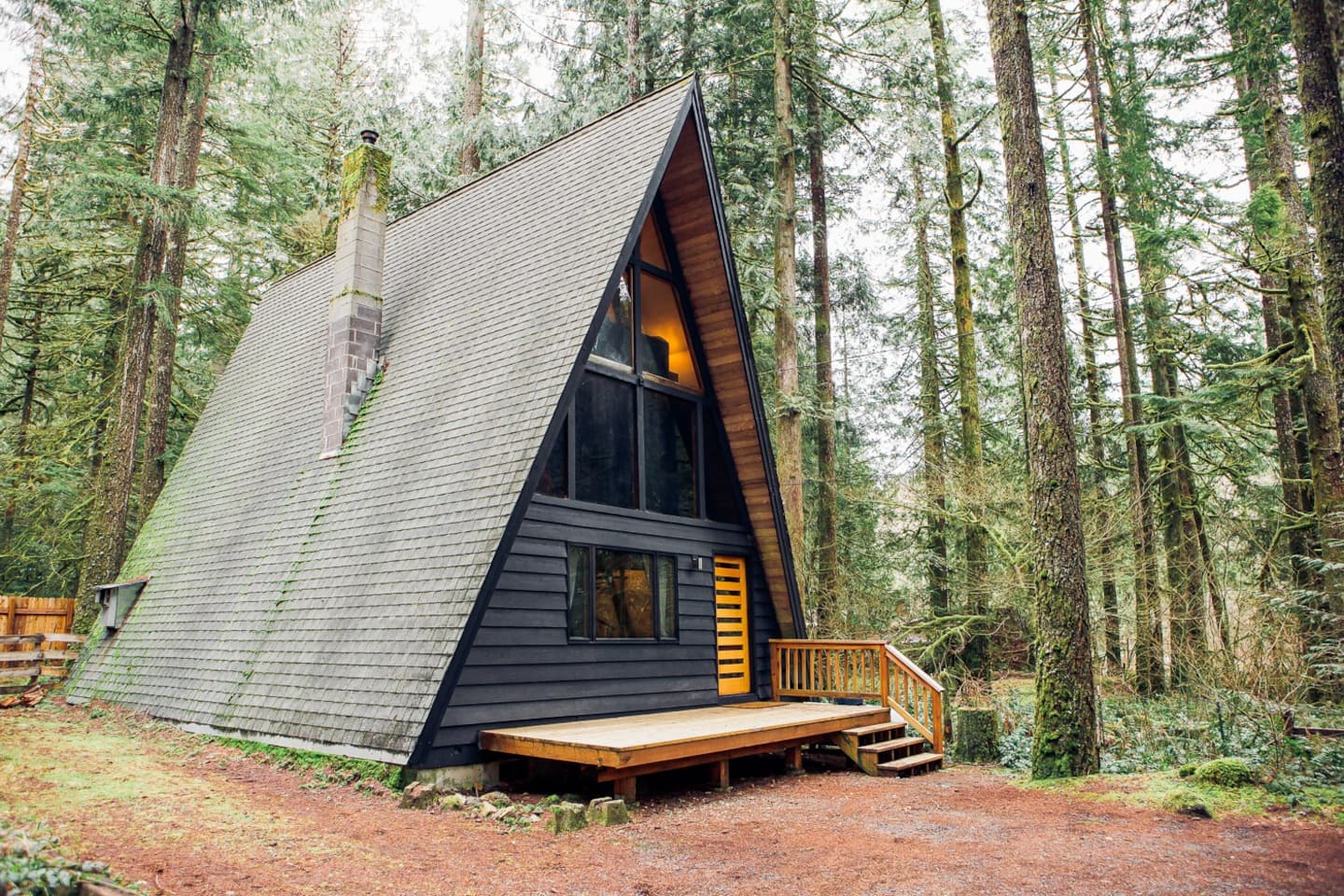 ---
These were some of the top romantic cabins with hot tubs on our list. In this way, you can rekindle your relationship and make fond memories together. You can soak all your worries away in one of these beautiful cabins with hot tubs!