Planning to celebrate your relationship and looking for a romantic cabin in Florida? In addition to lots of wonderful beaches and parks, the Sunshine State has plenty of hidden gems and romantic cabins ideal for a weekend getaway with your beloved one. 
From natural springs to the ​​Everglades, Florida has prepared a lot of amazing things for you to explore. Cozy lodges nestled among the trees, riverside shelters, woodsy five-star resorts, and back-to-nature camping cabins—Floride is sure to inspire you and help you get the hang of a truly romantic weekend getaway. 
Also, be sure to read my guides on Romantic Cabins in Georgia & Cabin Rentals in Alabama for more epic getaways in the area!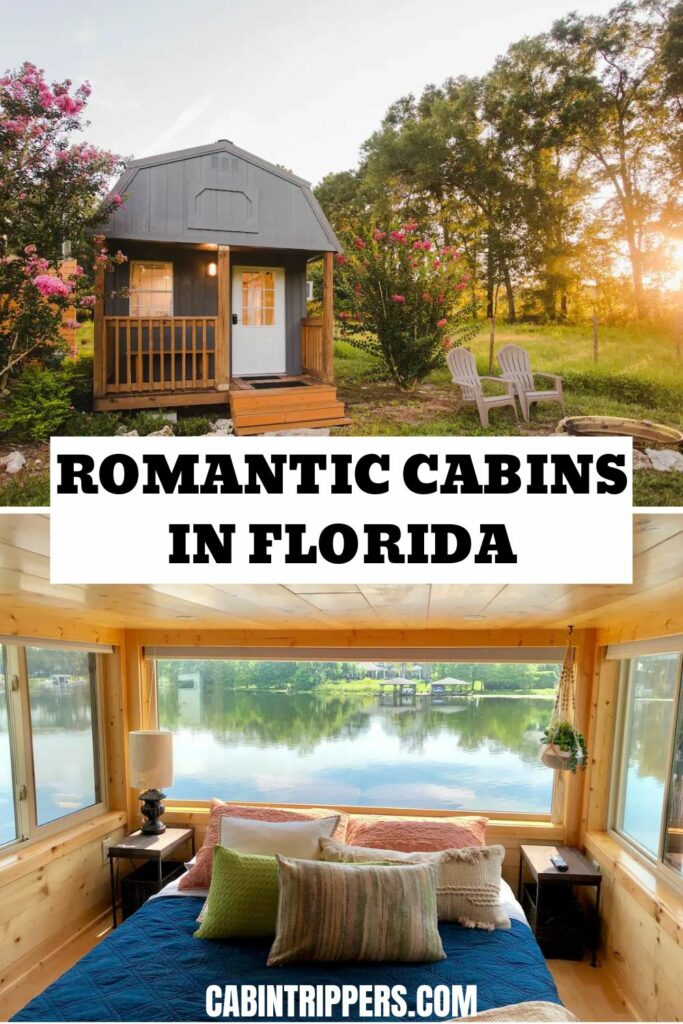 ---
Quick Breakdown Of Romantic Cabins in Florida
Let's be honest: sometimes it's pretty hard to choose a place to stay, given the variety of great options. That's why we decided to simplify your searches and create a short overview of the top five romantic cabins in Florida that ooze charm. It's our personal opinion, but who knows, maybe you'd love this list as much as we do. 
The most stylish cabin in Florida – TreeHouse in the Cloud
The coziest cabin in Florida – Micro Lodge STA
The most affordable cabin in Florida – Nature Intense Tiny Home Hideaway
The most spectacular cabin in Florida – Spectacular Lakefront Cabin On Secluded Lake Kerr
The best waterfront cabin in Florida – The View – Waterfront Tiny Home
---
The 12 Best Romantic Getaways in Florida
Alright, folks! While creating this list, we were committed to a thoughtful process of delivering you the best of the best. Meet the 12 finest romantic cabins in Florida to relax your soul. 
---
Ginnie Springs Zen Romantic Cabin +10 Acres Woods
Where: Gilchrist County, Florida
Price: $200+ per night
Accommodates: 5 guests
The next cabin is settled on 10 acres of private and secluded forest where no one can disturb you. It's an ideal place for two—a front porch with string lights, patio furniture, and a charcoal grill offer an opportunity to prepare a delicious dinner and create a romantic atmosphere. 
The inside is complete with a bedroom and additional twin beds, sleeping up to five people if necessary. The kitchen and living areas are located in the loft, while the bathroom is on the main floor. After a day at the springs, you can use an outdoor shower right next to the cabin. And if you want to explore the nearby city, High Springs downtown is located 15 minutes away from the spot.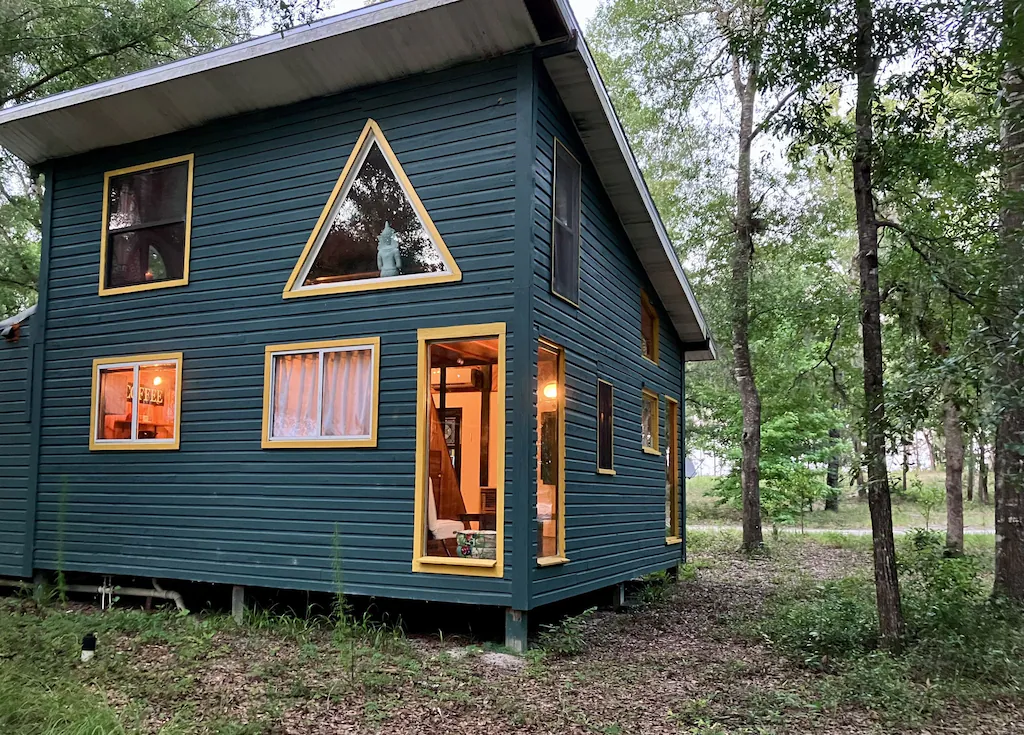 ---
TreeHouse Cabin in the Cloud
Where: Saint Cloud, Florida
Price: $164+ per night
Accommodates: 2 guests
https://www.airbnb.com/rooms/29407433 
This charming treehouse is an excellent option for couples looking for a place to refresh their relationship. Elevated among the trees, it offers amazing views through floor-to-ceiling windows that let the natural light in. It looks like this cabin is made of wood and glass only, creating an authentic vibe and offering a back-to-nature experience.
Inside, it has a cozy bedroom you won't want to leave, a table and chairs, a full bathroom, and a kitchenette with a microwave, coffee maker, and different pots and pans. Outside, the cabin features an elevated porch with breathtaking nature views where you can sip wine with your beloved and enjoy life. Stylish, thoughtfully equipped, and cozy, this shelter was created to deliver you the feeling of home.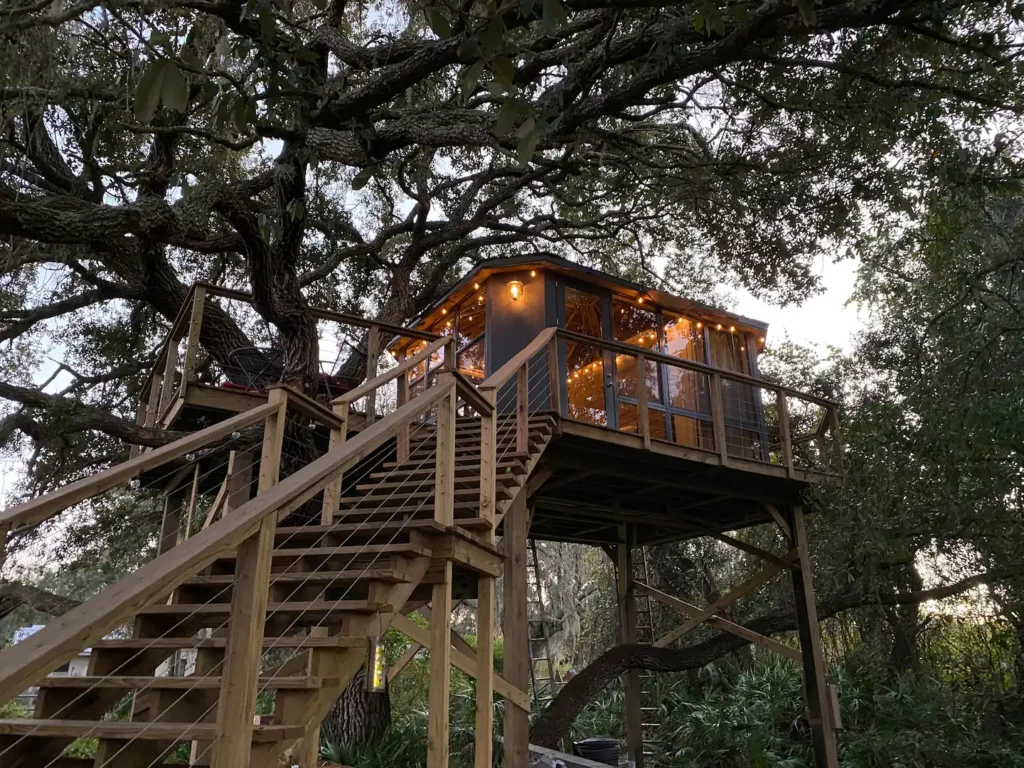 ---
Fins To The Left Beachfront Romantic Cabin
Where: Ilexhurst, Florida
Price: $425+ per night
Accommodates: 6 guests
Fins To The Left is a beachfront paradise that delivers the feeling of tranquility and freedom. Located on a gorgeous, quiet stretch of beach, it offers top-notch views (literally!) and a perfectly equipped inside. This cabin is a duplex with two bedrooms, meaning you can invite your coupled-up friends to join your vacation. It has one bathroom on each side, a fully equipped kitchen, a living space for evening talks, and a patio for good wine. And again: the views are a WOW—you can go to the beach in your pajamas with a cup of morning coffee in your hands. At Fins To The Left, you live your life like it's a movie.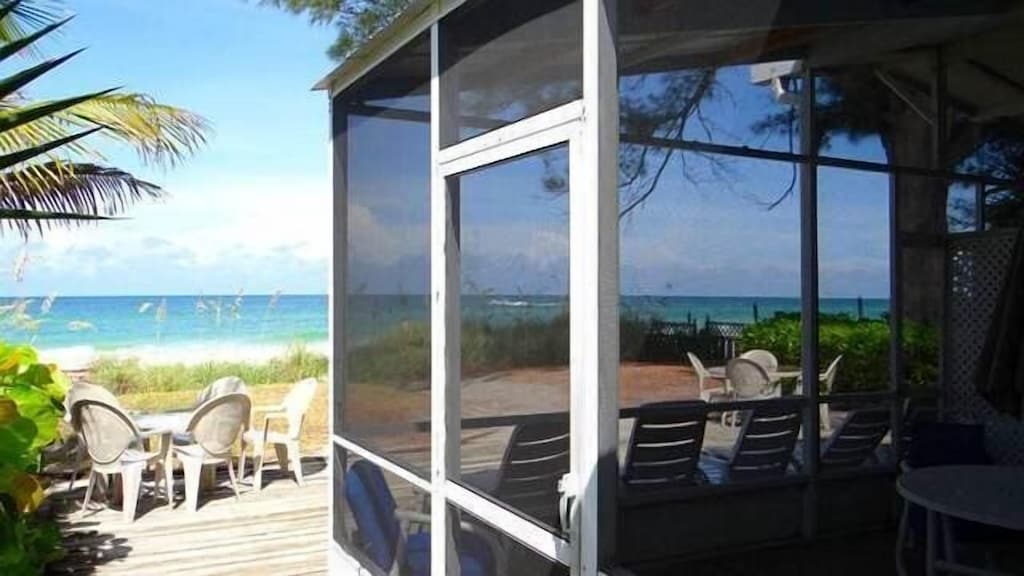 ---
Romantic Log Cabins at Lake Okeechobee
Where: Okeechobee County, Florida
Price: $150+ per night
Accommodates: 4 guests
https://www.vrbo.com/4953505ha?adultsCount=2 
These cozy cabins are only a fraction of a drive from the hectic, routine lifestyle. Located near the second-biggest lake in the United States, Lake Okeechobee, they offer a chance to forget about your everyday worries and enjoy precious time together.
Inside, the cabins can sleep up to four people, have a pretty spacious living space, and a kitchen equipped with a microwave, coffee maker, dishwasher, and grill. You will also find a communal pool and spa whirlpool on the property. And if you want to spend your day actively, Log Cabins at Lake Okeechobee offer plenty of nearby activities, such as fishing, cycling, jet skiing, golf, and much more.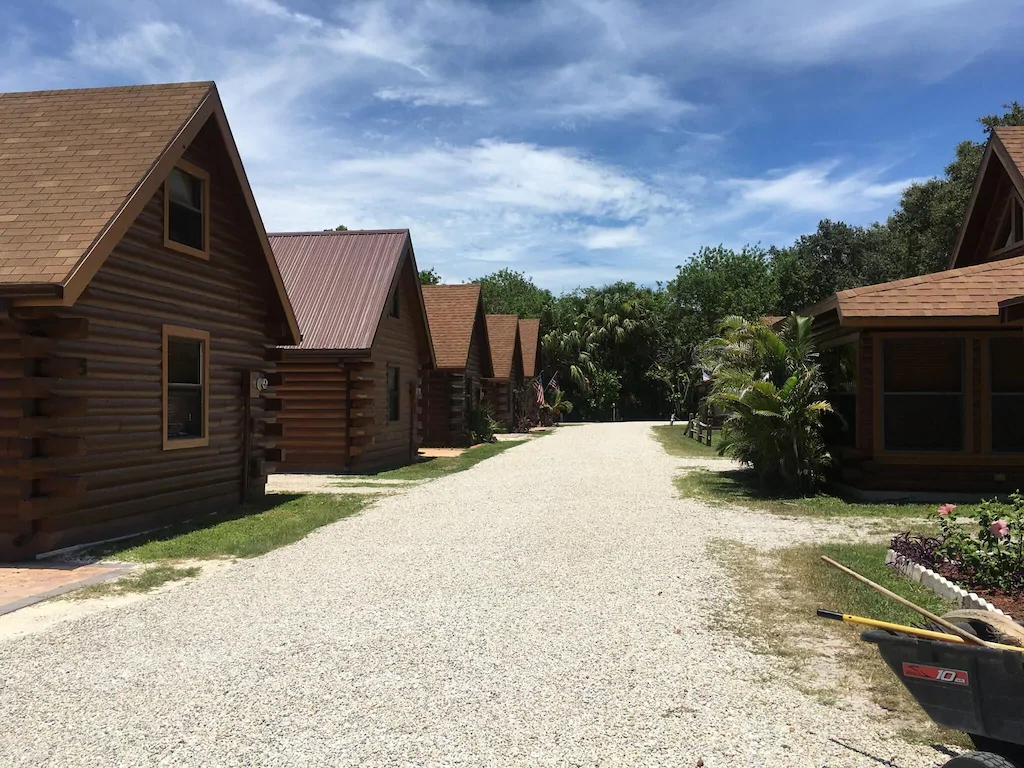 ---
Suwannee River Sanctuary – The Birdhouse Cabin Getaway
Where: Old Town, Florida
Price: $99+ per night
Accommodates: 3 guests
https://www.airbnb.com/rooms/34939135 
Do you want to wake up to the fantastic nature views through huge window walls? This property can make your dream come true–it looks like it's made of glass and wood only, creating a vibrant nature-filled atmosphere. 
Suwannee River Sanctuary can sleep up to three people but is also great for a couple's weekend getaway. Featuring a front balcony facing the serene Suwannee River, this open-air shelter is ideal for a relaxing recharge. Inside, it has three single beds, a table, chairs, and a fridge. Outside, you will find a cold shower and a cozy fire pit for sweet talks and a delicious dinner. Overall, Suwannee River Sanctuary is all about a great location, a cozy interior, and amazing trees views.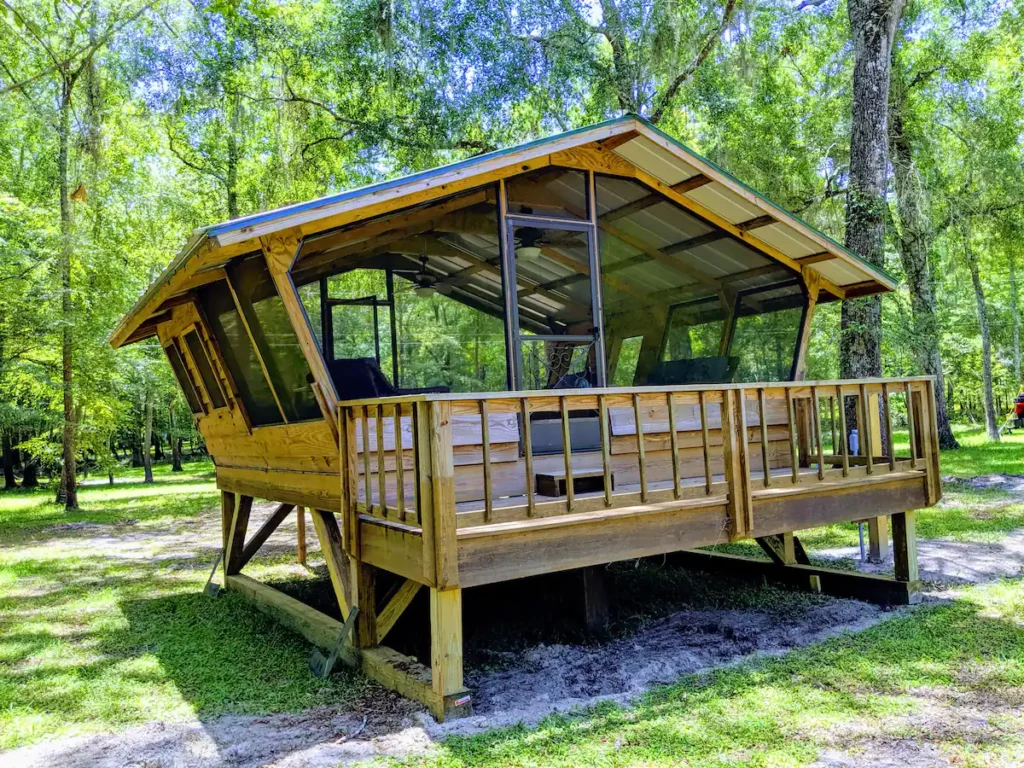 ---
Micro Lodge Tiny Cabin
Where: St. Augustine, Florida
Price: $98+ per night
Accommodates: 2 guests
https://www.airbnb.com/rooms/45200085 
This stylish gem is nestled in a private courtyard, just a five-minute drive from downtown St. Augustine and ten minutes from the beaches. Every corner of this cabin is filled with plants, small cute items, and thoughtful decor. It's complete with a soft queen bed, stylish kitchen, and spotless bathroom with a shower, sink station, and toilet. Outside, you will have access to the onsite gym, a minigolf hole, and a BBQ zone. 
Cozy and bright, Micro Lodge STA will make you fall in love with it at first glance. It oozes charm and welcomes you and your beloved to spend quality time together. But hurry up—this shelter gets booked up pretty quickly.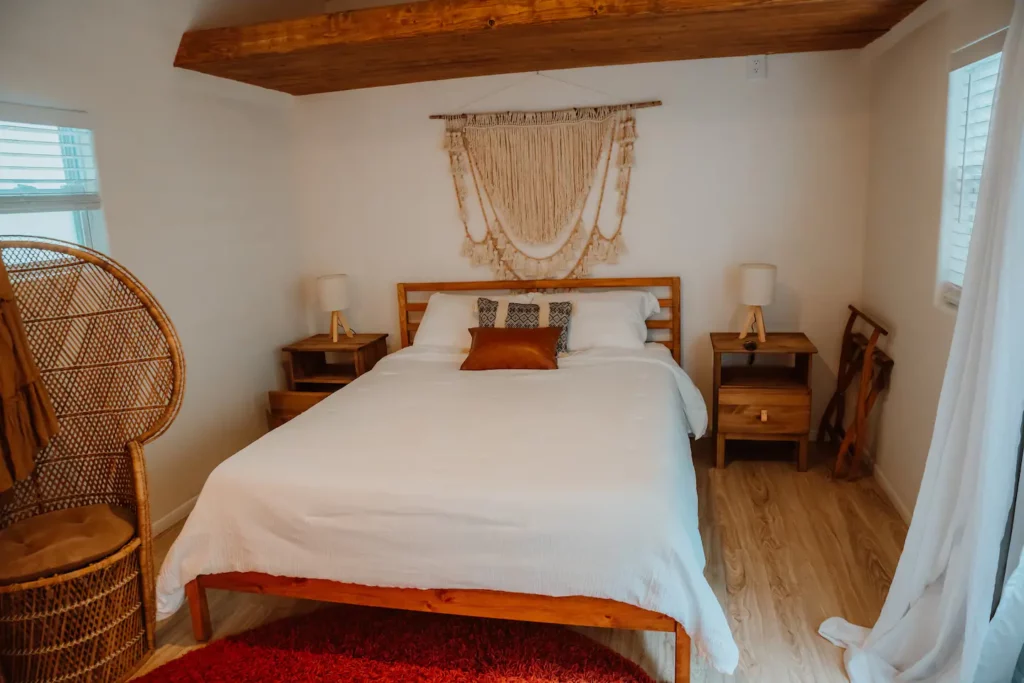 ---
Private Guest House Romantic Cabin 
Where: Tampa, Florida
Price: $83+ per night
Accommodates: 2 guests
https://www.airbnb.com/rooms/48881193 
This tiny yet extremely cozy house welcomes you and your beloved one to relax and stop fretting about daily problems. We all need time for ourselves, and a short weekend getaway is an excellent opportunity to fulfill this dream. 
The shelter has its own private patio where you can enjoy a slow and conscious breakfast, drink a morning cup of coffee, and a glass of your favorite wine in the evening. It's all about details, and this private guest house knows everything about them. Inside, it has a huge bed, a stylish bathroom, and a small kitchen area with a coffee maker, microwave, and mini fridge, a bathroom. Less is more, and this saying perfectly describes this place. You'll also get a free parking place for a car. Oh, forgot to mention that it's pet-friendly: take your little friend and enjoy a short vacation.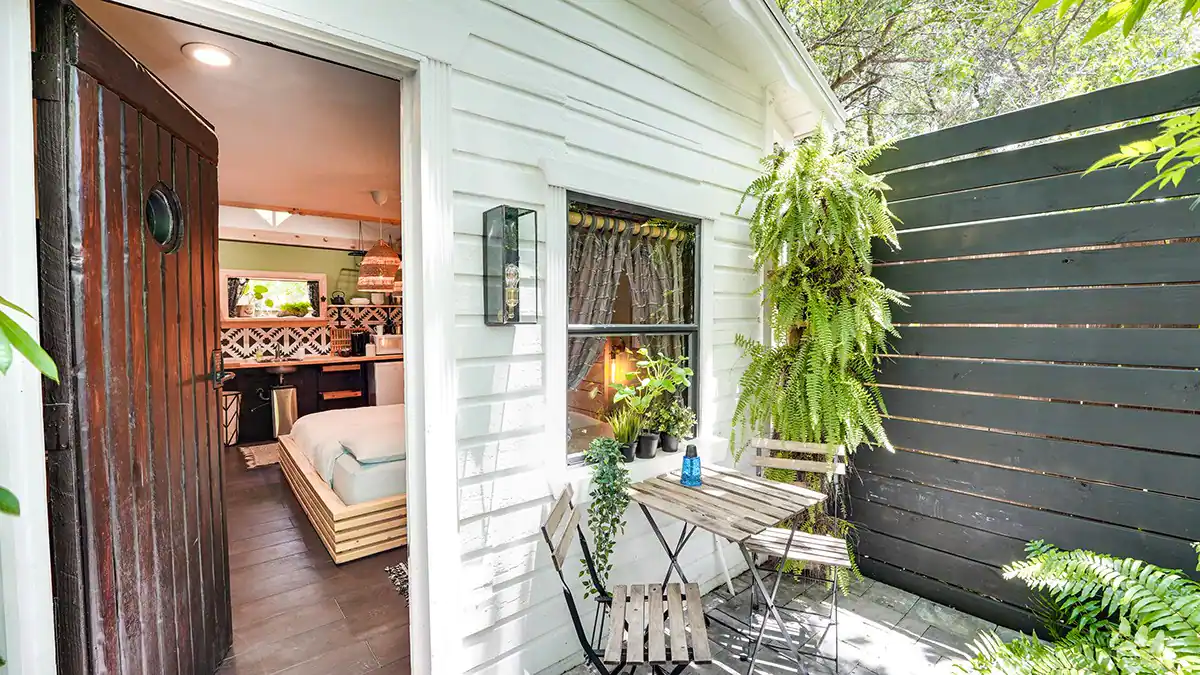 ---
Nature Intense Romantic Cabin Getaway
Where: Fort White, Florida
Price: $84+ per night
Accommodates: 4 guests
https://www.airbnb.com/rooms/48209822? 
If you are looking for a cabin in the middle of nature, stop scrolling and pay heed to this option. Located minutes from The Santa Fe, Suwannee, and Ichetucknee Rivers, New Nature Intense Hideaway Cabin offers stunning trees and wildlife views. Outside, it has a cozy fire pit and free firewood to warm up the evenings and create an unforgettable romantic atmosphere. 
Sleeping up to four people, this house has everything needed for a comfy stay: a small kitchen with different pots and pans, a microwave, fridge, and oven, comfortable beds to have the sweetest dreams, and a bathroom. Take advantage of such a chance and book this property for a reasonable price.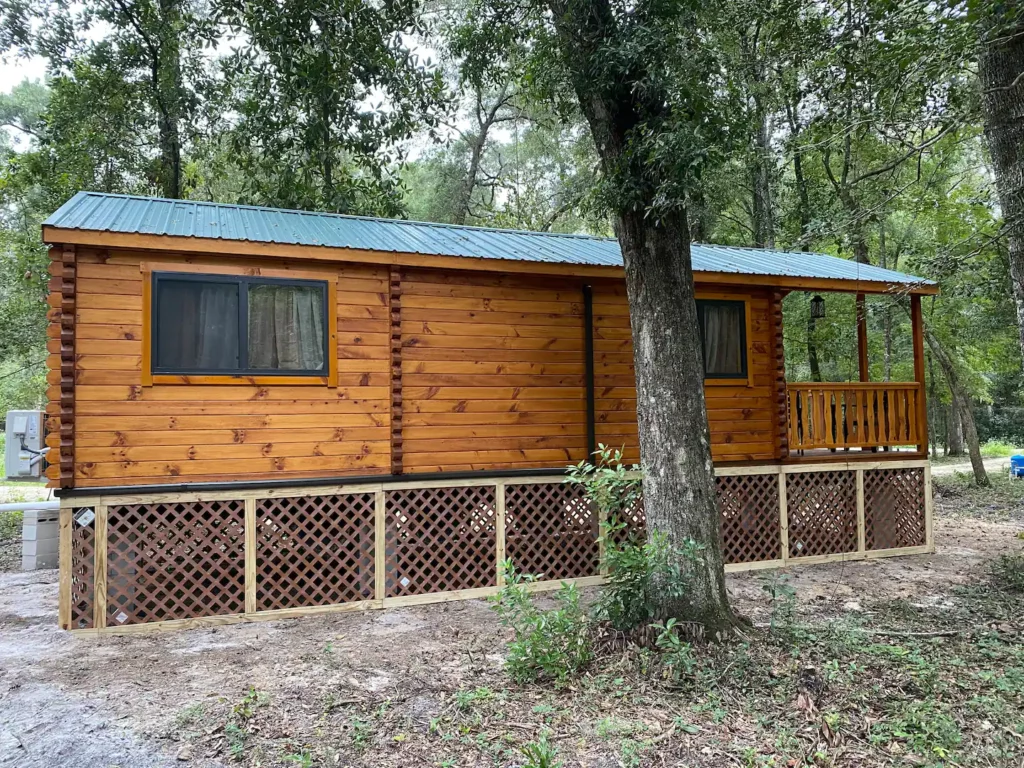 ---
Spectacular Lakefront Cabin On Secluded Lake Kerr with Hot Tub
Where: Salt Springs, Florida
Price: $271+ per night
Accommodates: 6 guests
Get away to a secluded oasis on the shores of Lake Kerr. This spectacular vacation cabin is located near the Ocala National Forest and Salt Springs, just one hour from Orlando. You'll have all the comforts of home with a fully equipped kitchen and laundry facilities, along with two bedrooms on opposite ends of the home (one with a king bed and one with two queen beds), each with its own bathroom.
After a full day exploring nearby attractions and hiking trails, come back and relax by the fire pit. Take a dip in our private lakefront hot tub or hop into the natural mineral springs for a soothing soak! What a chance to be alive, isn't it?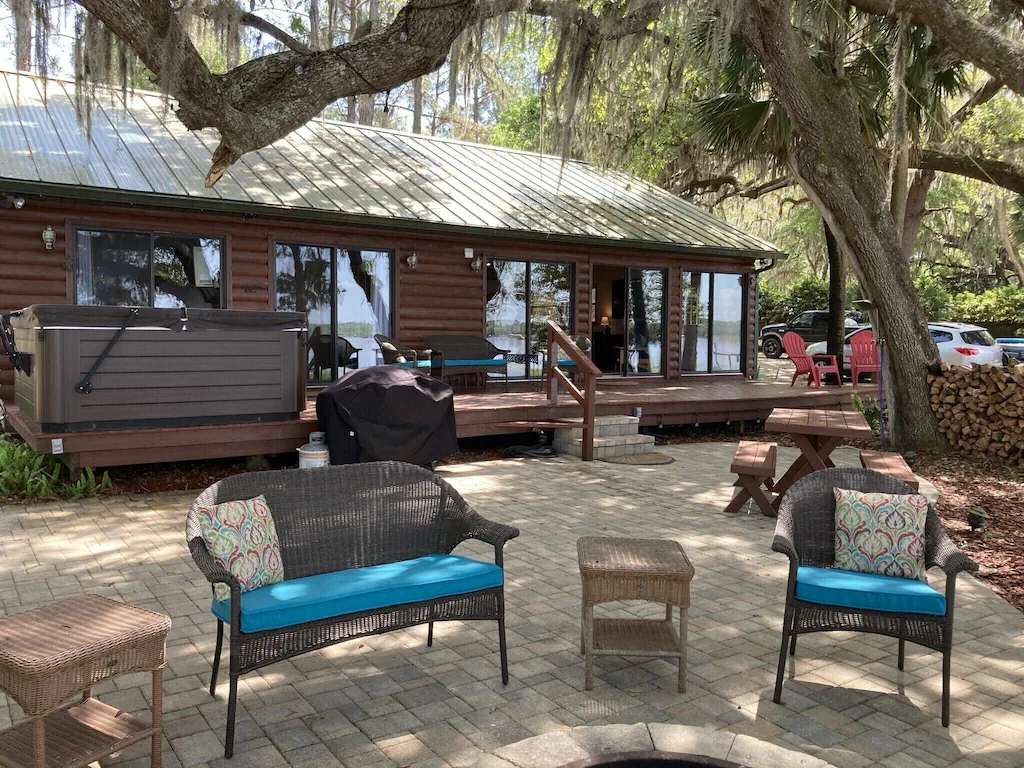 ---
High Springs Tiny Cabin for 2 (with a Farm View)
Where: High Springs, Florida
Price: $99+ per night
Accommodates: 2 guests
https://www.airbnb.com/rooms/49215759 
This tiny cabin is the perfect place for couples looking to get away and enjoy the outdoors. Located on a 43-acre farm, High Springs Tiny Cabin is separated into three different spaces: the cabin with sleeping space & kitchenette, a shaded courtyard with outdoor seating, and a converted shipping container bathroom.
You will be surrounded by tall pine trees, farm animals, and nature. Ideal for nature lovers and outdoor enthusiasts, this farm is located in High Springs, FL, with a quaint downtown area with restaurants, antique shops & more. Close enough to drive to the springs & boat ramp in just 5 minutes, as well as canoeing or tubing down the Santa Fe River.
There is also a shaded patio that is great for spending time outside eating your favorite meal or drinking wine! Yeah, it all adds up—your getaway, your adventure, your tiny house.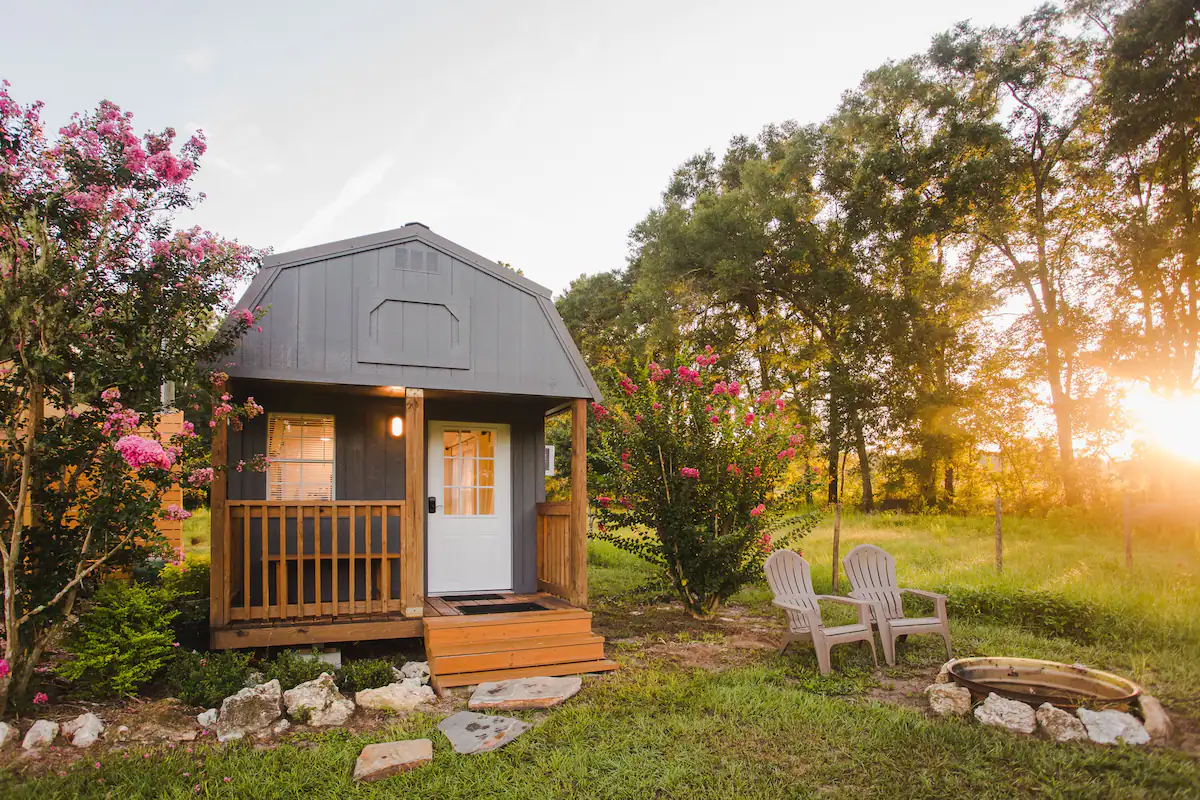 ---
The View – Waterfront Unique Tiny Cabin
Where: Orlando, Florida
Price: $127+ per night
Accommodates: 4 guests
https://www.airbnb.com/rooms/36385337 
This tiny waterfront home is located in the heart of Orlando's Lake Nona area. It offers incredible lake views from every room, including the living room, kitchen, and two bedrooms with two double beds. Featuring a modern style mixed with comfortable textures, this shelter has large picture windows, a comfortable living room, and a large private deck to make your stay a memorable one. In a nutshell, it's the best spot to relax, unwind, enjoy sunrise yoga by the lake, and then drink your morning coffee, which tastes better on the deck than inside the home.
There are many things to do in Orlando besides visiting theme parks. The surrounding area has an abundance of lakes and rivers where you can enjoy water sports or relax on a private dock. There are also plenty of hiking trails nearby for those who prefer to explore on foot rather than by boat or car. Overall, it's a chance to spend quality time with your beloved and create warm memories. Don't miss it!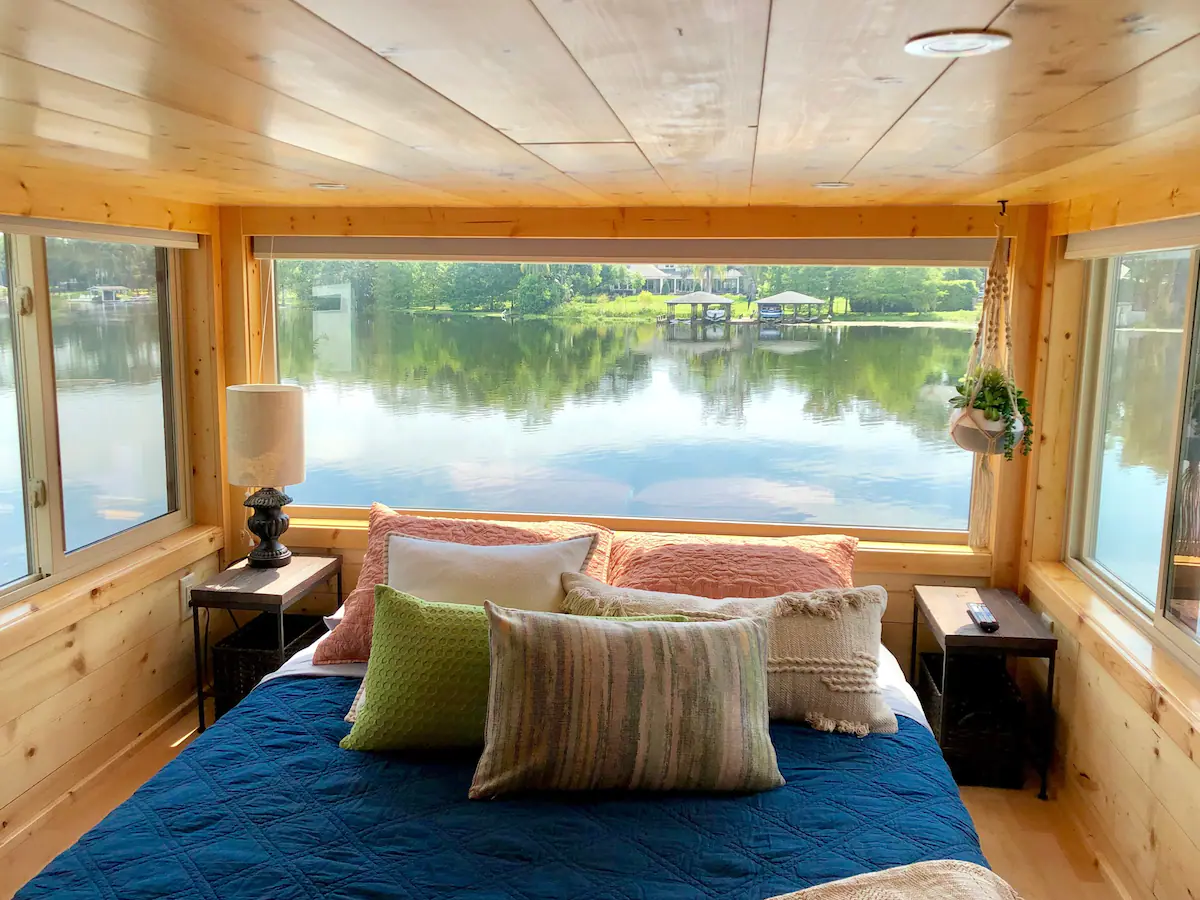 ---
Tin Shed Revival Romantic Cabin
Where: Vilano Beach, Florida
Price: $174+ per night
Accommodates: 2 guests
https://www.vrbo.com/9058367ha?adultsCount=2 
The Tin Shed Revival Cabin is a cozy, private cabin located just 6 minutes from Vilano Beach on quiet Vilano Beach Street, FL. Equipped with all of your basic needs: coffee maker, refrigerator, microwave, toaster oven, pots and pans, and dishes, it's perfect for couples who want an affordable romantic getaway nestled away in a wooded lot.
The shelter is outfitted with tasteful furniture, antiques, art, beach decor, and a large comfortable Murphy (pull-down) bed. A small screened porch with comfortable seating extends the living space outdoors and beyond to the wrap-around deck with seating in front and back. The Tin Shed Revival Cabin is also stocked with soft and fresh linens, a TV, bath amenities for your comfort, and a gas grill for cooking out on the deck overlooking the private backyard oasis. As for the backyard, it has its own fire pit area where you can enjoy roasting marshmallows at night while listening to crickets chirping around you.