Planning a trip and searching for the coolest Cabin Rentals in Utah? Well, you've come to the right place, as we've found 15 incredible places to stay for a unique cabin getaway in Utah that you'll never forget!
Discover unexplored parts of yourself when you visit Utah. Be surprised, go head over heels with this natural beauty and incredible state. Utah offers something different for different types of personalities; it's the perfect combination of dramatic landscapes, metropolitan cities, history, and outdoor recreation. Experience a wild, wild adventure in the wild, wild west!
Utah is breathtaking and anytime is the best time to visit. Of course, where you'll stay will be part of your adventure and what better way to spend your vacation than to stay in a cabin with great views and services? You'll find 15 coolest cabin rentals in Utah that we recommend you check out for your Utah trip. 
Also, be sure to read my guides on Cabins in Arizona & Cabins in Nevada for more unique accommodation rentals in the area!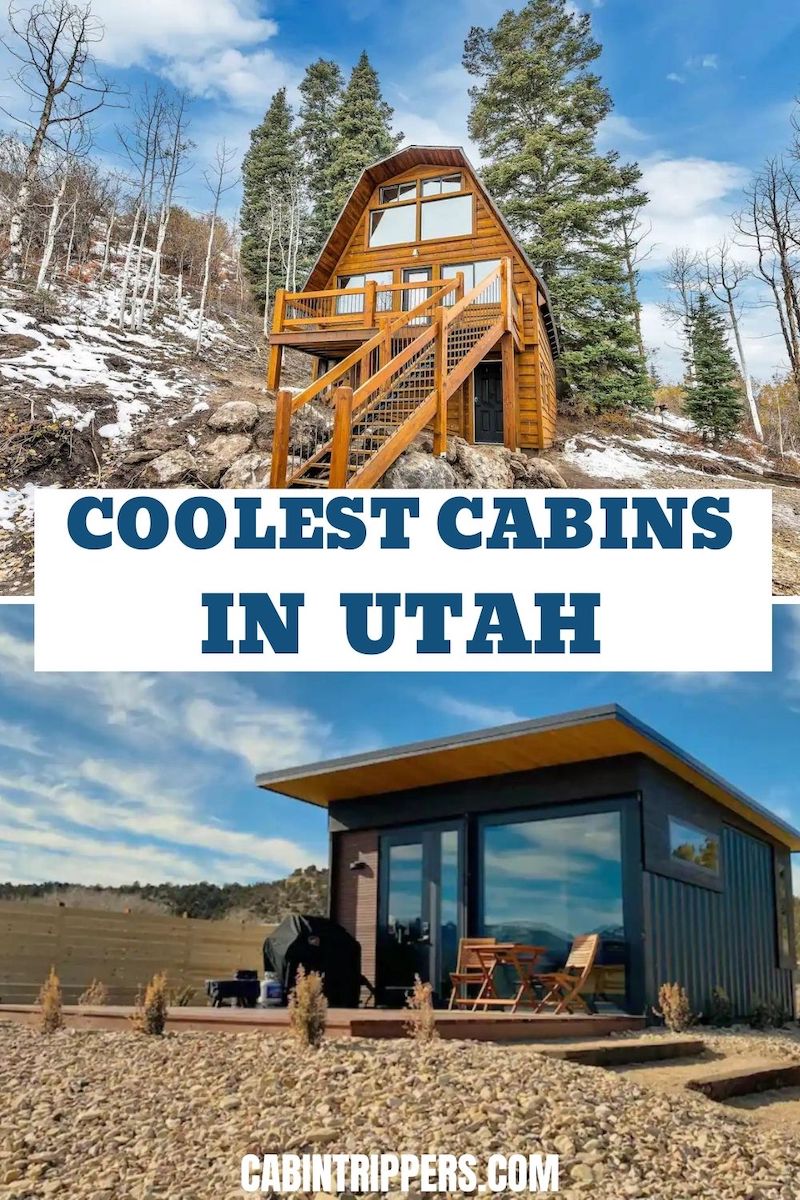 ---
Secluded Hideaway Cabin Above Park City
Location: Park City, Utah
Price: $199+ per night
https://www.airbnb.com/rooms/50888753 
An escape from the hustle and bustle of the city is guaranteed a wonderful way to reset and reorganize. This beautiful cabin set in a 2-acre private canyon community will provide that setting for you. The Hideaway features both its original structure since it was built in 1976 and modern furnishings.
It can accommodate 4 guests with its appointed two bedrooms; and also features a wraparound full kitchen, a living room that highlights an entertainment system, board games and books. Incorporated to the architecture and character of the cabin is a fully suspended hammock floor, swing chair, and floor-to-ceiling glass wall. Hideaway simply offers amazing views, modern functionality and luxury, and still within reasonable driving distance to Park City.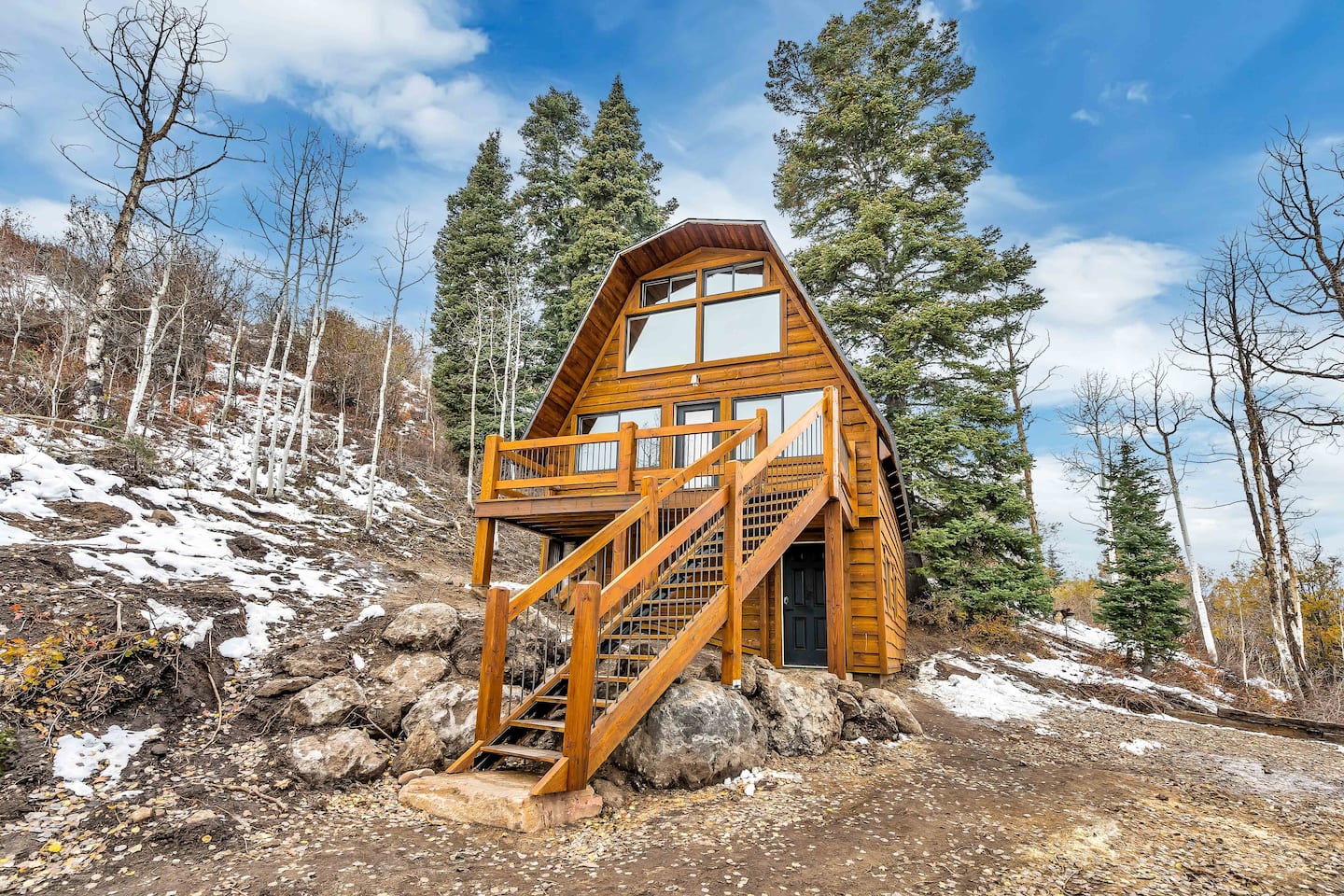 ---
Convertible A-Frame Cabin
Location: Mount Carmel Junction, Utah
Price: $157+ per night
https://www.airbnb.com/rooms/14110278 
If you wish to experience the Alpine wilderness and away from the crowd, consider staying in this cabin located 6,500ft elevated in Mount Carmel Junction. This convertible A-frame cabin brings the outdoors in and the indoors outside. The cabin features a convertible wall that opens up to the deck with chairs, a BBQ bar, and a firepit. It also highlights off-grid living with minimal sacrifices as it is powered by solar energy. For fun, a selection of games, coloring books, and cards are provided. It also features a binder with recommended hike trails around the area. Best of all, you can just feel the time stop as you watch the stars at night.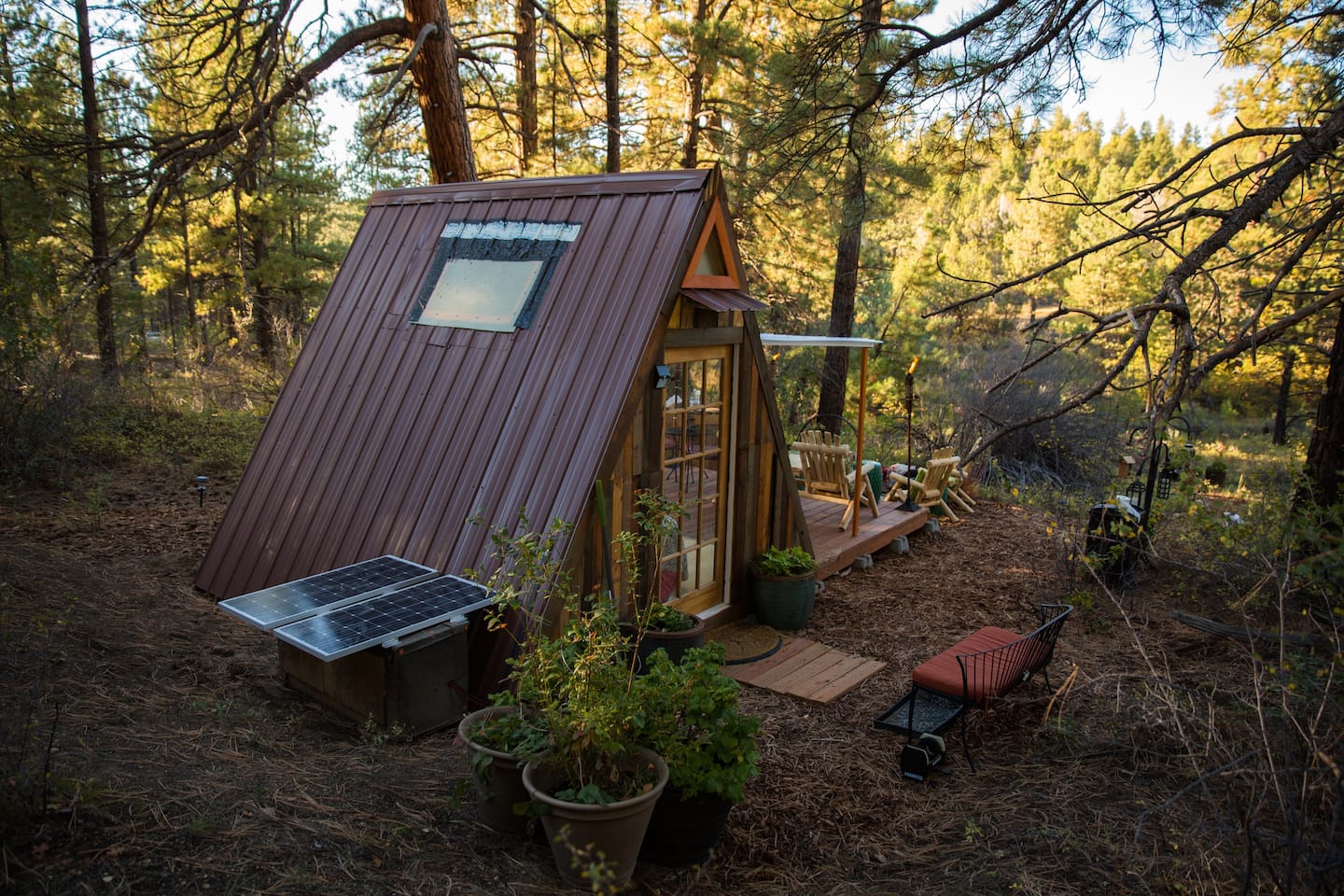 ---
Cozy Snake Creek Mountain Cabin
Location: Midway, Utah
Price: $200+ per night
https://www.airbnb.com/rooms/27200061 
This mountain cabin is the perfect retreat to spend time with family and friends. Located in the heart of Wasatch Mountain State Park, it provides guests with a private and quiet home with easy access to  the city. The cabin features 2 queen beds, a futon couch and a pullout sofa and can sleep 5 guests. It is the perfect home for guests that love the outdoors and going on a fun adventure. There are a list of activities that guests can do and enjoy including hiking, swimming, snowmobiling, shopping, skiing, sledding. No matter the season, whether your trip is packed with outdoor activities or just spending the day at the cabin, Utah will give you a different experience.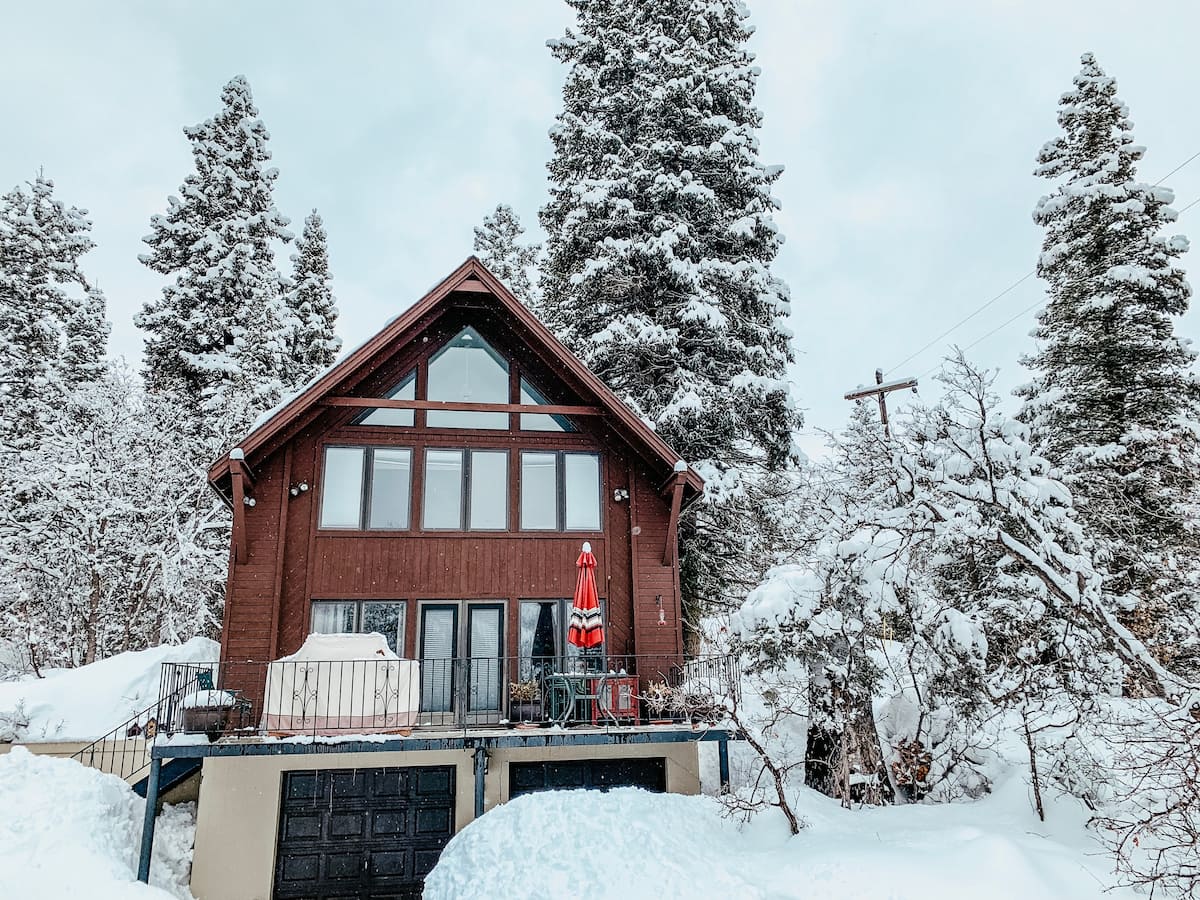 ---
The Cowboy Boot Shop Cabin
Location: Orderville, Utah
Price: $103+ per night
https://www.airbnb.com/rooms/38019188 
If you wish to wake up to the view of Zion National Park, Bryce Canyon, The Grand Canyon, then Cowboy Boot Shop is the perfect cabin for you and your friends. Originally a workshop for repairing boots, saddles, and western tack for all the local cattle wranglers, it was then remodeled to provide a home for guests traveling Utah. It has all the rustic cowboy feels with luxury touches. It features a bedroom, kitchen and laundry, heating and air conditioning, a fireplace, and dedicated parking space. Not to mention the amazing and breathtaking views!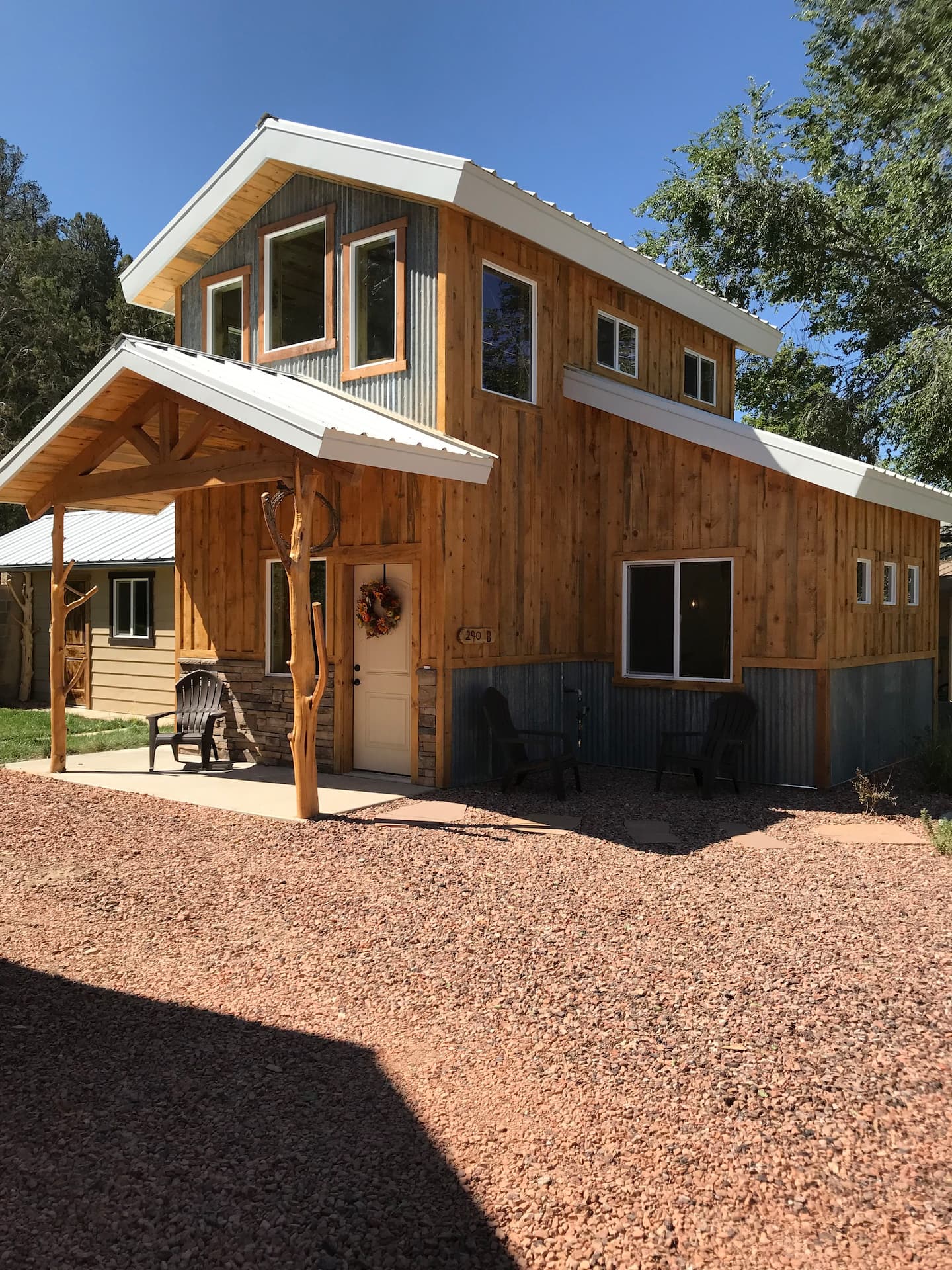 ---
Altitude Adjustment Secluded Cabin Rental
Location: Kanab, Utah
Price: $160+ per night
https://www.airbnb.com/rooms/35487119 
Located on a 5-acre property in Kanab, Altitude Adjustment is an idyllic spot for an unplugged weekend getaway. Thoughtful hosts prepare a complimentary snack basket to welcome you upon arriving. This 2-bedroom cabin accomodate 6 guests and features an indoor fireplace, a kitchen, bath and laundry, and outdoor firepit. It also highlights amenities like WiFi, bathroom necessities, and drinks and TV for entertainment.
From the porch, you can see stunning views of the red cliffs. They also welcome pet dogs if you are traveling with your best fur-iend. Nearby attractions include Zion, Coral Dunes Sand Park for sledding and a hike to the Toadstool.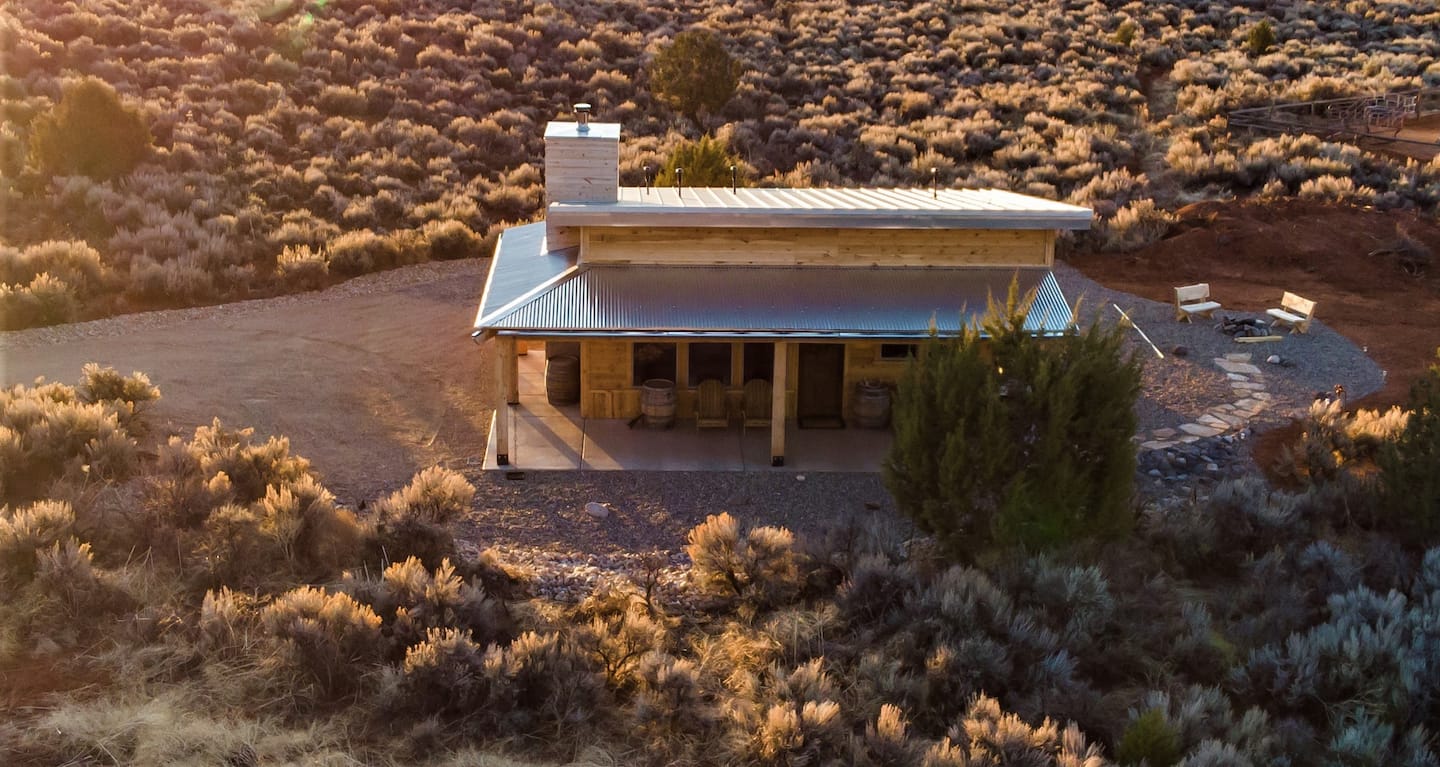 ---
Luxury Lodgepole Cabin For Large Groups
Location: Duck Creek, Utah
Price: $310+ per night
Lodgepole Chalet is a luxurious cabin that features the beautiful views of Duck Creek, plus all amenities you could need for a comfortable stay. This 2600 sq foot cabin includes 4 bedrooms with 8 beds that sleeps 12 guests, and features deluxe amenities. It features a gameroom at the basement where guests can play games like pingpong, billiards and Foosball; there is a washer and dryer, a gas fireplace, fully equipped kitchen, and a walk-in shower with double sink. Outside, there is a fire pit with plenty of seating to hang out. 
Lodgepole Chalet is the perfect homebase for different outdoor activities and attractions.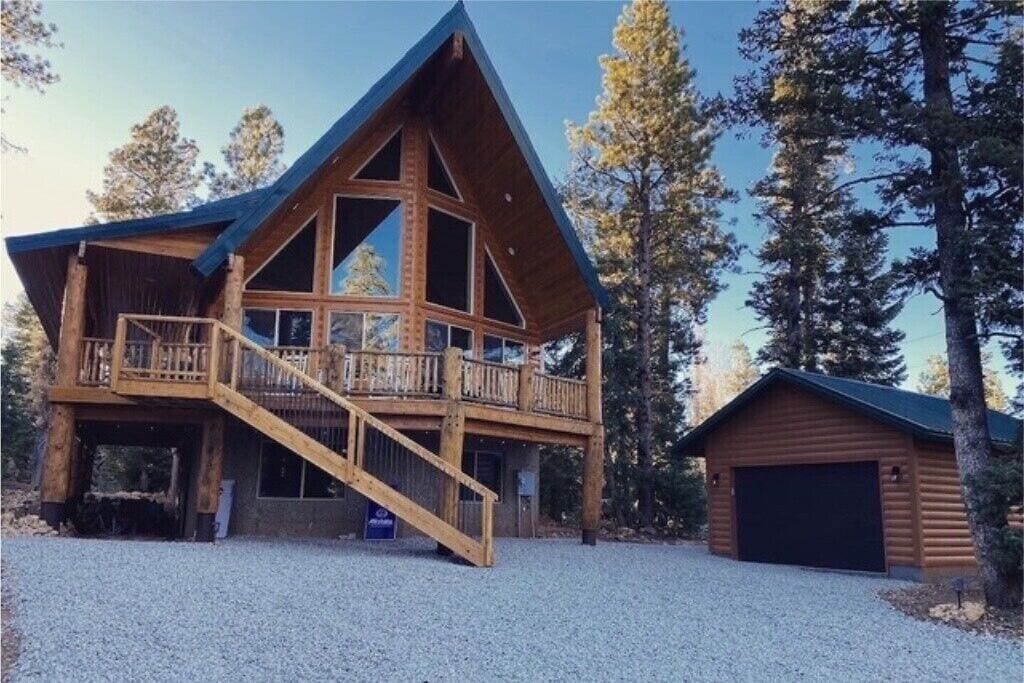 ---
Gorgeous 5-Star Custom Chalet 
Location: Long Valley Junction, Utah
Price: $288+ per night
This gorgeous cabin located in Long Valley Junction features the beautiful colors and views of both Bryce and Zion National Park. Renting this 3-bedroom cabin is a great way to escape the demands of city life – even for a short while. Here, you can treat yourself to luxury living in a rural setting. The cabin features floor-to-ceiling stone fireplace, beautiful handmade red cedar countertops, custom wood walls & flooring throughout, and plush carpeting.
The gourmet kitchen is complete with cooking utensils, appliances, dishes, pots & pans, and spices.The huge walls of windows highlights the breathtaking overviews and brilliant red rock sunsets. During your stay, you will have access to miles and miles of hiking and ATV trails, fly fishing plus stream & lake fishing on the Asay & Mammoth Creeks.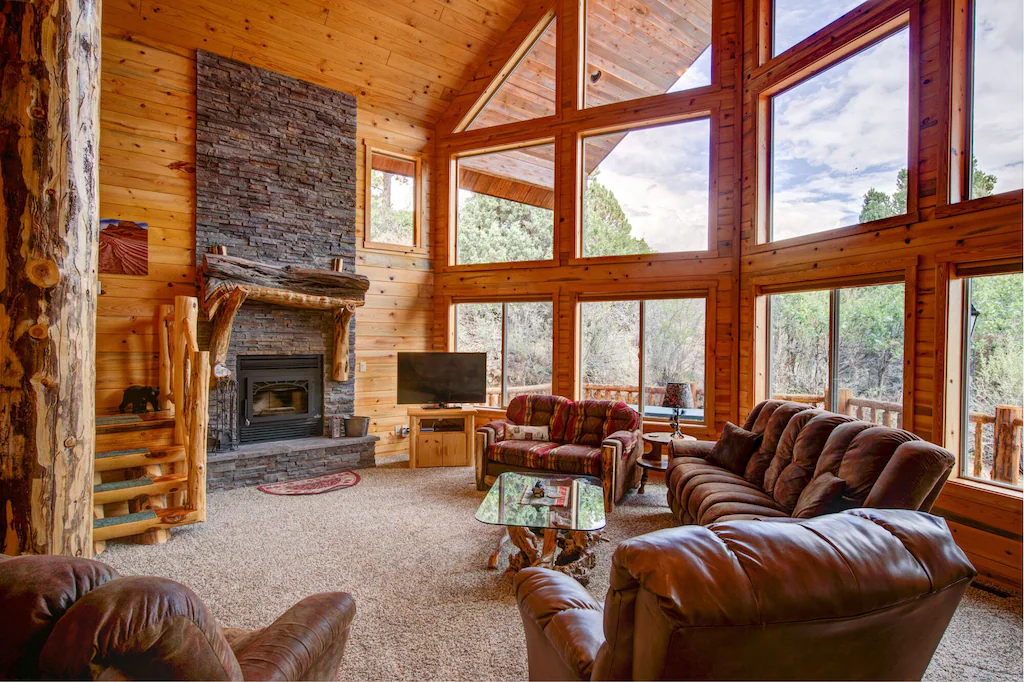 ---
Coyote Casita
Location: St. George, Utah
Price: $165+ per night
https://www.vrbo.com/3921887ha
No matter how you choose to spend your days in St. George, you will always look forward to coming home to Coyote Casita. This casita offers luxury living in the middle of the desert. The bedroom sleeps 2 guests; it also features deluxe amenities including a spa bath with large soaking tub and separate shower, modern appliances, and beautiful art decors from local artists. You are welcome to bring your pets to Coyote Casita. Nearby activities – trails, golf, and a hike to Zion Narrows and Snow Canyon.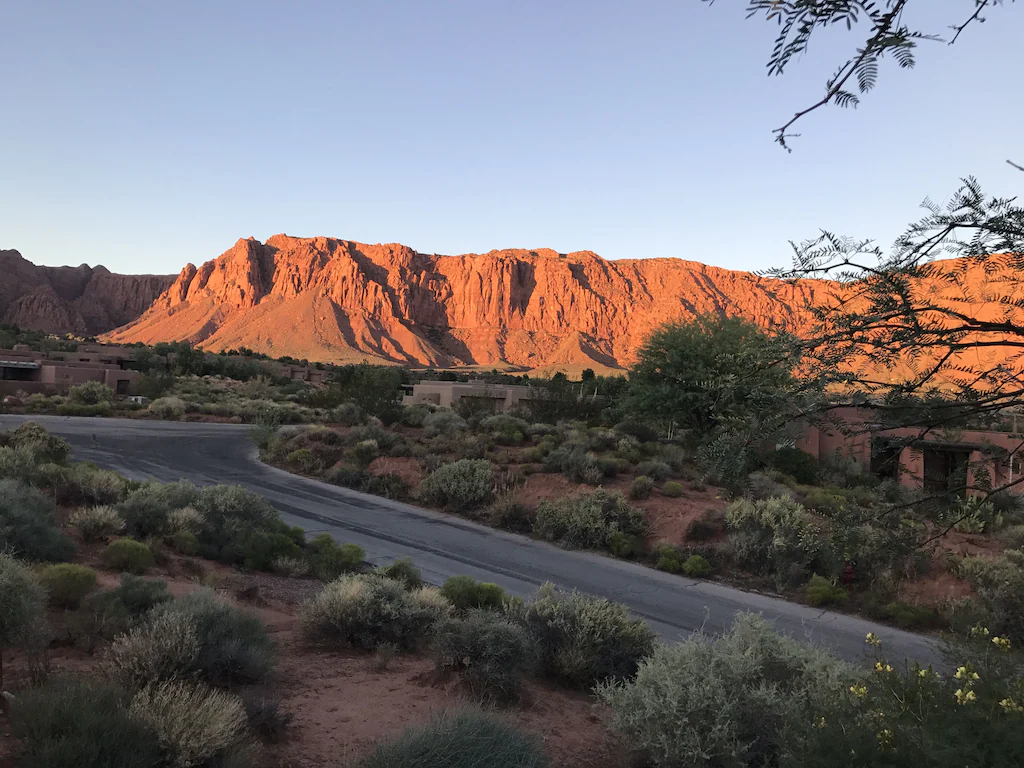 ---
Mountain Top Retreat
Location: St. George, Utah
Price: $595+ per night
Experience an authentic mountain retreat by staying in this top of the line cabin located in Duck Creek Village. Mountain Top Retreat has 4 bedrooms that can accommodate up to 12 guests. It includes amenities like a gourmet kitchen, 2 family rooms with loft to hangout and play pool, an indoor gas fireplace; a deck with outdoor dining table, lounge area and BBQ grill. Whether you come in summer or during winter, you can spend your day exploring and enjoying activities suitable for any season like ATV trails, fishing, hiking, horseback riding, skiing or sledding, and many more.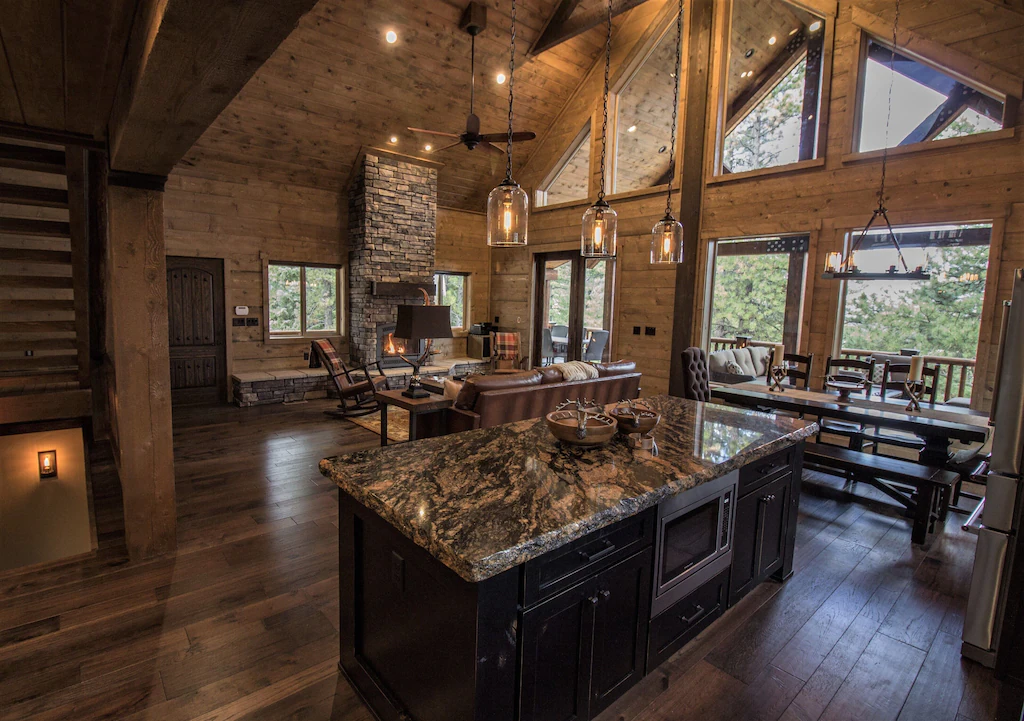 ---
Renovated Historic Cabin
Location: Wasatch County, Utah
Price: $353+ per night
https://www.vrbo.com/7916587ha
This renovated pioneer cabin will capture your heart with its deluxe amenities, warm and comfortable ambiance, and exceptional service. It's a wonderful place to rest during a weekend full of recreation activities. The property features a main cabin and a separate apartment to accommodate 12 guests. It highlights luxurious amenities like the hot tub, stone fireplace and a projector and screen for entertainment. The covered deck allows you to enjoy outdoor dining while enjoying the views. While the garage can park 3 vehicles, the parking space can accommodate a trailer and 6 vehicles.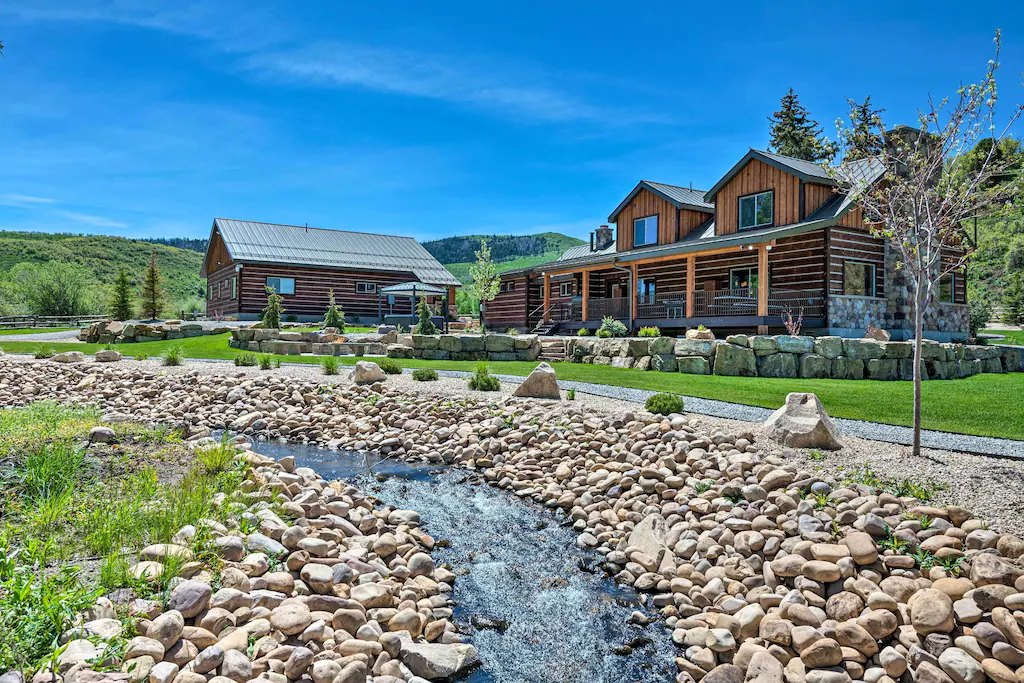 ---
Cozy Mountain A-Frame Cabin Getaway
Location: Eden, Utah
Price: $170+ per night
If you're on a roll with your family or squad, this 3-bedroom and 2-bath home is perfect for you. It sleeps 8 guests and features well-thought decors, upscale appliances, and cozy furnishings. Board games, movies and books are available for guests on days they want to chill and hangout at the cabin. Enjoy the views of the mountain while dining outdoors, grilling BBQ. If you love the outdoors, you can go and enjoy activities like skiing, mountain biking, fishing, boating, water skiing, and many more.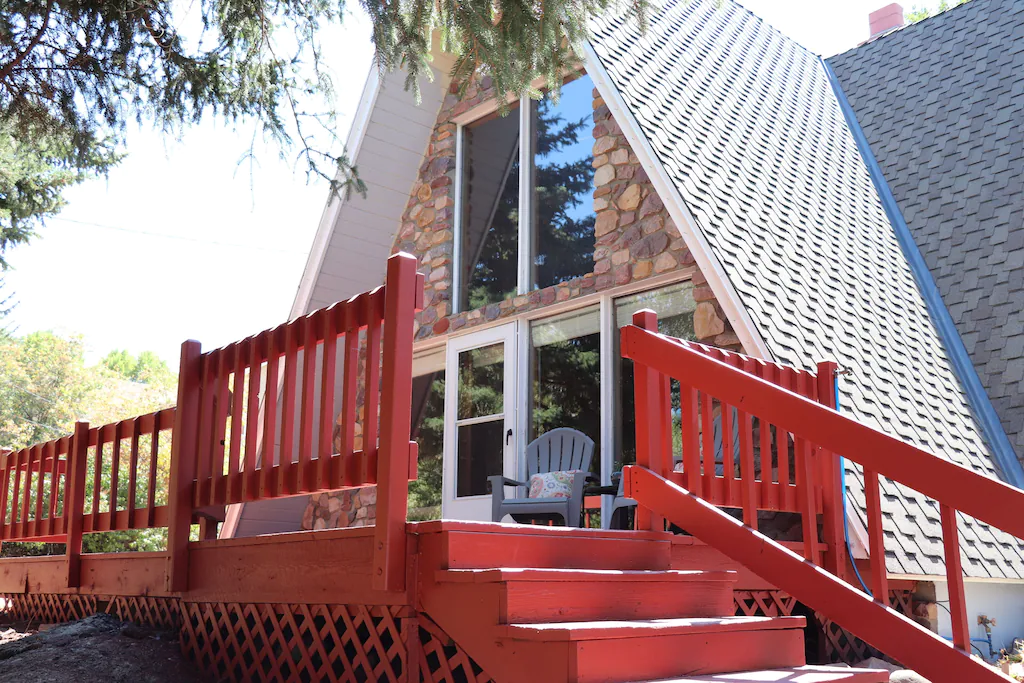 ---
HappyOurs Ranch Bunkhouse
Location: Eden, Utah
Price: $168+ per night
5 besties and a bunkhouse means FUN. Happyours Ranch Bunkhouse is located close to National Parks, the lakes, sand dunes, and the Grand Canyon and makes the perfect spot for enjoying all the treasures that await you in Southern Utah. This cozy cowboy cabin offers the finest experience of western living with modern conveniences. It features a full kitchen, laundry area, open-living area, a custom-built bunk room and a loft with a private bedroom and office. The cabin boasts its high-speed internet for both business and entertainment needs.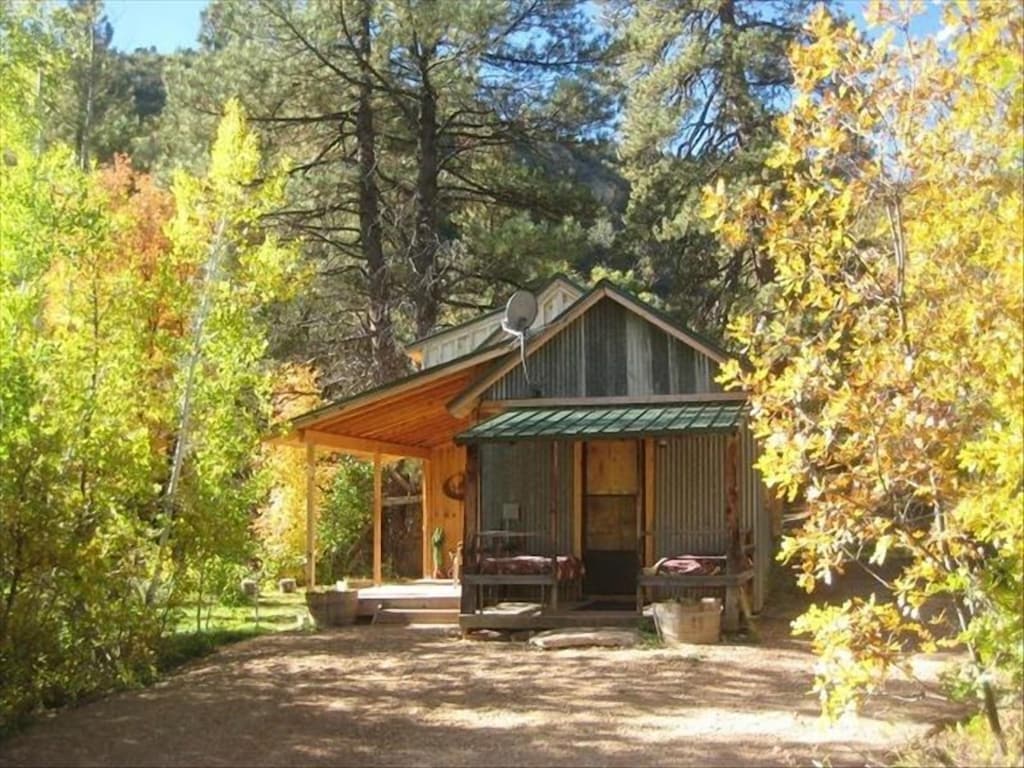 ---
Unique Tin Cabin
Location: Antimony, Utah
Price: $159+ per night
https://www.vrbo.com/7443265ha
One-of-kind tin cabin that offers a unique experience in the Utah Mountains. The modern interior sharply contrasts to the old-fashioned exterior, but overall, the experience is unprecedented. The cabin features a farmhouse interior with amenities including a well-equipped kitchen, wall unit air-conditioning, flat-screen TV, linens & towels, 4-car driveway and a fire pit. You'll love a hot bath in the claw foot bathtub after a tiring day outdoors. Guests have easy access to small cafes, local stores and the nearby state; also activities like hiking, mountain biking, ATVing, hunting, and fishing.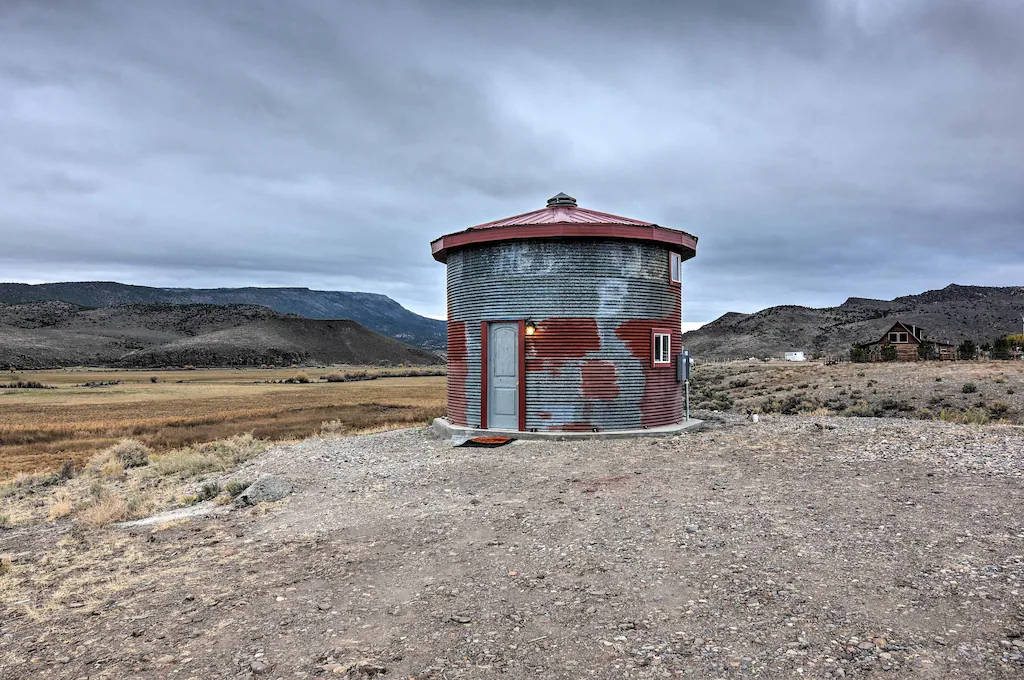 ---
Abode Cabin in East Zion National Park
Location: Orderville, Utah
Price: $229+ per night
https://www.airbnb.com/rooms/44910916 
Abode³ is magic. This studio cabin is one of the many luxurious rentals you can find in Utah. This is perfect for travellers seeking a modern rental with well-appointed amenities.
Unique touches can be seen throughout the studio – sleek matte black kitchen cabinets, handmade encaustic tile in the huge walk-in shower, lime washed plaster walls, and wood accents. The floor-to-ceiling windows allow more light inside making it more airy and cozy. Everything in Abode³ is elegant and beautiful.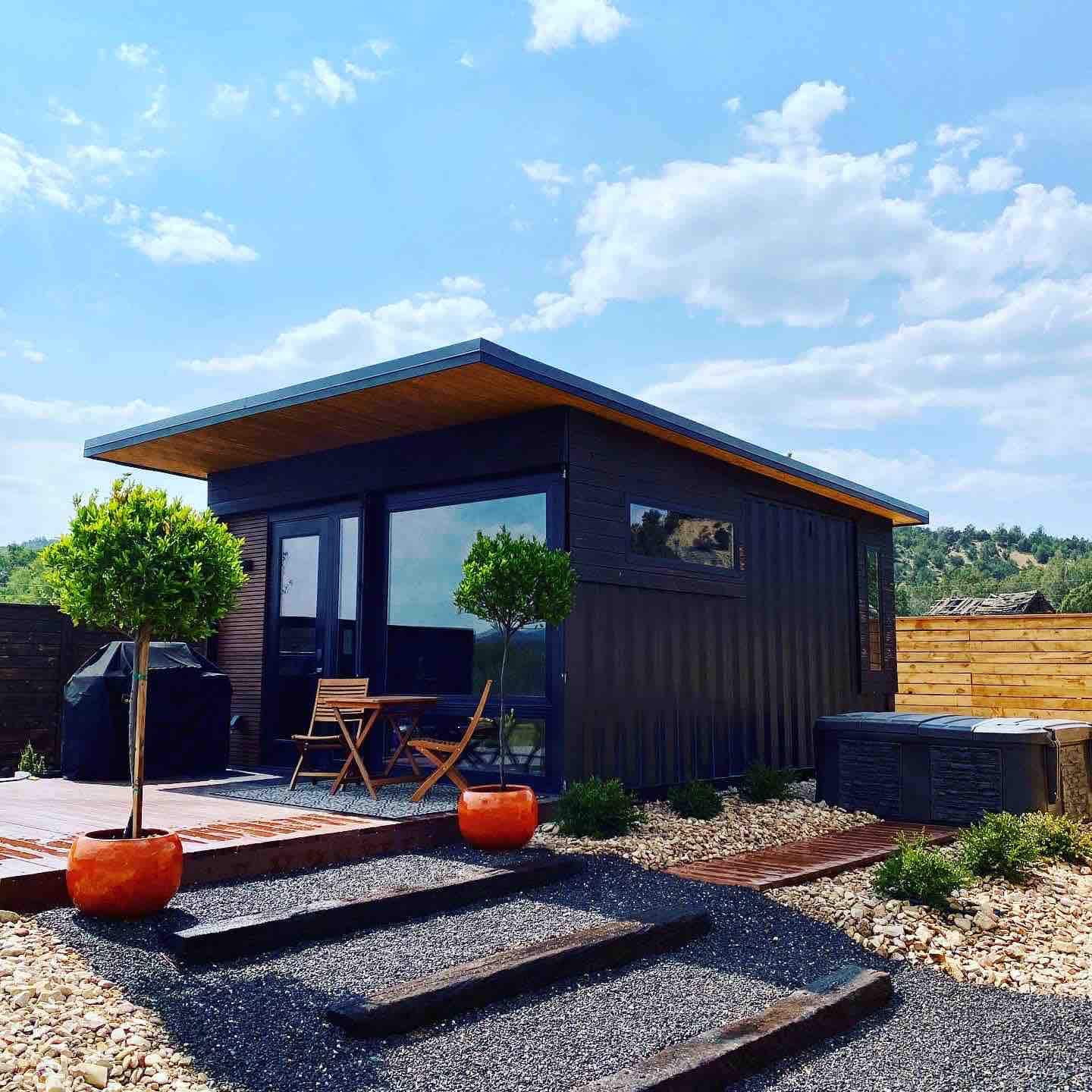 ---
The Boundary Cabin 
Location: Orderville, Utah
Price: $185+ per night
Enjoy your own private getaway at The Boundary Cabin 2, situated less than a mile away from Zion National Park. It is the perfect cabin to stay if you wish to have your peace and quiet, away from the crowd and at the same time be close to the park. Simple yet cozy and comfortable; the cabin has one bedroom and a loft for extra sleeping space. Guests can sit at the front porch while taking in the exceptional views of the park.