Planning a trip or weekend getaway and looking for the best Secluded Cabins in Texas? Well, you've come to the right place, as I've put together this guide to help you find the perfect cozy Texas cabin rental for a secluded adventure that you'll love!
Are your cravings for traveling getting bigger and bigger? Feed your wanderlust and "Let's Texas"! Go on a road trip and explore the outdoors, sample Texas-style cuisine, swim the beautiful beaches, travel back to the past and learn about the history and rich cultural legacy, connect with the community. In Texas, you can expect the unexpected.  
Reconnect with nature when you visit Texas! If you're looking for a change of scenery, a cabin-style accommodation with hotel amenities and standards, Texas has plenty to offer. I have listed 15 cabins in Texas that I recommend you check out.
Be sure to read my guides on Romantic Cabins in Texas with Hot Tubs for epic accommodation options in the area!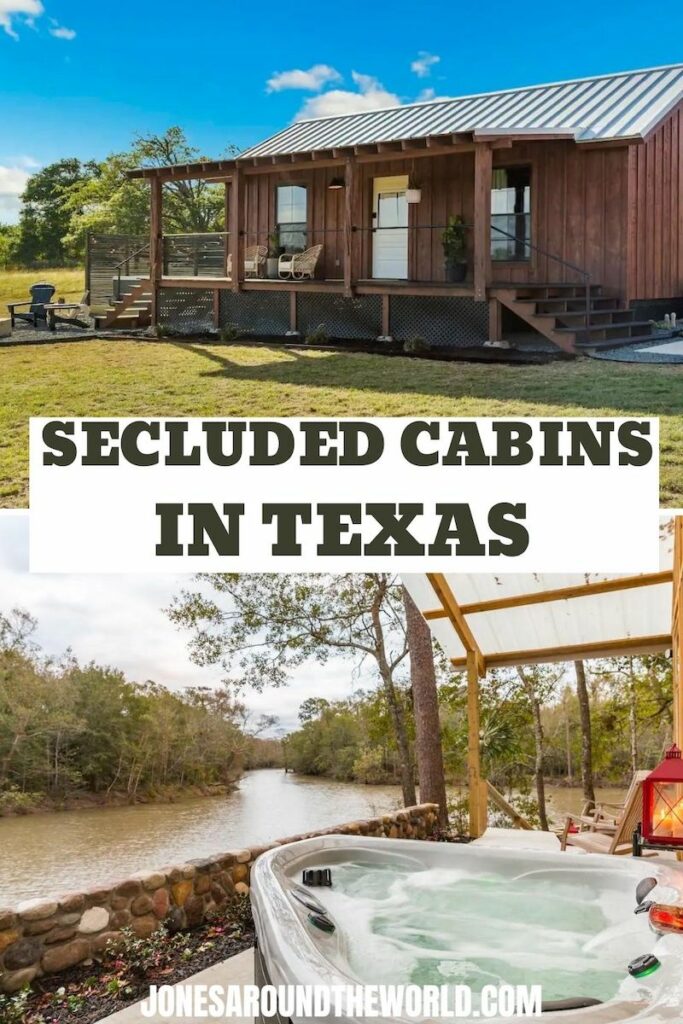 ---
The Moonshiner Cabin | Secluded with Hot Tub
Location: Wimberly, Texas
Price: $155+ per night
https://www.vrbo.com/4219110ha
For your next vacation, you can rent this cabin with a view of the hills and streams of the Hill Country. Experience The Prohibition Era with a little twist of Steampunk in this charming retreat that features a queen bed with award-winning Casper mattress, a clawfoot tub, and wood-burning stove, a fire pit.
Don't worry as you will also enjoy the modern luxuries such as wifi, cable tv, and an outdoor hot tub. The beautiful details of the cabin plus the calm and peace of the surrounding, also the joy of being with your special someone – is just perfect. This is the perfect spot to enjoy love!
View Photos, Read Reviews & Check Availability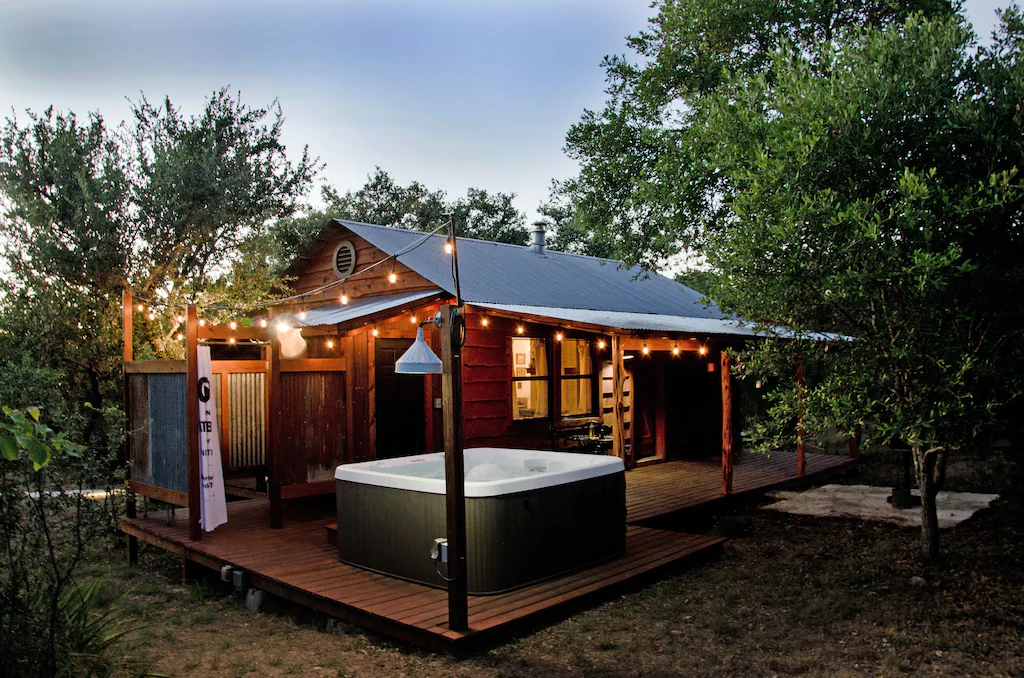 ---
Small Rustic Cabin in the Woods 
Location: Kaufman, Texas
Price: $131+ per night
Escape the city and spend a fun weekend at this rustic cabin in the woods. This charming loft cabin offers visitors a taste of living a free and peaceful life  — but with all the appreciated comforts and conveniences, of course.
You don't have to leave the property to have some fun given the activities offered to guests. Guests can enjoy fishing, paddle boarding, and bonfires. But, if you do want to do some exploring, Dallas is just a 40 minute drive. 
View Photos, Read Reviews & Check Availability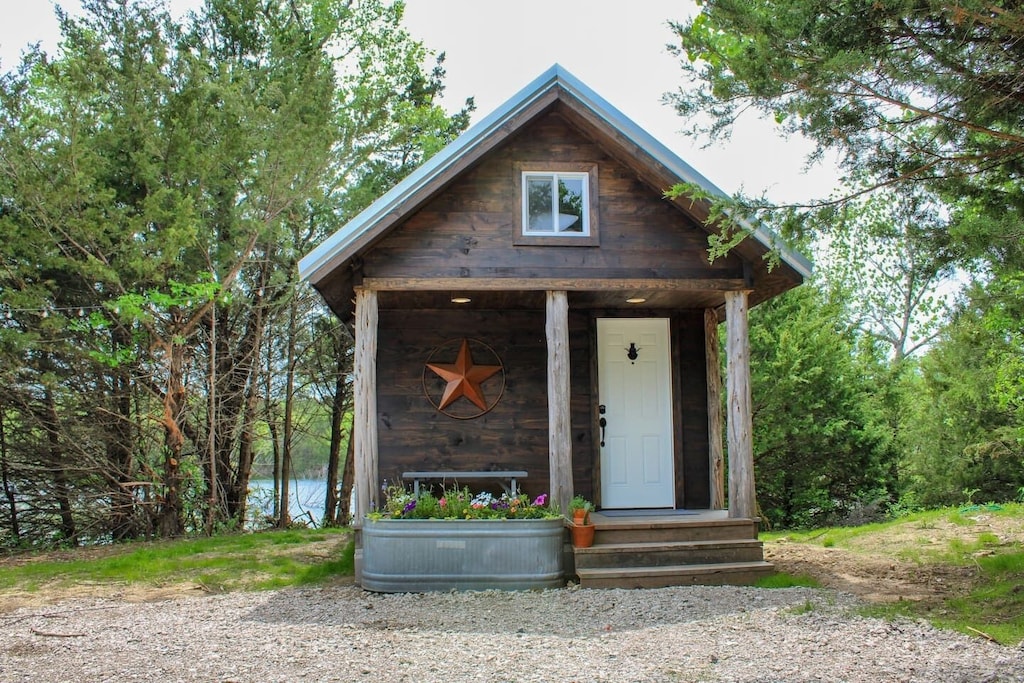 ---
Beaver Run — Incredible Secluded Cabin with Hot Tub
Where: Wills Point, Texas
Price: $229 + USD per night
https://www.vrbo.com/4201930ha
This stunning cabin is nestled on 130 secluded acres in Wills Point, just a few miles from the scenic Lake Tawakoni. What's unique about this cabin is that it's made of pine and cedar trees from the local forest. There are beautiful wooden floors, wooden furnishings, and enchanting vaulted ceilings to make the space feel light and breezy.
There is tons to explore in the area, and guests absolutely rave about their stay here! With a near perfect t 5-Star rating from over 158 guests, this secluded cabin rental is a must stay for Texas travelers!
View Photos, Read Reviews & Check Availability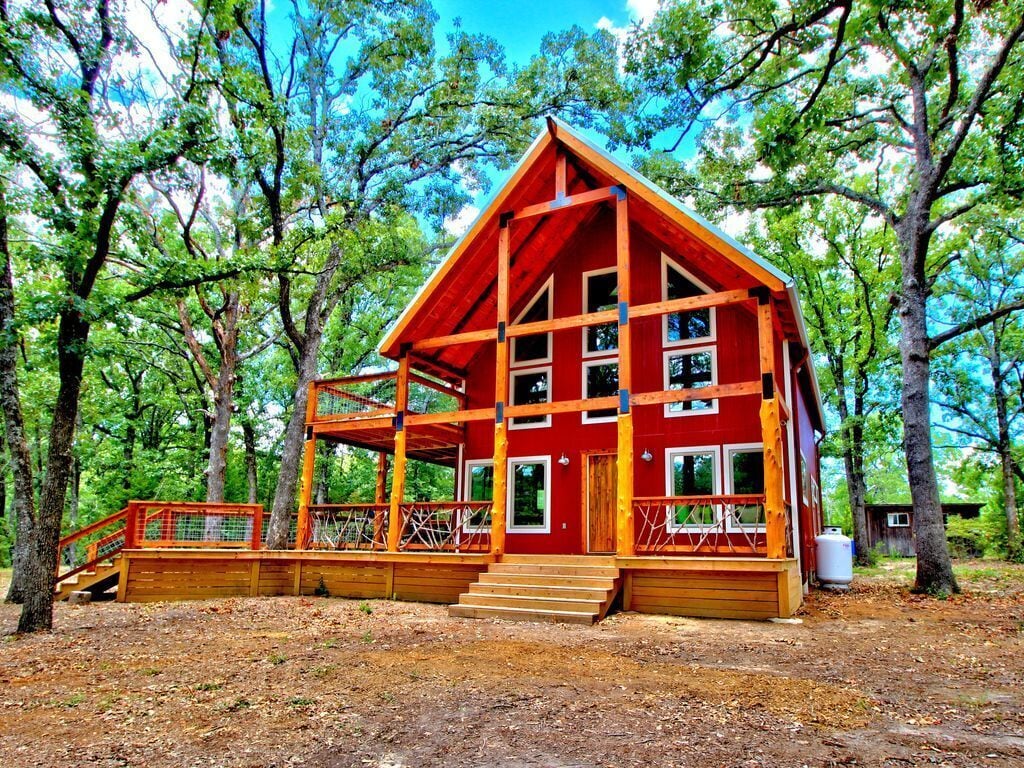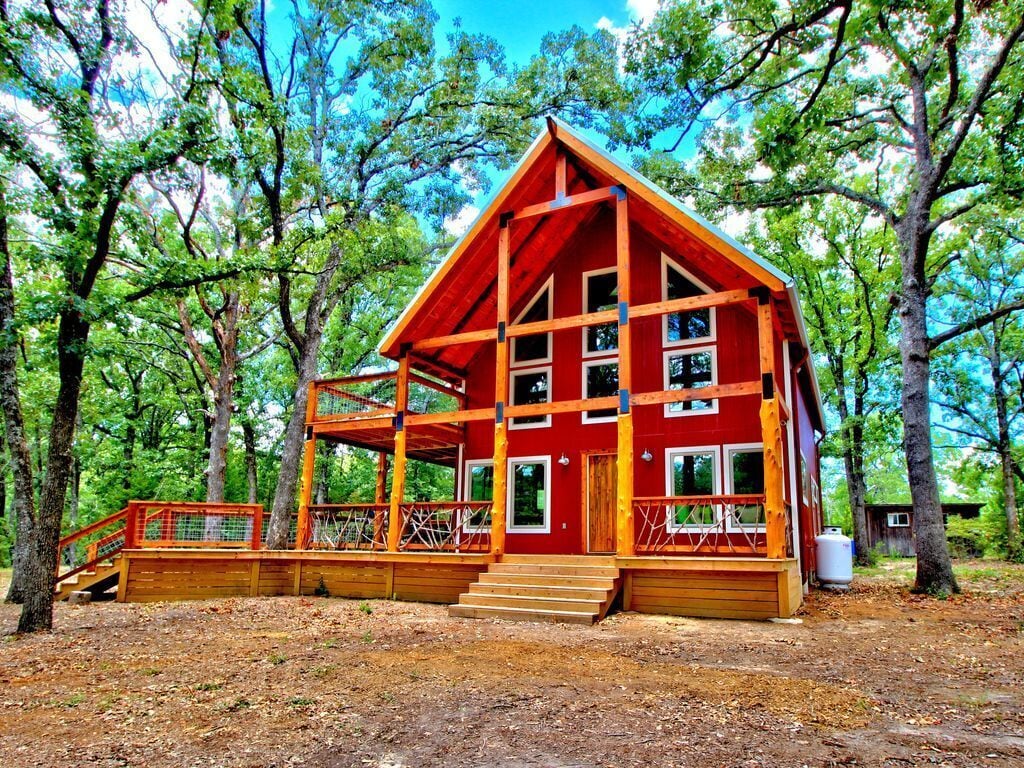 ---
Robert Wood Art Cottage
Location: Grey Forest, Texas
Price: $125+ per night
Robert Wood Art Cottage is a beautiful, rustic rock cottage with modern conveniences on the inside. It brings you back to the past with its preserved historic character. The cottage has a surprisingly home-y and inviting living space.
Read a book by the waterfall fountain, explore the country lanes of Grey Forest using the cruiser bikes, or visit attractions like SeaWorld and Six Flags. Fun fact: the bedroom is the actual room of the famous British landscape painter, Robert Wood, used as his art studio.
View Photos, Read Reviews & Check Availability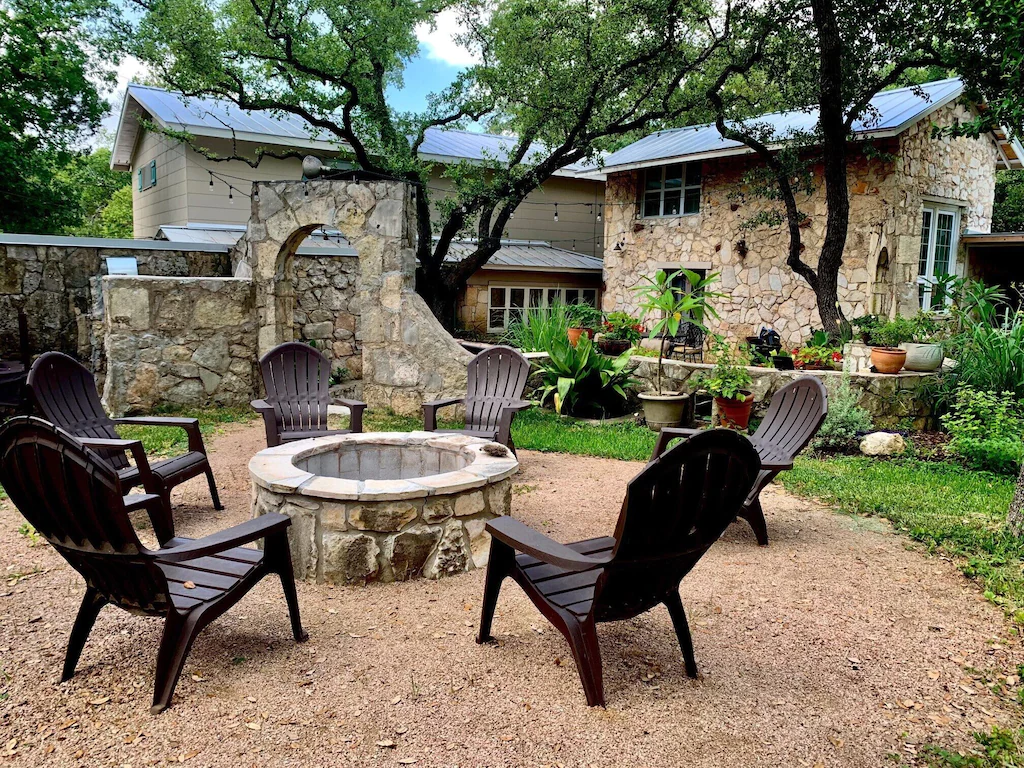 ---
The Nest by Skybox Cabins
Location: Glen Rose, Texas
Price: $238+ per night
https://www.airbnb.com/rooms/33810135 
Disconnect and find a peaceful refuge at The Nest. Located on a hill of 50 acre land, this cabin allows guests to unplug and enjoy the natural surroundings. The Nest features both a treehouse and a bohemian bungalow with amenities like air conditioning and heating, refrigerator, coffee maker, an induction cooktop and microwave. Guests are also served with complimentary snacks and drinks upon check-in.
Even without internet connection and TV, The Nest guarantees a memorable experience to the wonders of Texas cedar observatory. This "Pinterest perfect" cabin is so beautiful and a talk-of-the-town that it was featured in SouthernLiving.com.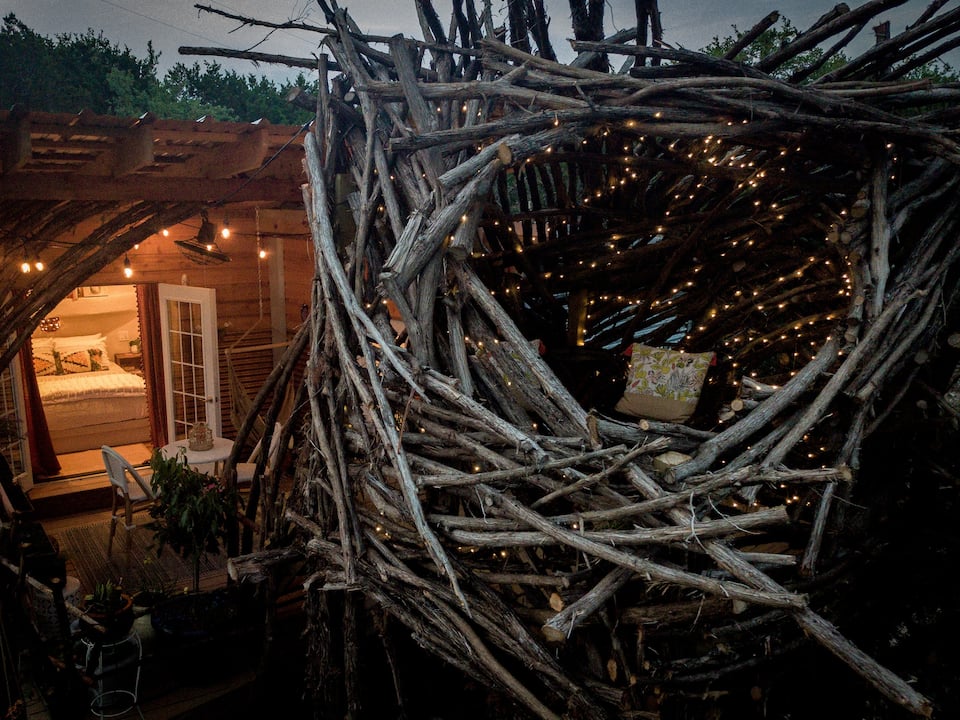 ---
"Dub's Barn"
Location: Waco, Texas
Price: $107+ per night
https://www.airbnb.com/rooms/29778941 
Enjoy both farm life and the city while staying at Dub's Barn. This guest cabin offers a place for a small family of 4 to get away from the hustle and bustle. It features an open floor plan with shiplap walls and barn wood accents, a rustic concept with comfortable and stylish luxuries like memory foam mattress, a kitchenette with coffee maker and dishwasher, washer and dryer, and an amazing rainfall shower.
At dub's Barn you can take a quiet walk, ride a bike down the road, or go stargazing. This is perfect for guests looking for a quiet, comfortable, stylish, and relaxing retreat.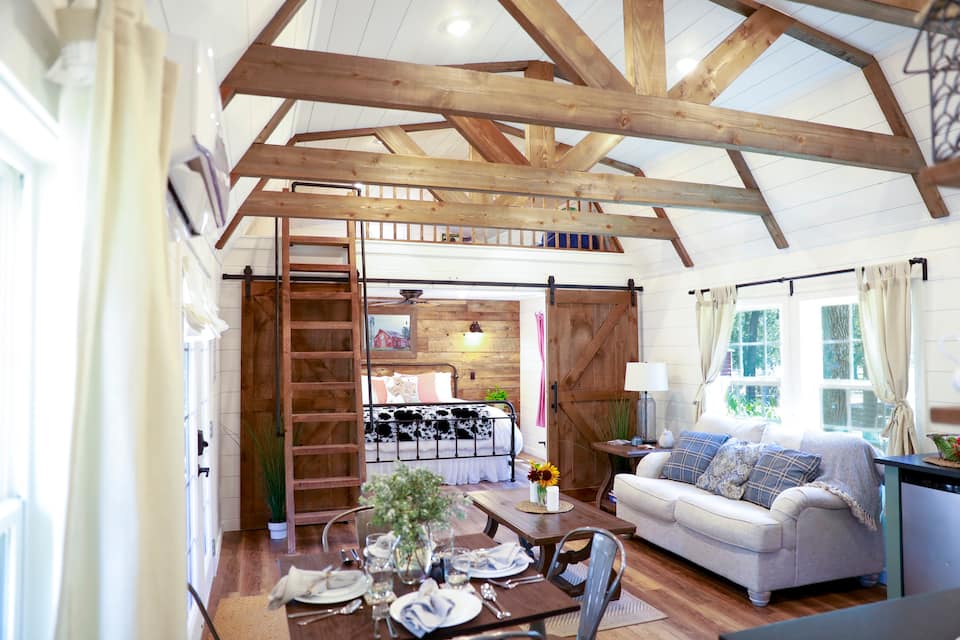 ---
Sweet Paradise
Location: Fredericksburg, Texas
Price: $223+ per night
https://www.airbnb.com/rooms/51473987 
This beautiful cabin is set in a ranch outside the Fredericksburg area. It was built and thoughtfully decorated to provide a sweet and intimate escape for couples. Here, you can celebrate a honeymoon, proposal or a couple's trip.
Spend a night or two in this cabin that features a full kitchen, king bed, ambiance fireplace, outdoor shower, and outdoor fire pit. Soak in your own private hot tub with your special someone. If you want to see and explore more of the town, Fredericksburg is a 15-minute drive.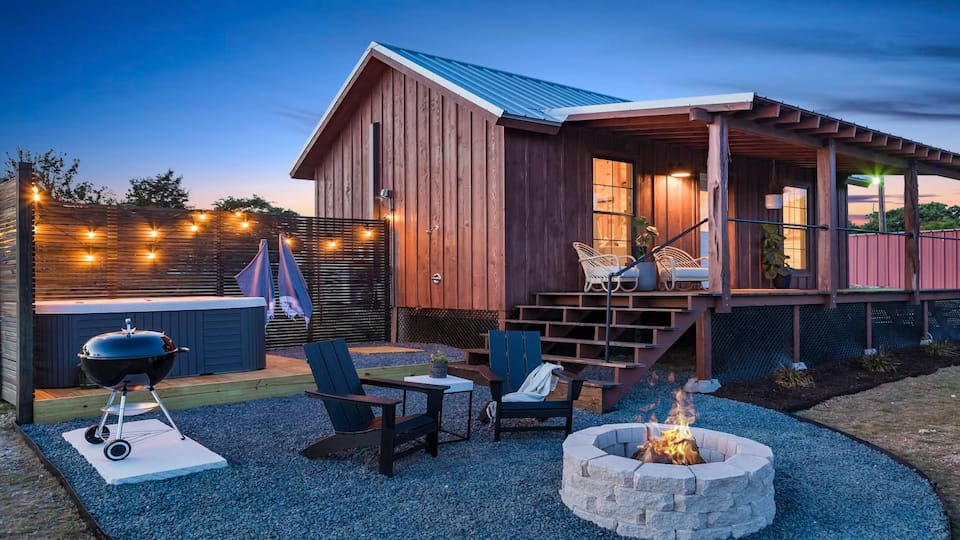 ---
NATURALIST BOUDOIR on POINT
Location: Lumberton, Texas
Price: $289+ per night
https://www.airbnb.com/rooms/46916238 
Naturalist Boudoir on Point will take your breath away! It's one of the newest cabins in the 300-acre ranch in Lumberton that boasts splendid views of the waterway and sunrise. It features high ceilings, huge windows, a floating dock, and an outdoor shower.
This cabin also highlights a one-of-a-kind rock tub with an infinity edge you can enjoy with your special someone and a floating bed. There is nothing quite like a romantic getaway where there's no one else around, just you and your someone special being one with nature.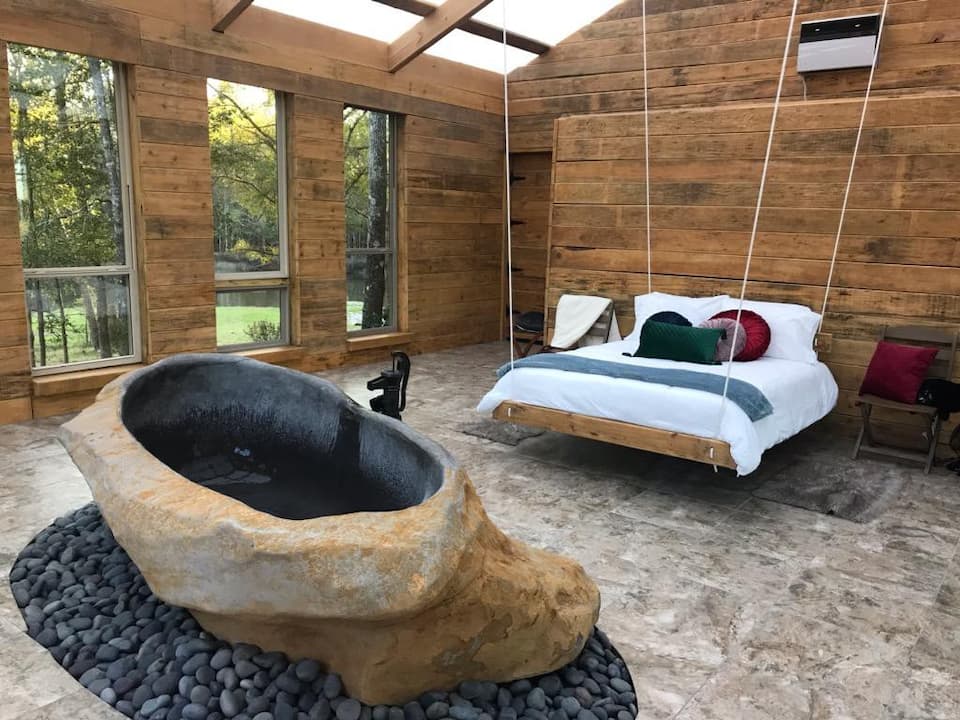 ---
The Lazy Squirrel
Location: Tyler, Texas
Price: $100+ per night
https://www.airbnb.com/rooms/26102211 
Retreat in the middle of East Texas Pines, stay in this warm and charming cabin – The Lazy Squirrel. One of the many cabins in Cora's Cabin complex, it is also equipped with a full kitchen, a bedroom with indoor fireplace,  and a front porch with seating area.
Other amenities include a washer and dryer, an outdoor grill, WiFi and TV. Guests are welcome to stroll or drive down to The Flyin H Ranch and fish in the lake. Or, enjoy the many and varied local attractions like The Tiger Creek Animal Sanctuary, Canton First Monday Trade Days, and many more.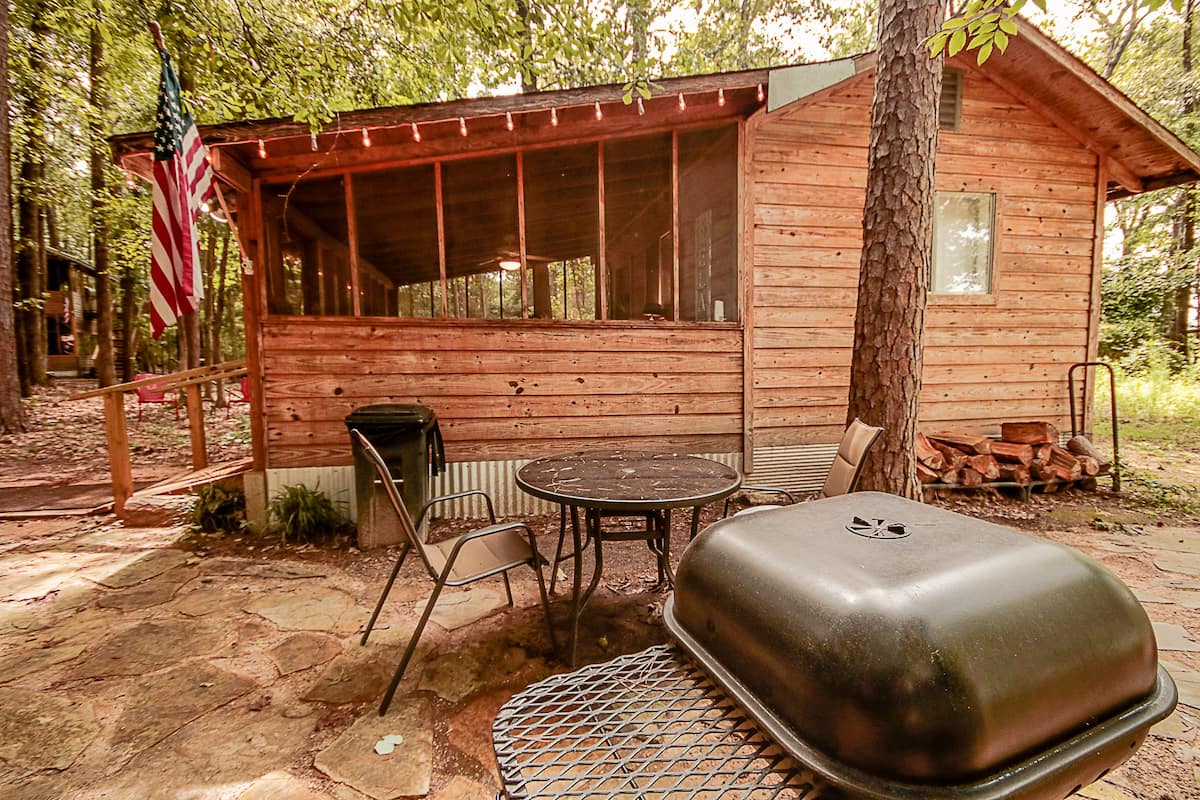 ---
The Half Lady
Location: Sulphur Springs, Texas
Price: $77+ per night
https://www.airbnb.com/rooms/21975085 
Experience the splendor mother nature has to offer while staying at Half Lady. Located on 18 acres of meadows and wooded trails, guests can enjoy activities like fishing, going on a hike, seeing wildlife, or stargazing. Half Lady offers a comfortable and homely place for a family or group of friends (8) that keeps you close to nature all throughout your stay.
The cabin features queen sized beds, a full kitchen, a private patio with picnic table, a firepit, and parking space. Other amenities include washer & dryer, WiFi, cable, and air conditioning. They also welcome pets, how nice is that?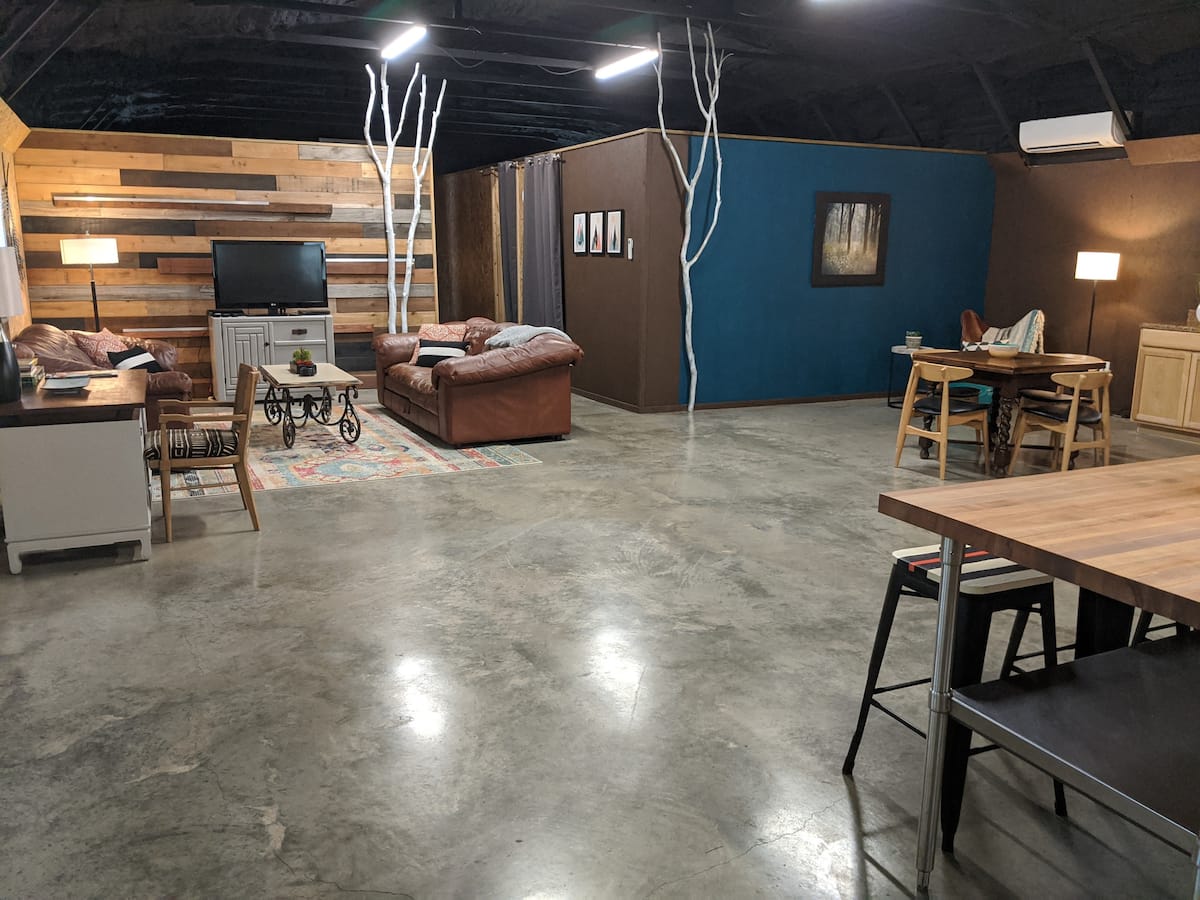 ---
Hidden Rustic Cabin
Location: Nocona, Texas
Price: $153+ per night
https://www.airbnb.com/rooms/52442131 
Treat your family to a well-deserved vacation on Lake Nocona. This idyllic cabin is settled in a lakefront lot, taking full advantage of the beautiful lake views. It features large windows that bring the outdoors indoors, giving guests breathtaking scenery no matter the time of the day.
Guests can spend their day lounging at the deck, kayaking, swimming, or fishing. While children can play at the yard or the treehouse. At night, they can gather around the firepit while sharing fun stories and making smores.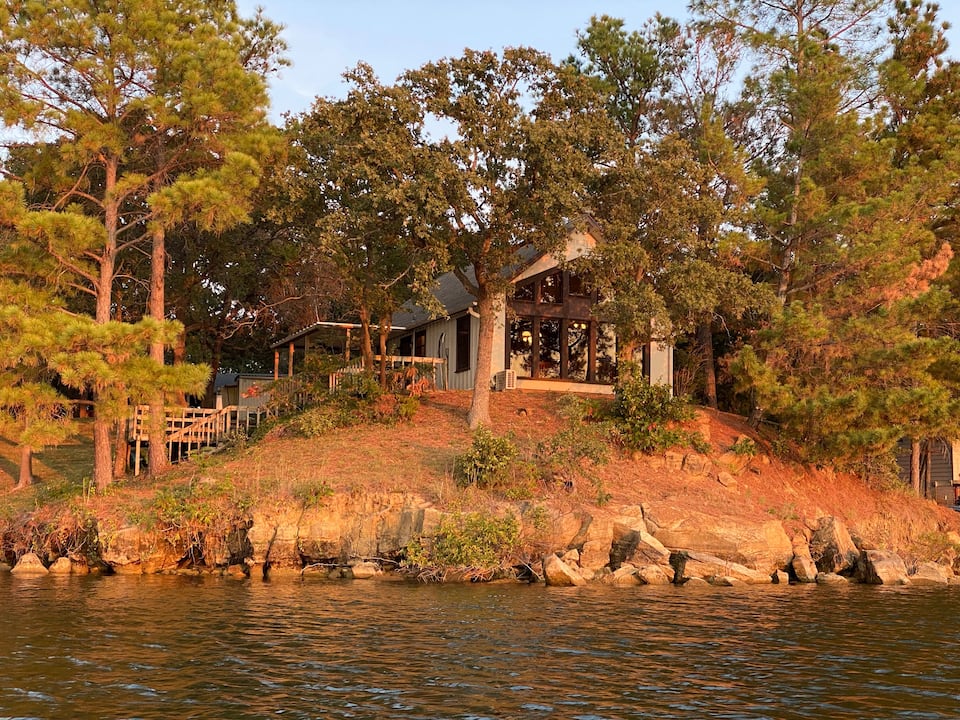 ---
Secluded Sky Cabin
Location: Austin, Texas
Price: $182+ per night
https://www.airbnb.com/rooms/43777229 
This beautiful white cottage is secluded enough to feel isolated, but close enough to nearby attractions that you can take a quick trip into Downtown Austin. Nestled in the hills of the Hill Country, guests can take in the beautiful views of Barton Creek Valley.
The 2-loft style cabin provides plenty of space to accommodate 4 guests (complete with two beds, a full kitchen, and a spacious living space). Get a glimpse of what country living is while staying in Sky Cabin.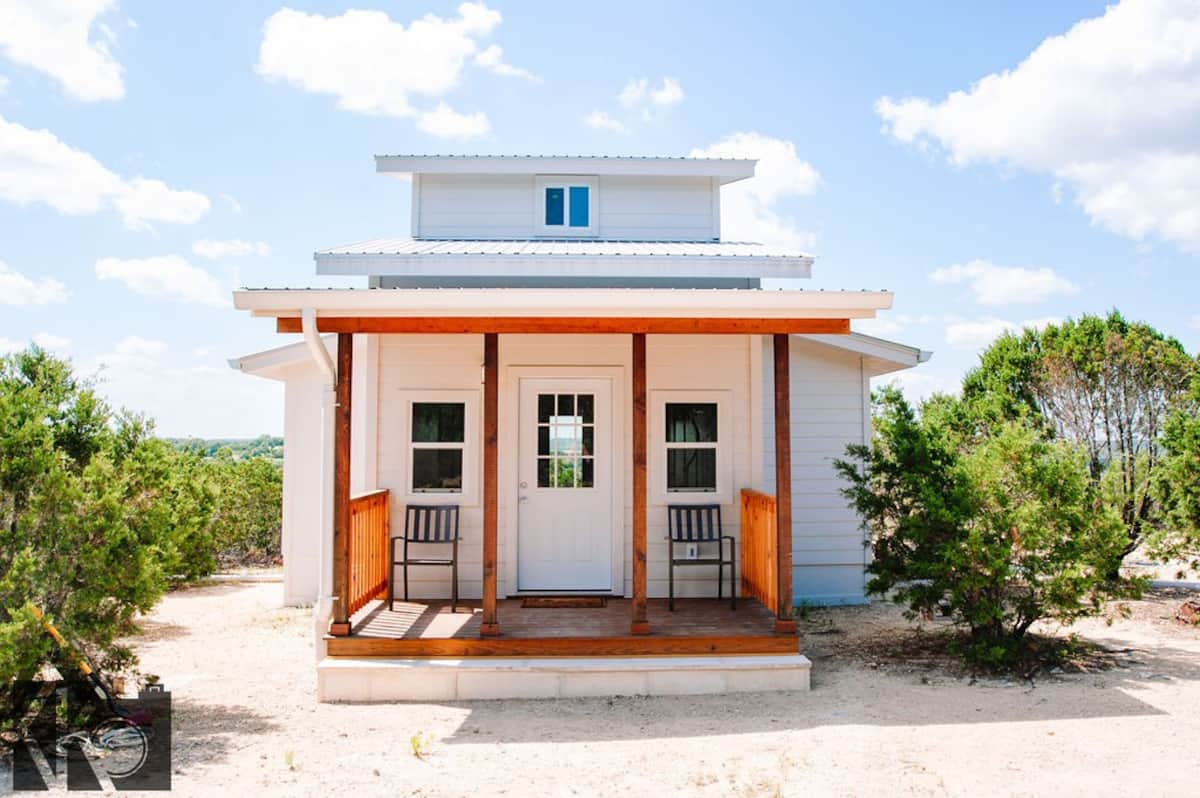 ---
Southwestern Cabin
Location: Waco, Texas
Price: $94+ per night
https://www.airbnb.com/rooms/46532093 
New Southwestern Rural Cabin is filled with home comforts. Situated on a wooded lot near the end of a quiet dead end street in North Waco; it's secluded yet close to the different attractions in downtown. This cabin offers a peaceful escape for a small family who wants to explore this part of Texas.
The property features a large outdoor area with a firepit where guests can enjoy bonfires while sipping hot chocolate, sharing wonderful life stories. The playground offers a fun environment for the kids to enjoy while at the property.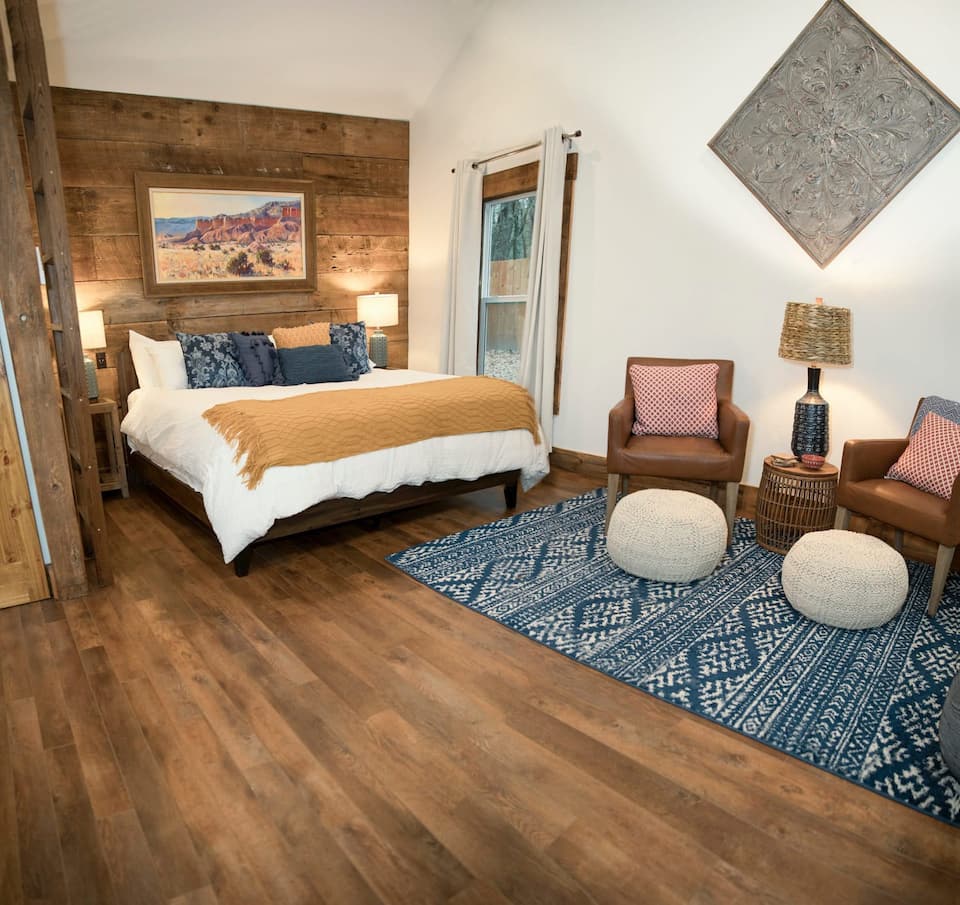 ---
Secluded Log Cabin on Smith Creek with Hot Tub
Location: Wimberly, Texas
Price: $164+ per night
https://www.airbnb.com/rooms/407683 
Just looking at the photos of Three Graces Cabin in the woods is enough to send you to a relaxing place. The cabin sits on a beautiful piece of the Hill Country surrounded by woods and yet only 5-minutes away from downtown Wimberly.
It is comfortably furnished to make sure that you have a pleasant holiday; the cabin features a studio type layout with a indoor wood-burning fireplace, central heating and air conditioning, entertainment system (HDTV with Roku, Bluetooth speaker sound system), and a full kitchen. Guests can take a stroll along the creek, enjoy an afternoon nap at the hammock, or enjoy a warm bath at the outdoor tub while stargazing.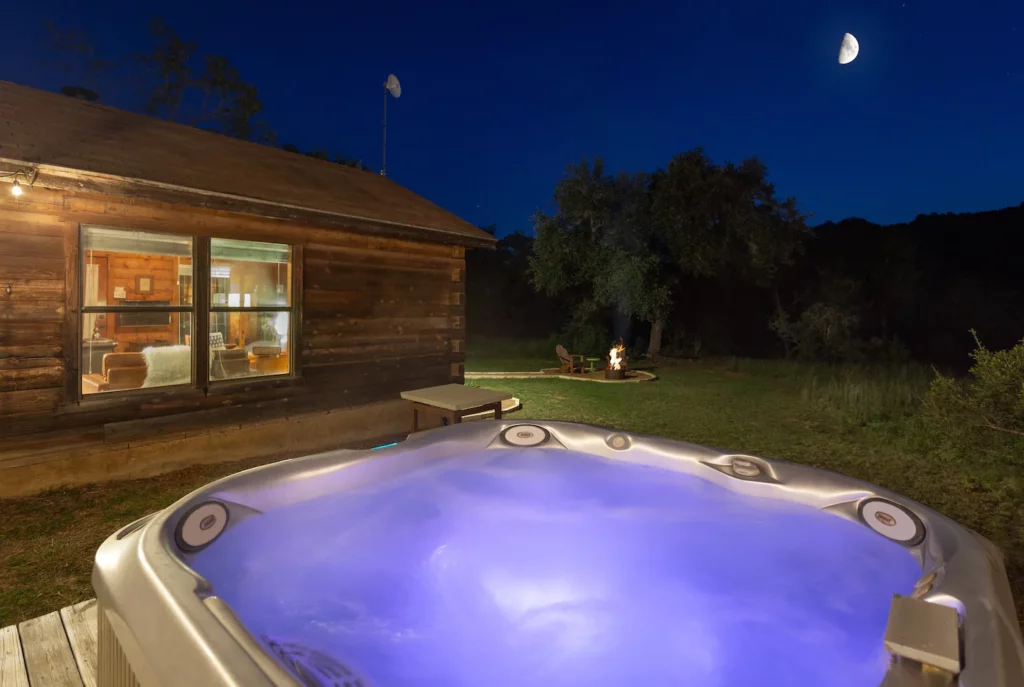 ---
Giraffe-Inspired Secluded Cabin
Location: McGregor, Texas
Price: $166+ per night
https://www.airbnb.com/rooms/44002756 
This giraffe-inspired cabin offers beautiful views of the rolling hills and fun experience at the Giraffe and Animal Sanctuary. A stay here feels like you are in Safari! Blue Hills Ranch offers amazing amenities that guests can enjoy like the lake, the dock, pool, and the special wooden barn with patio. The studio cabin itself is amazing with its neutral and modern details. Inside, there is a king and queen bed (comfortably accommodating 4 guests), a living space, a kitchenette, and a walk-in closet. Both children and adults will love this unique experience at Blue Hills Ranch.