Planning a getaway for two and searching for the best Romantic Cabins in Maine with Hot Tubs? Well, you've come to the right place, as I've out together this incredible guide to Maine cabin getaways for two!
Maine is known for its beautiful shorelines, pleasant mountains, picturesque fishing villages, and delicious food that tickles your taste buds. With a blend of stunning landscapes and a charming atmosphere, you are sure to create incredible memories.
Also, be sure to read my guides on Cabin Rentals in New Hampshire, A-Frame Cabins in New York, and Cabin Rentals in Connecticut for more epic stays in the area!
Without further ado, let's check out our list of the top 10 romantic cabins in Maine that will ignite your romance!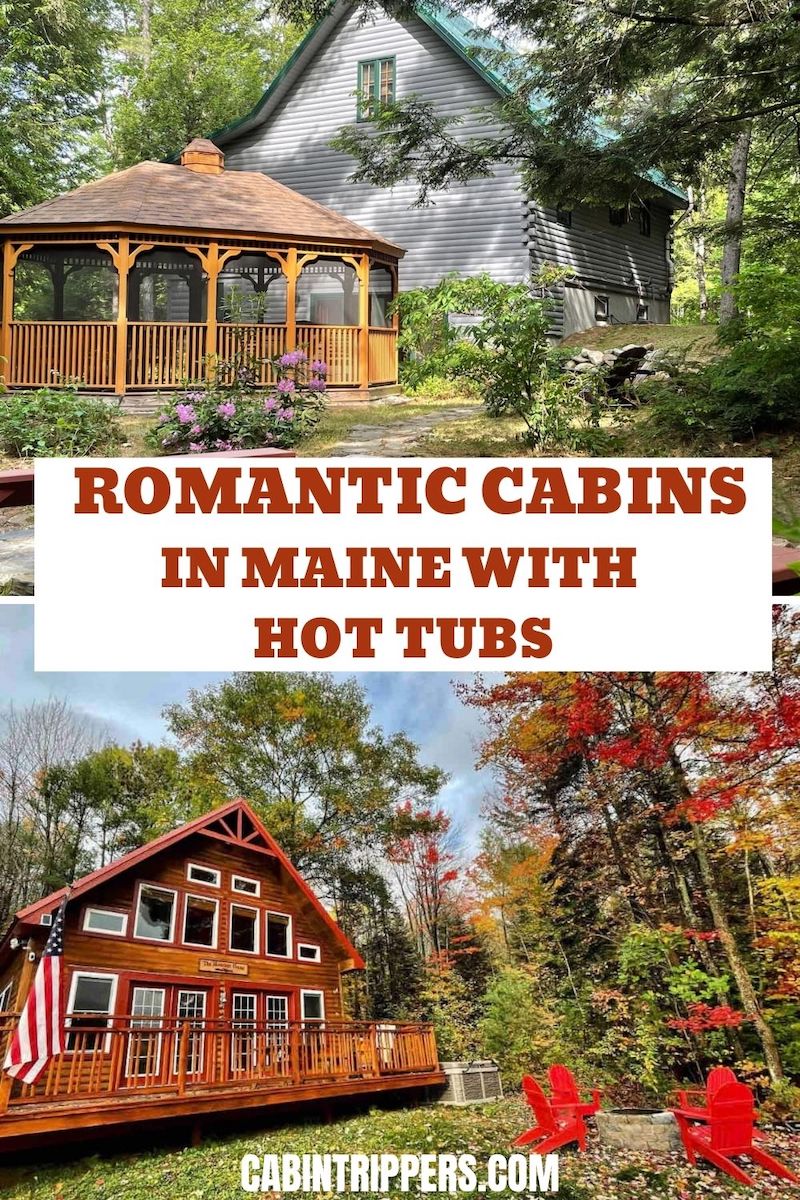 ---
Secluded & Romantic Cabin with Whirlpool Hot Tub
Location: Norway, Maine
Price: $126+ per night
The Cabin is built with a condo-like feel. You will find in-floor radiant heat, a cozy gas fireplace, and air conditioning throughout the house. The two-person whirlpool hot tub at this lodge is an absolute must-have. 
If you're looking for fun and romance, then the hot tub is a great option to celebrate romance in seclusion. You will have access to a kitchen with a cooktop, refrigerator, microwave, sink, silverware, pots, pans, and other amenities.
The house can accommodate up to two guests. You can also enjoy a morning or evening cup of coffee on the deck.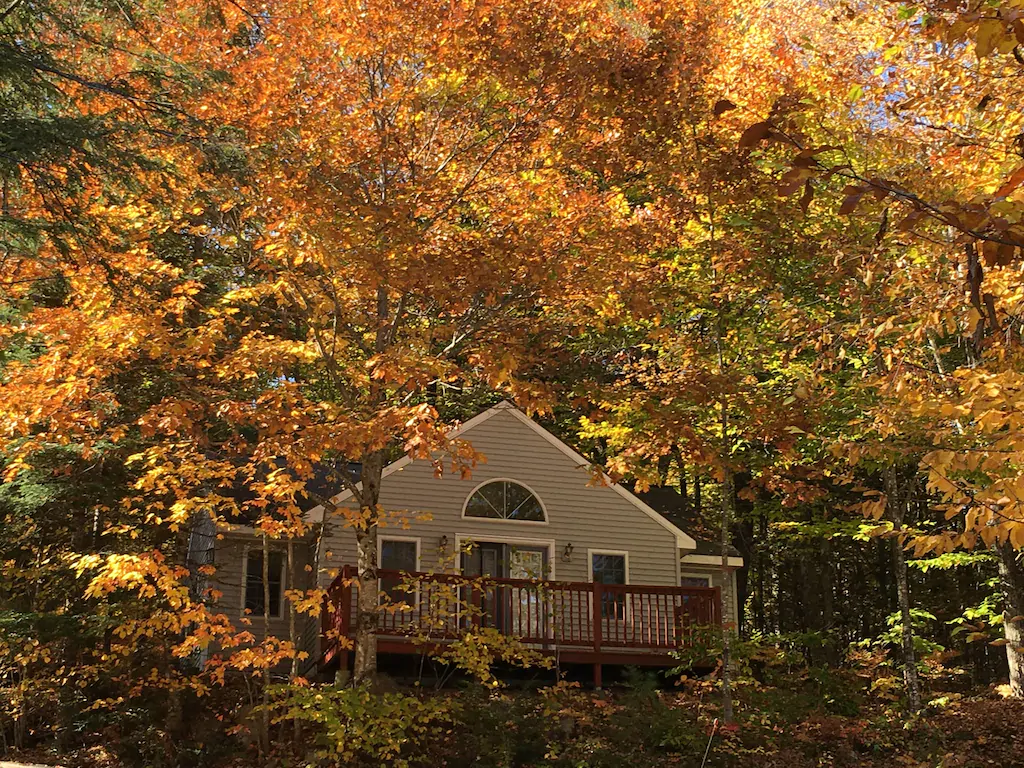 ---
Private Lakefront Luxury Log Cabin
Location: Chesterville, Maine
Price: $193+ per night
This pet-friendly vacation rental in Chesterville, Maine, is close to Locke Pond. The cabin has three bedrooms and two bathrooms, making it great for families. Welcome to the great escape, if you are an adventurous soul! And, if you are fond of camping and sleeping on the ground, you have got the best option on our list.
The rental features a well-stocked kitchen, a hot tub, a porch swing, a gas grill, and a dining area. In addition, you can borrow a kayak or a canoe from the owners for an adventurous boating experience.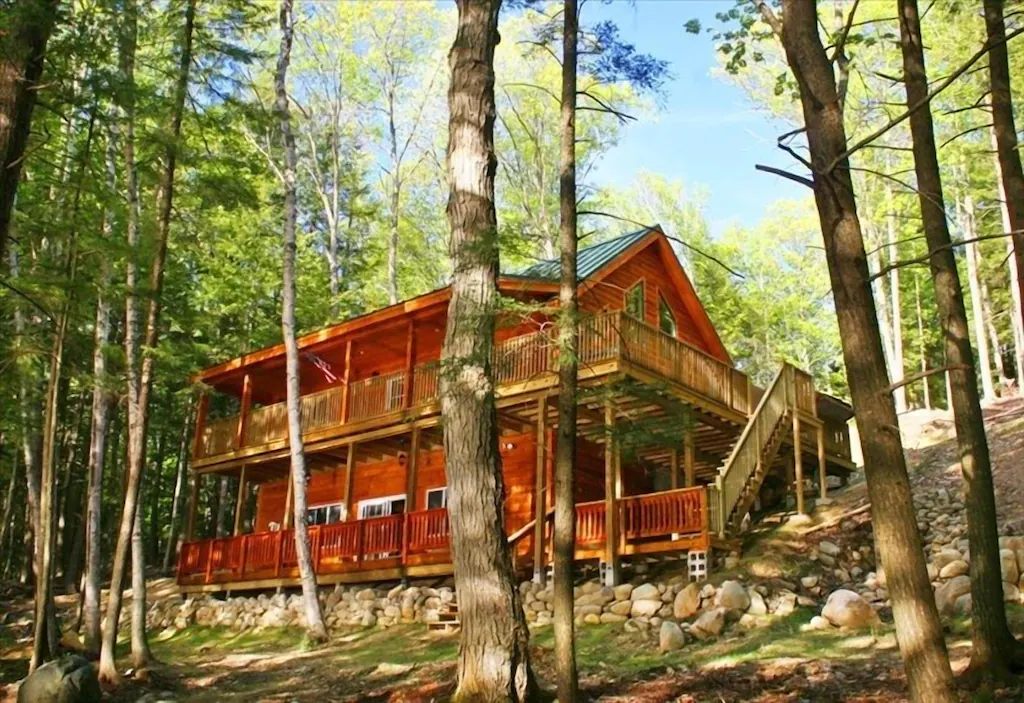 ---
Waterfront Cabin with Hot Tub Sunsets
Location: South Bristol, Maine
Price: $143+ per night
Are you interested in escaping the hustle and bustle of town and staying at a fun, cozy cabin? The Waterfront Cabin is perfect for romantic couples. The cottage sits on Long Cove on the Damariscotta River, meters from the water. You can see the widest part of the river and the famous Maine sunset. This beautifully restored cottages combines modernity and rusticity flawlessly.
There are many hiking trails in the area. In the winter, you can play games in front of a warm fire. The cabin sleeps up to nine guests with three bedrooms and two baths, thus serves as a perfect vacation spot for friends and family.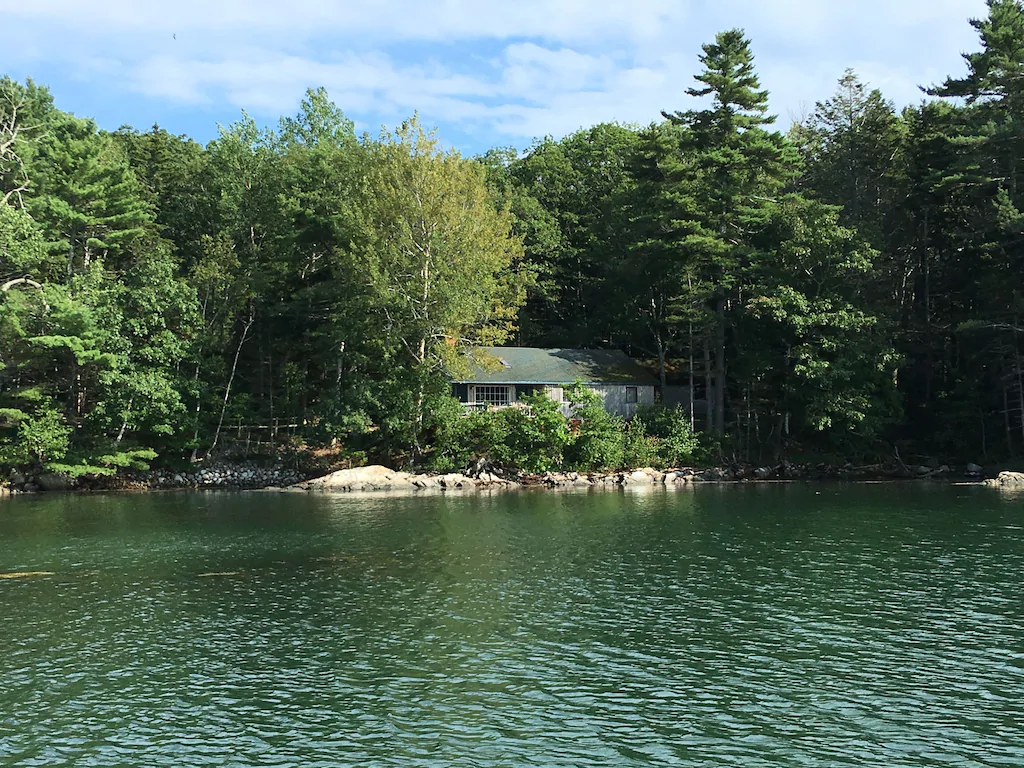 ---
Romantic Little Paradise Cabin
Location: Woodstock, Maine
Price: $250+ per night
Atop a pristine mountain valley, you will be awed by the beauty of this upscale waterfront property! This lush 3-acre setting features a spacious Grand House with waterfront and mountain views from all sides. During summers you can go swimming in crystal clear waters and fish for native rainbow trout just outside your door. Sail, boat, or canoe on the pond, enjoy a cookout before an evening bonfire with family and friends.
Autumn on the pond is breathtaking! You can hike, fish, or climb Bald Mountain, which offers some magnificent views and some of the best rock climbing in the state. Winter is a great time to go snowmobiling! Sled miles of Maine's trails right from your door. So you can enjoy a little paradise in all three seasons.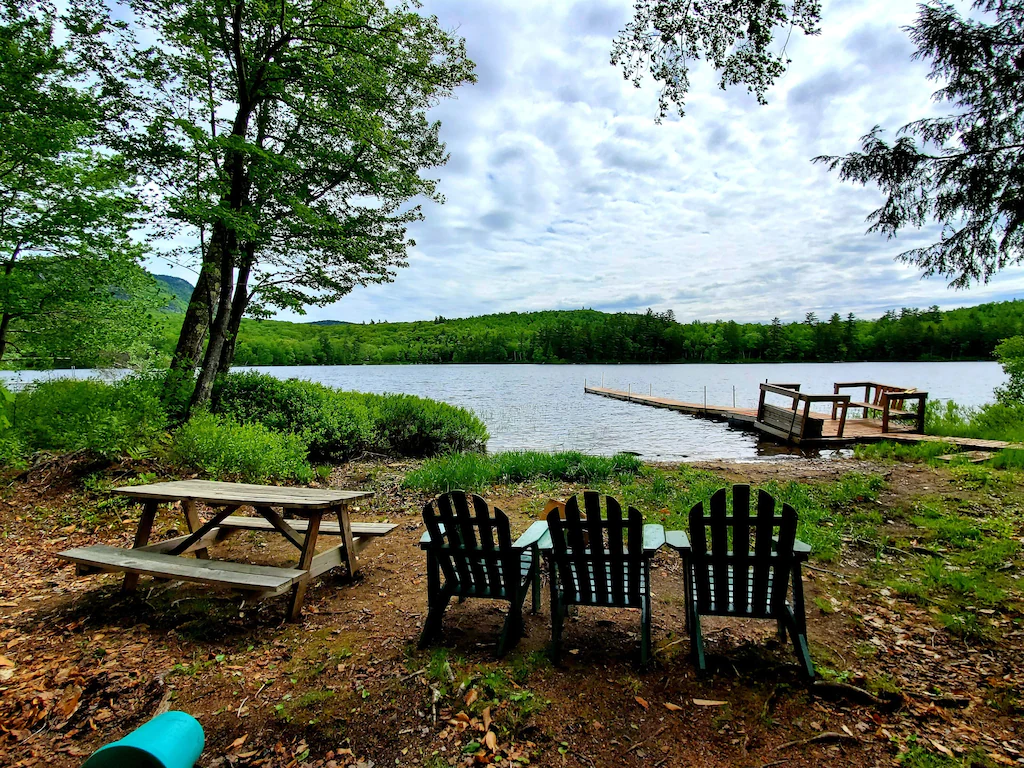 ---
Black Dog Cabin
Location: Brownfield, Maine
Price: $433+ per night
A luxurious and modern getaway awaits at Black Dog Cabin. Within walking distance of one of the state's cleanest swimming areas, the Black Dog Cabin offers you tubing fun in the Saco River and downhill skiing just a short drive away.
The picturesque landscape will make your mornings more enjoyable and provide a perfect setting for a relaxing day. Black Dog Cabin has plenty of space for the family and the dog(s), with five bedrooms to accommodate 13 guests comfortably. Take a soak in the new hot tub after a day of skiing or hiking. You may also relax on the spacious farmer's porch, grill your dinner on the expansive deck, play pickleball in the large backyard, or relax with a custom Adirondack chair before the fire pit.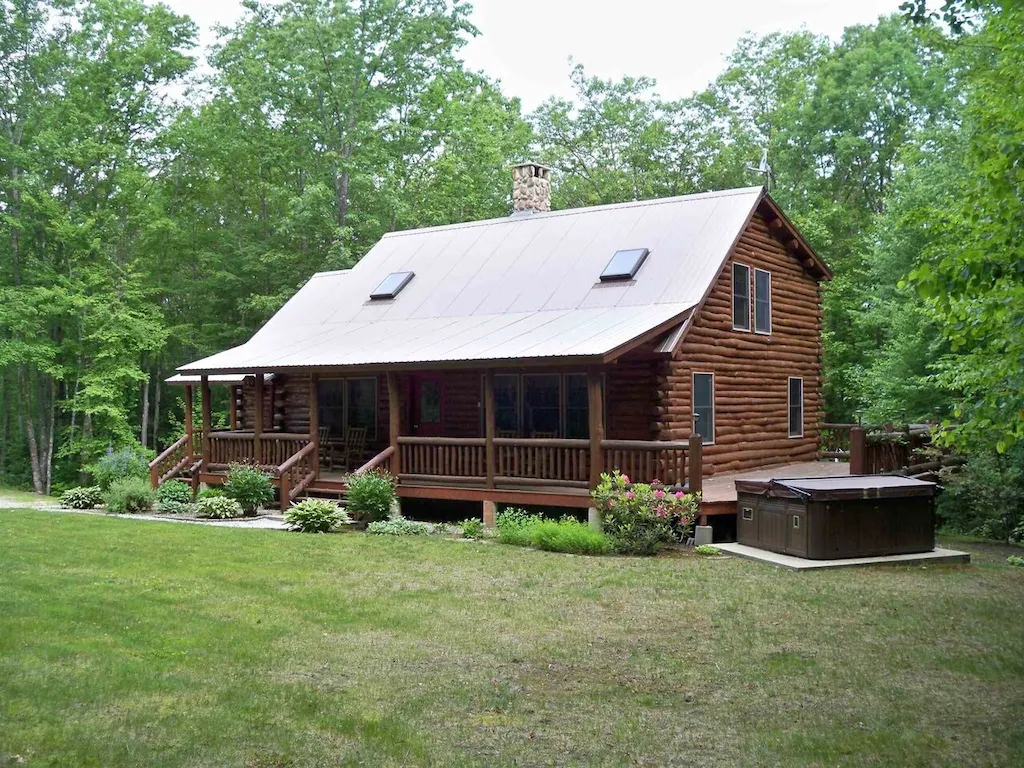 ---
Luxury Cabin With Gazebo & New Hot Tub
Location: Bethel, Maine
Price: $364+ per night
https://www.airbnb.com/rooms/30884748
It is the ideal Airbnb vacation rental with a hot tub to melt away all your worries. The spacious cabin has two rooms and a dining room in the basement. You can spend time in nature at the gazebo and garden. There is also a TV with cable, WiFi, and games in the cabin.
This cabin sleeps 13 and has a fire grill and picnic table outside so you can prepare a delicious dinner and watch the stars at night. You can also use the canoe during your stay.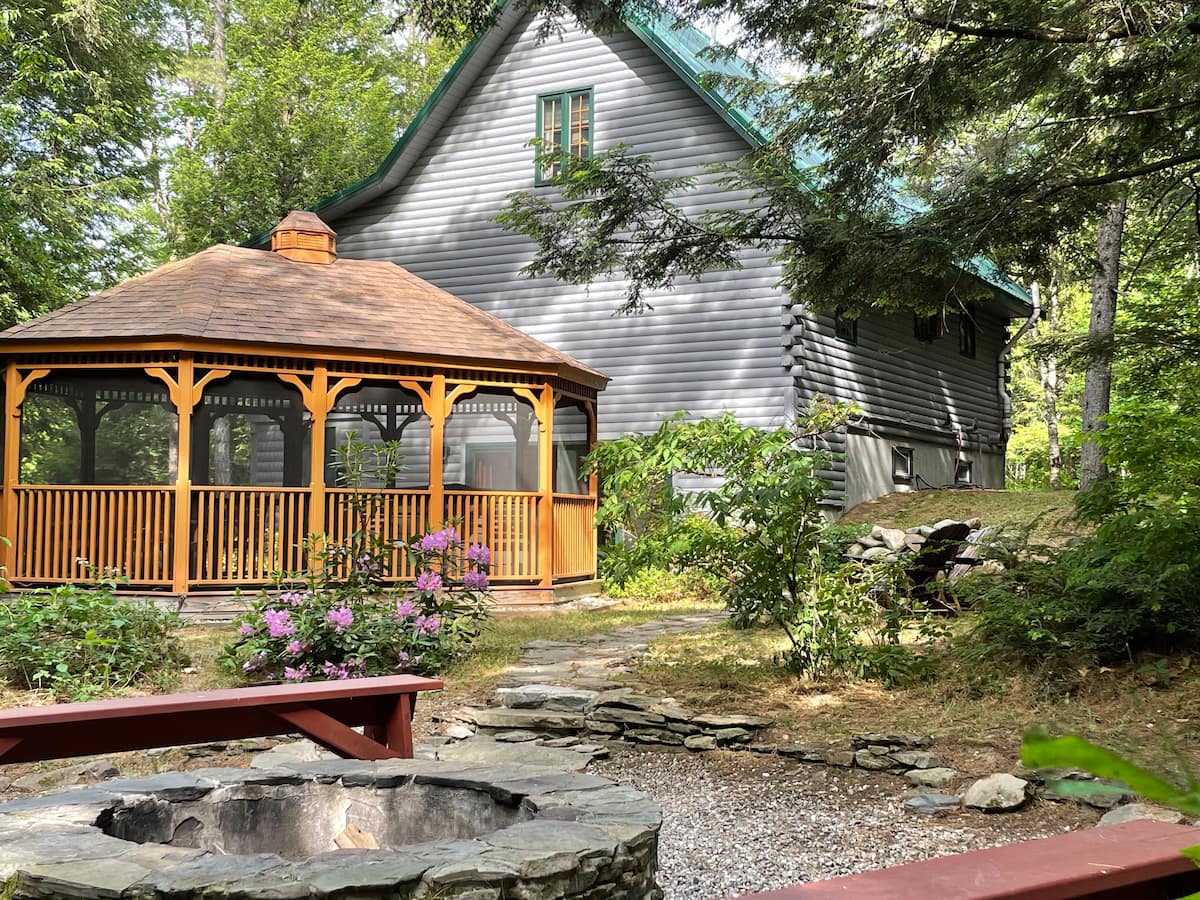 ---
Private Woodstock Cabin
Location: Woodstock, Maine
Price: $529+ per night
https://www.airbnb.com/rooms/12033771
Luxurious, comfortable, and romantic! Who doesn't want a serene retreat where chirping birds and the setting sun create a tranquil atmosphere? The Woodstock Cabin boasts luxurious amenities to lift your spirit. You can relax in the hot tub in the cabin and create cherished memories with your partner. Moreover, in the winter, enjoy snowmobiling along the nearby snowmobile trails and skiing at two family-friendly resorts nearby.
There are four bedrooms and three bathrooms in the cabin, accommodating eight people. You can relax in our hot tub or roast s'mores in the fire pit as the sun sets over the mountains after an exciting day.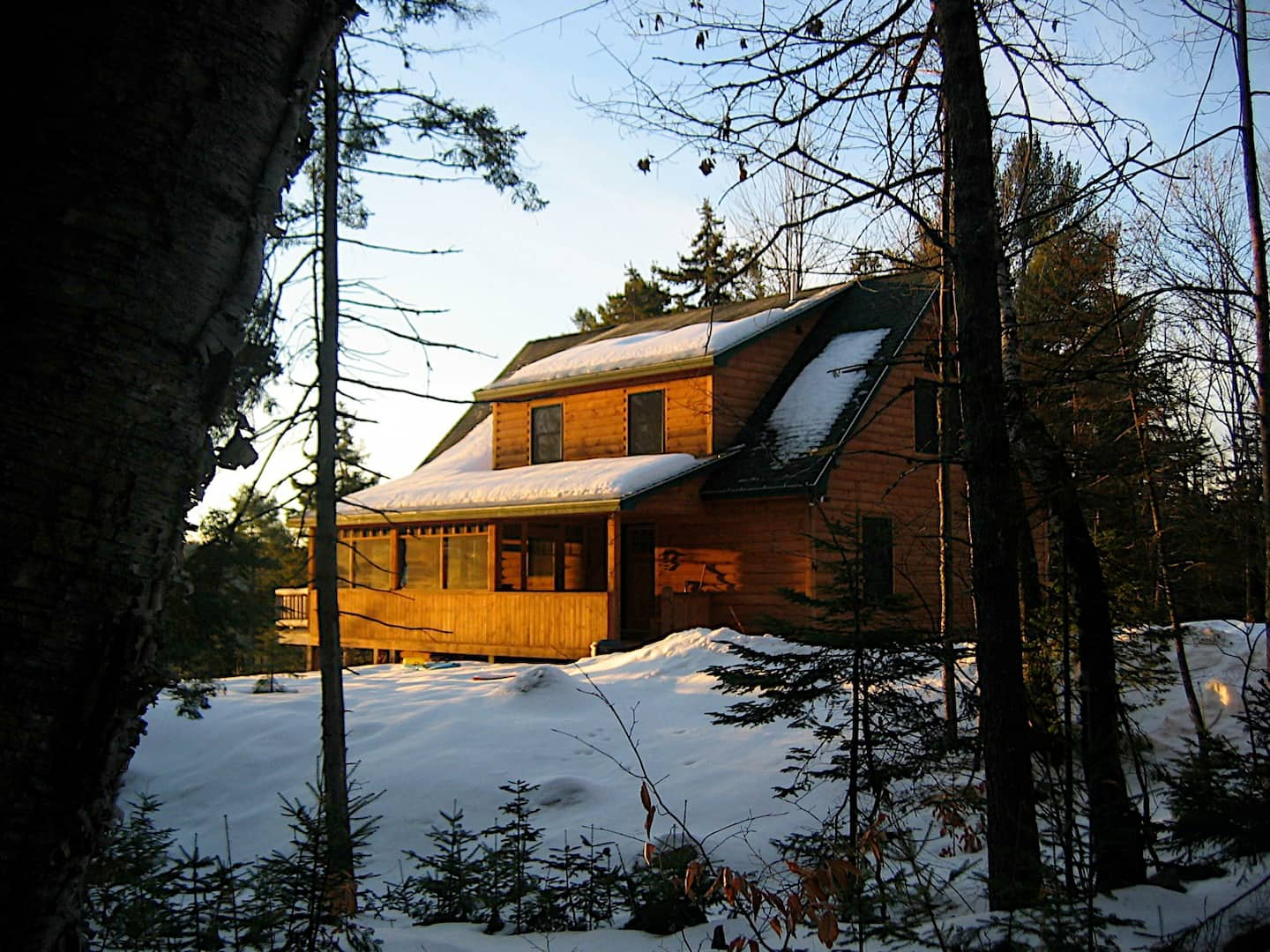 ---
Modern Lakefront Cabin
Location: Old Town, Maine
Price: $274+ per night
https://www.airbnb.com/rooms/51463282
The Lakefront Cabin is a stunning vacation home set among nature. A couple seeking adventure will feel at home in this cabin. The cabin offers visitors a wide range of leisure activities. During the summer, you can enjoy swimming, fishing, and boating. In the winter, ice fishing and snowmobiling are available.
If you've spent all day on the lake, you can relax in the hot tub afterwards or have a cup of coffee on the deck and enjoy the gorgeous surroundings. This cabin can easily accommodate a group of nine people. So, if you are looking to invite your friends or family, this cabin is for you.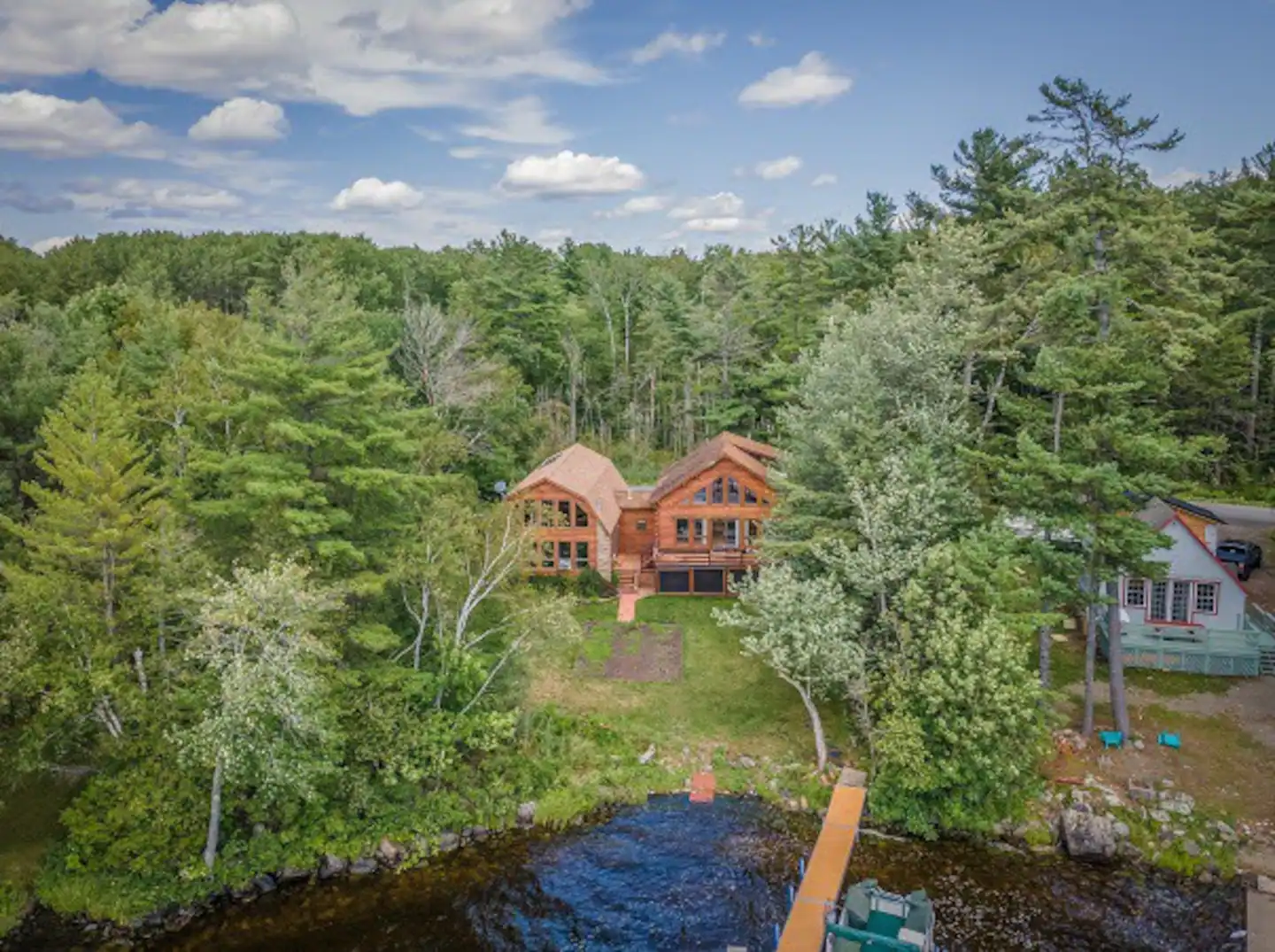 ---
Greenwood Cozy Cabin with Hot Tub
Location: Greenwood, Maine
Price: $404+ per night
https://www.airbnb.com/rooms/49795653
The open-concept Maine mountain chalet sits right next to Mount Abram's Westside lodge. It features a great view of the mountain from all its windows, the front deck, the hot tub, and the fire pit, making it a truly unique place.
The cabin can accommodate up to 7 people comfortably. Everything you'll need for cooking is available in the kitchen, including a toaster, coffee maker, and dishwasher. Furthermore, the house has excellent WiFi and two outdoor Bluetooth speakers so you can listen to tunes while relaxing in the tub or around the fire pit, watching clouds and stars drift over Mount Abram.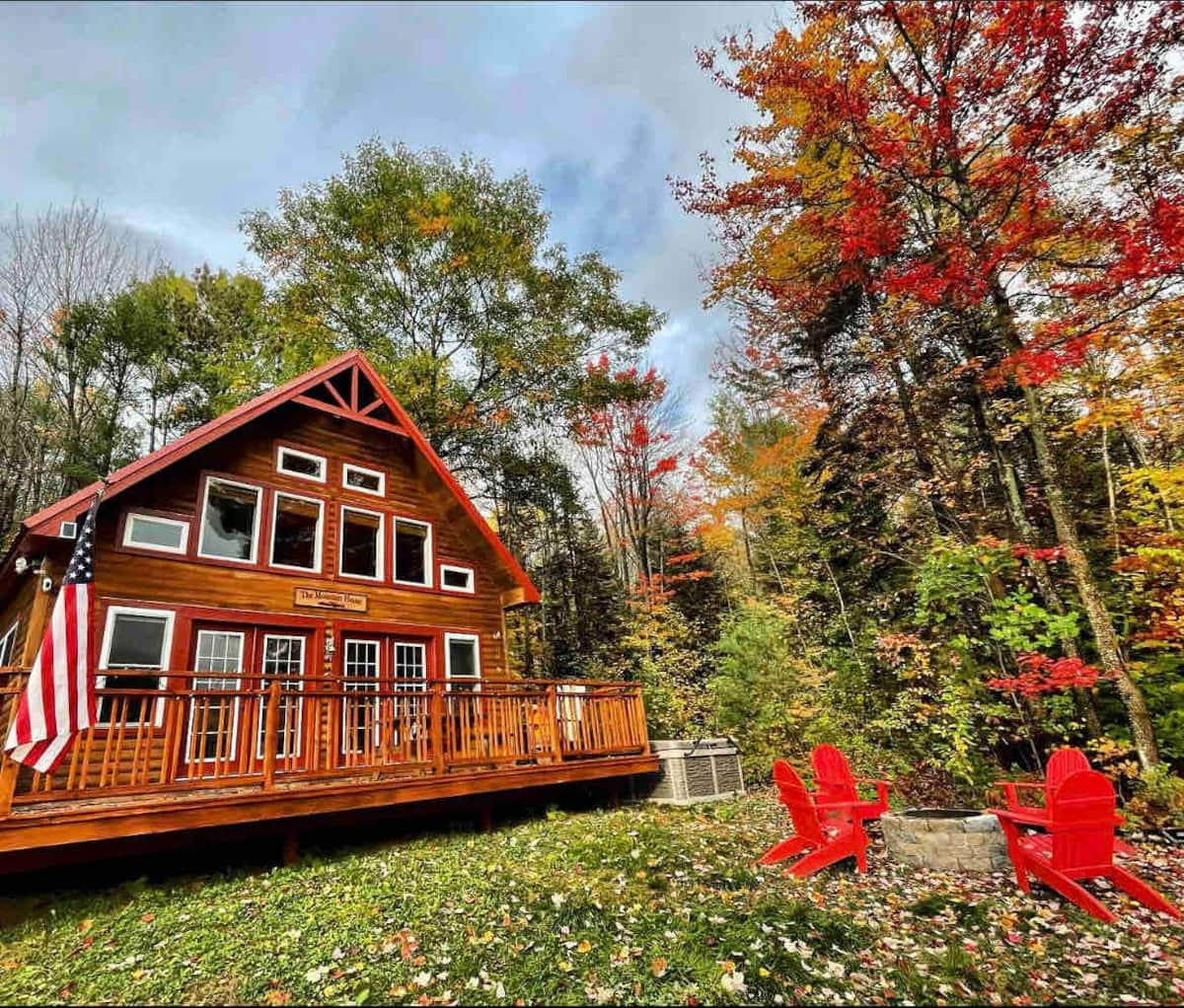 ---
Cedar Cabin
Location: Norway, Maine
Price: $435+ per night
https://www.airbnb.com/rooms/51596695
This waterfront retreat is the perfect getaway for couples. Taking a dip in the hot tub, playing pool, or relaxing in front of the propane fireplace overlooking the Sand Pond is an experience you will never forget.
The cabin can sleep six as it has three bedrooms and two bathrooms. The property is only 45 minutes from Sunday River Ski Resort and 35 minutes from Shawnee Peak. Further, the site is close to many trails for hiking, cross-country skiing, snowshoeing, ATVs, and snowmobiles.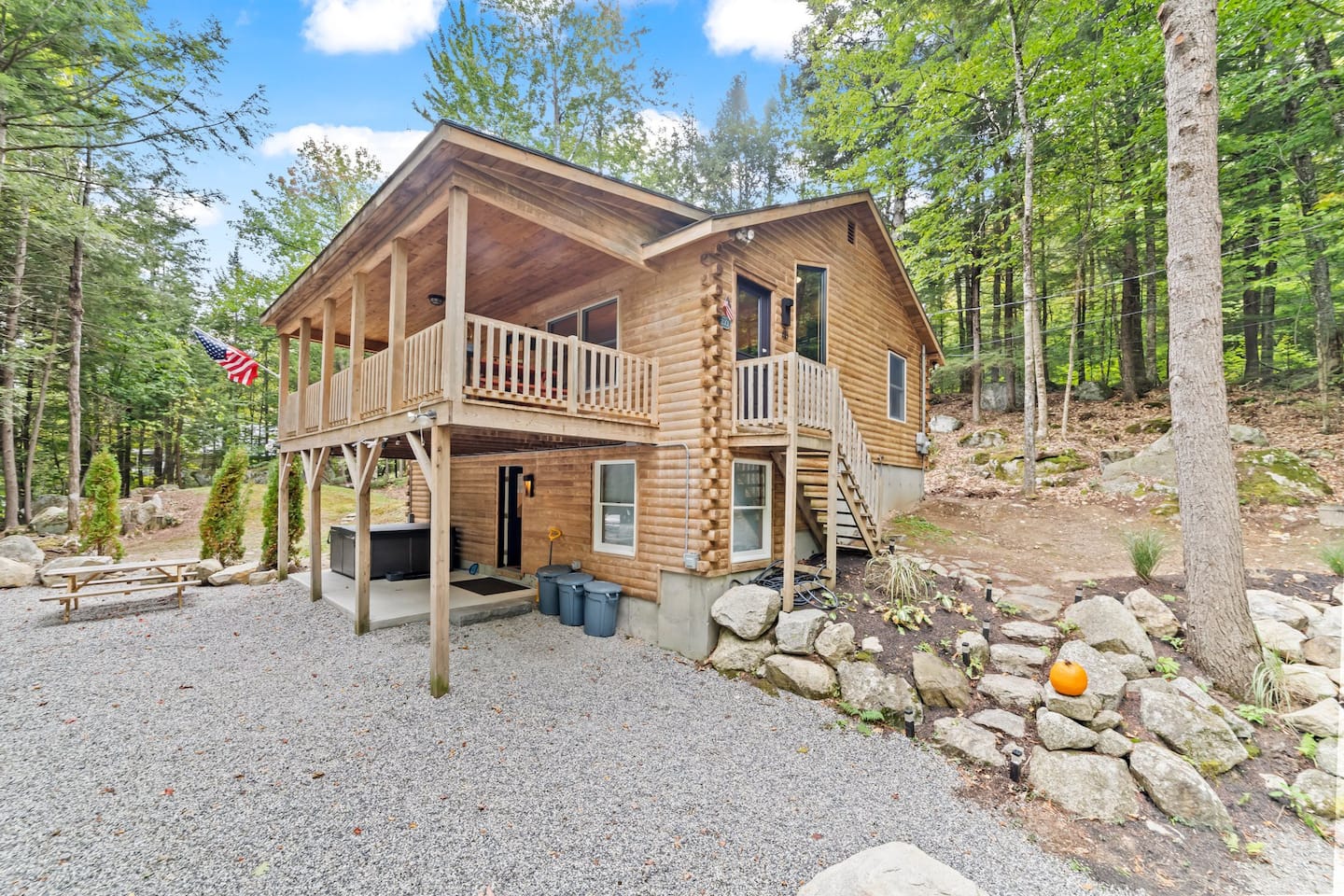 ---
Among the most romantic cabins with hot tubs, these were some of the most popular. You can recreate your romance and create precious memories with your loved one. 
So what's your plan?