Are you planning a romantic getaway with your partner in Ohio? If so, then a romantic cabin with a hot tub in Ohio is the perfect place to experience this underrated destination.
Whether you are looking for classic and rustic properties or modern and sophisticated styles, you can find them here. At Hocking Hills and other romantic getaway locations in Ohio, you can feel that you and your partner will have a memorable romantic getaway. Check out our list of the top 12 romantic cabins in Ohio with hot tubs that fit you and your dream honeymoon.
Also, be sure to read my guides on Secluded Cabins in Ohio & Romantic Cabins in Hocking Hills for more accommodation options in the area!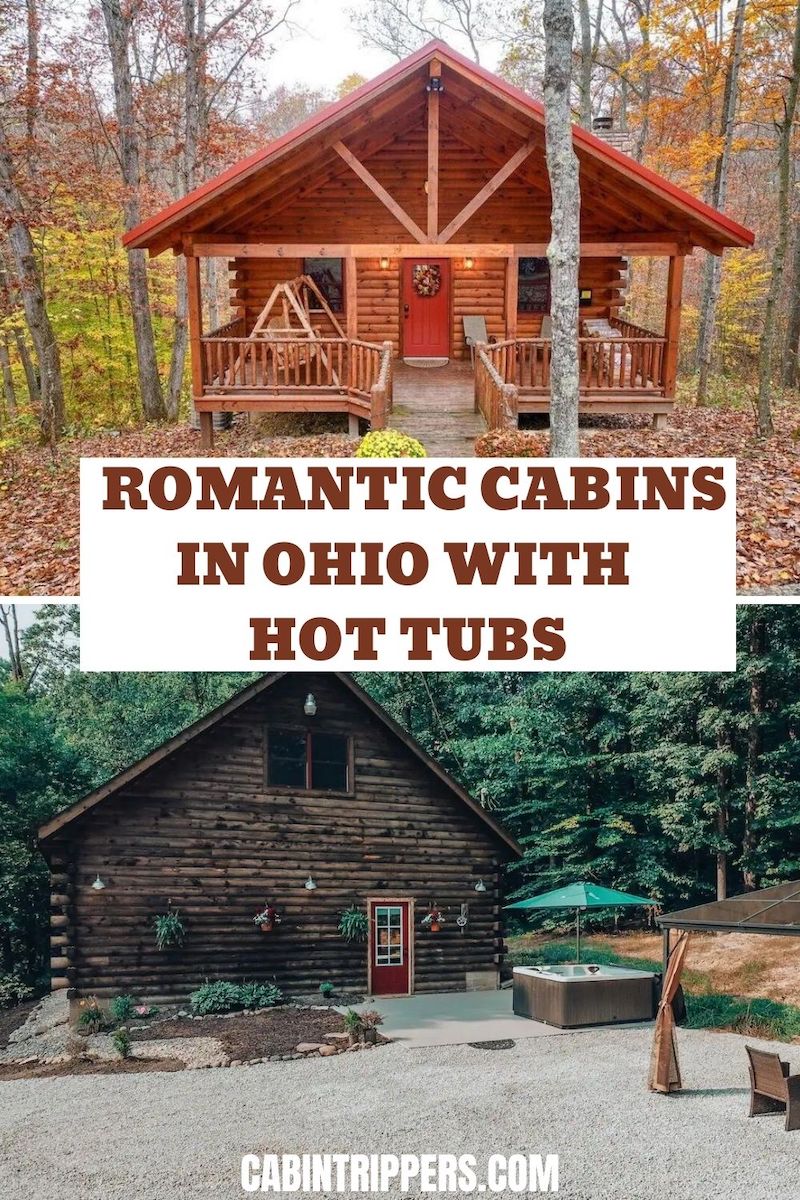 ---
1. Secluded Cabin for Two
Location: Hocking County, Ohio
Price: $165+ per night
Secluded and complete with a hot tub as well as indoor wood-burning fireplace, this is the perfect property for you and your partner! You'll love the fully equipped kitchen, log cabin construction-style, and adjacent fire pit for romantic evenings outside. Life can get busy, but this beautiful one-bedroom was built for you and your loved one to slow down and enjoy each others' company.
The options are endless for activities around the area, seeing as how the cabin is located in the gorgeous Hocking Hills. You'll love the peace and quiet of the secluded forest setting!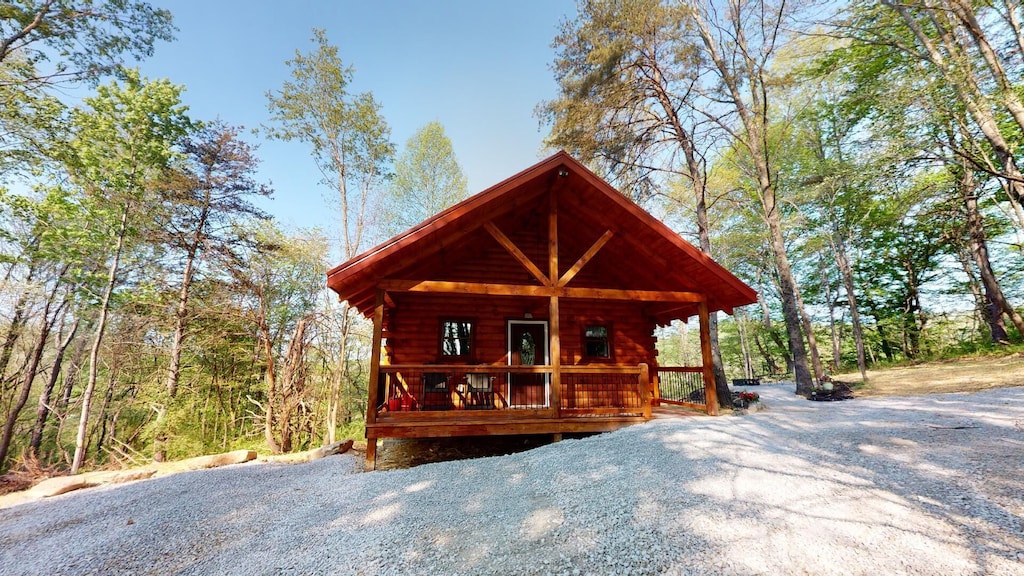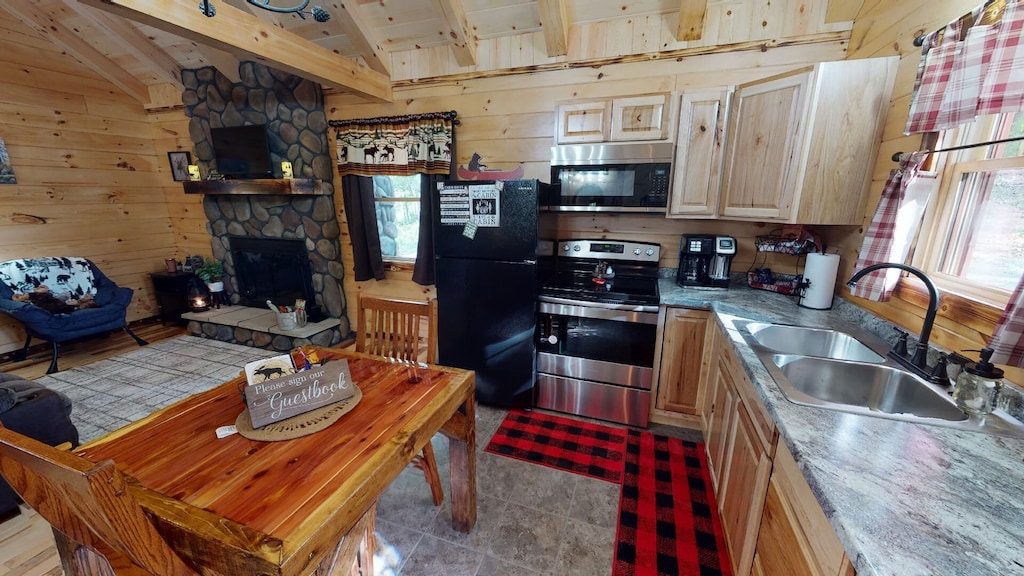 ---
2. Paris Art Deco Luxury Cabin
Location: The Hocking Hills, Ohio
Price: $315+ per night
Who says relaxation and opulence can't mix? Live your luxury life for the weekend while also immersing yourself in nature! This ritzy and rustic rental will have you telling all your friends about your holiday digs. From the granite countertops to the spiral staircase to the various fire pits and fire place, there is ample space for you to enjoy meals, alone time with your loved one, a movie, or just sitting together by the fire.
Kayaks, mountain bikes, and more amenities are included with this property — you're sure to have plenty to do at this romantic Hocking Hills, Ohio, rental!
---
3. Fern Haven Cabin
Location: The Hocking Hills, Ohio
Price: $199+ per night
This brand new cabin offers everything you need for a luxurious getaway in the woods. The Fern Haven is a perfect place to unwind with your loved ones. It is close to the main attractions in the Hocking Hills – Ash Cave, Cedar Falls, and Old Man's Cave. With a wall of windows and modern touches, this cabin allows the outdoors to come to you!
The open concept living and kitchen area, with vaulted ceilings, is perfect for spending quality time together. The cabin can host up to 4 guests comfortably. Furthermore, you can relax on the wrap-around deck, use the fire pit, and hike along the trails throughout the property.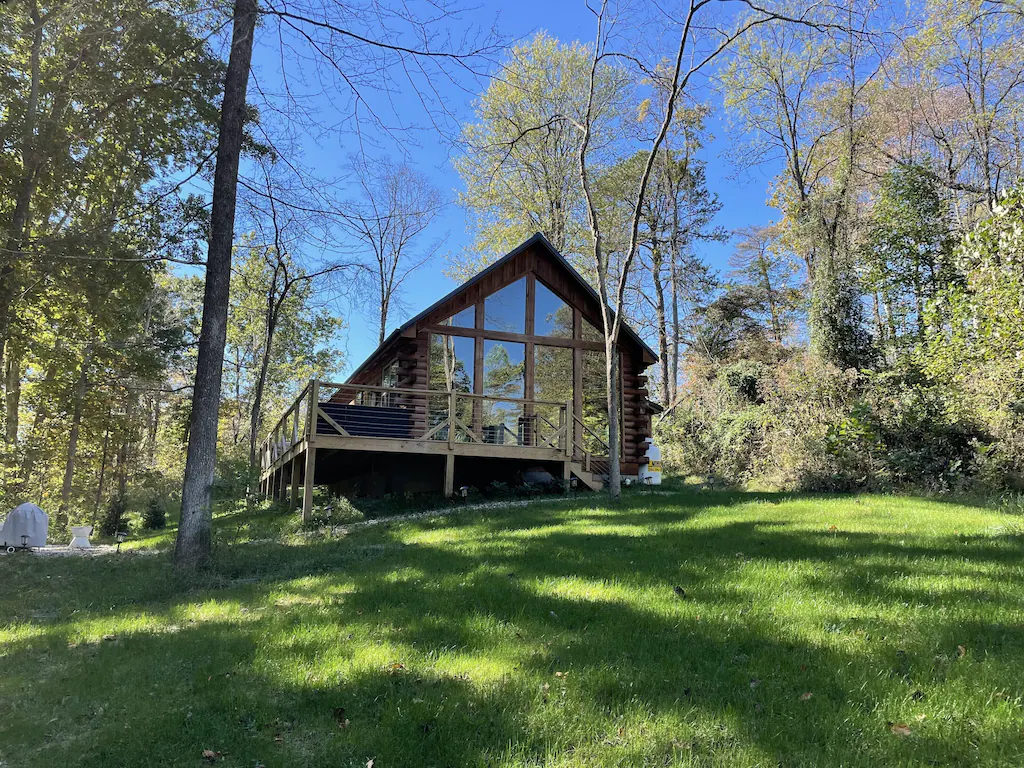 ---
4. Secluded Deluxe Log Cabin
Location: Blue Rock, Ohio, United States of America
Price: $210+ per night
It is a beautiful and secluded cabin nestled near Blue Rock State Forest and AEP Recreational Land. The lodge offers a variety of activities such as fishing, swimming, canoeing, and campfires. There is also a hot tub and hammock where you can relax all day long. Additionally, you can visit local attractions nearby the cabin, such as The Wilds Nature Preserve, The Longaberger Basket Company, Blue Rock State Park, and local antique shops and restaurants.
The deluxe cabin can accommodate eight people. There is also a Weber gas grill, a DVD player, Satellite Internet, a full washer/dryer, kitchen appliances, table service for 8, and a telephone.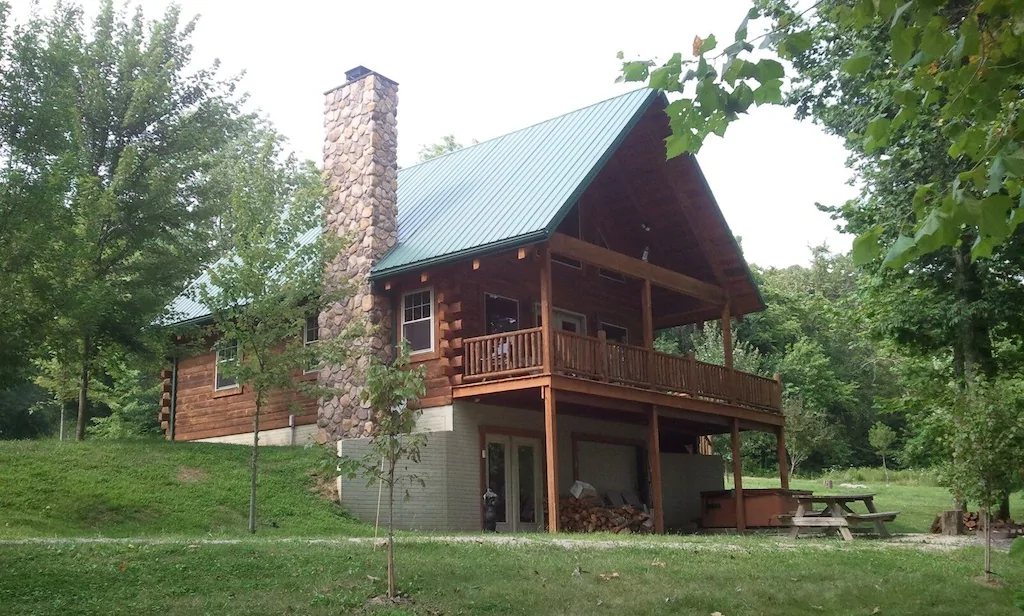 ---
5. Lazy Oaks Cabin
Location: The Hocking Hills, Ohio
Price: $159+ per night
https://www.vrbo.com/9333216ha
Are you searching for a secluded and cozy cabin away from the hustle and bustle of the city? Lazy Oaks Cabin is a romantic getaway for couples. Despite being 3.4 miles from US Route 33, the property offers privacy on a quiet country road. Adding to the appeal of this unique location, it is a quick drive to Caves, Trails, and Rock Formations that have made Hocking Hills a legendary attraction.
The cabin has one bedroom and two bathrooms. This soulmate sanctuary is perfect where you can spend your time in seclusion as you soak in the hot tub. Relax in front of the fireplace as you stargaze. Take a walk through the 60-acre woods on the property, play a round of golf or visit nearby state parks and attractions, Lazy Oaks is the ideal location.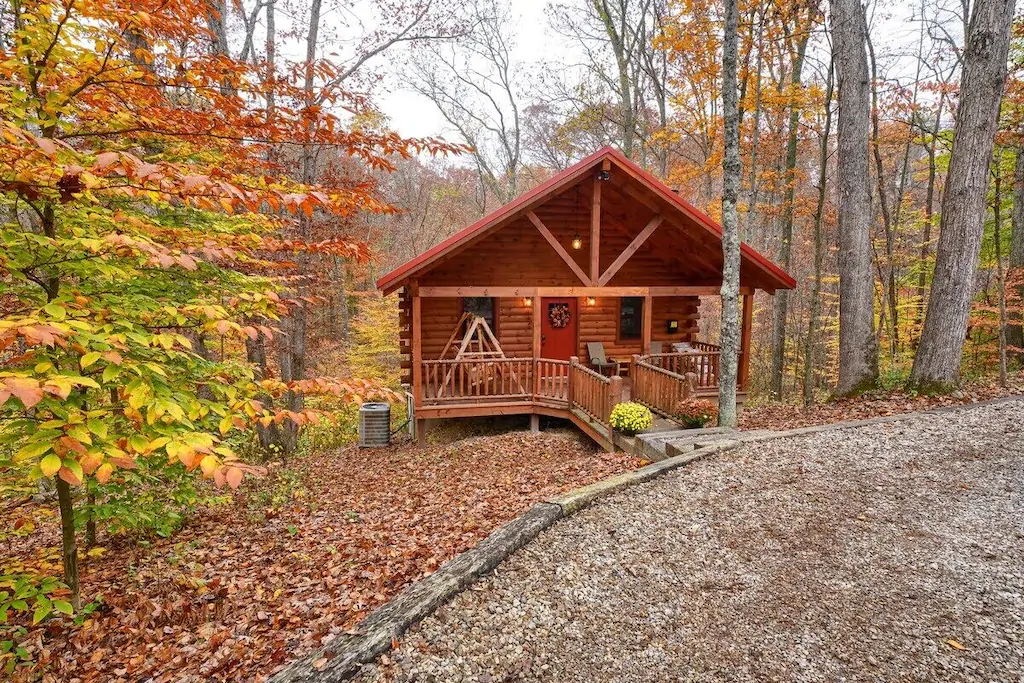 ---
6. Luxury Vacation Cabin with Hot Tub & Game Room
Location: Morgan County, Ohio
Price: $291+ per night
https://www.vrbo.com/9022757ha
The Sandstone Retreat is an oasis of natural beauty in the heart of Southeastern Ohio. Spend your time in seclusion at this fairytale vacation rental that has a large deck overlooking the crystal clear water of the pond, the view, and just both of you! You can also enjoy the outdoors as you soak in the hot tub. There is also a spacious covered porch with a charcoal grill and plenty of space for dining outside.
This luxury house accommodates up to eight guests. Overall, this quiet, secluded haven is an ideal place to get away from the hassles of life and enjoy the beauty of nature.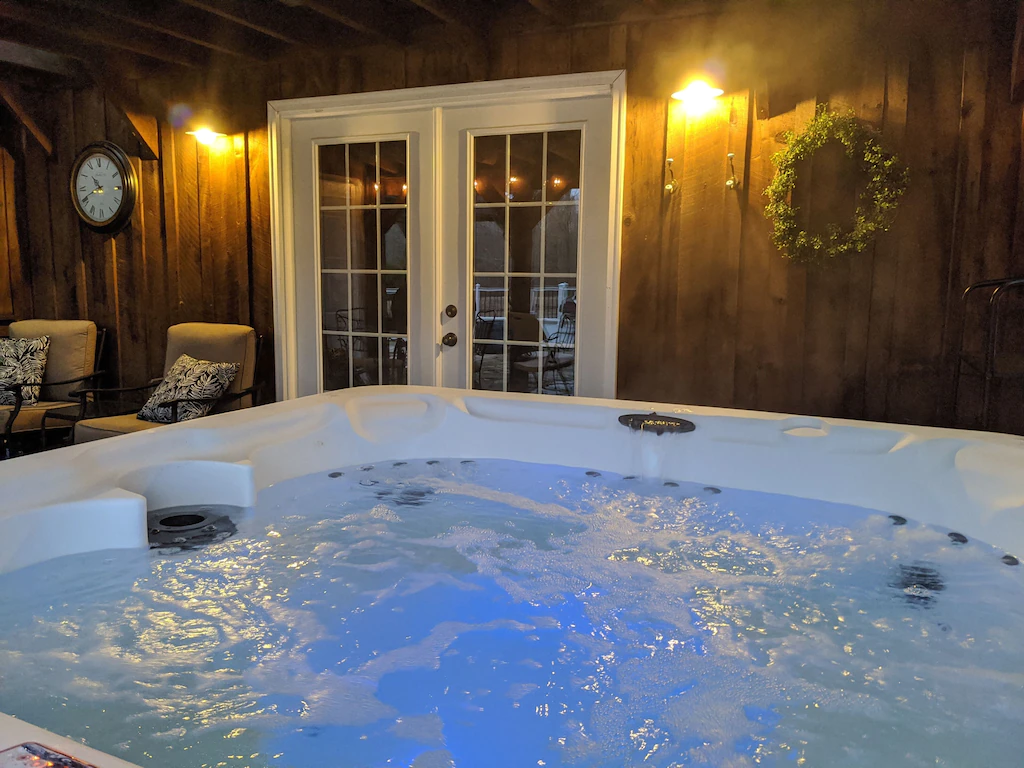 ---
7. Cozy Bowie Cabin
Location: The Hocking Hills, Ohio
Price: $190+ per night
Bowie is a cozy cabin perched on an outcropping of Black Hand sandstone overlooking the east gorge. There is no better place to view the stars than the hot tub on the open deck. The picturesque landscape will enhance your mornings and offer the perfect setting for relaxing and unwinding. You can also enjoy a private fire ring and charcoal grill with your spouse.
The cabin features a king bed, a fully furnished kitchen, and a fireplace. The property has three bedrooms and two bathrooms and can accommodate six people.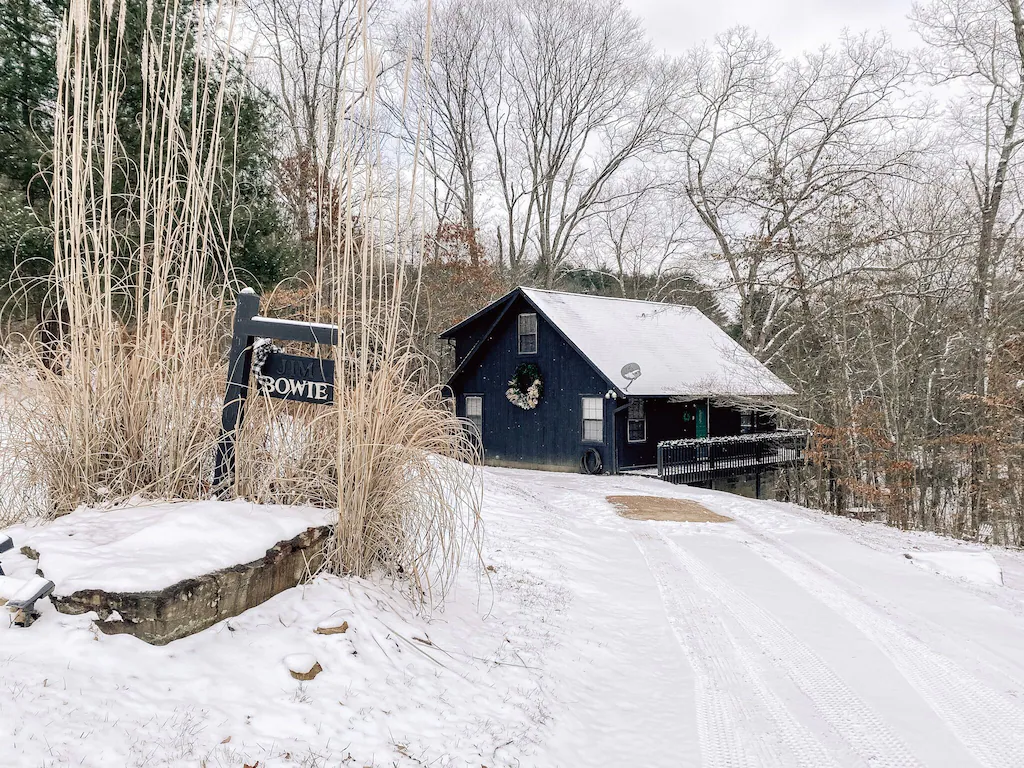 ---
8. Red Door Lake Cabin
Location: Rockbridge, Ohio
Price: $194+ per night
https://www.airbnb.com/rooms/53210669
Red Door Lake Cabin is a lakeside getaway tucked away in Hocking Hills' lush forests. The cabin comes with an outdoor hot tub, a screened porch, and a deck for sunbathing and stargazing with a panoramic view of the forest. There is also a private neighborhood lake that guests can use for swimming and fishing. Further, the Lake Cabin is just minutes away from Cedar Falls, Lake Logan, the Old Man's Cave, John Glenn Astronomy Park, and many shops and restaurants.
The cabin sleeps 5 in 1 bedroom with four beds. Whether you want to make memories as a couple or as a family, Red Door Lake House is a great place to make them.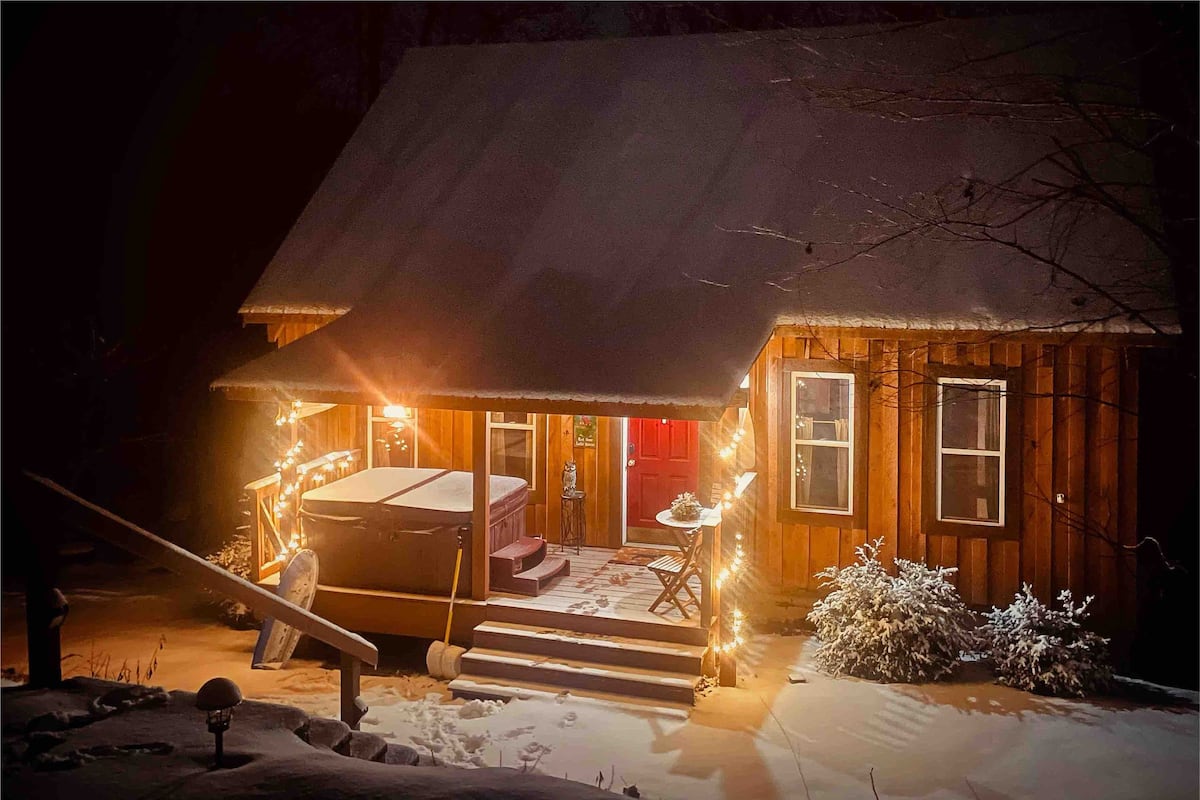 ---
9. Rustic Oak Cabin
Location: Logan, Ohio
Price: $296+ per night
https://www.airbnb.com/rooms/53371886
The Rustic Oak Cabin provides a secluded glamping getaway in a rustic setting. This cabin is the perfect place for you to spend time with your loved one. The screened-in porch and patio offer stunning views of the Hocking Hills and surrounding greenery. On the 40 acres of the property, you will find a private pond where you can enjoy fishing and watching the sunset.
The cabin can accommodate up to 6 guests. Additionally, you can enjoy reading in the pergola, roasting s'mores over the fire, or relaxing in the hot tub after an adventurous day. You will make lifetime memories at this cabin.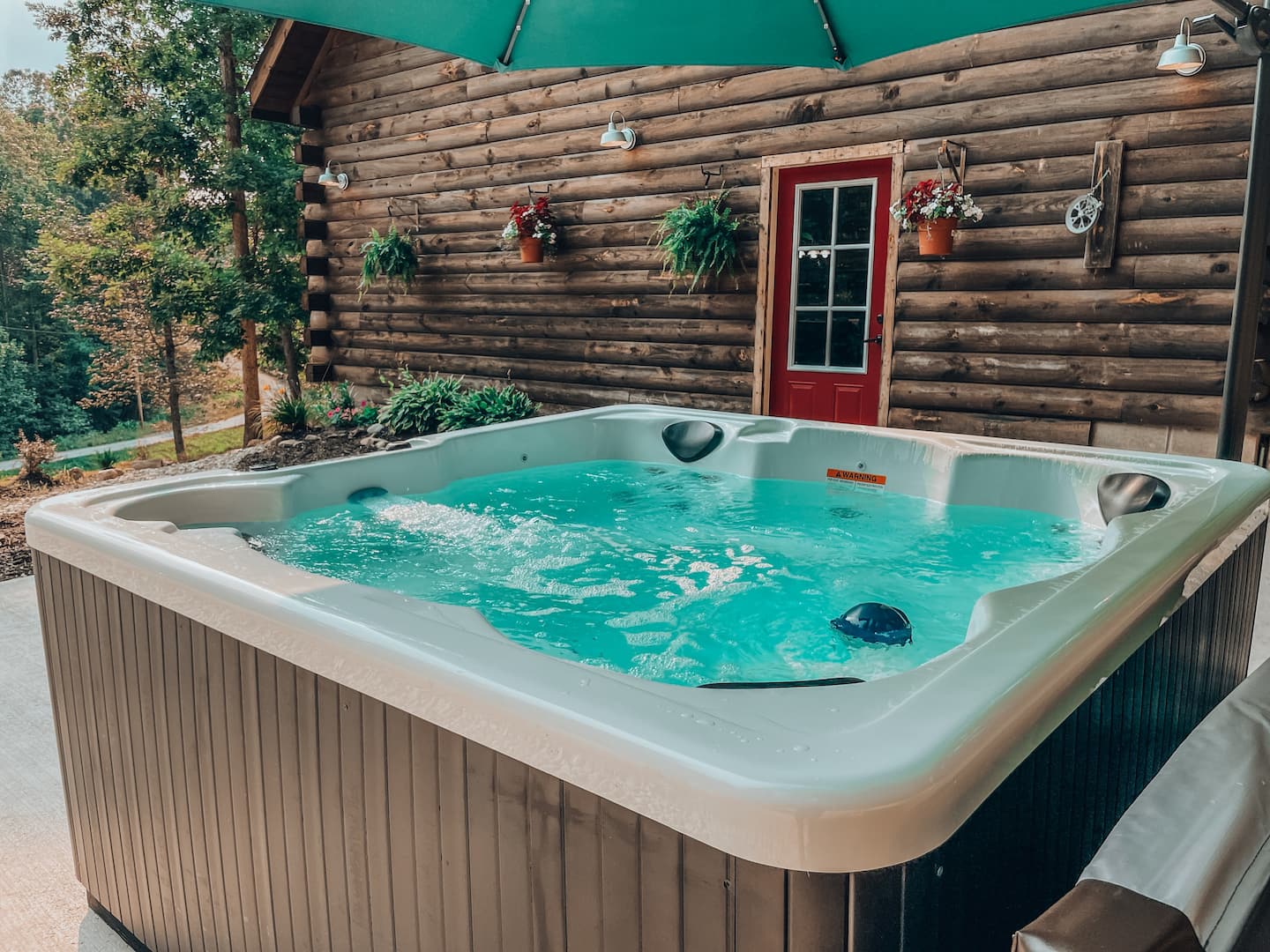 ---
10. Post-Time Cabin
Location: Rockbridge, Ohio
Price: $213+ per night
https://www.airbnb.com/rooms/53631345
This cozy two-bedroom cabin with one bathroom is the perfect spot for a romantic reunion in the woods. There is a big room on the upper level with a kitchen. You can enjoy the views of the woods while relaxing or cooking in the newly designed kitchen. Additionally, take advantage of the private pond by fishing from the dock.
A romantic evening on a campfire is a perfect way to spend time with your partner. You can also relax in the hot tub on the lower deck after a long day of hiking in the mountains.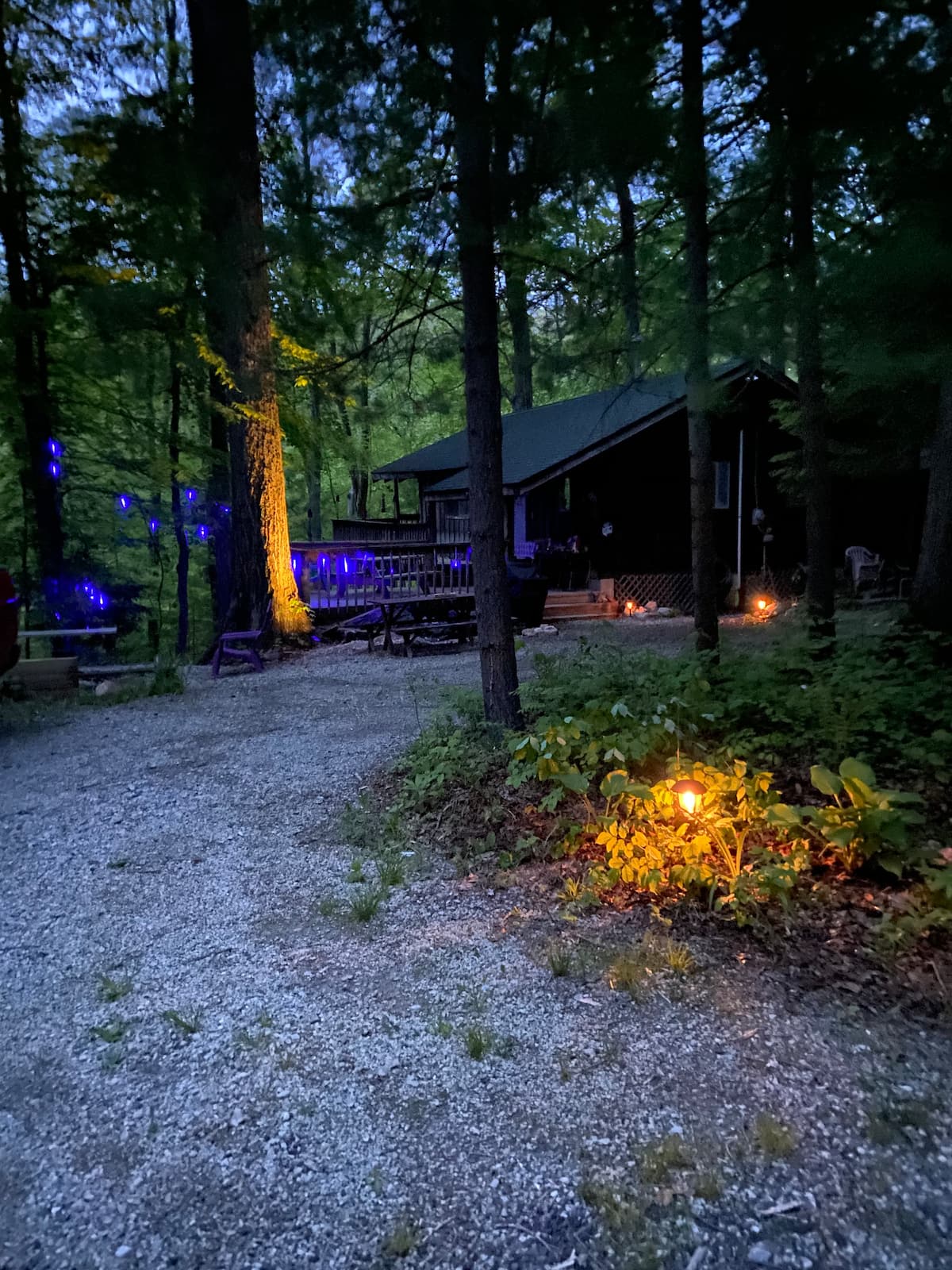 ---
11. The Hideaway Cabin Rural Retreat
Location: Sarahsville, Ohio
Price: $408+ per night
https://www.airbnb.com/rooms/51269309
The Hideaway Cabin is the perfect combination of luxury, comfort, and romance. At this cabin, the sounds of birdsong and the setting sun create an aura of peace. There are leather couches and comfy chairs in the living room, making it the perfect place to relax, read, play a board game, listen to music, and play songs all year round. The hot tub is an additional way to create incredible memories with your loved one.
The cabin has four bedrooms and three bathrooms that have been upgraded and fully remodeled for a luxurious experience. Further, the Hideaway has a game room with a shuffleboard table, bar seating, a large TV, and arcade games!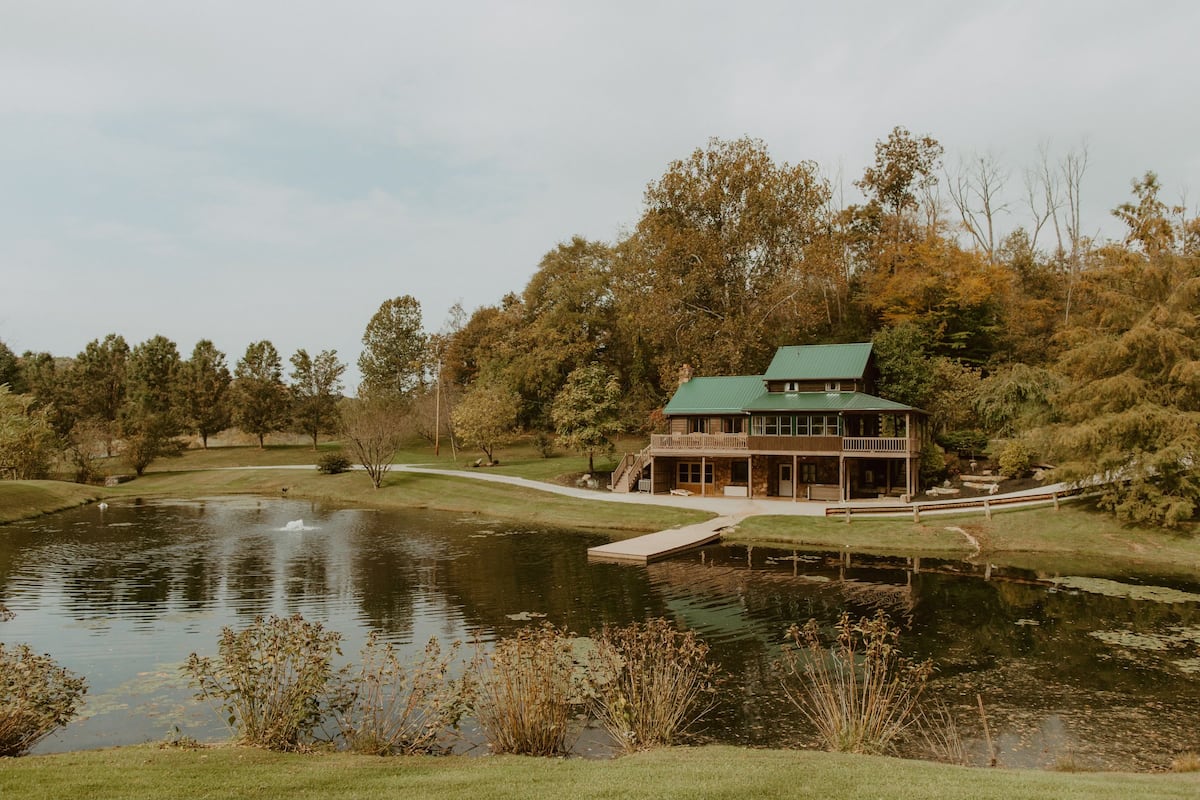 ---
12. Hocking Hills Lake Cabin
Location: Hamden, Ohio
Price: $189+ per night
https://www.airbnb.com/rooms/34510247
TripSavvy has named it 'Best Ohio Waterfront Cabin Rental' three times in a row. Located on 100 acres of forested foothills in southeast Ohio, 'Walnut Lakes Cabin Retreat' offers everything you need for the perfect getaway. The interior of the cabin features expansive windows overlooking the lake. You can enjoy many adventure activities on the private 6-acre lake, which features a pier, paddleboat, rowboat, and even a private beach.
Walnut Lakes Cabin Retreat features one bedroom and one bath, an expansive deck overlooking the fishing lake, free WiFi access, and a hot tub.
There's nothing quite like a secluded cabin getaway when you need some rest. Choose your favorite cabin from our list of top picks to relive your romance and create precious memories with your loved one.