Looking for the best romantic cabins in Oklahoma? Well, you've come to the right place, as I've put together this quick guide to 12 amazing cabin rentals on Airbnb & VRBO that will be perfect for a honeymoon or romantic getaway!
With ample space and endless forests, Oklahoma offers a variety of beautiful and unique cabins for couples to visit where they can disconnect from the digital world and reconnect with each other. Check out these incredible cabins that are each thoughtfully designed to give a feeling of romance, solitude, peace, and comfort. These cabins are sure to deliver relaxation, rejuvenation, and connection for couples looking to getaway and retreat together amongst the trees.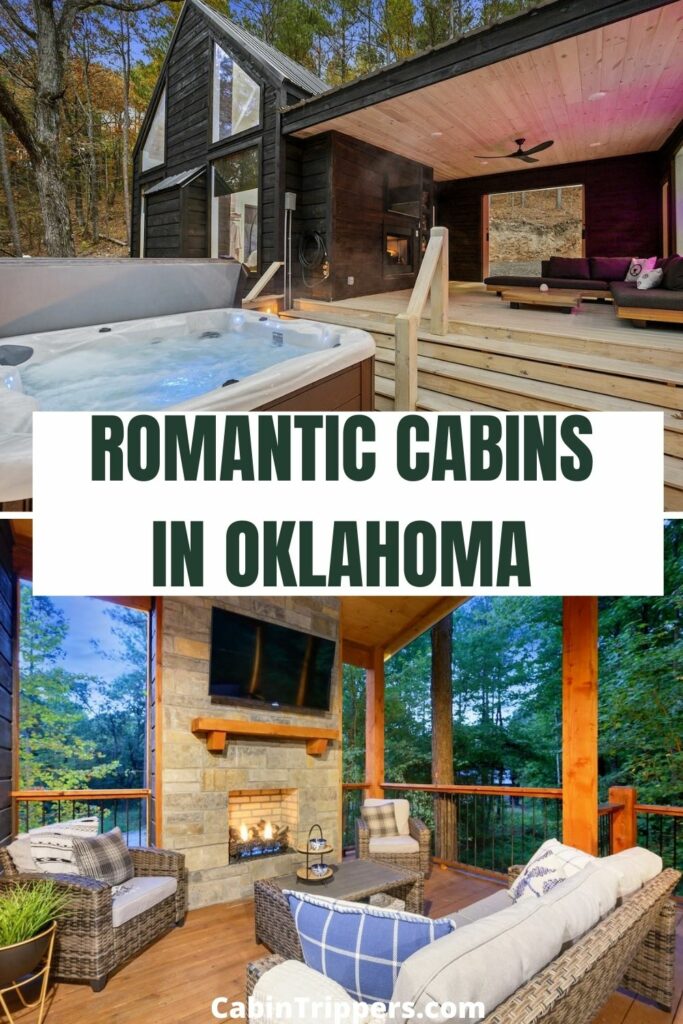 ---
My Best Girl
Location: Broken Bow, Oklahoma
Price: $265/night
When the owners' of "My Best Girl" (as they've named this ritzy romantic rental) say modern, they mean it! This contemporary construction is unique amongst romantic cabins in Oklahoma, and we think it really has it all — spacious vaulted ceilings, lots of natural light, a fantastic open floor plan, indoor and outdoor fireplaces, comfy couches, and a quiet tranquil setting at the end of a quiet cul-de-sac. Just a few miles from breweries, eateries, and downtown Hochatown, this is one of the most impressive couples' cabin we've listed for this area! Comfort and style are key to a great getaway, and "My Best Girl" is a romantic cabin rental that certainly hits the mark on both!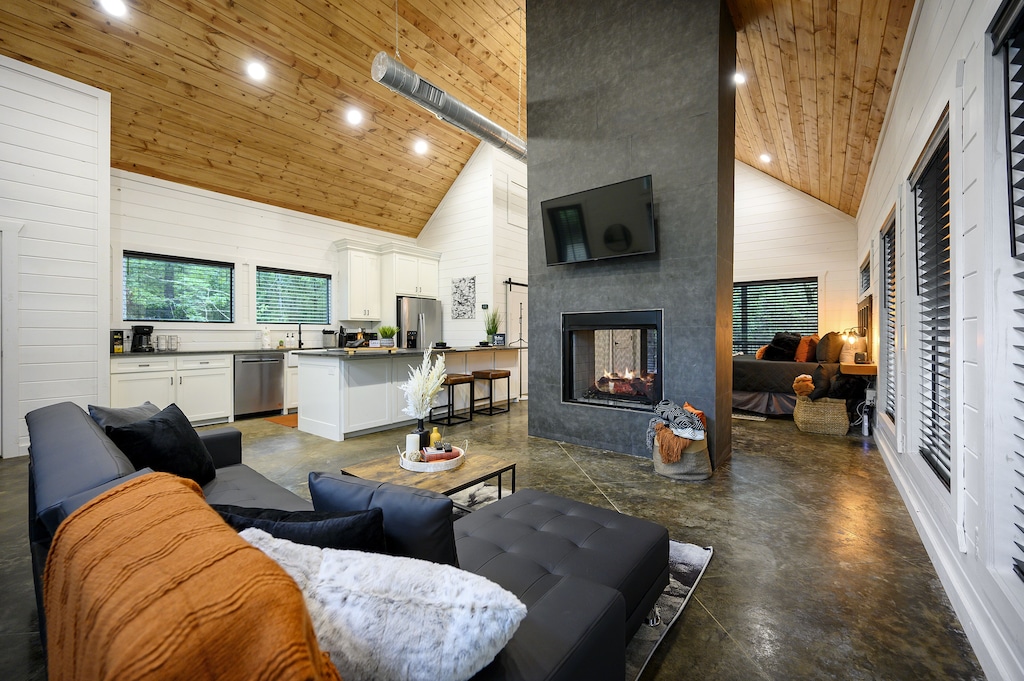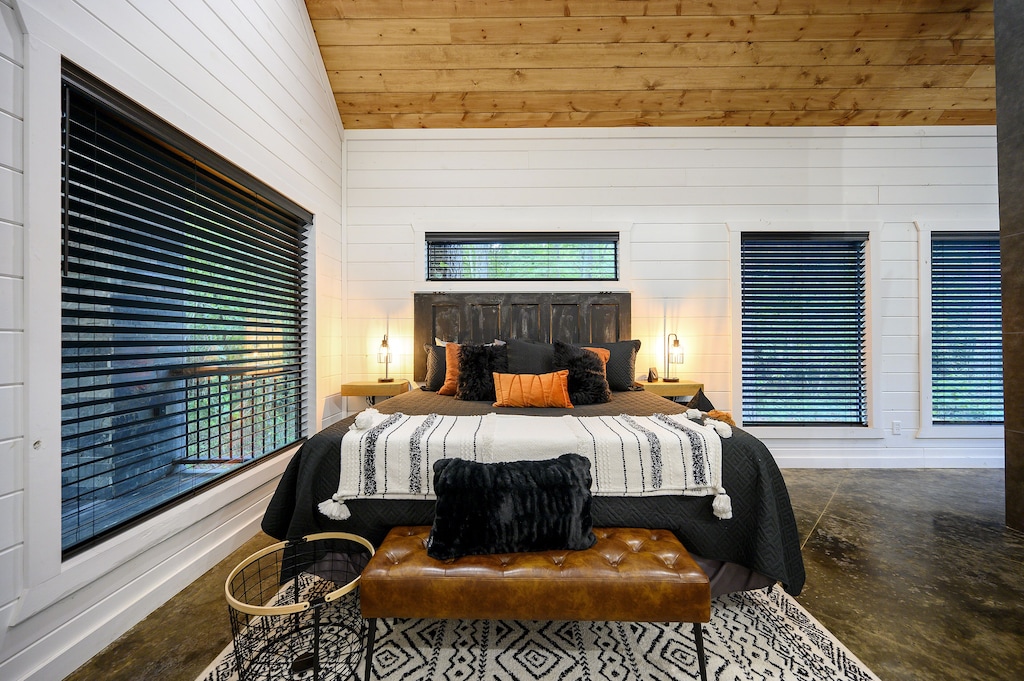 ---
"Timber Top" Honeymoon Cabin
Location: Ringold, Oklahoma
Price: $217/night
This adults only rental is has one of the best views on our list for romantic cabins in Oklahoma! It provides panoramic views high above the Oklahoma pines, and is fitted with features such as a cloud-like king bed and luxurious clawfoot soaking tub to make your stay special. The vistas from the porch alone are a reason to book Timber Top, but guests can't stop talking about additional amenities such as the cozy fireplace inside, the hot tub outside, and the degree of quality in the rustic interior design either!
Enjoy your stay, wake up with a hot cup of coffee, and spend the evenings making use of the open plan kitchen which includes everything you need for a romantic candlelit homemade dinner.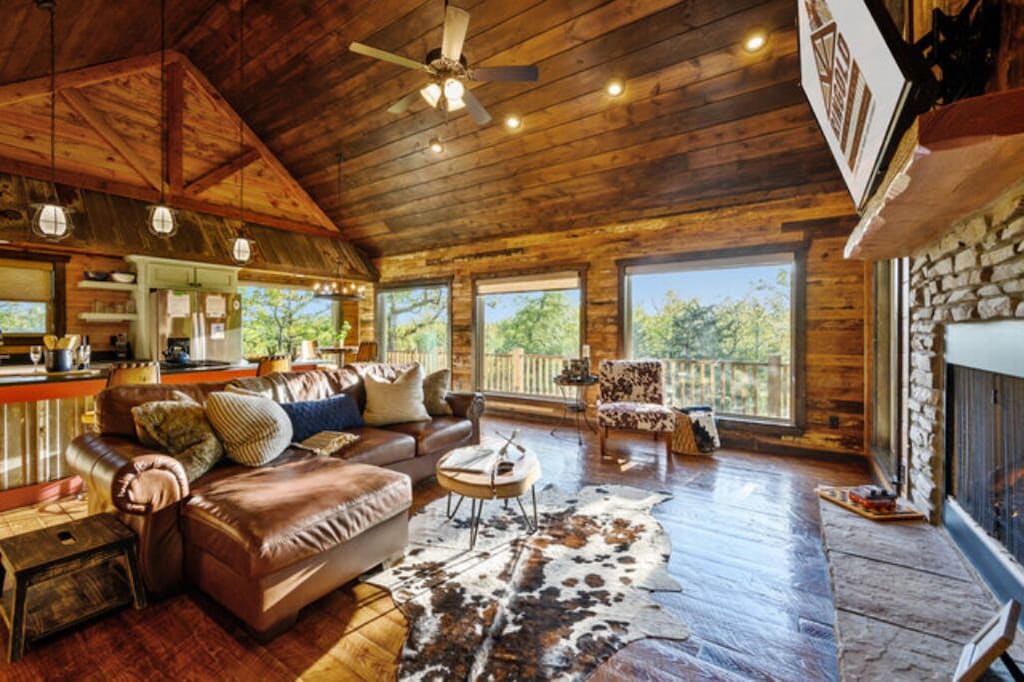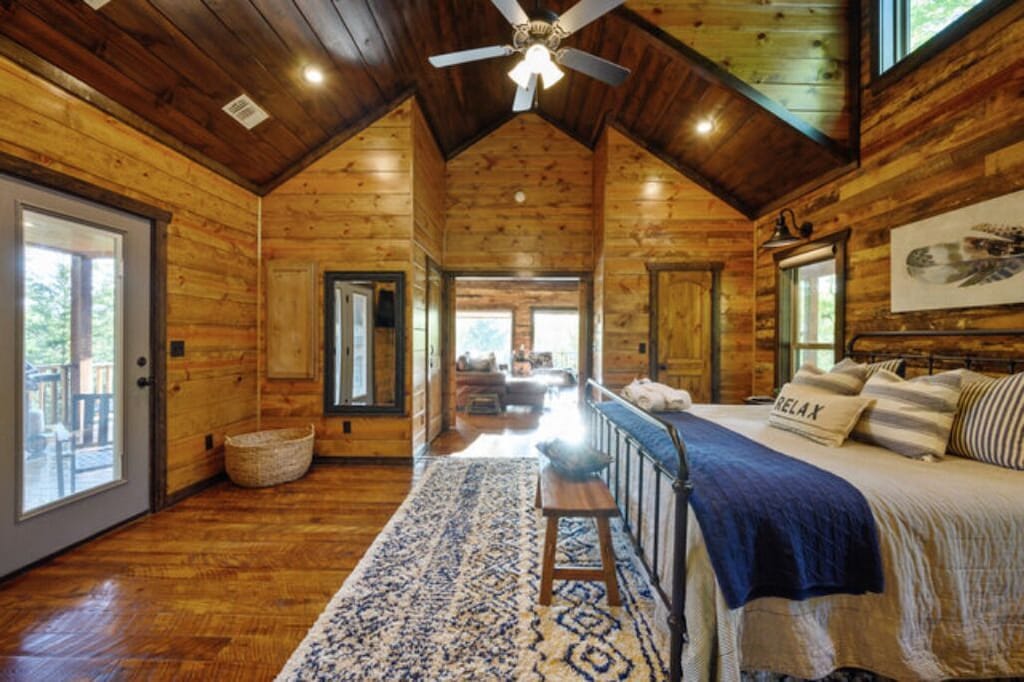 ---
Luxurious Anniversary Cabin
Location: Ringold, Oklahoma
Price: $230/night
Peace and quiet is key for our favorite romantic cabins in Oklahoma, and this luxurious log cabin is ideal for those requirements! The bright and tasteful decor is complemented by features such as the double-sided fireplace and king-size bed, and the porch and back deck are perfect for those warm Oklahoma evenings to spend sharing a glass of wine and conversation with your partner.
The two of you will love the open floor plan, modern interior, and feel like home while on your romantic getaway. Did we mention the hot tub? This cabin has everything you need for the immersing yourselves in nature and getting away from it all — in style!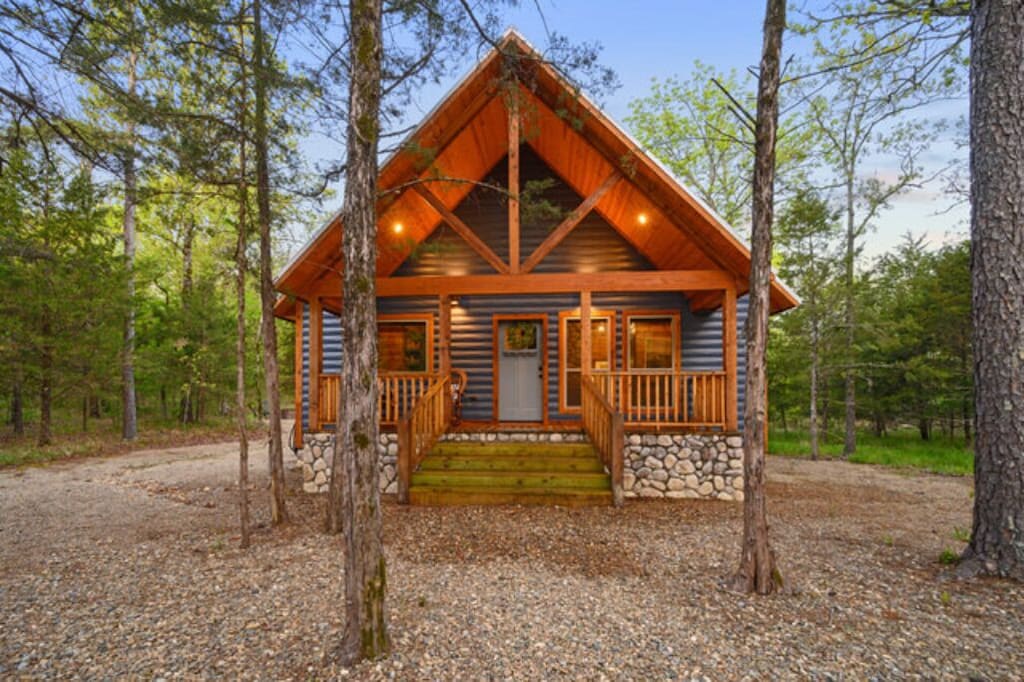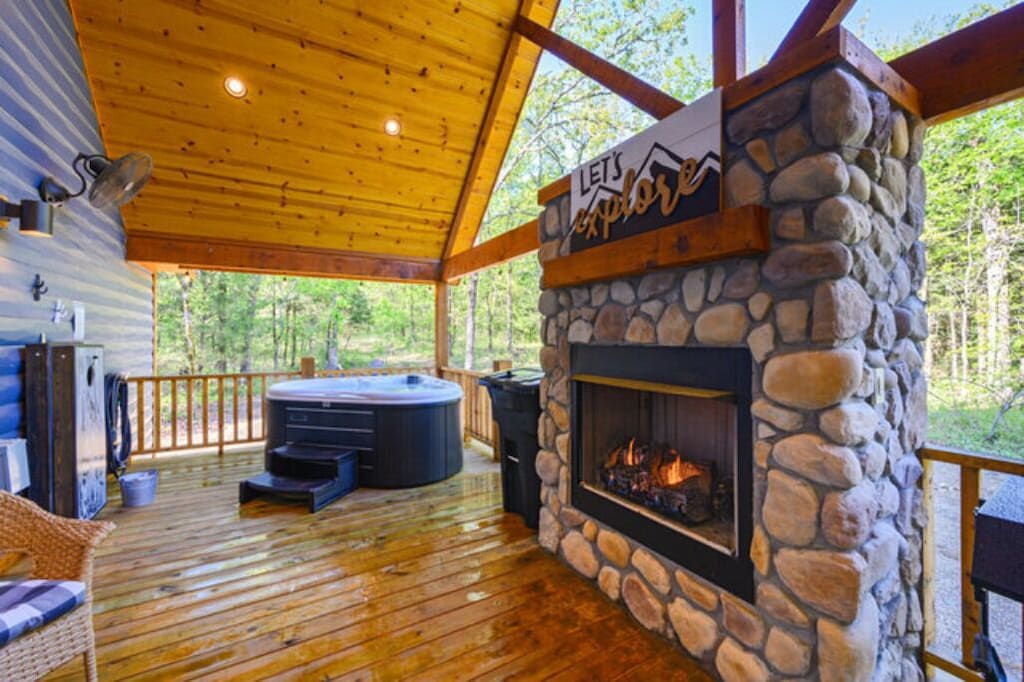 ---
Morning Sky Luxury Cabin
Location: McCurtain County, Oklahoma
Price: $214/night
Imagine spending your holiday mornings with just the two of you in a serene setting above the treetops, sipping your morning coffee or tea and watching the first sunbeams creep over the horizon. The McCurtain County rental is one of the best romantic cabins in Oklahoma for those loving morning moments! With its luxurious open plan interior and wraparound deck with hot tub, we can't imagine a better place to take in the views whether its morning or night.
The town of Eagle Creek is just a short drive away should you need to stock up on supplies or visit one of the great local eateries or bars. However, this property has everything you need (aside from groceries) to rest, relax, and enjoy the weekend without venturing too far from your home away from home!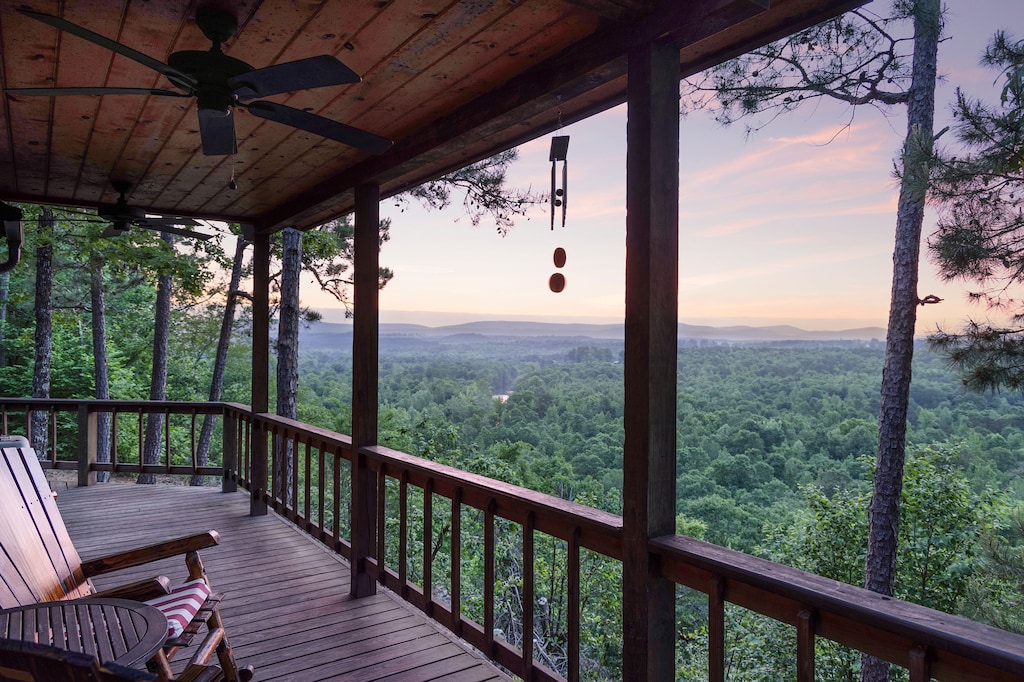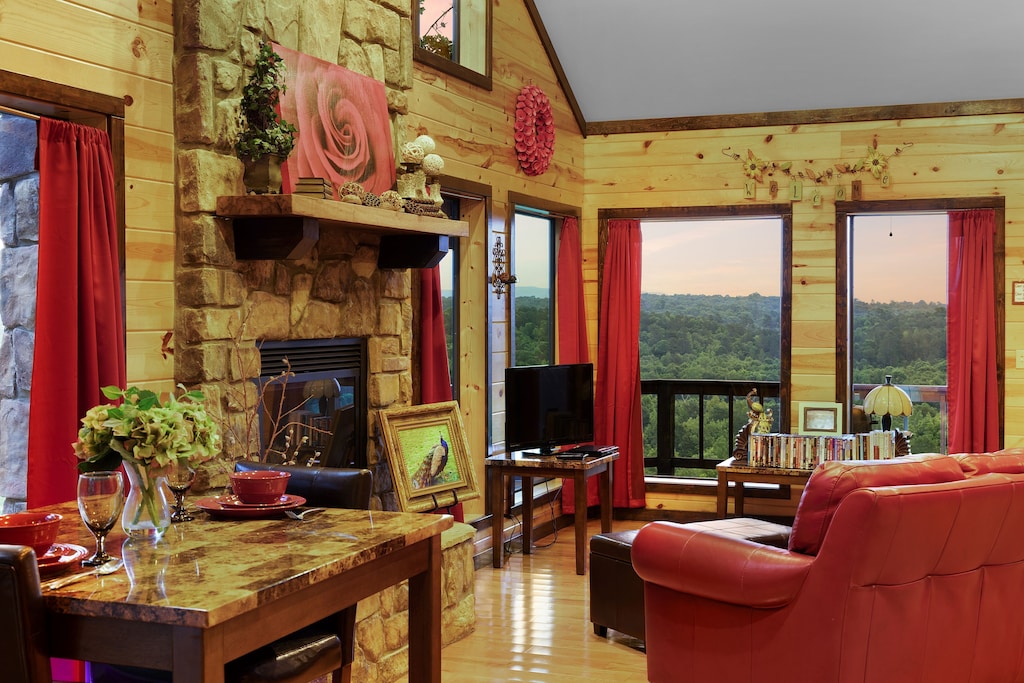 ---
Just the Two of Us
Location: Rivers Bluff, Oklahoma
Price: $222/night
When searching for romantic cabins in Oklahoma, hot tubs and peaceful views are two things to put at the top of your checklist. This Rivers Bluff vacation rental has both and more! With its spacious interior and proximity to hiking trails just outside your door, you can spend the weekend reading in doors, enjoying the hot tub outside, or making a delicious homemade meal after exploring the natural surroundings all day.
Kick back, relax, and pour two glasses of wine for yourselves while sinking into a chair on the back deck of this deluxe rustic rental! You'll love this memorable listing.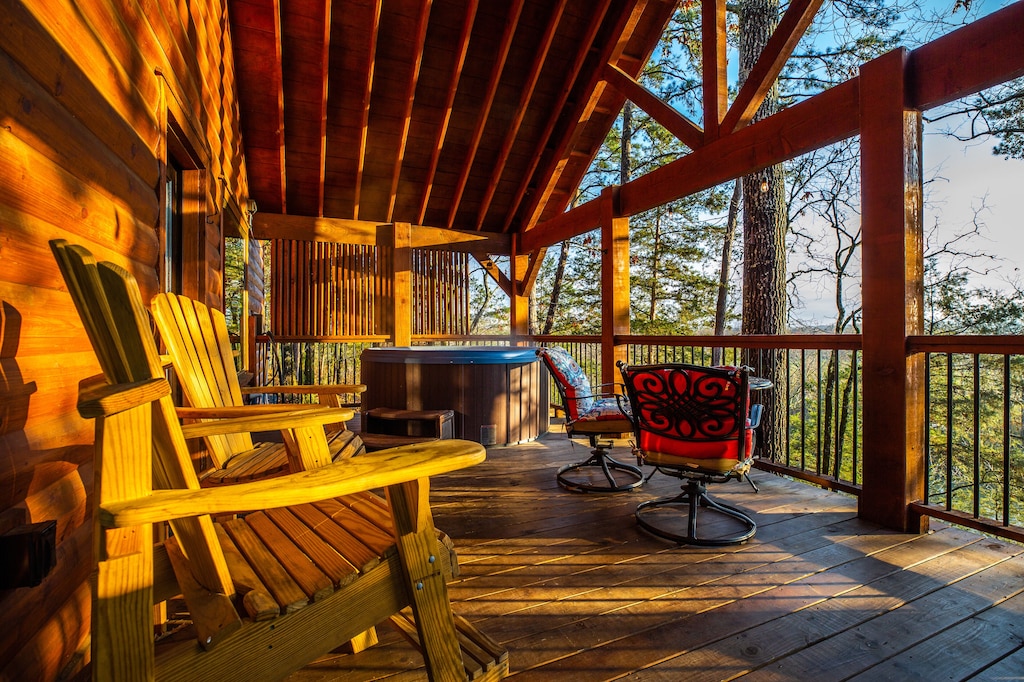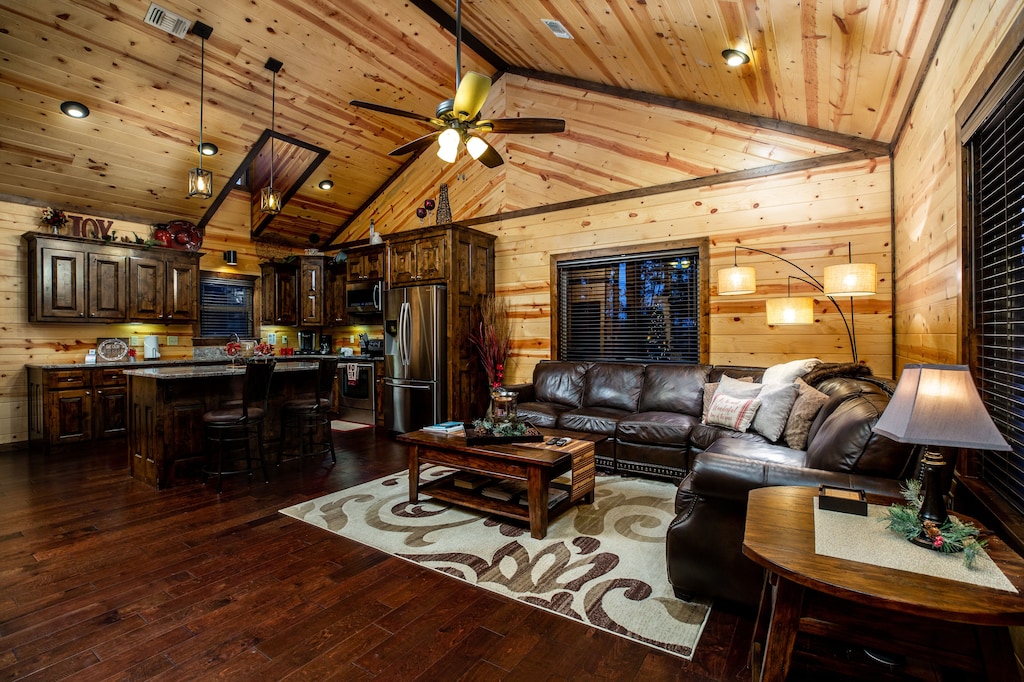 ---
I Choose You Luxury Cabin
Location: Hochatown, Oklahoma
Price: $315/night
The newly built "I Choose You" Luxury cabin in Hochatown, Oklahoma is the perfect couples getaway. Complete with a king size bed with Egyptian cotton sheets, bamboo cotton robes, a beautiful bathtub, glass shower with 2 shower heads, and towel warmer it is sure to keep you feeling cozy and taken care of. The cabin has 4 fireplaces, a jacuzzi, sauna, outdoor shower, deck seating, gas grill, fire-pit, full kitchen, and more. The rejuvenation potential is next level! 
The location is ideal as it's close to Broken Bow lake, Beavers Bend State Park, and Cedar Creek Golf Course. Perfect for hiking, boating, and golf! For couples looking to get away, relax, enjoy each other's company amongst nature, and treat themselves to extra comfort, there is no better spot.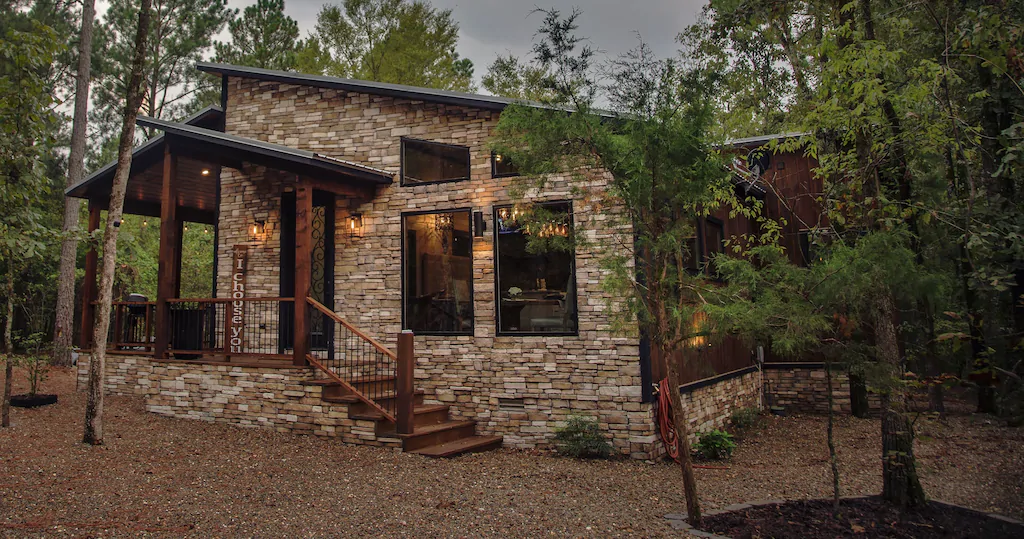 ---
Pretty in the Pines Secluded & Romantic Cabin
Location: McCurtain County, Oklahoma
Price: $346/night
This beautiful 1200 sq ft 1 bedroom cabin is the ultimate couples retreat. It has been thoughtfully curated to create a sense of solitude and relaxation with each detail. Nestled amongst the pine trees near the Ouachita National Forest, it has a feeling of being immersed in nature while still being very close to Hochatown. The cabin has an open kitchen, living, and dining room area surrounded by large windows allowing natural light to fill the space. 
The spacious master bedroom is equipped with a Tempur-pedic king bed, black-out curtains, and a sound machine to ensure a well rested deep sleep. The impeccable bathroom is an incredible touch with its huge tub overlooking the woods and oversized shower. The bedroom opens up to a private deck through beautiful French doors. The deck is the perfect place to relax with an outdoor TV, string lights, hot tub, and fireplace! Every detail was indeed thoughtfully designed to create a serene and romantic atmosphere here. 
Being in close proximity to Broken Bow Lake and Beavers Bend State Park there is also an opportunity for hiking, kayaking, fishing, horse back riding, zip lining, wineries, golf, restaurants, music, and more for guests.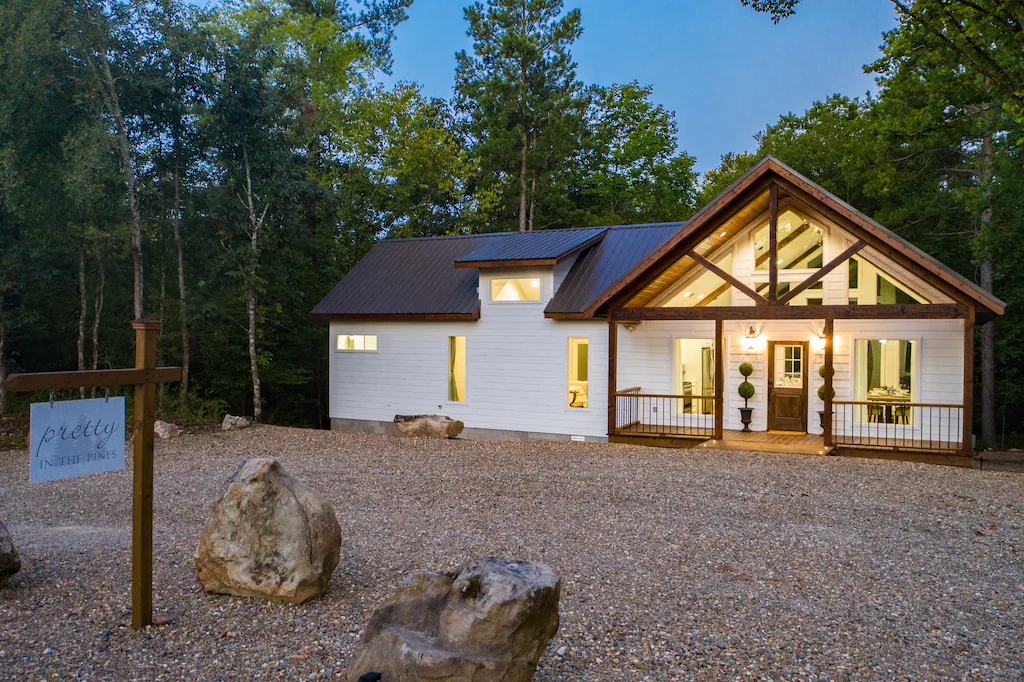 ---
Bottoms Up Couples Honeymoon/ Romantic Cabin
Location: McCurtain County, Oklahoma
Price: $263/night
The stunning Bottoms Up cabin is nestled amongst the Ouachita National Forest and Broken Bow Lake. It is a newly built luxury cabin for couples looking to retreat in style. Natural light fills the home beautifully thanks to the many windows. A one bedroom with living and dining area there is plenty of space to spend time together or alone. Equipped with indoor and outdoor fireplaces, a Viking hot tub, multiple shower head shower, huge bathtub, full kitchen, 3 TVs, washer, dryer, and large deck under the trees, it has everything needed for a relaxing and comfortable getaway in nature. Near the cabin there are opportunities to hike, golf, eat, shop, kayak, zipline, fish, and more.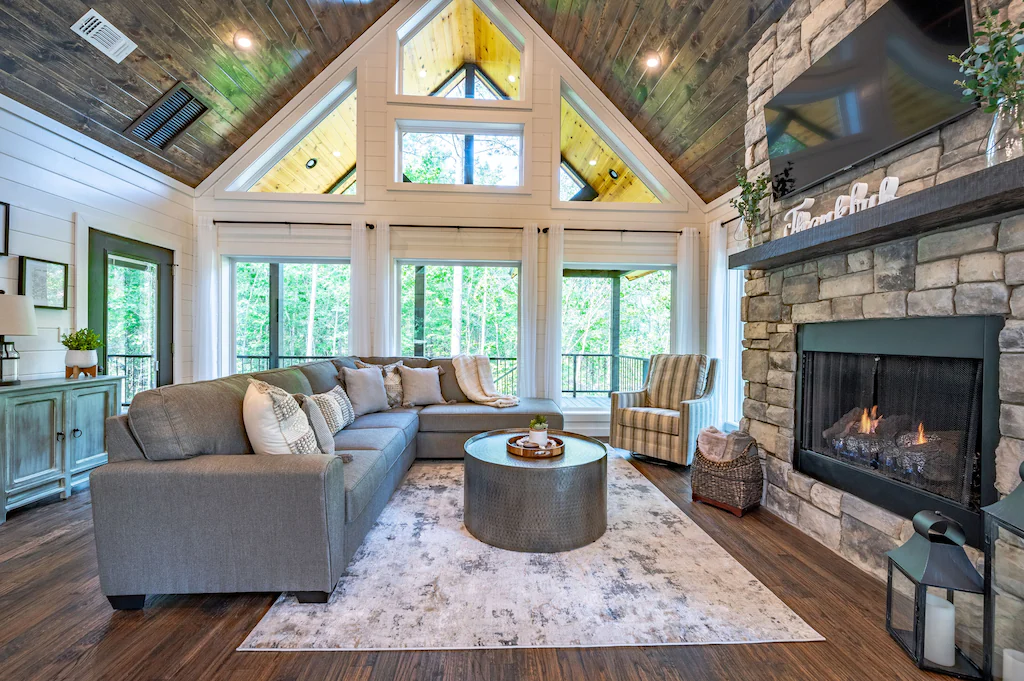 ---
Kiss Me In the Dark Cabin
Location: Broken Bow, Oklahoma
Price: $259/night
https://www.airbnb.com/rooms/51680803
Nestled amongst the Eagle Mountain pines in Hochatown sits Kiss Me in The Dark cabin. A perfect place for a romantic getaway. With one king bed and one bath, the cabin can sleep up to four people. This rustic yet chic cabin in the woods gives a feeling of immediate relaxation and ease. With a soaker tub, gas fireplace, fire pit, and hot tub there are many places to chill and slow down.
The full kitchen offers any modern appliance making it a great place to create a home cooked meal. The master bed New Casper foam mattress will guarantee a good nights sleep. For any extra guests two air mattresses are provided as well.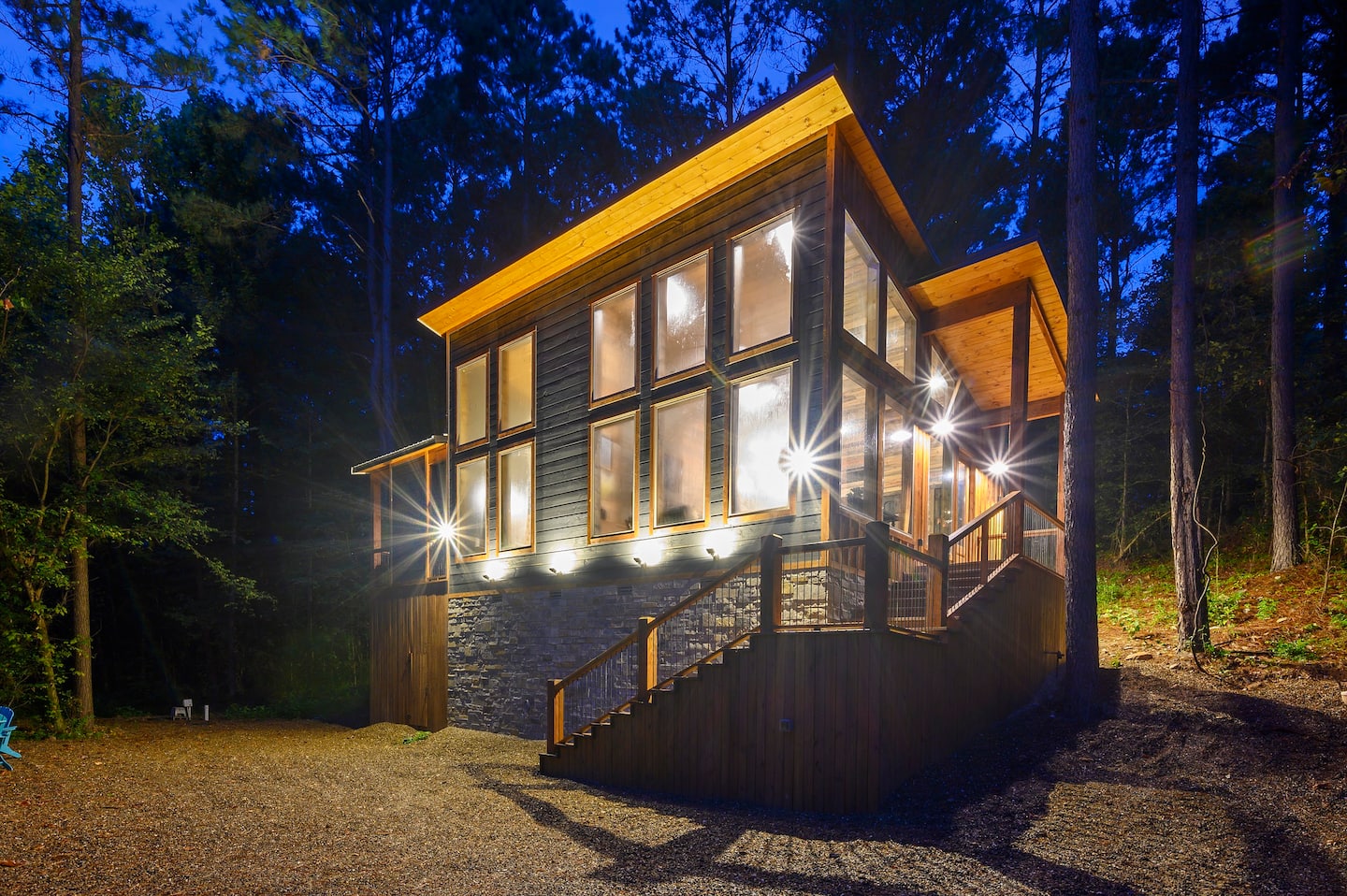 ---
Blushing Beaver Cabin Romantic Getaway With Hot Tub
Location: Broken Bow, Oklahoma
Price: $265/night
https://www.airbnb.com/rooms/53630063
The Blushing Beaver luxury cabin is beautifully tucked away amongst the Timber Creek Trails atop an acre of land. The Scandinavian style 1 bedroom cabin provides a chic and nourishing escape for couples. The black and white decor and rose colored accents give it a very modern classy feel. The cabin is made of two separate structures connected through a covered breezeway creating a unique experience. One side of the cabin features an open living area, full kitchen, and incredible floor-to-ceiling fireplace and windows with views of the surrounding forest and creek.
The other side features the master bedroom with another floor-to-ceiling fireplace, TV, and large king canopy bed. The king bed is also surrounded by incredible views of nature. The bathroom entails a big soaking tub and shower with dual rain showers. The breezeway acts as a cozy living area with another fireplace and TV providing many areas to hang out, read, or take an afternoon nap. The open-air deck and hot tub are a perfect place to stargaze and enjoy the treetop views.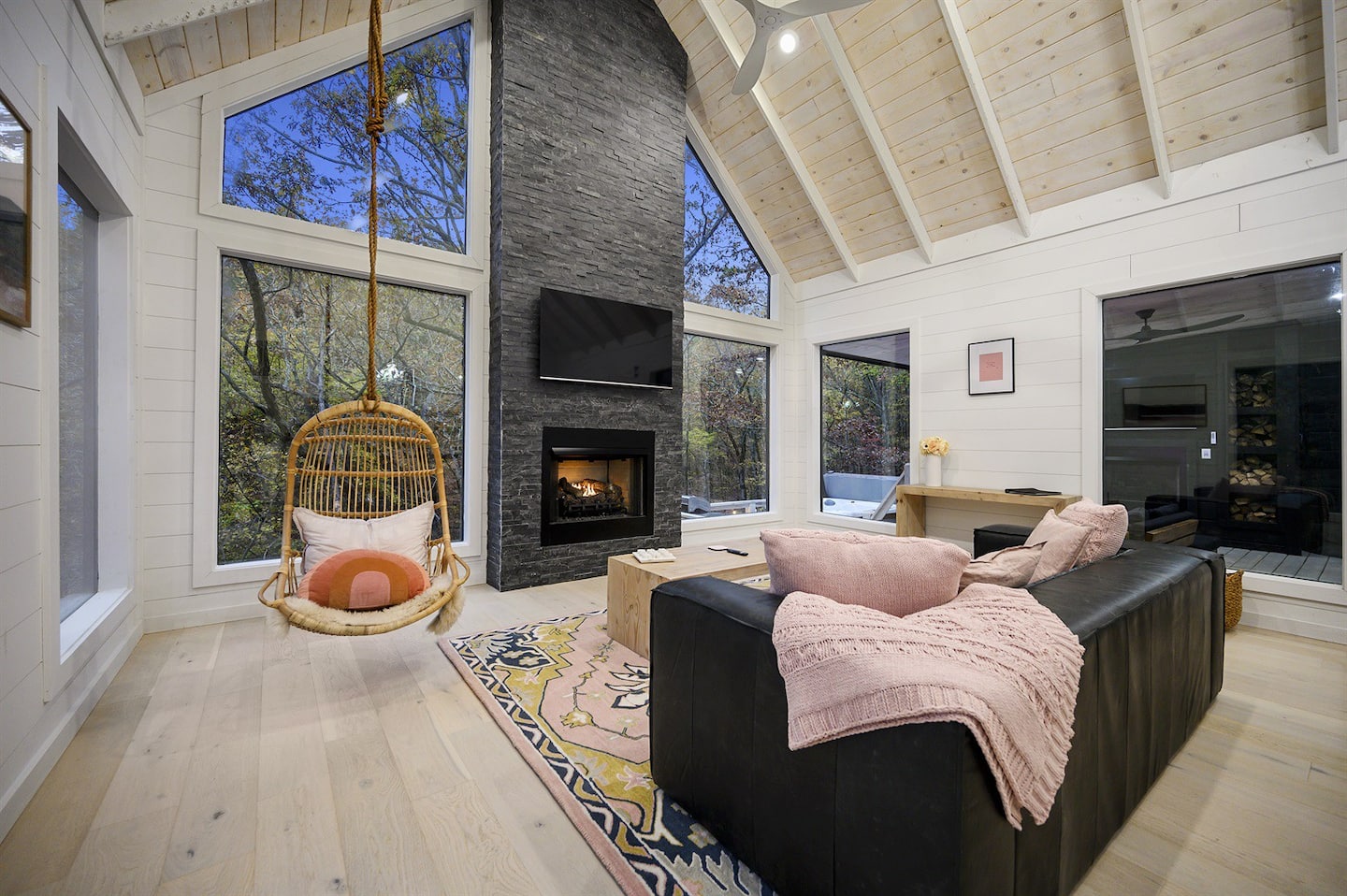 ---
Luxury Birds Eye Lake View
Location: Stigler, Oklahoma
Price: $138/night
https://www.airbnb.com/rooms/50197811
Situated over a lake atop 12.5 acres, this tiny house studio is a quiet and quaint romantic hideaway. It's light colored modern decor give it a clean and fresh feeling. With a queen bed, jacuzzi tub, fireplace, kitchenette, and full bathroom, the space has everything needed to slow down and enjoy. With a full wall of glass, views of the entire lake can be seen from the whole house.
A private patio overlooking the lake makes for a perfect sunset viewing spot for dinner. There is also a grill and campfire to add to the experience. There is also a hiking trail accessible from the cabin, complimentary kayaks and paddle boards, and a pontoon rental available.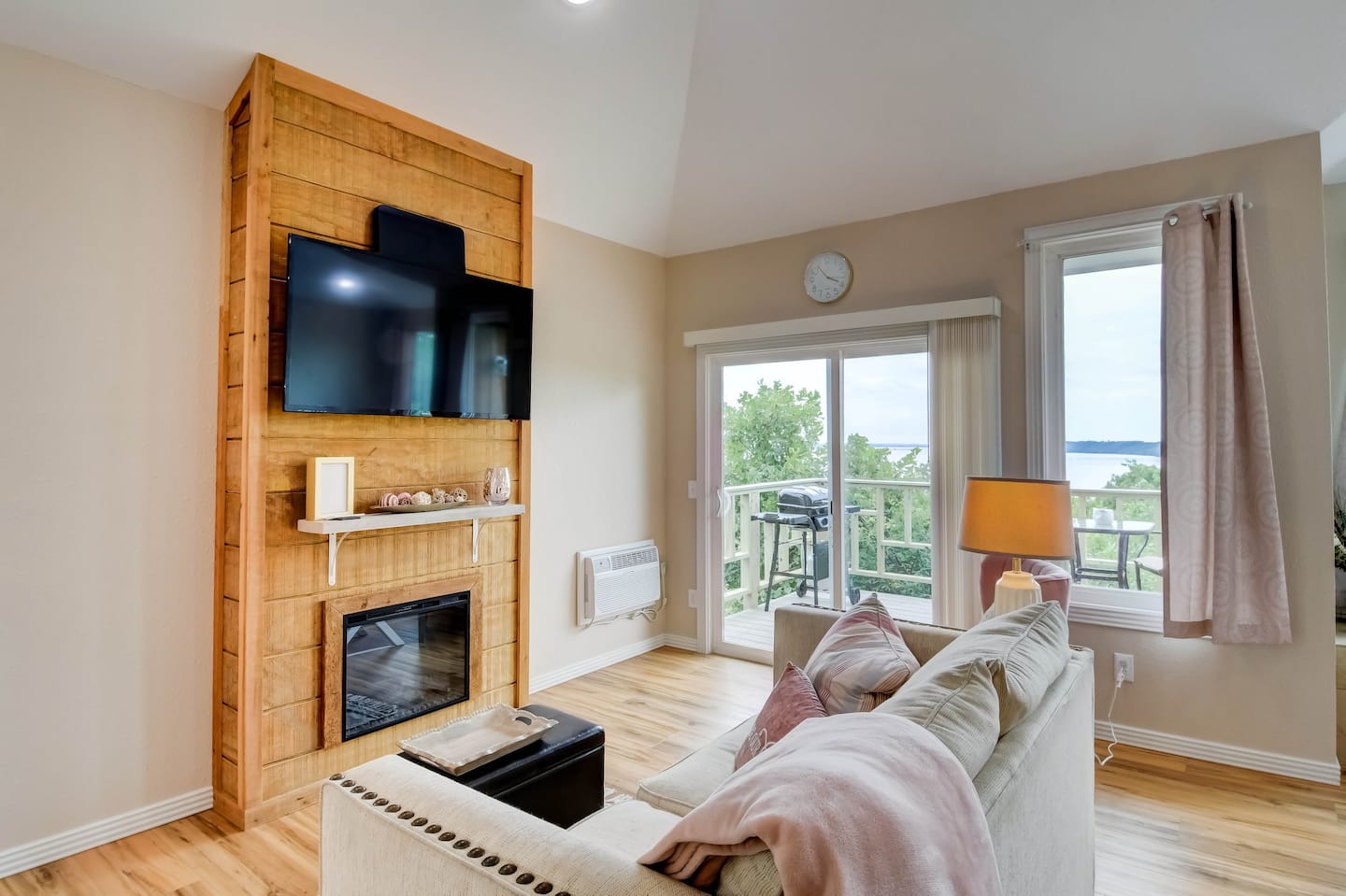 ---
Mini Marshmallow Farmhouse Couple's Cabin
Location: McCurtain County, Oklahoma
Price: $324/night
The Mini Marshmallow is the ultimate honeymoon-style couple's cabin! It is a well-designed modern luxurious cabin sitting on 1.25 acres offering incredible private views of the surrounding mountains and pine forests. The high ceilings and floor-to-ceiling windows in the common areas and master bedroom give this cabin a very spacious feel while flooding it with natural light and views all around.
This romantic cabin rental is equipped with 2 fireplaces, 3 TVs, dining table, granite countertops, walk-in river rock shower, large tub, private deck and outdoor fireplace and hot tub. As it can sleep 4 guests it's perfect for a couple's getaway or small family. The master bed has a Sealy top mattress while the living room has a memory foam queen sleeper sofa.  They also provide robes and toiletries to give an extra feeling of vacation. The kitchen has all modern appliances and there is also a washer and dryer for use. The Mini Marshmallow cabin is a guaranteed good time.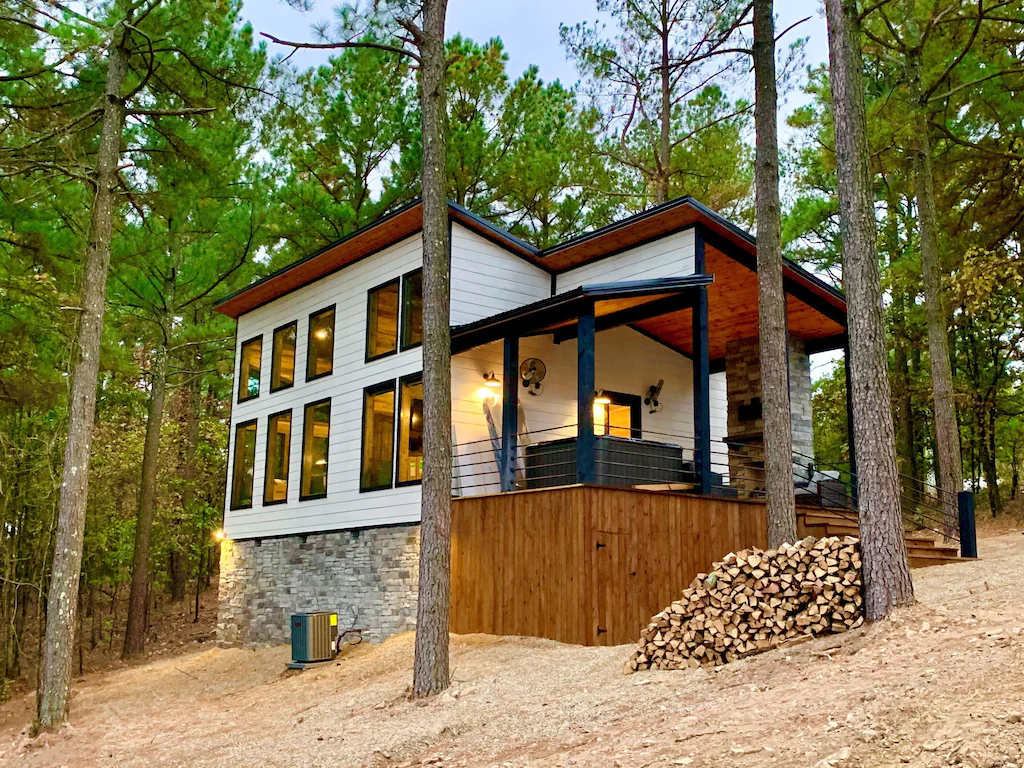 ---