Planning a trip or weekend getaway and looking for the best Secluded Cabins in Ohio? Well, look no further as I've put together this guide to help you find the perfect cozy cabin for a secluded adventure that you'll love!
The 11.8 million Ohioans believe that in Ohio, you "find it here". Every so often, travelers miss considering this beautiful state for other US destinations. The Buckeye State promises the best things – arts & culture, historic attractions, the outdoors, amusement and parks, sports, nightlife, shopping and recreations, and many more. Whatever inspires you to travel, you can find and experience it in Ohio.  
While you are planning your Ohio trip, I'll list down the best and perfect cabins you can stay in that'll give you an unforgettable experience. No matter where you choose to spend your quick getaway, these places promise you a venue to relax and recharge.
Also, be sure to read my guide on Romantic Cabins in Hocking Hills for more awesome accommodation options in Ohio!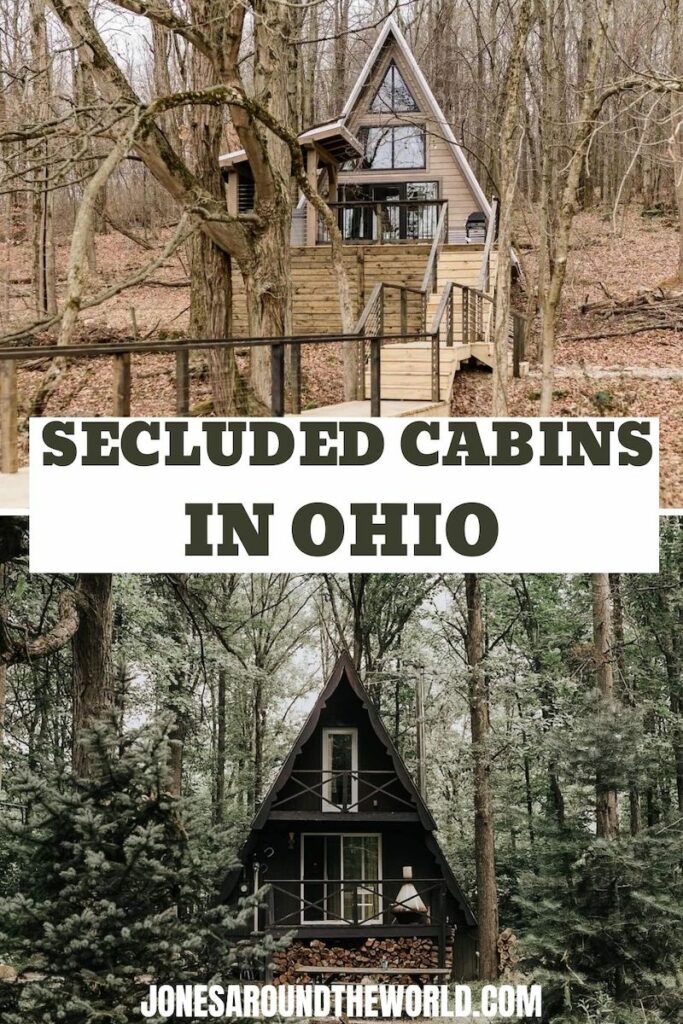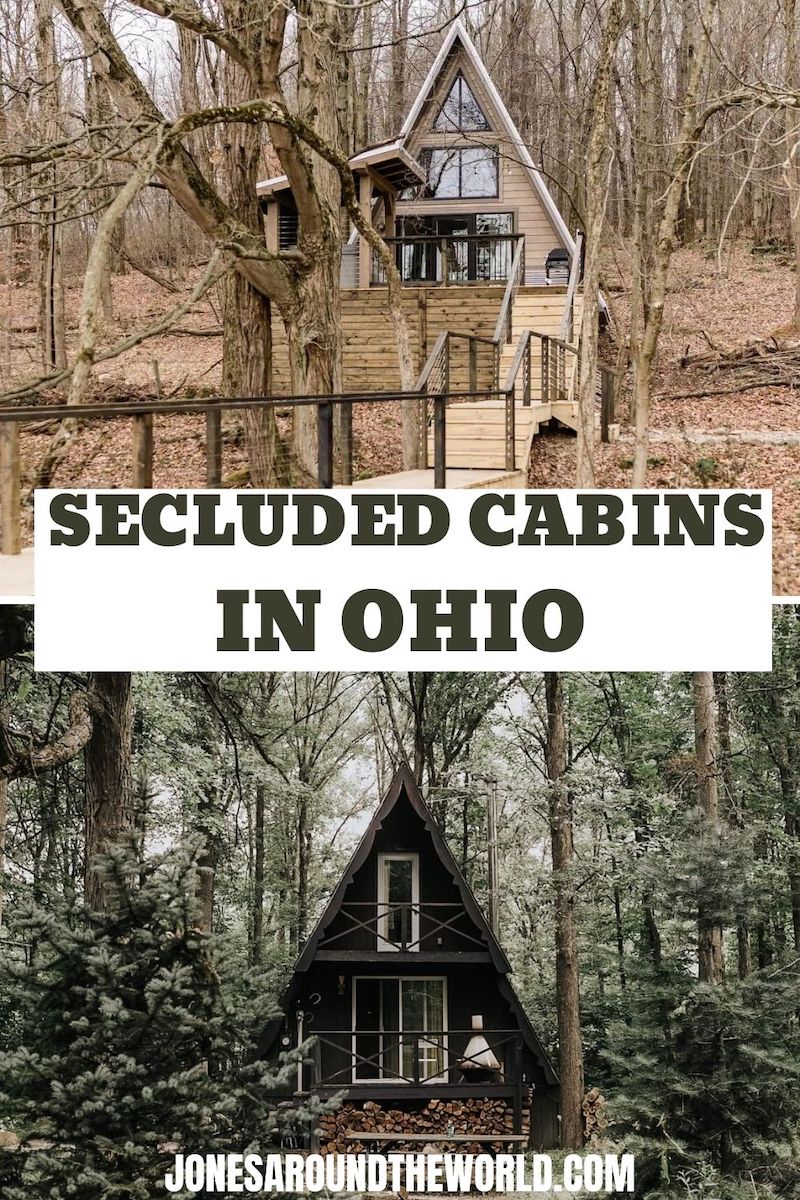 ---
Fern Haven
Location: McArthur, Ohio
Price: $199+ per night
Nestled on a 44-acre property 10-20 minutes to the main Hocking Hills attraction, Fern Haven has a wall of windows (drawing you closer to nature), modern amenities like granite countertops and stainless steel appliances; luxurious features including a master ensuite bathroom with double vanity, an indoor fireplace, and outdoor hot tub to soak in.
Explore the area and visit attractions –  Ash Cave, Cedar Falls, and Old Man's Cave and head back to a cozy and charming cabin. Fern Haven is the perfect cabin for couples going on a romantic weekend getaway.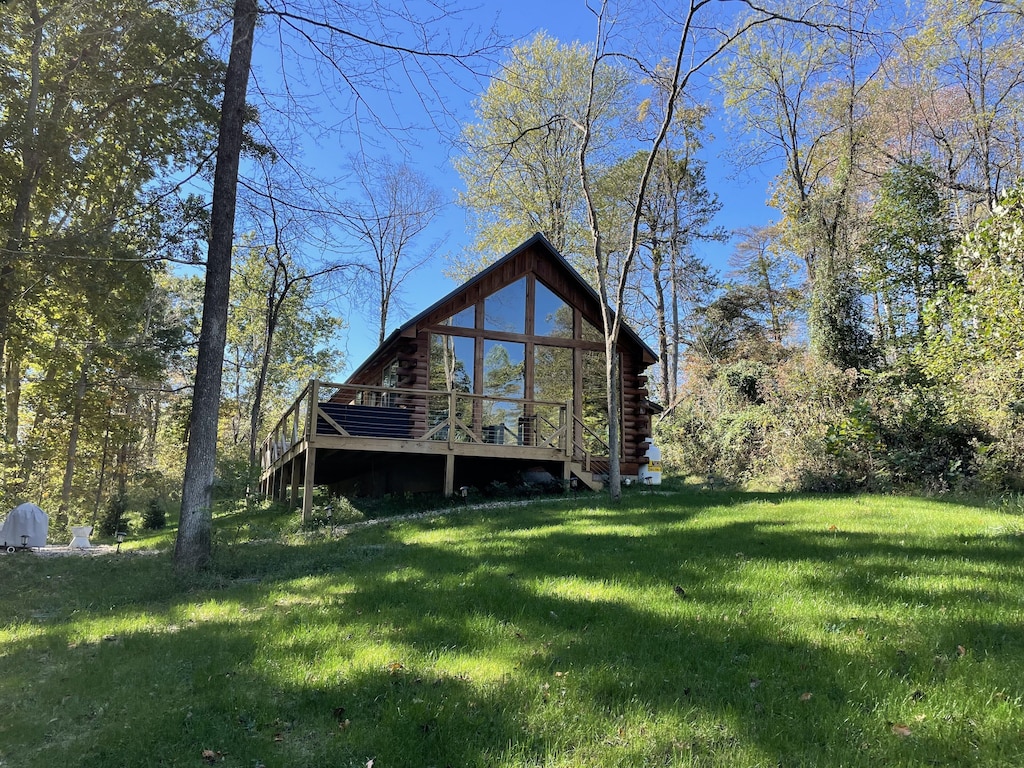 ---
Amish Country Lodging Cabins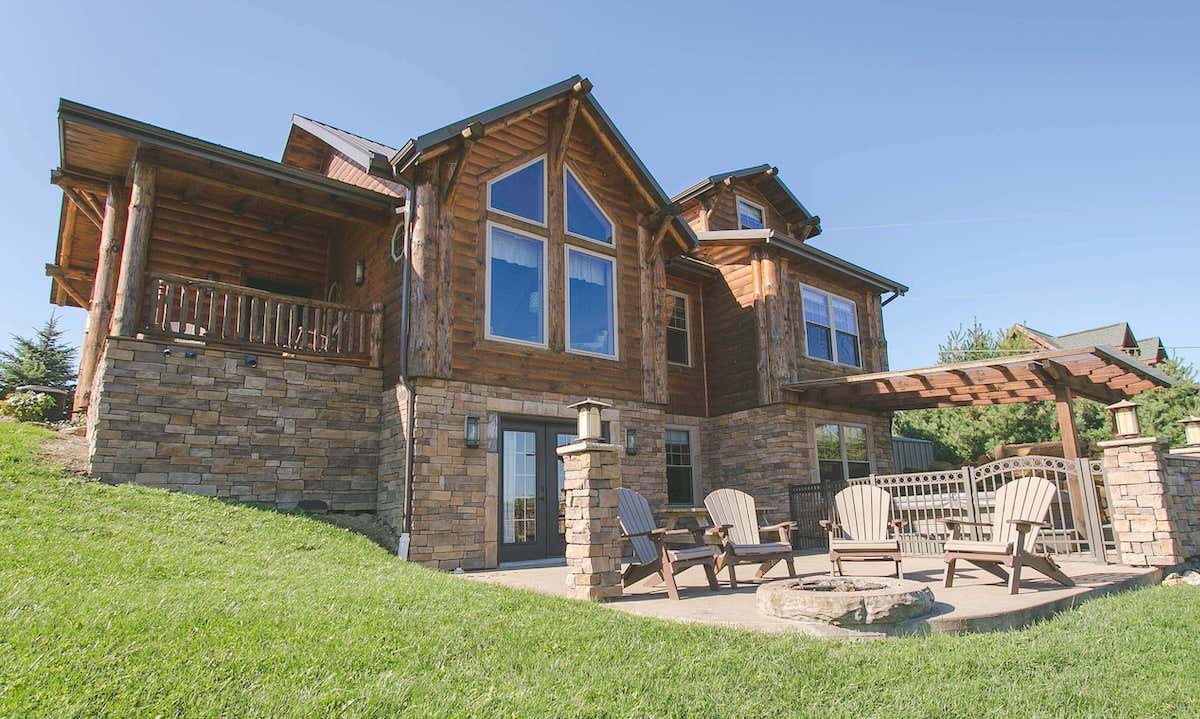 Location: Berlin, Ohio (Amish Country)
Price: Varies per Rental
Sleeps: 2-6 Guests
https://www.amishcountrylodging.com/coblentz-country-cabins
https://www.facebook.com/AmishCountryLodging
Amish Country Lodging is your one-stop-shop for luxury and secluded cabin rentals, and they've become one of the most popular rental sites with over a hundred different properties!
With stunning rentals all over the Amish Country, including idyllic cabins, towering treehouses, cute cottages, and tons of unique stays! They've even gotten national recognition on HGTV's TV show "Treehouse Master's", and ALL of their cabin rentals will offer visitors an unforgettable retreat in nature. Take a browse through on Amish Country Lodging to find the perfect cabin to fit your specific needs!
Whether you're looking for a remote and secluded retreat, a romantic getaway for two, a cabin for large groups, or a group of friends looking for a fun weekend in the trees – they've got you covered!
The majority of their cabin rentals include hot tubs/ jetted tubs, cozy stone fireplaces, SMART TV's with Netflix, well-equipped kitchens, luxury bedding, and of course next level customer service!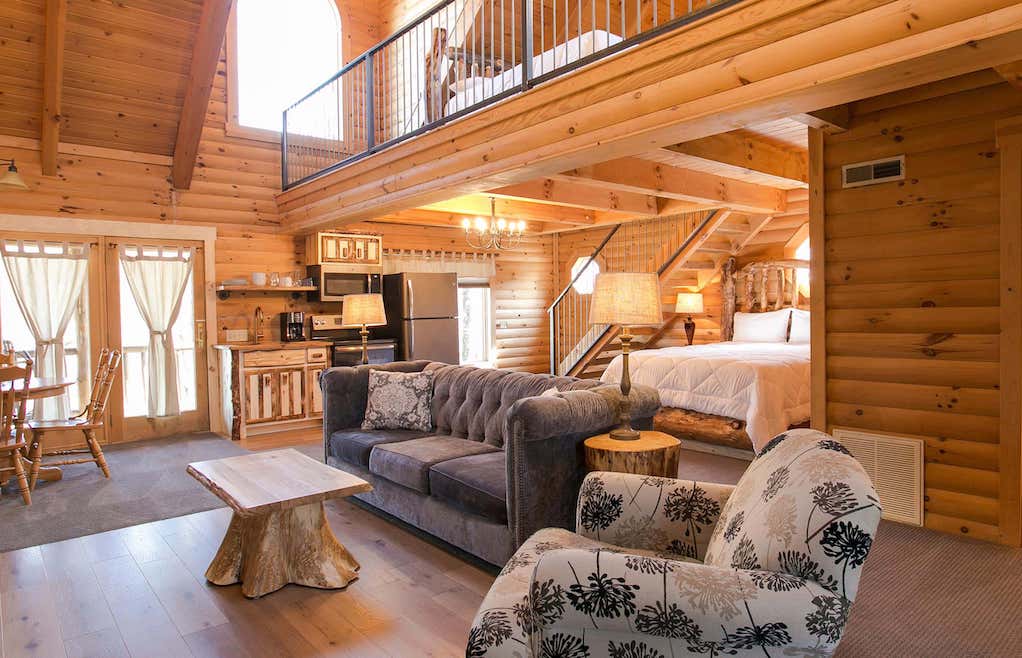 ---
A-Frame Cabinat Creekside Dwellings
Location: Beach City, Ohio
Price: $182+ per night
https://www.airbnb.com/rooms/53742125 
If you're longing for a private and peaceful escape, this charming A-frame cabin at Creekside Dwellings is your best bet. Although small with only 20×20 in size, it's features are not lacking and comes with all necessary amenities you'll need for a short staycation. The cabin features a main area where the bathroom, living room, and kitchen are all located, while the open loft features the bedroom. It also highlights amenities like the BBQ grill, an outdoor hot tub and a firepit by the creek. This cabin promises a cozy refuge, a place free of disruption and stress.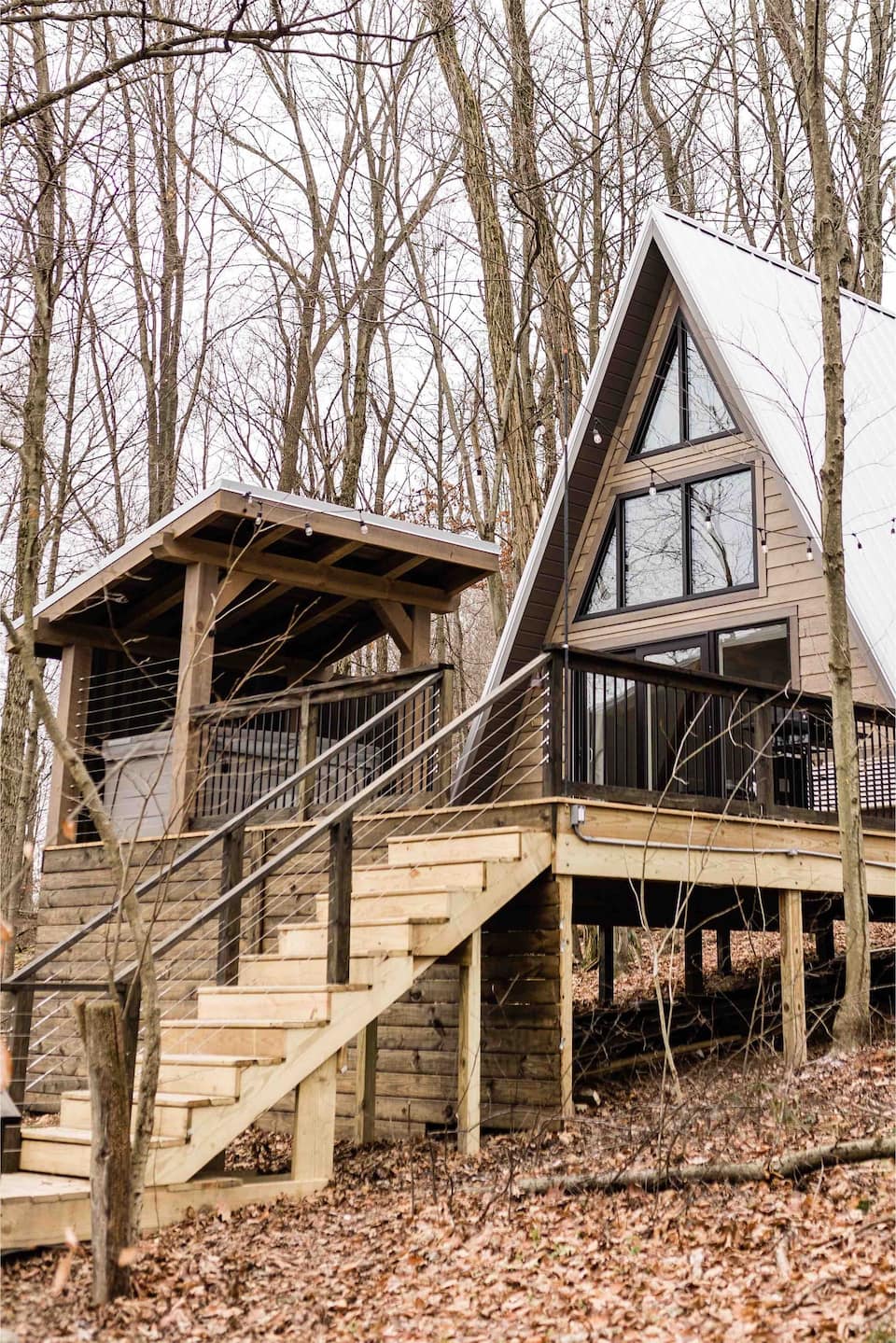 ---
COZY COTTAGE with a "Modern Farmhouse Flair"
Location: Logan, Ohio
Price: $189+ per night
This farmhouse cottage offers a modern-day aesthetic, a hideaway with a home-y charm. It is a mix of traditional charm and functionality and highlights features the following: a great room with corner wood burning fireplace, a full kitchen with bar dining, a bedroom and a loft bed. The cabin can house a family of 6 or a group of friends. They can enjoy outdoor dining at the deck, or share stories around the firepit, or enjoy the great view while enjoying a bath in the outdoor tub. While everything you could possibly want for an enjoyable vacation is available at the cabin, you can go and explore nearby attractions like Wayne National Forest and many more.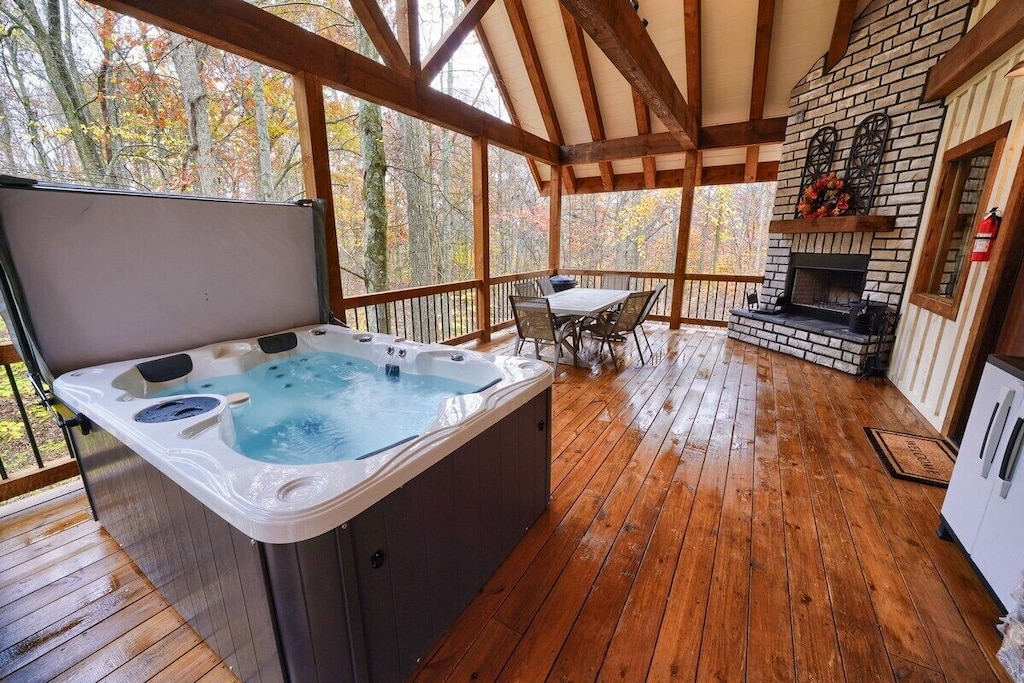 ---
Kick Back Cabin
Location: Nelsonville, Ohio
Price: $185+ per night
Kick Back Cabin is a haven waiting for you in the heart of Hocking Hills region. Staying in this cabin promises you, your family or friends a relaxing and unforgettable vacation. It is furnished with amenities of urban living, promising guests a comfortable and restful space. It's the perfect home base for guests who love going on adventures, the outdoors, guests who crave for a nightlife and those who love learning the history.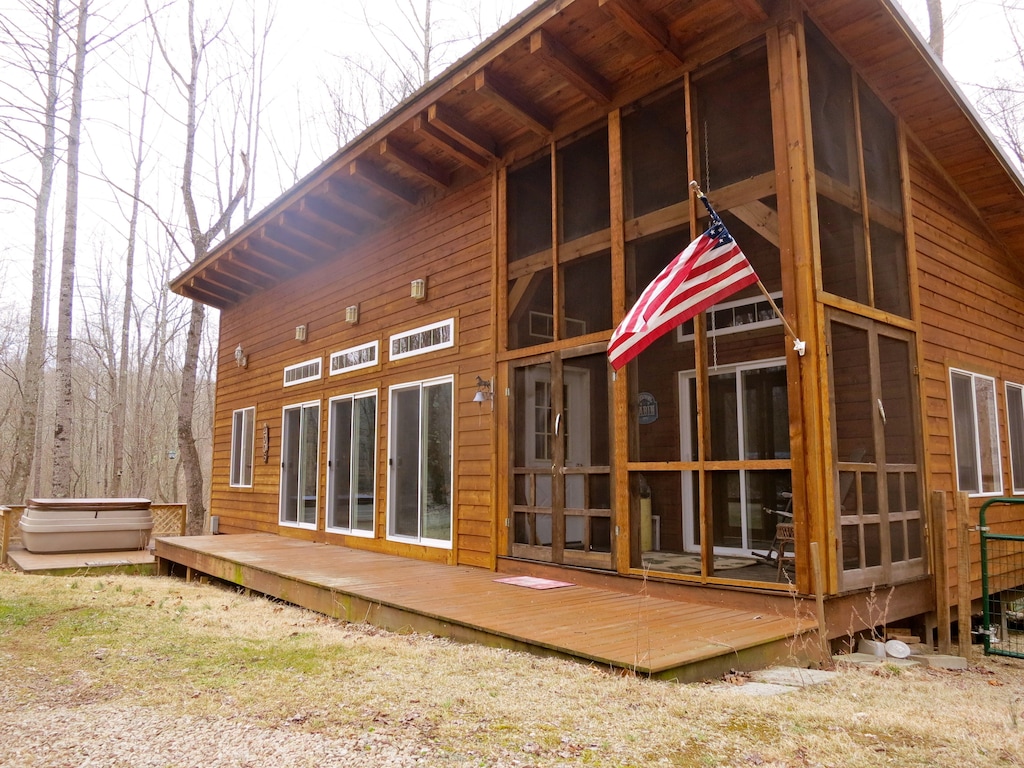 ---
The Perfect Home Away from Home
Location: Fresno, Ohio
Price: $205+ per night
Looking for the perfect home away from home for the entire family? Cedarwood Retreat in Coshocton County, Ohio is the perfect cabin for you! The cabin features 3 bedrooms (and can house 10 guests), 2 bathrooms, a full kitchen and dining, and a living area with an indoor fireplace. You can go explore Ohio's Amish Country attractions and Historic Roscoe Village. Or enjoy the day having a BBQ party, swimming in the outdoor tub while enjoying the surroundings, or sharing stories around the firepit. Cedarwood Retreat also welcomes your fur friends!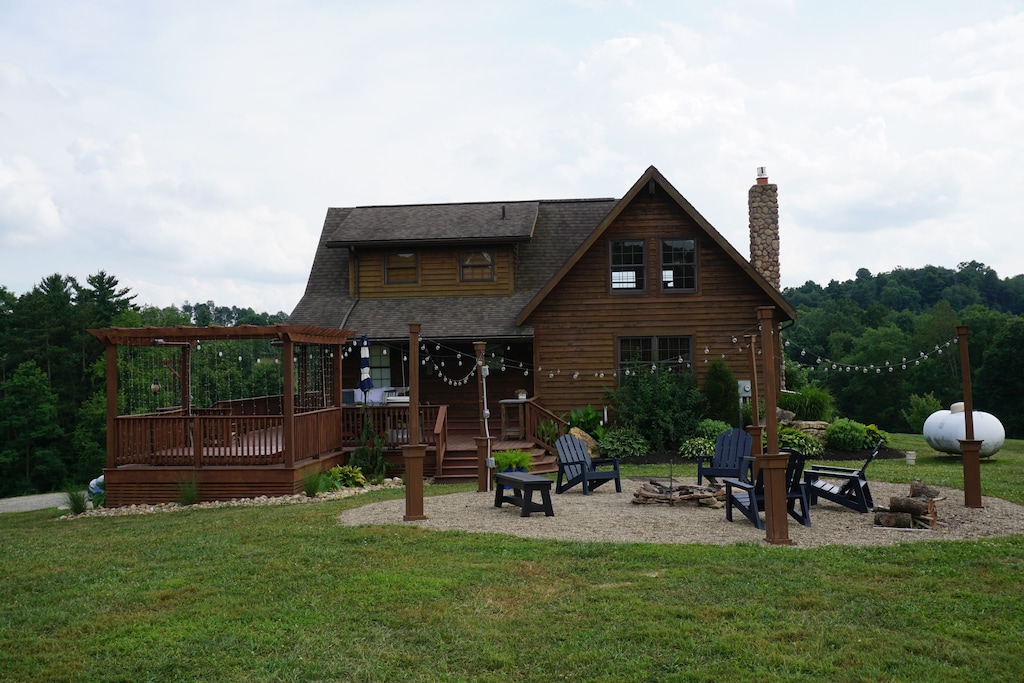 ---
Edgewater Cottage
Location: Mercer County, Ohio
Price: $196+ per night
Leave the city for a while and escape to a laid-back getaway, with beautiful views of the lake. Edgewater Cottage promises you a private retreat in Grand Lake St. Marys. It features 2 bedrooms and 2 full baths, kitchen and dining, living area and a balcony. Other amenities include a washer & dryer, fireplace, WiFi, heating and air conditioning system. The large windows allow natural light to come through giving the entire cottage a bright and warm ambiance. From cozy bedrooms to modern amenities and beautiful views, you won't find any reason (except for food) to leave Edgewater Cottage!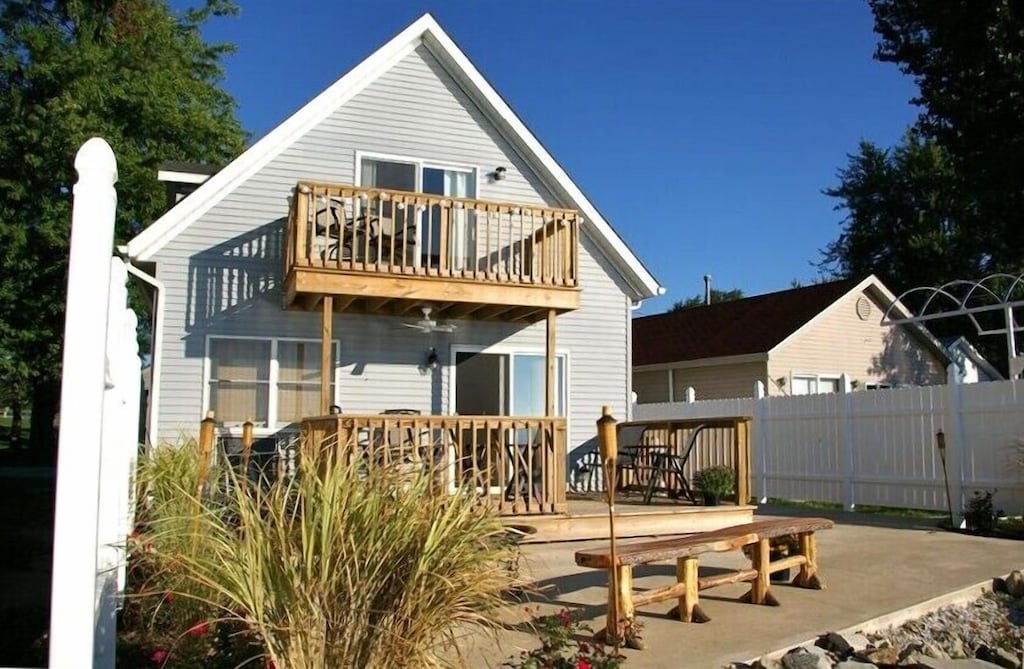 ---
Cozy cabin 
Location: Scio, Ohio
Price: $165+ per night
Whatever season you come in this cozy cabin, it just feels magical and breathtaking. This is the place to book if you want to be in the middle of the woods with your own private playground – a lake with a dock, perfect for swimming and fishing. The living space provides all the comforts of a home including a full kitchen, a living area with indoor fireplace, a bedroom and a bath. Inside, several taxidermy mounts are also showcased which adds to the character of the entire cabin. Wake up to the sound of chirping birds and if you're lucky, you might get a glimpse of wildlife.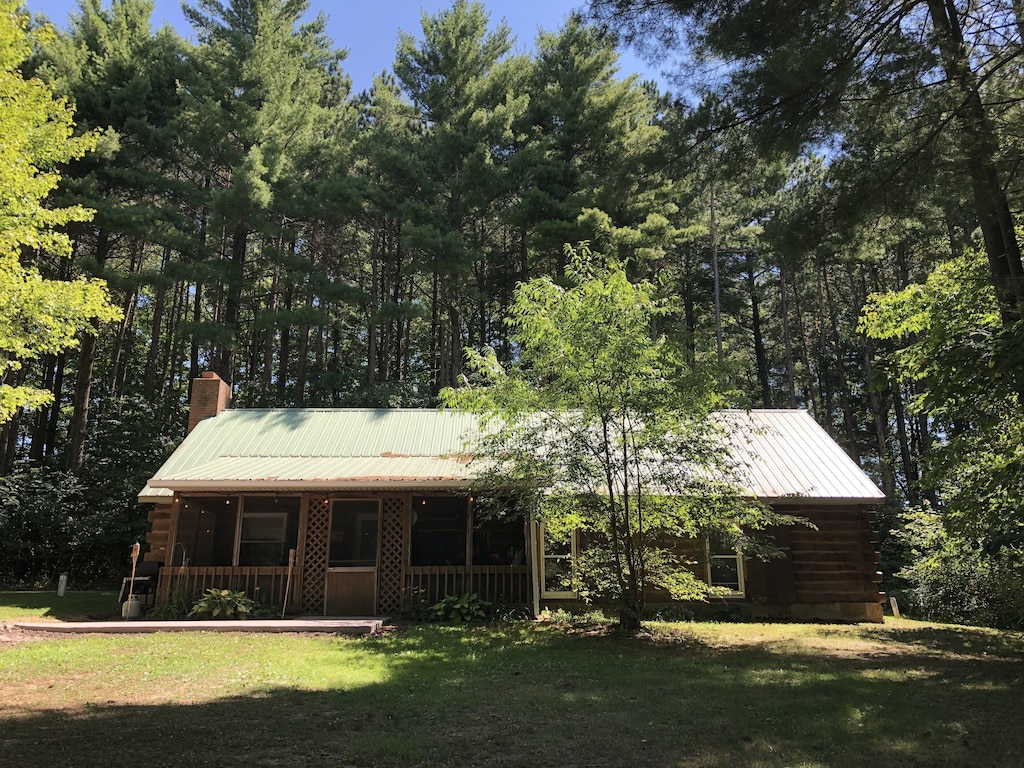 ---
The Oasis Retreat Cabin
Location: Millersburg, Ohio
Price: $259+ per night
In the heart of Berlin Township, you'll find this wonderfully cozy cabin with breathtaking views. The Oasis Retreat Cabin is the perfect escape to take a break from your busy lifestyle. It has enough space for the entire family to stay together and plenty of outdoor space for activities. With 3 bedrooms, the cabin can sleep 6 guests. The cabin is thoughtfully decorated and furnished with some luxurious amenities including an outdoor hot tub, a fireplace, and a firepit. The pond with a dock, fire pit, picnic table and seating is also a beautiful feature that allows guests to enjoy the area the way it's meant to be.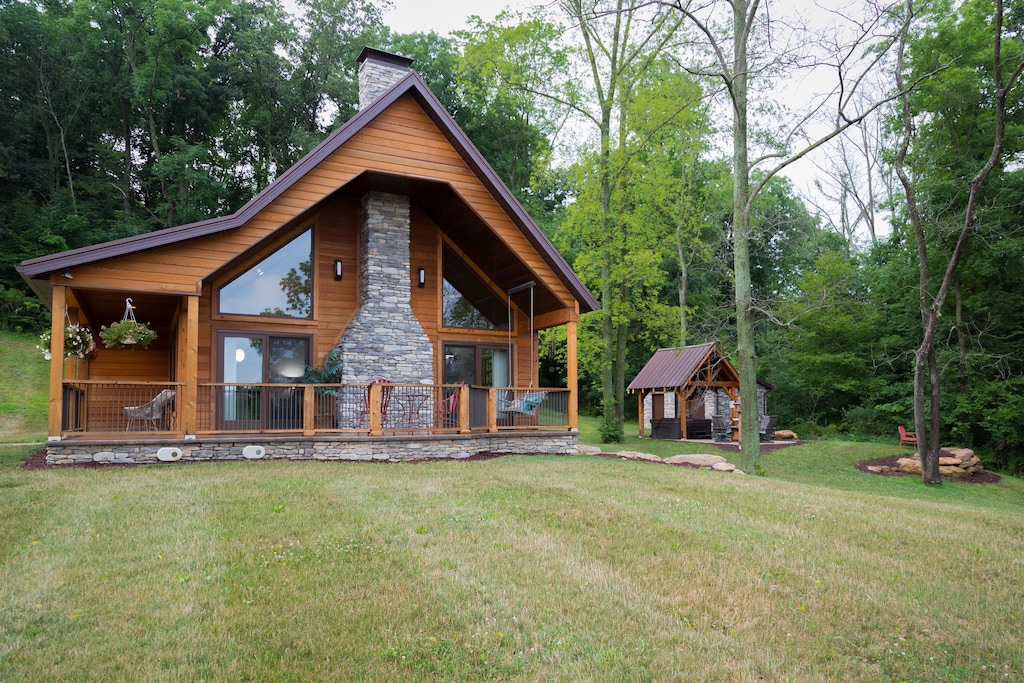 ---
The Woodland at Creekside Dwellings
Location: Beach City, Ohio
Price: $176+ per night
https://www.airbnb.com/rooms/26959899 
Located in the beautiful Amish Country,  amongst glorious rolling hills and miles of farmland is The Woodland at Creekside Dwellings. It's the ideal spot for a quick weekend getaway, the perfect size for two. The cabin features an outdoor space with a seating area where you can look out over the landscape and the creek, as well as a fire ring for toasting marshmallows at night, and a hot tub to take the chill off when the temperature drops. While the cabin offers an exquisite place to relax, you'll find excellent places around the area to go out and explore.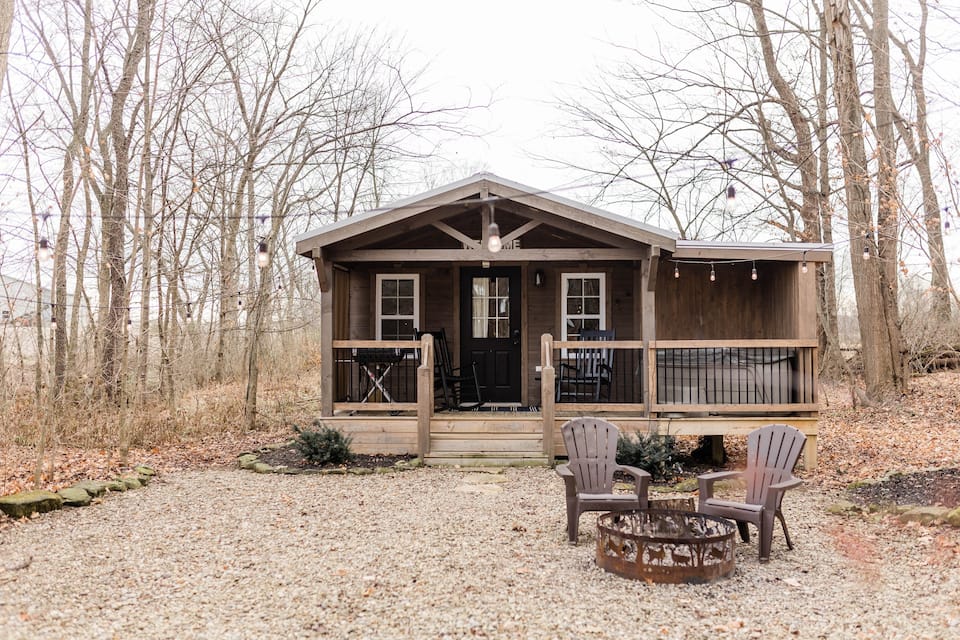 ---
Pinewood Cabin
Location: Albany, Ohio
Price: $146+ per night
https://www.airbnb.com/rooms/33844607 
Found in Athens County OH, this rustic cabin offers guests a glimpse of what rural living is. From the porch, you can gaze out at views of the land, the pond, and if you're lucky you might see different wildlife like deer, rabbits, foxes, owls. The cabin features 2 bedrooms (main bedroom and a loft) and can house 6 guests. It also offers thoughtful amenities like a romantic gas burning fireplace, dishwasher, stove, microwave, washer & dryer. The covered back porch has a fire pit and seating area where you can hang out and enjoy some quiet time.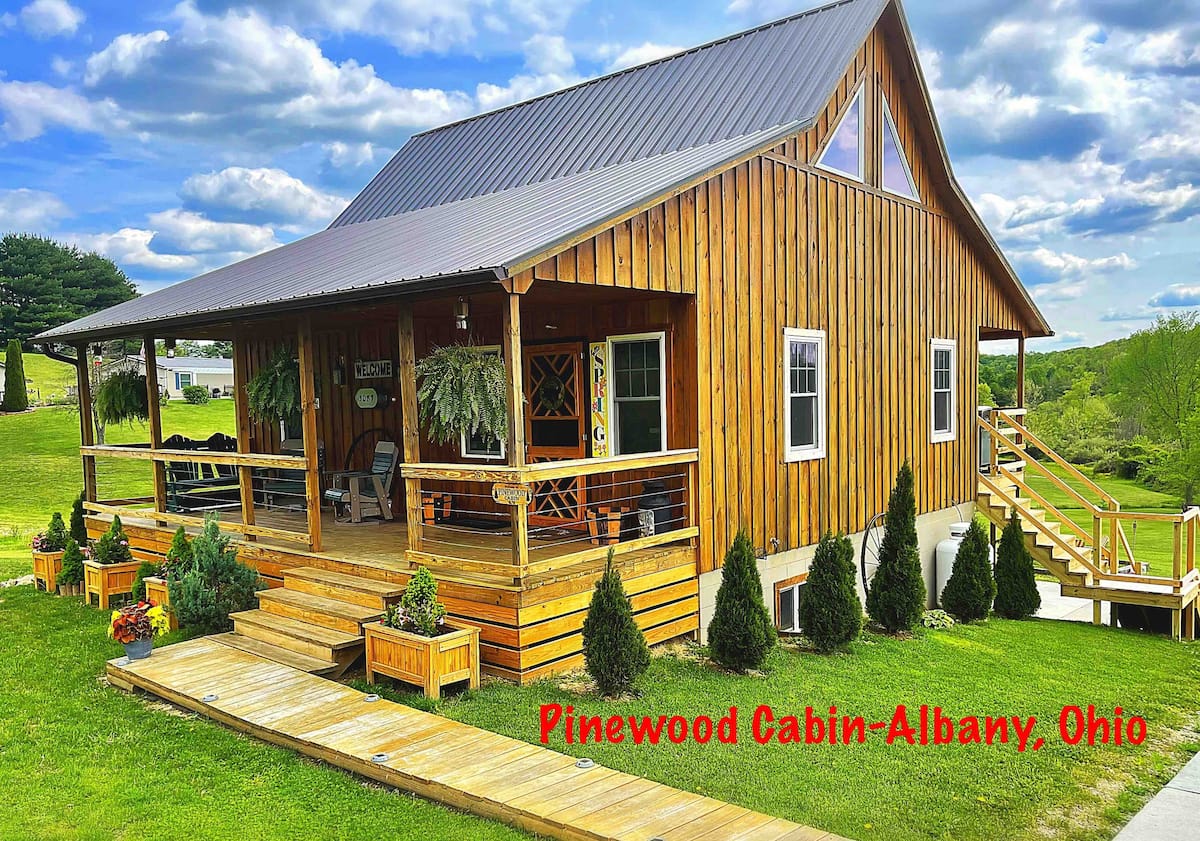 ---
The Triangle
Location: West Farmington, Ohio
Price: $99+ per night
https://www.airbnb.com/rooms/22995081 
Take time away from work. The Triangle promises a vacation that will relieve your stress and give you a sense of calm. Located in the Village of West Farmington, this A-frame cabin has everything you need including 2 bedrooms, a full kitchen and dining, and a full patio. Another plus in the guest experience is that they provide yoga mats and other props for personal time. Nearby attractions that guests can experience include Amish Country, Middlefield, Western Reserve Greenway (bike path), antique shopping, Nelson Kennedy Ledges State Park, Holden Arboretum, and many more.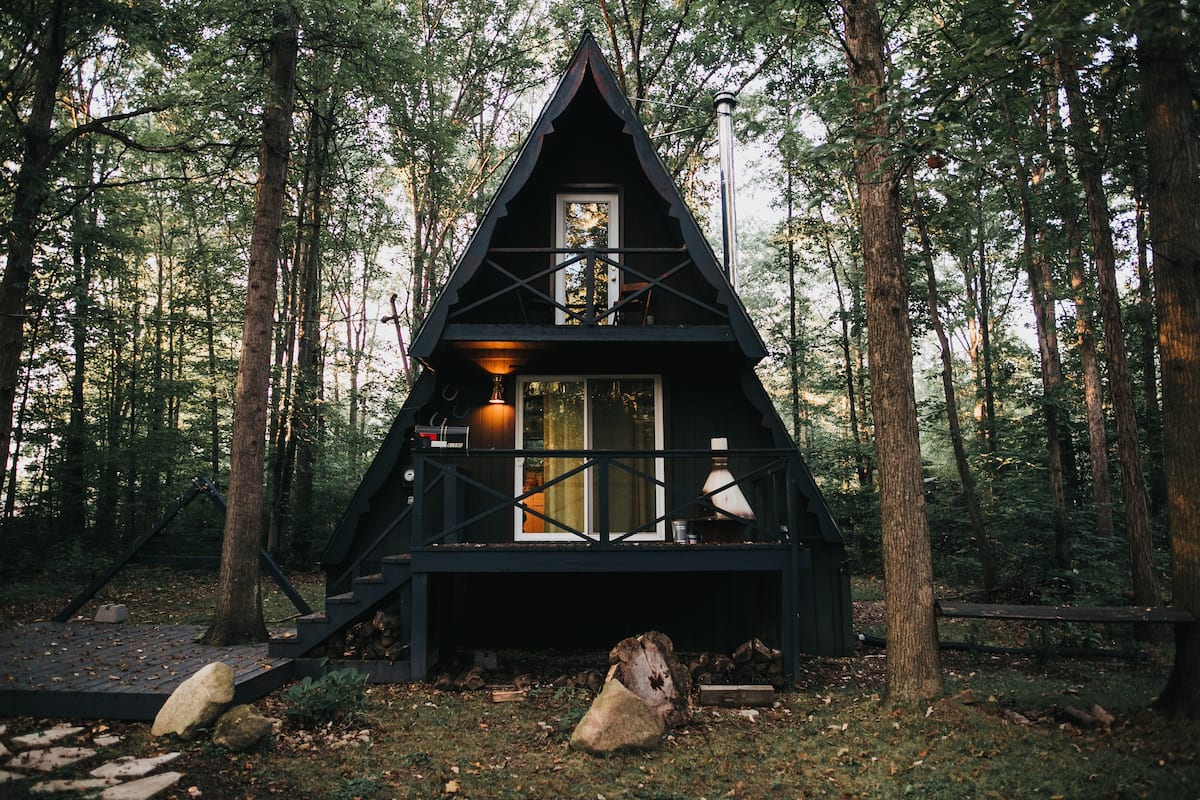 ---
The Cabin at Maple View 
Location: Urbana, Ohio
Price: $94+ USD per night
https://www.airbnb.com/rooms/30691136
This cute cabin is perfect for an epic nature retreat. Tucked back into 80 acres of woodlands, there are miles of hiking trails for you to enjoy. There is one bedroom, but the living room has a full-sized futon that can sleep two additional guests.
The cabin has a full kitchen, which includes a coffee machine and a small dining room table. If you'd rather do your cooking outside, there's a fire pit and a grill to do so. And, there is plenty of outdoor seating.