With miles of seacoast and summits of white mountain peaks, these romantic cabins in New Hampshire are the perfect peaceful retreats combined with exciting adventures for your next trip. 
Be it breathtaking natural attractions or challenging recreational activities, our selection of romantic cabins in New Hampshire brings forth a way for you to reconnect with your significant other in a secluded setting. Whether you prefer relaxing in the hot tub– champagne in hand–or admiring the stunning views of nature from your cabin retreat, you'll be sure to find a romantic escape at any of these cabins!
So, keep on scrolling to discover what they have in store for you!
Also, be sure to read my guides on Cabin Rentals in Vermont & A-Frame Cabins in New York for more epic stays in the area!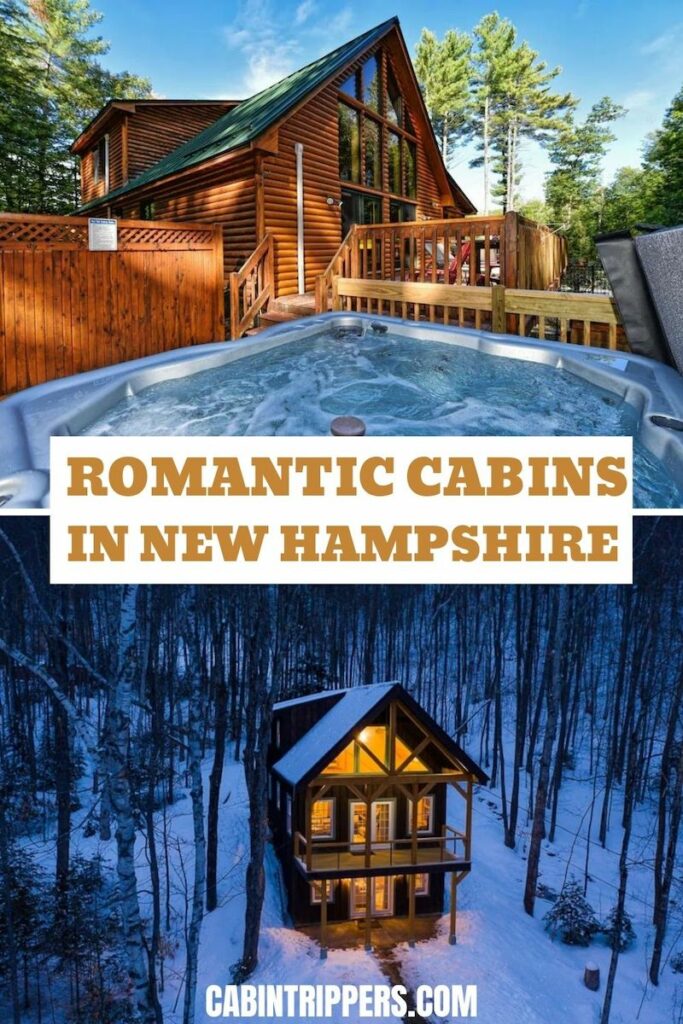 ---
Bear River Lodge
Location: Center Conway, New Hampshire
Price: $486+ per night
https://www.vrbo.com/7107984ha
Bear River Lodge is completely set up to offer luxury and comfort to its guests. The cabin features a spacious deck for sunbathing and grilling along with a private hot tub, perfect for unwinding. With plenty of places to sit and relax, you can refresh yourself and enjoy sweet moments with your partner. There is also a fire pit and a private swimming pool to spend your day and night relishing the outdoor beauty. 
Indoors you will find an open concept living room featuring a fully-equipped kitchen and dining area. Moreover, there is a large TV and bar area to keep you entertained throughout your stay. 
View Photos, Read Reviews & Check Availability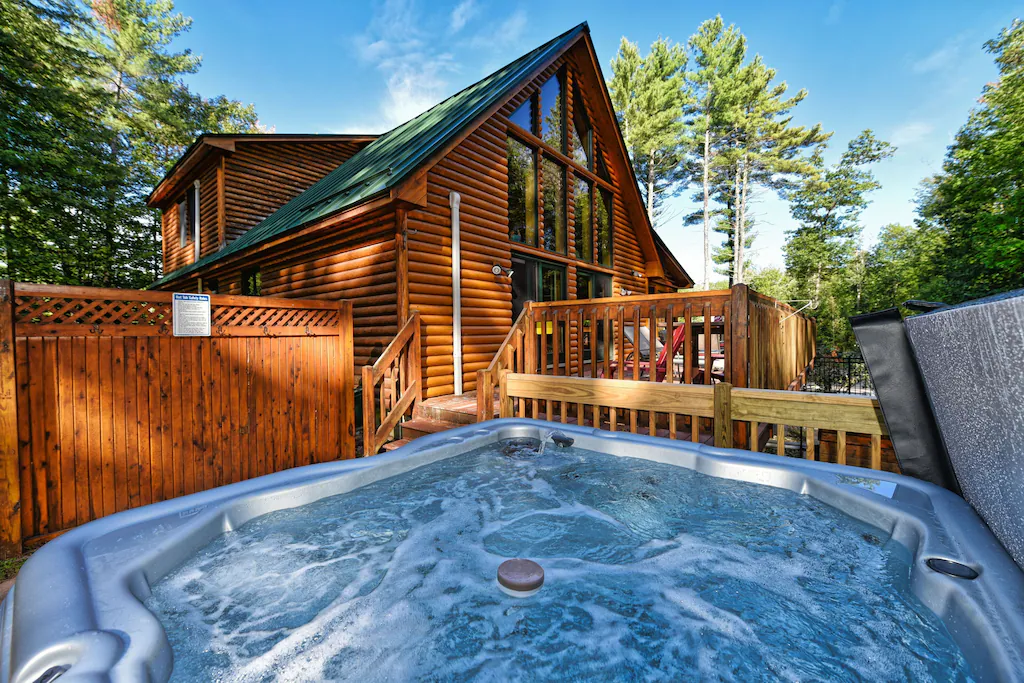 ---
Henniker Cabin
Location: Henniker, New Hampshire
Price: $316+ per night
https://www.vrbo.com/9367635ha
Enjoy a view of the mountains turning white throughout the seasons at The Henniker Cabin. This romantic cabin in New Hampshire promises an all-season outdoor adventure. Enjoy whitewater rafting, fishing, hiking, kayaking, and more nearby. There is a wraparound deck with a dreamy hammock and of course a hot tub available to make relaxing amongst nature a real treat. The outdoor firepit with the surrounding comfortable chairs offers an ideal spot to stargaze at night. 
Inside, you will find an all-in-one kitchenette that is ideal for putting together small meals. Moreover, there is free WiFi and cable available so you can stay connected with your loved ones during your stay. 
View Photos, Read Reviews & Check Availability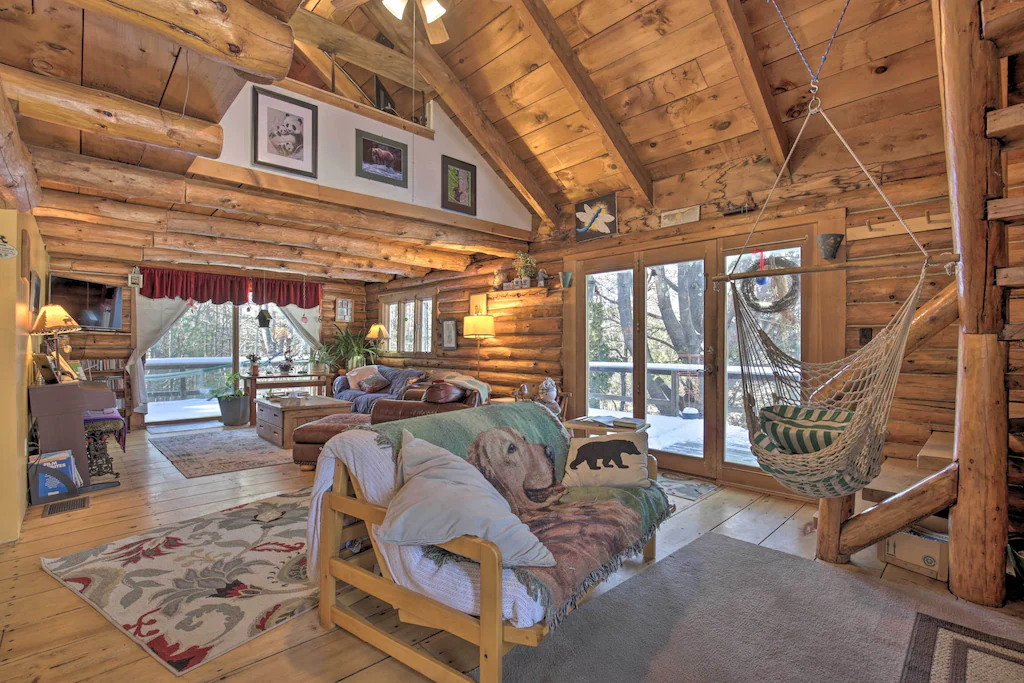 ---
Romantic Log Cabin
Location: Jackson, New Hampshire
Price: $300+ per night
At this Log Cabin, enjoy the serene beauty of a romantic cabin in New Hampshire. The cabin is set at the base of New England's quintessential village of Jackson where you can enjoy world-class cross-country skiing with your partner. With hiking trails abound in the surrounding White Mountains, and lots of dining nearby, enjoy your day filled with adventure and nights with fine meals. However, when you're ready to unwind, cozy up in front of the fireplace or warm up in the hot tub under the stars. 
Moreover, the retreat features a cable TV, high-speed WiFi and a pellet stove, adding to the peaceful and luxurious stay. The cabin can accommodate a romantic couple with its master suite and private bath. 
View Photos, Read Reviews & Check Availability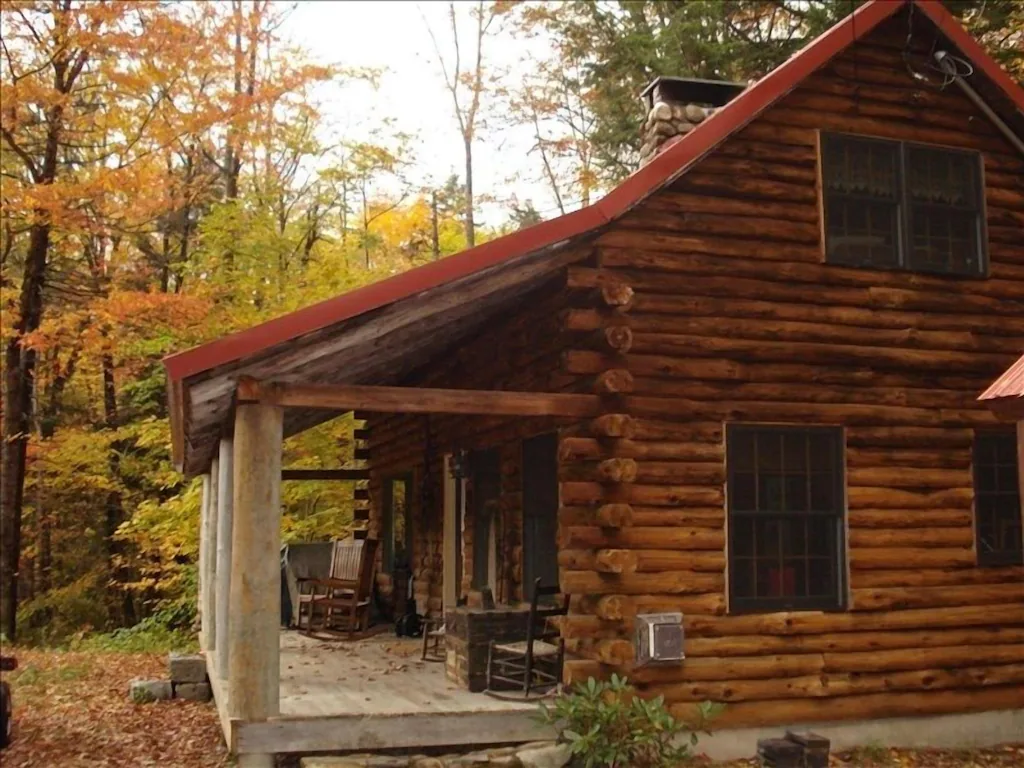 ---
Cozy Cottage Cabin
Location: Gilford, New Hampshire
Price: $167+ per night
https://www.vrbo.com/9618170ha
The Cozy Cottage is a beautiful log cabin located just minutes from Lake Winnipesaukee and offers breathtaking views of Gunstock Mountain. This romantic cabin in New Hampshire features a large hot tub, and spacious lounge area, so creating special memories with your partner is a given. The deck makes for an ideal spot to witness endless night skies and admire the stars. There are also impressive hiking trails and lake cruising activities nearby. 
Moreover, you can enjoy a peaceful evening with a cup of hot cocoa in front of the electric fireplace or challenge your partner to plenty of indoor board games in this fully equipped cabin.
View Photos, Read Reviews & Check Availability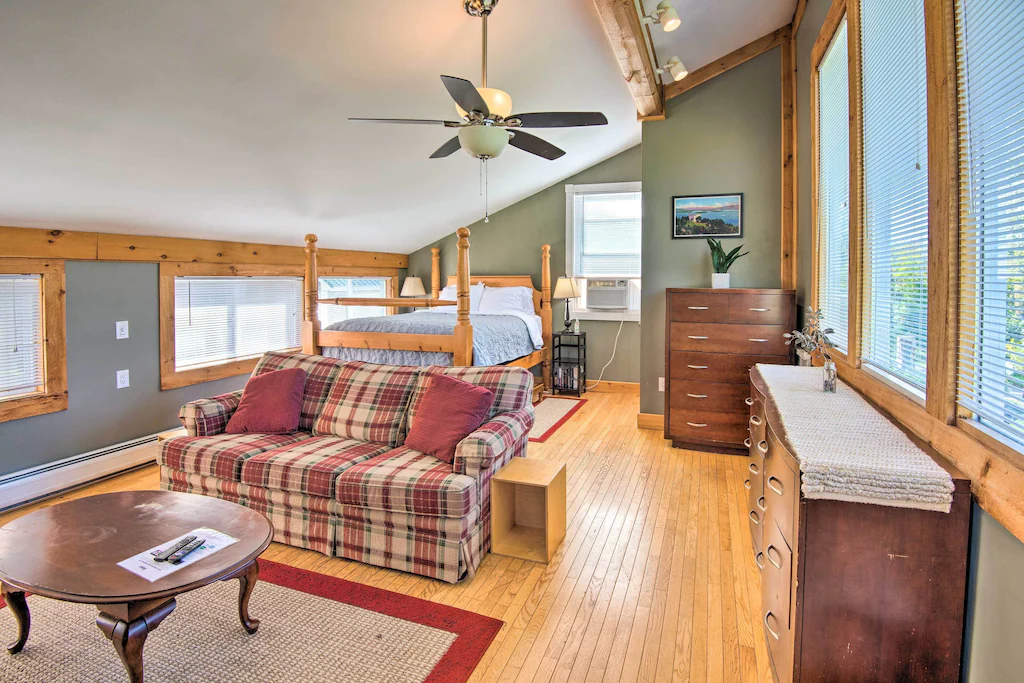 ---
Log Home Cabin
Location: Campton Hollow, New Hampshire
Price: $389+ per night
Log Home Cabin is nestled between the panoramic White Mountains and the Lakes Region. The cabin combines the charm of a traditional log cabin with modern comforts and amenities. Large windows inside the cabin offer breathtaking views of the pristine forest and small mountain stream. There is also an outdoor hot tub to soak in while overlooking the unparalleled views of nature. Furthermore, the retreat is minutes away from the lake and hiking trails. 
The cabin's open floor plan features a stone wood-burning fireplace which is great for making amazing evening memories with your partner. This quiet and private retreat is perfect to enjoy the blissful sceneries of New Hampshire. 
View Photos, Read Reviews & Check Availability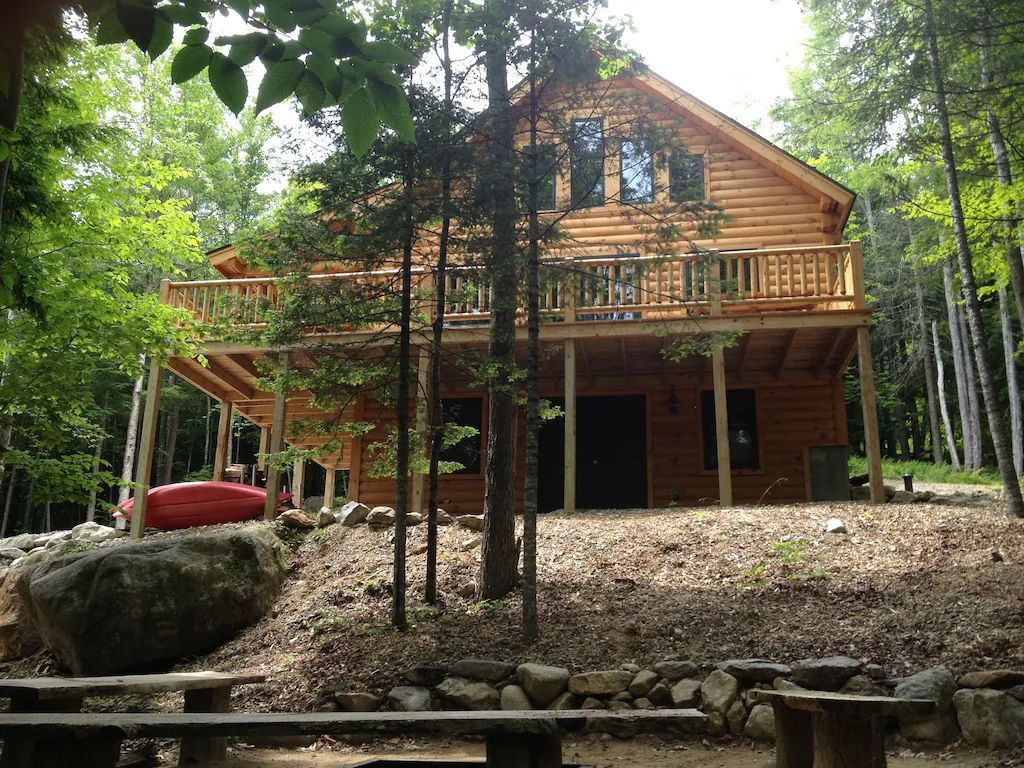 ---
Mountain View Log Cabin
Location: Errol, New Hampshire
Price: $250+ per night
With five aces of blissful land to enjoy, this delightful wooden cabin promises amazing sunsets in season. While there are three bedrooms to accommodate a group couple's getaway, it's also dreamy for just two to enjoy the whirlpool tub and the spacious accommodation.
Close to Balsams Wilderness Resort, Rivers, Ponds, and beautiful Grafton Notch State Park, you won't struggle to find adventures to fill your days. Once back to your romantic cabin retreat, you can entertain with a host of options, Pool table, foosball, dartboards, and even an inside bar!
View Photos, Read Reviews & Check Availability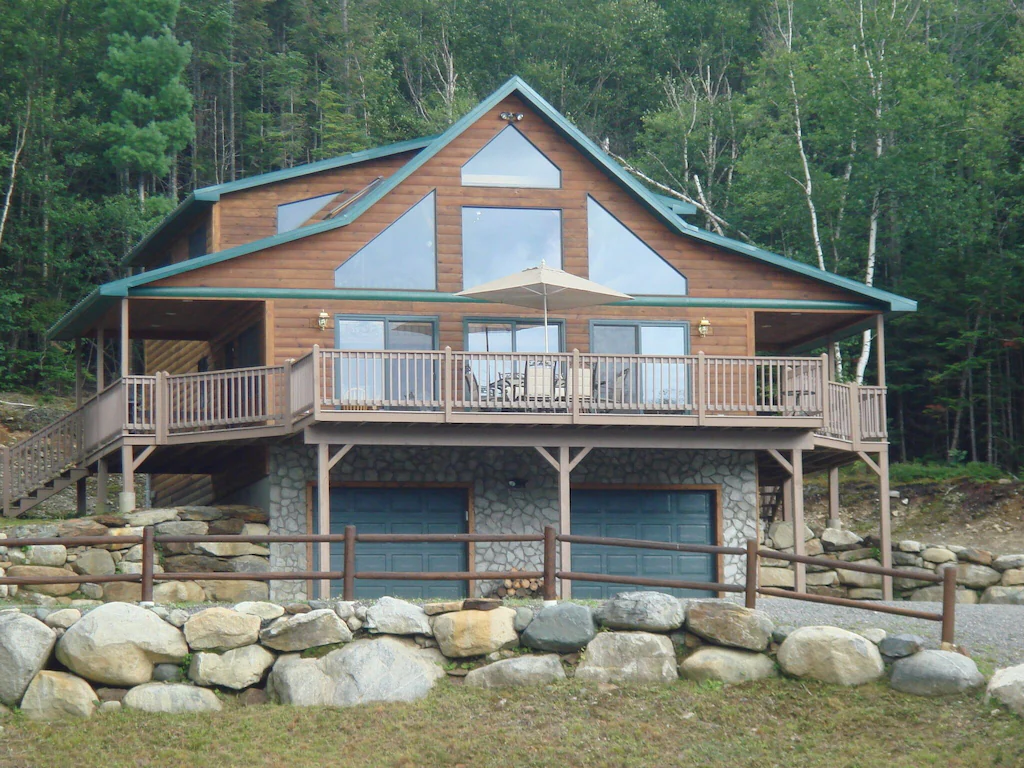 ---
Woodpecker's Stop
Location: Ulster Country, New Hampshire
Price: $530+ per night
https://www.plumguide.com/homes/46349/woodpeckers-stop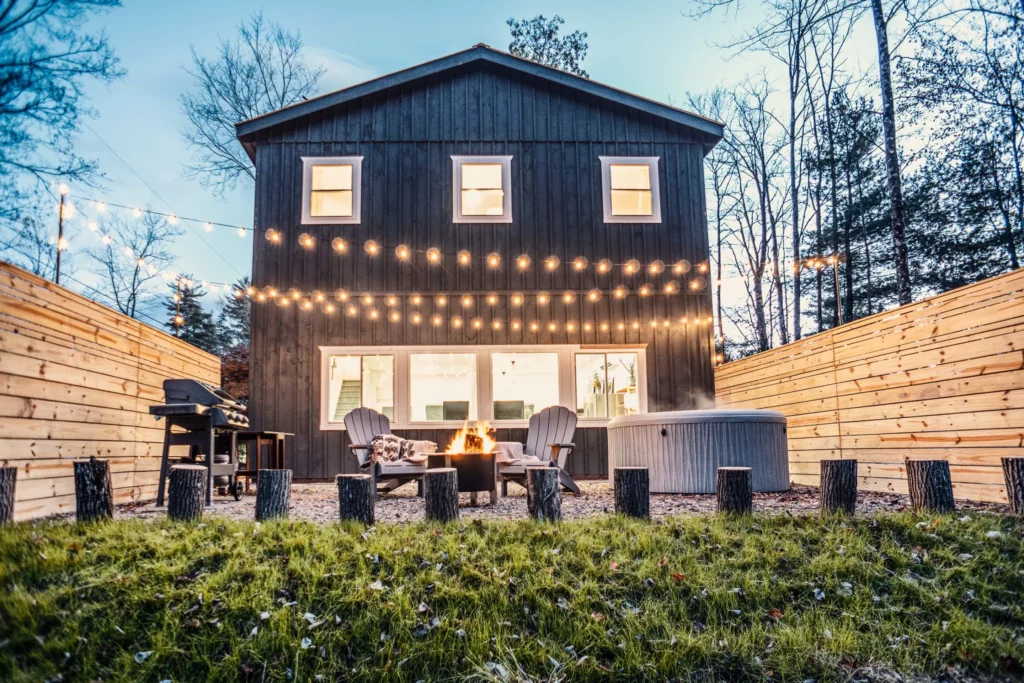 This luxurious and romantic cabin in New Hampshire is perhaps one of the most beautiful in the state for a couple's retreat. Hanging lights in the backyard, a fire pit, and round hot tub make chilling out in your garden a blissful experience.
The interior is a wonderfully luminous mix of modern touches and high-end minutes. Utilizing a relaxing color palate of whites and greys, with coordinated colorful touches, the decor certainly lends itself to unwinding. The perfect touch for couples however is the lavish suite-style bedroom. With plenty of space in the master, including seating areas and a high-quality plush bed, you'll certainly be wanting to enjoy a breakfast in bed with your partner during your romantic New Hampshire vacation!
View Photos, Read Reviews & Check Availability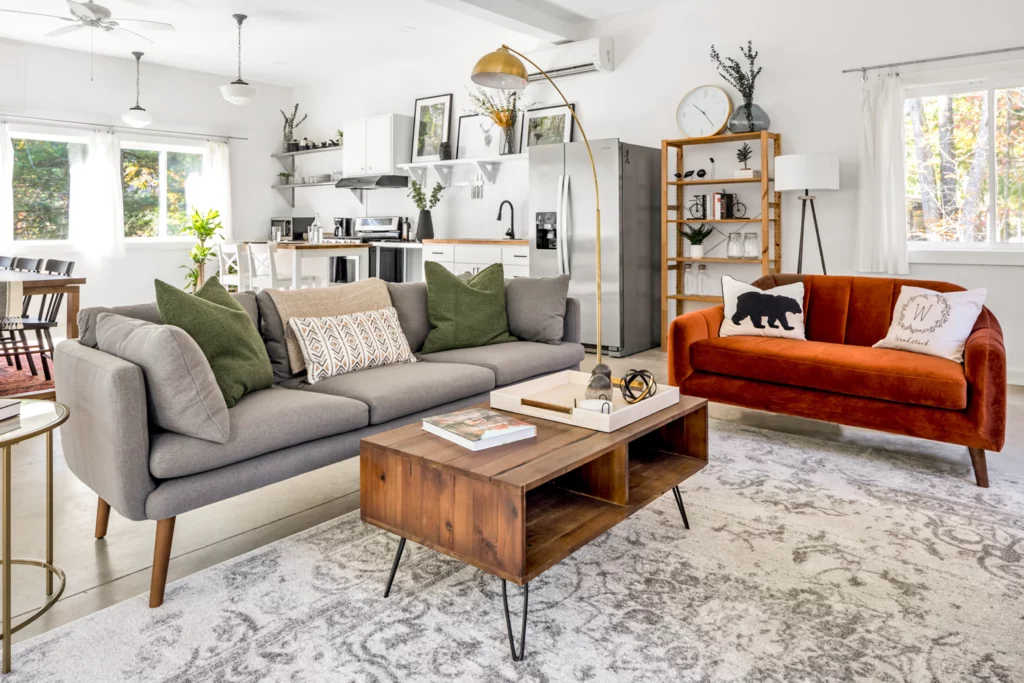 ---
Aspenhaus Chalet
Location: Madison New Hampshire
Price: $291+ per night
https://www.booking.com/hotel/us/aspenhaus-chalet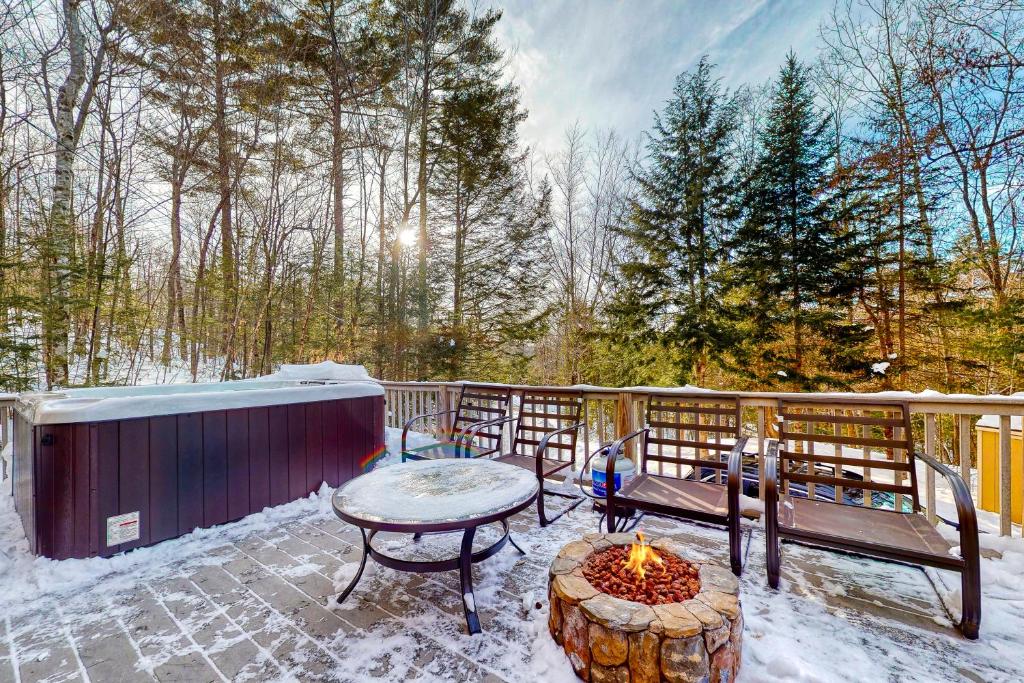 Set in Madison, and perfect for both the sunny and snowy months, this beautiful cabin is ideal for couples who want to be surrounded by nature.
Relaxing on the deck and admiring the views from the hot tub is a given. For those who visit in winter, Skiing is a must, while hiking and cycling trails are best experienced in the summer months.
Fully equipped, and decked out in a modern design–the white walls and wooden touches complete each other perfectly. It's an ideal place for self-catering in New Hampshire as the kitchen comes fully equipped, and the use of two-story windows ensures the cabin captures as much light as possible.
View Photos, Read Reviews & Check Availability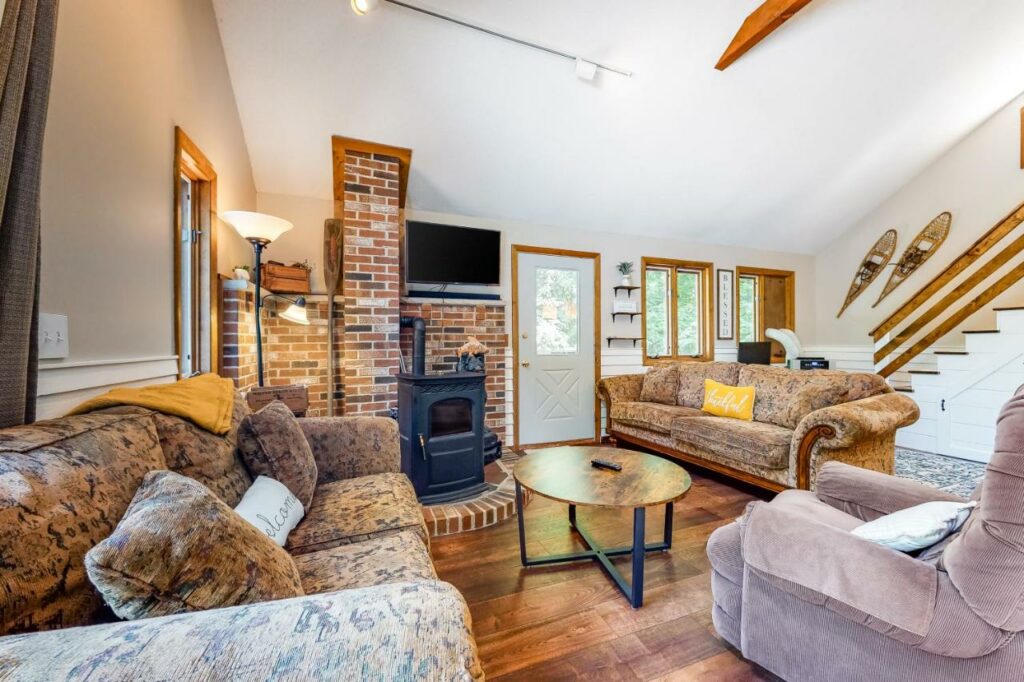 ---
The Overlook Cozy Cabin
Location: Carroll County, New Hampshire
Price: $136+ per night
https://www.airbnb.com/rooms/32483394
Are you looking to ignite the spark with your loving partner once more?  The Overlook Cabin set near the Saco River Path is ideal for two. The cabin greets you with a backyard featuring a fire pit where you can witness natural attractions in seclusion. For that special touch, an outdoor hot tub awaits. Moreover, a scenic train station, coffee shops, nightlife, and restaurants are just 5 minutes away. 
There is also a full kitchen, and grill available to barbecue. The cabin is also pet-friendly so you can bring your furry friend along to spend a cute and comfortable stay.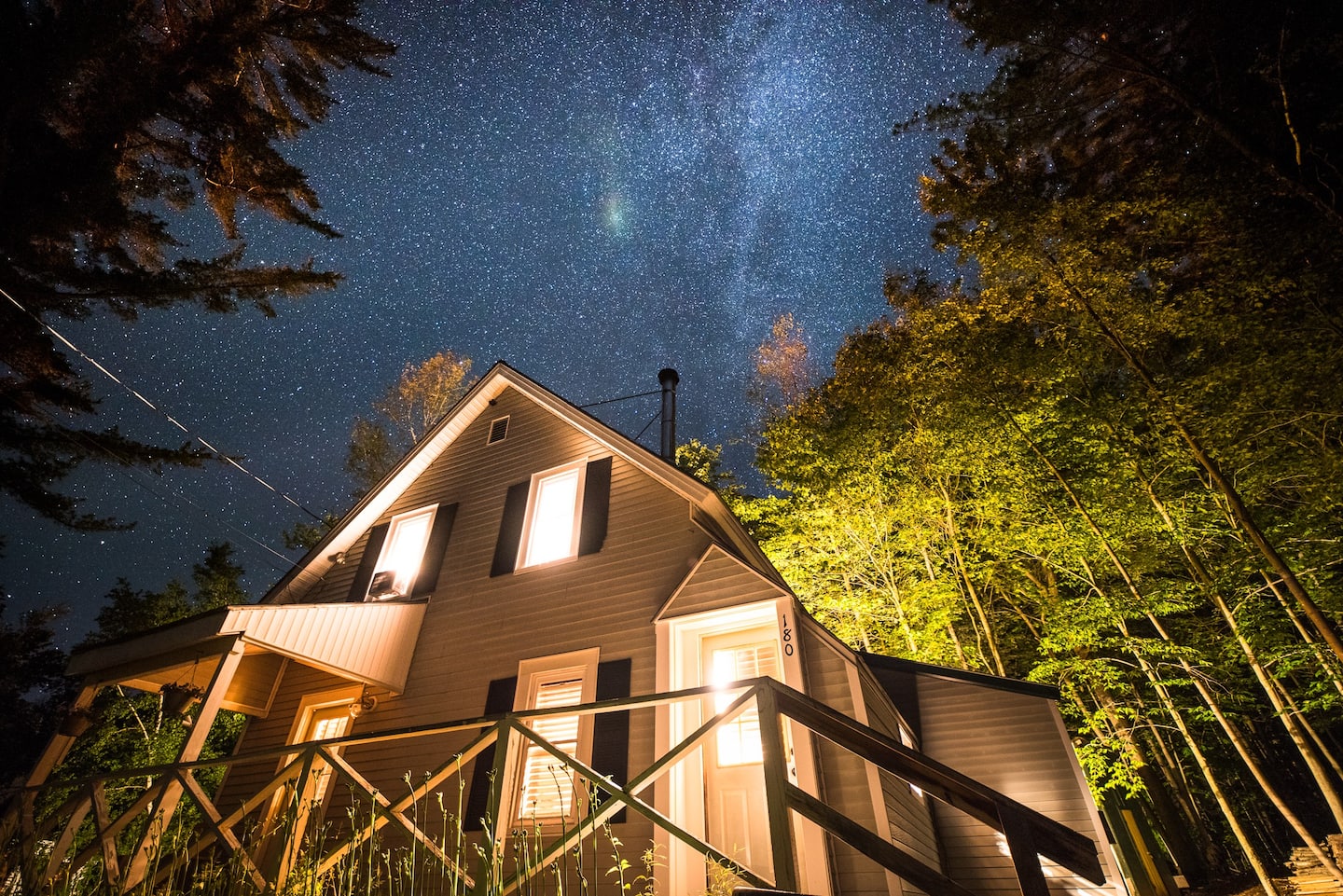 ---
Wooded New Cabin
Location: Jackson, New Hampshire
Price: $334+ per night
https://www.airbnb.com/rooms/40971373
The Wooded New Cabin is surrounded by the lush greenery of the National State forest. This offers a stunning backdrop as you relax on the porch amidst the ambiance of the private wooded setting. The outdoor fireplace and hot tub are perfect to recover after a long day of recreational activities. The cabin is a dreamy getaway for adventure seekers with a master view of the Presidential Mountains. 
The cabin features a king master bedroom and full bath along with a game area. Additionally, the kitchen is fully equipped with cooking basics so you can self-cater.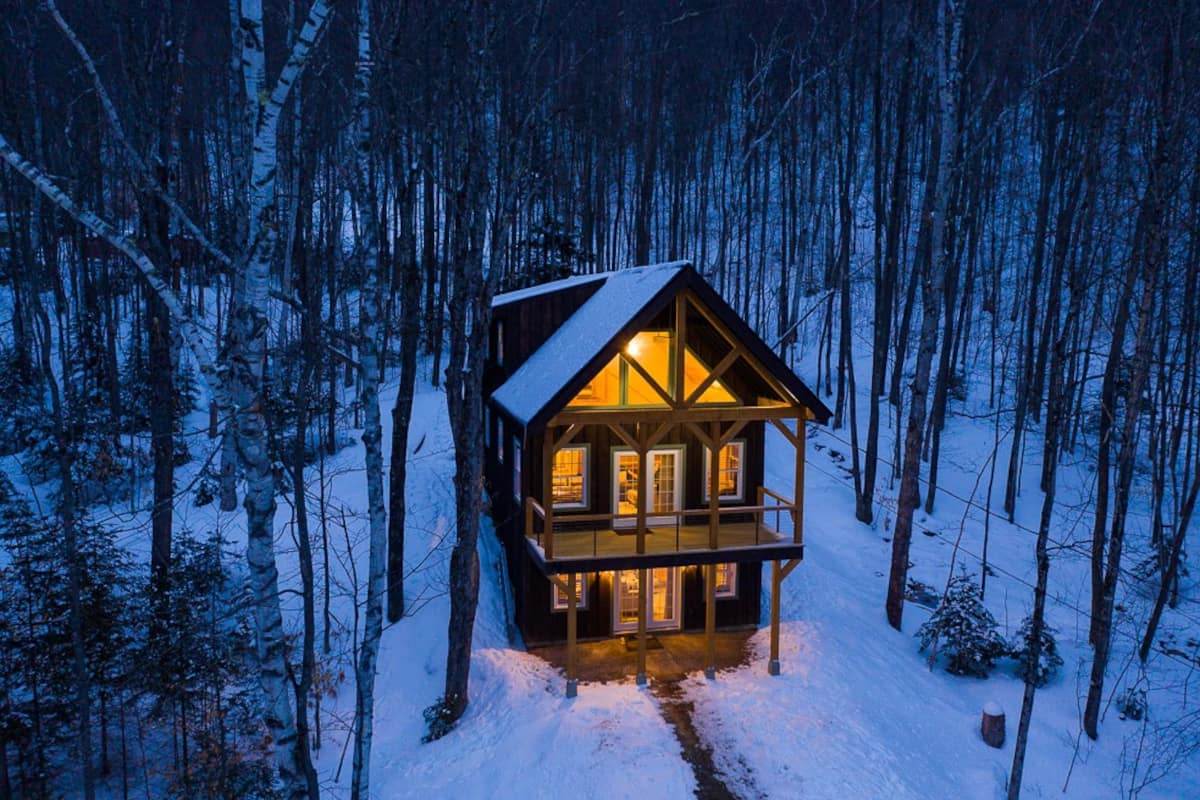 ---
White Mountain Getaway
Location: Thornton, New Hampshire
Price: $561+ per night
https://www.airbnb.com/rooms/53235176
Peace meets luxury at White Mountain Getaway which is specially designed for cozy hangouts and couple retreats. The cabin gives direct access to panoramic mountain views and natural lights. In the evening be sure to relax in one of the two hot tubs with your loved one. You may enjoy recreational activities a short 5-minute drive away such as hiking, biking, fishing, skiing, and kayaking. So, if you're an adventure enthusiast couple, this cabin is just the right one for you!
Furthermore, there is a game room featuring a ping pong table, games, and a fireplace for an entertaining stay. The cabin also offers WiFi, cooking amenities, a stove, warm blankets, and a shower.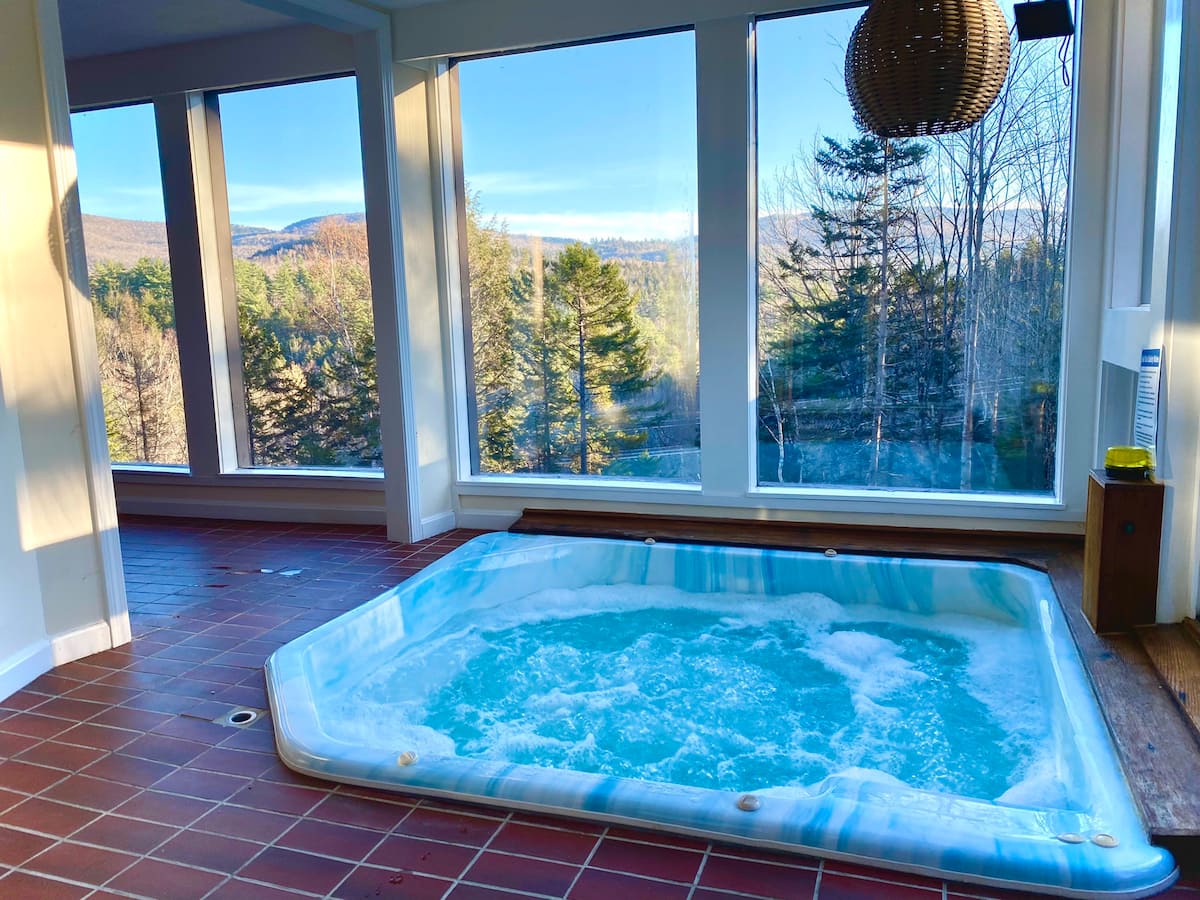 ---
Rumney Getaway Cabin
Location: Rumney, New Hampshire
Price: $351+ per night
https://www.airbnb.com/rooms/50593023
Gorgeous sunrises, breathtaking sunset views, and awe-inspiring scenic beauty! This is what Rumney Getaway Cabin is all about. The cabin is nestled in a prime location near the White Mountains and Lake Winnipesaukee. Nature enthusiast couples can reawaken and reignite their love amidst the surrounding lakes, and lush greenery. The cabin features an outdoor hot tub, pool house, and fire pit. 
Moreover, wake up to the sounds of the chirping birds and the glistening sunrise in the 3-bed cabin. So, if you are looking for a relaxing getaway in the middle of the woods with all the necessities, this is the right one for you.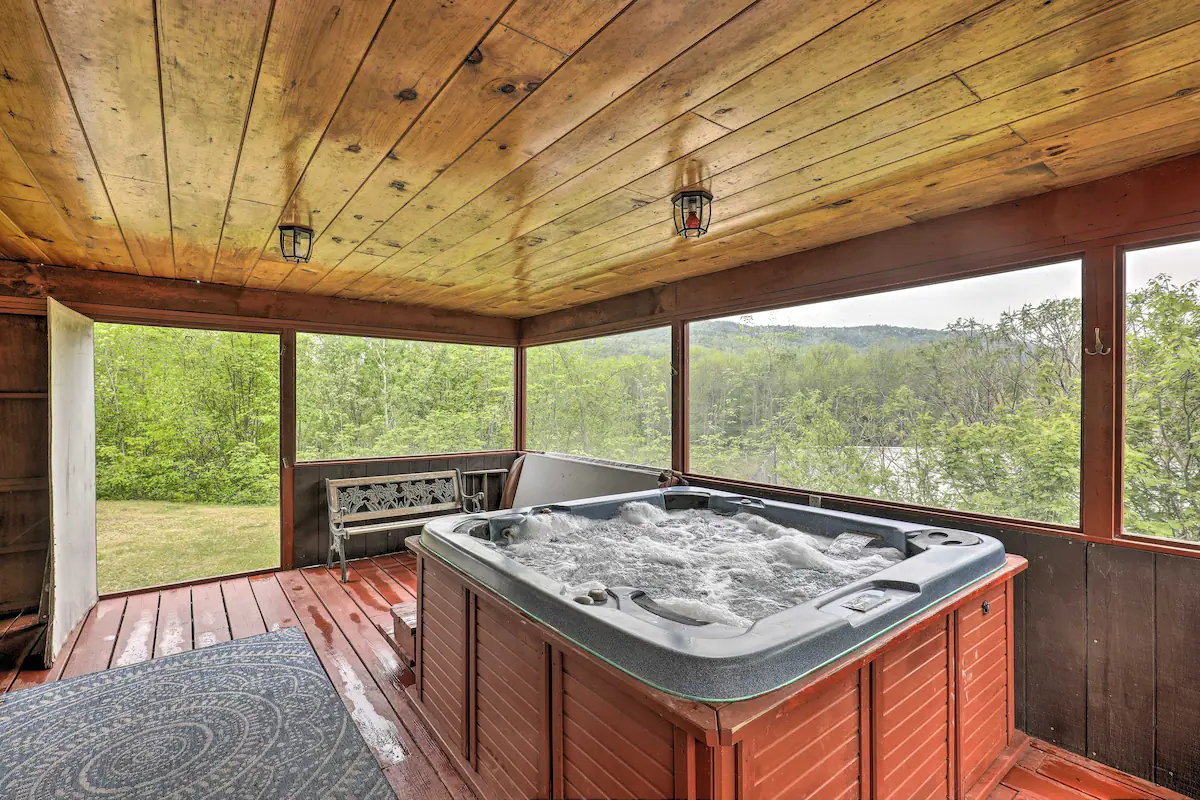 ---
Charming Franconia Cabin
Location: Franconia, New Hampshire
Price: $360+ per night
https://www.airbnb.com/rooms/36037220
Create incredible memories that will last a lifetime at Charming Franconia Cabin. This romantic cabin in New Hampshire will take you deep into beautiful views of the forest, just from the windows! The phenomenal outdoor hot tub and fire pit are perfect to relax and witness shooting stars at night. The outdoor deck for grilling is spacious with plenty of seating to read your favorite book as you indulge in a delightful barbeque. The remote and peaceful cabin is close to hiking, biking, and tubing in the National Forest. 
The cabin also features a fully-equipped kitchen where you can channel your inner chef. There is also a toasty wood stove in the living room if you want to stay indoors with your partner.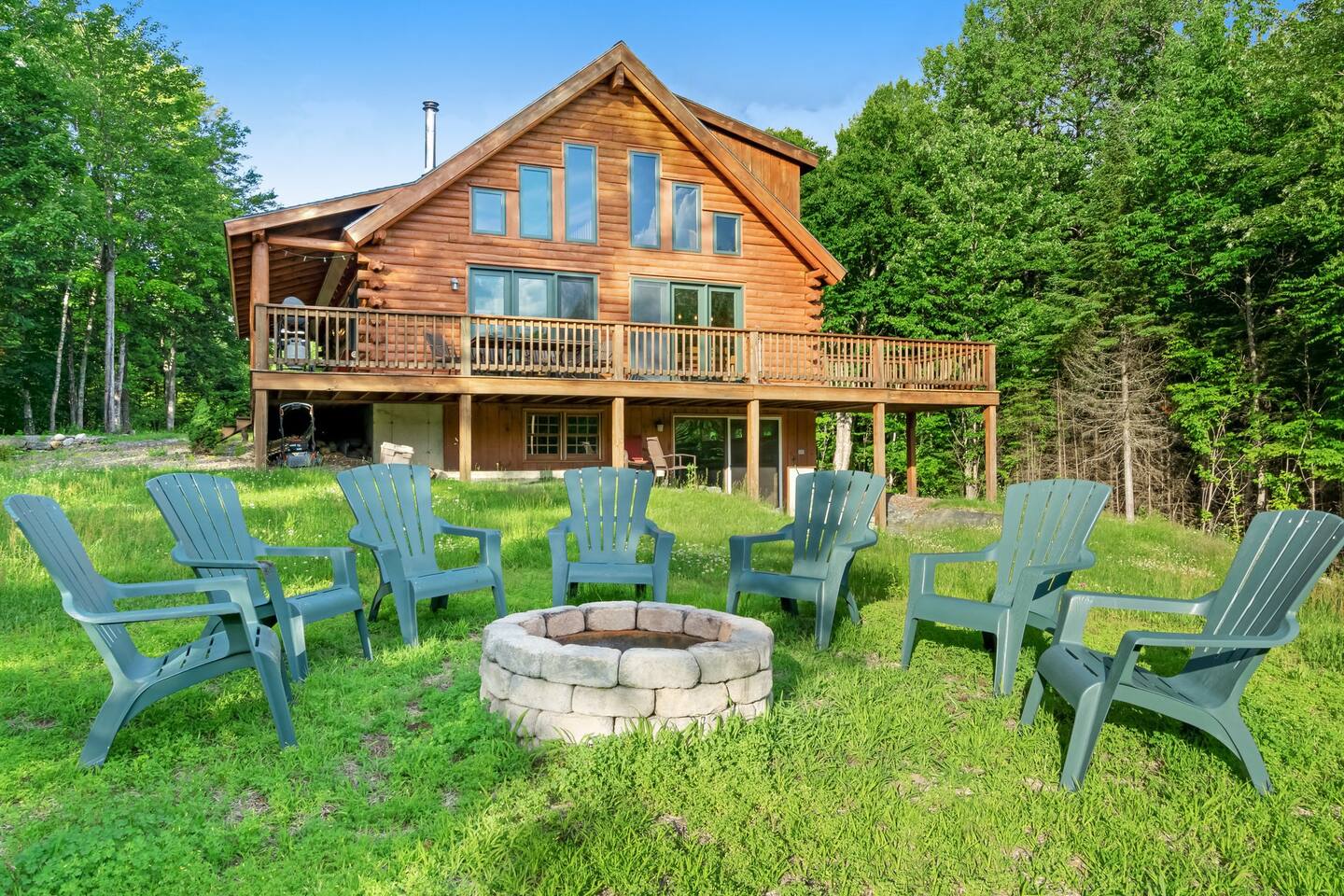 ---
These romantic cabins in New Hampshire not only offer comfort and luxury but also seclusion and relaxation in their peaceful settings. They truly highlight the essence of love and nature through their blissful vibes.