Planning a trip and looking for the coolest and most unique A-Frame Cabin Rentals in New York? Well, look no further, as I've put together this fun guide to 7 amazing places to stay for a New York A-Frame Cabin Getaway that you'll absolutely love!
If you're in New York and looking to escape the hustle and bustle of the concrete jungle but still want comfort and modern luxuries, look no further than these chic A-Frame cabins for your next getaway. All located amongst nature they are unique, cozy, well designed, and very inviting. Take in the beauty of nature from the comfort of your bed or living room in one of these beautiful homes and enjoy a little rest and relaxation away from the city.
You may also like: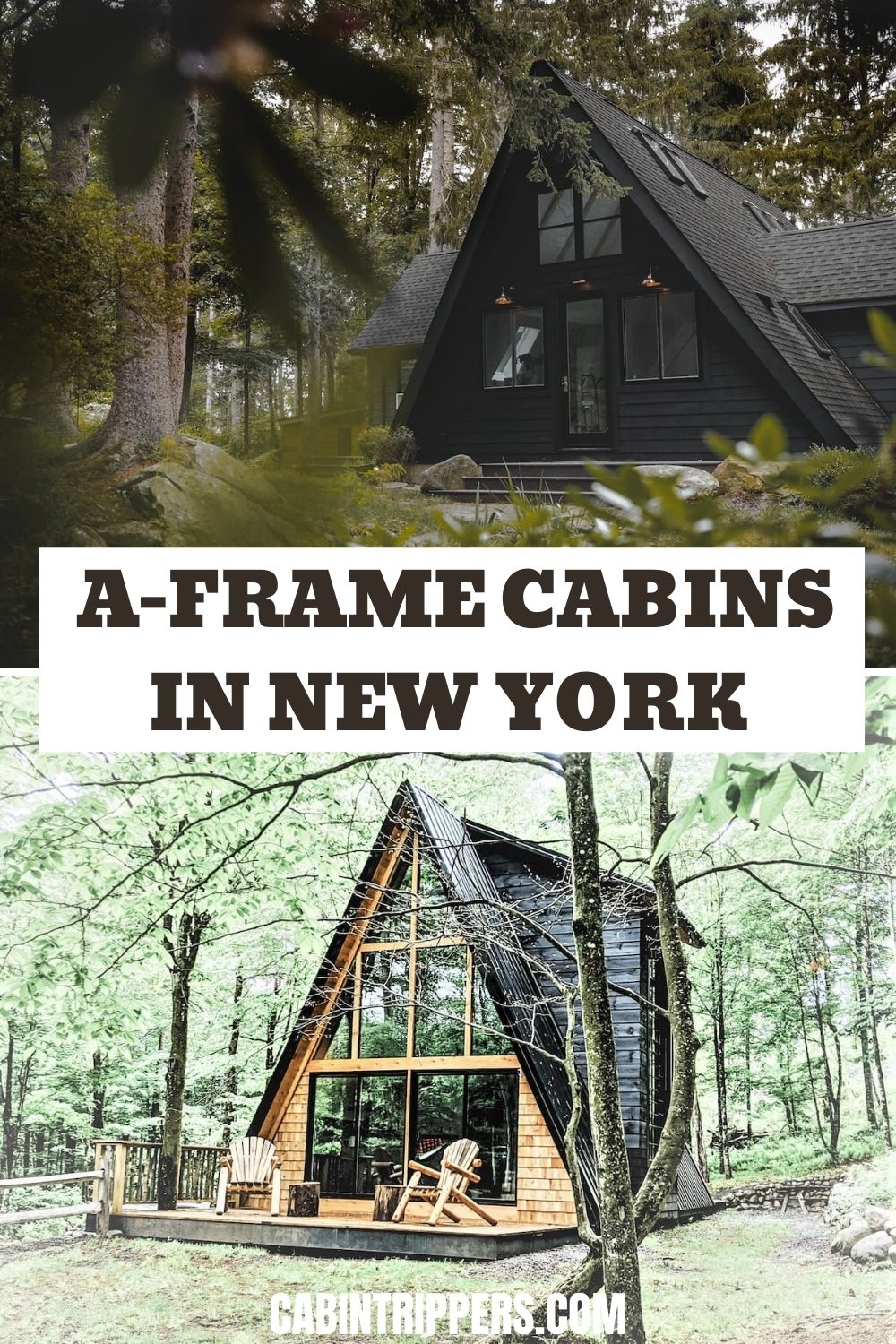 ---
The Step — A Quaint Cozy A-Frame Cabin on a Farm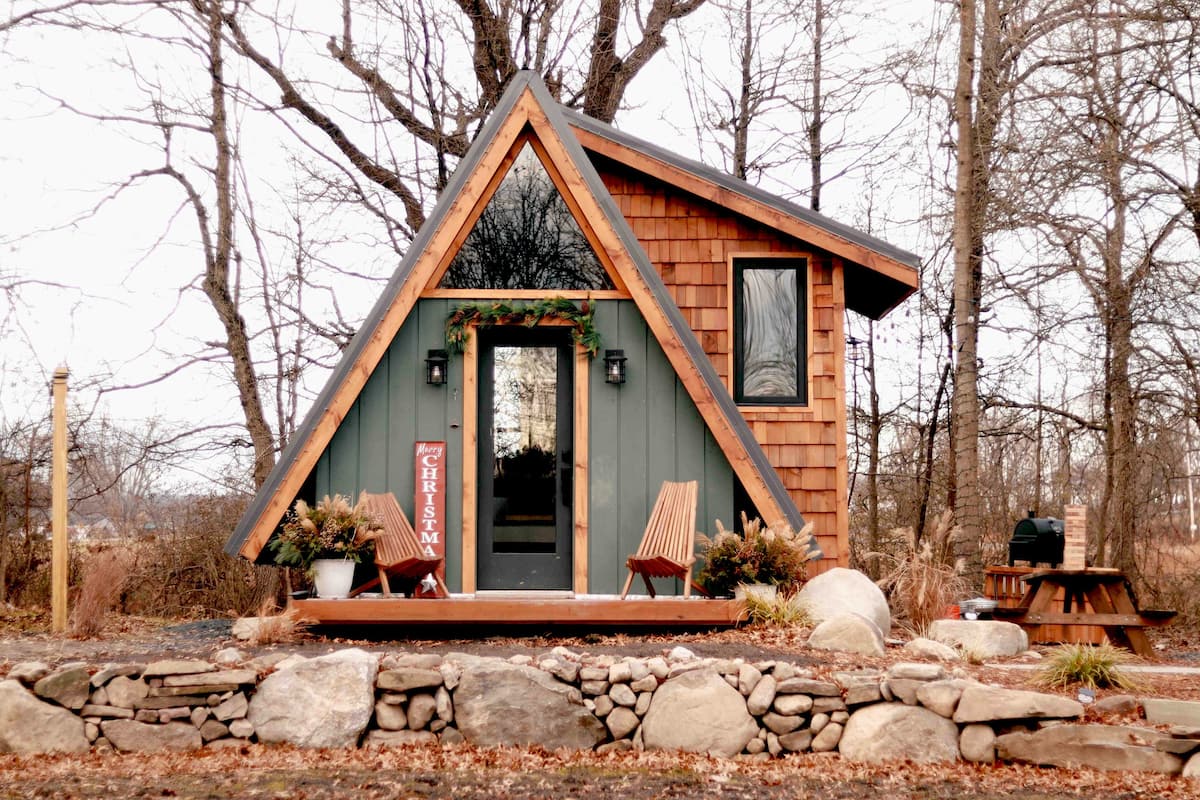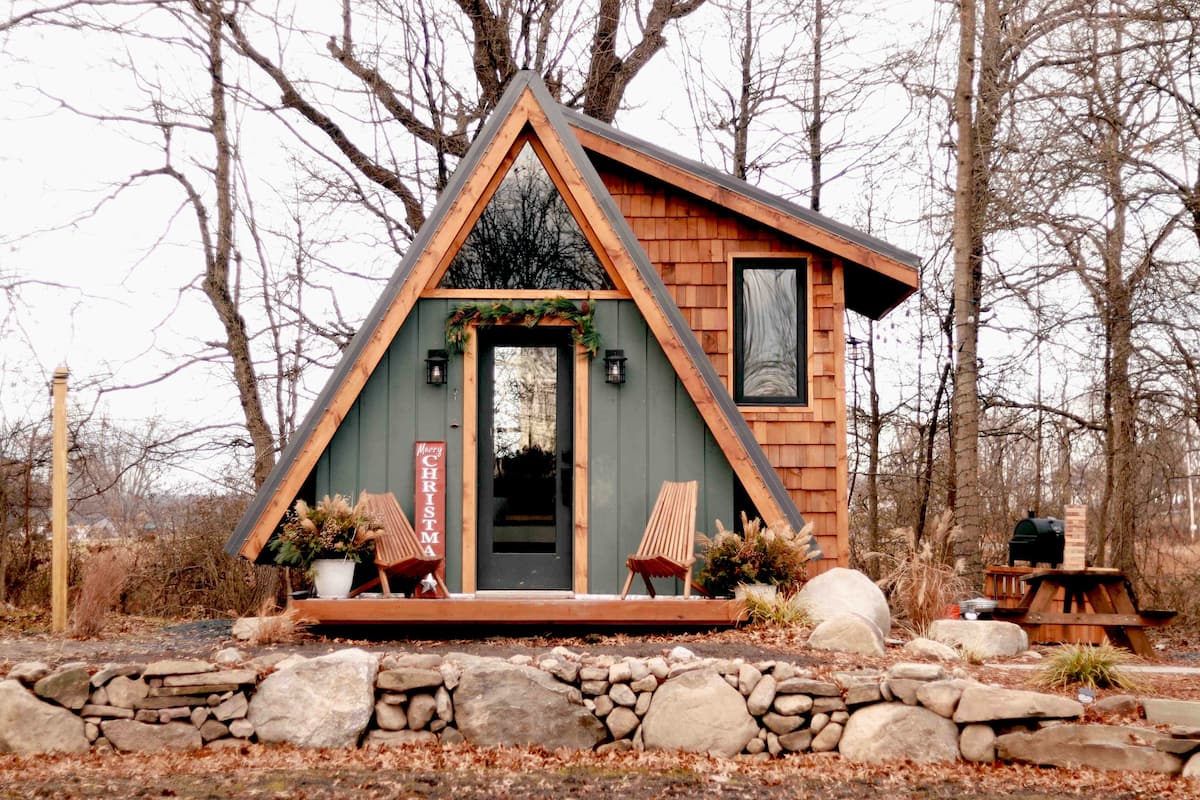 Location: Montgomery, New York
Price: $151+ per night
https://www.airbnb.com/rooms/53252166 
The Step is a must see for couples in New York looking for a romantic 'off-grid' getaway and retreat in nature. Built on 78 acre's of operating farmland in the Hudson Valley, this quaint and cozy A-Frame Tiny House is the perfect escape. It offers everything needed for a luxurious and comfortable glamping experience while staying minimal and sustainable. The queen size memory foam mattress will guarantee a restful sleep and the little nook sitting area is complete with games to keep guests entertained and connected offline.
The outside area is a beautiful place to stargaze, grill, make a fire, and just be. Guests can also explore the 78 acre farmland and observe the animals or test their fishing skills at one of the nearby ponds or the river down the hill. The Step is the perfect place to live like a queen while still embracing the simple life amongst nature and unplug and unwind!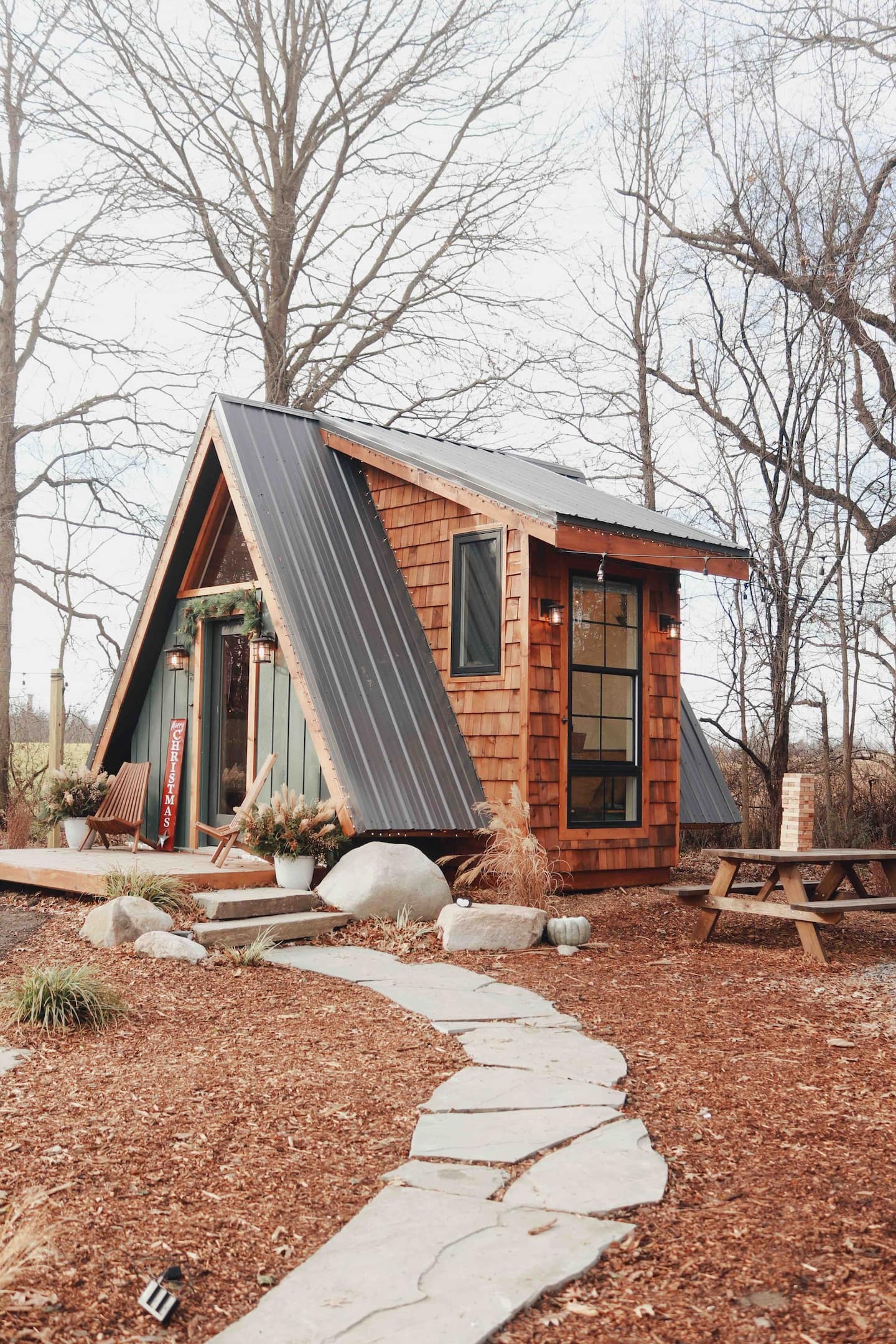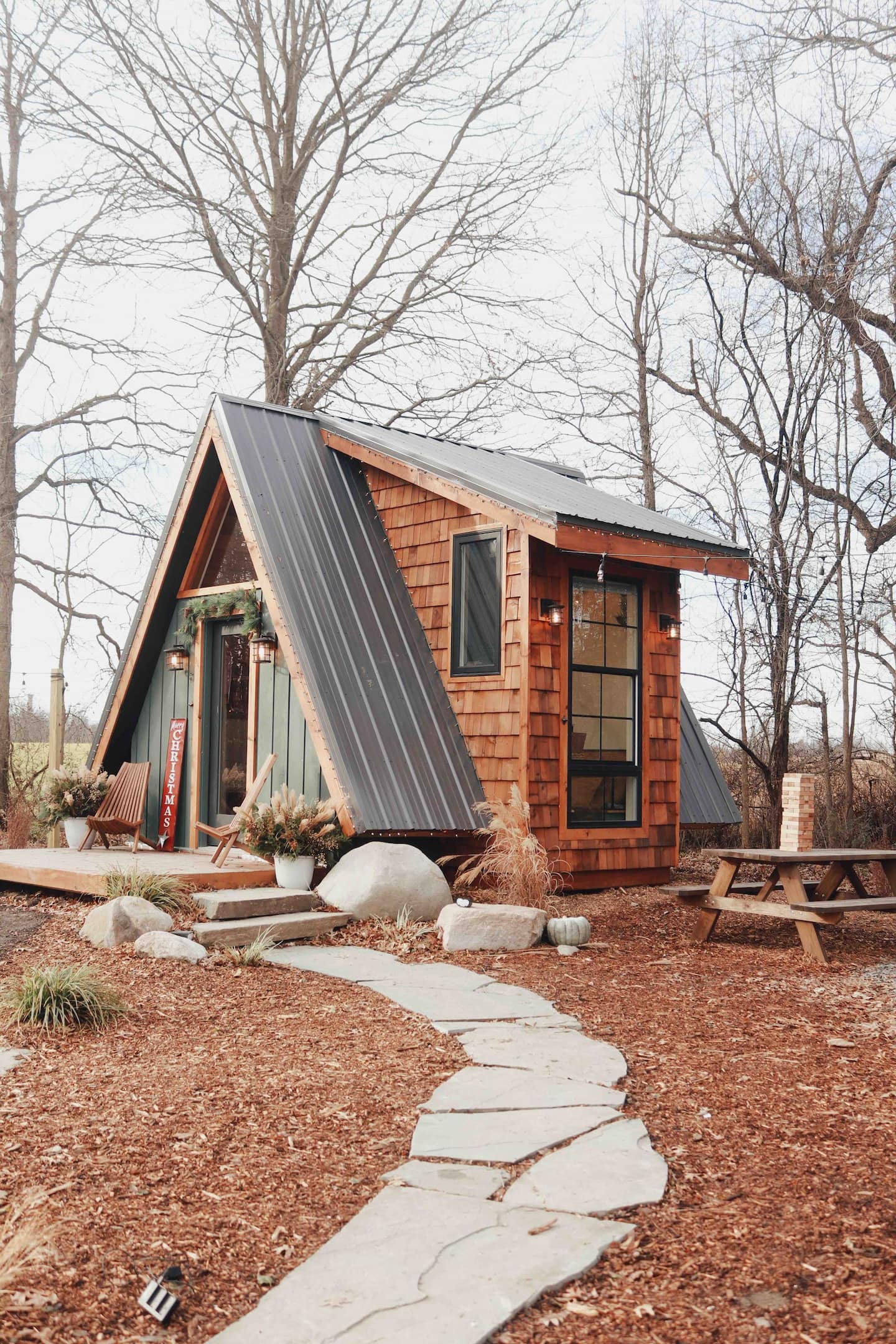 ---
Lakeview A-Frame in the Trees – Hudson Valley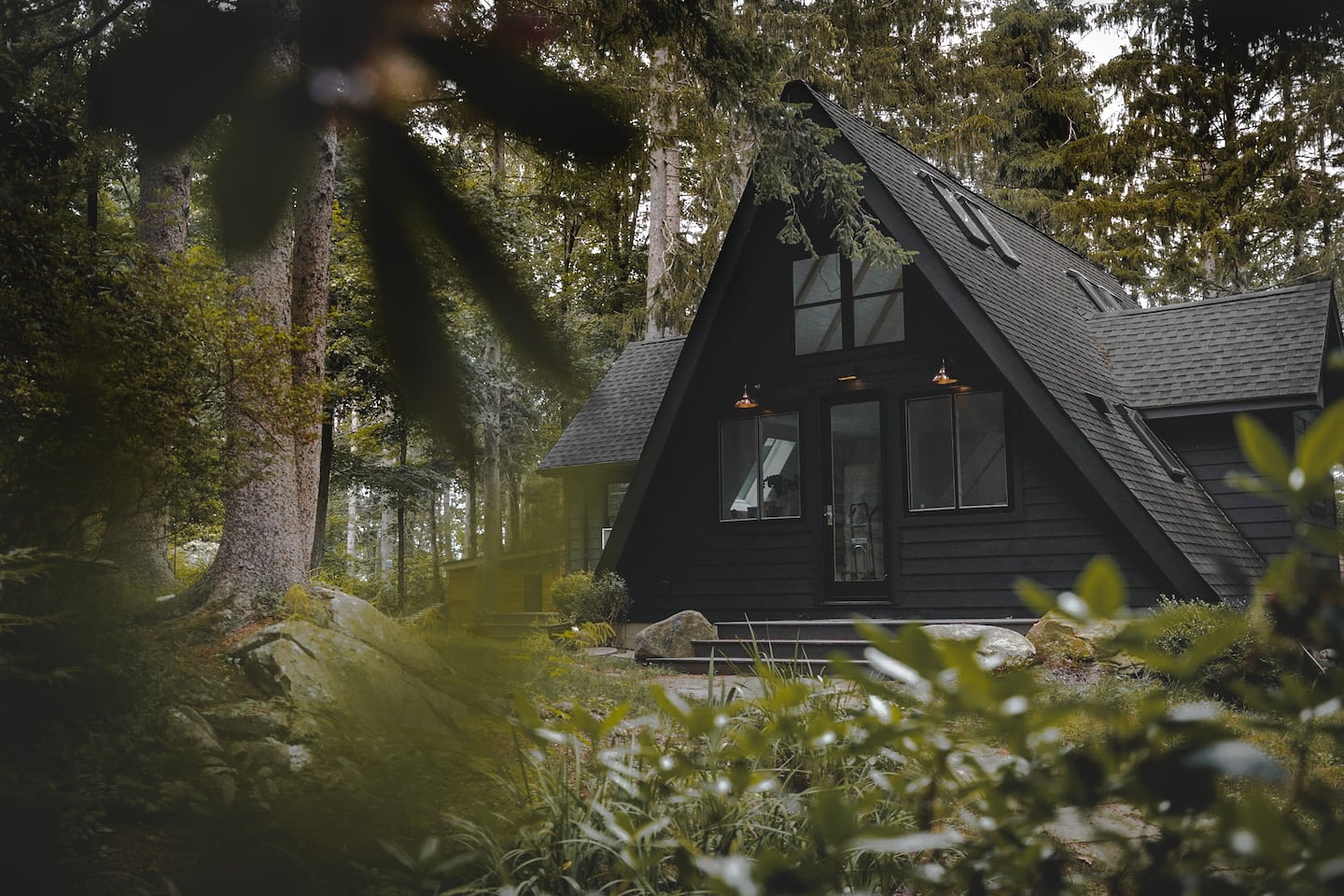 Location: Carmel Hamlet, New York
Price: $277+ per night
https://www.airbnb.com/rooms/51688097 
Located only an hour and a half north of New York City, the Lakeview A-Frame feels like a completely different world. It offers a peaceful and enchanted stay in the woods of the Hudson Valley. The home has been remodeled and updated since it was built in the 60s giving it a classic yet modern vibe. With its natural light and shiplap wood ceilings, it has a natural and relaxing feel, while being cozy yet spacious.
There is a sense of elegance with its attention to detail making it feel like staying in a fairytale dream. The bathroom has a spa bathtub to relax in while breathing in mountain air. There is also a walk-in shower with stone flooring and a hand-sanded wood vanity. The upstairs loft is pretty spectacular with its skylights and unbeatable view of 200ft fir trees and a beautiful lake. Outside there is a dining area with a grill and fire pit under some evergreen trees and fairy lights to complete the magical feel. With one bedroom and two beds the home can fit up to four guests.
Located in the heart of the lake region, this New York A-Frame cabin is in an ideal location for exploring and adventuring in nature. Hiking, swimming, boating, birdwatching, snowshoeing, skiing, apple picking, and more are all only a short drive away. And to top it off, the house is intentionally set away from the road to allow for more privacy.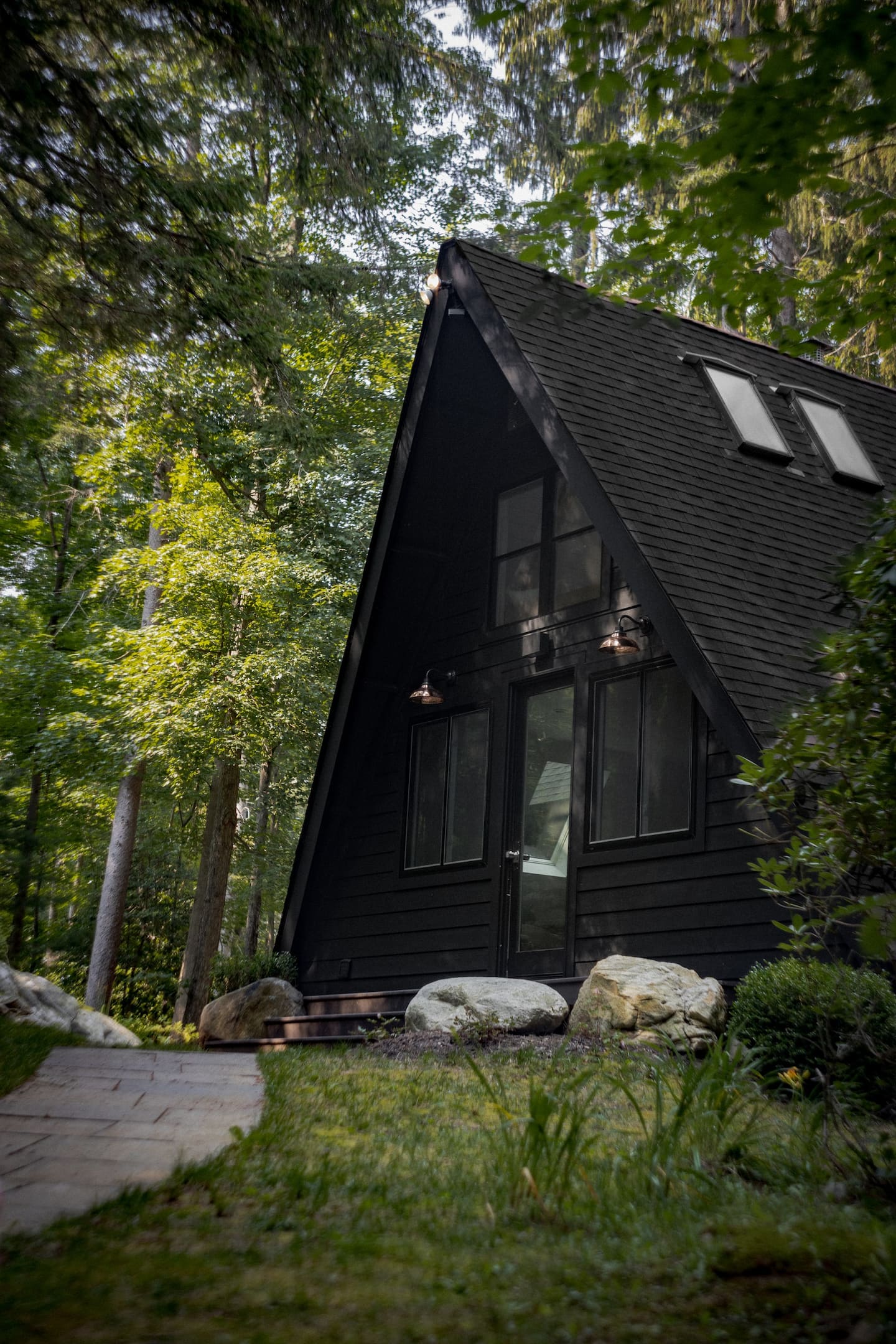 ---
A Black A-Frame: Sustainable Catskills Cabin
Location: Kerhonskon, New York
Price: $332+ per night
https://www.airbnb.com/rooms/44195397 
The beautiful black A-frame in Kerhonkson, New York is one of the coolest cabins out there. It's a 1960s off the grid solar powered cabin on a private road in the Catskill forests. The open floor plan with wood ceilings and beams gives a very spacious and homey feel. The cozy living room with a fireplace is a great place to read or play games.
It's modern and renovated interior create a contemporary vibe and the unique wrap-around staircase and windows add to the spaciousness. The upstairs bedrooms all have a bit of natural light as well. Outside is a spacious deck to hang out on, fire pit, large steel barbeque grill, long picnic table, gazebo, fairy lights and a spring fed pond. The endless wood views from the backyard make you feel like you're camping, it's truly remarkable!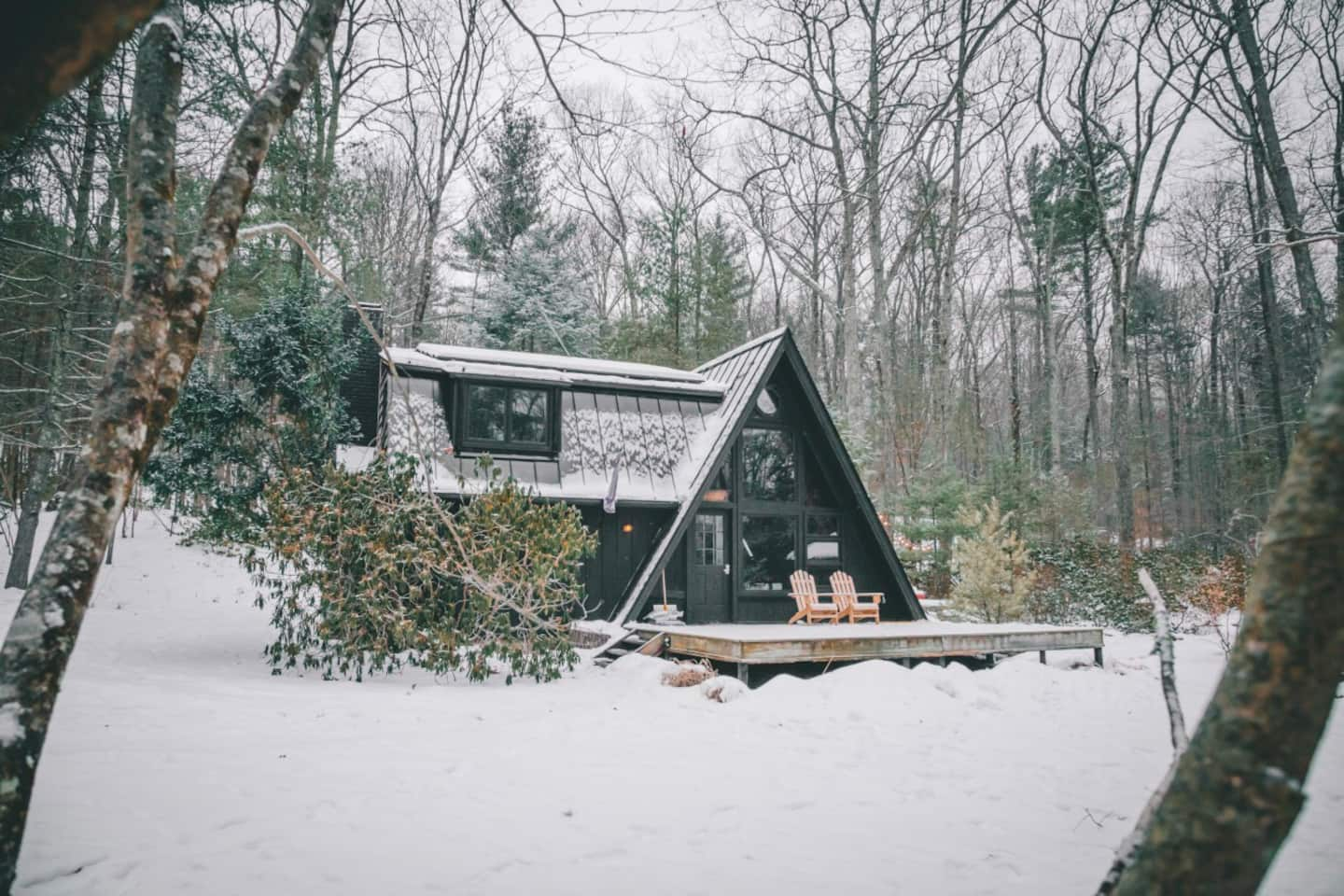 ---
The A-Frame Cabin at Evergreen Cabins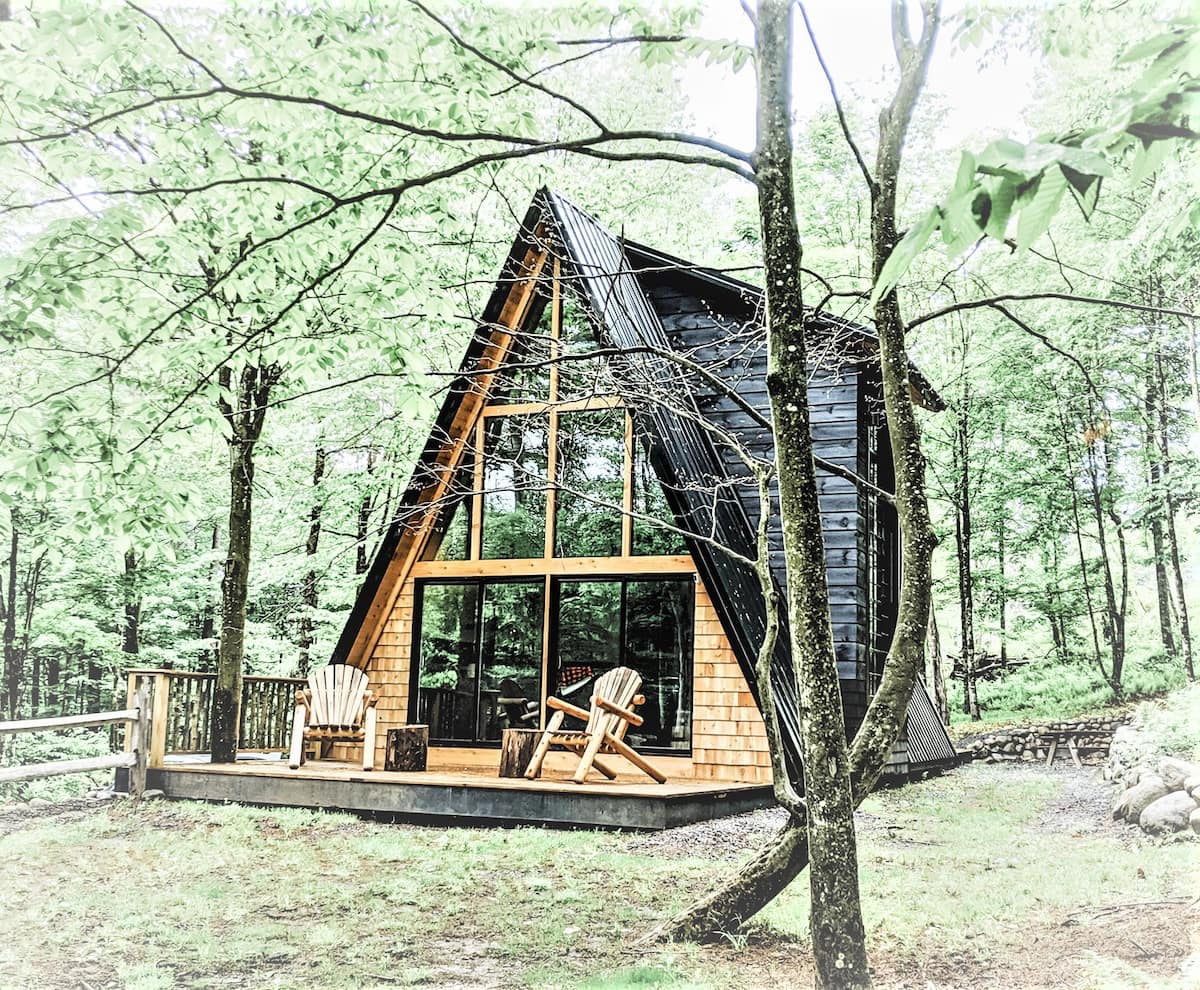 Location: Remsen, New York
Price: $386+ per night
https://www.airbnb.com/rooms/28493916
This unique 1 bedroom 1 bath A-Frame cabin is the perfect getaway in the woods. It has a modern yet rustic decor complete with everything needed to unwind and relax. It's dark yet sophisticated interior give it a cozy and quiet feel. The upstairs bedroom is set at the top of the "A" making it extra cozy and guests can even stargaze from bed! There's also a loft space for kids to play. 
Outside, the house is surrounded by nature with a lake nearby and direct access to hiking and snowmobile trails! The cabin was handcrafted with much attention to detail and designed so that guests feel comfortable and at home while being secluded in nature.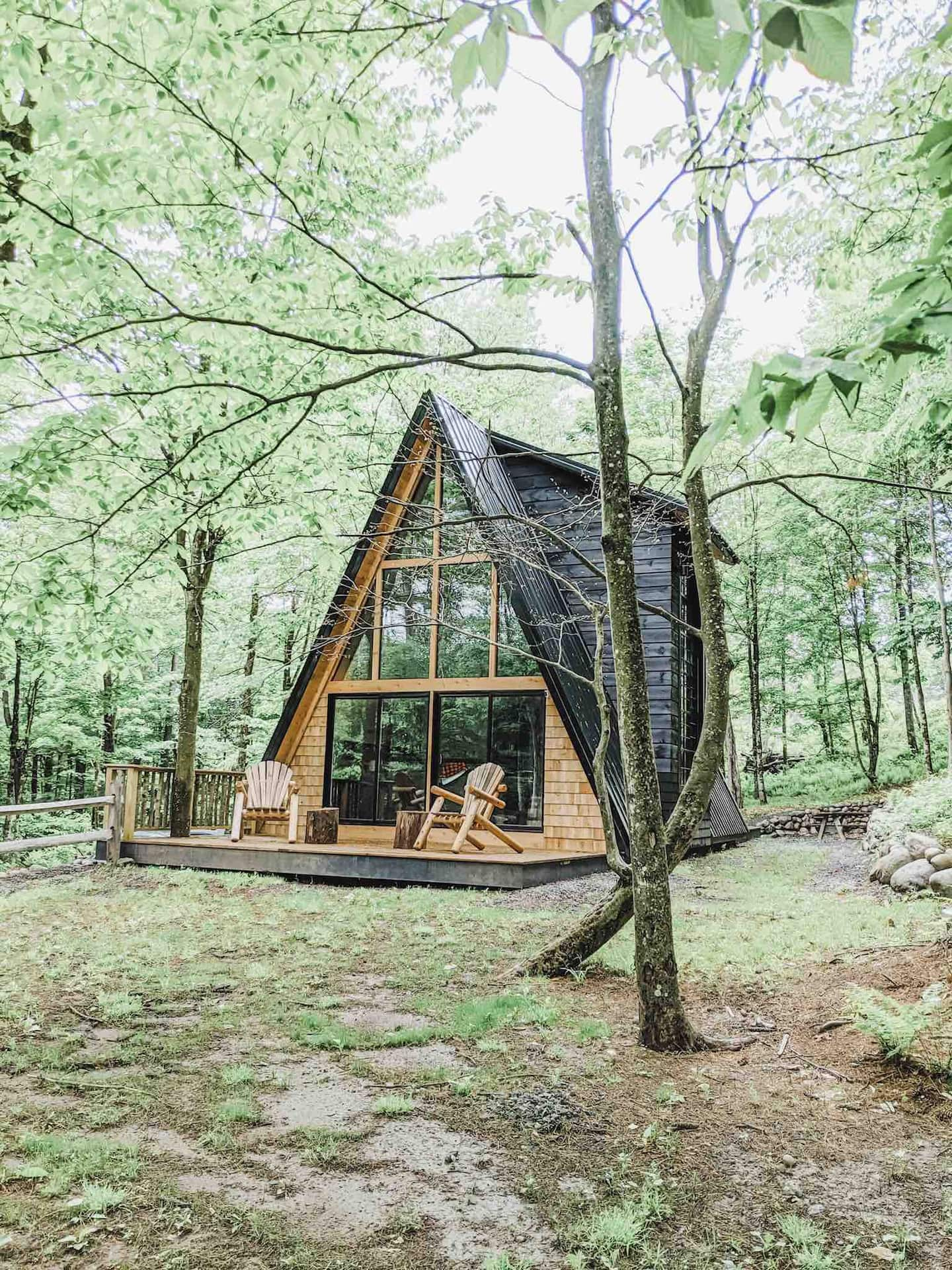 ---
Modernized A-Frame Chalet in the Heart of the Hudson Valley
Location: Saugerties, New York
Price: $225+ per night
https://www.vrbo.com/7638344ha
This stunning Chalet in the heart of the Hudson Valley is a great retreat for a group. With three bedrooms and three bathrooms, the A-frame house can sleep up to six people and is quite spacious. It has three levels, each with its own bedroom, bathroom, and common area. It's a classic A-frame with its high ceilings, big windows, and wood finishes.
It sits on an acre of land on a private road ensuring peace and quiet during your stay. Surrounded by woods and a yard, there is plenty of outdoor space to hang out and the covered porch and wrap-around deck are great for relaxing or star gazing at night. The main floor has the master bedroom, fully modern kitchen with stainless steel appliances, living room, and dining area. There is even a wine fridge for the wine lovers out there! The master bedroom is extra luxurious with its wall-to-wall closets and large window to watch sunrise from bed.
The living room has plenty of natural light with the floor to ceiling windows offering beautiful mountain views. The large wood dining table can seat up to ten people for a nice dinner gathering and the smart TV offers all types of streaming channels. Upstairs is a big loft with a balcony overlooking the living room, perfect for reading, a nap, gazing outside through the skylight, or some gentle stretching. The bedrooms each have a queen size bed and full bathroom with vanity and views of the neighboring trees. The lower floor is a furnished basement with wood paneling and its own entrance. Perfect any time of year, this home has everything needed for a great staycation!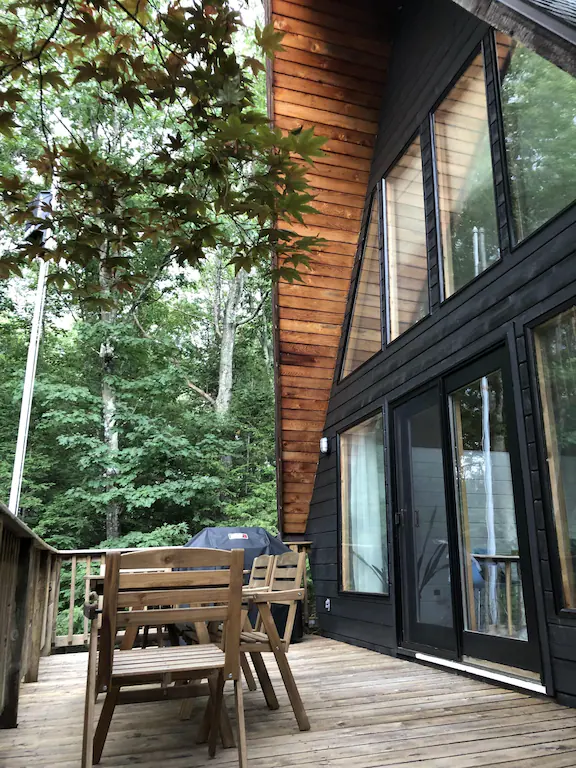 ---
Huge Lakefront A-Frame Cabin Rental For Large Groups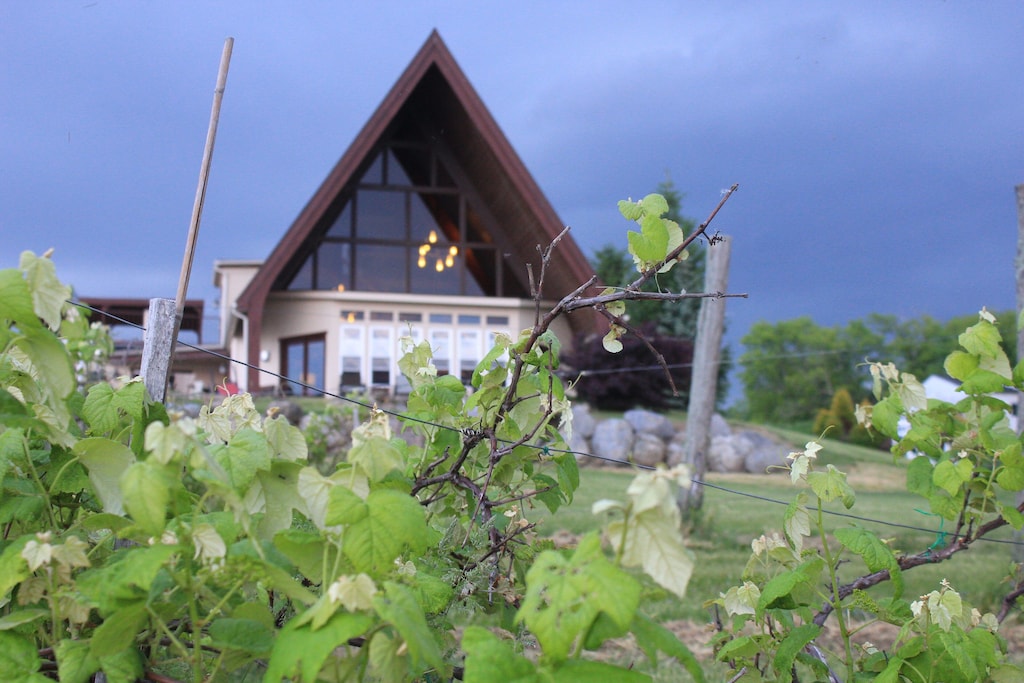 Location: Owasco Lake, New York
Price: $543/night
https://www.vrbo.com/3933123ha 
This large luxurious three story A-frame is a perfect house for a family reunion or gathering. With four bedrooms and five baths, it can sleep up to twelve people! It's special amenities include a walk-in steam shower, breakfast bar, wine cooler, jacuzzi tub, and a game room. The first floor living room has beautiful panoramic views of Owasco Lake, a fire place, and smart TV.
All of the furniture is quite modern and comfortable and the wooden walls give the home a nice warm feeling. Outside is a huge patio overlooking the lake, perfect for sunbathing or dining at the patio table. The king bedroom on the third floor has its own private deck, jacuzzi, step in shower and bathroom! The 5500 sq foot house has lake access and its own dock. The house also provides kayaks and a row boat. Its no doubt an incredible place to adventure and enjoy each others company amongst beautiful nature.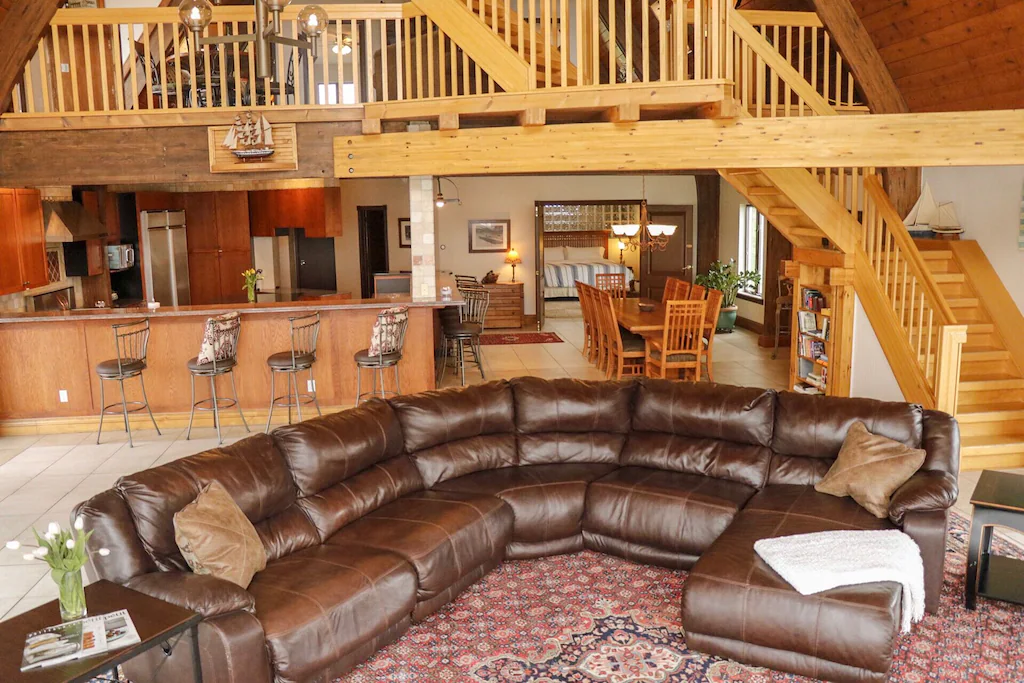 ---
NY A-Frame Chalet with Cozy Interior and Mountain Views
Location: Lake Placid, New York
Price: $148+ per night
This remote A-Frame in the woods is simple yet cozy and peaceful. It's located amongst the woods near Asable River and Whiteface Mountain range. It has one bedroom, one loft, one full bathroom and can sleep up to six people. The house is heated during the winter and has an outside fire ring great for making s'mores while stargazing under the night sky. It has a full kitchen, living room, dining room, and patio. As it's only a few minutes from Lake Placid, the chalet's location is ideal for skiers, hikers, fly fisherman and anyone who loves the outdoors and wants to explore High Peaks area.