Beyond Nevada's glamorous cities lies an amazing landscape with incredible natural attractions, scenic drives, small towns, and wonderful opportunities for outdoor activities. It's called the Silver State for a reason, and staying at one of these romantic cabins in Nevada will leave you speechless!
Packing for a romantic getaway without an idea where to go? NV got you covered! The Silver State has plenty of stunning attractions and activities that will surely leave you and your partner in awe. Take a helicopter ride to have a bird's eye view of Hoover Dam. Or camp at one of Nevada's stunning locations, like Lake Tahoe. Valley of Fire State Park provides you with a breathtaking view after a long and tiring hike (but hey, they say the best view comes after the hardest climb, right?) 
Take your pick from our list of Nevada's romantic cabins to stay in for your getaway. From luxurious to unique and everything in between, you'll find the perfect cabin to complete your Nevada getaway.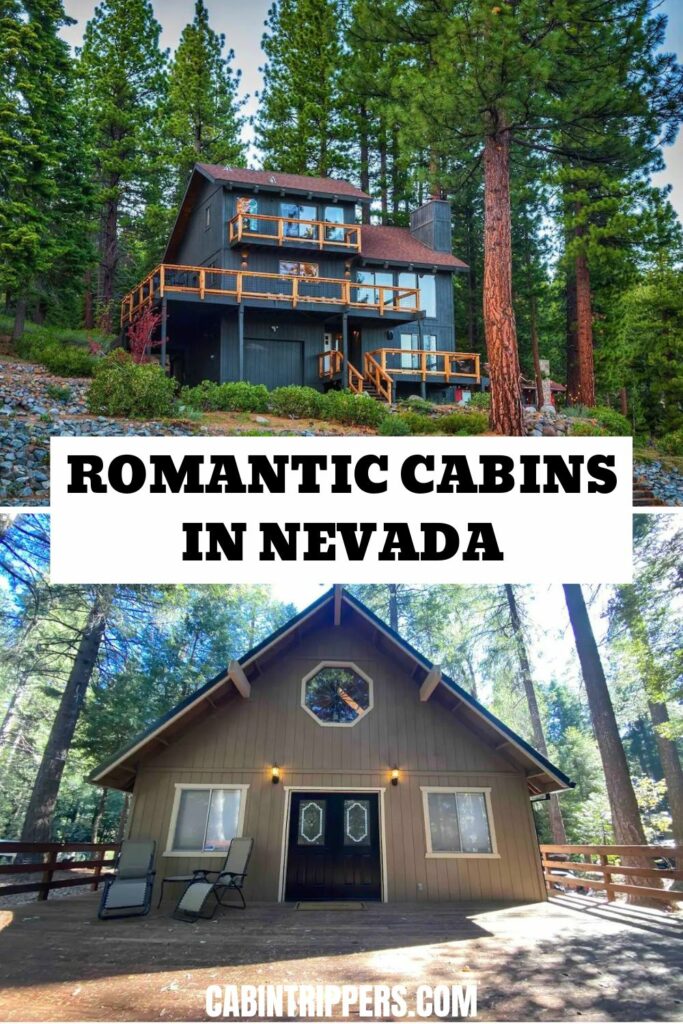 ---
Tahoe Mountain Romantic Getaway
Where: Tahoe Village, Nevada
Price: $590+ per night
https://www.vrbo.com/3685330ha
Unwind and have a fun family vacation on this beautiful mountain getaway set in Tahoe Village. Sit back and relax in the living room as you take in the stunning pine trees swaying in the mountain breeze.
This magnificent cabin has a well-stocked kitchen,  each room furnished with a comfortable bed and a TV. The hot tub is the perfect spot to relax with your significant other. The cabin can accommodate 10, but it also makes a lovely spot for a honeymoon. Visit the area around Tahoe Village to enjoy dining, gambling, shopping, and entertainment.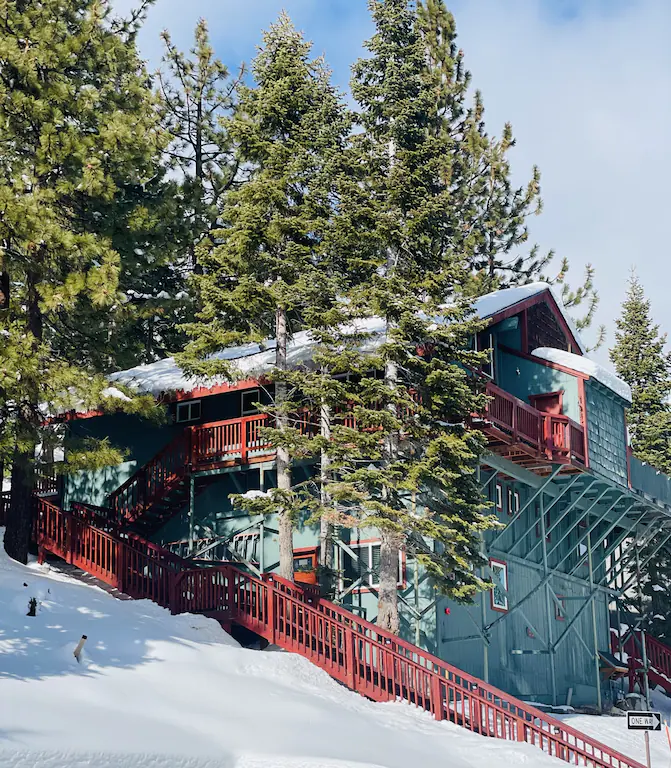 ---
Inviting & Romantic Cabin with Hot Tub
Where: Incline Village, Nevada
Price: $302+ per night
https://www.vrbo.com/9549463ha
This cozy alpine cabin is perfect for spending a memorable holiday adventure. Stay in this inviting cabin that features an open layout and a private deck with a gas grill to host group dinners and barbecues.
The cabin features indoor-outdoor living that allows you to bask in Lake Tahoe's magnificent views, especially in winter when everything is covered in snow. Set in Incline Village, it's close to resorts where you can ski or play golf, but if you want to spend your time enjoying the intimate setting – the cabin is all yours.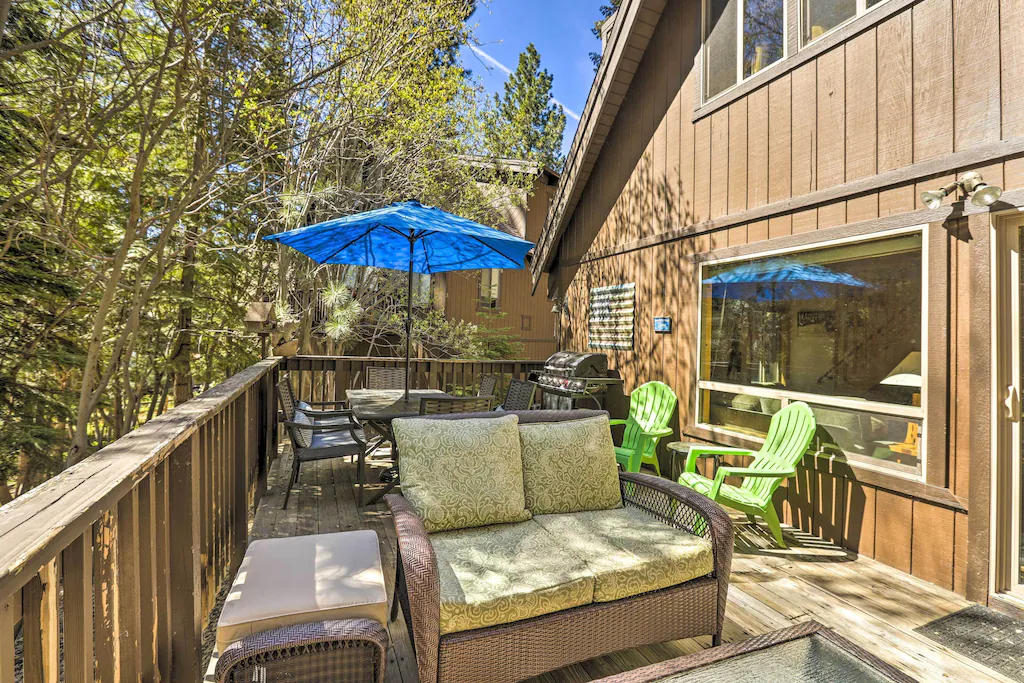 ---
Spectacular Romantic Cabin Getaway
Where: Kingsbury, Nevada
Price: $850+ per night
Located in Upper Kingsbury, Nevada, this spectacular home is surrounded by panoramic views of the mountains and Lake Tahoe. You'll love how a stay in this cabin offers both privacy and convenience! Start your days with a hearty breakfast while enjoying the serene landscape.
Then, spend the day hiking, biking, or riding snowmobiles. Head to the town to explore and experience the nightclubs, shop at quaint shops, dine at the local restaurants, and more. For a romantic night – just for you and your special someone – take a dip in the private hot tub under the stars.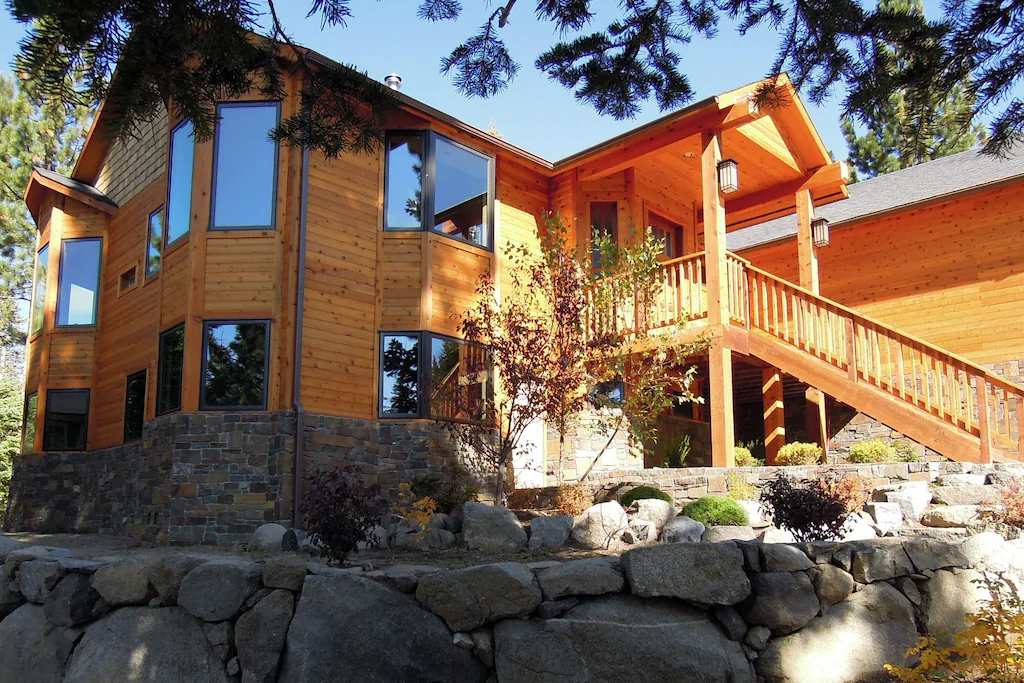 ---
Private Home with Breathtaking Peak Lake Views
Where: Incline, Nevada
Price: $635+ per night
https://www.vrbo.com/9457115ha
An idyllic home on top of Incline Village, this home offers luxurious accommodations for couples and families. With breathtaking peak lake views, modern-styled furnishing, spacious deck space, and a comfortable home interior, you may never want to leave.
But, if you must, the home is close to many famous Tahoe beaches, restaurants and shops. If you wish to hit the slopes, you can drive to Diamond Peak Ski Resort or Tahoe Cross Country Ski area. With 5 bedrooms, this home would be perfect for a group couples who are looking to go on a retreat in Nevada. 
---
Charming Tahoe Cabin
Where: Elk Point, Nevada
Price: $415+ per night
Whether you're looking to spend a relaxing retreat or the perfect scenery for a romantic holiday, this charming Tahoe cabin is for you. The cabin home features views of Lake Tahoe and Sierra mountains, family-friendly living, a fully stocked kitchen, outdoor lounging and dining sets, and a large back deck with a hot tub.
Spend your mornings sipping coffee together on the deck and then enjoy a full day at Nevada Beach. You can also walk the trails through the Khale meadow and woods or ski all day at Heavenly Ski Resort. Cap off the day with a romantic walk along the shores of Lake Tahoe.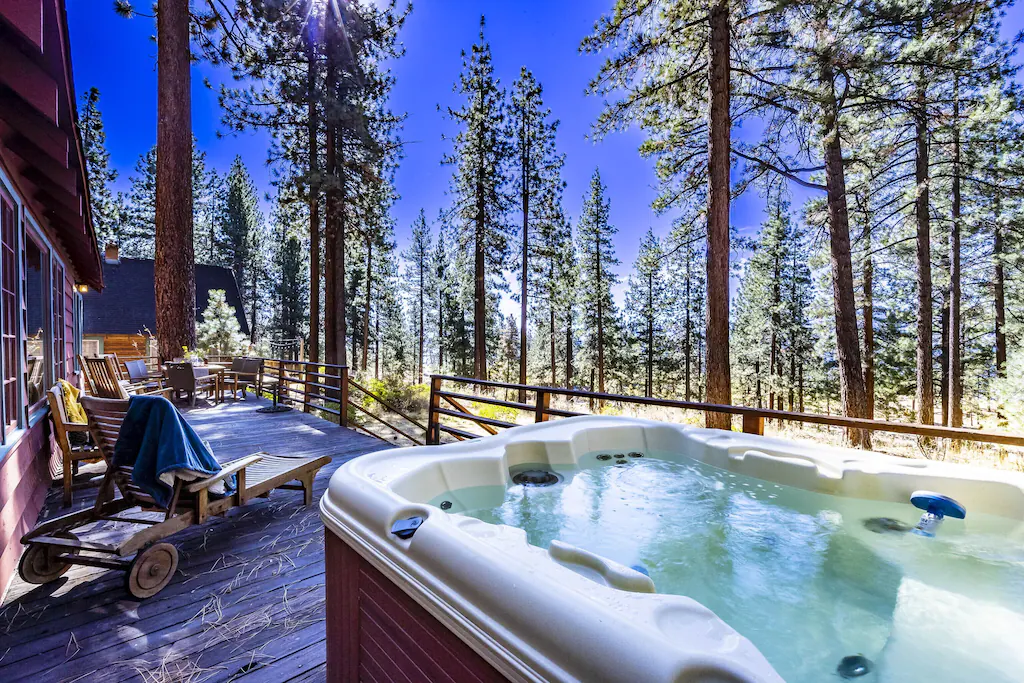 ---
Lake Tahoe Retreat
Where: Tyrolian Village, Nevada
Price: $270+ per night
https://www.vrbo.com/4900977ha
Start your romantic holiday in this retreat home set in Tyrolian Village. Sit back and enjoy captivating views of the slopes from this inviting home! Relax and lounge with your loved one by the stone fireplace or see the sunset over Tahoe National Forest from the back deck.
The living room includes comfortable seating, a large flat-screen TV, and a gas fireplace. During your stay, you have access to the HOA's private beaches that offer recreation like an outdoor pool, play structures, volleyball nets, picnic tables, and many more.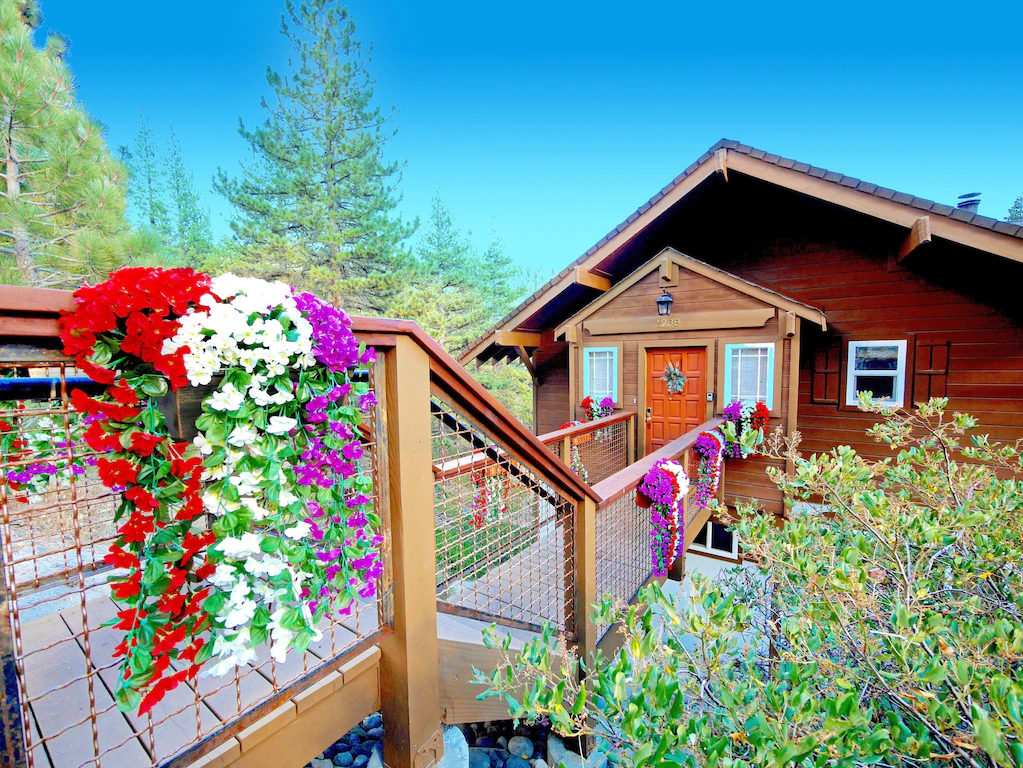 ---
Lake View Romantic Cabin
Where: Incline Village, Nevada
Price: $1,500+ per night
https://www.vrbo.com/9574667ha
Spend your first trip with your special someone exploring Lake Tahoe. No matter what season, you'll always have a good time in this spacious, lake-view modern three-story home. It's perfect for couples (because everyone will have their own private space) looking for a luxurious yet rustic vacation surrounded by nature.
Kick back in the cozy sofa while getting warm from the two-story fireplace, the kitchen holds a large island and breakfast bar perfect for cooking and gathering simultaneously. Hotel amenities include a large en suite with an oversized bathtub with a view of the lake, an Echelon bike and treadmill, and all floors extend to a deck – which makes your stay worth the price.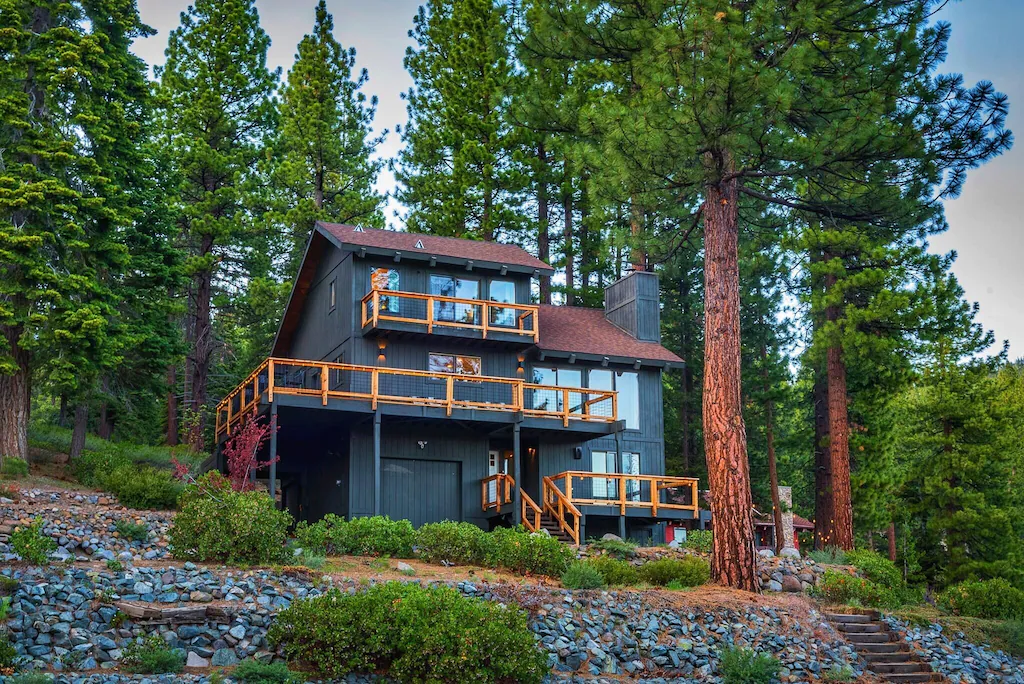 ---
Amazing Grace Lodge
Where: Story County, Nevada
Price: $387+ per night
Amazing Grace Lodge is perfect for a quiet, romantic getaway filled with beautiful views and outdoor adventures. This cabin located in Storey County was hand-built with the thought of providing warmth, comfort and luxury.
The cabin is outfitted with a cozy living area, a spacious full kitchen, rooms with comfortable bed and linens, and deck with seating and table. Indulge in a relaxing hot tub bath with your partner, a glass of champagne, chocolates and a sky full of stars on the side. Couples looking to spend time outdoors can enjoy skiing, golf, and many more.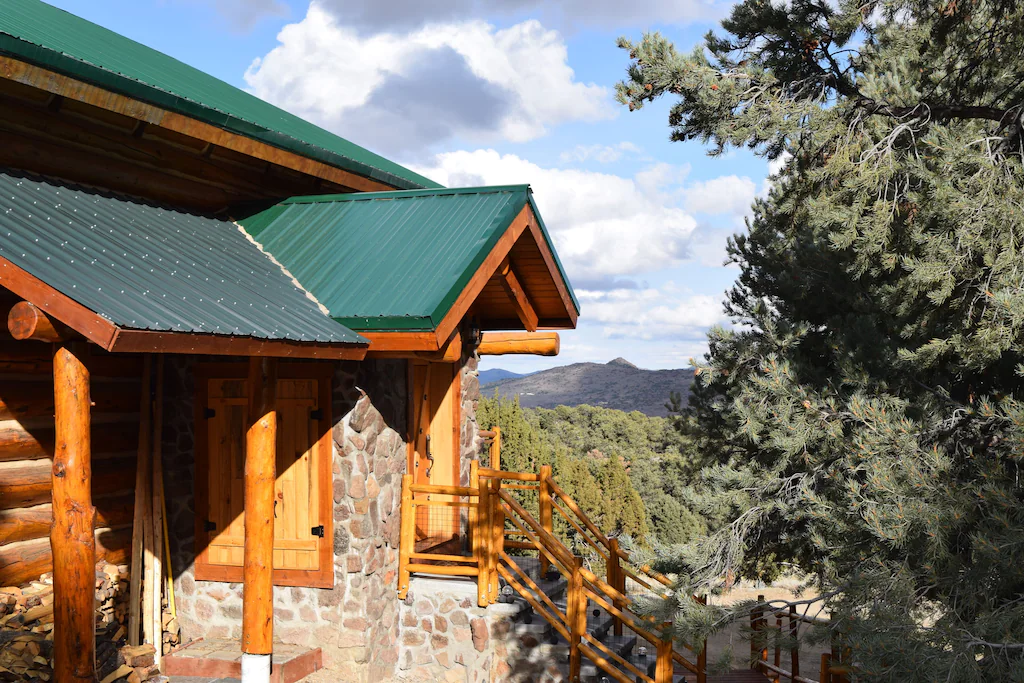 ---
Cozy Cabin Retreat in Mt Charleston
Where: Mount Charleston, Nevada
Price: $200+ per night
Slip away to Mount Charleston, Nevada for a romantic holiday with your beloved. For your stay, book this cozy cabin that features modern amenities including the essentials, a fireplace in each area and rooms, a full kitchen, entertainment, and even a laundry room.
The cabin also boasts a private whirlpool spa in the deck, a gas fire table and a heater on deck. While the cabin sleeps 9, it's ideal for a romantic retreat as well. Be the first ones to experience this beautiful cabin retreat.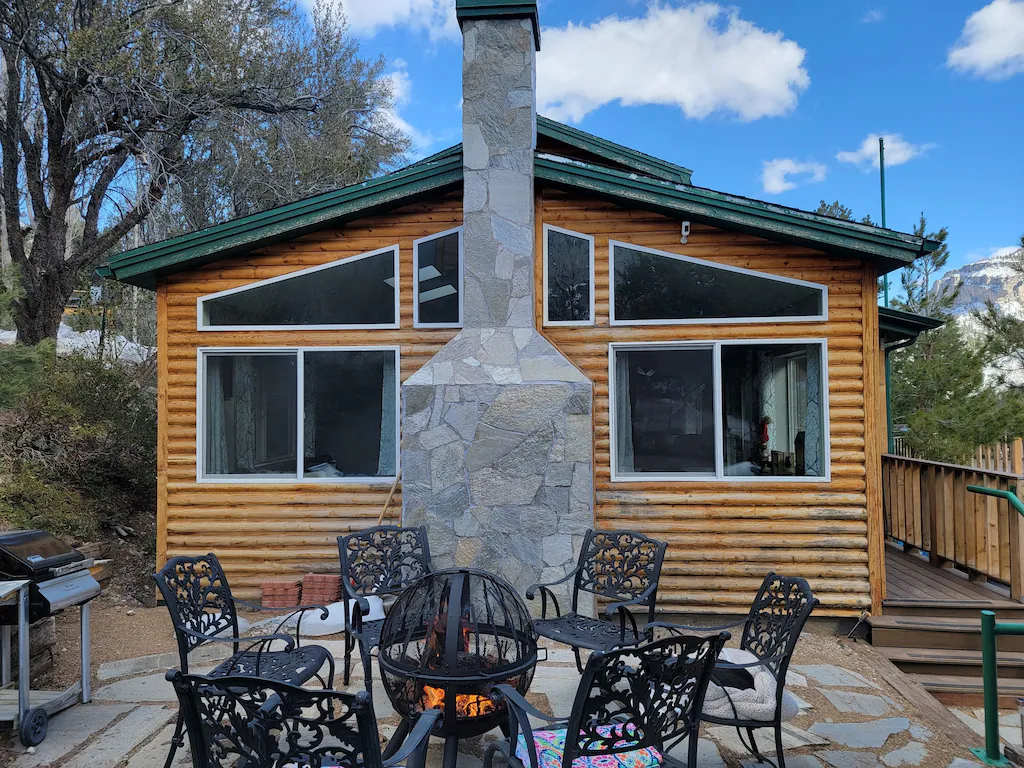 ---
Dreamy Tahoe Escape
Where: Incline Village, Nevada
Price: $273+ per night
If you're looking for that "dreamy Tahoe escape" with your significant other, I think I found it. Incline Inclination perfectly showcases the rustic charm of Incline Village and modern comforts of travelling.
It offers a space for you to relax in style and make the best memories in no time. After a full day of outdoor activities, step out to the large deck and enjoy a home-cooked meal around the outdoor dining table. Switch on the firepit and relax on the comfortable outdoor sofa for a movie night with toasted 'Smores. On chilly days and nights, you'll have plenty of comforts to keep you entertained indoors.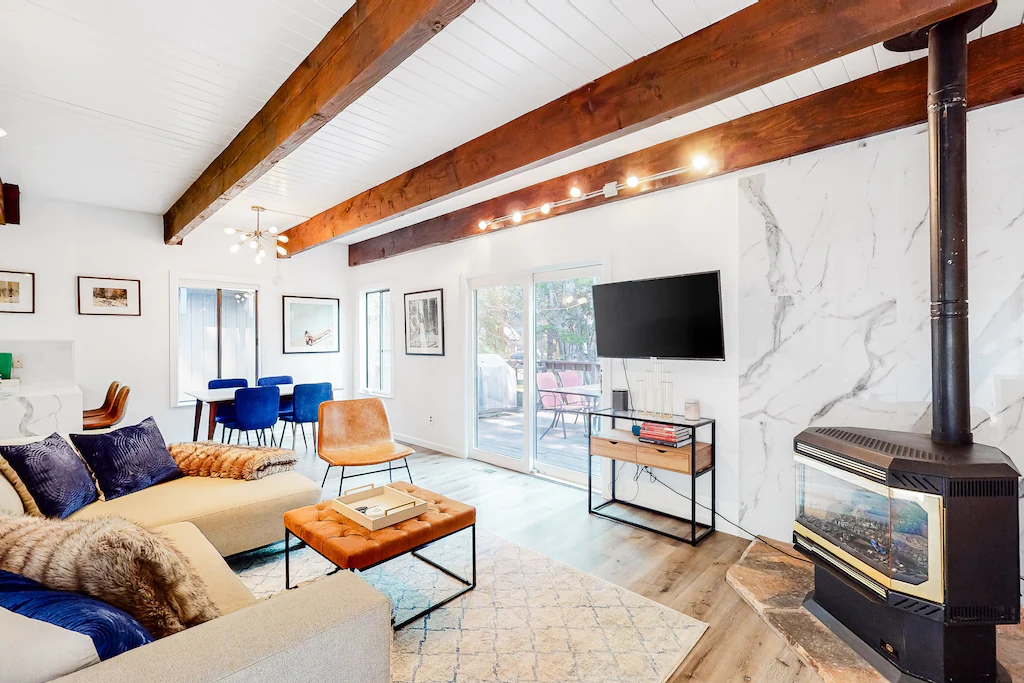 ---
Midtown Cottage
Where: Reno, Nevada
Price: $134+ per night
https://www.vrbo.com/9563659ha
An electric fireplace, stainless steel appliances, medium-toned wood floors, grey walls, and a modern interior are just a few of the details that make this midtown cottage, a charmer. Located in Reno, you and your significant other can visit museums, try your luck at casinos, and experience outdoor fun like golfing and skiing. Visit and explore nearby cities where you can go shopping, dine, and relax. This is the perfect space for honeymooners or couples on a holiday.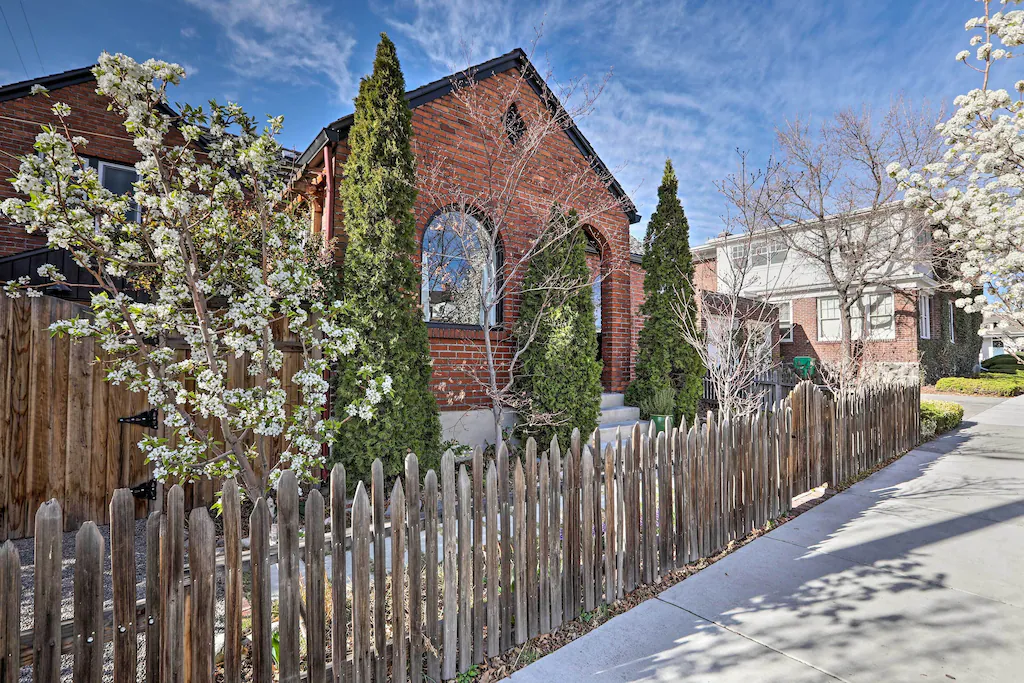 ---
Tiny 1947 Mt. Charleston Cabin
Where: Mount Charleston, Nevada
Price: $61+ per night
Tiny 1947 Mt. Charleston Cabin offers an affordable space for couples on a budget. It may be tiny in size and fairly cheap, but it goes above and beyond. Its historic vibe remains, but chic details and modern interiors like the wood-burning fireplace, cozy living space, and cozy bedroom set it over the top. 
The cabin is located close to areas that offer great hiking trails and activities such as rock climbing, and mountain biking. For dining and options, you can find Lodge Restaurant and The Resort which offers great food and music. Tiny 1947 Cabin doesn't disappoint. Seriously, you have to check this cabin out!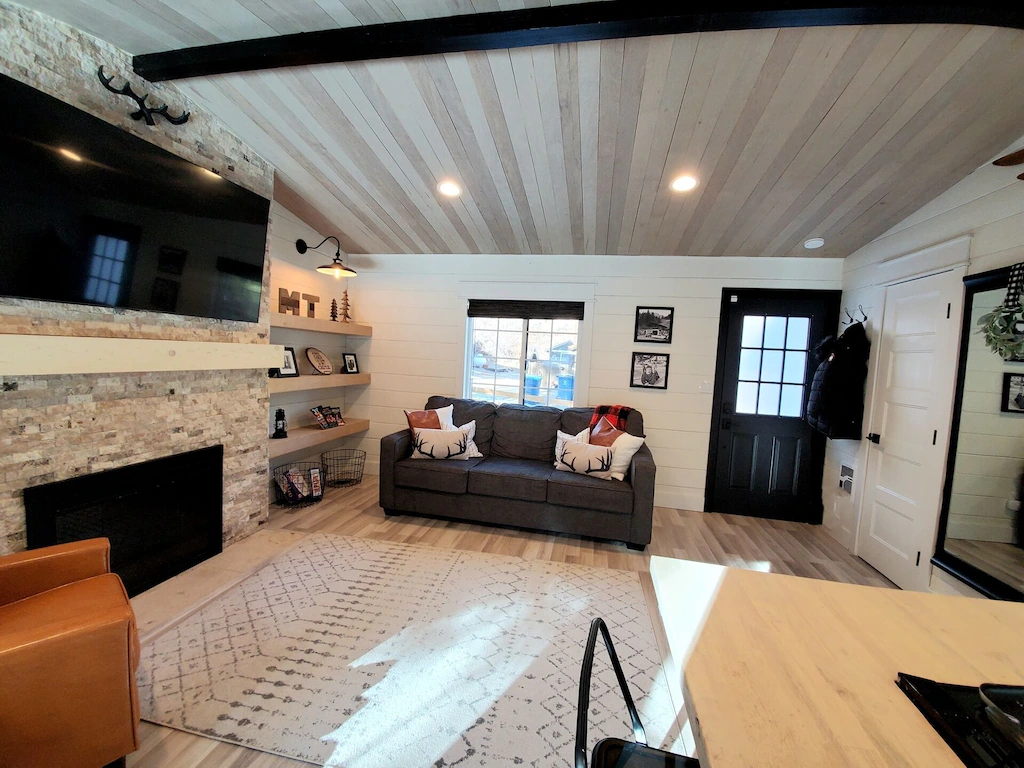 ---
Red Dog Retreat 
Where: Nevada City, Nevada
Price: $236+ per night
https://www.airbnb.com/rooms/5019377 
Red Dog Retreat offers a tranquil experience and a chance to spend quality time with your special someone with no other distractions. Its a 2-bedroom cabin in Nevada City that features a spacious living area with floor-to-ceiling windows, a dedicated reading, and working space, a modern kitchen, and dining. The wraparound deck features outdoor chairs around a gas firepit where you can cozy up and spend the evening.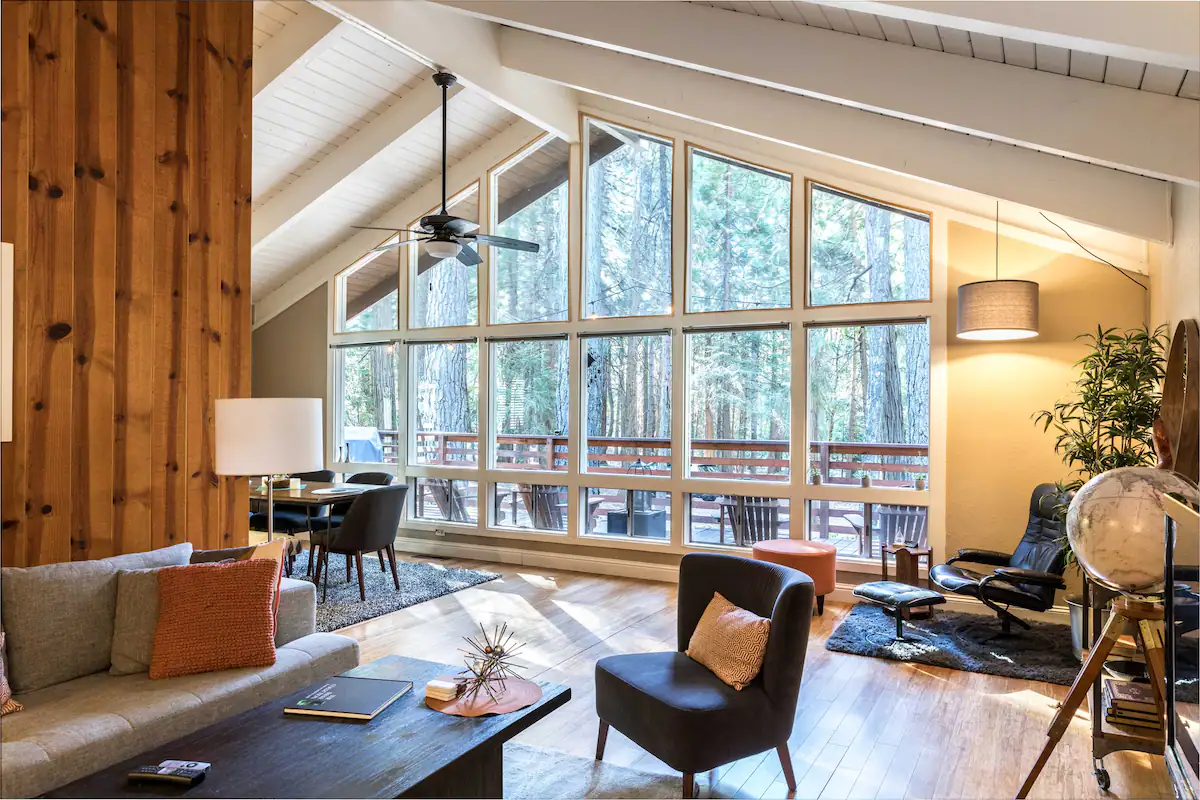 ---
The Cascade Cabin
Where: Nevada City, Nevada
Price: $189+ per night
https://www.airbnb.com/rooms/52601410 
Serenity? Check. Cozy and warm living space? Double check. The Cascade Cabin promises a romantic and magical experience for you and your significant other. Escape your reality for a while and spend it in this space designed for rest and rejuvenation. Prepare a hearty meal in the modern kitchen or take your loved ones to dine at a bistro in downtown Nevada City. It's also a few minutes away from the lake. You sure will have an amazing stay in Cascade Cabin!