Looking for some peace and quiet while immersing yourself in nature? Look no further than this list of secluded cabins in Pennsylvania. Whether travelling with a partner, friends, or the whole family, there is something for everyone on our list of remote Pennsylvania cabin rentals. 
Each of these beautiful cabins is set far away from the hustle and bustle of day-to-day life. Nestled amongst acres of land, or close to natural attractions, these cabins automatically create that feeling of deep rest and relaxation.
Perfect for those who want to enjoy silence indoors or spend time in nature, you are sure of a true getaway in this beautiful State. Enjoy the rustic and homey feeling of a log cabin while utilizing modern amenities to provide a sense of comfort during your next cabin stay in Pennsylvania. 
Be sure to also read my guides on Cabin Rentals in Maryland & Romantic Cabins in Hocking Hills for more unique stays in the area!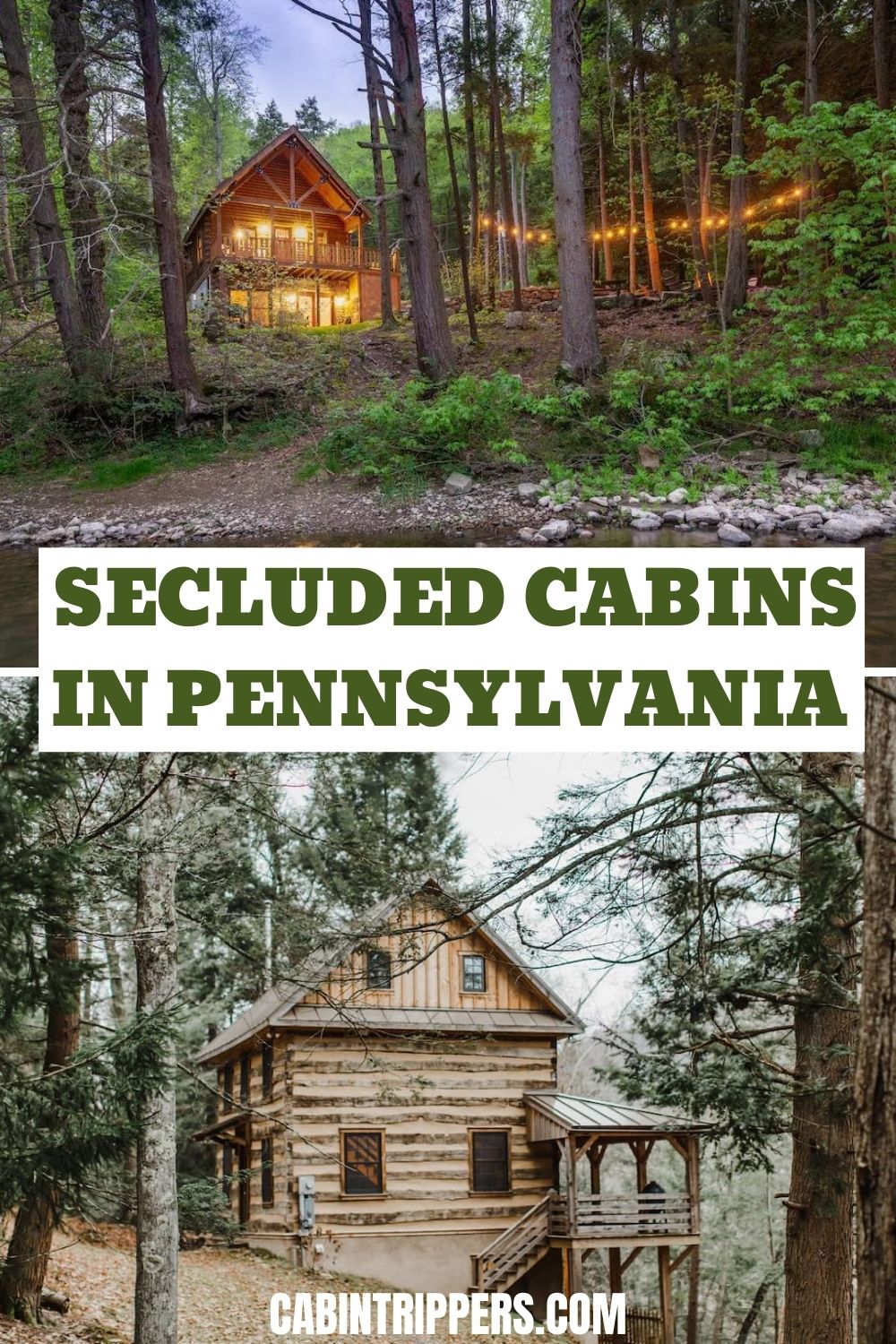 ---
Secluded Cabin in the Woods of Pennsylvania
Location: Centerville, Pennsylvania
Price: $200+ per night
This 1,600 square foot, new log cabin, is set amongst 28-acres in the hills of northwestern Pennsylvania. With a nearby stream, plenty of wooded areas, and wildlife surrounding the cabin – it feels like a true oasis. With three bedrooms and two full bathrooms alongside a loft, the cabin can comfortably sleep eight guests. It is equipped with a modern kitchen, outdoor grill, fireplace, and wrap-around deck overlooking the stream.
The master bedroom has a queen bed, walk-in closet, and even a jacuzzi tub! The loft has a TV, DVD player and XBox for household entertainment. Just 30-minutes from the cabin there are tons of hiking and biking trails, national parks, lakes, and museums to explore. Being a half-mile off the main road, this beautiful home offers tons of privacy and a feeling of seclusion amongst the trees.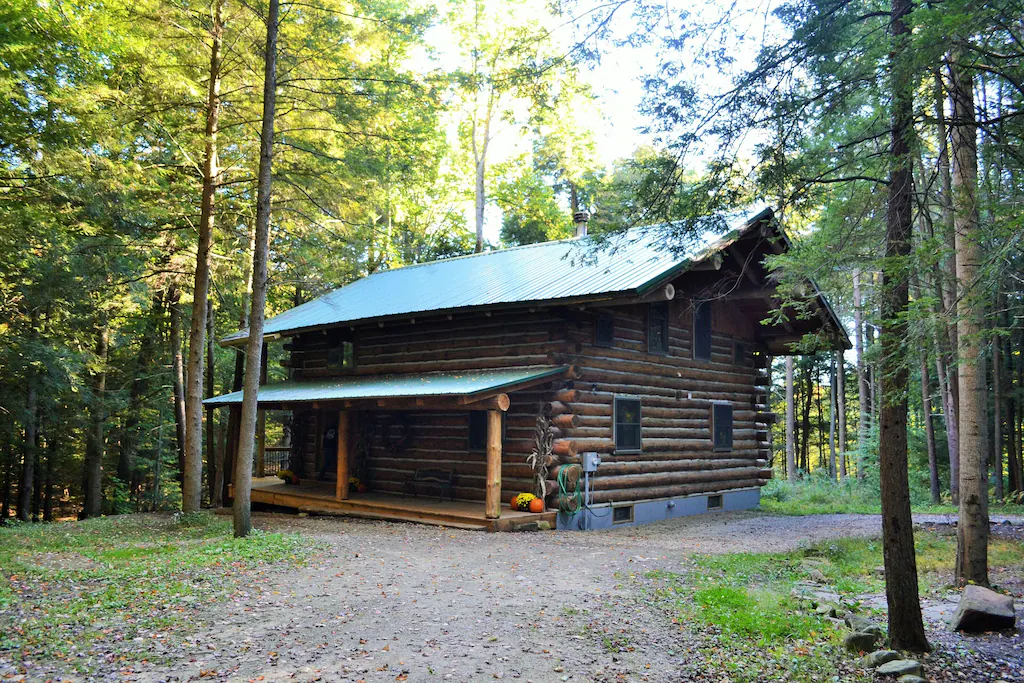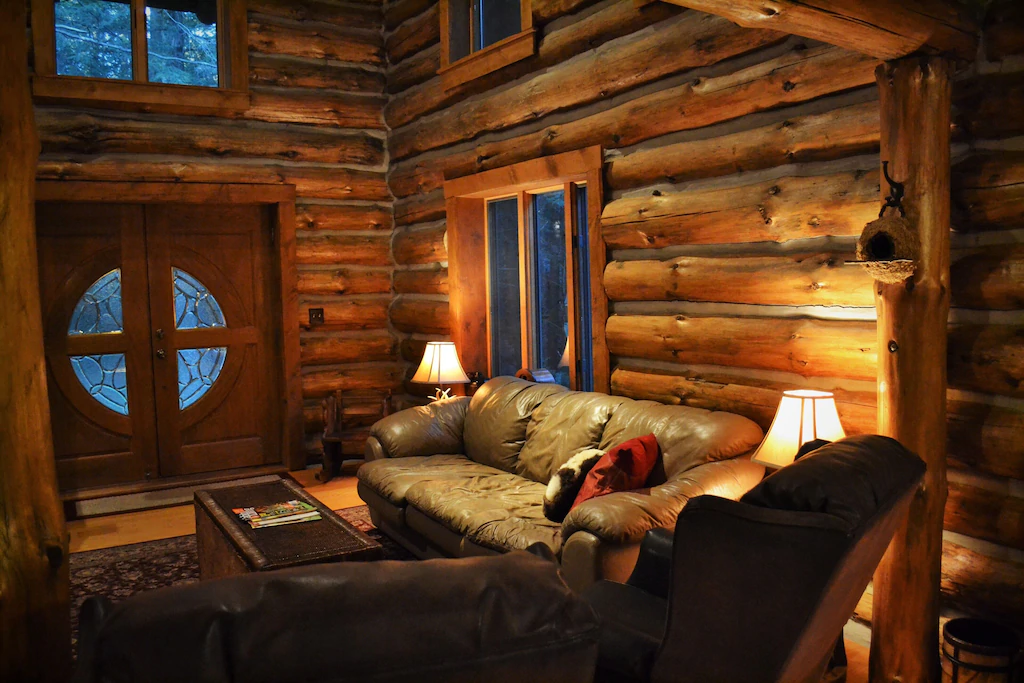 ---
Log Cabin in the Endless Mountains 
Location: Williamsport, Pennsylvania
Price: $342+ per night
https://www.airbnb.com/rooms/6076214
This beautiful log cabin on the Loyalsock Creek, among the Endless Mountains, is both quiet and quaint and perfect for a secluded getaway in Pennsylvania. It's a quintessential cabin in the woods, great for disconnecting while reconnecting with nature. You can spend your time enjoying the fresh mountain air, hiking and observing the nearby wildlife. With two bedrooms and floors, the cabin has plenty of space for up to eight guests to enjoy.
A daylight basement has a bed and bath. Then, the first floor hosts the kitchen, dining room, and living room. On the second floor there is a master suite and full bath as well as another room with three single beds. Above, the third floor has a queen bed and private bath. Made to encourage guests to disconnect, wifi is limited, but as the house is located nearby the creek, guests can enjoy swimming, fishing, tubing, and kayaking instead!
The porch is a perfect place to read and listen to the water running in the creek below. Don't miss a chance to enjoy the solitude and serenity that comes with staying at this log cabin in the Endless Mountains.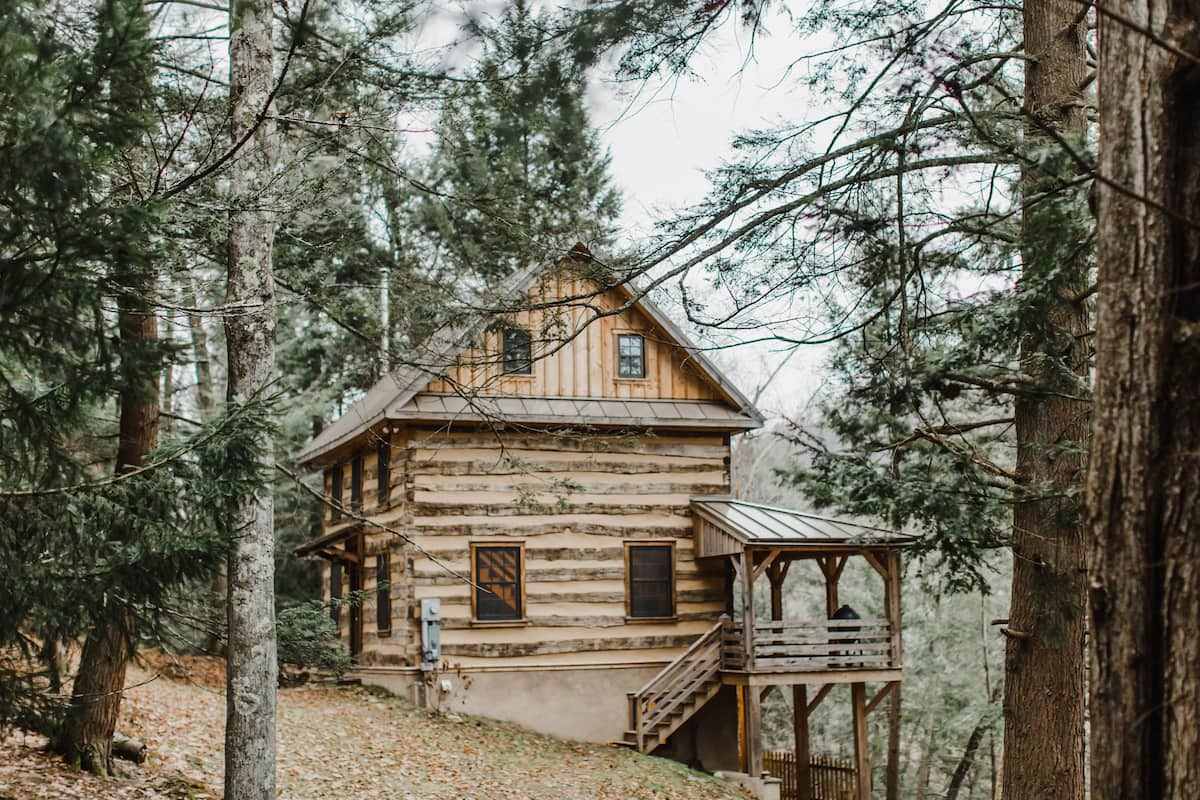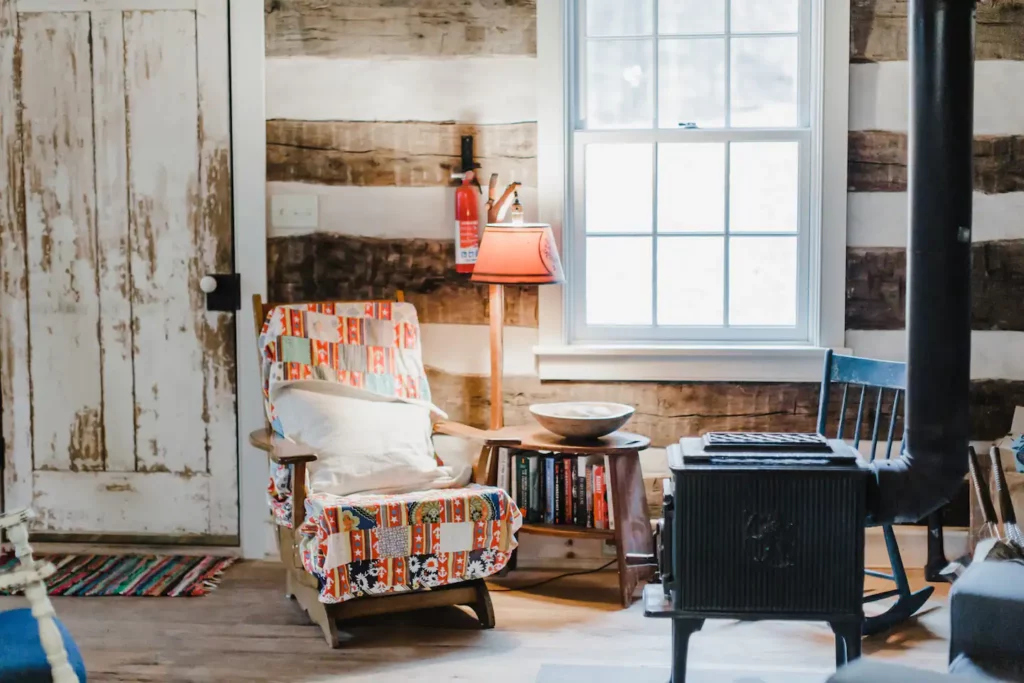 ---
The Tree House Cabin
Location: Beach Lake, Pennsylvania
Price: $263+ per night
https://www.airbnb.com/rooms/31918051
This unique treehouse is situated atop a hill in 9-acres of private woods; talk about being secluded! It's a beautiful setting in the middle of the woods amongst plenty of trees. The interior is packed with modern amenities and trendy decor. The warm colors, plentiful windows, and abundance of indoor plants give the space a light, airy, and homey feel.
The outdoor porch area is perfect for relaxing and enjoying the sounds of nature or reading from the hammock. The outdoor fire pit area is great for stargazing and telling stories around the fire. The house is complete with a fireplace, Wi-Fi, record player, board games, a fully equipped kitchen, an antique tub, and a comfortable king bed. It's ideal for a couple or a small family seeking a secluded cabin in Pennsylvania for their next vacation.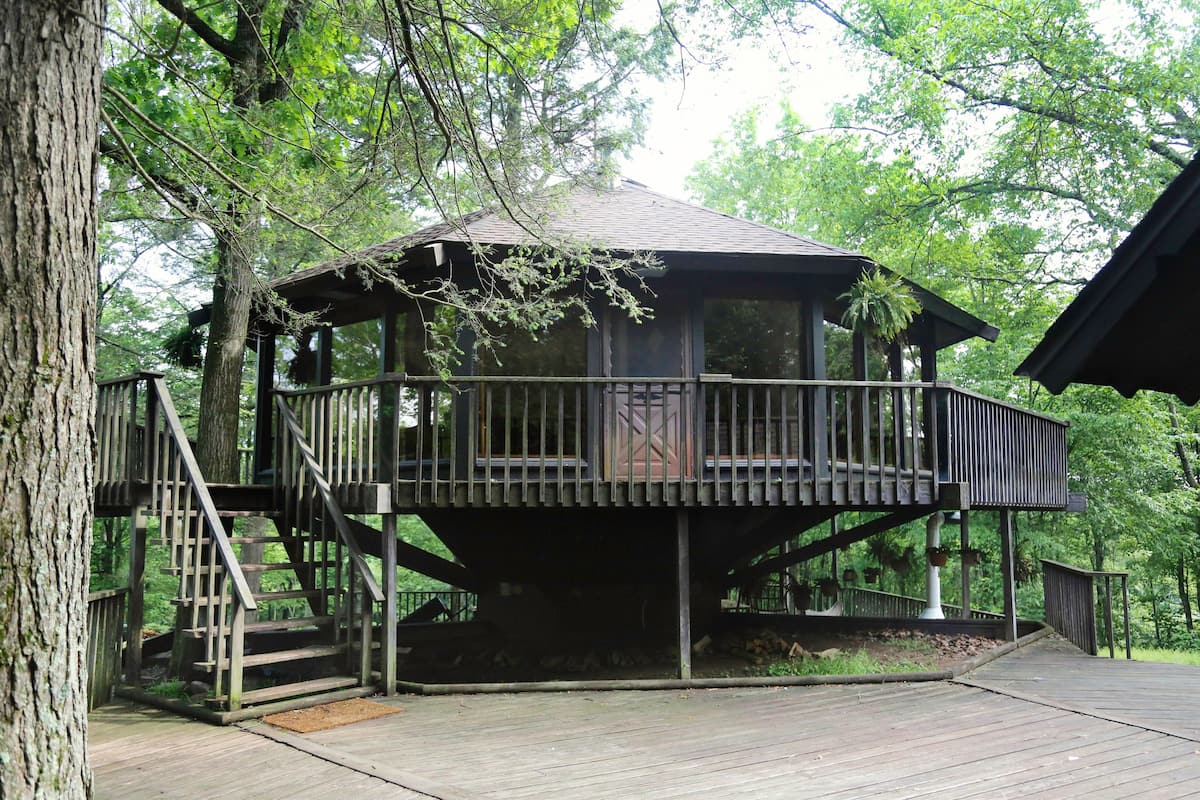 ---
Serenity on Saunders Drive
Location: Bushkill, Pennsylvania
Price: $342+ per night
https://www.booking.com/hotel/us/serenity-on-saunders-drive.en-gb.html
Ideal for large groups, this five-bedroom home can sleep up to 16 guests, making it ideal for an extended family (or friends) getaway! This is even more true when you take into account the indoor and outdoor pools available in the holiday park which you'll enjoy access to. While this means it isn't the most secluded cabin in Pennsylvania, the park designers have done a great job at ensuring the cabins are well spaced out so you can still enjoy that rural feeling, whilst having access to facilities.
Just a short drive from Mount Pocono, the location is a fantastic base. Inside the cabin, you'll find plenty of modern cons, such as flat-screen TVs and connections, while the deck out front is perfect for enjoying a family-style feast. BBQ's can be used within the park, and ski equipment rental can also be arranged if visiting in the snowy months.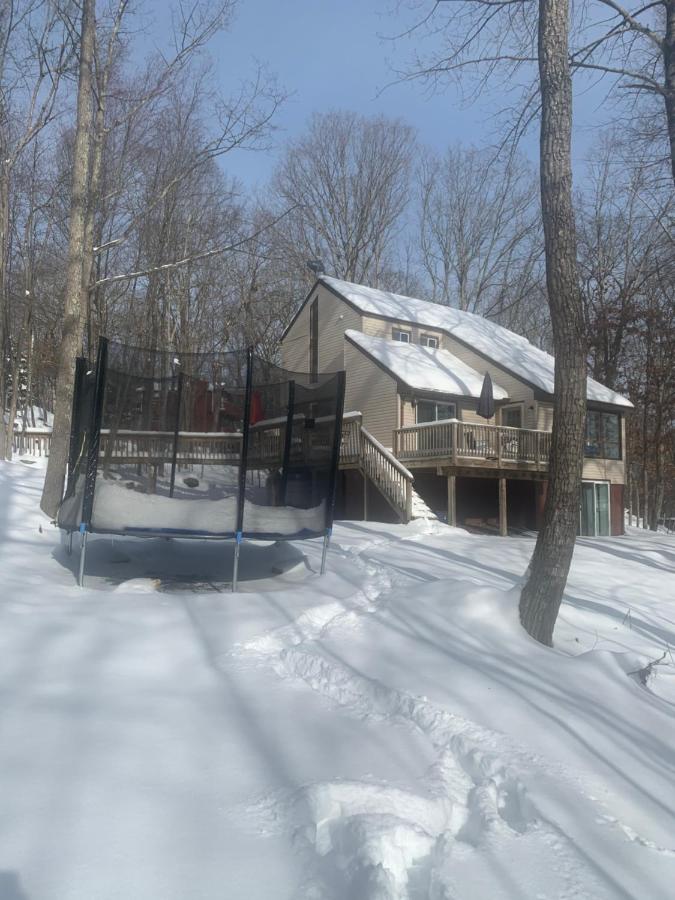 ---
Quaint Secluded Cabin near PA State Parks
Location: Benton, Pennsylvania
Price: $172+ per night
https://www.airbnb.com/rooms/33739681
This cozy, rustic, and yet modern cabin, is a wonderful place to enjoy the serenity and beauty of nature. With a whirlpool tub, air conditioning, gas fireplace, and other modern conveniences, it is guaranteed to offer you a comfortable stay while still maintaining the old style cabin look and feel. The beautiful hand-hewn beams, stonework, and old wood floors add a sense of rustic elegance.
With a bedroom downstairs and a loft, the cabin can comfortably sleep four guests. Surrounded by forest, the house is nearby to plenty of hiking trails and the front porch is a perfect place to enjoy the sounds of nature. As there is little reception in the woods, this cabin is perfect for those looking to relax, unplug from technology, and tune in to their surroundings.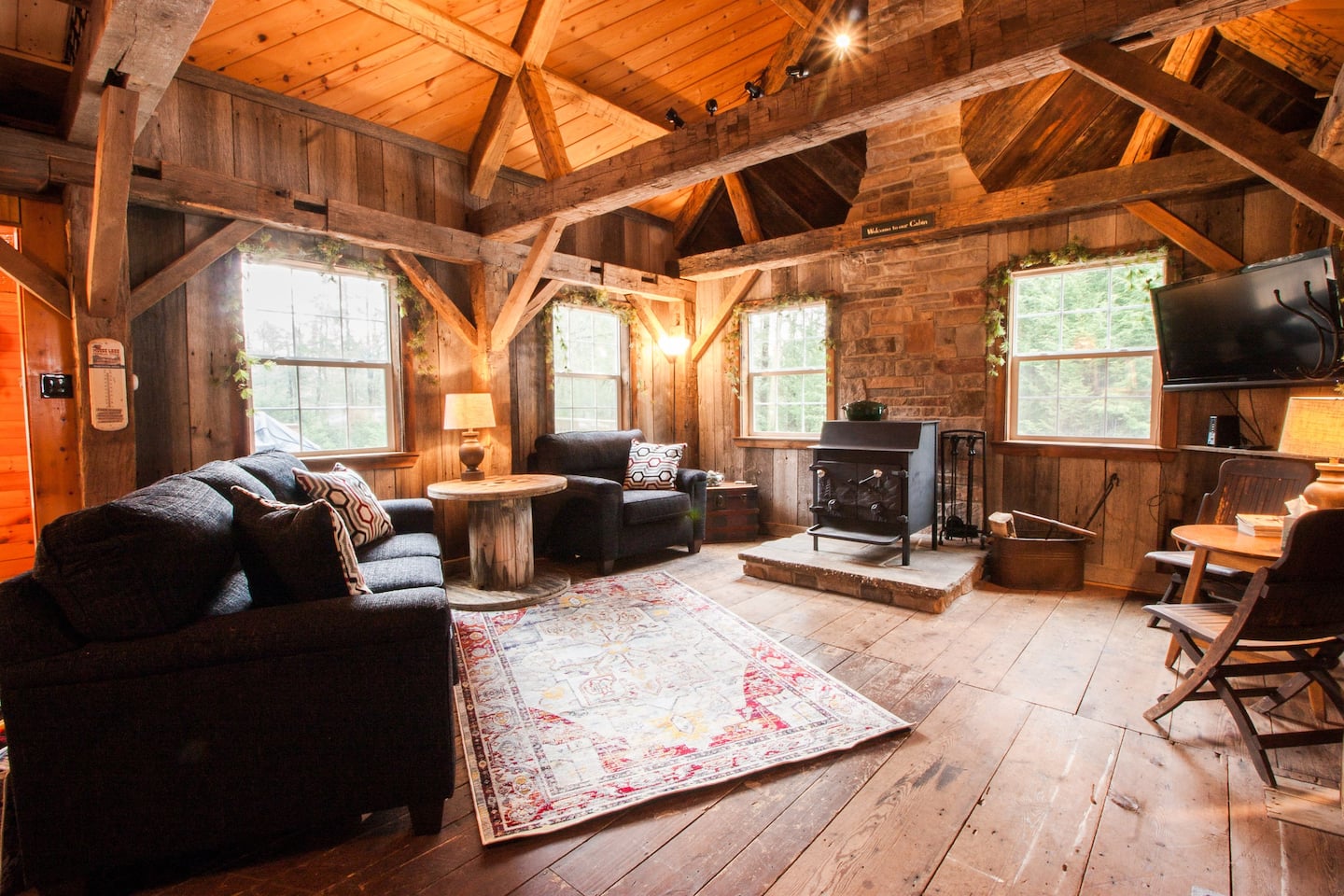 ---
Dear Path Cabin, A Tiny Off-Grid Cabin
Location: Ringtown, Pennsylvania
Price: $94+ per night
https://www.airbnb.com/rooms/38359096
Deer Path Cabin is another incredible space to relax, disconnect, and recharge. An off-the-grid tiny home in the woods offering a true glamping experience. Guests can enjoy their stay sitting by the fire, cooking out on the grill, enjoying a cup of coffee or wine from the porch, or hiking in the nearby parks. The house offers a unique and eco-friendly experience as it is completely off the grid and runs on solar energy only.
It does however still have WiFi and a Smart TV if you're looking to stay somewhat connected. With no neighbors in sight, except the owner's home, this cabin offers a true feeling of privacy and seclusion. With a queen bed and sofa bed, it can sleep up to three guests. There is a kitchenette for storing food and drinks, a DVD player, and Nintendo. The bathroom has a composting toilet and during the summer there's an outdoor shower for use. As a bonus, guests can enjoy fresh eggs from the owner's chickens for breakfast! Enjoy simple living at its finest at Dear Path Cabin.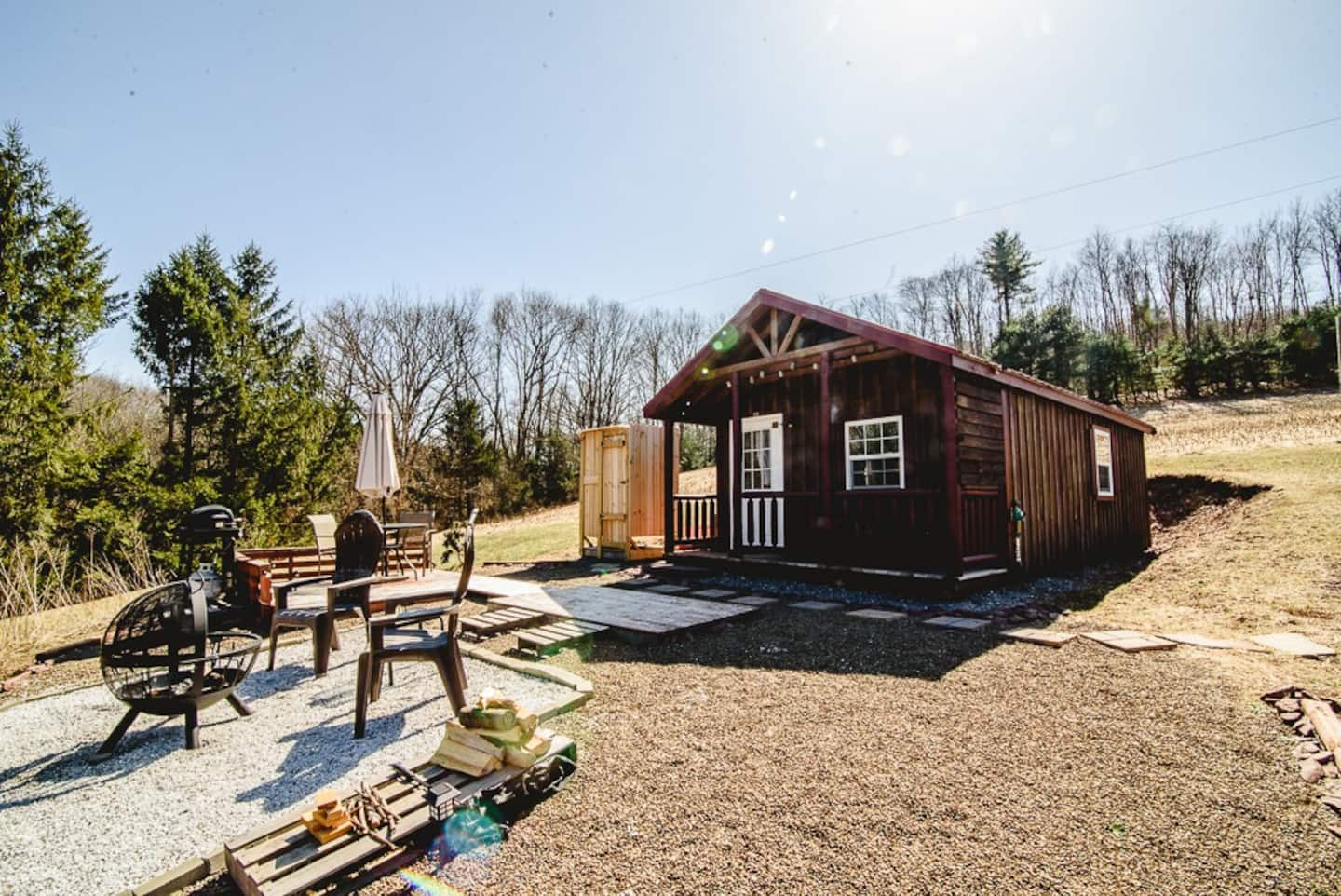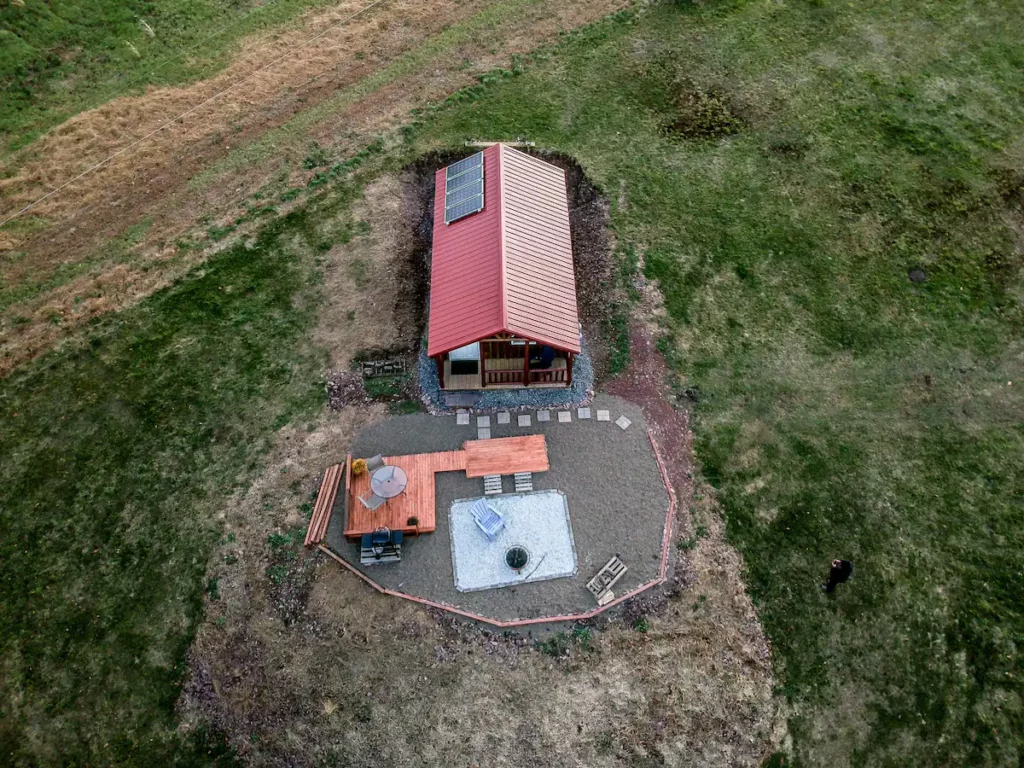 ---
The Treehouse at Fernstone Retreat 
Location: Farmington, Pennsylvania
Price: $263+ per night
https://www.airbnb.com/rooms/26942968
This beautiful and rustic treehouse on private wooded grounds is another perfect place to stay for those looking for serenity and peace amongst nature during a secluded Pennsylvania cabin stay. Located minutes from Ohiopyle and nestled amongst trees, Fernstone Treehouse feels like an enchanted fairytale dream.
The house is hand-crafted from natural timber and has a large winding staircase leading up to it. With one bedroom, it's a perfect romantic getaway for couples. With only the sound of the birds and the whispering of the trees to lull you to sleep, or enjoy while in the hot tub, it's a true fantasy. As it's intended to allow guests to fully enjoy the nature and beauty around them, there is no internet access at the house.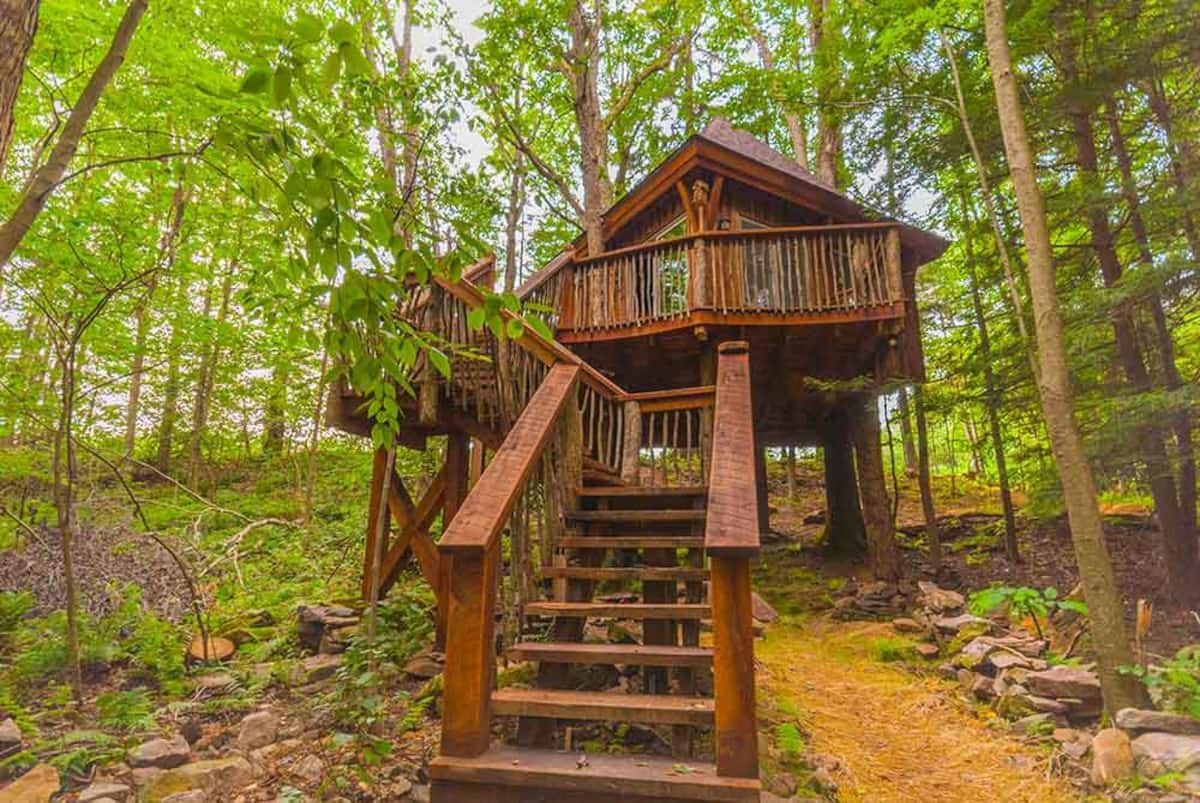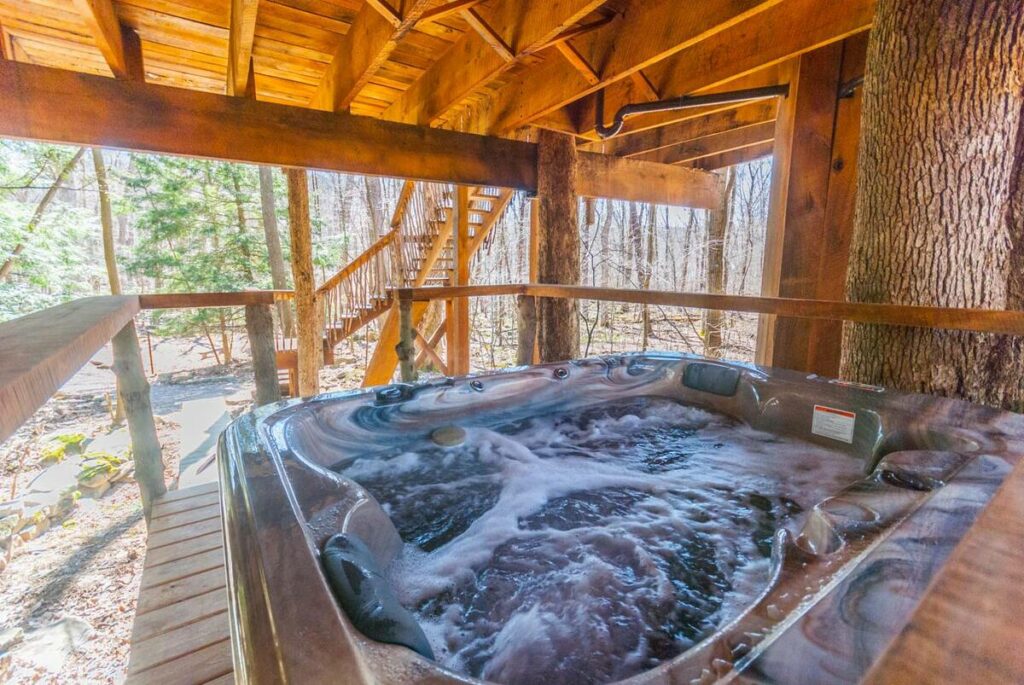 ---
Secluded Cabin Getaway on 10 Private Wooded Acres with Hot Tub
Location: Robesonia, Pennsylvania
Price: $309+ per night
https://www.vrbo.com/4069902ha
This large chalet-style A-Frame home on ten private and wooded acres is enchanting and perfect for a remote and secluded getaway. While it's only a short drive from restaurants and grocery stores, it feels like the only place in existence once you're out there. With a high-end renovated finish and new appliances, this cabin feels homey and modern, while still maintaining the aged ceiling beams from the original structure.
Sitting atop a 2-acre clearing near 10 wooded acres, the road isn't even visible from the house. Did we mention privacy?! With a chemical-free hot tub and fireplace on the patio and the bonus of an indoor jacuzzi, it has relaxation and romance written all over it.
There are plenty of trails to explore along the woods or creek near the house as well. The modern kitchen is complete with granite countertops and stainless steel appliances to encourage a delicious home-cooked meal. For those who need to stay somewhat connected, there is WiFi available. This one-bedroom A-Frame is perfect for couples looking to treat themselves surrounded by nature.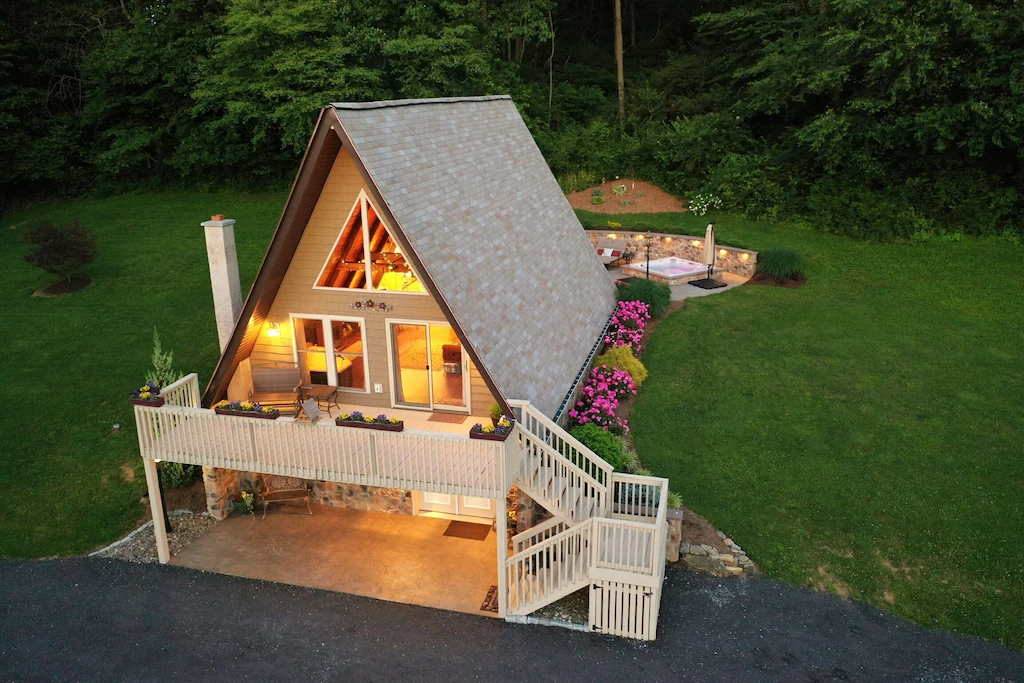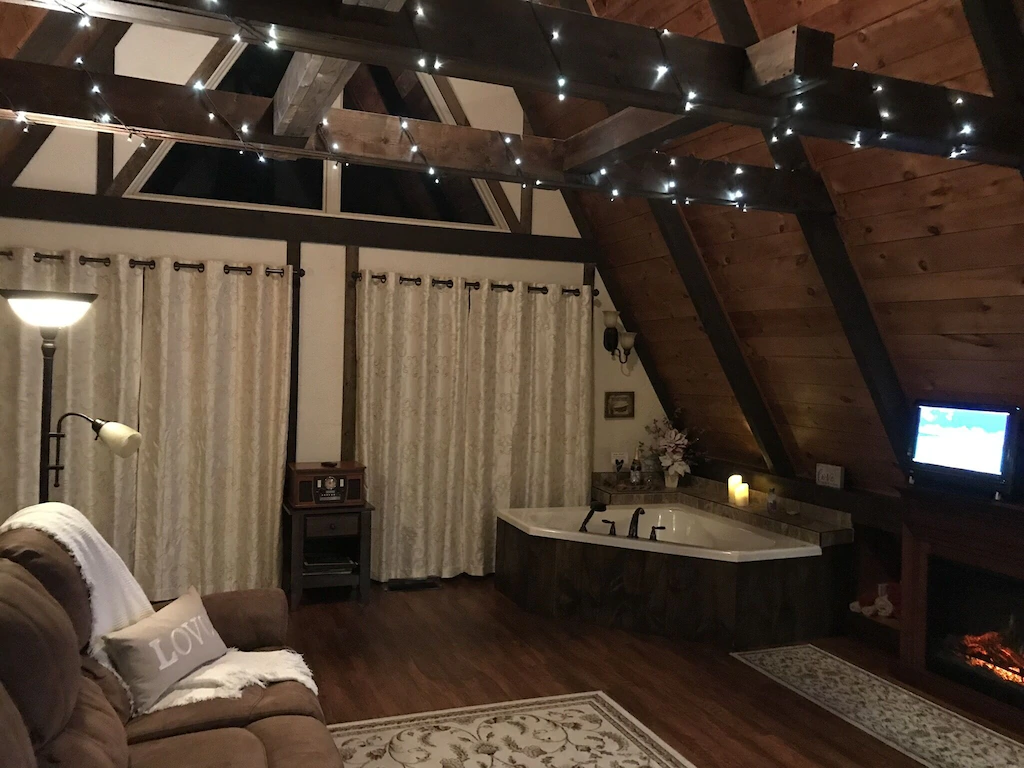 ---
Woodland Modern Cabin
Location: Tobyhanna, Pennsylvania
Price: $545+ per night
https://www.booking.com/hotel/us/woodland.en-gb.html?
This five-bedroom cabin (with an additional sofa bed in the lounge) can host 11 guests, making it another ideal option for larger groups. Nestled in Tobyhanna, the wooded location is dreamy, but you're also close to a water park, casino, and skiing options!
Close by to the cabin you have access to restaurants and seasonal pools, while the cabin itself is well equipped with ample space. Alongside the five bedrooms, a generous, traditional-style lounge and kitchen provide the perfect base to explore the area, with Mount Pocono only a short drive away.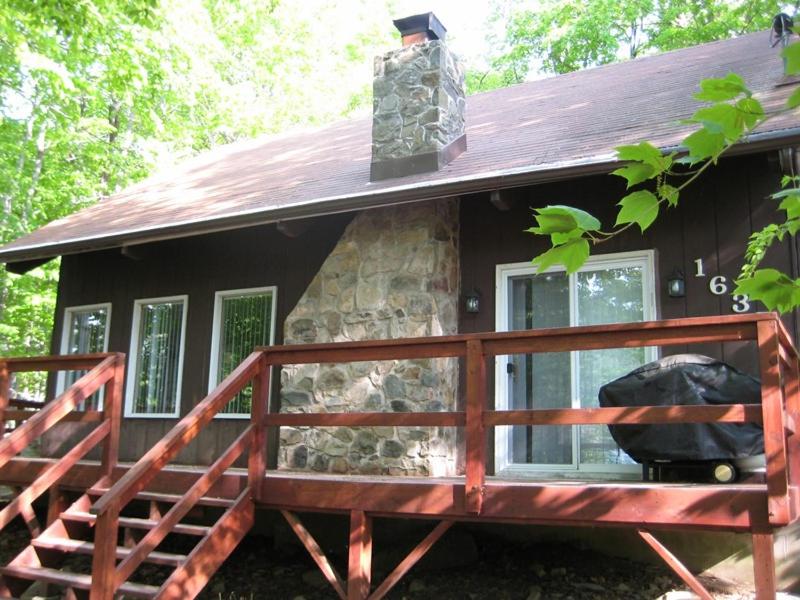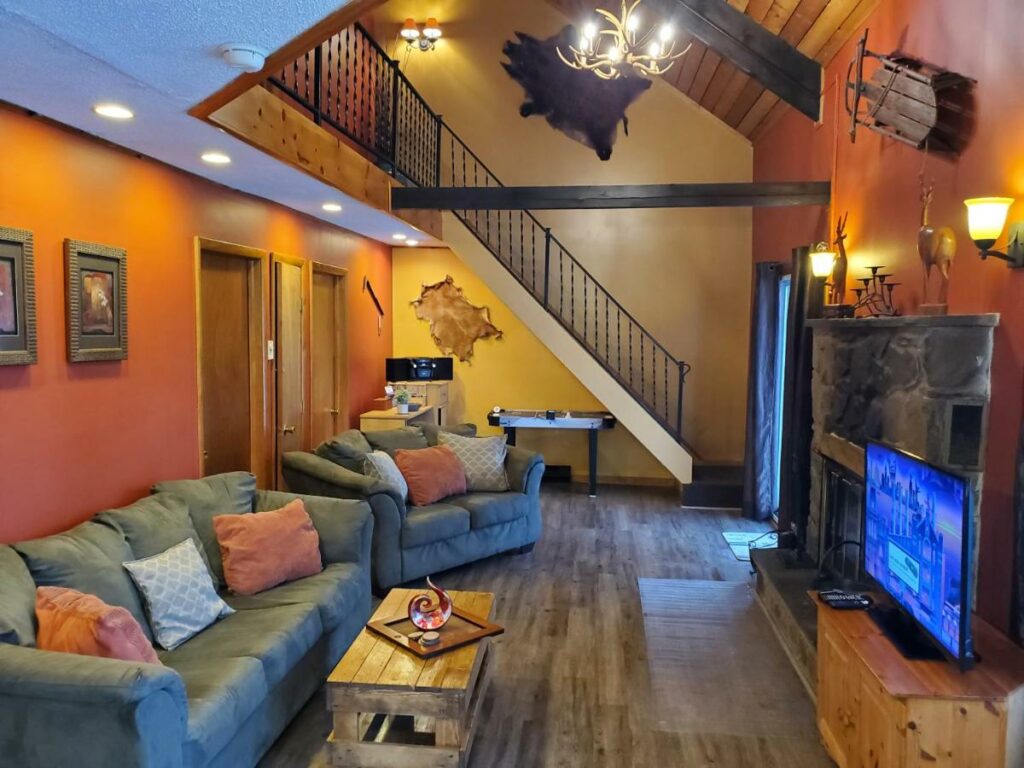 ---
Cabin On The River
Location: Millmont, Pennsylvania
Price: $281+ per night
https://www.vrbo.com/9506082ha
This two-bedroom, two-bath cabin is located in the Bad Eagle State Forest near Penns Creek and makes for a great secluded cabin rental in Pennsylvania.
The cabin combines modern amenities with a rustic cabin feel, providing comfort and relaxation for you during your stay. With a fully equipped kitchen, granite countertops, and new appliances, it has everything needed to prepare delicious home-cooked meals.
The upstairs loft has a couch and queen bed while the downstairs has two sets of bunk beds. Outside is a stone patio with a fire pit and outdoor seating to enjoy the sounds of the creek and take in the views. Hiking, mountain biking, fishing or kayaking in the creek, or ATVing in the nearby trails make for plenty of adventure options for the outdoor enthusiast!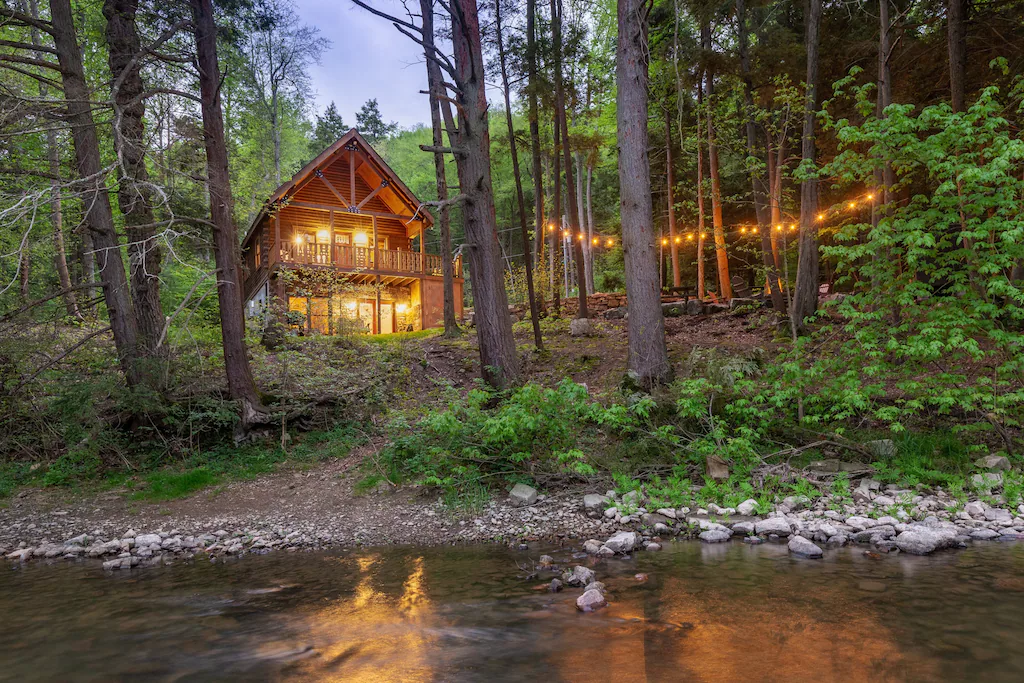 ---
A Beautiful Fully Furnished Log Cabin overlooking Keuka Lake 
Location: Penn Yan, Pennsylvania
Price: $205+ per night
This 2-bedroom, 1-bath cabin sits atop six acres of land and overlooks the beautiful Keuka Lake. With 1,100 square feet, the fully furnished log cabin has plenty of space to relax and unwind. With two beds in the upstairs loft and two beds downstairs, it can sleep up to eight people. This cabin is perfect for a romantic getaway or remote vacation with friends or family.
With no other house in sight, a huge front lawn, and surrounded by woods, the cabin is truly remote and secluded. The outdoor area is great for playing games, relaxing on the porch, or sitting by the fire pit outside under the stars. Inside has plenty of hangout space and modern amenities to make for a comfortable and cozy stay.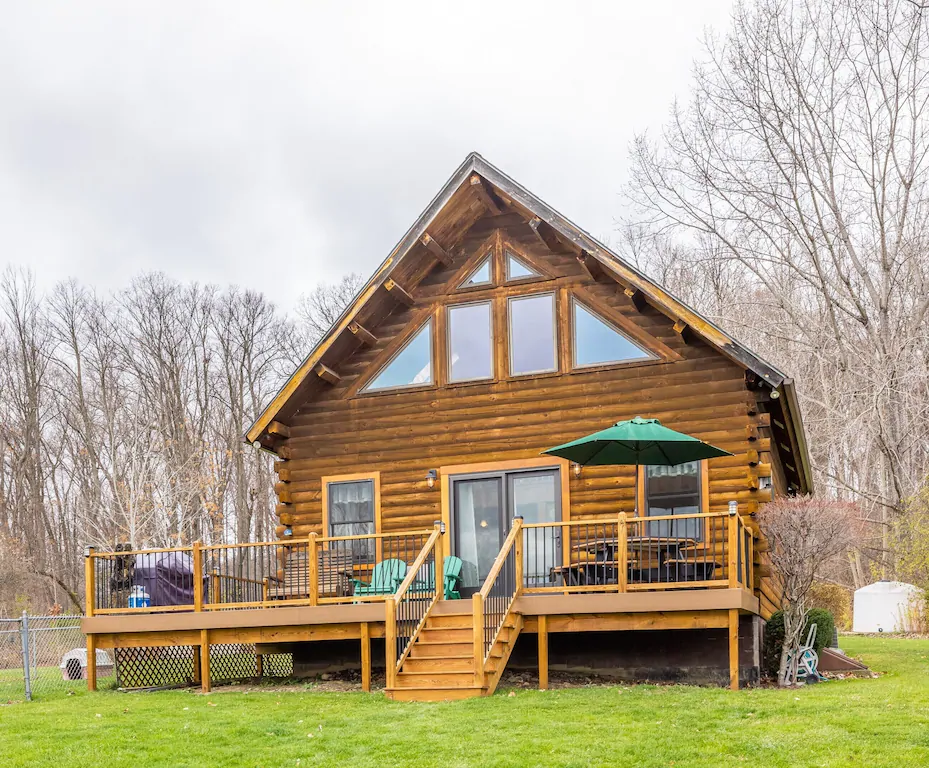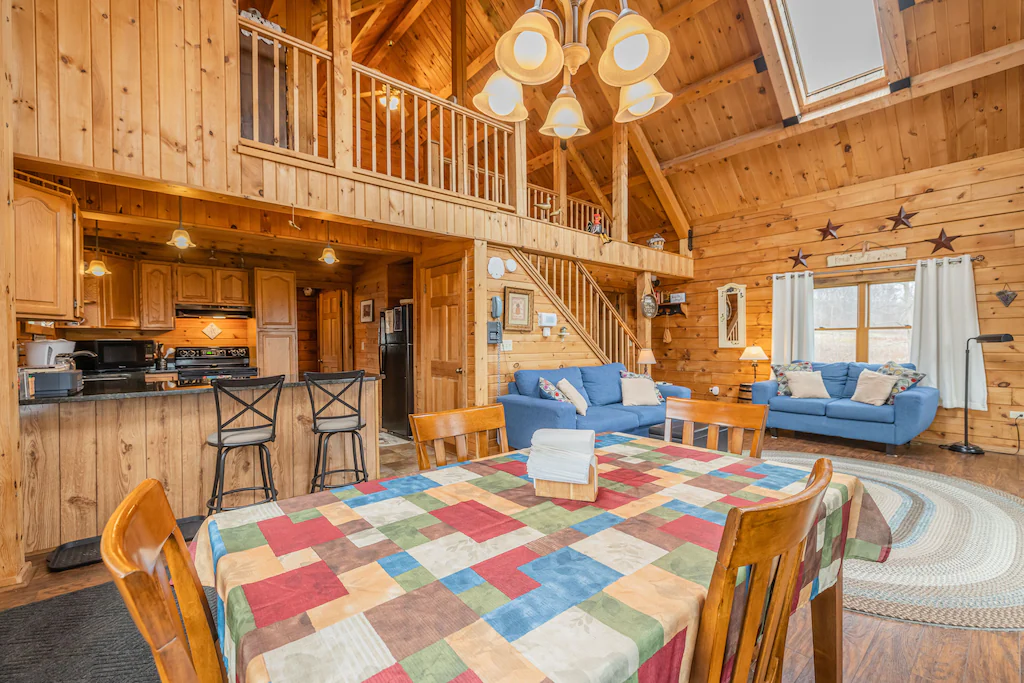 ---
Cozy Cabin Happiness 
Location: Narvon, Pennsylvania
Price: $259+ per night
https://www.vrbo.com/7338849ha
Cozy Cabin Happiness is a charming and quaint all-log home set in a private location in Amish country. Surrounded by greenery and countryside views, it is sure to make you feel at ease and relaxed. With rocking chairs on the front porch and twinkly lights hanging outside the house, it feels like a home away from home. The cabin is designed to give that true log cabin feel, thanks to the interior log walls, a wood-burning stone fireplace, leather sofas, and even log beds.
There are three bedrooms, all with different sleeping arrangements and the cabin can sleep nine people. There is also a fun game room with a large pool table for entertainment. The fully furnished kitchen and back deck for grilling make for the option to have plenty of home-cooked meals. For the outdoor enthusiasts, there are plenty of hiking trails nearby in the Welsh mountain park and Money rocks county park. Come rest, relax, and enjoy at Cozy Cabin Happiness.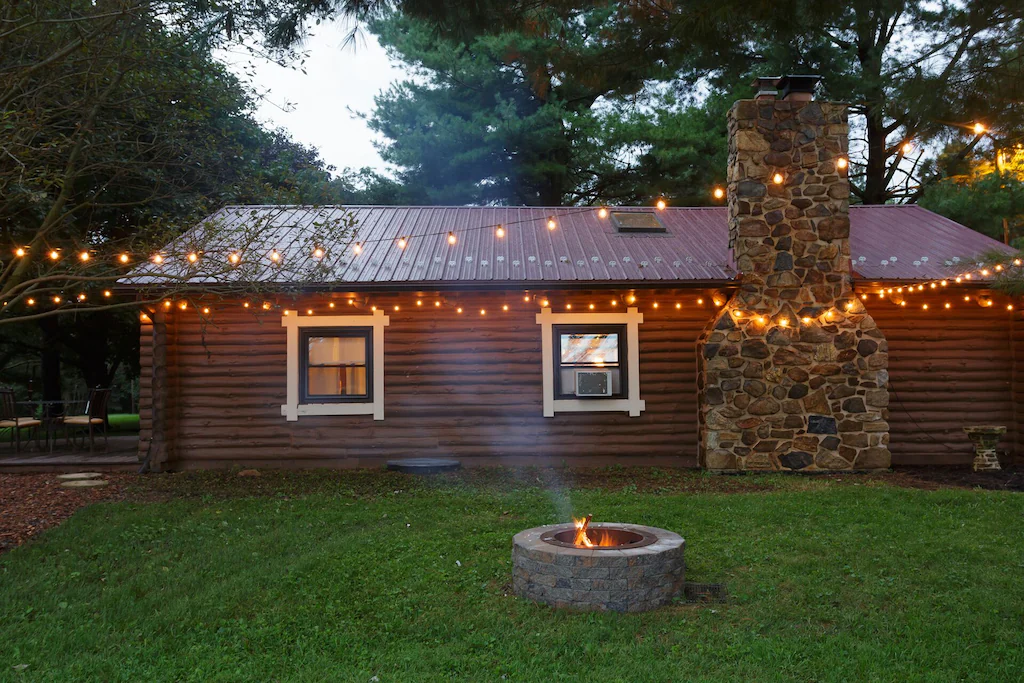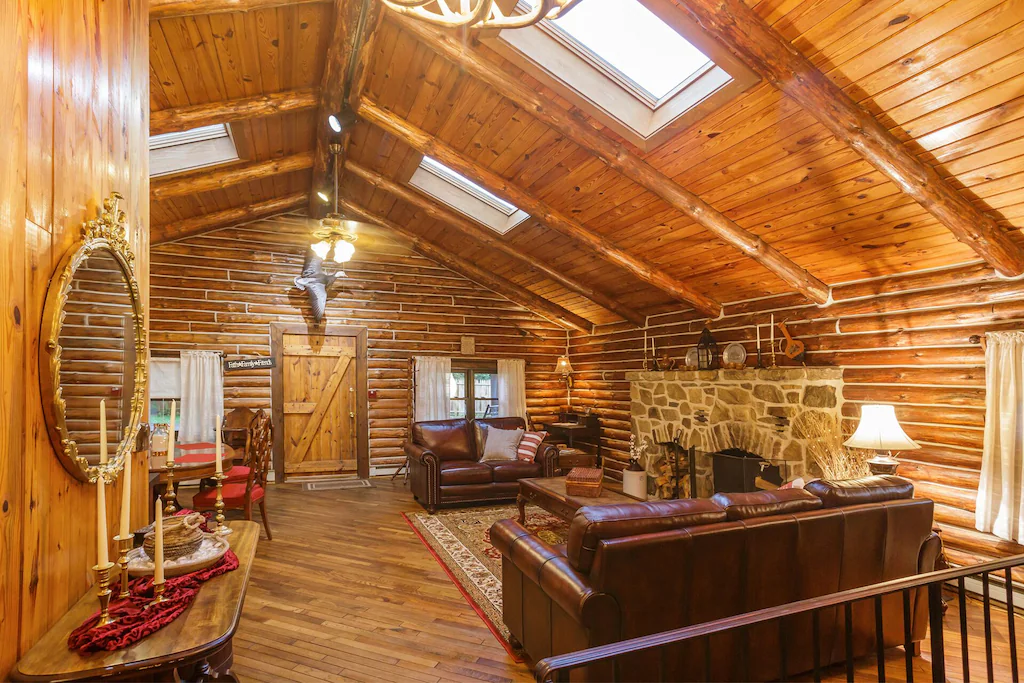 ---
Sun Valley Campground
Location: Maple Grove Park, Pennsylvania
Price: $153+ per night
https://www.booking.com/hotel/us/sun-valley-camping-resort-cottage-4.en-gb.html
If you're looking for a secluded cabin in Pennsylvania, but also facilities to enjoy, then a campground cabin trip is perhaps the best answer. Situated in Maple Grove Park, you are shrouded by wooded land, perfect for breathing in the fresh air and enjoying a city escape.
The cabins are fairly simple and traditional, yet still come with modern facilities such as WiFi, cable TV, and a fully equipped kitchen. While in theory, the one-bedroom cabin can accommodate up to six guests, they are likely better for a couple, or a young family, so you aren't on top of each other if traveling as a larger group.