Staying at treehouse cabins in Missouri is becoming a popular trend these days. Part of the appeal is the escape into nature and the ability to unplug away from busy lives.
Typically built on stilts or connected to trees high above the ground, tree house rentals appeal to those who love nature or anyone who wants a unique way to relax in Missouri. For some, it's a nostalgic reminder of their childhood days, while for others, it's a fulfillment of a childhood dream.
If you love nature and want to experience how it is to sleep surrounded by trees, you should check out these treehouse cabins in Missouri. These treehouses are fitted with modern luxuries and surrounded by scenic nature views, allowing for a comfortable and relaxing stay in the woods.
Also, be sure to read my guide on Missouri Cabin Rentals and Romantic Cabins in Missouri for more incredible accommodation options in this incredible state!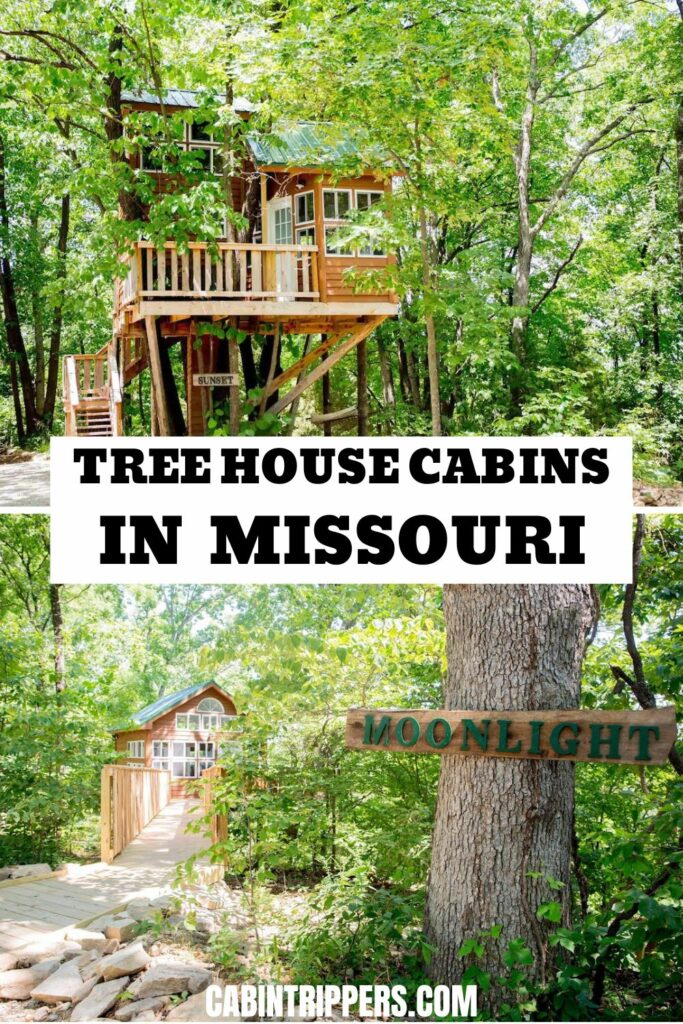 ---
Quick Breakdown of Treehouse Cabins in Missouri
Before you check out our list, here's a quick breakdown of our favorite treehouse cabins in Missouri. If you can't decide what to rent, this list should at least give you an idea. 
Overall Best Treehouse Cabin in Missouri – Luxury Treehouse Sitting 20 Feet in the Air
Best Luxury Missouri Treehouse Cabin – TreeLoft at BaseCamp
Most Unique Treehouse Cabin in Missouri – The Lady Asha Yurt/Treehouse
Best Family Treehouse Cabin in Missouri – Enchanted Treehouse Family Fun Farm Escape
Most Romantic Missouri Treehouse Cabin – Magical Treehouse Nestled Among Oak Trees
---
TOP 15 Treehouse Cabins in Missouri
Now, here's our list of the best treehouse cabins in Missouri. We have researched on your behalf, so you won't have to spend time scouring the Internet yourself. Whether traveling with your significant other or vacationing with your family, this list has got something for you.
---
High Hope Luxury Treehouse Cabin
Where: Washington County, Missouri
Price: $205+ per night
https://www.vrbo.com/9347448ha
Our choice for the Overall Best Treehouse Cabin in Missouri is this beautiful luxury treehouse sitting 20 feet up in the air. It's only a stone's throw away from the beautiful Sayersbrook Lake at Spring Lake Ranch. This property has one bedroom to sleep two guests and comes with a bathroom, kitchen, and a very spacious deck from where you can relax and enjoy the beautiful views of nature.
You will be sleeping in a California king-sized bed in a loft, where you will see the stars above and be surrounded by scenic lake views. Since it requires climbing the stairs to get to the top, this property may not be suitable for little kids or those with medical conditions that prevent them from climbing a ladder.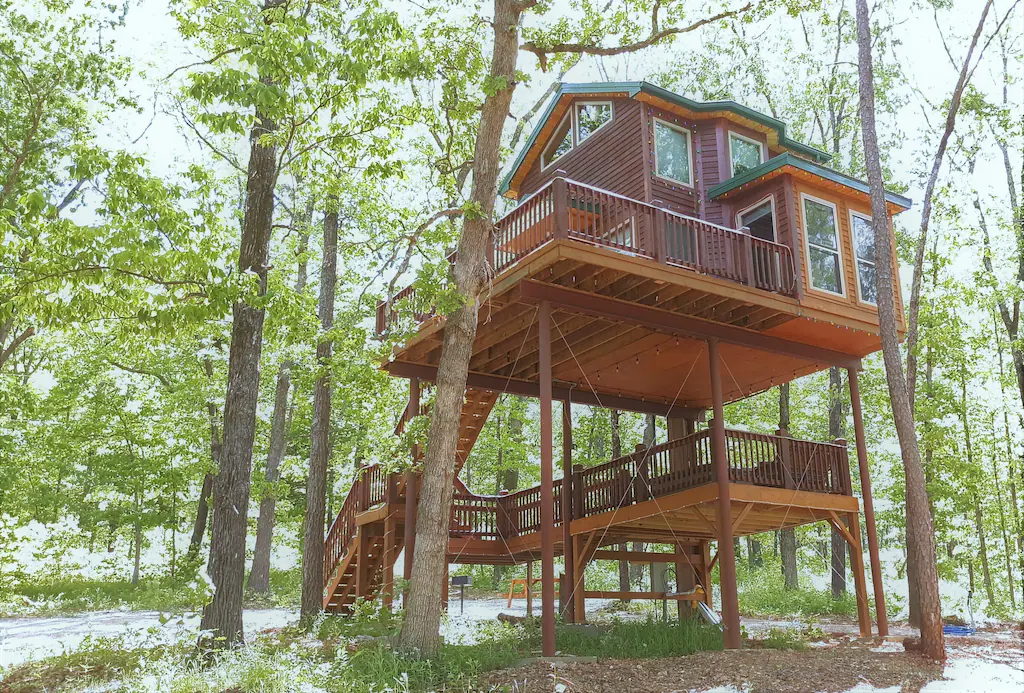 ---
Sunset Tree House Cabin – The Cottage
Where: Hermann, Missouri
Price: $246+ per night
https://www.airbnb.com/rooms/23206444
This cute treehouse in Missouri has everything you need for a relaxing stay in the woods. Also called the "Sunset Tree House", it got its name from the sunset that lights up the main level and the balcony. It has a queen size to sleep two guests. 
This beautiful tree house offers an off-the-grid experience but also comes with running hot water for the shower, toilet, and sink. It also comes with a microwave and fridge. During your stay, you can enjoy scenic walks around the property. But if you don't feel like exploring the outdoors, head to the common room, where you'll find a bookshelf with a great selection of books.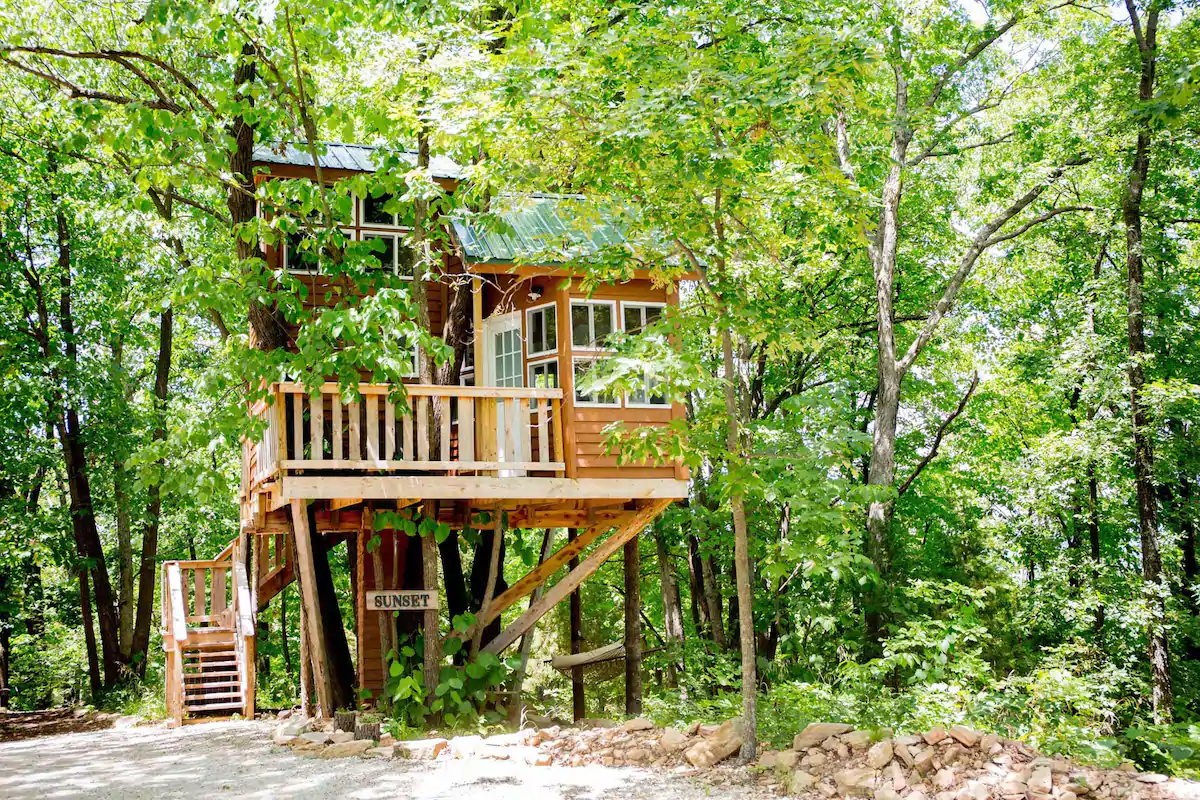 ---
The Getaway Treehouse & Jacuzzi Bath House
Where: Cassville, Missouri
Price: $183+ per night
https://www.airbnb.com/rooms/30105613
Offering an authentic tiny house experience, the Getaway Tree Suite is set within seven trees in a 10-acre wooded area. There's a Jacuzzi bathhouse connected to the main treehouse by a walkway bridge on a hillside, offering a more relaxing getaway experience. The property can sleep two guests, perfect for couples on a romantic escape. 
Located along Highway 112, about two minutes from the Roaring Village State Park, the property has hiking trails to enjoy scenic walks in the morning. You can also try fly fishing and other fun outdoor activities.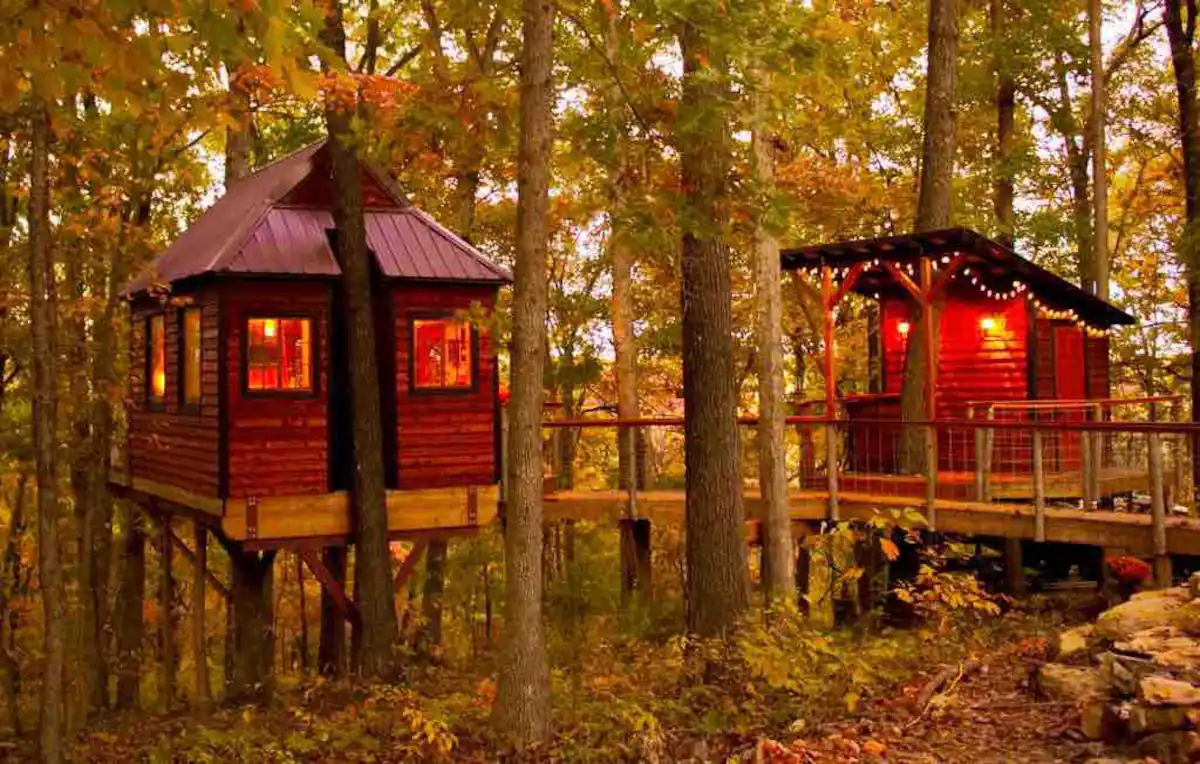 ---
Magical Treehouse Cabin Nestled Among Oak Trees
Where: Excelsior Springs, Missouri
Price: $178+ per night
https://www.airbnb.com/rooms/36904404
Are you looking for a romantic place to celebrate your anniversary with your partner? Stay at this Magical Treehouse nestled among beautiful Oak trees. Set in a 200-acre national park in a very serene and peaceful environment, this treehouse is guaranteed to ignite romance. Because of this, we believe it's the most romantic Missouri treehouse cabin.
While you might probably want to spend your days here relaxing and cozying up at the verandas, there are plenty of activities you can enjoy outdoors. The private lake offers opportunities for water sports, such as kayaking, fishing, and standup paddle boarding. If you are into golf, the Excelsior Springs Golf Course is only five minutes from here.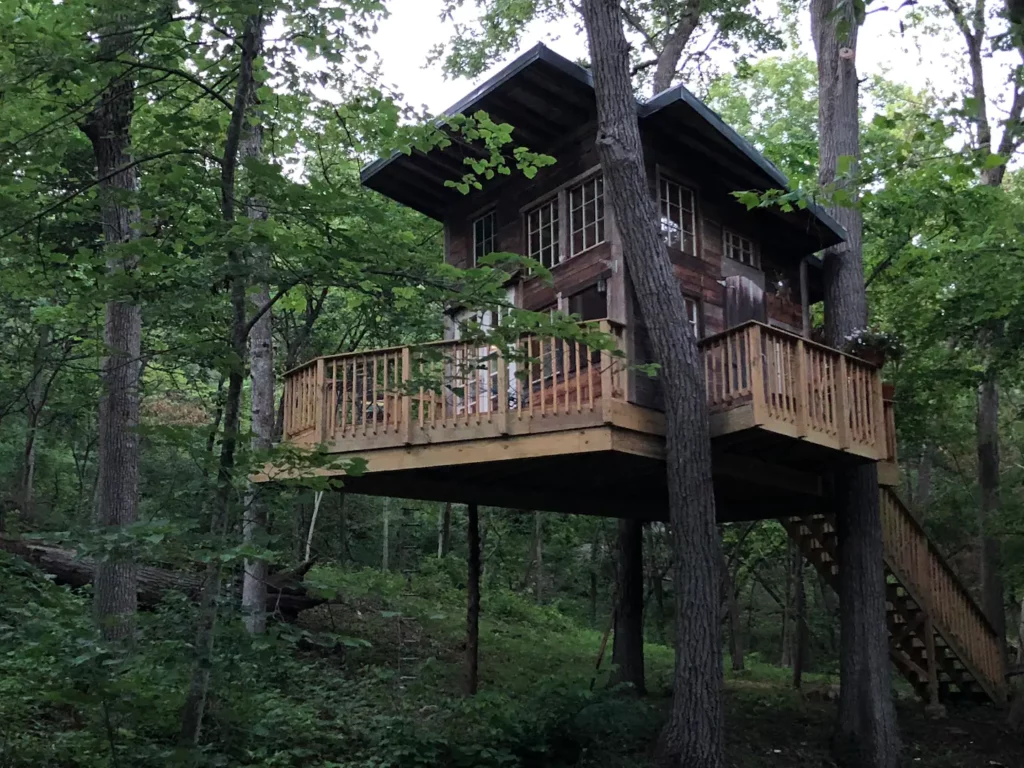 ---
Tall Pines Sanctuary Treehouse
Where: Stone County, Missouri
Price: $299+ per night
https://www.vrbo.com/4224512ha
Surrounded by tall pines, this gorgeous treehouse will make your dream of sleeping in the woods come true. It's an upscale, three-bedroom home built into a slope of a 40-acre estate. With enough space to accommodate 12 guests, this gorgeous cabin is perfect for family reunions and corporate getaways. 
This beautiful treehouse in Missouri offers plenty of fun things to do. There are walking trails with a treasure hunt, a playground area, and disc golf. If you prefer to relax indoors, you'll find plenty of places to do so. Between the dining area and living room is a solarium that offers a 180-degree view of the surrounding forest with its towering pine trees.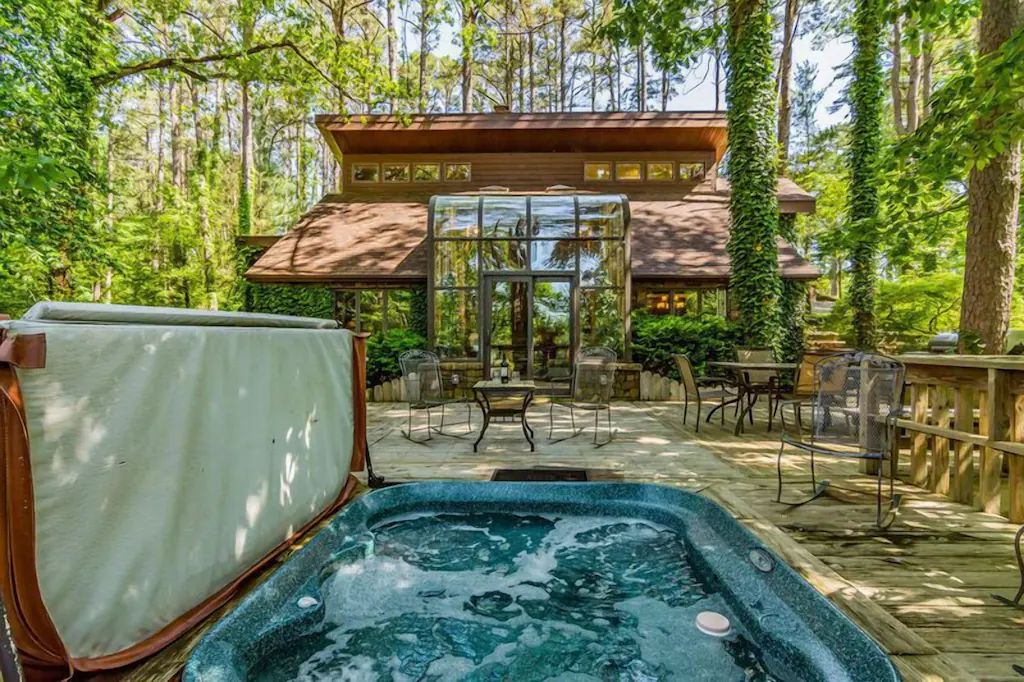 ---
TreeLoft at BaseCamp
Where: Perryville, Missouri
Price: $303+ per night
https://www.airbnb.com/rooms/44119404
If you want to indulge in luxury while holidaying in Missouri, check out this stunning, modern-designed luxury treehouse. Built with an inspired state of mind, it is our choice for the best luxury Missouri treehouse cabin. It can sleep two guests, perfect for couples looking for a luxury honeymoon experience.
Nestled into the woods on a 120-acre private farm, the treehouse is surrounded by towering trees. It has oversized windows allowing plenty of natural light into the house for a more relaxing feel. On those cool evenings, cozy up next to the gas fireplace or enjoy star gazing at the skylight above the king-sized bed. Outdoors, you'll find a hot tub beside the towering Cedar trees, offering a truly romantic experience.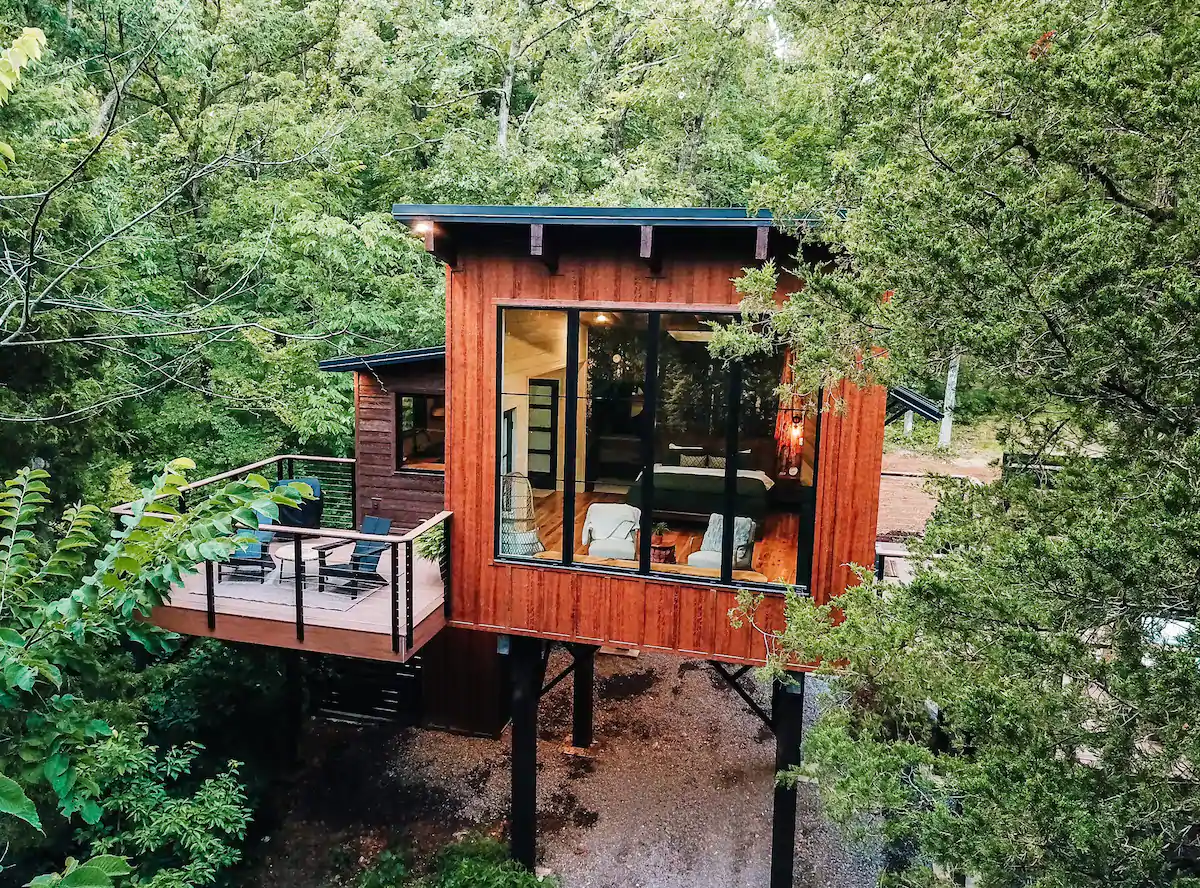 ---
Tranquil Treehouse on Table Rock Lake
Where: Eagle Rock, Missouri
Price: $176+ per night
https://www.airbnb.com/rooms/45203789
Tranquility is often the main reason people love to sleep in a treehouse. Indeed, this treehouse on Table Rock Lake offers the peace and tranquility that nature lovers seek. This Missouri treehouse cabin has one bedroom with two beds that can sleep up to four guests. It's in the middle of a forest with a spacious deck surrounded by picturesque nature views, ideal for enjoying your morning coffee and relaxing after a day of exploring. 
You'll find plenty of things to do during the day. The lake is only a hundred yards away, where you can enjoy kayaking and other water activities. There are two kayaks on the property that you can use, along with floatation cushions.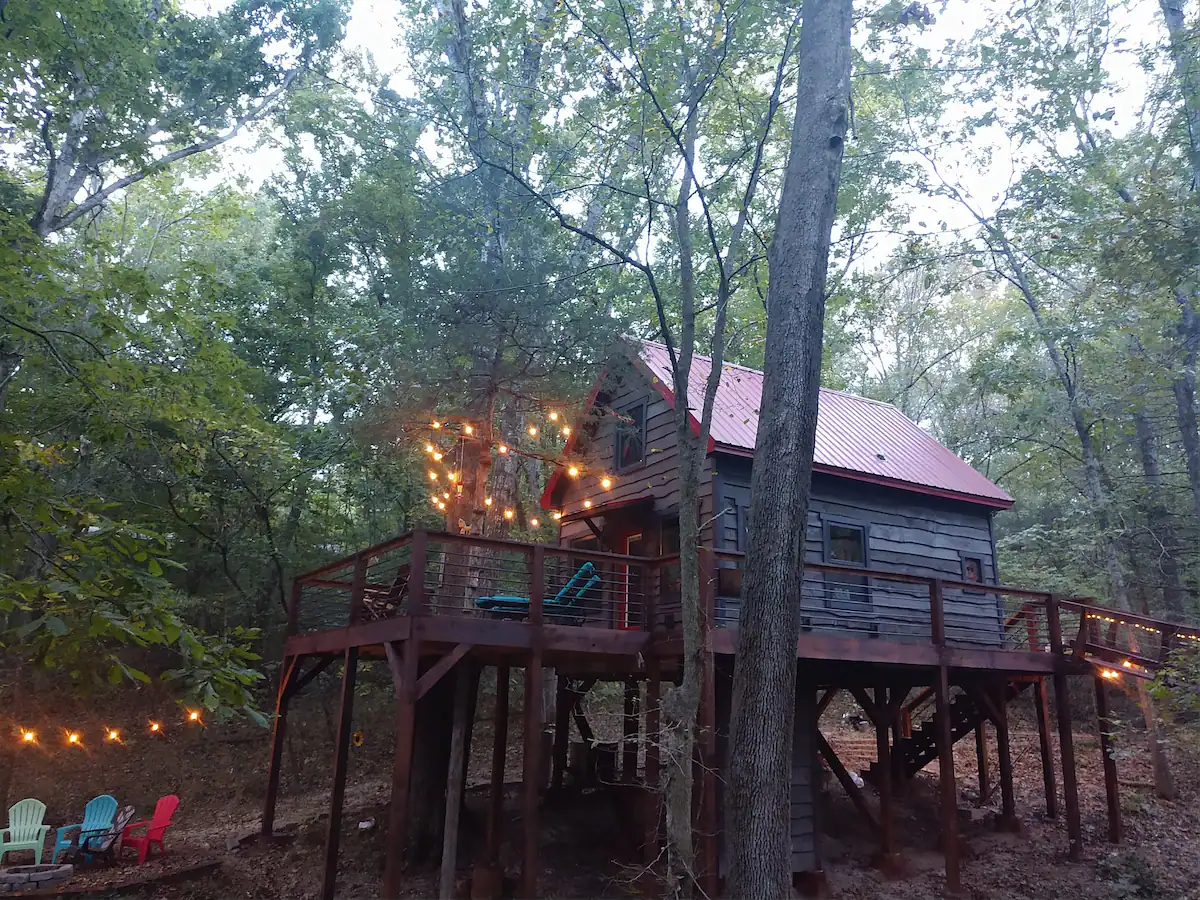 ---
Enchanted Treehouse Cabin on Family Fun Farm Escape
Where: Grubville, Missouri
Price: $138+ per night
https://www.airbnb.com/rooms/3793576
When looking for the best family treehouse Cabin in Missouri, this enchanted treehouse is what we would recommend. In fact, it's perfect for large families, since it can accommodate up to nine guests! In addition, the treehouse offers fun amenities for the kids, such as hiking trails, swings, and a campfire. 
This enchanting 2-story treehouse will make your family getaway in Missouri unforgettable. It has everything you need for a relaxing stay, including a kitchenette where you can cook delicious meals. Take advantage of the spacious yard to hang out, talk, and rest in the hammocks.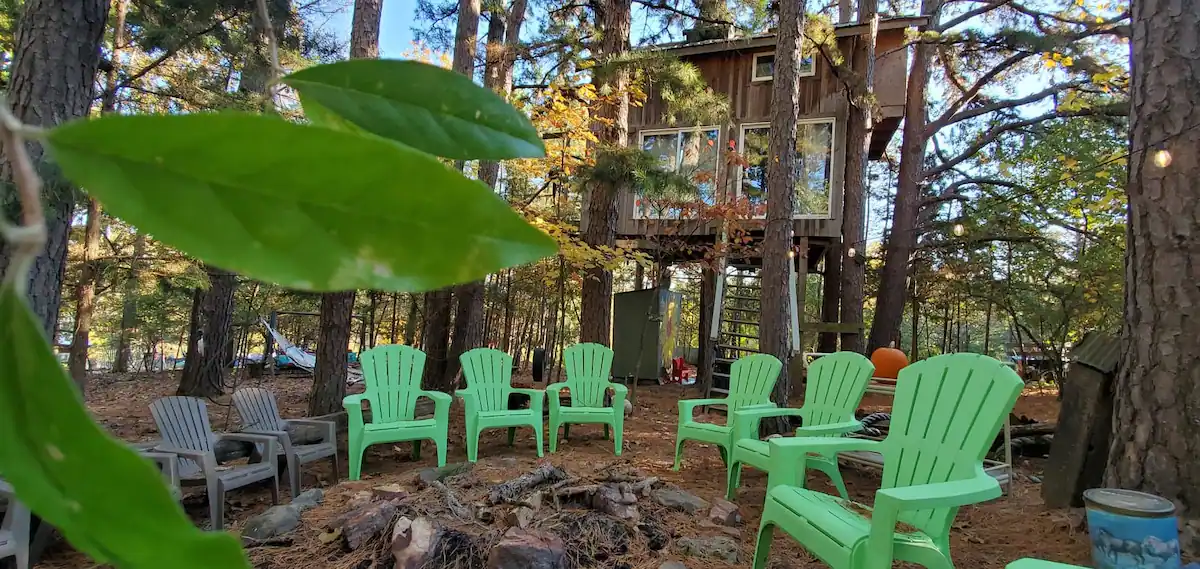 ---
Rustic Tree House Cabin near Big Creek, Missouri
Where: Bunker, Missouri
Price: $122+ per night
https://www.airbnb.com/rooms/34280333
Nestled at the banks of Big Creek, this rustic and charming treehouse is perfect for those who love nature and adventures. It's a one-bedroom treehouse with a kitchen and an odorless composting toilet adjacent to the property. 
If you're into outdoor adventures, this is the perfect place for you. It offers the opportunity to go swimming, hiking, fishing, and more! The treehouse has a large deck and a swinging bridge that connects to a smaller deck where you can relax and observe the wildlife.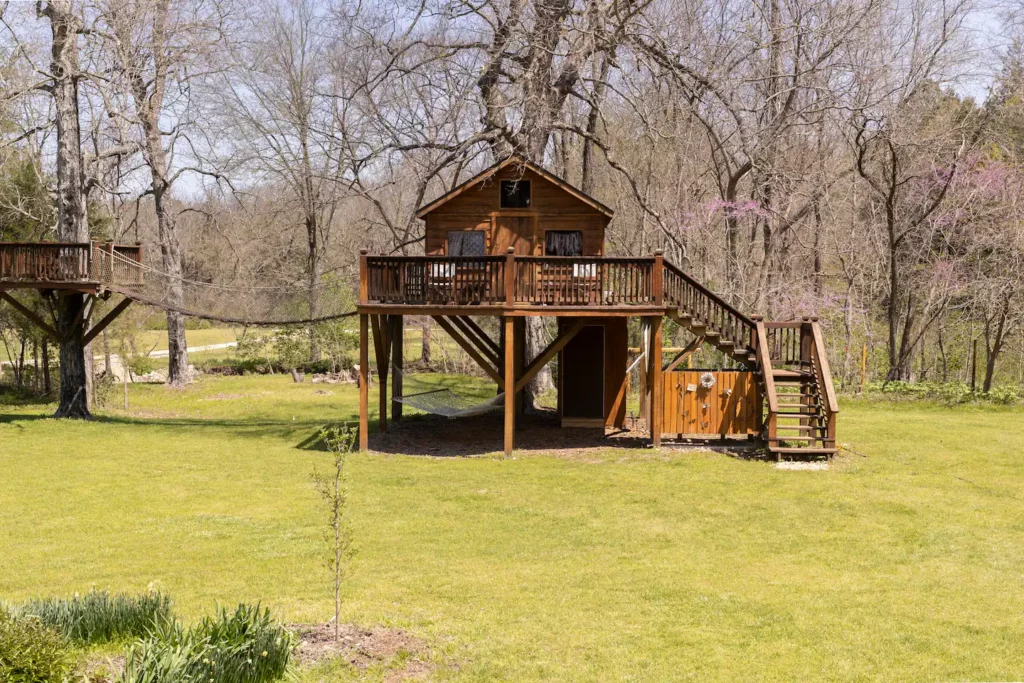 ---
Spring Lake Chateau Treehouse Cabin with Hot Tub
Where: Potosi, Missouri
Price: $369+ per night
https://www.airbnb.com/rooms/52383325
This two-bedroom treehouse can accommodate five guests and comes fully furnished and has a well-equipped kitchen and a huge deck offering stunning views of a 60-acre lake. Perfect for relaxation, this beautiful treehouse has oversized bay windows in the living room and master bedrooms, allowing plenty of light to get in. There's a spacious deck where you can admire gorgeous sunsets and a private hot tub to take a dip after a day spent outdoors.
While staying at this property, spend your day hiking, kayaking, swimming, or horseback riding. After a day of activities, relax on the huge deck and watch out for the beautiful sunset. Take advantage of the luxury kitchen to prepare delicious meals.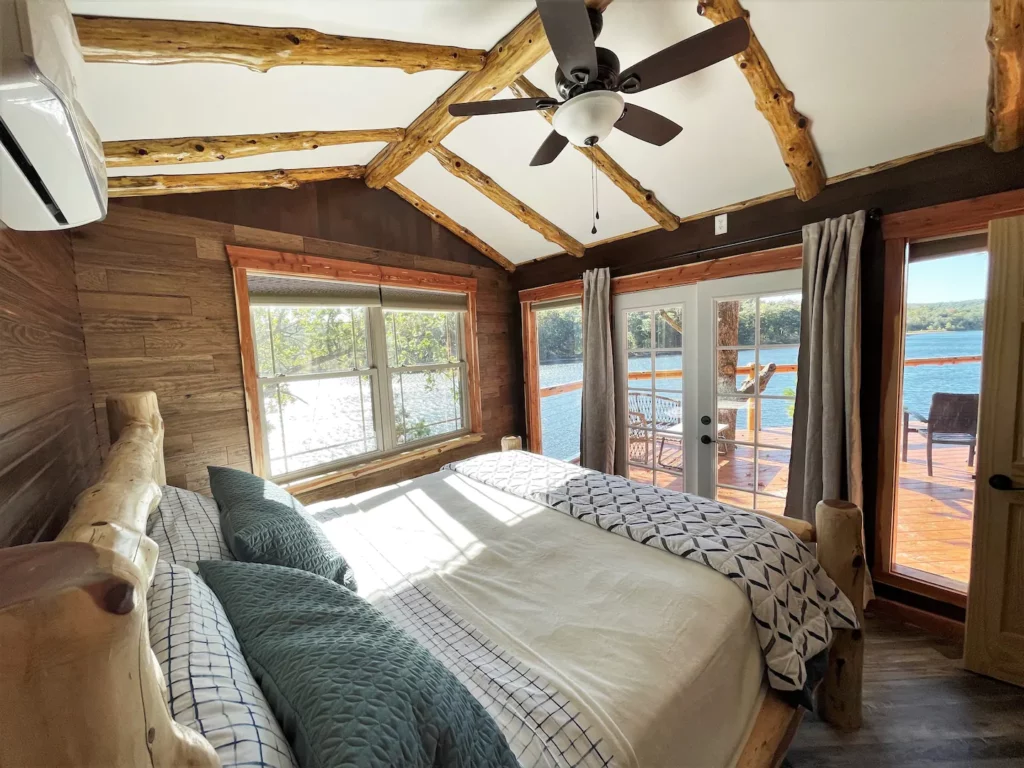 ---
Branson Family Treehouses
Where: Branson, Missouri
Price: $249+ per night
https://bransontreehouseadventures.com/family-tree-houses/
The Branson Treehouse Adventures is a resort offering unique accommodations, such as cabins, RVs, and treehouses. Located only a few minutes from Branson, the resort is close to Missouri's top attractions. There are different types of treehouses you can book. Families can stay at family treehouses, and there are also treehouses suitable for couples. 
Featuring rustic luxury and beautiful scenery, the treehouses the Branson treehouses are nestled amongst the trees of the Ozark Mountains. These treehouses are equipped with modern amenities, including a well-equipped kitchen, a dining area, a living room, and a full bathroom.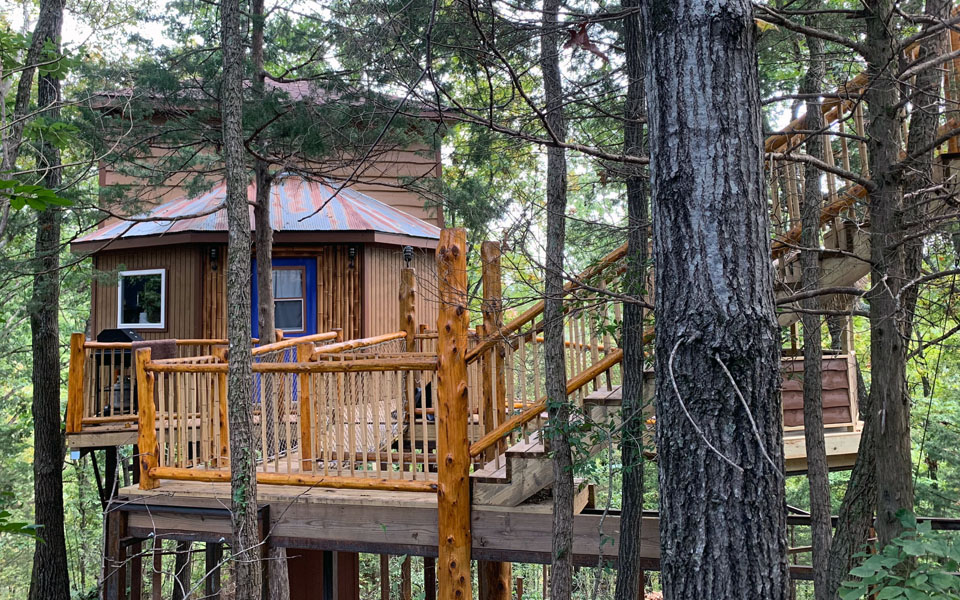 ---
Unique Tree House Rental for a Secluded Getaway
Where: Nauvoo, Missouri
Price: $197+ per night
Set in a 10-acre of woodland close to the historic city of Nauvoo, this cozy treehouse cabin in Missouri offers an epic glamping experience. Inside is a loft bedroom with a queen-sized bed and a sleeper sofa with bedding, enough to sleep up to four guests. 
Outdoors is a wraparound deck surrounded by beautiful views of nature and a great place to enjoy a morning coffee. You can also enjoy al fresco dining at the deck, which has outdoor seating and a BBQ grill. If you prefer to hang out indoors, you can take advantage of the flatscreen TV with a DVD player.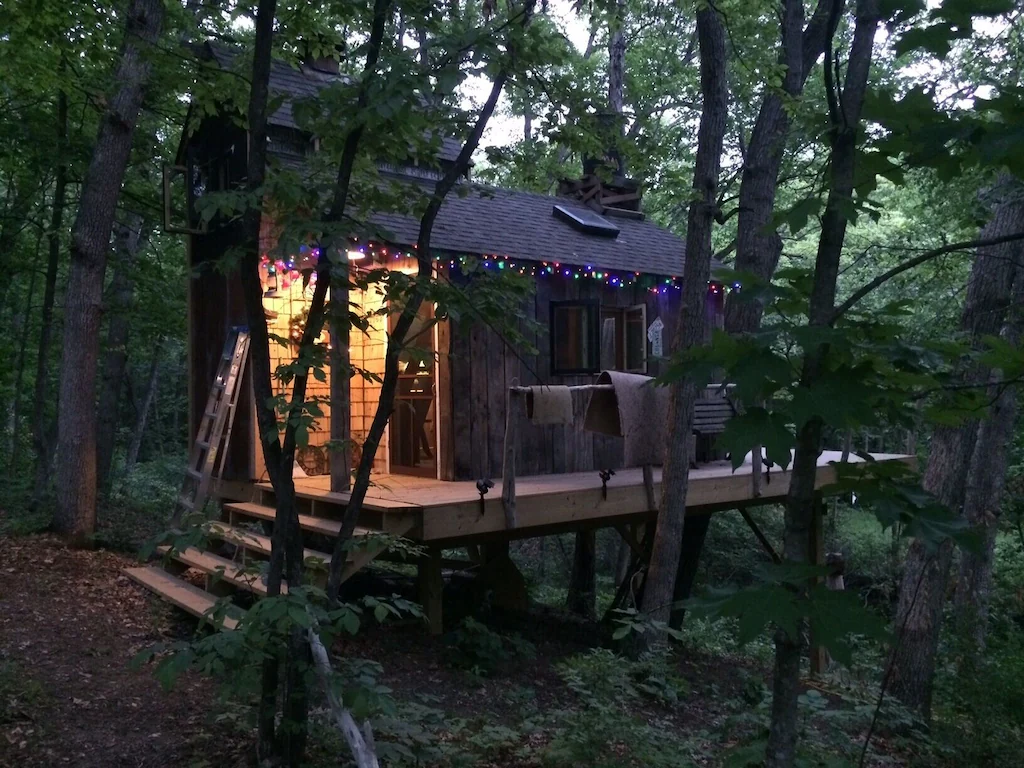 ---
The Lady Asha Yurt Treehouse
Where: St Clair, Missouri
Price: $100+ per night
https://www.hipcamp.com/en-US/missouri/hummingbird-hollow-outdoors/the-lady-asha-yurt-treehouse
Experience sleeping on a yurt surrounded by trees in this rustic and secluded glamping site set in a beautiful Farm Animal Sanctuary. If you're a wildlife lover, you will love staying on this property. The yurt sits on an elevated platform amongst the trees fitted with two full-size futons and can sleep up to four guests, although it's more suitable for couples. 
Since the site is an animal sanctuary, you'll find different animals grazing underneath the tent, such as sheep, donkeys, goats, and pigs. There are hiking trails all over the place and trails for mountain bikes as well. There's a fire pit at the yurt platform for cooking hotdogs and s'mores. Offering a truly unique experience, this property is our choice for the most unique treehouse cabin in Missouri.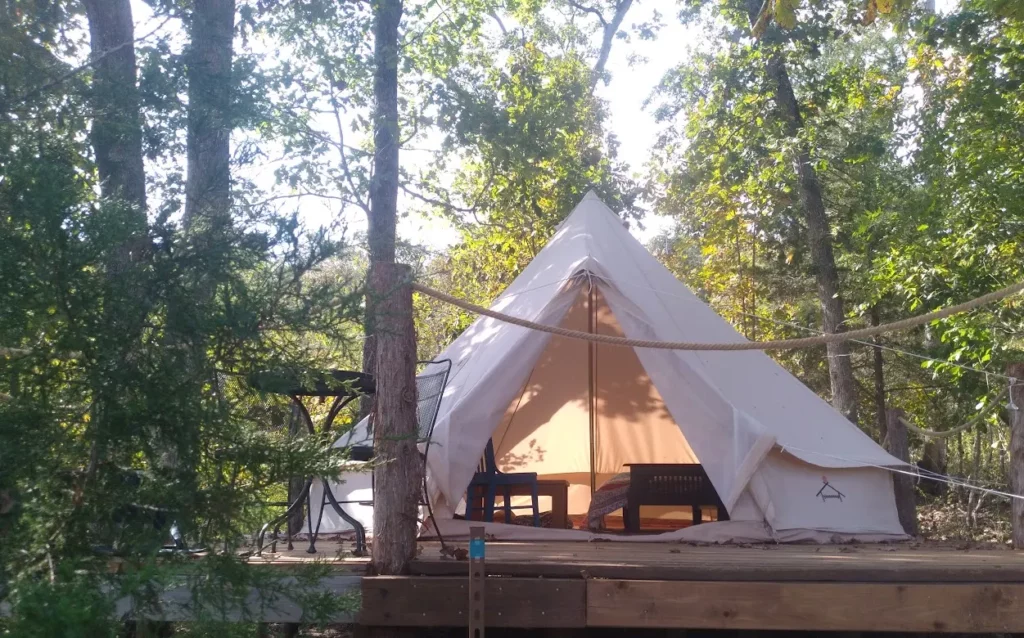 ---
Hermann Cottage | Moonlight Treehouse Cabin Bed and Breakfast
Where: Hermann, Missouri
Price: $260+ per night
https://hermanncottage.com/tree-house-bed-and-breakfast/
The Cottage in Hermann offers a bed and breakfast treehouse experience set in a picturesque location ideal for rest and relaxation. There are three properties on-site, including an adorable cabin to help you reconnect with nature. 
There are different treehouses to choose from. All treehouses have comfortable sleeping areas and a bathroom with a shower and toilet. They also have a kitchen with a mini-fridge and a microwave, as well as a spacious deck with seating where you can rest, relax and reconnect with nature.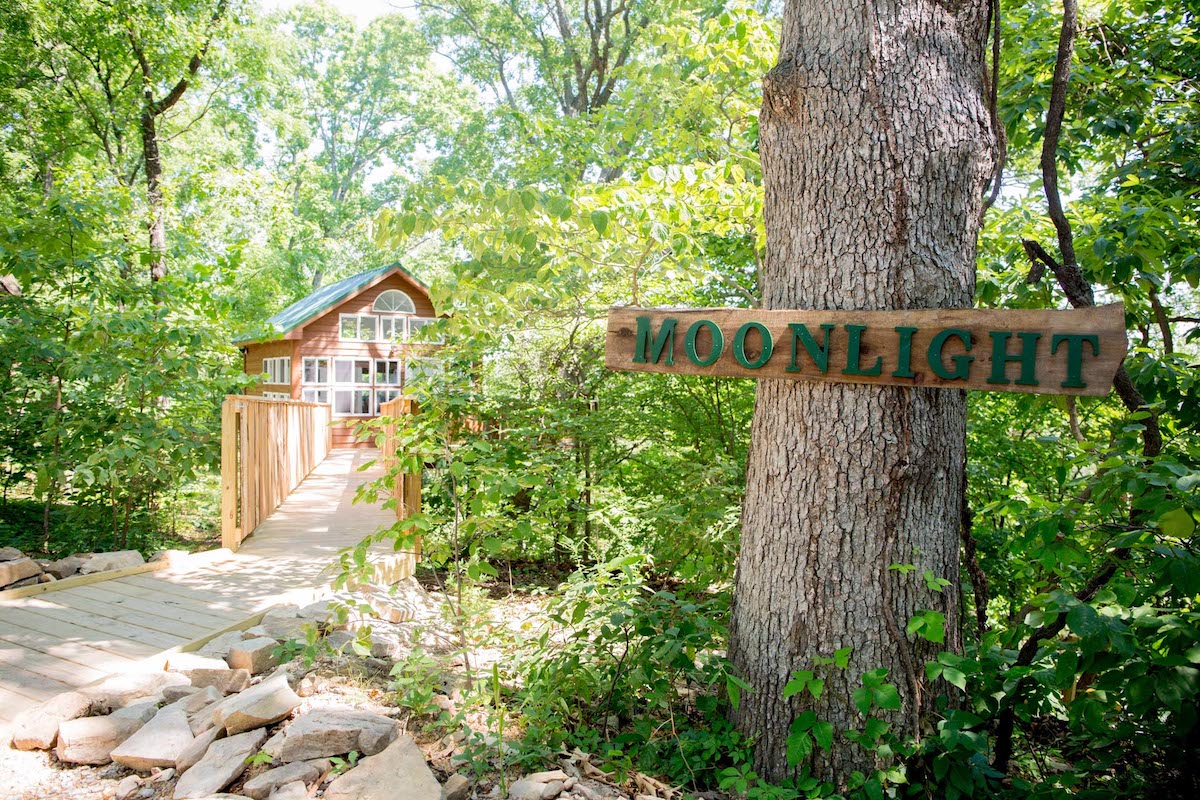 ---
Waterfront Treehouse Cabin Getaway
Where: Innsbrook, Missouri
Price: $248+ per night
This elegant treehouse cabin in Missouri is perfect for big groups, as it has three bedrooms to sleep up to ten guests. Tucked in a 2-acre of land, the treehouse is right across a lake. Aside from the three bedrooms, this spacious property has two full bathrooms, a living room, a kitchen, and a wraparound deck. 
You will have plenty of things to do when sleeping at this waterfront property. It has a private beach and a fire pit. There's a more populated beach that's walking distance away. You will also have access to a kayak, although the availability will depend on the weather conditions.