Finding the perfect romantic getaway to celebrate your love is quite a challenge. However, if you choose New York as your vacation destination, you will find lots of perfect romantic cabins in New York with hot tubs ready and waiting for you to relax!
Whatever the terrain, the cabin getaway guarantees intimacy and romance. If you are a newly wed couples, you might need this after year long wedding stress. Planning a romantic getaway, don't forget roses & champagne!
Don't miss our other great guides to 7 Incredible A-Frame Cabins in New York For a Unique Getaway or these 10 Romantic Cabins in Pennsylvania With Hot Tubs.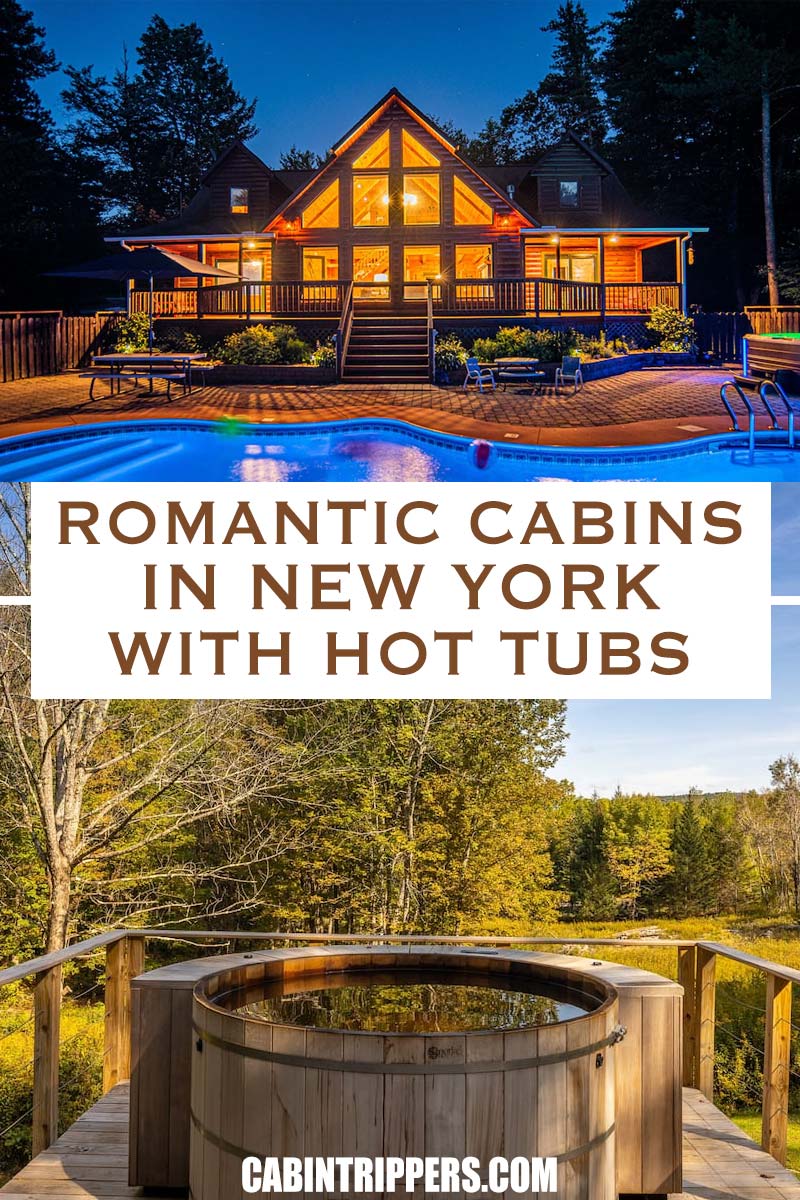 ---
1. Modern Cottage with Hot Tub
Location: Kerhonkson, Ulster County, New York
Price: $269+ per night
This romantic rental is beautiful inside and out! Whatever you and your better half plan to do during your time at this quaint yet contemporary cabin, you're sure to have your expectations exceeded. From cushy couches and dreamy bedding to a big flat screen TV and wood burning stove, the interior offers ample ideas for places to curl up and spend the weekend together.
Outside, you'll find access to a vast number of nearby attractions, trails, mountains, lakes, and local destinations from restaurants to shops to bars and nightlife. Relax under the stars and feel like your miles away from civilization, or head into town and see what Upstate New York has to offer. This couples cabin in New York offers it all!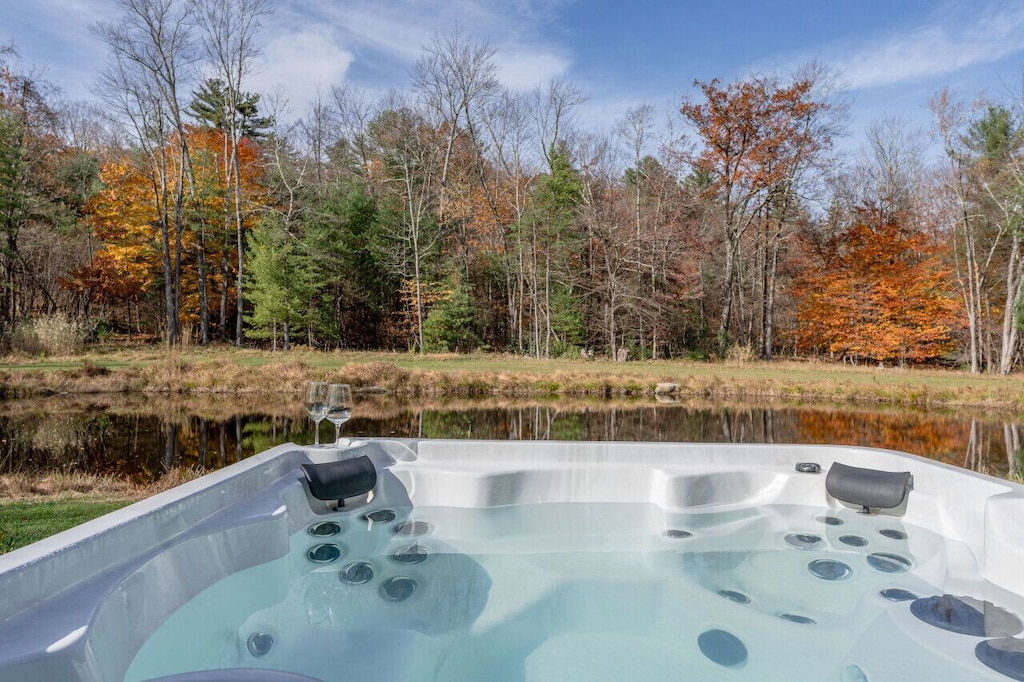 ---
2. Cabin in Zen Forest with Hot Tub
Location: Shawangunk, New York
Price: $300+ per night
Deep down a country road on 8 acres of trees and secluded land, running off to this amazing modern cabin is a wonderful way for you an yours to spend a weekend together and away from it all. If the two of you are hikers or nature lovers, you'll be head over heels for the trails just a few minutes away from the property. If you'd prefer to sample the local cider, the famous Angry Orchard brewery is just around the corner and a a short walk from your front door.
The cabin itself offers a serene space inside and out for couples to connect with each other and disconnect from the day to day hustle and bustle of the city. This is an amazing location for a romantic couples cabin getaway!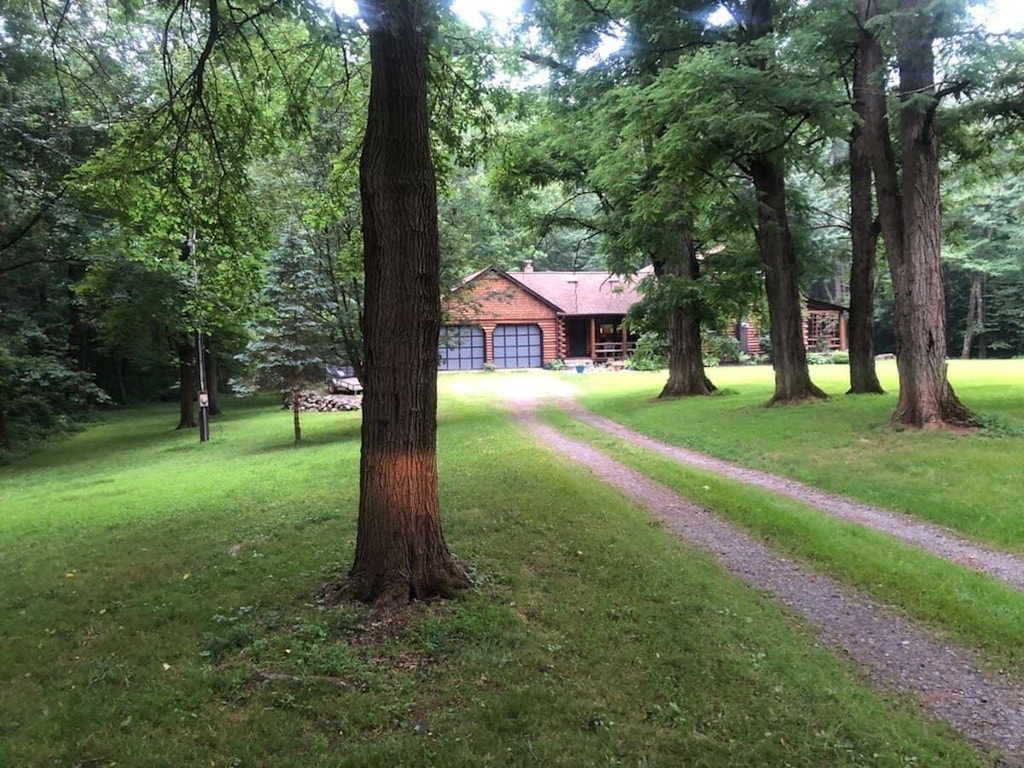 ---
3. Bear Ridge Cabin
Location: Peek'n Peak Ski Resort, Clymer, New York
Price: $200+ per night
Enjoy a magical experience in this cozy fairytale cabin by the water. With a breathtaking view of Bear Ridge Pond surrounded by trees, this spot is a paradise for nature lovers. Despite being rustic, this cabin is modern and has everything you need. It has a full kitchen, bathroom with shower and tub, WiFi, potbelly wood stove, and plenty of outdoor space.
It is a secluded spot with a lot of privacy and romantic touches everywhere, including a fire pit for that specific barbecue taste. Further, the cottage boasts a unique and gorgeous hot tub. Make your partner feel special by enjoying a romantic hot tub evening with some music. 
With so many local attractions nearby, Bear Ridge Cabin is a true hideaway where you can escape together with your partner.
View Photos, Read Reviews & Check Availability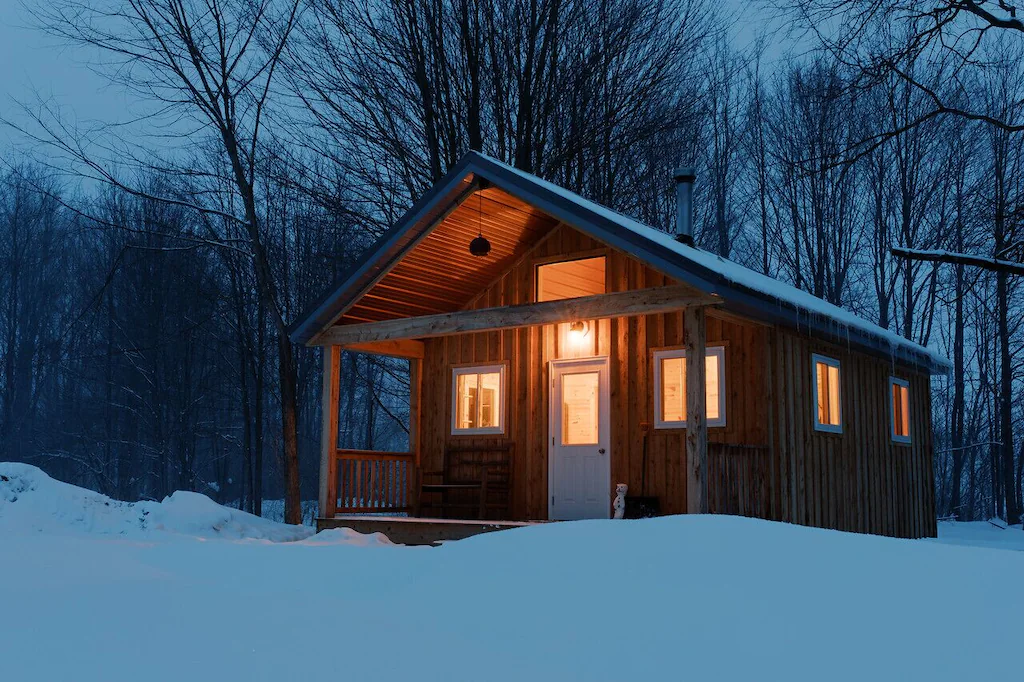 ---
4. Adirondack Romantic Cabin Getaway 
Location: Benson, Adirondack Region, New York
Price: $200+ per night
https://www.vrbo.com/3947715ha
A magnificent waterfront cabin with all the amenities you could need for a fantastic stay awaits you! There are breathtaking mountain and river views from almost any window in this location. In the backyard, you can fish, swim, float, bike, hike or just relax with your partner in front of the Sacandaga River in an Adirondack chair.
The gateway offers a rejuvenating, romantic retreat in a place that you can't help but love. You will find a wealth of inspiring activities just a short drive from this little haven, including skiing, snow tubing, ice-fishing, and snowmobiling. Furthermore, you can make your evening extra special by soaking in a heated double Jacuzzi with your partner after a day of skiing.
View Photos, Read Reviews & Check Availability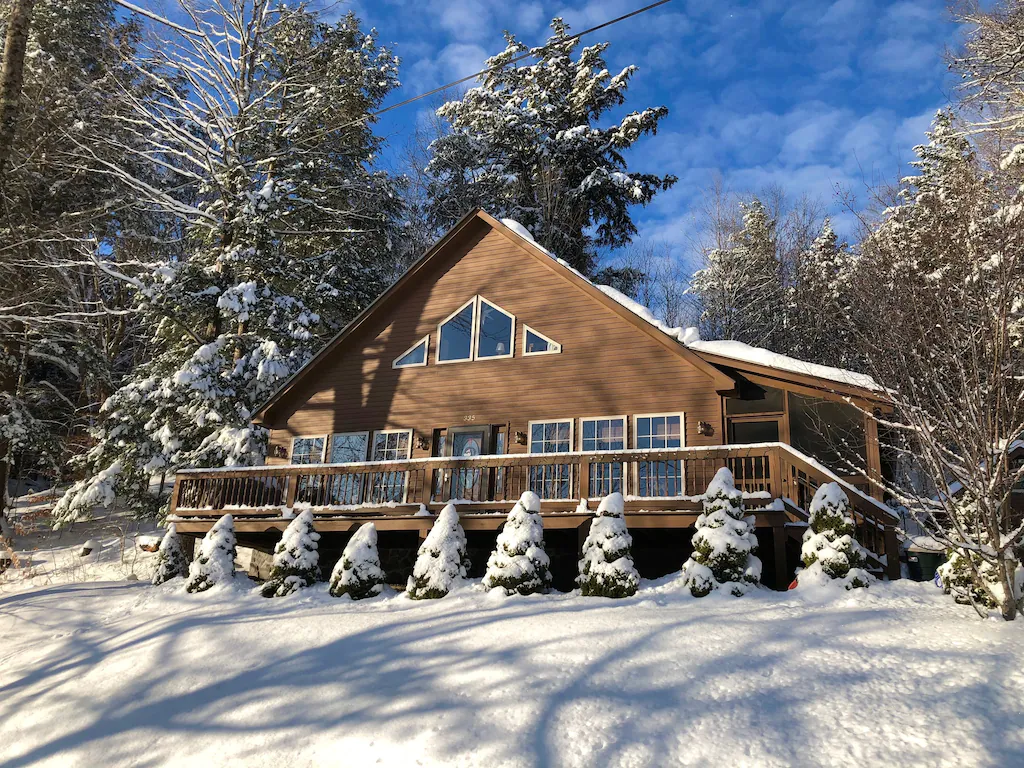 ---
5. Whitetail Cabin
Location: Lake Placid, New York
Price: $410+ per night
https://www.vrbo.com/9144440ha
Located amid tranquil woodlands, Whitetail Cabin offers peace, privacy, and seclusion for a romantic getaway.  Relax in a saltwater hot tub, take a dip in an indoor pool, and experience something new with your partner as you lounge in a sauna. 
You can find tennis courts, hiking trails, a restored vintage bowling alley, a movie theatre, and nightlife entertainment nearby. Take your partner with you and give them an experience they will never forget!
Moreover, Whitetail Loj is close to the famous Ausable River, known for fly fishing and trout runs, Lake Eaton, a great lake for kayaking and fishing.
View Photos, Read Reviews & Check Availability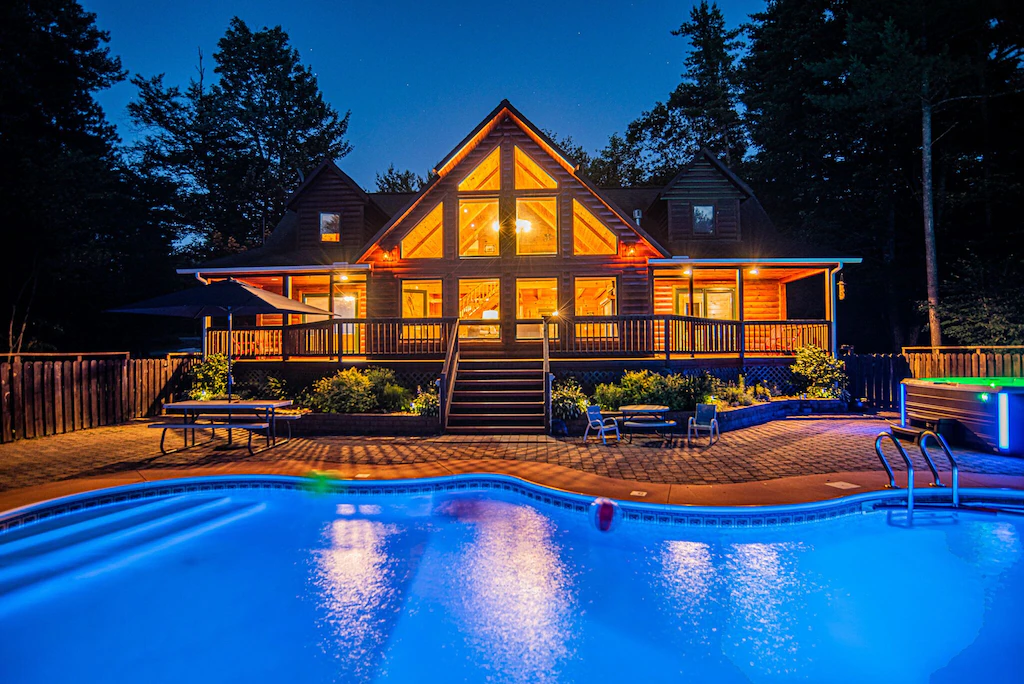 ---
6. Classic & Romantic Log Cabin
Location: Windham, New York
Price: $216+ per night
https://www.vrbo.com/4728361ha
Welcome to an exotic retreat in the Northern Catskills! There is nothing more romantic than this log cabin surrounded by nature overlooking the Hudson Valley. The log cottage comes with a fully stocked kitchen and stylish wood-burning majestic stone fireplace for cozy evenings around the fire.
In the backyard, a heated hot tub sits on the cedar-stained deck that overlooks the fire pit and a starry sky to Massachusetts. Relax with your partner in the hot tub as you witness the gorgeous view. 
Further, in the beautiful dining room with many windows, you can dine in the company of your loved one and create lasting memories. If you love adventure, you can go hiking, biking, skiing, and other activities in the area. Start your list and get ready for fun, adventure, and romance!
View Photos, Read Reviews & Check Availability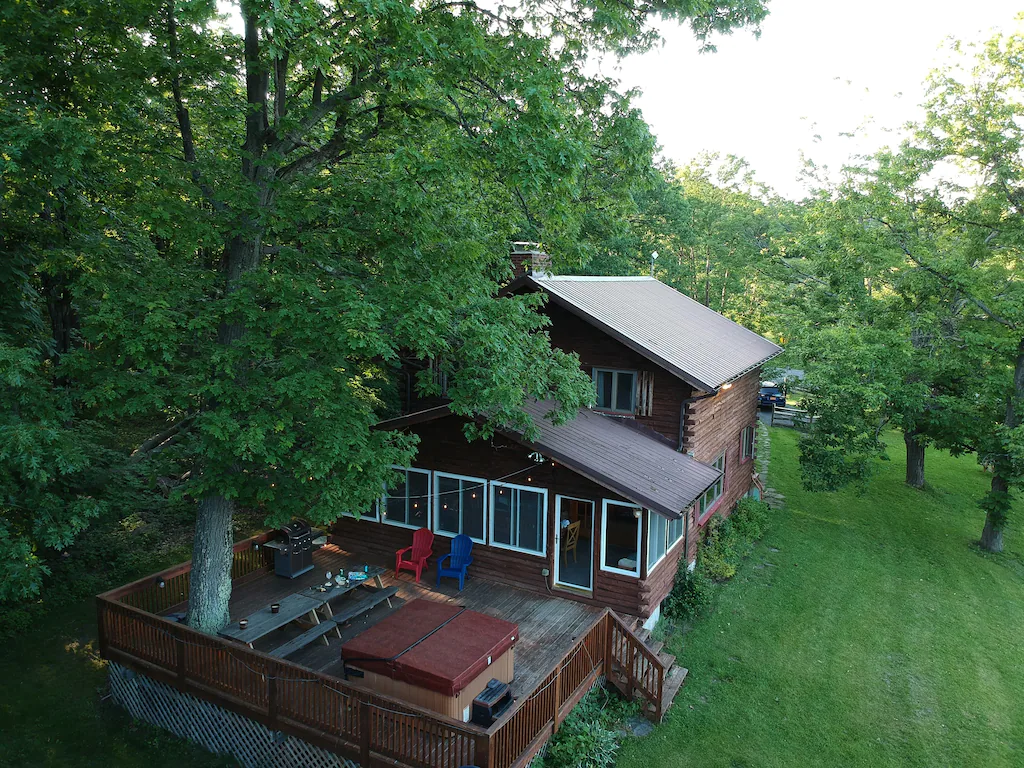 ---
7. Handcrafted mountain cabin
Location: Adirondack Region, New York
Price: $180+ per night
Imagine yourself sitting around a crackling fire as the sun sets and holding your loved one as cool night air descends on Gore Mountain, that's what this cabin brings you. 
Handcrafted mountain cabin sits at the end of a country road on private property. Near the cottage are Gore Mountain and Garnet Hill Lodge, where you can ski downhill and cross-country. Also, you can walk or snowshoe in the woods or meadows around the cabin. Lastly, enjoy the privacy of your cabin's hot tub while stargazing.
View Photos, Read Reviews & Check Availability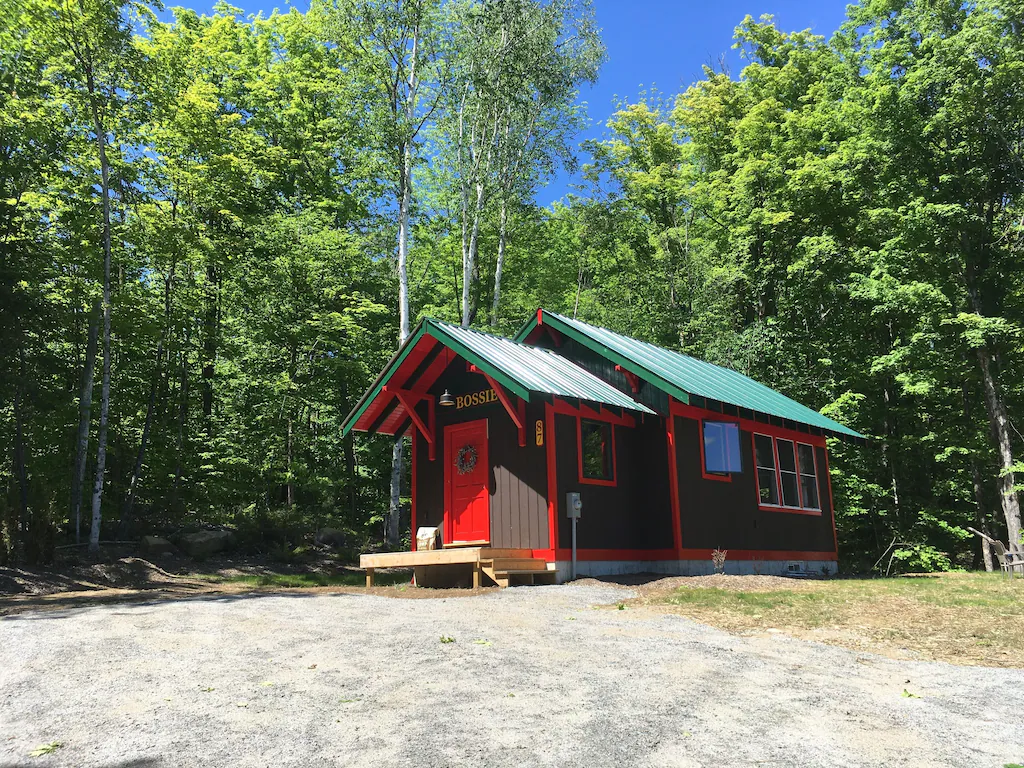 ---
8. Hemlock Hideaway
Location: Stephentown, New York
Price: $250+ per night
https://www.airbnb.com/rooms/39005763
The Hemlock Hideaway in the woods offers a restful, nostalgic, and relaxing retreat in an idyllic setting. Your stay in this romantic getaway will take you back to simpler times filled with antique furniture that will remind you to slow down and relax. As temperatures drop, you can also light an outdoor fire, roast marshmallows, or take a romantic stroll along the pond with your partner.
There are many things to do near the cabin, such as skiing at Jiminy Peak. You can hike trails, explore apple orchards, & dine at excellent restaurants. An old-fashioned cedar hot tub lets you and your spouse relax in privacy.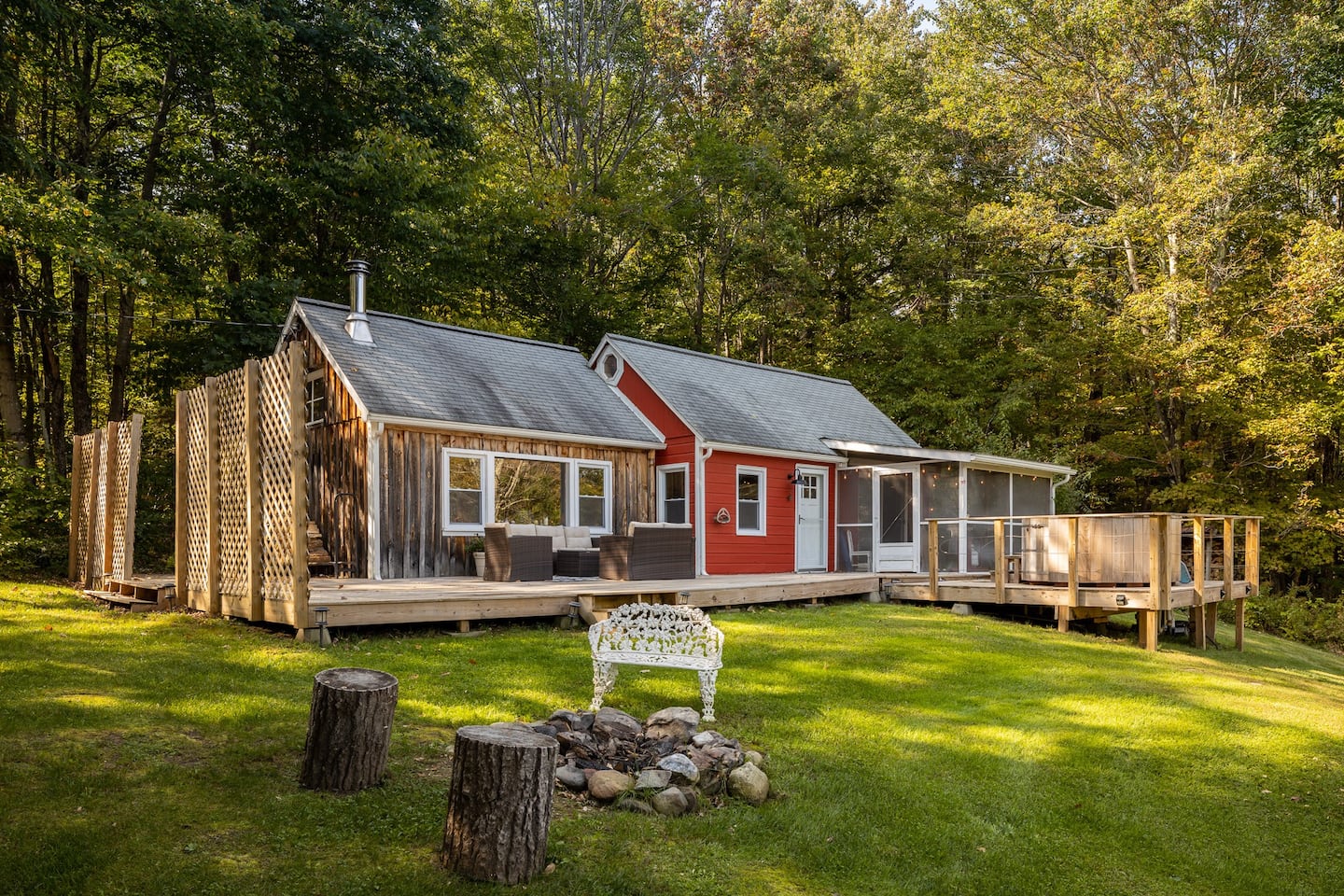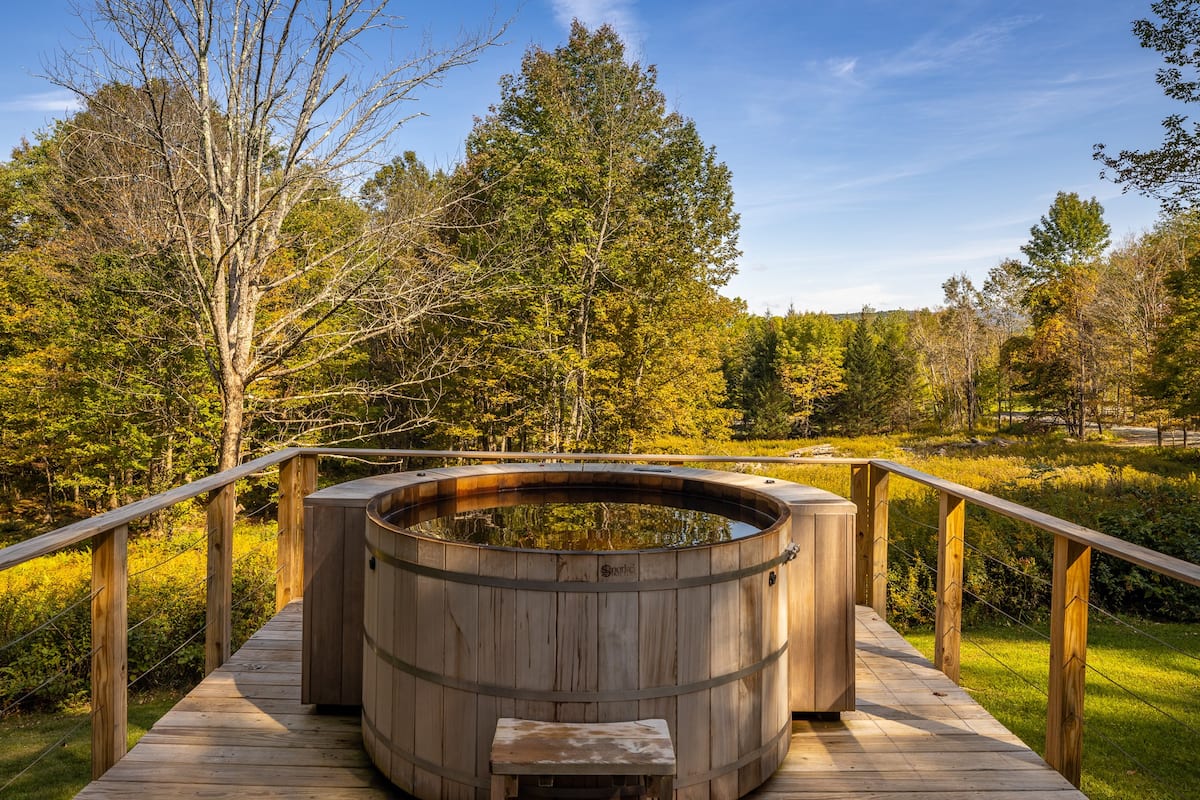 ---
9. Camp Dancing Crow
Location: Munnsville, New York
Price: $495+ per night
https://www.airbnb.com/rooms/25291349
The log house has a gorgeous view of the Mohawk Valley and a third-floor hot tub overlooking rolling hills. The cabin can hold you and your partner captive with its combination of sun, fluffy clouds, brilliant colors, textures, artistry, and the Dancing Crows.
The Camp Dancing Crow sits high up in the hills, just south of the Adirondack Mountains. Come and relax on the four porches or balconies overlooking the Mohawk Valley and re-energize with your partner. In addition, you can enjoy the sounds of the evening coyote calls on the hillsides while on a date with your loved one here in this "small piece of heaven."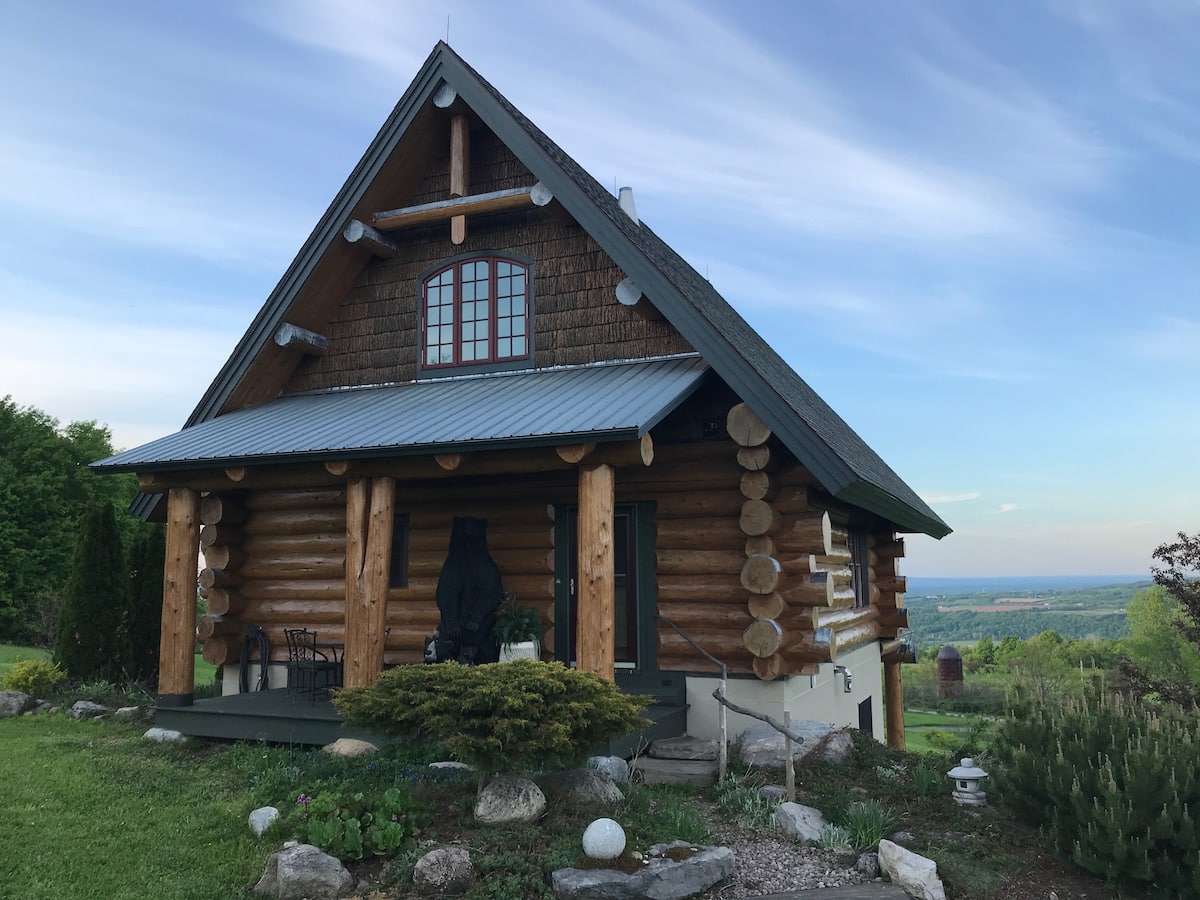 ---
10. Lab Lodge
Location: Arcade, New York
Price: $700+ per night
https://www.airbnb.com/rooms/4605211
Taking a break on a country estate in the stunning gardens is a dream for many. This exclusive hunting lodge offers couples the opportunity to relax and enjoy the grasslands or journey into the wild hills beyond. It is close to golf courses, snowmobile trails, ski resorts, and many trails.
You can relax in a deluxe private hot tub after strolling the local shops or hiking the forgotten trails. You will find it on a shingled deck, surrounded by trees, which gives it a secluded, cozy feeling. The property also has a fully equipped kitchen, a game room, and a porch where you can grill and dine outside with your loved one.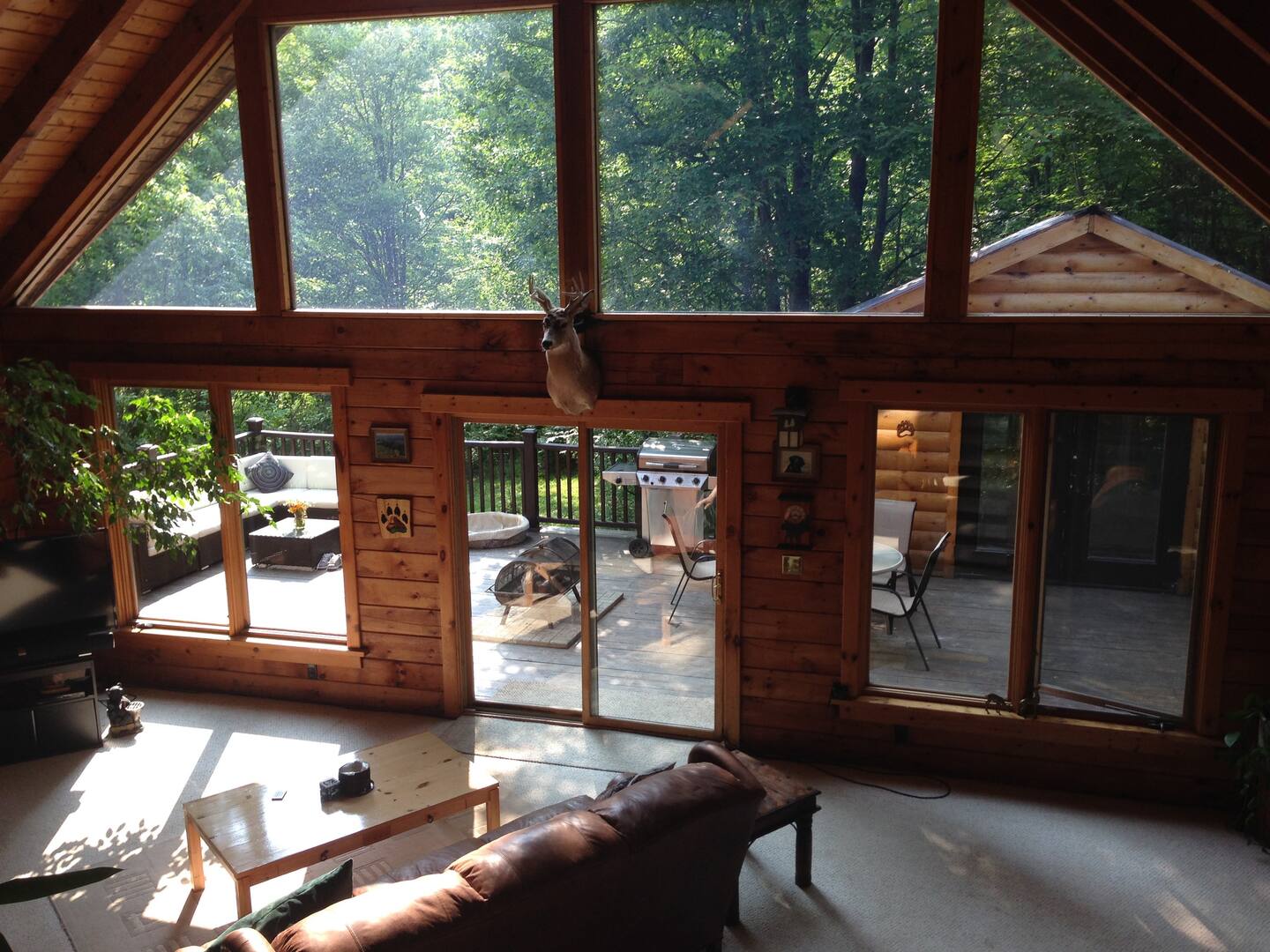 ---
11. Luxury Lakeside Log Cabin
Location: Skaneateles, New York
Price: $700+ per night
https://www.airbnb.com/rooms/15094631
The luxury lakeside log cabin is an elegant haven where you can celebrate love in romance. This graceful haven has stylish interiors, a wood burner, and plenty of charm. Additionally, the cabin includes a living room, kitchen, three bathrooms, a gym, and an alfresco dining area.
The luxury hot tub provides absolute seclusion and is even more delightful at night when fairy lights illuminate the bubbles. Also, you and your spouse can warm up around the fire pit while enjoying the lakeside views.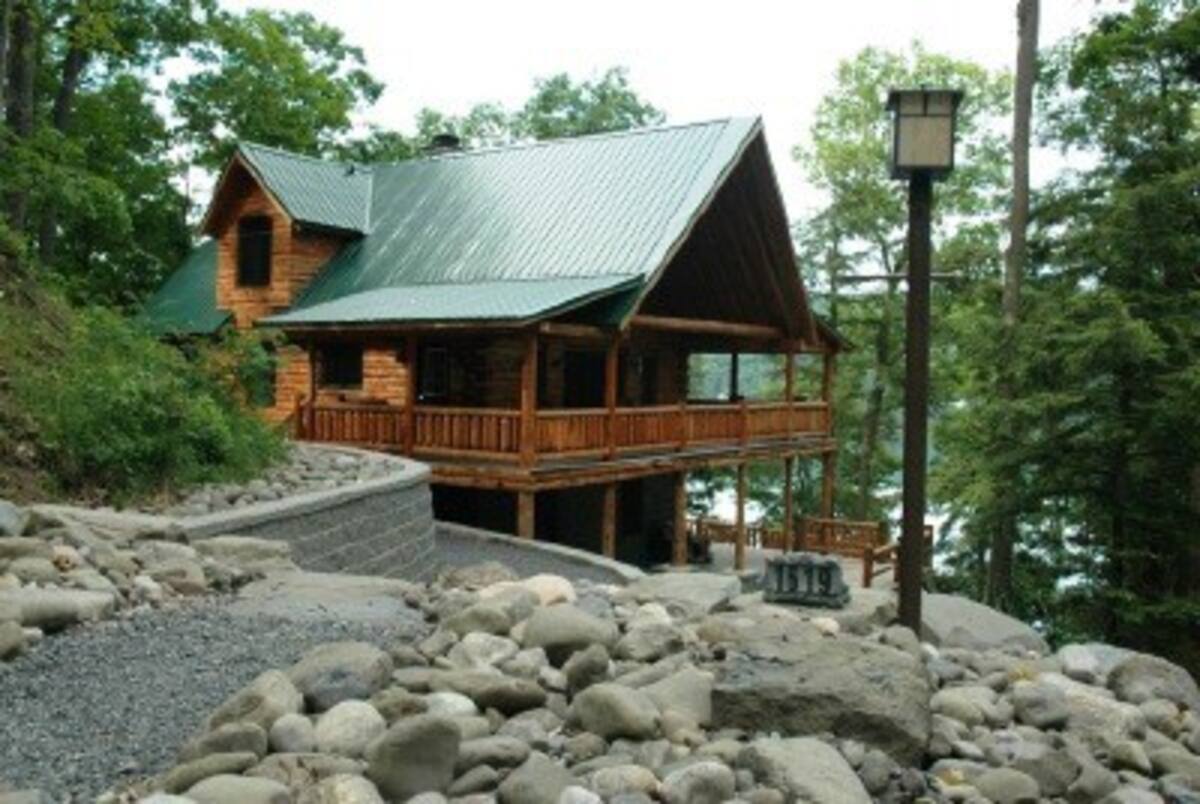 ---
12. Catskills Cabin
Location: Delhi, New York
Price: $158+ per night
https://www.airbnb.com/rooms/37467224
The picture-postcard Catskills Cabin is a fantastic destination for a romantic getaway with your loved one. The Catskills cabin offers its visitors an endless amount of trails, historic sites, shops, and restaurants. You can also explore nearby towns like Delhi, Andes, Bovina, Bloomville, Roxbury, Cooperstown, and many more.
With chess on the lawn, you can do tricks to win your partner's heart. Also, you can read a book under an apple tree or stargaze from your private deck. Cool off in the hot tub and enjoy views of the Catskill Mountains. There are plenty of lovely amenities to make the Catskills cabin a dream honeymoon getaway for couples!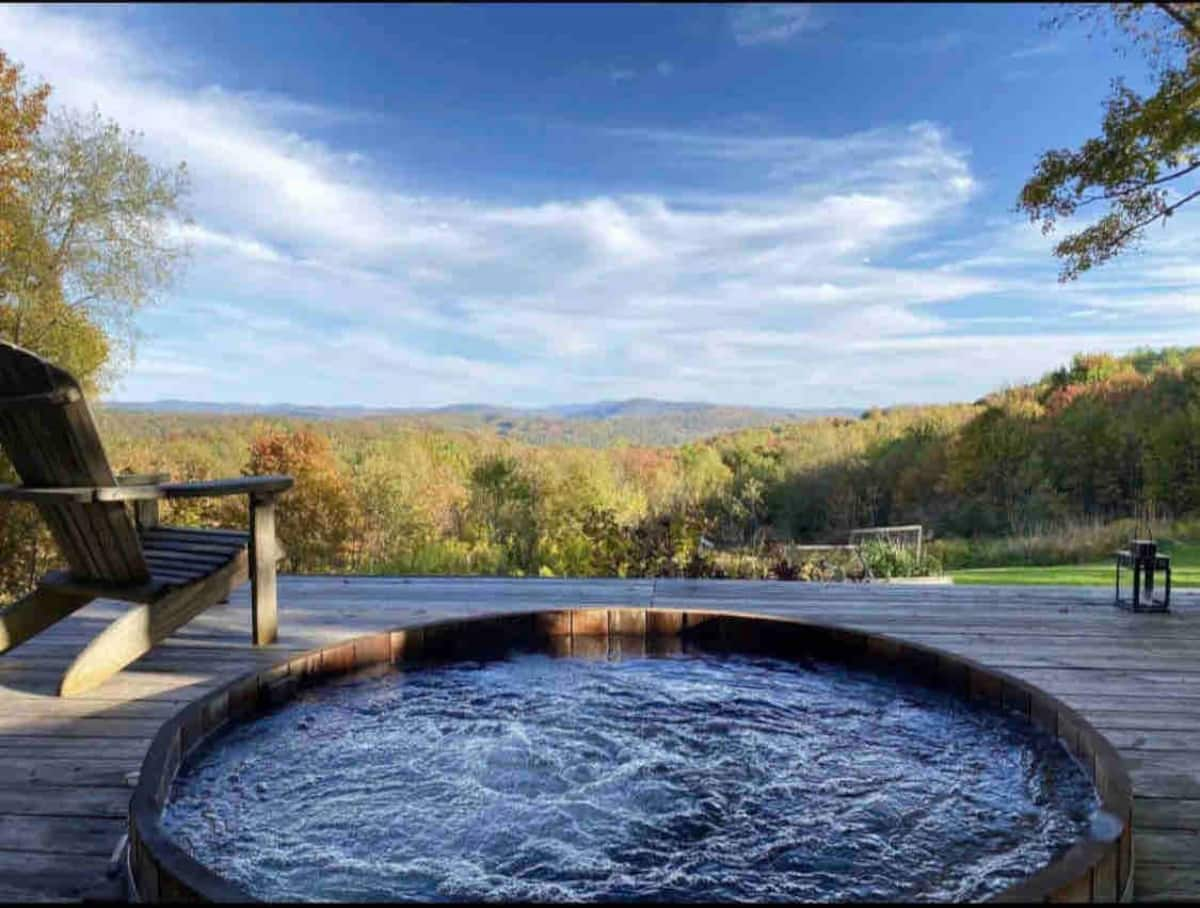 ---
The secluded cabins situated in beautiful surroundings offer your privacy and a sense of awe on your special occasion. Pick your favorite lodge from our top picks to fulfill your woodland romance fantasies and create cherished memories with your loved one.