Planning a trip and looking for the coolest and best secluded cabins in Utah? Well, look no further, as we've put together this fun guide to Utah's amazing cabin rentals that would be perfect for a weekend getaway or family vacation.
Famous for its iconic mountain ranges, stunning national parks, and plethora of outdoor activities – it's no surprise that Utah offers so many amazing secluded getaways! Unplug and recharge in one of these place, connect with your loves ones, and soak up the sights and sounds while basking in nature.
No matter what destination or budget, I'm sure you'll find something amazing here on our list for your upcoming trip!
Also, be sure to read our guides on Romantic Cabins in Utah, Bear Lake Cabin Rentals, and Park City Cabin Rentals for tons more options for future cabin trips!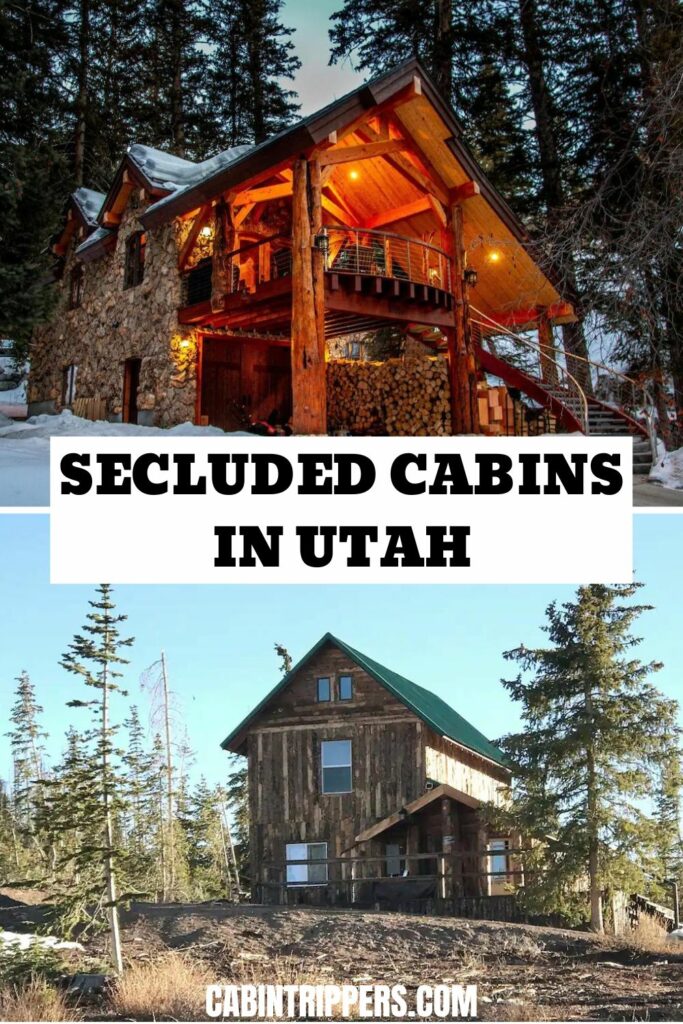 ---
Strawberry Pinnacles Cabin
Location: Fruitland, Utah
Price: $600+ per night
https://www.vrbo.com/7143419ha 
Strawberry Pinnacles Cabin beautiful handcrafted cabin is an ideal location for a secluded group getaway in nature. It sits on 14 acres of land along the Red Creek River and provides a serene and quiet place to gather. Newly built, the rooms and decor are modern chic and comfortable.
Complete with  a fire pit, horse shoe pits, and even a tree-house, there is plenty of space to hang out and play. Nearby there is fly fishing, ATVing, and other boating sports for those looking for extra adventure. With 5 bedrooms, the cabin can sleep 15 guests and has everything needed for a dreamy home away from home feeling.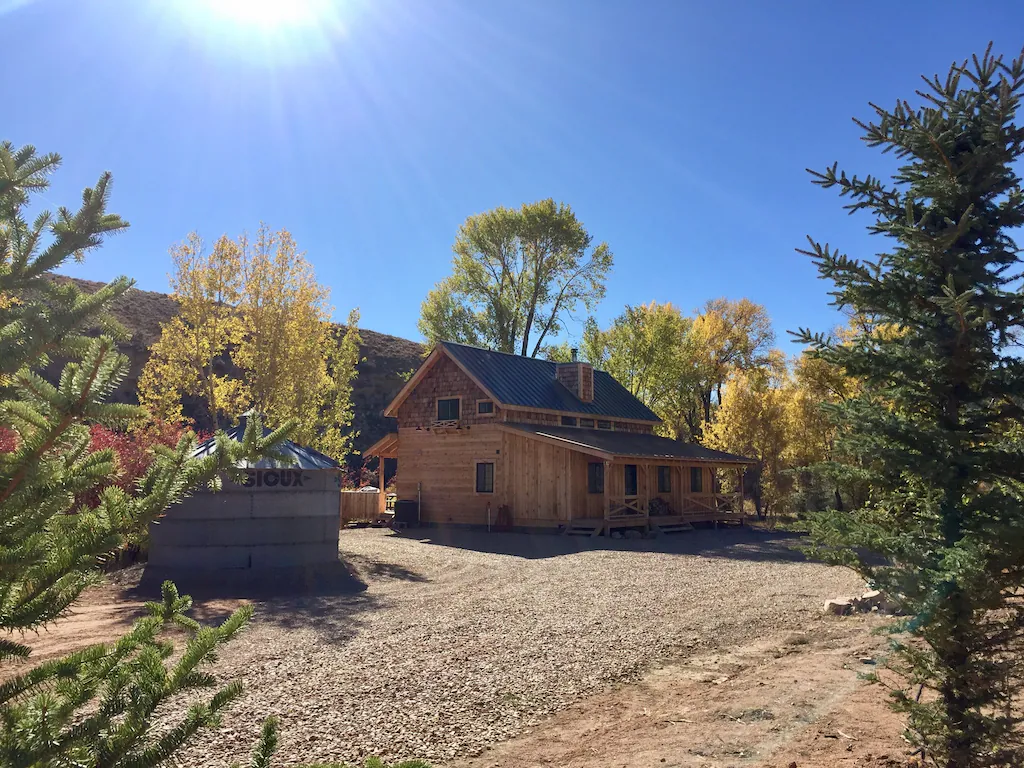 ---
Secluded Luxury Riverfront Ranch Cabin
Location: Hatch, Utah
Price: $299+ per night
https://www.vrbo.com/4066991ha 
This private luxury retreat on 9 acres near Bryce and Zion Canyon is a spot you don't want to miss! With the Sevier River running through the property and no other houses in sight, it's the perfect getaway for those looking for solitude. With high speed internet in a rural remote setting amongst the trees, you can work from here while feeling the serenity of the surrounding nature including views of Bryce Canyon!
The interior design has a neo-industrial/farm style, mixing wood and metal for quite an eclectic yet posh look. Most of the wood features come from the property itself and most of the fixings come from local artisans giving it that natural homey feel. With three bedrooms, two bathrooms including a jacuzzi and walk-in shower, it sleeps six guests. The beautiful kitchen offers stainless steel appliances and a convection oven for those looking to cook up gourmet meals. Ideal for both winter and summer nights, this picturesque retreat will have you feeling relaxed, restored, and at ease.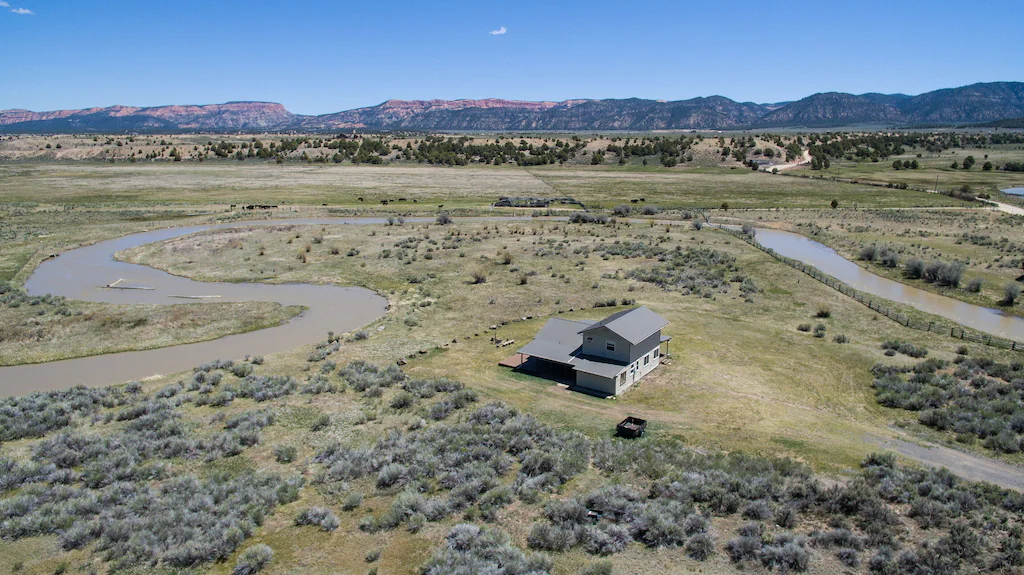 ---
Over the River and Through the Woods
Location: Sundance, Utah
Price: $723+ per night
https://www.vrbo.com/3650448ha 
Over the river and through the woods you'll find this beautiful wood and stone cabin awaiting your arrival. Completely surrounded by untouched nature, with hiking trails from the front door, the North Fork stream below the property, you can't get much closer to being completely secluded with nature. The cabin is a perfect combination of rustic and elegant charm with its natural yet chic finishings.
Outdoor enthusiasts will love the endless options for adventure from cross-country skiing, snowshoeing, horseback riding, mountain biking, fishing, and hiking. For those looking to relax and nourish themselves, the property offers just that as well. Star gazing, campfire time, lounging on the deck, and taking in the tranquil calming sights and sounds of the rustling trees and rushing stream. Ideal for weddings, retreats, family gatherings, rest, an artistic hideaway, or anyone seeking a quiet and peaceful escape.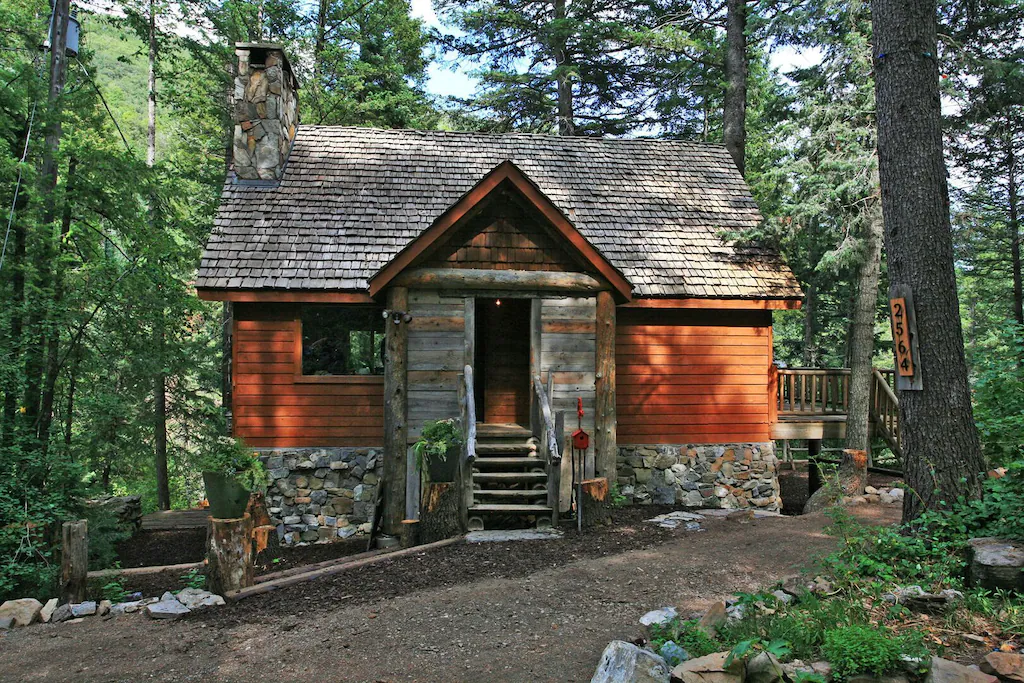 ---
Secluded Midway Mountain Cabin
Location: Wasatch County, Utah
Price: $511+ per night
This 3400 sq foot newly renovated mountain cabin sits on two private acres surrounded by trees giving it a feeling of total privacy in the woods. With six bedrooms, four bathrooms, the cabin can sleep up to 12 people.
With all the modern comforts and a fully furnished kitchen, it has all you need to feel at home. Near to skiing, golf, hiking, boating, mountain biking, snowmobiling, or ATVing from the property, the outdoor options are endless!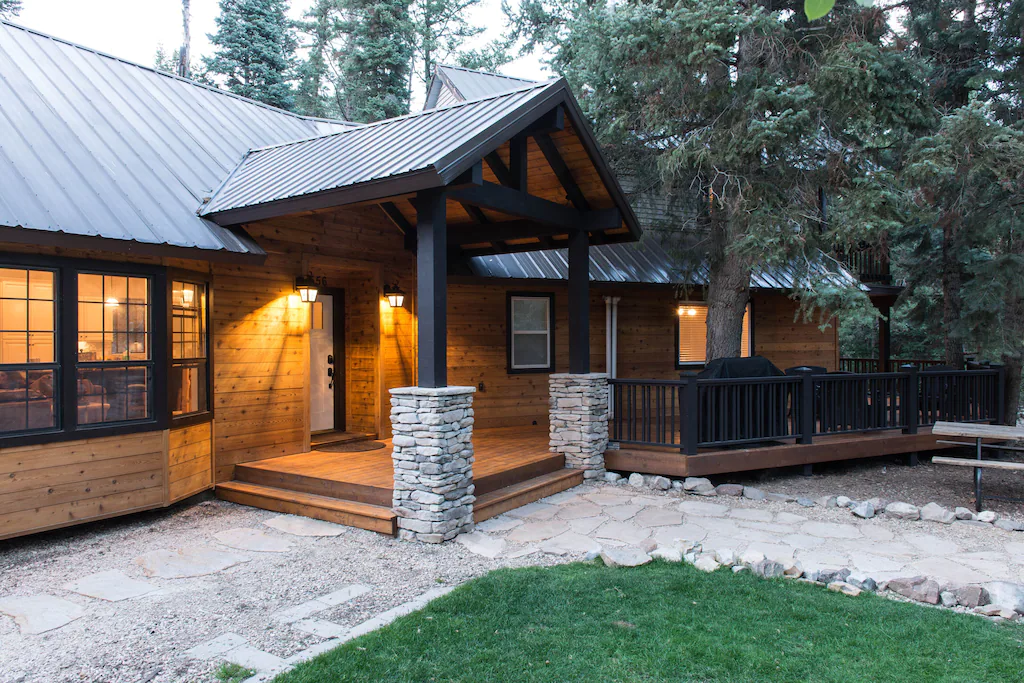 ---
Starview Retreat Cabin
Location: Duchesne, Utah
Price: $296+ per night
StarView Retreat is an isolated cabin on a private 40 acre land surrounded by rock formations and canyons. With four bedrooms and two bathrooms the cabin can sleep 12.
With a comfy living room, stocked kitchen, DVD players and more, it's set up for your home away from home. Outside the cabin is access to biking, hiking, ATV rides, horse back riding, fishing, boating, and other water sports. Plenty of fun and relaxing to be had!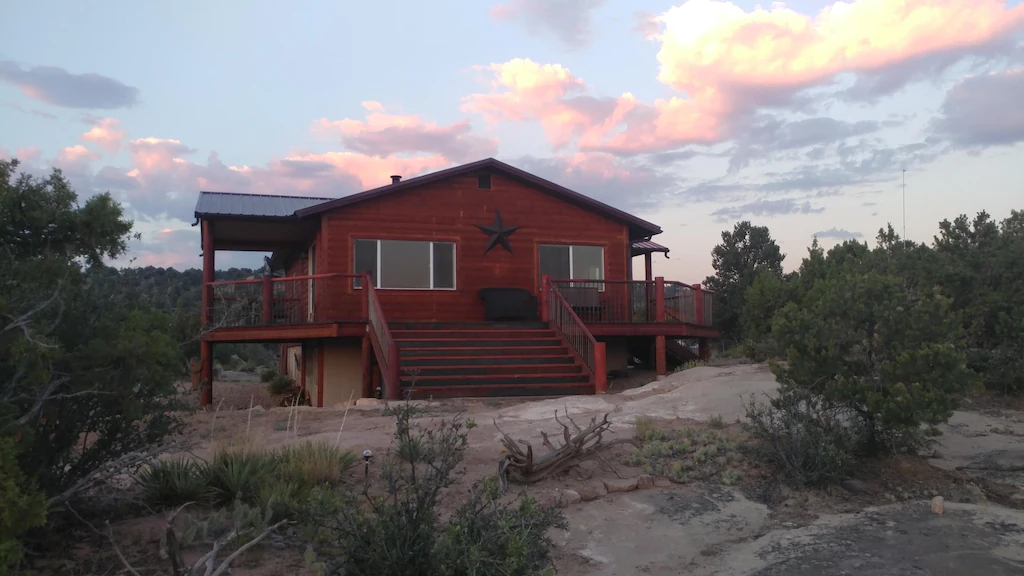 ---
The Utah Hideout Cabin Getaway
Location: Oakley, Utah
Price: $399+ per night
https://www.airbnb.com/rooms/29878711
Surrounded by wide open plains and mountain views, this Utah Hideout is an idyllic getaway. With the sounds from the creek playing in the background and views of horses in the valley, it's quite picturesque. With 2 bedrooms and a loft, this incredible cabin can sleep up to six people comfortably.
The decor is beautifully and intentionally designed with wood floors, leather couches, foliage, and subtle details adding extra levels of comfort and homeyness. With hi-speed WiFi and smart TVs it has plenty of entertainment options for those looking to relax. There are also plenty of nearby hikes, lakes, and ski resorts for the adventurous folks. 
---
A-Frame in Zion National Park
Location: Mount Carmel Junction
Price: $150+ per night
https://www.airbnb.com/rooms/14110278
This impeccable A-Frame in Zion National Park was intentionally created and designed to offer guests proper peace, relaxation and bliss in nature. It's glamping at its finest! The quiet, rustic, and rural off the grid home is built amongst Ponderosa Pines, wildflower meadows, and surrounded by incredible views. The whole property feels like a treasure hunt with different hidden gems amongst the trees. There are lounge chairs for stargazing, a hammock for relaxing, a place to play Horseshoes and cornhole, a BBQ area, and a loveseat next to the A-Frame.
The A-frame is uniquely designed in that you can have an inside/outside room thanks to a convertible wall. Natural sunlight fills the room giving it the feeling of camping. With tons of hikes available from the property, games, coloring books, and cards, there is still plenty to do even while being disconnected. The A-Frame runs on solar, the water is from a local well, and is reused to water plants and trees, and the toilet is an eco-friendly composting toilet. It's designed to give guests a true off grid experience without sacrificing comfort.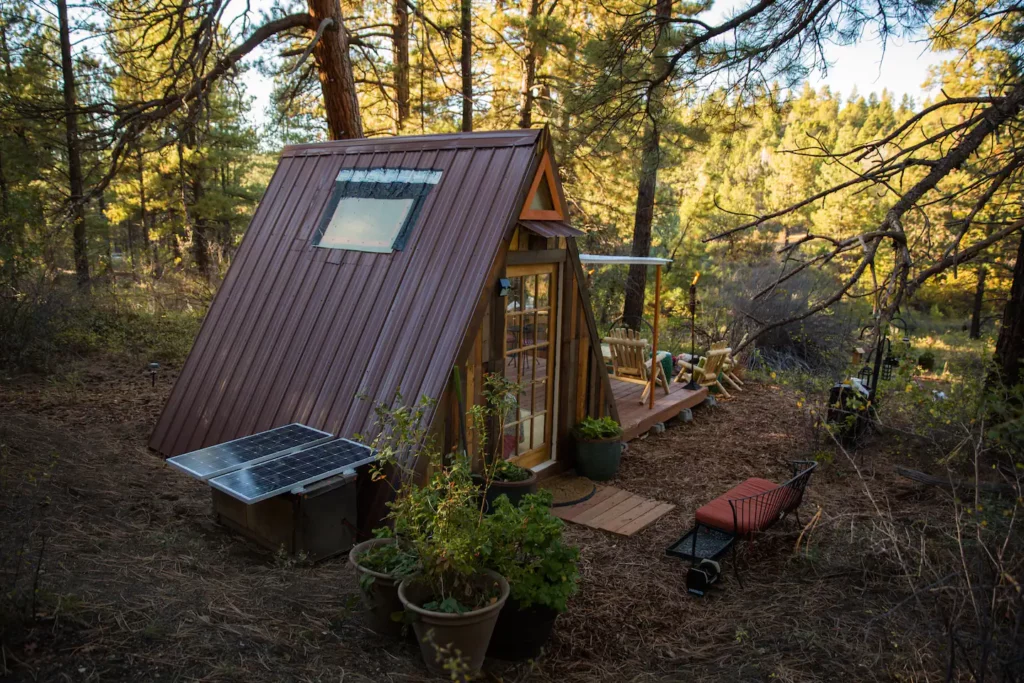 ---
Secluded Cabin with Private Hot Tub
Location: Ephraim, Utah
Price: $99+ per night
https://www.airbnb.com/rooms/31484927
This renovated 100 year old farmhouse is unique, cozy, and rustic. Set out amongst wide open spaces and mountains, it's the perfect place to relax and enjoy the great outdoors.
With a private hot tub perfect for stargazing, a fire pit, corn-hole, horseshoes, picnic area, and flower garden, it feels homey and sweet. The new decor provides all modern day necessities and comforts while being out in nature. The farmhouse best sleeps 3 to 4 people.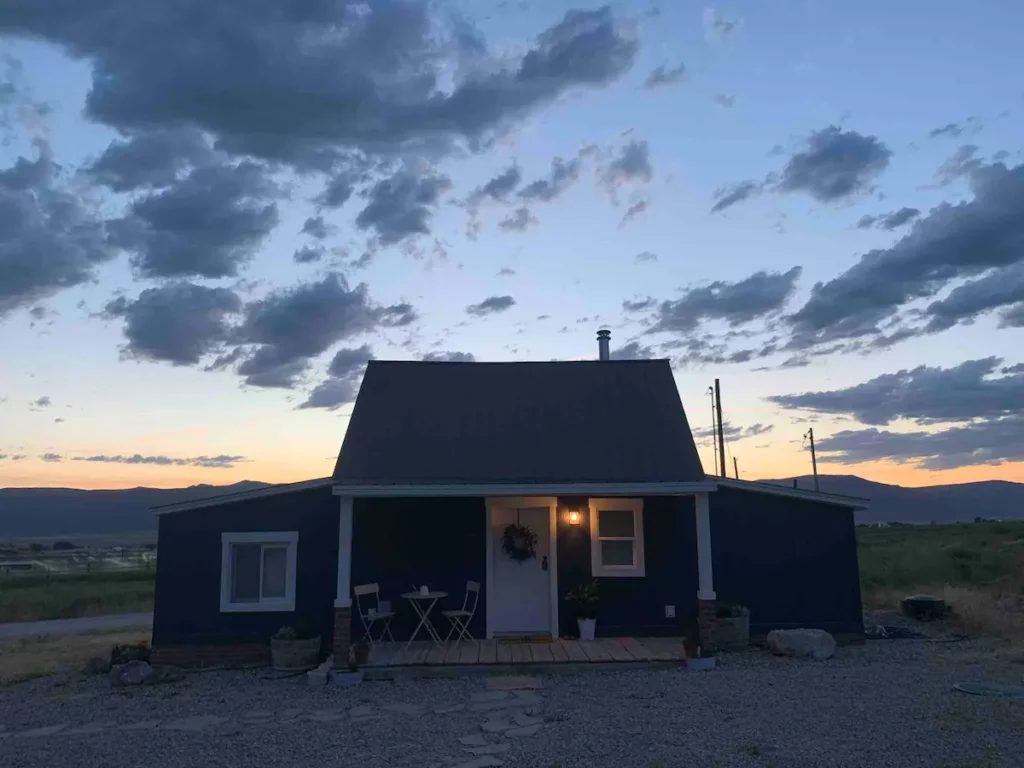 ---
Monroe Peak Cabin Retreat
Location: Monroe, Utah
Price: $205+ per night
https://www.airbnb.com/rooms/37664832
This beautiful and private wooden cabin in the outdoors is perfect for a group gathering. Nestled amongst the hills and mountains, it provides serenity and peace. The rustic 4 bedroom cabin can sleep up to 8 people. With plenty of entertainment options, a full kitchen, outdoor barbecue, playstation, puzzles, and plenty of outdoor space to explore, it offers fun for all ages.
At 10,000 feet it has that crisp mountain feel complete with electric fireplaces in each bedroom! A perfect place to escape to nature and breathe in the mountain air while enjoying the serenity of a private cabin on the picturesque Monroe Mountain.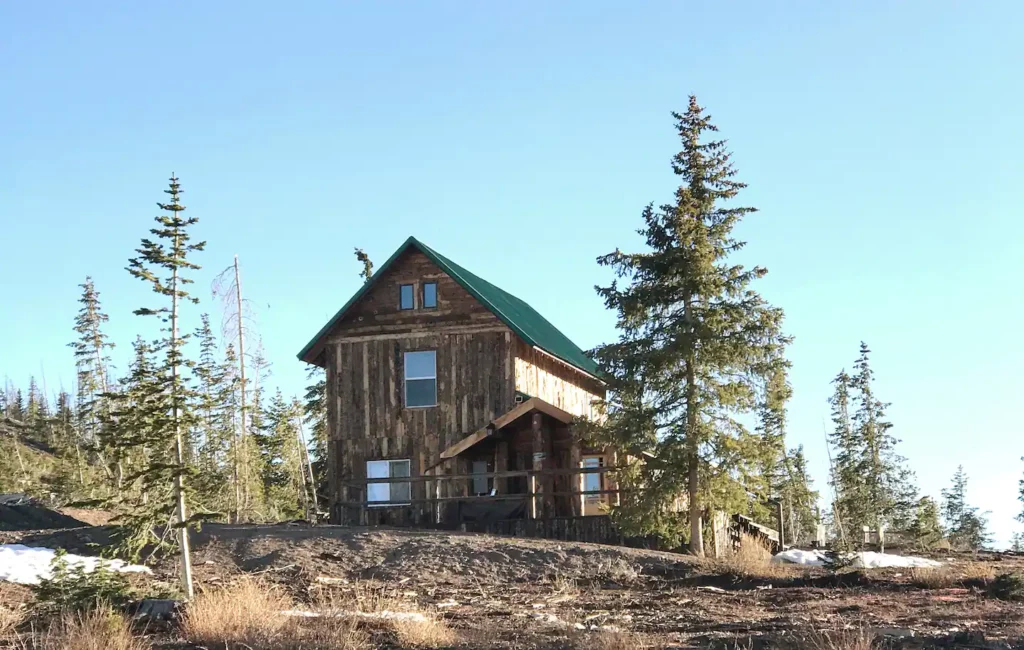 ---
Cabin on the Prairie 
Location: Brian Head, Utah
Price: $263/night
https://www.airbnb.com/rooms/8909946
This cabin on the prairie is set in a perfect location for both solitude and adventure depending on what you're craving. Close to Salt Lake City and Vegas, yet set amongst a wide open field and dense forests, it offers the best of both worlds. With three bedrooms and three baths, the cabin can fit up to 10 guests, great for family trips!
With all the modern amenities, multiple fireplaces, and a deck overlooking the beautiful meadow, it's an ideal home to nestle into and get cozy. Hang out here for your entire stay or create a welcoming nest in between your daily adventures.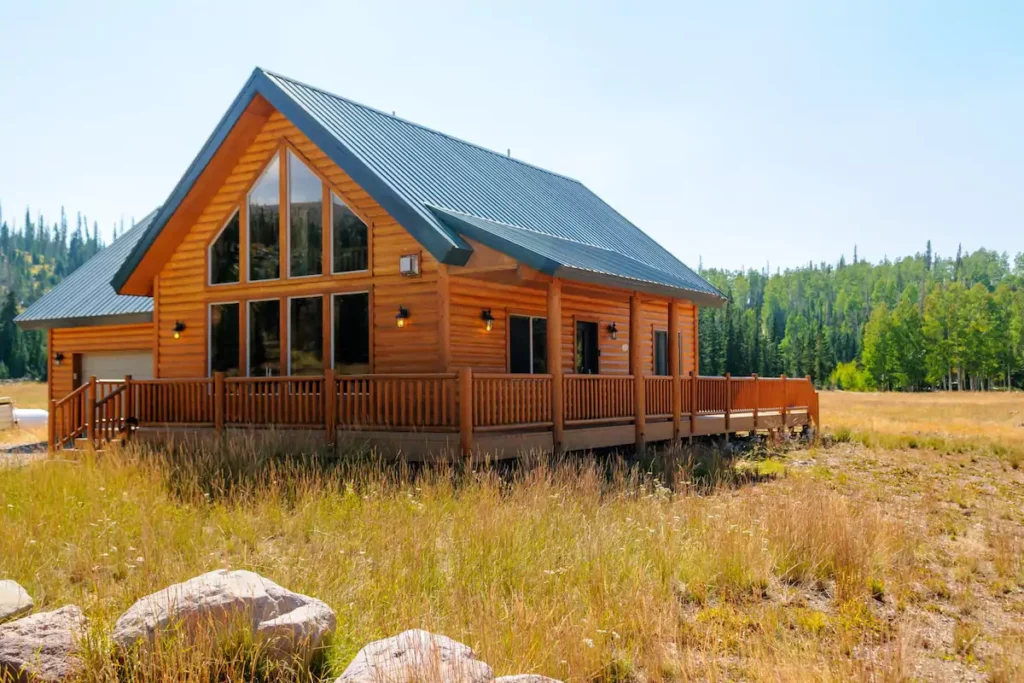 ---
Rustic Secluded Cabin with Bear Lake Views from Deck
Where: Garden City, Utah
Price: $171+ per night
If you're looking a secluded cabin in Utah suitable for big groups, then look no further than this massive cabin with a spacious deck overlooking the panoramic views of Bear Lake. It has four bedrooms which can sleep up to 14 guests. Guests will love the rock fireplace, a large kitchen that connects to a gathering area, and of course the spacious deck complete with picnic tables/ chairs where you can relax while enjoying the views of the lake!
While it is technically in a residential type of area, there aren't neighbors too close so you can feel at ease! It's an ideal cabin rental no matter time of the year, but Bear Lake does offer incredible opportunities for snowmobiling if you happen to visit during the winter months. In the area are also 300 miles of groomed trails and endless opportunities for hill climbing!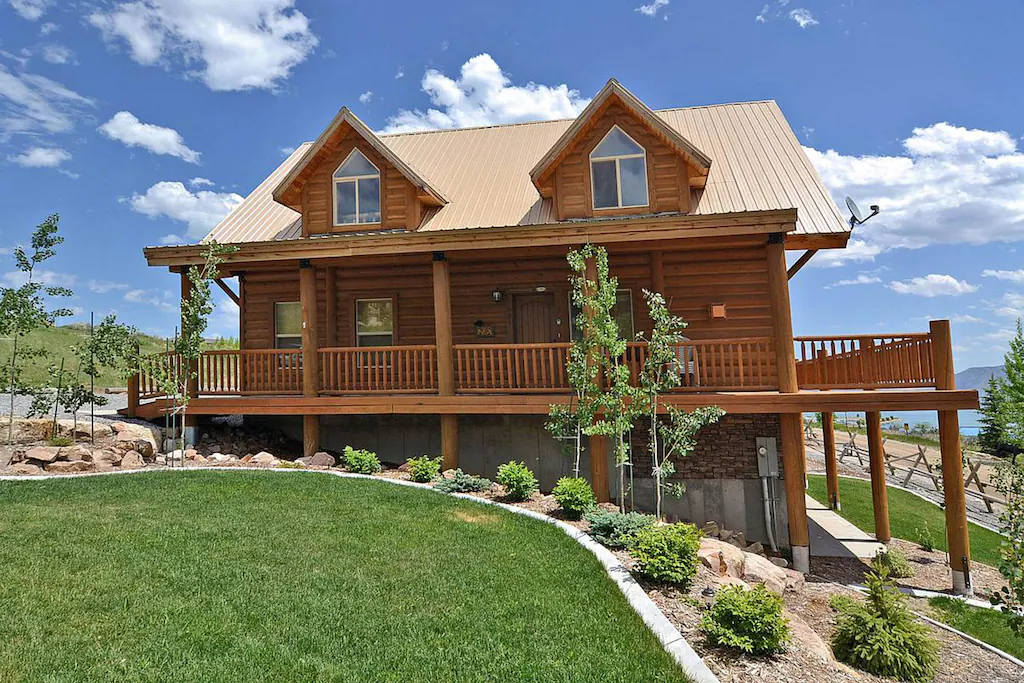 ---
Romantic & Secluded Getaway in Sundance, Utah
Where: Sundance, Utah
Price: $245+ USD per night)
"This is the place. Fresh mountain air, a stream, comfortable bedding, and essentials are all here! Come spend a little time with us."
Looking for a special romantic retreat that is well located to everything Sundance has to offer, then you've got to stay here! The cabin itself is absolutely stunning; rustic yet a super classy second-story cabin suite that past travelers rave about.
There are lovely rooms, outside decks, and a romantic secluded cabin getaway wouldn't be complete without a luxe hot tub and outdoor shower!
It's just a brief walk to Sundance Mountain Resort's superb restaurants and facilities, and would be the perfect home base for exploring this Utah gem.