If a cozy cabin mixed with outdoor adventure is what you are looking for, look no further than beautiful New Hampshire. With every style and type of log cabin you can imagine from rustic to chic, cozy to spacious, there are endless cabin rentals in New Hampshire available to enjoy for a staycation/ weekend getaway in nature.
Most often tucked away amongst the trees with surrounding mountain views, each of these cabins will have you feeling relaxed and nourished. Whether exploring with friends, a romantic partner, or family, there are options for everyone. 
Also, be sure to read my guides on Cabins in Maine, Cabins in Connecticut & A-Frame Cabins in New York for more epic cabin accommodation in the area!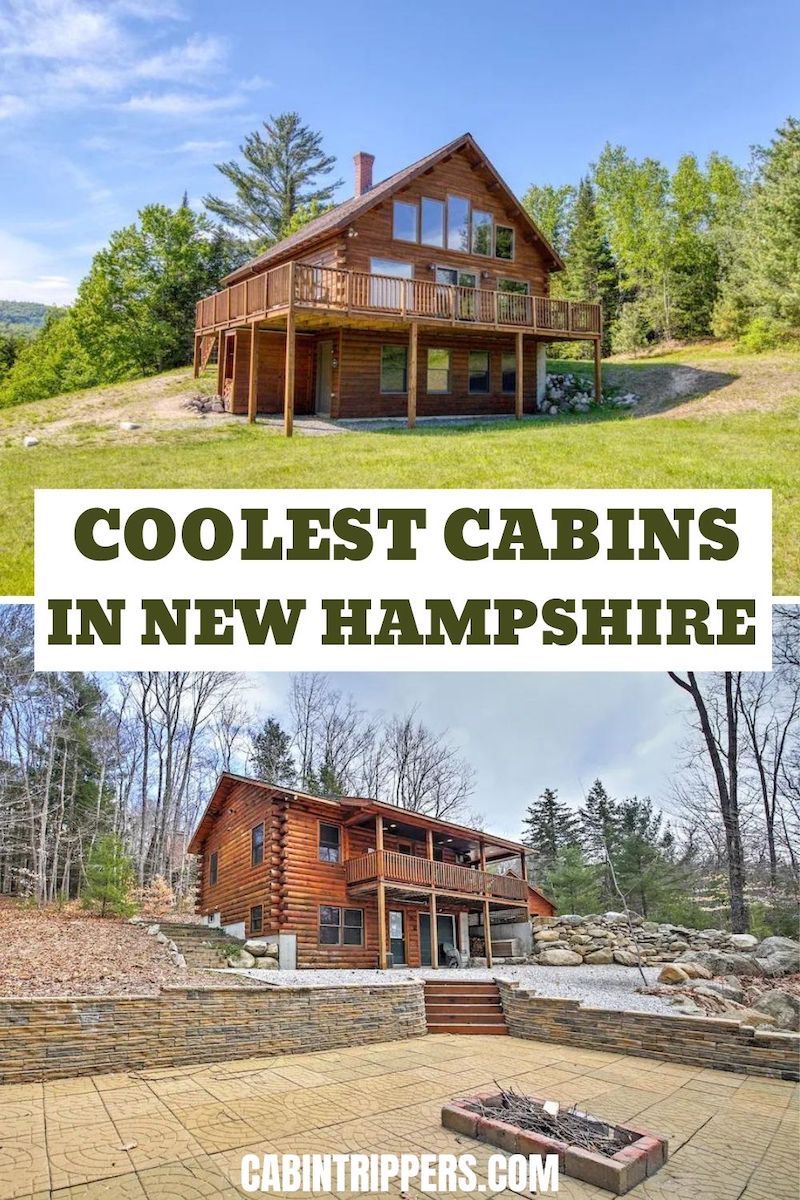 ---
Luxury Solar House with Big Views
Location: Jackson, New Hampshire
Price: $375+ per night
https://www.airbnb.com/rooms/10701619 
This beautiful luxury cabin in the White Mountains will leave you feeling refreshed and rejuvenated without leaving a big carbon footprint. It is a solar powered home with LEED and NAHB certifications. The stunning chefs kitchen is to die for. Wood floors, leather couches, and granite, marble, steel decor give the house a chic and contemporary feeling.
The three separate living areas give the house a spacious yet homey feeling and the incredible surrounding views make you feel one with nature. The office makes a great place to work or lounge with its incredible views and day bed. There is even a loft with a wet bar and pool table. Both stories of the home are complete with windows overlooking the surrounding mountains giving it an airy and light essence. The home has two bedrooms, one office, three baths, and an outdoor deck. The deck is a great place to soak up the views from the hammock or while barbecuing for dinner.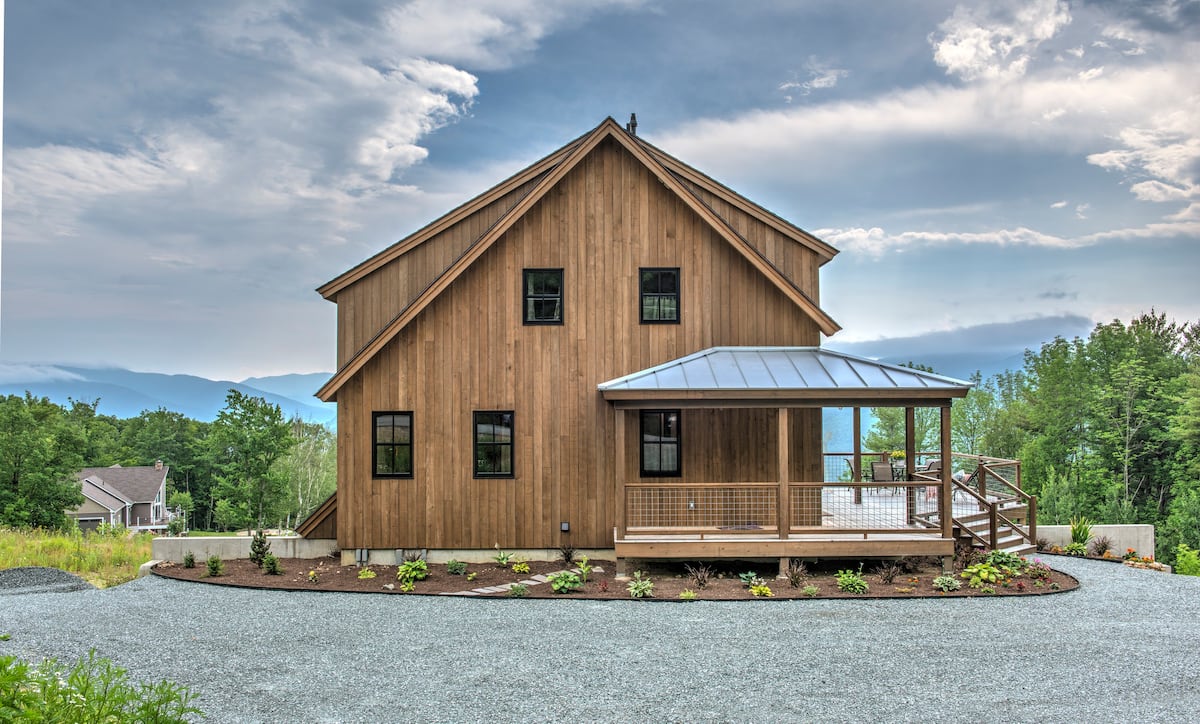 ---
Pat's Cabin at Mount Moosilauke 
Location: Warren, New Hampshire
Price: $750+ per night
https://www.airbnb.com/rooms/18976008
This luxurious yet rustic hilltop cabin is sure to blow your mind with its 270 degree views of Mount Moosilauke and the Baker River Valley. It is set atop 300 wooded acres and trails so is perfect for outdoor enthusiasts and those looking to escape to nature. With six queen beds, four double bed futons and two twin beds it can sleep up to 16 guests! Perfect for a group reunion or gathering away from the hustle and bustle.
The cabin is a three story home with two levels of wraparound decks. It has five bedrooms, a pool table, living and dining area, high ceilings, a loft, family room, four bathrooms, a full kitchen, wood-burning fireplace, strong internet, three TVS, and a large parking area. With wood floors and interior, granite countertops, and plentiful windows to bring in natural light, it feels very warm and spacious inside. Don't miss your chance to live like royalty atop a massive hill in solitude with nature at Pat's Cabin.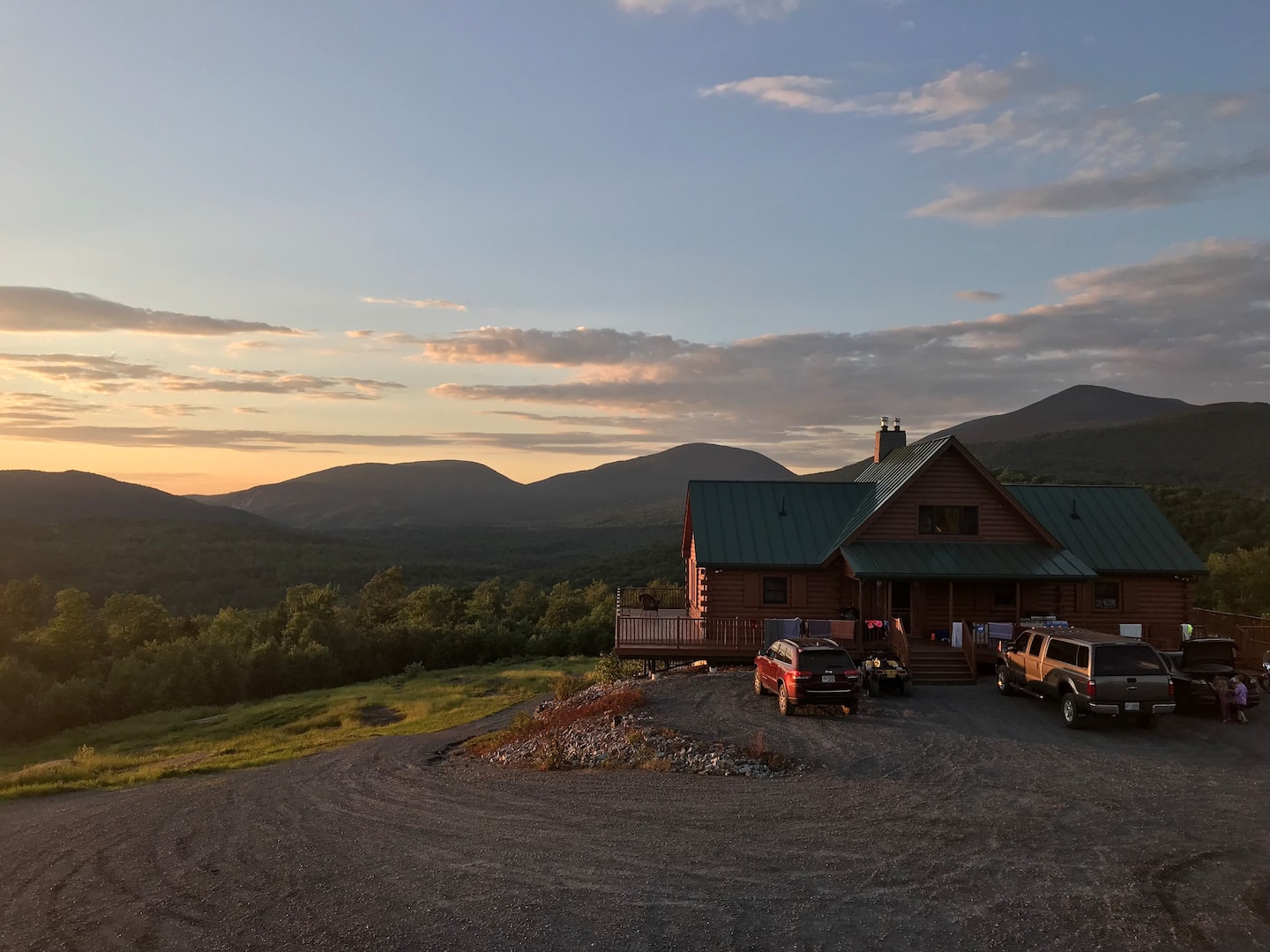 ---
Ling's Treehouse: Soul Retreat
Location: Newbury, New Hampshire
Price: $299+ per night
https://www.airbnb.com/rooms/28368603
The enchanted and peaceful Ling Treehouse is perfect for those looking for full privacy in a unique off-the-grid experience in the New Hampshire woods. A place to disconnect and reconnect with nature. The hand-crafted treehouse is set amongst the trees and has floor to ceiling windows of the surrounding mountains making you feel completely immersed in nature. The luxurious yet minimalist interior has been intentionally designed to create a relaxing, cozy, and peaceful environment.
The house is close to hiking trails, skiing, and all sorts of forest bathing to allow guests to fully decompress. With only the sounds of nature, guests are sure to leave feeling calmer than when they arrived. The owners value minimalism and a leave no trace policy to ensure we leave nature better than we found it. There is no wifi in the woods so it's ideal for those looking for total rest and reset time with loved ones and the trees. The fire pit outside is perfect for camp cooking along with the portable burner to boil water. A clean outhouse with a view and outdoor shower are set up next to the treehouse. Think glamping! Don't miss this unique and special place to stay!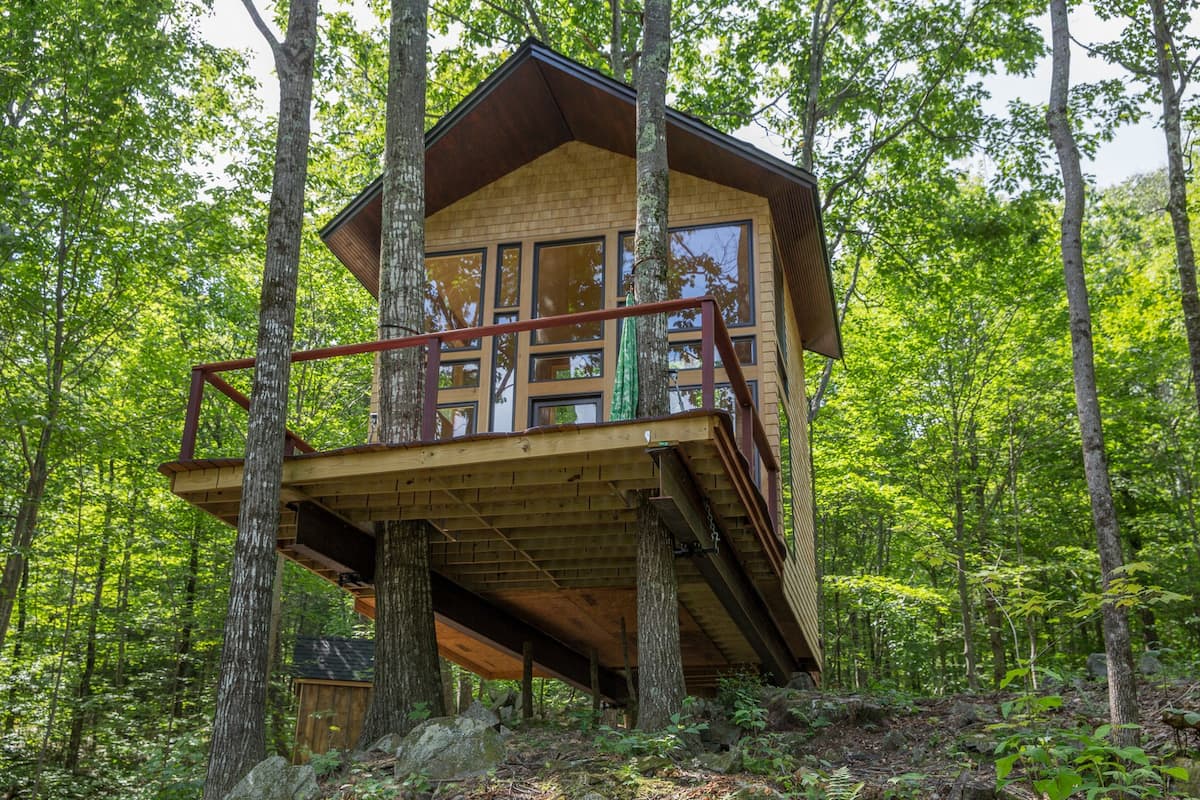 ---
Mountain Chic Getaway
Location: Conway, New Hampshire
Price : $271+ per night
https://www.airbnb.com/rooms/38821414 
This mountain chic getaway in the White Mountains is the perfect retreat space for families or couples. In the Echo Lake State Park, it is ideally located near downtown Conway, Storyland, Diana's Bath's, and Cathedral Ledge. The cabin sits among the trees with views of Cathedral Ledge. The interior design is very contemporary and chic with white decor and modern furnishings.
It is complete with many places to relax and read or take in the views, like the hammock chair or the comfy couch. The floor to ceiling windows bring in tons of natural light adding an airy and light feel to the home. The gas fireplace adds an element of coziness to the cabin, perfect for playing games or watching a movie on the Smart TV. The fully equipped kitchen makes it easy to stay in, cook, and share a meal together. With three bedrooms and a full bath, the cabin can sleep up to five guests.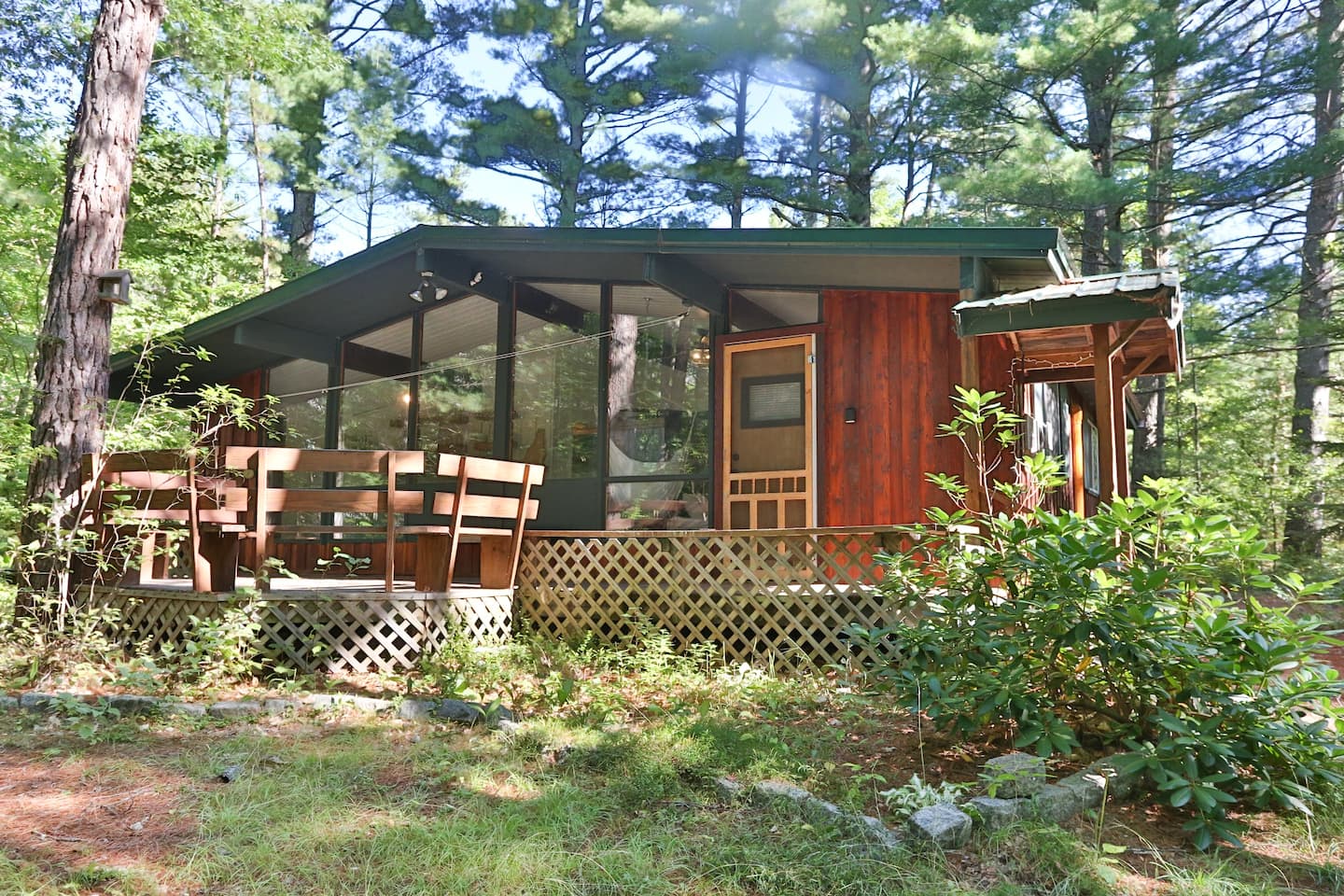 ---
Bear Ridge Lodge
Location: Franconia, New Hampshire
Price: $434+ per night
https://www.airbnb.com/rooms/26386864
The newly built chalet-style Bear Ridge Lodge is an incredible place to enjoy New Hampshire's stunning nature with loved ones. With its sweeping mountain views it will have you feeling immersed in nature. Its modern yet rustic design with Scandinavian decor make for a comfortable, cozy, and minimalist feel. The outdoor area is complete with a deck and porch, perfect for taking in the views, reading, stargazing, watching the nearby wildlife, or enjoying a meal. The stone fireplace keeps the home nice and warm during the winter months.
The log home is close to Cannon Mountain and Loon and Bretton woods with miles of National Forest trails straight from the back door. It is truly an idyllic log cabin in the woods. With three bedrooms and five baths, the house can sleep up to 8 people. The interior is designed to feel extra calming and natural with rainfall showers, plentiful natural light, a library, reading loft, and a family room with a home theater, workspace, and board game area. Perfect for a family retreat!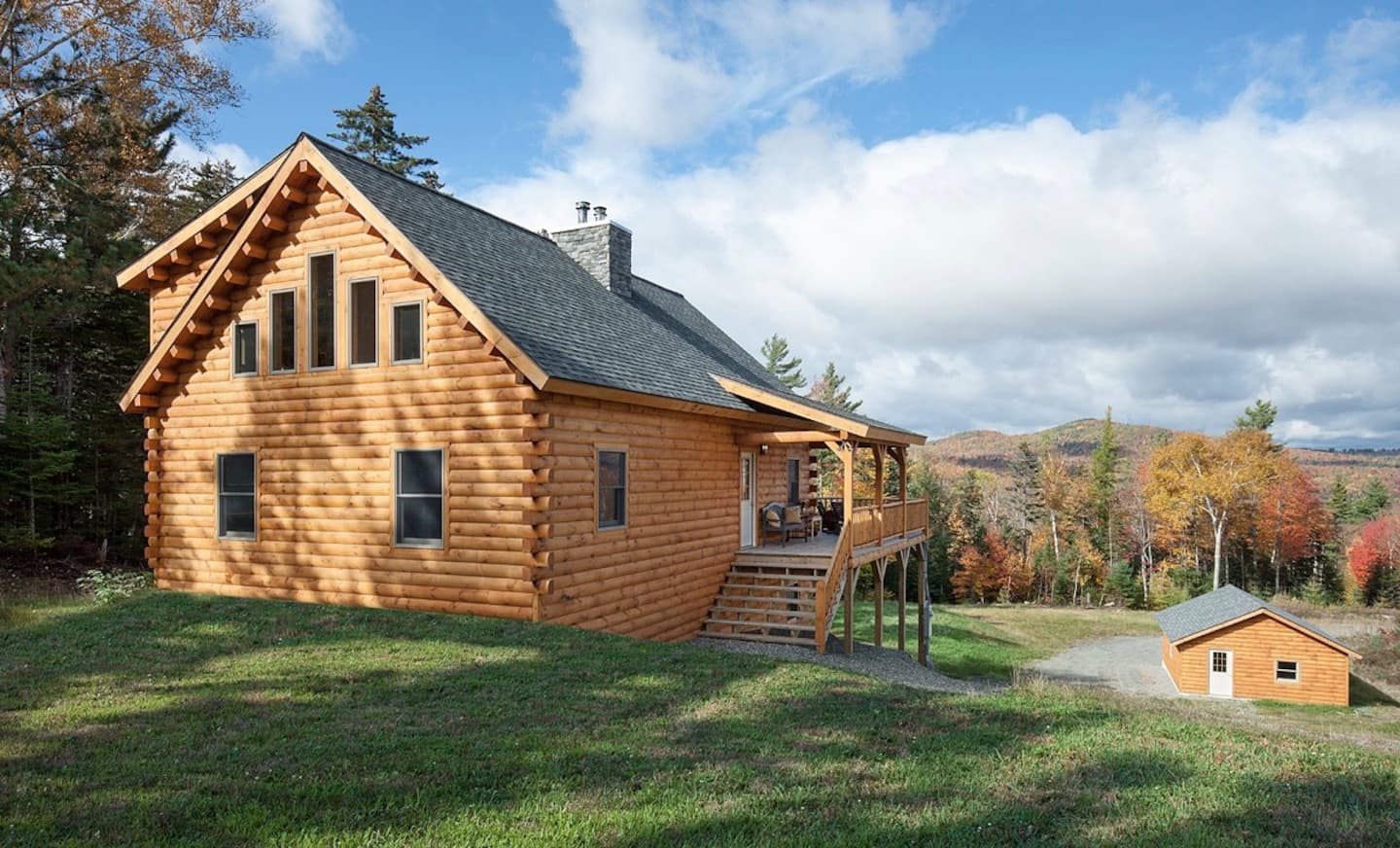 ---
Luxury Log Cabin on Lake Winnisquam
Location: Tilton, New Hampshire
Price: $370+ per night
This rustic yet luxurious cabin on Lake Winnisquam is the ideal family getaway. It is a newly built custom log cabin on the beach with three bedrooms and three baths and can sleep up to eight people. With a farmers porch out front to watch the sunrise or sunset and listen to the sounds of nature, it has a relaxing and peaceful feel. Inside, the open concept design makes it very spacious and full of light.
With new furnishings, surround sound, and smart TVs in all the rooms, the house has all the modern amenities to keep guests entertained and comfortable. The most unique part of the house is its access to a private beach out front with a boat launch pad, free kayaks, canoes, and row boats. There is also a convenient outdoor shower, kitchen sundeck, grill, and picnic tables. Plenty of outdoor activities to be enjoyed during the warm months!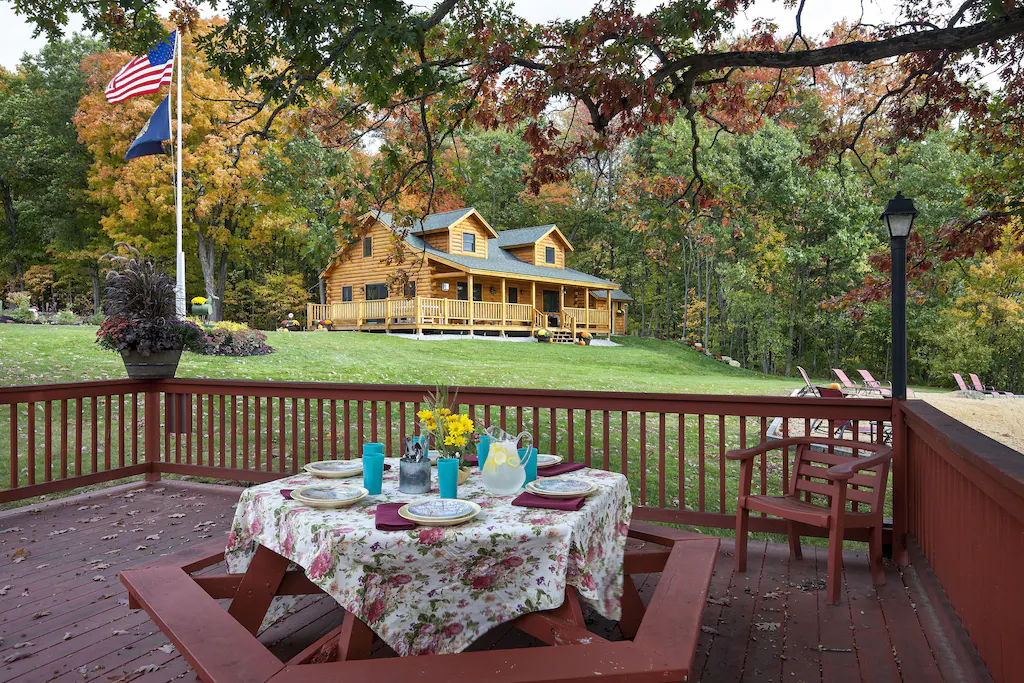 ---
Custom Log Cabin near Mount Washington 
Location: Carroll, New Hampshire
Price: $443+ per night
This large 3100 square foot cabin in the White Mountains is the perfect adventure house. Located on a snowmobile trail in Twin Mountain, guests are greeted by adventure right off the steps. The cabin has three king size bedrooms, a lower area with a queen and bunks, and a loft with twin beds. The kitchen has a large table that can seat up to 12 people. The house is ideal for families or gatherings of friends.
With four flat screen smart TVS, a basement, billiard pool table, and recreation room, the cabin has all of the entertainment options for cozy winter days. The living area has a large fireplace and outside is a fire pit to stay warm and enjoy the night sky. There are also two covered porches with mountain views that add to the outdoor space. It is conveniently located close to Bretton Woods Ski Resort, Cannon Mountain, and Bethlehem, for all of the ski bunnies out there.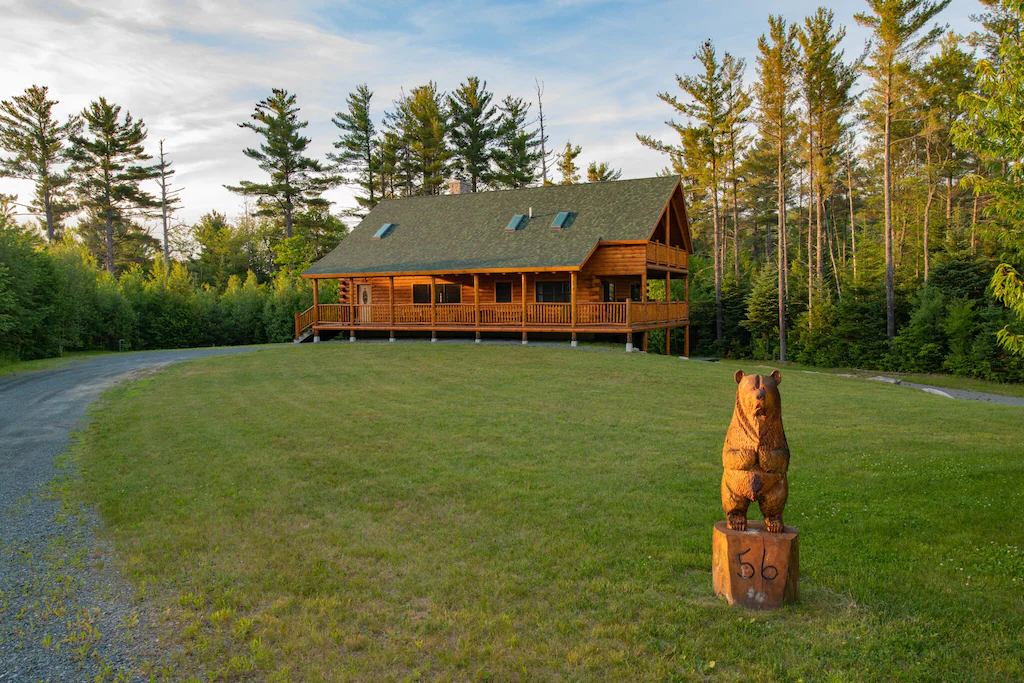 ---
Franconia Range View
Location: Franconia, New Hampshire
Price: $220+ per night
Franconia Range View is a lovely log cabin in Franconia with mountain views and direct access to ski and snowshoe trails! With floor to ceiling windows, the house offers sweeping views of Mount Lafayette, Cannon Mountain, and the Kinsman Mountain Range. Remotely located in the woods, the house is perfect for guests looking to get away and retreat in nature. It's ideal for stargazing at night and outdoor adventures during the day.
The wrap around deck offers plenty of outdoor space to read, relax, and take in the surrounding nature. For the winter recreation enthusiast, this cabin is a dream stay with its direct access to the Franconia Touring Center's Cross-Country Ski and Snowshoe trails! With a full kitchen, family room, barbeque, two bedrooms and three bathrooms, the home can accommodate up to eight guests comfortably. Don't miss the incredible opportunity to stay at this Franconia home!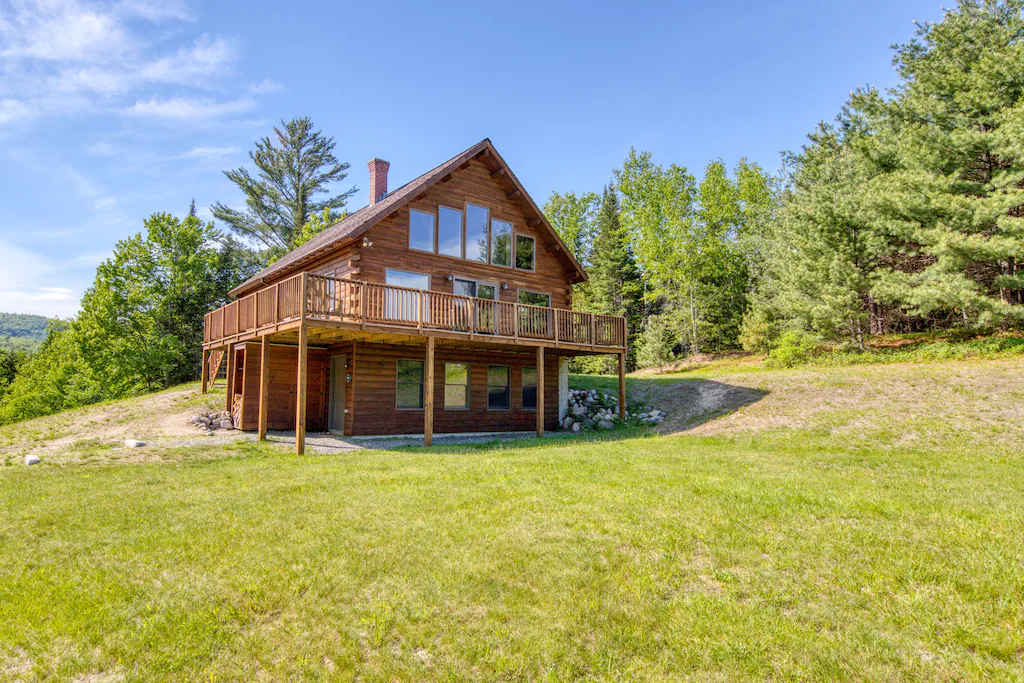 ---
Rustic North Conway Cabin 
Location: North Conway, New Hampshire
Price: $273+ per night
https://www.vrbo.com/4433479ha
This beautiful North Conway cabin is a wonderful home-away-from-home. Situated remotely in the forest and surrounded by trees, it's ideal for those looking to retreat in nature. With three bedrooms and one and a half baths it can sleep up to eight people so is great for families or small groups. Full of modern day comforts, it is equipped with a cozy fireplace, flat screen TV, books, Wii, games, and plenty of space to relax and enjoy each others company.
The wraparound porch offers a place to sit and take in the views and fresh air outside along with the outdoor fire pit, perfect for stargazing over smores. As it is located near many state parks, the cabin is an ideal place to stay for outdoor enthusiasts who love skiing, hiking, fishing, kayaking, tubing and more!