Planning a trip or weekend getaway and searching for the coolest cabin rentals in Michigan? Excellent decision, and I've put together this incredible guides to incredible places for a cabin getaway that you'll never forget! 
As the only state that touches four of the five great lakes, Michigan is full of many fabulous lake front properties, cottages and cabins. This list of the 12 coolest cabin rentals in Michigan will offer you something for each occasion. Whether a romantic getaway or a fun weekend with friends, there is a cabin perfect for your every need!
Also, be sure to read my guides on Romantic Cabins in Hocking Hills for a nearby Ohio getaway!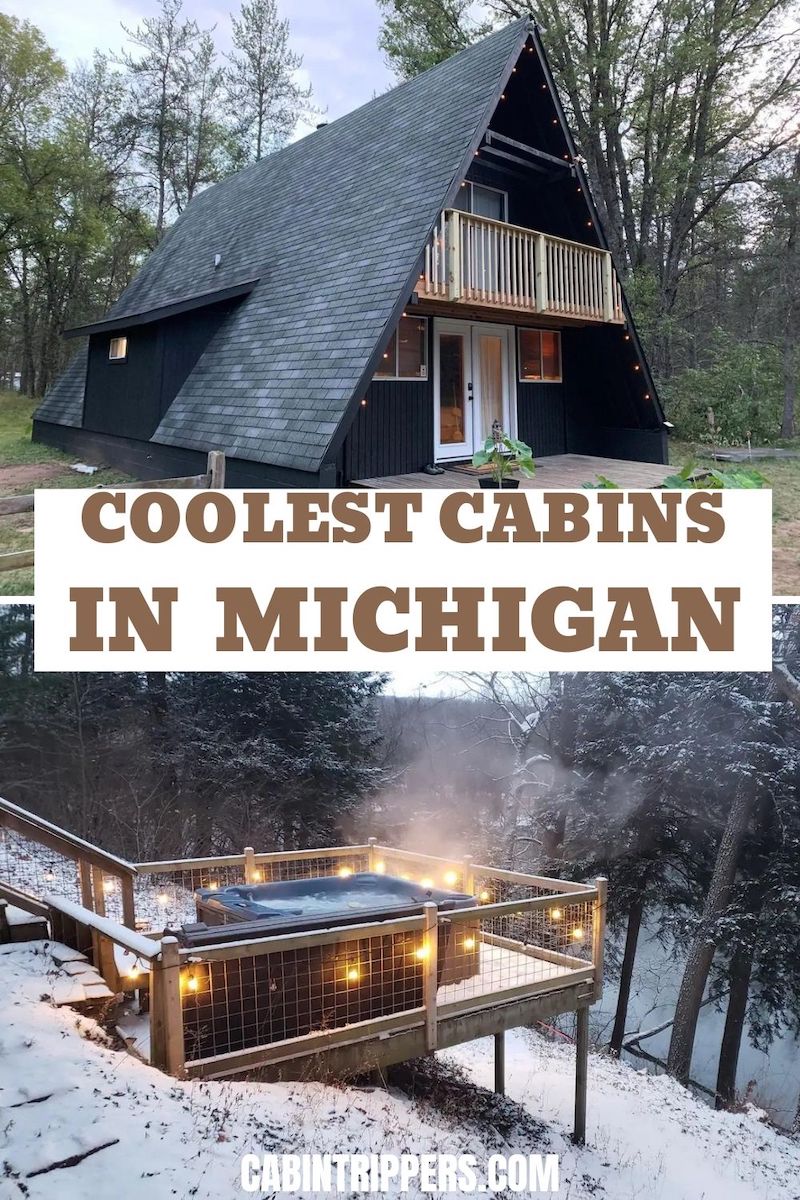 ---
Delightful Riverfront Cabin with Fireplace & Hot Tub
Location: Springdale Township, Michigan
Price: $361+ per night
Sleeps: 12
This cabin is perfect for a family or group of friends looking for adventure. The property is right on the Betsie river and boasts fabulous views. After a day of fishing, skiing, canoeing, or hiking, you can relax in the game room. Shoot some pool, throw some darts, or sit down with a boardgame by the wood-burning fireplace. Just a few miles north you will find Crystal Mountain. Hit the snowy slopes, the 36 holes of golf or enjoy a luxurious spa treatment at the resort. The opportunities are endless!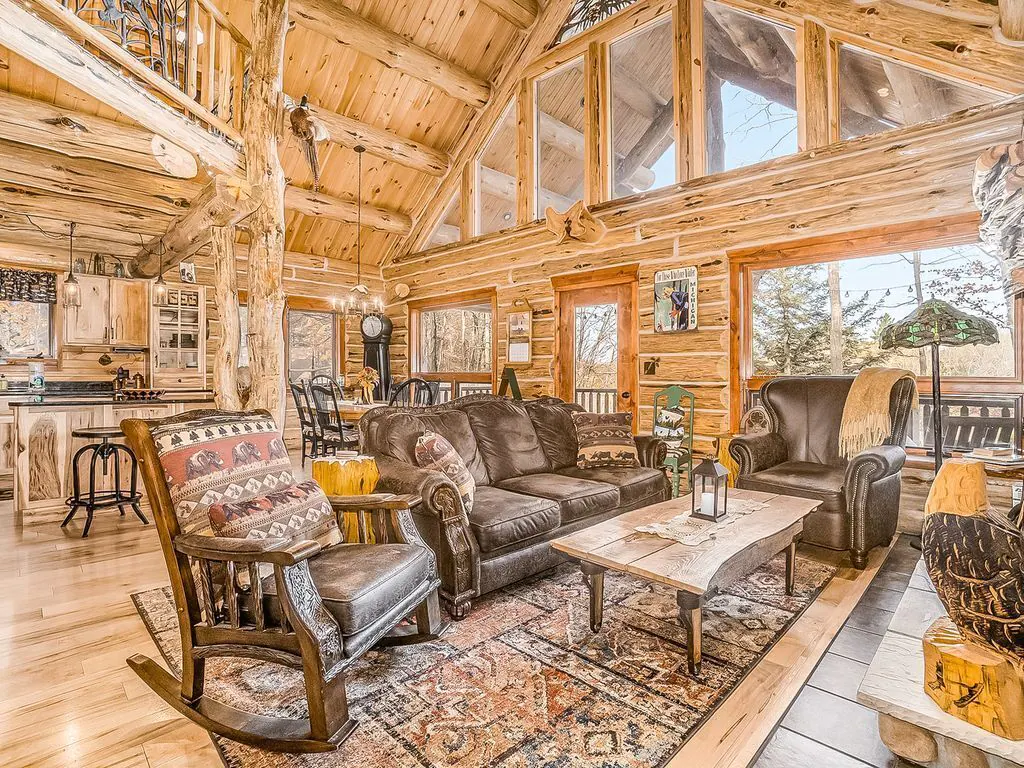 ---
Pet-Friendly Lake Odessa Beach Cabin with Hot TUb
Location: Lake Odessa, Michigan
Price: $292+ per night
Sleeps: 10
Right on Jordan Lake, the highlight of this property is the large hot tub with sweeping lake views to which you will have access year-round. If you are a fan of outdoor activities, the property has a rowboat, paddleboards, and kayaks available to all guests. You can also rent a pontoon boat to explore the lake! If you can't get enough of the outdoor activities, within a short drive you will find fantastic golf courses, tennis courts and a Zoo. If you prefer to stay in, enjoy the firepit right by the water or one of the many games available. A great property for a family vacation or a retreat with friends.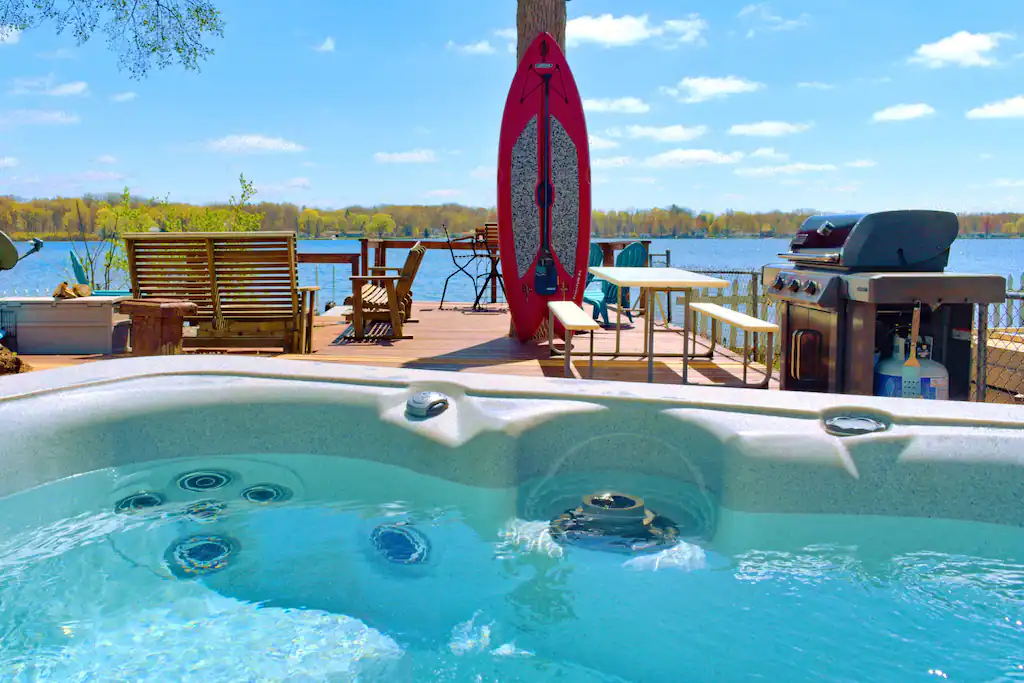 ---
803 Mountain Cabin
Location: Boyne Falls, Michigan
Price: $425+ per night
Sleeps: 8
https://www.airbnb.com/rooms/32888152 
This luxurious wooden cabin is tucked into the woods, remote enough to immerse yourself in nature yet still close to the golf courses and the slopes. The beautifully decorated home boasts three bedrooms each with large beds to ensure a good night's sleep.
During colder months, curl up by the wood-burning fireplace with a nice glass of wine. Or take your glass outside for a dip in the hot tub located on the spacious deck! The deck is very private, which makes this cabin the perfect retreat for couples or friends.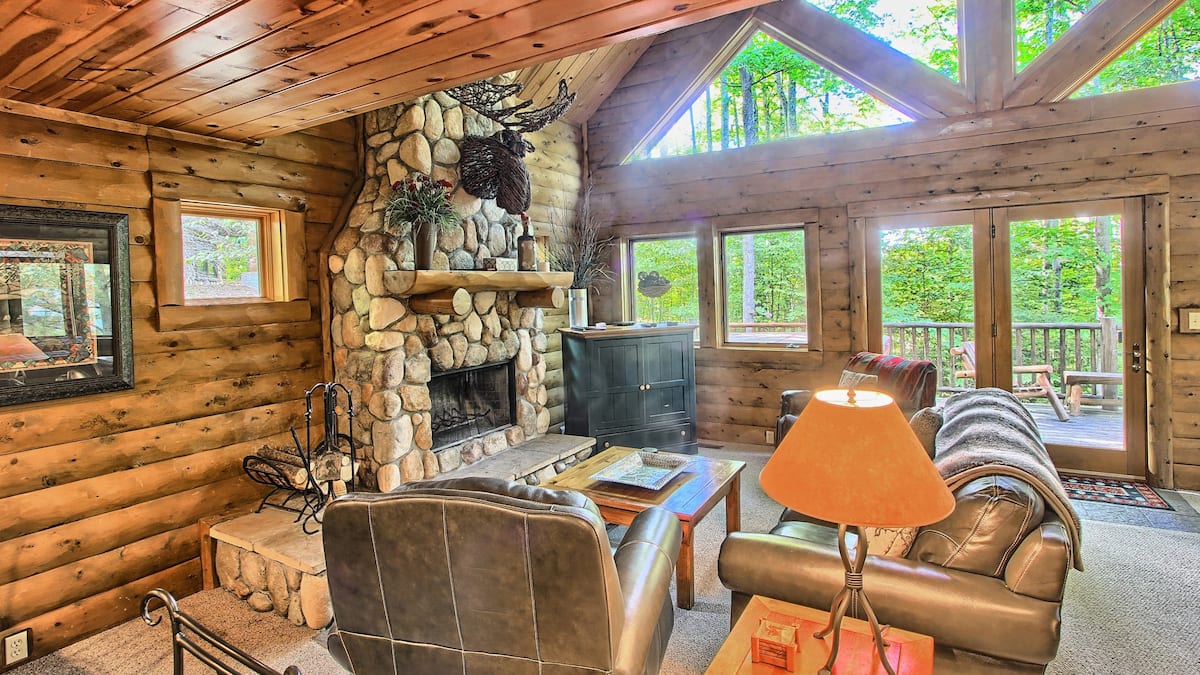 ---
Hüüsli – Romantic Cabin Getaway
Location: Michiana, Michigan
Price: $264+ per night
Sleeps: 4
https://www.airbnb.com/rooms/44595920 
This charming and romantic space is the perfect weekend getaway for a couple. The beautifully decorated home boasts high ceilings and an indoor fireplace, perfect to cuddle up by on colder nights. During warmer months, enjoy some S'mores by the outdoor firepit after exploring the nearby nature. Just a few blocks away you will find the private beach access, truly a great escape from busy city life.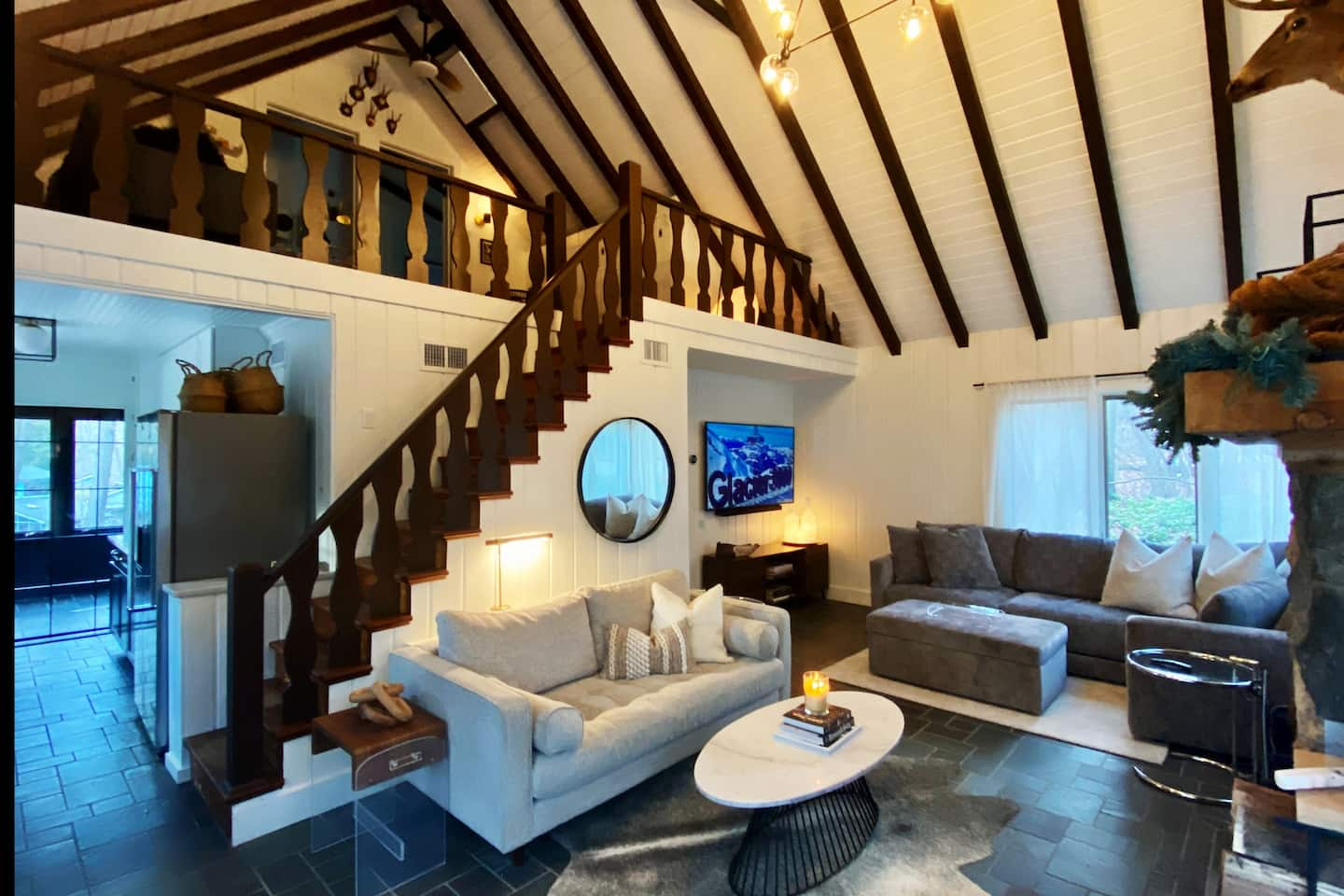 ---
Luxury Mountain Cabin
Location: Boyne City, Michigan
Price: $660+ per night
Sleeps:  9
This luxurious and private mountain cabin is tucked into the woods, surrounded by lush greenery yet close to golf, snowy slopes, and beautiful areas through which you can hike or mountain bike. If you get tired of the outdoors, retreat to the comforts of the cabin! Whether it's enjoying a beverage by the indoor fireplace, or spotting deer right from the hot tub on the deck, this property has it all. The size makes it the perfect space for a family vacation or a weekend retreat with friends.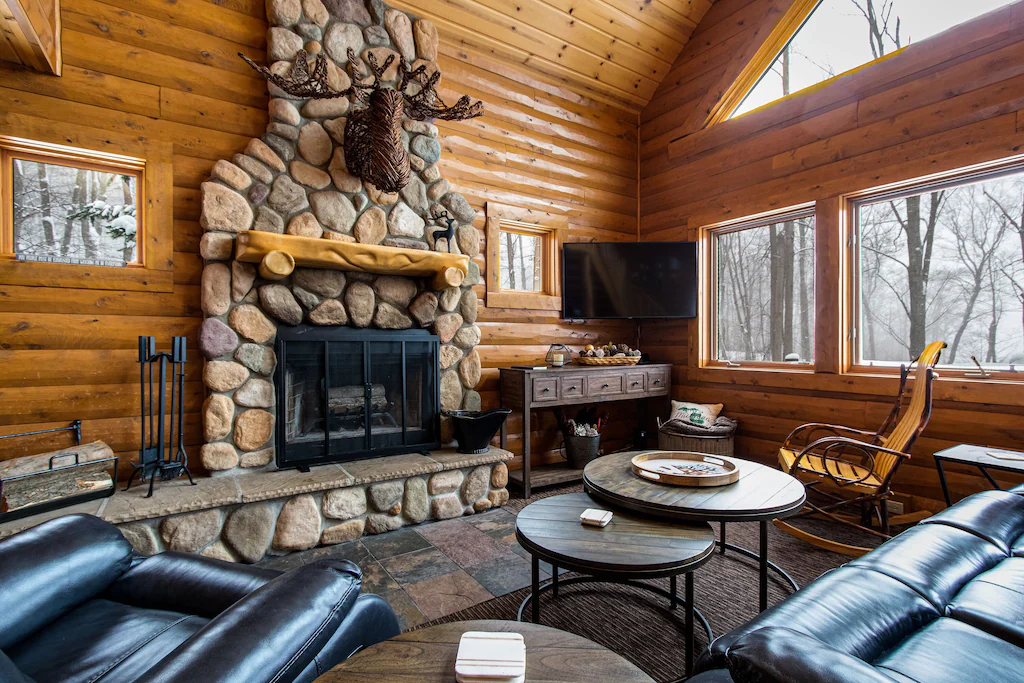 ---
Fire and Water Cabin on the Riverbend
Location: Fennville, Michigan
Price: $525+ per night
Sleeps: 6
https://www.airbnb.com/rooms/47067162
Imagine sipping on a glass of wine in a steamy hot tub. Now imagine doing that but perched above a flowing river! This cabin offers a truly magical relaxation experience, year-round! Wake up to the sounds of the birds chirping in the trees and enjoy your coffee in a hang chair whilst gazing out into the surrounding nature.
After a day of enjoying the outdoors, unwind with a game of foosball or darts. Not into games? Relax by the crackling fireplace with a good book. The outdoor space is perfect for socializing, with two decks, a front patio with hammocks, a firepit and an outdoor sectional by the gas grill the choice of place to sit down and spend quality time together is up to you! Truly a fantastic and relaxing experience, suitable for a family or group of friends.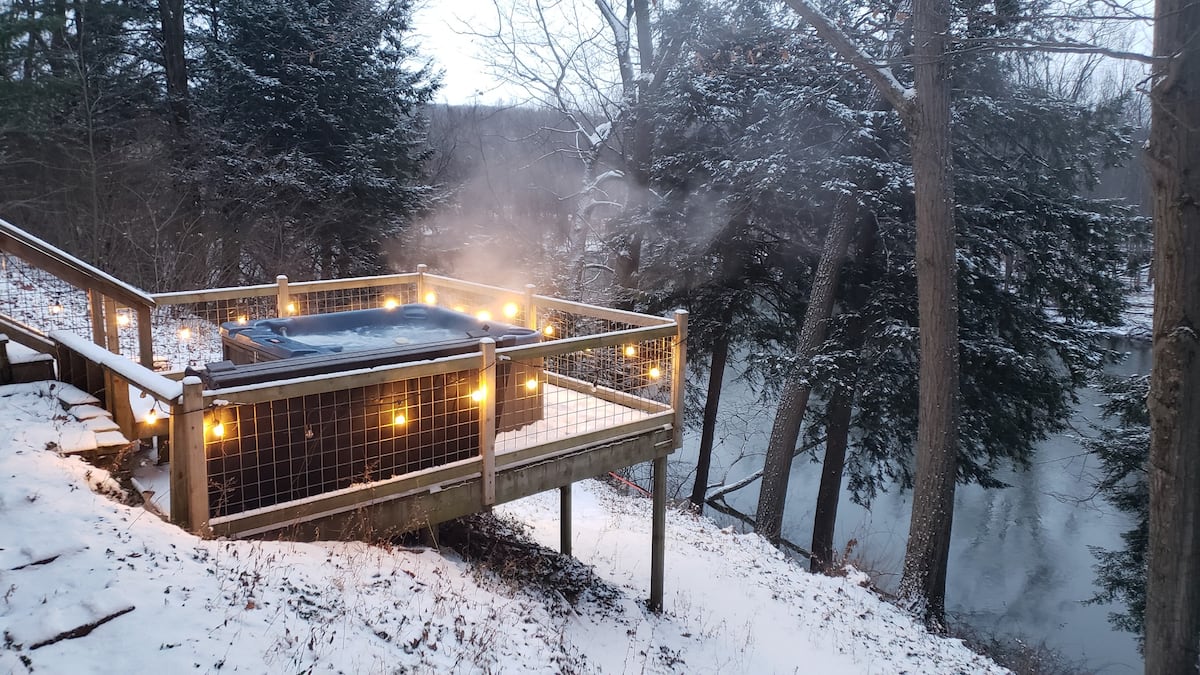 ---
Log Cabin on Tunnel of Trees
Location: Harbor Springs, Michigan
Price: $195+ per night 
Sleeps: 4
Right on one of the most scenic roads in America lies this cozy log cabin. Everything about this place feels authentic. Experience cabin life by cuddling up with a good book by the wood-burning fireplace or enjoy a beverage on the deck whilst spotting some of the local wildlife. The cabin also boasts a beautiful view of Lake Michigan and is just a few minutes from a sandy beach! This cozy cabin is perfect for couples and just a few miles from charming restaurants and the marina at Harbor springs.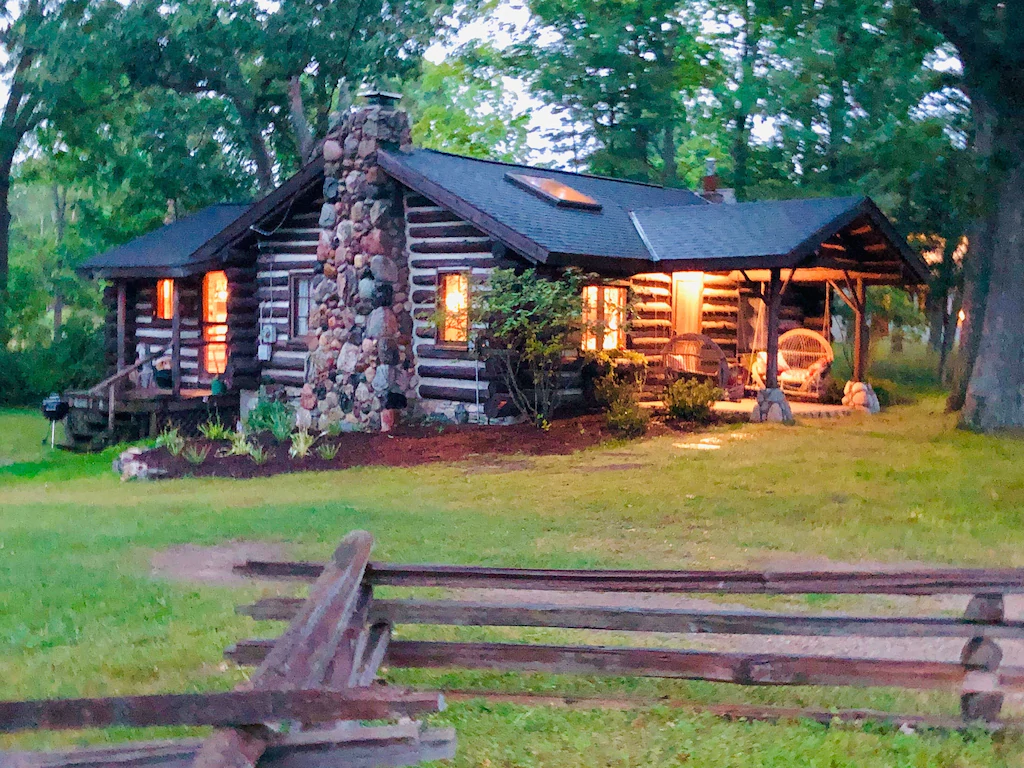 ---
Secluded A-Frame Cabin in Michigan
Location: Irons, Michigan
Price: $92+ per night
Sleeps: 6
https://www.airbnb.com/rooms/49582645
The architecture of this quaint cabin is truly remarkable. This cozy and rustic "A" frame cabin was hand built by the original owners in the mid 70s. This gorgeous structure is nestled in the woods and offers the ideal stay for nature lovers.
Perfect for those looking for beautiful trails to hike, the Lincoln Hills Trail System is right across from the cabin. If you visit during winter, there is plenty to explore with a snowmobile. If you prefer sports, the Caberfae Ski & Golf resort is just minutes away! After a long day of adventure, you can relax by the outdoor bonfire pit with some S'mores and a glass of wine!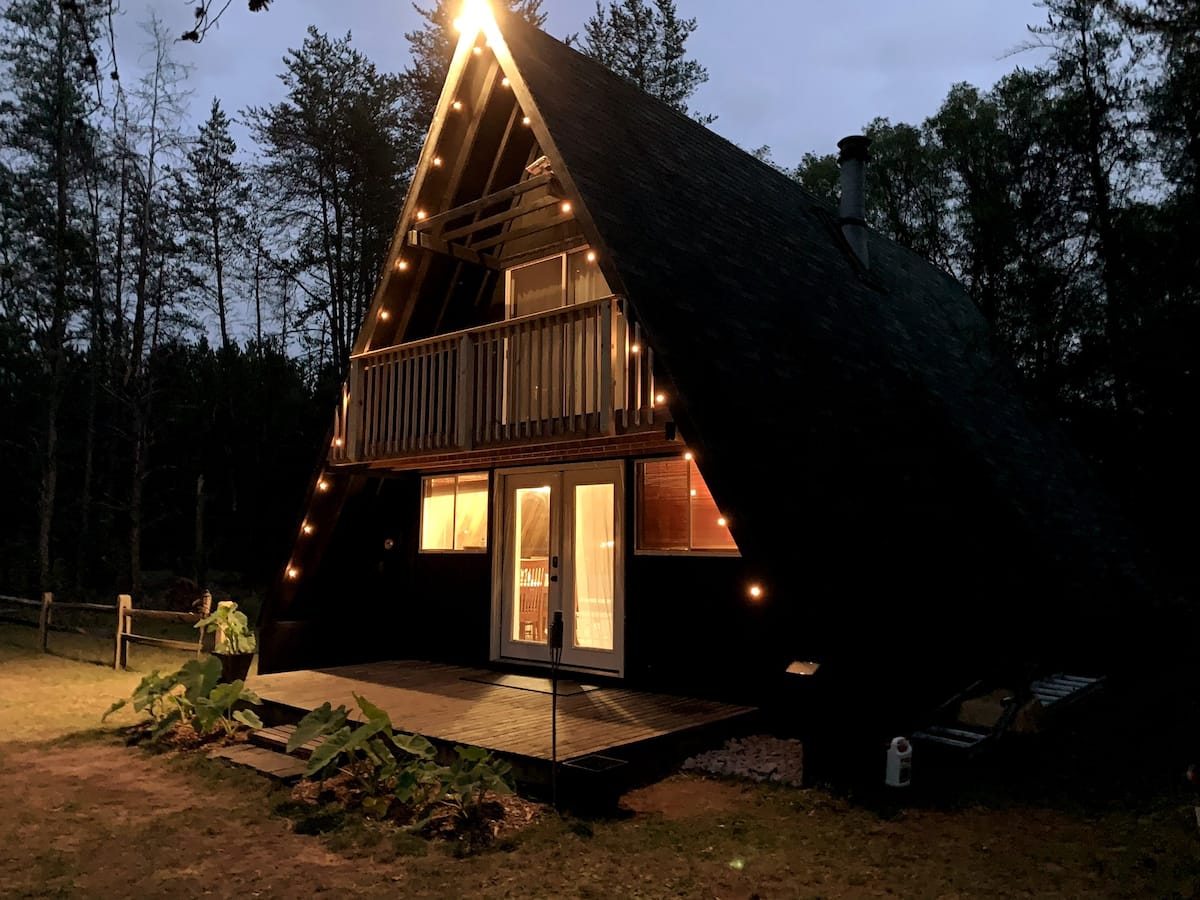 ---
Lakeside Timberframe Cabin
Location: Galesburg, Michigan
Price: $146+ per night
Sleeps: 4
https://www.airbnb.com/rooms/22281583
Just 15 minutes from downtown Kalamazoo you will find this hand-built timber framed home with extraordinary views over the water and the woods. The perfect place for fans of kayaking, swimming, or fishing, this space is the perfect base for a romantic retreat into nature.
Explore some of the excellent local restaurants and interesting places to hike. Prefer to stay close to home? The upper deck has panoramic views perfect for spotting birds or stargazing at night. The home is cozy enough for a couple, but also perfect for a small family!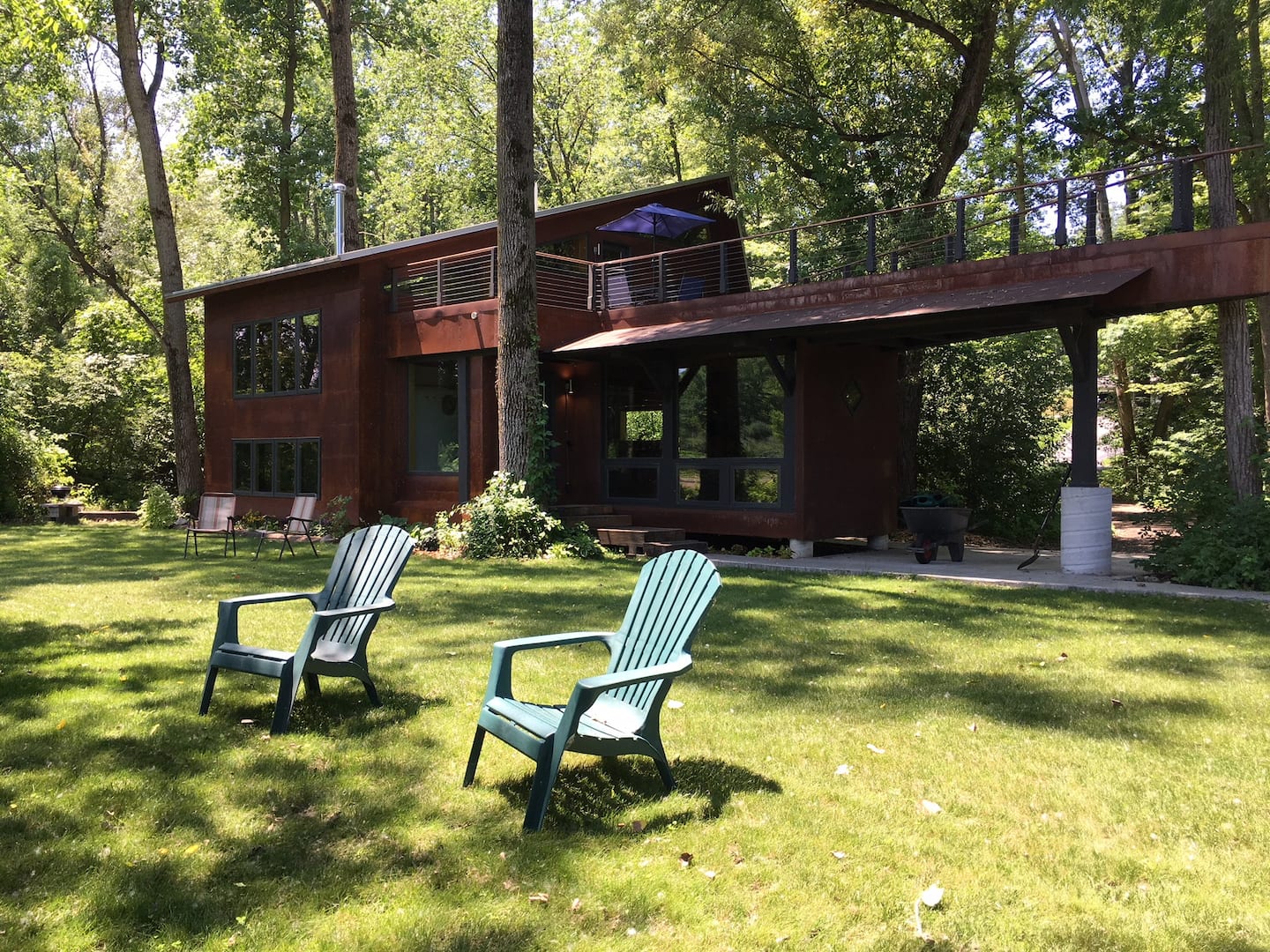 ---
A-Frame Cottage
Location: Fairview, Michigan
Price: $145+ per night
Sleeps: 6
In a tranquil setting on 30 acres of meadows and woodland lies this fairytale cabin. The cabin is secluded enough to truly immerse yourself in the surrounding nature. Try watching the deer, wild turkeys, birds, and eagles right from the property. After a day of exploring the local trails, sit by the fireplace and unwind with your favorite beverage. A great place to enjoy with family or friends!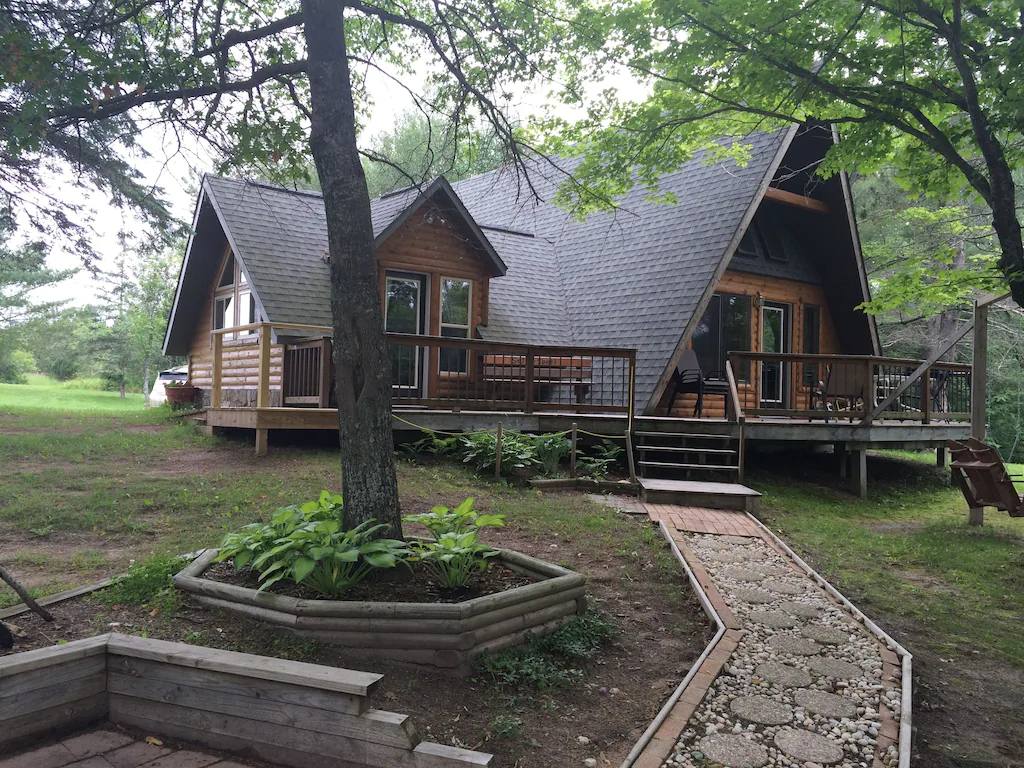 ---
Two Oaks Cabin
Location: Union Pier, Michigan
Price: $441+ per night
Sleeps: 8
https://www.airbnb.com/rooms/51018809
Set on 3 acres of wooded property, this cabin is a true gem. Take a dip in the massive fenced in heated saltwater pool, gather by the custom fire pit, or sit back and relax in the 5 person hot tub. The ample indoor space makes this home the perfect vacation spot for a group of friends or large family. Enjoy an afternoon BBQ from the charcoal grill surrounded by lush green nature. If you decide to venture from the property, the beach and beautiful hiking trails are not too far away.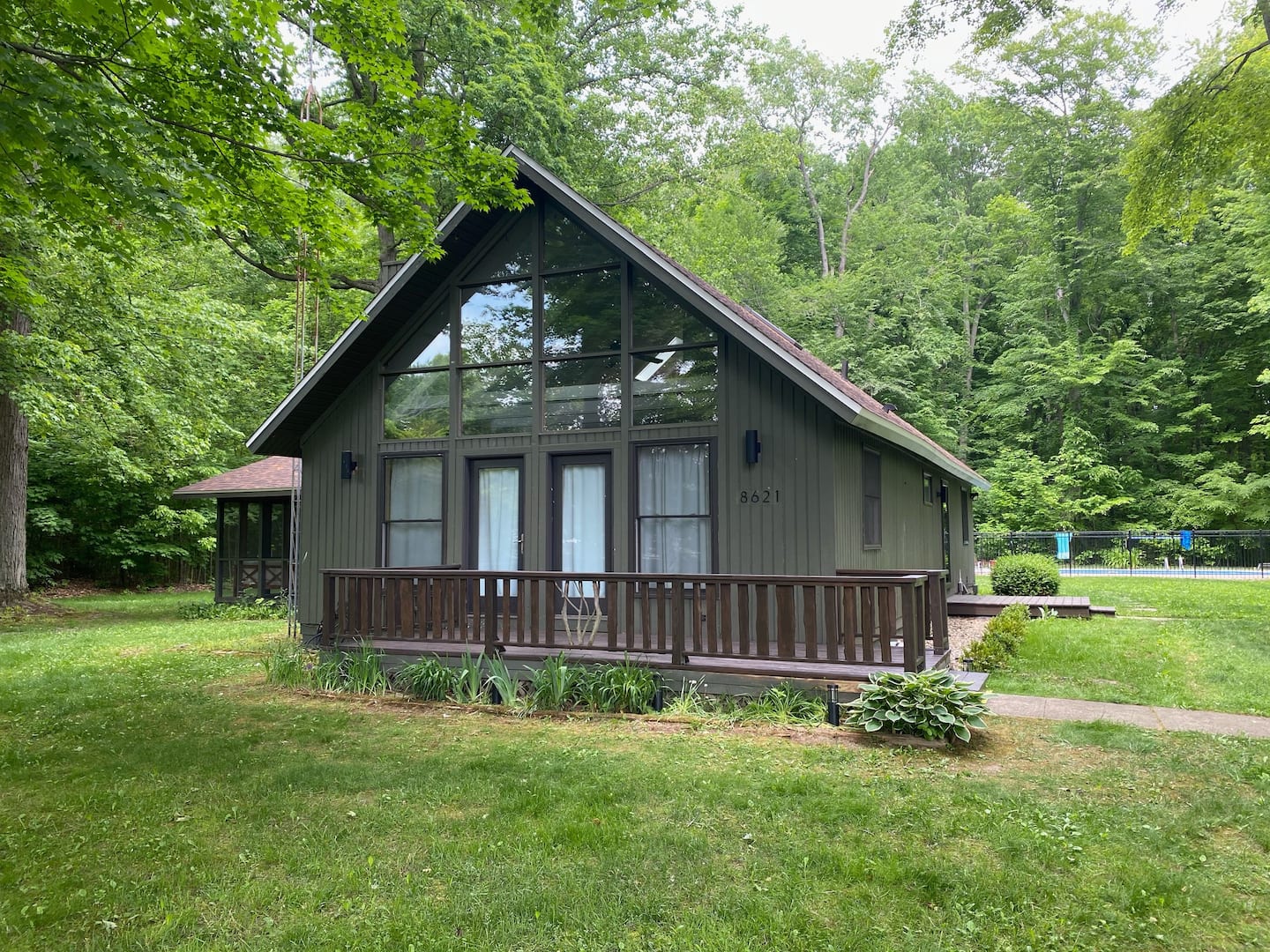 ---
The Oriole Romantic Cabin
Location: Saugatuck, Michigan
Price: $180+ per night
Sleeps: 2
This cozy little red cabin looks like it belongs in a children's storybook! This tiny home is quite picturesque, inside, and out. Although small, it has all the necessary amenities and is perfect for a romantic weekend away. It is part of the historic Bird Center Resort and has a view of Lake Kalamazoo, an outdoor hot tub, and a gas grill. It is very close to all the charming local shops, restaurants, and galleries of downtown Saugatuck so perfect for those looking to balance nature with urban activities.