Looking for the best romantic cabins in New Mexico? Well, look no further, as I've compiled this guide to 15 amazing places to stay for a perfect romantic getaway!
Create your own fairy tale story in New Mexico. There are countless reasons why you would love this beautiful state. Its history is rich, with ancient ruins and well-preserved ancestral sites that will leave you in awe. The natural landscapes and beautiful scenery will give you an unforgettable adventure – you can journey through the canyons, hike the mountains, stare into starry nights, or enjoy a colorful sunset show. While the landscapes are breathtaking, the towns in New Mexico are as charming and the architecture is as fine. You can experience Indigenous cuisines — such as red chile stew, posole, and fried bread "tacos".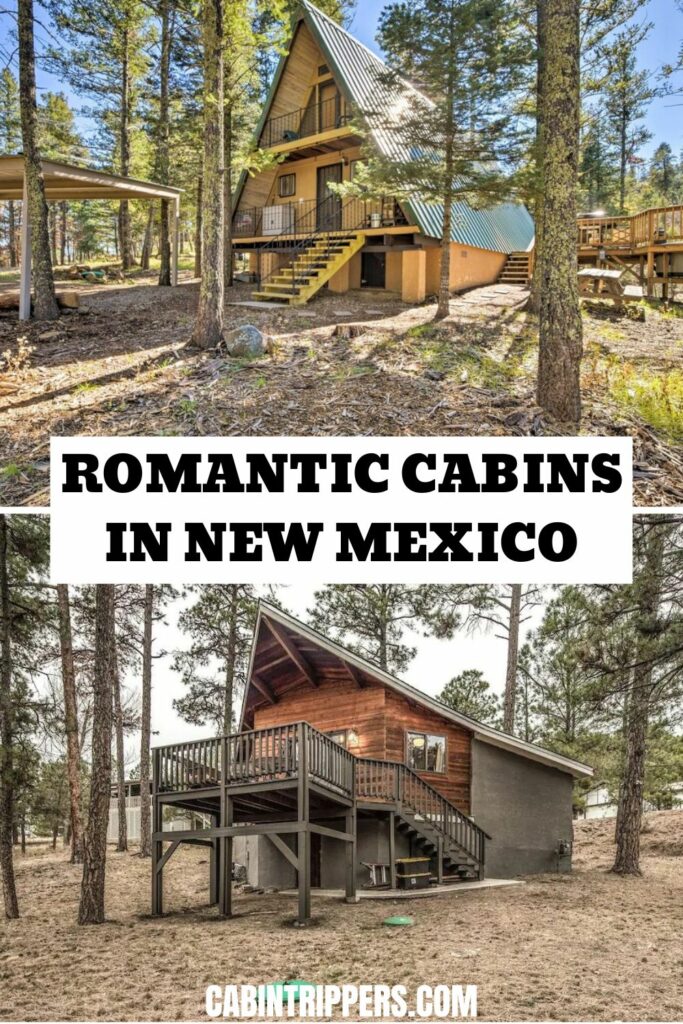 If you're looking for activities to enjoy with your loved one, you can go on a hot air balloon ride or witness a beautiful opera piece in Sante Fe Opera. Explore underground caves or arrange for a couple's massage. Whatever you enjoy doing or want to experience with your special someone, you can do it in New Mexico. After all, everything feels romantic when you are next to the person that you love! 
Also, be sure to read my guides on Secluded Cabin Rentals in New Mexico & Romantic Cabins in Arizona for more epic accommodation in the area!
---
Romantic Willow Lodge with Hot Tub
Where: Angel Fire, New Mexico
Price: $224+ per night
https://www.vrbo.com/9644815ha
Are you looking for a secluded and private, yet complete with homely amenities and luxuries for a romantic holiday? I just might have the perfect cottage for you! Willow Lodge offers you the best of both worlds – a gorgeous vacation home with luxurious features and a beautiful view of New Mexico's mountains. 
Willow Lodge highlights include a stylish cabin-themed decor with exposed beams, a wood-burning furnace, and picture windows that bring in natural light. During the day, you can experience outdoor activities from nearby resorts; activities as biking, hiking, golfing, trails, and fishing. Enjoy a cozy bath in the private hot tub as you watch the colors in the sky change as the sun sets.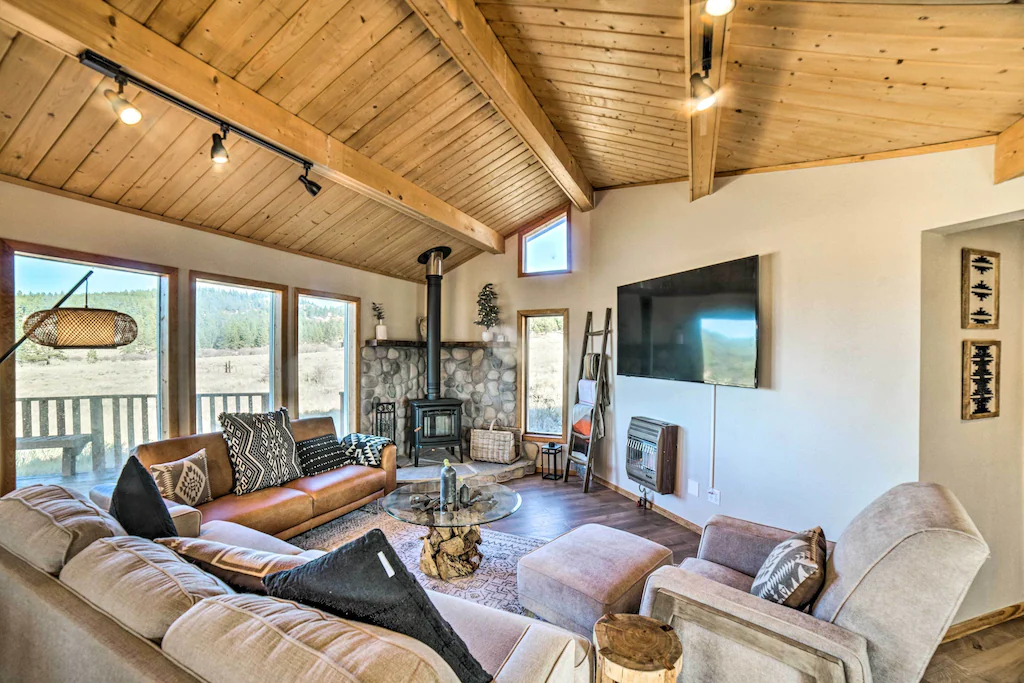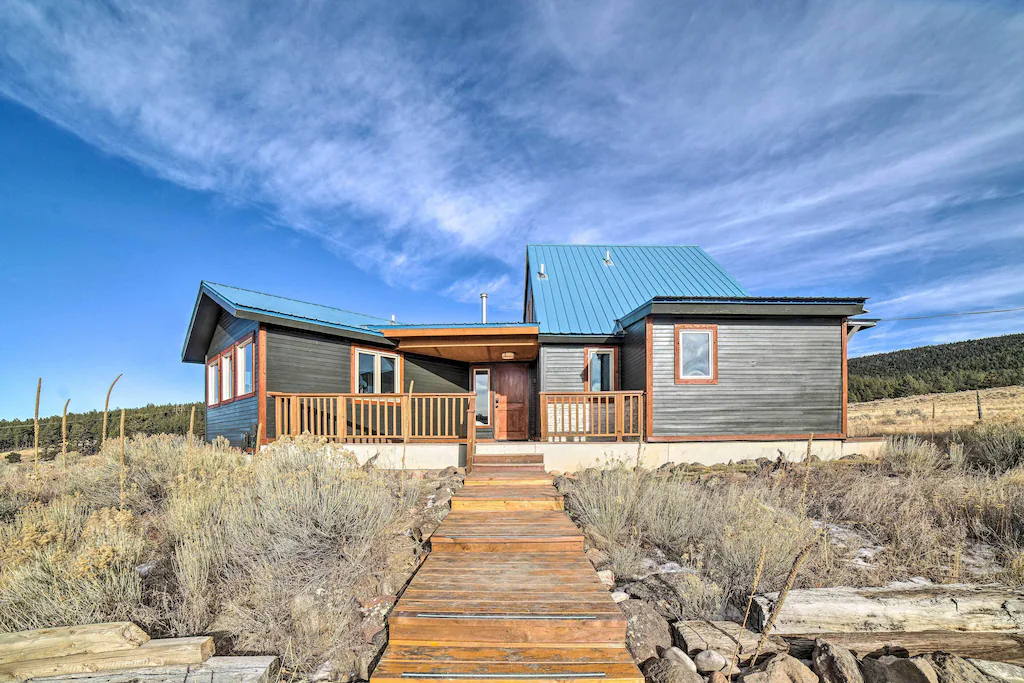 ---
Unique Treetop Cabin Hideaway with Hot Tub
Where: Ruidoso, New Mexico
Price: $208+ per night
https://www.vrbo.com/9615314ha?noDates=true&unitId=8697331 
Consider spending the night in a treetop bed where you can hear the chirping of the birds and see Brady Canyon from above. You'll experience a sense of calm and renewal at Treetop Hideaway. You can go on dates and go on adventures with your special someone during the day. After a long day of enjoyment, curl up in front of the wood-burning fireplace or take a hot tub soak outside. Enjoy a drink of wine and the beautiful skies as the evening comes to a close.
Treetop Hideaway is perfect for couples, yet can sleep 8 people. Among other features, it also highlights 2 bedrooms and 3 bathrooms, a full kitchen, a living space and a patio.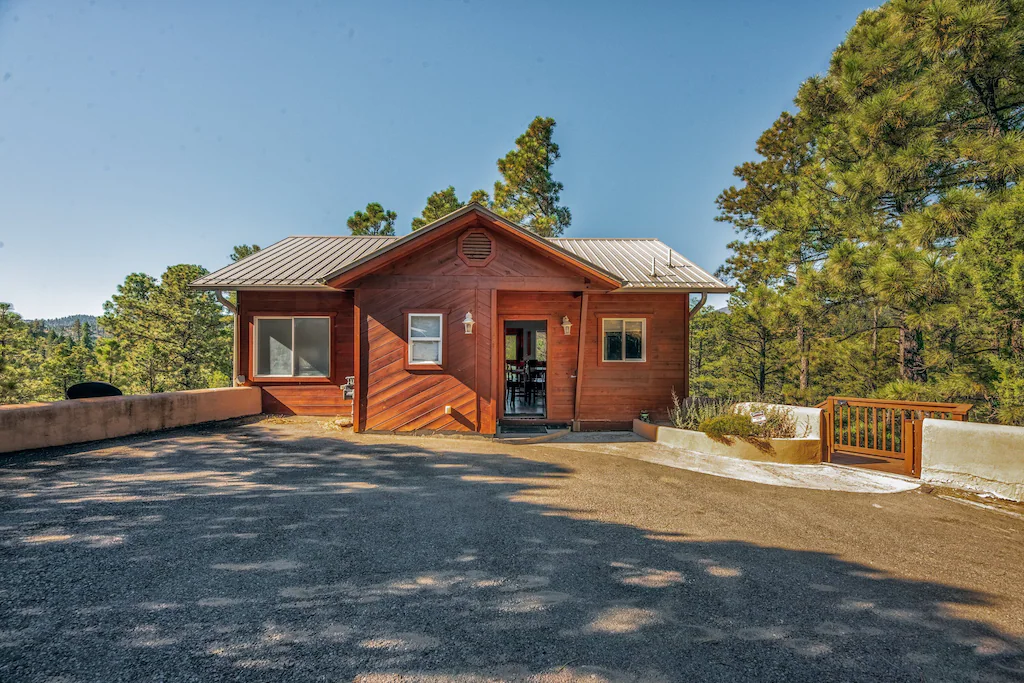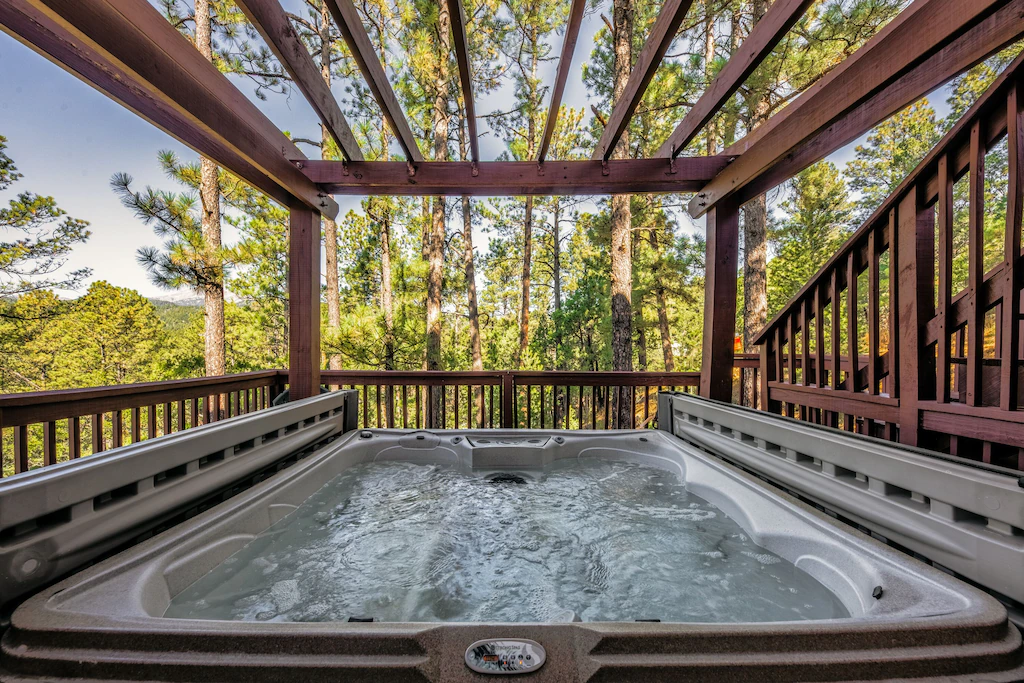 ---
Romantic Ruidoso A-Frame Cabin Getaway
Where: Ruidoso, New Mexico
Price: $415+ per night
https://www.vrbo.com/9558791ha?noDates=true&unitId=8638505  
Ruidoso A-frame cabin offers you and your loved ones an opportunity to enjoy nature in New Mexico. There is so much to experience like, hiking the trails or trying out the activities in Two Rivers Ruidoso River Park, go on an adventure at the Grindstone Stables, and chasing waterfalls in Cedar Creek Falls. 
The cabin is also perfect for days when you just want to stay-in as it is equipped (maybe more) with comfort and style! You can play pool, hang out by the covered patio, cuddle by the wood-burning fireplace, have a movie marathon, or have a relaxing bath in the outdoor tub.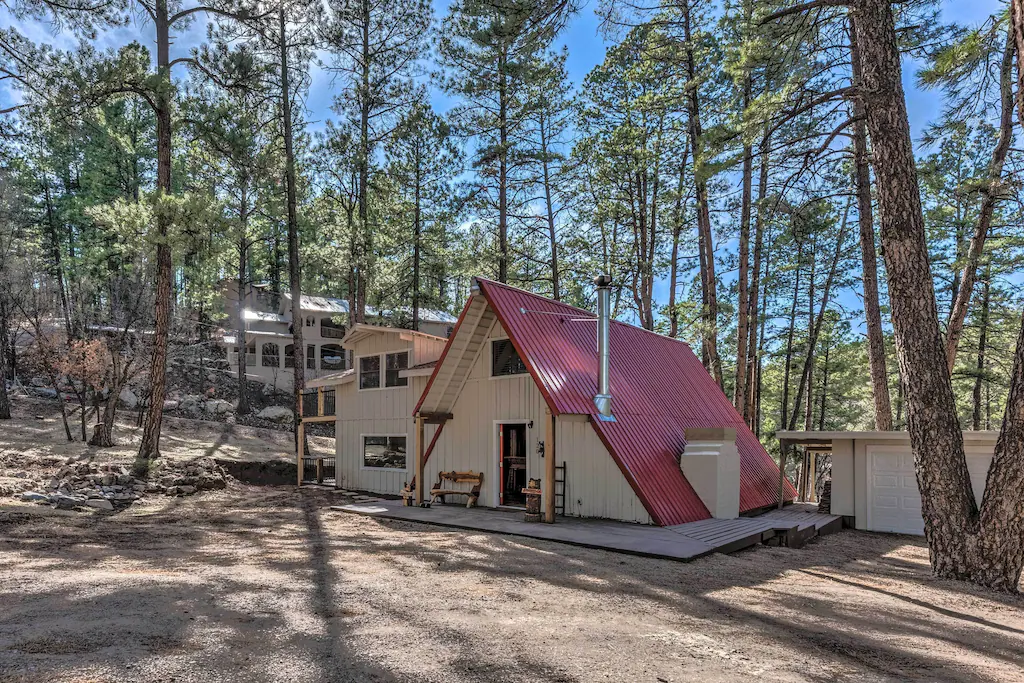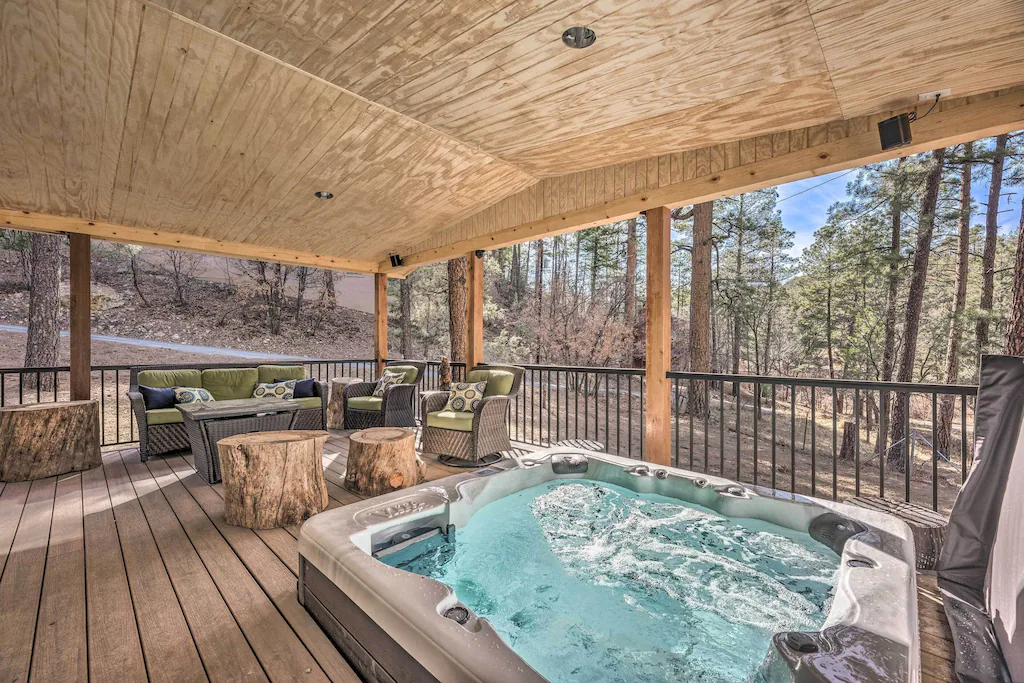 ---
Stunning Sun Valley 'Casa Patron' Home
Where: Sun Valley, New Mexico
Price: $467+ per night
https://www.vrbo.com/9571591ha
Nestled in Sun Valley, this cabin offers a one-of-a-kind experience for you and your family. It features 5 bedrooms with their own kitchenette and sleeps at least 15. 'Casa Patron' would be the perfect couple's retreat or a honeymoon destination (because, why not). Upon check-in, you'll be greeted with a beautifully decorated cabin and a basket of fruits. 
Cook a hearty breakfast in the fully-equipped kitchen before you start your day of adventures. Try your luck at the Ruidoso Downs Casino or trek the trails around Alto Lake. Come home to a cozy cabin with luxurious features like smart TV, electric fireplace, WiFi, bathroom with kitchenette (imagine that!), and a private hot tub.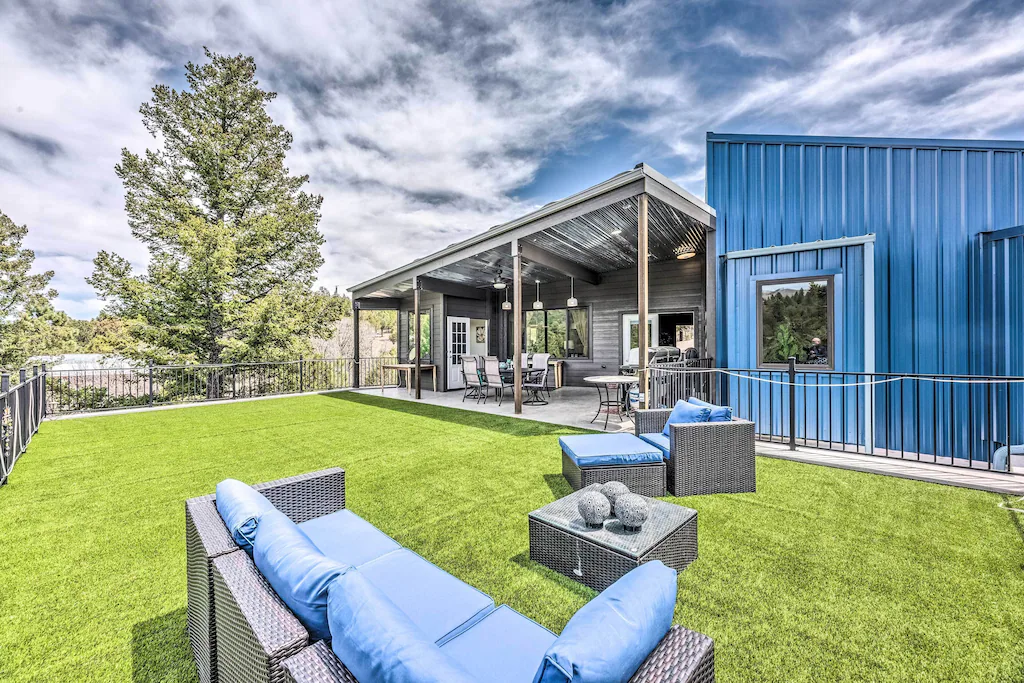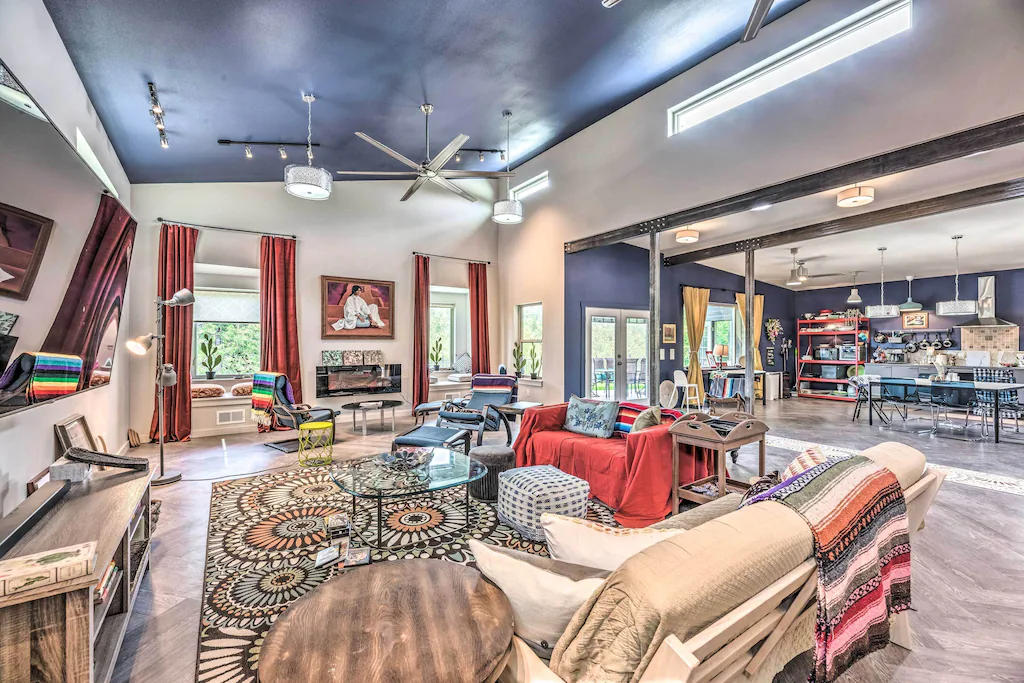 ---
Changes in Altitude Romantic Getaway with Hot Tub
Where: Ponderosa Heights, New Mexico
Price: $247+ per night
https://www.vrbo.com/9696648ha
Fall in love again, in 'Changes in Altitude'. This 3-bedroom cabin in Ruidoso romanticizes the cabin lifestyle, with its natural and warm aesthetic. It offers a cozy and quaint feeling with luxury features including a full kitchen with stainless steel appliances (highlights: Keurig, dishwasher, crockpot), washer & dryer, en-suite bathrooms, wood-burning fireplace, and entertainment like smart TV and board games. 
You and your partner can go see and do activities at the Pillow's Funtrackers, Casino Apache, and Cree Meadows Public Golf Course. Go on a mountain adventure, ski at Ruidoso Winter Park or Ski Apache. I could go on and on!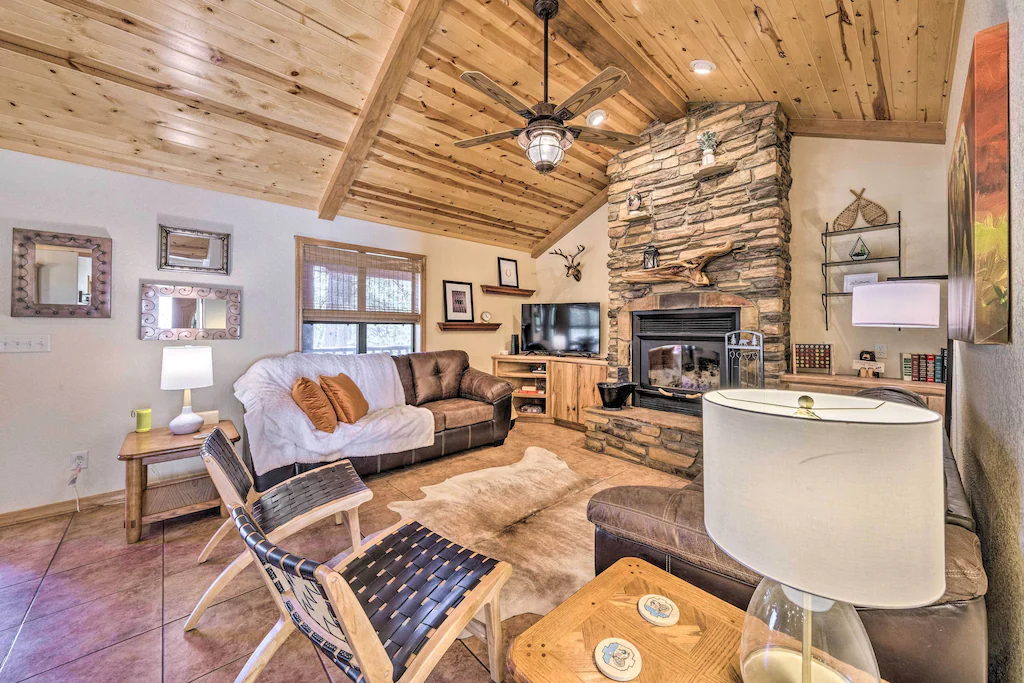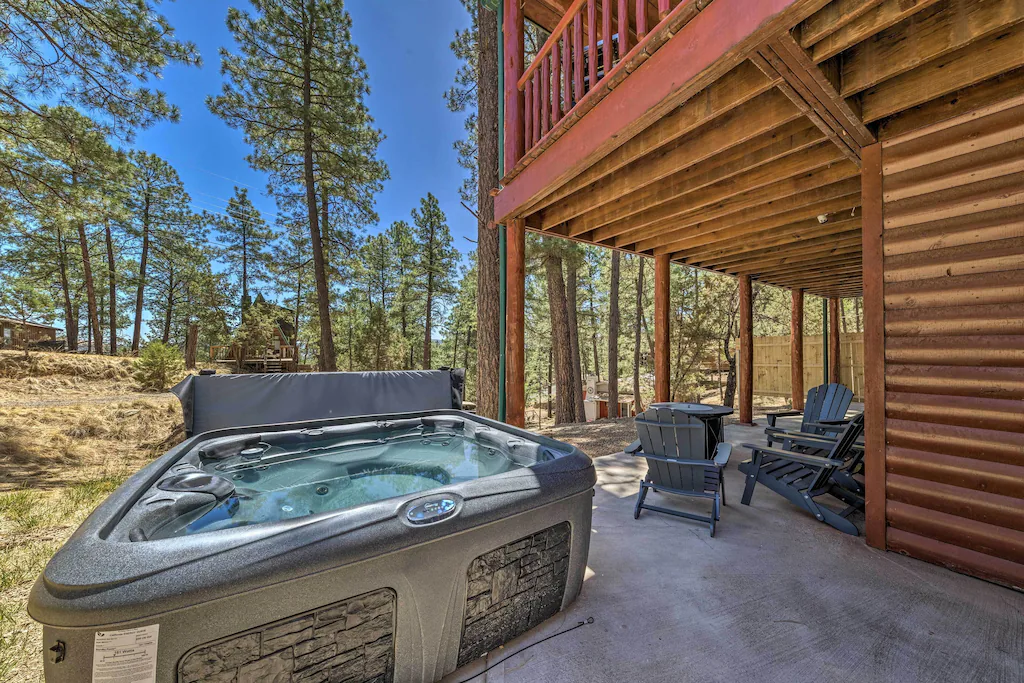 ---
Secluded Ruidoso Cabin
Where: Alpine Cellars Village, New Mexico
Price: $206+ per night
https://www.vrbo.com/7448031ha
Bare Face Cabin is a charming cabin, nestled in the heart of Alpine Cellars Village. It's the perfect spot to relax and be cozy during a quick holiday. Secluded yet conveniently accessible to the attractions and activities.
Whether you love skiing or enjoy going on hikes, maybe fishing – here are endless outdoor opportunities that you and your special someone can enjoy. If you wish to stay in, you can enjoy cocktails on the deck, a hot tub bath, or a BBQ date night. Bare Face Cabin promises you and your loved one a great weekend holiday!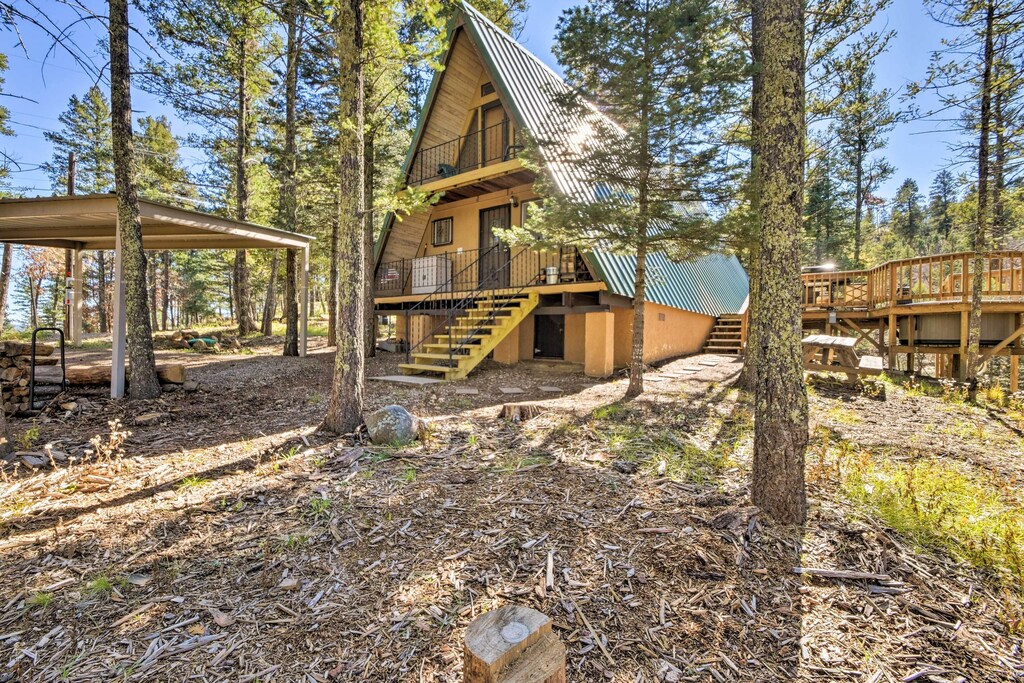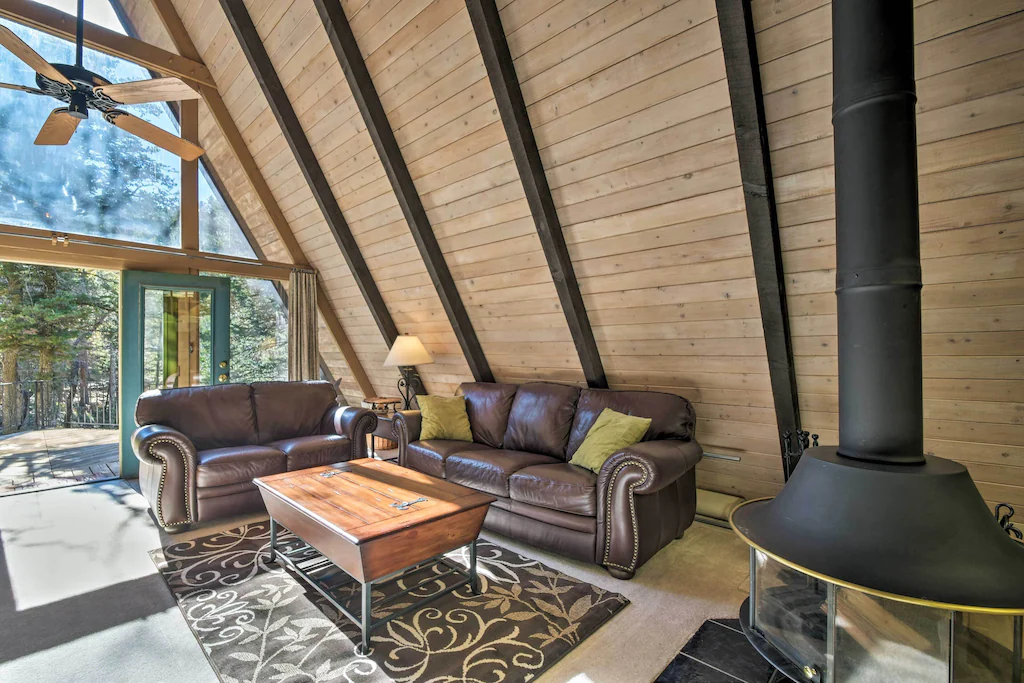 ---
Peak In The Pines Cabin
Where: Ruidoso, New Mexico
Price: $239+ per night
https://www.vrbo.com/2147866?noDates=true&unitId=2712402
Escape to Peak in the Pines with your special someone and celebrate love. Imagine soaking in the hot tub, a glass of wine in hand while listening to a piece of beautiful music and the surroundings covered in white snow. A cup of hot cocoa, a warm fluffy blanket, and the sound of wood crackling are also not bad ideas.
This cabin is so thoughtfully designed and beautifully decorated, it's enough to make you feel warm and comfortable. It's outfitted with plush linens and other luxurious amenities. It's a great spot for a couple's getaway.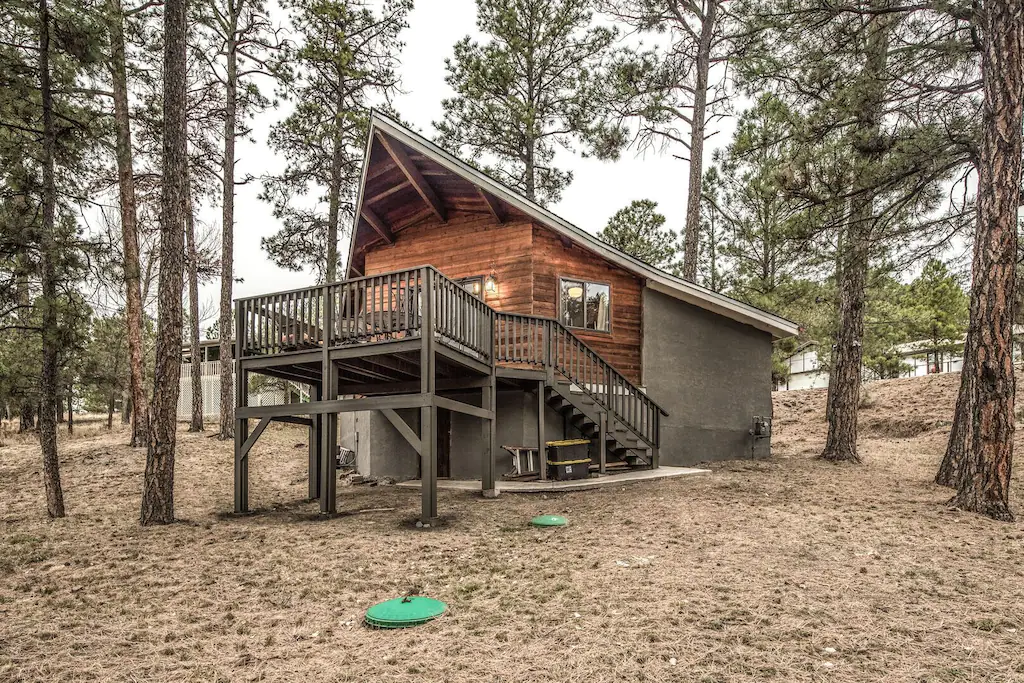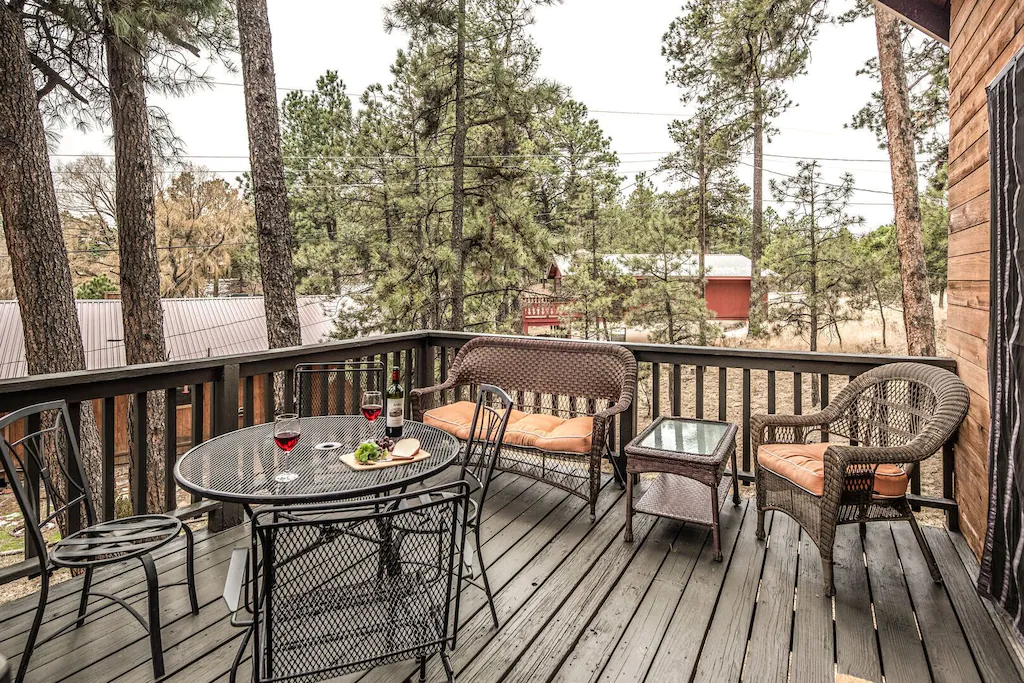 ---
Cabin in the Sky 
Where: Ruidoso, New Mexico
Price: $512+ per night
https://www.vrbo.com/1362475?noDates=true&unitId=1920827 
You're organizing your friends' annual getaway in New Mexico and you wish to book a place where you can have privacy, conveniences for a comfortable stay, and access to outdoor activities and attraction. I found the perfect place for you and your friends – Cabin in the Sky is the one! The cabin features 4 bedrooms (that can sleep up to 9 people), a great room with plenty of seating for everyone, and a modern kitchen. The screened porch allows you to enjoy the views of the woods even in winter season. 
Stroll along Midtown's quaint shops, grab a bite in one of the local restaurants, or book a tour to some of the famous spots, or go on a fun outdoor adventure. There is always something fun to do in the area, you just have to choose!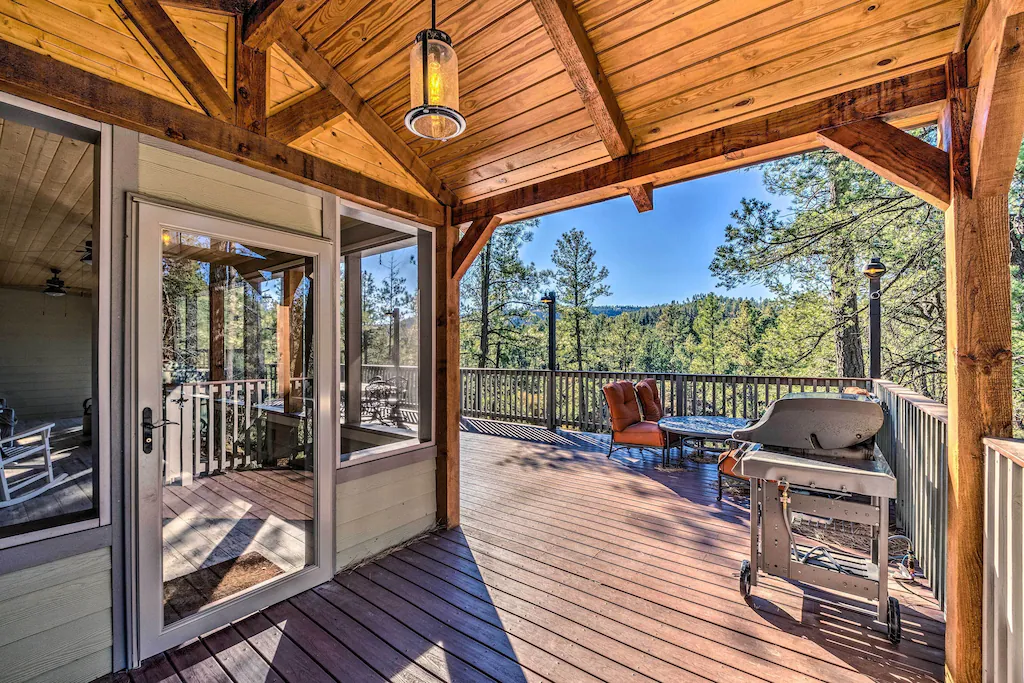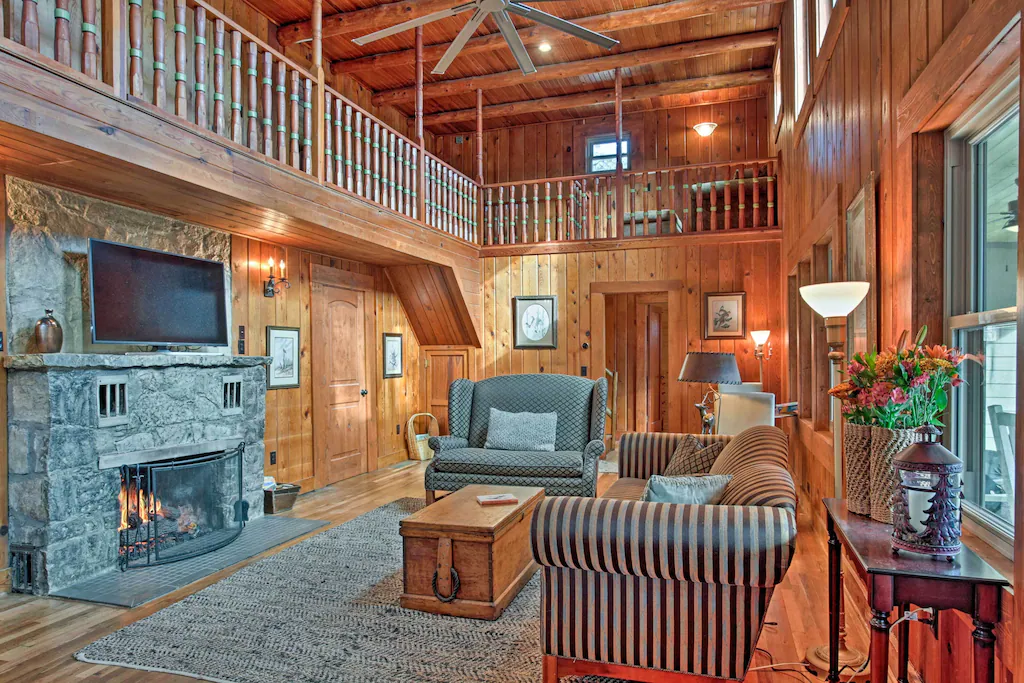 ---
Unique Casa Ambrosia Vacation Rental
Where: El Rito, New Mexico
Price: $170+ per night
https://www.vrbo.com/182867?adultsCount=1&noDates=true&unitId=182867 
Casa Ambrosia is one of the most unique and romantic rentals you can find in New Mexico. This beautiful cabin is all about comfort and serenity. It offers an expansive view of the pastoral river valley of El Rito and the majestic Sangre de Cristo mountains.
The cabin highlights high wood ceilings, a semi-circular sunroom designed after Casa Grande in Chaco Canyon, softly curved walls, and a covered patio for outdoor dining and relaxation. 
There are a variety of activities you can do while you're here. you can hike or take short drives to beautiful spots like Potrero Falls. It's worthwhile to explore the high mountain meadows filled with wildflowers and streams and breathtaking views. Sante Fe is an hour's drive away where you can enjoy fine dining, live music, museums, galleries, boutique shops, and many more.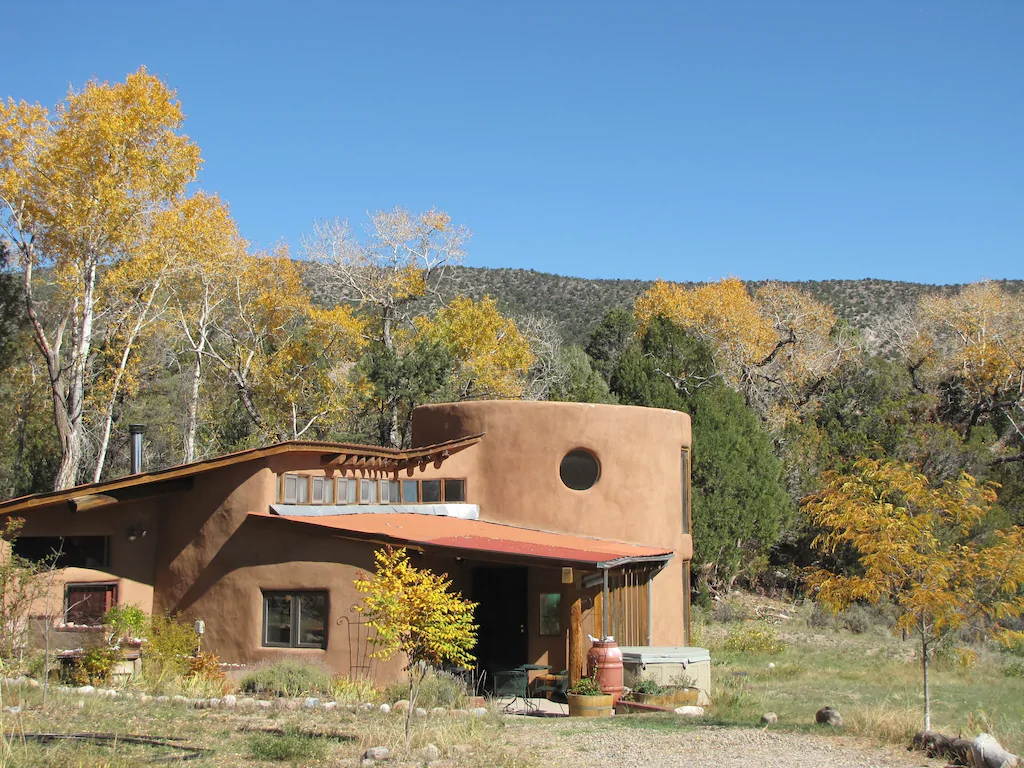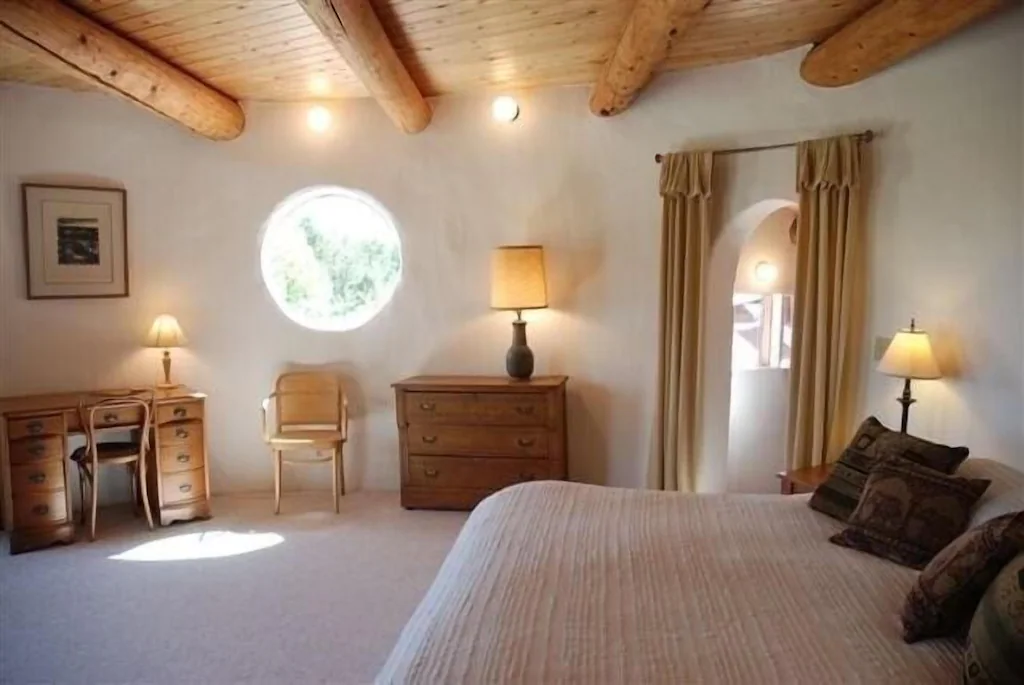 ---
Ruidoso Lodge Cabin #4
Where: Ruidoso, New Mexico
Price: $306+ per night
https://www.booking.com/hotel/us/ruidoso-cabin-4.en-gb.html?
A great spot for relaxation and recharging is Cabin #4 at Ruidoso Lodge. It features a bedroom (ideal for couples), a flat-screen TV, a dining area, a kitchenette with a microwave and a fridge, and a hot tub. Additionally, you get a reserved parking space. Access to the patio, which is only a few yards from the river, is one of the nicest aspects of this cottage. You and your special someone can relax for hours while enjoying the breeze and the sound of the flowing water.
The cabin is conveniently located in the historic Upper Canyon, only a mile from the town where you can dine at the restaurants, shop, and explore.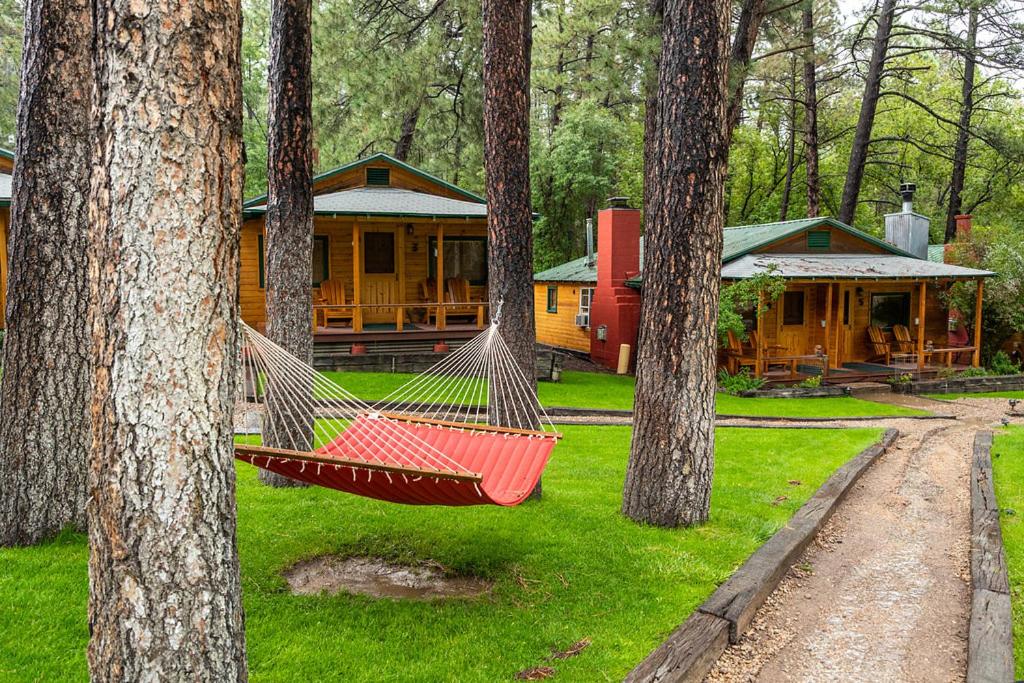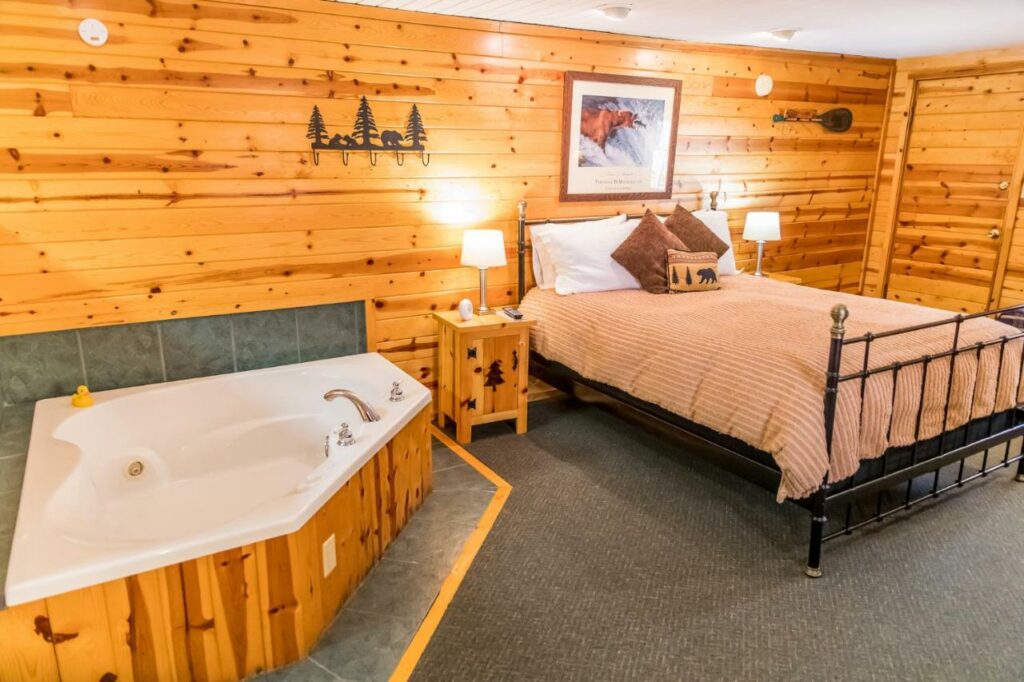 ---
Canyon Cabins
Where: Ruidoso, New Mexico
Price: $218+ per night
https://www.booking.com/hotel/us/canyon-cabins.html
If you're looking for a cozy cabin somewhere in Ruidoso, New Mexico where you can enjoy both the outdoors and nature, Canyon Cabins is for you. This rustic oasis promises you and your special someone a memorable experience from the moment you arrive up until you leave.
The cabin is great for couples on a weekend holiday. Take advantage of the access to the garden and the nearby activities like skiing and cycling.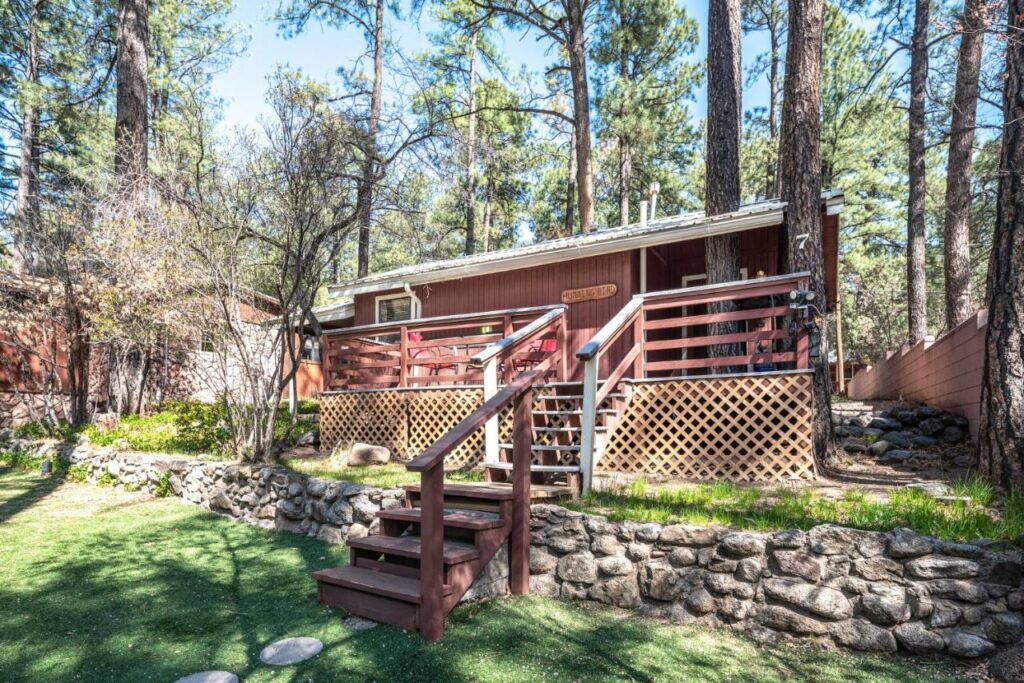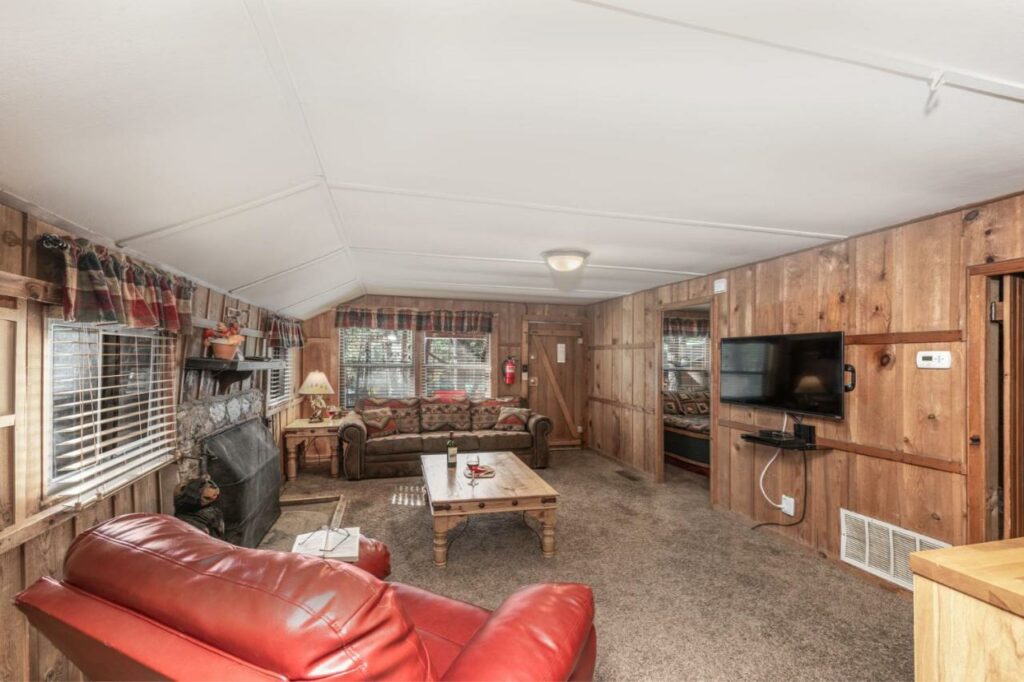 ---
The Parador Cabin
Where: Santa Fe, New Mexico
Price: $393+ per night
https://www.booking.com/hotel/us/el-paradero-bed.en-gb.html 
This 200-year old farmhouse – The Parador, brings you to a vibrant escape to the past. You'll love the mix of the old and new (multi-disciplinary, intercultural creatives, mindful travelers and art aficionados from around the world) in this beautiful cabin.
Every room is unique on its own and not all rooms are quite the same, yet features all the luxury amenities to make your stay comfortable and memorable. Great food, great staff, great amenities, and great experience. What are you waiting for? Book 'The Parador' now!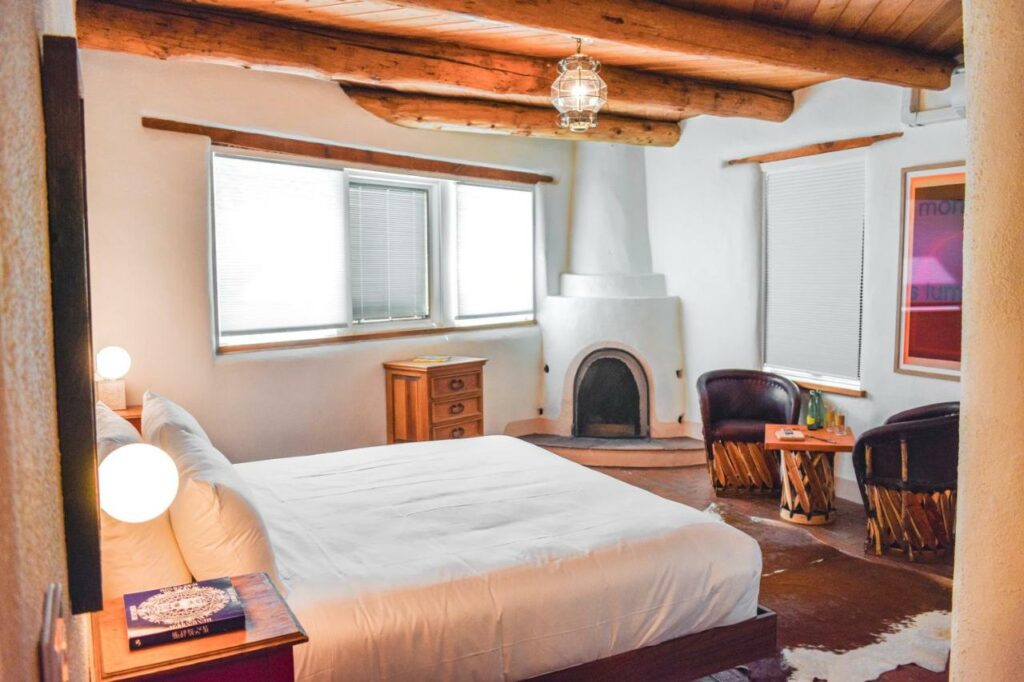 ---
Historic Cabin on 40 Acre Ranch
Where: Estancia, New Mexico
Price: $52+ per night
https://www.airbnb.com/rooms/565199871074292241 
Imagine waking up from a restful night's sleep to beautiful vistas and the sun shining on the expansive Estancia Valley to the east and the Manzano Mountains to the west. This is what you'll experience when you stay in Cabin Three on No.10 Ranch. Not to mention all the thoughtful and beautiful features of the cabin.
Every detail is carefully planned to create a peaceful sanctuary for you and your special someone. Inside, you'll find Helix queen mattresses, luxurious linens, plush towels, and simple decor touches. Connect with nature while hiking the trails to Cibola National Forest. In winter, you can play in the snow and ski at Sandia Peak. There are endless options for you and your special someone to do during your stay!