Save time on a search and read our guid to the coolest and best treehouse rentals West Virginia has to offer!  With its rolling hills, wild rivers, waterfalls, and charming mountain towns, West Virginia is a perfect place for a weekend trip.
Whether you wish to admire the beauty of Blackwater Falls, enjoy panoramic views of the New River at Grandview State Park, or pay a visit to the picturesque Summersville Lake, there is plenty to look forward to when staying in West Virginia.
Nature lovers will be pleased to hear that West Virginia is home to many amazing treehouse rentals. From rustic treehouses among the woods with basic amenities to luxurious treehouse rentals with hot tubs, furnished patios, and jaw-dropping views, travelers are spoiled for choice when visiting the Mountain State.  
Also, be sure to read our guides on Cabin Rentals in West Virginia and Secluded Cabins in West Virginia for more epic accommodation in the area for an outdoor focused getaway!
Without further ado, here is our list of the best West Virginia treehouse rentals!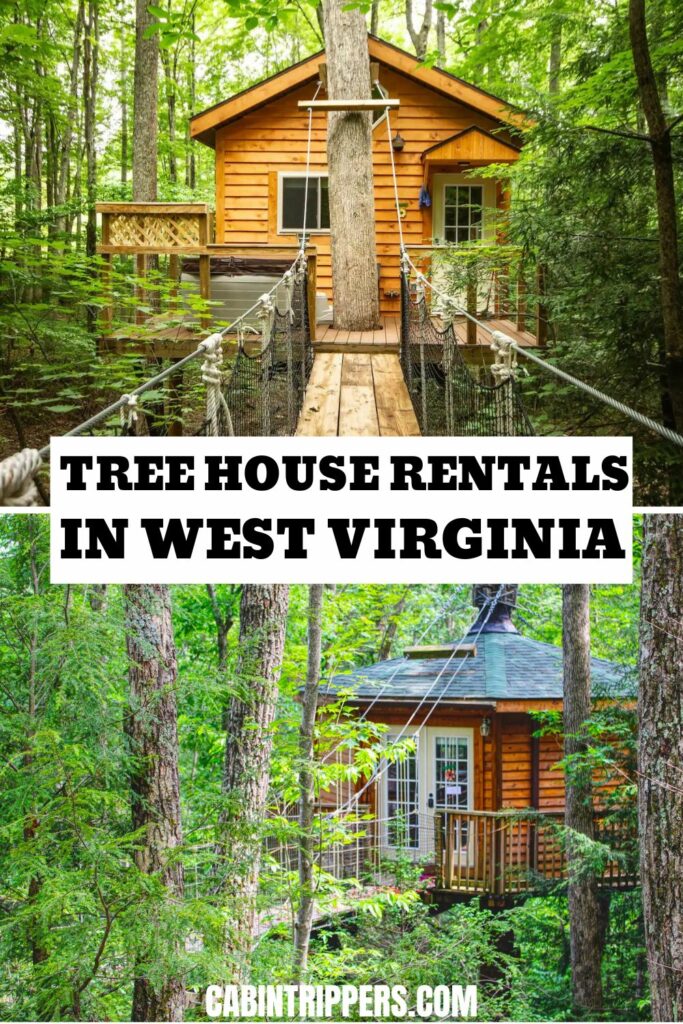 ---
Quick Breakdown of Treehouse Rentals West Virginia
Before we dive into the full list, here's a selection of our favorites for various categories
Overall Best Treehouse Rentals in West Virginia – Treehouse Cabins at Pine Haven
Best Romantic West Virginia Treehouse Rental – Holly Rock Tree House
Best West Virginia Treehouse Airbnb Rental – Tuscany Tree House
Best Secluded Cabin Treehouse For Families – Mountain Cabin Treehouse With Hot Tub
Best Value Tree House Rentals West Virginia – Treetop Villas at Grand Vue Park
---
Treehouse Cabins at Pine Haven
Location: Beaver, West Virginia
Price: +$169 per night
https://www.facebook.com/cabinsatpinehaven/
Located just south of Beckley in Raleigh County, Cabins at Pinehaven is an ideal place to stay for couples on vacation in West Virginia. The estate offers various types of accommodations ranging from nicely decorated cabins and lodges to picturesque treehouses.
For a unique lodging experience, book your stay at one of the 2 wonderful treehouses at Pine Haven. With an outdoor grill, covered front deck, and an open nature-watching back deck, these treehouse rentals offer magnificent nature views. Step inside to find a full kitchen with a mini fridge, microwave, coffee pot, and a toaster.
Guests will also have access to a full bathroom with showers and a flat-screen TV with a Direct TV connection. The star attraction of Pine Haven treehouses is the four-person hot tub nestled just beneath the treehouses. It's an ideal spot to unwind and enjoy beautiful wooded views.
The estate is located just a stone's throw from grocery shops, bars, and restaurants.  Some of the most popular skiing, water rafting, and golfing destinations in Southern West Virginia are just a short drive away.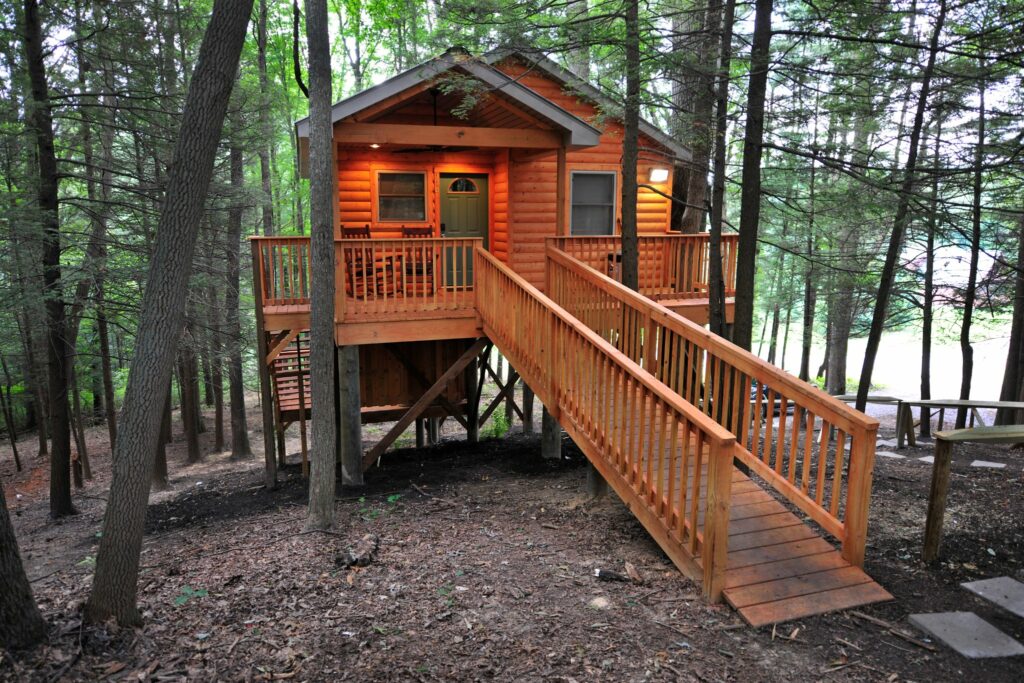 ---
Holly Rock Treehouse
Location: Hico, West Virginia
Price: $275+ per night
https://wvcabins.com/accommodation/holly-rock-treehouse/
Welcome to the Holly Rock Treehouse, a charming custom-designed treehouse rental in West Virginia. Located close to the New River Gorge and Fayetteville, this property looks spectacular. With a canopy bridge that leads to the double French door, expansive indoor window design, and a hot tub nestled on an expanded deck in the treetops, Holly Rock treehouse looks like it came straight out of a fairytale.
There is a private picnic area with a gas frill, as well as a fully-equipped kitchen where guests can prepare delicious meals. Central heat and cooling are also provided.
What can I do in the area? From boating and fishing at Summersville Lake, skinning at  Winterplace Ski Resort, and exploring the New River Gorge Bridge Visitor's Center, there are plenty of activities to keep you entertained throughout your stay. This fabulous treehouse is designed for 2 people, making it an ideal place to stay for couples on vacation in West Virginia.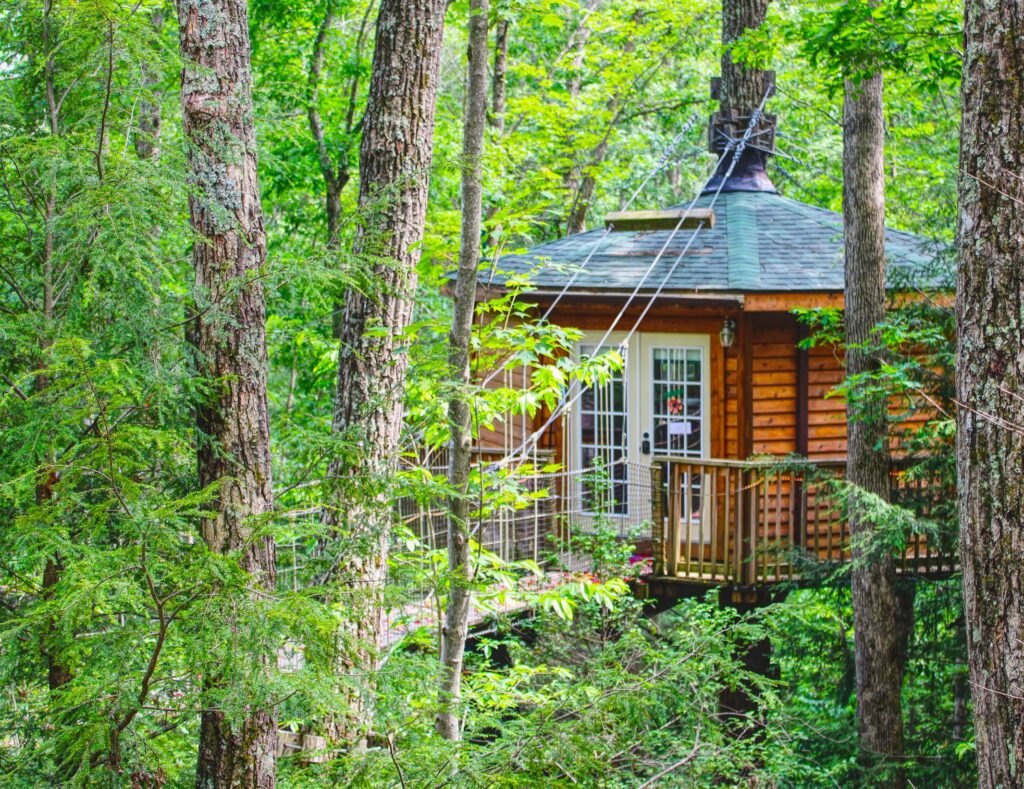 ---
Whimsical Treehouse Airbnb
Location: Walton, West Virginia
Price: $75+ per night
No list of the best treehouse rentals in West Virginia would be complete without mentioning the magnificent Whimsical Treehouse. With breathtaking views of the Appalachian Paradise, the property can comfortably accommodate two guests + one child.
Guests have access to the entire sustainable farm which includes a pristine forest, waterfall grotto, myriad streams, and a beautiful fishing pond.
The owners, Rob & Heather are fantastic hosts. They did a fantastic job with furnishing this treehouse rental. Relax with a drink on your private patio with lounge and grill area, take a nap in one of the hammocks, or enjoy spectacular waterfall views.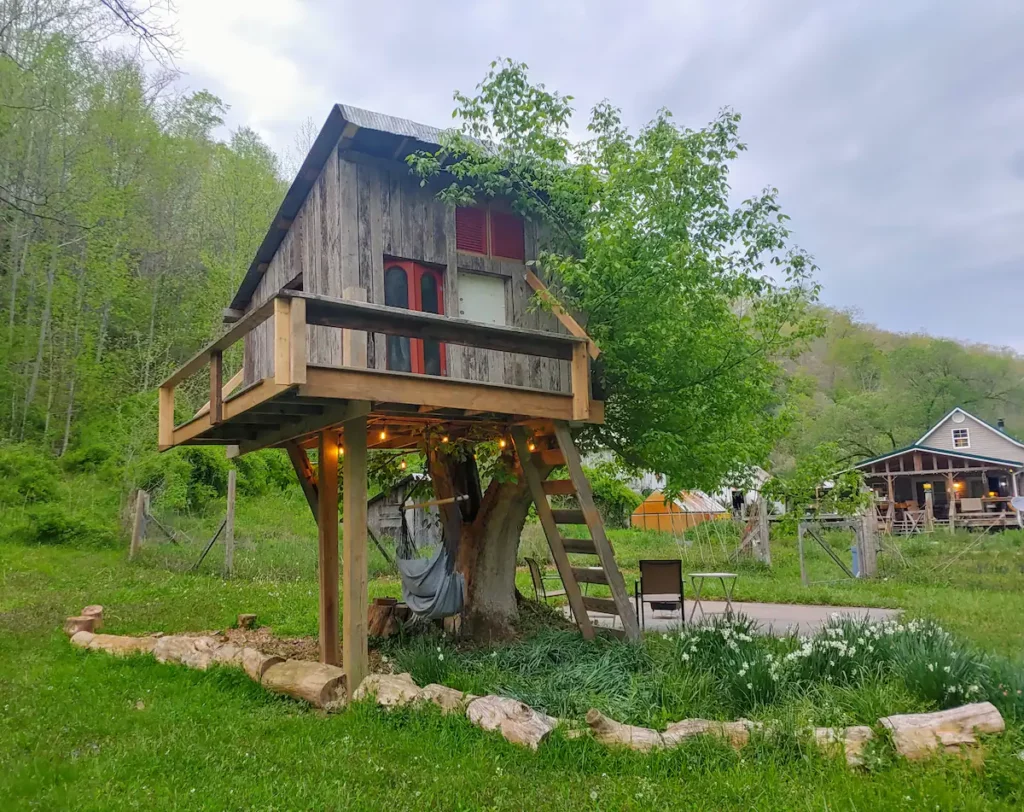 ---
Cozy West Virginia Treehouse
Location: Shepherdstown, West Virginia
Price: $228+ per night
Located just a short walk from the center of Shepherdstown, this Cozy West Virginia Treehouse is nestled right between oak and hickory trees and offers magnificent sunset views from its 12×5 front porch.
Inside the treehouse, guests will find a small kitchen with a fridge, kitchenware, and a stovetop to prepare food. The bathhouse is built on the back side of the house, just a few meters from the treehouse. Guests will also have access to an outhouse that features lights and other essentials.
From a small pair of binoculars that allow you to enjoy birdwatching to the nicely designed front porch where you can have your morning coffee, the place is packed with a bunch of small thoughtful details. Have a glass of beer at the nearby Harper's Ferry Brewery or book a flat water float down the river in Harper's Ferry.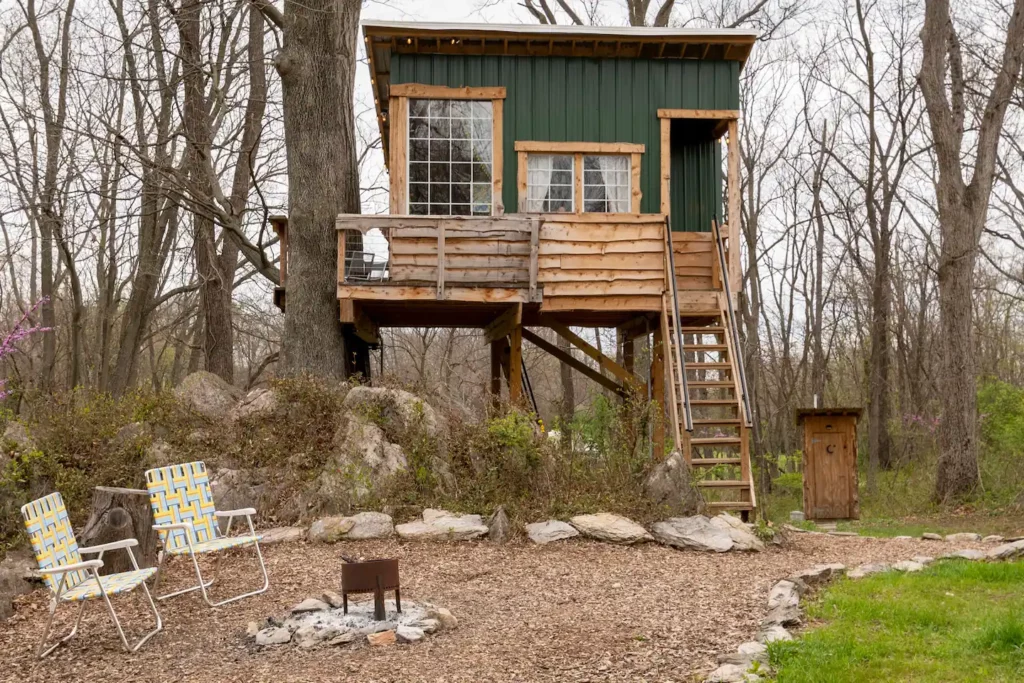 ---
Tuscany Tree House
Location: Hico, West Virginia
Price:$333 + per night
Anchored 20 feet above the ground, Tuscany Tree House is a perfect place for families with kids and friends vacationing in West Virginia. With a tastefully decorated queen bedroom and a queen sleeper sofa, the property can accommodate up to 4 guests.
Step on the 38-foot cable bridge that leads you to the treehouse where you will find expansive windows, kitchenette facilities (refrigerator, sink, 2-burner hot plate, coffee pot, toaster oven, microwave, dishwasher, and kitchenware), a full bathroom, and a large screen TV. Guests can also chill in the private hot tube which is located on the front deck area.
What's there to do in the area? The good news is that Tuscany Tree House is just a short walk from some of the best trails in the area including the miner's trail, Babcock state park, and Endless wall trail. To snap a couple of cool photos for your Insta account, visit the nearby new river gorge bridge.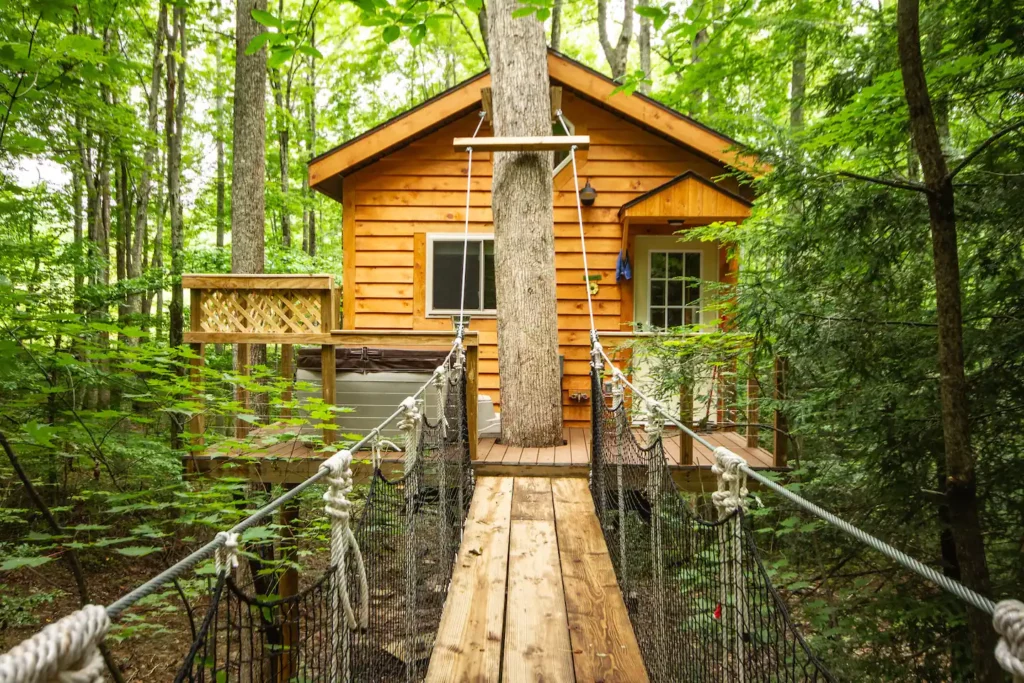 ---
Lost River Modern Luxury Cabin Tree House
Location: Lost City, West Virginia
Price: $260+ per night
LRM (Lost River Modern) is, without a doubt, one of the most luxurious treehouse rentals on this list. Featured in Dwell Magazine, this award-winning modern prefab cabin in the woods has everything you need for a comfortable weekend getaway in West Virginia.
Expect to find luxurious amenities such as the Dutch Tub hot tub, cute swings under the enormous deck, great kitchen appliances, a master bedroom, a bath, and living space on the upper level where you will find the second bedroom.
Spend a day at the nearby Lost River State Park or enjoy a few nature hikes. Once you come back to the treehouse, you can choose something from the vast CD collection on the surround sound speakers or play board games.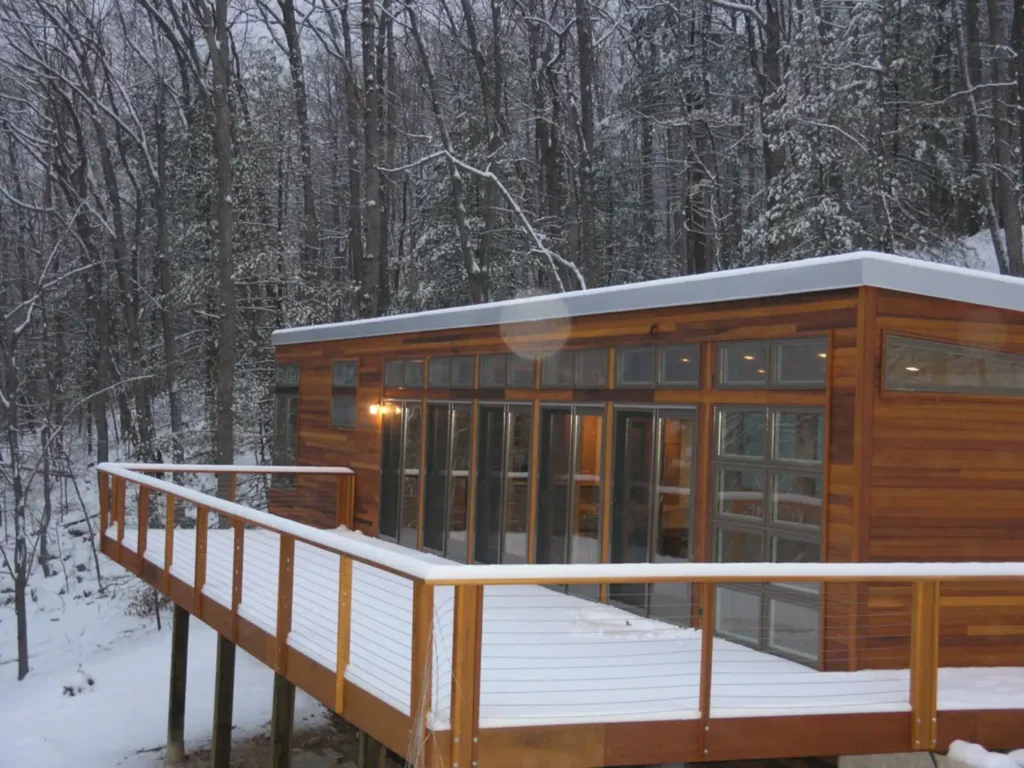 ---
Buffalo Trail Treehouses
Location: Bluefield, West Virginia
Price: $130 + per night
www.buffalotrailcabins.com/rustic-tree-houses/
If you are looking for a reasonably priced treehouse in West Virginia, book your stay at the lovely Buffalo Trail Treehouses. The estate offers a bunch of accommodation options including everything from cottages and camping tents to cabin-style treehouses.
There are 4 treehouses to choose from: Ronnie's Roost, Nana's Nest, Grandma's Getaway, and Jason's. Each property features an open concept with a full kitchen and bathroom and bunk beds with queen mattresses.
The estate is a great place to stay if you wish to explore the famous Buffalo Trail. On-site, you will find a nice restaurant that serves the most delicious buffalo burgers and offers nearby 40 different brands of beers.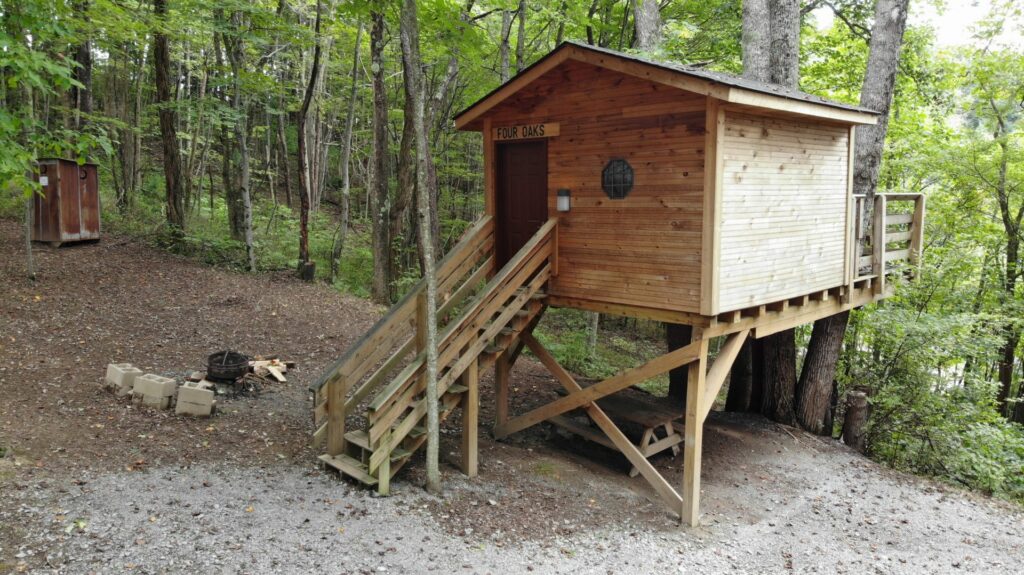 ---
Mountain Cabin Treehouse With Hot Tub
Location: Davis, West Virginia
Price: $245 + per night
Mountain Treehouse in Davis, West Virginia is well-known for its panoramic views of the opposite mountain and Canaan valley. Tourist attractions like the Canaan Valley Resort, Timberline, and Blackwater Falls State Park will be right at your doorstep.
Whether you wish to hike the Blackwater National Park, enjoy swimming, fishing, canoeing at the Mirror Lake Recreation area, or visit the impressive Senecan Caverns, there are plenty of activities to enjoy when staying at this lavish property.  Popular towns of Davis and Thomas where you will find bars, restaurants, and shops are easily reachable.
With an open living room with many windows, Mountain Treehouse itself looks absolutely fabulous. Guests can relax in the hot tub, enjoy breathtaking views from the balcony and the living room, and cook meals in the fully-equipped kitchen.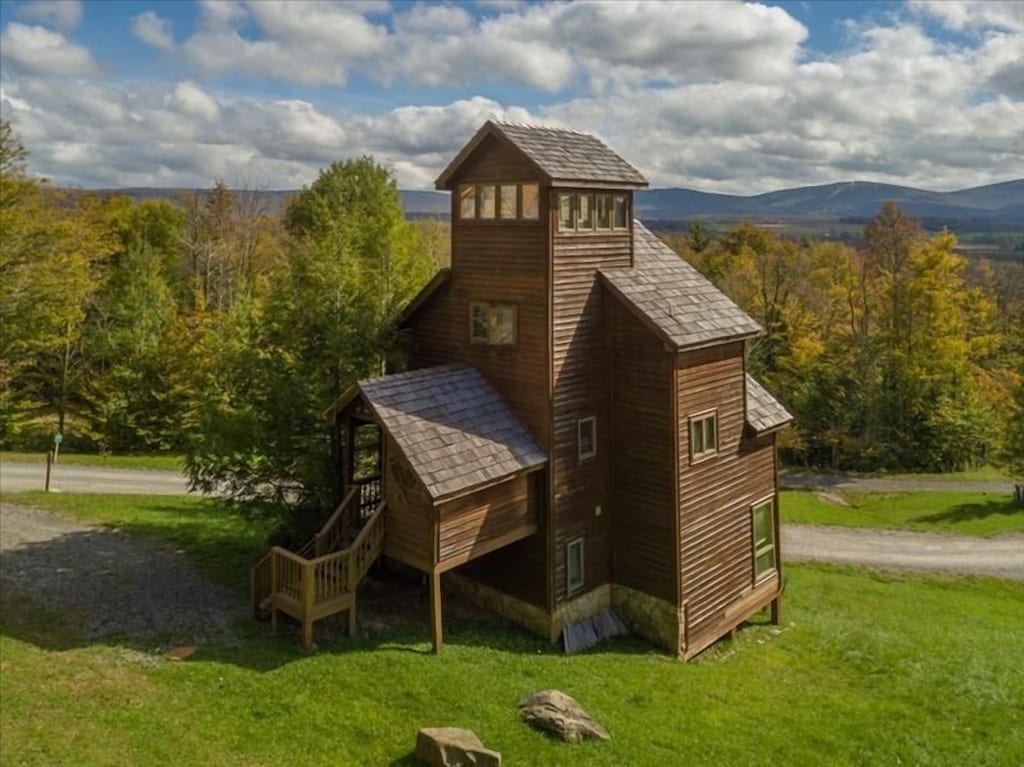 ---
3 Bedroom Cabin Treehouse
Location: Fayetteville, West Virginia
Price: $160 + per night
Conveniently located in pure seclusion, this 3 Bedroom Cabin Treehouse is a great place to escape the big city lights and reconnect with nature. The small town of Fayetteville is a short drive away if you wish to get back to civilization.
The property consists of three bedrooms and can accommodate up to 8 people, making it a perfect place to stay for large groups of friends or two families with kids on vacation in West Virginia.
This treehouse cabin offers everything needed for a memorable stay in the woods. Guests can use the fully-equipped kitchen, play board games, relax in the lovely hot tub, or use the outdoor grill. Looking for things to do in the area? Pay a visit to the nearby Adventures on the Gorge (AOTG) and enjoy their playground, pool, bar, 3 restaurants, and much more.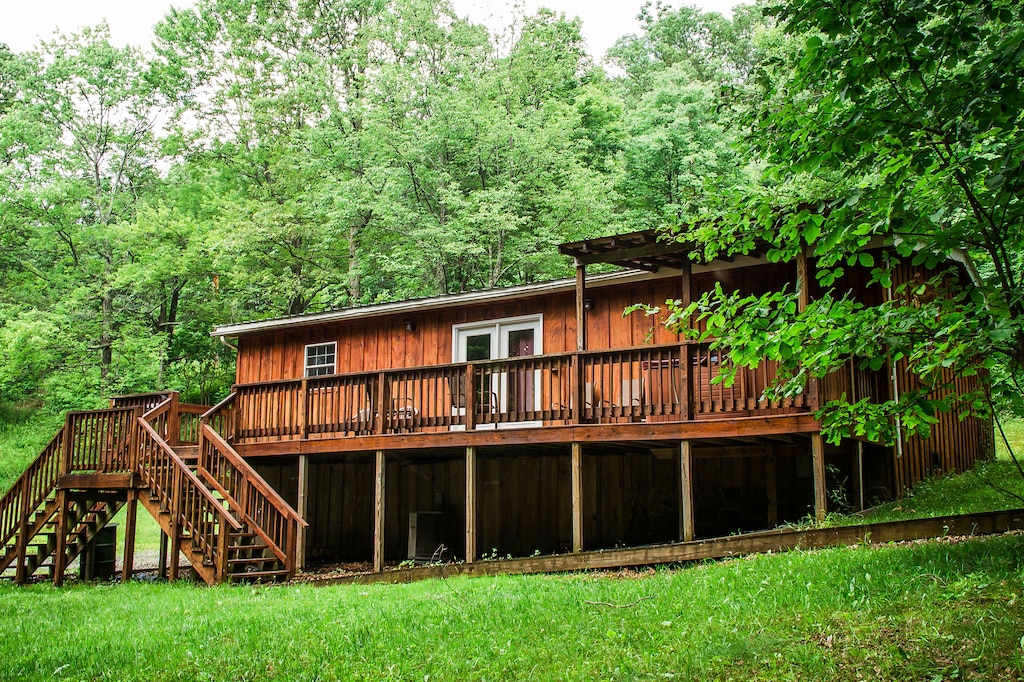 ---
Treetop Villas at Grand Vue Park
Location: Moundsville, West Virginia
Price: $235+ per night
https://grandvuepark.com/lodging/treetop-villas/
If you wish to enjoy amazing views of the Ohio Valley and spend lazy mornings in a luxurious treetop villa, look no further than Treetop Villas at Grand Vue Park. There are 4 different treetop villas to choose from here at Grand Vue Park: Blue Spruce Treetop Villa, Red Maple Treetop Villa, Black Walnut Treetop Villa, and White Oak Treetop Villa.
Available year-round, these award-winning villas come with all the comforts of a home. Guests have access to their private deck which is fitted with a lovely hot tub. Each treetop villa is also equipped with a wood-burning stove and charcoal grill. If you are traveling with pets, two of these treetop villas are pet-friendly. If you wish to mingle with other guests, there is a community firepit.