Planning a trip and looking for the coolest and BEST cabin rentals in Minnesota? Well, you've come to the right place as I've put together this amazing guide to incredible Minnesota cabins that will provide an unforgettable getaway! 
Nicknamed "The Land of 10,000 Lakes", Minnesota is known for its lakes and forests. This state has bountiful nature and within it we find plenty of hidden gems. I have gathered 12 of the coolest cabin rentals in Minnesota for the perfect nature get away. Take a look and go exploring!
Also, be sure to read my guides on Cabins in Michigan & Romantic Cabin Rentals in Hocking Hills, Ohio for more nearby cabin fun!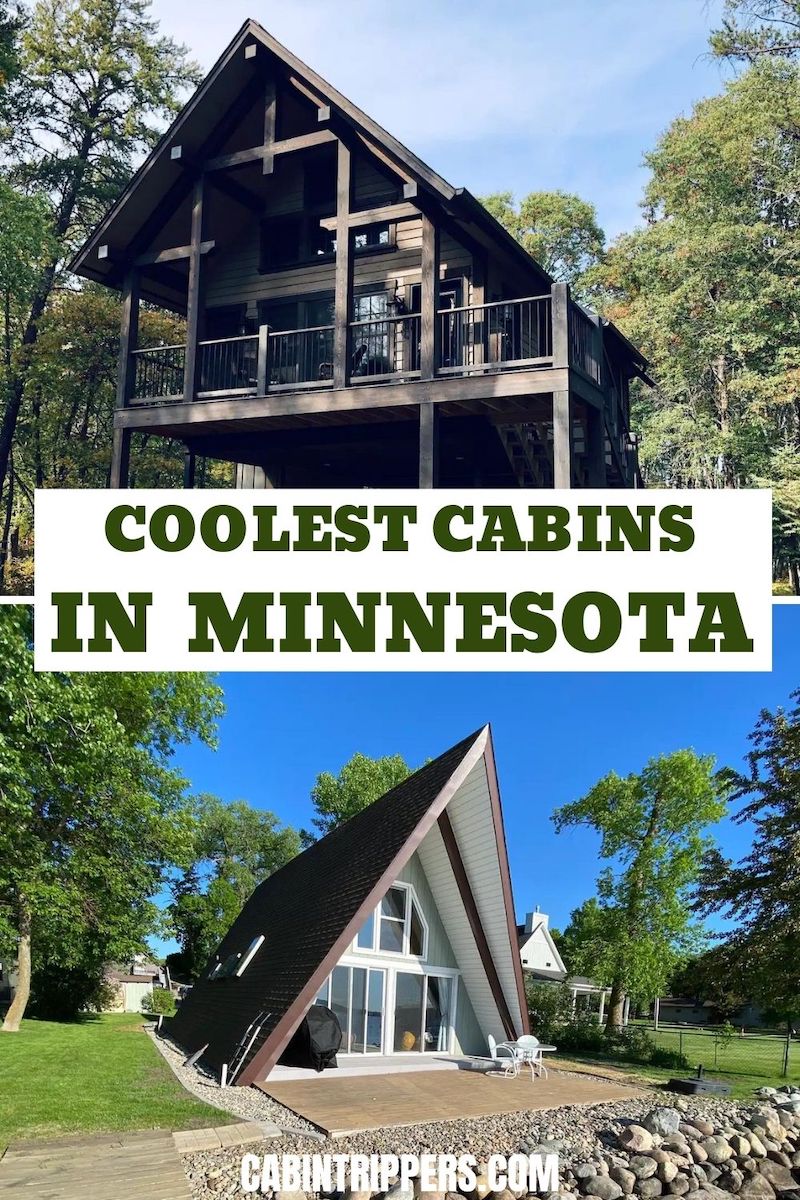 ---
North Shore Luxury Cabin
Location: Two Harbors, Minnesota
Price: $470+ per night
Sleeps: 8
https://www.airbnb.com/rooms/40034646 
Just a quarter mile from Lake Superior's shoreline lies this truly luxurious 3-bedroom cabin. The perfect home base from which to explore the scenic Gooseberry Falls State Park, Split Rock Lighthouse or (in the winter) the nearby snowmobile trail system. Perfect for outdoor or indoor enthusiasts alike, the space boasts a beautifully furnished deck, a gas grill, and an outdoor fire pit. Indoors you will find a wood-burning fireplace around which you can gather and enjoy a nice beverage. Ready to live lavishly? In the master bedroom you will find a jacuzzi tub in which to unwind after a long day of exploring.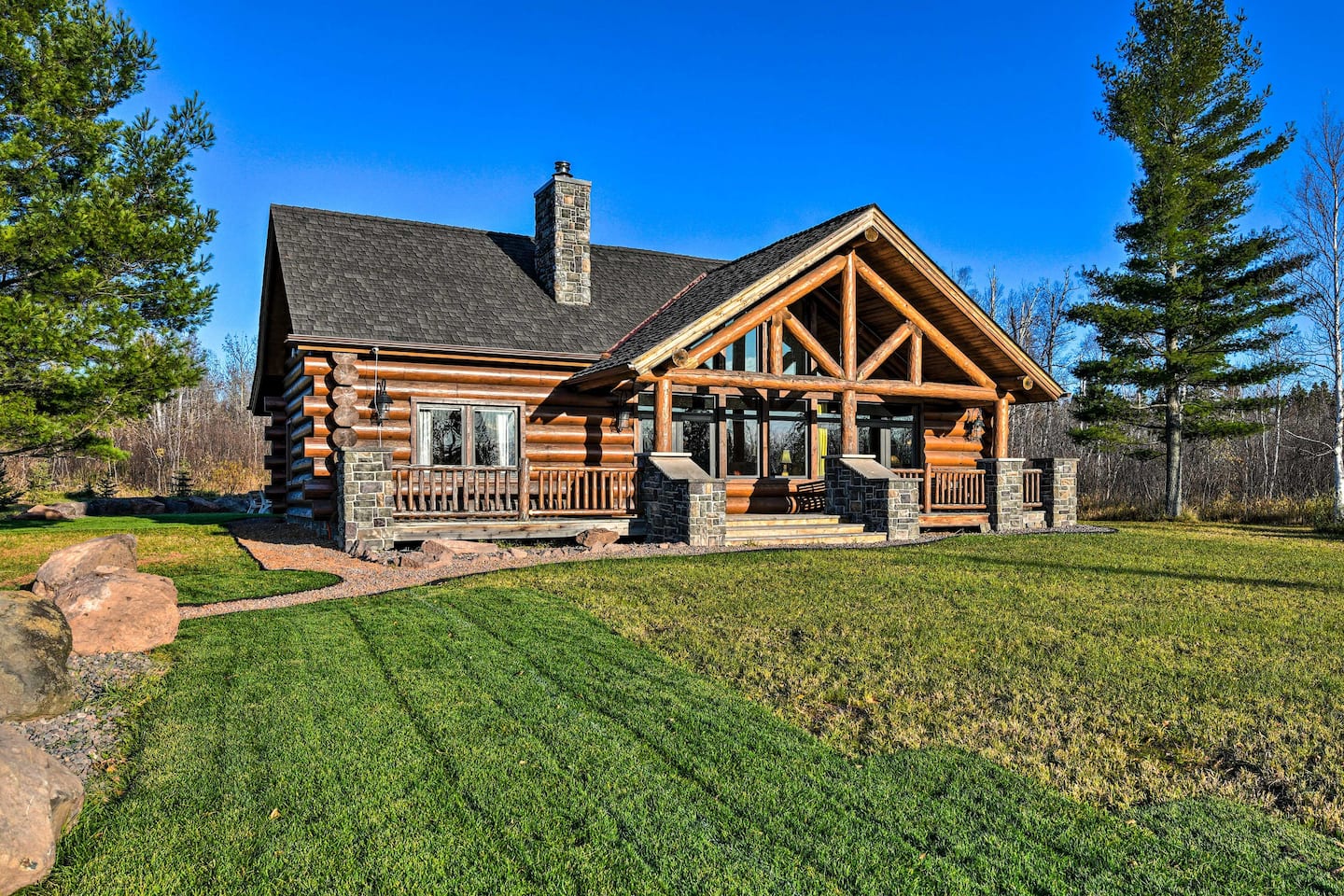 ---
Beautiful Stone Cottage Romantic Getaway
Location: South Haven, Minnesota
Price: $250+ per night
Sleeps: 6
Right on the shores of beautiful Lake Sylvia sits a lovely stone cottage. This fairytale home is fitted with comfortable furnishings and any amenities you may need to enjoy a retreat by the Lake. Enjoy your morning coffee on the deck porch swing and spend a night playing board games in the cozy eating nook.
The perfect home base from which to explore quaint nearby towns filled with vintage shops and wonderful restaurants. Or, if you prefer a more active getaway, explore the nearby parks with cross country ski trails or snowshoeing and ice fishing right out the door in colder months.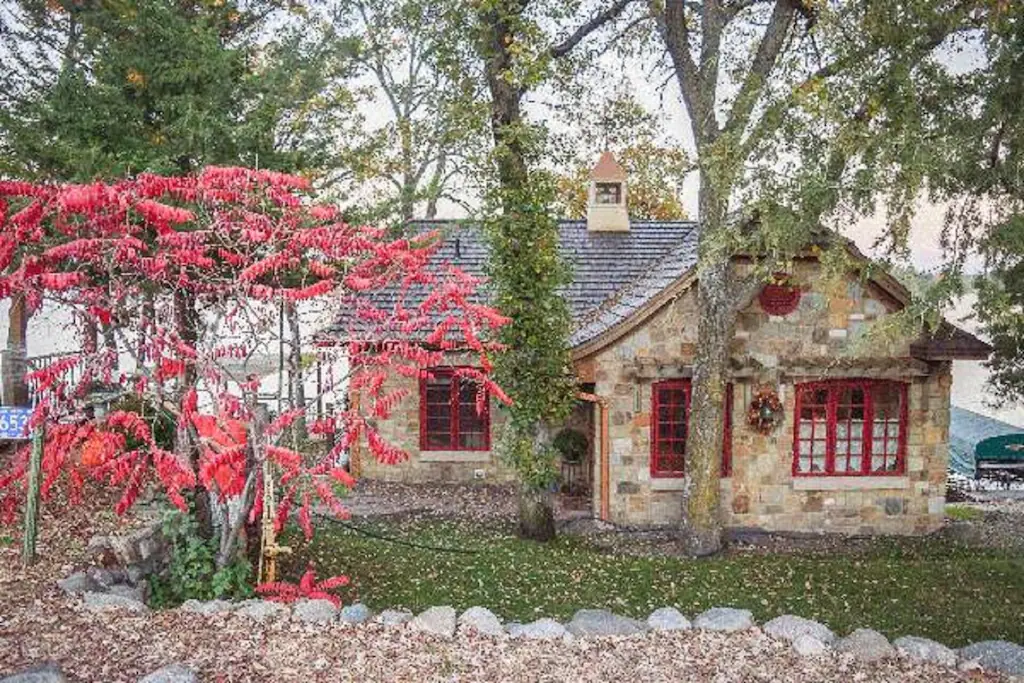 ---
Alluring Nisswa Cabin
Location: Nisswa, Minnesota
Price: $392+ per night
Sleeps: 8
https://www.airbnb.com/rooms/20536682
Like fishing? Situated on Gull Lake, one of the top fishing lakes in the United States, this cabin is the perfect spot to relax and enjoy the nature and serenity Minnesota has to offer. During warmer months, kick back on the lake shore or lounge on the porch.
During the colder months, curl up by the fireplace with your loved ones and a hot coco. Experience luxury and nature combined into one at this lakefront property!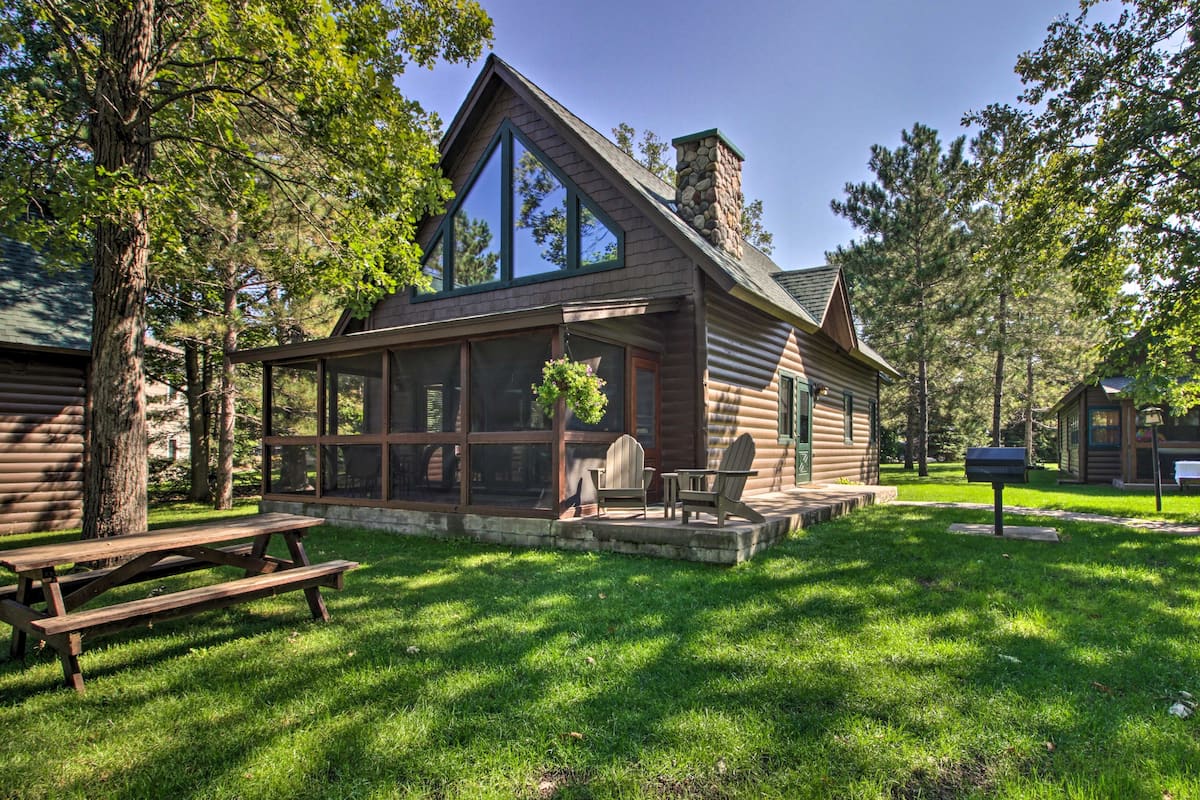 ---
Up North Cabin in the Trees
Location: Crosslake, Minnesota
Price: $175+ per night
Sleeps: 6
https://www.airbnb.com/rooms/44263212
This cabin on stilts is a truly unique experience in Minnesota's Northwoods. In a serene and peaceful setting, the home boasts two queen-size beds and a fully stocked kitchen. A perfect stay from which to explore the Crosslake area, the home is close to everything Crosslake has to offer.
Explore the trails, lakes, and abundant nature! Perfect for a group of friends or a family, the property boasts ample indoor space as well as an outdoor firepit around which to gather and enjoy nature together.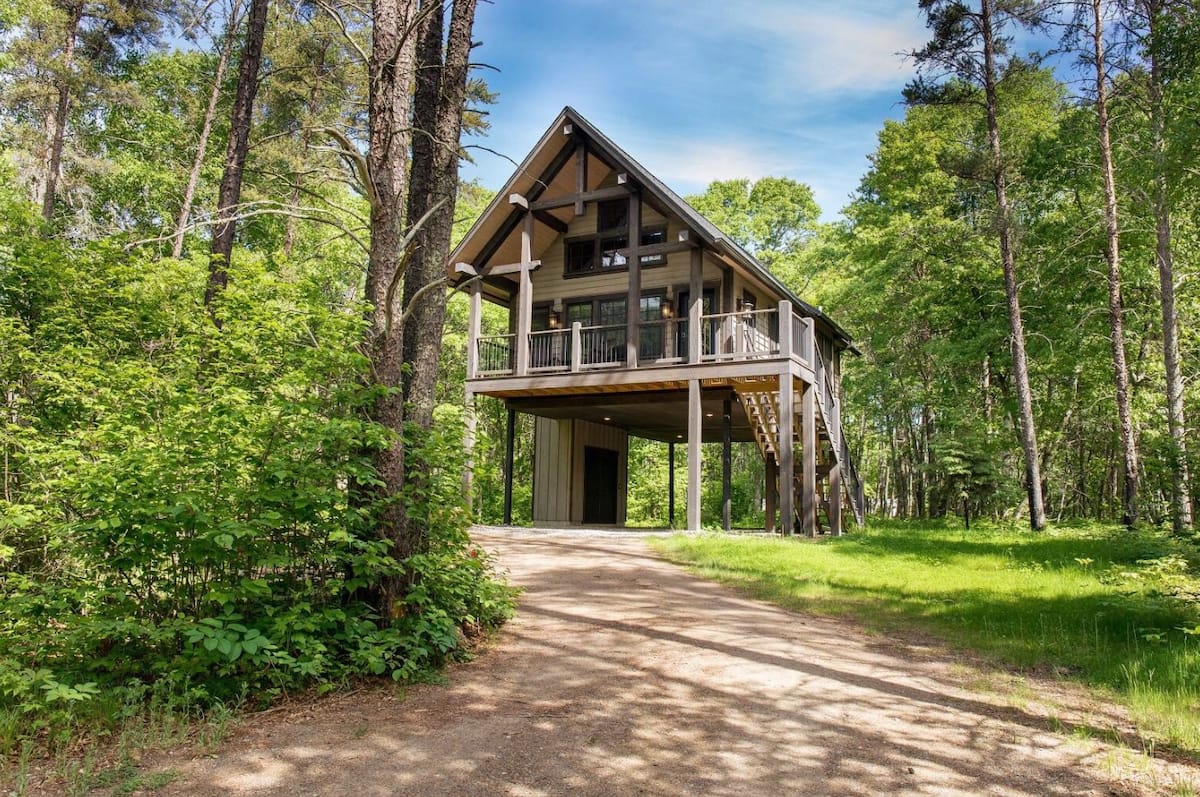 ---
Lutsen Log Lodge
Location: Lutsen, Minnesota
Price: $289+ per night
Sleeps: 6
This cozy alpine style cabin boasts an open floor plan, vaulted ceilings and a fireplace around which you can unwind after a long day of skiing in the Lutsen Mountains. The master bedroom boasts a hot tub with views of Lake Superior and Moose Mountain Slopes.
Prefer the golf course over the ski slopes? No problem! The property is located minutes from the Superior National Golf course, with 27 holes and fantastic Lake Superior Views.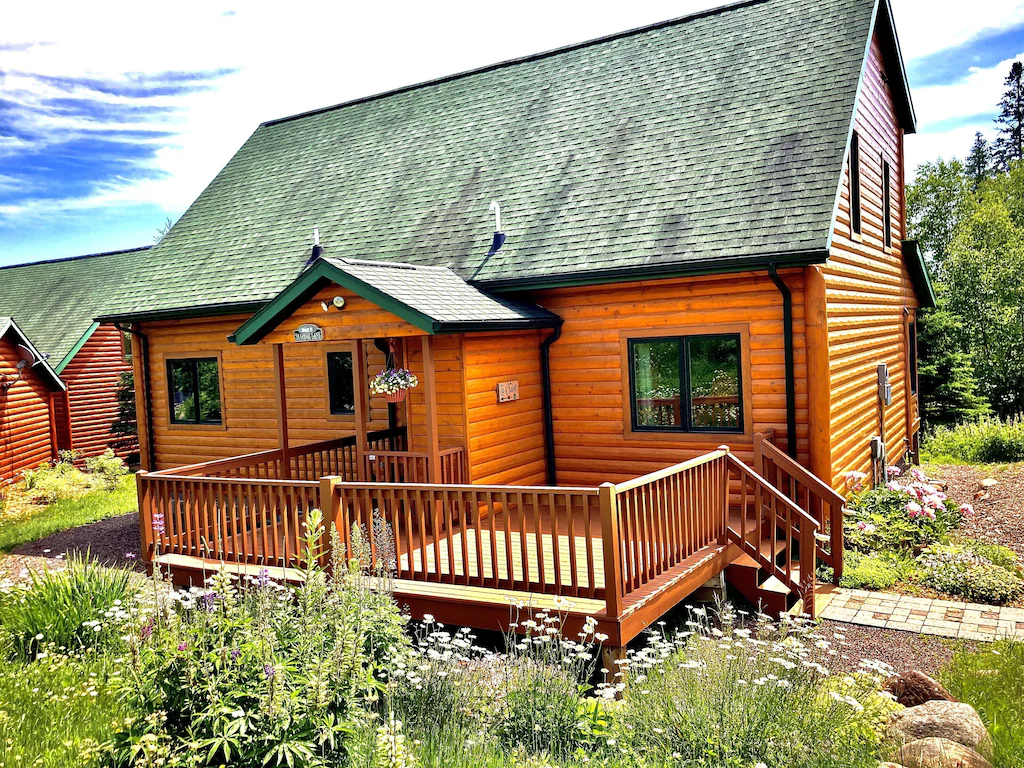 ---
Unique Star-Gazer LOTR Treehouse Cabin in Minnesota
Location: Upsala, Minnesota
Price: $179+ per night
Sleeps: 5
https://www.airbnb.com/rooms/24991868
Although at the edge of a small town, the two acres of wooded nature in which this cabin lies gives the space a secluded feel. The property boasts a hot tub and a 4-person sauna, in which you can sit back and relax. During warmer nights, enjoy stargazing from the comfort of the tub! This special property has quirky details and is on stilts! Making it a truly unique rental in this area.
Want to make the most of the outdoors? This cabin is just a few miles from boating, fishing, hiking and snowmobiling activities. There is a perfect activity for every taste and each season!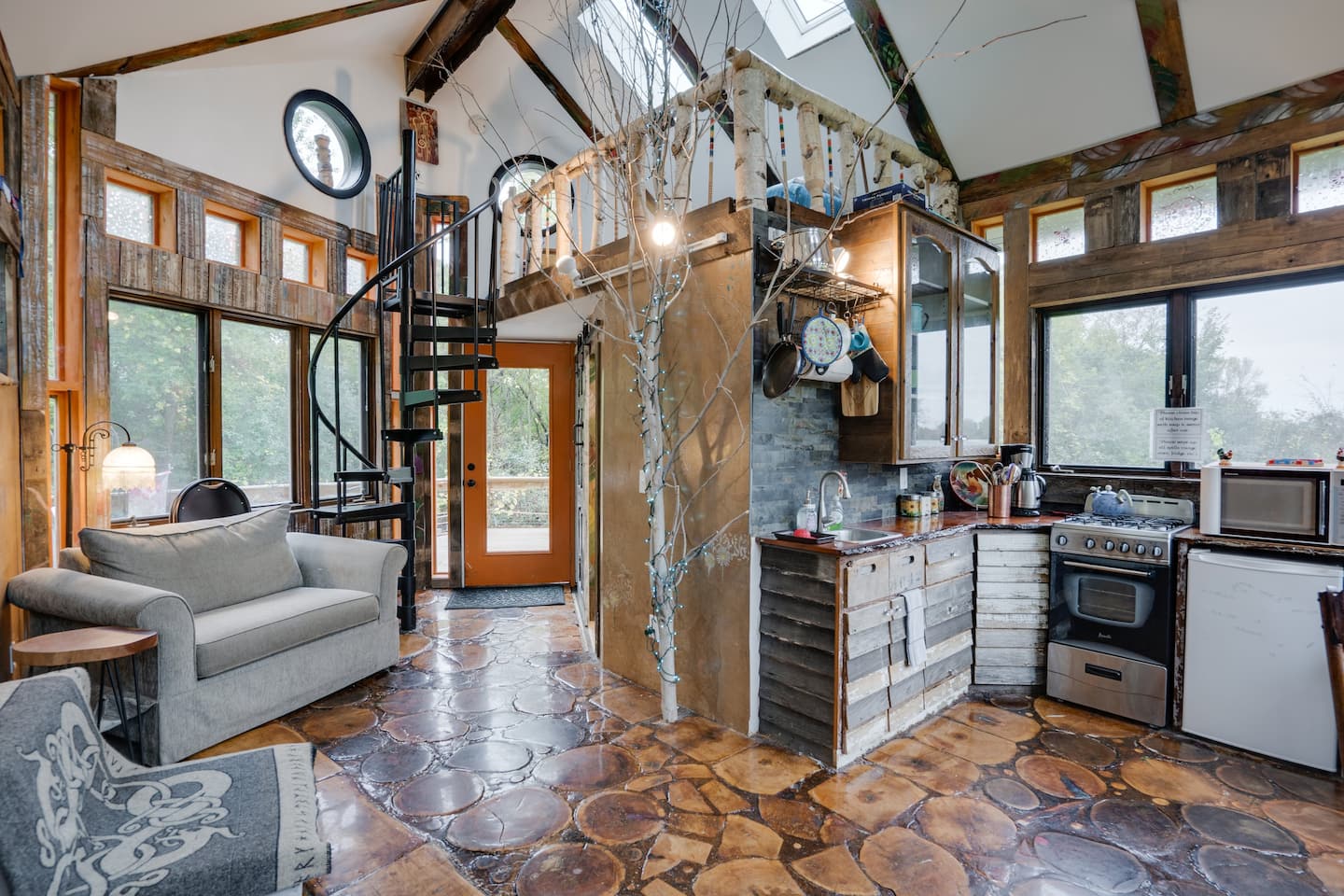 ---
Lakefront A-Frame Cabin Escape
Location: Audubon, Minnesota
Price: $213+ per night
Sleeps: 5
https://www.airbnb.com/rooms/40226811
This 1960s A-frame cabin the ideal way to experience lake life at its absolute best. Enjoy unobstructed views over the pristine waters of Big Cormorant. The home, which has recently been renovated, boasts heated floors and a fully equipped kitchen, making it a comfortable stay year-round. The space is perfect for those looking to relax and spend time with loved ones by the lake. The art-deco style of the home makes it a fun stay for friends but also for families. Especially those who enjoy games and outdoor activities! Try your luck at the ping pong table and try not to fall off the paddle!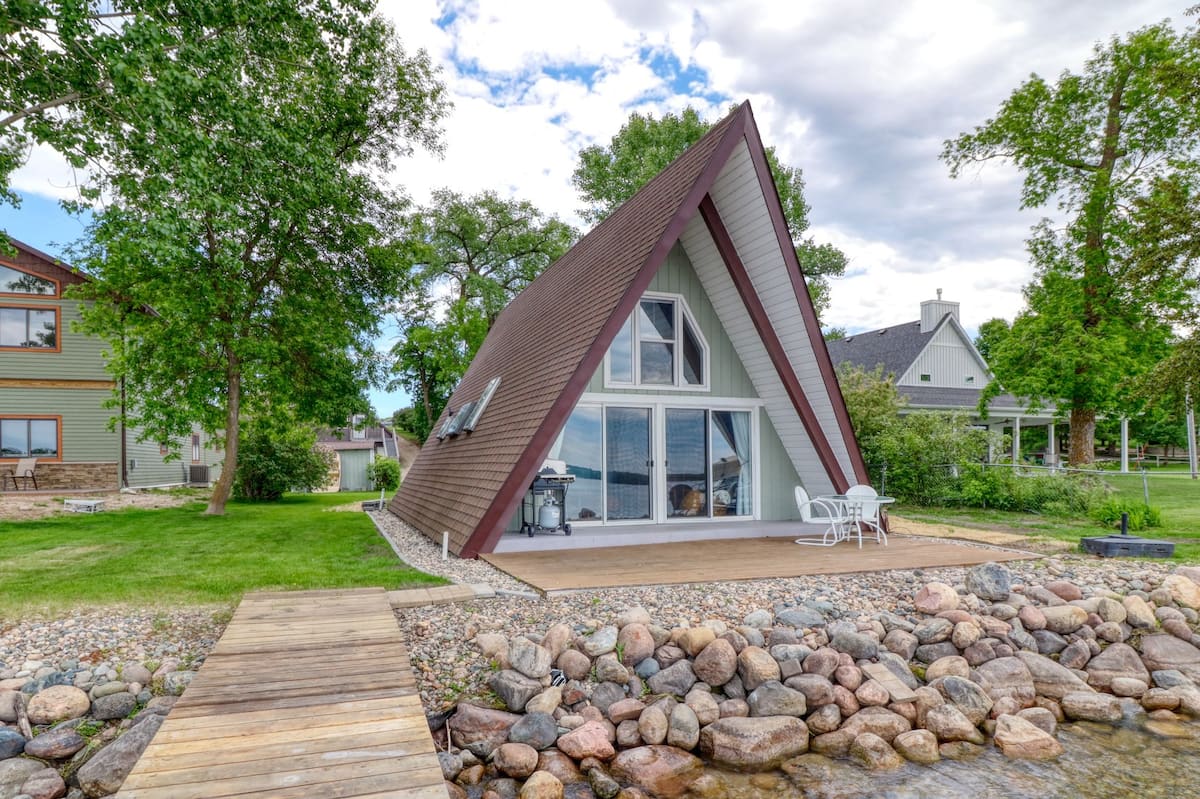 ---
Lakefront Brainerd Cabin
Location: Oak Lawn Township, Minnesota
Price: $238+ per night
Sleeps: 5
Great for all seasons, this home will always provide entertainment and comfort. The peaceful cabin is situated directly on the shores of a quiet lake connecting to the Mississippi River. Perfect for those looking to relax, explore local nature, or dive into activities like hiking, cross-country skiing, boating, or fishing! More the indoorsy type?
The large windows, open layout, vaulted ceilings, and water views throughout the whole home make this the perfect stay for those who prefer to stay in with a nice boardgame and glass of wine.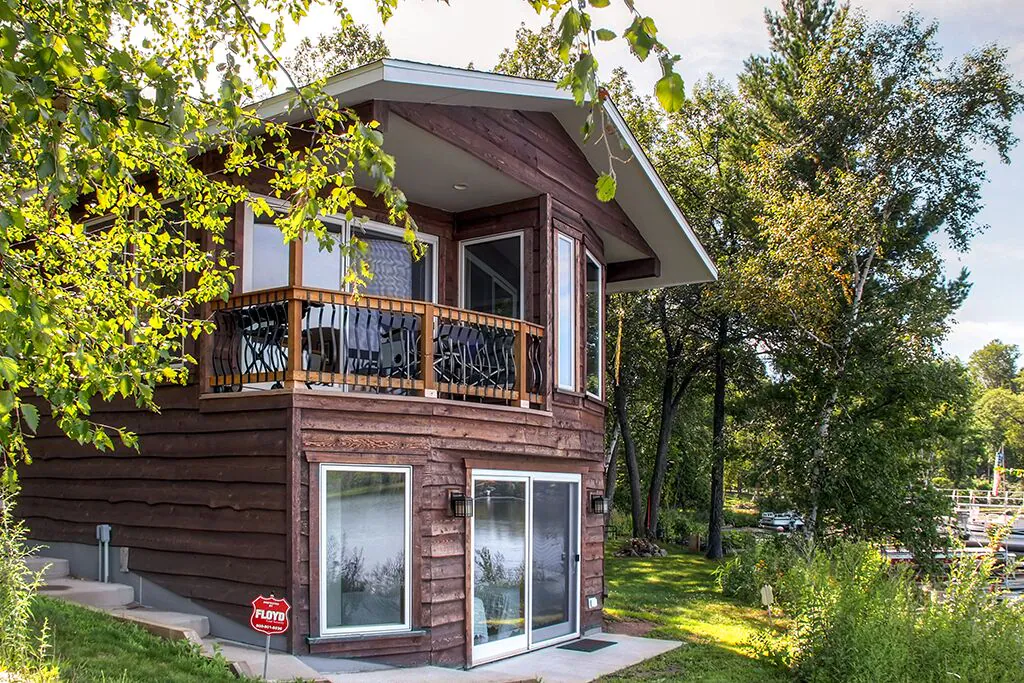 ---
Cozy Modern Cabin
Location: Kettle River, Minnesota
Price: $168+ per night
Sleeps: 6
https://www.airbnb.com/rooms/37061291
This cabin is in a very private setting, just 290 feet off the beautiful Kettle River. Spacious both on the inside and outdoors, the property is perfect for a family or group of friends to enjoy nature and explore the outdoor activities. The river is renowned for great tubing, canoeing, and kayaking.
If you prefer a more relaxing setting, the property boasts a 6-person hot tub in which you can sit back and even watch the stars during nighttime. The bon-fire pit is a great spot around which to gather with your loved ones and take in the beautiful sounds of nature.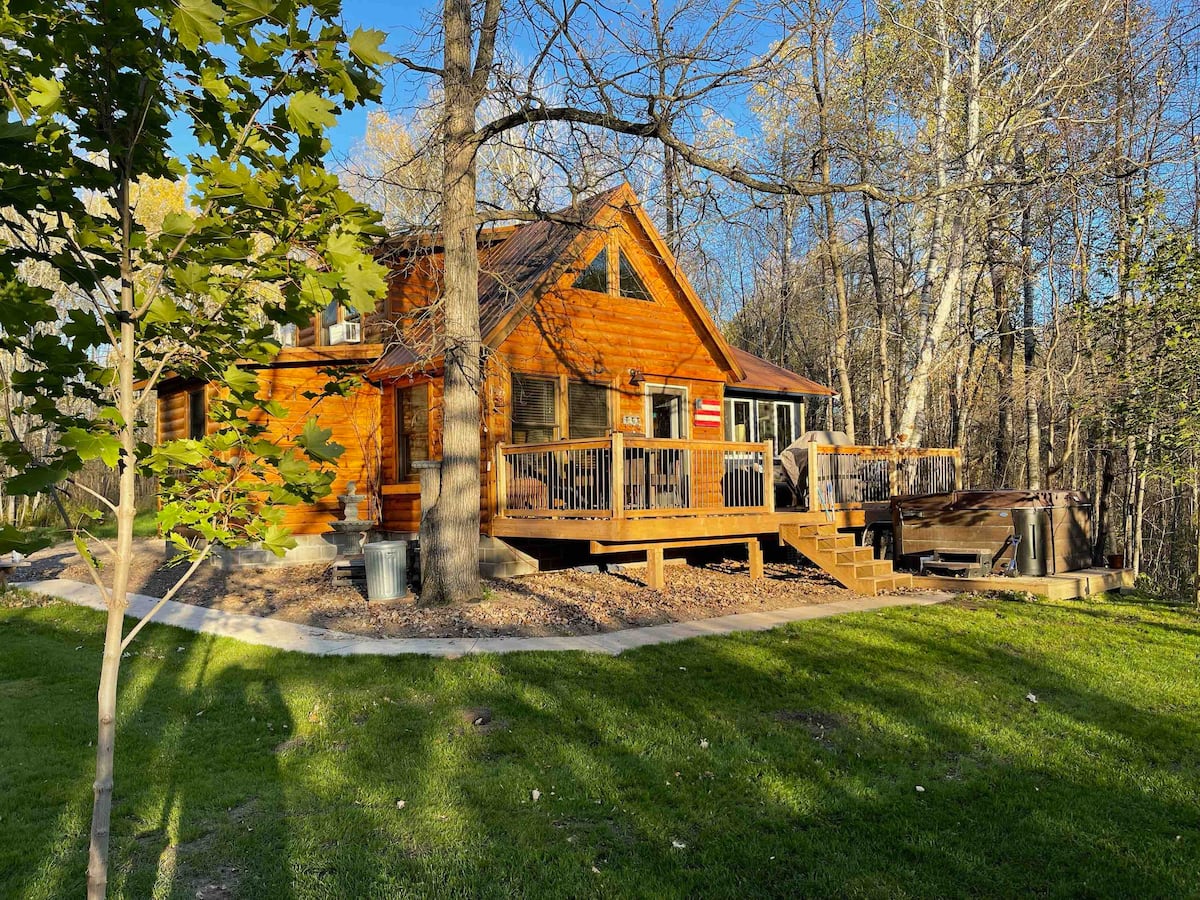 ---
Executive Luxury Log Cabin
Location: Lake County, Minnesota
Price: $520+ per night
Sleeps: 8
Right on the shores of majestic Lake Superior, this log lake home is the perfect luxurious nature escape. The home has two decks, a large Weber grill and a great fire pit from which to enjoy the beauty of the lake and the views of surrounding nature. Gaze upon the rugged cliffs that line the bay and try to spot a falcon!
Prefer to gather around one of the three stone fireplaces with a glass of wine? Pour yourself a drink from the unique log wet bar in the family room and turn up your favorite tunes on the speaker systems or sit back and enjoy a movie on one of the large TV's. If you decide to retreat to the master bedroom, make sure to check out the bath with jetted tub!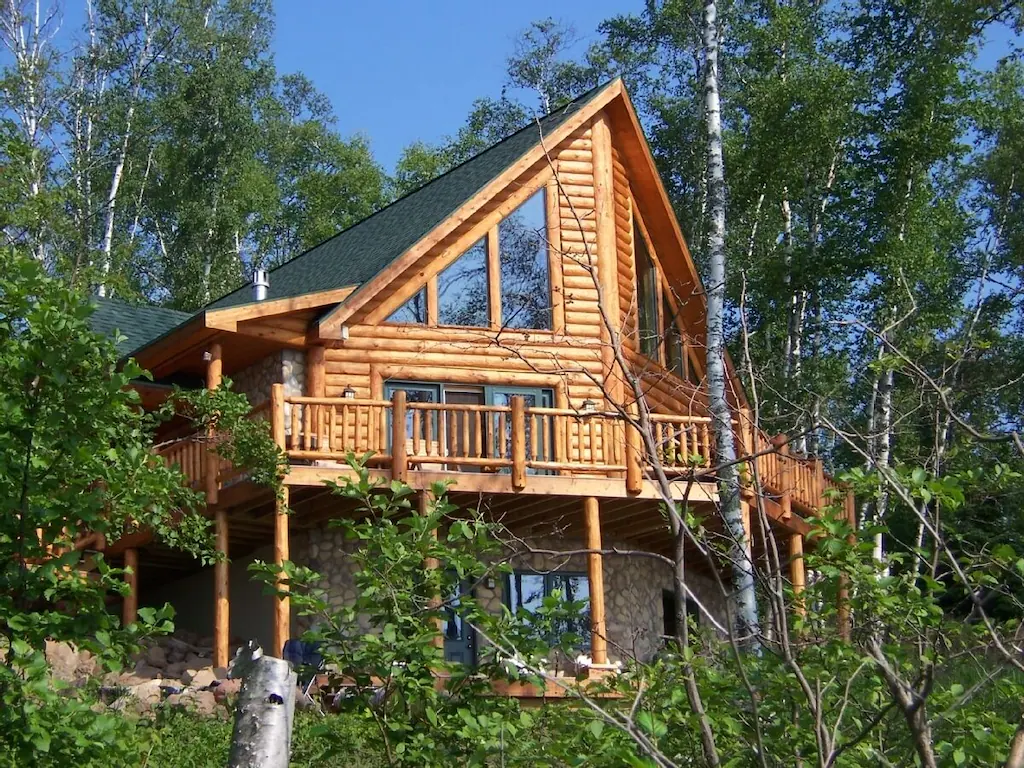 ---
Loon Lake Lodge
Location: Pequot Lakes, Minnesota
Price: $594+ per night
Sleeps: 14
https://www.vrbo.com/7463254ha
This recently remodeled 3-bedroom cabin offers too many amenities to choose from! Take a boat or paddleboard out for a ride, lounge on the private dock, take a relaxing dip in the hot tub or spend a few hours in the sauna bungalow. You read the right, a sauna bungalow!
The perfect retreat for a group of friends, this home has activities to enjoy year-round! If you prefer the winter months, enjoy some ice-fishing and snowmobiling before retreating to the warmth of the cabin for some quality time together.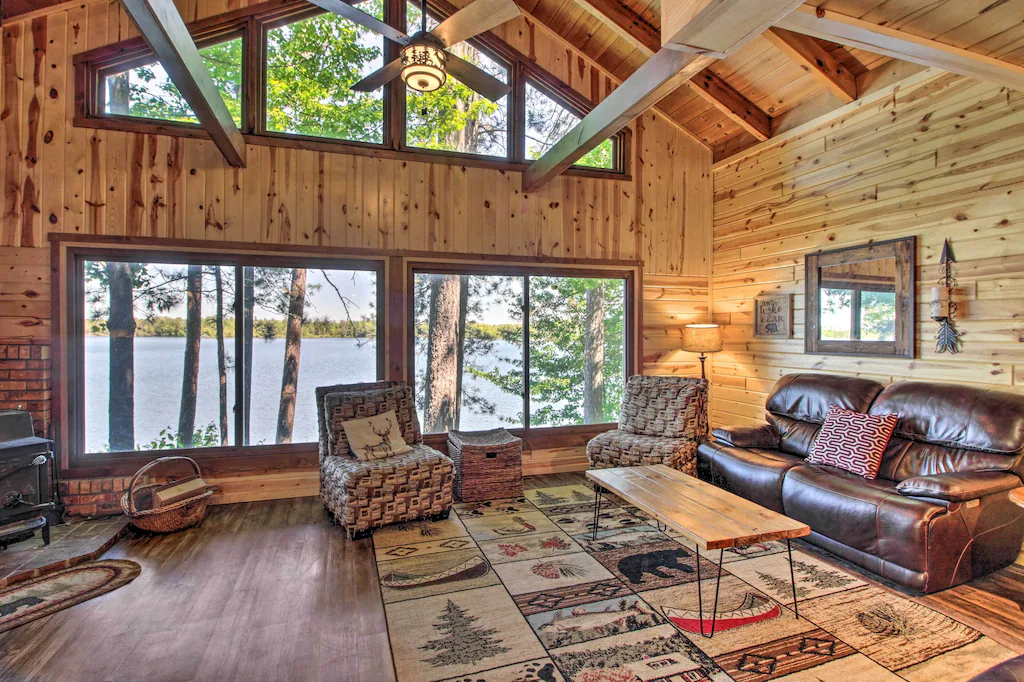 ---
Waterfront Cabin
Location: West Cook, Minnesota
Price: $400+ per night
Sleeps: 14
Perched on a gorgeous scenic vista with mesmerizing views over Lake Saganaga, this secluded spot on the edge of one of the wildest and untouched landscapes is where nature meets luxury. Beautifully decorated, modern yet rustic, the open floor plans and large windows allow for an immersive nature experience. Not only is the property itself fantastic, as is its location. Close to Boundary Waters Canoe Area and Quetico Park, both of which offer unmatched wilderness and beautiful wildlife.