Looking for the coolest and best cabin rentals in Idaho? Well, you've come to the right place, as I've compiled this amazing guide to help you find the perfect place to stay for your upcoming Idaho cabin getaway! 
Idaho is commonly known for various types of gems found in the state,  but I like to think of Idaho as the "Hidden gem state", because it is truly such an underrated destination!
The panoramic mountain landscapes and vast stretches of wilderness and woods make it ideal for fishing, hiking, rafting, and so many other mountain sports. There are multiple options available to enjoy these views & activities while exploring Idaho, but staying in one of these luxurious and unique mountain/ lakefront cabins would be an incredible and memorable experience for you and your group.
From Stanley to Donnelly, Yellowstone National Park to Cascade, and McCall, I have put together this list of the coolest, most unique, and unbelievably luxurious cabins in Idaho which will serve as an ideal accommodation for your visit! Whether you are looking for a small hideaway or a big cabin for a family reunion – this list has you covered!
Also, be sure to read my guide on the Coolest Cabins in Wyoming & A-Frame Cabins in Washington for more nearby cabin fun!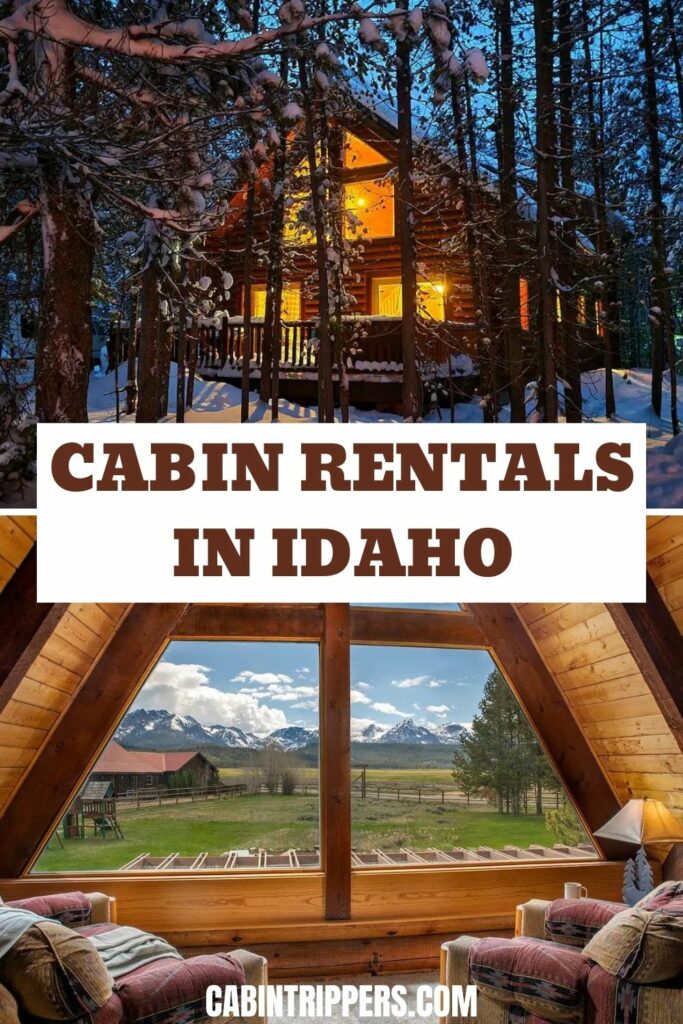 ---
1. Secluded Cabin Near Downtown McCall
Location: McCall, Idaho
Price: $143+ per night
Perfect for a small family or ideal for a romantic couples' getaway, this cozy cabin is situated up a 200′ private drive deep in the forests of McCall. The property has earned a 5-star review with over 132 submissions due to the hosts' attention to detail and privacy, as well as the quality and cleanliness of the cabin itself and its proximity (20 minutes on foot) to beaches, bars, restaurants, and other local hotspots.
This secluded cabin is for those wanting a chic secluded shelter with the option to dip in and out of civilization, be near to Payette Lake for any water recreation or relaxing needs, and have amenities such as a wood fire stove, plush queen bed, and fully equipped kitchen ready for use at all times. For the quality of this property, this price is incredible as well!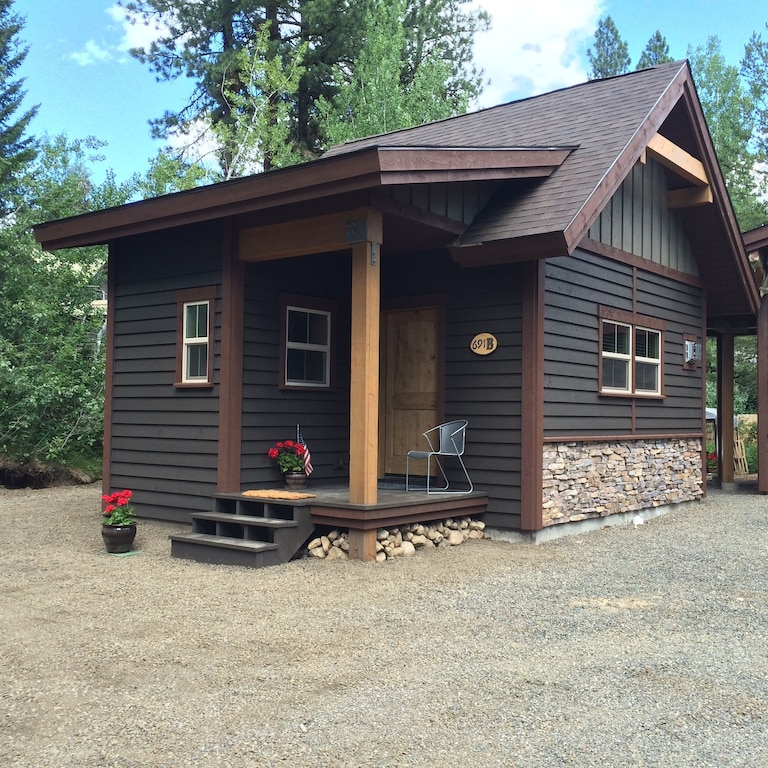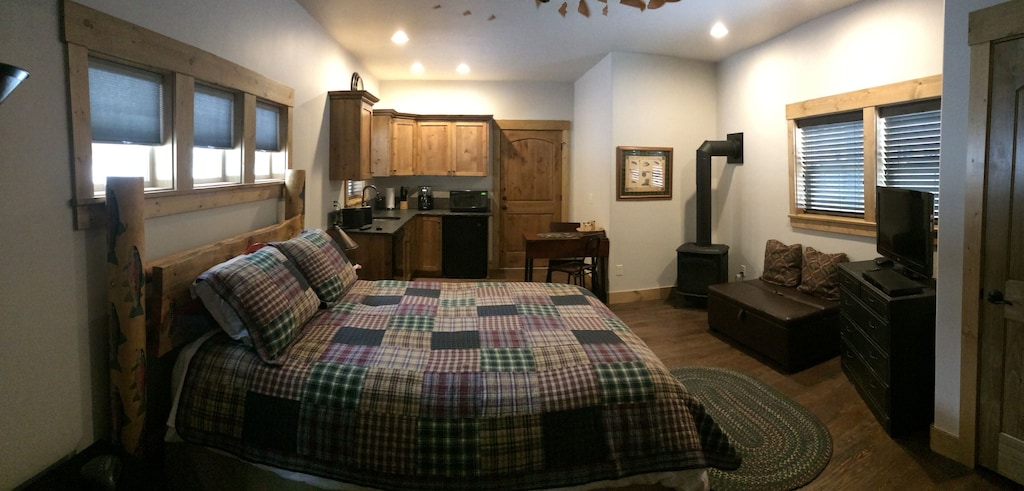 ---
2. Fox Creek Cabin in the Woods
Location: Teton County, Idaho
Price: $150+ per night
Sitting on 10 acres of private land just outside Teton National Park, this finely furnished cabin features a wraparound porch, and idyllic interior, and some of the most amazing views you can get in this area of the country. Suitable for a small family, couple, or group of friends with the pullout couch being put to use, this rental is your home base for hiking, fishing, snowshoeing, antler hunting, berry picking, and more. Embark on your ideal Idaho dream getaway and make this comfy, rustic property your home away from home for a few days!
Guests rave about the privacy, modern amenities, fast WiFi, comfortable sleeping arrangements, and most of all, the access to everything the Tetons have to offer.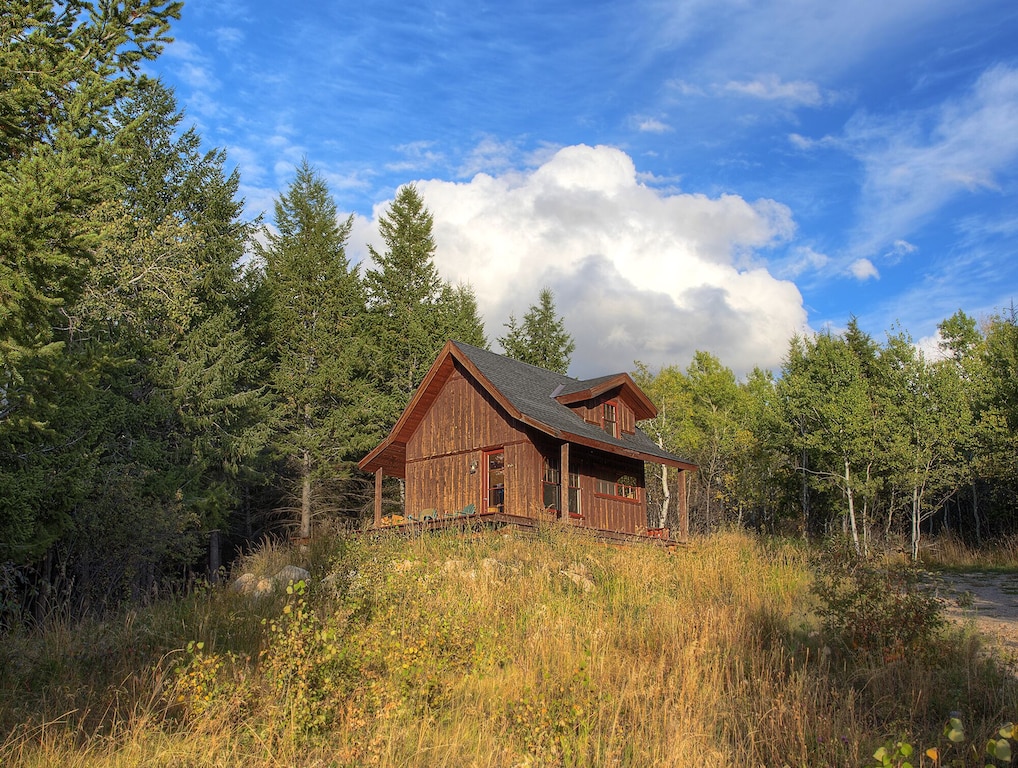 ---
3. Hand Crafted Log Cabin On The Salmon River With Private Sand Beach
Location: Riggins, Idaho County, Idaho
Price: $196+ per night
All I can say when trying to describe this cabin is… WOW! The views are out of this world from the wraparound porch overlooking the Salmon River, and there's even a private beach which only guests and the owners of the property have access to. Sleeping up to five people, the finely crafted wood interior is basic yet rustic and welcoming due to the exposed beams and log siding. Imagine having a cup of coffee or tea in the morning, looking out over the misty valley, and seeing all kinds of wildlife from elk to foxes to fish or hawks roaming, swimming, and flying around this property! This rental is certainly one that will make for some miraculous memories.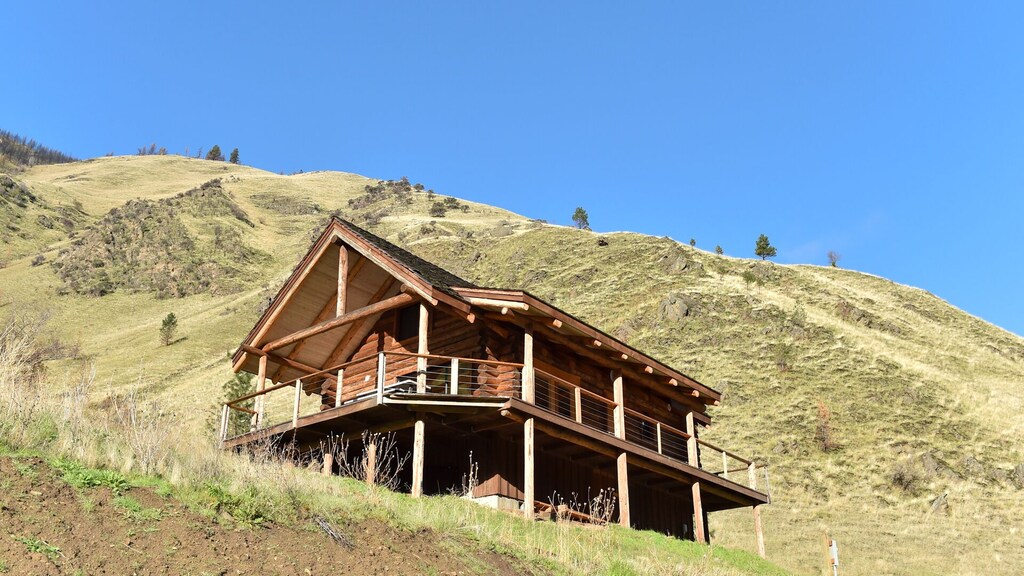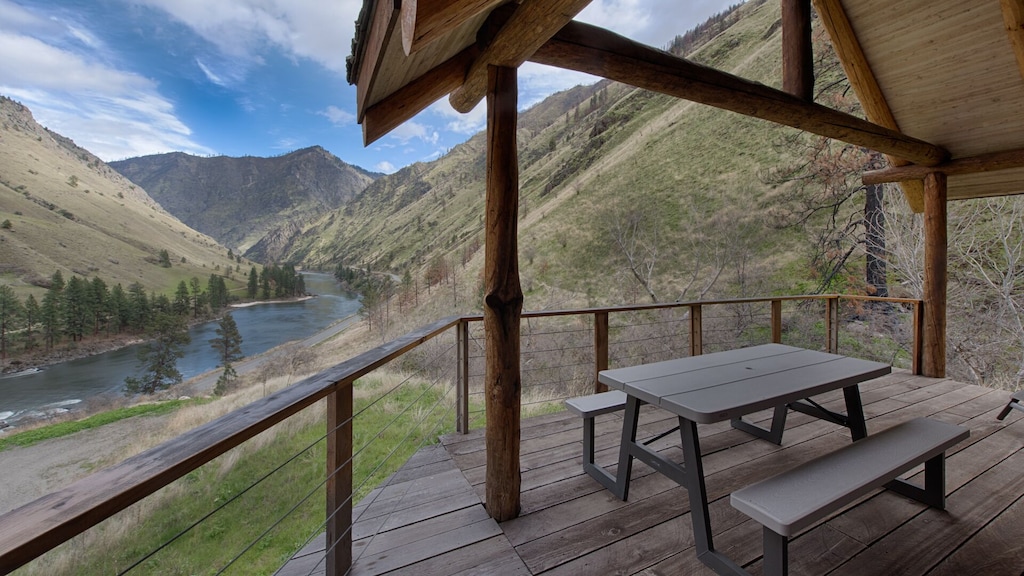 ---
4. Island Park Paradise Cabin
Location: Island Park, Idaho
Price: $329+ per night
This island park paradise Cabin in Idaho is surrounded by lush green landscapes and presents the most breathtaking panoramic views of nature right in front of your eyes!
This traditional place is a bit different from most of the modern getaways and cabins ,and has its unique interior and design. The cabin has 3 bedrooms and 3 bathrooms with a kitchen, Living room, and a dining area.
This cabin can accommodate 10 people very easily while providing all the basic amenities required for their stay. If you want to arrive there by taking a flight, the nearest airport is almost a 2-hour drive away though. Want to take a break from the modern world and spend some time with nature? This paradise cabin is nothing less than an actual paradise for nature lovers's.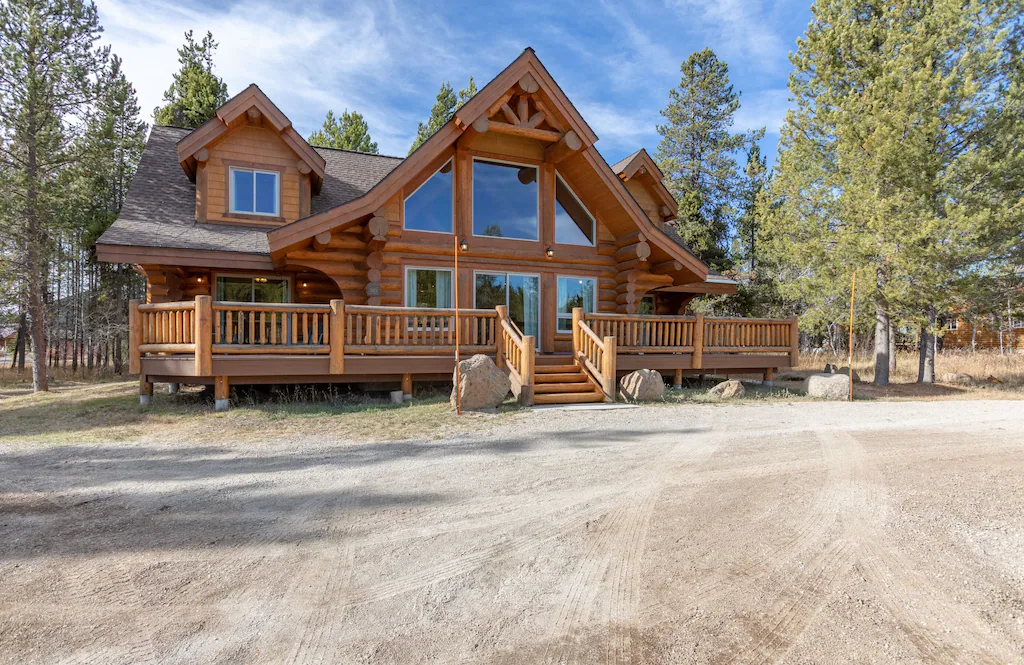 ---
5. Triangle A Cabin
Location: Stanley, Idaho
Price: $451+ per night 
https://www.airbnb.com/rooms/53009616
When we talk about something cool, artistic, and unique in its very own way, the Triangle A cabin in Stanley, Idaho, will surely be on the list. This luxurious rental cabin can be a perfect place for a family getaway.
Located in the middle of the lush green meadows of Stanley, this cabin provides an opportunity to view the most panoramic views of mountains. Alongside the beautiful architecture from the outside, the cabin has a modern and spacious interior that can accommodate 12 guests at a time.
The cabin has four bedrooms, two bathrooms, a kitchen, and a loft area on the upper story of the cabin and thus making it an ideal accommodation for tourists visiting with their families.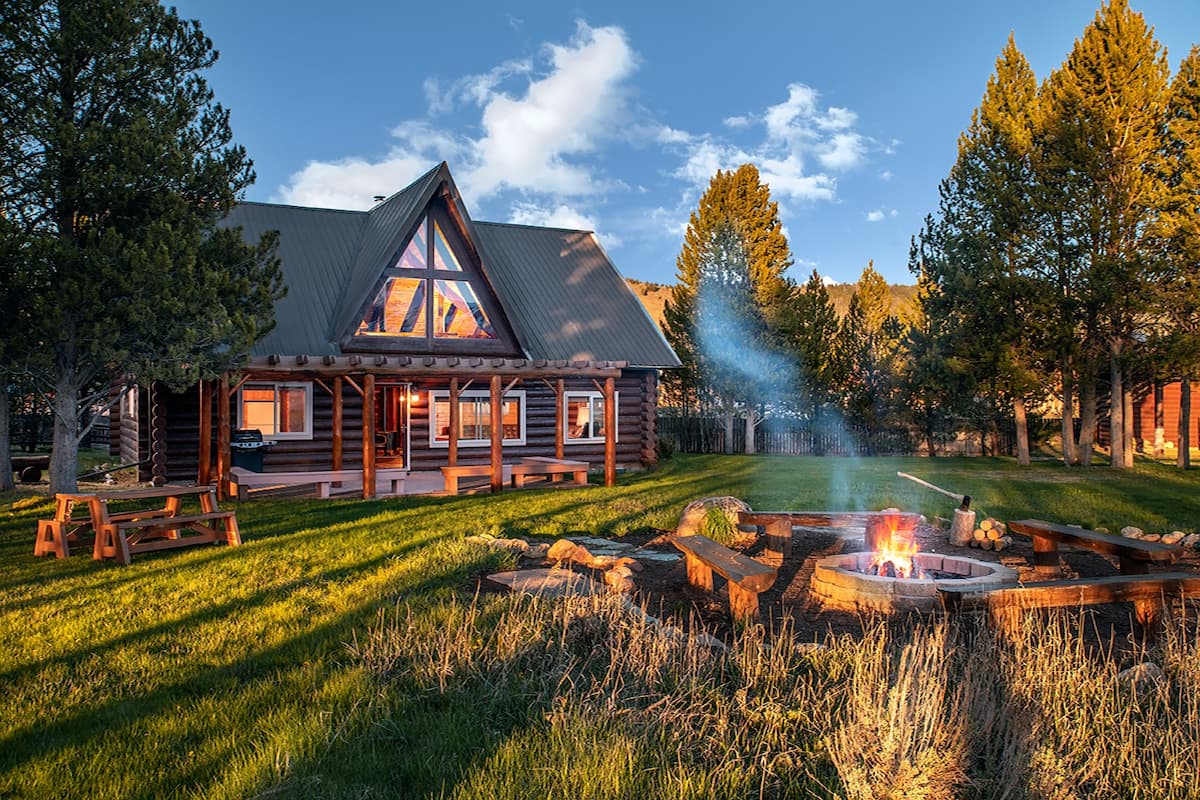 ---
6. Candi Cane Lodge — Remodeled Log Cabin
Location: Donnelly Log Cabin
Price: $428+ per night 
https://www.airbnb.com/rooms/48091515
This luxurious and unique mountain cabin with a unique color scheme and architecture can be a perfect holiday destination for any season. Want to have some summer fun or search for a place to have some leisure time in winter? This place is for you.
Located on almost one acre of area, this cabin is very near to Lake Cascade, Donnelly boat docks, and many other places of attraction in the mountains. The cabin can easily accommodate 12 guests with 5 bedrooms and 3 bathrooms. There is also the facility of a modern kitchen and a living room equipped with all the basic and modern amenities of a household.
If you plan to spend vacation with your children, there is a facility of a separate game room with the foosball table, ping pong table, air hockey table, poker table, and videos games with a 65 inch TV.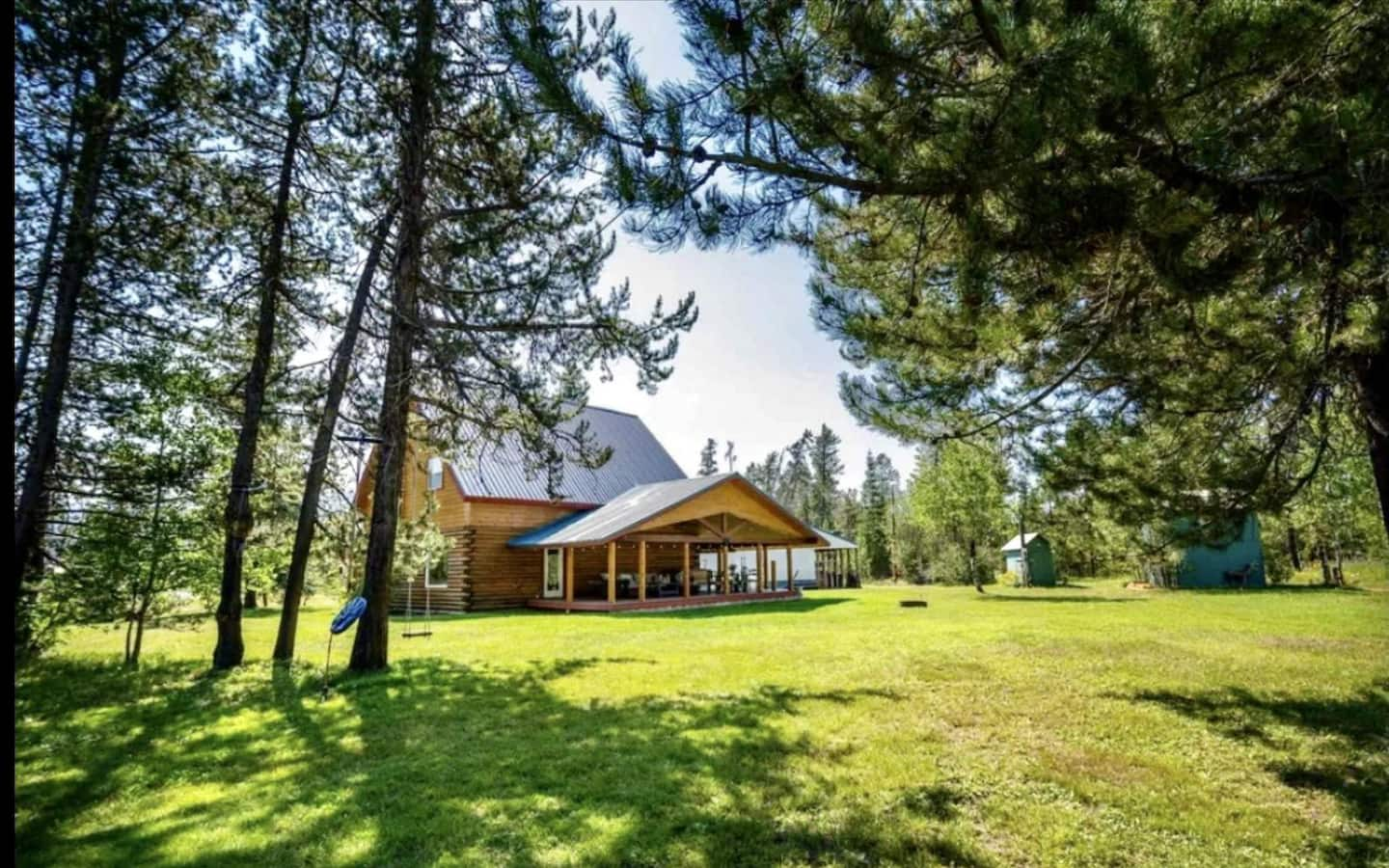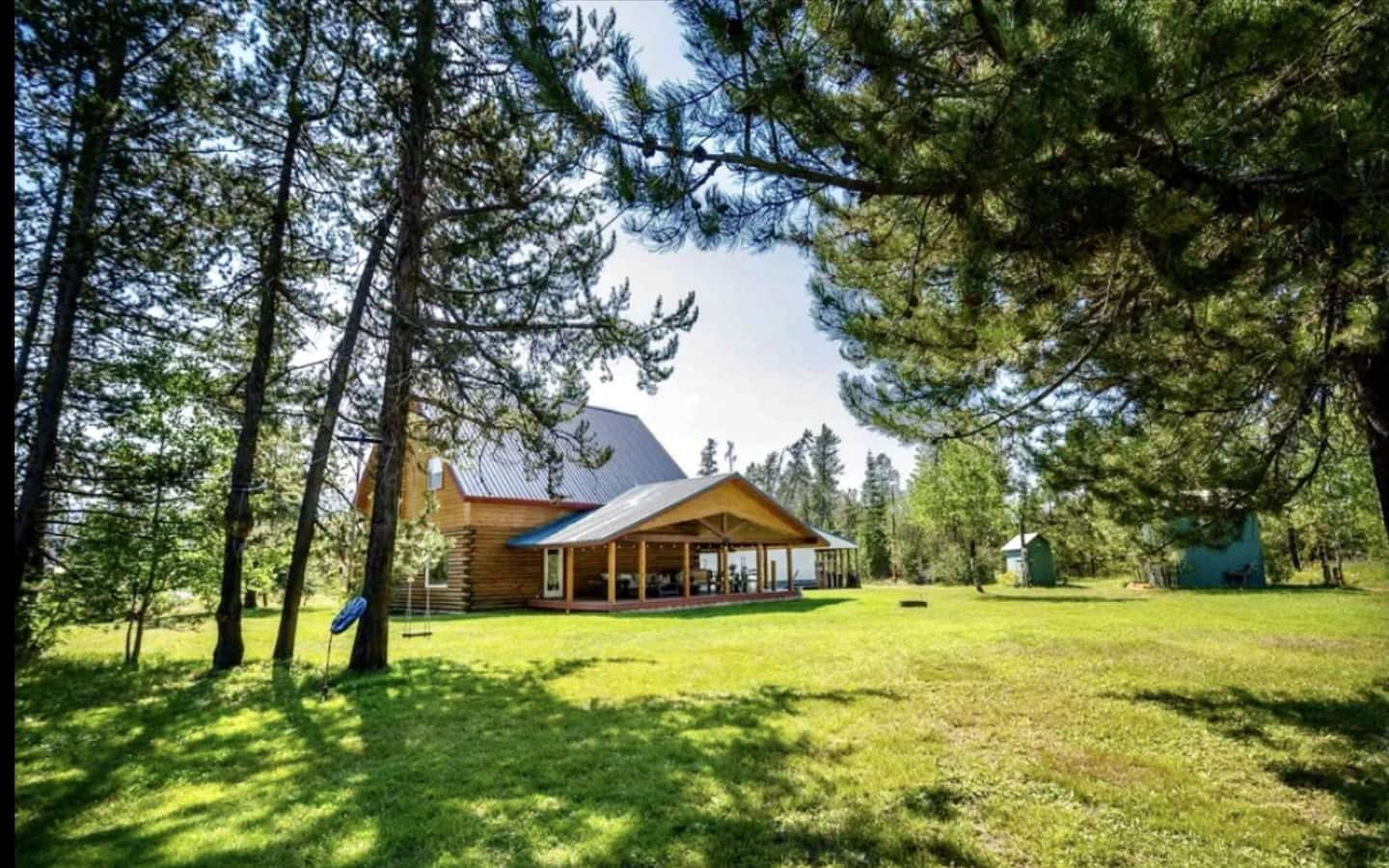 ---
7. Stuga A-Frame Cabin 
Location: Garden Valley, Idaho
Price: $159+ per night 
https://www.airbnb.com/rooms/47717138
Looking for some ultra-modern getaway equipped with modern tech amenities and high-speed internet? This place is for you.
Located at Terrace Lake resort in the Garden Valley, this cabin was built in 1960 and then remodeled with modern facilities in 2018. It has access to a nearby 18-hole golf course and a tennis court. The cabin also provides the facility of 25 Mbps high-speed internet if you want to do some work or are interested in playing some video games.
A modern kitchen, 2 bedrooms, one bathroom, and 3 smart TVs with a unique A-shaped exterior make this place a perfect getaway for your vacations.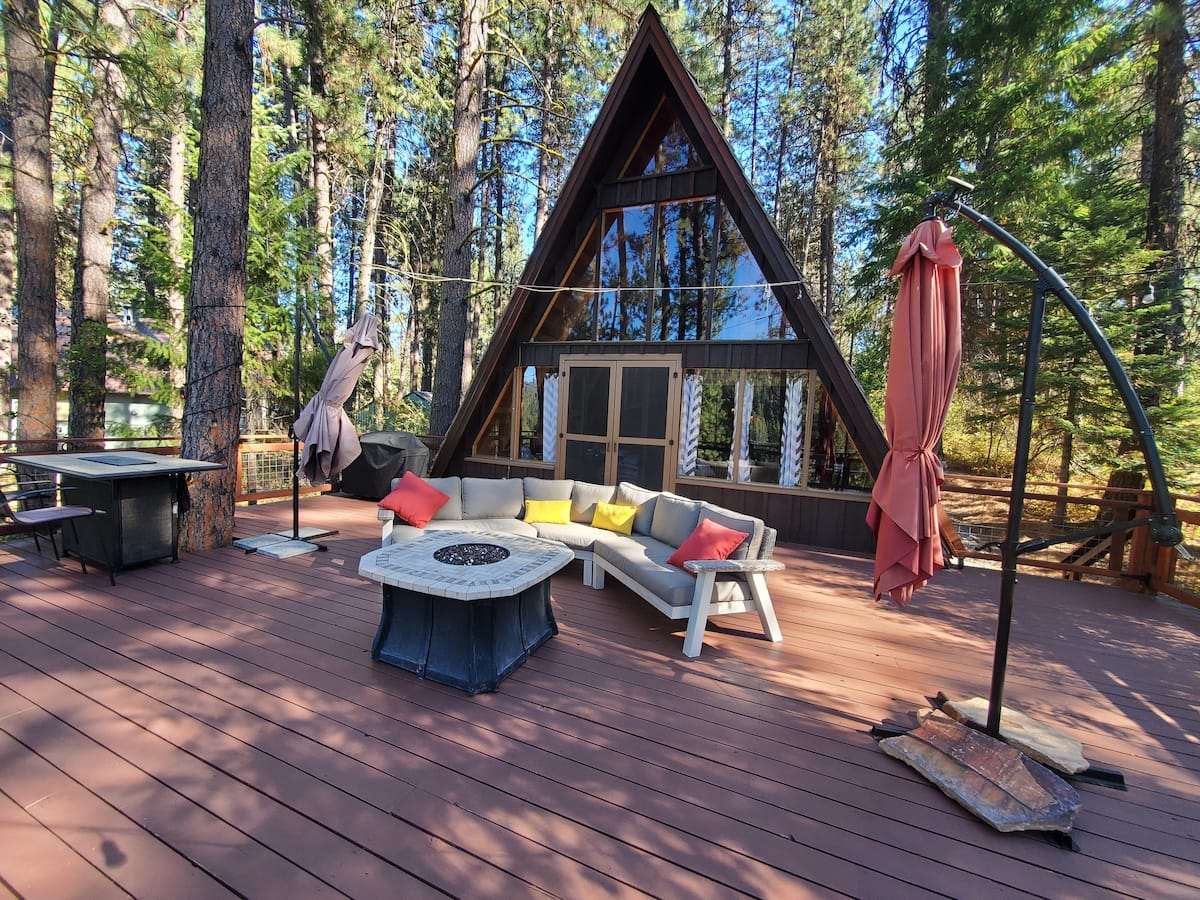 ---
8. Log Retreat by Yellowstone
Location: Island Park, Idaho
Price: $299+ per night 
https://www.airbnb.com/rooms/47053726
This log Retreat by the Yellowstone National Park should be on your list if you are looking for a romantic getaway with your partner or a family retreat.
Located at walking distance from the Buffalo River, this cabin has many tourist attractions within a mile radius. The cabin can accommodate 10 guests with four bedrooms and 2 bathrooms. A modern kitchen with all basic utensils and supplies and a common room are also a part of the cabin. The outdoor provides a big bathtub and a fireplace to make your visit full of leisure and comfort.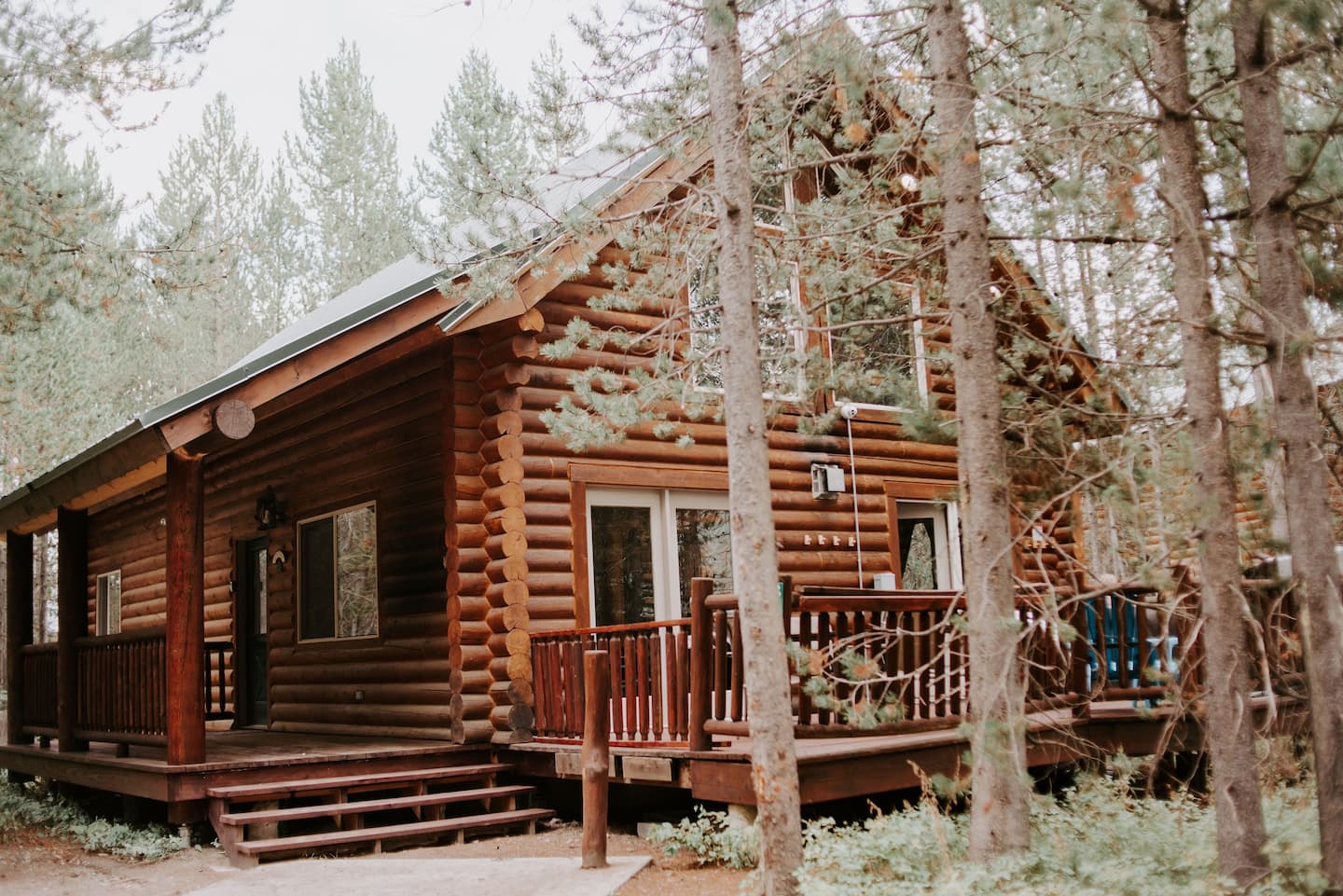 ---
9. Mountain Modern Getaway
Location:  McCall, Idaho
Price: $233+ per night
https://www.airbnb.com/rooms/21868065
Modern getaways with some modern architecture and a luxurious interior are the talk of the town, and this Mountain Modern Getaway is one of those.
Located on the Aspen Ridge in McCall, this modern getaway provides a unique combination of modern amenities and the serenity of the woods. The cabin is within walking distance from Ponderosa State Park and many other places worth visiting. Three bedrooms and 2 bathrooms with a capacity of accommodation for 7 people make it a perfect getaway for a complete family or a couple. 
Alongside the availability of all basic gear for mountain sports and outdoor activities, the heated concrete floors of the cabin provide a cozy and comfortable environment to relax during a winter retreat.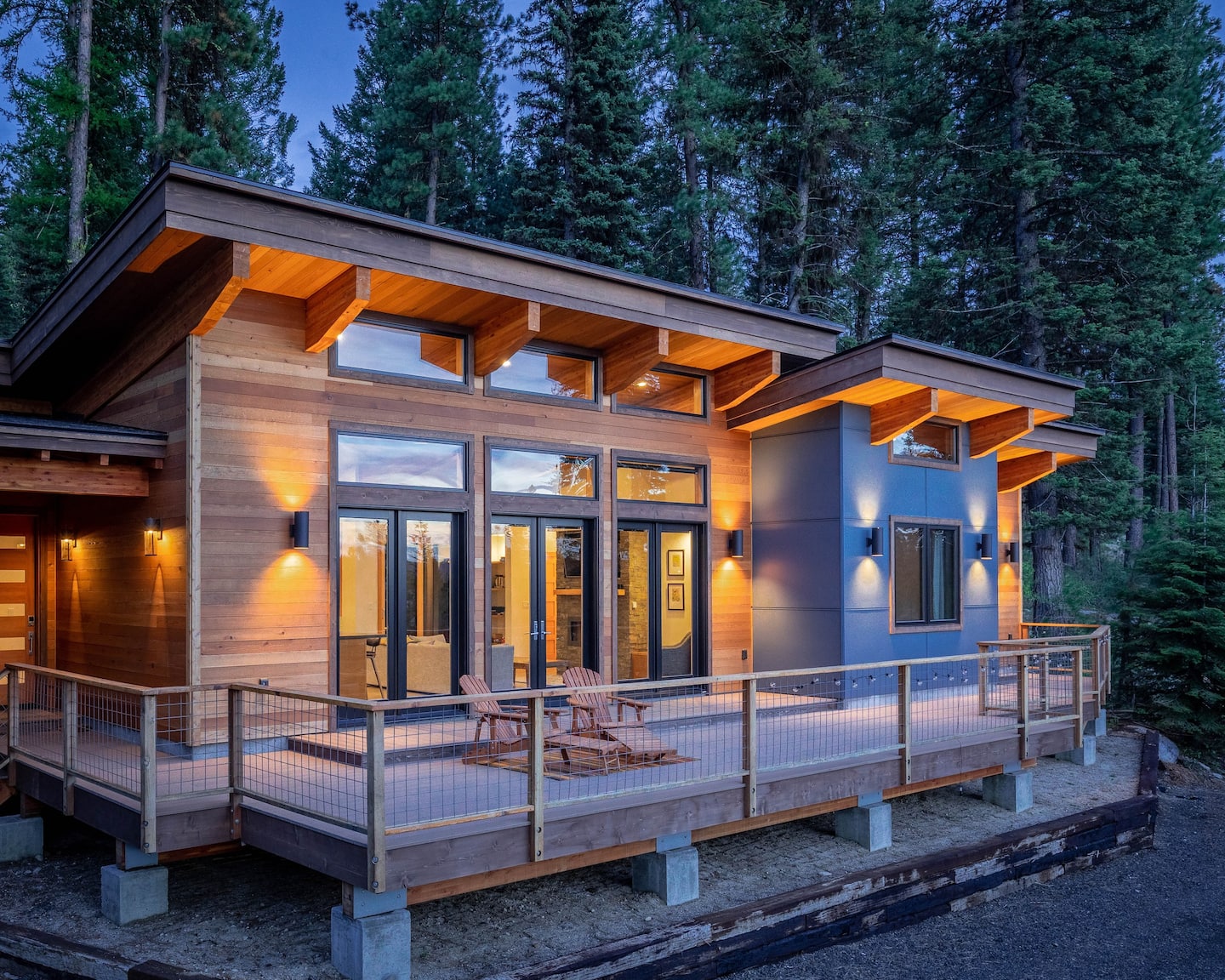 ---
10. The Ponderosa Secluded Cabin
Location: Cascade, Idaho
Price: $184+ per night 
https://www.airbnb.com/rooms/25691810
Surrounded by the beautiful pine trees and given the feeling of privacy and serenity, this rental cabin of Cascade should be on your list if you plan to visit Idaho any time soon.
Located on five acres of forest, this beautiful cabin can easily accommodate 10 people with four bedrooms and 2 bathrooms. A big-screen TV and a vast deck alongside a kitchen facility make this place a unique holiday retreat. If you are interested in hiking, horse riding, fishing, or rafting, then the Ponderosa rental cabin is ready to make your visit to Cascade a memorable one.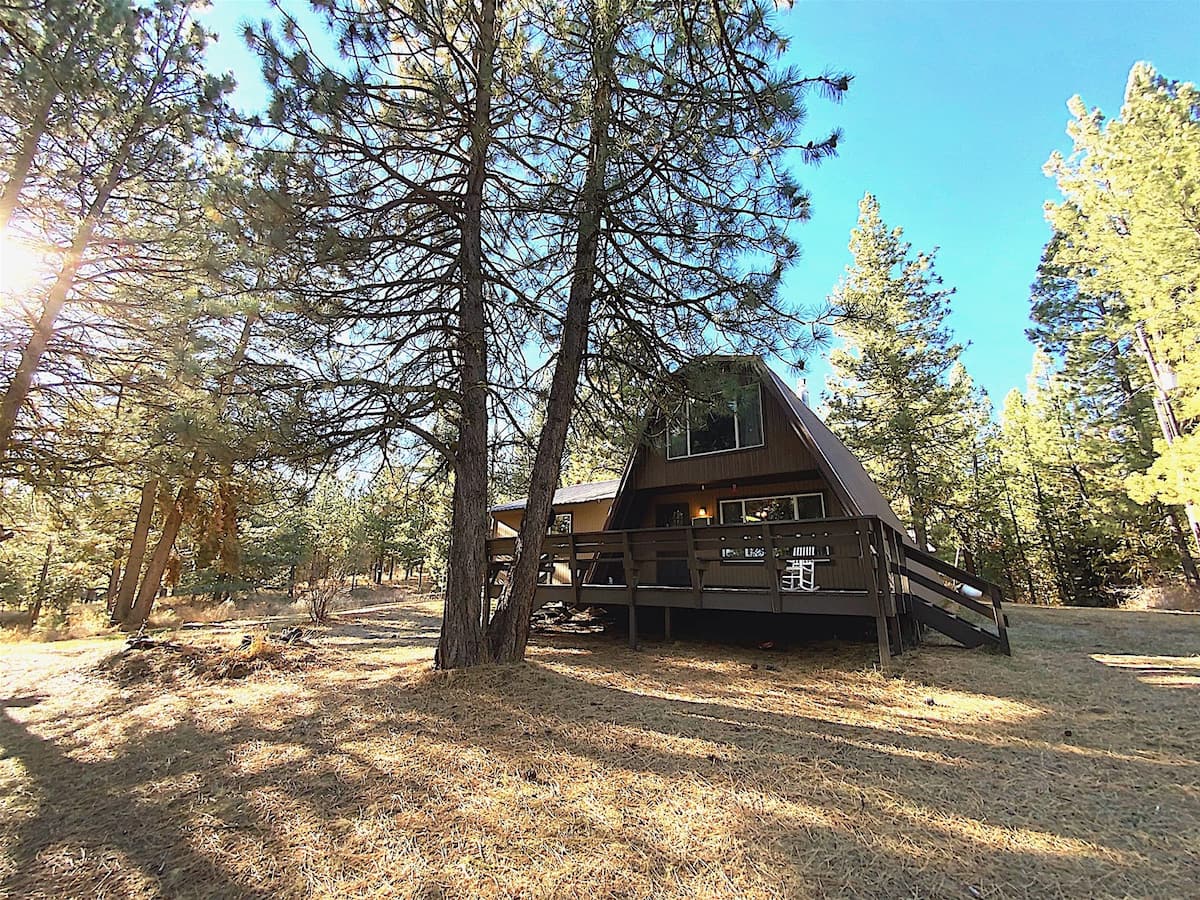 ---
11. Luxury McCall Cabin
Location: McCall, Idaho
Price: $383+ per night
https://www.vrbo.com/9636971ha
This wondrous luxury cabin with astonishing architecture can serve as a home base for your next family vacation in Idaho.
Located within walking distance from Payette Lake and Legacy Park, this exquisite cabin is perfect for winter and summer. Interested in some boating adventure during summer or want to take some snow slides during winter? This place has each and everything to make your vacations unforgettable.
Three bedrooms, 4 bathrooms, and a modern kitchen full of all supplies can make the stay easy and comfortable for you. In addition to that, 5 big screen smart TVs, Xbox, video games, board games, and outdoor speakers provide a complete package of never-ending entertainment and fun.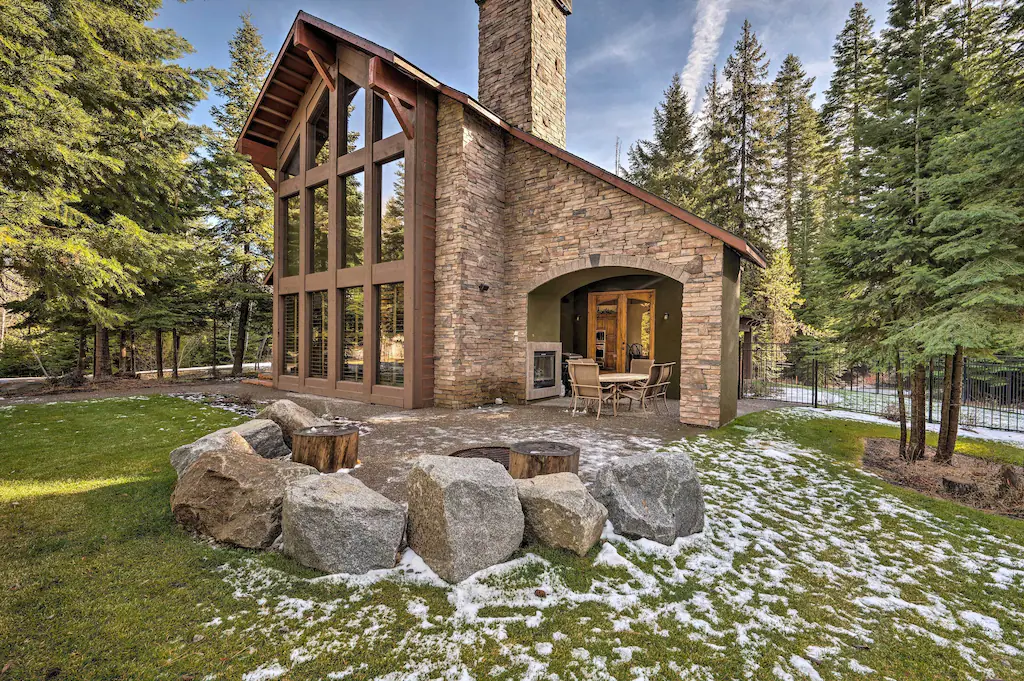 ---
12. Luxury Log Cabin Near Cascade Lake
Location: Valley County, Idaho
Price: $659+ per night
Searching for a spacious and luxury cabin for a family reunion, this 6000 square foot log cabin with panoramic views of Lake Cascade should be the first on your list.
Located on an 80-acre ranch of woods and surrounded by long pine trees, this place can easily accommodate at least 22 guests at a time. The cabin has 6 bedrooms, 5 bathrooms, a kitchen, living room, and patio. The place has many hiking and biking trails if you are interested in some outside fun. 
A place on the top of mountains provides a completely out-of-the-world view of Lake Cascade. If you're looking for a serene atmosphere far from the noisy urban life, this place will serve the purpose for you.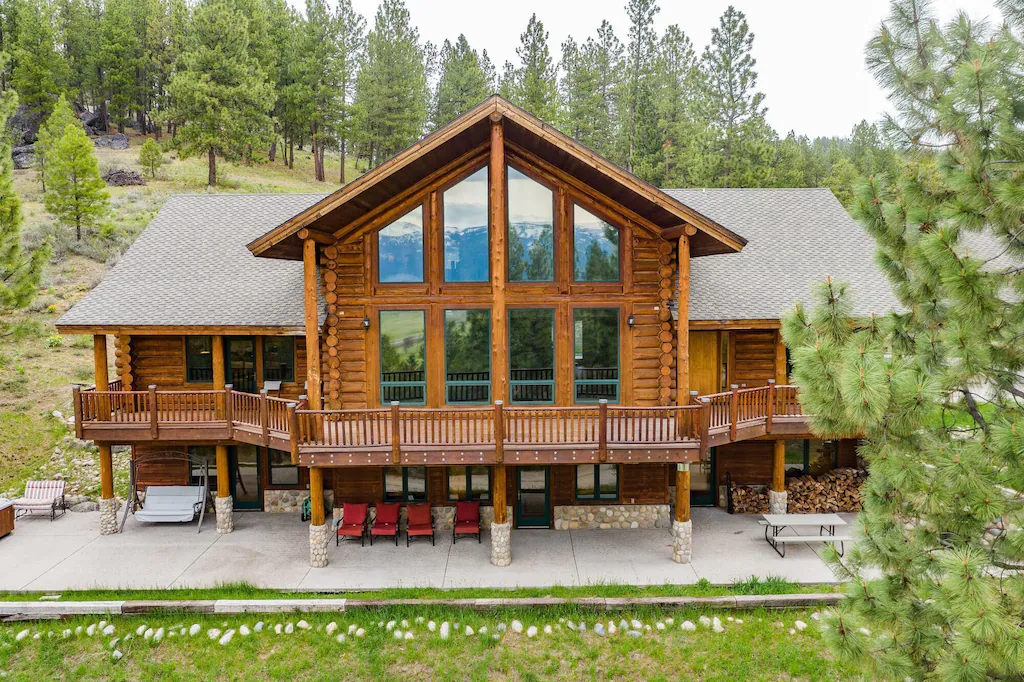 ---
13. Centennial Shores Community Cabin
Location: Fremont County, Idaho 
Price: $900+ per night 
Got some cash in hand? This wondrous luxury cabin is a unique combination of modern architecture and exquisite interior décor. 
Located in the Centennial shore community, this Cabin is a newly built accommodation with all modern amenities and artistic decor. The cabin has 8 bedrooms and 5 bathrooms, and it can accommodate at least 16 people very easily. The facilities of a fully equipped kitchen, a living room, and a patio make it perfect for an extended family retreat. 
A big 75 inch smart TV and another 50 inches smart TV in the sitting area with a hot tub and a fire pit outside add a lot to the luxurious outlook of the place. In short, if you want an experience full of luxury and leisure, this place is for you.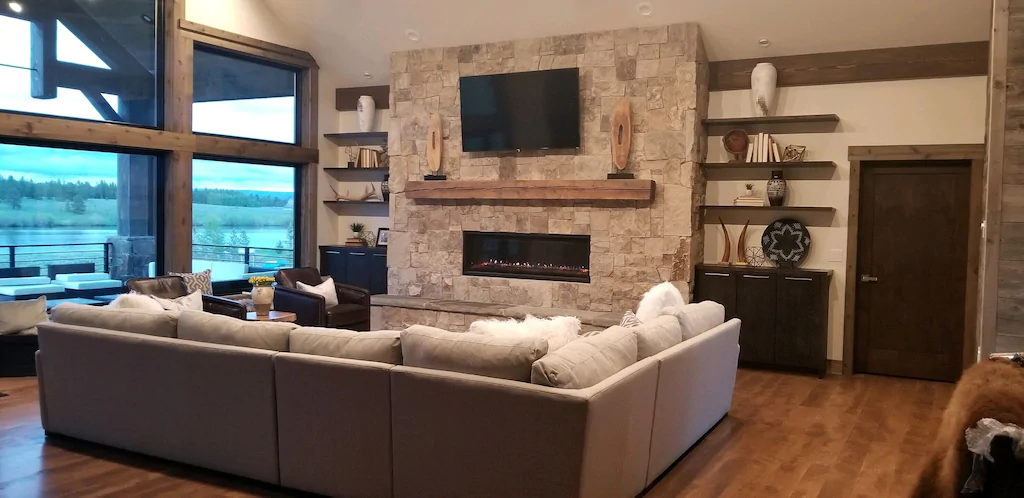 ---
14. Macpack Hideaway
Location: Fremont County, Idaho
Price: $395+ per night
https://www.vrbo.com/4905722ha
Nestled somewhere in the middle of woods, the Macpack Hideaway is a beautiful and rustic getaway with all the modern and basic amenities required for a perfect vacation.
Located at a 20-minute drive from the Yellowstone National Park, this place should be on your list for a winter holiday retreat. The cabin is a big 3600 square ft accommodation with 5 bedrooms, 4 bathrooms, a kitchen, a living room, and a patio. All rooms are equipped with big 55 inch TVs to provide nonstop entertainment during your visit.
The outdoor provides a fireplace and a BBQ grill where you can enjoy the serenity of nature by sitting on a picnic table or soaking in a big cozy Jacuzzi.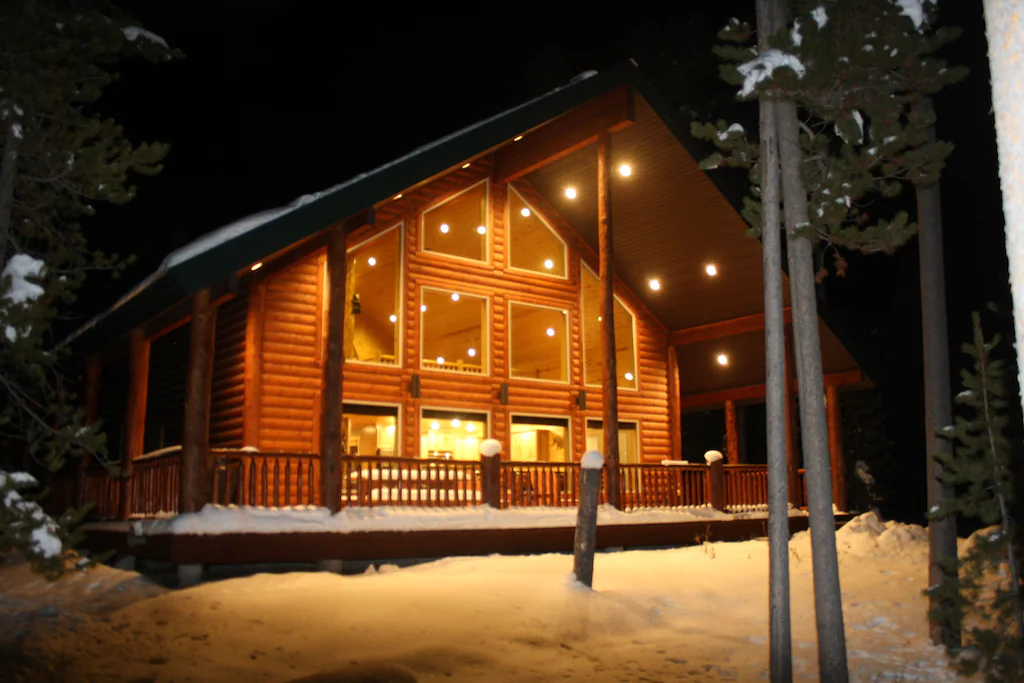 ---
15. Donnelly Mountain Cabin
Location: Donnelly, Idaho
Price: $346+ per night
If you are an outside enthusiast, then pack your bags because this exquisite Donnelly Mountain Cabin is ready to welcome you in its very own unique way.
Located at a short distance from the Lake Cascade and Tamarack Resort, the place provides multiple outdoor mountain activities opportunities. You are interested in fishing or boating in Lake Cascade or want to hike or ride bikes on mountain trails; this cabin has access to all these just at a walking distance from your place.
Four bedrooms, four bathrooms, a kitchen, living room, and a patio make this place a perfect accommodation for 10 people. The cabin's architecture is amazing as it also provides a space to sit and observe the most astonishing views mountain from its balcony. Looking for a getaway for your family? Donnelley Mountain Cabin should be on your list.