Whether you're looking for expansive mountain views or private river access, these secluded cabins in Virginia are perfect for your next retreat into nature.
Bringing together all the modern amenities and furnishings you require to keep you comfortable and relaxed, these rustic and charming cabins in the woods and mountains are, quite frankly, to die for! No matter if you prefer your remote retreat in Virginia to be full of relaxation or adventure, you are sure to find the perfect place to stay on your next vacation below.
Each cabin is beautifully designed and intentionally built away from any other property, allowing the feeling of nature, peace, and serenity to seep into the home. You will leave feeling nourished, rejuvenated, and with an extra level of appreciation for Virginia's stunning natural landscape after a stay in one of these secluded cabins!
Also, be sure to read my guides on Cabin Rentals in North Carolina & Cabin Rentals in West Virginia for more epic accommodation inspiration for future trips!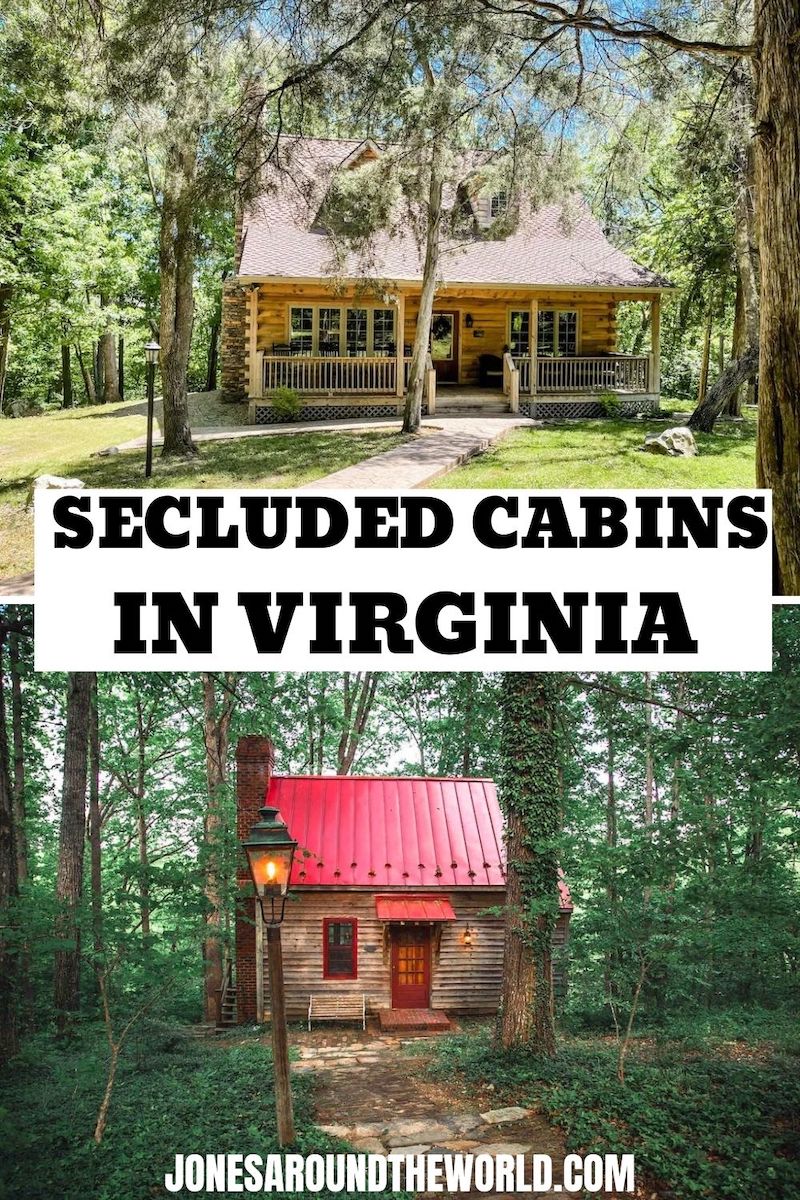 ---
The Sanctuary
Location: Vesuvius, Virginia 
Price: $364+ per night
https://www.airbnb.com/rooms/23746451
The Sanctuary is a nature lovers' paradise! Intentionally built as a place to disconnect, relax, and find peace. The cabin sits atop 60 acres of land in a private setting surrounded by trees and hills, making it a perfect place to enjoy the serenity and calmness of nature. Breath in the fresh air and enjoy the starry night sky – it's all in a 'day's work' at The Sanctuary. The cabin was originally built in the 1800s, however, it has been beautifully rebuilt using the same logs, flooring, and stone from the fireplace.
It is a very unique space with a wrap-around porch, incredible views, and a mix of both antique and modern amenities to give it a warm and homey feel. Complete with plenty of games, books, puzzles, a DVD player, and a corn hole, you will always be entertained. The outdoor area is ideal for relaxing in the hammock or hanging out by the fire. With 2 bedrooms and 2.5 baths, the house can fit up to 8 guests. This incredible and beautifully designed two-story cabin makes for a very unique and special stay in the woods.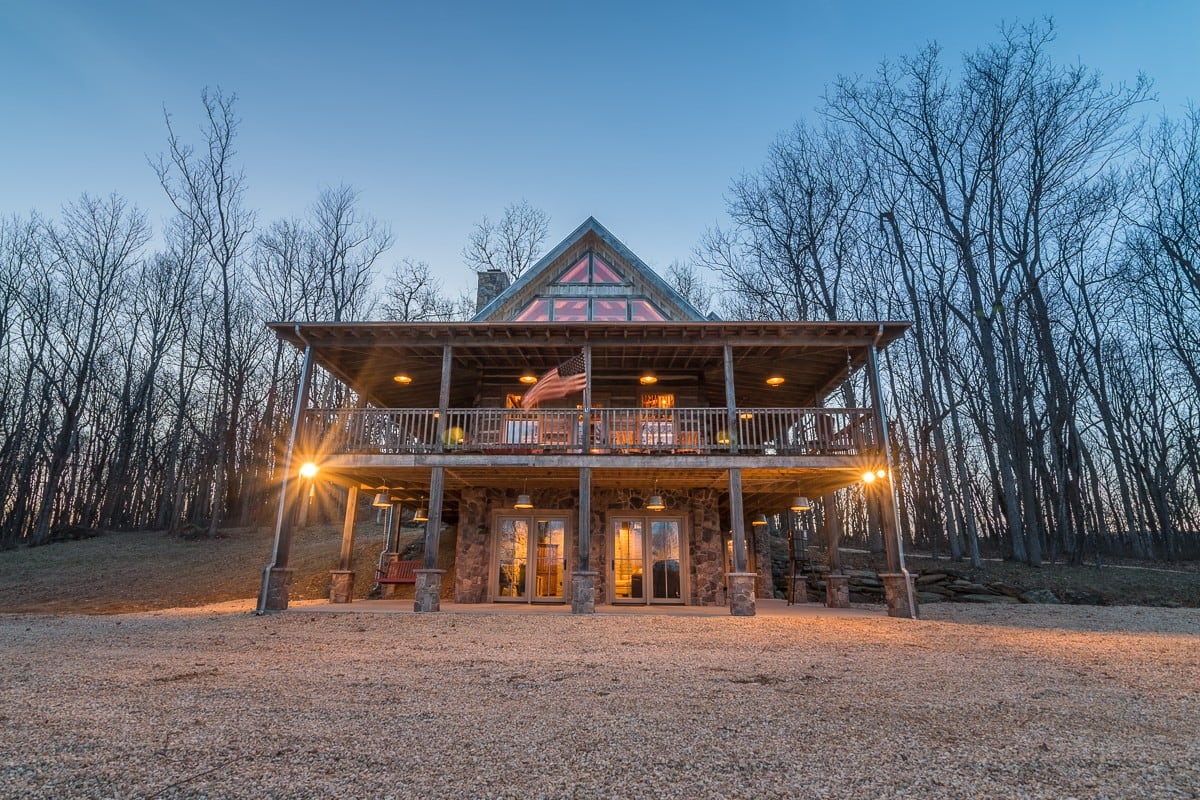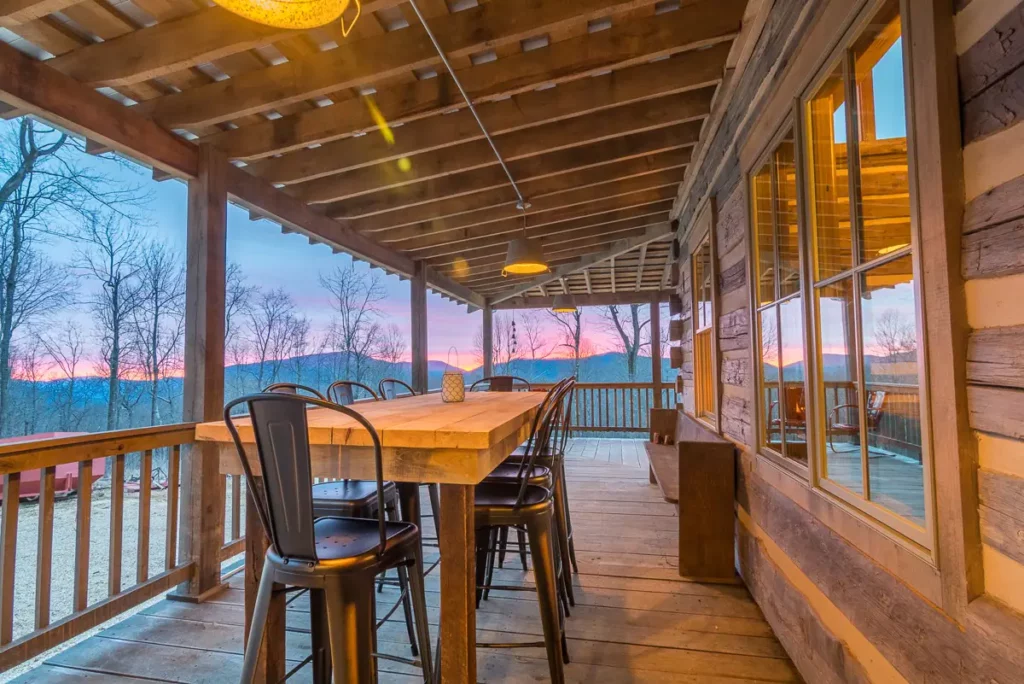 ---
The Maury TreeHouse Cabin
Location: Rockbridge Baths, Virginia
Price: $379+ per night
https://www.airbnb.com/rooms/42304679
The Maury River Treehouse is a luxury timber frame elevated cottage on the Maury River. It's the perfect place for a relaxing retreat. With a light-colored interior, wood furnishings, and modern amenities, the cabin has a cozy and nourishing feel. The master bedroom has a king bed and boasts beautiful views of the river – there are even automatic blackout blinds to help you sleep like a rock.
The bathroom is complete with a custom walk-in shower and heated floors. This spacious 1 bedroom cabin can accommodate up to 4 guests. The deck is a great place to start your morning with a cup of coffee as you watch the wildlife come to life around the cabin. During your stay, spend the days fishing or kayaking, before cozying up by the fire with a home-cooked meal in the evening.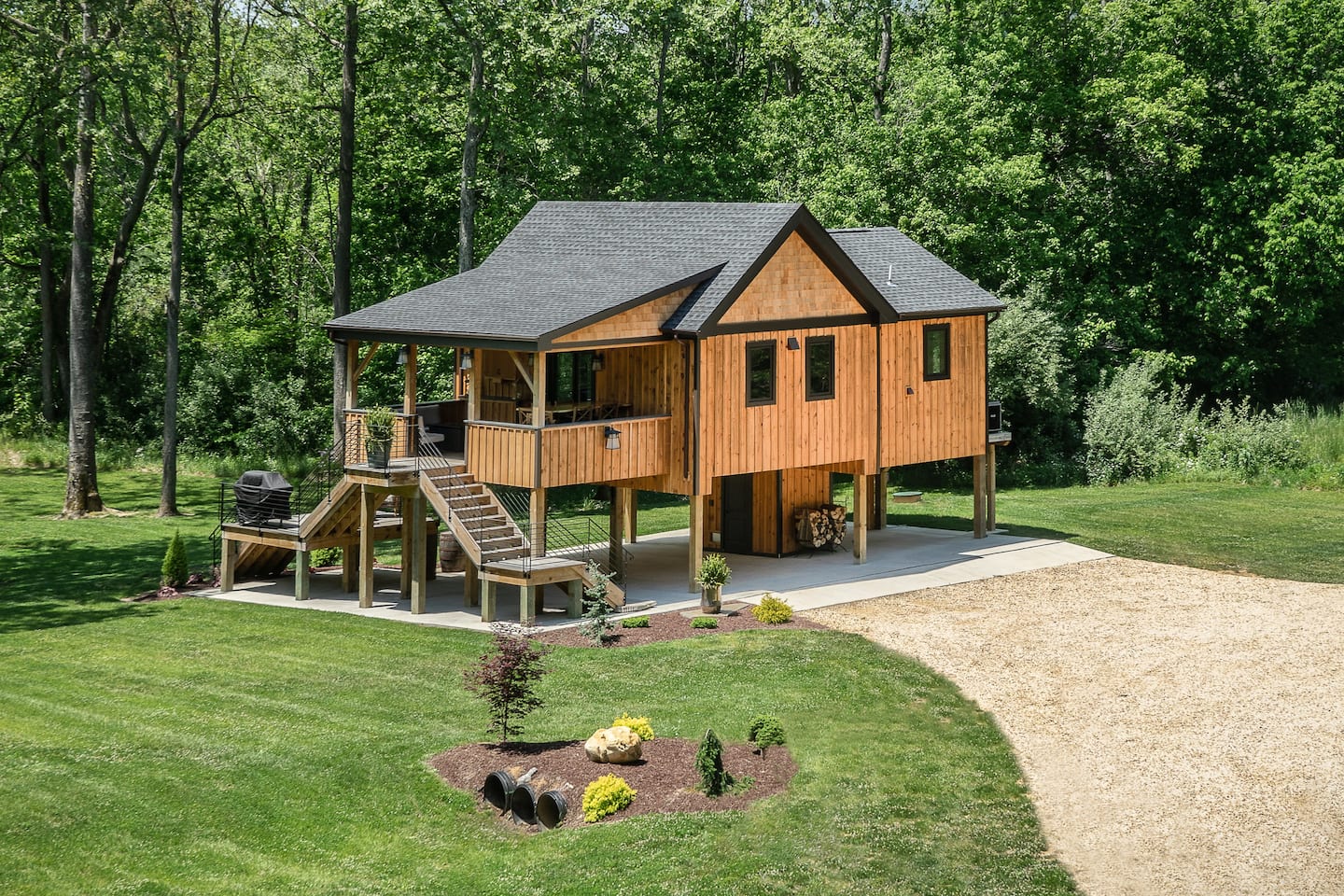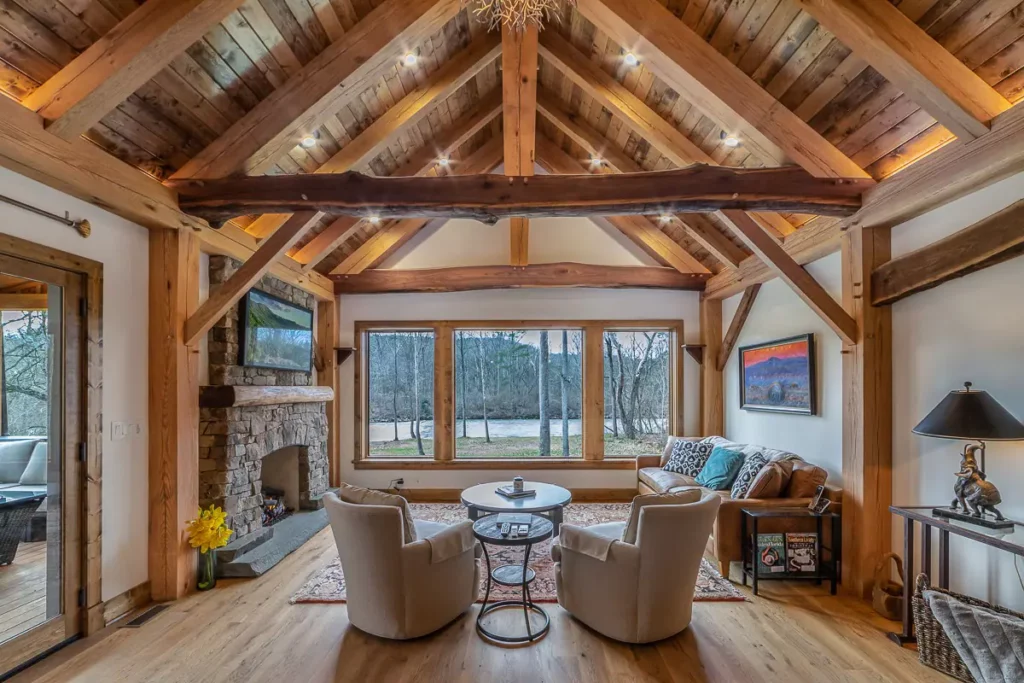 ---
Authentic Cabin with Fire Pit
Location: Monterey, Virginia 
Price: $326+ per night
https://www.booking.com/hotel/us/new-doe-hill-cabin-w-firepit-11mi-to-trout-fishing.en-gb.html
This gorgeous and traditionally decked-out cabin in Monterey, Virginia, can sleep seven guests across three bedrooms. Of course, inside you'll find everything you need – WiFi, a fully fitted kitchen, fireplace, coffee machine, and a bathroom complete with toiletries and all bedding/linens. The authentic interior design will also appeal to anyone looking for an old-school cabin charm.
The best part however is surely the outside, set in a spacious grassy area, with yard games and a fire pit (wood is provided), it's also pet friendly should you wish to bring your furry friends with you. Surrounded by trees, this secluded cabin in Virginia is great for those seeking an escape from the city. Spend your days spotting deer and hummingbirds or taking part in outdoor activities such as hiking, ATV trails, or admiring the night sky, with little to no light pollution!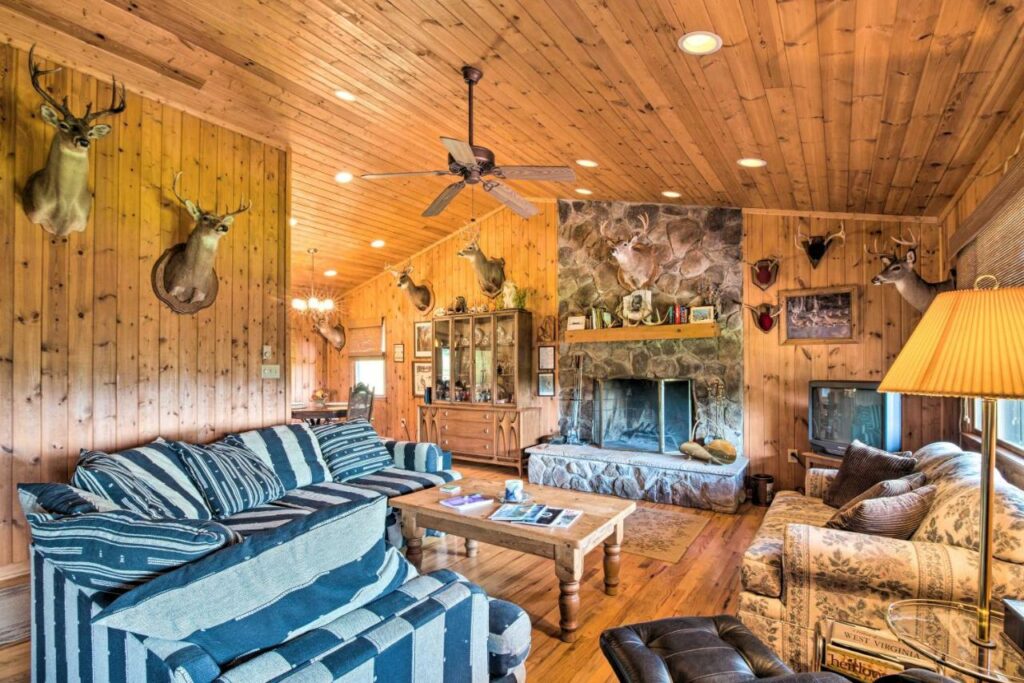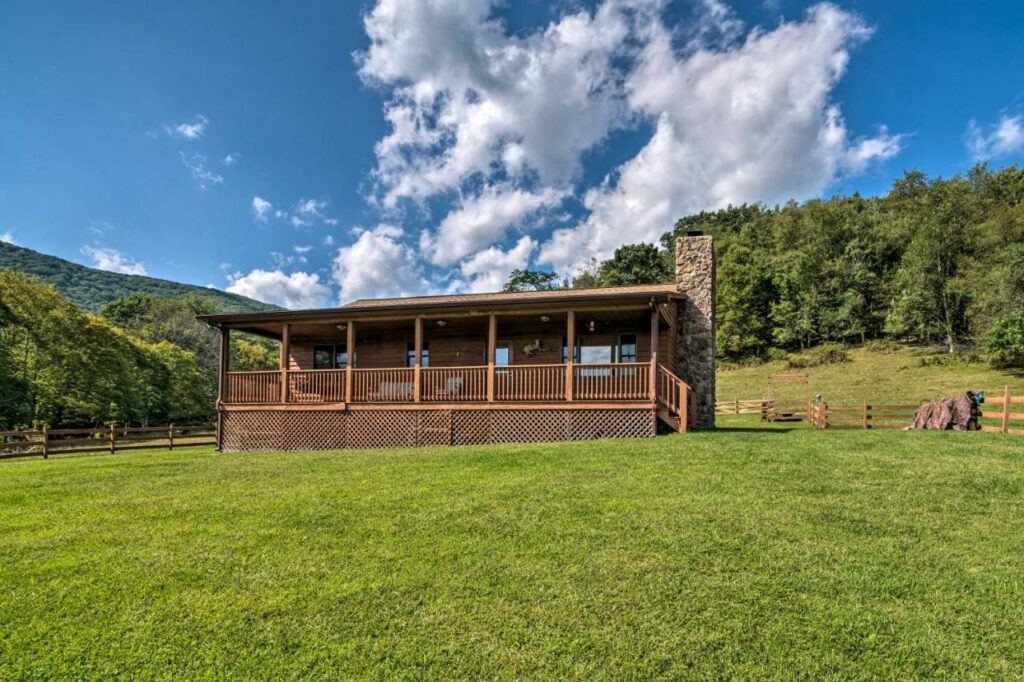 ---
Lyndhurst Cabin on Farm
Location: Lyndhurst, Virginia 
Price: $254+ per night
https://www.booking.com/hotel/us/lyndhurst-log-cabin-on-farm-w-pond-stocked-stream.en-gb.html
Set right on the waterfront of the pond with a fully stocked stream, this gorgeous cabin in Lyndhurst has one bedroom, making it ideal for a couple's secluded cabin stay in Virginia. Additionally, inside you'll enjoy a TV with Netflix, complimentary WiFi, a loft-style bedroom with a king bed, and lots of nice touches around the vaulted-ceiling rooms, such as fans, breakfast bar, and air conditioning.
Outside, you can lounge on the hammock, witness the working farm, fire up the gas grill or just take in mother nature's work on the patio. You also have George Washington National Forest on your doorstep to explore.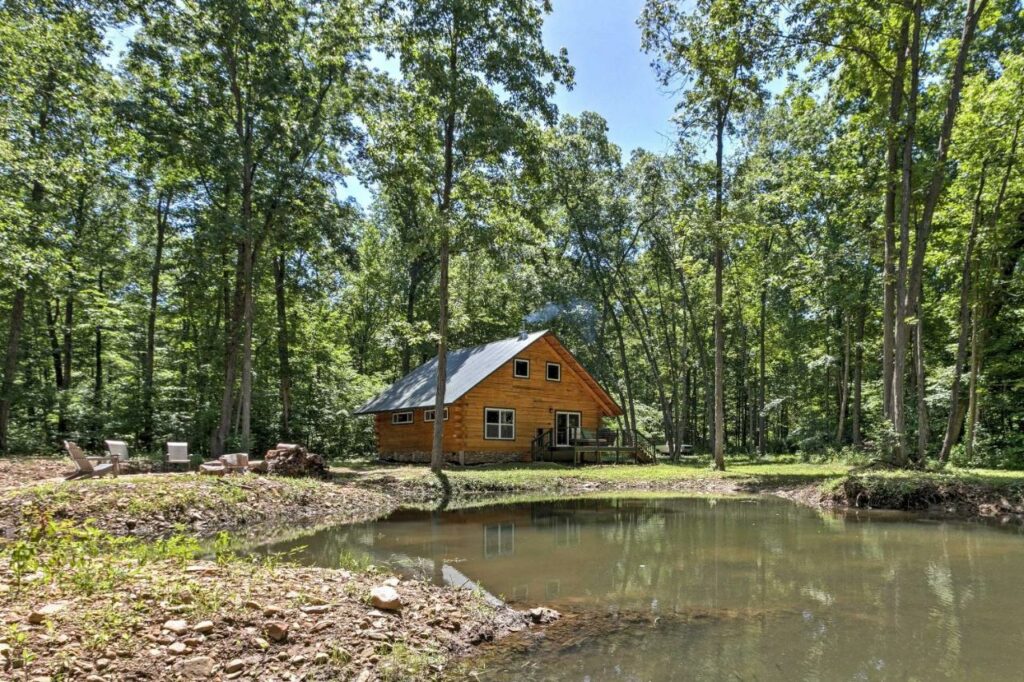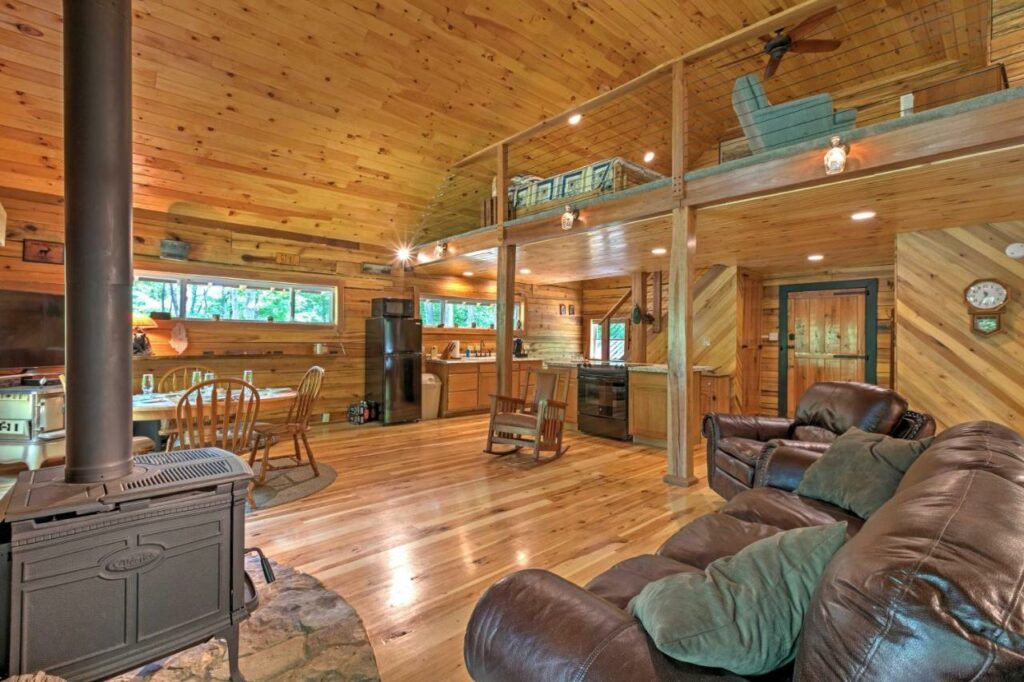 ---
Luray Cabin
Location: Luray, Virginia 
Price: $272+ per night
https://www.booking.com/hotel/us/updated-luray-cabin-near-dwtn-shenandoah-river.en-gb.html
With two bedrooms and a modern-yet-rustic wooden design, this secluded Virginia cabin in Luray is close to the Shenandoah River. You have everything you need for a great stay, including a fully fitted kitchen with laundry appliances, flat-screen TV, DVD player, and even a games console.
Of course, most people heading on a cabin retreat are also looking for outside activities to enjoy, and while the cabin is set amongst a wooded area, the Pinnacles Viewpoint is not a far drive to access either. You also have kayaking on the river to consider or floating down it lazily whilst partaking in 'tubing'. In the evenings, fire up the outside charcoal grill and enjoy dinner amongst the stunning natural scenery, before ending the night toasting s'mores around the firepit!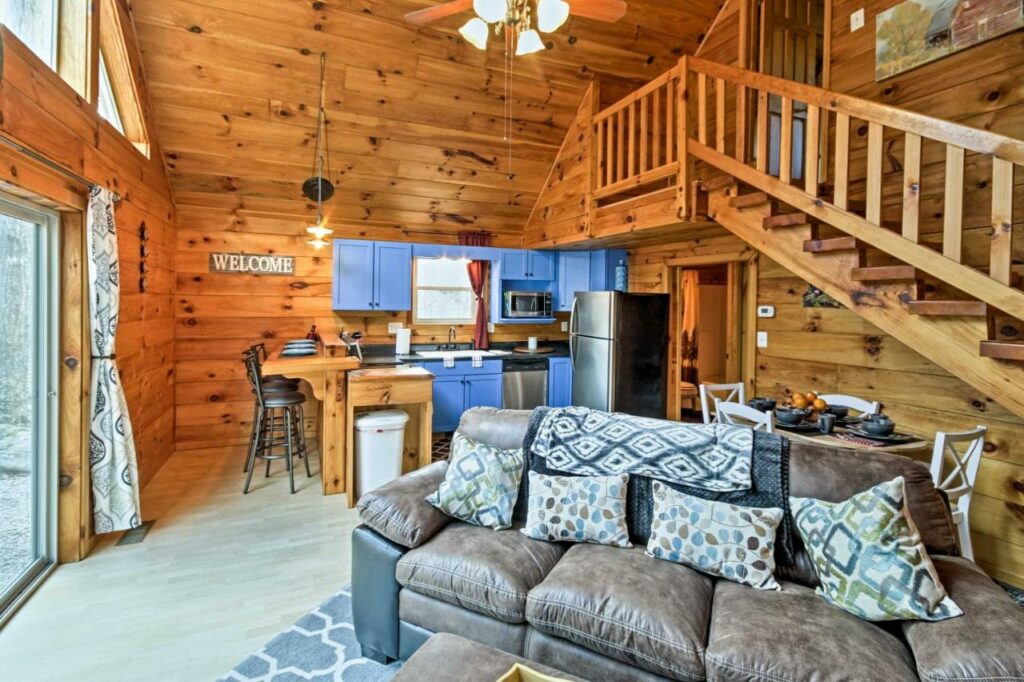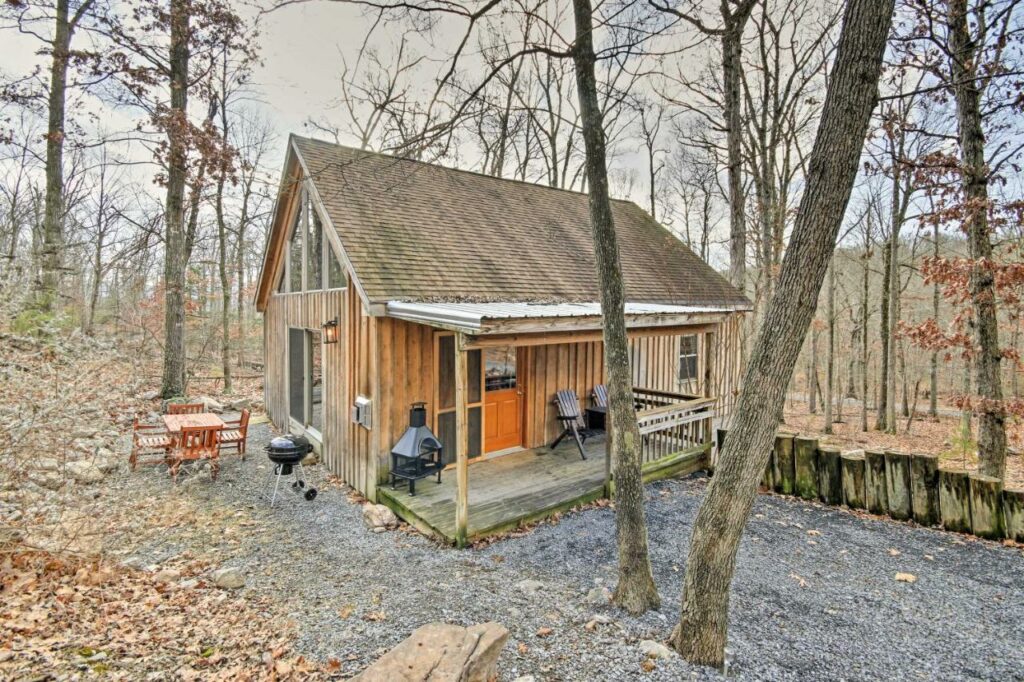 ---
Cozy and Private Riverfront Cabin on 50 Acres
Location: Appomattox, Virginia 
Price: $232+ per night
https://www.airbnb.com/rooms/43466214
This cute and cozy private 1-bedroom cabin is a perfect romantic escape. Nestled amongst hardwood trees in the Blue Ridge Mountains half a mile from the road, atop a bluff overlooking the Appomattox River, it's completely immersed in nature. As the cabin was originally built in the 1800's it has an old-school rustic charm to it but with modern comforts. Perfect for a secluded cabin stay in Virginia!
With a bohemian chic decor, the interior is extra cute and comfortable. With 50-acres of private land to explore, this cabin is the definition of seclusion and escape. The bedroom and bathroom are beautifully furnished with modern appliances. There is a beautiful outdoor deck under the trees to enjoy a morning coffee or dinner under the stars. It's a couple's dream come true!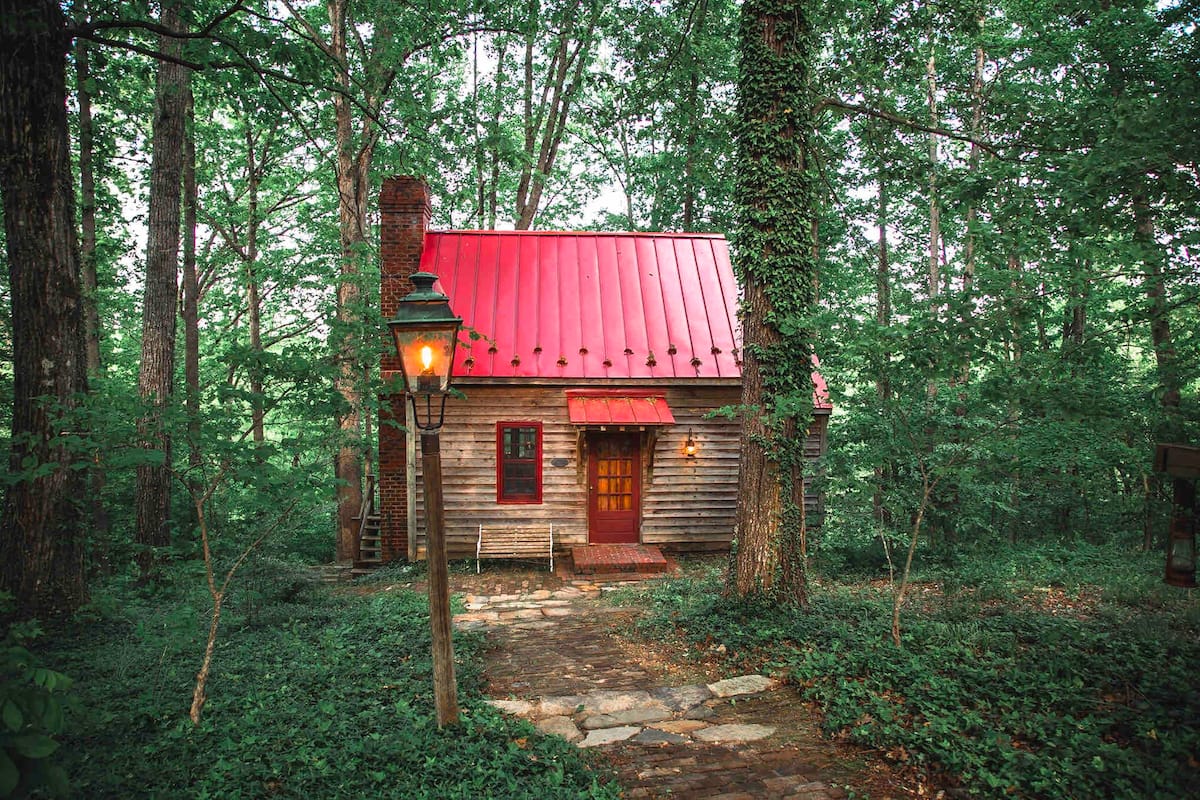 ---
Mountain Top A+ Views
Location: Luray, Virginia
Price: $207+ per night
https://www.airbnb.com/rooms/3251109
This Mountain Top home at 2,200 feet in the Blue Ridge Mountains is a dreamy getaway. With expansive views of the Shenandoah Valley from the wraparound decks and from inside the house, it feels like you're on top of the world. The interior has been newly renovated with modern appliances and furnishings giving it a comfortable modern feel.
The open concept home is complete with tons of large windows and skylights bringing in plenty of natural light and is also equipped with a grand fireplace made of local stone. With two bedrooms and three beds, the house can sleep up to 6 guests. With wifi, Apple Tv, DVD player, cards and board games, the cabin has plenty of entertainment options for cold winter days spent inside. Certainly, this house was built to enjoy the fresh air, views, and stars from the beautiful outdoor areas.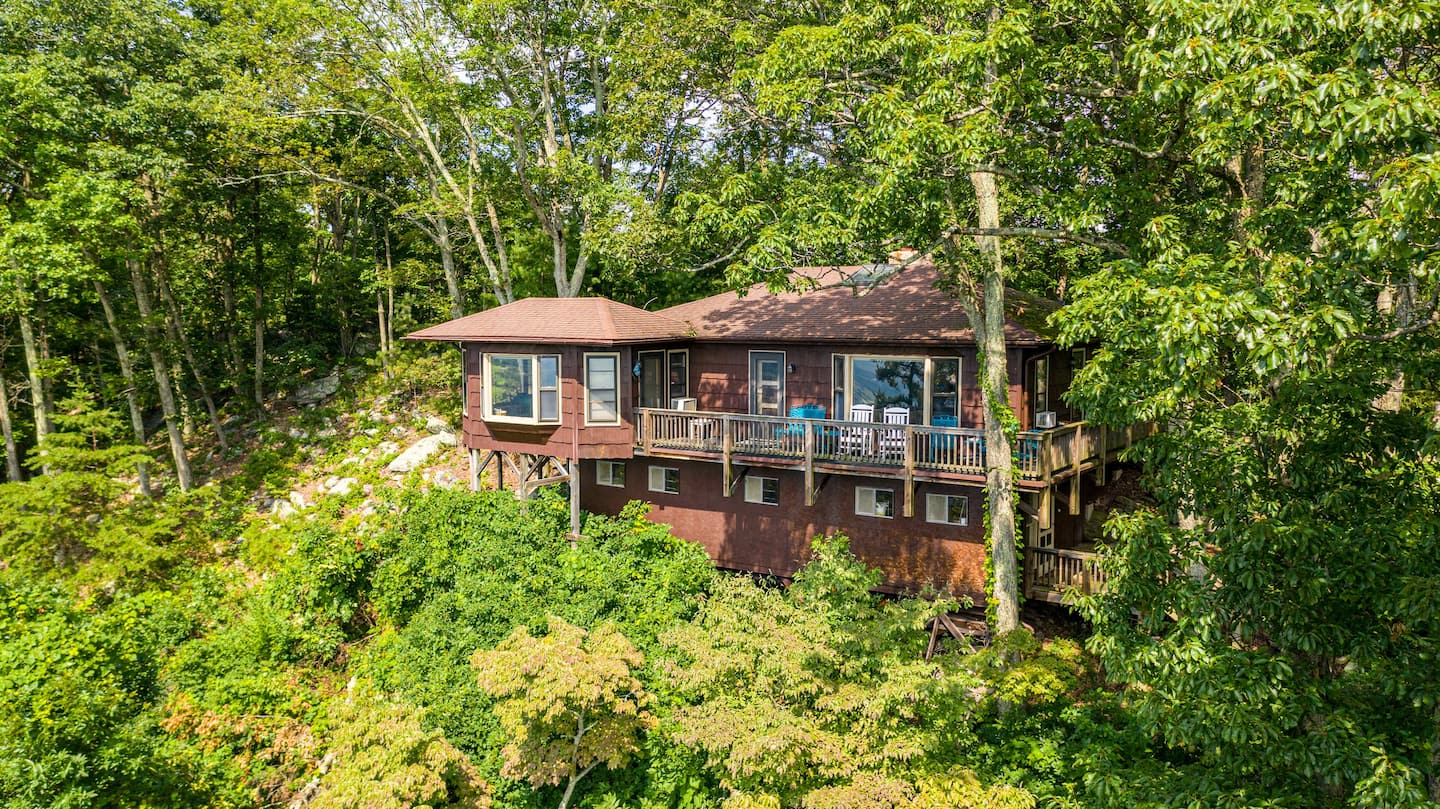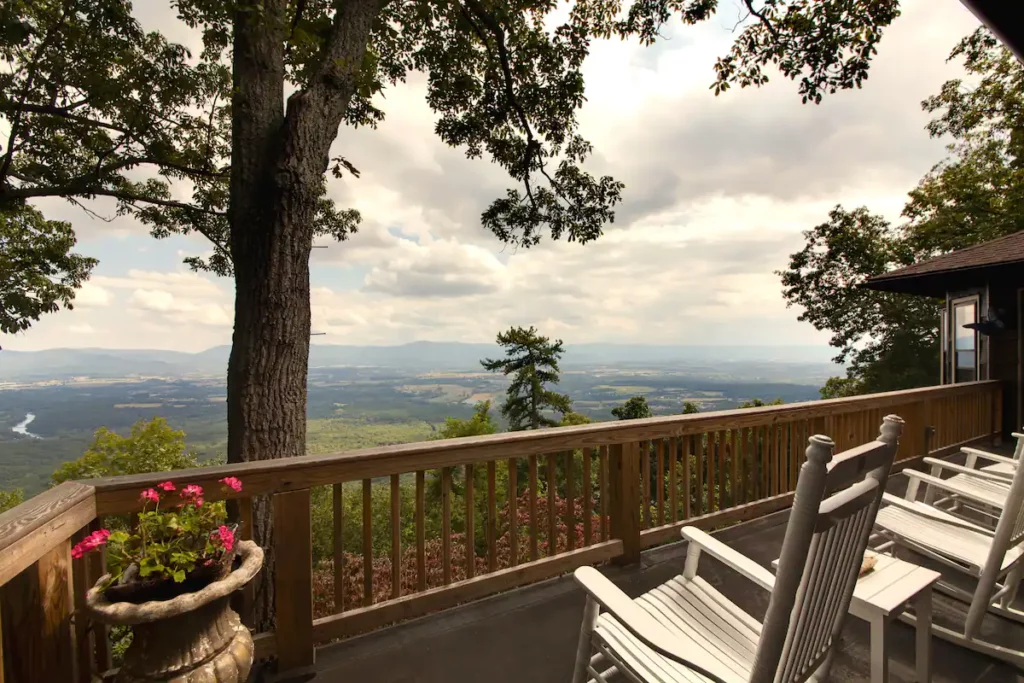 ---
The Bear Den 
Location: Maurertown, Virginia 
Price: $313+ per night
https://www.airbnb.com/rooms/39107053
Up over the Shenandoah River near the George Washington National Forest sits The Bear Den Cabin. Perched upon a hill, it's secluded and cozy and feels like you're the only people there. With a wood fireplace, wrap-around deck, screened-in porch, outdoor fire pit, and hot tub, it has everything needed for a relaxing and rejuvenating stay.
This location is an ideal place to disconnect and enjoy each other's company and the feeling of being hugged by nature. It's also a hiker's paradise as it has private trail access leading to the Massanutten Circuit Trail. With two bedrooms and three baths, it can sleep up to four guests. With plenty of windows, all the rooms have views of the valley and tons of natural light. One of the highlights of this cabin is the beautiful screened-in porch with a comfy couch and hammocks to take in the views without being fully outside. The hot tub on the porch is also a highlight with its incredible views and star gazing option.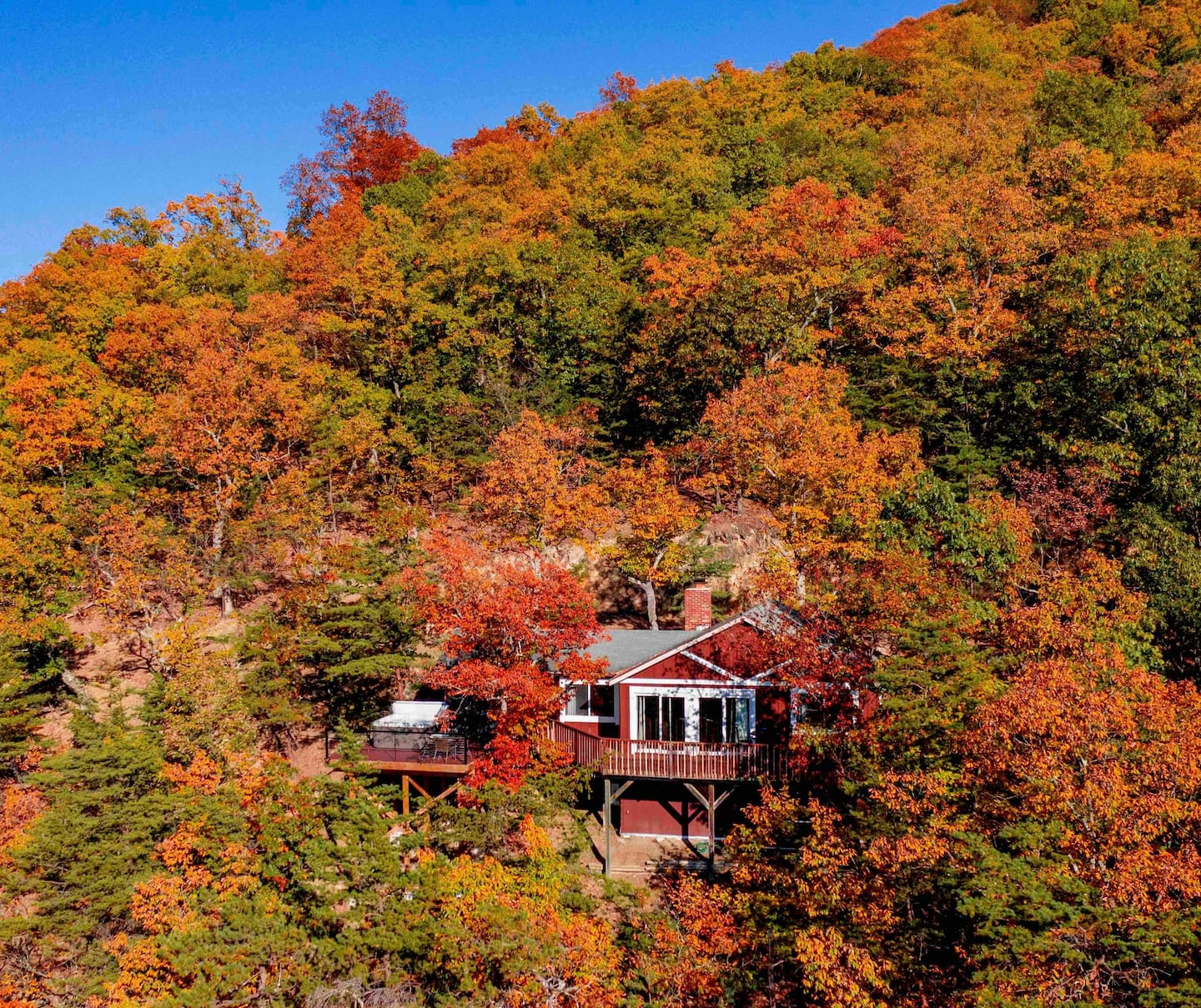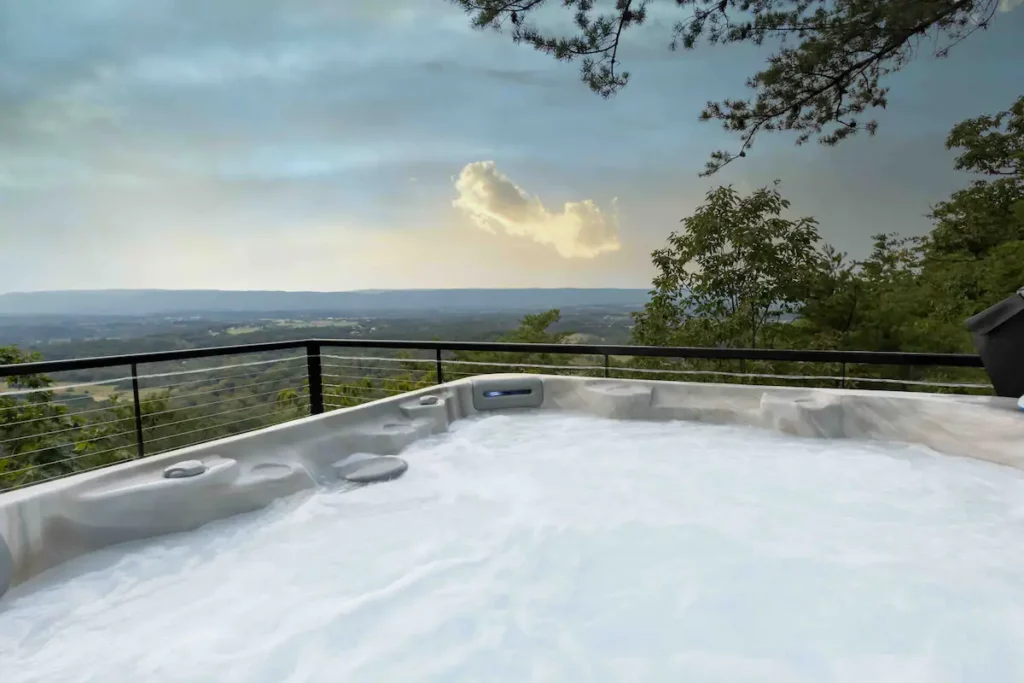 ---
Overlook Cabin Atop the Blue Mountains
Location: Roanoke, Virginia
Price: $238+ per night
This 2-bedroom, 2-bath secluded Virginia cabin located in the Blue Mountains is rustic, spacious, and charming. With views of the Roanoke Valley and Blue Ridge Parkway, it will leave you feeling at peace and relaxed.
Perfect for the outdoor enthusiast, there are miles of horse and hiking trails out the back door as it is part of a 450-acre farm in a private mountainous serene setting. With antiques and luxurious linens, the home feels nourishing and comfortable. It even has an antique bathtub!
The beautiful deck has a giant stone fireplace to keep you warm while stargazing in the evenings. This homey cabin can accommodate four guests and is perfect for an intimate getaway in the forest.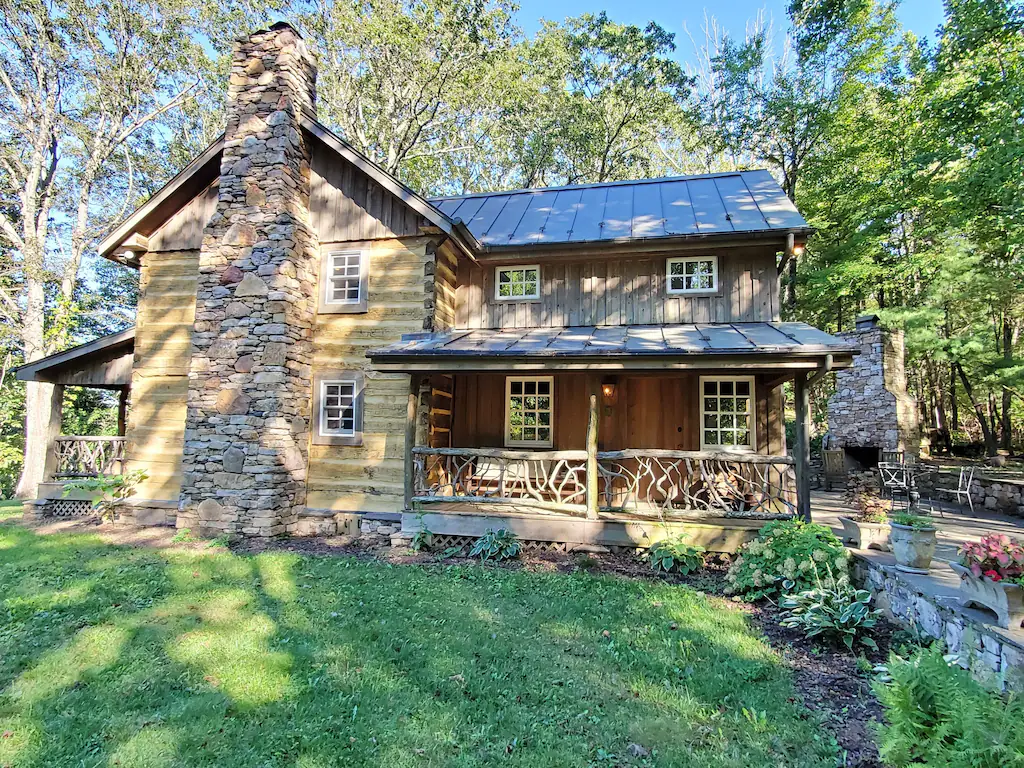 ---
Riverfront Cabin with Gorgeous Views
Location: Shenandoah, Virginia
Price: $220+ per night
https://www.vrbo.com/610725?adultsCount=2  
This brand new cabin on the Shenandoah River is nestled amongst the woods with an incredible view overlooking the mountains and valley.
A wonderful escape in nature for those looking to rest and recharge. With two bedrooms and one bath, it can sleep four people. The spacious cabin has a hot tub, full kitchen, decks with views, and plenty of outdoor areas to roam or make a fire. A highlight of this secluded cabin is the private river access for swimming, fishing, or canoeing! Don't miss this beautiful secluded cabin in Virginia.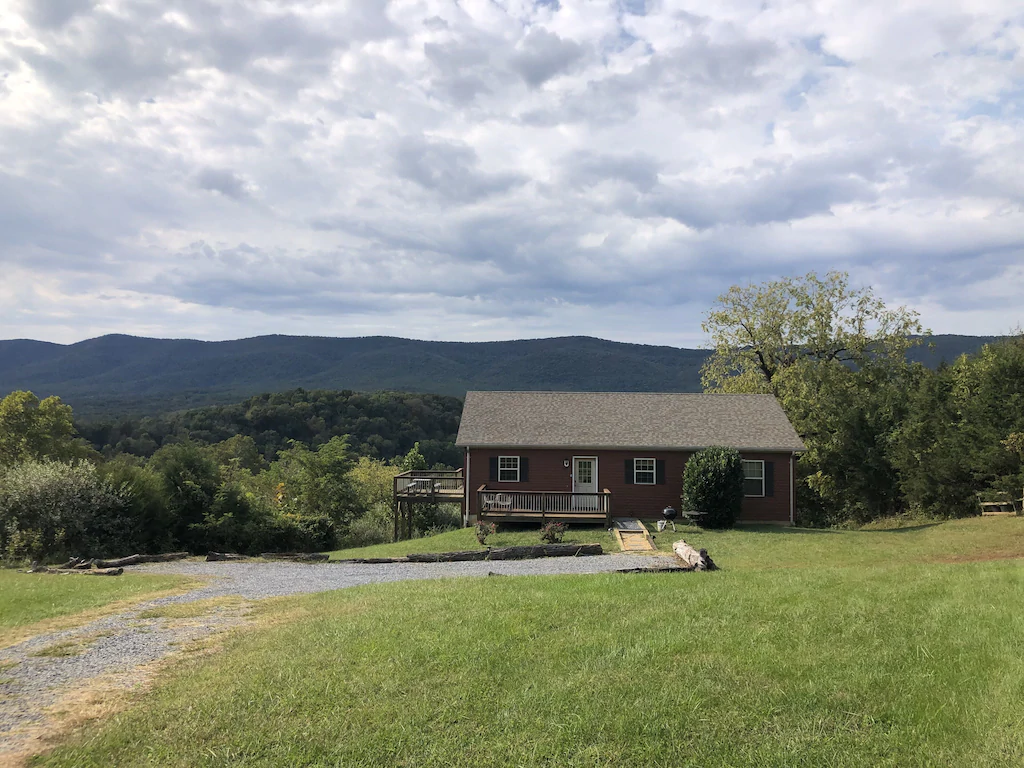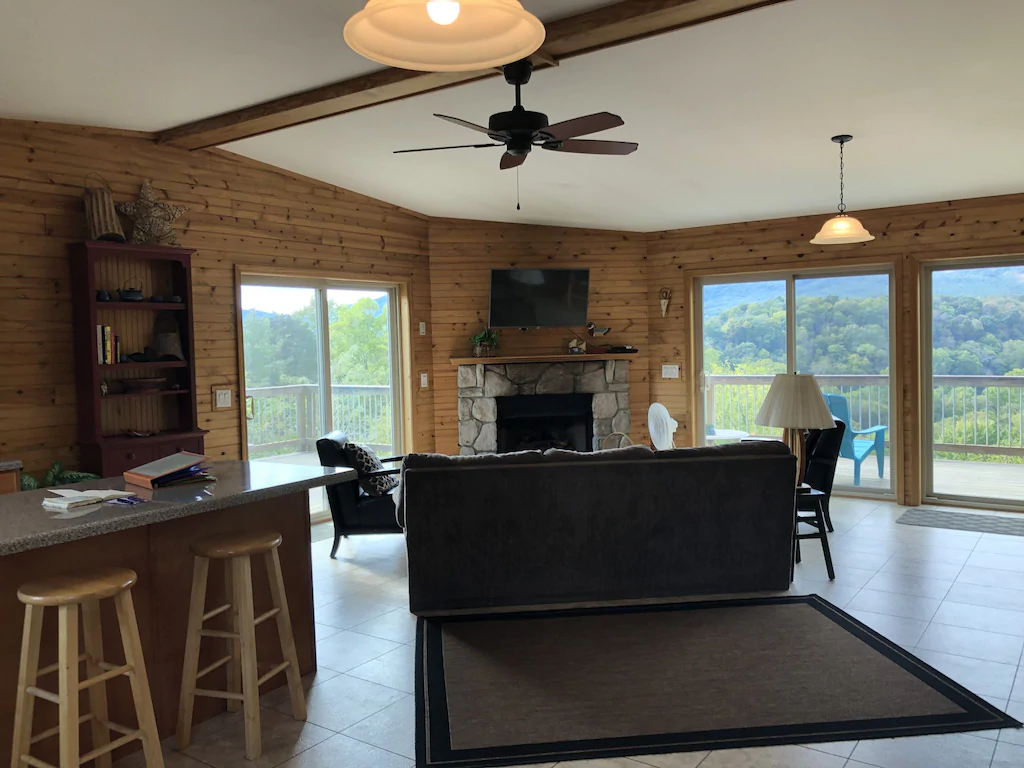 ---
Secluded River Cabin with Hot Tub
Location: Luray, Virginia 
Price: $259+ per night
https://www.vrbo.com/206036?adultsCount=2 
This secluded and luxurious cabin in the Blue Ridge Mountain woods of the Shenandoah Valley feels like a home away from home without the hustle and bustle of city life or neighbors. The inviting log cabin was locally hand-crafted with pine boards to give an extra element of charm and care. With tall cathedral ceilings and an open floor plan, it has a romantic and spacious feel.
The interior design was carefully curated to match the natural surroundings. Every bedroom has an HD TV and DVD player and the master suite even has a jacuzzi bathtub for extra levels of comfort and relaxation. With a trail from the cabin to private river access, it's your own slice of paradise. The cabin even provides kayaks and canoes for you to enjoy! The rocking chairs on the deck add an element of old-school charm, and the hot tub on the back deck is perfect for stargazing. This delightful three-bedroom home can sleep up to six guests, perfect for a group retreat and getaway amongst nature.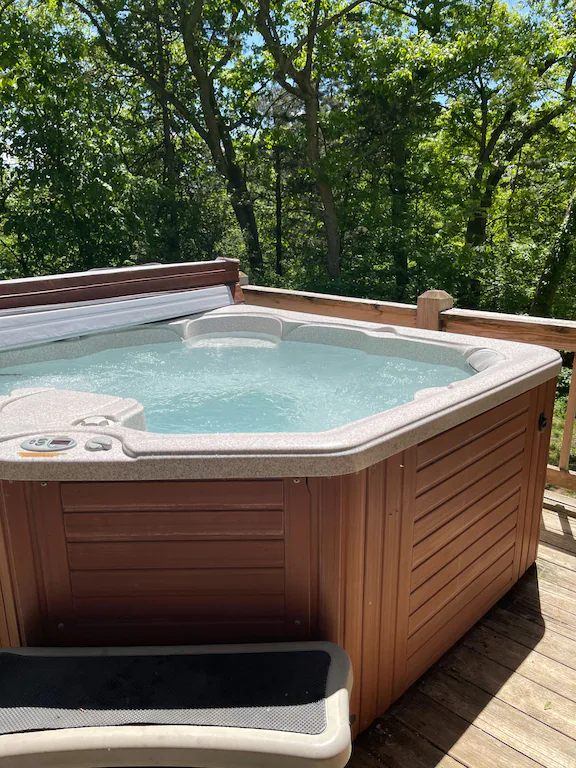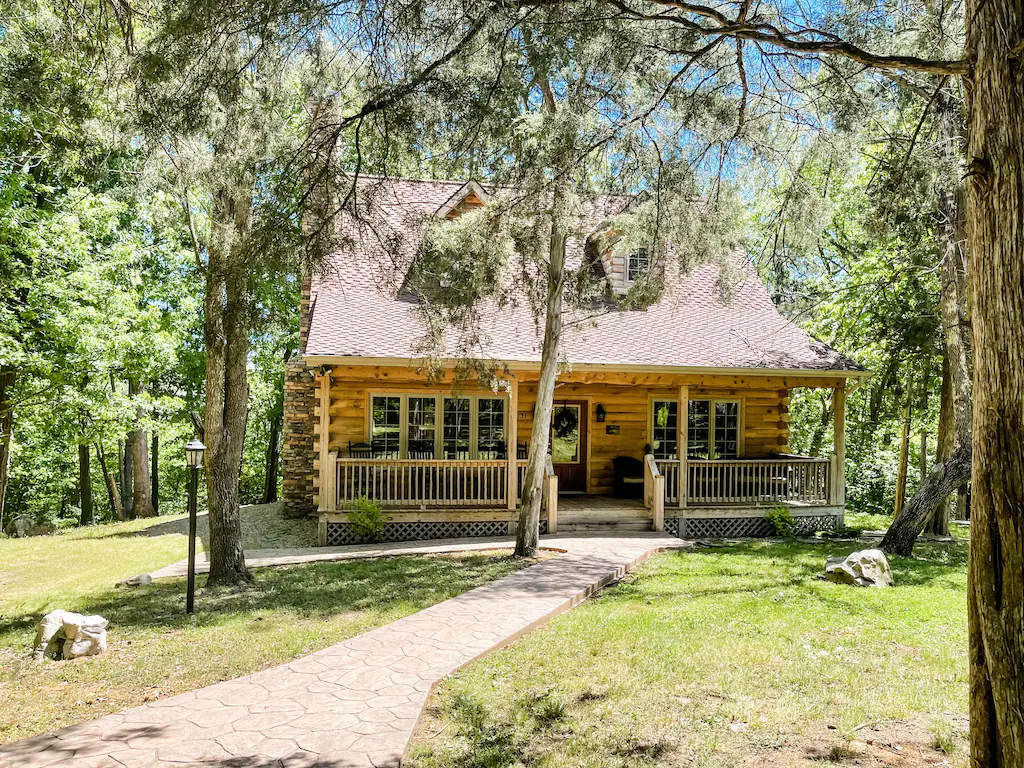 ---
Overlook Cabin with Hot Tub
Location: Shenandoah Valley, Virginia 
Price: $232+ per night
Overlook Cabin is an incredible place to stay due to the breathtaking views of the Shenandoah Valley from 2000ft up on the side of a mountain. With a 2-level deck full of brand new patio furniture, there is plenty of space to enjoy the outdoors and take in the expansive views.
Furnished with modern amenities it has everything needed for a comfortable stay; a propane grill, hot tub, TVs with streaming, high-speed internet, and more. The master suite even has access to its own private deck and hot tub! The two-bed, two-bath cabin sleeps 4 and is perfect for couples or a family getaway in the mountains.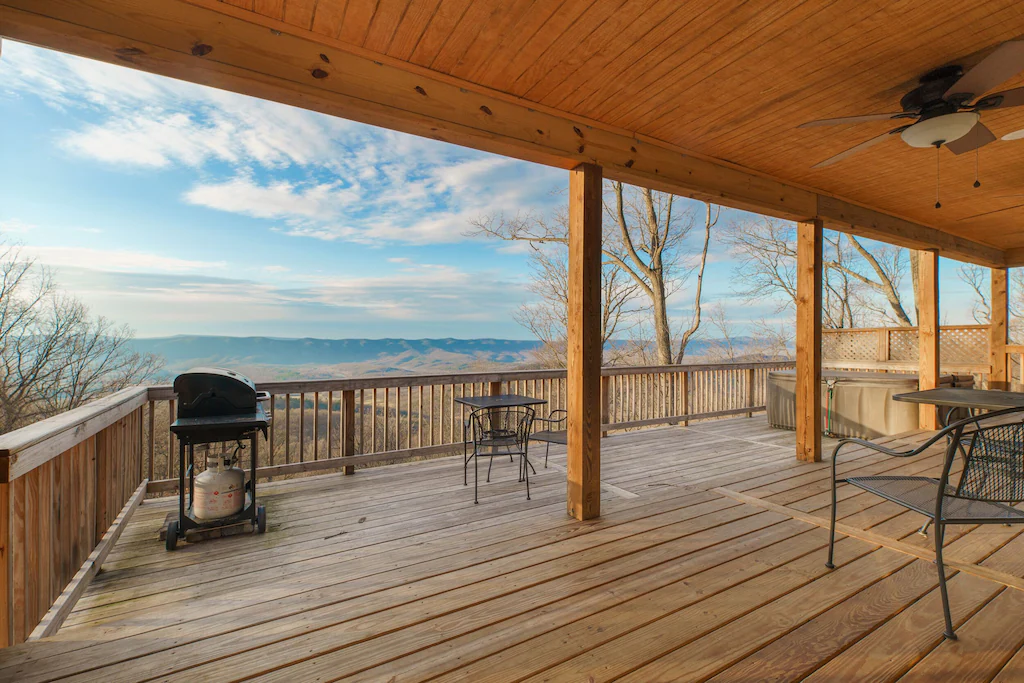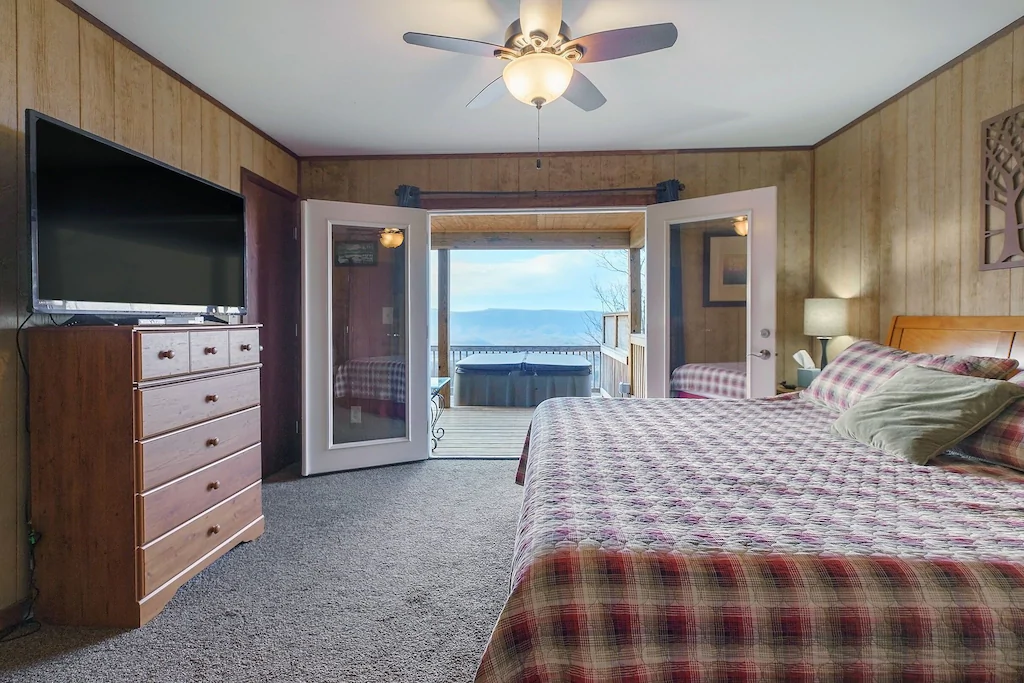 ---
Cottage looking over Shenandoah River and Blue Mountains 
Location: Front Royal, Virginia
Price: $549+ per night
Tucked away in the woods of the Blue Ridge Mountains on a private corner of a historic 100-acre farm sits this cute and quaint cabin. Looking over the stunning Shenandoah River, the cabin has private access to the river. Sitting amongst the sound of the trees and river and surrounded by greenery, you will feel inspired, creative, and rejuvenated during your stay here.
The cottage has a stone fireplace, wood-beamed ceilings, three covered porches, a large outdoor seating area overlooking the river, and a hot tub with a great view. There is even a multi-level deck at river level and a 30' floating dock on the water perfect for boating, fishing, swimming, or just enjoying the sun on the water. With three bedrooms and 2.5 baths, the house can sleep up to 10 guests. This river cottage is the perfect place to spend time with loved ones while being surrounded by the beauty of nature!