From the idyllic waters of Chesapeake Bay to the majestic beauty of the Blue Ridge Mountains – Virginia's landscape is legendary. The best way to experience the state's unique beauty is to sleep in one of the epic treehouse rentals Virginia has to offer!
Aside from the gorgeous landscapes, Virginia offers fun outdoor adventures for a fun-filled glamping getaway. Here, you can go mountain hiking, visit wineries and breweries, explore picturesque small towns, lounge at the beach, or laze around in your cozy treehouse. There are also scenic hiking and biking trails for every type of adventurer. 
So, what are you waiting for? Refer to our list of epic Virginia treehouses and start planning your trip! Also, be sure to read our guide on Treehouse Rentals in North Carolina if you're feeling up for a road trip!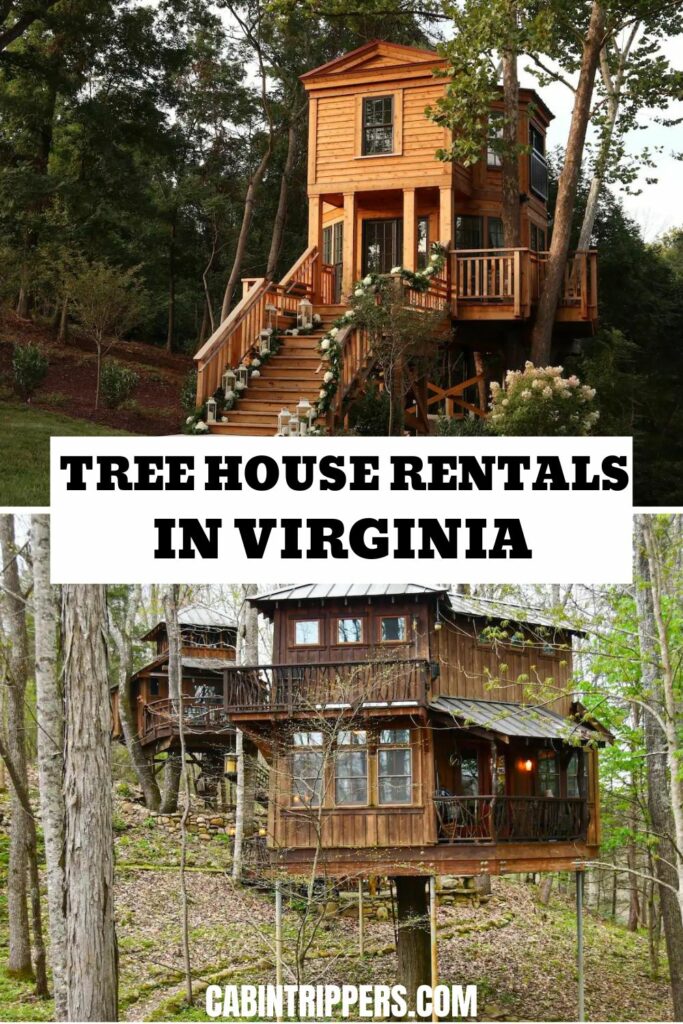 ---
Quick Breakdown of Treehouses in Virginia
But before we get into the list of Virginia's best treehouses, we'll show you an overview of our favorite properties, from the overall best treehouse cabin to the most unique and romantic.
Overall Best Treehouse Cabin in Virginia – Trillium Treehouse
Best Luxury Virginia Treehouse Cabin – The Joshua Tree House
Most Unique Treehouse Cabin in Virginia – Mountain Time Enchanted Tree Cottage
Best Family Treehouse Cabin in Virginia – Trailside Treehouse
Most Romantic Virginia Treehouse Cabin – Romantic Treehouse by Treehouse Masters
---
The 15 Best Treehouses in Virginia
Now, here's our list of the most epic treehouses in Virginia. We've researched on your behalf to help you plan your trip. While there are many beautiful glamping properties in the state, we believe these are the best.
---
Trillium Treehouse
Where: Linden, Virginia
Price: $202+ per night
https://www.airbnb.com/rooms/13493938
This treehouse is gorgeous from every angle, and we believe it's the overall best treehouse cabin in Virginia. Located close to Shenandoah State Park, it's the perfect place to escape for a breath of fresh air. This incredible treehouse is perched within three trees and has two beds to sleep four guests. 
Offering a unique camping experience, the treehouse has everything you need for a comfortable stay. There's a composting toilet in the adjacent house, a gas stove for cooking, and heating to keep you warm in winter. You can also gather around the fire pit close to the treehouse to keep you warm at night.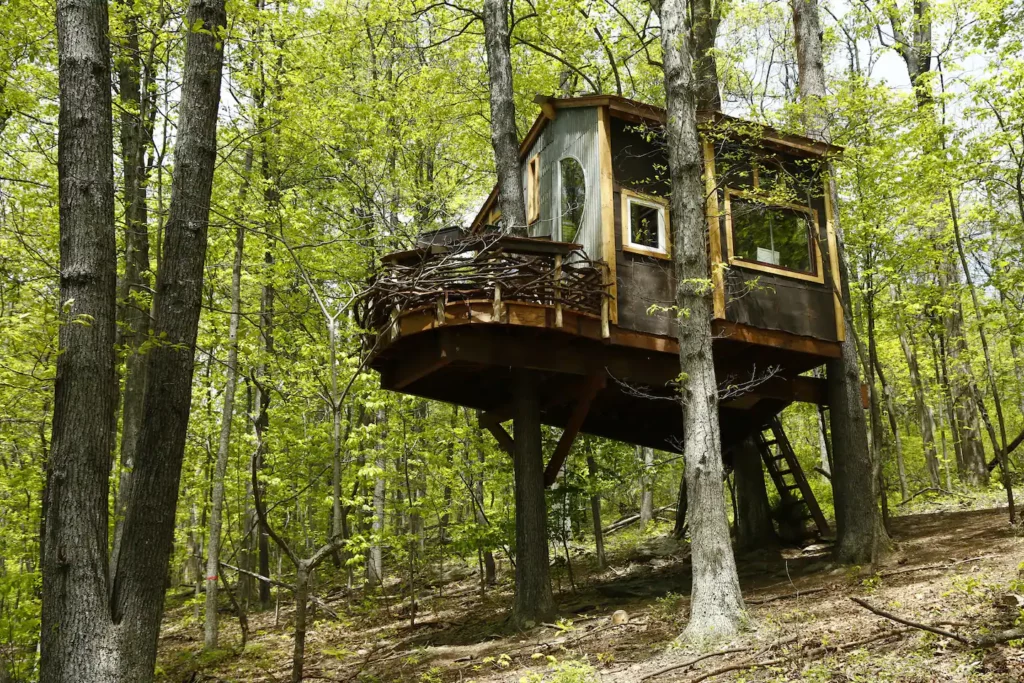 ---
Treehouse on Virginia Creeper Trail
Where: Abingdon, Virginia
Price: $249+ per night
https://www.airbnb.com/rooms/52296615
Built by Pete Nelson from the Treehouse Masters, this rustic treehouse is on the Virginia Creeper Trail, surrounded by stunning views of nature high up in the Appalachian Mountains. This two-story treehouse has one bedroom, perfect for two guests. It has all the necessities you need – from a spacious bathroom with a shower to a kitchenette and living room.
The spacious balconies are guaranteed your favorite spot in this beautiful treehouse. It opens to the panoramic views of the surrounding trees home to different wildlife, such as owls, deer, and eagles. The house has no AC, but since it's tucked away in the shades of the woods, the property stays cool all day long.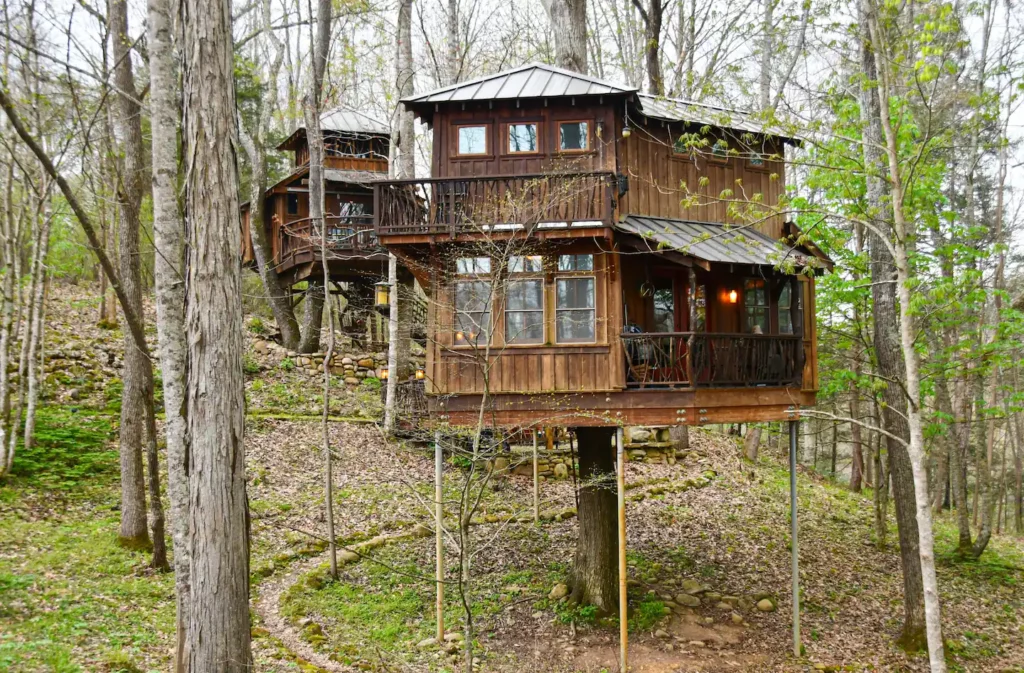 ---
Secluded Treehouse on the Rivanna River
Where: Palmyra, Virginia
Price: $218+ per night
https://www.airbnb.com/rooms/53427706
Fulfill your childhood forest fantasy by sleeping in this gorgeous treehouse. Perched 15 feet up, take in the relaxing sights and listen to the sounds of nature during your stay. This cozy Virginia treehouse has one bed but can accommodate three guests. It also has a sink and basic kitchen appliances, including a fridge.
The treehouse is set along the banks of Rivanna River and suspended amongst Sycamore and Poplar trees. Its cozy interiors with high-end furnishings are enough to make your stay comfortable and relaxing. But if you prefer to relax outdoors, sit on the wraparound porch and enjoy the beauty of the surroundings.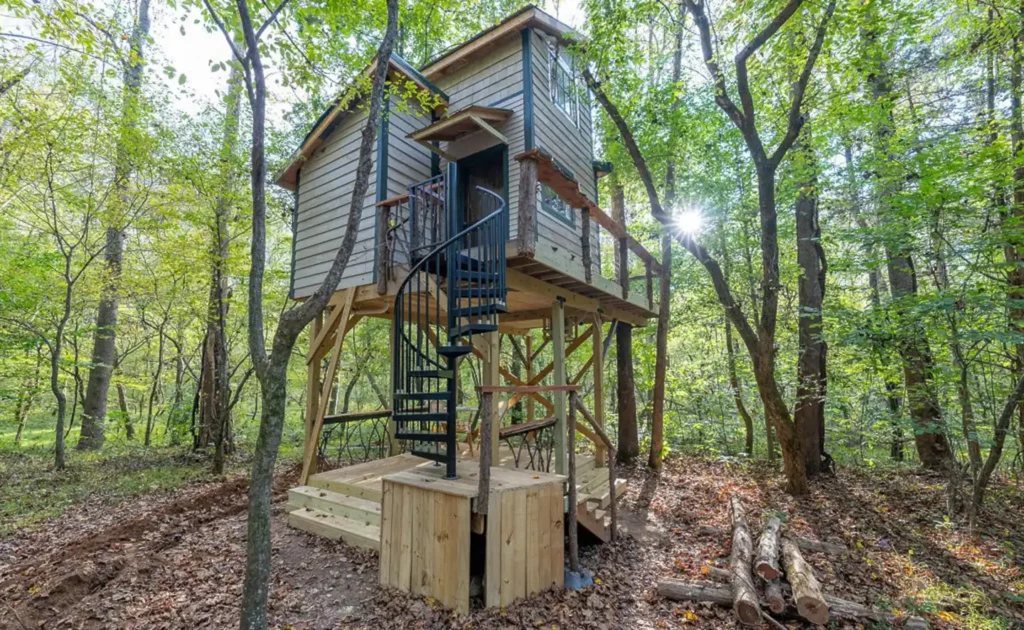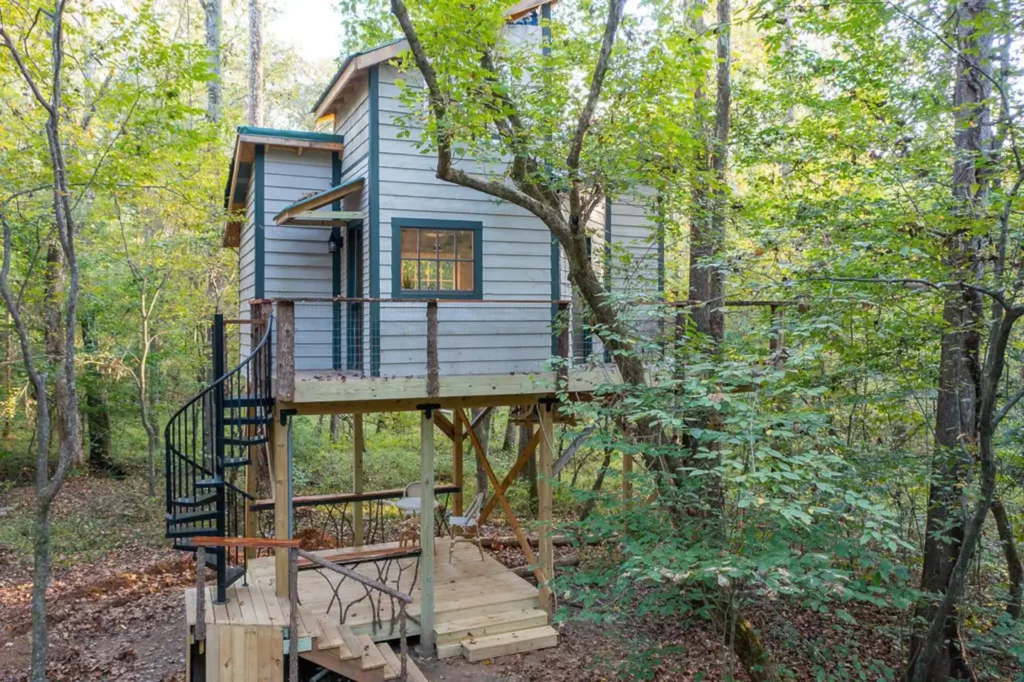 ---
The Joshua Tree House Cabin
Where: Bridgewater, Virginia
Price: $184+ per night
https://www.airbnb.com/rooms/19362266
Featuring a gas fireplace, walnut spiral staircase, hammered copper sink, and elegant bedding – this cozy treehouse is our choice for the best luxury Virginia treehouse cabin. Equipped with one bedroom to sleep two guests, it is the ideal property for a couple's romantic getaway. 
Surrounded by pine trees, this luxury treehouse is perfect for secluded escapes. But despite its seclusion, it offers everything you need for a relaxing stay in nature. Its kitchen has a two-person bar, a gas stove with an oven, refrigerator, microwave, and more. The bathroom's marble tile shower with hot water makes for a truly luxurious experience.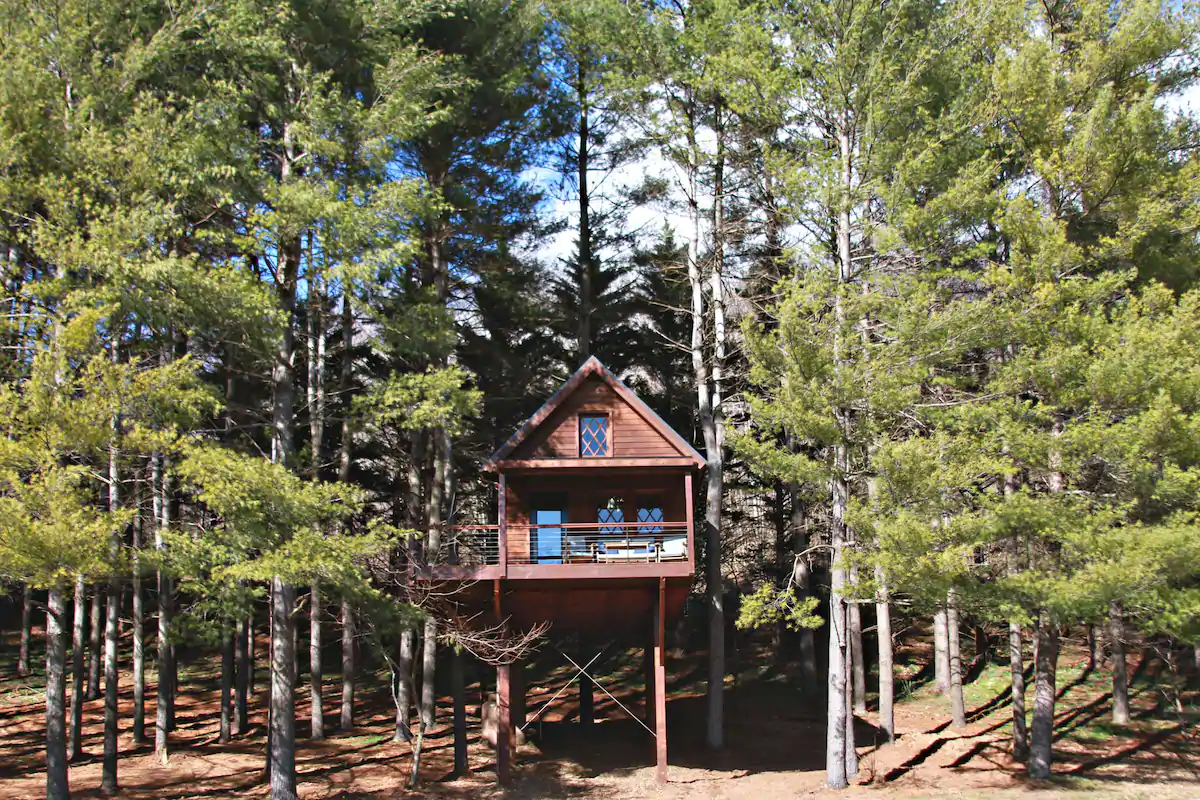 ---
Eagles Nest Treehouse
Where: Shenandoah, Virginia
Price: $259+ per night
https://www.vrbo.com/9348311ha
This beautiful rustic hideaway is nestled 17 feet high in the treetops, a perfect setting for a relaxing nature retreat. It features everything, from a kitchenette and cozy living space to an open deck and screened porch with a four-person hot tub. It has one bedroom and can accommodate up to four guests.
Relax at the open deck or at the lower patio with a gas grill and picnic table. You can also hang out on the deck with hanging rope chairs or on the screened-in porch upstairs. Indeed, this place is built for relaxing. It even has a hot tub to enjoy a relaxing soak.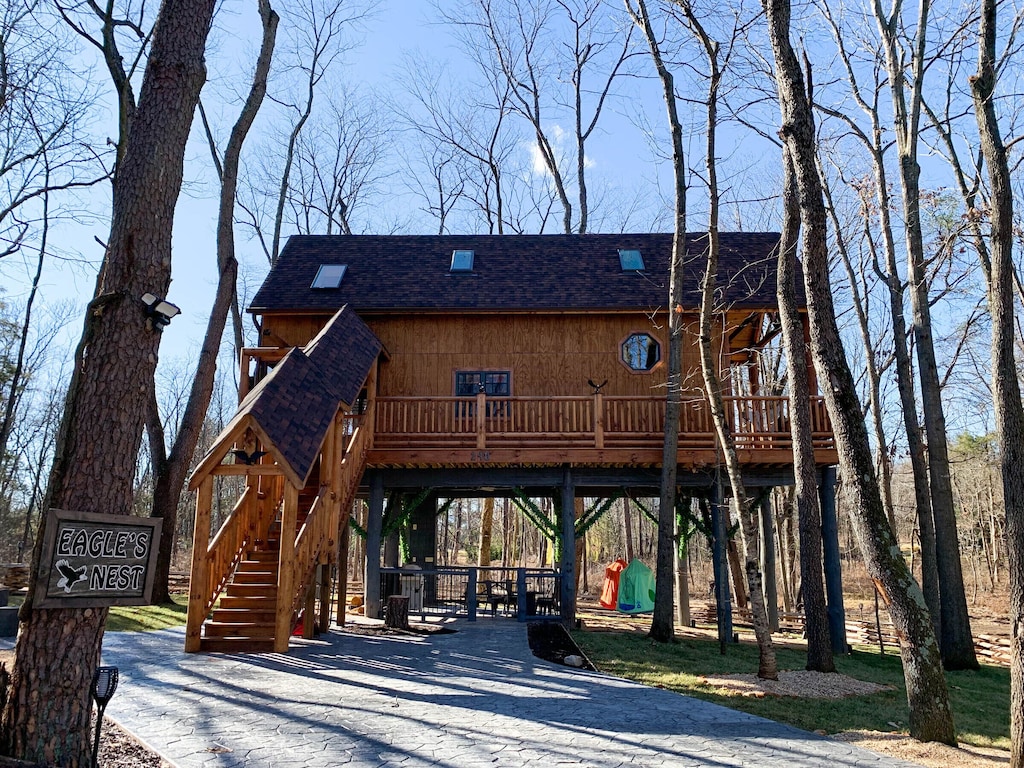 ---
Tree Top Cabin on the Shenandoah River
Where: Page County, Virginia
Price: $475+ per night
This luxury cabin is not your typical treehouse, but if you're looking for a spacious vacation rental surrounded by tall trees and lots of greenery, this is the perfect place to stay. It's a 3-bedroom house that can sleep up to ten guests, making it an ideal venue for family get-togethers and team-building events. 
Boasting a luxurious interior complete with stainless appliances, flatscreen TV, and hardwood floors, this spacious house will make your glamping getaway very relaxing. It sits high above the river with an area to walk down towards the river. Enjoy fun activities by the river during the day and gather around at the firepit at night to exchange fun stories.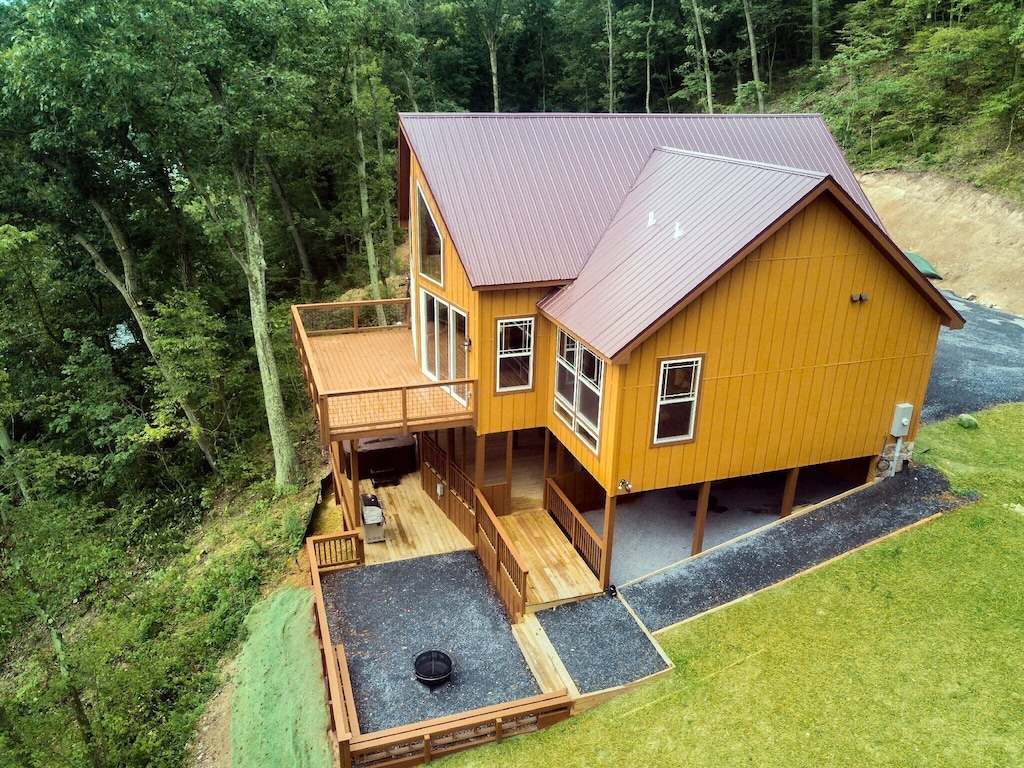 ---
Secluded Bear's Lair Treehouse Cabin on New River
Where: Austinville, Virginia
Price: $230+ per night
While this may not be your typical treehouse, its secluded location surrounded by trees will make you feel like you're sleeping in a treehouse. Enjoy the peace and serenity of nature in this gorgeous cabin, equipped with modern comforts and amenities. With three bedrooms, two bathrooms, a kitchen, and a living room, it's spacious enough to accommodate seven guests. 
Perfect for relaxation, the cabin has a Jacuzzi tub and a large outdoor deck where you can enjoy the views and listen to the relaxing sounds of nature. If you feel like going for a hike, venture into the five-acre wooded land. Head to the river for kayaking, canoeing, or fishing.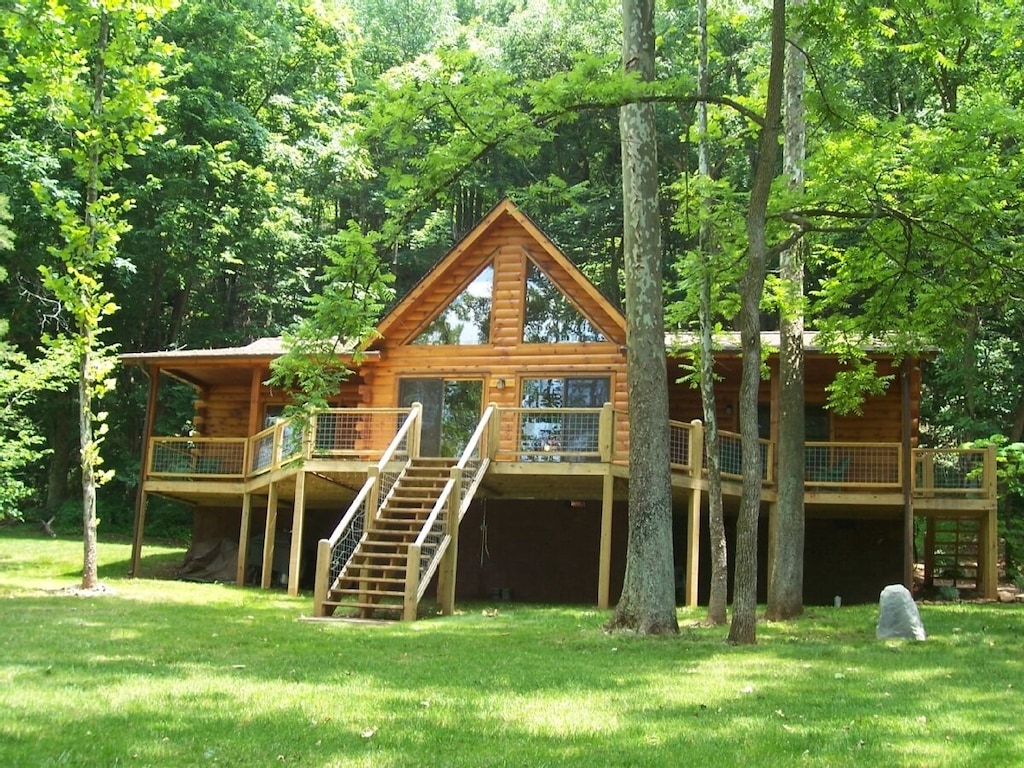 ---
Mountain Treehouse Cabin on a Large Estate 
Where: Tyler, Virginia
Price: $196+ per night
Nestled in the Blue Ridge Mountains and hidden beneath a canopy of trees, sleeping in this spacious mountain cabin is like sleeping in a treehouse. It's in a secluded area but has everything you need for a relaxing getaway. There are three bedrooms in this cabin to accommodate guests of ten. It's the perfect place for groups of friends or families.
Despite its seclusion, you are not deprived of modern amenities when staying in this beautiful cabin. There's central AC and Heating system to make you feel comfortable, high-speed internet, and a cable TV. Some of Virginia's famous attractions are only a short hike from here, including the Abrams Falls.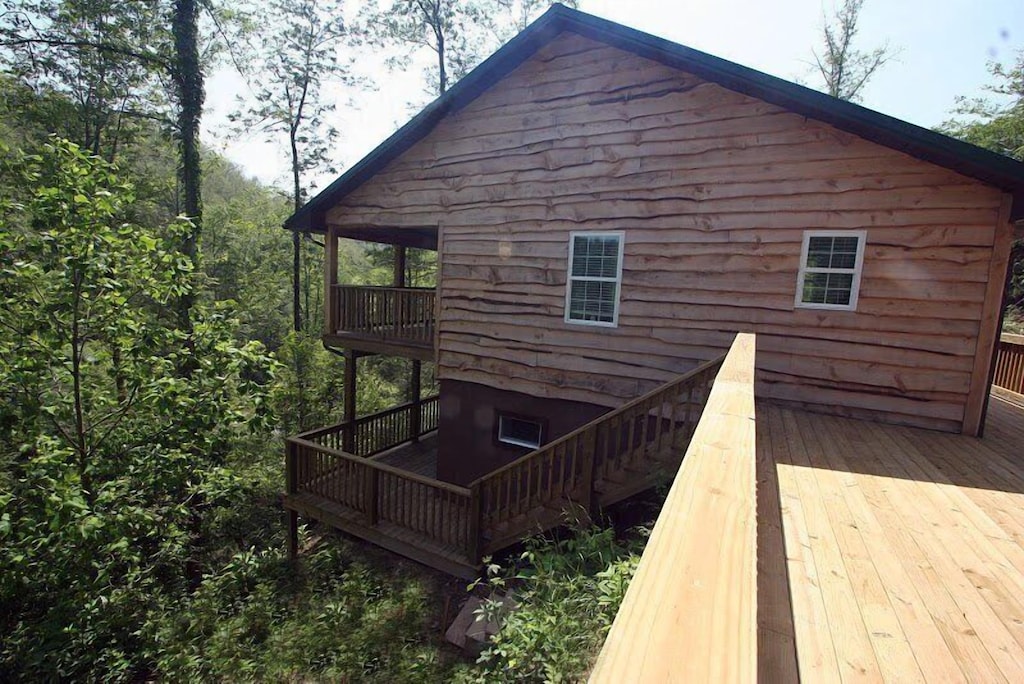 ---
Romantic Treehouse by Treehouse Masters
Where: Lynchburg, Virginia
Price: $395+ per night
https://www.airbnb.com/rooms/52380618
If it's romance you're after, stay at this Romantic Treehouse created by the Treehouse Masters. Exuding romance inside out, this is the perfect choice for couples longing for a romantic retreat in the woods. Share romantic moments and soak up the beauty of nature while still enjoying comfortable modern amenities. 
Featuring elegant interiors, complete with a four-poster bed and a bathtub, this property is our choice for the most romantic Virginia treehouse cabin. It's overlooking a historic 18th-century event venue with a working watermill. What's great about this property is that it was built by Pete Nelson of the Treehouse Masters.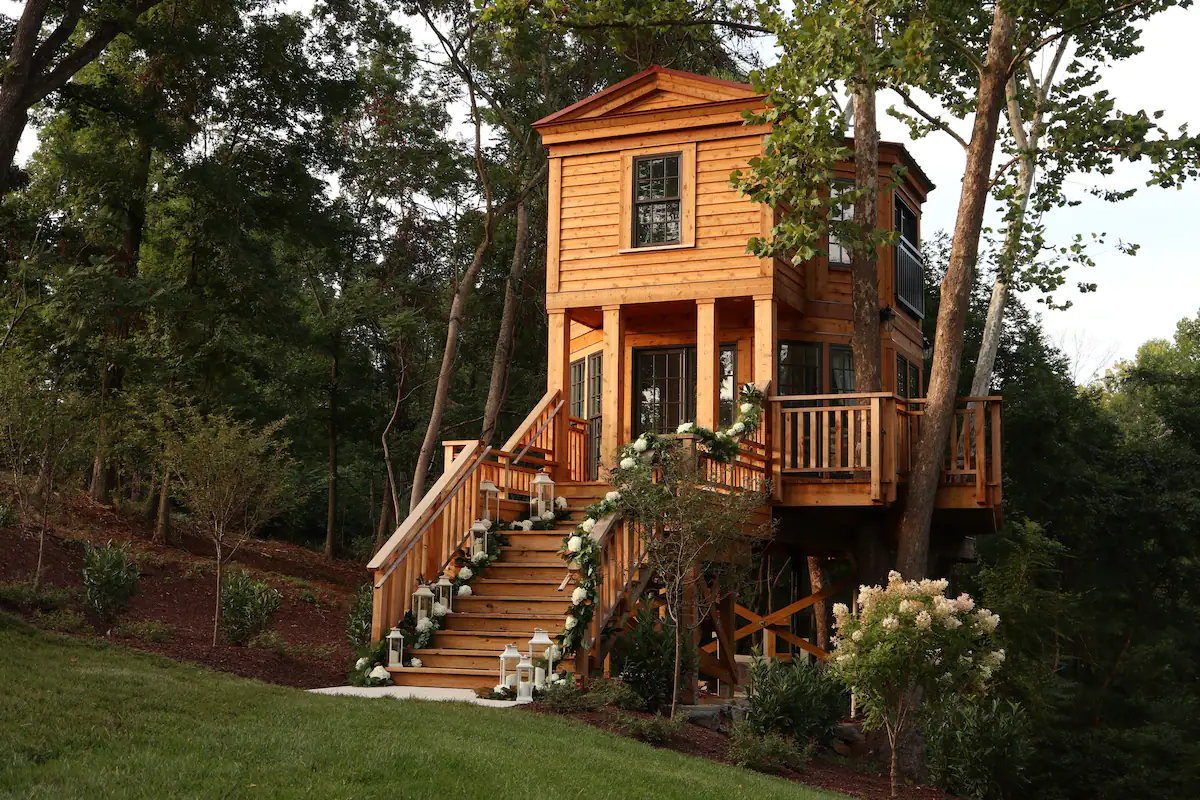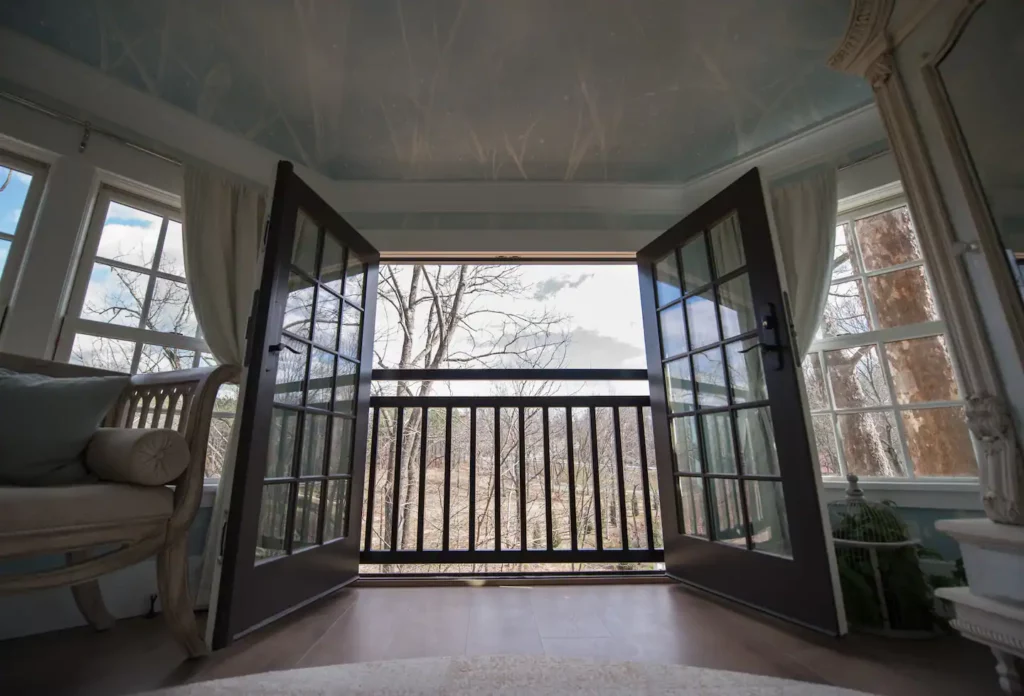 ---
Trailside Treehouse Rental Virginia
Where: Richmond, Virginia
Price: $304+ per night
https://www.airbnb.com/rooms/20724950
If you're looking for the best family treehouse cabin in Virginia, this treehouse is where you should stay. It has two bedrooms and can accommodate families with up to eight members. What makes this property ideal for families is it offers tons of fun activities for the kids, allowing for a fun family getaway!
The property is in a five-acre woodland with scenic trails and is adjacent to the river. There are plenty of opportunities to enjoy fun hikes with your little ones or take advantage of the river for fishing or swimming. What's more, the property is dog-friendly, so your beloved pets can join in the fun!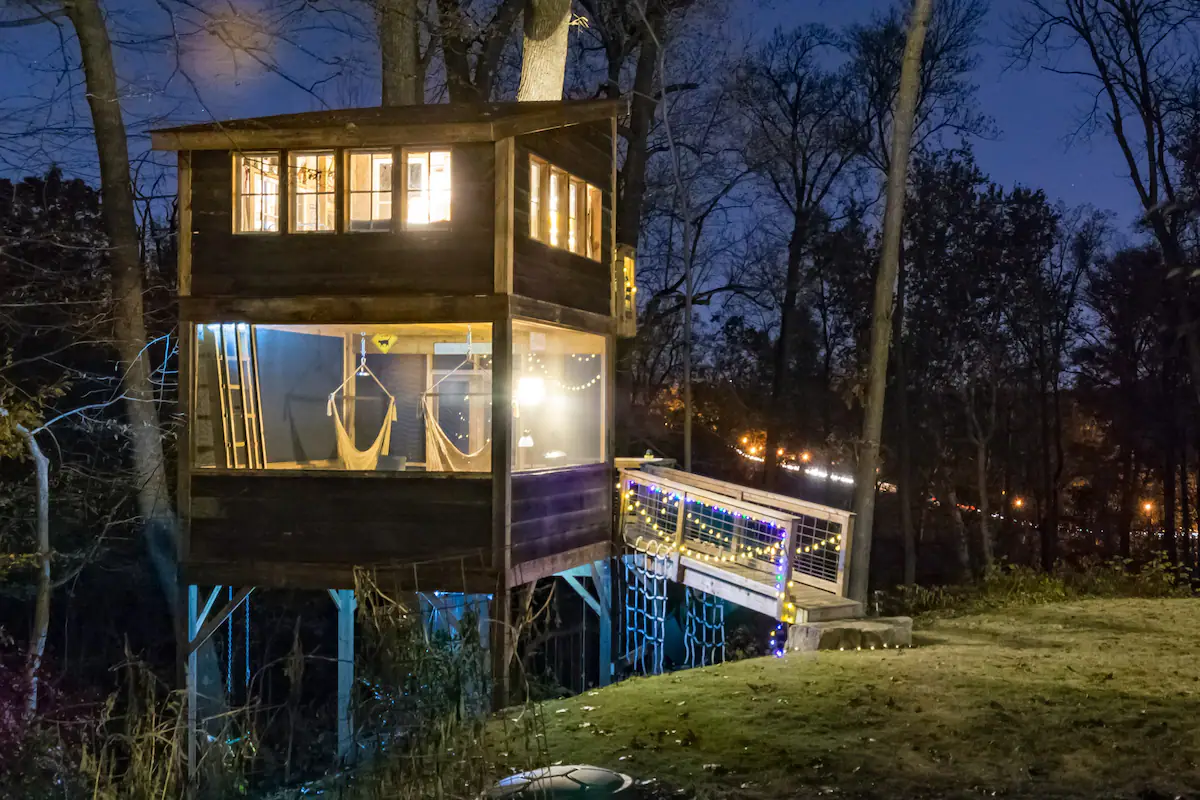 ---
Delightful One-bedroom Treehouse
Where: Palmyra, Virginia
Price: $210+ per night
https://www.airbnb.com/rooms/51419225
In Palmyra, you'll find this gorgeous treehouse surrounded by beautiful views of nature. This Virginia treehouse can sleep two guests, ideal for couples. Set in the middle of the woods, this treehouse is a wonderful place to unwind and enjoy nature while sharing romantic moments with your loved ones. 
Cozy up at the indoor fireplace or in the propane fire pit outdoors. Head out to the private deck to gaze at the stars or watch the wildlife. There's also a hammock tucked under the trees that can fit two persons, an ideal place to relax with your partner. The amenities you can enjoy in this treehouse are a small fridge, a TV, microwave, loveseat, and a bathroom with a tiled shower.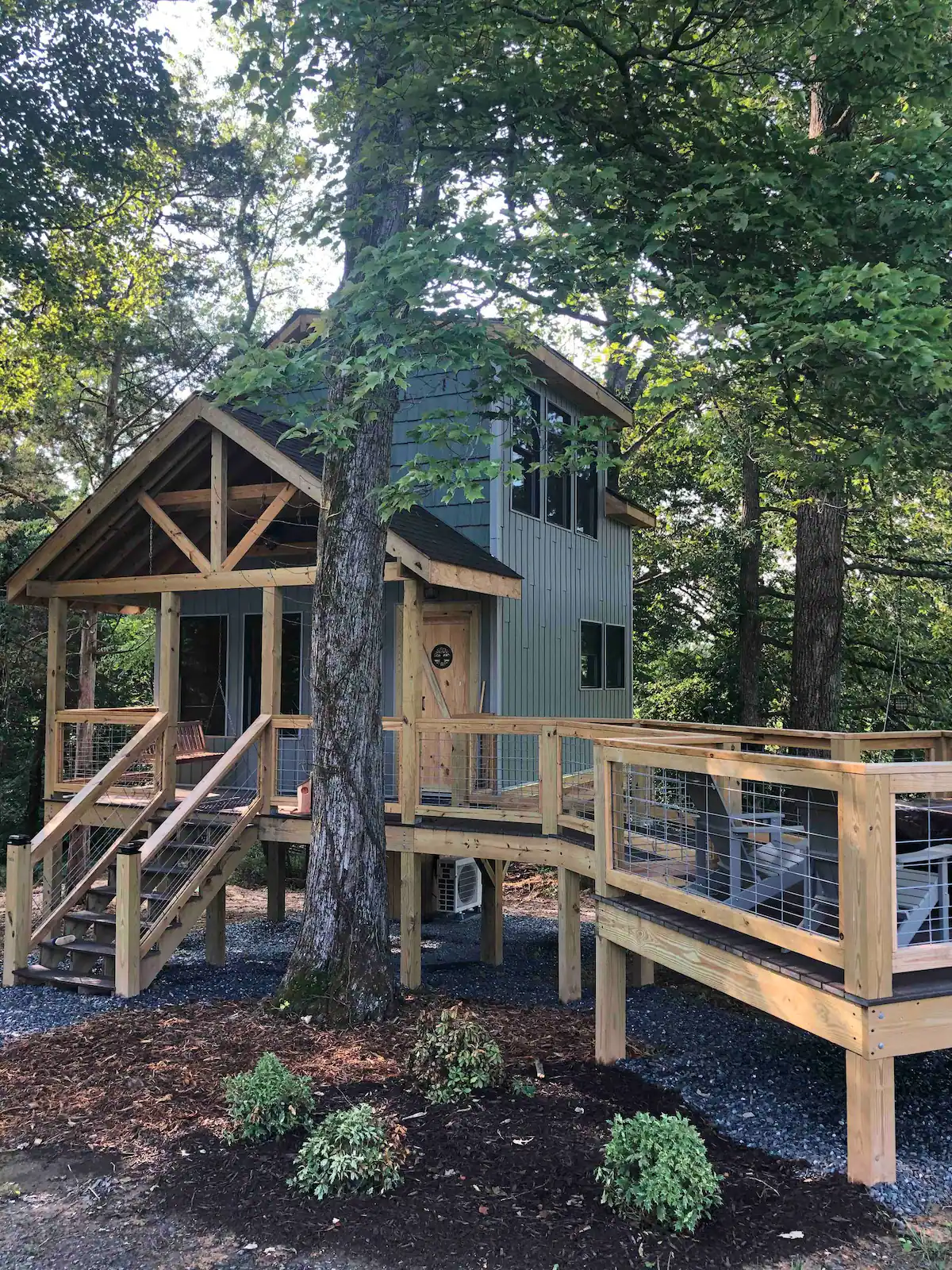 ---
Neff Girls Treehouse
Where: Strasburg, Virginia
Price: $96+ per night
https://www.airbnb.com/rooms/51233796
This is not your average treehouse, but with beautiful greenery in its surrounding, it offers a dreamy setting for a relaxing retreat deep in the woods. It may be small, but it has enough space to accommodate up to five guests. The bedroom has two queen-sized mattresses and a single pull-out bed. 
The main room of the treehouse has a TV, a kitchen, and a ladder leading up to the bedroom. It has everything you need for a relaxing stay, including a shower on the wraparound porch. Set in a quiet location with a pond close by, the treehouse is surrounded by the soothing sounds of nature.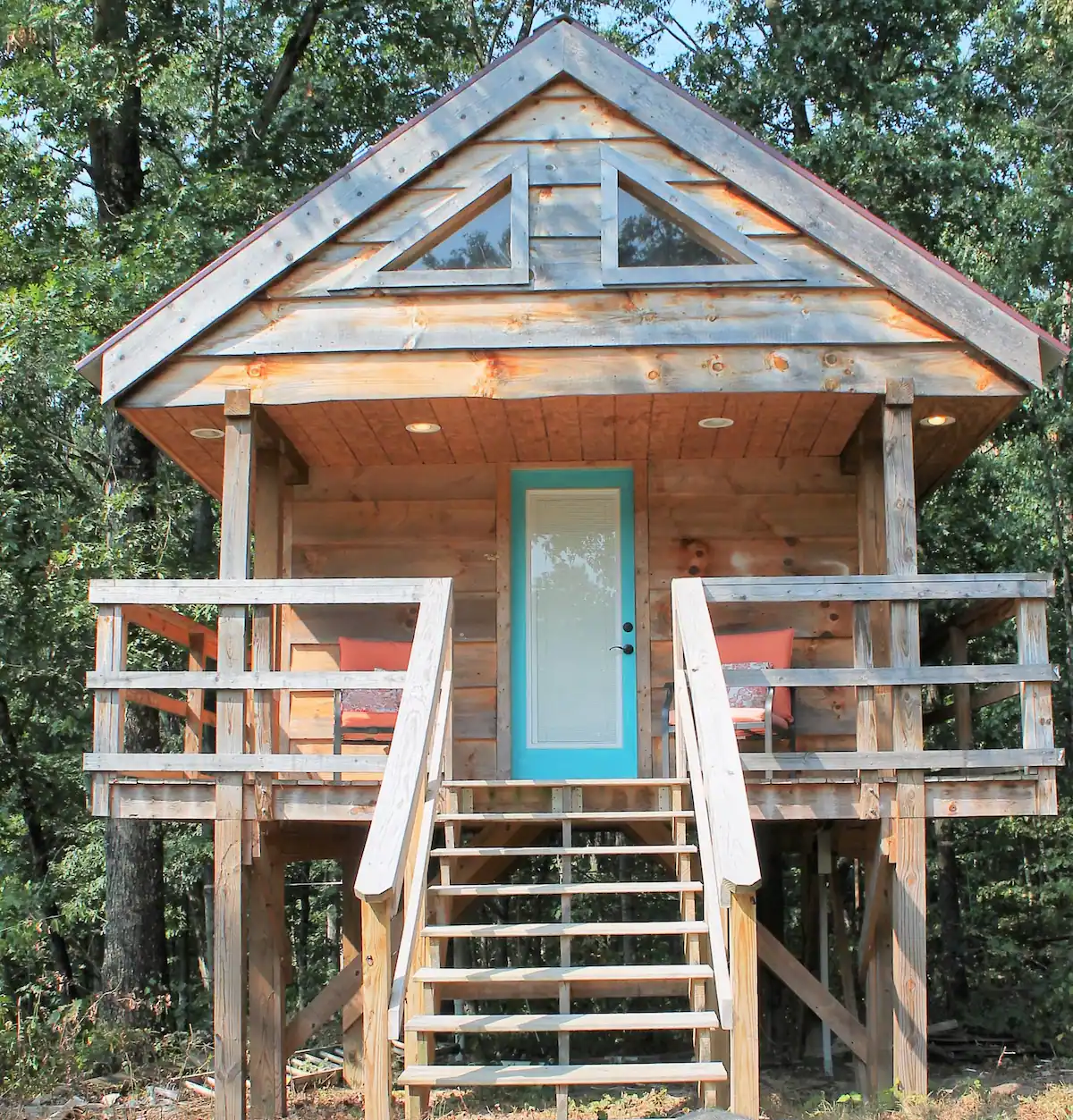 ---
Mountain Time Enchanted Tree Cottage
Where: Charlottesville, Virginia
Price: $158+ per night
https://www.airbnb.com/rooms/20978933
For a truly unique way of sleeping in nature, stay at this enchanted tree cottage in Charlottesville. Our choice for the most unique treehouse cabin in Virginia, this treehouse can accommodate four guests in its cozy living space with a queen-sized bed in the loft and a futon bed in the living room. There's also a small kitchenette with a sink, microwave, toaster, and coffee maker. For a more comfortable stay, it has a gas fireplace to keep you warm in winter. 
Enjoy the views of nature from the oversized windows overlooking the wood or venture outdoors for a scenic stroll. When staying in this property, you won't be far from the various attractions in the Charlottesville area. The wineries, breweries, and the downtown mall are easily accessible.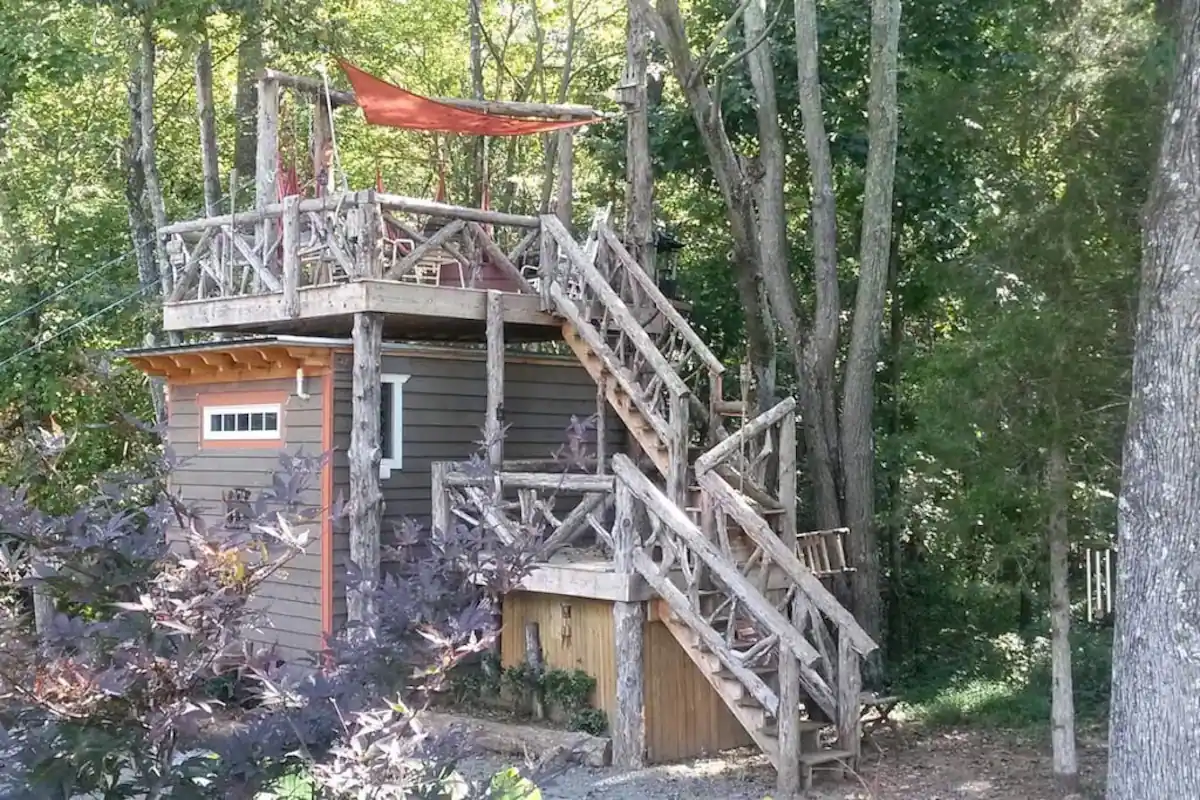 ---
Glamping In a Treetop Yurt
Where: Elkton, Virginia
Price: $350+ per night
https://www.hipcamp.com/en-US/virginia/hensley-hollow-glamping/glamping-in-the-woods-site-2
This treetop yurt is another unique treehouse in Virginia worth checking out. Perched high in the trees, only ten min from the Shenandoah National Park, the yurt has a queen-sized memory foam bed and a heated outdoor shower. It also comes with a power station to charge your electronic devices. 
After a day of exploring Shenandoah National Park, relax on the deck or in the hammock and listen to the soothing sounds of nature. The property has a composting toilet and kitchen essentials if you wish to prepare your own food.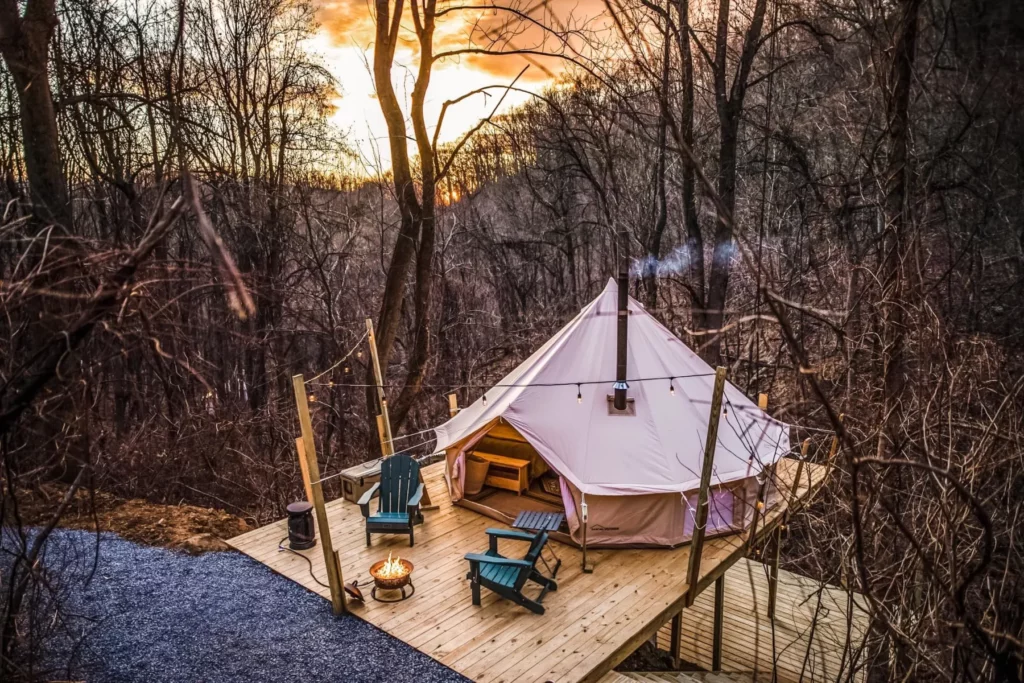 ---
Shenandoah Treehouse & Mountain Lodge
Where: Stanley, Virginia
Price: $159+ per night
https://www.shenandoahtreehouse.com/
The Shenandoah Treehouse & Mountain Lodge sits on a six-acre private land with a creek. Offering different properties for rental, the lodge is a great place to relax and escape from your hectic life. It's only less than two hours from DC and has direct access to the Appalachian Trail.
For added comfort, the treehouse is insulated and equipped with double pane windows and a sliding glass door that opens to the views of nature. There's electricity, cooling and heating, and a spacious deck for relaxing.