Not only known for its beautiful urban life, Nevada is famous for its vast lands, mountains, desert terrains, and all types of weather. For most people, Nevada's main attraction is Las Vegas. However, there is so much more and countless other ways to experience life in Nevada that should be on your to-do list if you are planning a trip soon, and staying in some of the coolest and luxurious cabin rentals in Nevada should be a top priority!
From Las Vegas to Reno, from Death Valley to Lakeridge, to Mount Charleston and every region inside Nevada, I have compiled this list of some of the most luxurious, incredible, and unique cabins on Airbnb & VRBO, and you will surely fall in love with those after reading all about them!
Whether you are planning to visit Nevada alone or looking for a luxurious escape with your partner or taking your family for vacation in Nevada, our list of the top 12 coolest cabin rentals has everything you want to know!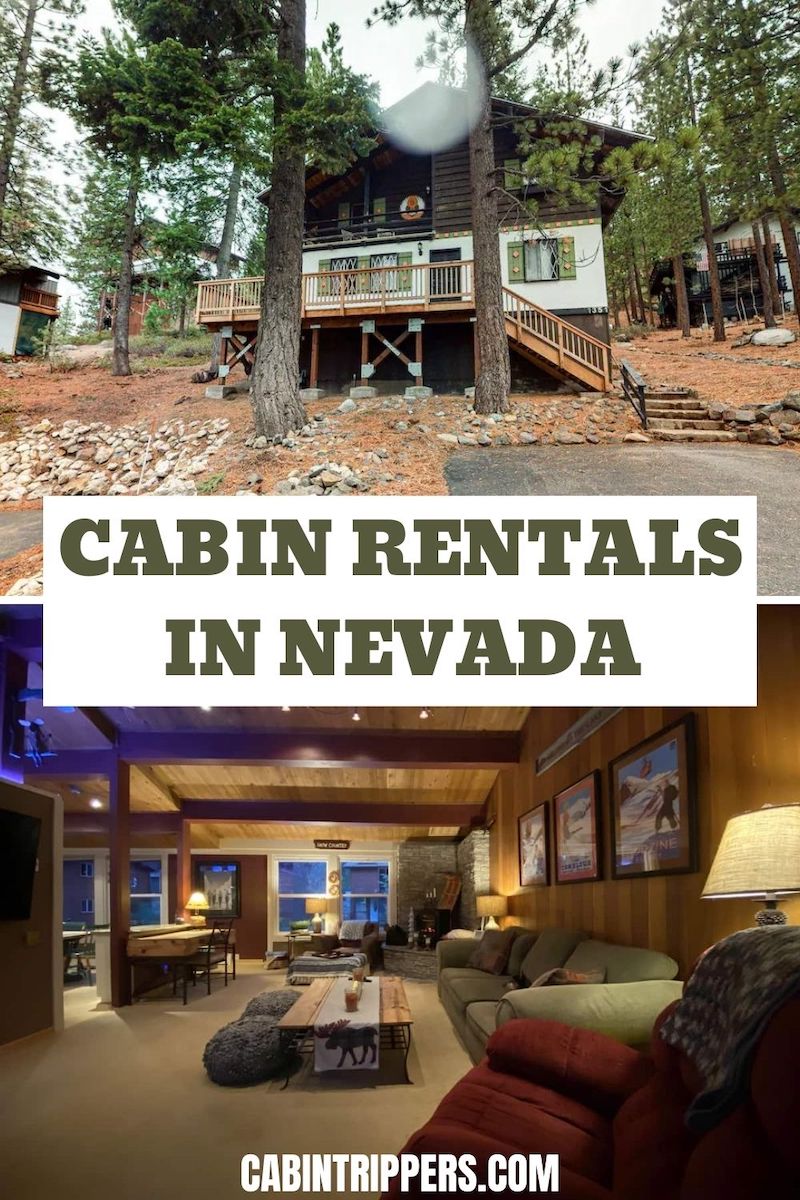 ---
1. Pioche Family Cabin w/ View – Walk to Main St!
Location: Pioche, Nevada
Price: $195+ per night
Just a short walk from Pioche's cute and quaint Main Street, this family cabin is the epitome of desert tranquility! You can explore the unique rock formations and hiking trails of nearby Cathedral Gorge State Park, hang out in Pioche, or simply spend your time basking in the cabin's sweeping views from the porch or the property's sunny interior. With enough space to sleep 8, this is the perfect property for families, large groups, or even just a few friends looking for a weekend getaway.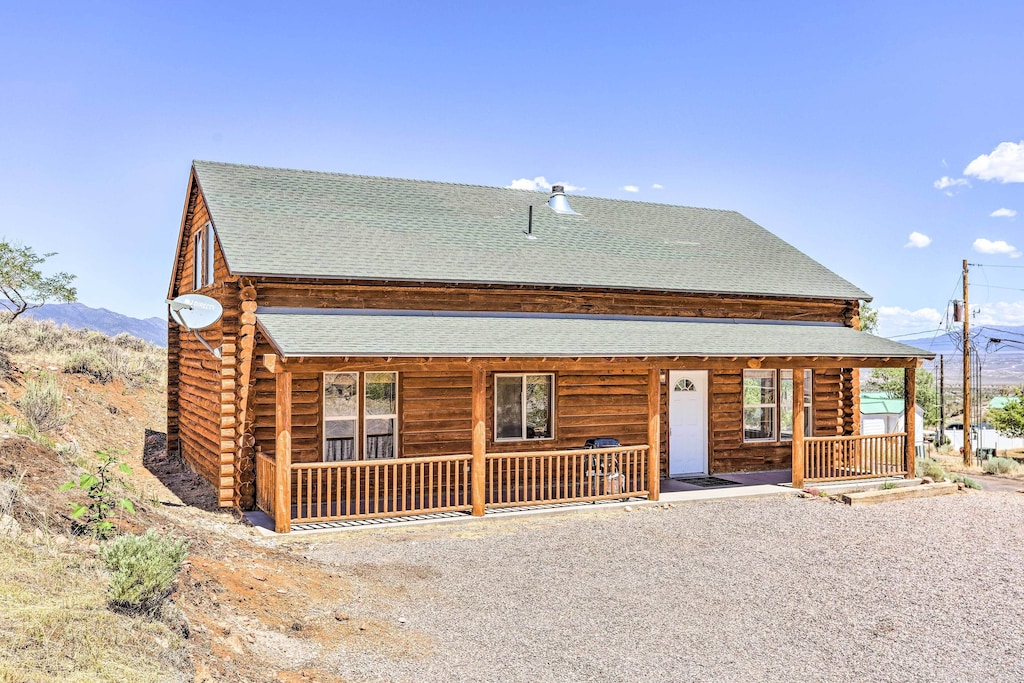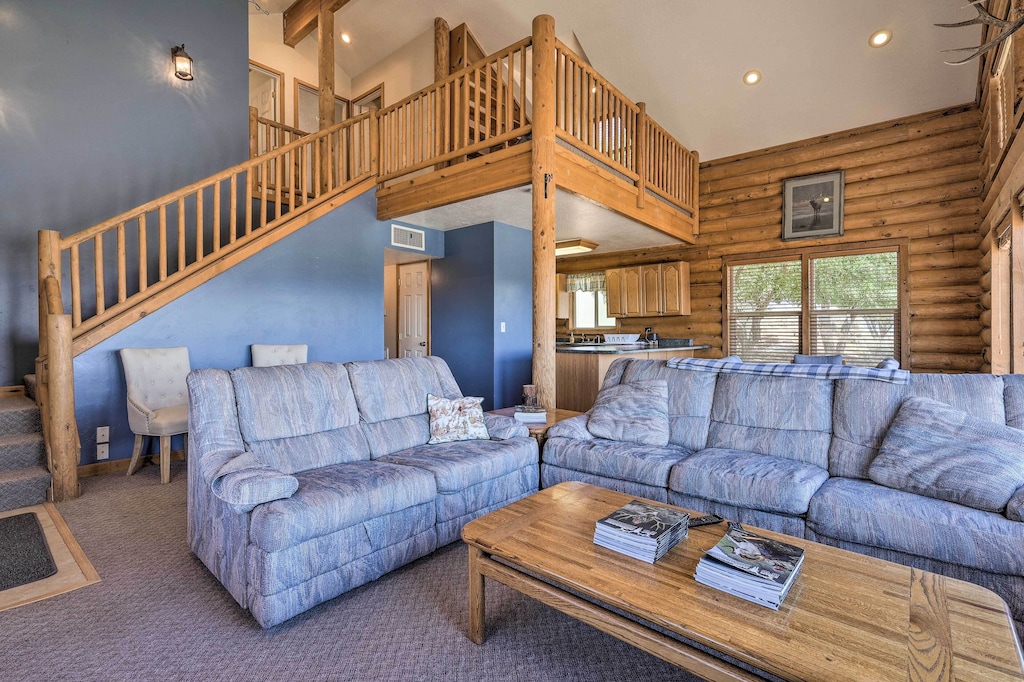 ---
2. Tiny 1947 Mt. Charleston Cabin
Location: Mount Charleston, Clark County, Nevada
Price: $79+ per night
Adorable and affordable are the two perfect words to describe this tiny 1947 Mt. Charleston Cabin. The only things more impressive than the price are the modern interior and cozy backyard fire pit! This cabin has one bedroom but sleeps up to four, is just 25 minutes from Lee Canyon ski resort (the areas main attraction!), and just 45 minutes from the Las Vegas Strip. If you're a couple searching for a romantic getaway, or a small group of friends wanting a cheap yet chic stay near to skiing as well as all of Vegas' offerings, this is the place for you. Don't miss it!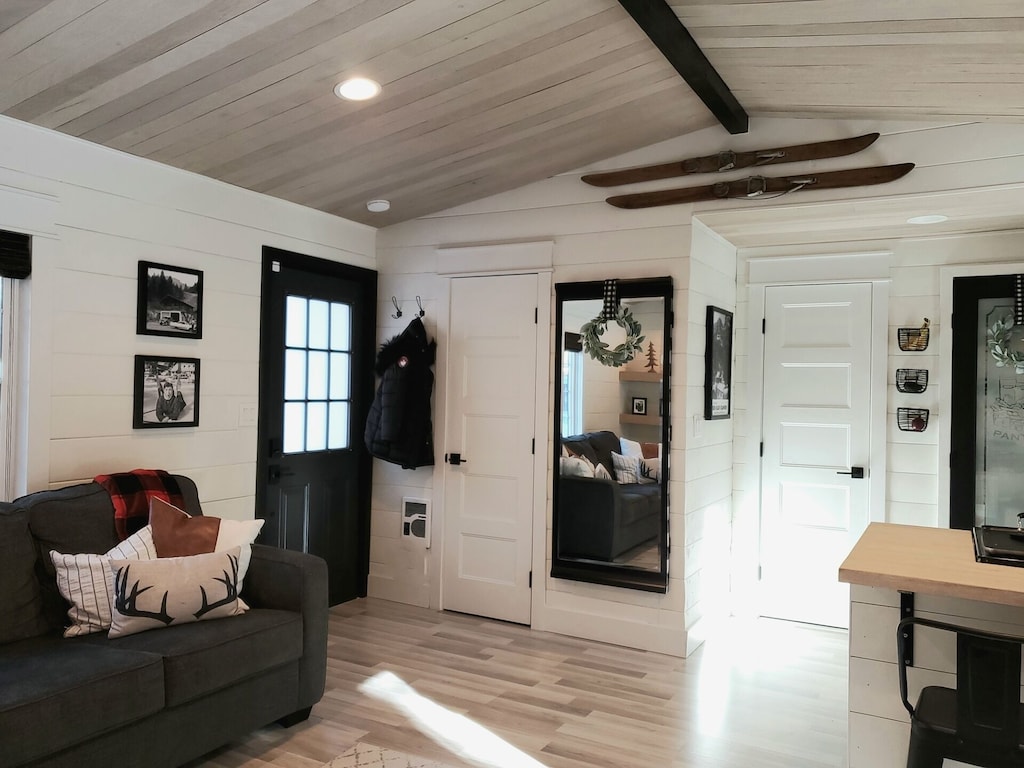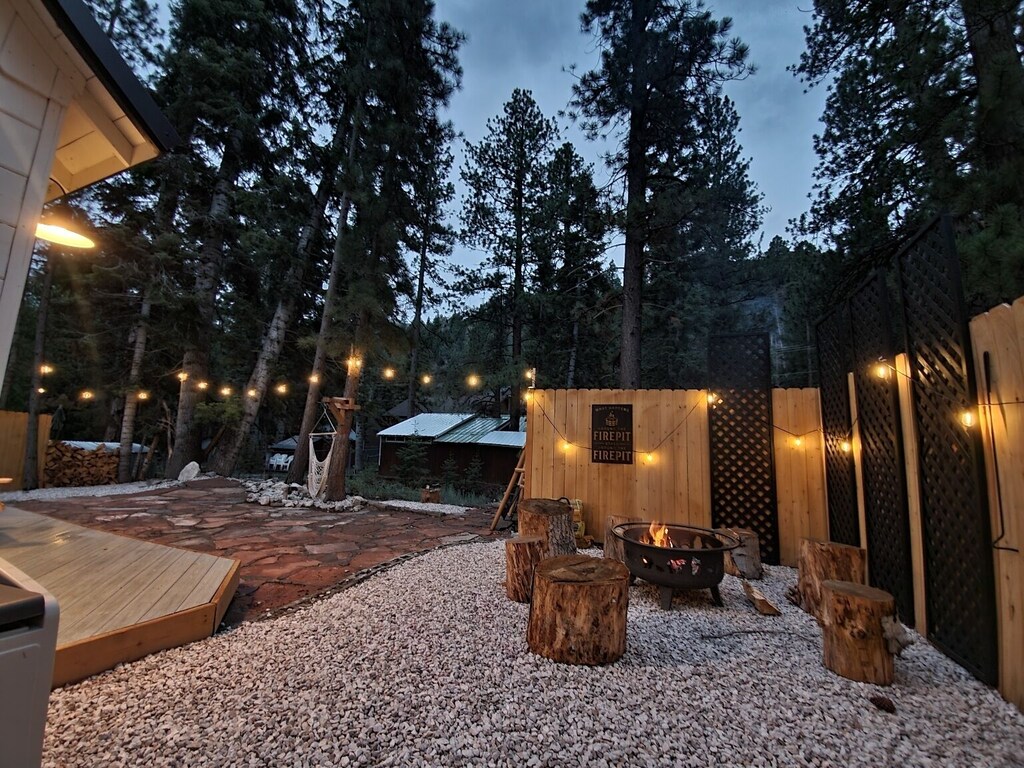 ---
3. Cozy Cabin Retreat
Location: Eureka County, Nevada
Price: $110+ per night
This cozy cabin retreat is surrounded by idyllic and sprawling nature, and has old-timey touches alongside modern amenities to make your stay comfortable yet memorable. You can curl up next to the wood stove, take in the views from the ample porch space, or stroll amongst the rustic buildings (be sure to check out the ghost town if that's your thing!) on the property to the owners' hot spring heated pond full of catfish and goldfish. This place is truly remote, scenic, and near to the United States' "loneliest highway" (US Highway 50). There's history, nature, and peaceful tranquility all at your front door!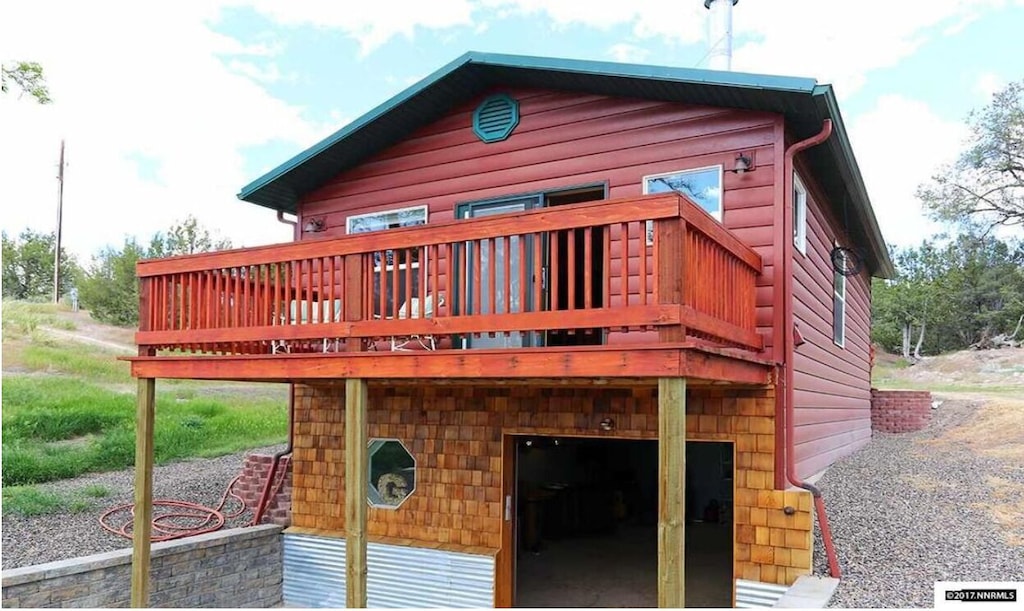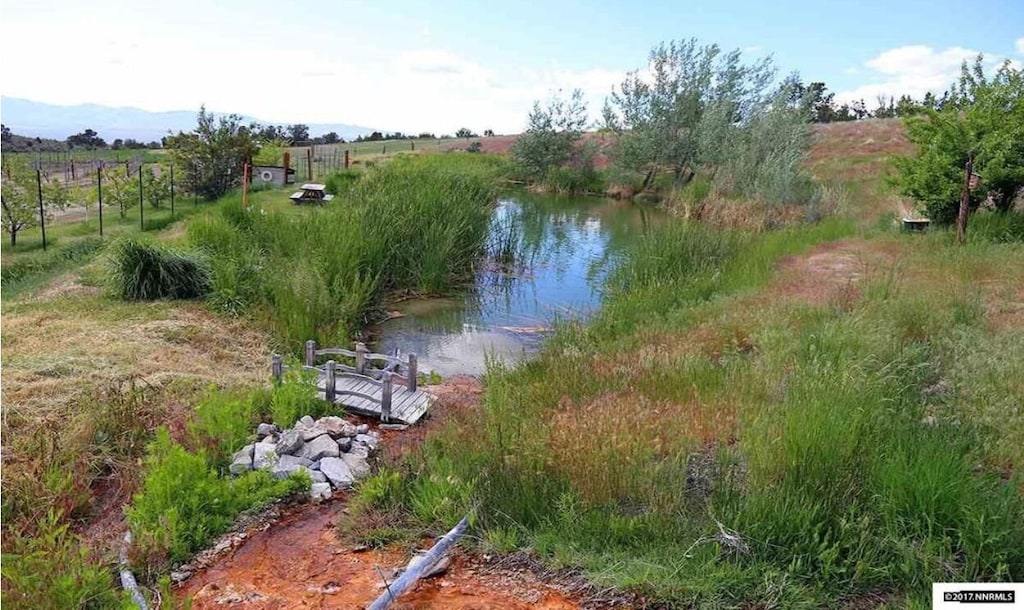 ---
4. Luxury Lakefront Lake Tahoe Cabin with Hot Tub
Location: Lakeridge, Nevada
Price: $1117+ per night 
Starting off the list is the luxurious "Lakefront Cabins" with an astonishing view of Lake Tahoe from all the different bedrooms. The cabin is very spacious and can accommodate ten people very easily!
Alongside the Beautiful view of the lake and wondrous sceneries, the cabin provides a luxurious and elegant standard of accommodation. The cabin has 5 bedrooms, 4 bathrooms, a kitchen, living room, and a vast deck presenting a panoramic view of the Lake.
This cozy cabin has all the modern household facilities with the availability of a super host. A hot tub, BBQ facility, and a sandy beach make it a perfect destination for your holidays.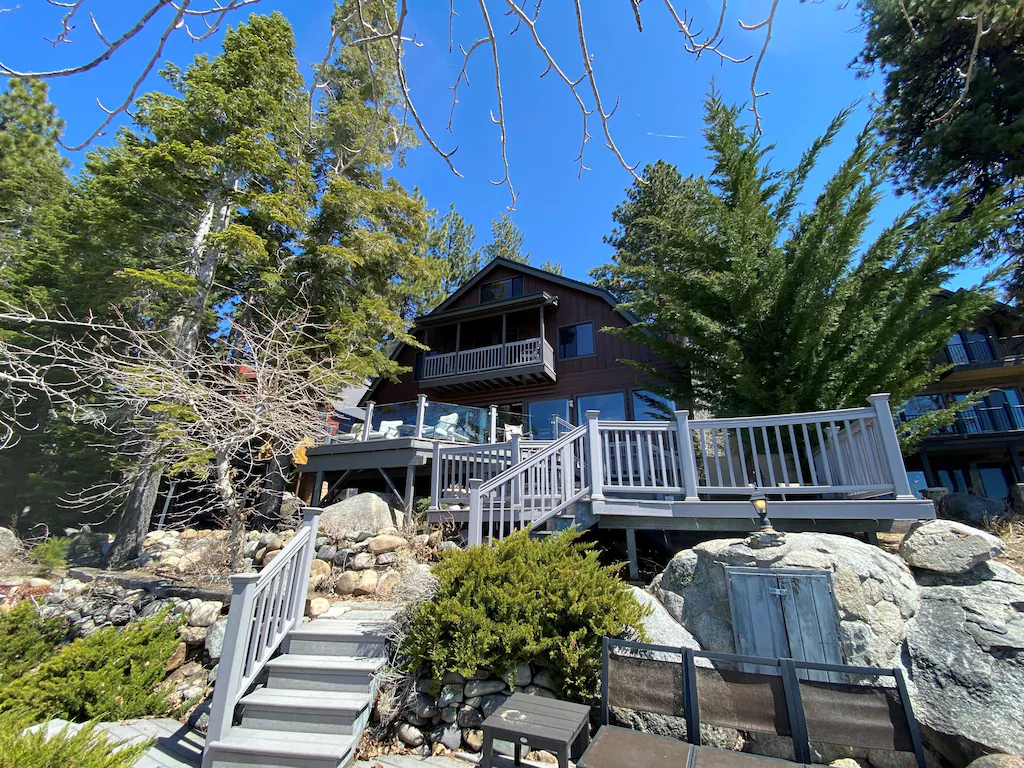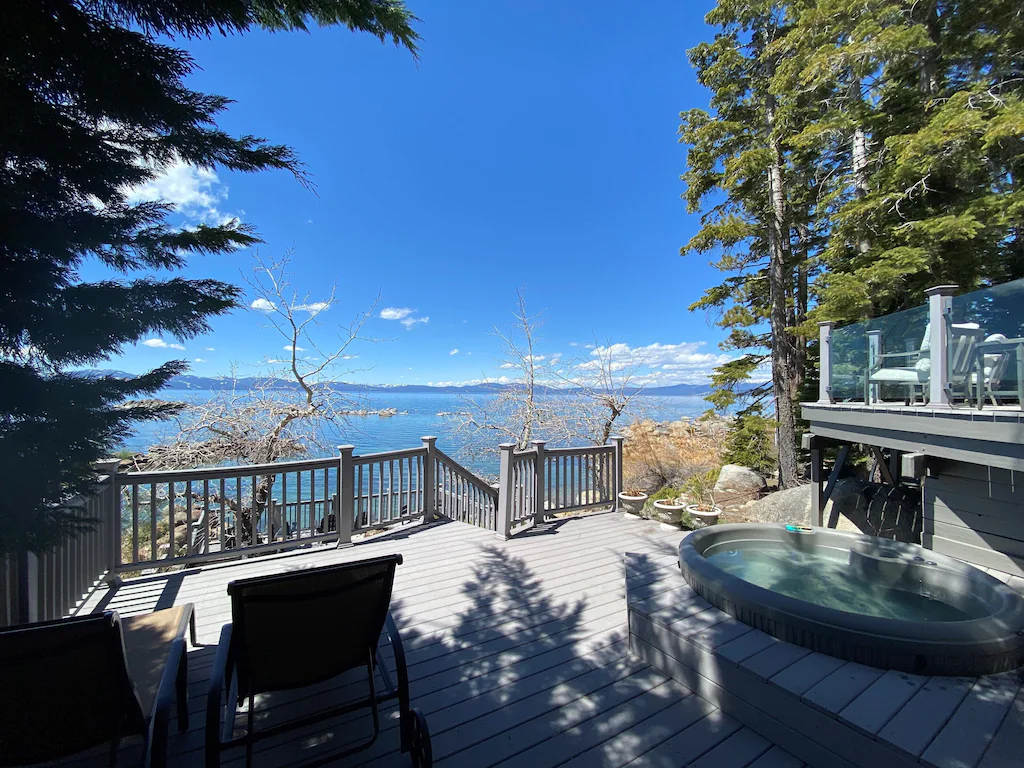 ---
5. Secluded & Contemporary 5-Star Cabin
Location: Incline Village
Price: $425+ per night 
Have some cash in hand? This luxury cabin in the middle of the woods is the place for you. Located on 5 acres of forest land, this place gives a perfect cabin vibe in the woods.
The cabin has three bedrooms, two bathrooms, and it can easily accommodate six people. The facilities of kitchen, dining area and a deck are also available. The visitors can also enjoy different beaches, including sand boat beach and Sand harbor.
If you are searching for a cabin with a perfect 5-star rating, this contemporary five-star chill cabin perfectly meets your criteria.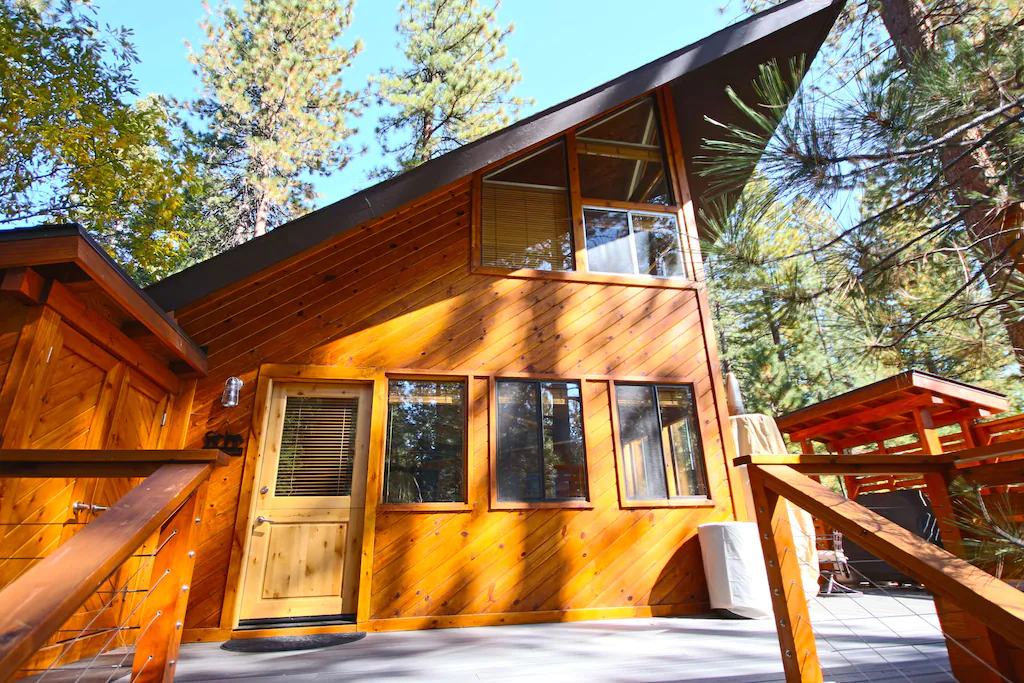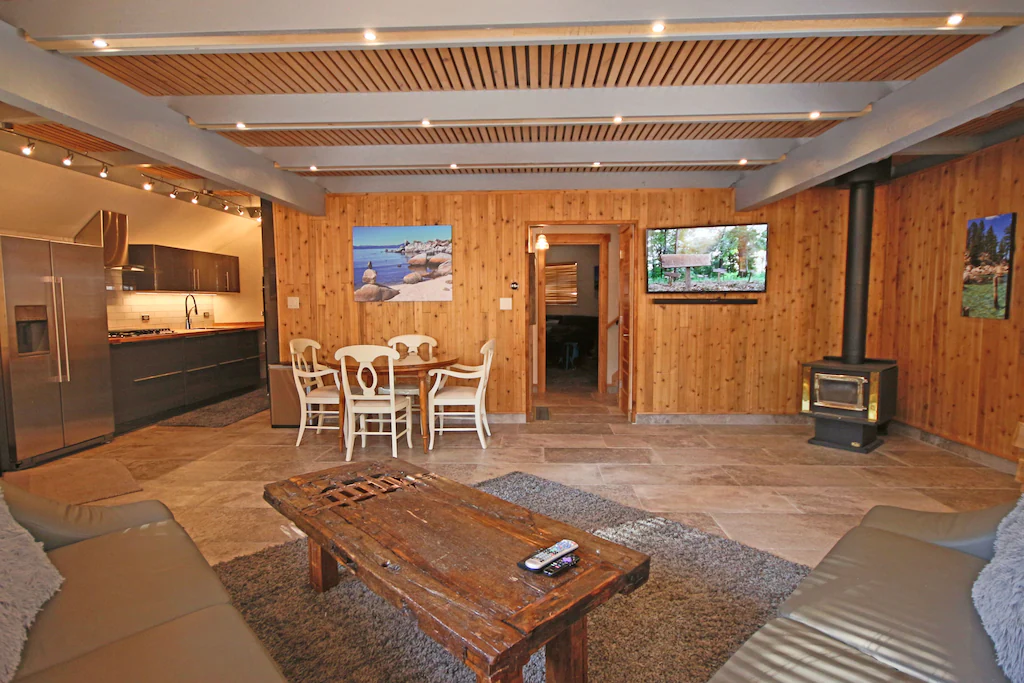 ---
6. Stunning Lake Tahoe Cabin
Location: Zephyr Cove, Nevada
Price: $588+ per night
https://www.vrbo.com/9574578ha
This wonderful cabin on the shores of Lake Tahoe is a perfect destination to escape from the hustle and bustle of your daily life and find some serenity in the mountains of Zephyr cove.
Presenting the astonishing views of Sierra Nevadas, this cabin is a three-bedroom and two-bathroom accommodation with all necessary modern amenities required for a basic household. If you want to explore the Lake Tahoe or Cave Rock, this place provides a perfect opportunity most elegantly.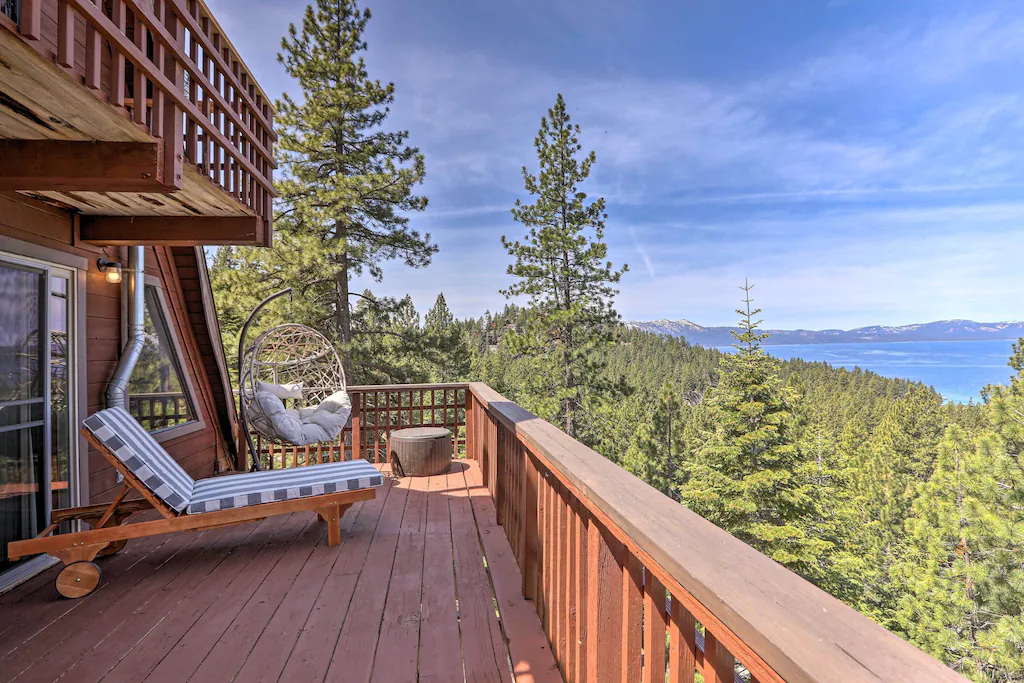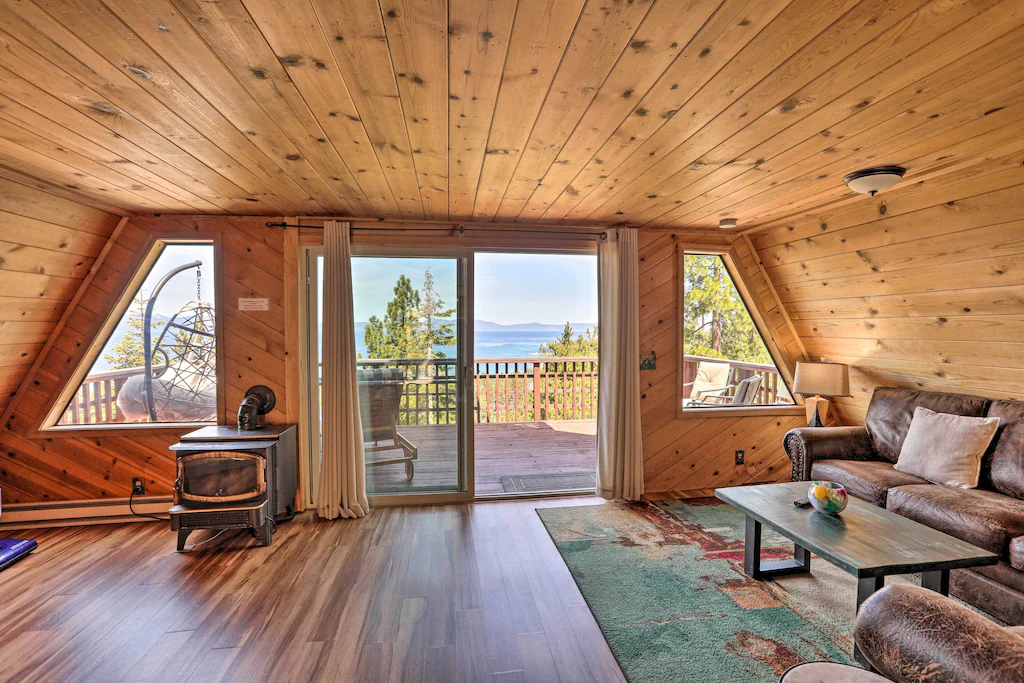 ---
7. Amazing Grace Lodge Cabin
Location: Reno, Nevada
Price: $350+ per night
Looking for a rustic mountain cabin with the serenity of nature and panoramic view? This Amazing Grace Lodge offers everything you are searching for.
Located in the middle of a largely rural area, this place has three bedrooms, four bathrooms, a kitchen, a patio, and beautiful architecture, making it an incredible place to stay for your Reno explorations!
Alongside all these facilities, the accommodation provides an opportunity for skiing at Mountain Rose and the historic city of Virginia. It also allows access to the best places in Reno, making this fantastic cabin a complete package for your vacation needs.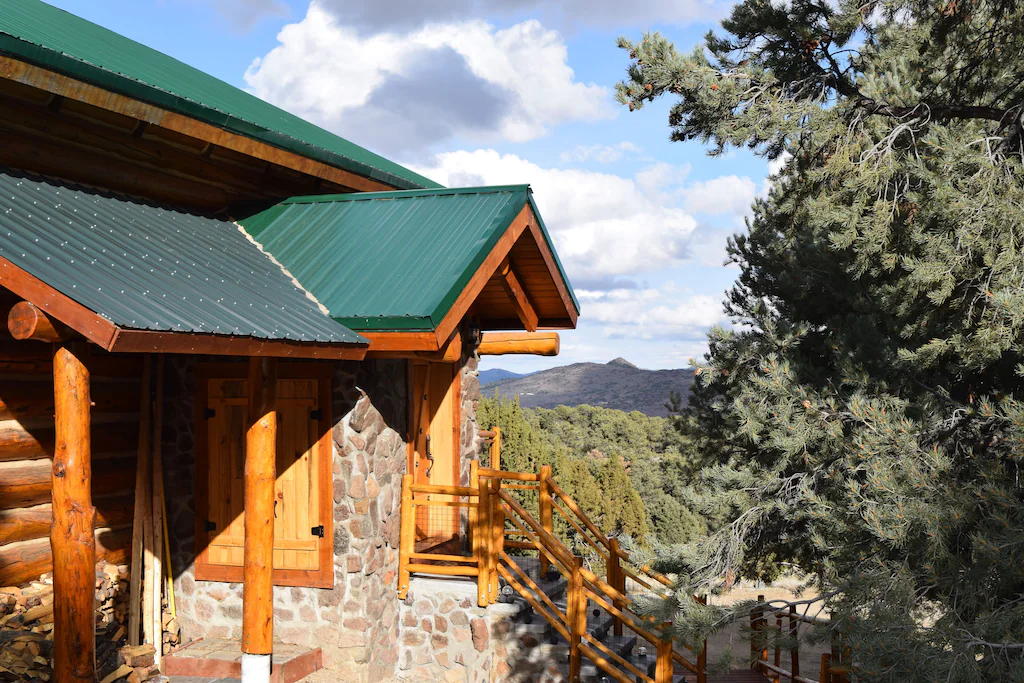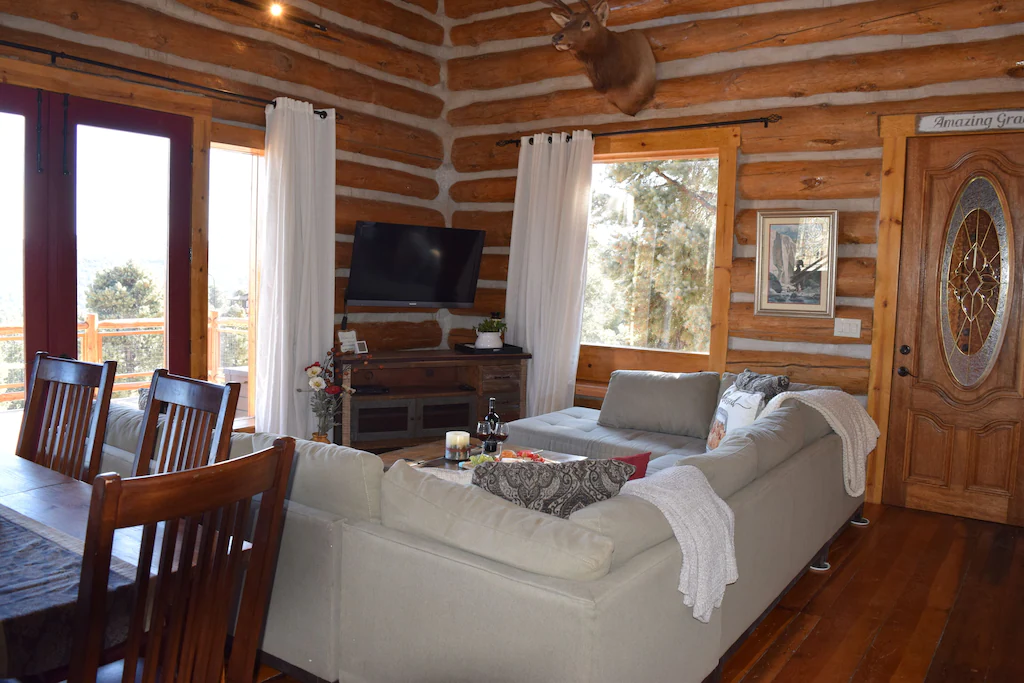 ---
8. Cozy Nevada Cabin with a Fireplace
Location: Tyrolian Village, Nevada
Price: $214+ per night
This modern and beautiful cabin with a unique and colorful interior can be a place of choice for your vacation plans. Want to play some tennis and other games during your visit? Cozy cabins are all set to welcome your visit.
This place is located near the Incline village with easy access to nearby recreation center which has all the indoor sports and exercise facilities. The cabin has three bedrooms, two bathrooms, a living room, and a kitchen with basic utensils and supplies.
If you are interested in experiencing the peace of mountains and don't want to leave your pets back home, then you won't find a place better than cozy cabins in Tyrolian Village in Nevada.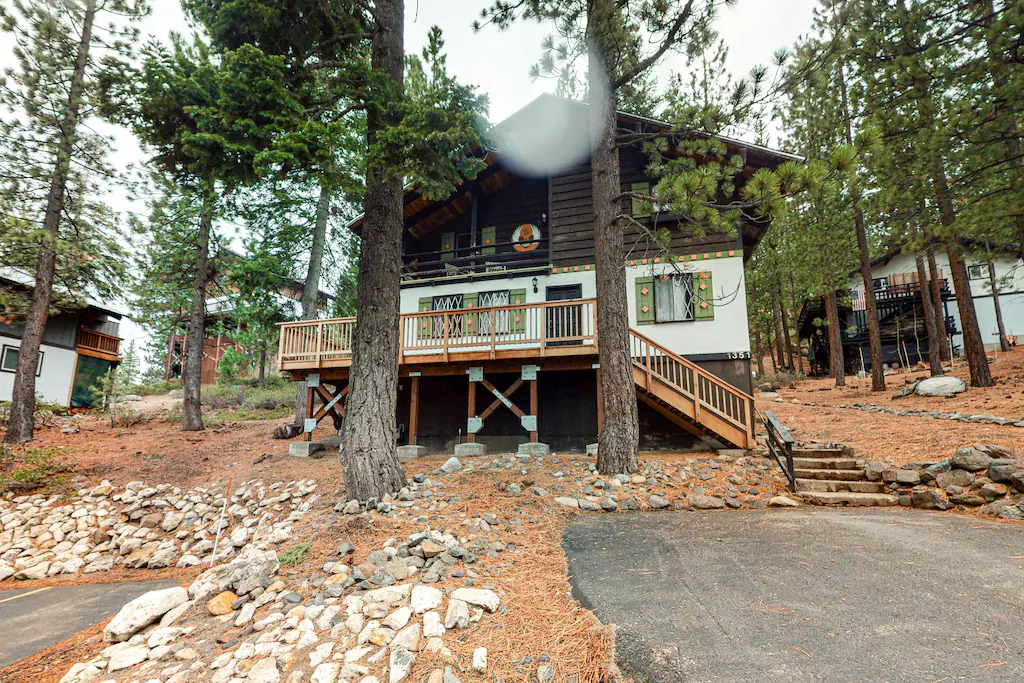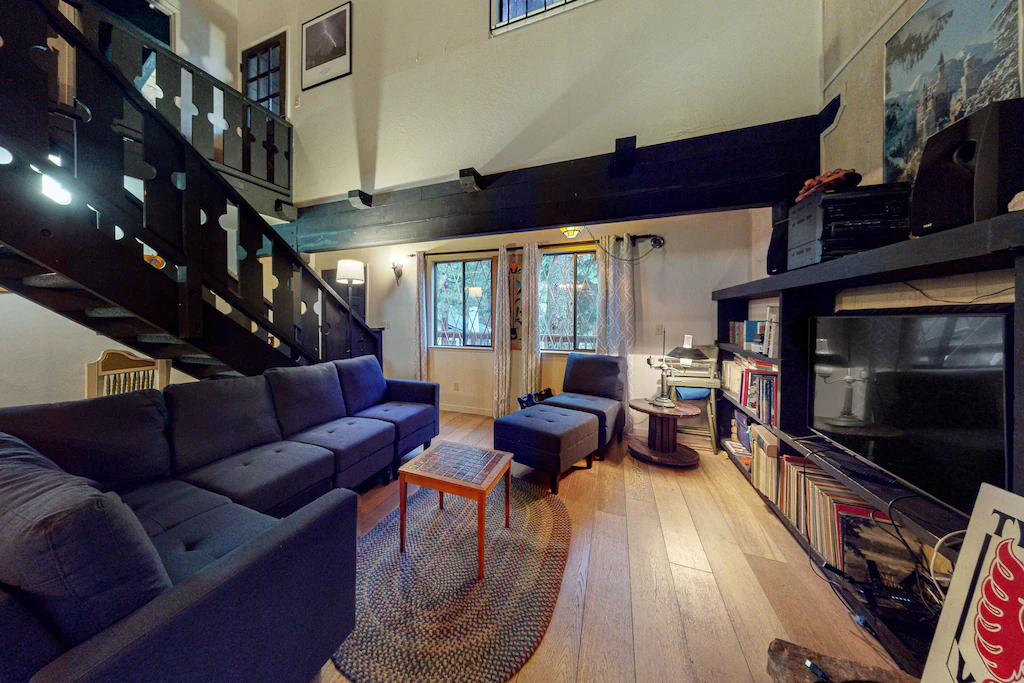 ---
9. Stagecoach lift Cabin
Location: Tahoe Village, Nevada
Price: $511+ per night
https://www.vrbo.com/3685330ha
If price is not the issue and the ultimate luxurious mountain experience is the requirement for a family trip, the Stagecoach lift Cabin provides a premium class accommodation facility meeting most of your needs.
The Cabin has five bedrooms with two bathrooms, a kitchen, deck, and a living room. Each room is fully furnished, having the facility of big-screen TVs. Located at a small distance from the Stagecoach lift, this place has everything from the serenity of mountains to casinos and gaming, from shopping to entertainment. Everything is just minutes away from this place.
If you want to spend some quality time and experience a Sauna surrounded by pine trees touching the skies, then the Stagecoach lift Cabin will not disappoint you.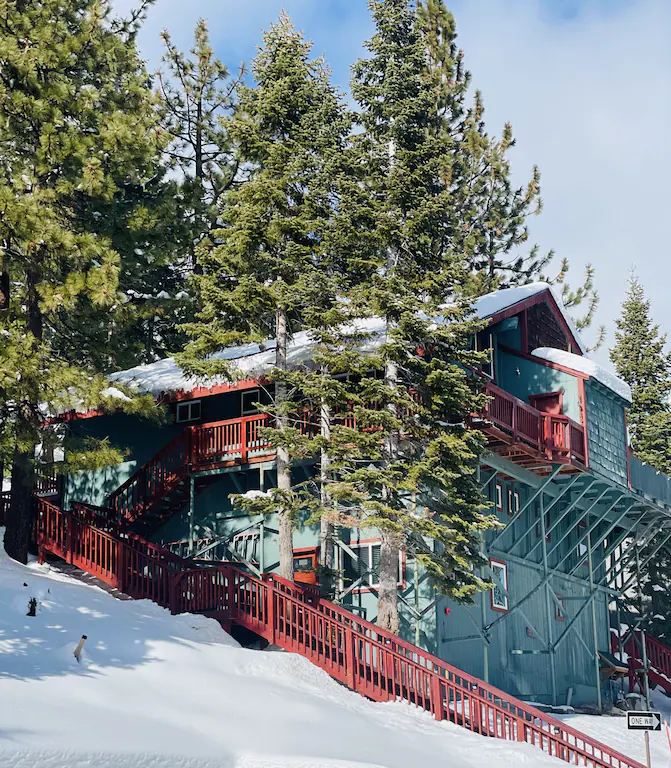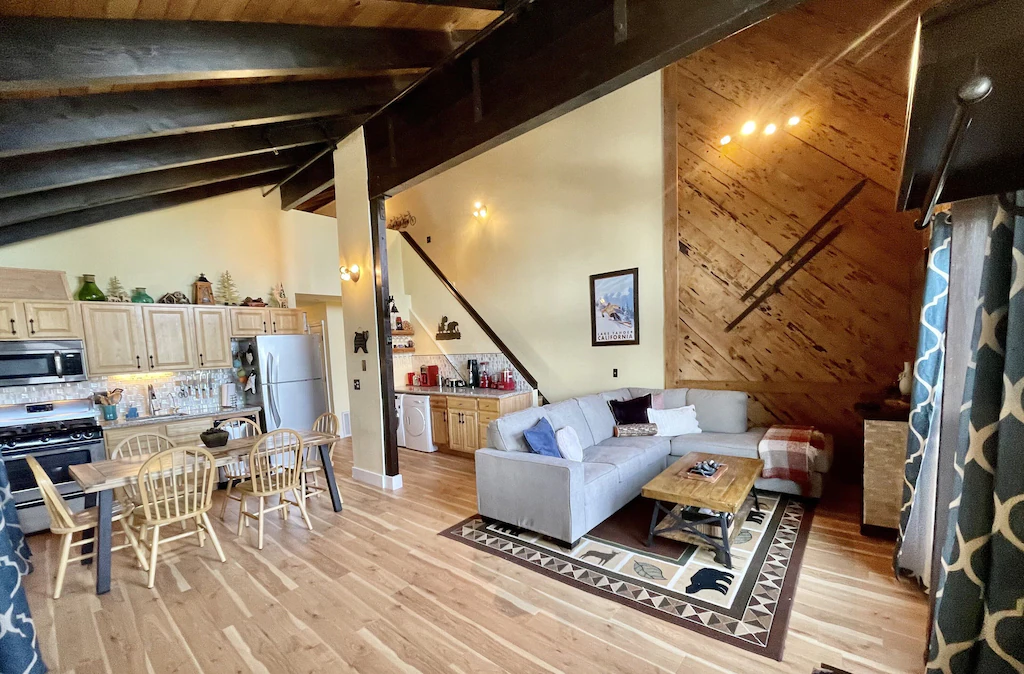 ---
10. Hummingbird Tiny House
Location: Sandy Valley, Nevada
Price: $101+ per night
https://www.airbnb.com/rooms/11941717
Located in the middle of the Mojave desert, this tiny Hummingbird house is a piece of art and unique architecture. The calmness of the desert and the stars above your head during the nights can make your stay here is worth remembering.
Located just one hour drive from Las Vegas, this tiny house has everything you need for your vacation. Have you ever heard of Death Valley, Hot springs, and Ghost towns? Yes, this place makes it possible to access these places without any problem. This house can easily accommodate three people with one bedroom and a bathroom.
Planning to visit Sandy Valley in the future? Don't forget the Hummingbird Tiny House. This cabin won't disappoint you!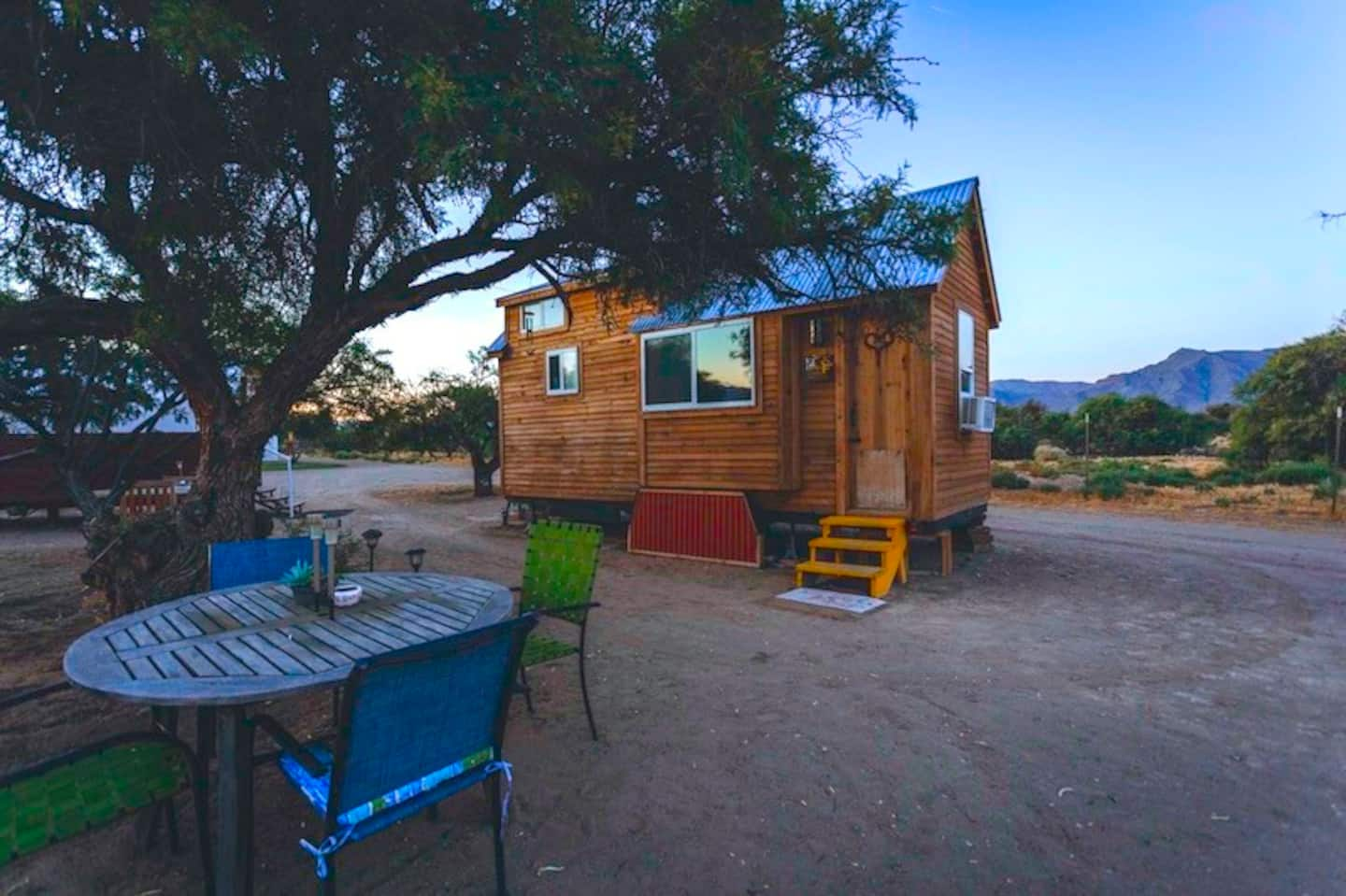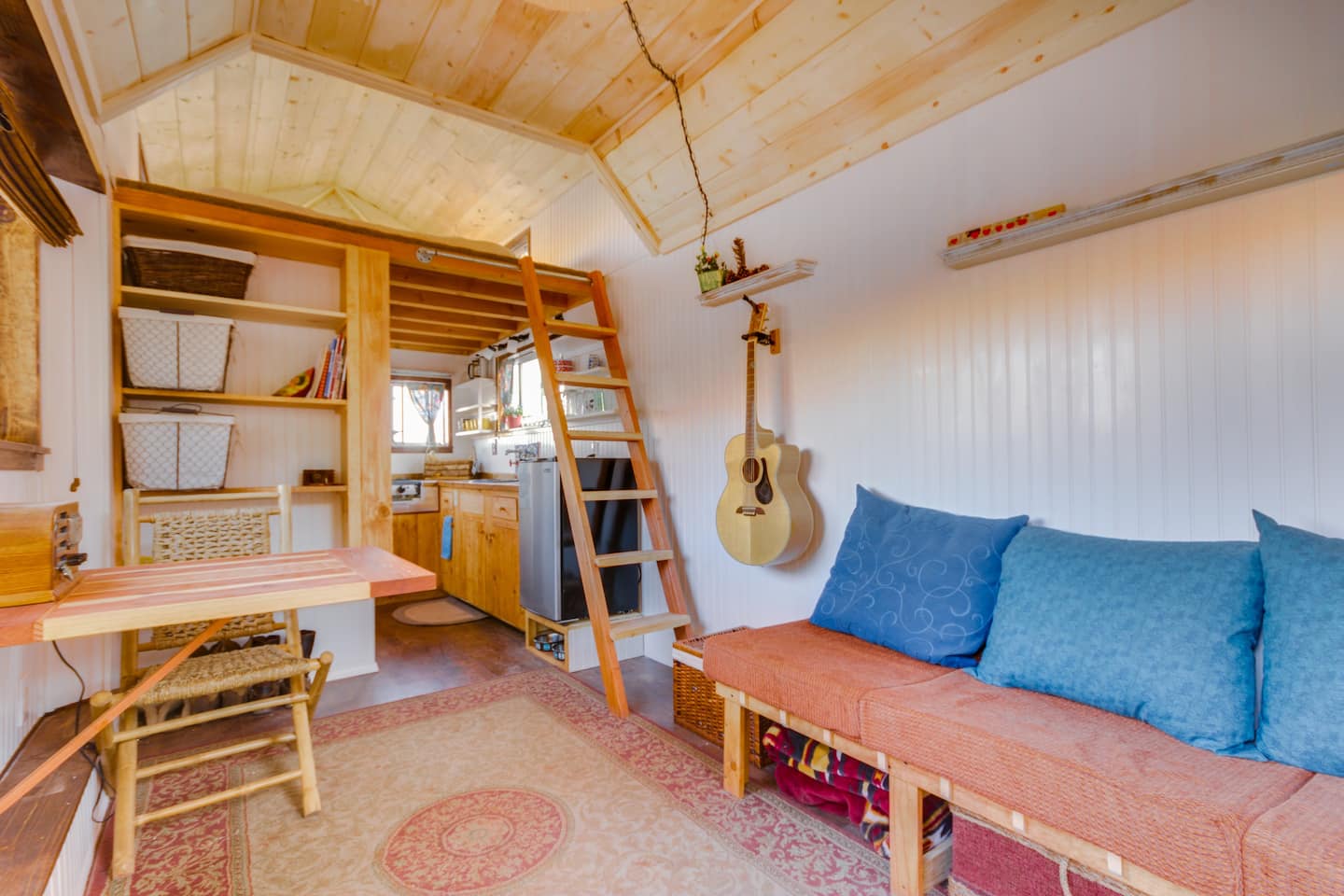 ---
11. Luxury Lake Tahoe Mountain Cabin
Location: Incline Village, Nevada, United States
Price: $375+ per night
https://www.airbnb.com/rooms/42312394
Looking for a newly renovated place and interested more in some modern and unique interior?, this Lake Tahoe Mountain Cabin is the place worth giving a try.
Located in the Incline Village, this Cabin provides the facility of a super host. The cabin has three bedrooms with three bathrooms and can easily accommodate six people. The beautiful and recently updated interior of the place gives a refreshing look to the house, and Lake Tahoe, just 2 kilometers from the cabins, makes it a perfect choice for the tourists visiting Lake Tahoe.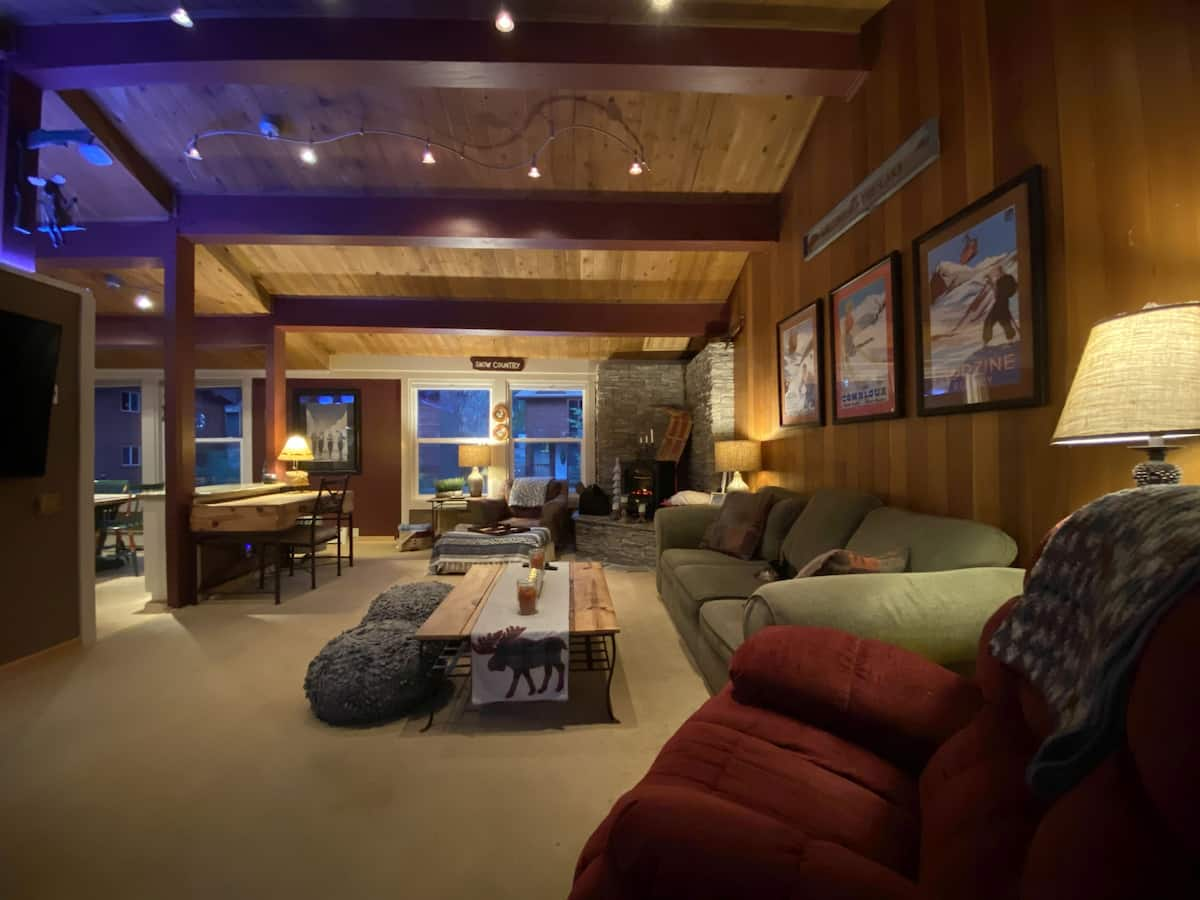 ---
12. Sun Cabin
Location: Pahrump, Nevada, United States
Price: $65+ per night
https://www.airbnb.com/rooms/22815795
This cool and unique cabin is a perfect connection between the hectic urban life and the serenity of nature. Located somewhere between Las Vegas and Death Valley, this place is perfect for escaping the urban hustle and seeing stars.
Located in Pahrump, a small and town near Las Vegas can serve as suitable accommodation for three people very conveniently. 2 bedrooms, one bathroom, and the availability of a super host can make your holidays easier and more comfortable. The half-acre area of the cabin is fully fenced, and it has all the basic facilities and the amenities required for a short stay. Don't want to go far away from Las Vegas? Try this place.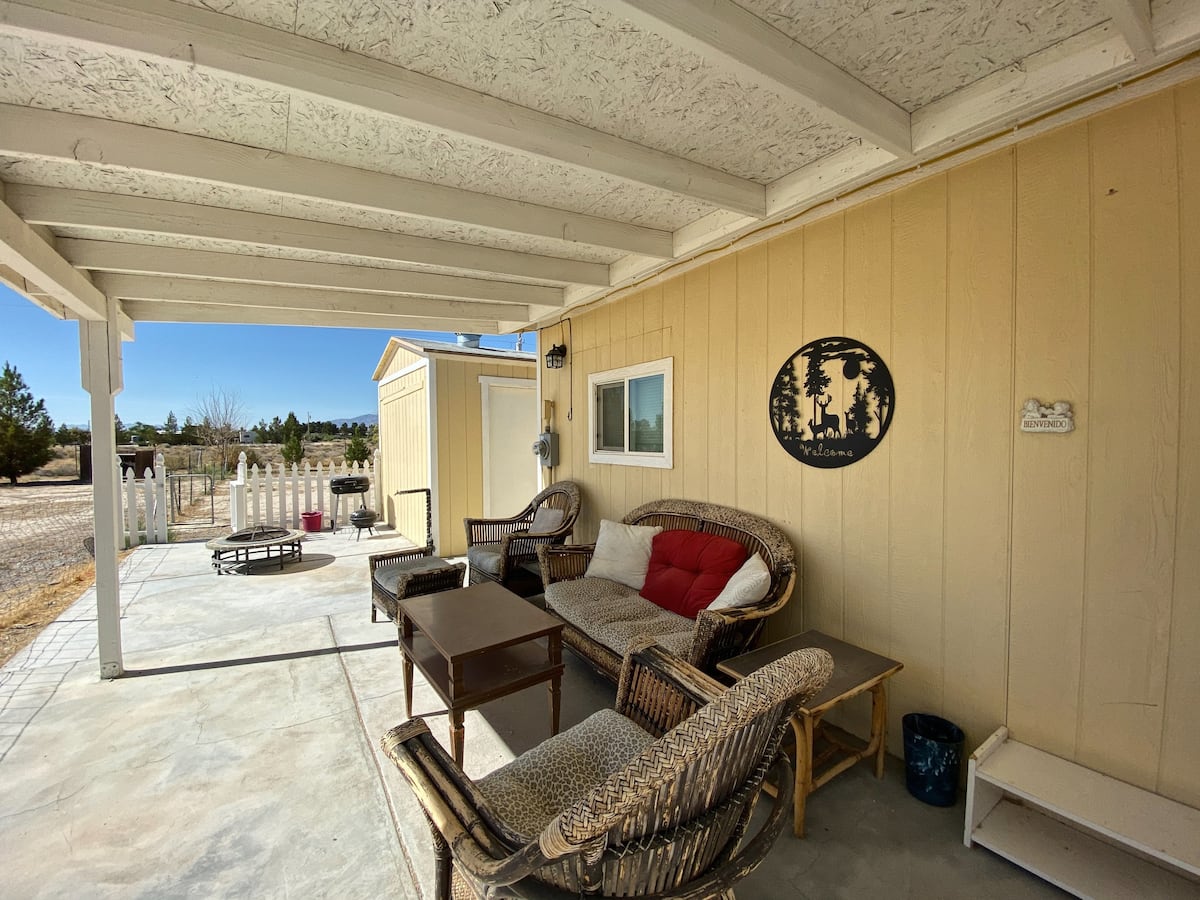 ---
13.
Charming 2 bedroom Cabin
Location: Mount Charleston, Nevada
Price: $103+ per night
https://www.airbnb.com/rooms/52676093
Located at a drive of just 45 minutes from the city of Las Vegas, the charming bedroom Cabin is perfect for any time of the season due to the weather and the availability of various places accessible from the cabin
Located near Mount Charleston, this place is a cheap getaway to spend some short holidays in the area. The hiking and mountain biking opportunities make this place more attractive for tourists visiting Mount Charleston.
This cabin has two bedrooms and one bathroom, and it can easily accommodate six people. All basic facilities are available within the cabin, and the super host is also there to take care of all of your needs.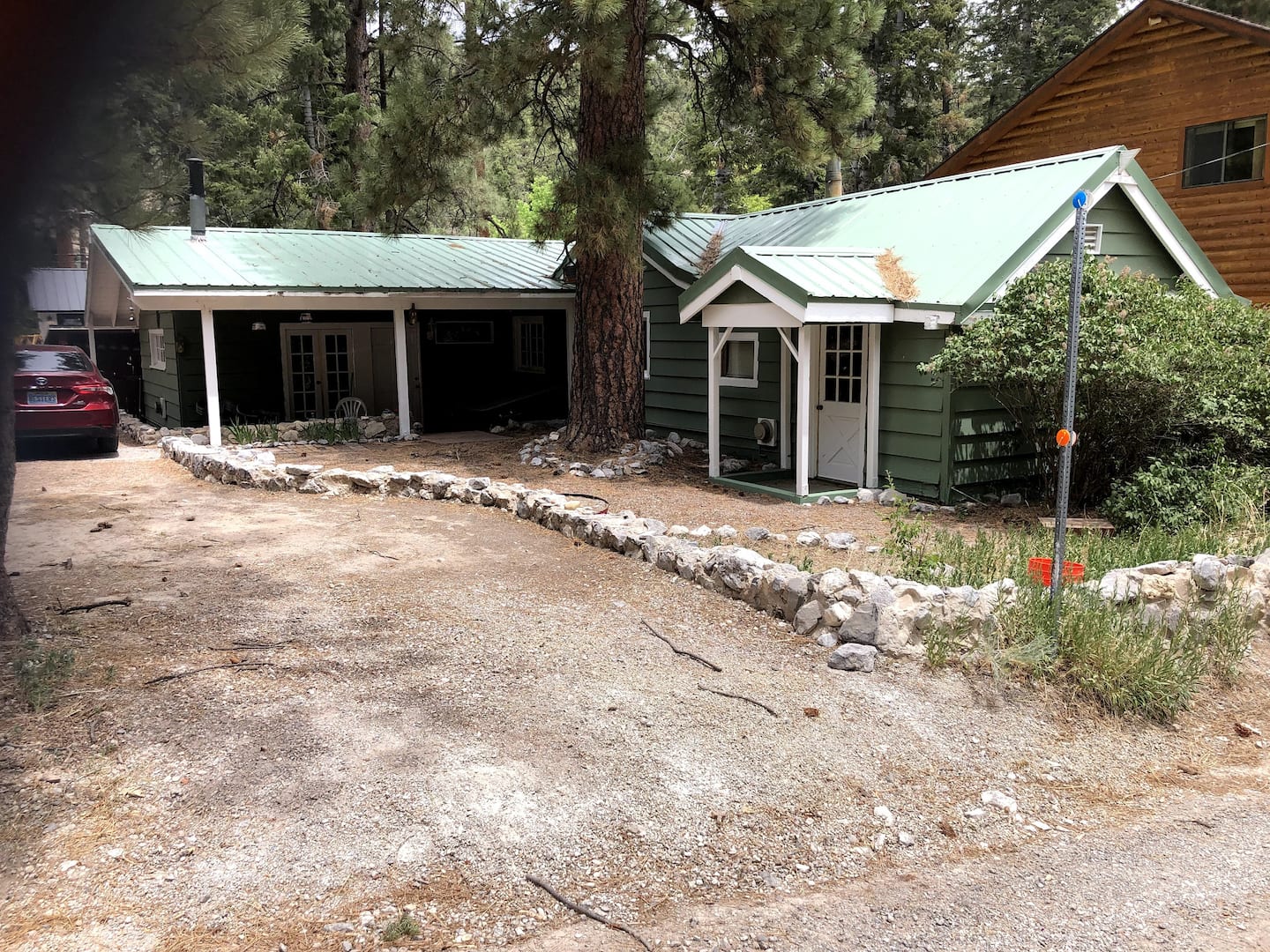 ---
14. Designed To Death Cabin
Location: Beatty, Nevada, United States
Price: $326+ per night
https://www.airbnb.com/rooms/31180416
Airbnb has a Great collection of some unique and cool places, and this Designed to Death Cabin in Nevada is one of those.
This cabin is a perfect luxury getaway if you are interested in exploring some desert life. Located at a short distance from death valley national park, this perfect name gives it a unique attraction that most other rentals can't offer. 2 bedrooms and two bathrooms are part of the cabin alongside a kitchen with all of its amenities. A big 47 inch TV can make your experience more exciting and full of entertainment.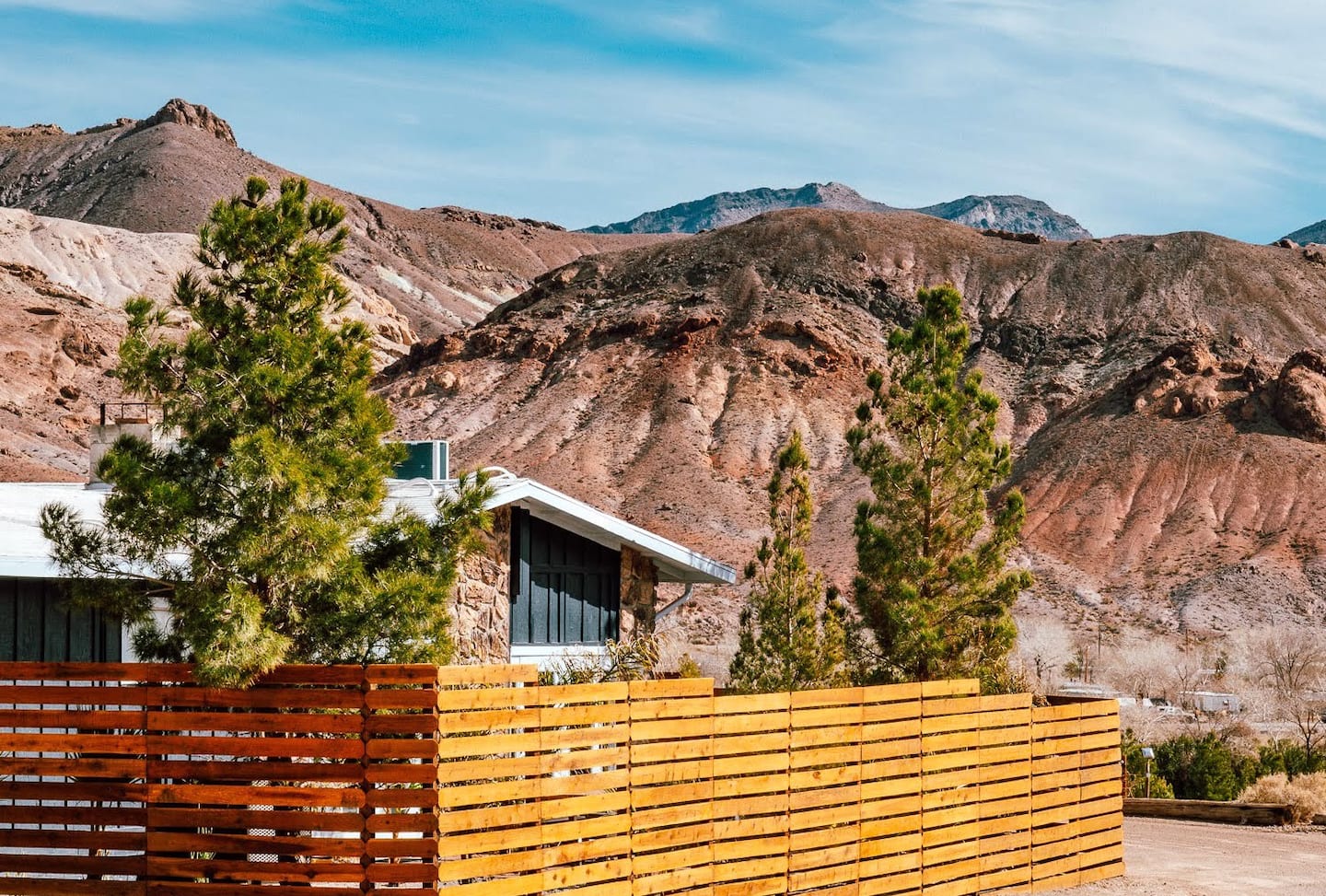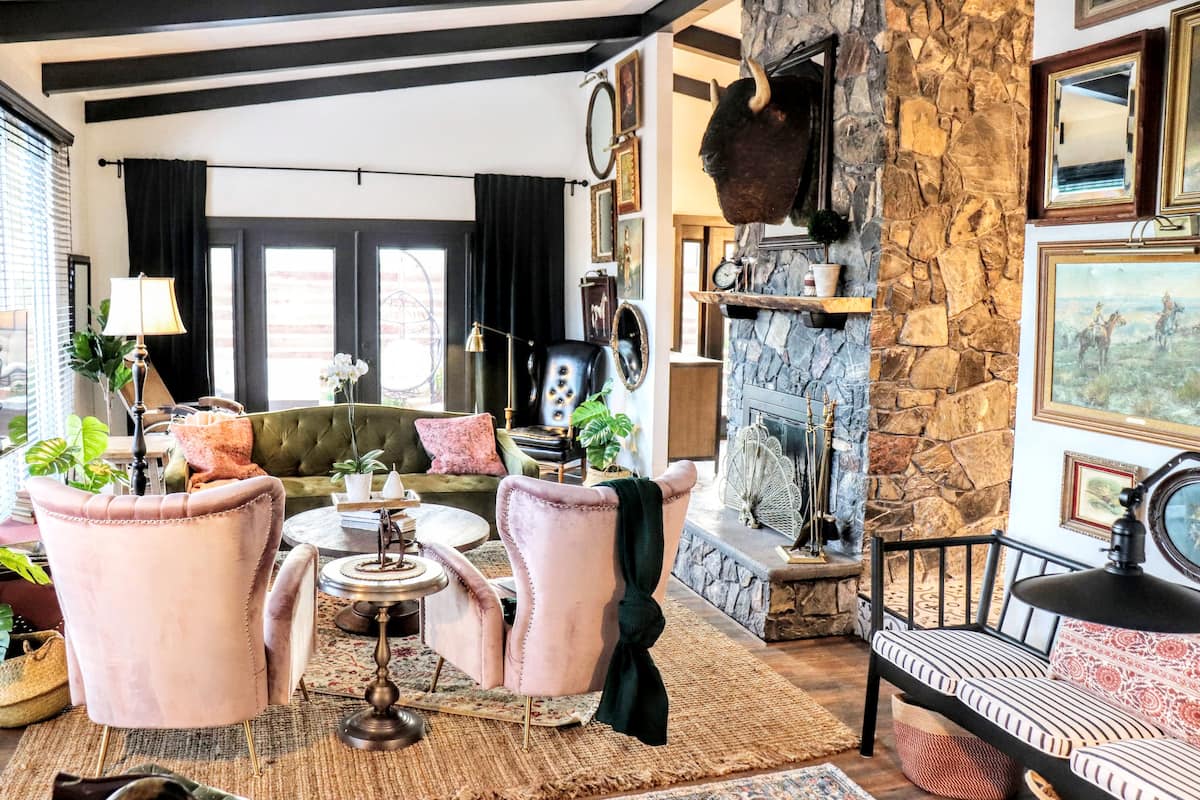 ---
15. Peacock Tiny House near Las Vegas
Location: Sandy Valley, Nevada, United States
Price: $123+ per night 
https://www.airbnb.com/rooms/16585224
If you are searching for some cool getaways near Las Vegas and don't give this tiny Peacock house a chance to host you, this would be an injustice to this tiny beautiful piece of art. 
This beautiful hideaway in the middle of a desert is at a distance of just one hour drive from Las Vegas. Tea Copa Hotsprings and the Death valley are also easily accessible from this place. The Cabin has a single bedroom with an attached bathroom, and it can accommodate three people. Some basic household facilities are also available, including a fridge, a stove, and hot water showers.
Fancy a short romantic holiday visit to this place with your partner? Then don't delay. This place is waiting to host your most memorable moments.