Planning a trip and looking for the coolest and most unique A-Frame Cabin Rentals in Washington? Well, look no further, as I've put together this amazing guide to 7 amazing places to stay for a Pacific Northwest cabin getaway that you'll absolutely love!
Whether you're on a weekend getaway or extended road trip through this wondrous destination, a stay at one (or more) of these A-Fram cabins will provide a luxurious experience perfect for experiencing Washington the right way!
From Skykomish to the German inspired town of Leavenworth, keep reading to discover what I think are the COOLEST A-Frame Cabins in Washington!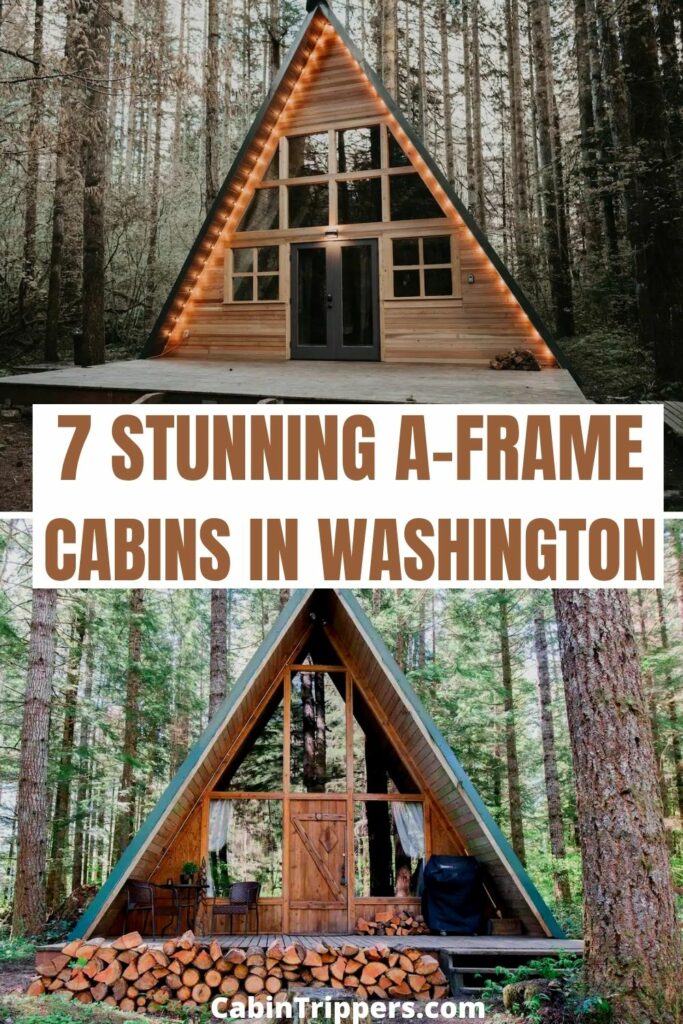 ---
Tye House Cabin in the Woods w/ Hot tub!
Location: Skykomish, Timber Lane Village, Washington
Price: $366/night
https://www.airbnb.com/rooms/1974939
Nestled amongst the trees in the private cabin community of Timber Lane Village sits this peaceful hideaway. As the closest cabin with electricity to Steven's Pass Ski Resort, this 1100 sq ft classic A-frame cabin is the perfect spot to retreat in nature without compromising comfort. Located minutes from the ski resort and some of the best hiking spots in the central cascades, guests will be happy staying here during both the winter and the summer. 
For the hikers out there, the property also provides maps of nearby hiking trails leading to private beaches and picturesque views of rivers and surrounding forests. After a long day on the slopes or out in the woods, guests are guaranteed a good night's rest on the cabin's down comforters and linen sheets. The cabin sleeps 4 with a queen bed in the loft, long twin daybed downstairs, and a foldaway single bed as well. 
For anyone looking for a beautiful stay-cation in nature this is the spot. You are sure to find solace in this fully furnished home complete with a fully stocked kitchen, 32" TV (Netflix, Amazon, etc.), DVD player, high speed internet, board games, a great collection of classic movies, and a hot tob off the new deck.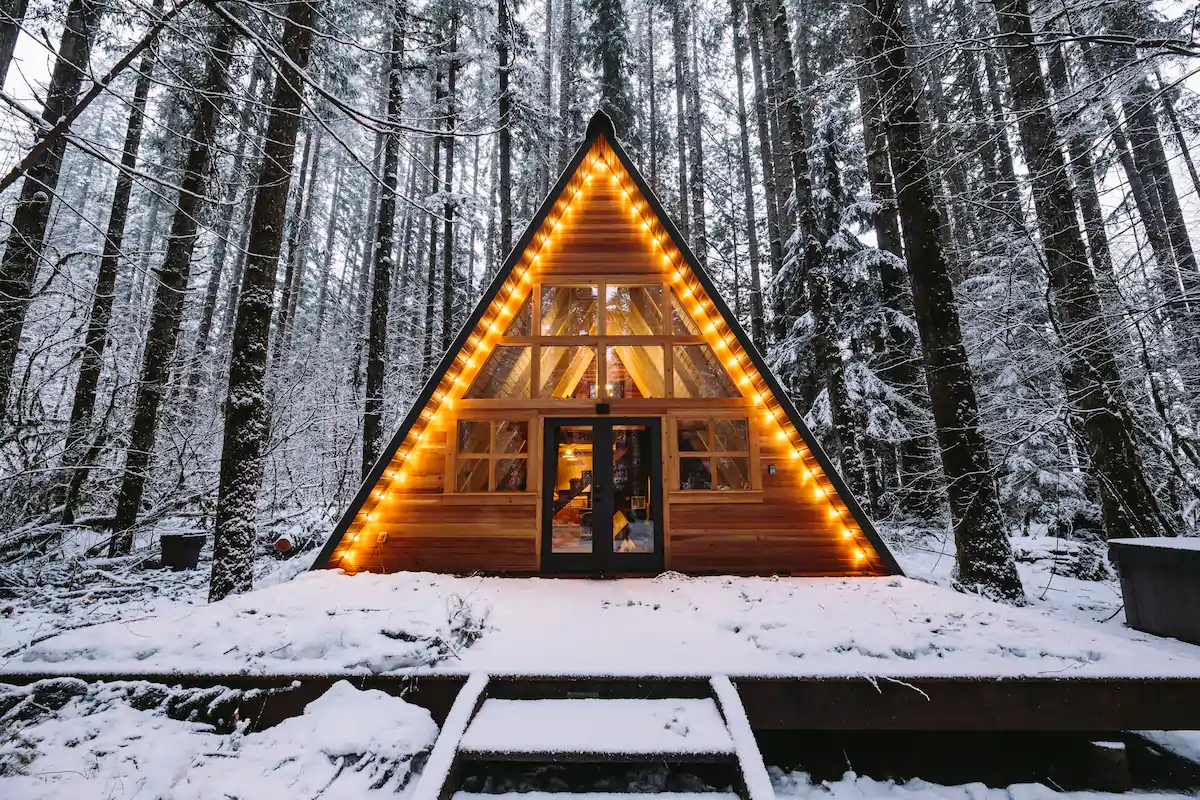 ---
Hebe's Hideout Wooded Paradise near Mount Rainier
Location: Ashford, Washington
Price: $173/night
https://www.airbnb.com/rooms/12330835?
Close to Mount Rainier and a 1 minute walk to the Nisqually River, this cabin in the woods is perfect for all outdoors enthusiasts. It is a perfect place to enjoy nature's serenity in style and comfort. Equipped with a wood stove, TV, and fire pit this A-frame makes a great post hike relaxation den and is a perfect getaway for couples or friends. 
The 700 sq ft cabin sleeps two with 1 bed and 1 bath. A loft bedroom and fully stocked kitchen make this a cozy home away from home. With no cell reception, you can easily escape the hustle and bustle of the digital world however if you need to stay connected there is Wifi.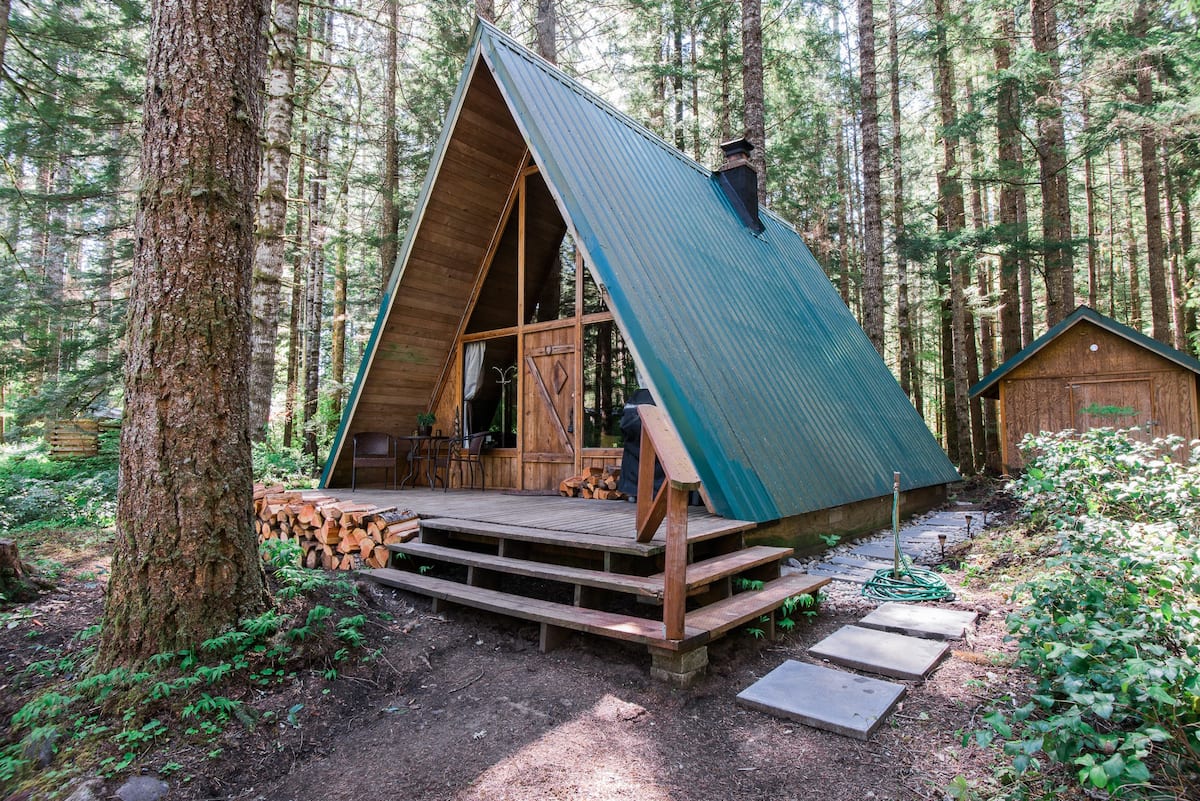 ---
A Haus Away Leavenworth A-Frame Cabin
Location: Leavenworth, Washington
Price: $368/night
https://www.airbnb.com/rooms/48016958
Nestled between Aspen and Pine trees a top 5 acres of land within walking distance to Nason Creek, A Haus Away is in a perfect location for all adventure enthusiasts. 20 minutes from Leavenworth, 15 minutes to Lake Wenatchee and 20 minutes to Stevens Ski Resort, this cozy and chic A frame provides easy access to skiing, sledding, snowmobiling, snowshoeing, fishing, climbing, hiking, and more. 
The home can sleep up to 6 guests with 2 private rooms with queen beds downstairs and a large loft upstairs. The downstairs also has an open living room, kitchen, and dining area. A perfect getaway for family or friends, the cabin comes with a variety of movies, games, and puzzles to play with along with a fully equipped kitchen, including a Nespresso machine and milk frother for your perfect morning cuppa.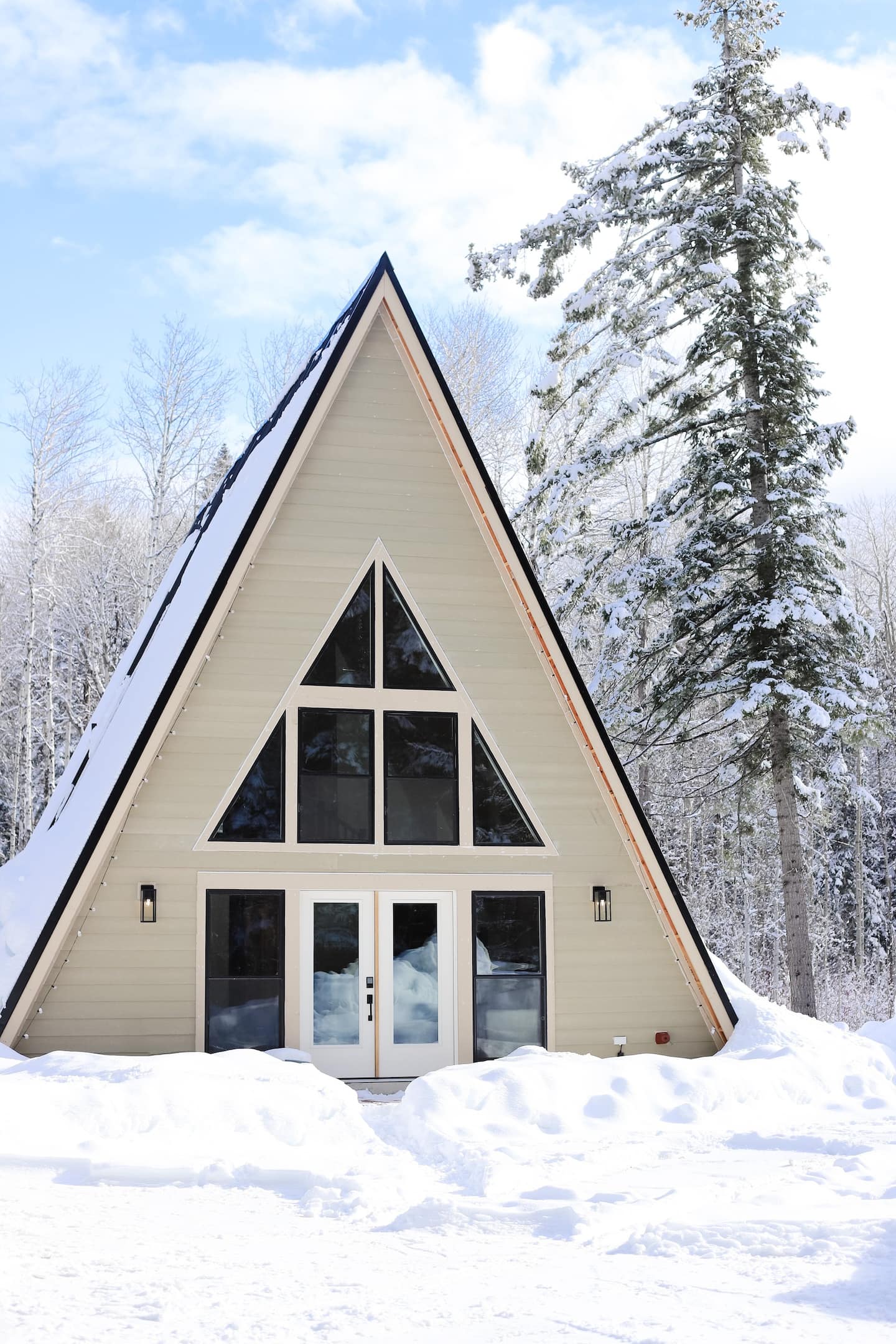 ---
Lovely Cozy Cabin at White Pass
Location: Packwood, Washington
Price: $215/night
https://www.airbnb.com/rooms/20268235
This gorgeous and spacious cabin is located near Mount Rainier and White Pass Ski Area. With a big hot tub and cozy fire-pit, the cabin is made for guests to feel completely relaxed and at home during their stay. The cabin is set up with an open concept living/dining/kitchen area and high ceilings to make group gatherings easy. It is the perfect spot for a family or friend reunion!
The cabin can sleep 7 guests with its 3 bedrooms and 2 baths. The master bedroom has its own bathroom and TV. There is another TV in the common area, both TVs equipped with chromecast, Netflix, Disney+, ESPN, Hulu and DVD players, perfect for relaxing days spent inside. The kitchen is also fully equipped with all you need to make family meals as well as a coffee grinder and french press for your morning cup of joe. Outside has many inviting areas to hang out including the deck with patio seating, the hot tub, fire pit, and picnic table.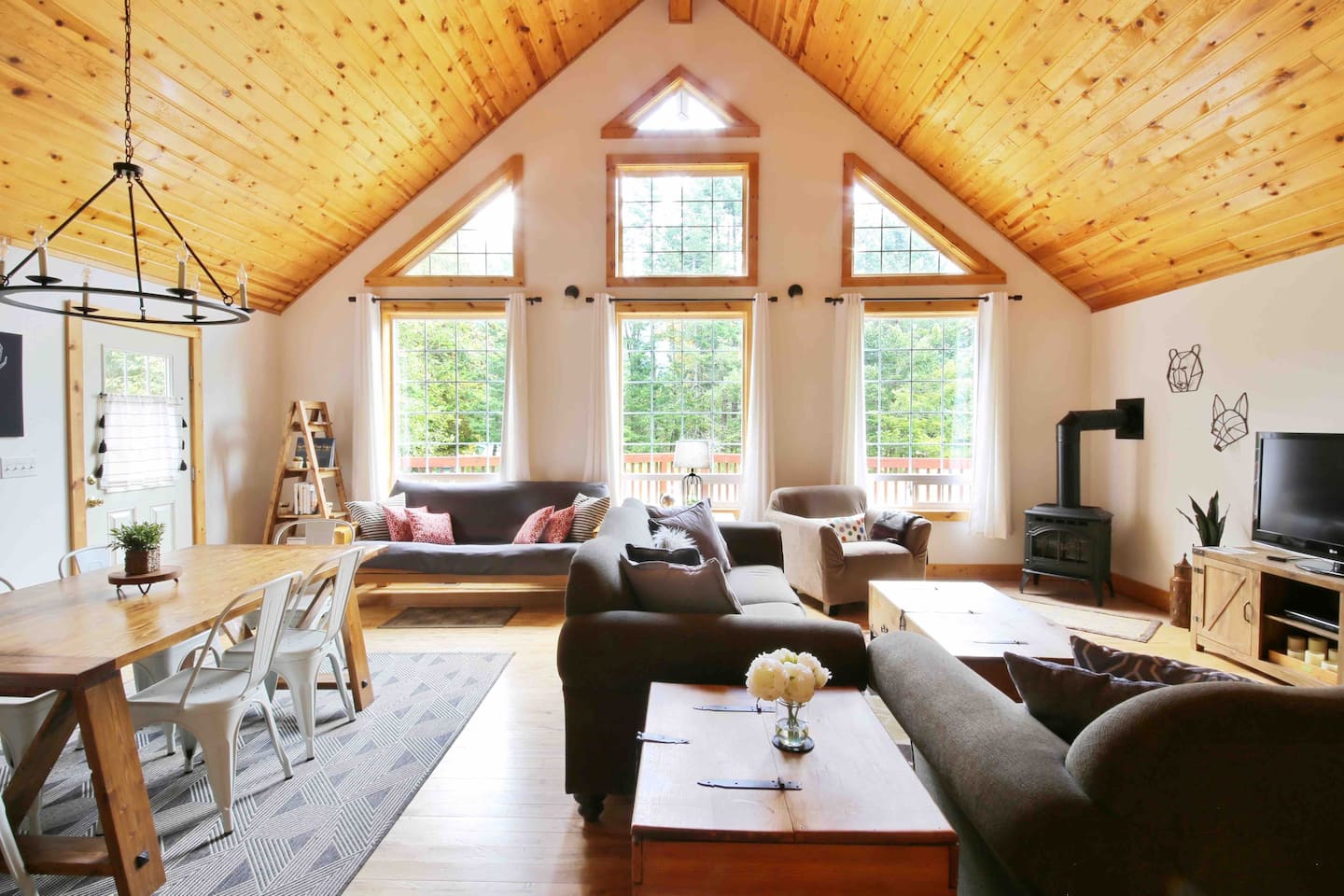 ---
Alpine Annie's 
Location: Packwood
Price: $139/night
https://www.vrbo.com/4981260ha
Alpine Annie's is the perfect place to stay if you're heading to White Pass Ski Resort or on your way to summit Mt. Rainier. Conveniently located in a secluded mountain park neighborhood 7 minutes from the town of Packwood, 30 minutes from White Pass, only a short walk from the Cowlitz River, and minutes from ample hikes. This cozy A-frame 1 bedroom 1 bath has enough space to sleep 4 guests. With it's rugged decor, gas fireplace, huge deck immersed in the trees, and heated floors, it's got all of the essentials and more covered and makes for a perfect staycation. The open loft has a queen and twin bunk bed and the living room has a full memory foam sleeper sofa. It's rustic antique decor give it a proper cozy mountain feel you won't want to leave.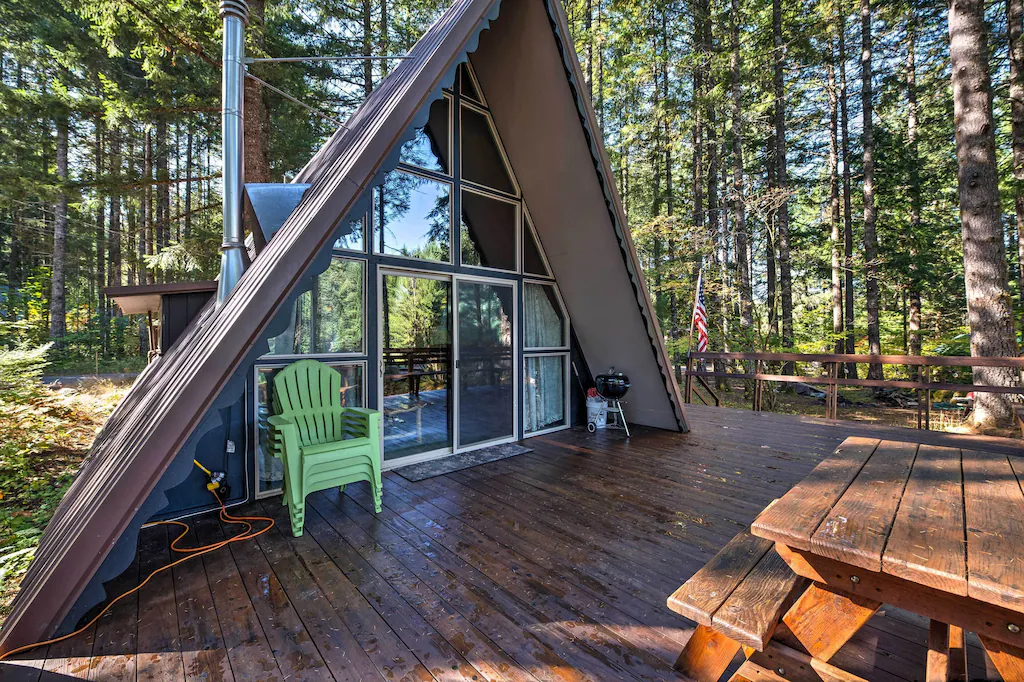 ---
Riverfront 'South Fork Cabin' in Baring
Location: Baring, Washington
Price: $184/night
https://www.vrbo.com/4938470ha
Only 25 steps from the Skykomish River in Baring, Washington, this beautiful cabin is perfectly located for those who want to retreat in nature away from the hustle and bustle of city life. While staying here, guests can spend their time swimming in the river, hiking nearby trails, or skiing Stevens Pass Resort. During the summer the water is calm enough for swimming, floating, and kayaking and there is also a beach nearby. If you are looking for day excursions, countless trails exist within 20 minutes of the cabin and the Bavarian-style mountain village of Leavenworth about an hour away. 
This cozy rustic cabin can sleep 6 guests with it's 3 queen beds between the bedroom and loft. The wood-burning stove and comfortable living room make for a great place to play games, read, or nap, while the outdoor deck is a perfect spot to sit and listen to the sounds of the river and wildlife.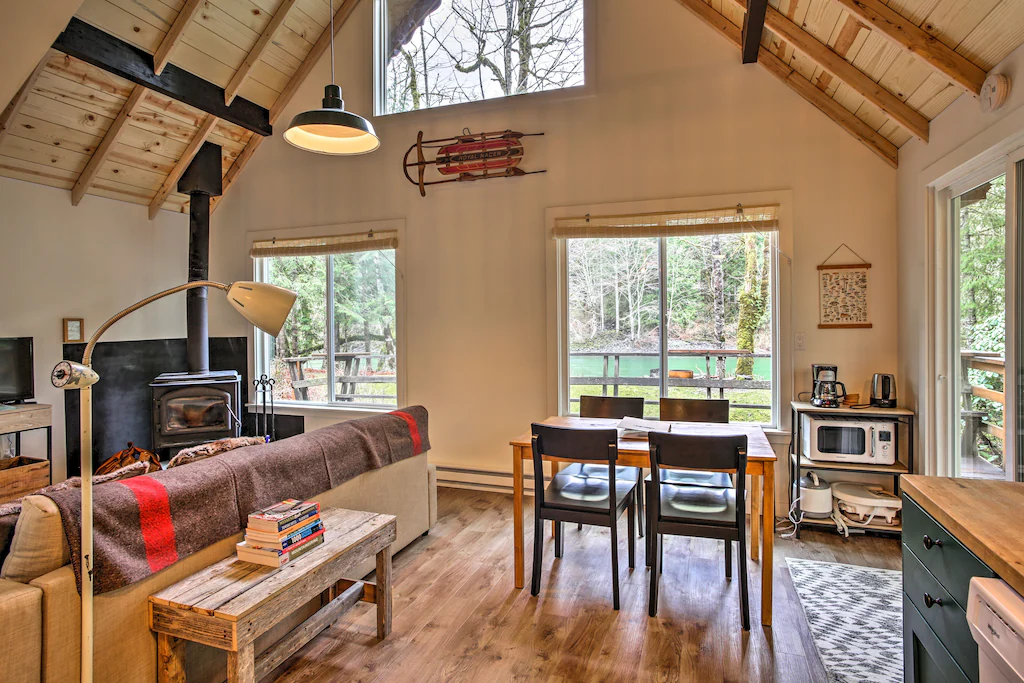 ---
Money Creek Luxury A-Frame Cabin
Location: Skykomish, Washington
Price: $400/night
https://www.vrbo.com/9260173ha
This gorgeous 1,420 sq foot home is a perfect getaway destination for a group of family or friends. As it's set on a quiet private 1.2 acres of land tucked away in the woods, it is sure to be a peaceful stay. Located 20 minutes from Stevens Pass Mountain Resort it is perfect if you want to be near the slopes. The beautiful chalet includes a bright living space, hot tub, propane grill, fully equipped kitchen and access to all sorts of PNW outdoor fun; hiking, rafting, skiing, etc. With the spacious yard, it is perfect for dogs or kids to play as well! The fire pit, hot tub, laundry room, bluetooth surround sound, and family room will make for a cozy comfortable mountain getaway any time of year. The chalet can comfortably fit 8 guests with 3 bedrooms and 2 baths. For extra comfort, each room is equipped with darkening curtains, quality linens, a big closet, and natural light. Surrounded by pristine nature, tall trees, fresh water creeks, and lots of wildlife, this mountain chalet is a dream come true.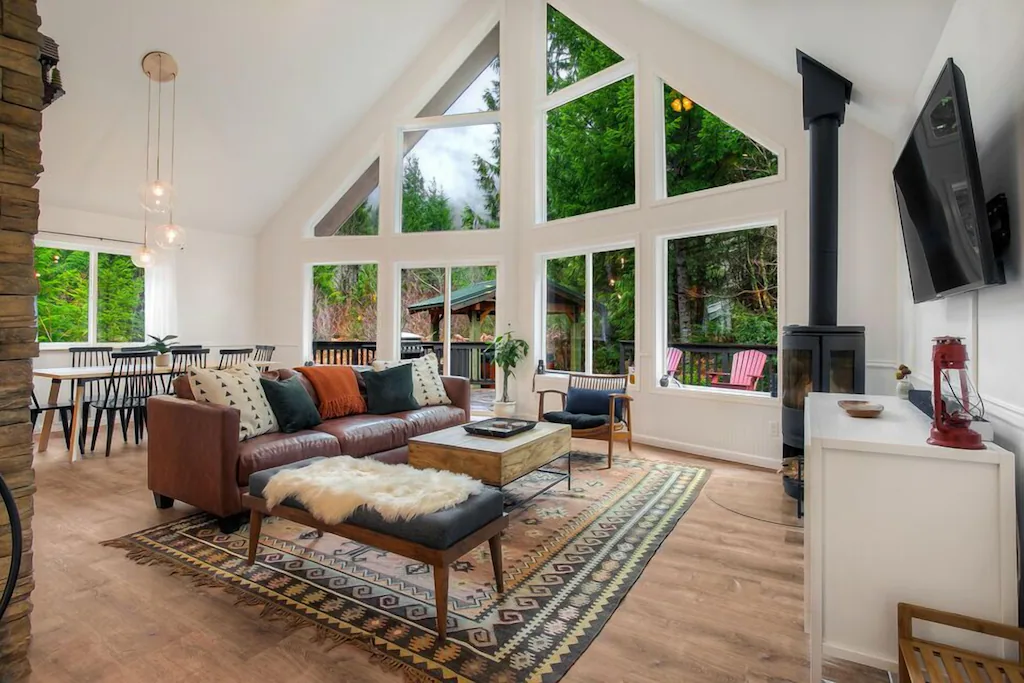 ---
Thanks so much for reading!