There's just something about cozy cabins that satisfies our quench for adventure and love of nature. Whether you are traveling with family, a group of friends, or a significant other, staying in one of coolest cabin rentals in Arizona is bound to provide you with a fun and cozy getaway regardless of the time of the year.
Arizona is a haven for nature lovers and adventurers. Amidst the cactuses and canyons, the state offers plenty of opportunities for outdoor exploration. If you are in the process of planning your next foray into the Arizona deserts, consider staying at a cabin. Staying at a cabin allows you to connect with nature while still enjoying all the comforts of a modern home. There are so many beautiful cabin rentals in Arizona, but here are the coolest of them all!
Also, be sure to read my guides on A-Frame Cabins in California & Best Cabins in Nevada for nearby accommodation ideas for future trips!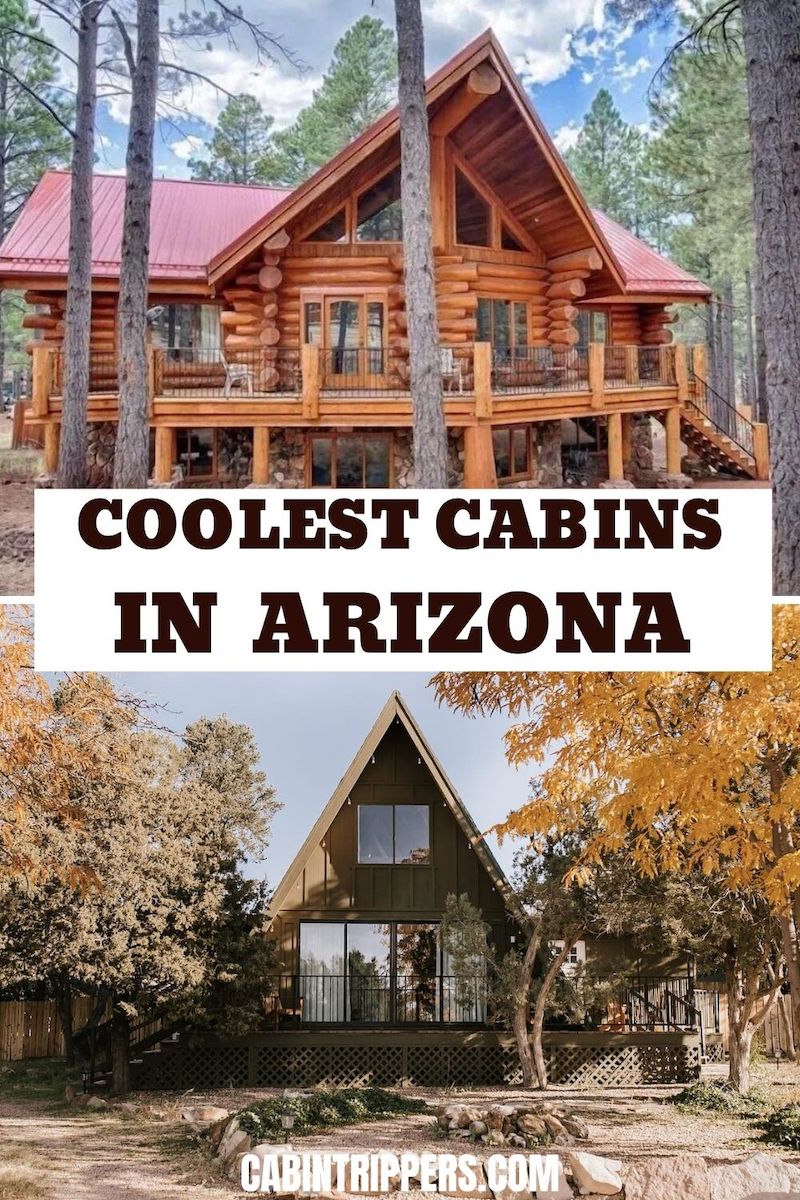 ---
1. Strawberry/Pine Studio Cabin with Outdoor Oasis
Location: Strawberry, Arizona
Price: $117+ per night
You'll feel right at home in this thoughtfully constructed studio cabin with outdoor oasis! From the open floor plan and exposed beams to the cozy furnishings, this getaway amongst the pines is sure to be one you'll recommend to friends and family for future trips. It's earned its 4.9 star rating for providing guests with stellar service, ample opportunities to see wildlife such as elk, and all modern amenities such as WiFi and new kitchen appliances for mornings spent cooking breakfast in the peaceful tranquility of the forest.
At night you can relax by the fire pit, sip some tea or alcoholic drink of your choice, then curl up with a cook book or movie inside this comfortably curated cabin! Fishers, hikers, and all kinds of outdoor enthusiasts will also be pleased to kind that this rental is just around the corner from various lakes, hiking trails, and the historic town of Strawberry.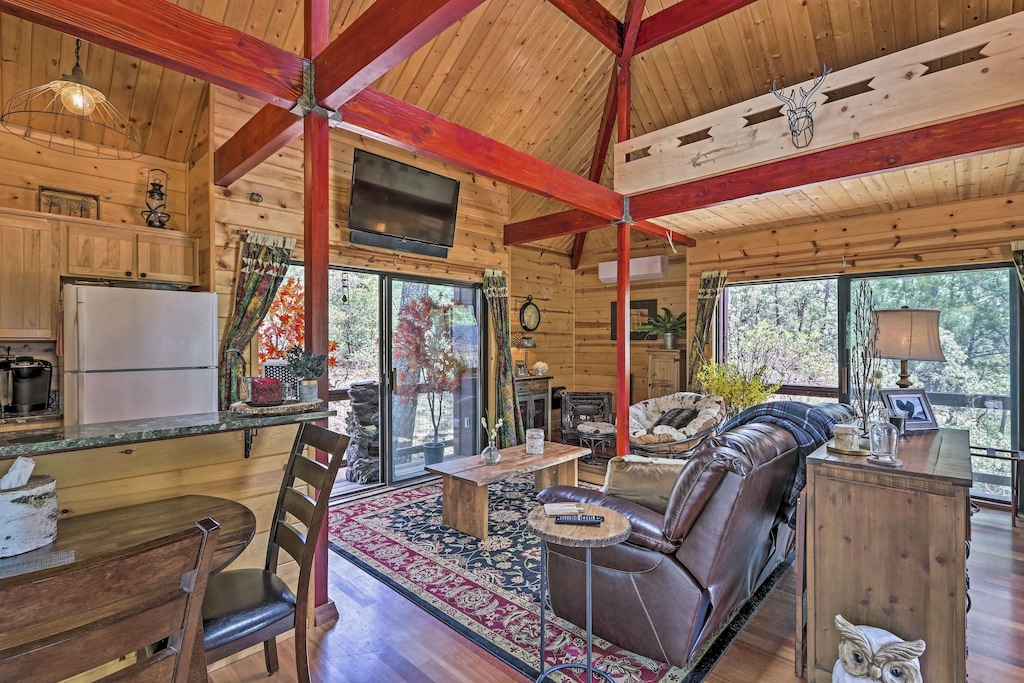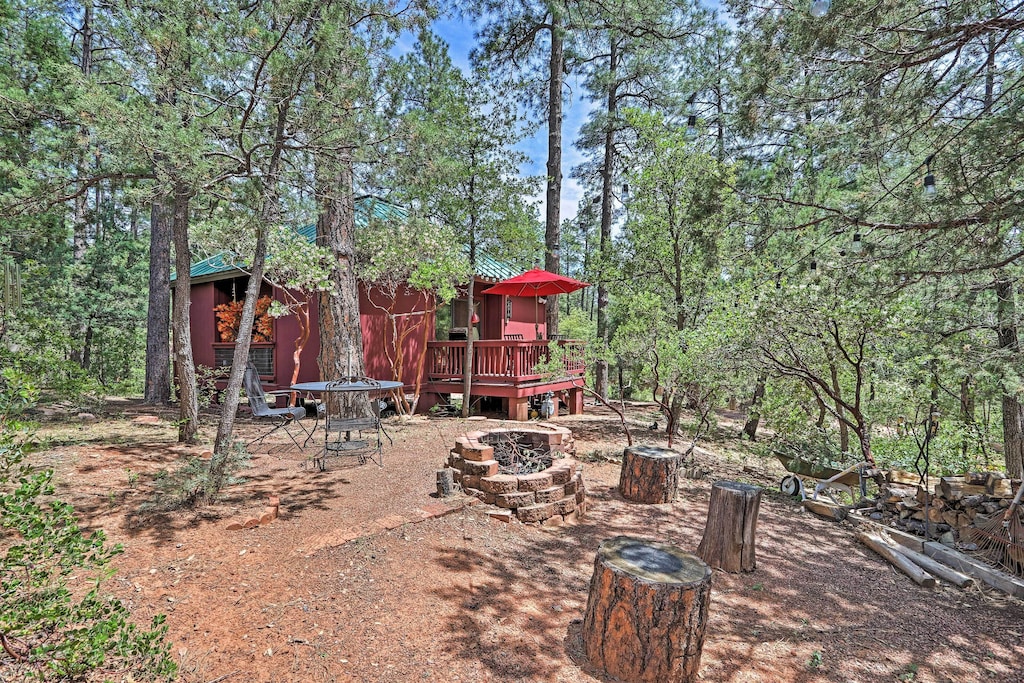 ---
2. Cozy Stream-Front Cabin Nestled in the Pines
Location: Whispering Pines, Arizona
Price: $135+ per night
This 1-bed 1-bath retreat — dubbed "Blackberry Cabin" — is a cozy streamfront cabin nestled in a secluded acre of pine and fruit trees! Just steps away from the porch you'll find a bubbling brook. Should you need more space for family, friends, or yourself, there's a loft area in the upper part of the house tucked away amongst the trees.
The cabin is located near to fishable streams and rivers as well as hiking paths where you're welcome to pick the fresh berries. This is the ideal location for you to disconnect, get in touch with the surrounding flora and fauna, and recharge yourself away from it all. With proximity to the towns of Whispering Pines, Strawberry, Pine, and attractions such as Washington Park Tonto National Bridge, you'll have the option to stay secluded or venture our and explore to your liking.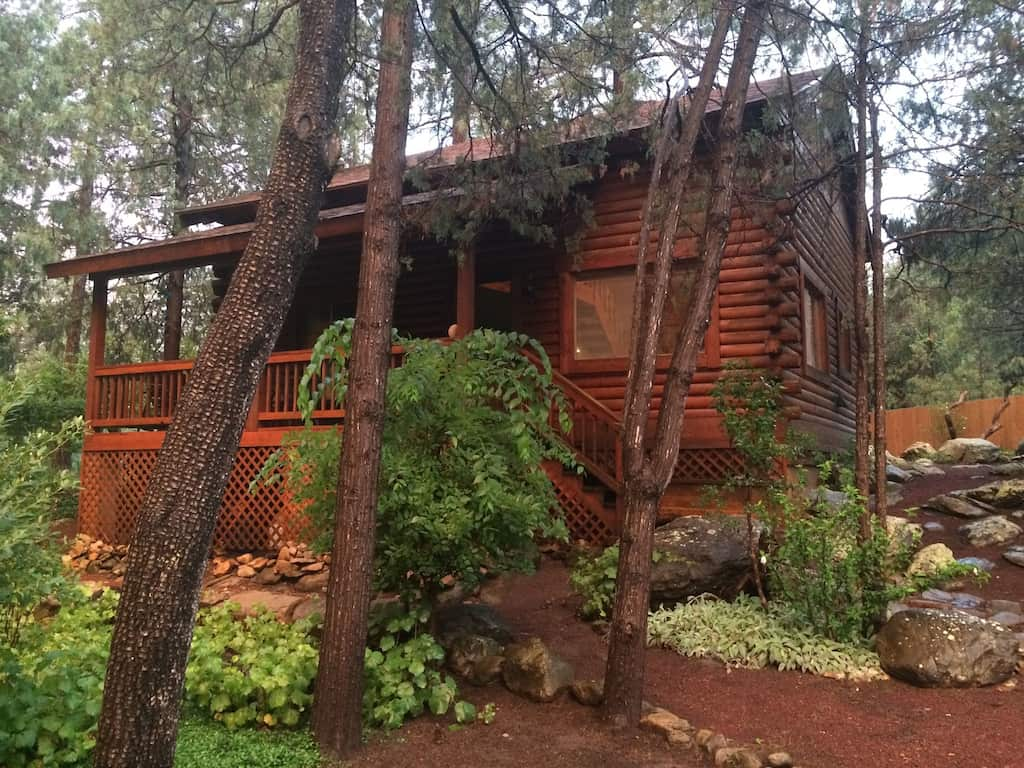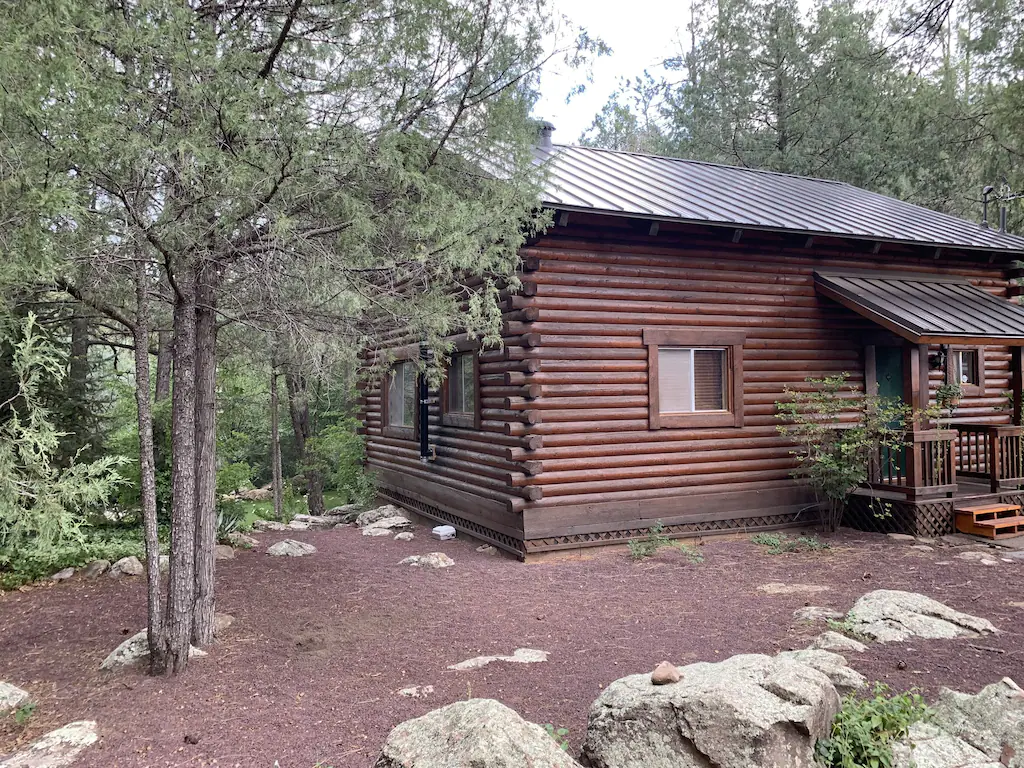 ---
3. Little Lynx Cottage
Location: Yavapai County, Arizona
Price: $109+ per night
This contemporary cottage is located just one hour from Phoenix and right around the corner from downtown Prescott, yet set far back enough in the forest for you to feel that you've really gotten away from it all! Take your time and spread out over this property's 500 square feet of fine furnishings and glistening hardwood floors, or explore its two acres of National Forest private property. The owners take pride in service and style, allowing you to immerse yourself in all the rest and relaxation you need.
The Lynx Creek runs right by the cabin on one side, and on the other you can kick your feet up on the ample porch space and watch the wildlife or see the snowfall in the winter. Additionally, this rental is just 45 minutes from spectacular Sedona! It's truly a hidden gem.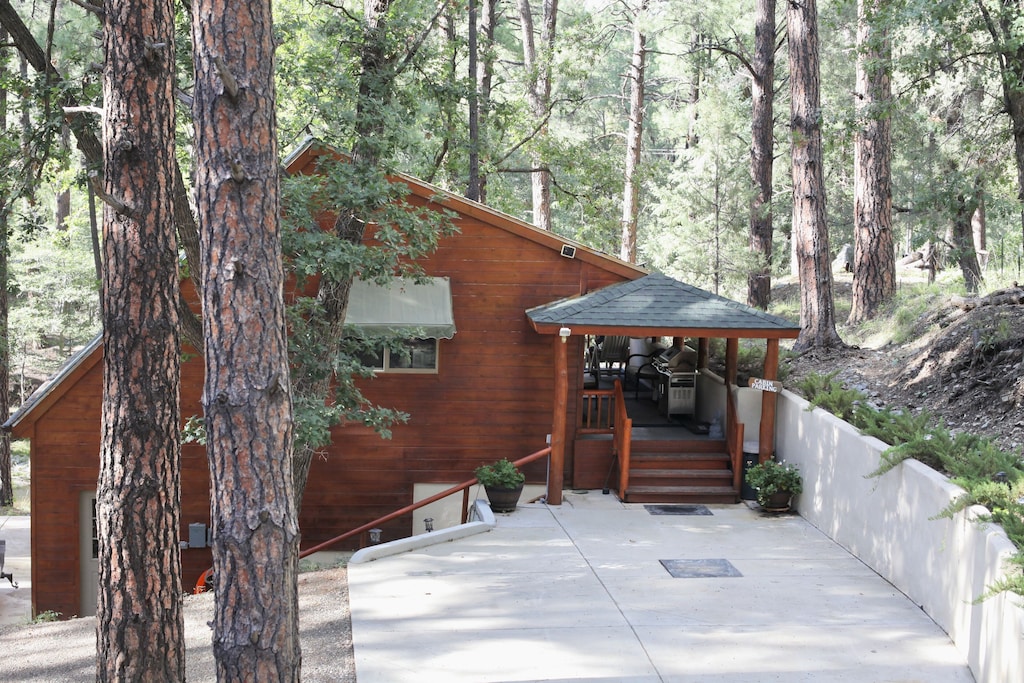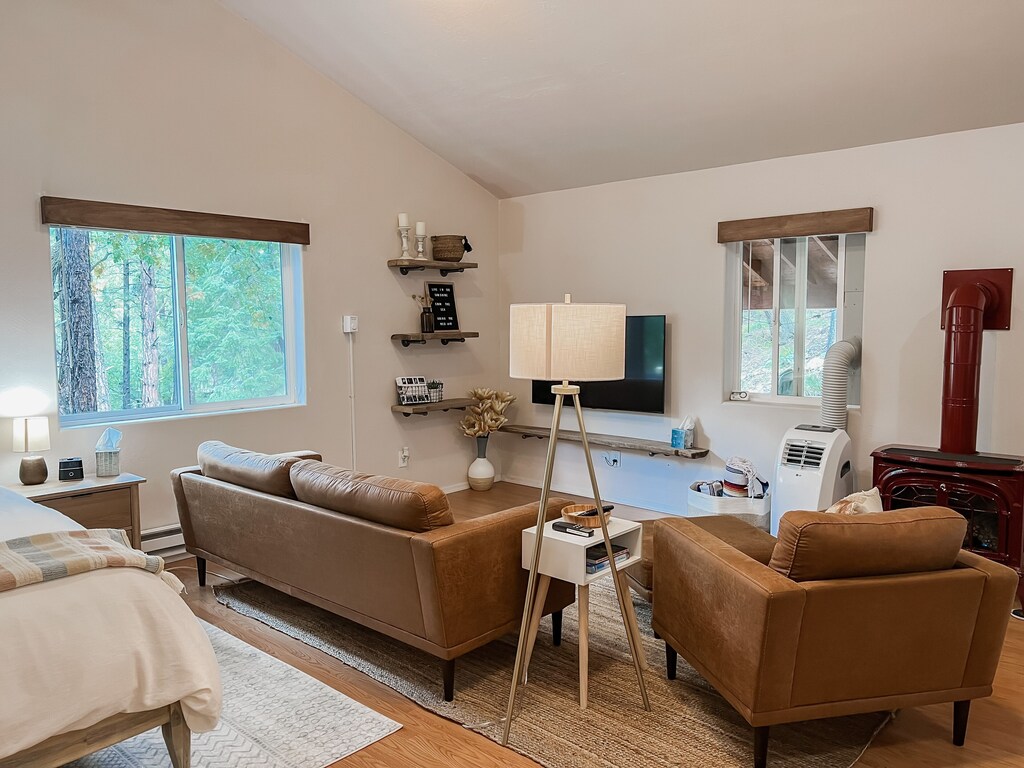 ---
4. Stunning Log A-Frame Cabin
Location: Pine, Arizona
Price: $195+ per night
This stunning Log A-Frame cabin chalet in Pine is one of the most sought-after cabins in Arizona, and for many reasons. This charming cabin provides all the remoteness of being perched high on the Mogollon Rim. It can sleep up to eight guests, perfect for families and groups of friends. Aside from the basics, this cabin comes equipped with three cozy beds, three full baths, and a loft. But the best part is that all its windows open to the breathtaking views of nature. 
While staying at this cabin chalet, you will have plenty of activities to keep yourselves busy. You can go horseback riding, hiking, fishing, golfing, or swimming. Moreover, the cabin has barbecue facilities and a spacious hot tub. There are also attractions nearby, such as the Tonto National Bridge, Christopher Creek, Fossil Creek, Fish Hatcher, and Lavender Farms. If you don't mind driving for 20 min, check out the Mazatzal Casino in Payson. The town is also home to some of Arizona's best bars and restaurants.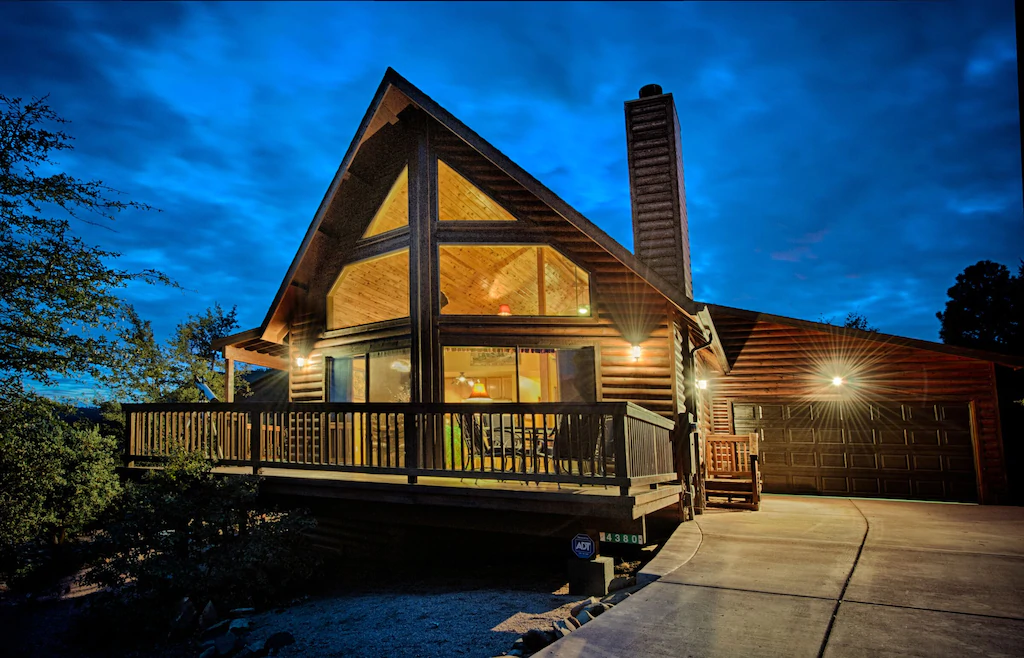 ---
5. Show Low Secluded Cabin with Furnished Deck
Location: Show Low, Arizona
Price: $103+ per night
https://www.vrbo.com/9466927ha
Are you looking for a cozy cabin rental near a lake and some hiking trails? If so, then this Cabin with Furnished Deck in Show Low is the perfect getaway spot for you. Located close to the scenic Fool Hollow Lake, this cabin offers peace and serenity for a truly relaxing stay. It has two beds that can sleep up to four guests. The furnished deck has an outdoor dining table with seating, a built-in bench, a gas grill, and sun umbrellas. 
As charming as the cabin is, the real show-stealer is the endless outdoor activities you can enjoy while staying in this property. It's located within a few minutes of a scenic lake and the best hiking trails, offering endless opportunities for outdoor adventures. After a whole day spent outdoors, fire up the gas grill and enjoy delicious barbecues at the deck.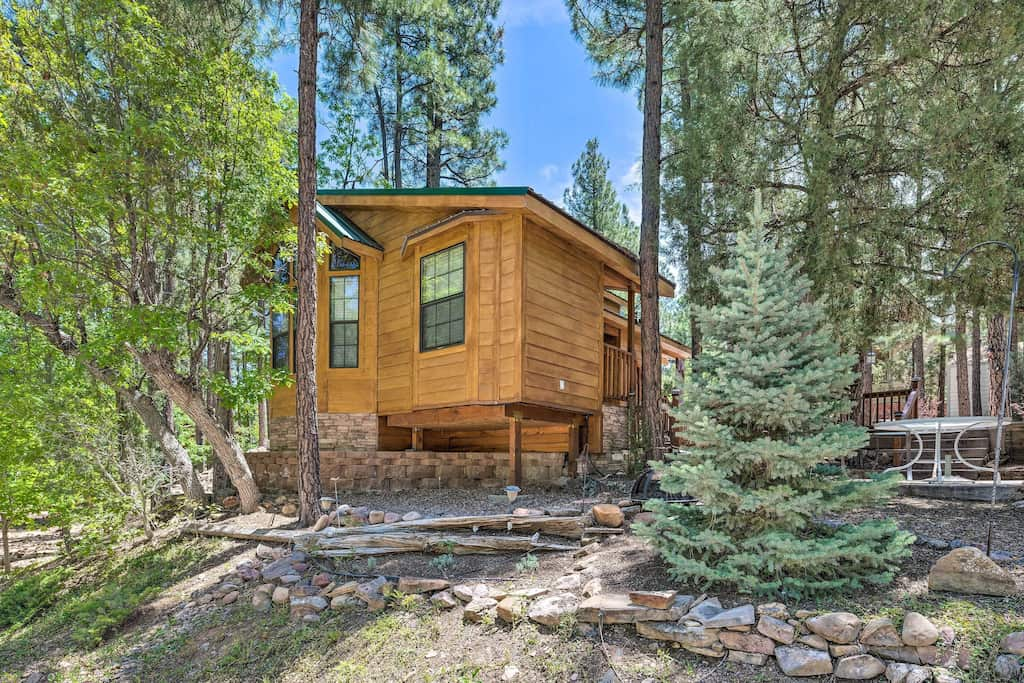 ---
6. Rugged Rim Country Cabin w/ Luxury Interior
Location: Pine, Arizona
Price: $212+ per night
https://www.vrbo.com/9448577ha
This Rugged Rim Country Cabin in Pine is certainly one of the coolest cabins in Arizona. Fitted with luxury interiors and modern comforts, this cabin has two bedrooms and can sleep up to six guests. The cabin is set on a 2.5-acre secluded property in the mountain and has its own on-site hiking trails that will lead you to rugged desert plains, as well as the local museums and bars downtown. 
After a long day of hiking activities, you will appreciate the cabin's two cozy bedrooms that are sure to give you a great night's sleep. There's also one bathroom and a kitchen complete with cooking facilities and other amenities. When evening comes, head to the patio to enjoy the mild climate with your loved ones while enjoying Smores over the firepit and marveling at the stars!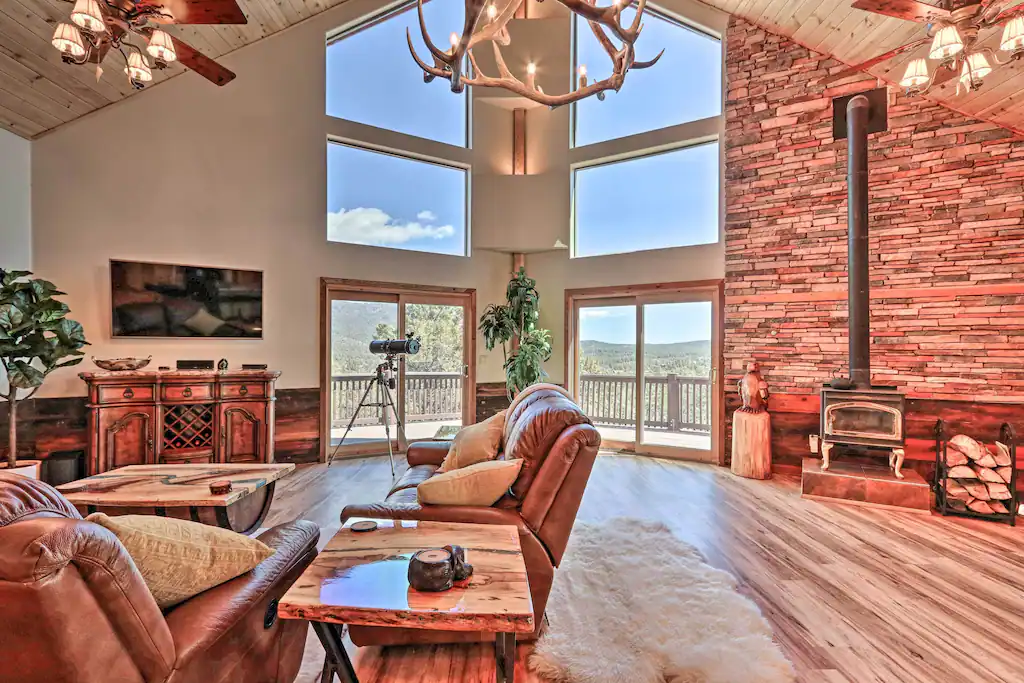 ---
7. Custom Log Cabin in the Pines
Location: Williams, Arizona
Price: $553+ per night
This custom log cabin in Williams is one of the best cabin rentals in Arizona as it combines outdoor adventures with indoor comforts. Situated in the middle of the towering Ponderosa Pine Trees and boasting stunning nature views, the property is as enticing as its charming, cozy interiors.  It has a rustic yet polished interior with a modern kitchen and wood-burning fireplace,  as well as a karaoke system, pool table, and other entertainment amenities. The best part is, this cabin has spacious four bedrooms equipped with 13 beds and can sleep up to 16 guests! So, if you are traveling in big groups, this is the best cabin to rent. 
The real draw of the property is the indoor and outdoor entertainment that it offers. Designed with family gatherings in mind, this spacious cabin offers all the amenities your family can ever want for a relaxing holiday in Arizona.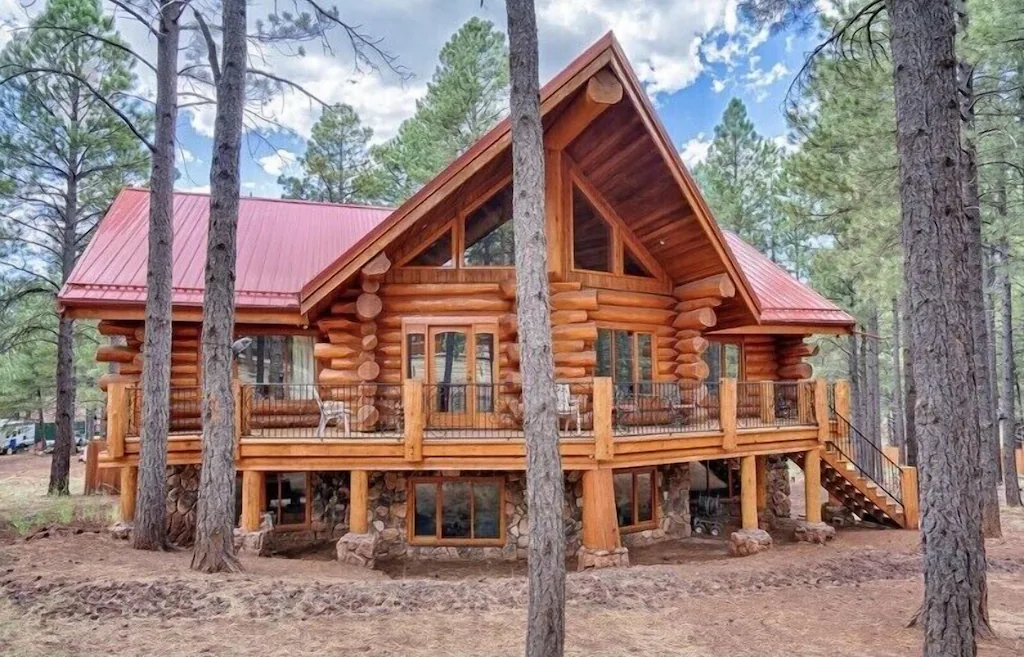 ---
8. Luxury Cedar Cabin 8 Minutes from Downtown Prescott
Location: Prescott, Arizona
Price: $150+ per night
https://www.vrbo.com/7098219ha
This charming Colonels Way Cedar Cabin in Prescott boasts amazing deck wraps that open to the stunning views of the mountain. It has two spacious bedrooms that can sleep up to seven guests. It also comes complete with kitchen facilities and other modern amenities for a comfortable and relaxing stay. Witness beautiful sunrises from the deck and watch the deer playing through the woods. 
This luxurious vacation rental in Arizona is ideal for those who want to be close to everything but appreciate the solitude of a mountain retreat. Despite its remoteness, you'd be surprised to know that there is a Wi-Fi connection on offer if you need to do some work on your laptop. Dog owners will also love the fact that this cabin is dog-friendly.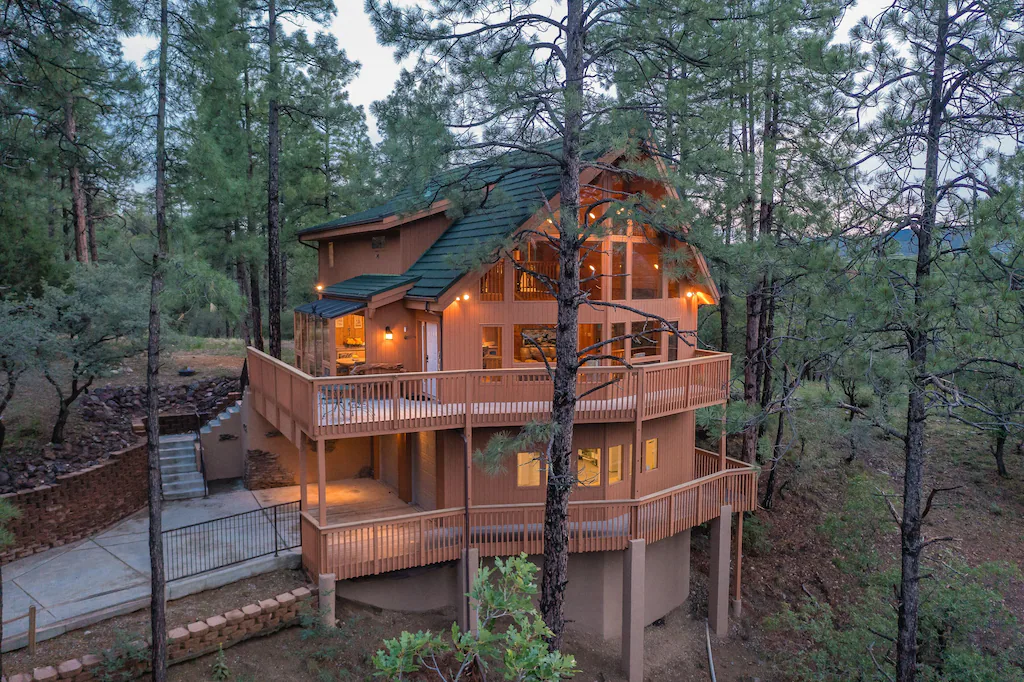 ---
9. Mark Twain Cabin in the Pinetop Country Club
Location: Pinetop-Lakeside, Arizona
Price: $209+ per night
This Mark Twain Cabin in the Pinetop Country Club has to be one of the coolest cabins in Arizona. With its charming interior, BBQ grill, and fireplace, you will feel right at home during your stay at this cozy cabin. Equipped with three bedrooms and four beds that can sleep up to eight guests, the property is perfect for groups of friends and family. 
Wi-Fi and a smart TV are provided for guests' entertainment, and if you're ready to venture out, you'll find various hiking trails and fishing spots. Moreover, the cabin is only a short drive from Sunrise Ski Resort and the best dining options in Pinetop. After a day of exploring, you'll love returning home to a barbecue grill, a perfect recipe for a delicious dinner and delicious S'mores.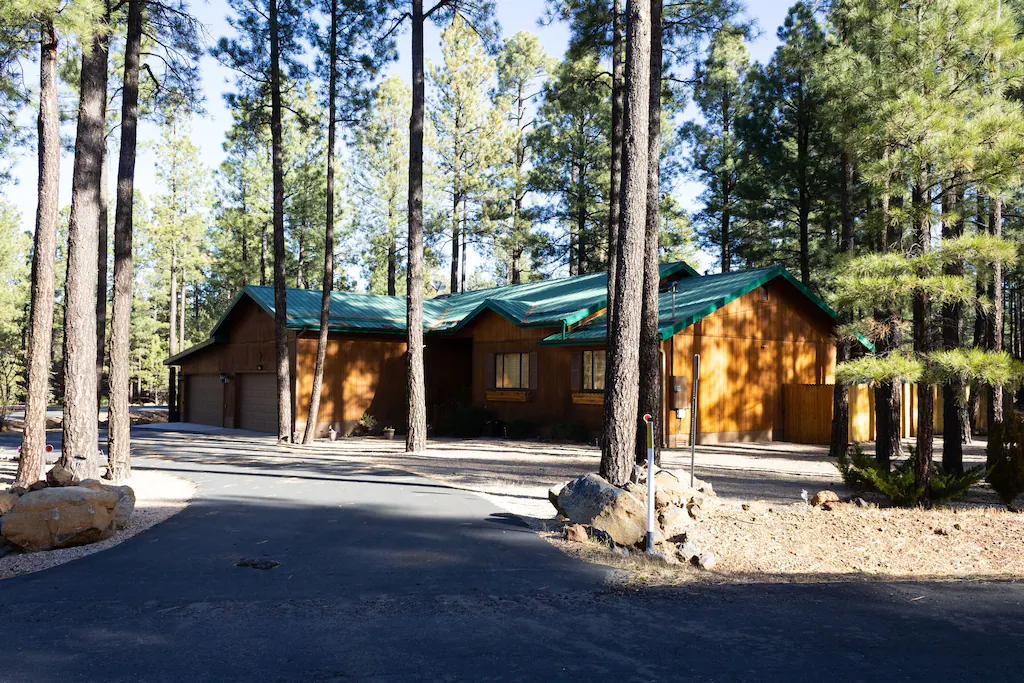 ---
10. Cozy Mountain Cabin
Location: Williams, Arizona
Price: $234+ per night
https://www.airbnb.com/rooms/12814913
This charming Cozy Mountain Cabin in Williams has everything you need for the perfect getaway that combines relaxation and adventure. Offering quiet solitude, privacy, and seclusion, this cozy mountain cabin allows you and your loved one to spend some quality time and have some privacy without being far from the downtown. The cabin has two bedrooms and can accommodate up to six guests, so feel free to invite extended family and friends.
Since the closest neighbor is more than 150 yards away, this cabin allows you to experience a "cozy social distancing" getaway, so we can stay safe while holidaying in the middle of the pandemic. The cabin is best-rated for its cleanliness and has been sanitized in accordance with the CDC guidelines.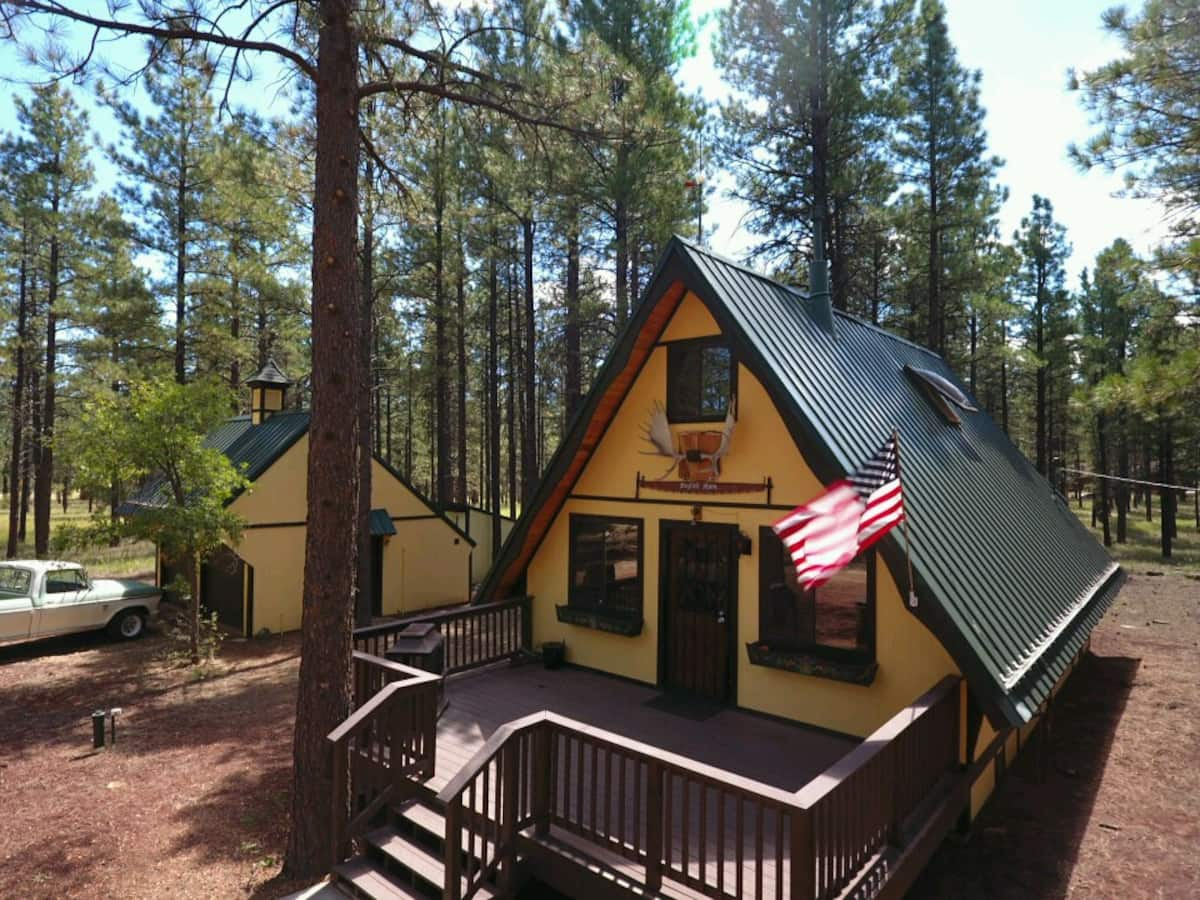 ---
11. No Roughin' It Cabin
Location: Sedona, Arizona
Price: $311+ per night
https://www.airbnb.com/rooms/1434038
This remote Arizona cabin rental in West Sedona offers a welcome respite from the daily grind of your busy life. Conveniently located in West Sedona and open to stunning views, this beautiful 2-bedroom cabin can accommodate up to four guests for a nature-filled getaway in Sedona. This cabin is well-suited for families and friends who love outdoor adventures. Here, you can go hiking, mountain climbing and more. If you prefer something relaxing, head to the patio and enjoy the stunning nature views!
There's a TV and DVD that will keep everyone entertained, and if you need to work, there's a Wi-Fi signal anywhere in the house. In the evening, gather in front of the outdoor fire pit and enjoy some delicious barbecues. An outdoor dining space offers additional space to hang out and enjoy breakfast while you breathe the fresh mountain air. This cabin is ideal for those looking to stay at an upscale cabin in Arizona while being close to nature.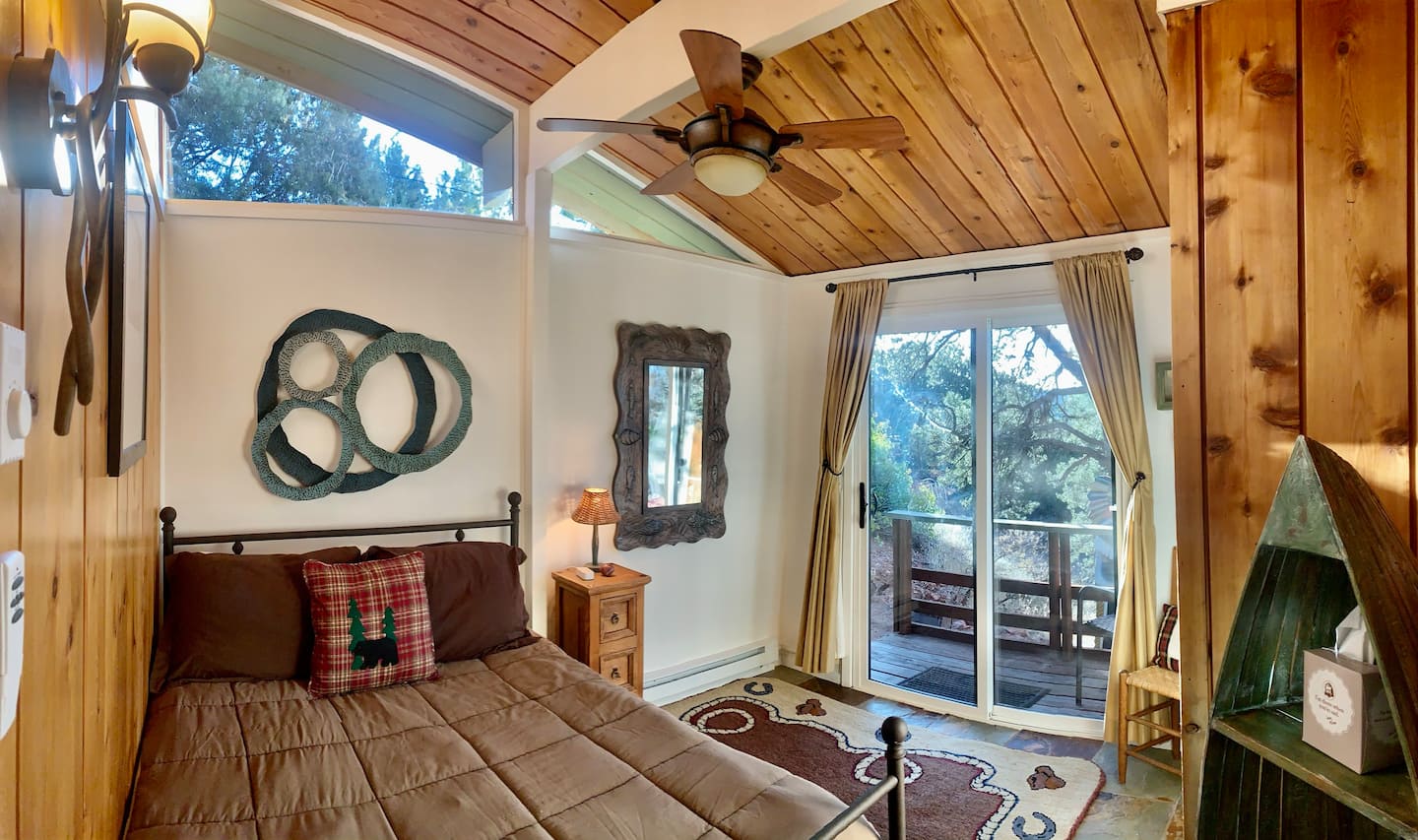 ---
12. Cozy Cabin Amongst the Saguaros
Location: Tucson, Arizona
Price: $126+ per night
https://www.airbnb.com/rooms/33250035
Are you looking for a romantic cabin in Arizona to cozy up after a long day of adventures? Look no further than this Cozy Cabin Amongst the Saguaros, a charming cabin for two guests, perfect for couples on a romantic getaway. The cabin is more than a hundred years old but comes with all the modern amenities that you need for a comfortable and relaxing stay. 
Located in Tucson, this cozy cabin is only a mere 15-min drive to the downtown, making it a simultaneously convenient and secluded location to unwind and enjoy nature. For couples who love to bond over outdoor activities, you will love that this property offers hiking and mountain biking opportunities right out the front door! With its cozy interiors, the cabin will make you feel right at home with windows that offer stunning views of nature. Indeed, this is a perfect place to unwind with your loved one away from the hustle and bustle.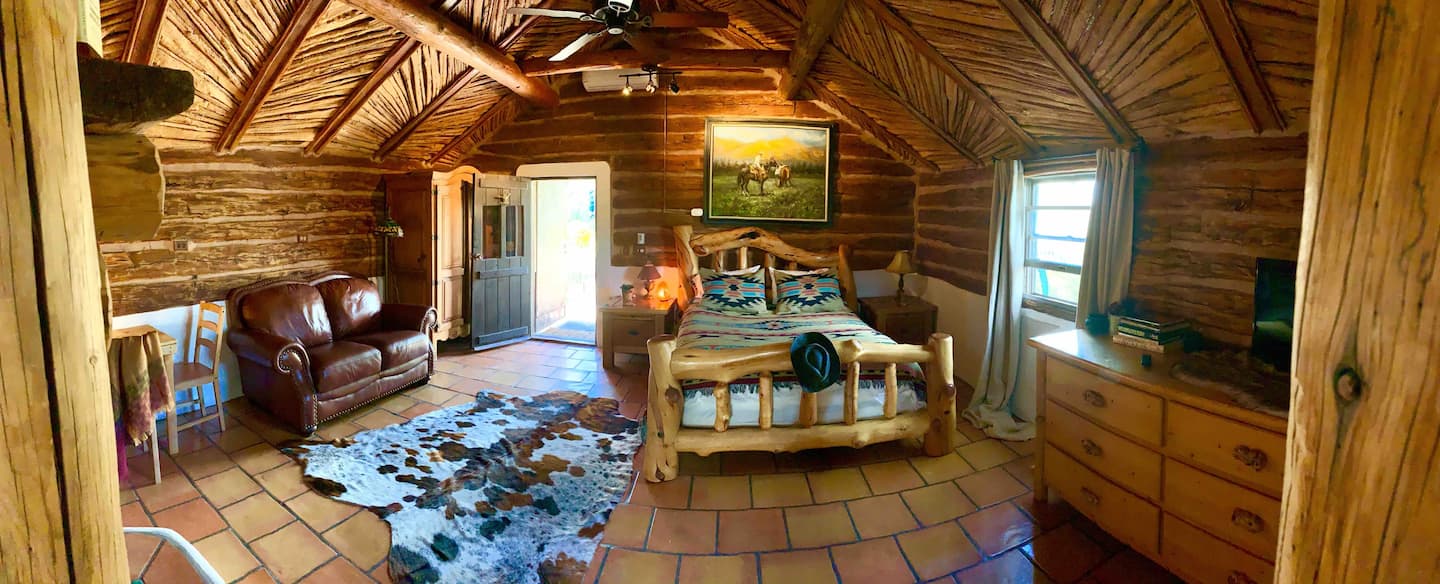 ---
13. Dog Friendly A-Frame Cabin
Location: Payson, Arizona
Price: $212+ per night
https://www.airbnb.com/rooms/52598862
Your dogs are welcome to join you on your vacation if you stay at this newly renovated dog-friendly A-frame cabin in Payson. Complete with three bedrooms and three beds, this cabin rental is perfect for groups of six. Located in the mountain and only 90-minutes away from Phoenix, this is the perfect hideaway to relax from your busy life as you breathe in Arizona's fresh mountain air. 
As you arrive at the property, you can park your car in the driveway, which can fit up to three vehicles. The front deck with seating is the perfect place to soak up the peaceful beauty of nature in your surroundings. Entering the property is easy and convenient since the main entrance is equipped with an electric keypad. Whether you want to spend your vacation hiking, fishing in the creek, or simply relaxing at the loft as you enjoy the outdoor views, you will be glad to choose this cabin rental in Arizona as your home away from home.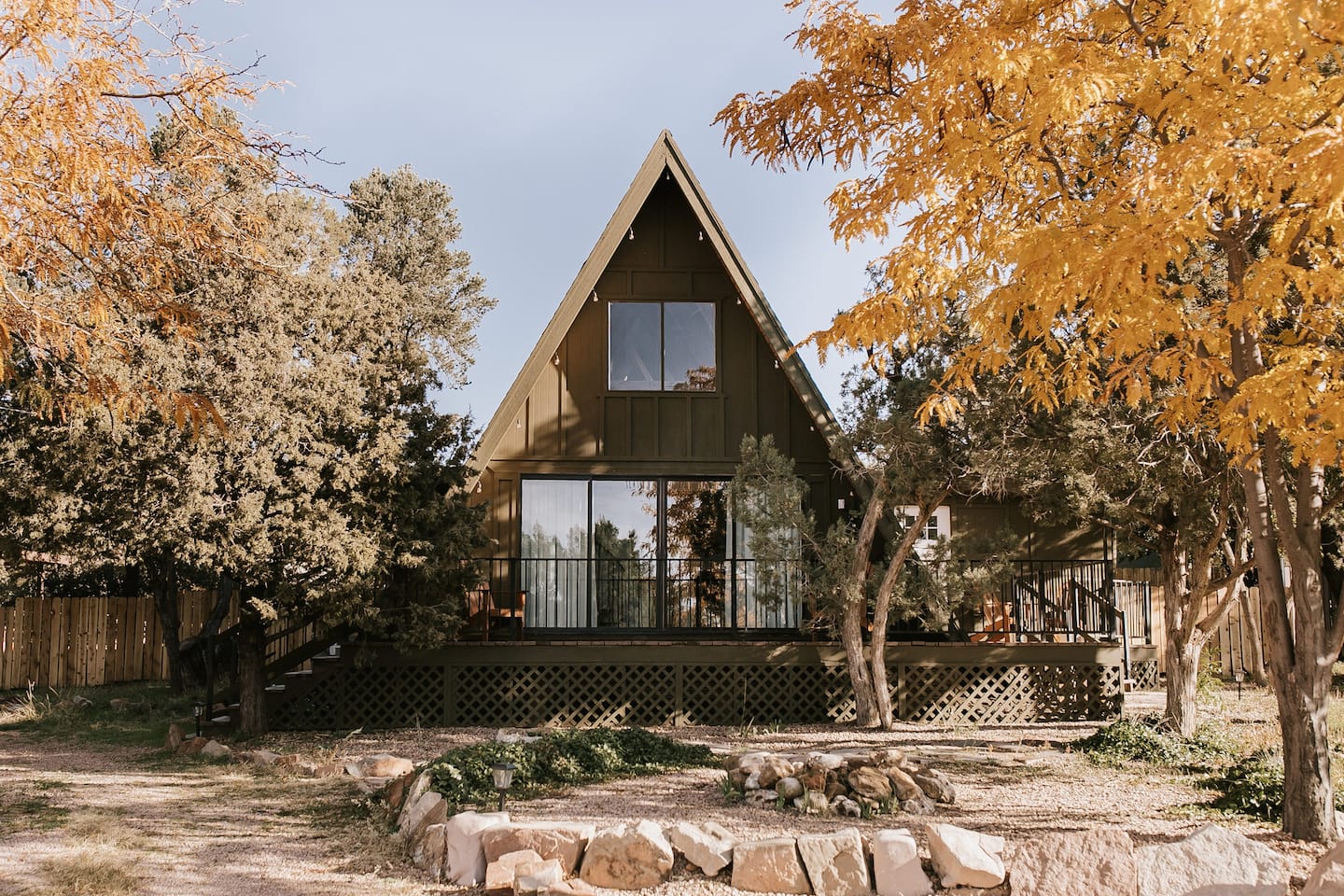 ---
14. Bear's Den Forest Cabin Rental
Location: Payson, Arizona
Price: $118+ per night
https://www.airbnb.com/rooms/43248369
With its beautiful rustic appeal and cozy interiors, this Forest Cabin in Payson is undoubtedly one of the coolest cabins in Arizona. Nestled amidst the pine trees, this charming family getaway can accommodate up to six guests. But the real draw of the property has got to be the natural beauty that surrounds it. It's only a 2-min walk away from Christopher Creek and adjacent to the Creekside Steakhouse & Tavern. 
The bedroom has a queen-sized bed and closet with access to the back patio that overlooks the stunning outdoor views. Upstairs, there's a loft with a queen-sized bed and two twin-sized beds. This rustic log cabin comes equipped with a flat-screen TV and kitchen amenities, including a coffeemaker, microwave, and a small fridge. There's also a spacious deck on the front where you can soak up the peaceful beauty of the forest around you.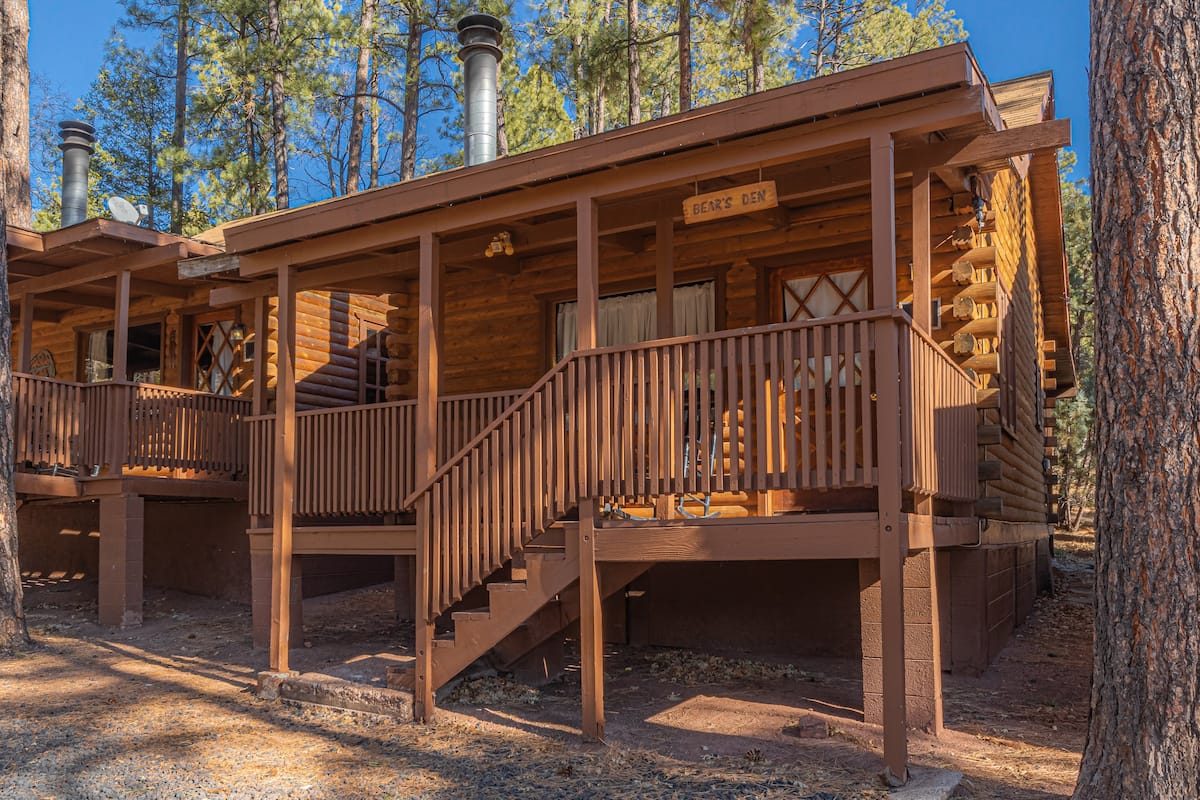 ---
15. Secluded 2-bedroom Loft Mountain Cabin
Location: Heber-Overgaard, Arizona
Price: $149+ per night
https://www.airbnb.com/rooms/35871596
This secluded 2-bedroom loft mountain cabin boasts a private spa and overlooks the lush forest of Northern Arizona. Perfect for couples and small families, this cabin has two bedrooms and can sleep up to six guests. Spend your evenings admiring the gorgeous views from the patio or sip on wine as you look out at the trees in the forest, a perfect way to wind down after a busy day.
This loft cabin rental comes equipped with two bedrooms – one is located downstairs and another at the loft. The downstairs bedroom has a queen-sized bed, while the upstairs loft has two twin beds. There's also a comfortable pull-out leather sofa that can sleep two guests. There's also a full kitchen complete with amenities, including a microwave, refrigerator, dishwasher, and range oven. Dog owners will be pleased to know that this cabin rental is extremely dog friendly, although there's a pet fee of $50.