Looking to venture out into the wilderness with a loved one or your whole family? Look no further than the stunning state of Maine. With its distinct seasons, diverse terrain, and nature loving communities, it's a perfect place to unwind, reconnect with loved ones, and enjoy the outdoors.  Many of these secluded cabins in Maine are very remote so you can really be at one with nature and embrace the feelings of solitude and peace.
With many eco-friendly and sustainably built homes and properties creatively nestled amongst the woods or along waterfronts, visiting Maine is sure to leave a positive imprint on you. 
Also, be sure to read my guides on Cabin Rentals in Maine & Romantic Cabins in Maine for more amazing stays in the area!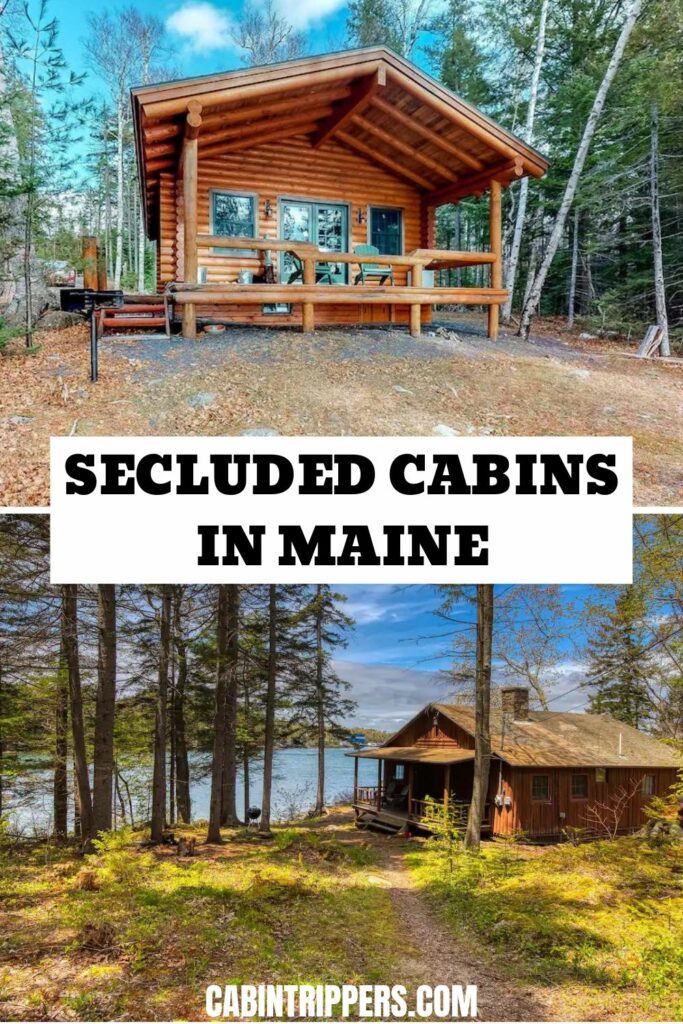 ---
Exquisite Modern Maine Cabin 
Location: Sedgwick, Maine
Price: $397+ per night
https://www.airbnb.com/rooms/5353490
This 1 bedroom private getaway cottage is perfect for honeymooners or lovers of modern design. Set on 12 acres of woods and blueberry fields, this 2000 square foot cottage is surrounded by plenty of nature.
With two gas fireplaces, luxurious linens and pillows, in-floor heating, a large book collection, a steam shower, gas grill, and private decks, it has everything one needs for a nourishing and rejuvenating stay. Only an hour drive from Acadia National Park, endless exploring is also within reach!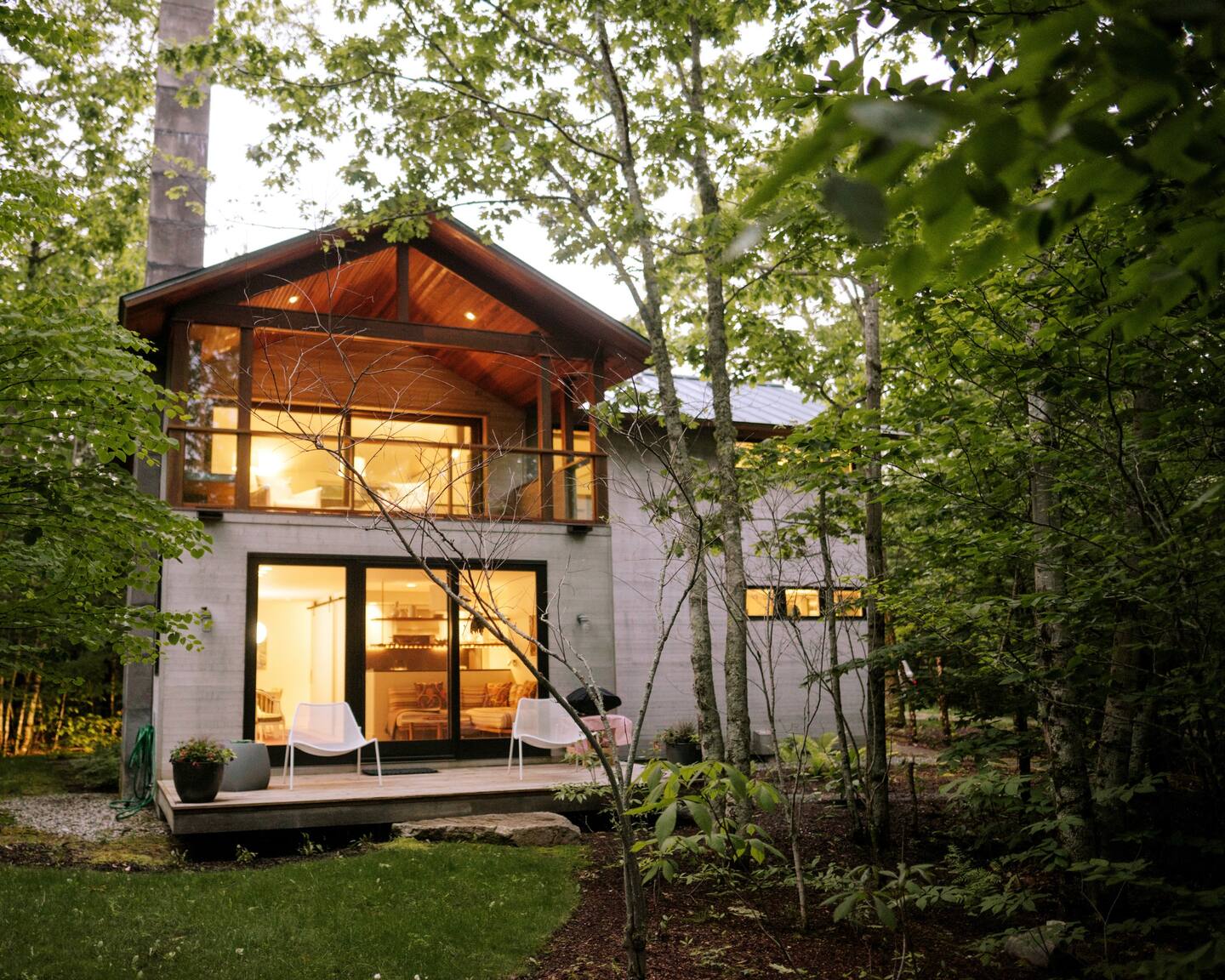 ---
Historic Maine Canoe Shop Near Lake
Location: Dover Foxcroft, Maine
Price: $185+ per night
https://www.airbnb.com/rooms/40755937
This 120 year old Maine canoe shop has been creatively converted into a deluxe cabin home! With a floating staircase, granite fire pit, velvet sofas, a vintage bathtub, chandeliers and tons of other antiques filling the space, it offers quite a unique living experience. It feels like a step back in time but with all modern necessities.
The home is full of natural light making it beautiful, and airy. The loft upstairs has a king tempurpedic bed and bathroom with a view of the surrounding nature. Downstairs is a daybed that can sleep two making the house suitable for four guests. The outdoor picnic area offers a table to dine under the stars. Don't miss out on this unique stay!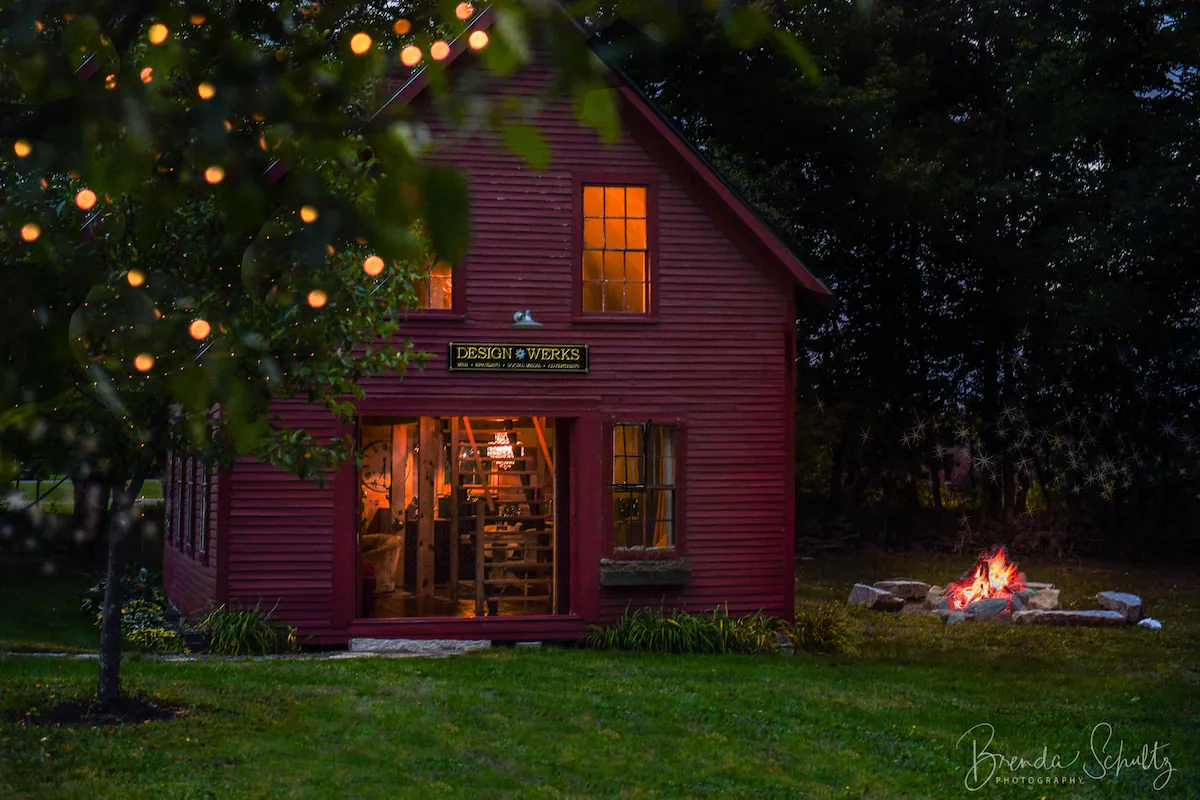 ---
The Canopy TreeHouse
Location: Sanford, Maine
Price: $425+ per night
https://www.airbnb.com/rooms/41341525 
Enjoy a whimsical and peaceful stay at Littlefield Retreat, a canopy treehouse amongst the trees! The 350 square foot home has everything needed for an enjoyable stay including a full kitchen, wood stove, loft, and sleeping pod. The treehouse is guaranteed to leave you feeling at peace with only the sounds of nature to serenade you as you're surrounded by forest on all sides.
It is a perfect place to unplug and reconnect to yourself and to the simple life. The deck offers a beautiful place to enjoy a morning coffee, book, the hot tub or silence as you watch the forest wake up around you. The house offers kayaks and fishing poles for those who want to adventure to Littlefield Pond. There's a living area to play games, eat, or simply enjoy each others company. Littlefield Retreat is an example of minimal and sustainable living without sacrificing beauty or comfort, showing guests what is possible with less. Each detail of the house was thoughtfully created, with much of the material coming from recycled and reclaimed materials. It is very insulated to help regulate the temperature all year round and the energy that powers the home is wind sourced, soon to be solar powered.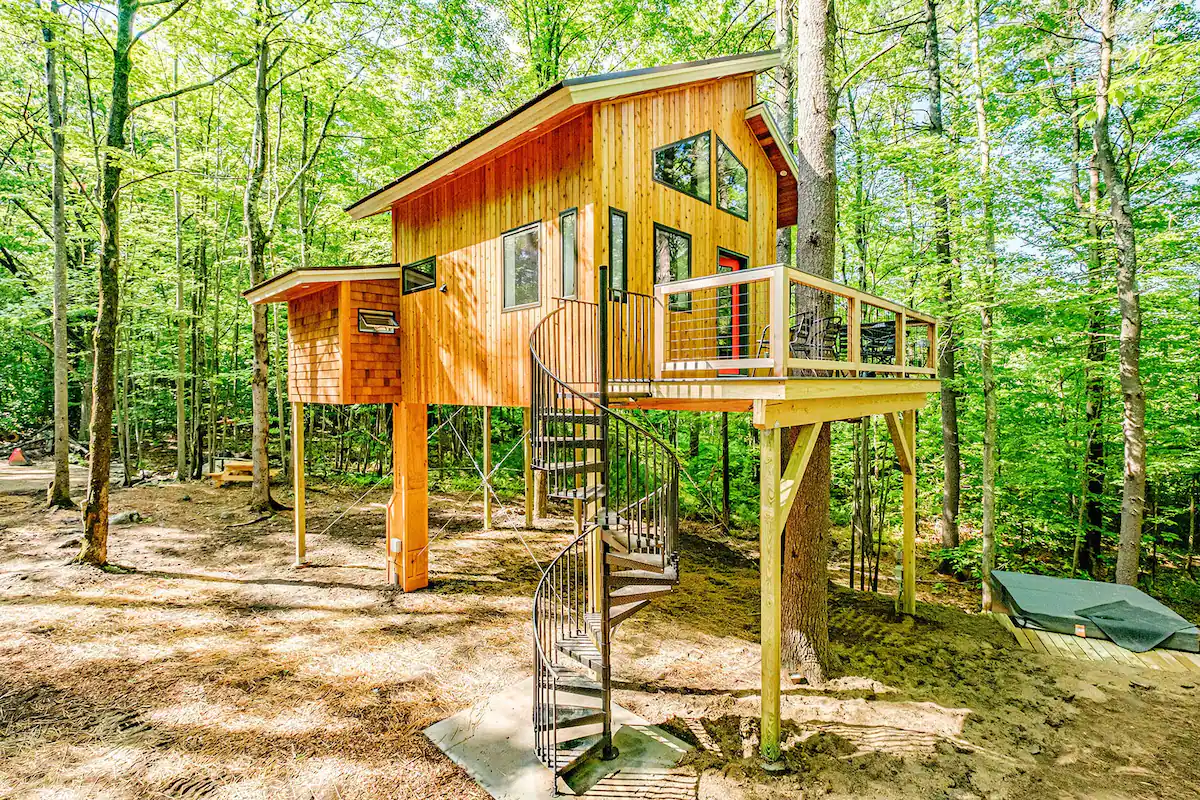 ---
The Beach House Secluded Cabin
Location: Saco, Maine
Price: $209+ per night
https://www.airbnb.com/rooms/42293601
Near the Saco River, Downtown Portland, and Old Orchard Beach, this beautiful oceanfront cabin is hard to beat. The luxury two-story two bedroom home is full of windows offering ample natural light and panoramic views of the ocean. With a full kitchen, big living areas, breakfast bar, and two private balconies, it has plenty of space to move around and can fit up to eight guests.
With hardwood floors and soft color toned walls the rooms have a light, airy, peaceful feel to them. Even the kitchen is equipped with a wall of windows overlooking the ocean making cooking a dream come true. Steps from the beach and minutes from shops and restaurants, the location could not be more pristine. With all modern amenities, it is sure to be a comfortable and easeful stay. Watching the sunrise and sunset while sleeping to the sound of the waves makes staying here extra special.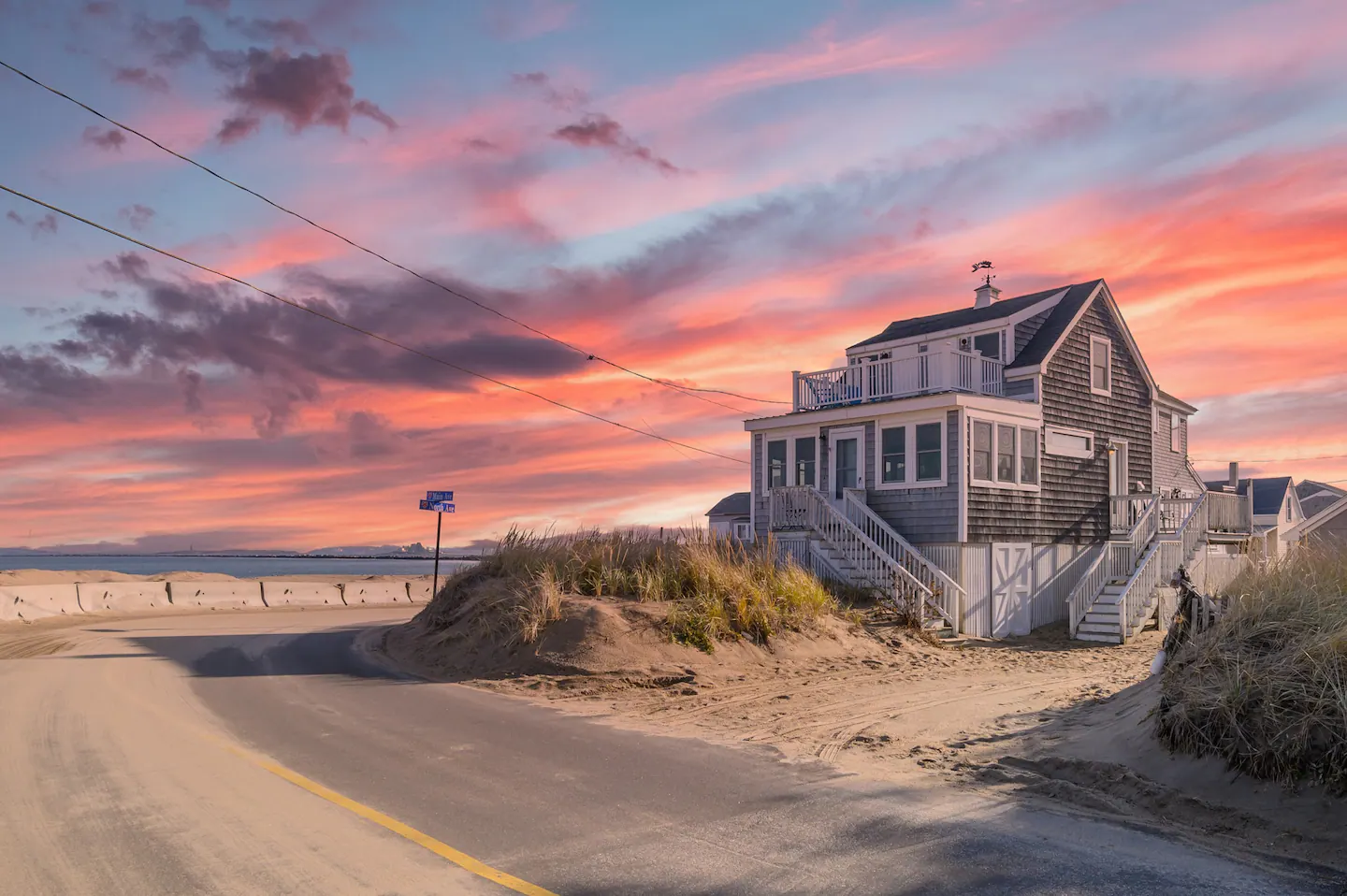 ---
Cliff-Perched Cottage with private hiking trails 
Location: Machiasport, Maine
Price: $300+ per night
https://www.airbnb.com/rooms/2441314
This beautiful cliff-side cottage known as The Prowhouse was designed by a sea captain to feel like the prow of a ship and is undoubtedly a unique stay. It's set atop a 130' cliff with an angular 'prow' and floor-to-ceiling windows offering expansive ocean views of Howards cove and Jasper Beach. It is surrounded by 30 acres of pristine forest, wildlife, and beaches. With only one other home barely visible across the cove, guests experience complete solitude when staying at The Prowhouse.
There is no shortage of adventure to be had when staying here as there are many private hiking trails from the house along the water and the option to spend the day on the water kayaking. Only 17 minutes from town but with full privacy, staying here feels like your own slice of paradise. With two bedrooms, the house fits four guests comfortably. The master bedroom has big windows with ocean views and the second bedroom has a more cozy feel. There is a living room, dining area, full kitchen, and two bathrooms all chicly decorated with vintage furnishings to give the interior a mid-century modern and nautical feel. The spacious deck offers a picnic table and deck to enjoy a meal under the stars or enjoy the sunshine. A stay of a lifetime!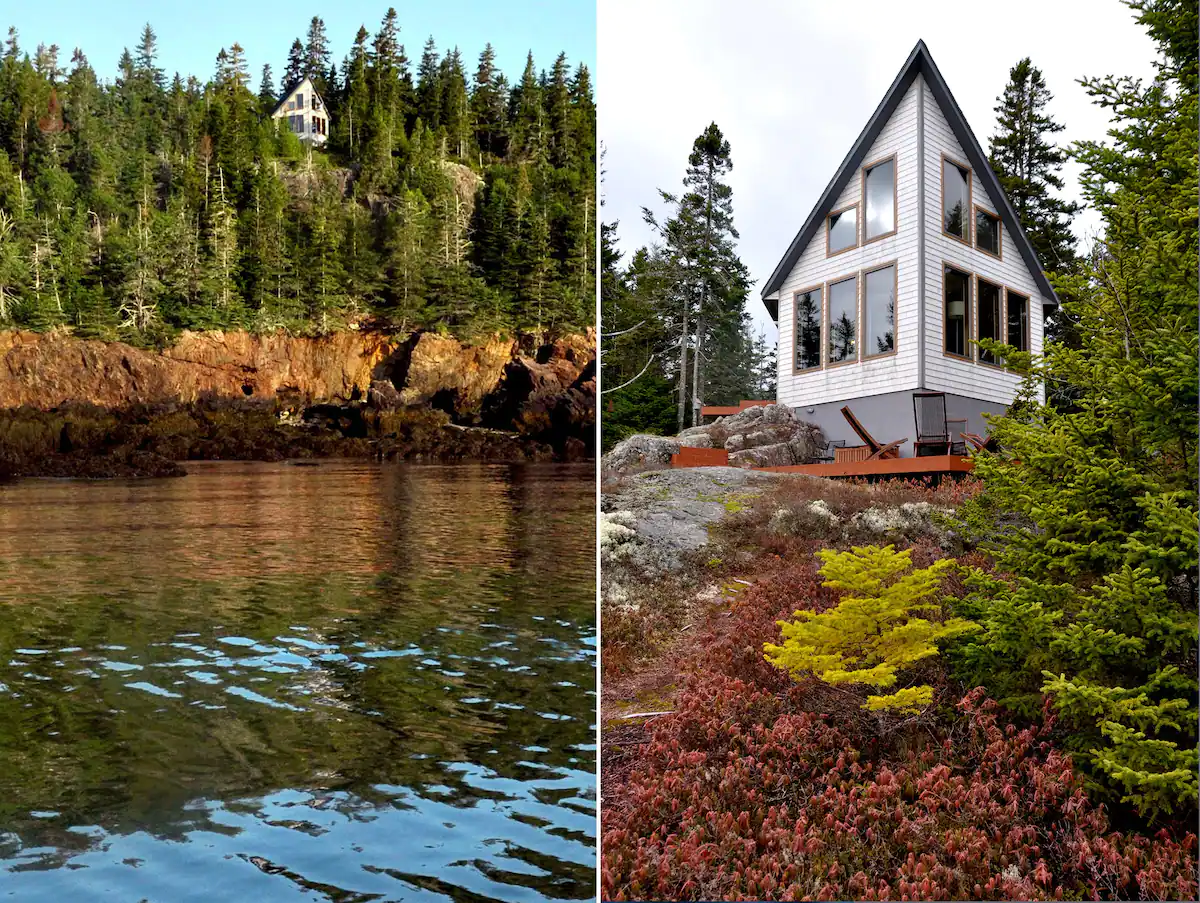 ---
Crow's Nest Tiny House at Old Crow Ranch
Location: Durham, Maine
Price: $150+ per night
https://www.airbnb.com/rooms/32661805
The Crow's Nest Tiny House is nestled amongst fields and pine trees on Old Crow Ranch, a 70-acre livestock farm. Staying here offers an insight into the real Maine farming life. Only 30 minutes outside of Portland, this tiny house is a nice and cozy place to retreat from city life while listening to the birds, watching the grazing animals, and star gazing in the evenings.
To ensure guests are comfortable year round, there is a heat pump as well as A/C depending on the time of year. It is also complete with a stove, oven, fridge/freezer, sink, shower, and composting toilet. Inside is a lofted queen bed and convertible day bed on the main floor. One of the special offerings when staying at the house is the option to take a farm tour! Otherwise guests can enjoy the yard around the house and explore the woods and pasture on their front door.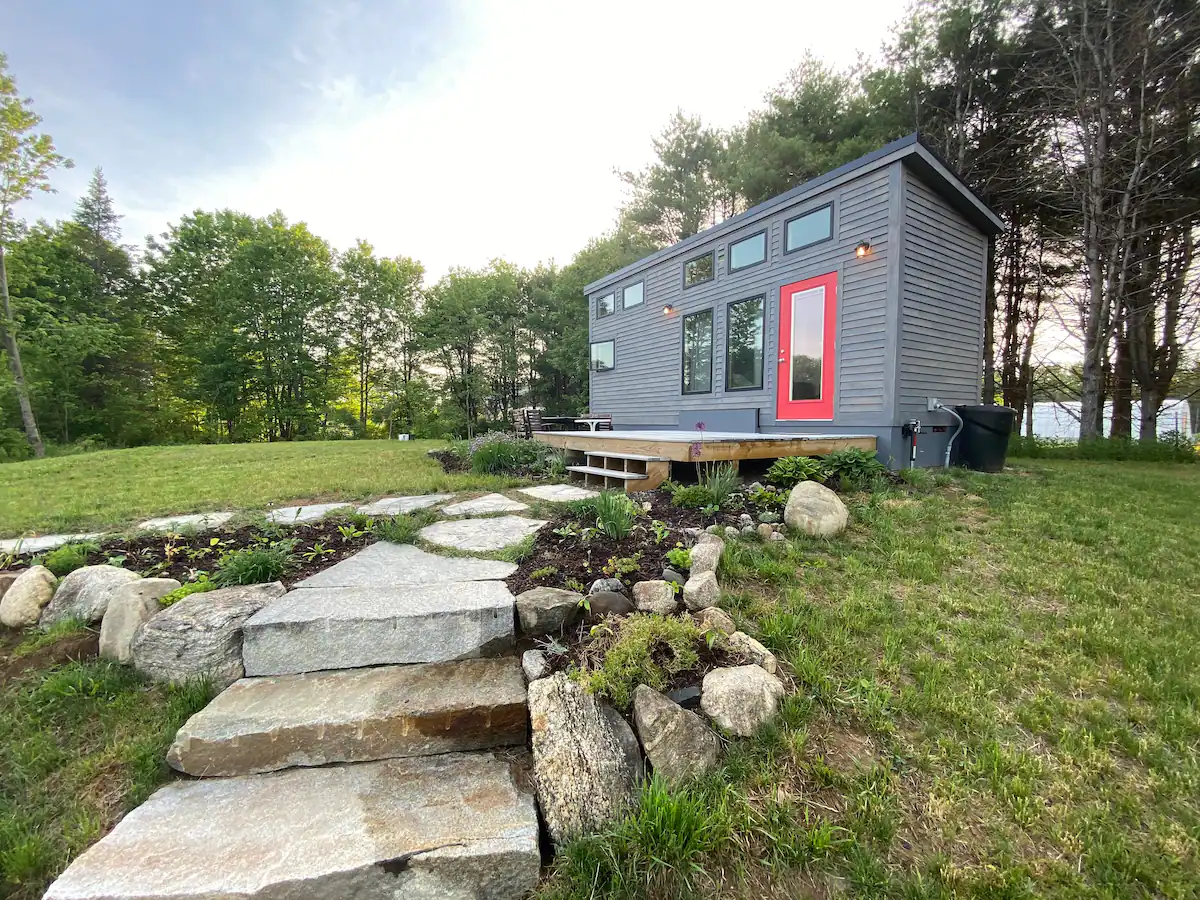 ---
Fisherman's Secluded Cabin
Location: Moosehead Lake, Maine
Price: $185+ per night
The beautiful Fisherman's Cabin is a perfect getaway for a couple or two friends. Out in the mountains right next to the lake, this wood cabin is an ideal place to escape the hustle and bustle and enjoy nature's serenity.
Surrounded by lake and mountain views, this home definitely gives the feeling of peace and solitude. With an open living and kitchen area, bedroom, and outdoor deck, it is a cozy home away from home. The rustic mountain decor, wood furnishings, and wood stove definitely give it that mountain feel.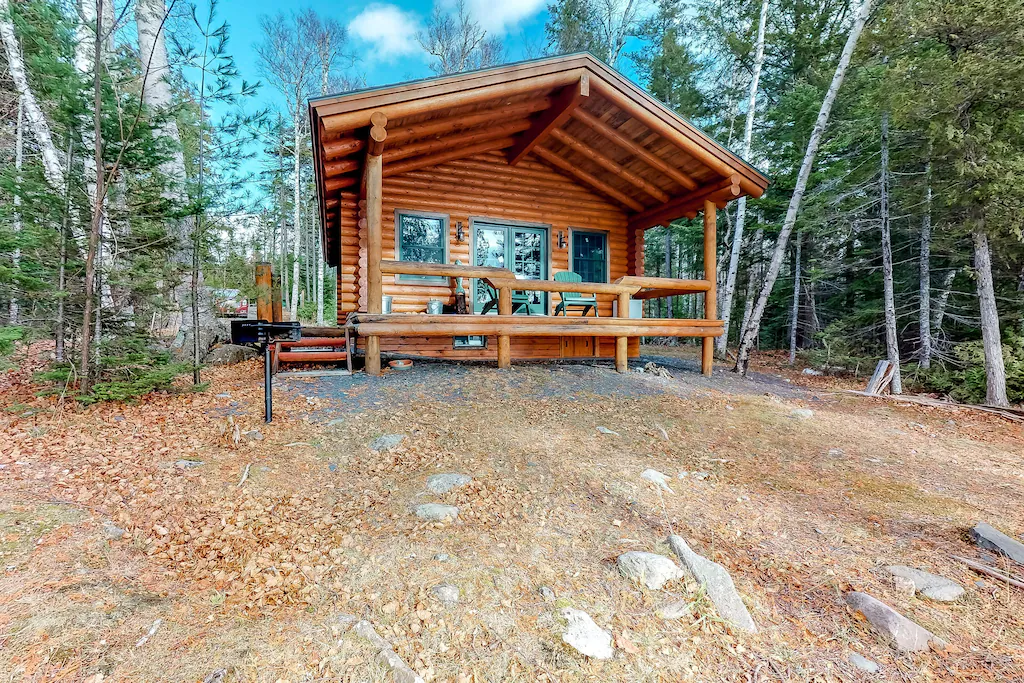 ---
Newry Estate 
Location: Newry, Maine
Price: $530+ per night
The elegant chalet, Newry state, is a beautiful and huge property perfect for a large gathering or reunion in the woods. It is part of the Powder Ridge community but still offers plenty of privacy. What makes it extra special are its stunning and endless mountain views from around the house. With a living room, kitchen, wood-burning fireplace, media room, and large deck it has plenty of space for guests to hang out alone or together.
With WiFi and Netflix available there's options to work or lounge. With five bedrooms, nine beds, and four bathrooms, it can sleep up to twelve guests. The interior design is quite modern and warm with the walls in each room painted a different color giving it a bit of an eclectic feel. The high ceilings and windows in the living area add an extra element of magic with their stunning views and natural light.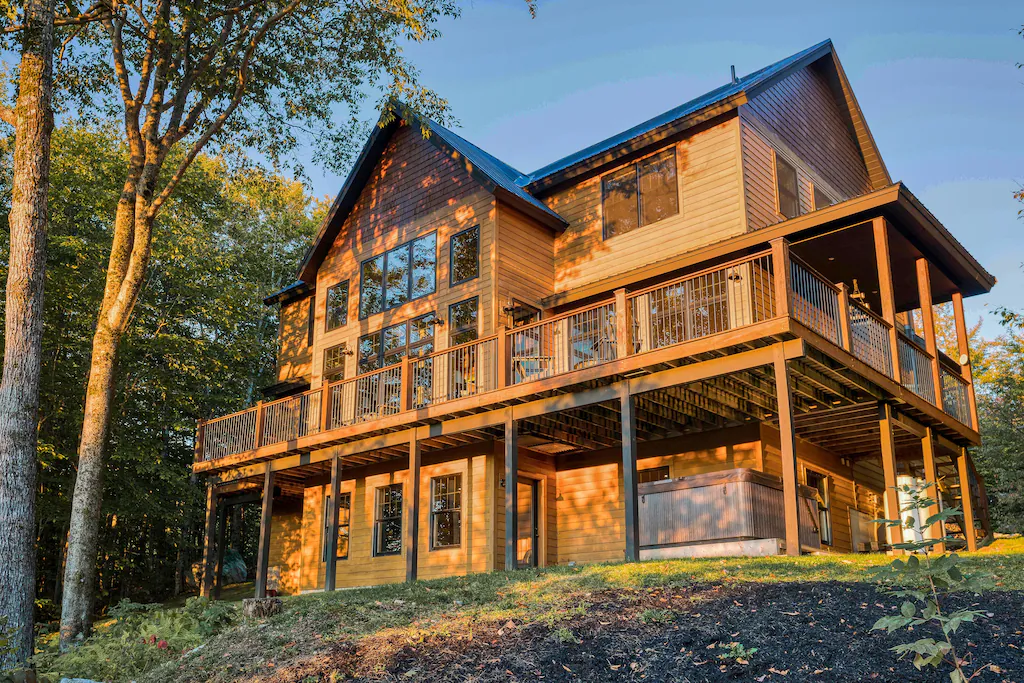 ---
Lake Arrowhead Waterfront Cabin
Location: Lake Arrowhead, Maine
Price: $384+ per night
https://www.vrbo.com/7936489ha
This large waterfront cabin is perfect for a family trip or friend gathering! With four bedrooms it can sleep up to nine people. Right on the lake with its own dock, it's great for spending time swimming, kayaking, or rope swinging!
Outside there is a bonfire pit, hammock, gas and charcoal grills, bedroom balcony, furnished deck, and private dock with two kayaks, a paddleboat, and canoe! With a flat screen TV complete with different streaming options, a wood-burning stove, full kitchen, wine bar, and exposed-beam ceilings, the house is great for the whole family to enjoy.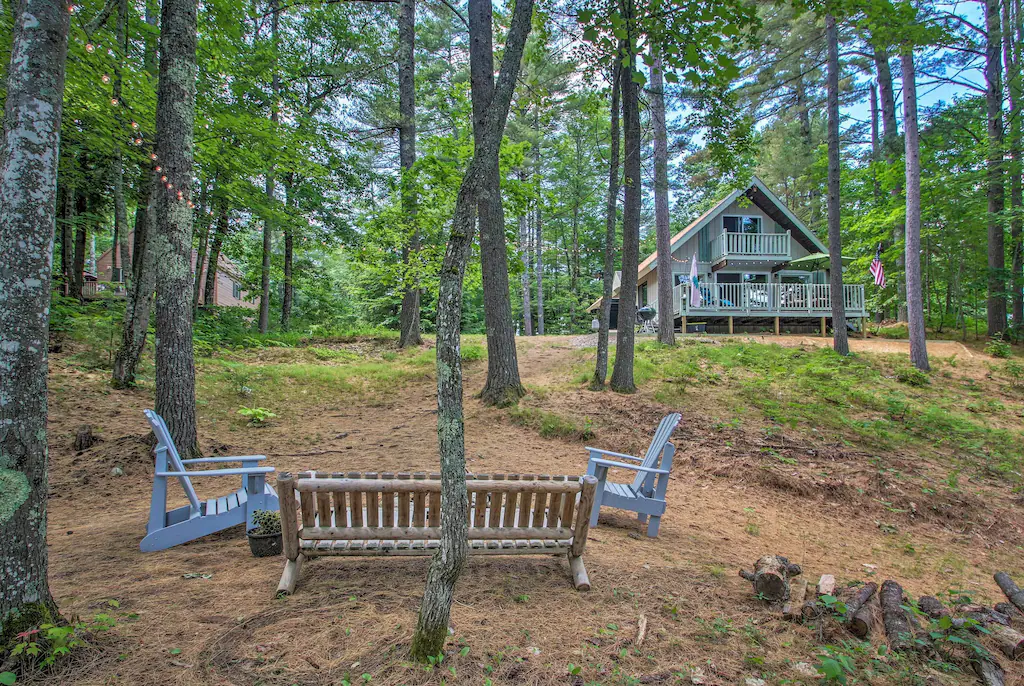 ---
Waterfront cabin with ocean view
Location: East Boothbay, Maine
Price: $285+ per night
https://www.airbnb.com/rooms/29130298
This oceanfront cabin is wonderfully located along some of Maine's untouched coast. With multiple beaches nearby, it's great for those who love the sea. The deep water deck is perfect for sunbathing, swimming, or fishing and the land deck is a perfect place to enjoy a meal under the sunshine.
The cabin's rustic interior gives it an old time yet homey feel. With a full kitchen and modern amenities, guests have all they need for an enjoyable stay.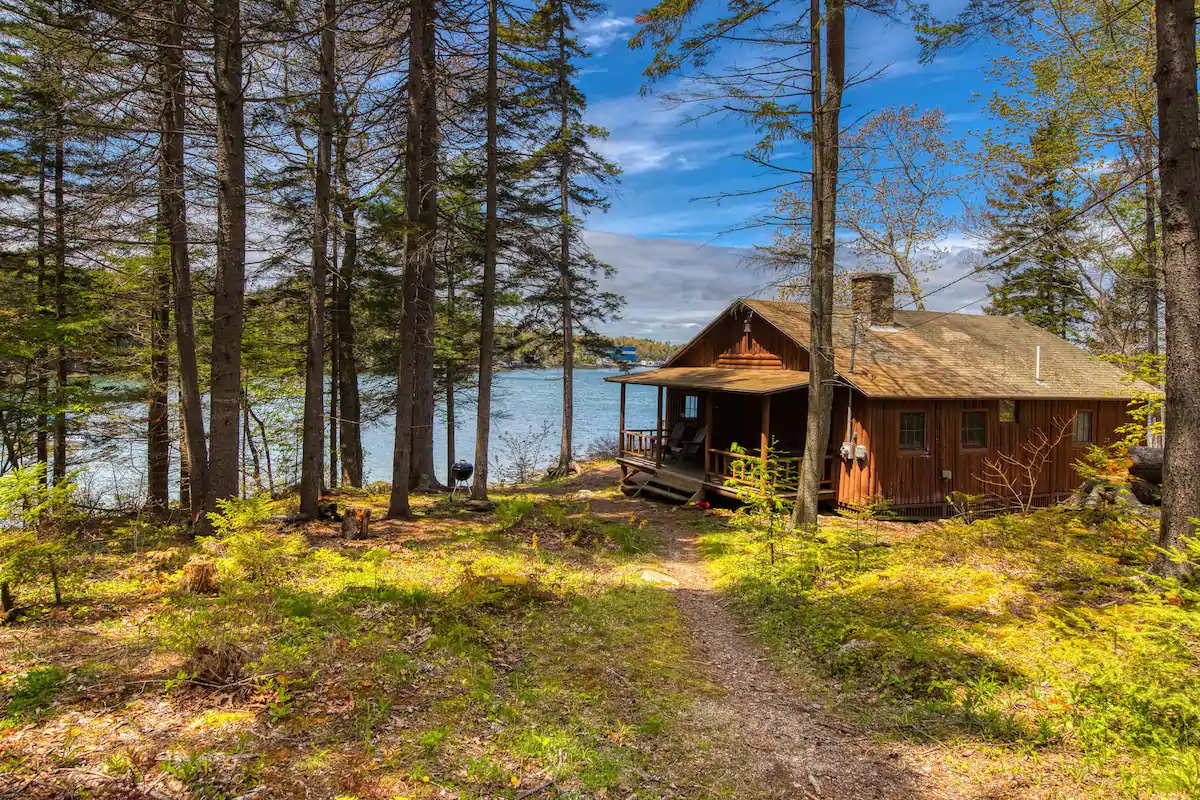 ---
Waterfront Home within National Park
Location: Northeast Harbor, Maine
Price: $950+ per night
https://www.airbnb.com/rooms/11739824
This waterfront home on Mound Desert Island within the boundaries of Acadia National Park is a rare find! With 180-degree views of Somes Sound, a wraparound deck, private swimming rocks, fire pit, picnic area, outdoor shower, kayaks, canoe, bikes, and more, it is the outdoor enthusiasts dream. With 300 square feet of glass facing the water, the kitchen and living room are filled with natural light and an airy feel.
The newly remodeled house has all of the modern amenities for guaranteed comfort. With a quarter mile of private oceanfront to explore and swim in, this place is really hard to beat when it comes to privacy and solitude. Plus there is even a stream running through the property offering soothing sounds to sleep to, along with the sound of the ocean and winds. A true delight.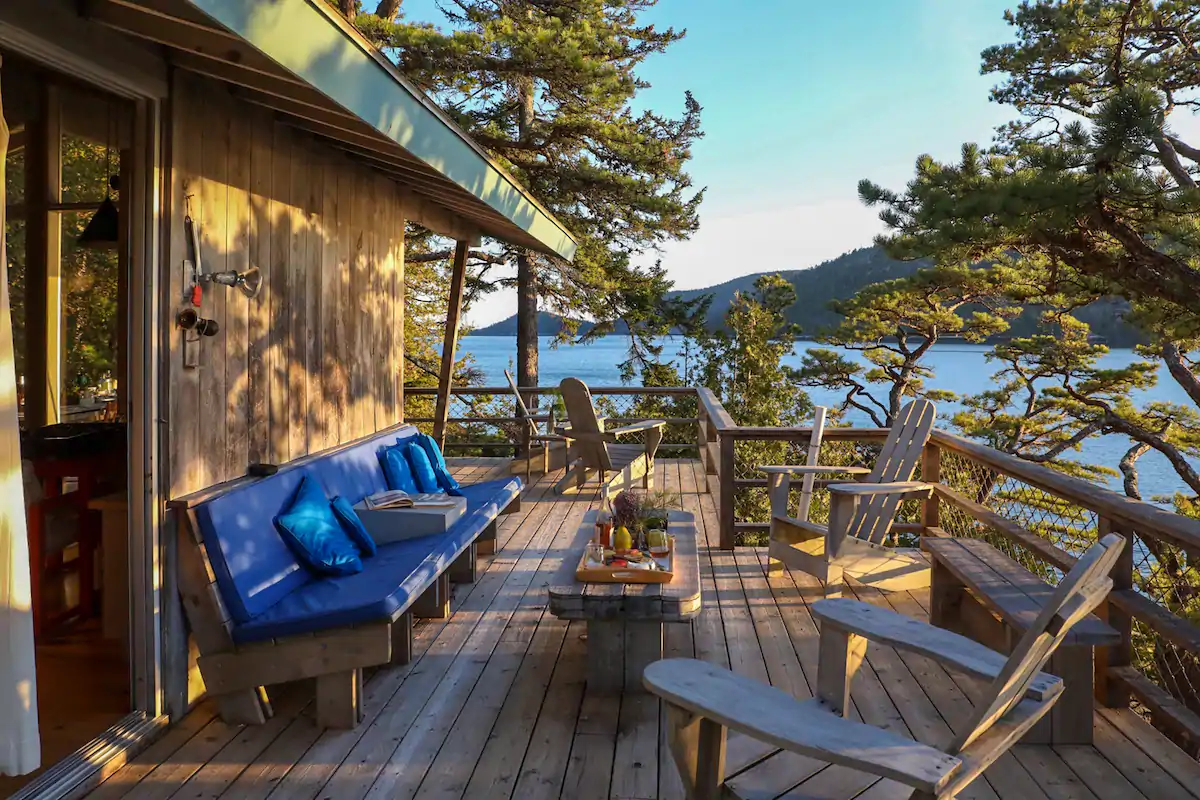 ---
Secluded Cabin in Rangeley Overlook
Location: Dallas Plantation, Maine
Price: $198+ per night
https://www.vrbo.com/4087909ha 
This three bedroom house privately located in the Rangeley Overlook offers incredible views and a peaceful stay. With a fully equipped kitchen, dining area, large stone fireplace, washer/dryer, loft, and a large deck, the cabin is great for families or groups.
With tall ceilings, wood interior, and plenty of natural light, it feels homey and warm, like a proper mountain getaway. Surrounded by trees and with beautiful views from the deck, the house is engulfed in nature's beauty. Guests can also enjoy shared beach access only a couple miles away.