Planning a trip and looking for the coolest and most unique A-Frame Cabin Rentals in Oregon? Well, look no further, as I've put together this guide to 12 incredible places to stay for an Oregon A-Frame Cabin Getaway that you'll absolutely love!
With its rugged mountains, enchanting forests, and stunning coastlines, the state of Oregon is a fabulous destination for a weekend getaway. Nature lovers can look forward to exploring the glittering Crater Lake, the majestic waterfall Toketee Falls, and the breathtaking Silver Falls State Park well-known for its hiking trails and breathtaking scenery.
Spend a few nights in an A-frame cabin and soak up the atmosphere from the comfort of these dreamy cabin rentals!
You may also like: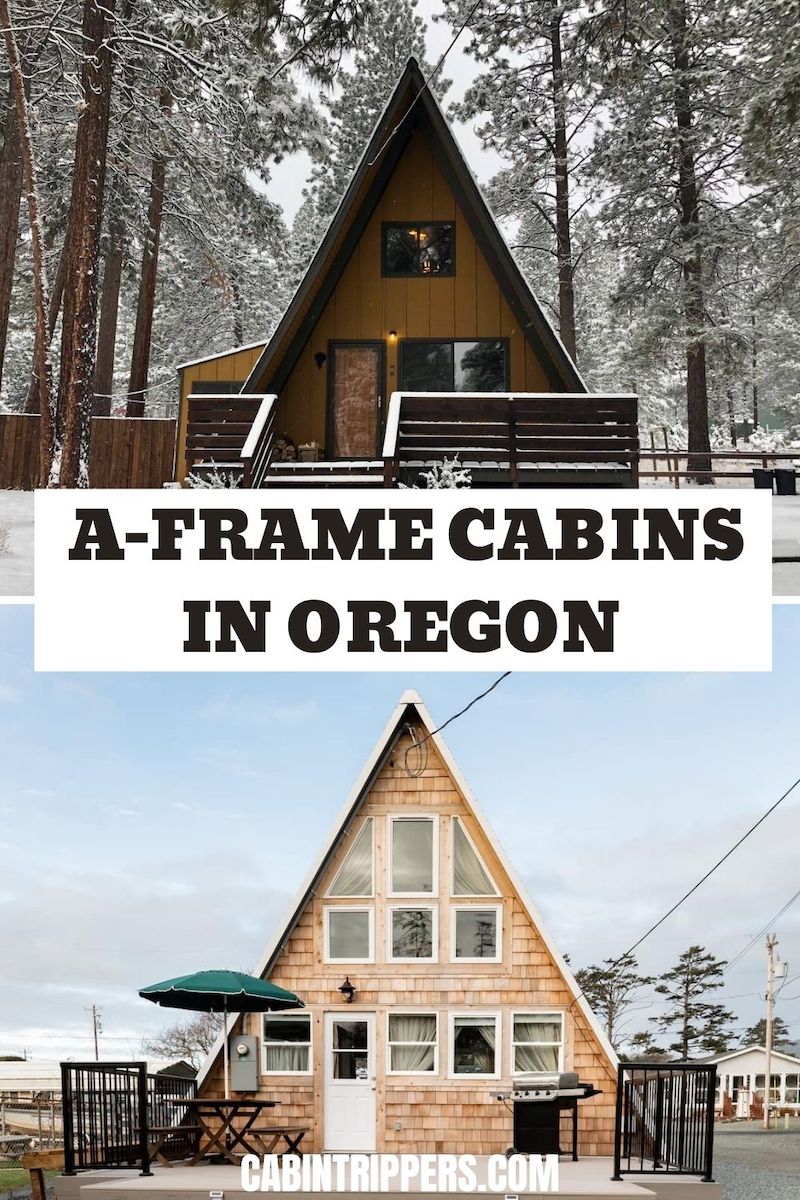 ---
Renovated A-Frame Cabin on the Oregon Coast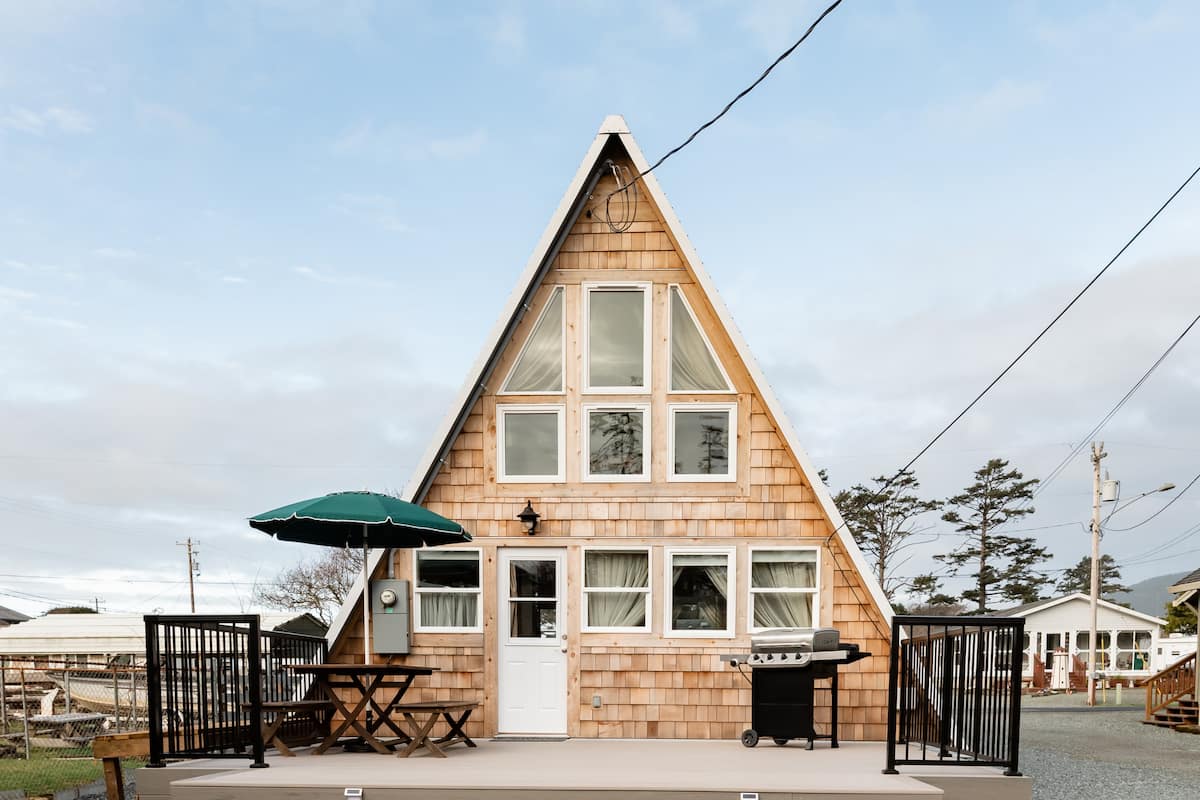 Location: Rockaway Beach, Oregon
Price: $171+ per night
https://www.airbnb.com/rooms/plus/30719878
If you are searching for a place to stay near Rockaway Beach, look no further than this renovated A-frame. The location is amazing with easy access to the beach and the downtown where you will find shops and restaurants. The neighboring Manzanita and Tillamook are also easily reachable by car.
With huge windows, the A-frame is light and airy. Guests can sit around the fire pit and relax with a glass of wine on the large porch. Want to hear more good news? This loft space is pet-friendly, so feel free to bring along your pup.
Guests say how the owners, Peter and Irina, are friendly, easy to get in touch with, and always more than happy to recommend places worth visiting in the neighborhood.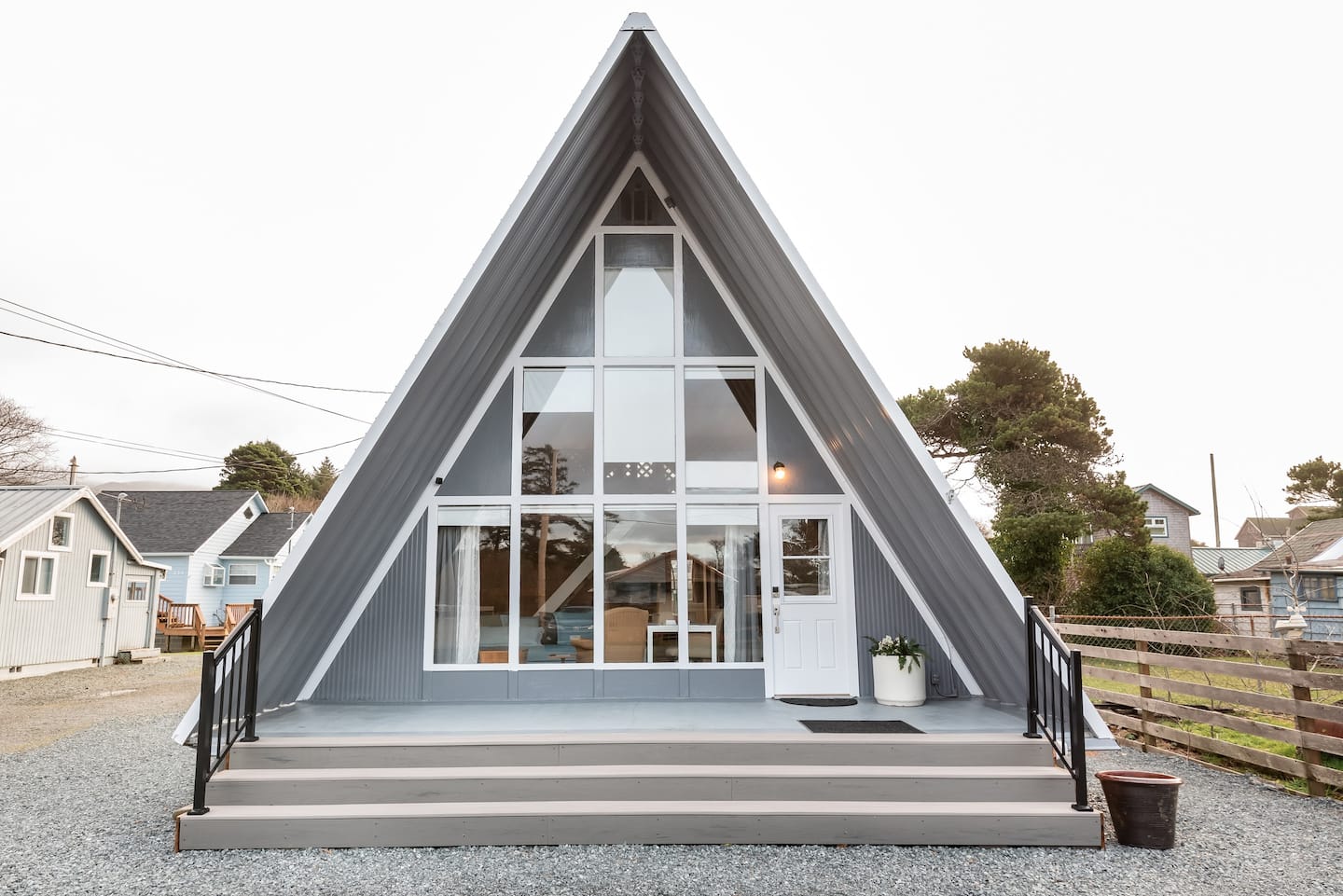 ---
Anchor's A-Way A-Frame Cabin
Location: Lane County, Oregon
Price: $86+ per night
If you are exploring Oregon's Lane County, spend a few nights at the classic Anchor's A-Way cabin. Although it has just 600 square feet, this cozy place looks spectacular. Downstairs, you will find a dining area with a kitchen, bathroom, and living room.
The loft with a comfortable queen bed and a dresser is easily accessible via a ladder-stairway.  There is a deck with a picnic table outside where you can enjoy nature views and listen to the sounds of the birds. The beach is about 3 miles away.
View Photos, Read Reviews & Check Availability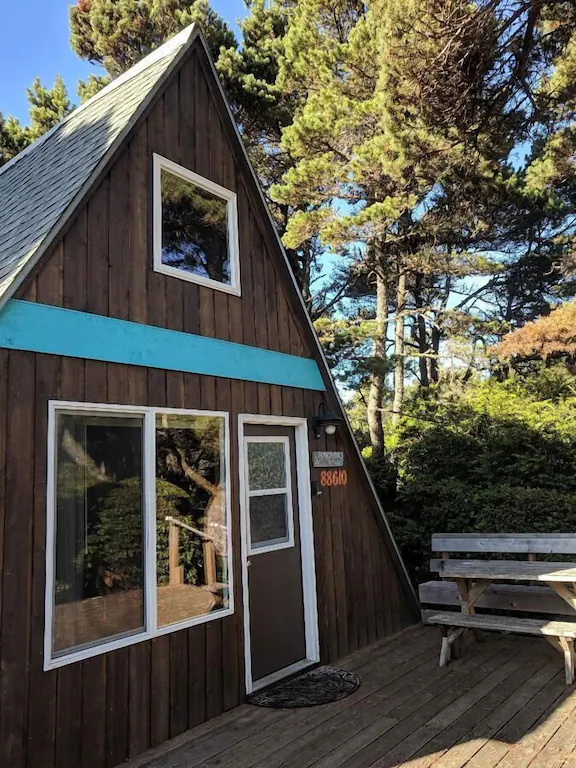 ---
Secluded & Waterfront A-Frame Cabin Rental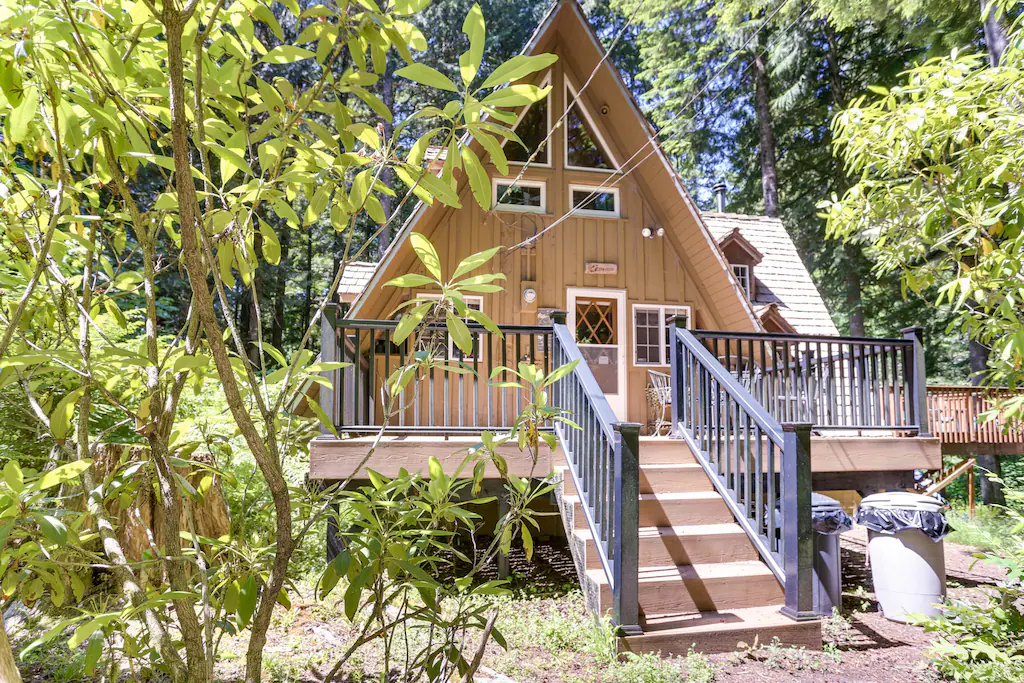 Location: Mount Hood, Oregon
Price: $300+ per night
Situated on the banks of Clear Creek, this recently remodeled A-frame is located within walking distance from Mt. Hood Highway. The community of Rhododendron and 5 different ski areas are just a short drive away from the property.
The cabin boasts a vintage décor with a bunch of antiques scattered around the house. The cabin has a rustic vibe, but at the same time, comes with an updated bathroom and kitchen. The main attraction is the fabulous Jacuzzi that you won't want to get out of!
Step outside and have dinner on the spacious and nicely furnished deck. You can also sit on the stone benches near the fire pit and prepare BBQ. The back deck is also great and offers magnificent views of the lazy river below.
View Photos, Read Reviews & Check Availability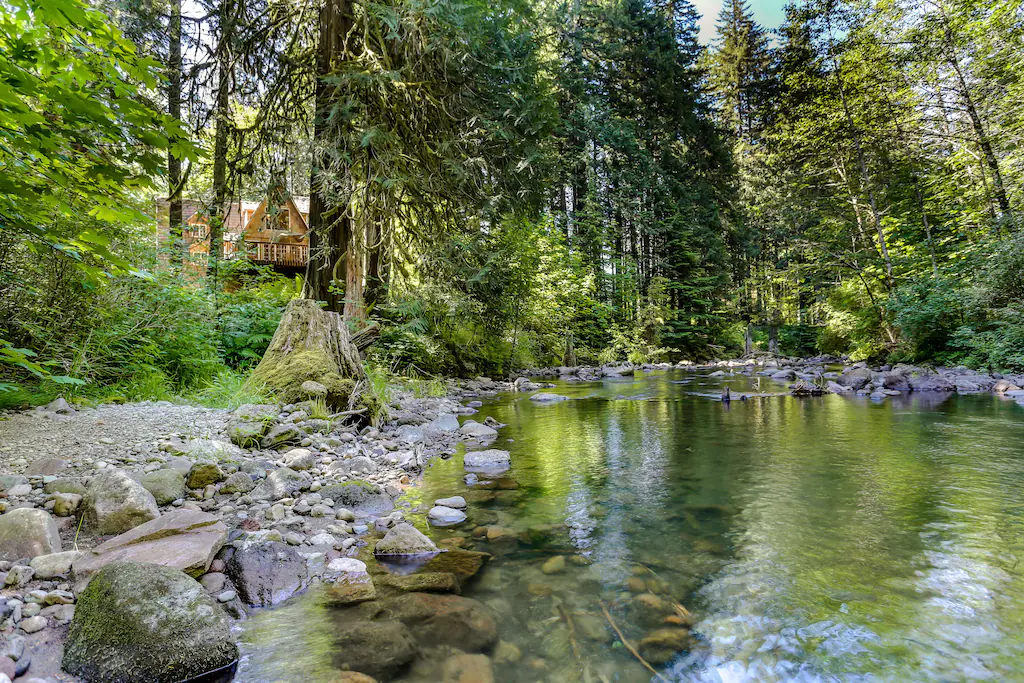 ---
Dog-friendly A-Frame Cottage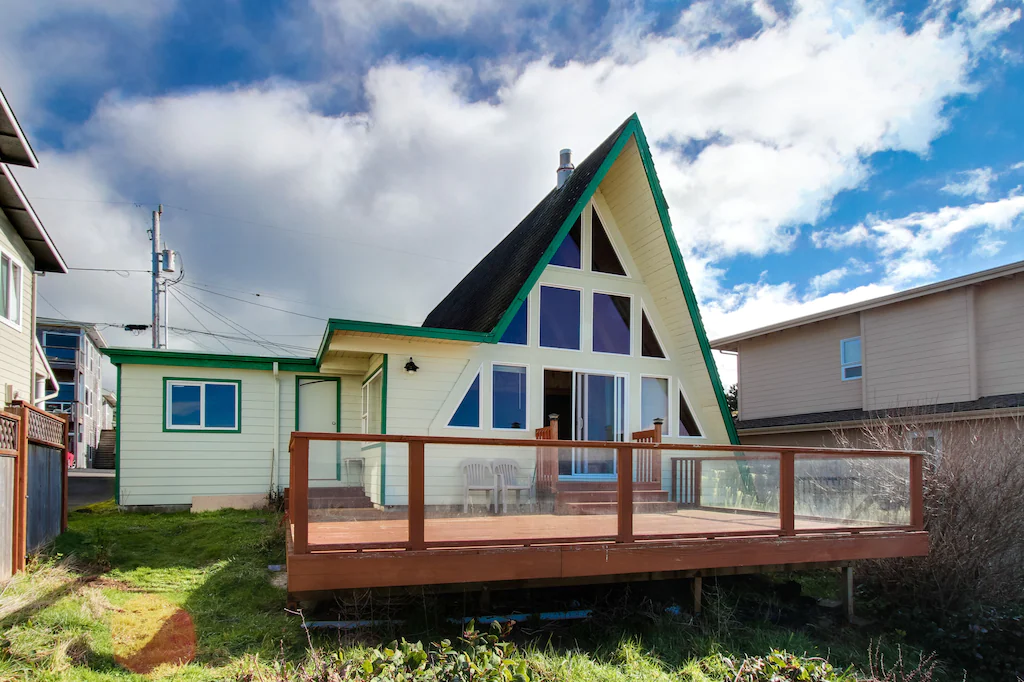 Location: Lincoln City, Oregon
Price: $114+ per night
With stunning ocean views, the Dog-friendly A-frame Cottage in Lincoln City is a great place to spend the weekend with family and friends. Located just a short walk from the beach, this oceanfront home accommodated 6 people and has 2 designated parking spots.
Guests like the open layout and add that the home features an incredibly warm vibe. The living area is fitted with comfy furniture, a TV, and a CD stereo. Guests also have access to a beautiful kitchen with granite countertops and appliances such as a coffeemaker, a blender, and a mixer. Having lunch on the glass dining table and enjoying magnificent ocean views is something that you can't describe with words.   
Outside, you will find a deck with patio furniture and a charcoal grill for cooking. What can I do here? Visit the Lincoln City center and explore its art galleries, boutiques, and shopping malls.
View Photos, Read Reviews & Check Availability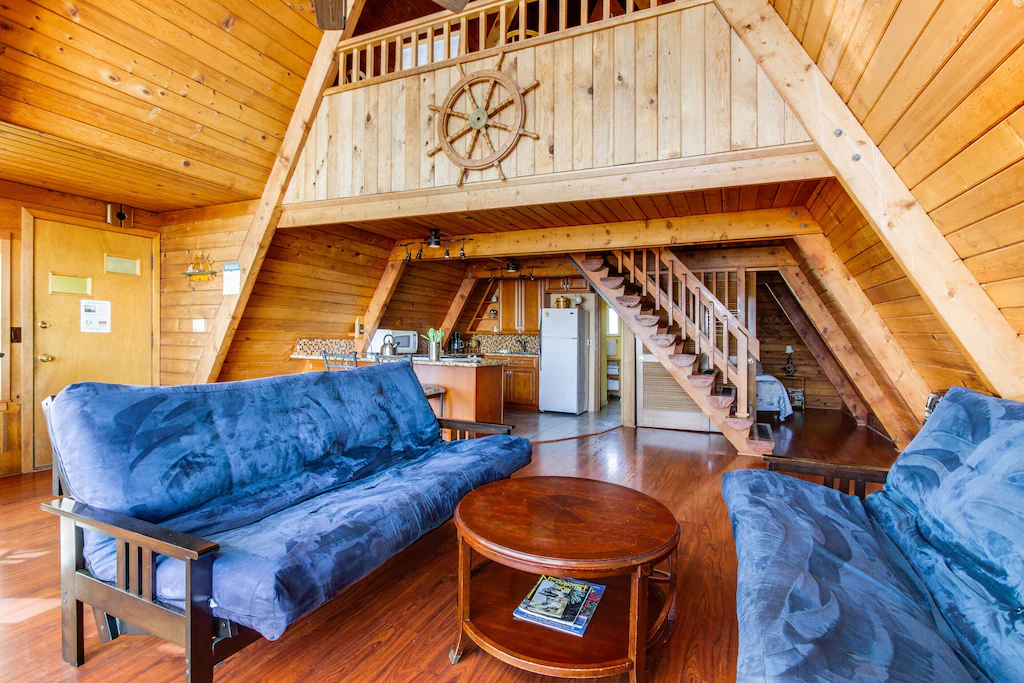 ---
Charming A-Frame Vacation Rental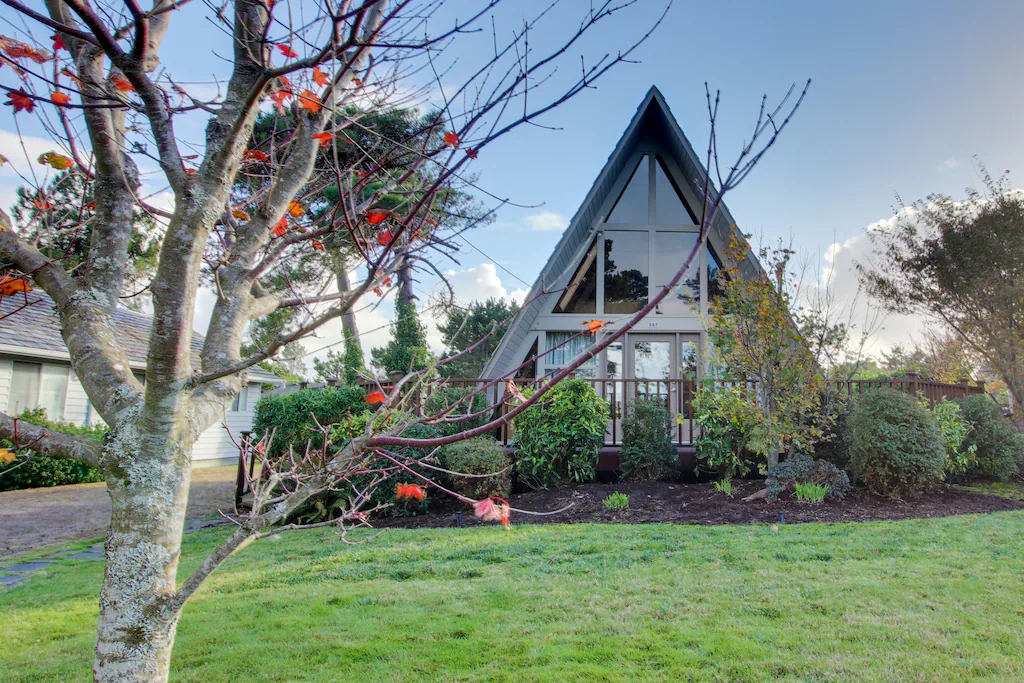 Location: Gearhart, Oregon
Price: $129+ per night
This cute Gearhart vacation A-frame rental can accommodate up to 4 guests. It is super close to a golf course and a picturesque beach where you can enjoy activities like kayaking and surging. A few dining establishments and bars are just a short walk away.
With a cozy cabin vibe, the A-frame house is nicely furnished and decorated. The living area with huge windows and an oversized couch is a great place to unwind and read a book. You can also snuggle up by the fireplace or prepare meals in the fully-equipped kitchen. Choose one of the board games for entertainment in the evenings.
To stay in shape, make your way to the nearby tennis and basketball courts. If you wish to enjoy tasty coffee and freshly baked goods, stop by the popular Pacific Way Bakery and Café on Cottage Avenue.
View Photos, Read Reviews & Check Availability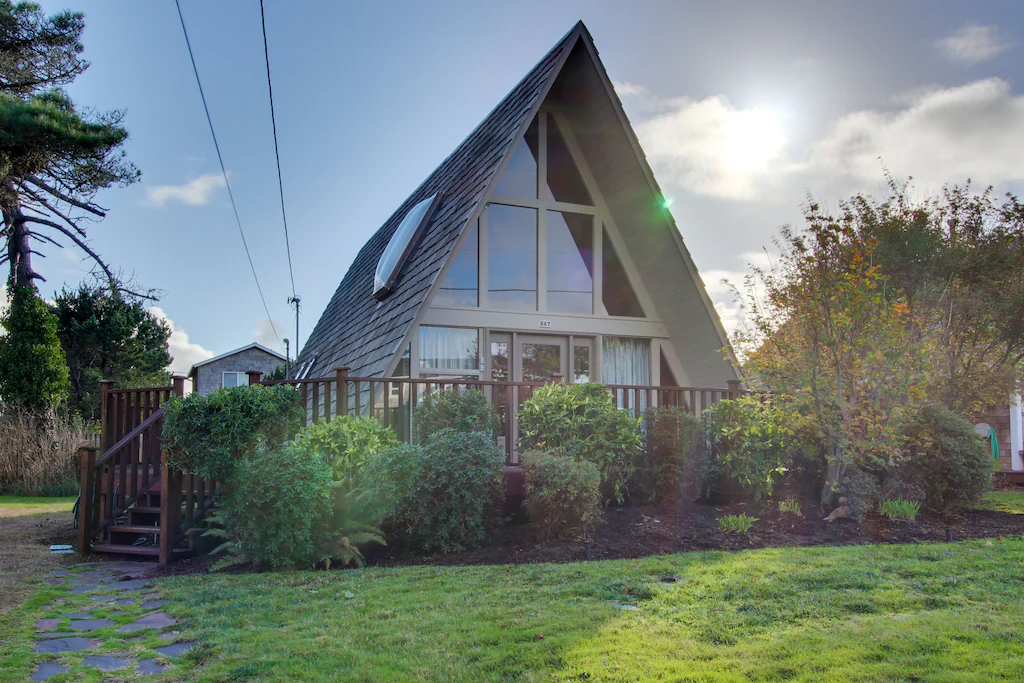 ---
Gorgeous, Cozy Oceanfront A-Frame Chalets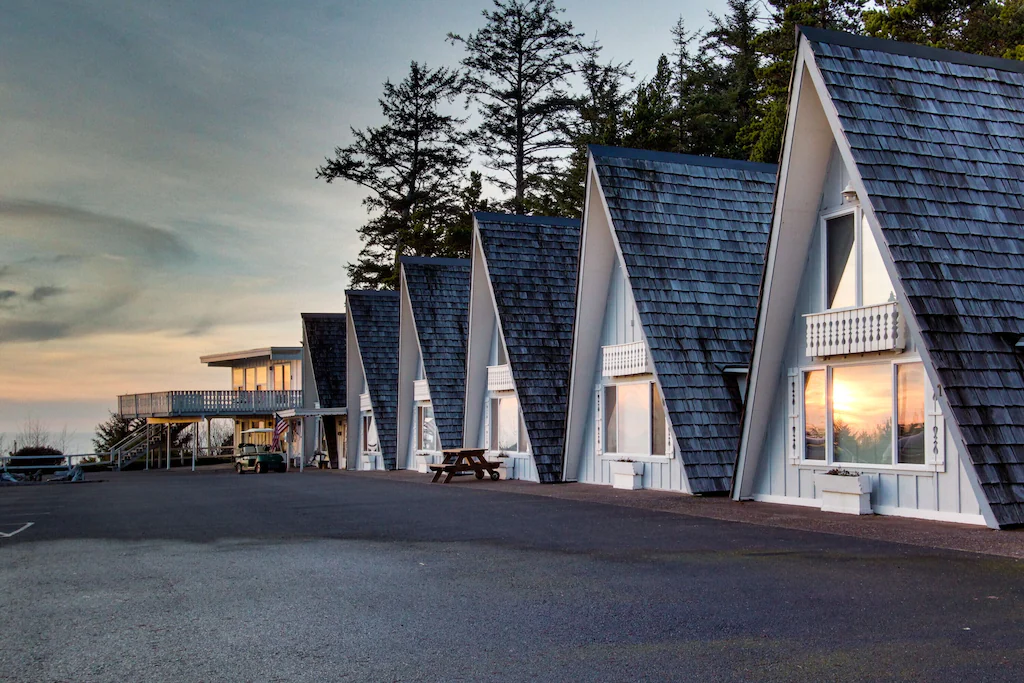 Location: Otter Rock, Oregon
Price: $113+ per night
Located in Otter Rock in Oregon, these oceanfront chalets are a great place to stay with family and friends. The gorgeous Beverly Beach is right at your doorstep and the town of Newport is just a short drive from the property.
Inside the chalets, expect to find a cozy living room with big windows, wood ceiling beams, and plush deep armchairs. The full kitchen is stocked with all the necessary utensils for preparing meals. There is also a dining room table that seats four people. Wish to make coffee? Use the coffee grinder to prepare your morning cup of brew!
In the evening, spend some time in the loft upstairs. This bright and open area boasts comfortable beds, bedside tables, reading lamps, and a TV. If you wish to socialize with other guests, head down to the shared firepit/picnic areas.
View Photos, Read Reviews & Check Availability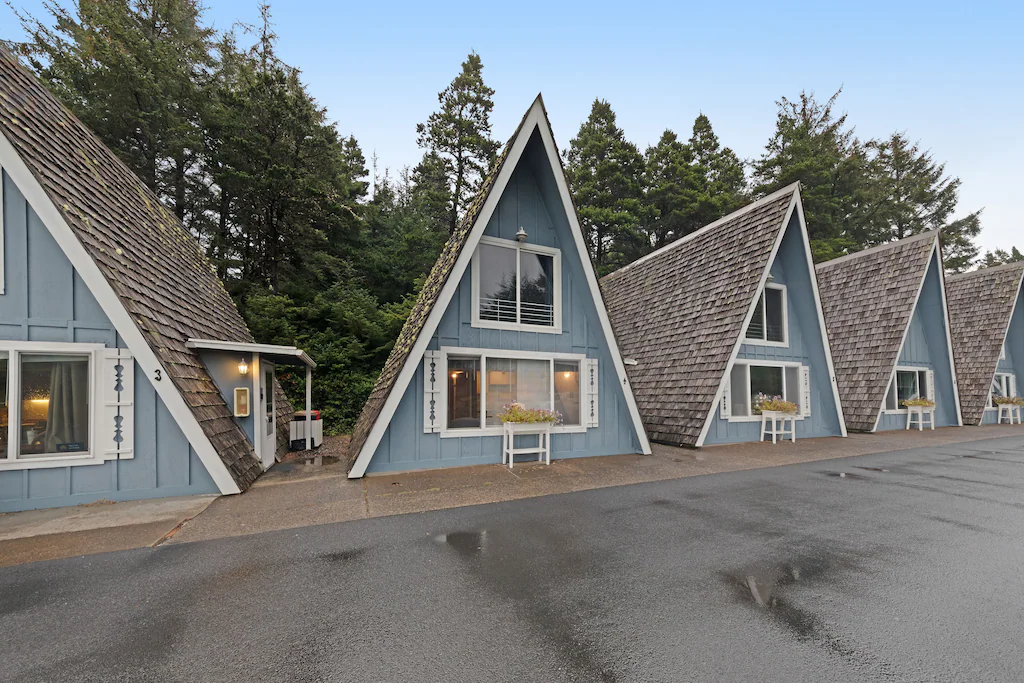 ---
Cozy Oregon A-frame Cabin Rental with Large Deck
Location: Rockaway Beach, Oregon
Price: $49+ per night
If you are visiting Oregon on a budget, book your stay for just $50 per night at this cozy A-frame cabin. It is definitely the most affordable cabin on the list. The good news is that this dog-friendly property is located a short walk from the popular Rockaway Beach.
Guests like the quiet forest setting and add that the cabin is close to many shops and restaurants. The outdoor space boasts a large deck which is great for reading a book and just enjoying the views. Inside the cabin, guests will find a living room with a comfortable couch, a small TV, and an electric fireplace. The bedroom is fitted with a queen-size bed.
There is no shortage of fun things to do in the area. You can head out to the beach, visit the Tillamook Cheese Factory, or grab a bite at one of many hip restaurants and bars on Rockaway Beach.
View Photos, Read Reviews & Check Availability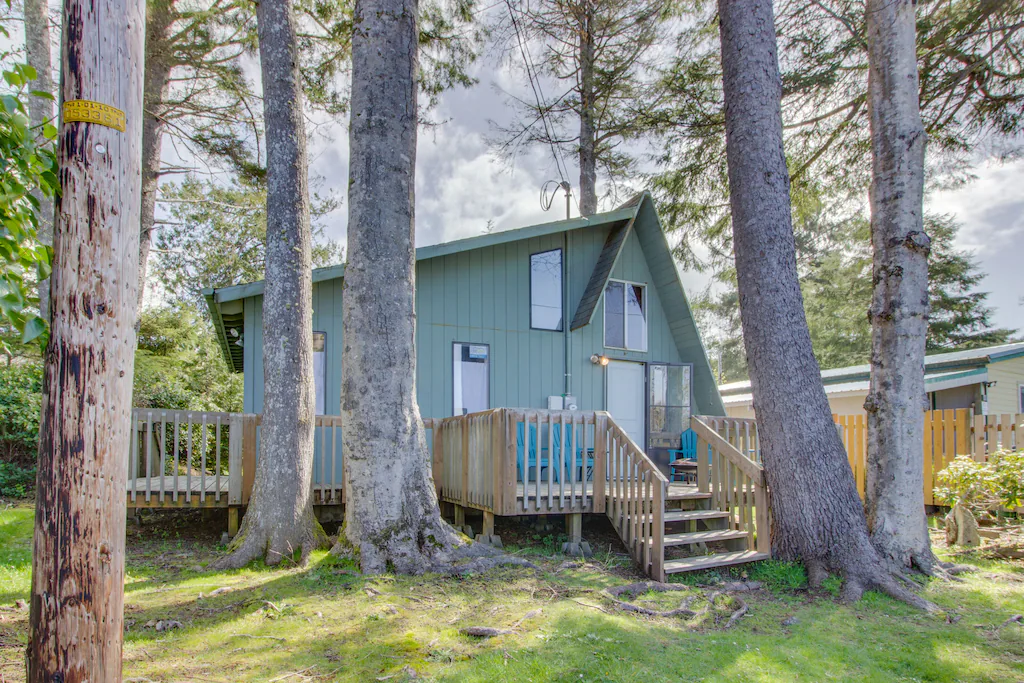 ---
Red A-Frame, Hood River
Location: Hood River, Oregon
Price: $250+ per night
https://www.airbnb.com/rooms/22720188
Located just a short drive from Hood River Downtown, Red A-frame is a great place to spend the weekend. The views of both Mount Hood and Mount Adams are simply breathtaking.
You will have the entire home to yourself. The property itself looks amazing and boasts two bedrooms, a living room, a well-equipped kitchen, and a modern bathroom. Step outside to find a large sitting area with picnic tables and benches.
Families with kids love Red A-frame because of its yard with a swing set and a playroom. Attractions like Marchesi Vineyards & Winery and Cathedral Ridge Winery will be right at your doorstep.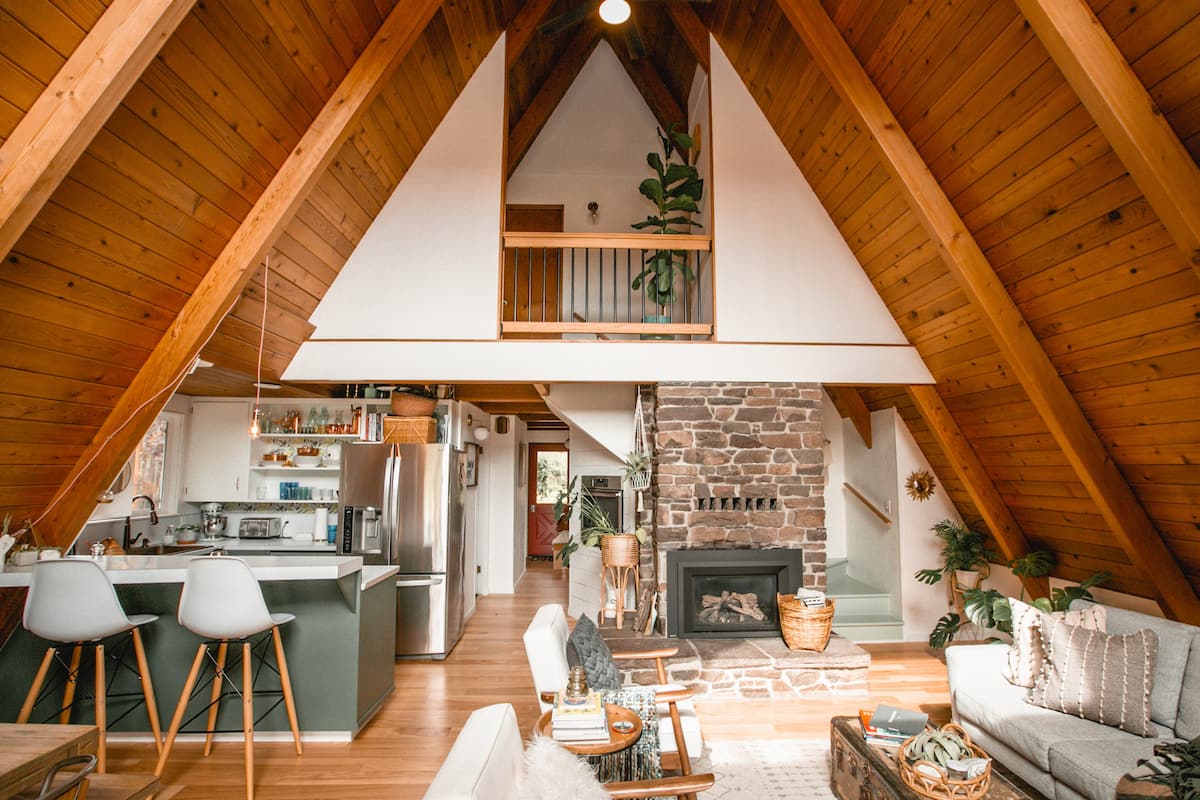 ---
Niksen House: Scandinavian style Cabin at Mt. Hood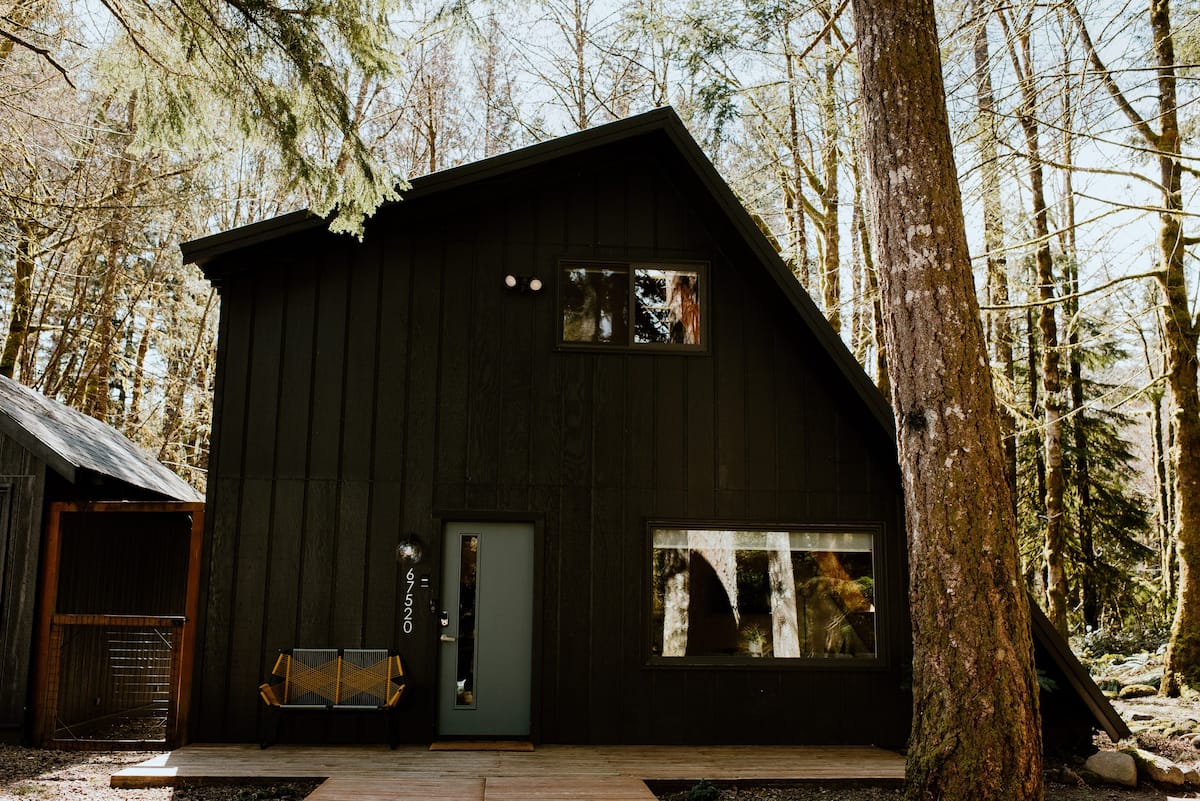 Location: Rhododendron, Oregon
Price: $229+ per night
https://www.airbnb.com/rooms/38461019
The Niksen House is a very cute A-frame with a Scandinavian vibe. The property is located a stone's throw from the Mt. Hood National Forest and a short drive from hiking trails and ski areas. The city of Portland can be reached by car in an hour or so.
This A-frame cabin is nicely decorated. Step inside the cozy living space where you will find a smart TV and a woodstove. The adjacent breakfast area looks cute and sits 4 people. The kitchen is equipped with everything you need including a stove, oven, refrigerator, microwave, and dishwasher.
The bathroom is also located downstairs and comes with a jetted tub/shower. To reach the two bedrooms, you'll have to climb the spiral staircase. One of the bedrooms has a wonderful balcony with sliding glass doors. To sum it all up, if you are looking for a beautifully designed cabin in the woods, the Niksen House is your place to be!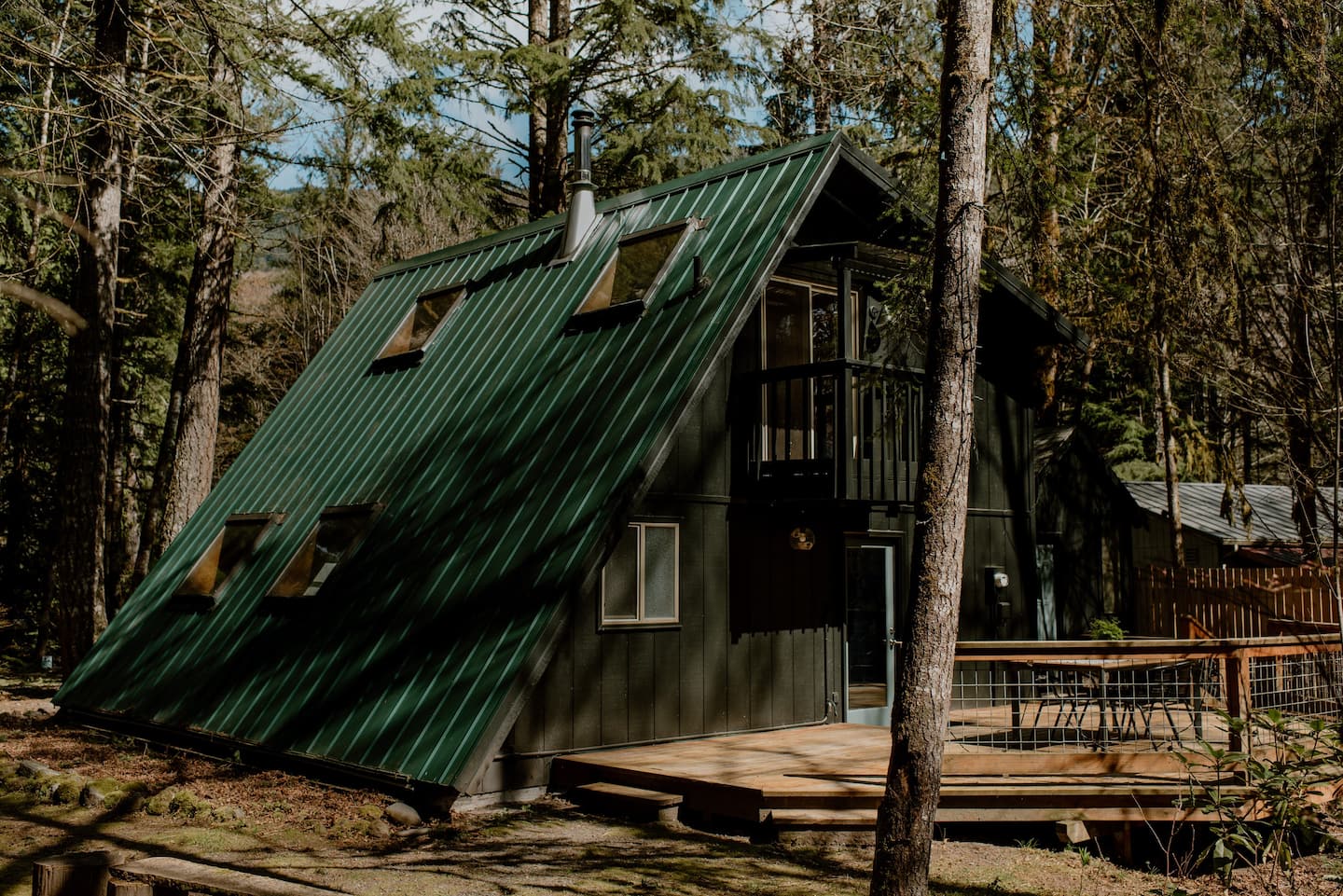 ---
Oceanside A-Frame Cabin in Oregon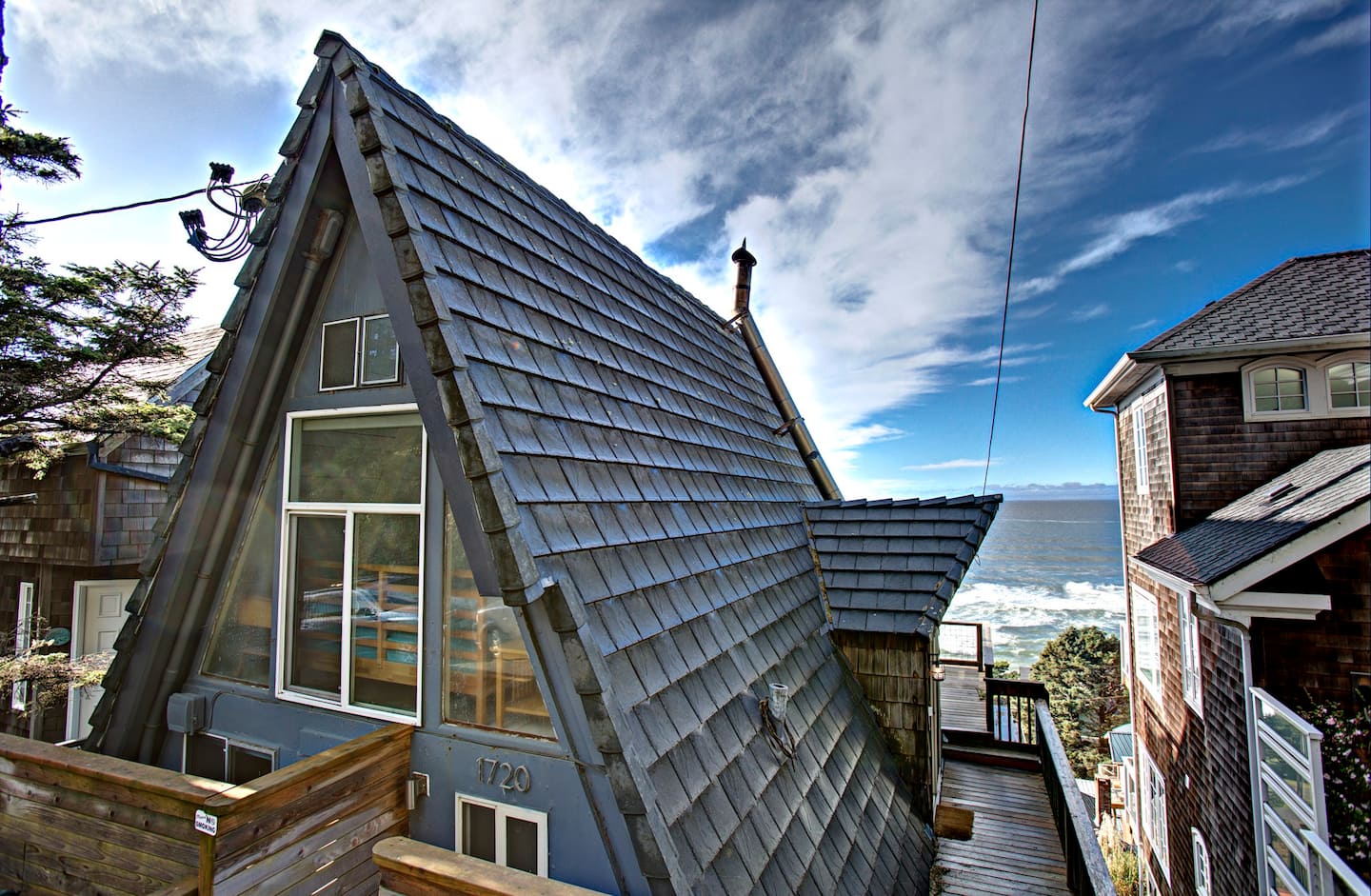 Location: Oceanside, Oregon
Price: $208+ per night
https://www.airbnb.com/rooms/8590998
For a luxurious stay in Oregon, book your stay at Oceanside A-Frame. Guests simply love this place! Nestled on a hillside, this mid-century A-frame boasts a large private deck with panoramic ocean views. The Oceanside village is easily reachable and Lincoln City is just an hour's drive away.
The property looks amazing. It has a cute fireplace and is fitted with a range of 5-star amenities. It truly makes a great central base for exploring the coast.
What can I do here? Walk down to the beach, book a table for dinner at Roseanne's, or go to Canon Beach to see Haystack Rock.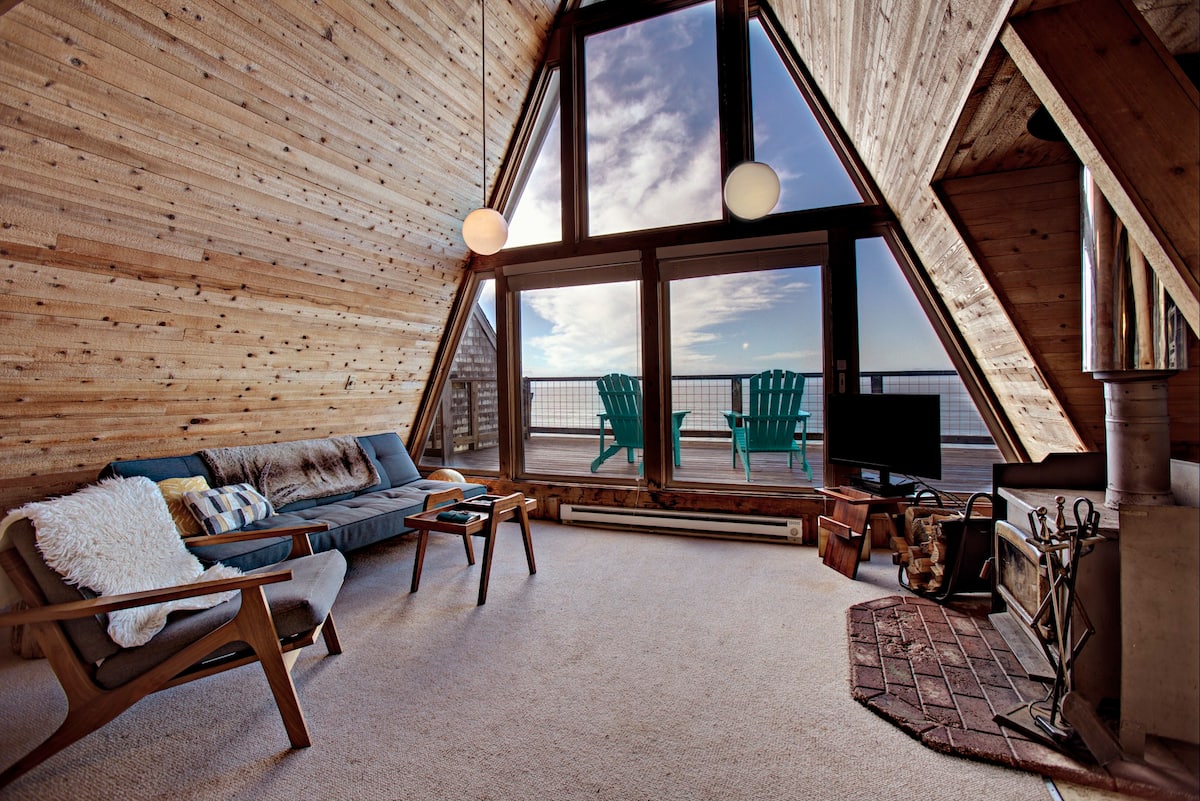 ---
Firewater Lodge Cabin Experience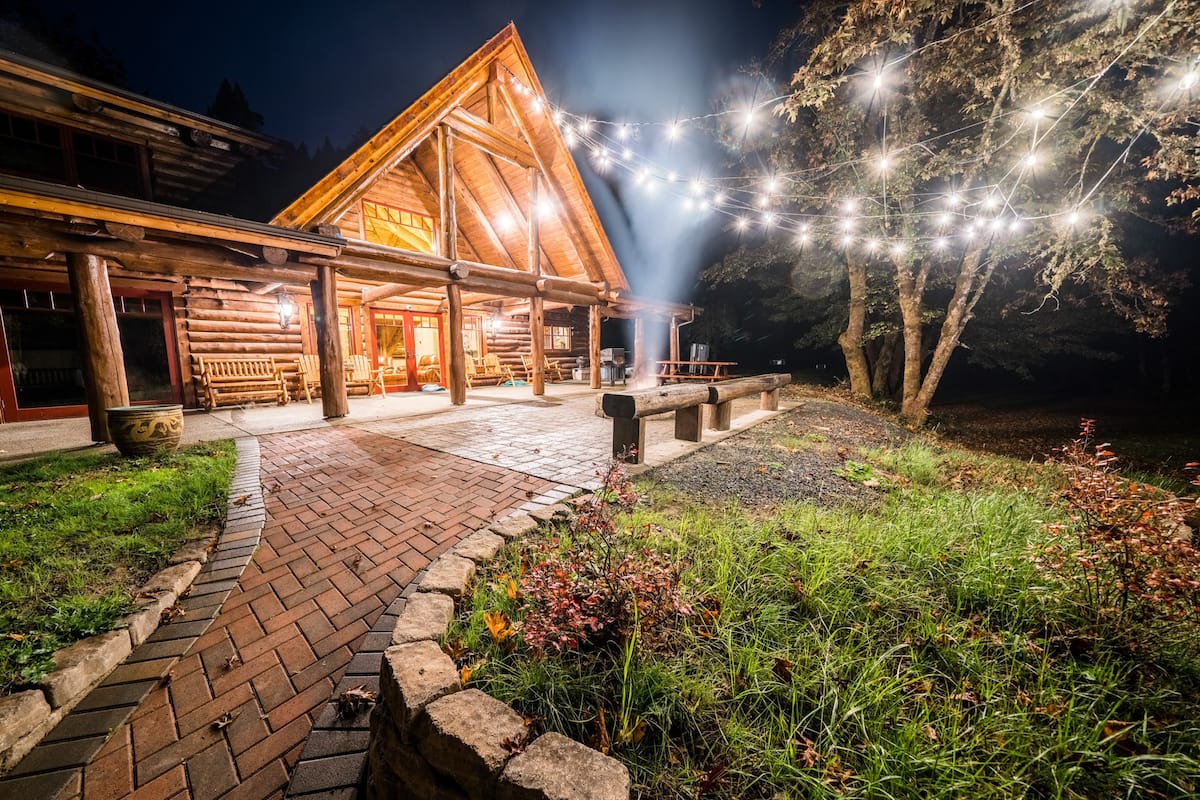 Location: Roseburg, Oregon
Price: $199+ per night
https://www.airbnb.com/rooms/46282146
Welcome to the Firewater Lodge Cabin Experience, a wonderful family-operated cabin retreat that offers easy access to outdoor activities such as fishing, bird-watching, hiking, and wine tasting.
The custom-designed cabin is furnished nicely with a perfect mix of rustic and comfortable. It is well equipped with everything you could need. The living room is cozy, but still offers plenty of room for your kids to play and solve puzzles.
Guests also like the kitchen that is easy to cook in and has all the necessary utensils and appliances. You can even bring your dog along since this is a pet-friendly property.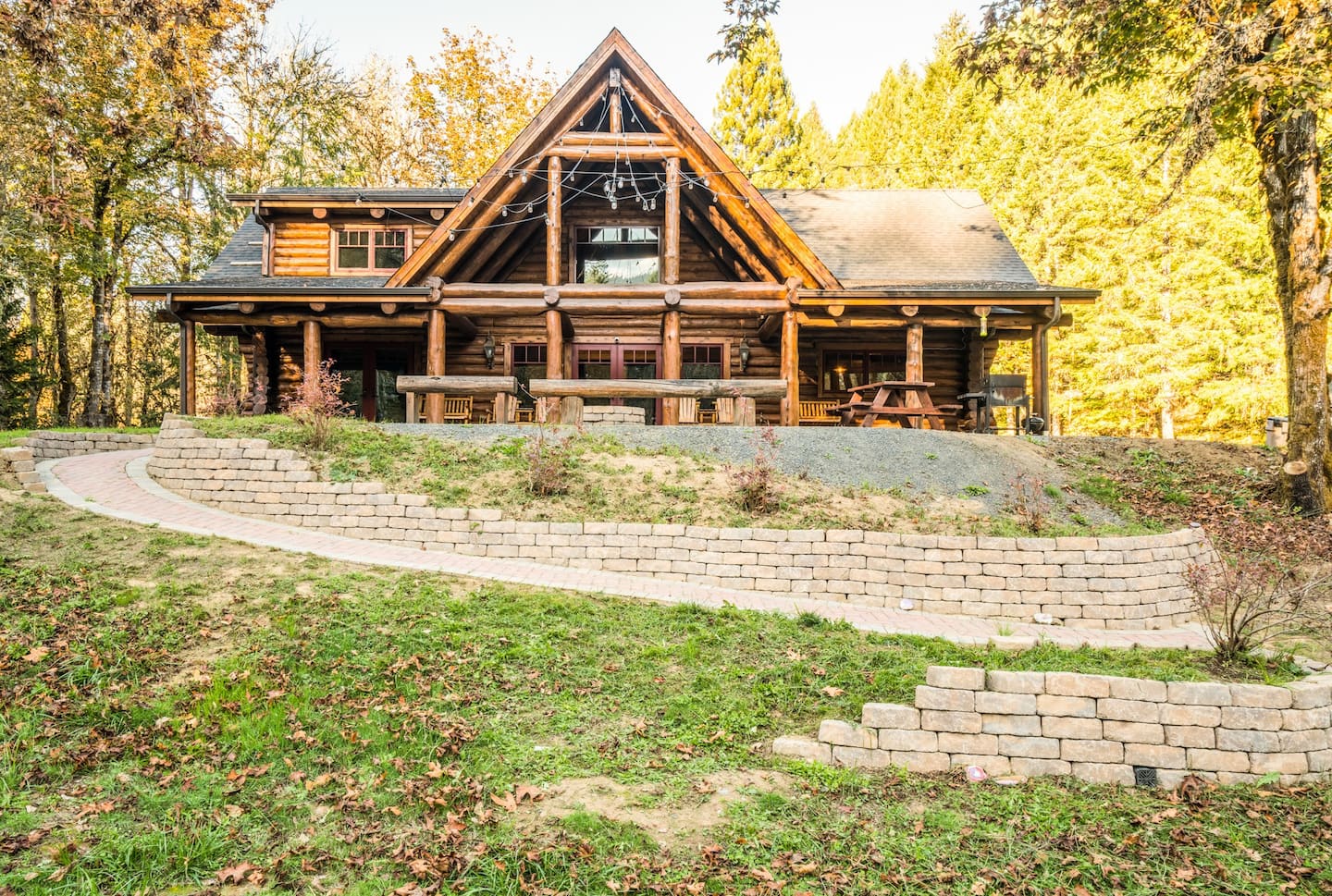 ---
A-Frame of Mind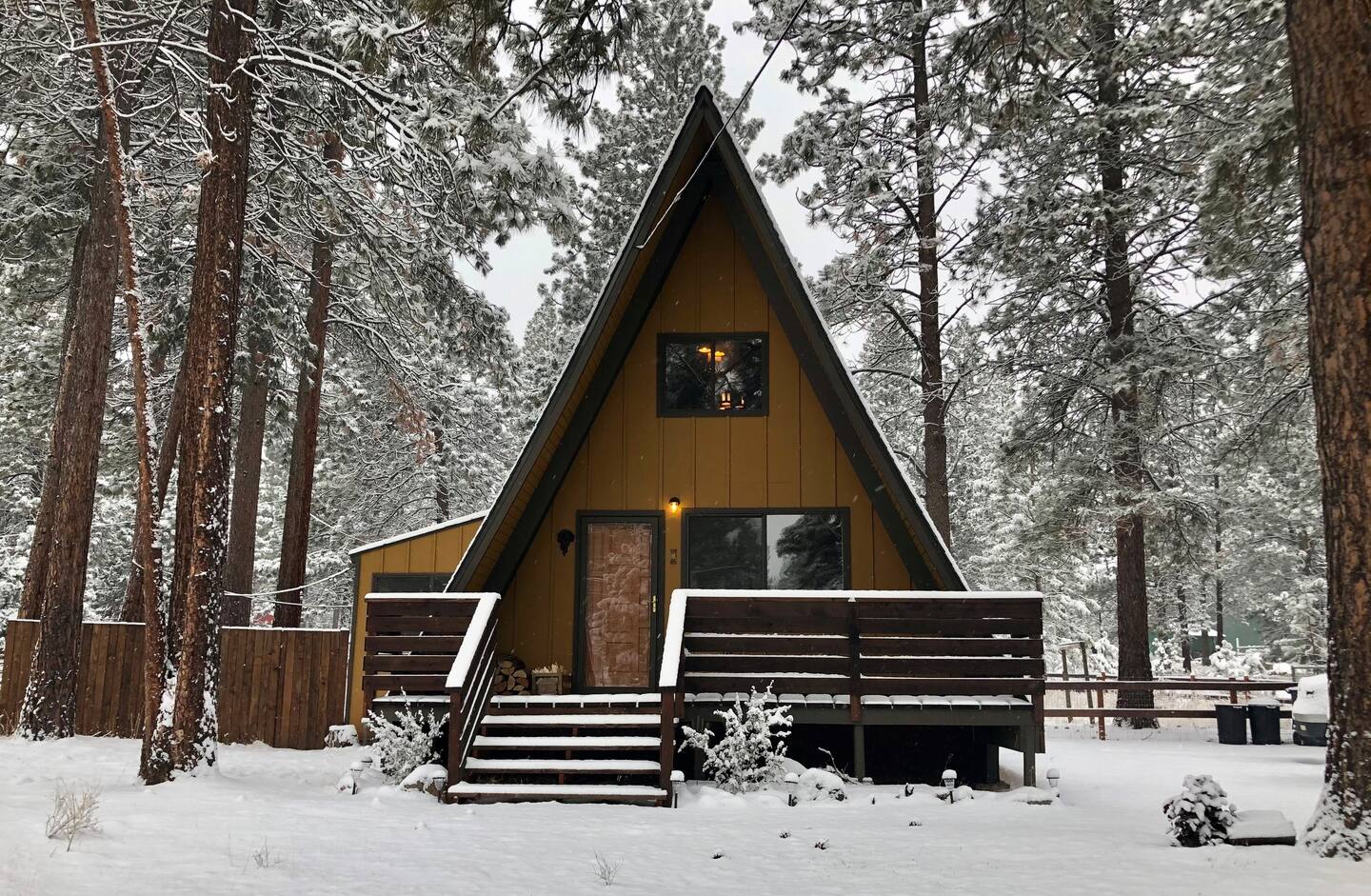 Location: Bend, Oregon
Price: $204+ per night
https://www.airbnb.com/rooms/44646510
With both front and back decks, a BBQ grill, and a hot tub, A-frame of Mind is a great place for all your nature lovers visiting Oregon. Guests say how there are interesting aspects and decorations around every corner of this cabin. You will have access to a wood-burning stove, a fully-equipped kitchen, and a spacious private bathroom.
Feel free to spin records on a record player. There are also a bunch of instruments like guitars and ukulele that you can try and play. Guests can also spend their evenings playing board games. The owner, Mike, has done such a great job with this house!
You will be just a 10-minute drive from downtown Bend where you will find coffee shops, hiking trails, restaurants, and shops.