We have handpicked our favorite romantic cabins in Indiana with hot tubs, all ready and waiting for you to make the most of your visit to this remarkable state. With adventurous sights and endless wilderness, experience a true blend of charm and comfort with an Indiana cabin stay!
Are you looking for an authentic experience of Indiana's incredible landscape and heartfelt, exciting locations? Dive in and discover the signature experiences of these romantic cabins in Indiana with hot tubs!
Don't forget to explore our other nearby guides, such as the coolest cabins in Indiana and the most romantic cabins in Michigan with hot tubs.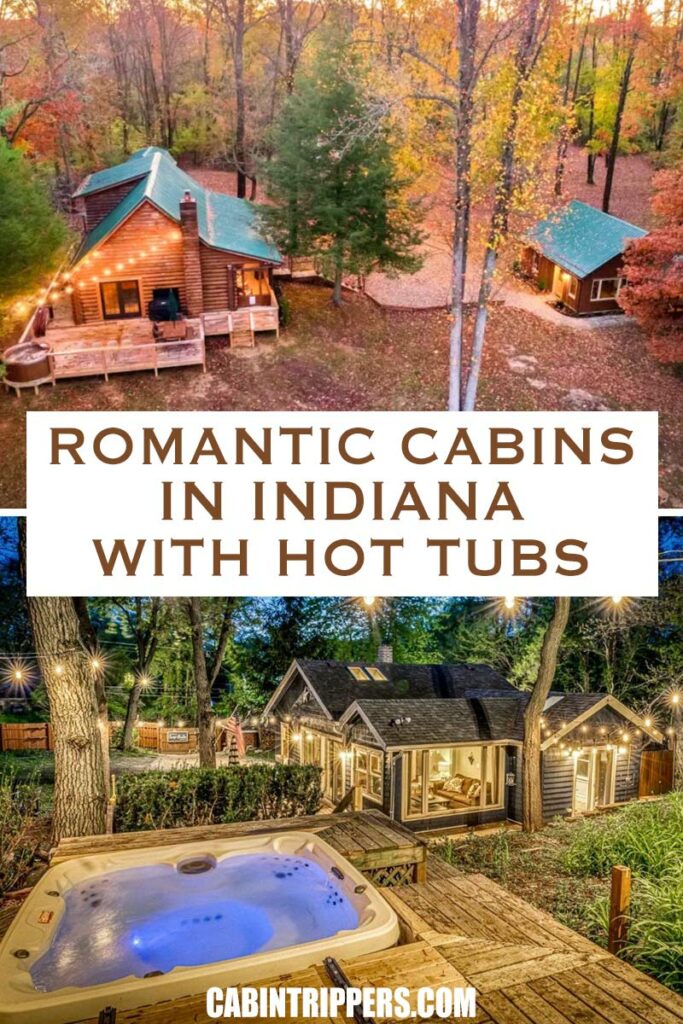 ---
1. Beautiful Turkey Hill Log Cabin
Location: Martin County, Indiana
Price: $198+ per night
This wonderful wooden structure is waiting for you and your partner to come and make the most of a weekend away with just each other! Situated in one of the prettiest areas of Indiana, the property is lovely inside and out. The location itself is near to water sports and similar activities on the lake, as well as a variety of attractions to plan the perfect weekend. Additionally, the area immediately surrounding the cabin is quiet, peaceful, and home to docile wildlife such as deer, squirrels, and birds to create a charming backdrop for your getaway.
Best of all the hot tub is tucked away on the back deck, providing the perfect combination of privacy and relaxation!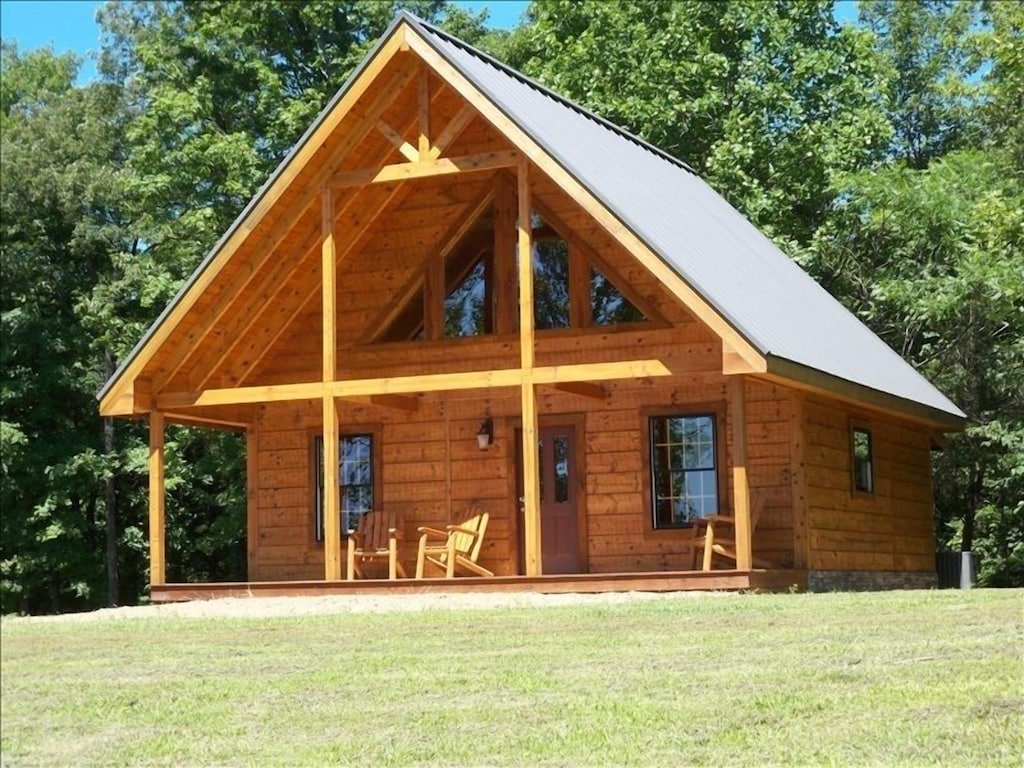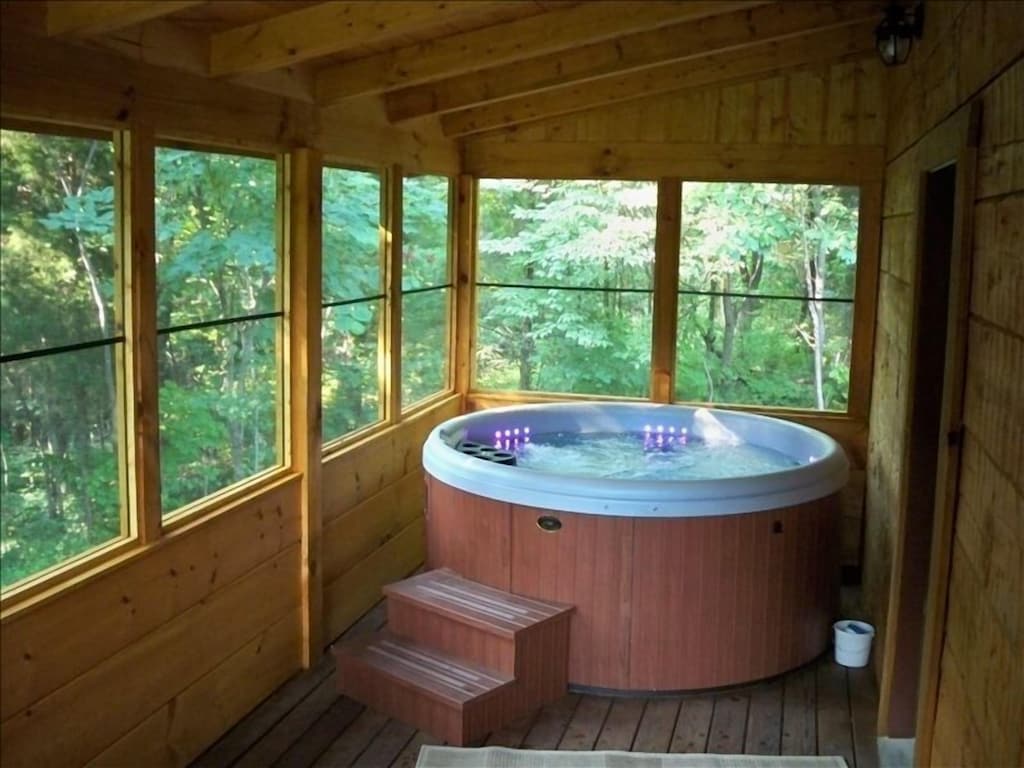 ---
2. Daffodil Hill Log Cabin
Location: Brown County, Indiana
Price: $207+ per night
Near enough to Nashville to enjoy a night on the town away from it all to feel in touch with nature, this luxury log cabin is a must-rent for couples looking for the mix of both. It features exposed beams and an immaculate interior, as well as charming yard surrounding the property and of course a private hot tub perfect for a pair of lovebirds to enjoy!
The cabin is two stories and full of character. Make use of the fire pit, fireplace, comfy couches, and take in the views of the rolling hills surrounding the property. This romantic Indiana cabin is ideal for you and your partner!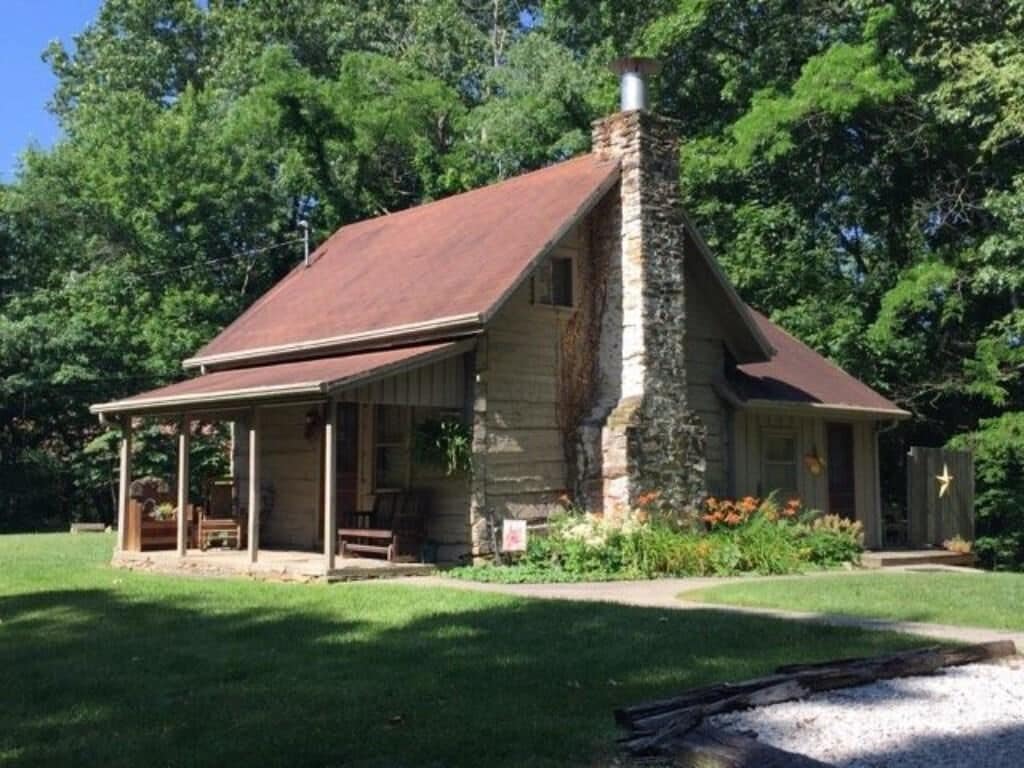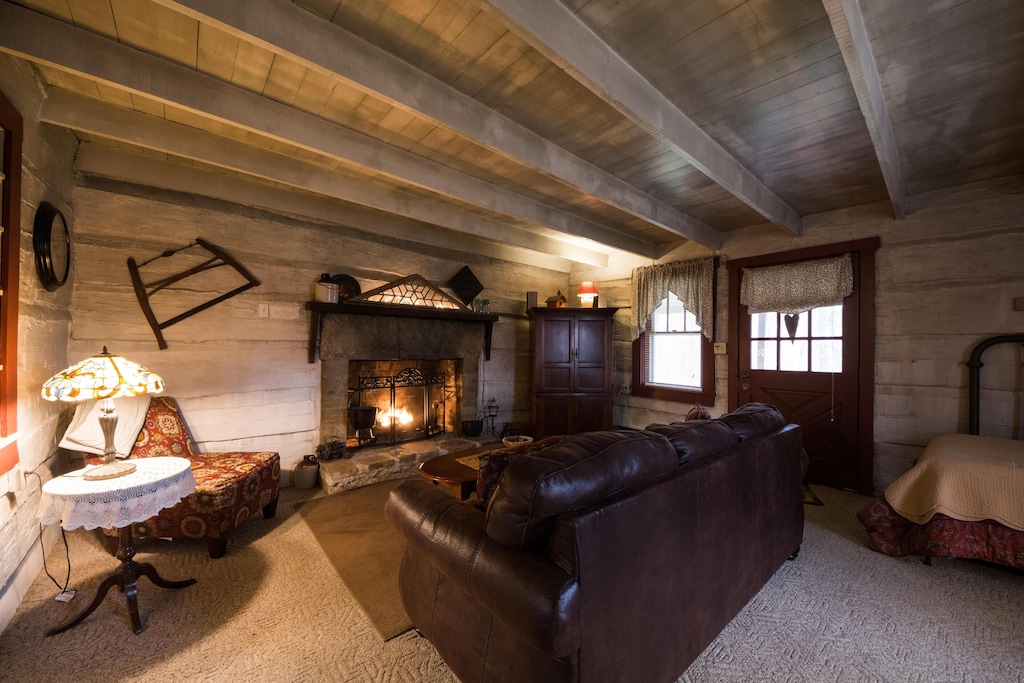 ---
3. Amish Country Cabin
Location: Shipshewana, Indiana
Price: $355+ per night
https://www.vrbo.com/7664696ha
Experience an escape to the heart of Indiana's Amish Country by staying at this cozy log cabin tucked away in the woods. You will love spending your day on the deck amidst the sights and sounds of nature. Enjoy the various activities on Shipshewana Lake, such as kayaking, canoeing, fishing, or swimming. Then, put on your swimsuit after a day well spent and hop in the private hot tub with your partner to relax your muscles.
The cabin's fully-equipped kitchen ensures that you feel comfortable in this home-away-from-home. With free WiFi, a flat-screen TV, washer and dryer, all your needs are taken care of perfectly. However, keep in mind that the cabin has a no-pets policy.
View Photos, Read Reviews & Check Availability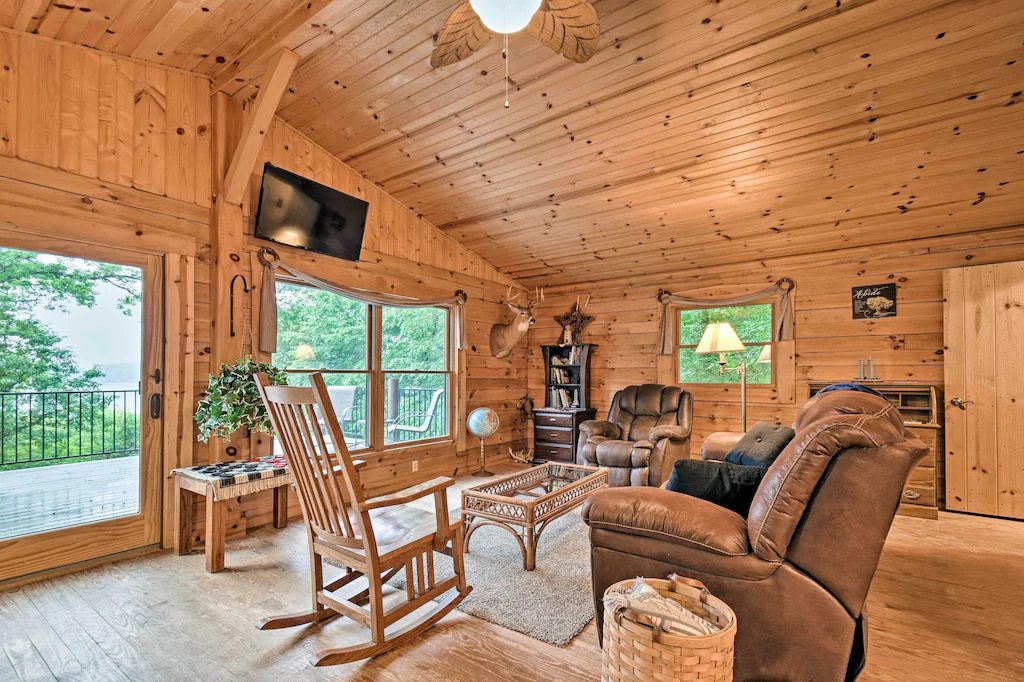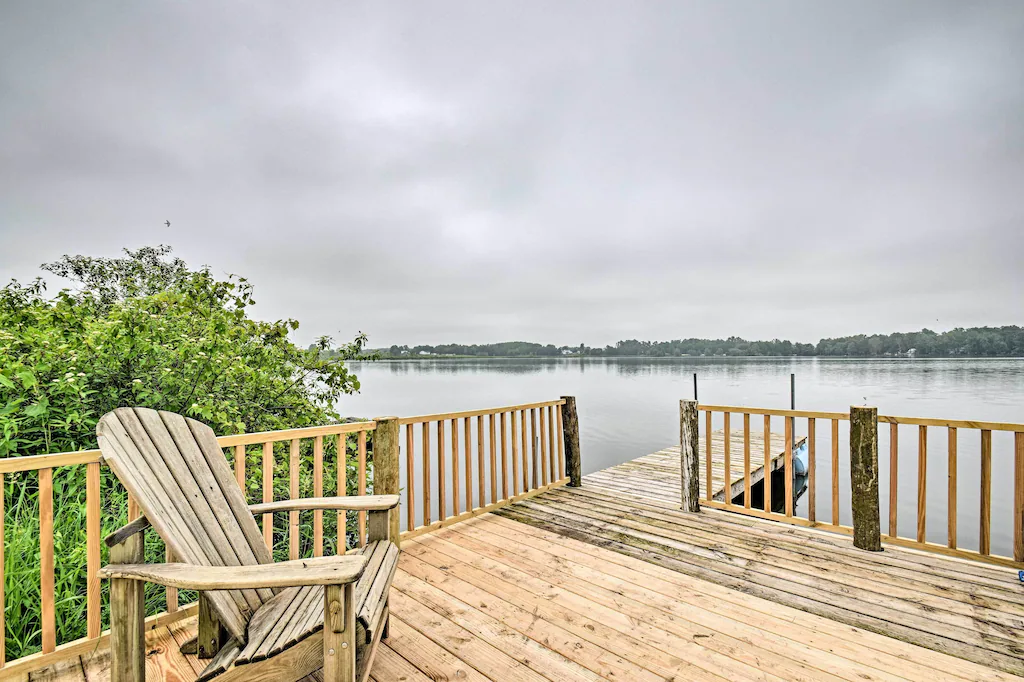 ---
4. Brown Bear Cabin
Location: Patoka Township, Indiana
Price: $195+ per night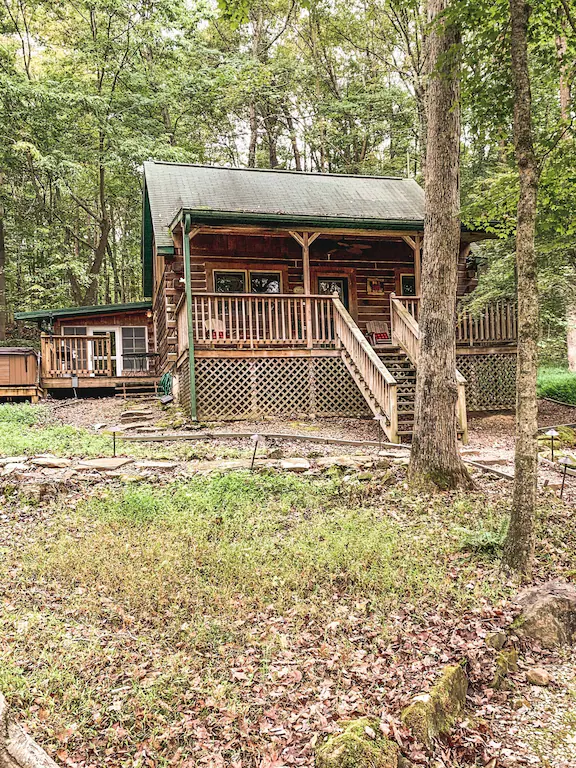 Brown Bear Cabin is a rustic, cozy cabin with all the luxuries of home to ensure a peaceful and romantic stay. You will enjoy the incredible deer and eagle sightings throughout the stay as you unwind in the hot tub with your significant other. You can create cherished moments as you stargaze around the fire pit at night. By day, give yourself the chance to take to the great outdoors and enjoy hiking or skiing trails with your loved ones.
The cabin features a well-furnished living room and television with complimentary Netflix to enjoy your favorite shows. There is also access to free WiFi and a fully equipped kitchen to make your self-catering stay comfortable.
View Photos, Read Reviews & Check Availability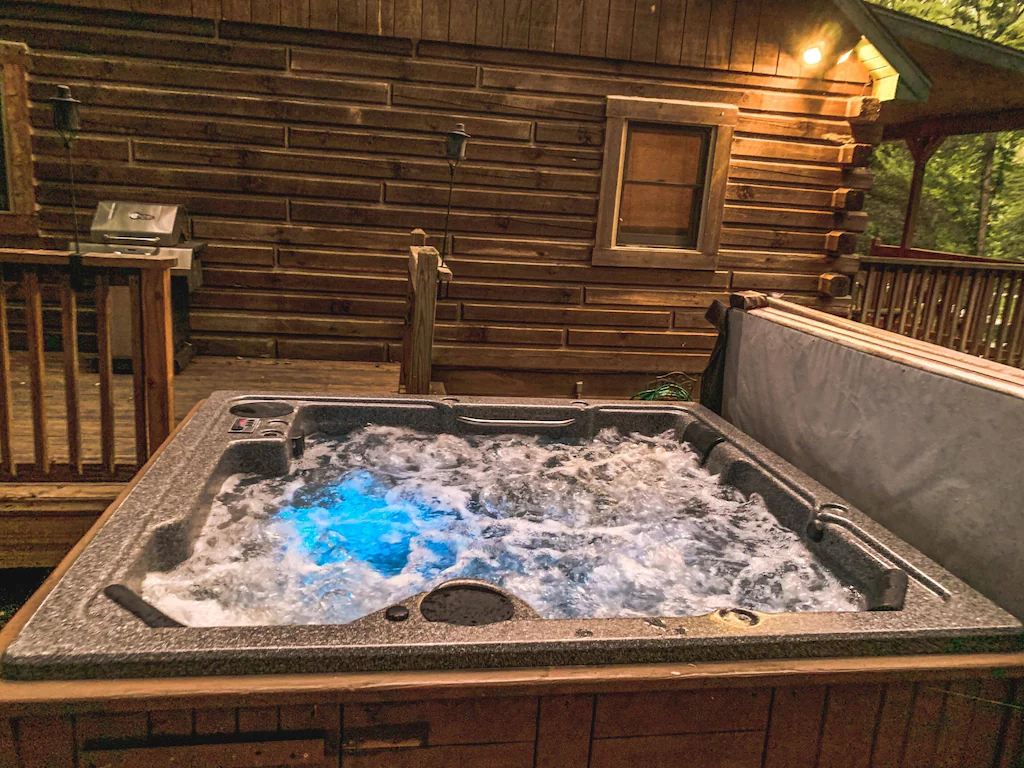 ---
5. Loretta's Cabin
Location: Brown County, Indiana
Price: $323+ per night
Loretta's cabin is set in a wooded area with a scenic fishing pond providing peace, beautiful scenery, and wildlife spotting. This log cabin's beauty serves as the perfect setting for a romantic getaway. With its comfortable seating and propane grill, the back deck is a perfect space for enjoying meals. You can also hop into the hot tub and create intimate moments with your partner. Then, spend your evenings roasting hot dogs on the fire pit – how is that for a romantic cabin In Indiana!?
Guests will enjoy the wood-burning fireplace as they cuddle on the living room couch. The cabin also features a pool table, ping pong table, and TV, so your entertainment needs are taken care of.
View Photos, Read Reviews & Check Availability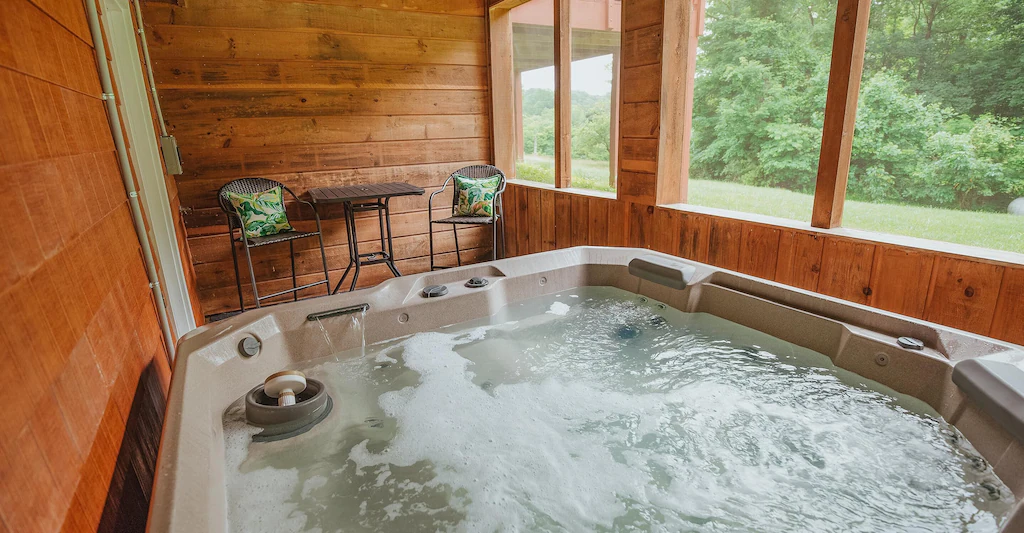 ---
6. Eagles Nest Lodge
Location: Nashville, Indiana
Price: $1236+ per night
https://www.booking.com/hotel/us/eagles-nest-lodge-nashville-indiana
A relaxing getaway awaits you and your partner at the Eagles Nest Lodge Nestled amidst breathtaking sunrises; it boasts a private hot tub that serves as the perfect foundation for your trip. This all-in retreat is ideal for romantic couples who can spend their day preparing a favorite meal on the outdoor BBQ grill, cooking smores at the fire pit, or enjoying the spectacular night views.
Indoors you will find a fireplace to cuddle with your partner in the warm atmosphere in front of the large flat-panel television. There's also free WiFi, video games, puzzles, books, and a well-stocked kitchen.
View Photos, Read Reviews & Check Availability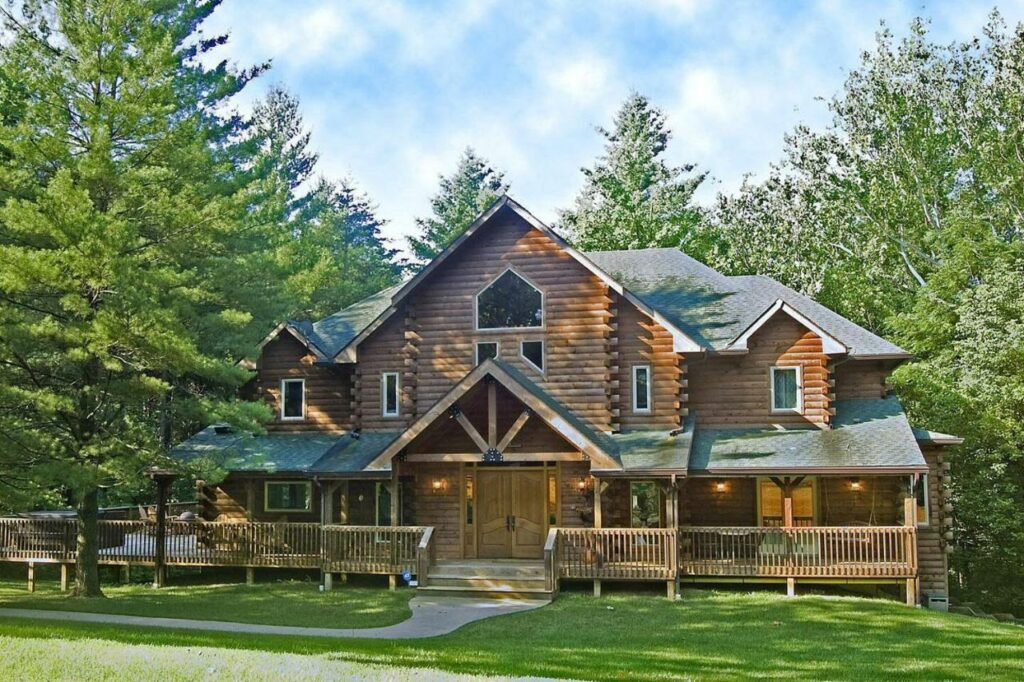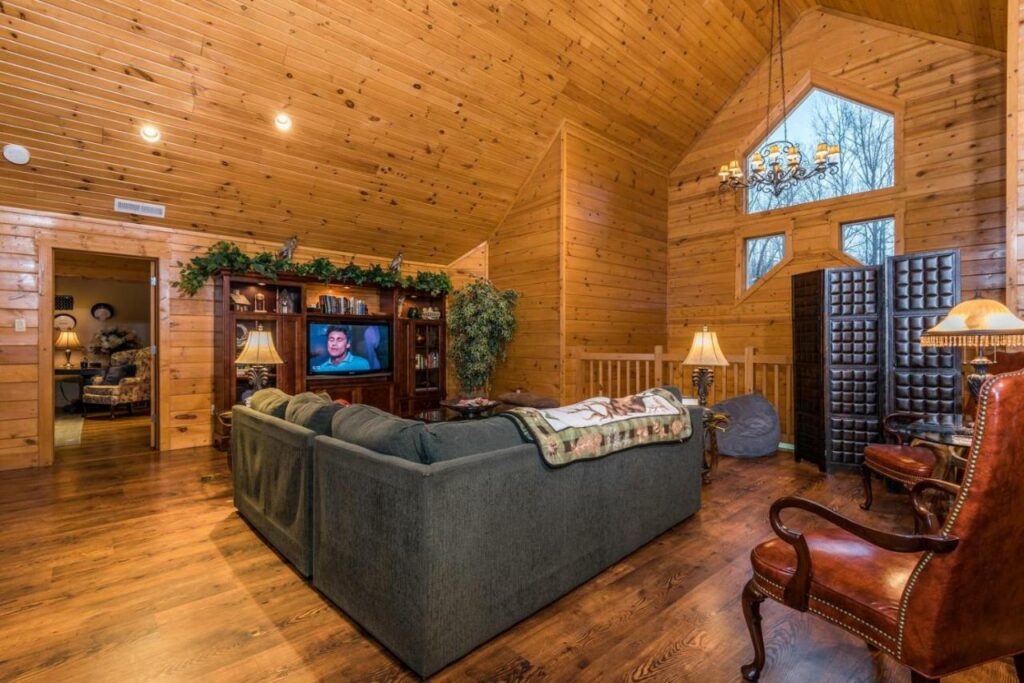 ---
7. Secluded Fenced Cabin
Location: Miller, Indiana
Price: $172+ per night
https://www.booking.com/hotel/us/holiday-home-near-gary-aquatorium-in-miller
Dreamy Lofted Cabin is a gem with endless panoramic views for a romantic dream-like getaway. The spacious cabin boasts spectacular vistas of lush landscapes with greenery all around. As the sun dips below the hills, you can immerse yourself in the bubbling hot tub with your partner. The deck is just the perfect place for cocktail chit-chats at night by the fire pit with your partner.
Indoors, you can enjoy the high-end furnishings and stream through your favorite channels on the TV. Moreover, the picture windows and well-equipped kitchen are other touches to give a hint of modernism and comfort throughout your stay.
View Photos, Read Reviews & Check Availability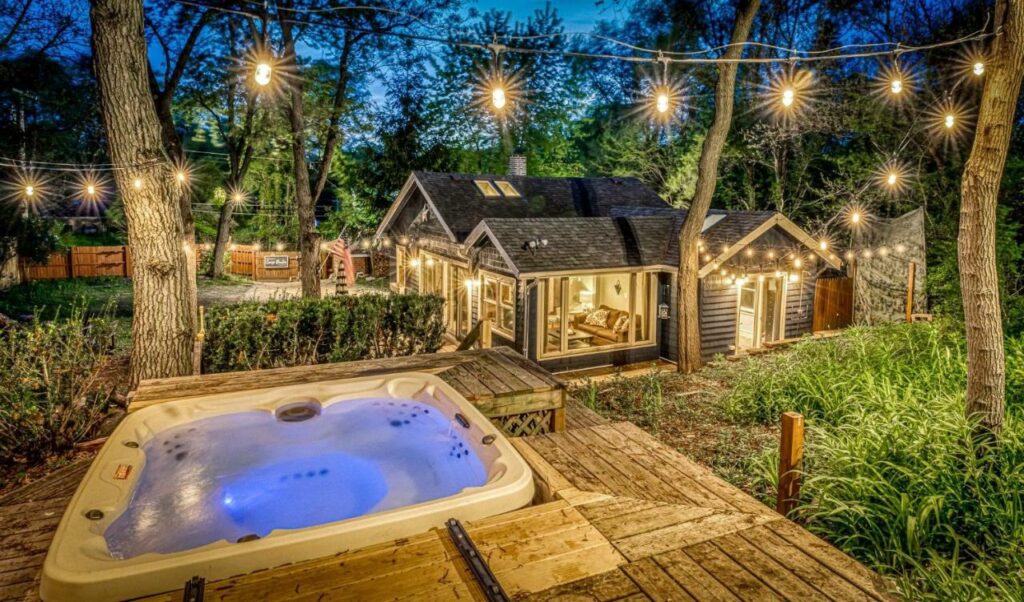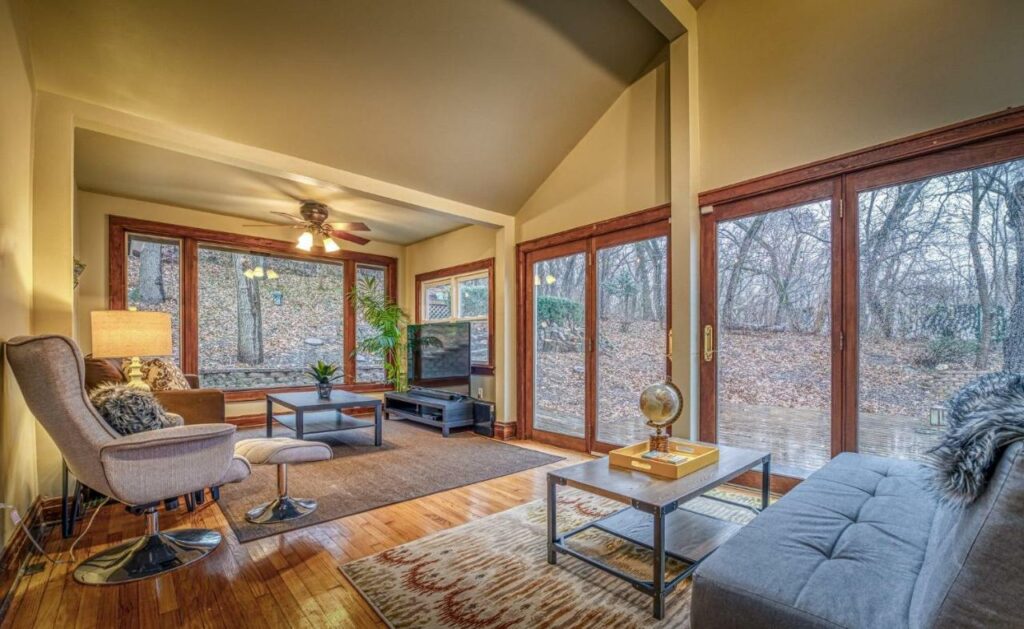 ---
8. Cozy Pines
Location: Columbus, Indiana
Price: $301+ per night
https://www.airbnb.com/rooms/37780336
Cozy Pines is a secluded, cozy cabin nestled amidst a verdant forest. The cabin features an outdoor hot tub and fire pit for you to relax and during the day and stargaze at night. This modern log cabin has a sunroom to sit and drink coffee with your partner. Moreover, the outdoor sitting area is perfect for wildlife spotting.
The trendy indoor living room has a flat-screen TV with Netflix and a gas fireplace. As a bonus for remote workers, here you'll enjoy the fastest and best internet the woods offers. You will also find a game room with challenging games like air hockey, foosball, pool, shuffleboard, and more!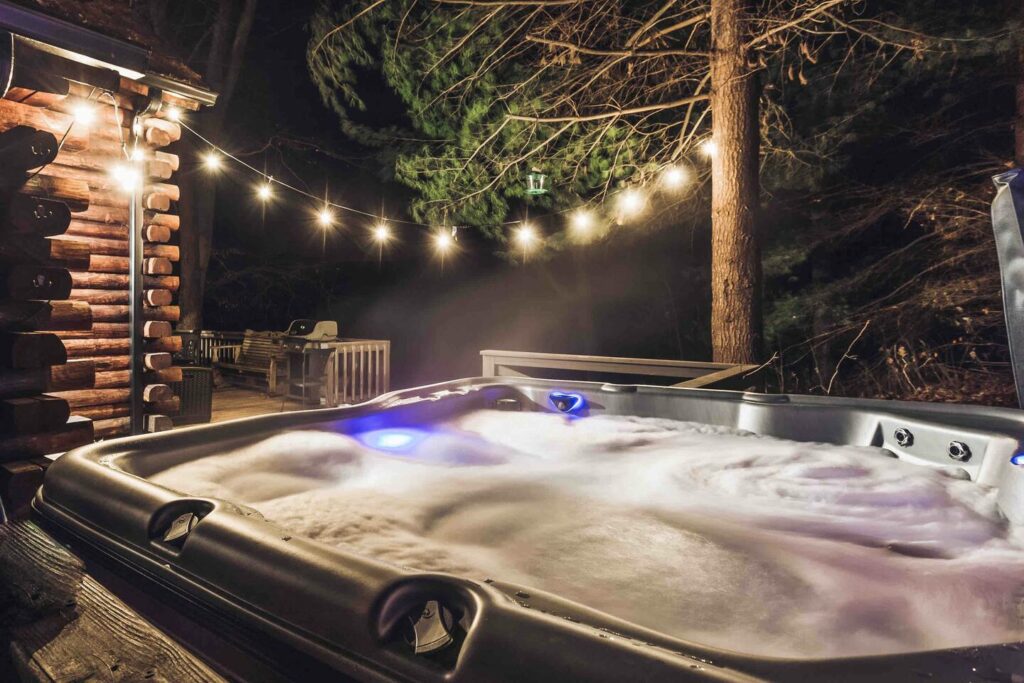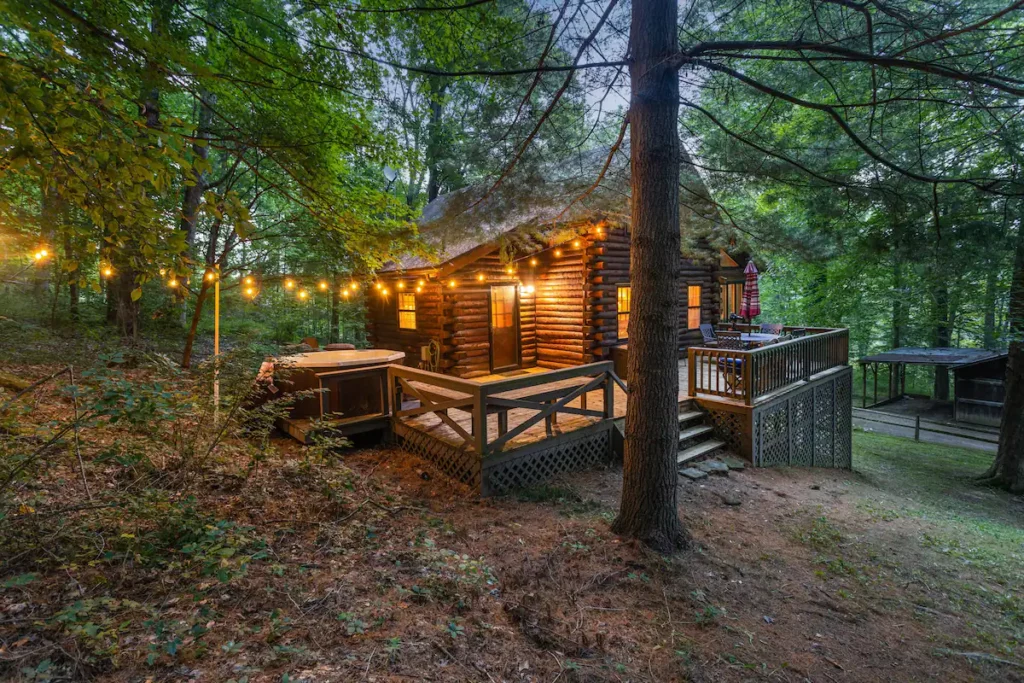 ---
9. Raspberry Ridge
Location: Nashville, Indiana
Price: $398+ per night
https://www.airbnb.com/rooms/23630157
Raspberry Ridge is the perfect romantic cabin In Indiana for a hideaway weekend! Tucked in the picturesque rolling hills of Brown County, the cabin offers both peace and seclusion. Here, you can begin your day with a romantic morning stroll on the walking path. The deck is the perfect spot to sip your coffee or enjoy dinner on the outdoor grills. Further, the stone fire pit creates a romantic vibe as you soak yourself in the hot tub.
The fully-equipped cabin features a wood-burning stove, a television, a game table, and a spacious open-floor living area for a comfy indoor stay. Also, the mini-bar and full kitchen ensure a lovely stay.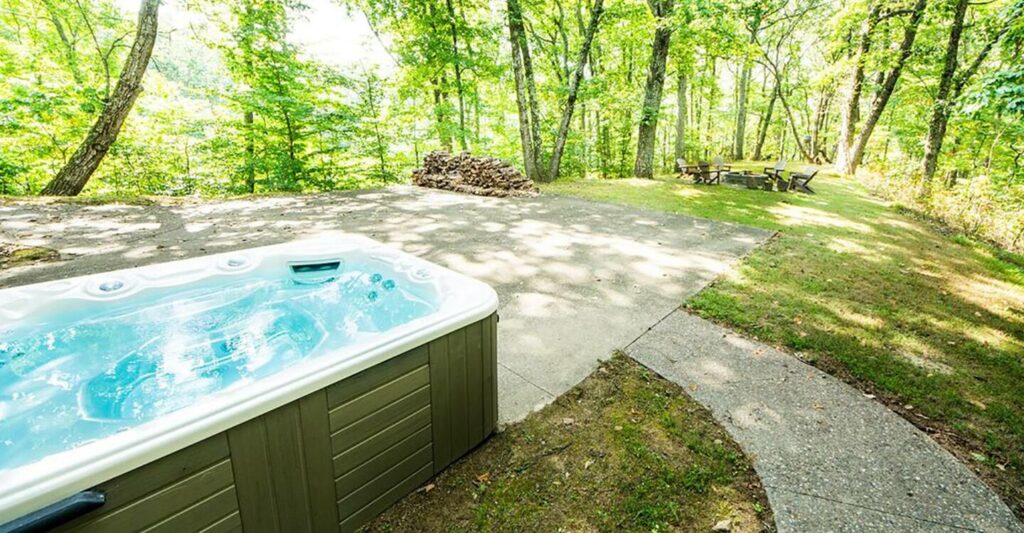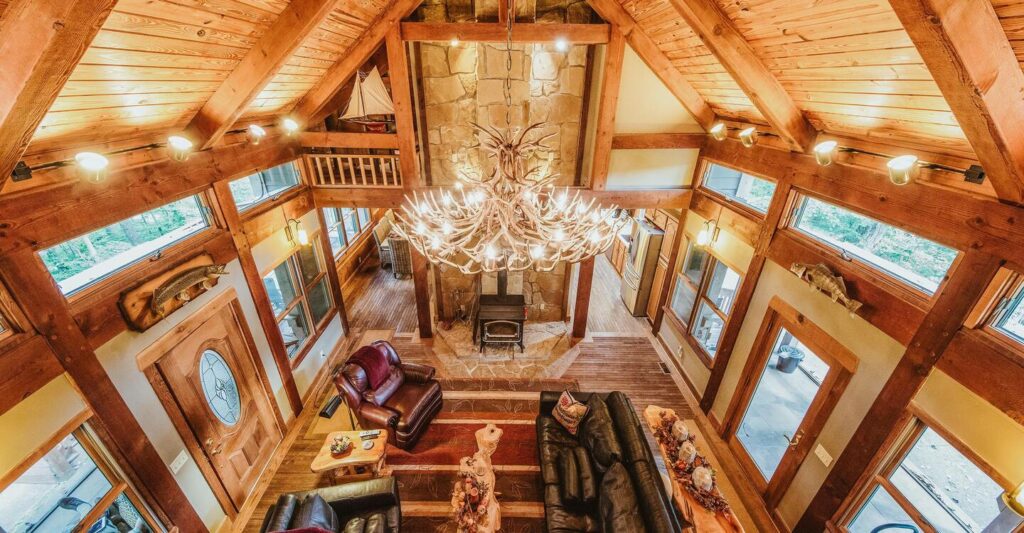 ---
10. The Orchard Log Cabin
Location: Nashville, Indiana
Price: $343+ per night
https://www.airbnb.com/rooms/34571969
Get ready to relax and enjoy spectacular views of farm fields and pasture land at the Orchard Cabin. You can enjoy stunning sunrises from the cabin's wrap-around deck and picturesque big windows. Begin your day by soaking in the hot tub with your partner or enjoying your favorite breakfast cooked on the outdoor BBQ grill.
The cabin features a flat-screen TV and a fireplace with gas logs so you can easily create a romantic mood. There is also a pool table where you can challenge your partner to a game of billiards. A highlight is the campfire pit – a delightful outdoor pastime as blue hour arrives.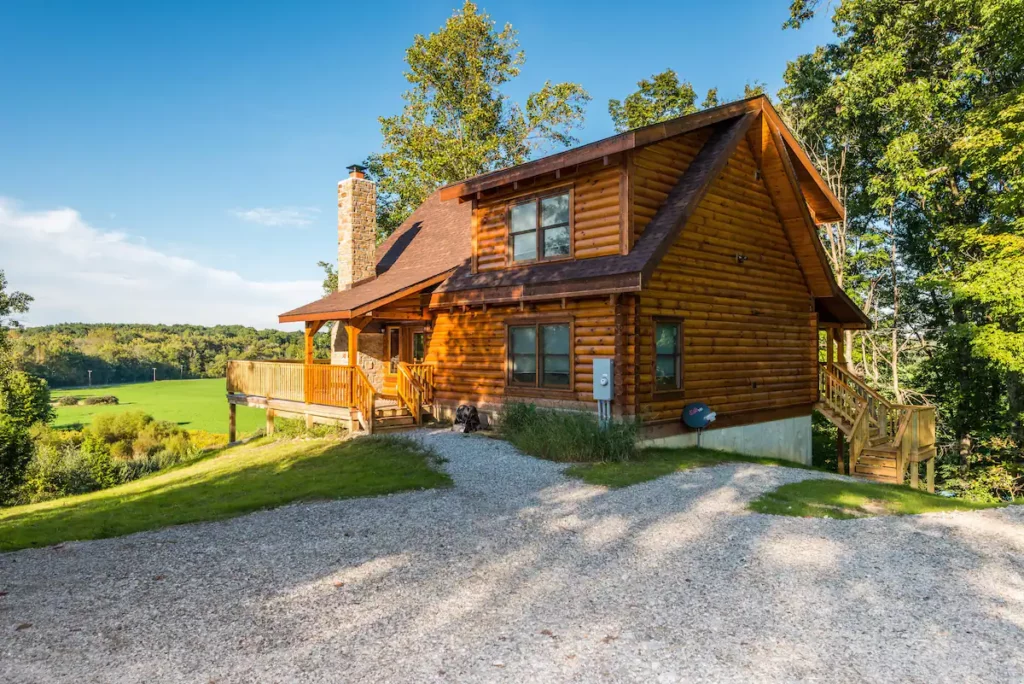 ---
11. Overlook Log Cabin
Location: Nashville, Indiana
Price: $325+ per night
https://www.airbnb.com/rooms/34571207
Are you looking for a retreat amidst misty hills and valleys? The Overlook Log Cabin is the perfect escape to take advantage of all that nature offers. For starters, grill your burgers or hotdogs on the outdoor bbq grill with stunning views. With the fire pit and hot tub on the deck, relax and ease your tensions. You can roast marshmallows as you sit around the fire pit by night and enjoy some couples' stargazing.
Indoors, you can stretch your legs out in front of the fireplace when it gets chilly or watches your favorite show in the cozy TV room. Moreover, if you're a gaming enthusiast, enjoy the foosball game for free.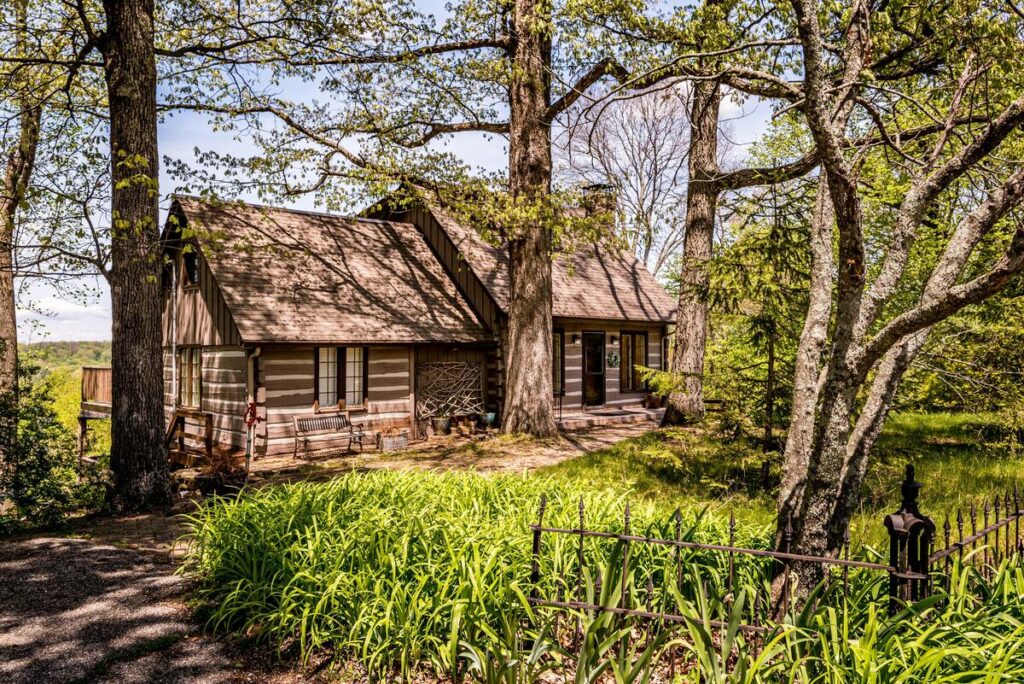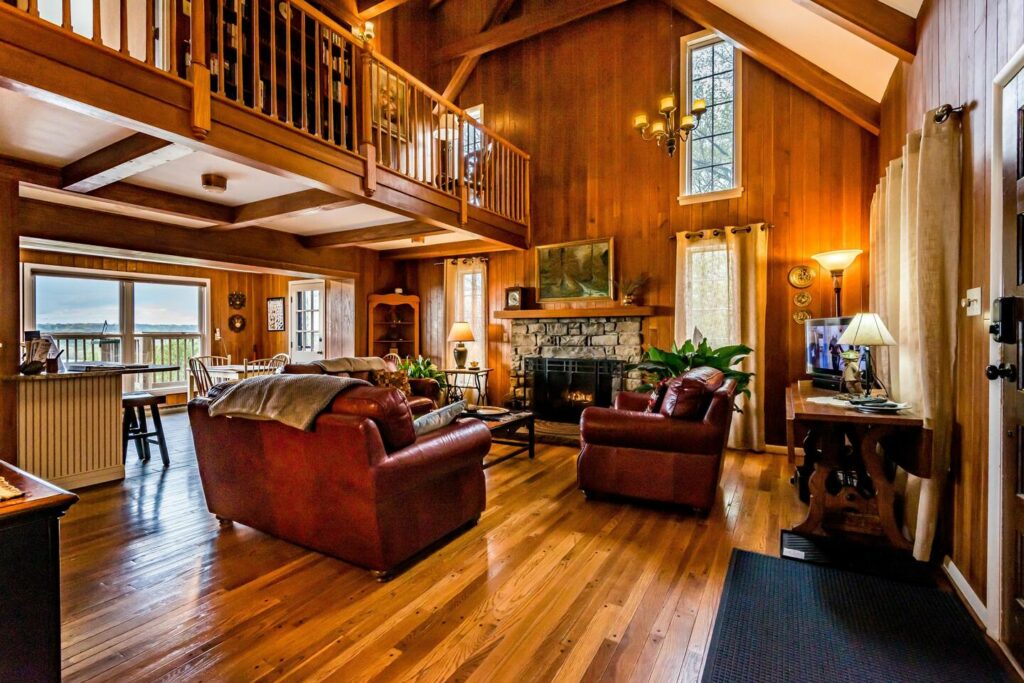 ---
12. Peaceful Pines Cabin
Location: Terre Haute, Indiana
Price: $218+ per night
https://www.airbnb.com/rooms/40705887
Comfort and relaxation are the goals of this traditional log cabin with a pond. The best spot of this retreat is the round hot tub on the porch with overhead string lights and an outdoor dining table with an umbrella. So, you can relax in the warm water at any time of the day with breathtaking scenery all around.
Indoors you will find a hanging hammock chair with a footstool fully stocked with books. So, you can spend your mornings indulging in an exciting novel as you sip your coffee. Moreover, the cabin is supplied with luxury towels, shampoo, conditioner, and soap for a premium stay.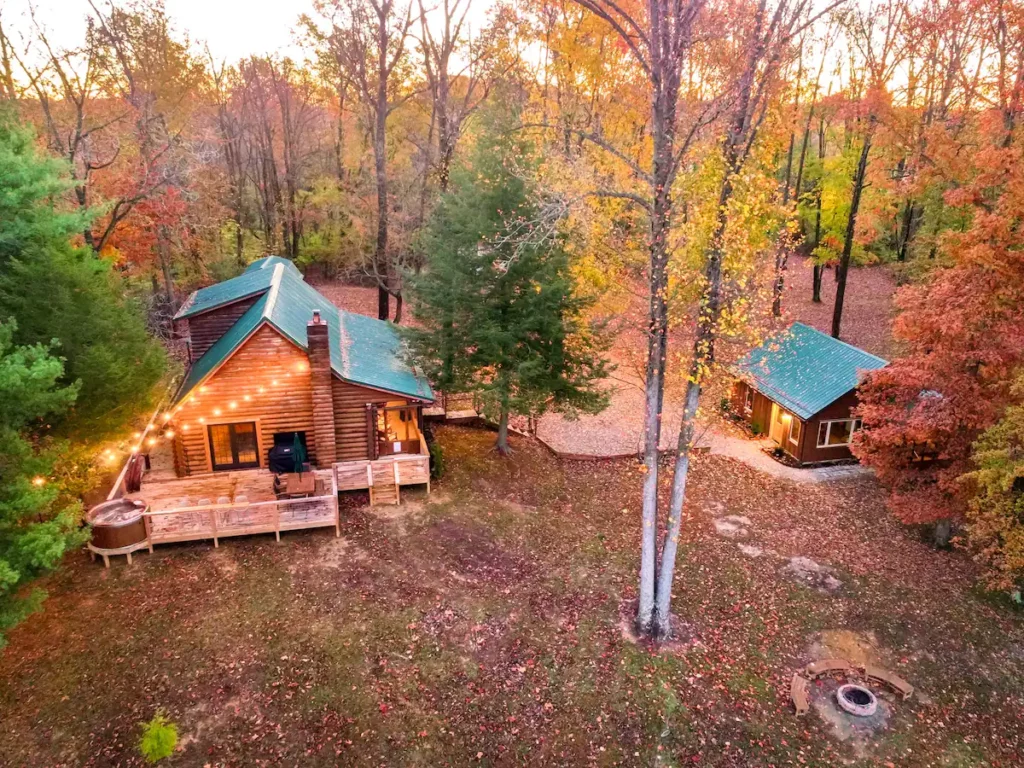 ---
These romantic cabins in Indiana with hot tubs are a fantastic way to rekindle your romance and unwind in the warm water amidst panoramic nature views. They offer you a getaway away from the hustle and bustle of everyday life and the perfect chance to spend some quality time with each other while surrounded by nature!